Reading Time:
4
minutes
Amanda Knox (@amandaknox) is an exoneree, journalist, public speaker, and author of Waiting to Be Heard. She was the host of The Scarlet Letter Reports and currently co-hosts The Truth About True Crime podcast.
What We Discuss with Amanda Knox:
How Amanda was coerced into wrongfully confessing that she was at the scene of her roommate's murder without being made aware of her rights or being given access to a lawyer.
Why not understanding the difference between being questioned as a witness and interrogated as a suspect landed Amanda in custody for 1,428 days without being allowed to see her family.
How even a false confession, once made, often sways a jury to convict a defendant before any of the evidence is even considered, and why it's not uncommon for a completely innocent person to give a false confession to a skilled interrogator looking to close a case quickly.
Why a police department investigating a case under the scrutiny of a worldwide media frenzy might be less interested in carrying out justice than covering up its own countless acts of gross incompetence.
Why a populace literate in its own legal rights is the only real way to combat the manipulation of ignorance — by both prosecution and defense — in the court system that leads to so many wrong outcomes.
And much more…
Like this show? Please leave us a review here — even one sentence helps! Consider including your Twitter handle so we can thank you personally!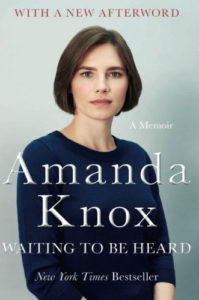 Most of us would be proud to own up to any number of Amanda Knox's accomplishments. Her book Waiting to Be Heard: A Memoir is a New York Times best-seller. She was the host of Vice/Facebook series The Scarlet Letter Reports. Currently, she's co-hosting The Truth About True Crime podcast. She's a columnist for Crime Story. She's been the subject of a Netflix documentary. She's a speaker. She's a wife and a cat mother. But no matter what she does, she's always going to be most famous for something she did not do: murder her roommate Meredith Kercher in cold blood. Before she was acquitted (twice) and ultimately exonerated, she spent nearly four years in an Italian prison and eight years on trial.
On this episode, Amanda joins us to discuss justice, injustice, how she put her life back together, and living with the residue of tabloid infamy even after being found innocent of this terrible crime. Listen, learn, and enjoy!
Please Scroll Down for Featured Resources and Transcript!
Please note that some of the links on this page (books, movies, music, etc.) lead to affiliate programs for which The Jordan Harbinger Show receives compensation. It's just one of the ways we keep the lights on around here. Thank you for your support!
Sign up for Six-Minute Networking — our free networking and relationship development mini course — at jordanharbinger.com/course!
Feetures are engineered with targeted compression and anatomical design to create a custom-like fit and prevent the issues people have with conventional socks. Go to feetures.com and enter promo code JORDAN at checkout to get $10 off your first pair of Feetures!
Fiverr has a mission to change how the world works together by connecting businesses with freelancers offering digital services in 250+ categories. Whether you're looking for new copy and a design for your website or a voicemail message in an exotic accent from a faraway land, Fiverr can deliver at a price you can afford. Go to Fiverr.com and use code JORDAN at checkout to get 10% off!
Better Help offers affordable, online counseling at your convenience. If you're coping with depression, stress, anxiety, addiction, or any number of issues, you're not alone. Talk with a licensed professional therapist for 10 percent off your first month at betterhelp.com/jordan!
Raycon earbuds start at about half the price of any other premium wireless earbuds on the market — and they sound just as amazing. Find out for yourself and get 15% off your order at buyraycon.com/jhs!
Miss the two-parter we did with Instagram founder Kevin Systrom? Get caught up by starting at episode 335: Kevin Systrom | Life Lessons from an Instagram Founder Part One!
THANKS, AMANDA KNOX!
If you enjoyed this session with Amanda Knox, let him know by clicking on the link below and sending him a quick shout out at Twitter:
Click here to thank Amanda Knox at Twitter!
Click here to let Jordan know about your number one takeaway from this episode!
And if you want us to answer your questions on one of our upcoming weekly Feedback Friday episodes, drop us a line at friday@jordanharbinger.com.
Resources from This Episode:
Transcript for Amanda Knox | The Truth About True Crime (Episode 386)
Jordan Harbinger: [00:00:00] Coming up on The Jordan Harbinger Show. 
Amanda Knox: [00:00:03] They were wrong. They didn't have enough information. They didn't have enough evidence to lead me down a path to confessing in any way that was meaningful. Then they arrested the wrong person who had an ironclad alibi. And when finally the forensic evidence came back, the fingerprints that had been left in blood, the DNA that was all over Meredith's belonged to a completely other guy. They were like, "Oh, shit."
Jordan Harbinger: [00:00:34] Welcome to the show. I'm Jordan Harbinger. On The Jordan Harbinger Show, we decode the stories, secrets, and skills of the world's sharpest minds and most fascinating people. And we turn their wisdom into practical advice that you can use to impact your own life and those around you. Our mission is to help you become a better informed, more critical thinker. So you can get a deeper understanding of how the world works and make sense of what's really happening even inside of your own brain. If you're not you to the show, we've got episodes with spies, CEOs, athletes, authors, thinkers, and performers, as well as toolboxes for skill sets like negotiation, body language, persuasion, and more. For a selection of featured episodes and guests to get you started with some of our favorite folks we've had here on the show, go to jordanharbinger.com and we'll hook you right up.
[00:01:16] Today's guest is someone you may have heard of, whether you're a true crime junkie, you follow the news, or you simply caught the documentary on Netflix. It's likely that Amanda Knox has been on your radar at some point. At age 20, she was studying abroad in Italy when her roommate was brutally murdered. The media and the Italian police quickly assumed her guilt. And for the next several years, Amanda was put on trial by the Italian courts, the police, and the international media. After eight years of hell, she was finally acquitted by the Italian Supreme Court. What follows is a conversation about justice injustice, putting your life back together, and living in, or with infamy. By the way, y'all I don't want to talk too much about the murder itself. The details are gruesome and that information is all over the Internet if you want to delve deeper. I'm more interested. You said for the purposes of this conversation in Amanda's experience. And so we focused on Amanda and her story in this episode, this is not to overlook the plight of the victim, Meredith Kercher — may she rest in peace — but that simply is not the focus of this particular episode. I really enjoyed my conversation here with Amanda.
[00:02:18] And a lot of you asked me how I managed to get the guests I do on the show, how I managed to get opportunities. It really is always about the network and nothing is more important than that right now. Especially, if you might be looking for work or looking to shift jobs, move, make a big life change, your network can always help you. I'm teaching you how I created mine and teaching you how to do it for yourself for free over at jordanharbinger.com/course. By the way, most of the guests on the show, they subscribed to the course and to the newsletter. So come join us and you'll be in smart company where you belong. Now, here's Amanda Knox.
[00:02:54] I admit I found out about you because — well, I'd follow the case a little bit when I was younger because I studied abroad and I was like, "Oh, but for the grace of God — like that could happen to anybody." So it was scary. And then of course we, no one knew what the hell the real deal was because the trial hadn't concluded yet. Like this is real-time. I'm looking at tabloids and probably the same — I'm 40 now. I don't know how old you are — but I'm probably like the same age as you are or a little bit older and I remember thinking these tabloid headlines — and we'll get into this in a bit — are like, you know, "Foxy Knoxy, brutal sex game, gone wrong, question mark." And I remember being like 23 and going, "No," whenever the headline is ridiculous thing, question mark, the answer is always like, "No, it's different than that." And I saw the Netflix documentary and I was like, "Oh, she would be really interesting. In fact, let me go see what's new with her." Then it was like, Amanda Knox is getting married and I was like, "Let me join what I assume are thousands of well-wishers on Twitter saying nice things to you after this harrowing experience." And then I had to bleach my eyes because everything was so horrible. And I thought like, "Oh my gosh, people are still harassing you." But anyway, I'm getting ahead of myself. 
Amanda Knox: [00:04:00] Yeah, that was rough times, honestly. It's one thing when people do it to me, I'm sort of used to it, not in like a good way. But when people do it to people I care about because of their proximity to me, that remains really, really hurtful. But, okay, so going back and for the record, I'm 33. I just turned 33. 
Jordan Harbinger: [00:04:23] Okay. I'm 40. So I was much older than you, but it still seemed at the time, like I was right — I mean, just being another student, studying abroad, living with people that they don't know, like I just felt like, "Oh my God, this is like really close to me." 
Amanda Knox: [00:04:36] Yeah.
Jordan Harbinger: [00:04:36] I studied in Germany.
Amanda Knox: [00:04:37] And I think that a lot of people, you don't even have to study abroad necessarily, there's just this interesting moment in a person's life where they are just away from home for the first time. And away from home can be across the city at their state school and suddenly the environment is very different and the culture is very different or it could be across the country or it could be across the world. I happen to be across the world and I was 20 years old. In fact, when my youngest sister — I have three younger sisters and she's 11 years younger than me, so she was a baby when everything was going on with me and then didn't really quite understand it. When she turned 20, I was like, "So how does it feel? This is the time that I went to prison. Do you feel like you're ready for that?"
[00:05:33] But anyway, yeah, so I was 20 years old, I was studying abroad in Italy in a sort of small but very ancient and established town in Central Italy called Perugia. It sat on top of this beautiful hill, kind of one main street kind of town with a beautiful church and a fountain and two universities. One was the regular university for Italian students or people who are fluent in Italian. And the other was for foreigners like me, who were coming to learn the language. And I can't remember if it's like five or six weeks into me being there. It was the day after Halloween. I have recently started a relationship with this young Italian guy named Raffaele Sollecito. I spent the night at his house and I came home to find a murder scene. I didn't realize it was a murder scene because I didn't actually see into the room where the murder occurred. I just came home to take a shower and get changed. And I noticed that things were off, but I didn't know quite what to make of it. So I called my mom. I talked to Raffaele. Eventually, we poked around and realized that this was a break-in. It wasn't just, you know, the door had been accidentally left open, and we called the cops. The cops arrived. They break down my roommate's door and find her body there.
[00:07:05] Meredith was just a year older than me at the time. She was British from Leeds, a really, really nice girl. I remember we had like this little terrace that was right outside of our apartment and Meredith would sit out there and read like thriller novels and detective novels. Amazingly, you know, now I'm realizing the irony of that, and I would go outside and play guitar.
[00:07:34] Anyway, we were hustled out of the house. The house was deemed a crime scene. And for the next five days, I was at the disposal and mercy of the police officers who unbeknownst to me, had targeted me as a person of interest. Now, this is where we get into like, speculating, like an innocent person. Let's say that I acted guilty and there've been numerous theories about this. People speculate that I'm histrionic or I'm on the autism spectrum or that cultural translation issues. They talk about how I was making out with my boyfriend right outside the crime scene. And I was doing cartwheels and I was doing splits and I was saying things that were inappropriate. And I think for me, way back when I first got home and I wrote about this time, this like period of five days, I was still blaming myself a lot for what had happened to me. I was still thinking like, "What did I do wrong? What was my role in all of this to make this happen to me?" And that went so far as trying to explain a way why the cops were hitting me in my interrogation, like trying to come up with all of these — like the way that women so often try to blame ourselves when bad things happen to us, I was doing that.
[00:09:02] And it's been over many years and through a lot of reflection and a lot of looking into how these things happen to other wrongfully convicted people that I realized that it wasn't really about me. And I think that a sort of major mistake that set the entire investigation when it wasn't about me. So back then my understanding was, "Oh my God, my roommate's been murdered. I could've been murdered. I don't have a home now. I'm 3000 miles away from home. The only persons who are close to me are my other roommates and my new boyfriend, but I also have only known them for a few weeks. In Raffaele's case, I only knew him for a week, less than a week. What do I do? What do I need to do? What's the right thing to do? Being the naive person that I was, I'd never had any contact with police before. I never had any experience with the criminal justice system before. Nothing remotely bad ever happened to me like this before.
[00:10:12] My thought was to just take direction. I did what I was told and what I was told was by the police to come in every day for questioning. And I did. I freely came. I willingly came. I was exhausted. I was scared, but I came in for questioning and I sat for hours and hours and hours and hours. My attorneys eventually tallied up that I had done 53 hours of questioning over five days.
Jordan Harbinger: [00:10:43] Wow. That's insane. And they weren't like, "You know what? This is enough of this crap. We are not going in anymore. This is ridiculous. They're just abusing you."
Amanda Knox: [00:10:52] Well, so here's the thing, it's way more subtle than that. Like — or maybe it isn't subtle and I was just an idiot, but I understood that the police were under a lot of pressure. It seemed like the entire police station was only working on this case. Everyone was running around, people were coming in and out. People that I had seen maybe talk to Meredith once came in — like they were trying to talk to anybody and they were trying to solve the case really quickly because the media had descended immediately upon this case and we're reporting on it. So I understood that the cops are under a lot of pressure and it was for that reason that I sort of didn't think to worry when they were abrupt or short with me, when they seemed upset. I often worried that maybe the reason that they were upset or short with me was because I just wasn't speaking Italian well enough and I wasn't explaining myself well enough. I thought that was the reason why they kept asking me questions over and over and over again.
[00:12:00] And that was the thing that eventually sort of broke my brain was the fact that no matter how many ways I answered the same question to them, they never seemed happy with it. They never seemed happy with what I'd given them or that it was enough. They always seemed dissatisfied with me. And, you know, being the person who was trying to help and was doing the best I could and didn't know what else to do because that was my touchstone. Like suddenly my whole life became helped with this because I don't really have anything else except for, do I go back to school? Like how do I go back to school with all of this insanity? I just sort of submitted myself and allowed myself to be subjected to what was ultimately a very coercive interrogation technique that lasted days. That culminated with an overnight interrogation and that broke me. I was made to believe that everything that I said — the reason they were upset with me was because I didn't remember correctly. That actually I had witnessed the murder and that if I didn't tell them what I had witnessed, that I risked going to prison for the rest of my life and never seeing my family again, which was a weird psychological trap to be put into because I thought like, "If I can't remember, why are you trying to punish me? Like, why are you hitting me? Why are you yelling at me?" 
[00:13:34] And so eventually, I was led down this path of questioning that made me believe that what I must have witnessed was my boss at the time who I was working for minimum wage at a local bar, he had come over to my house and raped and murdered my roommate and I had witnessed it and just didn't remember because I was so traumatized. And the police typed up the state, they just had me sign it. And then the next thing I know I'm being stripped naked to get photographs. I have handcuffs on me. They tell me the handcuffs are there only as a formality that they're taking me to a holding place for my own protection. I never saw a lawyer, never saw anything. Never had my rights read to me. I had handcuffs on me. I was taken to prison where I was told that I would get to see my mom soon. And I was left there for 1,428 days. 
Jordan Harbinger: [00:14:36] And you're 20 years old — well, at the beginning, you were 20 years old. Is the no lawyer thing, is that a European thing? Because I'm an attorney here in the United States and I'm not so up on my European criminal justice, but I remember that the Napoleonic system that they have in Europe is not innocent until proven guilty. It's kind of like, not necessarily guilty until proven innocent, but kind of adjacent to that — where it's like, you're in a cage when you're on the stand there. You're not like a witness or a defendant/witness in your own trial with representation that assumes that the government has to prove their case. It's kind of like, "Well, we got you now. So the rest is up to you."
Amanda Knox: [00:15:13] So there definitely are differences. However, they did a tricky thing with my interrogation that they sometimes do here in the US which is they try to distinguish between what they mean by questioning a witness and what they mean by interrogating a suspect.
[00:15:30] And the investigators claimed that they had never been interrogating me, that they were only questioning me as a witness. I freely and voluntarily while being in the process of being questioned as a witness, turned myself into a suspect. So that's the reason why I was never offered an attorney. And that was why when they arrested me, it wasn't a normal, like, "You have the right to remain silent. Anything you can say can be used against you." Like it was this — 
Jordan Harbinger: [00:16:07] Right.
Amanda Knox: [00:16:08] They argued that I had never been a suspect. And we know now that that is false. That is patently false, but that was what the claim was. That was the reason why they said they didn't record that interrogation. They had recorded every single questioning of me leading up to that final interrogation, but they just happened to not have turned on the recorder for that interrogation, a Lot of sketchy stuff. They happened to have decided to break me the day that they knew my mother was arriving in Italy to come and support me. So they basically knew that they had one last day to get me when I was at my most vulnerable. And that's when they've decided to break me. Literally like overnight as my mom's on a plane to Italy.
[00:17:00] And then like, everything that follows is simply the same old story of the police digging in their heels. Trying to prove my guilt no matter what evidence comes out. There was a lot of talk about all the different evidence in the case, all the physical evidence. Ultimately what the case came down to though was a question of my character. What kind of person I was? Was I the type of person who would out of the blue, like orchestrate a sex game, and then murder my roommate. And amazingly, that was a really compelling story for a lot of people. There was this idea that there's this loose woman who's using her sexual wiles to manipulate the sort of puppet men around her and is like using men to commit her violence for her. And her violence is obviously directed towards other women because other women hate other women. That was the sort of compelling argument that was presented. 
[00:18:04] And it was compelling. People believed it. I was convicted. I spent four years in prison and that's sad, but there are a lot of things that, where my case is really similar to a lot of wrongful convictions cases. As soon as the jury hears that someone confessed, they tend to stop thinking about whether — you know, even what the forensic evidence and what the physical evidence of the case means because of confession is such a powerful statement for a lot of people. It's such a powerful piece of evidence. And people don't seem to empathize with how someone could be coerced into saying anything — not true.
Jordan Harbinger: [00:18:49] Who in the hell is going to go, "Oh yeah. I would definitely confess to something I didn't do"? Everyone thinks, "Well, if I didn't do it, I'm definitely not going to say anything. I'm never going to say that I was there if I wasn't. I'm never going to say I committed a crime. Doesn't somebody who confesses know the consequences of confessing to a murder." And the answer to that is, watch Making a Murderer. Tell me that Brendan Dassey, for example, understood what he was saying when he's like, "Yeah, I did it. I cut her up. And I have a project though in fourth period. Can I leave now?" And they were like, "You're under arrest," and it's like, "Hello. The kid is not all — he doesn't know what's going on."
Amanda Knox: [00:19:23] Yeah. And false confessions is, you know, it's one of the causes of wrongful convictions and that includes incentivizing witnesses to lie and the problems that come with eyewitness identification. A lot of people come into the courtroom claiming to be able to definitively identify a person. And it turns out they can't, they're actually not so sure. But false confessions for me are one of the more brutal ways that cause wrongful convictions because they are an insidious and subtle way to hurt someone. There are overt ways that police can abuse people — punching them, hitting them, throwing them to the ground, putting a knee on their neck. And then there are subtle ways that police can abuse people who are in their custody. Or in my case, you know, technically I wasn't in their custody, I was just in their office.
[00:20:25] With Brendan Dassey, he's a classic example of someone who is particularly manipulative of what was happening to him. He was young. He doesn't have a terribly high IQ. He understood that these were authority figures who wanted something from him and he was doing his best to give them what he wanted. A lot of people think now because especially at Brendan Dassey, there's a sort of acceptance that, "Oh, okay. Well, if you are very young and you are very impressionable, false confessions can happen." We understand that now, but what people still don't understand is that you don't have to be super young and not have a high IQ to be susceptible to these kinds of coercive tactics. There are a million reasons why people falsely confess.
[00:21:15] In my case, because I was tricked into thinking that I had amnesia. It didn't help that I was in a place where I was also very young. I was alone. I didn't have any of my normal authority figures around me that I could refer to and I was speaking a foreign language. All of that didn't help me but some people have argued, "Well, Amanda wouldn't falsely confess she's a college student. She's intelligent, she got high test scores." And it's like, no, you to be impressionable simply means that someone has to have to be able to impress something on you.
[00:21:50] And we all have our points of weakness and vulnerability that a skilled interrogator can learn to press. And if they press it hard enough in just the right way, at just the right moment, they can get anyone to say anything. You know, I was made to genuinely believe that I had somehow witnessed the murder and didn't remember it because I couldn't understand why else the police were screaming at me and hitting me. That seemed like the only thing that made sense to me at that point. 
Jordan Harbinger: [00:22:23] How did we get from then you witnessing it and not remembering it to then it's like…she did it. 
Amanda Knox: [00:22:29] It gets to that because when the police tried to confirm what I said to them, It wasn't true. Obviously, it wasn't true. I didn't know what the hell happened to Meredith. So I just said what I thought that they wanted me to say based upon what the line of questioning. And then they wrote up the thing and I just signed the thing. They were wrong. They didn't have enough information. They didn't have enough evidence to lead me down a path to confessing in any way that was meaningful. So I just said something that didn't make any sense. Then they arrested the wrong person who had an ironclad alibi. And when finally the forensic evidence came back showing that the fingerprints that had been left in blood at the crime scene and the DNA that was all over Meredith's body belonged to a completely other guy who had fled to Germany. They were like, "Oh shit. Either Amanda is completely innocent and we are assholes or we're still right and Amanda just put in someone else into her scenario. And so we're going to just kick him out and put the other guy in and make Amanda the criminal mastermind because here she is in the interrogation room telling us half-lies."
Jordan Harbinger: [00:23:49] So instead of saying like, "Okay, let's be rational about this and go look at this." It's like, "Oh shoot. I've just given 8,000 interviews about how great of an investigator I am and our forensic team, which is like a bunch of cops that have never done forensic and investigation and have contaminated every piece of evidence to the maximum extent possible. We will have to outline all of that for all the politicians, the whole media, the courtroom, or we just double down and be like, 'No, she's still guilty.' Here's this other gymnastics that we can do that sort of steel ropes her into this, that way we don't look like we just could convict literally anyone of a heinous crime," which would be a nightmare because the media never cared about the truth. When it came to this story, they just wanted to sell tabloids and capitalize on the situation. And like I said, in the beginning, It was like these dumb headlines that even as a 20-something, I looked at it and I was like, "This is so stupid. Of course, this random girl who's like 20, did it not orchestrate this ridiculous thing?" I mean, It just didn't even make sense. Even when you read the articles that were 99 percent bullshit about it. It didn't even make sense. Like I had that luxury of being able to close the X on the window when I looked at your social media or when I looked at like these articles and you don't have that. So you truly had my sympathy on this. And lots of things online, even now, they'll say like, "Oh, I can read body language. You see, like, when she looked to the left. That means that she's lying." 
[00:25:12] We've had a lot of body language experts on the show that say — these are like the OG body language guys — and they go, "You can't tell when someone is lying using non-verbal communication unless I've been in interrogating you for six hours in your base, wind changes. And even then I'm like 51 percent at this. And this is like, guys who invented reading non-verbal communication in the police interrogation scenario. And they're like, "It's a bad indicator. You can't do it. And you shouldn't try." And yet some guy in YouTube is like, "She's guilty."
Amanda Knox: [00:25:43] I mean, I'm so impressed that if they're the people who developed these methods like they're willing to admit that their methods have vast limitations. I find that really impressive and I applaud their integrity because it's so tempting and so human to attach and insist upon the importance of something that you've invested your time and energy and reputation in. You know, that was one of the reasons why the police really doubled down against me and why they do that time and time again, here in the US in wrongful convictions cases. It's because we've invested not just our time and our energy, but ourselves. Like our identities into the works that we've done. And if we realize that the outcome of that work is not what our intention was, we have a choice. We either say, "Oh, I was wrong." Or, "They are just criminal psychopaths out there in the world who can trick me but I got them back and I took them back."
[00:26:45] You know there is an old culture of that. Recently, I haven't really like super publicly advertised this. And in fact, I wasn't but my prosecutors sort of kind of did it, I guess it really depends on if you read Italian newspapers or not, but I'm — 
Jordan Harbinger: [00:27:01] Not so much. 
Amanda Knox: [00:27:03] I've been in contact with my prosecutor and I've been talking to him about what happened coming from a place of trying to understand why he felt like he was doing the right thing because I've always sort of intuitively understood that the vast majority of people, including the people who hurt me think that they're doing the right thing at the time. And that's one of those difficult truths that I don't think is very often acknowledged in society to sort of think that there are bad people and there are good people. And you can tell who the bad people are because of the outcomes of whatever they do. And that's not true. Like a person's intentions can be different than their outcomes. And I think that someone can be motivated towards — and have like noble goals and still do incredible harm to other human beings.
[00:28:06] And knowing that I had to really look at who the person my prosecutor was. And he's a man who grew up in a very different culture and a very different time than me. And I learned that he is a big fan of this detective series called the Adventures of [Lecoq], like Detective [Lecoq], it's French. It's basically like French Sherlock Holmes.
Jordan Harbinger: [00:28:26] Okay.
Amanda Knox: [00:28:37] French Sherlock Holmes is very, very similar to Sherlock Holmes where he's this guy who is super sharp and is able to glean, vast truths from seemingly inconspicuous circumstantial details that he puts together.
Jordan Harbinger: [00:28:54] So dangerous. 
Amanda Knox: [00:28:56] Yeah. 
Jordan Harbinger: [00:28:56] The police version of, "Oh, she looked to the left, she's lying." It's like Colombo, when he's like, "So you rip the paper off the printer with your left hand as you walk by the table. But if you are going there—" and then it's like this whole extrapolation that just falls apart under even like the most minor scrutiny, but you don't give it that because you want to be [Lecoq] or whatever. And so you're like, "Aha!"
Amanda Knox: [00:29:16] Well, it's been a fetishized and celebrated way of thinking and it's not necessarily illogical. What it fails to take into consideration is how much cognitive bias affects people's ability to recognize what is meaningful or not. The obviously crazy person is going to see the number 69, wherever he goes because you can always find patterns. Our brains are really, really efficient at finding patterns. And so really like confirmation bias and other cognitive biases can lead people to see what they want to see. And because we have this sort of celebration and fetishization of that sort of intuitive logistician, we haven't until very, very recently started to question whether or not that sort of old school OG detective is an effective means of gleaning truth or not. That fetishization of logic and reason came from a world where wrongful convictions happen all the time. And no one gave a shit.
Jordan Harbinger: [00:30:29] Right because they were like cutting off a finger every time you said you didn't do it or something — yeah. 
Amanda Knox: [00:30:33] And it didn't matter. And so like, this is a long history of us developing a better relationship to truth, at least when it comes to truth in a legal sense. I think that as people are realizing that a lot of how people perceive what is true is often subjective. That's called into question the very idea of truth, which is dangerous because yes, how we present information and what information we recognize is going to influence our ability to determine what is true. That's totally true, but that doesn't mean that truth doesn't exist. Like whether we noticed that gravity is there doesn't mean that gravity isn't there.
Jordan Harbinger: [00:31:22] You're listening to The Jordan Harbinger Show with our guest Amanda Knox. We'll be right back.
[00:31:27] This episode is sponsored in part by Feetures. That's F-E-E-T-U-R-E-S. See what they did there? These are socks. And I have all these beautiful copy points in front of me, but I got to tell you, these socks are really, really nice. I didn't know — they're not heavily branded, so I didn't know which ones I was wearing. And I told Jen the other day I was like, "These are my best pair of socks." And she goes, "Oh, those are the Feetures. You have a bunch in your drawer in the package." And I was pretty stoked about that and I even went to the old man walking store where I got my new shoes and they recommended them and I said, "Oh, I've got it covered. I've got my Feetures already because they sponsor my show. No big deal." So these are really, really nice walking socks, anatomical disease, targeted compression, all the things fogies like me and people who care about their feet and health, et cetera, like you care. I walk eight miles a day. My knees started to hurt. I needed to go to that legit shoe store. And these were what they recommended. Jen. 
Jen Harbinger: [00:32:22] See why Feetures has quickly become the number one running sock in America. For listeners of The Jordan Harbinger Show, you can receive $10 off your first pair of Feetures by going to features.com and using our code JORDAN. $10 off your first pair when you go to F-E-E-T-U-R-E-S.com and enter promo code JORDAN at checkout. Again, that's feetures.com promo code JORDAN. 
Jordan Harbinger: [00:32:48] This episode is also sponsored by Fiverr. I use this website all the time, every week. This is the site I thought I didn't need, but that I turned out to love. So you can go to fiver F-I-V-E-R-R.com and a 10 percent off with my promo code JORDAN, by the way. You can get any — I swear, you can get anything done there, like graphic design, someone to do some analytics on your website. You need a little hand-drawing of a mouse with your face on it, whatever copywriting, web programming, film, editing, anything on Fiverr. Everything used to be five bucks there, but now you can actually get real important stuff done there. And the pricing is upfront. You don't have to negotiate. They have 24/7 customer service. I've had very, very few problems. They're in the hundreds and hundreds of times I've used it in customer service and have always been spot on. I really dig it. It's a great way to find freelancers. Jen, tell them what we got for them.
Jen Harbinger: [00:33:37] Check out fiverr.com and receive $10 off your first order by using our promo code JORDAN. Find all the digital services you need in one place at F-I-V-E-R-R.com, code JORDAN. Again, that's fiverr.com, code JORDAN.
Jordan Harbinger: [00:33:52] And now back to Amanda Knox on The Jordan Harbinger Show.
[00:33:57] Have you read Malcolm Gladwell's book, the latest one where he talks about matching and things like that? Because I wondered if — you know your reaction wasn't what people thought of guilty or a not guilty person would look like, depending on where they fell. And so a lot of people will say, "Oh, well, look, she's not doing this and this is why the way innocent people react." Gladwell calls it, the Friends Effect where we think anyone who's surprised is like, "Oh my God," when really surprised people could just be like, "What?" You know, this very subtle reaction. And you had these different reactions that didn't match what people expected. Actually, aren't you in the book? Now, I'm getting a little deja vu here. Yeah, you're in the book because of this. I'm no genius.
Amanda Knox: [00:34:39] Yeah, in one chapter.
Jordan Harbinger: [00:34:40] Yeah, my bad. He already came up with this literally exact thing. I'm an idiot. Go ahead.
Amanda Knox: [00:34:45] I was just going to say that I am very aware of his book and I don't want to say too much about what I think about it because I interviewed him about it. I have a whole episode of a new podcast that I'm developing. That's going to be coming out in the fall called Labyrinths where I dedicate a whole episode to my interview with Malcolm Gladwell and his analysis of my case. I think the one sort of tantalizing mentioned that I can make is that I don't agree. And the reason I don't agree is because I think that Malcolm Gladwell is making a similar mistake that people have been making time and time again, which is explaining my wrongful conviction by looking at me, not looking at everyone else who had power and agency in the situation.
Jordan Harbinger: [00:35:48] Sure, I agree with that. I just thought that's what the way people reacted when they were looking at you was that principle. But I agree I think — again, it's not about you. Like, you should have been able to walk up and go, "I did this" and they would go, "Nope. The evidence says, there's no way you could have done this." You should have been able to confess within seconds and they should have investigated and known that you are not telling the truth, but they didn't do anything like that, of course. 
Amanda Knox: [00:36:11] No, no, and unfortunately, I think that's what we like to think our justice system is like. No matter what crazy person walks into a police station and says, "I did all the crimes." They're going to put that person on trial for murder, but the reality is that investigators and prosecutors and judges are all people and people are motivated by incentive structures, like having the job would be easier.
Jordan Harbinger: [00:36:43] Yeah.
Amanda Knox: [00:36:44] Making a case that is going to convince people, instead of going through the trouble of doing the raw difficult work of digging up data and evidence. Police and prosecutors know what is compelling to people and a confession false or true is very, very compelling. People want to hear from the guilty person, "I did A, B, and C," because then suddenly the element of reasonable doubt. Like we like to believe that someone would only do that if it works through. And the element of reasonable doubt goes away. We all feel better about ourselves and that person goes to prison and we get to forget about them.
[00:37:28] It's so human to make that mistake. And that isn't to say that there's anything terrible about being humans. It just means that we need to think about that when we're sitting on a jury or when we're empowered in those positions where we are deciding the fate of people. We need to take that more into consideration. And I am just so mad that I'm never ever, ever going to sit on a jury because who is ever going to let me sit on a jury. I want — I've never even been asked. I swear, like the computer, like pops my name up and they're like, "No."
Jordan Harbinger: [00:38:04] You're probably right. I mean, they probably just go like, "Is this person—?" There's got to be something in there that's like, "Is this like a notable figure for any reason? Okay. We can't do that." Like, it would just be a waste of everyone's time because any lawyer's going to come in and have whether their plaintiff's lawyer or I should say, prosecutor or defendant, counsel, they're going to either be like, "Yes," or they're going to be like, "Hell, no." like there's no point in even putting you in the room and wasting everyone's time like there's no chance. 
Amanda Knox: [00:38:30] And what's so sad about that. And is something that I talk about a lot with my husband Chris is our system is basically counting and depends upon the people who ultimately decide being as ignorant as possible. And having some sort of experience or knowledge about how the criminal justice system works or how human minds work is considered a bias that is bad for the courtroom. And I feel that. What our society needs is more now from jurors in the courtroom. We need an informed jury that knows like — ever since coming home, I'm suddenly realizing how incredibly ignorant I was and how we all are about what our rights are and what it means, what reasonable doubt means. And this is coming from also from a place of like victim's standpoints. Victims are walking into the courtroom, not knowing what to expect, not knowing what their rights are. Jury members don't know how to sit there and appreciate their experience and how difficult it is to relive your experience over and over again in front of people. Like these are all ways that ignorance is being manipulated and taken advantage of in our justice system by both sides, by the prosecution and the defense. And it's really unfortunate because it leads to wrong outcomes so often. So I don't know. I mean, if it were me and I could get a degree in teaching, I would like, you know, advocate for there being a criminal justice class that you just take in middle school or, you know, in elementary school, middle school and high school because you're getting of it is going to change over time. I think that would be a brilliant thing that we don't do 
Jordan Harbinger: [00:40:26] Eventually convicted and sentenced to 26 years in prison. Spoiler alert. You didn't serve them, obviously, because you were later acquitted — case that went all the way to the Supreme Court. But can you tell me like you're in prison two years before that, but before sentencing and during the trial, you had to be thinking, "This is a nightmare, but it's going to be over soon"? I mean, I would probably have some faith that the evidence couldn't exist because I didn't do it. So it's not going to stack up. Tell me about the moment, I think, that you got sentenced. I mean, what's going through your head? Like just absolute disbelief I would have to imagine. 
Amanda Knox: [00:40:58] Yeah. So the way that I experienced my wrongful conviction was the two years leading up to it, the worst and worst things it got. Like, you know, people saying who knows what in the courtroom, you know, horrible things being said about me in a courtroom, the worst and worst it got. And the closer I got to my conviction, the more I felt that I must be freed because clearly, they were making all these extravagant claims about me. The prosecutor putting literal words into my mouth, saying like, "Amanda said, 'You die slut.' Like, just a million ways that it was so clear that they were leaning on character assassination and not on evidence. And I was convinced that I was going to be going home. And after my conviction, I realized that the truth didn't matter. And that I couldn't count on the truth to save me. 
[00:41:58] And that's something that I struggle with to this day because I think that a lot of exonerees are really spiritual, faithful people. They tend to be. And there's this sort of feel — like we sort of talk ourselves into believing that the truth didn't come out yet, but it will come out, it must. The thing that sort of existential crisis that I went through was, there's no guarantee. There's no guarantee that the truth is going to go out. Like there's no guarantee that people will ever believe me. As long as they are more convinced by a story than by the truth, there's nothing I can do. And I felt very powerless. I entered into a place of despair that I have never known. And I lived with that for another two years. And as things were getting better and better and better throughout my appeals process, I still felt myself plunging deeper and deeper and deeper into despair because even though the evidence was totally called into question, independent experts were saying like, "This is not true. Whatever the prosecution is saying, it's not true." The closer and closer that we got to the truth, the more afraid I felt that I was going to be destroyed again because the truth didn't matter then, why would it matter now?
[00:43:27] So when I was acquitted, I mean, I remember entering that courtroom shaking. I was so scared and people. People thought that I had misunderstood the outcome, like the acquittal. They thought that I just didn't understand what the judge was saying because I was crying so hard afterwards. 
Jordan Harbinger: [00:43:48] I know what you're talking about. I saw that and you're crying so hard cause it's over and it's clear to anybody who's looked at the whole case that you're just, it's like massive —  just letting out. It's an emotional release, obviously after all that pressure. 
Amanda Knox: [00:44:01] The guards were carrying me out of the courtroom and telling me "No, no, it's okay. You won." I was like, "Yes, I know." And of course, it didn't end there because a few years later, while I was here in the US, they decided to try me again for the same crime. And they overturned my acquittal which is something you can do in Italy and tried me again and found me guilty again. And we brought that to the Supreme Court in Italy. And it wasn't until almost eight years, it took about almost eight years for the whole thing to be definitively over for the Supreme Court to find me definitively acquitted and that's what happens. 
Jordan Harbinger: [00:44:47] That's insane to me. You didn't have to go — so you were in the US. Were they like, "Hey, come back to prison," and were you like, "Hell no, I'm taking this to the Supreme court"? Like how did that work out?
Amanda Knox: [00:44:56] So they didn't immediately — when they convicted us the second time. They didn't immediately call for our arrest. What they did do was they took away Raffaele's passport. He was still in Italy, so he was no longer allowed to leave the country and we were allowed to be free. Basically, I think that they didn't arrest him immediately because they knew they couldn't arrest me immediately.
Jordan Harbinger: [00:45:23] Right because FYI to people who don't know, they said he did it with you. So this guy who's known you for five days was also in prison for a murder that neither of you committed and he's probably like, "This is the last time I'll meet foreign women," or whatever — like this poor guy is going through, this poor nerdy guy. 
Amanda Knox: [00:45:38] The thing is Raffaele was never the interested person to the cops and the cops were trying to get him to turn on me the entire time. They were trying to tell him, "She's a stupid cow. You need to tell us the truth that she did it." He refused because he was like, "No, she didn't do it." And he could have walked out of that. He could have been an incentivized witness who was basically coerced by the cops to testify against me. They were basically bribing him with the greatest bribe that you can give to anyone, which is their freedom, and still he had the wherewithal and the integrity to refuse it so kudos to Raffaele. 
Jordan Harbinger: [00:46:24] Wow. That's impressive. I don't know if I would have held up under that circumstance for a woman I just met as well. I'd like to think I'd do it for my wife. Sorry, Jen. I'm not sure. No. I mean, I feel like this guy met you like five days prior at — was it opera or something? I mean, this is not like — 
Amanda Knox: [00:46:44] He was — like we barely knew each other and also like, you have to remember, five days of us not speaking the same language. Like he understood a little English and I understood a little Italian and we were just getting to know each other and we happened to just be very youthfully infatuated with each other, but we very genuinely didn't know each other.
Jordan Harbinger: [00:47:07] Unbelievable. To take it into the lighter direction, you know, how's your Italian now? Because I always think if I were in prison in a foreign country — I don't know why I think about that hypothetical so much by the way. But I think like if I were in prison in a foreign country, I would study the language and I learned it so well. And did you study Italian in prison? You kind of didn't have much else going on, right? 
Amanda Knox: [00:47:25] Yes. I definitely studied Italian in prison which isn't to say that there was a course that I could take.
Jordan Harbinger: [00:47:32] You don't need one.
Amanda Knox: [00:47:33] They would yell at you in Italian until you figure out what they want. But yeah, I taught myself. Going back to the female practice of blaming oneself, I was convinced that the fact that I didn't speak Italian well enough was a huge reason why all of this happened to me and so I really put in a ton of time and energy into trying to understand people and trying to make myself understood. And I was suddenly in an environment where to survive, I had to do that. Because it's not like I was put into it — it was not a foreign exchange situation where I was in a household with really like doting foster parents who were like walking you through how to speak. Like, no, suddenly I was in an environment where no one gave a shit about me and a lot of people are struggling with mental illness and personal trauma. So I am the farthest thing from their mind and I am locked in a room with them for 22 hours a day. 
[00:48:33] So this was my reality. And the way that I managed that was I immediately took a dictionary. Like I asked for a dictionary. They gave me a dictionary and I meticulously worked through whatever books I could get my hands on, just kind of word for word translating, trying to read, trying to learn the language, and then on my own Spending hours and hours and hours a day, practicing how to conjugate different sentences in different ways. So like I was at a point in my Italian where I was familiar enough with the present and the past tense but there are all these complicating factors, like what would I have done? What will be the thing? And so like, there were all these subtleties of language that I was unable to convey that I spent so much time, just like filling pages and pages with — I walked to the store, I would walk to the store, I would have walked to the store. And just like trying to get it into my brain, how it was the language is working and therefore, how to understand what people were saying to me.
Jordan Harbinger: [00:49:46] Do you like speaking Italian or does it just bring back too many bad memories? Like, oh, that's the language from when I was locked up unfairly for four years. 
Amanda Knox: [00:49:55] It's both. So I am a language file and I love being bilingual. I speak Italian happily with friends who speak Italian. I have Italian friends and, and I speak and I want to speak it with my children when I eventually have children. I have a lot of good memories from speaking Italian and I can speak Italian. Parli Italiano?
Jordan Harbinger: [00:50:19] No, nuh-uh.
Amanda Knox: [00:50:20] So I guess we can't have them all.
Jordan Harbinger: [00:50:22] No. My moment was going to be in German. And then you're like, "Yeah, I can say cheese." And I was like, "Yeah, well, fuck this then. It's not happening." 
Amanda Knox: [00:50:30] Actually. I have a really great story about cheese in German, but I'll get back to that. 
Jordan Harbinger: [00:50:35] Yeah, we can circle around on that one. 
Amanda Knox: [00:50:37] But there are moments where I get triggered in a bad way. An example of that is early on when I got back home, I was invited to come to an international film festival thing. And again, it was like I had to keep it on the down-low. I really didn't want to be seen. And I arrived and the movie happens to be not just in Italian, but in a Napolitano dialect and Napolitano dialect was the most common dialect that I heard in prison. And there were certain phrases that I had only ever heard in prison that were being used in that movie, like, "Affacciati," which means like come to the window but in the case of prison, it means, "Come to the prison door." And I had a panic attack. I couldn't breathe. I felt immediately claustrophobic in this movie theater, surrounded by people. And I had to leave.
Jordan Harbinger: [00:51:41] Wow.
Amanda Knox: [00:51:42] I left because I couldn't deal with it. I have moments like those less and less, but every time I do hear Italian, like if I just happen to be in my world and I hear someone speaking Italian immediately, I feel like, you know, deer in headlights a little bit. I immediately tense up and I listen because I irrationally think that this Italian person has recognized me and is talking about me. That sounds paranoid — 
Jordan Harbinger: [00:52:13] Sure.
Amanda Knox: [00:52:14] But that has happened before where I've been somewhere and I was visiting a castle and I was on a tour. And of course, the two Italian people on the bus recognize me and start talking about me.
Jordan Harbinger: [00:52:28] Oh.
Amanda Knox: [00:52:30] I wonder if like Italian people realize that I do speak Italian and I can understand them. And I can kind of like power move on them or later, like, as we're in a group, sort of like having lunch, I went up to them and I was like, "Ciao. Come va."
Jordan Harbinger: [00:52:51] Yeah, like, "I hear you. I understand what you're saying. All of those things, you weren't sure if I understood, I want you to think about what you said to the rest of this meal and wonder if I understood." Yeah. That is a power move. Did you have any positive relationships behind bars or was it all just kind of like strip searches and like yelling at you and stuff?
Amanda Knox: [00:53:09] So I did have some positive relationships. The first one that's very obvious that comes to mind is the priest was a very, very kind, man. I am not this person. In fact, I am actively anti-religious, but my best friend in the prison was the priest. He was a very, very, very sweet man and he really loved music. And at every opportunity, he offered me the opportunity to come into his office and play guitar. And, you know, these were moments where I was supposed to be coming down and doing confession. And he would waste hours of confession time with me so that I could play guitar because I had no other opportunity to do so. He was just the sweetest guy. He just retired now. He doesn't go to the prison anymore, which is a shame because I think that he brought his kindness into a place that was really lacking in that, which isn't to say that I always had terrible experiences with guards. I had worse experiences with male guards than I did female guards for obvious reasons. There is a special, special kind of relationship between a prisoner and a guard. Because as a prisoner, you are 100 percent at the mercy of the guard. And they have 100 percent the right to do anything to your body.
Jordan Harbinger: [00:54:41] Dang.
Amanda Knox: [00:54:42] They can strip-search you. They can cavity-search you. They can hit you if they feel the need to. Like, this is all stuff that you understand is your relationship with that person who holds the key. And some guards were nice in a sort of casual way, and would say good morning. All of them were fairly personally distant. I think I only ever learned the name of two guards. Otherwise, they were always called "agente". And if you ask them their name, they were very resistant to ever telling you their name. So there was definitely this sort of emotional distance between you and the guard, even if they were kind and said good morning to you.
[00:55:26] There was this understanding that at the end of the day, they're locking you in, they're strip-searching you, they're going through your stuff and taking things away from you. Like this is their job. And so they themselves have to emotionally distance themselves. 
Jordan Harbinger: [00:55:40] Sure, yeah, and it's also a safety thing. I mean, for guards in any prison, but at Italian prison, for sure. Like we don't have to go down that road, but I wonder about the lack of human touch or healthy human touch. I mean, that's why I brought up strip searches, not to be all pervy, but because like is the only time you're getting touched is when someone's like, "Did you hide something in your butt?" Like, you know, that sounds awful. And again, I'm not trying to make light of it, but like it's such a weird situation where no one is nice to you or no, one's touching you unless it's victimizing. 
Amanda Knox: [00:56:09] Yeah, that's huge. I got to the point where it was a big, big thing for me to be able to sit across from my family members and actually hold their hands when I was being visited. It wasn't like the movies where you're behind the glass and you have the phone. I was lucky enough where I didn't have that situation. The visitation was a small room where there were tables and we sat at the table and we could hold hands and we could hug at the beginning and end of the visitation. So I was able to get that kind of touch, but it got to the point where I was flinchy and I didn't like to be touched. And I am a very, very physically affectionate person. I hold things and I touch — my cats love it because I'm just super cuddly with them. I am super, super cuddly. And that's another one of the reasons why people were like, "Oh my God, Amanda, she's like a latched onto her boyfriend and sitting in his lap in the days following the murder." And it's like, well, I was seeking comfort and my comfort is like sitting in someone's lap. Like that's where I feel safe. So anyway, I got flinchy and I got weird about being touched and for that to happen to me is a big thing.
[00:57:23] And it's one of the reasons why so often I can't speak to male prisons because I know that a lot of it is assault and not consensual, but in female prisons, there's a lot of seeking of that sort of physically affectionate touch that would otherwise be taboo to that person in the free world. Like, you know, there's that stereotype of people becoming bi in prison. And it's not so much — I mean, from what I saw and I actually wrote an article about this a while ago, was it wasn't that like people were suddenly becoming sexually aroused by the women around them. It was that starvation of human connection and a feeling of any kind of intimacy. And often that intimacy was simply expressed by this is the person I hold hands with because I need someone to hold hands with and who is meaningful to me and that's my person. It's so sad and also amazing the way that human beings adapt to really, really harsh environments and find ways to experience each other's humanity, despite amazing limitations. 
Jordan Harbinger: [00:58:38] This is The Jordan Harbinger Show with our guest Amanda Knox. We'll be right back.
[00:58:43] This episode is sponsored in part by Better Help online counseling. We're in extraordinary times and if you are struggling with stress, anxiety, or depression, you're not alone and if you're not struggling with stress, anxiety, or depression, well, I would like to know the one person who's not dealing with that right now. Better Help offers online licensed professional counselors who are trained to listen and help. Better Help counselors specialize in many areas, including relationship conflict, which there's plenty of in my inbox right now. If Feedback Friday has anything to say about it, these problems are rampant — depression, loss, trauma, and more. It's secure. Everything's confidential. You fill out a questionnaire. A couple of days go by, they assign you a counselor — video, phone, chat. If you don't click with your counselor, I feel you. No problem. Get a new one at no additional charge anytime. Professional help when you want, wherever you are. No more parking, no more driving. And it's affordable. Our listeners get 10 percent off your first month with discount code JORDAN. 
Jen Harbinger: [00:59:37] In fact so many people have been using Better Help that they're recruiting additional counselors in all 50 states. So get started today at betterhelp.com/jordan. That's better-H-E-L-P.com/jordan. Talk to a therapist online and get help.
Jordan Harbinger: [00:59:53] This episode is also sponsored by Raycon. Whether you're working from home or you're working on your fitness, you want what you're listening to, to be what you're listening to, not what your roommates, your neighbors, your significant other, or your kids are listening to. Everyone needs a great pair of wireless earbuds that don't leak like the Delta Airlines specials. But before you drop hundreds of dollars on a pair of checkout wireless earbuds from Raycon, they are about half the price of any other premium wireless earbuds on the market. We tried their newest ones every day, E25 earbuds. They're the best ones yet. Six hours of playtime, easy to pair with Bluetooth. They're bassy. If you're into the bass and they're very compact, they look cool. Jen's been using these around the house because she's got a sleeping baby in her arms half the time. So we definitely need something well to keep her sane. And Raycon is piping those pods, piping in those podcasts. No wires for the kid to chew on or yank out of your ears.
Jen Harbinger: [01:00:43] Now is the time to get the latest and greatest from Raycon. Get 15 percent off your order at buraycon.com/jhs. That's buyraycon.com/jhs for 15 percent off Raycon wireless earbuds, B-U-Y-raycon.com/J-H-S.
Jordan Harbinger: [01:01:02] Stay tuned after the show, we've got a trailer of our interview with Kevin Systrom, founder of Instagram. Kevin talks about why starting a billion-dollar company is actually easier now than ever before, how to pivot your business, or your career, whether or not billionaires get FOMO. That's coming up right here after the show close. 
[01:01:19] Thanks for listening and supporting the show. Your support of our sponsors keeps us going. To learn more and get links to all the great discounts you just heard, so you can check out these amazing sponsors for yourself, visit jordanharbinger.com/deals. We've also got worksheets for today's episode. That link is in the show notes at jordanharbinger.com/podcast. And now for the conclusion of our episode with Amanda Knox.
[01:01:44] This was obviously the worst part of your life. And you'd never want anyone to go through it. I wonder if there's anything that you got out of it where you're like, "This was actually a gift." Or is it just all darkness? And don't say I had a lot of time to read. I feel like that's too cliche.
Amanda Knox: [01:01:58] I did have so much time to read. I was forced to plumb the depths of myself to survive. And I had to grasp at any strand, however, frail of strength or hope or endurance or whatever in order to get through what I went through. And in the process, I learned to know myself in a way that I did not before. That is a valuable experience that I am grateful for but it's again, not a guaranteed experience. It's not like everyone who goes to prison successfully plums their depths and gets to know their limitations and doesn't get utterly horrifically traumatized for the rest of their life from having to go through that. I can't say that I am not a broken person because of that. I think and I'm often told that I come across as a resilient person who can articulate myself now and can actually have relationships with people. Like I'm grateful that I'm able to do that after all of that. It's not guaranteed. So I'm grateful that, however, I was able to do that, I mostly thank my family that I never actually had to be genuinely alone to feel utterly alone. I think that would have destroyed me. And that would have been a limit for me. And I was not forced to go past that limit. So I think that I found my limit but I wasn't forced to go past it and I'm grateful. 
Jordan Harbinger: [01:03:50] Yeah, no kidding. Day to day, do you think about the prison experience or is it mostly kind of compartmentalize until some jerk like me sits you down and asks you a bunch of questions about it?
Amanda Knox: [01:04:01] I think about it a lot and not just because I spend a lot — like my work now is really focused based on true crime. You know, I have my podcasts, The Truth About True Crime. I write for an outlet called crimestory.com. I look into cases and I interview people who have been formerly incarcerated. So this is like all in my mind all the time, but also I always feel like I'm trying to translate those formative years of my life that I spent in prison to the free world. And I don't know if that's because prison left so much of an impression upon me, or if it's because I happened to have turned into an adult in that environment. There's that double thing that's happening, where I literally went from being a child to an adult in prison. And was that because of prison or was that because of my age? Was it a combination of both? But I'm constantly comparing the free world to prison, even as my memories and the sort of feeling of proximity to prison diminishes. I don't have nightmares about guards feeling me up and I don't turn the corner and forget that I'm in my house and I think I'm in a prison block. Like I don't have those moments, but I have that lingering feeling of dread that never goes away. It's something I struggle with.
Jordan Harbinger: [01:05:38] You don't get to be anonymous ever. Most of us never think about this sort of thing, because we're never in a position to be famous, infamous, whatever we want to label it for something we didn't do or something we did do whatever. You know, most of us are just like we just are anonymous people that live our lives. You don't really know if someone's befriending you because they're like, "Oh, I'm going to saddle up to Amanda Knox." Or like, you noted that you can't make certain jokes because everything you say is under stress scrutiny. Like you had this nickname Foxy Knoxy that was like your soccer nickname, but then the press picked it up. And you said something earlier like you can't fetishize that. And I was like, "We're going to see that shit on Reddit later from somebody." She's like, "Look, she's using words like this." Like everything is under scrutiny. What is it like knowing that many of the people you meet in your day-to-day life will have judged you before they even met you? Like, can you go Walmart where people like, "Holy shit, Amanda Knox, look, dude, that girl from Netflix is here. Get down here."
Amanda Knox: [01:06:34] It's a combination. So it's not like everywhere I go I have to wear sunglasses and a hat. A lot of times I am recognized but people don't know why they recognize me. And even when like, you know, it'll happen where I need to call customer service because my Internet is not working and they'll be like, "Oh, you're Amanda Knox. Did you hear about that case about that girl named Amanda Knox? Is that you?"
Jordan Harbinger: [01:07:05] Oh God.
Amanda Knox: [01:07:07] And that's like, I try to remember what place that's coming from. Like most people are genuinely just curious about other human beings and I don't hold that against them.
Jordan Harbinger: [01:07:18] Right.
Amanda Knox: [01:07:18] It is disconcerting. And I think one of the reasons why I've sort of leaned in to the fact that I am recognizable is sort of even just a defense mechanism where I think like — there is no way to preface this. A lot of people are like, "Amanda, why don't you just fucking disappear already? Like, why do you have to have an Instagram account? And why do you have to go around talking about wrongful convictions all the time? Why don't you just disappear if you really want—" 
Jordan Harbinger: [01:07:48] Why don't you hide.
Amanda Knox: [01:07:49] "If you really want to hide, why don't you hide? And there are two reasons for that. One — well, there are multiple reasons but I can just give more than two. One is the fact that I don't like the idea of having to hide from my own life. This was a thing that happened to me. It's real. And part of that is being recognized for that. Like, not to say that I care about being recognized that I went through a thing. It's more like I can't get call customer service without someone being like, "Amanda Knox. I've heard that name." 
Jordan Harbinger: [01:08:22] Yeah. "Does it get my Internet faster if I'm the girl from the Netflix documentary? If not, let's just continue." 
Amanda Knox: [01:08:27] Turns out — 
Jordan Harbinger: [01:08:27] Yeah.
Amanda Knox: [01:08:29] Or like, I can't get out. Like I'm afraid to get on the ferry because there's this one — like I live on an island and I have to take a ferry to get there. And there's this guy on the ferry who works for the theory who is always weird with me. Like he always wants to ask me questions about the case — anyway, so it's like a thing and part of it is like, okay, well, if this is my world and this is my world, and I'm not going to pretend that that's not my world. And in fact, I'm going to acknowledge that this is being recognizable for a thing that can be a good thing and can be a bad thing. And if I only take the bad and don't take the good, which is having a platform where I can talk about these issues that I've thought deeply about and experienced firsthand, then I'm not making the best of a bad situation.
[01:09:19] So on one hand I'm trying to make the best of a bad situation. And on the other hand, like, fuck y'all. Like why are you being mean to me? And I think it's also just a process of continuing to process my own experience. Like it is what it is. And I know that if I stare directly at something that scares me in the face, I have a better chance of facing up to it. I can't be constantly running from what scares me. And so I've tried to embrace the various goods and bads that come with being me. I've tried to understand why people give me a hard time about my own wedding and it's like, get mad at me.
Jordan Harbinger: [01:10:05] I saw that shit pissed me off. I never say stuff like this, but that just made me angry for you. I didn't know you then obviously at all. Like I said before, the show I went to go congratulate you like, "Hey, you went through this rough thing." And what I saw on Twitter just made me hate humans. I was like these people are just — this is just horrible. 
Amanda Knox: [01:10:24] I know you have to really try hard, not to hate human beings after experiencing Twitter.
Jordan Harbinger: [01:10:30] That's true. Universal truth. Yeah. 
Amanda Knox: [01:10:32] Yeah. We're not our best selves on the Internet. And I think that. As we spend and wrap our identities more and more around who we are on the Internet that is going to lead a lot of people to be very damaged. I think a lot of people who are lashing out are actually people who are damaged — 
Jordan Harbinger: [01:10:50] Totally.
Amanda Knox: [01:10:51] Who hurt themselves and are like projecting their hurt onto other people. So I try to remember that when people are attacking me and I'm more or less successful when it comes to my own emotional stability. And I'm also trying to acknowledge that the world is changing and human beings are relating to each other in new ways. And I can't just write off a whole new way that we're relating to each other as just that. Like, the thing is literally not good or bad, it's just how you use it. And all of us are baby Internet social media users right now and so we're all acting like babies. And as we become more familiar with the medium and understand its limits and its strengths, my hope is that we'll be more sophisticated and thoughtful and not seek to constantly use everything as a club to hit other people with.
[01:11:48] I find that people are really shortsighted about harm and the way that they harm people. And I don't know why that's been sort of my takeaway from everything. It's just like the myriad of ways that harm can happen and trying to mitigate that and trying to promote a different kind of human interaction while also sort of maintaining my own emotional distance and sanity. But that's why I like the work that I do now. I don't know you. I mean, you're a podcaster. I love podcasting because it gives me time to spend meaningful time with another human being and then to take that. I mean, I don't know about you, but I do a lot of taking and sitting with the material, trying to understand what the person was intending to say because I think — I don't know if you'll find this in a lot of interviews. I found that people take time to realize what it is they mean. And so a lot of times, like a five-minute response, the real thing that they want to say is the thing at the very end, where they finally figure out what they want to say. And so I do a lot of thinking about how people are communicating, what does it mean, and how do I translate that so that their voice is being authentically represented and their intentions are being authentically represented. 
Jordan Harbinger: [01:13:14] I was surprised to hear that you had podcasts because I felt like, talk about someone who's definitely sick of journalism, it's going to be Amanda Knox. Like this guy in the Netflix documentary about a brutal situation is this guy Nick Pisa or whatever who's just like this totally unlikeable guy. And everyone kind of agrees. Like I thought, oh my gosh, I got to google this guy. And the top comments are like, "This is the worst person on Netflix right now. And it's not Amanda. It's this journalist who's just like such a punchable guy." And I thought this is a woman who's so sick of journalism, she's probably never going to read a newspaper again, let alone write for them. 
Amanda Knox: [01:13:48] Yeah. I kind of felt bad for Nick Pisa because he sort of came to represent all of the bad behavior and he certainly was one of them. But he sort of came to represent all of them and therefore had all of the ire directed at him.
Jordan Harbinger: [01:14:06] Yeah.
Amanda Knox: [01:14:07] And I felt like some of that deserves to be spread to other people who hadn't been involved in the documentary.
Jordan Harbinger: [01:14:13] Right.
Amanda Knox: [01:14:14] So again, like when I think about how social media or any other thing is not good or bad, it's just a tool. I am very, very upset, and impatient with bad journalism. But having gone through it myself, I can easily recognize what is good journalism, what is bad journalism, and I can understand having been the person who's been interrogated and interviewed and talked about and treated like a thing. And I recognize how journalists do that either maliciously or just out of ignorance for not having ever been in that position. And I try to do a kind of journalism that is both responsible and compassionate and truth-driven that isn't in the business of black and white thinking and fetishizing or vilifying human beings that are involved.
Jordan Harbinger: [01:15:15] Do you get a little heart pang when you get a Google alert for your name or something like that? I wonder that and like, are you ever — there's got to be this thing in the back of your mind, where like, if someone's choking on a pork chop or something, you're just like, "I can't be around this. I can't be near you if you're going to go ahead and croak. Like I'm out. I can't be here." 
Amanda Knox: [01:15:31] That's a running joke in the household that no one's allowed to die around. Not even close to near me. More like dread whenever — like, I do have a Google alert for myself because I do journalism and try to put a lot of my stuff out there. And I'm trying to see if people are having access to the things that I've put out into the world, but every time I get that once a week Google email, I get dread, I feel dread because I just learned to expect the worst. I very rarely am pleasantly surprised. 
Jordan Harbinger: [01:16:09] Right, sure. I was like, what's the opposite of disappointed? Think fast. Yeah. Do you ever wonder if people know who you are when you meet them at first, but then they don't want to let on? Like they don't want to say anything because they think it's weird. Do you ever try to read them? Like, does this person know who I am, or are you over that? 
Amanda Knox: [01:16:26] So I don't get out that much, but — 
Jordan Harbinger: [01:16:29] By design, well, especially right now. 
Amanda Knox: [01:16:31] Yeah, well, especially right now, you know, I feel bad for all the people who are extreme extroverts, who are living in like tiny little apartments by themselves because I'm very comfortable at home with my partner and I have a craft room. And like, I'm doing way better than most people and surviving quarantine. I can still do my work here. I often get the impression that. Someone is maybe weirdly like, and I say weirdly, not as a judgment of them but just because I continue to find it odd or like weird for me when people are really excited to meet me, like it's super touching and it's especially touching when young women approach me and say, "I really saw myself in what you went through and thank you for speaking about things that I like intuitively experienced and understood but couldn't articulate." Like that's really meaningful to me when someone says like, "Thank you for articulating this truth, that I hadn't yet articulated to myself, but it's like totally real." That is super, super validating to me. And it's something that I'm always trying to do. I'm also always surprised when people are like, "Oh my God, you want to talk to me?" And I'm like, "Well, sure. You're a person and I am a person, I'm just a person."
[01:17:54] I don't often get people being negative weird to my face because I think people avoid me if they are negative weird to my face. And it's more like when it's bad, it's when people are very, very feel entitled to my time and to who I am. Like, again, the person who would stop me while I'm trying to get on a ferry, that's frustrating. But I think mostly my experiences have been surprisingly positive because most of the people who reach out to me are people who are saying like, "Thank you, this thing that you," either, the thing that you've been through or better yet, like the thing that you did — because the thing that is so weird about my situation is most people know me for something I didn't do. 
Jordan Harbinger: [01:18:49] Yeah. The bizarre. 
Amanda Knox: [01:18:51] And I know that it is very, very, very unlikely that any accomplishments that I ever do in this life will out-compete the spotlight thing that I didn't do. 
Jordan Harbinger: [01:19:07] Yeah. You got to invent cold fusion or something.
Amanda Knox: [01:19:09] Yeah. Well, working on it, but it doesn't stop me from doing the work that I do. And I have a small but dedicated audience of people who are interested in what I have to say about things. And I try to earn that by doing all the homework that I possibly can and to sink as hard as I can about the situations that are in front of me because I understand that even if only 10 people listen to my podcasts, those 10 people are going to come away with an idea about another human being. And that is real, that's a real responsibility. And I try to do my best. There are too many people in the world for us to really genuinely imagine as human beings and maintain in our minds like this is a human being just like me. And so like with my podcast, I want to spend like an hour with someone saying here's a human being. And even if that person after the podcast, like forgets that subject person as a human being, at least for an hour, they spent some time being like, "That person's a human being," and that's good.
Jordan Harbinger: [01:20:22] Well applaud the way that you have handled yourself in the face of this. I'm so sorry for what's happened to you. Of course, you've heard that all the time. I do think your life has definitely taken a turn when you resort to starting a podcast, though, I got to rib on that one. 
Amanda Knox: [01:20:36] It's the best. I love it because I get to be safe at home with my cats. One of them is over here, making a spot.
Jordan Harbinger: [01:20:46] Nice, both of you watching on YouTube, get a nice view of that.
Amanda Knox: [01:20:48] And I just get suspense times thinking about people's lives and trying to do for them what other people didn't do for me, whether you're guilty or innocent — like there's a human being behind every story. And that human being can almost always be completely understood, even just as a person who's making mistakes and is coming from a place of hurt or coming from a place of fear or who knows. So yeah, I spend all my day working on stuff like that, and it's really hard because it takes me constantly back to places that hurt me but it feels meaningful. 
Jordan Harbinger: [01:21:27] You think you'd be sick of true crime by now, but you do have a different perspective. I mean, you certainly have deep experience seeing a criminal investigation up way too close for comfort I would imagine. That's unique. 
Amanda Knox: [01:21:40] I was not a true-crime person before all of this. I wasn't reading detective novels. Like I was not me. It was just so ironic for me of all people to be punched into this and become this sort of like a true-crime figure, but what it is, what it is. I'm making the best of a bad situation. I'm just trying to take what I've learned from how my case was treated and apply a better lens to other people's cases.
Jordan Harbinger: [01:22:11] I wonder — this is the final question, so just in case because I know we're going a little over, sorry for that. Have you reached out at all to Meredith's family? Like I assume you've tried. I don't know if they would — are they receptive to you being not guilty? Or is it like, are they not ready for that? 
Amanda Knox: [01:22:25] So the honest answer is, I don't know how receptive or not they are. I have not attempted to reach out to them for a very, very long time. I'm also sort of coming around the position that it's not up to me to establish contact with them because I didn't do anything to them. And if one day they want to talk to me about what happened, I'm happy to do so, but I don't feel that that is something I have to do. I would like to, I would really, really like to, because we all went through something incredibly traumatic and we all lost someone that we cared about. What happened to Meredith's fundamentally changed their lives and my life. So we have that in common, we share that, but like so much has happened and their lawyers were particularly ruthless towards me. And that caused incredible harm. And I'm at a place where I would like to talk to them but I'm not going out of my way to make it happen. 
Jordan Harbinger: [01:23:41] Amanda Knox, thank you so much. This is, you're really open about this and I just — it's really impressive. I don't know if I'd be the same in your shoes, but you know, I'd like to think I would be like, "Now, I'm going to be a criminal justice advocate," but I don't know. I might just disappear.
Amanda Knox: [01:23:55] I ask myself every day, like, should I keep doing this? Is this too hard? And is it hurting me? Or is whatever I'm going through worth it because I can help someone else along the line. And maybe I'm also helping myself by working through stuff that is just too hard. And maybe this is my therapy for myself. I don't know. But thanks for having me. And if you don't mind, can I just like pitch, like, please follow me on — 
Jordan Harbinger: [01:24:21] Yeah. That's where we're going. Do it.
Amanda Knox: [01:24:25] I'm on Instagram at @AmandaKnox. You can find my recent journalism work at crimestory.com and actually The Truth About True Crime podcast is turning into a Facebook show, a Facebook watch show.
Jordan Harbinger: [01:24:39] Oh wow.
Amanda Knox: [01:24:40] And there are going to be new episodes coming out every Tuesday, starting July 21st, so if you follow me or Sundance TV on Facebook, you can get updates on that. And that's what's going on. 
Jordan Harbinger: [01:24:52] Perfect. Thank you so much.
[01:24:56] I talked a little bit with Amanda offline/after and even before the show. It really is insightful. You know, those of us that thought she was guilty, those of us that thought she was wasn't. Really if she's guilty, it means that she's the ultimate figure to fear. On the other hand, if she's not guilty, if she's innocent, it means everyone is vulnerable. This can happen to anyone. And that is everybody's nightmare because we all want to know who the bad people are as long as it's not us. You know life's not fair. You just never think you're going to be the witch who's burned at the stake. Some things I really didn't understand about the story. For example, in prison, they gave her a blood test and they told her she had HIV. It turned out to just be a huge lie. I mean, they just really emotionally, psychologically tortured her while she was in prison, along with four freaking trials. And this is just an absolute indictment. Not that we needed more, but an indictment of outrage culture. A lot of people had their worst side aimed right at Amanda. They were bullying her in the tabloids, bullying her on TV. They're bullying her even now on social media and in articles, especially the tabloids. What do you expect? But it's just unbelievable, really hard not to lose faith in humanity if you're in a position like she is. I mean, imagine thinking, this is what strangers can do. This is how strangers can make you feel. Maybe I don't want to get to know anybody anymore.
[01:26:14] And she really is passionate about wrongful convictions. It's easy to forget about the collateral damage we do sometimes when we get whipped up into a frenzy, as citizens, as a society. We're outraged at situations like Amanda now, but also there are a lot of people behind bars that didn't do anything. They are innocent and they're still there. She actually had some guilt around getting so much attention for her case, much more so than others in similar situations. Some of that might be because of her ethnicity or her gender. We don't know. She speculates not me. I really hope you all got something from this conversation. Thank you to Amanda. Her podcast will be linked in the show notes. The links to the documentary on Netflix will also be in the show notes.
[01:26:57] Please use our website if you buy anything like books. It does help support the show worksheets for the episode in the show notes, transcripts in the show notes. There's a video of this interview on our YouTube channel. Or there will be at jordanharbinger.com/youtube. Hit me on LinkedIn or Twitter and Instagram at @Jordan Harbinger.
[01:27:15] I'm teaching you how to connect with great people and manage relationships, using systems and tiny habits over at our Six-Minute Networking course, which is free over at jordanharbinger.com course. Make sure you dig that well before you get thirsty. Most of the guests on the show subscribe to the course. So come join us, you'll be in smart company. 
[01:27:33] This show is created in association with PodcastOne. And my amazing team, including Jen Harbinger, Jase Sanderson, Robert Fogarty, Ian Baird, Millie Ocampo, and Gabriel Mizrahi. Remember, we rise by lifting others. The fee for the show is that you share it with friends when you find something useful or interesting. You know someone is going through a hard time, feeling isolated, interested in true crime, share this episode with them. Hopefully, you find something great in every episode of this show. So please do share the show with those you care about. In the meantime, do your best to apply what you hear on the show, so you can live what you listen, and we'll see you next time.
Kevin Systrom: [01:28:09] I think I did it in a way that most people don't. I just wanted to work on my own. I wanted the chance to build something from scratch, quote-unquote, my way. I didn't know it was going to be a startup. It was just me. I was futzing around with ideas. I just need space, a table, and my old laptop and a few ideas. It took more than a few to get to Instagram, but that was why I did it back then. We think there's a reason why startups started by like 20-year-olds. You can go hard to 4:00 a.m. every single day or maybe even longer. You don't get sick. Like you don't really have kids. And that's part of the beautiful thing about entrepreneurship is that you can make a lot happen with a few people we leveraged. And if you stay healthy, everything goes well.
[01:28:52] We talked a lot about having one-tap magic. All Instagram was like that hour and a half in Photoshop in 0.5 seconds at the beginning, going down to five milliseconds towards the end. Rarely does your plan A workout. So you have to be able to be quick to move to where the fire starts. You can't wheel lightning is what I'm saying. YouTube was a dating site. That's crazy.
Jordan Harbinger: [01:29:17] That's wild to think about now.
Kevin Systrom: [01:29:19] But you can go back and you can actually see in the Wayback Machine, like what it looked like way back in the day and it's striking actually. I hope in startups that someday there will be this moment where retro is cool again. People like, "We don't have an app. We're just on the web." 
Jordan Harbinger: [01:29:35] For more from Kevin Systrom, including how to get honest feedback from others and when you should and should not listen to it, check out episode 335 right here on The Jordan Harbinger Show.
Sign up to receive email updates
Enter your name and email address below and I'll send you periodic updates about the podcast.