Reading Time:
4
minutes
David Kilgour is a human rights activist, former lawyer, and Canadian politician. He is a Senior Fellow to the Raoul Wallenberg Centre for Human Rights, and co-author of Bloody Harvest: Organ Harvesting of Falun Gong Practitioners in China.
What We Discuss with David Kilgour:
Who is targeted by the Chinese government for forced organ harvesting, and why?
How long has this illicit trade been going on, and who does it benefit?
How much does a healthy kidney, heart, or lung go for on this immoral market?
Who is Gao Zhisheng, and why is his story important?
How these atrocities have been brought to light and what efforts are being undertaken by the international community to put an end to them.
And much more…
Like this show? Please leave us a review here — even one sentence helps! Consider including your Twitter handle so we can thank you personally!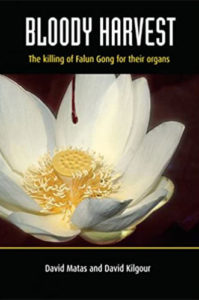 Warning: this isn't one to listen to while you're gathered around the dinner table with your family. Vital organs, including kidneys, livers, corneas, and hearts, are being seized involuntarily (usually from political prisoners or prisoners of conscience such as Falun Gong practitioners and Uyghurs) and sold at high prices in China — often to foreigners who normally face long waits for voluntary donations of such organs in their home countries.
In this episode, we talk to David Kilgour, a former member of Canadian Parliament and co-author of Bloody Harvest: Organ Harvesting of Falun Gong Practitioners in China. Here, he shares the extent to which this heinous trafficking continues 24/7, and how much money trades hands every time this happens. Listen and learn!
Please Scroll Down for Featured Resources and Transcript!
Please note that some of the links on this page (books, movies, music, etc.) lead to affiliate programs for which The Jordan Harbinger Show receives compensation. It's just one of the ways we keep the lights on around here. Thank you for your support!

Sign up for Six-Minute Networking — our free networking and relationship development mini course — at jordanharbinger.com/course!
This Episode Is Sponsored By:
BiOptimizers Leaky Gut Guardian is the breakthrough in immunity response, repairing gut lining, eliminating bad bacteria, and feeding good bacteria. Go to leakygutguardian.com/jordan and use code JORDAN10 for 10 percent off your order!
Great protection. Fair prices. Easy to use. SimpliSafe is the right way to protect your home at half the size and double the range — go to SimpliSafe.com/jordan to learn more!
Better Help offers affordable, online counseling at your convenience. If you're coping with depression, stress, anxiety, addiction, or any number of issues, you're not alone. Talk with a licensed professional therapist for 10 percent off your first month at betterhelp.com/jordan!
MVMT believes style shouldn't break the bank. Shop premium watches for men and women, bluelight glasses, and more. Free shipping and free returns. Join the MVMT and go to mvmt.com/jordan to get 15 percent off today!
LifeLock gives you all-in-one protection for your identity, devices, and online privacy; there's a victim every three seconds, so don't become one of them. Save up to 25% off your first year of LifeLock at lifelock.com/jordan!
With Peloton, your best workout is just steps away — and that means more time for what matters. Cycling, strength, yoga, and more, live and on demand from the comfort of home. Get started on your Peloton journey by going to onepeloton.com to learn more!
Miss the show we did with Bill Browder — one of Vladimir Putin's sworn enemies? Catch up here with episode 3: Bill Browder | Hunted by Putin!
On the True Underdog podcast, entrepreneur Jayson Waller and his high-profile guests share motivational tips, inspiring stories, and business-building lessons to help each listener grow in their entrepreneurial journey. Listen here or wherever you enjoy podcasts!
Thanks, David Kilgour!
Click here to let Jordan know about your number one takeaway from this episode!
And if you want us to answer your questions on one of our upcoming weekly Feedback Friday episodes, drop us a line at friday@jordanharbinger.com.
Resources from This Episode:
David Kilgour | The Heartless Art of Forced Organ Harvesting (Episode 497)
Jordan Harbinger: Coming up next on The Jordan Harbinger Show. 
[00:00:03] David Kilgour: Chances are you go to the number one people's hospital in Shanghai. The doctor comes up and sees you. He takes your blood type and so on. And then he finds somebody who's matching organ for you in camp number 50. And that poor man is taken out of a dormitory and is taken in and his kidney, liver, and so on are taken out. He's, of course, killed in the process. They burned his body and they fly the organs to you in Shanghai. And you come home with a new kidney or liver. You're hoping that it hadn't happened the way it did, but in fact, it did happen.
[00:00:37] Jordan Harbinger: Welcome to the show. I'm Jordan Harbinger. On The Jordan Harbinger Show, we decode the stories, secrets, and skills of the world's most fascinating people. We have in-depth conversations with people at the top of their game, spies and psychologists, astronauts and entrepreneurs, even the occasional four-star general, Russian chess grandmaster, or organized crime figure. And each episode turns our guests' wisdom into practical advice that you can use to build a deeper understanding of how the world works and become a better critical thinker. 
[00:01:04] If you're new to the show or you want to get somebody into the show, we created these starter packs for you. These are collections of your favorite episodes, popular episodes in any case, organized by topic to help new listeners get a taste of everything that we do here on the show. Just visit jordanharbinger.com/start or share that link with somebody else. That'll help you get started. It'll help somebody else get started. And of course, I always appreciate it when you do that. 
[00:01:27] Doing prep for today's episode made my insides hurt. Just reading about this, just watching this stuff. Skip this episode if you're about to eat or you have kids in the car. I'm not even kidding. And that's because today we're talking about forced organ harvesting. This is unfortunately exactly what it sounds like. Vital organs, including kidneys, livers, corneas, and hearts are being seized involuntarily for sale at high prices in China, often to foreigners who normally face long waits for voluntary donations of such organs in their home countries.
[00:01:59] Let me repeat that, prisoners are having their organs taken from them and sold without consent. They're being used as on-demand orders in banks. And it gets worse as you're going to hear about today on the podcast. Typically, these are political prisoners or prisoners of conscience, which makes the whole thing even more disgusting. Just in case you didn't think it could get any worse. Many victims belong to specific religious groups, such as Falun Gong or the Uyghurs and other ethnic minorities in China. And I want to be very clear. That this is about forced organ trafficking being done by the Chinese Communist Party. It has nothing to do with the Chinese people who are in fact suffering the most from this as it is their organs that are being stolen from them by their government.
[00:02:43] I heard about this 20 years ago when a Falun Gong guy in college told me about this, but I didn't believe it. It was too horrible. I thought he was a weirdo doing Tai-Chi or whatever in the quad. I never listened to it. Also whenever cults say we're victims of something, I'm always a little skeptical, but I started to see this with other ethnic groups and it just became very clear that there was something there. I also made the mistake of watching these documentaries about organ harvesting over dinner, not recommended. Again, maybe no kids in the car for this one. 
[00:03:10] This is one of those episodes I found disturbing and fascinating at the same time and something I had no idea was actually happening. And for that reason, I think it's an important listen, as we build our awareness of these types of crimes against humanity. Normally I plugged Six-Minute Networking here, but it's just such a horrible, awkward transition that I don't know how to do it in any way that's not completely tacky — something, something jordanharbinger.com/courses where the Six-Minute Networking courses thing. I feel gross doing that. 
[00:03:37] All right, here we go with our guest David Kilgour.
[00:03:44] You know, it's interesting. The Uyghur genocide is something that, that I think, you know, a friend of mine said, "This is one of those things where when our kids are like 20 or even younger, they're going to say, 'What were you doing when this was happening? What were you thinking when this was happening? What was it like when that was happening?'" And I think, especially with my family, because my son is half Asian and my wife is a hundred percent Asian. That's how that works by the way, people, if you don't know. And so he might be like, "Oh, so in China, they were trying to remove people that were different than them—" Because we think about that a lot and my brother-in-law, also Asian, he's saying things like, "Yeah. You know, we were out at the club and somebody said something to somebody and then like, we went to this restaurant and somebody said something nasty to us." So there's a lot of, kind of like anti-Asian sentiment in the US right now. And so I'm hesitant about doing episodes like this, even though they're super important because of that reason. And so I want to highlight that, and I know you're on the same page, if you want to speak to that a little bit. 
[00:04:43] David Kilgour: Sure. I wrote an article about exactly the point you were just making. A friend of mine who's originally from Hong Kong, asked me to write it. So I wrote it, it was published, but unfortunately, it was published in The Epoch Times. And I guess, so I don't want to go there too, but you can say that. I mean, I did write that. I represented in parliament for 27 years. Thousands of Canadians of origin in China and all over Asia, so I believe me, I'm sensitive to what can happen. 
[00:05:09] Jordan Harbinger: The reason I'm bringing this up now is because I do these anti-communist party or anti-government of China episodes that highlight crimes, that highlight human rights abuses, and every single time I do it, I get an email from somebody who is either in China, in Hong Kong, in the United States, or in Canada. And they're like, "Why do you hate Chinese people? "Or, "This is a bunch of propaganda BS." And I try to reply and engage because I don't want to lose Chinese listeners and fans because I care. The reason I do this is because I care about people, especially Chinese people who are living under authoritarian regimes. Now, if I didn't care, I would just ignore it. You know like everyone else, frankly, is doing. 
[00:05:45] David Kilgour: That's exactly what we say all the time, too, that we were trying to protect people. Most of the Falun Gong practitioners, for example, and of course the Uyghurs, that's a slightly different issue because they feel they're completely discriminated against in China. You probably know we talked about this a little bit. And I think I told you about my friend who went to university in Shanghai. 
[00:06:03] Jordan Harbinger: Let me back up the truck a little bit here, because I think a lot of people are going, "Wait, I thought you were going to talk about organ harvesting. What are you talking about? You're talking about genocide, talking about World War II now. What's going on, Jordan?" So let me take it back a notch. 
[00:06:14] David Kilgour: You start anywhere you want. 
[00:06:15] Jordan Harbinger: This is one of those topics — I have to say. This is one of those topics that I thought was maybe urban legend, possibly a good amount of BS when I first heard about it, because when you hear a forced organ trafficking, it just sounds like, "Oh, my friend went to Mexico and then they woke up in a bathtub with ice and someone stole their kidney." And then you find out that nobody's friend had that happen to them ever in Mexico. And it's just a thing that high school kids tell themselves or to each other. So what is going on here? What is forced organ harvesting? 
[00:06:44] David Kilgour: It's essentially taking the vital organs of heart, lung, liver, corneas, any important organ that we have from people without a trial, without any procedure whatsoever in the case of China and selling these organs to wealthy Chinese citizens and to what we call organ tourists coming from places like America and Canada. And it's been going on at least since 1995, in the case of the Uyghurs, we've documented that with an eye witness. In fact, the surgeon who did it, who's since left China, and he's now living in Britain and he's doing his best to try to stop persecution of Uyghurs. And we've told, we've talked for example, a woman called Annie came to Washington in 2005, 2006, and said that her husband had removed the corneas from the eyes of 3000 Falun Gong practitioners in a place called Sujiatun and sold them for huge amounts of money.
[00:07:41] And eventually, the two of them — he was having nightmares and they couldn't take it anymore. So the two of them fled and she's now in the States and he's now in Canada actually. It's got nothing to do with health. It's got only to do with making money for the doctors, the surgeons, the pilots who fly the organs from the camps where these prisoners of conscience are working 16 hours a day. Incidentally, they told us, some of the ones who've got out, making goods for the West. And then what they do is every three months, we've been told they would call them in and doctors would examine their eyes and their organs. And then they'd record that in a data bank. If you, Jordan, if you arrived for a new liver, chances are you go to the number one people's hospital in Shanghai. The doctor comes up and sees you. He takes blood type and so on. And then he finds somebody who's matching organ for you in camp number 50. And that poor man is taken out of a dormitory and is taken in and his kidney, liver, and so on are taken out. He's, of course, killed in the process and they burn his body and they fly the organs to you in Shanghai. And you come home with a new kidney or liver. You're hoping that it didn't happen the way it did, but in fact it did happen. 
[00:08:49] Jordan Harbinger: So now people see why I said, this sounds like urban legend, because when you hear it, you go, "I refuse to believe that humanity is this horrible. Look, I've read about the Holocaust. We've learned about World War II." There's just no way that it's happening again, except it's even worse. Like it's somehow even worse than it's just for cash. There's no ideology element here or very little ideology element here. Maybe they were trying to remove the Uyghur culture or Falun Gong, which is a cult for people that don't know. It's like a cult kind of belief system. Maybe they're trying to remove that. But that's not like, "Okay, we really need to remove Falun Gong. How are we going to do it?" "We're going to sell their body parts." That's not what's going on here. 
[00:09:27] What's going on here, someone said, "You know what? There's huge amounts of money in organs. We also don't like these people and don't value them. Let's just literally butcher them. And sell the pieces to wealthy foreigners and wealthy elites in our own country." And that is so gross that if you're listening right now with kids in the car, in fact, I want to make a note that if you're listening with kids in the car, skip this episode.
[00:09:50] Thousands of people are going to China for this. It's a huge business. And I read some of your reports and the documentaries and things like that, that I've seen online. Some of which unfortunately are produced by Falun Gong. So it's kind of like exaggerated maybe, but even if it's one percent true, then it's still really horrific and disgusting. But there's people going from Taiwan, from Korea, from the Middle East, from the United States — and I want to highlight that. So people don't think just picking on China — from the United States and Canada are going there to get these organ matches. 
[00:10:19] And David, I got to say, there's a part of me that understands a little bit. I have three kids or any kids and I'm dying and I'm 60 years old or 50 years old or 41, which I am now, and someone says, "You drew a bad hand, man. And we're going to try and get you a liver, but it's probably going to be like two or three years," because that's the wait time in the United States at least. Or, "You can go to China and you can have one in like 36 hours and you have a really good chance of surviving that because we're going to be able to do it in 36 hours. You don't have to live with kidney failure or liver failure for the next few years, until we find someone." I understand that people would go, "I'm just going to tell myself that they have these. They just have a lot of people and that these organs have been on ice and everything's fine. And I just don't want to know, and I'm going to come home and live my life." I understand that perspective as well, which is maybe that says something about me, but I think survival instinct is powerful. 
[00:11:13] David Kilgour: Yeah. Hey, I hasten to point out that in about 200 countries in the world now, there's only one where the government started the system, runs the system, and people grow very large moneys for doing it. As I said, including the surgeons, of course, the nurses, the hospitals, the pilots who fly the organs from the work camps, forced labor camps, by the way, fly the organs into usually places like Shanghai if the person's getting the organ is from the West. It's simply hideous. And as you said, it's something that seems unimaginable to most of us in the 21st century, that this is happening. 
[00:11:43] Jordan Harbinger: One thing that I found disturbing was — look, I understand if you're from Canada or the US, Taiwan, you go there and you just you're rationalizing things. I don't forgive that behavior. I want to be very clear, but in some cases, it sounds like for example, Middle Eastern embassies are paying the bill for these surgeries, which — I don't know if you know anything about that. I did read that. I haven't been able to verify that necessarily, but talk about complicity when the embassy is paying the bill for the surgery, it's like, what's going on here? I mean, you have to know that when you have thousands of people coming over and the wait time in the United States, Europe is years. And the wait time in China is a few hours to a few days or maybe a week. I mean, Dick Cheney, right? Former vice president of the United States waited two years for a heart transplant. And Joe Schmo, Jordan Harbinger can fly over to Shanghai and get a liver, like on demand. I mean, something is not right.
[00:12:35] David Kilgour: One of the things we've learned, by the way, from talking to people, who've had organs in some cases, is it a lot of the organs they get are not reliable or not treated properly. They're not oxygenated all these things that are supposed to be done. So in fact, there's a fairly high need of people having to go back for another organ in China because that's more profits for the people involved and it's because they don't give a damn about you as the person getting the organ. They just want the $75,000 for a new heart or whatever you're having to pay. So there's a very high failure rate of people who go there for organ and come back. 
[00:13:10] I remember talking to one man from country in Asia who told me he had to go four times to get a kidney. That's four dead people. Four people died, so he could get a kidney that appears to be now working. 
[00:13:21] Jordan Harbinger: Or two just doing the math, right? But still probably, the likelihood that they take the kidney out and then send the guy back to the work camp is pretty slim, I suppose. 
[00:13:29] David Kilgour: No, that never happened. We're absolutely certain that they take all your organs. They don't just take one kidney. You take all your vital organs. Most of them are wasted because they can't find somebody who needs a heart quickly as the person is waiting in Shanghai for an organ and they cremate your body. So there's no evidence too. 
[00:13:43] Jordan Harbinger: Right. Okay. Because there's essentially unlimited supply. So they're not worried that they don't have a match for the heart or for the liver. If somebody needs the kidney, they just say, well, there's 300,000 more people in here and a few thousand or matches. It's just, they're just getting rid of the extra. It's still how traumatizing to talk about this because it's almost like I'm talking about wasting food in a restaurant like, "Hey look, I really want this dish." "Sorry. No substitutions." "All right, fine. I'll just throw the potato salad away because I really liked the salmon." And it's so callous to think about it like that, but that's literally the same mindset that it sounds like we're talking about when it comes to organ transplants. 
[00:14:14] David Kilgour: You mentioned Falun Gong a little while ago. Now, I hasten to say that David Matas and I who wrote the first book. He's Jewish. I'm a Christian and he's an expert in the Holocaust, by the way. And I was a prosecutor for 10 years. So I should know something about evidence. Falun Gong are sought out because they don't smoke or drink. So therefore, their organs tend to be better than people who drink and same with the Uyghurs. They seemed to be sought out after, too, because there's such a large group of them. And that's what they want is they want a large group of people who are in prisons or working as forced labor in various parts of China or in the Xinjiang part of China. It's a whole Machiavellian — no Machiavelli wouldn't do anything as bad as this. This is beyond anything even the Nazis could have done. Of course, they didn't have the ability technically to do with the Nazis. But now, of course, the technology is there to do it. 
[00:15:04] Jordan Harbinger: So wait times, usually for those who don't know are on regular organs in the West, Europe, United States, the wait times are long because they have to come out of healthy donors. I looked up average wait times, eight months for a heart, 26 months for liver, kidneys 37 months. I'm not sure why those are different, but they are. Organs can't survive long outside the body. So China essentially is using these executed prisoners and the executions are time to match the transplant needs. That's what we're saying when we're saying it's on demand. So hence, the shorter wait times. 
[00:15:35] David Kilgour: By the way, it's not an execution. They used to use executed prisoners. And fortunately, the number of executions is going down now — a low, I think, about if I'm not mistaken, they're 57 offenses in China, you can be executed for, but most of these people are never convicted of anything, not a capital offense, nothing. They just are outworking in these camps, forced labor camps, obviously they don't get paid. They live in a dormitory, some of them with 16 people. And that when they're unlucky day arrives, somebody comes in, drags them out over to the operating table where they're killed in the process for moving their organs. It's just horrendous that this is happening. 
[00:16:10] Jordan Harbinger: It is and it sounds like a weird conspiracy theory. And I told you actually before, one of the reasons that you're sitting in front of me right now is because I did a previous episode on this, that I ended up not being able to release. Because it turned out that the doctor I was talking to had lied to me about being a member of Falun Gong, which means like everything he says about Falun Gong, being the victim of this, immediately called into question. And I had to search high and low and call you in your house one morning at 7:30 a.m. Sorry about that. I figured I was getting an office answering machine, but I had to sort of search for you, high and low, because everyone who's sort of screaming from the rooftops about this, besides you and David Matas, there's an agenda attached to it.
[00:16:51] And I wanted to find somebody who didn't have a hidden agenda attached to this because it's so important to not exaggerate things like this, because the second we do, then people go, "Oh, well, maybe the Uyghur thing is not a big deal and that's not happening either. And maybe there isn't really a genocide. I'm just going to go watch Bravo TV now." And that's dangerous, right? 
[00:17:11] David Kilgour: Yeah. We were told very clearly that that's why they asked David Matas and I to do it because we were not Falun Gong practitioners. We're obviously not Uyghurs. When we started in 2006, it wasn't the situation with the Uyghur community, but there certainly is now. And they're the new — unfortunately, I think they're running out of Falun Gong prisoners. And now, unfortunately, it's this large Uyghur community that's becoming the next victim group. 
[00:17:34] Jordan Harbinger: When you say they wanted us to do this, who's they? 
[00:17:37] David Kilgour: Oh, it was a group called the Coalition to Investigate the Persecution of Falun Gong based in Washington, actually. And they actually phoned me and asked me if I would do it. They wanted to have a group of 10 people do it. Can you imagine how you could do something like this with 10 people? And so David and I both know each other since we grew up in the same city, we've worked extremely well together. Now, as you know, I'm sure we're working with Ethan Gutmann who spent seven years researching his book, The Slaughter. And he's now doing further research on what's happening to the Uyghurs and else in the Stan countries in central Asia. So yeah, we've put a lot of work into this. 
[00:18:13] Jordan Harbinger: I assume none of you are allowed to go to China anytime soon. 
[00:18:15] David Kilgour: Well, do you know who invited us to go to China? It was Gao Zhisheng. Do you know who he is? He's a lawyer. 
[00:18:19] Jordan Harbinger: No. 
[00:18:20] David Kilgour: He was an incredible man. He grew up in a cave. 
[00:18:23] Jordan Harbinger: Wait. He literally grew up in a cave. 
[00:18:25] David Kilgour: Literally, grew up in a cave with his family, lived in a cave in a peripheral part of China. And when he got through and he was in the army for several years, met his wife there. He managed to get through a lot, passed the bar exams without going to law school. And he became a lawyer for the persecuted community. People who'd been thrown out of their homes and so on. And then one day, he started helping Falun Gong practitioners. And so they took away his licensees tragically. We said he's Nelson Mandela of China. He's been in jail for out of sight for many years. His wife and daughter and son live in California. 
[00:18:58] Jordan Harbinger: Oh, wow. 
[00:18:58] David Kilgour: I've been there to see them. They're doing well. The story of Gao Zhisheng is — Google him. Anyone knows who deserves a Nobel Peace Prize, it's him. 
[00:19:05] Jordan Harbinger: I will look that up. I'm just amazed that he grew up in a cave. I'm still hung up on that. Meanwhile, he passed the bar without going to law school. This guy's making me feel kind of foolish right now. I went to law school — well, you did too. You did too, right? Imagine passing without going to school. 
[00:19:19] David Kilgour: He wrote a book recently imprisoned about why democracy and so on would help China, and it obviously would, but he's government comes down on him like a ton of bricks. 
[00:19:27] Jordan Harbinger: Yeah, I'm sure it was wildly popular over there. Right? Among the Chinese Communist Party who goes, they love democracy. And again, I want to highlight that the reason we do episodes like this, or because I care about all people, but I especially care about oppressed people and Chinese people might not feel oppressed, especially the ones that are sending me email about how I most hate China. But if you are in a country that takes any prisoners and sells their organs to other people for money, even though those people committed no crimes, you are living in a place that has serious, serious problems with the way that it is being run. And the United States is not an exception to this, but as far as I know, we're not selling people for their organs. Not that that's the line, but that's what we're talking about here today. 
[00:20:08] Now, when you investigated this and I've read this, the numbers don't match up when it comes to voluntary organ donors in China, because a lot of folks might say, "Hey, look, what about there's 1.3 billion people in China. What if there's just enough volunteers that there's a ton of organs and that's why, you know, probabilities something, something, and that's why these organs are so readily available. They don't have to come from prisoners." What do you say about that? 
[00:20:32] David Kilgour: Well, yeah, a good point. In fact, the year they set up their voluntary donation scheme, I think it was in 2010, as I recall the number of donations where — it was on the website. It was something like 5,000. And so we estimate that, it's a minimum of 60,000 transplants are being done yearly. So the 5,000 donated organs doesn't exactly match. 
[00:20:53] Jordan Harbinger: Right. 
[00:20:54] David Kilgour: I'm sure your listeners — you know this too, that the culture in China is such that people like to die with their organs intact. So that's a very much a cultural bias against that — can I just make one quick point about the fact that— 
[00:21:06] Jordan Harbinger: Of course. 
[00:21:06] David Kilgour: I represented thousands of Canadians of origin in Asia and China when I was in parliament for 27 years. And I assure you, I have the utmost respect for them. I was thinking about this this morning, because we're having attacks on Canadians of origin in Asia, family origin in China. And it's absolutely terrible this was happening. They didn't start the COVID. They have nothing to do with this, taking the organs from the community. Think back to the Second World War when in both your country and in Canada, we seized the Japanese and Japanese-Canadians put them in intern camps, seized their fishing boats in the lake. It turns out and in the case of Canada, there wasn't a single one Japanese-Canadian that was actually siding with the Japanese army. And we were trying to help the people of China. We're not trying to create incidents like we see on CNN where somebody is being pushed down on the street 90-year-old man. You probably saw it? 
[00:21:58] Jordan Harbinger: Oh yeah. That was horrible. That was horrible. 
[00:22:00] David Kilgour: This is going to stop. And you and I, I'm sure feel exactly the same way about this. This is insufferable to let anybody would pick on somebody of origin in Asia because of COVID. 
[00:22:09] Jordan Harbinger: Yeah, it's scary. And it sucks for my brother-in-law because he's dating right now, which is already hard, when it's COVID, right? And so now, he's going online and he'll say, "Man, there's a lot of girls that say like no Asians in their profile. Or like no China virus Asian." This is racism online dating. So I tell him like, "Report the profiles," and he goes, "Why bother? I mean, those people exist. At least, I know that they're there now. I don't want them to hide it. I don't want to match with them. And then find out later they're racist." And I'm like, "Oh God." Yeah, it's horrific. 
[00:22:37] But let's go back to the idea that these are not voluntary organ donors, right? If there's 5,000 donors throughout the country, then all of them have to die each month in order for the transplant numbers to match up, which obviously isn't happening. The question that arises, where do the organs come from? Obviously, we've solved that mystery or you have, but how does the matching percentage work with donors? It's not just the same blood type. The percentages are quite low that you and I, for example, if I wanted to give you a kidney, because you're such a nice guy, and so am I. The odds are really low that I can do that. It's not just like, "Oh, you're AB negative blood. Great. So am I." "Here's the kidney." There's a lot of factors that go into this and they usually don't match. 
[00:23:18] David Kilgour: You know labor camps in China are now I'm sure in these concentration camps or they call them re-education camps for the Uyghurs over in Xinjiang, gets a doctor that comes to see him every three months. And they do, as I mentioned before, they do the eye and the blood and everything else. This is all done to determine tissue type and blood type. As far as we were able to determine it's only the blood type and the tissue type they use. They entered that in a log saying that Jordan has XY blood type, XY tissue type.
[00:23:45] And they have huge numbers of people in these organ banks. So that when somebody comes for an organ, they go on the computer and they find out who's got the same tissue type and blood type. Then they bring the organ from the poor victim, so-called donor. They bring them to you in Shanghai and they test it to see if you're a match for it. As I gave you example of somebody who was tested four times, I guess they do it in a Petri dish or something. And they said, "This guy's kidney is not compatible in yours. We'll get three more." So this is what they're capable of doing under this despicable system they have. 
[00:24:17] And it's not as if it's a huge amount of matching problems, it's pretty rough. And they don't really care whether or not you have to come back. They'd rather, you didn't have to come back because they have to, I guess they have to replace the organ. But your health is not a big concern of the surgeons who are making huge amounts of money out of this in China. 
[00:24:36] Jordan Harbinger: You're listening to The Jordan Harbinger Show with our guest David Kilgour. We'll be right back. 
[00:24:41] This episode is sponsored in part by BiOptimizers. Most gut health supplements include all the same old ingredients packed into capsules. Leaky Gut Guardian is a gut health supplement that tastes great. It comes in powder form. So you can add it to water, coffee, or your favorite smoothie. Not only does it include powerful probiotics and prebiotics, it also includes a patented ingredient called IgY Max, an egg-based protein that comes in two flavors, vegetarian vanilla and chocolate carnivore. There's no meat in that one. I checked, but the other one is vegetarian. The chocolate carnivore flavor includes collagen and bone broth. Leaky Gut Guardian is easy to add to your daily routine to help with gut health and help with gas and bloating. 
[00:25:18] Jen Harbinger: Try Leaky Gut Guardian risk-free at leakygutguardian.com/jordan. And use Jordan10 to receive 10 percent off any order. You have a 365-day money-back guarantee. That's leakygutguardian.com/jordan.
[00:25:31] Jordan Harbinger: This episode is also sponsored by SimpliSafe. When SimpliSafe Home Securitye's founders Chad and Eleanor Laurans designed their first security system in their kitchen, they did it for a very personal reason. Their friends had just had their home broken into. They were struggling to find a security system that was simple to set up and would make them feel safe again. Making people feel safe is what SimpliSafe has been doing ever since that moment, 15 years ago. A passion to protect people. Not only drives every single engineering detail on the products, but it motivates every interaction with its customers. SimpliSafe has highly trained security experts ready whenever you need them, whether that's during a fire, a burglary, a medical emergency, or even just when you're setting up the system. There's always someone there who has your back to keep you safe and make sure that you feel safe.
[00:26:13] Jen Harbinger: To learn more about how SimpliSafe can help protect you and your family, visit simplisafe.com/jordan today to customize your system and get a free security camera. That's simplisafe.com/jordan today. 
[00:26:24] Jordan Harbinger: This episode is also sponsored by Better Help online counseling. I know what you're thinking. "I don't need therapy. My friends are my therapists." By the way, your friends will hate you when you do that. I mean, look once in a while, no problem. But a therapist is a trained and objective professional. Whereas a friend is not neutral. They haven't received training in working with mental health challenges. They also probably just want to eat their freaking eggs Benedict. And while a friend can be a great source of social support, they aren't equipped to provide therapeutic services. Additionally, when you talk to a therapist, you have the comfort of knowing that they are bound by confidentiality standards. Janice in accounting is not. She's going to tell everyone. Your friend could inadvertently spill your beans, make matters, even worse, further a therapist doesn't simply give you advice. Rather, an effective therapist aims to help you establish goals and to help you come to your own conclusions and realizations. Therapy is also where you can be vulnerable and process emotion. If you've been avoiding therapy, because you think your friends can be your therapist, consider this your sign to make an appointment today.
[00:27:19] Jen Harbinger: The Jordan Harbinger Show listeners get 10 percent off your first month at betterhelp.com/jordan. Visit better-H-E-L-P.com/jordan. And join the over one million people who've taken charge of their mental health with the help of an experienced Better Help professional. 
[00:27:33] Jordan Harbinger: And now back to David Kilgour on The Jordan Harbinger Show. 
[00:27:39] The organ matching, by the way, I did look this up, even siblings have like a 25 percent chance of matching. That's like full sibling, and so usually just general public, it's like a 10 to one match. So let's say they did only come from death row inmates, which is what I think Communist Party of China was claiming before, if you have 10,000 death row, you'd only match a thousand transplants annually. They're 30,000, 60,000, right? So they're doing 30 to 60 times that number, that means it literally cannot just be death row inmates being killed for organs. And it sounds like they're not even sure trying to sort of float that one anymore. 
[00:28:17] David Kilgour: They've given up trying to sell that narrative to the West. 
[00:28:20] Jordan Harbinger: There's been a thousand X increase in Koreans going to China for organ transplants. But I wondered is that like a thousand times one or two, or are these tens of thousands of people going to China for organ transplants. We said 60,000 transplants, but how many are from abroad and how many are domestic? 
[00:28:35] David Kilgour: Well, that's very, very difficult to learn. We've gotten around as I think I mentioned to you too. It's something like 50 countries now, the two of us, David Matas and I. And we've discovered that some countries are sending a lot of people. Other countries, I hasten to say, Australia to its great credit. I'm told by one of the deputy health ministers in Australia, that virtually nobody from Australia is going now because they know where the organs are coming from.
[00:28:58] Whereas the argument would be that people in other countries, South Korea, you mentioned, don't know where they're coming. Interestingly, Taiwan used to send a lot of people to China for organs because of hepatitis problems in Taiwan and so on. So they've actually got the best piece of legislation anywhere in the world now that bans organ tourism. And if a doctor is involved in one of these things, sending people to China, he or she can lose their license. So Taiwan is actually the model country, even though it's right near China to stop this. Japan is the most one, the most troubled by South Korea. We've been to both those countries. I think South Korea is making some progress, but I'm sorry to say that Japan is not making any progress in stopping Japanese nationals going to China for organs. 
[00:29:42] Jordan Harbinger: And you've brought this to their attention and they just kind of said, "Thanks, but we don't really want to know. Goodbye." 
[00:29:47] David Kilgour: Actually, I even met with the president of South Korea after he lost the election five or six years ago. So yeah, we've talked to a lot of people, but you know I should praise people who deserve praise and the Taiwanese deserve the most praise. And Israel, we mentioned that earlier the health insurance there would actually send people. You mentioned just pay the price to go pay for the organs, do everything.
[00:30:07] Then Dr. Jacob Lavee, a heart surgeon, who's one of my heroes. He discovered that one of his patients was going and was going to have his operation two weeks from the date. And the penny dropped for Dr. Lavee. And he said, "It's obviously you're going to kill somebody for you to have your heart on that day." So Lavee got the law changed. They banned any Israeli from going to China. They've cut it all the payments, of course. Israel is now a real leader on this issue. 
[00:30:32] Jordan Harbinger: It would be pretty tough for Israel to say, "Hey, you know what? We're going to turn a blind eye when it comes to organ harvesting, given the Holocaust." I mean, that would be the height of hypocrisy. Wouldn't be a huge departure for a government to be hypocritical but man, that would be a tough pill for the public to swallow, I think, in Israel and anywhere else but especially there.  
[00:30:51] David Kilgour: Let me give Dr. Lavee another plot. He was the head of the ethics committee. It's called the Transplantation Society which is the international group that's supposed to ensure ethical transplants. And Dr. Lavee resigned from it because he felt that the Transplantation Society was not sufficiently interested in the issues that we're talking about right now. They think that by engaging with the government of China, they'll get them to stop it, but there's been no stopping. It's just been going exactly the other direction. And the Transplantation Society — I'm sorry to say, very sorry to say — gets no credit for trying to, they do nothing, but make fun of those of us or criticized us for trying to bring some light to this thing. And they won't bother reading anything we've written.
[00:31:33] And the recent report in London, you probably know about by Sir Geoffrey Nice, from the world crimes tribunal 660-page report, they just came out with. They said that there have no doubt that this was happening to the Falun Gong community in China. And they were about to start studying with what's happening Uyghurs. They're already studying what's happening to the Uyghurs. I'm sure they're going to come with the same conclusion. 
[00:31:55] Jordan Harbinger: I mean, I understand why people don't want to read 660 pages of horrible nightmare fuel, but also it's not something you get to ignore when you're in a position of power. I mean, that's kind of the reason that you're sitting there in the first place, right?
[00:32:06] But this is a win-win for the Chinese Communist Party, right? Dangerous in their mind, political dissidents are being executed or in prison while their organs create a very comfortable revenue stream for hospitals, surgeons, like you said, the whole organ industrial complex, presumably many important Chinese officials are receiving organs as well and anybody in their family. I mean, it's really going to be kind of an attempt thing to keep going because it's just a ton of money. Do you have any idea how much money we're actually talking about? Like, is this in the billions of dollars? 
[00:32:41] David Kilgour: David Matas did some rough calculations and he estimated it, it brings in, this was three or four years ago, about five or six billion dollars a year. Most of that appears to be paid out in fees. Surgeons get so much for this operation so much for that. The pilots get so much for a flight from A to B. Nurses, hospitals get fees. Everybody gets fees, but it comes to about five or six billion a year. It's almost enough to finance their whole health system. 
[00:33:08] Jordan Harbinger: Wow. 
[00:33:08] David Kilgour: And I find that hard to believe, but it certainly helps pay for their health system and the hospitals and for a huge, of course, huge population. But it's something that we have got to create enough pressure in America, Canada, and everywhere else in the world to stop it. The least we can do in places like California or our candidates, we can pass a law saying that Canadians cannot go to — you don't even have to name Chinese. You can just say, "You cannot go and buy an organ anywhere." You don't have to name the country because there's only one country where it happens. So you can leave China completely out of the picture. 
[00:33:39] Jordan Harbinger: There's lots of recorded phone calls and sort of hidden footage from people. So this isn't some random document leak or anything like that, right? 
[00:33:45] David Kilgour: We had people calling saying they were trying to buy an organ to this hospital or that hospital across China. And in some hospitals, people would say, "Yes, we have organs. What do you want?" And they would say, "Have you got Falun Gong organs?" And we've got people recorded as saying, "Yes, we have Falun Gong organs available." We got independent interpreters because we don't speak the language. And we had to be absolutely careful— 
[00:34:06] Jordan Harbinger: Yeah, no kidding. 
[00:34:07] David Kilgour: Because if we would be caught on anything, our credibility would disappear. So we were extremely careful of what we said. When we say 60,000, minimum number of transplants per year, we're certain it's a lot more than that, but we thought we'd be very cautious in everything we said, and we are, but we know it's still going. And in fact, it's growing. We're sure it's growing. 
[00:34:26] Jordan Harbinger: So it looks a little something like this, right? Like I am sick. I call it Chinese or I have some agent called a Chinese hospital and I say, "Hey, they say, it's going to take me three years to get a liver here or a kidney here. Do you have a Falun Gong kidney?" They say, "Oh, I'm sure we do," because odds are they do if they've got tens of thousands of those people on a roster somewhere. It's going to take you three days. Or one recorded call that I heard, they said, "We'll get you a liver from a living person within 12 hours," and this was like a hospital official saying that. 
[00:34:56] Now, I'm open to the idea that hospital officials exaggerate a little so they can get business, especially if it's for profit. But if you say 12 hours, it can't be 12 months. It can't even, probably be 12 days. It has to be that same week at the very least, because otherwise you're going to have people who say, "Hey, I have to leave. I don't even have the ability to stay here long enough to wait for it." And then I saw that the Chinese government admitted that these calls were legit. They made a documentary with these same officials who were caught on the phone saying, "Oh, I was misunderstood." It was very obvious that they were not misunderstood. I mean, I speak Chinese. I understand what they were saying, but further these recordings and the transcripts of the recordings were certified by official translators. I mean, it's plain as day. You can't really say you were misunderstood when you say, "Yeah, I can get you a liver from a living person within 12 hours." I mean, there's, there's only so many ways that that could be interpreted. 
[00:35:45] David Kilgour: Well, it's interesting because front-page story in our media here in Kennedy yesterday was a report from the government of China explaining how they're shipping Uyghurs across China to make them work in forced labor factories. And usually they call anything like this, is a lie, as anti-China lies, this kind of nonsense they use.  The only problem was this came from the government and the report was leaked out. So what do they do? They say, "Oh, this was a personal opinion by somebody in the government." I mean, this is how intellectually inert they are in the kind of arguments that they've been making today. The ambassador here in Canada has just been talking the most utmost nonsense. 
[00:36:24] I'll give you an example of how bad they are. When David Matas and I did our first report and then we wrote a book. It came out in 2009. The embassy here in Ottawa, put out a statement saying that we had made a terrible mistake. We had got two cities in the wrong provinces. You know, it's a 250-page book and we've got two cities in the wrong provinces. That would, those were the only mistakes they could find in the book. That's how feeble they are in pointing out people who are trying to tell the truth. I hasten to say, we're both volunteers. We happen to want to try to save lives in China. That's our motivation. So we made two mistakes in the report. And since that time they have never put out anything that had any intellectual weight at all, intuiting today. 
[00:37:07] Jordan Harbinger: Some of the calls I got to say are pretty disturbing. The way they record the calls is kind of genius, right? They use some social engineering and they pose as party officials and they get these high-level officials to kind of admit what's going on. And there's one call that's really gross with this guy saying he's sort of laughing. And he's like, "Yeah, they call me the butcher.'' And the person says, "Why are you doing this?" And they said, "So what we sold is organs, who cares? They're just body parts." And then I think later in the call, he threatens the caller and says, "Shut up or I'll take your organs too." I mean, it's just so sociopathic and I hate to diagnose someone from a phone call, but I think we can safely say that somebody who sells organs and is so cavalier about it and then threatens to take the organs of somebody else who's questioning them is clearly not right in the head. 
[00:37:49] David Kilgour: A little footnote Jordan to that is that Dr. Maya Mitalipova who's a scientist at MIT has pointed out that all of the people who've been checked for their organs in Xinjiang are only Muslims. In other words, they've gone to the whole population in this large area, and they've only tested the Muslims. And it's now about half the population in that province are now people who are non- Han Chinese, but they've only tested the Muslims. And of course, Ethan Gutmann has pointed out that these are the people that are subject to having their organs taken. And in fact, he and another leader have pointed out that there are signs in the airports in Xinjiang in Arabic. Can you imagine? Saying that this way, if you're here to get organs. Why aren't the people from the Middle East making a horrible fuss about this too? I wish they would, they could do it. 
[00:38:41] And I'm delighted to tell you that I had a thing at the University of Toronto the other day with the Muslim students' association and we had excellent speakers and it was the thing went extremely well. And it looks like, thank goodness, the Muslim community in Canada is now really getting behind on this issue. Certainly, the students are. I hope this will happen in the States and anywhere where there the Muslim communities, which I'm sure is all across the world. 
[00:39:04] Jordan Harbinger: Well, a lot of — to be fair, a lot of the Chinese people that I know here in California and around the United States and Canada are also very upset about this, right? I mean, if I found out that the United States had some sort of concentration camp for, let's say Muslims as well, I mean, I would not take that sitting down at all. I'm pissed off enough about Guantanamo Bay, which is at least — well, let's not even go. 
[00:39:28] David Kilgour: I know about that.
[00:39:30] Jordan Harbinger: Yeah. I mean, I'm pissed off about that enough at this point, I realized it has a certain purpose, but we're not harvesting the freaking organs from the people that go there. And it's not random people based purely on their ethnicity. You know, it's just, there's so much wrong with this. The signs in Arabic are very telling. Actually someone had brought this up in a previous report that I'd read as well that since China is this quick and dirty place for organ transplants, especially for wealthy people in developing countries, such as Africa and the Middle East, this actually inhibits the development of these countries, own programs for organ transplants and medical care because you know, why, why bother developing something ethical at home in Sudan or  — and I hate to name Sudan. I'm just throwing it out there because it's an Africa. Sorry Sudanese. Why developed something ethical in the Middle East or Africa just — look I'm in the one percent I live in these countries. I'm just going to fly to China and get my organ needs taken care of. I don't need to sit here and painstakingly develop a national program or international program for organ donation and transplants in the hospitals and the doctors. Screw it, all the elites that make the decisions in my country. We fly to China. So it actually does harm to those countries, medical programs and harms the people in those countries who need urgent medical care. 
[00:40:43] David Kilgour: Yeah. Very well said. Let me just add to that, that every Thursday at three o'clock we now have a group that meets in front of the Chinese embassy here in Ottawa and they're multi-faith group, Christians, Muslim, Jews. We meet there every Thursday and we hold up signs saying, "Stop the Uyghur genocide." And I'll add to that, that we had several of us from different faiths, met at the Volkswagen dealership here in Canada the other day with signs up saying, "Stop making Volkswagen cars with forced labor in Xinjiang because they have several plants, I believe, in Xinjiang to make these Volkswagen cars. It's not just cars, it's all manner of products, textiles, garments, a huge range of projects. And if all of us would stand up for our principles and do some protesting about supply chains using forced labor, we could probably get a lot of companies to stop buying their units and maybe even put some people back to work in the US and Canada and a whole range of other countries.
[00:41:38] Jordan Harbinger: You know, to hear Volkswagen is at it again — you know, what Volkswagen did during World War II, right? They were known for having employed slave labor from Jews and Roma and everybody who was in the concentration camps to make those cars, then how have they not been extreme? Like the most vigilant company in the world when it comes to slave labor, making their stuff, you would think they would go, "Okay, we're not getting caught up in this again. And here we are." It's like, that's the brand name that sticks out with the Uyghurs is they're making freaking Volkswagens. It's unbelievable. It really is. 
[00:42:11] David Kilgour: I absolutely agree with you and we went into the dealership afterwards to explain what we were doing. And the person we spoke to said he didn't know about it until the day prior to what we were talking about. And then he said, "We don't make any cars in Canada." They make all the cars that are Volkswagen sold in Canada, made in the States or in somewhere else, but not a single car in Canada seems to have a single component. That's a Volkswagen part, but they're making them in Xinjiang, China right now. And there's very little doubt that they're using forced labor to do so.
[00:42:43] Jordan Harbinger: This is The Jordan Harbinger Show with our guest David Kilgour. We'll be right back. 
[00:42:48] This episode is also sponsored by MVMT. That's MVMT because you know, you can't spell things with vowels these days. That's not cool anymore. In a tiny apartment in Southern California, two college dropouts, they teamed up to create this watch company. They have fair prices, unexpected colors, clean original designs. And I will admit that when I saw MVMT watches first come around and I was like, "Eeh, they're going to have a bunch of these. I see a lot of these now." They've blown this thing up, man. It's one of the fastest growing watch brands. They shipped to over 160 countries across the globe. I've been wearing the Jet Noir Arc automatic watch. It's durable, which is important for me because I'm the King of getting a brand-new watch and then smashing it against the underside of a freaking table. These watches never break the bank. High-quality, reasonable pricing from start to finish. Shipped to your door for free and if you don't love it, ship it back for free. 
[00:43:34] Jen Harbinger: If you want to elevate your look with style that doesn't break the bank, then join the MVMT and get 15 percent off today with free shipping and free returns by going to M-V-M-T.com/jordan. Again, that's M-V-M-T.com/jordan. 
[00:43:48] Jordan Harbinger: This episode is also sponsored in part by LifeLock. As the occurrence of identity scams continues to increase more. People are looking for ways to protect themselves from cybercriminals. In fact, 60 percent of Americans believe it is likely that identity theft will cause them a financial loss in the next year. It's important to understand how cybercrime and identity theft are affecting our lives. If you're online, there's just a good chance you're a target at some point. Every day, your info's on the Internet. In an instant, a cybercriminal can harm what's yours, your finances, your credit, your reputation. LifeLock will detect a wide range of identity threats, like your social security number for sale on the dark web. If they detect your info has been compromised, they'll send you an alert or potentially compromised. You got a restoration specialist if you do become a victim. It's kind of like an insurance policy for identity theft or cybercrime, which I really dig. I mean, honestly, this is long overdue. I use it. I've used it for years. You never know. 
[00:44:38] Jen Harbinger: No one can prevent all identity theft or monitor all transactions at all businesses but you can keep what's yours with the LifeLock Identity Theft Protection. Join now and save up to 25 percent off your first year at lifelock.com/jordan. That's lifelock.com/jordan for 25 percent off. 
[00:44:55] Jordan Harbinger: This episode is sponsored in part by Peloton. If you're anything like me and you've been working out at home, I'll probably do — don't judge me like 20 pushups, get some water, call it a day. I need to have a coach in front of me to push me. And Peloton is world-class instructors, they can amp me up with the fun-curated music, endless fitness variety, and the instructor's energy inspire me to challenge myself. Get my sweat on it was difficult getting back into the fitness grind after being a bit of a couch potato, but Peloton has helped me get back on track again. I like that they have 20-minute classes. That's all I can handle when I first started out. And even that was kind of a stretch. After a couple of weeks of consistent classes, I found myself being able to work up to 30-minute, 45-minute classes. In addition to their famous cycling courses, which you all know about, they have Tabata intervals, stretching, yoga, bars and get that booty going running. Jen's favorite is dance cardio. Jen always looks forward to Cody Rigsby's cycling classes as well. These guys are really good at what they do. They're really funny and they're really energetic. Peloton isn't just, game-changing cardio. They've got strength classes you can add to the ride. You can combine cardio and strength into one workout with a bike bootcamp to get a total body fitness experience. What's really great is they have a family plan, so you don't have to worry. It's not an additional cost. Everyone in the household shares one Peloton membership and nobody feels left out. 
[00:46:06] Jen Harbinger: Get started on your Peloton journey. Go to onepeloton.com to learn more. That's O-N-E-P-E-L-O-T-O-N.com. 
[00:46:14] Jordan Harbinger: Thank you so much for listening to and supporting the show. I know this episode is a tough lesson. It really is a horrifying and disgusting set of crimes here. If you're looking to support the show, all the codes and deals and URLs and all that stuff, you need to get the discounts that are all in one place there at jordanharbinger.com/deals. Please do consider supporting those who support us. Don't forget we have worksheets for today's episode. If you want some of the practicals and the main takeaways from each episode, those are in the worksheets and the link to those is in the show notes at jordanharbinger.com/podcast.
[00:46:46] And now for the conclusion of our episode with David Kilgour,
[00:46:51] I lived in Germany for a while. And it's like the most embarrassing thing for them that they had anything to do with the Nazis and the concentration camps. And everyone is just horrified by it. It's universal. I haven't met one person, even when I met skinheads who are like white supremacists, kind of a-holes in Germany, even they were like, "Yeah, but we're not Nazis. Those people were terrible. We just want fewer—" You know, they have their rationalization. So even the skinheads in Germany are like, "Yeah, at least we're not Nazis." And meanwhile, Volkswagen's like, "Slave labor, you say, where can we get that? Oh yeah, we didn't learn our lesson the first time." And it's just like so shocking that it's several levels beyond disappointing to the point where you just go, "Is this completely hopeless?"
[00:47:32] And that leads me to, I guess, one of my final questions here is like, is it completely hopeless? That seems like there's nothing we can do about this. In the China Report, I'm going to quote here, from the China commission, it says the China Tribunal, excuse me, "Forced organ harvesting has been committed for years throughout China on a significant scale. And Falun Gong practitioners have been one and probably the main source of organ supply. The concerted persecution and medical testing of the Uyghurs is more recent. And it may be that evidence of forced organ harvesting of this group may emerge in due course." By the way, this reports a couple of years old. "The tribunal has had no evidence that the significant infrastructure associated with China's transplantation industry has been dismantled and absent a satisfactory explanation as to the source of readily available organs concludes that forced organ harvesting continues until today. Governments and any who interact in any substantial way with the People's Republic of China should now recognize that they are, to the extent revealed above interacting with a criminal state."
[00:48:29] That's a bold statement, right? And this isn't from like some blogger. Who is the China Tribunal? 
[00:48:35] David Kilgour: Geoffrey Nice. He was on the world crimes tribunal. He's now looking at the Uyghur evidence, by the way, Jordan. We had a huge event. 26 countries were represented. I forget how many hospitals and 245 people in Australia last week. And he was on, he came on and he spoke about the report that you just quoted from. He also added that he's now looking at the evidence on the Uyghurs. I have not much doubt that he's going to find this. The main so-called donor group is now the Uyghurs population because they're running out of Falun Gong. And everybody keeps saying, what we've got to do is go after the supply chain is pretty hard to move, but if we get people having boycotts on say Volkswagen or many other products that are using forced labor in China, maybe things will start to move.
[00:49:18] David Kilgour: And how can you be a company of reputation in there? Go to the no China products website. Maybe some of your viewers have done that. And you can also see that more and more people are saying this company is producing stuff in China with forced labor, you got to stop it. People in US and Canada and Europe start to do this and elsewhere. I think we will find that people will move pretty to maybe to get stop using forced labor. 
[00:49:42]  Jordan Harbinger: How did you get interested in this? It seems kind of like a random, it's a random hobby, you know, random cause for a Canadian prosecutor that doesn't speak Chinese or anything like that, right? 
[00:49:50] David Kilgour: Well, I was secretary for Asia Pacific government for a couple of years. And I went to China in the '90s and I'll never forget this as long as I live. When I got there, I had an official minder. You'd know about this. And I was taken to the commission for minorities and there is probably another 54 minorities in China. And one of them of course, is the Uyghurs. I remember getting to this guy's office in Beijing and he had on a Tibetan clothing. He even had a cap on. And he tried to convince me that the Tibetans were being treated really well and they were happy as clams. And so on just as they're now trying to convince people that the Uyghurs are happy, that they're enjoying and they're dancing when they occasionally get a visitor. That everything's just going wonderfully for them.
[00:50:31] So that was my first exposure to the big lie. And then of course, the coin of phrase, and I've heard so many big lies from the officials for the government of China. I can't tell you how many efforts. I do as you would appreciate. One thing that prosecutors are supposed to be good at is separating fact from fiction and many, many people that worked on this, including you, this issue. So I think we're finally making some — we're trying to make some headway now, and I hope that your viewers will call their congressmen or call their member of parliament. They'll say, "What on earth is going on? And what are you doing about it?" 
[00:51:05] Hey, I hasten to say, by the way, that the US Congress has been terrific about this on a bipartisan.
[00:51:10] Jordan Harbinger: So that surprises me. I got to say, like, you never hear that these days do tell, 
[00:51:14] David Kilgour: Well, they passed a bipartisan, the house did, it was 493 to three or something, the vote, and it's now going to the Senate, but it's going to basically say, there's an onus on anybody bringing something in from China to prove to the US customs, that it was not made for forced labor. And if they can't do that, the product doesn't come into the country. Maybe the unemployment rate would go down quite quickly if that happened too. 
[00:51:36] Jordan Harbinger: Well, yeah, I mean, but we love our cheap crap, don't we, here in the United States and our expensive crap for that matter, but we've loved cheap crap. I mean, you can't even spell America without made in China goods coming in. And when I was a kid, it was made in Taiwan. And before that, I don't even know, I guess things were made everywhere else. First of all, we consume less, which is great, but I do worry about prices going through the roof for people that can't afford everything that they want/need,, you know?
[00:52:06] David Kilgour: Well, the short answer to that is that Canada has lost 600,000 manufacturing jobs since China joined the world trade organization. And I'm not mistaken, you had 54,000 factories closed since the same time. I forget how many million Americans have lost their jobs. I think it's more than 20 million. So if we can get these 20 million jobs back and let me give you the example of Montreal's garment industry. We had 40,000 people in Montreal working in the garment industry when we signed the multifibre agreement. I was in the government when we did this, to my great shame. Basically, all those jobs are gone now, mostly to China.
[00:52:43] So the fact, is that, America can produce stuff and Canada can produce stuff and maybe we start producing some of our own stuff. 
[00:52:50] Jordan Harbinger: I'm no expert on bringing manufacturing back. There's parts of me that say, "Hey, economics, this and that." I wouldn't even have a problem with this if things that were made in other countries, namely China were made by people who were getting paid at least a reasonable amount of money or any money for that matter to make it. Like then it's just capitalism. And it's hard for me to sort of argue with that. There are arguments with that. Don't get me wrong, but that's a different show. But when you're saying this is made by a 12-year-old girl who was handcuffed to a sewing machine and has to pee in a bucket and I'm not exaggerating. I mean, you hear about this and you see hidden footage of this, then I don't even understand how you can enjoy something like that. Like there's just a non-zero chance that something I'm wearing right now was made by a small child that had no choice in the matter. And that sort of makes me feel sick. 
[00:53:34] David Kilgour: Well said, Jordan. Just to add to that, something on CNN last week and on BBC about they found some victims, Uyghurs. And they talked about these horrible, horrible rapes that were taking place in these camps. That's even more than what you're saying. And to think that this is happening by the guards in this wretched concentration camp where this is happening, that's enough. I think that's why the opinion seems to be changing in the last week or two, because these programs had such an impact. And so many people saw them. And there was so hideous the way these women were being treated. They're now refugees, by the way, I hasten to say. 
[00:54:10] I remember a case. I listened to a Uyghur woman in Washington talk about the fact when she got to Turkestan with her triplets, aged about six months. They took her triplets away from her. They threw her in a camp and they kept her there for, I forget how many months. One of her triplets died while she was in the camp. For why, died why? With marks in their necks. I mean, this is beyond anything imaginable. This is hideous. I mean people don't buy what you were saying about the jobs and so on in the products.
[00:54:38] And the regime has got significantly worse under Xi Jinping. So maybe it'll encourage him to stop doing it. And you know, what his contribution to all of this is, he said, "Have no mercy, I'll have no mercy for the Uyghurs." This is what this guy is doing. President for life. 
[00:54:55] Jordan Harbinger: This is a horrifying scenario. And look, now we're getting kind of off the initial topic here of organ trafficking, but I want to say thank you very much for your work. Thank you very much for coming on the show. This is a nauseating yet fascinating, but also just mostly nauseating topics to cover, but you do it well. And I'm really, really grateful for your time. Because again, as I said earlier in the show, I basically called you before your coffee probably had kicked in really early one morning. And here we are, because the last guy I tried to do the show with turned out to be a Falun Gong member, which doesn't mean he's lying, but I want to get credible sources and you're absolutely that.
[00:55:33] David Kilgour: Thank you Jordan. You do a terrific job, by the way. Congratulations. 
[00:55:36] Jordan Harbinger: Thank you. 
[00:55:37] David Kilgour: I hope you'll be on CNN one day soon, too. 
[00:55:39] Jordan Harbinger: Well, we'll see. Hopefully not wearing a blindfold. Thanks David. 
[00:55:45] David Kilgour: Thank you. 
[00:55:48] Jordan Harbinger: We've got a trailer for our interview with Bill Browder. He was one of the first investors in Russia after the fall of the iron curtain and became a thorn in the side of Vladimir Putin, who to this day, has him looking over his shoulder after he uncovered a massive fraud inside the Russian government. This is one of our most popular episodes. So if you haven't heard that yet, check out episode three of The Jordan Harbinger Show. 
[00:56:10] Bill Browder: Making 10 times your money is the financial equivalent of smoking crack cocaine. And once you do it, once you just want to repeat it over and over and over and over again. And it was completely, absolutely wild West chaos, gold rush type of situation. The companies were run by these oligarchs and these oligarchs said, "Well, we might as well just cheat everybody on everything." And so while I was sitting there down 90 percent, they were going to steal my last 10 cents on the dollar. I took a decision which nobody had ever taken before, which was to take on one of the oligarchs. 
[00:56:43] I did. I fought back big time. I ended up with 15 body guards. There was a lead car, lag car, a sidecar, three armed guys in my car. When we got close to the home, they would go and scout the rooftops for snipers. They looked for bombs under the cars and secured the stairwells and then escorted me into the apartment. And then I had two guys with automatic weapons sitting in my living room. It was very, very intense, very scary. 
[00:57:09] And after that I hired a young lawyer and Sergei Magnitsky to help me investigate it. Sergei and I exposed the crime, the same people who Sergei testified against, arrested him and then tortured him to try to get him to withdraw his testimony. And they thought, you know, here's a guy, he buys a Starbucks in the morning. He wears a blue suit and a white shirt and a red tie. And he works in the tax practice of an American law firm, he'll buckle in a week. And it turns out that they got him wrong completely. He's the most principled guy in the world. He was really a man of steel. 
[00:57:42] On the morning of November 17th at 7:45 a.m. I got the call from Sergei's lawyer, and it was the most horrifying life-changing, soul-destroying news that I could have ever gotten.
[00:57:55] Jordan Harbinger: And if you want to hear more about how Bill Browder took on one of the most powerful men in the world, Vladimir Putin, and continues to fight for change, check out episode three of The Jordan Harbinger Show. 
[00:58:08] Woof, tough listen. Honestly again, I want to reiterate that this is about forced organ trafficking done by the Chinese Communist Party. It has nothing, very little to nothing to do with the Chinese people. In fact, the Chinese people are suffering the most from this. It is their organs that are being stolen from them by their government and sold. There's a lot of evidence about this in the reports online. The Falun Gong, for example, they were systematically subjected to examination, blood tests, CT scans, ultrasounds that were inexplicable. They were being tortured and imprisoned at the same time. David has personally heard these stories. They are eerily consistent. The Uyghurs are also being subjected to similar testing prior to being put into concentration and reeducation camps. It is absolutely horrifying. I think this is one of those issues that our future generation, our kids and our grandkids are going to say, "What were you doing when you heard about the Uyghurs in China? What were you doing when this was happening? Did you do anything about it? Were you learning about it? Were you hearing about it?" 
[00:59:04] FYI, the investigators, David Kilgour and Matas, they received the 2009 human rights award by the German based international society for human rights. They were nominated for a Nobel Peace prize in 2010. So this investigation has been allowed at as credible. This is not some sort of crackpot weirdo, conspiracy theory that you would find in the back corner of the Internet on some blogs. 
[00:59:26] Arthur Caplan, a bioethicist at NYU, New York University stated it is not up for discussion as to whether murder four parts is taking place in China. It is now just a question of whether we're going to continue to put up with it. The China Tribunal concludes that those who interact with the People's Republic of China in a substantial way should now recognize that they are interacting with a criminal state. Forced organ harvesting is fact to those that look thoroughly at the data. These crimes are so new, so vile that we don't want to look. I had a very similar take when I heard I was skeptical intellectually. I was hesitant to look because it's so badly distorts my view of the degree of evil doctors in human beings are capable of. This is where I'm at with this. 
[01:00:07] By the way, I did ask out of morbid curiosity how much organ's cost, because I was curious if you're stealing organs and selling them. What do they cost? A kidney goes for about $62,000. These are older prices. So, you know, they may have gone up. I don't know. A lung is about $160,000. A heart is about $145,000. I found it interesting that lung at which you have two was more expensive than a heart in which you only have one. Just goes to show you maybe there's more problems with lungs than hearts. I'm not sure. 
[01:00:34] Either way in December, 2018, the China Tribunal issued an interim judgment and said, "The Tribunals numbers are certain, unanimously and sure, beyond a reasonable doubt that in China, forced organ harvesting from prisoners of conscience has been practiced for a substantial period of time involving a very substantial number of victims." They banned some of this in 2008, actually because of the Olympics, but you can still get this done at transplant centers. I did research and hired a researcher to confirm this, and there are operating rooms at hospitals in use 24 hours a day at transplant hospitals, specifically for this. Dreary, right? Dark. But I really thought this was an important and fascinating topic at the same time. 
[01:01:16] If you've made it this far, thank you so much for listening. And a big thank you to David Kilgour. Links to all his stuff will be in the website in the show notes. Please use our website links if you buy anything from us, any of our guests that does help support the show. Worksheets for the episode are in the show notes. Transcripts for the episode are in the show notes. There's a video of this interview going up on our YouTube channel at jordanharbinger.com/youtube. I'm at @JordanHarbinger on both Twitter and Instagram, or hit me on LinkedIn. 
[01:01:44] I'm also teaching you how to connect with great people and manage relationships using the same systems, software, and tiny habits that I use over at our Six-Minute Networking course. That course is free. There's nothing for sale. I don't need your credit card info. The course is at jordanharbinger.com/course. Dig the well before you get thirsty. Create those relationships before you need them. Most of the guests you hear on the show, they subscribe to the course. They contribute to it. Come join us, you'll be in smart company where you belong. 
[01:02:11] This show is created in association with PodcastOne. My team is Jen Harbinger, Jase Sanderson, Robert Fogarty, Millie Ocampo, Ian Baird, Josh Ballard, and Gabriel Mizrahi. Remember, we rise by lifting others. The fee for this show is that you share it with friends when you find something useful or interesting. If you know China Watchers, people who are interested in medicine or somebody who would just find this craziness fascinating and interesting, please share this episode with them. Hopefully, you find something wonderful in every episode of the show. Maybe this isn't a wonderful episode. There's a great message here that's important, but I don't know, wonderful might have been a stretch. I do hope you find something great. In every episode. Please share the show with those you care about. In the meantime, do your best to apply what you hear on the show, so you can live what you listen, and we'll see you next time.
[01:03:03] Jayson Waller: Jayson Waller here, host of your True Underdog podcast and YouTube channel. This is what we've got in store in our episodes. I'm going to tell stories of me growing up, being trailer parked, high school dropout, teen dad, to opening three businesses that were successful. The latest business winning Inc 500, three out of four years, entrepreneur of the year and it's a billion-dollar company. That's right. I'm going to give you tips, strategies, how to overcome adversity, how to be better, how to not stay in the mud. On top of that, on this show on the full episodes, we're going to have interviews with people who have overcome adversity, people that have been successful, but started with things in their way, things they had to overcome and struggle with. How did they get there? Check us out on iHeartRadio, Spotify, or Apple Podcasts. You can go to trueunderdog.com. Subscribe to everything, or go to YouTube at the True Underdog Podcast.
Sign up to receive email updates
Enter your name and email address below and I'll send you periodic updates about the podcast.