Dennis Rodman (@dennisrodman) (aka The Worm) is one of the greatest rebounders ever to play professional basketball, with five NBA championships under his belt. He's arguably just as well-known for his off-court antics, and his resume includes stints as an author, an actor, a reality star, a wrestler, and an unofficial diplomat to North Korea.
[Featured photo by Ryan Hartford of Ecliptic Media]
What We Discuss with Dennis Rodman:
How Dennis went from being a shy, neglected kid to a people-pleasing watch thief to a man who values independence and naysayer-defying personal expression above all else.
Why the hustle of living as a homeless 19-year-old was more appealing than eating mustard sandwiches in the projects with his family.
The volatile relationship Dennis has had with the media over the years, and how he decides who's worthy of his trust (and who's not) these days.
Why, given his passing interest in basketball until a late growth spurt made him a contender, Dennis' self-taught and unique approach to world-class rebounding is particularly surprising.
Marrying himself, being an early ally to the LBGTQ community, the pros and cons of fame, and risky birthday toasts to Kim Jong-un in North Korea.
And much more…
Like this show? Please leave us a review here — even one sentence helps! Consider including your Twitter handle so we can thank you personally!
(Download Episode Here)
(Subscribe to the Podcast Here)
Worksheet for this Episode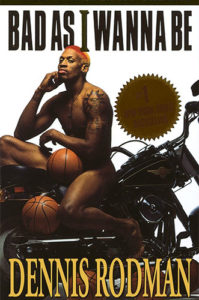 With five NBA championships under his belt and a place in the Basketball Hall of Fame, Dennis Rodman is recognized as a one-of-a-kind rebounder with a unique, self-taught style and intuition that makes him one of the best players in the game. But even to people who don't follow basketball, "The Worm" is one of the most recognizable celebrities in the world.
In this episode we talk to Dennis about his rough childhood, a people pleasing stunt in his youth that nearly cost him his freedom, being homeless at 19, the late growth spurt that put him on his long and colorful basketball career, being an early advocate of the LBGTQ community in a less enlightened decade, giving a risky toast to North Korean Supreme Leader Kim Jong-un, and much more. Listen, learn, and enjoy!
Please Scroll down for Full Show Notes and Featured Resources!
Sign up for Six-Minute Networking — our free networking and relationship development mini course — at jordanharbinger.com/course!
Better Help offers affordable, online counseling at your convenience. If you're coping with depression, stress, anxiety, addiction, or any number of issues, you're not alone. Talk with a licensed professional therapist for 10 percent off your first month at betterhelp.com/jordan!
Eight Sleep is the first bed engineered with dynamic cooling and heating that keeps you at the perfect temperature all night long. Get $100 off your purchase when you go to EightSleep.com/jordan!
Does your business have an Internet presence? Save up to a whopping 62% on new webhosting packages with HostGator at hostgator.com/jordan!
Need custom graphics, logos, or Web design? Access a community of 600,000+ designers by registering at designcrowd.com/jordan and enjoy up to $100 off with The Jordan Harbinger Show bonus offer!
Let the storytelling GoCar be your sightseeing tour guide in San Francisco, Barcelona, San Diego, Lisbon, and Madrid! Find out more at GoCar Tours!
THANKS, DENNIS RODMAN!
If you enjoyed this session with Dennis Rodman, let him know by clicking on the link below and sending him a quick shout out at Twitter:
Click here to thank Dennis Rodman at Twitter!
Click here to let Jordan know about your number one takeaway from this episode!
And if you want us to answer your questions on one of our upcoming weekly Feedback Friday episodes, drop us a line at friday@jordanharbinger.com.
Resources from This Episode: