Frank Abagnale is a former con artist, bestselling author of Catch Me If You Can, and now one of the world's most respected authorities on the subjects of fraud, forgery, and cyber security, Frank Abagnale knows how scammers work. His latest book, Scam Me If You Can: Simple Strategies to Outsmart Today's Rip-off Artists, is out now.
What We Discuss with Frank Abagnale:
How the constant rush to get untested new technology on the market for the appeasement of investors makes us all vulnerable to security breaches.
Why Frank believes it's much easier to pull off scams these days than it was 50 years ago in his fraudulent heyday.
Why, according to Frank, there is no technology that can defeat social engineering, and there never will be — not even AI.
Why Frank says that passwords are for treehouses, and what he envisions as a more foolproof way to protect our data from would-be scammers.
The three traits of a good con man, and the five simple steps you can take to scam-proof your life.
And much more…
Like this show? Please leave us a review here — even one sentence helps! Consider including your Twitter handle so we can thank you personally!
(Download Episode Here)
(Subscribe to the Podcast Here)
Worksheet for this Episode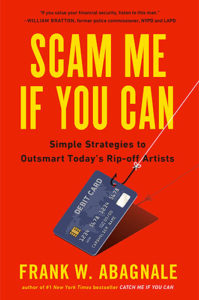 Plenty of films — from The Blair Witch Project to Fargo — prefix their opening scenes with some variation of the words "inspired by a true story" in spite of being 100 percent fictitious. And if you've ever seen the Oscar-nominated 2002 movie Catch Me If You Can, you may have waved this claim away and suspended your disbelief for the next 141 minutes to enjoy a darned good movie about a teenager (Leonardo DiCaprio) who impersonates airline pilots to fly around the world, swindle banks, and pick up women just steps ahead of the FBI agent (Tom Hanks) tasked to subdue him for his crimes.
But as it happens, this "true story of a real fake" happens to be factual. Well, mostly. On this episode we talk to Frank Abagnale who, from age 16 to 21, led the FBI along a trail of scams, frauds, forgeries, and impersonations before he was caught and then hired to explain exactly how he pulled it all off. Now he's a security consultant and author of several books — including Catch Me If You Can, upon which the movie was based, and his latest, Scam Me If You Can: Simple Strategies to Outsmart Today's Rip-off Artists. Listen, learn, and enjoy!
Please Scroll down for Full Show Notes and Featured Resources!
Sign up for Six-Minute Networking — our free networking and relationship development mini course — at jordanharbinger.com/course!
Does your business have an Internet presence? Save up to a whopping 62% on new webhosting packages with HostGator at hostgator.com/jordan!
Better Help offers affordable, online counseling at your convenience. If you're coping with depression, stress, anxiety, addiction, or any number of issues, you're not alone. Talk with a licensed professional therapist for 10 percent off your first month at betterhelp.com/jordan!
FIGS knows nurses, doctors, dentists, and other awesome medical professionals deserve to wear scrubs that are antimicrobial and comfortable! Agree? Head to wearFIGS.com and enter code JORDAN at checkout for 15 percent off your first purchase!
With Mighty Networks, you're able to build a community that's so valuable you can charge for it and so well-designed that it essentially runs itself. Get three months free when you sign up for a year at mightynetworks.com/jordan!
The National Highway Traffic Safety Administration (NHTSA) reminds us that in the United States, one person dies every 50 minutes as a consequence of drunk driving. Drive sober or get pulled over!
THANKS, FRANK ABAGNALE!
Click here to let Jordan know about your number one takeaway from this episode!
And if you want us to answer your questions on one of our upcoming weekly Feedback Friday episodes, drop us a line at friday@jordanharbinger.com.
Resources from This Episode: