Reading Time:
3
minutes
General Michael Hayden (@GenMhayden) is a retired United States Air Force general, former Director of the NSA and CIA, and author of Playing to the Edge: American Intelligence in the Age of Terror. [Note: This is a previously broadcast episode from the vault that we felt deserved a fresh listen!]
What We Discuss with General Michael Hayden:
How does an intelligence agent view cognition, cognitive bias, and psychology differently from a policymaker?
What is The Unpleasant Fact an intelligence agent brings to the briefing table?
General Hayden gives us a rare glimpse of working for two very different presidents and conveys the importance of adapting to their particular learning styles.
Find out what it's like to present new intelligence to an administration that forces it to change policy. (Awkward!)
Get General Hayden's take on the Orlando shootings and the difficulty of balancing security with liberty.
And much more…
Like this show? Please leave us a review here — even one sentence helps! Consider including your Twitter handle so we can thank you personally!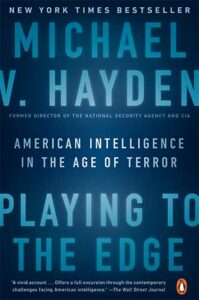 On this episode, we're joined by General Michael Hayden, former Director of the NSA and CIA and author of Playing to the Edge: American Intelligence in the Age of Terror. Here, we discuss the differences in the way intelligence agents and policymakers view the world, domestic spying, ISIS, the Apple iPhone encryption controversy, General Hayden's take on Edward Snowden and Donald Trump, and a lot more.
Listen to this episode in its entirety to learn more about "The Edge," why General Hayden is proud of the role he's played in American security before and since 9/11, how General Hayden sees movement between the emphasis on security and liberty as the sign of a mature democracy, how he believes frightened people don't make good Democrats or Republicans, the state of technology used by American intelligence agencies in the post-Cold War world, General Hayden's part in the warrantless surveillance controversy, civilian perception of emotionless drone strikes versus the reality of making hard decisions in a military context, why General Hayden considers Edward Snowden a narcissistic defector (while conceding he did accelerate a necessary conversation about metadata collection), how the civil war happening within Islam today is comparable to what Christendom underwent in the 17th century, why he sides with Apple on the iPhone encryption controversy, why he doesn't side with Trump as a viable presidential candidate, and lots more.
Listen, learn, and enjoy! [Note: This is a previously broadcast episode from the vault that we felt deserved a fresh listen!]
Please Scroll Down for Featured Resources and Transcript!
Please note that some of the links on this page (books, movies, music, etc.) lead to affiliate programs for which The Jordan Harbinger Show receives compensation. It's just one of the ways we keep the lights on around here. Thank you for your support!

Sign up for Six-Minute Networking — our free networking and relationship development mini course — at jordanharbinger.com/course!
This Episode Is Sponsored By:
Miss our conversation about national security, strategic empathy, and the societal benefits of immigration with former National Security Advisor H.R. McMaster? Catch up with episode 410: H.R. McMaster | The Fight to Defend the Free World here!
Future Hindsight is a weekly podcast seeking to spark civic engagement through in-depth conversations with changemakers. Listen here or wherever you download your favorite podcasts!
Thanks, General Michael Hayden!
If you enjoyed this session with General Michael Hayden, let him know by clicking on the link below and sending him a quick shout out at Twitter:
Click here to thank General Michael Hayden at Twitter!
Click here to let Jordan know about your number one takeaway from this episode!
And if you want us to answer your questions on one of our upcoming weekly Feedback Friday episodes, drop us a line at friday@jordanharbinger.com.
Resources from This Episode:
576: General Michael Hayden | American Intelligence in the Age of Terror
[00:00:00] Jordan Harbinger: Special thanks to our sponsor Glenfiddich Single Malt Scotch Whisky. For the next few weeks, you're going to hear me talking about Glenfiddich and their bold new body of work. That aims to challenge the traditional notions, commonly portrayed in culture, of what it means to be wealthy and live a life of riches. Glenfiddich believes that beyond the material, a life of wealth and riches is also about family, community, values, fulfilling work. These are the values that led Glenfiddich to become the world's leading single malt scotch whisky. Today's guest General Michael Hayden exemplifies these values and you'll find out why later on in the episode. More from our partners at Glenfiddich coming up later in the show.
[00:00:34] Coming up next on The Jordan Harbinger Show. 
[00:00:37] General Michael Hayden: The Snowden revelations distorted but accelerated a necessary conversation. And Jordan, you already made reference to it, the NSA program and metadata and so on, all right. The other 98 percent of the stuff that he stole have nothing to do with your privacy or mine, they have everything to do with how your government collects legitimate foreign intelligence. I point out that this is the greatest hemorrhaging of legitimate American secrets in the history of the Republic. And Jordan, you are less safe today because of it.
[00:01:12] Jordan Harbinger: Welcome to the show. I'm Jordan Harbinger. On The Jordan Harbinger Show, we decode the stories, secrets, and skills of the world's most fascinating people. We have in-depth conversations with people at the top of their game, astronauts and entrepreneurs, spies and psychologists, even the occasional Emmy nominated comedian, national security advisor, and extreme athlete. And each episode turns our guests' wisdom into practical advice that you can use to build a deeper understanding of how the world works and become a better critical thinker. 
[00:01:38] If you're new to the show, or you're looking for a handy way to tell your friends about the show, we have episode starter packs. These are collections of your favorite episodes, organized by popular topics. Helps new listeners get a taste of everything that we do here on the show. Just visit jordanharbinger.com/start to get started or to help somebody else get started. And I always always appreciate it when you do that. Sharing the show keeps the lights on around here. 
[00:02:00] Today, one from the vault, we're talking with General Michael Hayden, former head of CIA and NSA. Imagine being the head of the CIA and the NSA. The dude must know some stuff. Furthermore, he's a retired US Air Force four-star general. So the dude knows where the bodies are buried, for sure. We're talking today about how intelligence agents and policymakers view the world and the differences in their thinking, the warrantless surveillance controversy aka domestic spying for the layman. We discussed ISIS, the Apple iPhone encryption controversy, and the General's thoughts on both Edward Snowden and our national security and surveillance apparatus. It's a little bit less psychology today, a lot more world affairs. I dig these episodes from time to time, even though as you know, we strive to remain apolitical here on the show.
[00:02:42] And if you're wondering how I managed to book all these great authors, thinkers, and creators every single week, it's because of my network. And I'm teaching you how to build your network for free over at jordanharbinger.com/course. And by the way, most of the guests you hear on the show subscribe and contribute to the course. So come join us, you'll be in smart company where you belong. 
[00:03:01] Now, here's general Michael Hayden. 
[00:03:05] Normally we do shows that discuss cognitive science and psychology and things like that. So first of all, going right to the meat of the topic before we go off on our usual tangents here is does the intel guy look at cognition, cognitive bias, psychology, and psychological type of topics and content the same way as let's say the policy guy.
[00:03:26] General Michael Hayden: Yeah. That's a great question. Here's how I describe it. I essentially say look, the intel guy and the policy guy, they got to come together in the room and that room could be a canvas covered tactical operation center in a desert somewhere, or it could be the Oval Office. So let me talk about my last job because where we got together was in the Oval Office, the intel guy comes into the room to a different door than the policy guy. The intel guy is fact based. The policy guy is vision based. The intel guy is inherently swimming out of detail, trying to create generalized conclusion. He's fundamentally inductive. The policy guy, he's trying to take his first principles — you know, the ones that got him elected — he's trying to take those first principles and apply them to specific circumstances. He's inherently deductive. The intel guy, the world as it is. The policy maker, the word as we want it to be. And then finally, just because of the nature of the work, the intel guy is inherently pessimistic. Bob Gates, before I became secretary of defense, was actually one of my predecessors at CIA. Secretary Gates is fond of saying when a CIA analyst stops to smell the flowers, he or she then looks around for the hearse, inherently pessimistic. The policymaker though, inherently optimistic, if he or she didn't think they could make the world better, they wouldn't interview for the job. 
[00:04:56] And so the challenge for the intel guy, since he didn't get elected, the other one did, the challenge for the intel guy is to get into the head of the policymaker to hunt him or her down, wherever they might be in that room, but never break his tethered to his own doorway. In other words, the reason he's in the room in the first place is the fact-based inductive world as it is pessimist. And he's got to get into the head of the policy maker, even though he knows that he's probably making that man or woman's day worse than it would otherwise be with every sentence he utters.
[00:05:32] Jordan Harbinger: This is funny because it sort of outlines what sounds like a general tension between the two. 
[00:05:38] General Michael Hayden: Oh, no, there is. Look, Jordan, you want to drive this one more revolution. This really becomes intense when you're going into the policymaker with what we in the intel community called the unpleasant fact. The estimate, the analysis, the reality, it cuts across the preferred narrative, the preferred policy, or the preferred politics. And the dynamic there is when you're coming in with a very unwelcome message, you better have mastered your brief, because just by human nature — this is not imputing guilt to anyone, but just by human nature — the instinct of the policymaker will be to push back against that, to doubt it, to challenge it, to question it. And so the intel person, when he or she knows they're cutting against the grain, they really got to work hard to grab the attention of the policymaker and make the policymaker listen. 
[00:06:31] Jordan Harbinger: And how do they do that in a way that doesn't get them— 
[00:06:34] General Michael Hayden: Thrown out of the room? 
[00:06:35] Jordan Harbinger: Yeah. 
[00:06:36] General Michael Hayden: Exactly. And I know your show talks about some of these things. One way is to study how the policymaker learns. So I was the only President Obama's CIA chief for three weeks and I was just kind of standing in until Leon Panetta was confirmed. But in those three weeks, it was clear to me that President Obama learns in a method quite different than the way President Bush learned. President Bush was a great reader. He was in a competition with Karl Rove as to how many books they could read. But when you were there for the intel briefing, although President Bush would read the stuff, you can tell that he learned in the conversation. He learned in the pushback. He learned in the exchange. Again, my sample with President Obama is pretty small, but others have kind of confirmed this for me.
[00:07:18] President Obama is more reflective. President Obama learns in the reading. President Obama learns in the quiet spaces. And so you're going in there, I mean, you're not trying to manipulate the president of the United States for heaven's sake but you've got to understand how that human being learns new things. And frankly, you've got to adapt to the president's tastes and preferences so that you can do what it was I described before, get inside his or her head. 
[00:07:46] Jordan Harbinger: This makes sense. So it's essentially a persuasion, sub skill set where you think, "Okay, is this person going to be best served by a dynamic presentation of the facts? And let's throw some visuals in there or let me emphasize these points over and over. Or is this something where a detailed report with a lot of citations is going to do the trick much more effectively?" And you have to figure that out quickly because national security kind of depends on it. The fate of the free world might depend on whether or not you're up to speed on PowerPoint.
[00:08:14] General Michael Hayden: Yeah. And beyond that, Jordan, would that human being best learn by slowly building from the agreed towards the not yet agreed or does that person best learn by saying, "Mr. President, let me give you a bottom line that you're not going to like, you have to make a choice"? 
[00:08:31] Jordan Harbinger: Yeah. And I think hopefully most intelligence agents and most people who have to deliver bad news or difficult news know that it's better to rip off the Band-Aid, right? 
[00:08:40] General Michael Hayden: We went into President Bush in late 2007 with a national intelligence estimate that the Iranians had stopped one aspect of their nuclear program. To have a nuclear program. Jordan, you got to have fissile material, you got to have a delivery system — missiles — and then you got to master the science of actually building the weapon at something small enough and rugged enough to be put on a missile. And we had pretty good evidence that they had stopped that aspect of the program, that they were no longer continuing the aggressive research they had on creating a nuclear warhead. That's a really unpleasant message. And we weren't saying that the Iranians weren't dangerous or that they ultimately would like to have a bomb. We just had the fact that, "This one part of the program, Mr. President, it's pretty much stopped. And Mr. President, what I'm telling you is not based upon the absence of evidence. It's continuing. It's based on the evidence of absence that we know it's not." Now, that actually put a torpedo into a Bush administration policy to tighten the sanctions on Iran. Frankly, Jordan, a policy I agreed with. I didn't think this development made the Iranians any less dangerous, but it was going to be harder for the administration to make that argument to the Europeans and others in order to pump up the sanctions against the Islamic Republic of Iran.
[00:10:03] So we took that message in there, and that was an incredibly unpleasant message, but we stood our ground. The president and the vice president probed and challenged and finally accepted our view. And then here's something that's quite remarkable, since President Bush was basing his Iranian policy on our previous national intelligence estimate, which said Iran is determined to have a nuclear weapon. And we had made that key judgment public. He felt, as a matter of just policy and honesty, we then had to make the new judgment public as well that Iran had stopped this one aspect of the program. It's kind of a remarkable little morality play as to how this relationship between the intelligence community and the policy community really works.
[00:10:51] Jordan Harbinger: It seems like anybody anywhere along the line, having a mistaken agenda or, well, I should say any agenda, not necessarily a mistaken agenda, any sort of agenda, personal agenda, political agenda, anywhere up the chain could affect the quality or the message that's conveyed all the way to the top and cause a ripple effect that's really undesirable, especially if your goal is to deliver kind of a snapshot that's as unbiased as possible in order to let the policymakers make decisions based on that.
[00:11:21] General Michael Hayden: You've got it exactly right. And in my book, I try to weave this dynamic into a whole series of policy decisions that we supported the surge in Iraq, the Al-Kibar nuclear reactor, which was a nearly complete nuclear reactor in the Syrian desert, in addition to the Iranian program, policymakers are paid to have agendas. That's the difference between the policymaker and the intelligence professional. I mean the policymaker, I mean, the people are elected because remember the vision thing. They've already said, "Well, I'm going to take you this way. This is my agenda." And now the intel guy comes in there, trying to be agenda-free in order to create the right kind of dynamic.
[00:11:57] And again, I covered this in some detail in the book. It has to do with the decision leading up to the surge in Iraq. All right. If you recall, this is 2006, right after the midterm elections, where the Democrats took control of both chambers of Congress, Secretary Rumsfeld resigned, Secretary Gates was brought in, and Baghdad looks like one of Dante's Circles of Hell, the Baghdad and Syria were so bad. And so we're huddling up twice a day. What's the plan? What are we going to do? And one of the proposals, actually the one we finally landed on, was the dynamic called the surge. If you recall, we sent five additional American combat brigades into Baghdad. Our intelligence message during that discussion was, "Look, you put five brigades of non-sectarian professional combat power in that city, you're going to drive the violence down," and that's a good thing. 
[00:12:49] But you know, that's not our ultimate goal. We're driving the violence down to create space for Nouri al-Maliki, the Iraqi prime minister to actually become the Iraqi prime minister. In other words, the prime minister of all of Iraq, rather than for the Dawa party or the Shiite community. And we warned in those huddles, that's a low probability shot. Nouri al-Maliki will have to govern beyond his life experience. If he's going to use this space, we're going to create with American blood and treasure to create a more inclusive government in Iraq. Look, the man spent most of his adult life in exile. He thinks there's a Baathist behind every Bush trying to kill him because for most of his life, there was a Baathist behind every Bush trying to kill him. I said a bit of a low probability shot. 
[00:13:39] Now, I'm being a bit cartoonish in my explanation here, I'm summarizing three months of huddling, right? But at some point the president made the decision. "I understand what you're telling me intel guys. Send the five brigades." And then there's the punchline, Jordan, about every week for the rest of the Bush administration, President Bush had a personal video teleconference with Nouri al-Maliki, trying to coach and mentor this other human being to be what we thought he needed to be in terms of an inclusive prime minister for all of Iraq.
[00:14:14] So I don't feel as if our advice was rejected then. I think it was accepted. The president understood the dangers and then he took additional steps to try to mitigate the dangers with this special relationship that he tries to develop with Prime Minister al-Maliki.
[00:14:29] Jordan Harbinger: You got this infrastructure overload in the beginning of the book where essentially NSA goes down for a few days, because there's so much information coming in because of the collection program. 
[00:14:41] General Michael Hayden: Right. This is the explosion of global telecommunications. So we're out there with an architecture, Jordan. It's kind of based on a signals intelligence environment, there was too little, too hard to get. And now, the external telecommunication environment wasn't too little, too hard to get. It was too hard to handle, too hard to understand.
[00:15:01] Jordan Harbinger: You started drinking from the fire hose. 
[00:15:03] General Michael Hayden: Right. And by the way, the fire hose then overwhelmed our ability to drink and our information technology, our IT systems collapsed. 
[00:15:10] Jordan Harbinger: Right. And so now suddenly, the entire world — we can't listen anymore to our enemies. And this is something that, you basically start the book with this kind of it's like if this were a movie, it would be people running down the halls with an alarm going off and red lights flashing. Am I right? 
[00:15:26] General Michael Hayden: That's exactly right. That's actually why I started the book with that chapter. Keep in mind I was a Clinton appointee to the National Security Agency. It was falling further and further behind. It had some budget problems. It had some cultural problems and so on. And then you had this global telecommunications revolution too, literally, on the downfall. I was trying to be cautious. It's a national treasure, you know, Hippocratic oath, first do no harm, but I had been director for about 10 months and our whole IT system went belly up. And you're right, we're out of business for about 72 hours. That's really dangerous for America. 
[00:16:02] And so at that point, I decided there was no course of action I could set out on. And you were right, I was new to NSA. I'd never been in it before. My first day in the agency was my first day as director. I decided there was no course of action I could set out on that would be more dangerous to the future of the agency than continuing to sit there and do nothing. And so we started to make some dramatic changes.
[00:16:25] Jordan Harbinger: I love to get into those as well, because now of course you have this huge broad view of intelligence collection before and after September 11th. But as a side note, there's so much in this book and a lot of it is minute detail. I mean, one of the things that struck me and this was amazing, you said, "Well, we got in the car and then so-and-so needed another copy of this document. So he said something to Nancy Pelosi." And how can you possibly remember things in such detail? It's amazing. You keep a super detailed journal of just everything that's going on. 
[00:16:53] General Michael Hayden: No, no. In fact, we're somewhere between discouraged and disallowed— 
[00:16:58] Jordan Harbinger: Sure. 
[00:16:58] General Michael Hayden: —to keeping a journal. You know, for the director of CIA to lose his journal would really be a big deal. So we fixed that by not allowing him to have a journal. I can remember broadly things that happened and my rhythm for writing the book was simply to pick a topic, Al-Kibar nuclear reactor. That's at one in the Eastern Syrian Desert. I take my iPad when I was taking some long trips. And then to the best of my ability to kind of reconstruct what I remember of the story or the narrative, and after two or three long trips across oceans or continents, I'd have 3000 words and big gaps that I knew were gaps. And then I would go back to the agencies, NSA, CIA, and so on, and ask to see my files on this topic or from that period. I would go in there and do research. And I couldn't take my notes out without the agency clearing them so that they would not be classified. 
[00:17:48] And I also would make a request, in addition to my files, I need to talk to him and him and her and her and him and him. I talked to more than 70 people in preparing the book. And I took notes on that. And those notes had to be cleared too. When they were finally cleared and I brought them home and I closed them with my 2,500 or 3,000 words on the iPad, I'm getting close to a pretty mature chapter here. That's kind of my guess, that's the 80 percent solution, and the rest of it is just research and recollection. And then finally, you've got something ready to show a publisher. 
[00:18:21] Jordan Harbinger: That seems like a complicated process, given that you can't write things on an iPad and take it with you on a flight that are classified and you can't take the research out of the place. I imagine it's like law school where you're just sitting there in a dark room with books all over the place. No one's talking to you and you got to stay there until you're done. 
[00:18:37] General Michael Hayden: Yeah. And like I said, you take the notes, you give them to the agency, and then it takes several weeks. They'll give you a call and say, "Come on back, we're done with your notes," and you go there and pick up your notepad and it's got big black marks on it where the writing used to be, because you can't say that and you can't say that, but then I would take what survives and do what I said I did with it and combine it. Those things would have stimulated my memory as well. And I began to get a more and more mature version of each chapter. 
[00:19:07] Jordan Harbinger: And the book is called Playing to the Edge. What does that mean to you? Why did you name the book that? 
[00:19:12] General Michael Hayden: Yeah, actually my wife named it and the publisher said, "Okay, what's the title?" I go, "Hmm, yeah, the title." Okay, so my wife had read the manuscript and I said, "What do you think it should be?" And she said, "Playing to the edge." I added the colon, American Intelligence in the Age of Terror, but she recognized that one of the themes that permeates the book is that — first of all, I don't get to create the edge. The edge is the box that the American political process creates for security services. 
[00:19:40] Jordan Harbinger: Legally, you mean in terms of what you're allowed to do? 
[00:19:43] General Michael Hayden: It's actually a creation of law and policy. All right. Some things are set down in law. Other things are set down in policy. We don't do either of those in the intel community. That's done by elected officials and that's the box that we're allowed to operate in. And the metaphor for the title is that when operational circumstances demand, I've got to use the whole box. I got to play it all the way to the edge, because if I don't play all the way to the edge, if I don't use all the authorities, the law and policy — by the way, Jordan, if I play to the edge, I know I'm going to have an unpleasant congressional hearing. Some newspapers is going to write some unhappy stories. This is playing to the edge is going to be controversial. But if I decide not to play back from the edge, I've suddenly decided to protect myself or, more nobly, my agency from some unpleasant future, but I'm not decided to protect you. And that's my responsibility.
[00:20:34] And so the theme of the book is that we did some really aggressive, continued to be controversial things. I was involved in practically all of them, but in a very non-apologetic way, I described what we did, why we did it, and why we thought it was a good idea. We played to the edge. 
[00:20:56] Jordan Harbinger: In the early part of the book, you mentioned to a friend, "Wouldn't you love to be able to tell people what you do," is that why you wrote the book?
[00:21:02] General Michael Hayden: Yes. Frankly, what you're referring to is I was in the Outback of Australia with an Australian counterpart. We were coming off the ops floor of a facility out there that we share called Pine Gap. We'd just gone through an ops morning, seeing what they did, as we walked out the glaring sun of the Australian Outback, I turned to my friend and said, "Wouldn't you like to show your citizens what those kids are doing in there?" Intelligence is essential to defend, not just American security, but American liberty. Rarely, it has something so essential and so misunderstood or un-understood by the population that it serves. And so my purpose, as you suggest, Jordan, in the book is to kind of do what I suggested to my Australian friend, "Hey, come with me. I'm going to introduce you to some people and show you a bit of what it is they do on your behalf. That you're probably not familiar with." That was why I wrote it. 
[00:22:01] Jordan Harbinger: You mentioned liberty versus freedom. And you talk a lot about that in the book, and we can mention quite brilliantly, in fact, that you say, "When security concerns arise, we tend to gravitate more towards security than liberty in the balance between liberty and security." Do you see or foresee the flag pole moving back towards liberty or security in the future? Because right now, if we've got this tension between liberty and security, right? Freedom and oversights, for example, when we have events like September 11th, we tend to gravitate more towards security. "Hey, look, we need to be able to see this. We need to be able to hear this." Do you see this eroding consistently or moving back and forth? 
[00:22:38] General Michael Hayden: It moves back and forth. And that's a sign of a mature democracy. Both of those things, security, liberty, safety, privacy, those are all virtues. Those are all good things. We want all those. Unfortunately, in the real world, we've got to balance those. Where are the appropriate lines or, to your model, where you plant the flag on that spectrum? It depends on the totality of circumstances in which you find yourself. Frankly, fully within my authority, I was more aggressive at three o'clock in the afternoon of September 11th than I was at eight o'clock in the morning as director of NSA. Now as fully within my authority, I wouldn't be covering outside of any legal lines. I authorized some things I would not have authorized in the morning after the attack. They were very appropriate. You would have expected me to do it. It would not have expected me to do it before the attack. And so this line is something that we continually negotiate.
[00:23:27] I actually was on CNN yesterday afternoon, Jake Tapper, who was interviewing me. He was talking about the FBI guys missed the Orlando thing, what should we do to give the bureau a better chance of catching these kinds of things. Talked about more authorities and more money and more people. I said, "Yeah, those are all things we really got to look at, Jake, but let me tell you one thing, all right. If we do all that three, four, or five months from now, you're going to have somebody else sitting in this chair. And the topic of conversation is why do we give the FBI so much power? Isn't that a threat to our liberty and privacy?" We swing back and forth between these things into, frankly, no need, no call to complain about it. Certainly, not worth your effort because that's the way free people of democracy works. 
[00:24:12] By the way, there's an additional dynamic. We said after 9/11, well, we moved that flag up. And I said earlier that American espionage defends, not just American security, but American liberty, because Jordan, if we would have had another 9/11, well, I'll just let your imagination tell you where that flag was going to end up. If we failed and America suffered another catastrophic attack, we frankly would have turned on ourselves, our neighbors, our privacy, and our own liberties, because we were frightened. I am very fond of saying, and I think I say it in the book, "Frightened people don't make good Democrats or Republicans," small D small R in both cases. And so an intelligence failure that allows Americans to die doesn't just have an impact on American safety, it will eventually eat away at American freedom too. 
[00:25:00] Jordan Harbinger: You're listening to The Jordan Harbinger Show with our guests General Michael Hayden. We'll be right back. 
[00:25:06] This episode is sponsored in part by Future Hindsight podcast. Future Hindsight is a podcast that takes big ideas about civic life and democracy, and turns them into action items for you and me. Starting this week, host Mila Atmos, who's a cool friend of mine by the way, and her team are back for an all new season. That's all about something we most often hear about in terms of its brokenness, the social contract. There'll be asking big questions about how we live together, what we owe each other, what we can ask of our governments, how we can repair what's broken, renegotiate what never worked, or what's not working anymore. And they'll start with the history of thinking about social contracts and talk with change makers who have bold ideas about new social contracts in terms of climate, public, health, labor. As always, Mila will ask how everyday people can engage and what tools we can use for civic action and make a difference today for a better tomorrow. Make sure to check out Future Hindsight for a weekly dose of civic, inspiration and motivation. Listen, wherever you get your podcasts or on futurehindsight.com.
[00:26:04] This episode is also sponsored by Glenfiddich. Glenfiddich Richest 25 campaign — #Richest25 you know, brands love their hashtags — aims to challenge the definition of wealth and what it means to live a life of riches. Our culture has a lot of this stuff backwards. You've heard me discuss this on the show. With Glenfiddich, we're challenging traditional notions of what it means to be wealthy/rich and/or live a life of wealth. And many of these episodes and interviews have indeed been fueled by Glenfiddich. This episode included — I've been a fan of the brand for some time now. For me, living my ritual life is having great conversations and sharing them with all of you. And so far, that's been going pretty well for the last 14 or so years. I love producing the show with my team for you and not having to live in my parents' basement. And thanks to Glenfiddich for helping me make this a reality for all of us here at The Jordan Harbinger Show. So here's to your rich life, whether that's more time at home with family or more time for this podcast, and let's admit it, we are much more entertaining than your family, most of the time. Cheers, thanks for being with us. 
[00:27:01] Jen Harbinger: Skillfully crafted, enjoy responsibly. Glenfiddich 2021 imported by William Grant and Sons Inc. New York, New York. 
[00:27:08] Jordan Harbinger: Thank you so much for listening to and supporting the show. I really appreciate it. We put so much work into it. And all of those codes and discounts and everything that you hear, you can find them all on one page, jordanharbinger.com/deals. You don't have to write anything down, remember anything. Jordanharbinger.com/deals has it all. Please consider supporting those who support us. And we recently redid this page. So please check it out with your phone or your computer. Let us know if there's anything weird going on.
[00:27:31] Don't forget. We've got worksheets for many episodes. If you want some of the drills, the exercises that we talked about during some of these shows, they're in one easy place. That link is in the show notes, jordanharbinger.com/podcast. 
[00:27:43] Now back to General Michael Hayden. 
[00:27:47] You're saying that espionage is critical to democracy because, otherwise, we end up moving our own flag further towards security. We tend to maybe react emotionally and we jump towards one post much more than we maybe should. 
[00:28:00] General Michael Hayden: Again, frightened people don't often make good decisions. One of the reasons I want it to continue to play to the edge, I knew that if I failed to play to the edge and something bad happened, that edge was going to move. It was going to be far more extensive in terms of what the American people, now thought, we should be doing to keep them safe. And frankly, you know, I'm an intelligence professional, but I'm an American too. We all went to the same high schools. If you know what I mean, we all share the same values. I worry about American privacy too. I worry about American liberty. I don't want to put it at risk because we failed to handle security threats. 
[00:28:34] Jordan Harbinger: This makes sense in your book, you work very hard and understandably so to dissuade readers thinking freedom versus security thing, this is a sham, but for you, it seems like from the book that the tension between freedom and security is more than some sort of abstraction or abstract ideal. This is basically your entire job. This is why your job is important. 
[00:28:55] General Michael Hayden: Yeah, no, it's exactly right. There's some people out there who will say there are no real trade-offs between our security and our liberty. When somebody says that my immediate reaction is, well, clearly you've never been responsible for either security or liberty, because if you had, you know, that was just a stupid sentence.
[00:29:11] Jordan Harbinger: It seems like a thankless job. 
[00:29:12] General Michael Hayden: Yeah, we do this all the time. And so we do it in the context of American democracy. We do it with oversight. We do it with occasional court involvement. We do it from time to time, actually, we do it pretty often with a great deal of controversy. If Tapper would've said — then Jordan, after I said, you know, in four months, you're going to have somebody here complaining about the FBI. If Tapper would have said, "Well, then how would that make you feel?" And actually the answer in my heart of hearts was, "It makes me feel like an American. We do this all the time." 
[00:29:41] Jordan Harbinger: I mean, you have presidential and bureaucratic oversight, which at some level must be a little frustrating, but it seems like you see that as necessary.
[00:29:49] General Michael Hayden: Oh, it is. Look, I spent a chapter in change in the book by and large complaining about congressional oversight. It's imperfections, but how can you do this otherwise? I actually conclude one of the chapters on congressional oversight by saying if we made a mistake after 9/11, it was in not telling more stuff to more members of Congress earlier in the process. The president is fully within the law, okay. The law makes it very clear, he can narrow the number of members of Congress that he tells things to. So the president was acting lawfully. I think it's just as a matter of policy and politics. You should tell as many people in Congress what you're doing as early as possible. If you don't do that, you allow Congress to take a bunch of cheap shots, three, four, or five years later, when this becomes public and everyone feels safe again. Tell them early, tell them when everyone feels in danger, and then tell them if they want to stop it. Go ahead. Let them make the decision when it was a tough decision. Make the decision in prospect rather than a Monday morning quarterback in retrospect. 
[00:30:51] Jordan Harbinger: Sure. And thinking about countries where I've been places like North Korea, where I've visited. And I noticed that they're in a constant state of war and there's always an enemy. And whenever we see countries, even like Iran or especially North Korea, it's always this outside aggression that people are scared or they're even scared of tourists who aren't Korean, because it's so rare. And going back to your earlier point about scared people don't make good decisions, that's clearly a deliberate choice. And we saw that with the Soviet Union as well, where everything was constant fear, such that they could push and push and push towards security to the point where even though it would be intolerable under any other circumstances as well. You know, if we don't have this, American spies are going to nuke everybody or whatever. 
[00:31:33] General Michael Hayden: Actually, Jordan, we're actually seeing that played out now in today's contemporary Russia, where the Putin administration has pretty much total control over the information environment and they spend an awful lot of time describing NATO and the United States has tremendous dangerous to the Russian Federation. 
[00:31:50] Jordan Harbinger: Actually, that's a good segue because since the fall of the Soviet Union and the rise of the war on terror, we've lost tens of thousands of Soviet analysts to retasking or even just retirement, I would imagine. And given the recent actions of Russia and Putin and the rebuilding of their nuclear forces, is this being taken seriously in the beltway and what are the plans to rebuild that capability? 
[00:32:12] General Michael Hayden: So it is being taken seriously. We're serious people. We understand that the issue. People still in government understand the issues, but your overall summary is correct. We're more than a brick shy of a load when it comes to the technical systems and the human beings that we now need to put back on the Russian target. I tell a tale in the book, in August of 2008, the Russians invaded Georgia. And I got a panicked phone call from Steve Hadley, the National Security Advisor, just been called by Mikheil Saakashvili, the president of Georgia. 
[00:32:43] Jordan Harbinger: The Georgia, and the Caucasus, for those of you who are thinking, "Holy crap, the Russians are in Georgia. Yeah, it's a country. 
[00:32:50] General Michael Hayden: And Saakashvili was afraid that Russian tanks were going to come down and get him all the way in Tbilisi, the capital. Hadley's question to me was, "Mike, where's the Russian army going?" "I'll get back to you, Steve." So I walked out to my outer office and turned to my assistants and says, "Get my Georgia people up here right away." And then they started dialing phone and getting people up there with their maps and so on. And while they're doing that, I turned to my chief of staff and said, "We got Georgia people, right?" Because the emphasis, Jordan, might have been so strong on counter terrorism. We did have Georgia and they were good. And they gave me a good lay down. But you know what? We had a hell of a time tracking where the Russian army was. And that's something you ought to be able to do against a modern army. We had a difficult time telling Mr. Hadley and the president precisely where the Russians were because the systems we used to have to do that we didn't have anymore. We had shifted our weight after the fall of the Soviet Union to other problems like terrorism.
[00:33:50] Jordan Harbinger: Right. Meanwhile, our stuff is sitting there rusting and they're polishing the tanks, getting ready to roll into Tbilisi. I can see you there, one guy has got the hold music, like he's waiting for his bank to come back to him about a credit card issue. And you're going, "Please tell me there's not some 22-year-old with pimples who's going to run up here and say, 'I'm the Georgia department.'" 
[00:34:08] General Michael Hayden: Yeah, well, it was far better than that. 
[00:34:10] Jordan Harbinger: Good. 
[00:34:11] General Michael Hayden: But again, the weight of effort for the agency had shifted to terrorism at the expense of other important and growing in importance targets. 
[00:34:22] Jordan Harbinger: You've dealt with a lot of issues here. And of course, during your tenure, you kind of inherited some of the NSA baggage, which resulted in the NSA warrantless surveillance controversy, which is, you know, still a giant mess.
[00:34:36] General Michael Hayden: Yeah. Truth in advertising. I didn't inherit that. I started that. 
[00:34:39] Jordan Harbinger: Look, I'm glad you said it. I can only get away with so much. You can hang up whenever you want. You mentioned in the book, there's a Bulgarian apparatchik who says, "The truth is whatever serves the Communist Party." This is earlier in your career, he says that to you. What are you thinking at this point when he says that? Because it seems to come back around later on during the controversy. 
[00:34:58] General Michael Hayden: It does. That actually describes a political class. That would be very, very difficult for the intel guys to inject themselves into, to give them information that is not consistent with their vision. Look, you know, we've got our ideologues too, but fundamentally, Americans are pragmatic people. Facts matter. In communism, you had a theory, not a government. You got a theory of history and Marx writes, like he knows, in fact, he writes that he does know how history turns out. His version of history is just unrelenting hostility between the imperialists and the socialist states. So there's no amount of evidence that the KGB can bring to the leadership to say, "You know, I don't think the Americans are that aggressive against us." Of course, they're that aggressive against us would be the response. Haven't you read Marx? 
[00:35:49] Jordan Harbinger: Karl Marx, right? The famous communist. 
[00:35:51] General Michael Hayden: Yeah, not Groucho. This is an example of what I tried to describe before, but in this case, the policymakers are pretty much captured and enslaved by their ideology. In the contemporary world, I would say that the leadership of radical Islam, of radical jihadism, is equally captured by their own ideology, which says there is undying enmity between Islam and the west. 
[00:36:18] Jordan Harbinger: And we'll get to that in a bit. I definitely want to hear more about that. I do want to ask though the truth is whatever serves the Communist Party, to what extent, minus maybe the communist part. To what extent does that also ring true, when we're talking about things like data collection, domestic surveillance, enhanced interrogation, extraordinary rendition, or the critics of these policies, I should say? I would imagine they're ripping that page out of the book and putting it on the wall. 
[00:36:43] General Michael Hayden: One review that was in The New York Review of Books hit upon that particular argument. They began with the discussion in Bulgaria. Truth is what serves the party. I said, these are controversial. Remember? Blind to the edge means you're going to get some unpleasant newspaper articles written about you. And these will remain controversial. History will rarely conclude, "Oh, that was clear. We should just stand down on that question." Because even if you get past that point in history, the importance of those questions remain. So let's do the NSA program, the so-called domestic surveillance program. What we were trying to do was to detect the one kind of terrorist communications that should have been most important. Terrorist communications, one end of which we're in the United States of America.
[00:37:24] Now, there are only limited tools to do that. And so we did do some things that were quite aggressive, quite unprecedented, quite legal. I'm quite comfortable that what we did was and remained lawful. You want kind of an exclamation point on that. You had the Senator from Illinois, Mr. Obama, running for president on the platform that he's not George Bush. And when President Obama is president-elect and he gets briefed on these programs that started under President Bush. He doesn't shut them down. He keeps the surveillance programs, which to my mind, you know, every political bone in his body knew that he would have advantage if he canceled it, but he didn't. And that to me is pretty good indicator that, number one, they were effective and number two, they were lawful. 
[00:38:09] Now, the CIA programs, which I did inherit, they was all well underway before I got there. And in fact, you go through that section of the book, I'm kind of there taking that program apart, brick by brick, not criticizing my predecessors. They had their issues. I had mine. We knew more about Al-Qaeda when I was director, than we did when George Tenet was director in 2001 and 2002. So I could afford to change some things, but I'm not second guessing George. That program remains even more controversial than the domestic surveillance program, the so-called domestic surveillance program. And that program, President Obama did shut down most aspects of it. We used to call it RDI, renditions, detentions, and interrogations. 
[00:38:56] President Obama shut down DNI. He told me on Inauguration Day, shut down the CIA black site. That wasn't very hard. They were empty. And, "I don't want you guys doing the interrogations anymore." That wasn't very hard either. We didn't have any detainees, but he did keep renditions, the extra judicial movement of someone from place A to place B. Even president Obama, running on being the anti-George Bush felt that, "Nah, I need to keep that one in the courtroom. I may want to use that one." And so these are all controversial and good Americans can disagree on all of them. That's the point I make throughout the book. It's about good people with opposing points of view, arguing with them out within a free society. My take was, I would like to argue them based on facts. And so my book is an attempt to put the facts out there as I know them to be. 
[00:39:46] Jordan Harbinger: What do you think about some of those recent scares about how much information and metadata that NSA is collecting? Because in the book, some of it does seem a little ominous. There's a slogan up for some of the targeted killing with the drones and things like that. "We track 'em, you whack 'em." And I get that for military purposes. But when civilians read that, a lot of us are like, "Dang, that's kind of crazy. We don't like the fact that this looks like a video game in its simplicity." Of course, only in our imagination as to how easy this is. What do you think about some of those scares—? 
[00:40:18] General Michael Hayden: Yeah, this is emotionless killing. It just looks like a video game. I got a joystick and off we go. Actually, Jordan, the opposite is actually very true, quite true. These activities have a tremendous impact on the people who are doing them because by the nature of this, you know, you're looking at a compound for an unmanned aerial vehicle, a drone. We require these people to look at that compound for hours, if not days before you take a shot. And so these people are looking down at that compound. They're seeing this terrorist and we know he's a terrorist. We're seeing him play with his kids. We're seeing him talking to his wife, we're seeing him having a dinner with his neighbors. And we're waiting for him to get in the car and drive a little bit off the compound. So we don't kill his family. And when he gets a hundred or 200 meters off the compound, we take the shot. That is a tremendous emotional burden that the mission is putting on those people, because you've just watched this human being act like human beings. So this is not emotionless killing. 
[00:41:18] Jordan Harbinger: Yeah. And you do cover that in the book as well. You talk about the translators and the trackers and some of the drone pilots who are intimately involved in the lives of their targets. It's not like they show up with their coffee and click the bomb button. And then they're nuking people. They're not shooting people with drones and missiles and then go and grab sushi. They're listening to phone calls, they're watching the movements. Like you said, watching him play with the kids. And a lot of them get emotional when they have to confirm the killing of the target. And some people refuse, you wrote. 
[00:41:44] General Michael Hayden: I did. We talked about some of our language analysts who were on terrorism targets. We had geolocated the phone, we were intercepting the call live, and we were about to take the shot. You would turn for that last confirmation to say, "That's him on the phone, right?" Of course, the analyst would know based upon voice recognition and the analyst would also know that if he or she said, yes, the next sound he or she would hear would be the explosion. We had some analysts at NSA, who did not morally object to the mission, but just could not gather the emotional balance to do that mission themselves. So they requested to opt out. 
[00:42:20] The more broadly on the question of targeted killing, "We track 'em, you whack 'em," to give you a sense of the broader picture, Jordan. We believe we're at war. We've had two president's styles, very different presidents, the 43rd and the 44th, President Bush, President Obama, both say we are a nation at war. And therefore we are in a global conflict with Al-Qaeda and its affiliates. And therefore, as a belligerent, we have the right to take our fight to this enemy when he threatens us. There aren't many other countries around the world who accept that legal theory, I just laid out for you. Even our best friends don't think it's legitimate for the United States to act as a belligerent outside of Iraq and Afghanistan, which of course are our war zones, but we do. And two very different presidents think we do. 
[00:43:07] And therefore we have opted. We believe we have the moral and legal authority under international law to actually use targeted killings against individuals in parts of the world where the local government is unwilling and/or unable to allow normal law enforcement activities to reduce or eliminate this threat to the United States. I take the point. It's really controversial. We're kind of by ourselves out there. I think maybe Israel agrees with our theory and frankly, within the last year, the British took their own shot under that theory, and they took it against the British citizen. At least in one instance, they've kind of lined up in the queue with us, but by and large, this is a uniquely American legal theory.
[00:43:49] You can probably tell from the tone of my voice, Jordan, I'm really comfortable with it. I think it's legal and moral and necessary. I don't discount. A lot of other good folks don't agree with any of those three adjectives. 
[00:44:00] Jordan Harbinger: Sure, I mean, targeted killing has become essentially a core part of the American way of war in recent years. And of course, to do it right. And I put that in air quotes because I don't want 10,000 emails, but to do it right, requires the kind of exquisite— 
[00:44:13] General Michael Hayden: Exquisite intelligence, that's right. I am not claiming that we haven't heard it killed some people we weren't mad at, all right. I think the targeted killing program as you say it in the book is the most precise application of firepower in the history of armed conflict. I really do, but that doesn't mean collateral damage is zero. Collateral damage does happen. 
[00:44:31] I talk in the book about the killing of a fellow named Abu Khabab who was a WMD, a Weapons of Mass Destruction expert for Al-Qaeda. And we've been hunting him for a long time. And when we finally had an opportunity to take a shot, we decided to sleep outdoors because in that part of the world, it gets very hot at night. Very often people sleep outdoors and he's sleeping outdoors with his grandson, not too far away from him, but we're going to take it. But we engineered the shot every way we could to make sure all the energy from the hellfire missile went to granddad and not the grandson. All the energy went away from the son. We did our best. We failed. We killed him, but unfortunately his grandson also died. I admit it candidly in the book, Jordan. You know, in the real world, things rarely come out black and white. 
[00:45:18] Jordan Harbinger: Sure. I mean, it's trying to SWAT a fly with a shotgun. It's just not going to work. You wouldn't do that. In your house, there's a lot of balancing of decisions here. Very difficult operational and political decisions that you can't really make. If you're not in that position and thinking, this is a guy who is brewing something, orchestrating some massive attack, if you didn't do it and then you reported later on, "Well, we had a chance to shoot him, but he was holding a kid." It would look pretty ridiculous if that guy had just blown up the Oklahoma City, federal building with a daycare in the basement, nobody would forgive you for that. 
[00:45:53] General Michael Hayden: Jordan, even I know there are second, third, and fourth order effects to doing this. And a lot of those effects aren't good. Number one, you do get collateral damage even if you try very, very hard. Number two, you do kind of feed the Jihadi recruitment video with the heartless crusaders using these weapons from 20,000 feet. We've got a fairly unique legal theory here to kind of alienate some of our allies, particularly in Western Europe, who don't agree with our legal theory. So we know that when we're buying that first order effect, this bad man is no longer a real problem for us. We're also buying the second, third, and fourth order effects too. So I conclude that chapter on targeted killings, unmanned aerial vehicles, drones by saying, "What we need here is not a switch, but a dial. We need to be very prudent with regard to how often we do this and should only do it when it's really necessary because there are other effects that are not positive. 
[00:46:49] Jordan Harbinger: So I might ask, can a democracy keep that up and can our democracy keep that up? Because it seems almost contrary to some of our values to do things like. 
[00:46:58] General Michael Hayden: Well, you know, our democracy has been arguing about it for 15 years. And our democracy may change direction next year, under a different president. We're going to have to see. Jordan, we got no other tools for doing this. I don't mean drones, I mean decision-making. The only way we have to make decisions is to allow our political processes, the people we elect do what we elected them to do. And sometimes they're going to make decisions that in retrospect may or may not seem as wise as they looked in prospect. They may make decisions that suddenly go out of favor, not because they suddenly got wrong, but because the control of the House and Senate changed hands. That stuff just happens. And what I try to work on in the book, the description is the agencies, CIA NSA, they're going to be there from Clinton through Bush, through Obama, through whoever comes up next. And they're still going to have these same responsibilities.
[00:47:52] And so my purpose in writing a book is to try to remind the American people that the human beings inside these big three letter organizations aren't aliens. They're their friends and neighbors. They share their values. They are just put in circumstances, Jordan, where they have to apply these values in situations most Americans will never see, and in many cases will never learn off. That's one of the themes I try to emphasize in the book. 
[00:48:20] Jordan Harbinger: You say in the book, "At the end of the day, we're not going to be able to do the kinds of things we need to do to keep America safe, unless Americans are more confident in our actions, more comfortable with what we're doing, and we can't buy that with anything other than more openness. And that's just the way it's going to be." What do you mean by openness? 
[00:48:37] General Michael Hayden: Yeah. So what we've got is a shifting political culture inside the United States. I'm probably not the first person on your show, Jordan, mentioned this, but there's a lot of distrust out there. You've heard that from others, right? 
[00:48:49] Jordan Harbinger: I have seen that somewhere.
[00:48:51] General Michael Hayden: I mean, not many people are willing to cut the government a break when they're elements of doubt, right? And the intelligence community is part of that. When I was director of NSA, I was fond of saying, "Look, we really need two things to be successful. We need to be powerful and frankly, we need to be secretive." And we exist inside a broader political culture that distrusts, frankly, only two things, power and secrecy. You've got distrust factor that we have with the American people. And then I've concluded because the American people are growing increasingly skeptical about a lot of things, that the American intelligence community is just going to have to show the American people a little bit more of what it's doing for them. The American people are going to give them a blank check based on blind trust. 
[00:49:33] Now, there are limits to that, Jordan. Please don't let any of your listeners kid themselves. Making more of this stuff public is going to shave points off of operational effectiveness. But what I'm saying to my friends still in the intelligence community is if you don't share more of what it is you're doing, it's not going to matter because the American people aren't going to give you the permission to do these things in the first place. So we're just going to have to be a bit more open about some of the things we do. 
[00:50:00] Jordan Harbinger: Speaking of openness and sharing, let's look at a little bit of unauthorized sharing. I mean, in the book you mentioned Edward Snowden and marked him as kind of a narcissistic defector. How did he shave points off? How did he damage us as you put it?
[00:50:13] General Michael Hayden: So let me give you the very modestly limited positive news first, all right. I am willing to concede the Snowden revelations distorted but accelerated a necessary conversation. And Jordan, you already made reference to it, the NSA program and metadata, and so on. He accelerated a necessary conversation, distorted as well. The other 98 percent of the stuff that he stole and his accomplices had made public have nothing to do with your privacy or mine. They have everything to do with how your government collects legitimate foreign intelligence. I point out that this is the greatest hemorrhaging of legitimate American secrets in the history of the Republic. And Jordan, you are less safe today because of it. 
[00:50:56] Rick Ledgett is now the deputy director of NSA. Rick was obviously a more junior officer when I was there, but a really smart one. Rick, about a month or so ago, said that they are approaching a thousand and counting, a thousand foreign intelligence targets whom they know with confidence have changed their communication's pattern based upon the revelations triggered by the documents that Snowden stole. That makes you and me and our friends less safe than we would otherwise be. 
[00:51:32] Jordan Harbinger: This is The Jordan Harbinger Show with our guest General Michael Hayden. We'll be right back. 
[00:51:37] This episode is sponsored in part by Babbel. When you're traveling to a destination where you don't know the language, it can be challenging to accomplish even the simplest of tasks like trying to ask for directions in Mexico and not knowing a little of Spanish. Thankfully, there's Babbel, the number one selling language learning app. Through Babbel's bite-size lessons, you'll learn new language skills that you can actually use in the real world. From greetings, menus, directions, to getting a deeper understanding of the culture, Babbel is a travel essential. I really liked this compared to phrasebooks. Learning a new language is always kind of daunting. Babbel really breaks things down. It's not oversimplified or over complicated. I tend to get bored easily. Babbel keeps me engaged. They've got even really short, like five-minute lessons, 15-minute lessons. They've got games, videos, stories. There's even live classes. I'm actually headed to the Amazon Jungle at some point here. So I'm taking this as a good reminder to brush up on my Portuguese using the Babbel app, actually I need Spanish, but who knows what people speak in the thick of the jungle. Start your new language learning journey today with Babbel. 
[00:52:33] Jen Harbinger: Right now when you purchase a three-month Babbel subscription, you'll get an additional three months for free. That's six months for the price of three, just go to babbel.com and use promo code JORDAN that's B-A-B-B-E-L.com, code JORDAN. Babbel, language for life. 
[00:52:47] Jordan Harbinger: This episode is also sponsored by Better Help online therapy. The best way to think about therapy is through a bunch of analogies. We get our cars tuned up to prevent bigger issues down the road. You saw that one coming. That's an easy one. We get annual checkups and we go to the gym to maintain physical wellness and prevent injury and disease. Some of us do chores regularly to avoid a giant mess of a house and roaches and those weird silverfish things that crawl out of giant piles of laundry, speaking for a friend. Going to therapy is like all of the above. It's routine maintenance for your mental and emotional wellness to prevent bigger issues down the road and therapy doesn't mean something's wrong with you. I can't highlight that enough. It means you're investing in yourself to keep your mind healthy. Better Help is customized online therapy that offers video, phone, even live chat sessions with your therapist. So you don't have to see anyone on camera if you don't want to. And let's be honest, some days who wants to deal with that. It's more affordable than in-person therapy, and you can start communicating with your therapist in under 48 hours. So why invest in everything else, but not your mind. 
[00:53:44] Jen Harbinger: Our listeners get 10 percent off your first month at betterhelp.com/jordan. That's B-E-T-T-E-R-H-E-L-P.com/jordan. 
[00:53:52] Jordan Harbinger: This episode is also sponsored in part by Chinet. Yeah, the plates and the silverware, it's a people focused brand though, I'll have you know. These guys do a premium disposable tableware brand. Chinet prides themselves on being part of an authentic human connection and playing an important role in togetherness. They've been a part of American culture for over 90 years, providing durable plates, cups, cutlery, napkins, and table covers. Chinet is the go-to brand for cookouts, holidays, birthdays, game nights, baby showers, and more. Chinet brand believes not only that everyone should have a place around the table, but that everyone should be welcomed with open arms and a full cup. Chinet Classic, Chinet Crystal, and Chinet comfort products are all made in the USA with at least 80 percent recycled materials. Chinet brands products can handle anything from the sauciest ribs to the most generous slices of cake. Made to be microwave safe and leftovers' best friend, easy cleanup, environmentally conscious. Great for the upcoming holiday gatherings and perfect for all of life's get-togethers. Visit mychinet.com to find out more.
[00:54:46] And now for the rest of my conversation with General Hayden. 
[00:54:50] If you could say something to Edward Snowden knowing that he listens to this particular episode, what would it be? 
[00:54:55] General Michael Hayden: You have the right to remain silent. 
[00:54:58] Jordan Harbinger: I wasn't sure if you're already going to answer that. Has anyone asked you that before? You were pretty ready with that one.
[00:55:03] General Michael Hayden: Yeah. I got asked that at Stanford. 
[00:55:05] Jordan Harbinger: Okay. I was like, man, he had that locked and loaded. Good for you. 
[00:55:11] General Michael Hayden: Look, I stand by what I described him, this self-centered, narcissistic, hopelessly naive, and so on. He's done something that's really harmed our country. He's surrounding it as an act of civil disobedience. If you read American literature on civil disobedience, the Keystone document is Henry David Thoreau on civil disobedience and Thoreau points out that civil disobedience, disobeying a law with which you disagree. Civil disobedience takes it's more worth by your willingness to suffer the consequences for disobeying the law. He's not willing to do that. 
[00:55:43] Jordan Harbinger: You dealt with some of the world's most complex problems at the highest levels. Where do you see things going with organizations like ISIS and the domestic/homegrown threats, both in the USA and Europe? 
[00:55:55] General Michael Hayden: Yeah. So let me begin with a little political incorrectness. This is about Islam. It's not about all of Islam. And for God's sake, it's not about all Muslims. There is a civil war going on inside one of the world's great monotheisms. And until that civil war shakes out, we are going to see these bursts of violence that will not be limited to the Islamic world, but will show up in the west, be it Paris, Brussels, San Bernardino, or Orlando. And I fear Islam is going through what Christendom went through in the 17th. When Christendom made its peace with what you and I guys call modernity. How do you reconcile the transcendental, transcendental faith with science and reason? That was a real tough question for Christendom. 
[00:56:42] It fought a war in the middle of Europe called the 30 years war in the middle of the 17th century. It was at least as bad as what's going on in the Middle East now. Estimates are that about a third of the population of Europe died during that war. As we came out of that war and came out of that century, we in the west made our peace between faith and science, between transcendental thinking and modernity. We organized ourselves into nation states and we separated the sacred from the secular Islam is having that debate now. I should warn you, Islam doesn't necessarily have to come up with the same answer Christendom did. Christendom's solution is not a trend line. It's a point. And so we'll see what this other great monotheism decides for its future. But there is a grand struggle going on within the monotheism. 
[00:57:32] I was in Wales a couple of weekends back and listened to a wonderful British professor at the Hay Festival, a literary festival. It's held there every year. And he was asked a question after he had given his long, really great lecture on Europe in the 17th century. He says, "What lessons from Europe in the 17th century, what might we apply to what's going on in the Middle East?" And he frankly said pretty much what I just told you. He, frankly, said that Paris and Brussels and Orlando and San Bernardino were spillage from what is inherently this conflict within Islam that is probably going to take a generation or two to settle. So this is not something that's going to be solved when we successfully target Abu Bakr al-Baghdadi, the caliph of the Islamic state, or if we successfully overthrow Bashar al-Assad, that president sort of dictator of Syria, those are probably good things. But those things don't go away for a long time. 
[00:58:26] Jordan Harbinger: Since we have you here and it's timely, I wonder what you think of the whole Apple iPhone encryption issue. A lot of people probably realize that the San Bernardino terrorist, the shooter, had an iPhone and the FBI asked Apple to unlock it. And they said, no, because they didn't want to alter the operating system to be less secure. What do you think about that? It sort of falls right in line with the whole security versus liberty argument. 
[00:58:50] General Michael Hayden: Yeah, actually I side with Apple. I'm not the only person like me that sides with Apple. Two of my predecessors at NSA, Keith Alexander and Mike McConnell side with Apple. Mike Chertoff, former Secretary of Homeland Security side with Apple, Dave Patraeus, Apple, Richard Clark, used to handle cyber and terrorism for the National Security Council sides of Apple.
[00:59:08] I'll rephrase your dilemma a little bit, Jordan. I don't think this is a constitutional question. I actually think the government has the right to demand it. I don't think it's a privacy question. After all he's dead and it wasn't his phone. I think this is a security question. And looking at this question purely through the security lens, I actually side with Apple on the side of good encryption. In other words, what I'm saying, guys, I think the government has the right to demand they open the phone. I just don't think it's a really good idea because terrorism isn't the only threat against the United States. In fact, the last couple of years, Jim Clapper, who's the Director of National Intelligence had led off his annual worldwide threat briefing by saying the number one threat to the United States is cyber. 
[00:59:49] You know, you might want to think two or three times before you on behalf of the legitimate counter-terrorism, don't mistake that it'd be a really good thing to read that phone on behalf of the legitimate counterterrorism need do something that makes encryption on which all of us depend for cybersecurity, less secure than it would otherwise be. And so on security grounds alone, I'm with the apple one.
[01:00:15] Jordan Harbinger: So do you think you support Apple in sort of the broad sense, but maybe a narrow exception for this particular—? 
[01:00:21] General Michael Hayden: No, I don't. I don't think this phone rises to the level that an exception is needed. Jordan, you ask a great question because you know, all these things are relative. I just told you that I wouldn't do it for even these legitimate CT needs because you actually create a far more extensive cyber weakness over here. I can think of CT circumstances that actually dominate a cybersecurity circumstance on this side, but this isn't one of them. I reserve the right to judge specific issues as they come up. But this one was pretty clear to me, we should not automatically default to the needs of counterterrorism or law enforcement when it comes to weakening encryption in the domain, the cyber domain, in which we are all very much at risk. 
[01:01:04] Jordan Harbinger: How do you reconcile then supporting that encryption while the NSA collects tons of data on unencrypted communication?
[01:01:12] General Michael Hayden: Yeah, because there's a second order effect if you weaken Apple's encryption, you're going to make Americans less safe in the cyber domain to allow other people to steal their stuff. NSA targets foreigners for legitimate foreign intelligence purposes. And why wouldn't you want your foreign intelligence service to intercept legitimate foreign intelligence targets?
[01:01:35] Jordan Harbinger: Yeah. I mean, if anyone knows why communications need to be encrypted, it's the former head of the NSA, right? 
[01:01:42] General Michael Hayden: Well, there you go. Now, actually, Jordan, you bring up a subplot here. It's really important. It really doesn't matter what you or I think about the Apple issue. Frankly, it doesn't matter what the Congress does about the Apple issue or what a judge does about the Apple issue. The unavoidable arc of technology, Jordan, is in the direction of encryption, really good encryption. There's no law or court order or an opinion on a podcast is going to stop that arc. So people like me who are still in government are going to have to live with the reality that the content of communications is going to be increasingly difficult to recover. And there's nothing you can do to stop that. That's where science is going. 
[01:02:24] Jordan Harbinger: Yeah. It's like trying to stop a waterfall by making legislation. 
[01:02:27] General Michael Hayden: Right. 
[01:02:27] Jordan Harbinger: That says it can't do that anymore. 
[01:02:29] General Michael Hayden: It's not going to stop. So my counsel is okay, get over it. There's still a digital exhaust out there, Jordan. It's probably going to disturb your civil, libertarian listeners, but there's an awful lot of stuff out there that you can collect through electronic surveillance against the legitimate foreign targets and never get to the content of the communication. You can still create actionable intelligence. It's going to just be less about content and more about all the other stuff that's being thrown out into the cyber domain. 
[01:02:56] Jordan Harbinger: Sure. I got to ask you, man. What do you have to say about Trump? I mean, you're decidedly somewhat conservative, but you also intimately know how the US deals with other countries, both in terms of diplomacy, militarily, espionage cooperation. What do you think about the Donald? 
[01:03:11] General Michael Hayden: If he were to become president and would govern in any way comparable to the language he is used as a candidate, I would be very concerned about the welfare of the nation and the welfare of the world. And the longer this goes on, his language as a candidate doesn't change, and so I am increasingly concerned. 
[01:03:31] Jordan Harbinger: Are there people that are in your former position now in the administration who can say, "Hey, that whole thing about you wanting to do this crazy policy, yeah, we just can't do that. I can't do that. Or we won't do that." 
[01:03:43] General Michael Hayden: I actually said on national TV, during my book tour, I was in the Bill Maher show and Trump said, we should target the families of terrorists. And I just simply said, "Bill, that's just not going to happen." And he said, "What do you mean? It's our military coup." I said, "No, Bill." I said, "Look, that's in violation of American law. It's in violation of international law. It violates the laws of armed conflict. If such an order, wherever did the issue when it hit the first man or woman inside of an American military uniform, that individual would simply say what I just said. I'm sorry, sir. This is just not going to happen." Imagine a future in which Mr. Trump is president and he does insist on that, I mean, it has the makings of a constitutional crisis. Hence, my comment earlier, Jordan, I'm pretty worried. 
[01:04:26] Jordan Harbinger: Yeah, good. That makes many of us, I think. You've seen some of the top technology that's ever existed anywhere. And so I'm wondering which companies may be in Silicon Valley, the NSA, or you admire most in terms of their technology. Have you seen developments where you just think, "Dang, that is advanced," even if it's just getting a car from the airport? 
[01:04:47] General Michael Hayden: No, I'm not going to handicap all the things going on in the Valley. I will give you a macro statement though, okay. So I'm an American Air Force officer. I studied 39 years in the Air Force. America's Air Force is this frankly, simply the military expression of American aviation industry. By the same token NSA and other technical intelligence collection activities around the country, they are the intelligence expression of the American computing, telecommunications, and cyber industry. Put another way, most of the stuff we're going to need to keep ourselves safe in a digital world are going to be developed and invented by the private sector, not the government. 
[01:05:28] And so you asked me about Snowden earlier. Snowden's revelations, and particularly the way they were rolled out and written about, has made the relationship between the government and its legitimate activity and the Valley and its legitimate activities more difficult. We need to rebuild those bridges so that American security can take advantage of the kinds of things that American industry creates. 
[01:05:49] Jordan Harbinger: Instead of understanding a lot of the nuances, the sometimes deadly nuances that intelligence officials deal with on a daily basis, a lot of people, of course, criticized intelligence agencies for not doing enough when they feel in danger as you write in the book, while then reserving the right to criticize those same agencies for doing too much, once they feel safe, again, you're in quite the predicament, but it's probably a good one to be in from the perspective of a civilian. 
[01:06:13] General Michael Hayden: Oh no, it's fine, man. Remember what I told you on Tapper yesterday? If you would've followed on my question, Jake in four months, you're going to have somebody complaining about the bureau in my fanciful ending, which did not happen would be, how does it make you feel? And the answer was, it makes me feel good to be an American. That's what we do. And if you're going to strap on these kinds of jobs, CIA and NSA, you better button your chin strap because this is the kind of reality that is going to take place. It's how our democracy works and we're better for it or more secure for it, more free for it. 
[01:06:41] Jordan Harbinger: This reminds me a little bit of Jack Nicholson in A Few Good Men. I can't remember the exact quote, but it's something about, "You stand there and question the freedom that I provide and question the manner in which I provide it."
[01:06:51] General Michael Hayden: Yeah. 
[01:06:51] Jordan Harbinger: Obviously you're not ordering the code red. This type of thing should make us stop and think about what we're really willing to give or to tolerate, to preserve our illusions of safety and what is an inherently dangerous world. 
[01:07:04] General Michael Hayden: That's exactly right. And that theme kind of permeates the book. This is a field of gray. There is no white and rarely is there even any black. The decisions that the government has to make, the security agencies have to make to defend America are always shades of gray and they'll always be controversial. Somebody's got to make them and then live with the consequences either way, Jordan. 
[01:07:27] I used to tell the story that for a lot of my time at CIA, I get a phone call in the middle of the night. I'd have a pretty good idea what it was before I would pick up the phone, I simply quietly, say to myself, "Okay, remember Hayden, whatever you decide on this phone call, you can live with for the rest of your life," which, Jordan, was not an invitation to be conservative. Because you realize if you're conservative too often, you may have to live with a catastrophe that you had a chance to prevent. And those are the kinds of questions that the people still in government have to face routinely. 
[01:08:01] Jordan Harbinger: We ask you as intelligence agencies to do virtually an impossible job, which is protect us from the future while we go get sushi and then watch the NBA finals while you sweat it out. What's your decision-making system like? I mean, you must have some sort of process that says, "All right, this is really important. I can't just wing it based on my gut reaction that morning." There's got to be some sort of system or rubric that you use personally, or that the agencies use. 
[01:08:27] General Michael Hayden: Oh, sure. First of all, you're operating again within your political and legal guidance, right? Your policy and legal guidance. So you roughly know where your limits are within those limits. Now you have to make some operational decisions. Some are so important or so unique, you kind of toss them downtown for some additional guidance. But I got to tell you, if you do that too often, they're going to decide they really don't need you to be the CIA director, they can just do it themselves.
[01:08:48] And so you take on an awful lot of things you have to decide within the agency based upon the policy and legal guidance that you have. Until when you're faced with a difficult dilemma, my technique was get smart people in the room. Ask them what they think and start challenging them, ask them a bunch of questions, and make them explain themselves. And in those kinds of conversations, I generally got to a comfort level with a course of action that we would follow. The last question you would ask is to turn to the lawyer in the room and say, "Are you good with this?" Of course, get a final check with regard to legality, then you would move forward. 
[01:09:22] Jordan Harbinger: General, what do you think is the greatest threat to the nation right now? 
[01:09:26] General Michael Hayden: If you imagine in the air between us, I've got a little graph with an X and Y axis, okay, with the vertical axis how bad is it and the horizontal axis being how urgent is it, all right. In the lower left-hand corner of that graph, in other words, it's really urgent, but the danger is not catastrophic, existential. I put terrorism. Look, an attack as bad as Orlando is not going to destroy the American way of life. On the other hand, if a TSA agent makes a bad decision tonight at Dallas airport, something bad could happen by tomorrow morning. So it's urgent and it's bad, but there are limits to the badness. 
[01:10:02] And then you go up that horizontal axis, that timeline, three, five, seven years, here I start to run into a problem. It's actually more serious. Here I start to run into states that I call ambitious, fragile, and nuclear. And here, I've got North Korea, Pakistan, Iran, Russia. Again, it's not going to happen overnight. And if we don't handle it well, that could be really bad in five years. And then way off the line, maybe 10 years out, I've got the future American relationship with China and we've got time. Ain't nothing going to happen the next week that's going to make this a crisis, I don't think. But this one's really important. This one's pass-fail, we get this one wrong, how does a status quo power, that's us, handle an emerging power, that's China, in a way that creates a new global equilibrium and doesn't lead to global war? That's the pass-fail challenge. 
[01:10:58] If intelligence, you're trying to work all of them. And the problem you've got, Jordan, is that urgent one, because it's urgent is sucking all the air out of the room and you've got to work really hard to preserve yours and your agency's resources to make sure that they pay attention to these other issues that aren't quite as urgent, that are frankly more important.
[01:11:19] Jordan Harbinger: Why is the Tom Petty song your theme song? 
[01:11:22] General Michael Hayden: After the 9/11 attack, I went over to CIA and CIA had plastered all over the building desks and computers and so on, Todd Beamer's last words, or last recorded words on that flight that went into the field in Western Pennsylvania, "Let's roll." And for CIA, which has to do a lot of it's things forward out of Garrison, "Let's roll" fits perfectly. So what could we use as a rallying thing? We do a lot of our things from Garrison because that's electronics surveillance. And my wife and I were watching a benefit late one night, shortly after the attack. . And Tom Petty was one of the acts and he seemingly won't back down. And my wife just turned to me and said, "That's your motto," and so it was. We plastered that up on all NSA installations around the planet, and we got Mr. Petty's permission to use his song in a whole bunch of events. And just use that as kind of a rallying unifying theme for the folks at NSA in the early years of the war. 
[01:12:27] Jordan Harbinger: General, thank you so much for your time today.
[01:12:30] General Michael Hayden: Okay guys. Thank you very much. 
[01:12:35] Jordan Harbinger: I've got some thoughts on this one as usual, but before I get into that, here's a preview with the 26th National Security Advisor, General H.R. McMaster on the greatest threats to the United States. Here's a preview.
[01:12:47] General H.R. McMaster: War is this continuous interaction of opposites, right? You and maybe multiple enemies and adversaries inside of a complex environment. You have to understand strategic empathy to try to view these complex competitions from the perspective of the other. 
[01:13:04] Jordan Harbinger: Do you think our divisions domestically right now are one of the greatest threats to our national security? 
[01:13:09] General H.R. McMaster: Absolutely, Jordan, they are. And adversaries are doing everything they can to exploit them. I mean, Russia is masterful at this. When we were attacked on 9/11, Al-Qaeda didn't target Democrats or Republicans, right? They targeted Americans. I think it's time to really demand real reforms. And if teacher's unions are an obstacle, we've got to tell them, "Hey, you can't obstruct reforms anymore," and we need to demand. 
[01:13:33] The fact that we're driven apart from each other, based on these divisions in our society, what social media is doing to us by driving us apart with these algorithms, just showing you just more and more extreme information that's based on your current elections. The fact that, you know, if you're of one political persuasion, you watch one TV network and somebody of a different political persuasion watches a different one. You're creating two different realities. 
[01:13:57] We're doing this to ourselves, Jordan, we got to stop. You know, we got to stop it. So let's think about it. Let's work together to make our Republic better every day. And there are some who don't want to do that. They think that, "Hey, you can't even empathize. You're not even allowed to empathize." It's a real tragedy. 
[01:14:13] Jordan Harbinger: For more, including General H.R. McMaster's thoughts on immigration and climate change, check out episode 410 on The Jordan Harbinger Show. 
[01:14:22] Well, that turned into a really interesting episode. I do love bringing these back from the vault, even though some of the political stuff or the news stuff might be a little bit outdated. I love the fact that he's so open about this and very candid. Not everyone can handle that type of pressure doing that job and the scrutiny that comes from the media afterwards. I think writing a book about this must've just been exhausting. 
[01:14:42] If you're interested in that, of course it is quite the publication. I think it's like 550-plus pages. You can find the link to the book in the show notes. It's called Playing to the Edge. And if you buy books from the guests, please do use our website links if you buy those books. It helps support the show. Worksheets for the episodes are in the show notes. Transcripts are in the show notes. And some of our interviews, not this one, unfortunately, because it is from the vault, are on our YouTube channel, jordanharbinger.com/youtube. Our clips channel is jordanharbinger.com/clips. Little outtakes cuts, highlights things you don't see elsewhere on the show. I'm at @JordanHarbinger on both Twitter and Instagram, or you can hit me on LinkedIn. 
[01:15:17] And I'm teaching you how to connect with great people and manage relationships using the same software, systems, and tiny habits that I use. That's our Six-Minute Networking course. That course is free. No weird catch. It's over at jordanharbinger.com/course. I'm teaching you how to dig the well before you get thirsty. Most of the guests on the show, they subscribed to the course. Come join us, you'll be in smart company where you belong. 
[01:15:39] This show is created in association with PodcastOne. My team is Jen Harbinger, Jase Sanderson, Robert Fogarty, Millie Ocampo, Ian Baird, Josh Ballard, and Gabriel Mizrahi. Remember, we rise by lifting others. The fee for this show is that you share it with friends when you find something useful or interesting. If you know somebody who's into the spy game or surveillance or national security, share this episode with them. I hope you find something great in every episode of the show. Please do share the show with those you care about. In the meantime, do your best to apply what you hear on the show, so you can live what you listen, and we'll see you next time. 
[01:16:13] This episode is also sponsored in part by LifeLock. October is cybersecurity awareness month. This year's theme is do your part to be cyber smart. Oh, how are they going to beat that next year? Getting cyber smart starts with cyber hygiene, which is basic habits that can help keep you and your family protected from identity theft, scams, and other online dangers. Examples of good cyber hygiene include using strong passwords, setting up multi-factor authentication on your accounts, and regularly updating software on your devices. It's important to understand how cybercrime and identity theft are affecting our lives. Every day, we put our information at risk on the Internet. In an instant, a cybercriminal can harm what's yours, your finances and your credit. Good thing, there's a LifeLock. LifeLock helps detect a wide range of identity threats, like your social security number for sale on the dark web. If they detect your information, they'll send you an alert. 
[01:17:00] Jen Harbinger: No one can prevent all identity theft or monitor all transactions at all businesses. But you can keep what's yours with LifeLock by Norton. Join now and save up to 25 percent off your first year at lifelock.com/jordan. That's lifelock.com/jordan for 25 percent off.
Sign up to receive email updates
Enter your name and email address below and I'll send you periodic updates about the podcast.