Reading Time:
4
minutes
Jamie Metzl (@JamieMetzl) is a technology futurist and geopolitical expert, entrepreneur, media commentator, Senior Fellow of the Atlantic Council, and author of Hacking Darwin: Genetic Engineering and the Future of Humanity.
What We Discuss with Jamie Metzl:
Why the speed at which genetic engineering is progressing is akin to Neil Armstrong stepping foot on the moon just six years after the first flight of the Wright brothers.
Why the genetic traits that seem universally beneficial to us today may turn out to be as ephemeral (and useful to humanity) as powdered wigs and skinny jeans.
The danger our species faces when we're able to selectively edit out genes that cause disorders without fully understanding their potential benefits or evolutionary purpose (e.g., recessive sickle cell disease carriers' resistance to malaria).
Why China — run by a government that values the good of the country over the rights and privacy of its citizens — is better poised than the US and other Western countries to excel in the application of genetic science.
Why addressing the values of equity and diversity today is important for avoiding genetic stagnation and greater friction between the haves and have-nots of tomorrow.
And much more…
Like this show? Please leave us a review here — even one sentence helps! Consider including your Twitter handle so we can thank you personally!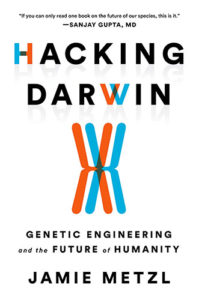 If we had a time machine to bring a baby from 1,000 years ago into the 21st century, its genetic makeup would be largely the same as a baby born today. But if we brought a baby from 1,000 years — or even 100 years — in the future back to now, its outlier traits and genetic disease resistance would be beyond our imagining. This is because gene editing technology is about to change our lives, and the world, in the next few decades. The upside of being able to upgrade physical and mental traits is just too good to pass up.
But who gets to make these important decisions that will affect the entire human gene pool? Governments? Corporations? Religious leaders? Criminals? All of the above? We have to brace ourselves now for what happens when technology with the best potential and intentions falls into the worst hands later.
On this episode we're joined by Jamie Metzl, author of Hacking Darwin: Genetic Engineering and the Future of Humanity. He'll help us wrap our brains around what we can expect from a future in which manipulating the human genome will be as simple as changing lines on a blueprint, how AI and big data will contribute to the process, what an arms race that uses stem cells instead of nuclear weapons might look like, and much more. Listen, learn, and enjoy!
Please Scroll Down for Featured Resources and Transcript!
Please note that some of the links on this page (books, movies, music, etc.) lead to affiliate programs for which The Jordan Harbinger Show receives compensation. It's just one of the ways we keep the lights on around here. Thank you for your support!
Sign up for Six-Minute Networking — our free networking and relationship development mini course — at jordanharbinger.com/course!
THANKS, JAMIE METZL!
If you enjoyed this session with Jamie Metzl, let him know by clicking on the link below and sending him a quick shout out at Twitter:
Click here to thank Jamie Metzl at Twitter!
Click here to let Jordan know about your number one takeaway from this episode!
And if you want us to answer your questions on one of our upcoming weekly Feedback Friday episodes, drop us a line at friday@jordanharbinger.com.
Resources from This Episode:
Transcript for Jamie Metzl | Genetic Engineering and the Future of Humanity (Episode 253)
Jordan Harbinger: [00:00:02] Welcome to the show. I'm Jordan Harbinger. As always, I'm here with producer, Jason DeFillippo. On The Jordan Harbinger Show, we decode the stories, secrets, and skills of the world's most brilliant and interesting people and turn their wisdom into practical advice that you can use to impact your own life and those around you. If we brought a baby from a thousand years ago in a time machine to today, it would largely be the same, but if we brought a baby from a thousand years in the future, or even a hundred years in the future, back to now, it would have outlier traits and genetic disease resistance that we've never even seen. This is because gene editing technology is about to change our lives and the world in the next few decades. The upside of being able to alter physical and mental traits such as appearance and IQ is just too good to pass up, but who gets to make these important decisions that will affect the entire human gene pool? Is it the government? Is it corporations? Is it the Chinese communist party? These all seem like bad options that could lead to bad outcomes. What will AI and big data do to speed up this process and what are the limits of human capability? We're about to find out in what many experts believe might be the next arms race using stem cells instead of nucs.
[00:01:15] Today on the show, Jamie Metzl will help us understand what we're getting ourselves into here as us humans begin to hack our own DNA and what it means to be human in the first place. If you want to know how I meet all these fascinating soles like Jamie Metzl, well it's about systems, it's about tiny habits for outreaching, keeping in touch, and I'm teaching you how to do that for free, for personal or professional reasons. That's all over at jordanharbinger.com/course. And by the way, most of the guests on the show, they subscribed to the course and the newsletter. So come join us. You'll be in good company. Now let's get after with Jamie Metzl.
[00:01:52] We were talking before the show and we were kind of going like, you know, hyperbole this, hyperbole that, I am not a guy who typically engages in hyperbole. But when you say we're headed for a genetic revolution, it might not be hyperbole in this case, right? This is happening.
Jamie Metzl: [00:02:07] Well, this is it. I mean, we've been evolving for about 4 billion years since we started as a single cell organism. And for 4 billion years, we've evolved by the random mutation and natural selection, Darwinian evolution. And now we are amassing these incredibly powerful tools that are allowing us to shape life on earth and shape our own life. These are the early days, but we are developing the capabilities to read right and hack all of our genetics, including our own. And the future is going to be very, very different from the past. We need to open our minds to what is coming and it's coming sooner rather than later.
Jordan Harbinger: [00:02:44] Okay. So when we talk about hacking genetics, this is something that sci-fi has sort of taken and run with...There's a lot of other people that are like, oh, we're going to be able to choose using CRISPR and all this stuff. We'll get into that in a second. But you illustrate this well in Hacking Darwin, where you say, if we brought a baby from a thousand years ago in a time machine and we brought him back to today, it would be pretty much the same organism.
Jamie Metzl: [00:03:11] Yup.
Jordan Harbinger: [00:03:11] But if we bring a baby from a thousand years in the future...And I'm thinking probably more like a hundred or 200 years in the future, I don't know what you're thinking, but from your book, that's what it looks like. If we bring that baby from the future back to now, it's going to have a lot of outlier traits in terms of intelligence and athletic progress, genetic disease resistance, things we have never seen in one human. So what's going on here? Why is this the case?
Jamie Metzl: [00:03:36] Well, it's the case because one, we over the last 50-plus years have learned to understand to read the genome. That's what we call genome sequencing. We have the ability to select embryos. So we've changed the way that we're doing human procreation from inside the body, the old fashioned way of sex to outside of the body. We're extracting eggs from the woman, from the prospective mother through in vitro fertilization or IVF, fertilize those eggs outside of the body. And then what we're able to do is sequence cells from each of those unimplanted embryos and we're able to select in a process called preimplantation genetic testing, which of those early stage embryos to implant. So that's already revolutionary and the more people who get their genome sequence through the transformation of our healthcare is the more we're going to have these data pools of billions of people.
[00:04:35] And with those data sets of genetic information and information about how those genes are expressed over the course of people's lives, we're going to increasingly crack the code of complex biology and genetics. So we're going to be able to select embryos, not just based on who's going to have simple genetic diseases where there's this one single-gene mutation like an on-off switch, but for very complex diseases, disorders, and traits. Then we're going to be able to make not just 10 or 15 eggs, which are extracted from a woman in traditional IVF, but ten thousand, hundred thousand eggs from each parent, particularly each woman. We're going to do that through stem cell technologies and then there's a whole range of other technologies, gene editing tools like CRISPR that are already allowing scientists and it's way, way early, but to go into these pre-implanted embryos and make a small number of genetic changes. And so this world is just, it's changing so, so fast. And we're at the beginning, but you can just see from here where we're going and the rate of change is speeding up massively.
Jordan Harbinger: [00:05:45] So you said a lot right there. I'm going to parse this a little bit because I think people just went, what the hell are we even talking about?
Jamie Metzl: [00:05:51] Yeah, all right, I'll slow it down. Good.
Jordan Harbinger: [00:05:52] No, it's all good. It's all good. There's a lot to discuss here. When we say a thousand eggs, a lot of people are going, whoa, wait a minute. Women don't have a thousand eggs. It doesn't make any sense. I mean men have...We got plenty of, what are they called? Zygotes. I got zygotes for days.
Jamie Metzl: [00:06:05] Yeah. Well you may not have zygotes, but you have sperm cells. Average male ejaculation has about a billion sperm cells.
Jordan Harbinger: [00:06:11] Those aren't zygotes. It's been awhile since I learned it in high school.
Jamie Metzl: [00:06:15] Zygotes are very early stage embryos.
Jordan Harbinger: [00:06:17] Oh, okay. So I have zero zygotes, right? I had one already but now it's a baby.
Jamie Metzl: [00:06:20] You had one. Now you've got it. Yep.
Jordan Harbinger: [00:06:22] Now I've got a baby.
Jamie Metzl: [00:06:23] Yep.
Jordan Harbinger: [00:06:23] Okay. So the way that we would do this is we won't need sperm cells and eggs from women in the future. We're going to be able to use stem cells that are what sort of brought from my skin or whatever....Where do we get these?
Jamie Metzl: [00:06:37] Yeah, yeah. So for sperm, it's just so damn easy to get that we may as well get it from men. I mean like I talk about--
Jordan Harbinger: [00:06:47] Okay, we're throwing it away.
Jamie Metzl: [00:06:48] Seriously. I talk about this in the book. I went to the fertility clinic to freeze my sperm and it's actually pretty easy. They walk you in the back that you know, there's no fancy science. They have like a little thing that used to be a broom closet. They got a video recorder and some ratty old magazines and they give you a plastic cup and that's that. And you got, you know, however some might choose to do it, but you get about a billion sperm cells in average. So we don't need science. We have all tried and true methods.
Jordan Harbinger: [00:07:17] That's right. Yeah. I've been trying to get rid of my sperms since 93.
Jamie Metzl: [00:07:22] Exactly. Nobody wants...A lot of kids have set up these things, it's kind of like a lemonade stand. Many of you dropped the price. I'm sure somebody will take it.
Jordan Harbinger: [00:07:32] That's right.
Jamie Metzl: [00:07:32] But the more complicated issue is our human eggs because your average woman is going through... Human egg production is limited over the course of a woman's life. It's just how human biology works. So the average woman who's going through IVF and what IVF means is you have your eggs extracted from the body. So rather than having a baby through sex, the eggs are taken out of the woman's body through a small surgical procedure. And so, like I said before, there's about 10 or 15 eggs are extracted in an average IVF. But with stem cell technology, you do it an entirely different way. And you could use any adult cell, but the easiest way would be you take a skin graft. If you take a little skin graft, that's millions of cells. You use a process called...Technical name doesn't really matter. It's called induced pluripotent stem cells, iPS. A Shinya Yamanaka, who is a Japanese scientist, won the 2012 Nobel prize for this. And what you do is you use these four genes to transform these adult cells into stem cells. So a stem cell, as you know, is a cell that can be any other type of cell, like when your father's sperm fertilized your mother's egg, that was a single cell. But that cell had the ability to grow into everything into you. And so now we have stem cells and say we have a million of these skin cells that we've induced into becoming stem cells. Then we induced those stem cells into becoming egg precursor cells. So it's in the process of becoming an egg and then the next step is turning those egg precursor cells into eggs.
[00:09:14] Now, we have one million eggs, which are all the quote-unquote natural eggs of that same mother. So we've basically expanded our ability to create eggs for women at the same level or nearing the same level as we have to create sperm for men. And the reason that's important is that if you have, let's call it a million or 10,000 whatever the number is eggs, and you fertilize those eggs with your billion sperm cells, now you have 10,000 options. So you have those 10,000 preimplanter, unimplanted early stage embryos and use an automated process that doesn't yet fully exist, but it is in the process of being created. So they grow for about five days. You extract a few cells from each of these, let's call them 10,000 early stage embryos, and these are cells that would have gone on to become part of the placenta, if any one of these of these embryos were to continue growing. And then you sequence the cells from each one of those embryos. The cost of sequencing, it costs about a billion dollars in 2003, and it's about $600 now and it's going towards essentially zero or close to zero within a decade. So now you sequence these 10,000 fertilized eggs and now you have real options because just imagine how much variation there's going to be among 10,000 different pre-implanted embryos.
Jordan Harbinger: [00:10:53] Okay. So what I can do is go look, I want a kid that is over six feet tall and is going to be, I don't know, a certain level of intelligence or something like that and has blue eyes and whatever sort of combination. And you go, well the first 9,000 he's all under six feet tall. So we've got a thousand different embryos now. These are all over six feet tall and then like a few hundred of blue eyes and out of those few hundred here's the one that has the best shot at a high IQ. Let's pick that one. That one is the one that we put in the womb, inject there, whatever.
Jamie Metzl: [00:11:24] Yeah, that's exactly right. So the way we'll work is you will have to establish your priority list. These are the things that are most important to me and then on down from there. There are always trade offs. I mean that in all of us there are trade offs. We're more in one thing, we're less in another thing, but again, when you're choosing from 10,000 you have real options. So let's just say you were to come in and say, "Well, here is my list." And again, this isn't something, it is fully doable now, but it is well on the way. It is in my view, certainly coming that there's no science that I write about or talk about that is like something. I also write science fiction. That is some kind of imaginary thing. This is very real science that will develop and if it just needs to grow at even a slower rate than it's already growing and we will get there.
[00:12:11] So, let's just say you say, "Well, here's my list. Most important for me is health. I want to have a kid who's not going to die young of some terrible genetic disease. I also value health span, so I want a kid who's going to live a long and healthy life." And there are a few things like that which feel at least to people like they're a little bit more universal, but then you get to these very human attributes like height, I mean, certain like the appearance issues, hair color, eye color, even skin color. And then there are all of these issues like higher or lower genetic components of IQ and IQ isn't entirely genetic, taller or shorter, which is again, that's something where we understand the genetics of height pretty well right now. Personality style, more outgoing, less outgoing. I mean, what we're really doing is looking under the hood of what it means to be a human being. And that's something that's really going to be a shock to the system for all of us who've grown up on mythologies or just on a set of observations and experiences that are very different.
Jordan Harbinger: [00:13:13] We're just going to look so bizarrely ancient to this new superhuman. I can just picture my great grandson, or maybe not even that far off going, "Wait, wait, wait, let me get this straight. Your parents just rolled the dice and whatever came out was you." And we're like,"Yeah." And they go, "That's ridiculous. Didn't people come out too short to have one ear or they're missing a finger or they had some sort of other genetic issue or learning disability or they were too this or that, or not enough of this and that." And it's like, "Yeah, all the time, human variance, it was totally normal and it wasn't a big deal." And then it's just like, "They're living in Gattaca where it's like, wow, you're natural. That's so weird."
[00:13:53] Yeah. And I think that is one possible outcome and it could even be a likely outcome, but we need to also take it all with a grain of salt, because all of these things that we think are good are good within the context of the world that we know. I mean there's not good and bad and evolution. There's just better or worse suited for a given environment. If you're the white moth in the winter, you're kind of screwed in the summer. So we have all of these things like there are certain types of intelligence that we measure with things like IQ, that we value in the world that we know, but the world could change. I mean, imagine right now there's a Russian scientist who is saying that he has five parents lined up who want to have their future children, gene edited as embryos, to eliminate a mutation that will cause hereditary deafness. But people in the deaf community would say, "Hey, deafness is not a disability." And in our kind of day-to-day world, it's hard to be deaf. But imagine there was some UFO visiting and these UFO was making this screeching noise that drowned out all sound on earth. It would turn out that those deaf people who had learned lip reading and sign language, they were the superheroes with superpowers. And so yes, we really need to be careful about this stuff, but the where we are going is we are going to have, whether it's children or grandchildren or great grandchildren and they're going to say, "Wait a second, you guys died from viruses. Like we are immune to all viruses and you guys, you thought it was normal to get dementia when you were in your nineties like we're not getting dementia until we're 110." And that is certainly what's coming and it's just a very, very different way of thinking about life itself. Then what we have come to in the past.
Jason DeFillippo: [00:15:46] You're listening to The Jordan Harbinger Show with our guest, Jamie Metzl. We'll be right back.
Jordan Harbinger: [00:15:53] This episode is sponsored in part by Zoom.
Jason DeFillippo: [00:15:55] When you use Zoom, every day is a little better. Zoom video communications with the webs best reviewed video conference service used by millions to meet one-on-one or hundreds at a time. Zoom video conferencing lets you connect face-to-face with anyone across town or around the world with flawless video, clear audio, and instant sharing of files, video, anything. And you can connect through any device, desktop, laptop, tablet, smartphone or conference room system. Zoom video conferencing, Zoom rooms, Zoom video webinars, and Zoom phone put state of the art tech at your fingertips, and lets you do business at the speed of zoom. Look, if you're not using Zoom video communications, the only question I have is why not? I'll make it super easy for you. Visit Zoom online and set up a free account today. Try the most affordable and most reliable video communications solution on the market. Meet happy with Zoom.
Jordan Harbinger: [00:16:50] This episode is also sponsored by DesignCrowd. Crowdsourcing, it's how busy people get stuff done in the 21st century and thanks to DesignCrowd, you can focus on running your business while you hand over the reins --for your company's logo, web design, t-shirt, you name it-- to a pool of over 725,000 designers from around the world. So DesignCrowd, crowdsources custom work based on what you want, the specs you throw at them. So you go to designcrowd.com/jordan. Post a brief describing what you want from the art that you need. They'll invite 725,000 designers from Sydney to San Francisco to respond and you can start getting the designs 60, a hundred, or more within a few days and you'll get a bunch of different pieces from designers around the world. You pick the ones you like, pay the designer. If you don't like any of them, DesignCrowd offers a money back guarantee. Jason.
Jason DeFillippo: [00:17:37] Check out designcrowd.com/jordan.that's D-E-S-I-G-N-C-R-O-W-D, designcrowd.com/jordan, for a special $100 VIP offer for our listeners, or simply enter the discount code, Jordan, when posting a project on DesignCrowd.
[00:17:50] Thanks for listening and supporting the show. And to learn more and get links to all the great discounts you just heard from our amazing sponsors, visit jordanharbinger.com/deals. And don't forget we have a worksheet for today's episode so you can make sure you solidify your understanding of the key takeaways from Jamie Metzl. That link is in the show notes at jordanharbinger.com/podcast. If you'd like some tips on how to subscribe to the show just to go to jordanharbinger.com/subscribe. Subscribing to the show is absolutely free. It just means that you get all of the latest episodes downloaded automatically to your podcast player so you don't miss a single thing. And now back to our show with Jamie Metzl.
Jordan Harbinger: [00:18:29] So is there a Moore's Law? Moore's Law is this sort of technology curve where like 64 kilobytes of RAM in 1989 or something, it's like 1000 bucks. And now your iPhone has, I dunno, a thousand times or whatever, you know, more, way more than that and then the price goes down. The ability to put these little transistors or whatever semiconductors goes up. So is there a Moore's Law curve for biology? You know, is this--
Jamie Metzl: [00:18:57] Yes.
Jordan Harbinger: [00:18:57] I can't remember what it's called. My friend, Rob Reid, mentioned this. It's not a curve though. It's more like it goes down and then it really drops crazily, exponentially.
Jamie Metzl: [00:19:06] Yeah. So basically, certainly for genome sequencing. So Moore's Law, the computing power roughly doubles every two years for the same price, it's kind of the shorthand for it. And so if you applied Moore's Law to genome sequencing and you started at a billion dollars in 2003, we wouldn't be close to the $600 today and we wouldn't be close to zero. It's going to be well within a decade. So the cost of sequencing is advancing a matter rate far faster than Moore's Law would suggest. I talk a lot and write about in the book this concept of exponential change, which I think is what Rob also talks about, that anything that becomes digitized gets on this curve, kind of like a Moore's Law curve, but with the whole world networked. Nobody has to solve a problem. It's already been solved by somebody else.
[00:19:58] And so we have more people who are educated, more people who are working on these incredible thorny problems. And every time something gets solved, I mean different parts of the world figured out copper and bronze thousands of years different from each other. But imagine if you know the first civilization that discovered bronze was able just to send an email to everybody else like, "Hey, we just discovered bronze. Here's the formula." That means all right, great, we're 2000 years ahead developmentally. And that's what's happening every day. So that's why our imagination about the speed of change is often too conservative because we're looking in the rear view mirror rather than imagining what exponential change is going to look like going forward. And then we look at these time frames. I mean, so I was on a panel here in New York a couple of months ago with this amazing woman, Jennifer Doudna, who is one of the inventors of the CRISPR-Cas9 gene-editing system, which I know we'll talk about it.
[00:20:52] So this CRISPR gene editing was invented in 2012, seven years ago. The first CRISPR gene-edited babies were born six years later in 2018 so this connection between when basic science comes up with a concept and when that science begins to be applied in ways that are changing our world is just so fast. And so that's why this is so difficult as an issue because we had time. I mean the industrial age was very, very difficult to adjust to, but it happened over, you know, at least decades, in some cases centuries. I mean, this is happening over the years.
Jordan Harbinger: [00:21:33] Yeah. That's almost like saying, "Hey, you know, we can make gunpowder shoot these little fireworks." And then someone's like, "Well, that means we can go to space." It's like, "Whoa, hang on a second."
Jamie Metzl: [00:21:42] Exactly.
Jordan Harbinger: [00:21:42] And this is like, Hey look, we might theoretically be able to edit genes using this crazy gigantic multi-billion dollar machine, and then someone half a decade later is like, we just made a baby using a machine the size of a microwave to edit the gene." I mean not that didn't make the baby with the microwave, but we edited the gene, the baby's alive. It wasn't this crazy theoretical thing that existed for three decades beforehand. It just the same team could have done this.
Jamie Metzl: [00:22:09] Yeah, that's the amazing thing. Now we're celebrating the 50th anniversary of the moon landing. There were people alive at the time of the moon landing who had also been alive at the time when the Wright brothers had the first flight. But just imagine the Wright brothers having the first flight and then the moon landing happening six years later. I mean that's how to think about this pace of change and it just, in many ways beyond the way our brains normally function. So we have to make our brains function in ways that can take this in because it's challenging. It's rapid. And that's why this period of revolutionary technology and whether it's, yeah, genomics or AI or nanotech, that's why it's so difficult for us to internalize.
Jordan Harbinger: [00:22:54] So tell us about what CRISPR is. A lot of people know what it is. A lot of people don't know what it is, but of course we're for sure going to use CRISPR and other tech to mess with nature in an attempt to perfect it because the upside is just too good. So tell us what CRISPR is and then of course, why this is just an inevitability and not like some sort of sci-fi.
Jamie Metzl: [00:23:14] So CRISPR is a form of gene editing. Let me just go back a little bit. Everybody I think understands that when we talked about your father's sperm fertilizing your mother's egg, you have that single cell. That single cell has a blueprint for what you are going to be, what you can be. That blueprint is written in the code of your genome. And what CRISPR is, is a gene-editing tools. So if you just imagine that your genome is made of letters in 3 billion base pairs, it's like a word processing for genetics. And so basically it's hijacking an immunity process where bacteria has been defending itself against viruses --and I won't go into that because it's a little complicated-- but basically you tell this messenger, it's called a messenger RNA where on the genome you want to go. And so this little molecular scissors goes there and then there's a cutting enzyme, which is called Cas9. And it just cuts out the place where you want to make a change. And you can either cut something and not replace it and then your genome reattaches, or you can cut it and place a little piece of genetic information that fits into this gap. Just place it there and your genome will just incorporate it. And so what this means is that we have this ability to rewrite the code of life.
[00:24:41] Imagine people jump from that to thinking, well, we're going to make babies like when you go to the Build-a-Bear workshop at your local mall and you'll just say, I'll have one of these, one of those. It's not going to be like that. But increasingly, we'll have this ability to rewrite the code of life. And there are limits on what we can do because if you make too many changes, cells can die. And because our genes are doing so many different things simultaneously, it's not that you have a tall gene and a short gene and a smart gene and whatever, lots of our genes, our genes are multitasking all the time. So it's complicated to make changes, but we're already doing it. And so we already have gene therapies, which are medical treatments to treat terrible genetic diseases. As a matter of fact, the first application of CRISPR in human patient is starting now to treat sickle-cell disease, but the use of CRISPR and gene-editing tools like it...And people will often have heard the word CRISPR, so they think that CRISPR is the story. CRISPR is just a little piece of the story and there will be much better and more precised gene-editing tools then CRISPR and I would argue even already are.
[00:25:54] But this disability to rewrite the code of life. That is where the power is is not just going to affect us, it's not going to affect just human healthcare and human reproduction, but there are these mechanisms called gene drive where we're using these tools of CRISPR, where we can fundamentally transform entire ecosystems doing things like releasing one mosquito and this one mosquito has this little machine inside of its body so that when it procreates with another mosquito, this little machine transfers sexually from mosquito one to mosquito two and let's just say it does something that makes it sterile or changes the way it functions and then those mosquitoes have babies and all those babies how have this little molecular biological machine inside of them. And so very quickly through sexual reproduction, you could change an entire species. And that's why this is also powerful.
Jordan Harbinger: [00:26:52] Wow, that's incredible. And sounds highly dangerous, right? Because we're like, all right, we're going to make it so mosquitoes can't carry malaria anymore. And it's like yay. And then it's like, oh, but by the way, that means they're no longer nutritious enough for these other birds that eat them. So those die or the population dropped significantly. And then those were the primary food for this other thing. Like these, ripple effects in the food chain or just in the ecosystem in general could be irreversible because then what? Oh, just kidding, we got to release a whole bunch of malaria infested mosquitoes now. Okay, that's going to go well, right?
Jamie Metzl: [00:27:25] Stewart Brand, who's this incredible thinker who's been around for decades, has this wonderful quote, which is we are as gods, so we better start getting good at it. And we now have this ability to make all of those kinds of changes. And the danger is hubris. Yes, we can eliminate malaria using gene drives, but what if we crash the entire ecosystems? And that's the challenge for us. Just because we have this incredible power doesn't mean that it's inevitable. We're going to use it wisely. If we want to use it wisely, we better be having some pretty serious conversations about how to do it. And that's not what's happening now.
Jordan Harbinger: [00:28:09] Yeah, of course. That's definitely not. Most people are going to ignore the ethics. That stuff comes later, right? Like, oh, progress, progress, and then, hey, should we be doing this. I don't know, it's profitable right now. Let's talk about that later.
Jamie Metzl: [00:28:21] And then because of the speed issue that I mentioned before, that becomes really dangerous because if we're going from the Wright brothers to the moon landing in in six years, we're not going to have time to make sure that we're not having terrible Pinto experiences along the way. But those Pinto experiences are the stuff of life and we are getting our hands on the levers of life and that's a really big deal.
Jordan Harbinger: [00:28:46] Where was I recently? I can't remember now. I went to an island group and they had a pig problem and I said, how is there a pig problem? And they're like, yeah, we, if you hunt pigs, the government will pay you to come here and hunt pigs. So a lot of people will come here and hunt pigs. And the problem is the boars are really dangerous and aggressive and so we go and kill them and there's alligators everywhere. So that's kind of dangerous to go and hunt because there's alligators. And I'm just thinking, how in the hell did this happen? How are their pigs, alligators...? And the pigs dig for food, so they cause massive erosion in these wetlands areas as well, these mangroves. And I thought, how the hell did this happen? Oh, back a hundred years ago, some Europeans landed here and they were like, hey, we need pigs because we like pigs and we eat pigs. And they went, okay, great. And then a couple of them got away or the ship crashed and they swam to shore dot, dot, dot. Massive erosion, aggressive animals. Nothing eats them except for alligators, which are usually in the water. So they're ruining this thing and there's no way to get rid of them. And you see this in other areas too, like, oh hey, we like hunting rabbits. Let's bring rabbits to this area. Okay, well, now there's an 8 billion rabbits and they eat the birds or something. Or they need to eat the rabbits so they bring foxes and instead of chasing the rabbits, they eat all these flightless birds. I think that was an Australia thing. These problems happened over a long period of time. They cause extinction. But what happens when we do something that affects humans like malaria, mosquitoes, other types of genetics. I mean, we could crisper our way, right into, hey, guess what, nobody's able to fight this thing off anymore. We thought this gene did nothing. Turns out it's the reason we don't get this weird bacteria that lives in caves that's now killed off 10 percent of humanity.
Jamie Metzl: [00:30:27] Yeah. And that's why we need to try to avoid hubris. We have to be really careful. And people who did all these other things probably thought they were doing something good or doing something neutral. But we don't learn the lessons about the implications of our actions often until far after the actions have been taken. And that's the challenge. I mean, we live in an ecosystem that humans have massively transformed and we are the biggest driver of change pretty much on this entire planet. Whether it's realized through climate change or agriculture or urbanization or pollution, or anything else, but we still live in an ecosystem. And if we crash that ecosystem, this could be really, really dangerous. And there's lots of ways that we could do it. We could do it by harming other species. We could do it by trying to engineer things that seem like a good idea, but maybe inadvertently or perhaps by intention, creating synthetic pathogens that our bodies can defend ourselves against. So there's really, really serious stuff here that we need to be mindful of and we need to start to lay the foundations to use these technologies as responsibly as possible. But as you said before, the attraction of using them is going to be so strong. I mean it's going to be, in my view, impossible for us to say, Hey, these technologies are really powerful, let's not use them in humans for 30 years so we can do a big study and then come out with some global plan about how we can best use them to optimize the benefits and minimize the harms. That might be a good idea. That's not how we operate.
Jordan Harbinger: [00:32:04] Of course, it's not how we operate. It's not how corporations operate and it's certainly, look, even if the whole world gets together and says, look, we're going to do this. You really think countries like North Korea or China or China in combination with North Korea are going to be like, you know, we signed an agreement not to do this and it could be a bad idea or it could give us this massive advantage, so let's just not do. I mean you can't hold technology back once one person or one party gets it, they're going to go hog wild. I mean that's the whole point. And that's usually a good thing because it gets progress going, but in this case, progress could be the end of it. And look, your last name is Metzl here. You're clearly people of the book, right? You're Jewish. Does that family history give you any pause when you're talking about genetic selection and editing our genetic future? I mean there's some uncomfortable questions that come up with eugenics, right?
Jamie Metzl: [00:32:53] My father and grandparents came to the United States in 1948 as refugees from Nazism. So I am deeply and acutely aware and everything that I do, the connections between talking about our genetic future and recognizing the terrible abuses that have been done in the name of genetics in the past. If you had asked the Nazis what they were doing, they would've said they were implementing the theories of Charles Darwin. That's what they thought they were doing. That was the essence of Nazism and that's a big, big warning for us. I was on a panel a couple of months ago in Berkeley and I spoke alongside with a really amazing poet who is the father of a daughter with Down syndrome and he was talking about how that experience had made him just a better person and a deeper person. And for sure he was right, but it was hard to say in front of him, which I did that 20 years from now seeing a kid with Down syndrome was going to be as rare as seeing a kid with polio today. It's not that it's not natural, it's just that kids won't have Down syndrome. And that's a really big, big deal because even if we're selecting from among 10,000 embryos, we are making normative decisions about what types of people have the opportunity to live and what types of people won't live and what does that say about people who may already exist with those kinds of conditions. So this stuff, it's really, really sensitive and that's what I always say is this is a conversation about science in some ways, but science is just what gets us to the table. The real conversation, the most important conversation for us is the conversation about ethics. What are the values that are going to guide us as we apply these incredibly powerful technologies?
Jordan Harbinger: [00:34:48] Yeah. This stuff gets a little uncomfortable, right? Because you start talking about eugenics and gene editing. It's like, Oh, well, what's undesirable? That, unfortunately, look, people who are more intelligent, it's hard to argue that's not good, but what happens when everybody's like, well, my kid's seven and a half feet tall. Well my kid's eight and a half feet tall. I mean, what sort of fashion are we going to succumb to at a certain point where it's, well everybody wants kids with light eyes. Oh, do they? And what problems is that causing? And then why do we need that if that's literally going to be fashionable? I mean, you look at old art...I remember when I was a kid, I was looking at old art and art appreciation class and I remember when someone said, how come everyone in these paintings is all fat? And they're like, oh, that was trendy back then. It was considered beautiful to be not skin on bones because it meant you were wealthy and so that right. We risk doing that with our actual genetics, right? Like we risk saying we want everybody to be this color. We want a slightly tan. Or we want everybody to have nice straight, easy to manage hair or light eyes or certain height. That can become a huge problem. Look, getting rid of Down syndrome. It's controversial in that yes, it was inspirational, but I don't think, again, not unpopular opinion maybe, but it's hard to argue that kids born with that have some sort of advantage. They don't, and it doesn't mean there's no advantage or that there's nothing special about it. That's not what I'm saying at all. But, of course, given the choice, I can't really see which parent would say, no, I want my kid to have this challenge. That's unlikely.
Jamie Metzl: [00:36:23] So this stuff is really challenging. As I said before, there's no good and bad in evolution. They're just particularly suited for a given environment. You said that you thought higher IQ is better than lower IQ and all of the studies that have analyzed IQ suggests that people with higher IQs, they have more stable families, they have better health outcomes, they're wealthier. I mean all the kinds of things that a parent would want for their child. Many of them correlate with IQ, but there are different types of intelligence that are valuable in different contexts. And if everybody had the same type of intelligence, we as a species, we wouldn't be smarter, we would be in danger because diversity isn't just a nice to have thing in evolution. It's the core foundation of our evolution.
[00:37:13] In Darwinian terms, it's a random mutation and having different ways of being is what confer resilience in any society. So if things change, which they always do, a certain type of intelligence may not be valuable. If you're lost in the jungle, I'm having to survive, you're having Einstein with you may or may not be helpful. If you're in Berlin trying to crack secrets of physics, actually he's a good guy to have around. That's the challenge. You're exactly right. All of these things that feel eternal are actually part of fashion and even the things that we feel like are absolute no brainers, like even eliminating deadly genetic disease when you look at it aren't as simple as we once thought. Like for example, sickle cell disease, if you have sickle cell disease, you're very, very likely to die a premature and extremely painful death. But if you're a recessive carrier of the sickle cell mutation, you actually have increased resistance to malaria, which is why the sickle cell mutation has persisted for so long, but we're all carriers. Everybody is a carrier dominant or recessive of something that has potential to be harmful or deadly. Who knows what kind of future challenges or pathogens or other dangers we may face where that kind of diversity that could be harmful today could be beneficial? But how do we defend diversity across the species, when people are saying, well, jeez, I don't want to be a carrier of some deadly, terrible disease. I don't want to have my kids or grandkids have a risk of dying young because of some genetic disorder or genetic potential that I can just edit out now.
Jason DeFillippo: [00:39:13] You're listening to The Jordan Harbinger Show with our guest, Jamie Metzl. We'll be right back after this.
Jordan Harbinger: [00:39:18] This episode is sponsored in part by Better Help. Better Help online counseling. I can't believe that more counseling wasn't online before, but Better Help offers licensed professional online counselors who specialize in issues like depression, relationships, anxiety, stress, sleeping, anger, family stuff, grief, all of that. It's safe. It's private, it's online, everything's confidential, it's convenient. That's really what it is, right? You don't have to drive across town park, get an appointment. You can go at your own time, your own pace, schedule a secure video or phone sessions. You can chat, you can text, you can get a new counselor if you're not clicking. So this is the way to do it, man. You know, if you want to dip your toes in those therapy waters or you're finding that you can't do it because you have a crazy schedule, checkout Better Help. Jason.
Jason DeFillippo: [00:39:59] Better Help is a truly affordable option. And for our listeners, you can get 10 percent off your first month with a discount code, Jordan. So why not get started today? Go to betterhelp.com/jordan. Simply fill out a questionnaire to help them assess your needs and get matched with a counselor you'll love. better help.com/jordan.
Jordan Harbinger: [00:40:16] This episode is also sponsored by Cloud Control cat litter by Arm & Hammer. Y'all know, I love my cat. Momo is in every photo. He's in more photos in the New York Times than me. He's got a better record of media than I do.
Jason DeFillippo: [00:40:27] I mean, he does look better on camera. Let's be honest,
Jordan Harbinger: [00:40:29] He is more photogenic. I will give him that. But what I don't love is cleaning out that litter box, which is why Arm & Hammer created new Cloud Control litter. I mean, I didn't know, people are like, "What are you doing? This is such a weird sponsor for the show." But I do have cats and you know, you probably didn't know this, but that cloud of nasties when you scoop that is apparently so bad that pregnant women shouldn't be near it because it can infect unborn babies and like make them really sick, ugh it's just horrible. So Cloud Control litter, no cloud of nasties when I scoop, 100 percent dust-free, no heavy perfumes, and it reduces airborne dander from scooping. So in other words, what happens in the litter box actually stays in the litter box, which is, you know, the ideal situation for poop in my opinion. I wish my kid could be in a litter box. That's a whole different product though. I'm listening. Arm & Hammer, if you can control that as well. Cloud Control cat litter by Arm & Hammer, more power to you. And if you can teach my kid to poop in a litter box, well, let's get rich together.
[00:41:25] This episode is also sponsored in part by Borderlands.
Jason DeFillippo: [00:41:29] Let's make some Mayhem. Shoot and loot your way through a mayhem-fueled adventure in Borderlands 3. Blasts through new worlds and enemies as one of four new playable vault hunters. Each with deep skill trees, abilities and customization. Play solo or with your friends to take on insane enemies. Score loads of loot and save the galaxy from a fanatical threat. Mayhem is coming September 13 on PC, Xbox One, and PS4. Pre-order now at borderlands.com. Rated M for mature.
[00:41:34] Thank you for listening and supporting the show. Your support of our advertisers keeps us on the air. To learn more and get links to all the great discounts you just heard so you can check out those amazing sponsors, visit jordanharbinger.com/deals. And don't forget the worksheet for today's episode. That link is in the show notes at jordanharbinger.com/podcast. If you're listening to us in the overcast player, please click that little star next to the episode. We really appreciate it. And now for the conclusion of our episode with Jamie Metzl.
Jordan Harbinger: [00:42:26] And I think the counter to this is, well, if we can edit things out and put things in, then if we've run into this problem, we can just edit the genome later. And it's like, well that's great, but for everyone who's alive now, they're dead. You can put it back in, but you got to birth new children in the meantime.
Jamie Metzl: [00:42:41] So there's a process called gene therapy where we can begin in very early stages called somatic changes. There are changes into adult cells. There's different than these changes that go into germline or heritable cells, which are sperm, eggs, and embryos. But I think people are thinking too much like Legos when we talk about the complexity of genetics. I mean this is complicated stuff. Our biologies are very complicated and so it's my view that we're going to be limited in the number of gene edits that we're going to be able to make before we're overwhelmed by the complexity of our own biology. And that's why I think that embryo selection in my mind is more of the near term killer application of the genetics revolution. Because we talked about before, if you have these 10,000 embryos and you're picking one, that's a lot of power and you think what our ancestors have done of taking a little weed with a few kernels 8,000 years ago and turning it into corn today, or taking a wild chicken, laying one egg a month and turning it into a domestic chicken laying one egg a day. And they didn't know anything about genetics. So with the knowledge that we have, I think we're going to be able to push incredible changes. And on top of that we're going to do gene edits, but we shouldn't have illusions that it's going to be this Lego situation where we just kind of pop it in, pop it out.
Jordan Harbinger: [00:44:04] It does get a little fascinating, but also kind of scary. And look, I don't know if this is sort of universal here, but my gut, whenever I read about craziness like this is...Look, China's going to do it first.
Jamie Metzl: [00:44:15] China has already done it first. The first gene-edited babies, we're born last year in China, and my book was already in production when the report came out and I called the publisher. I said, look, I have good news and bad news. The bad news is we pull the book out of production so I can include a reference to these kids being born. The good news is in the book I said, this is going to happen. It's imminent, and it's going to happen in China first for these reasons. So we just need to add, and it happened. So China and maybe Russia, but China most important is really pushing forward aggressively. Genetics and biotech are part of their national plan where they're seeking to be world technology leaders.
Jordan Harbinger: [00:44:58] This for me is less scary. But I also think, I mean, it should be scary a little bit for everyone. Because in China, the government can basically mandate human trials and it's like done, right? Or are they just going, yeah, we don't want this to be public. And everyone's like, no problem. Right? There's no sort of free media that's going to expose this. And in the US we have to deal with what people think about this, what is this going to look like? Oh, is this safe? Well we got to do a study. Ah, the FDA should be involved in this. Ah, the current administration is not a fan of this. Ah, religious people are going wing nuts over this. China just goes, "Hey, don't tell anyone, just do it over here, and nobody's going to know." And they have a huge advantage when it comes to things like that. The question now though is who's going to make big decisions that can affect the entire human gene pool. I'm not sure I want China doing that. I don't really even want the United States doing this because something tells me it'll either fall to corporations or to inept government agencies or both. I mean, can we have the Swedes or the Norwegians do it? I feel like they can be trusted with important shit.
Jamie Metzl: [00:45:54] Yeah. Right. Well, so, it's a really important question because we're all humans. Let's say China is genetically engineering their population and we're not. What are the options? Actually one of my sci-fi novels is Genesis Code is about exactly this. First every country needs to have its own regulatory infrastructure, but we need to have some kind of international system, that can at least draw red lines of how far is too far. I'm part of the World Health Organization International Advisory Committee on human genome editing. We're meeting six times this year in Geneva to try to begin a process of outlining what these guidelines might look like, how we can build a structure to bring the world together, but this is a huge job. It's way bigger than our committee or the World Health organization or the UN. I mean this has to be a global priority to bring everybody together. And when we've tried things in the past with variable success, the nuclear chemical biological weapons conventions have actually been decent, not perfect. There was a big effort on climate change. It hasn't succeeded in slowing climate change, but at least there's infrastructure. We have nothing, nothing on genetics. There really isn't any of this infrastructure. So if we want to have a global system, we're going to have to start building it and quick.
Jordan Harbinger: [00:47:12] It's exciting because I'm imagining personalized tailored medicine that's geared to your own genetic code. Theoretically, we can make blood, we can make organs, things like that. It's going to be exciting. AI is going to do a lot of the heavy lifting when it comes to testing these embryos, or testing genome and sequencing it, and things like that. So that's all exciting. I talked to Kai-Fu Lee about who is the president of Google China--
Jamie Metzl: [00:47:36] I know Kai-Fu.
Jordan Harbinger: [00:47:36] --and so he talked about...Well the audience might not know. Excuse me, Jaime.
Jamie Metzl: [00:47:39] No, no. Sorry. I forgot.
Jordan Harbinger: [00:47:43] I'm just kidding.
Jamie Metzl: [00:47:43] You know, I'm having such a nice time talking to you, Jordan. I thought we were just having a phone conversation.
Jordan Harbinger: [00:47:47] Of course. I know it's easy to forget that.
Jamie Metzl: [00:47:49] Hi to the audience.
Jordan Harbinger: [00:47:50] But he mentioned the sheer amount of data was to China's advantage when it comes to AI and it's going to be probably the same reason when it comes to personalized medicine. Like, where does the data come from? China has a massive advantage. They have no privacy whatsoever. They have a ton of people and they're not afraid to literally force them to share that data. We are doing that sort of involuntarily here with Google and Facebook and things like that, but there's not a whole different level. So it's very much a situation in which China has a massive advantage. You say we need a global initiative. Yes, but like the reality in my gut says that comes as a reaction to China going, "Hey, look where we are with this. You shits should get your stuff in order."
Jamie Metzl: [00:48:31] Yeah, that's exactly what's even happening now. I mean, our World Health Organization committee was created in the aftermath of this announcement last year that the world's first gene-edited human babies had already been born. And you talk about these two issues, healthcare and data pools, and they're connected. So right now, we live in a world of generalized healthcare based on population averages, which means that if you go to your doctor, you get treated just because you're a human based on just how an average human would respond to a given treatment. It may work for you, it may not. And you find out most cases by trying. And then we're moving to a world of precision medicine where your treatments as you mentioned, are going to be based on your own individual biology, but your doctor is going to have to know who you are. And so, the doctor's going to need to access your electronic health and life records and your biometric information. But the most important piece of information that they're going to need and have is information about your sequence genome. So everyone is going to increasingly just be sequenced at or before birth. And then we're going to have the potential for these massive billion plus person genetic data sets. And that's what we're going to use to unlock the secrets of the genome.
[00:49:40] We in the United States, we have all of these restrictions on sharing data. We have HIPAA, which is privacy for medical records, and we have this mishmash of laws. What China is trying to do is to create a national system so they have more uniform electronic health records. They have big open data sets, which are accessible to researchers from China. And that has the potential to be a tremendous competitive advantage for China, because in many ways there's this conflict. All of us feel that greater privacy is a virtue nobody wants to have, whether it's Facebook or the Russian government or whatever, meddling with our private information. And yet societally the way we are going to unlock the secrets of genetics or AI or autonomous vehicles or smart cities, all of that is by these massive data sets. And so privacy may help us individually, but it has a real potential of harming us nationally if we aren't able to make big accessible data sets that can drive the development of the next generation of our technology and economies.
Jordan Harbinger: [00:50:55] Yeah, it's a little scary, right? Because you think like, Oh, we got to have individual privacy and dot, dot America. And it's like, well, if you want America to exist in a generation, you might want to get on this train because this is what's going to be happening in other places where they're a little bit less worried about that. It's a bummer because it seems like a trade up. I mean, it seems like this could start an arms race of sorts, right? I mean, is that what we're looking at?
Jamie Metzl: [00:51:18] Yes. I have a chapter in the book called the Arms Race of the Human Race and that's one of the possibilities. And it's a scary one because what we're talking about is the future of life. And if somebody changes humans in China or in Russia or in Kazakhstan or whatever, eventually our kids are likely to procreate with their kids. I mean, it's not like they were going to be able to segregate out people who have been genetically altered and not. So we are as humans, we all are and should be stakeholders in how this story plays out. And there's some good signs. I mean China on one hand you would expect that China is in just this race to get there first and they are. But after these first gene edited babies were announced last year, the Chinese government for the first few hours was so proud. There was an editorial in the People's Daily about this milestone achievement by China. And then the international condemnations poured in in China very quickly changed it. It eliminated those references from the Internet. It silenced the pride on social media and became very critical of this work that had been done because China recognized that they had a greater benefit from being seen as a responsible actor in the world of science. Then being seen as this place where rogue science happens. And so maybe that is a cause of a little bit of hope, but this technology is easily shareable. So you could say like North Korea saying, well we don't give a damn about whether we are seen as a responsible actor in the world. We think this technology is pretty cool and we can do all sorts of things. We can, you know, make sure our leader has a gazillion kids or we can gene edit or genetically engineer future generations to be more docile. I mean, there's all kinds of, you don't have to be a science fiction writer to imagine how this technology could be massively abused.
Jordan Harbinger: [00:53:09] Yeah, I think that's a whole sci-i section at Barnes & Noble when it comes to it for the abuse of this. There're a lot of interesting elements in the book that we probably don't have time to get into all of them, but one thing that you mentioned earlier was breeding chickens from by chicken laid an egg a month to a domestic chicken that lays an egg every day. That brings up the idea that, look, we can not only breed for certain traits, but there probably wasn't some wild chicken that laid eggs every day and they went, Oh, that's a good one. Let's breed those. They just bred chickens that had laid eggs more frequently and then after a few generations or several generations, you end up with the chicken that lays an egg every single day. That seems to me to mean that we can take outlier traits of somebody who's got an insanely high IQ, go in there with CRISPR, edit it, so the IQ is off the charts. Breed that person with somebody else who has a super high IQ and go, oh look, there's all these other factors that go into IQ and then suddenly we're at IQ of 1000 yup.
Jamie Metzl: [00:54:05] Yeah, I write about that in the book. So certainly, let's just say we talked about having your own 10,000 fertilized eggs. There will be a range. So if you have, let's say 10 of your unimplanted embryos. On average, there's probably like a 10 or 15 IQ point differential. It's hard to fully test this, but between your potentially highest IQ embryo, genetic component of IQ, embryo and your lowest. If you have 10,000, that number becomes significantly bigger. So you, let's say that high genetic component of IQ is your number one priority in making those selections. You can get a very high IQ relative to all of your other options. And let's say somebody else has done the same thing. You know, so then you already are starting from this starting point that from an IQ perspective is beyond most other people and if you keep doing that, and in the book I talk about a process of breeding embryos with other embryos, which is that's kind of this mind blowing stuff. So you do that process you select from among your 10,000. You select your boy embryo and somebody else does the same thing with two different parents --so you're not genetically related-- and they select their girl, female embryo. And then you extract cells from each of those embryos. So from the male embryo you do the same induced stem cell process. So you go from stem cell to sperm precursor cell to sperm and from the female embryo you go from the stem cell to the egg precursor cell to egg. Now my five-day-old embryo and your five-day-old embryo can themselves have a baby, and then you do that same process with somebody else who's done that with two different genetic lines. And so you see where this is going. If we could push these chickens from one egg a month to one egg a day, how far can we push some of these other traits?
[00:56:09] And then there are huge unknowns with all of this because all of our traits have evolved over millions or in some cases, billions of years. And so our bodies, our beings, these balances, if we had these super high IQs would there be other liabilities that we don't yet understand? They're very well could be. But the basic point is that our biology is malleable and we understand that it's malleable in some abstract way because we, you know, we used to be single-cell organisms and we evolved into those single-cell organisms involved into all of life on earth. So we know that life can be expressed in many different ways, but we don't know what it would mean for us. And now we have the potential to find out which is exciting and everyone should feel exciting and it's scary and everyone should feel scared as well.
Jordan Harbinger: [00:57:03] There are a lot of considerations with this legal, ethical, et cetera. One thing I'd love to wrap with this. What happens if only wealthy people get this technology? Because, of course, I know a lot of people that got iPhones when they first came out, most of them weren't high school students, right? Most of them weren't people that worked at regular jobs. They started with early adopters. Same with people who have electric cars right now or Tesla or things like that, right? These are people that have a little bit of extra means. It seems very likely that people who are able to edit their kids' IQ, heights, eye color, appearance...That's not going to be available to everybody right away. It's going to be early adopters that have the money to pay for this gene therapy.
Jamie Metzl: [00:57:43] It's really great and a critically important question and there are always early adopters for every technology and we should want that. I mean, it's impossible to imagine a technology where everybody gets it first. I mean, there was the first guy, maybe it was a woman, to have a plow. And then people will look at that plow and say, "Hey, that's pretty cool. Maybe I'll have a plow." And every tech is the same with the iPhone and with everything, so we can't aspire to some kind of universal, instantaneous adoption curve because what that will mean is that we could just never have this technology. But we also can't let the story of the genetics revolution become over time, just the story of the haves and the have-nots because we are all one species and it's really, really dangerous for us to think of having that level of difference. We saw what happened in the European colonial period where one group had no significant genetic differences from everybody else, but they just had slightly better technology and they ended up dominating and murdering everybody else. So we have to focus on the values issues of equity and diversity now. And I speak a lot about this and people are always worried about this. And what I say is, there are a couple of things. One is in some ways this is a regulatory issue. A country like Israel where assisted reproduction is part of the national health plan. They have less of these differential access problems that we do in the United States. United Kingdom that has their national health service also has less of a problem than we have here. So we need to make sure that our infrastructure that our regulatory structures are designed to provide access to the stuff that is going to be particularly most beneficial to people. In my mind that means the things that are going to significantly enhance people's health, but then there's a values issue. And that's really the most important thing because what I always tell people is if you are worried about genetic inequality in the future --and you should be, that's a very real worry-- we need to be working to avoid that, but the way that we do that is working for equality in the world as it exists today. The average person born in the Central African Republic in the context of their civil war is born with significant brain impairment. So the difference seen in their kids and our kids is the same as the difference in the future between non-enhanced and enhanced. And so if we just decide that that's not okay today, then we will be able to live those values so that when we get to the future, It will be unacceptable for us that we have these genetic haves and have-nots. But if this is a fixable problem, if we have the right values and we build institutions to support those values.
Jordan Harbinger: [01:00:34] Jamie, thank you so much. This is extremely interesting, a little disconcerting, but mostly just fascinating so I really appreciate your time and your expertise here.
Jamie Metzl: [01:00:42] Really my great pleasure, Jordan.
Jordan Harbinger: [01:00:46] Big thanks to Jamie. That's all and the book is called Hacking Darwin. We'll throw that in the show notes. We're teaching you how to reach out to great people like Jamie or just keep in touch with your friends, family, colleagues, bosses and anyone else that might be important to your personal and professional life. I've created a course for you. It's free, not put in your credit card free, but just free, free. It's called Six-Minute Networking and it's over at jordanharbinger.com/course. And the problem with kicking the can down the road, you know that whole, I should do that. I'll do it later. You can't make up for lost time. When it comes to relationships, when it comes to networking. The number one mistake I see people make is postponing this and not digging the well before you get thirsty. Once you need relationships, you are too late. These drills take a few minutes per day. That's why it's called Six-Minute Networking. Besides five minute networking was taken, but anyway, I wish I knew this stuff 20 years ago. This is not fluff. This is crucial and again, it's for free and it's at jordanharbinger.com/course. By the way, most of the guests here on the show like Jamie, they subscribed to the course and the newsletter. Come be in smart company. Come join us. Speaking of building relationships, you can reach out and/or follow me on social. I'm at @jordanharbinger on both Twitter and Instagram.
[01:01:47] This show is produced in association with PodcastOne. This episode was co-produced by Jason DeFillipo, Jase Sanderson, and Jen Harbinger, show notes and worksheets by Robert Fogarty, music by Evan Viola. I'm your host, Jordan Harbinger. Our advice and opinions and those of our guests are their own. And yes, I'm a lawyer, but I'm not your lawyer. So do your own research before you implement something you hear on the show and remember, we rise by lifting others. The fee for this show is that you share it with friends when you find something useful or interesting, which should be in every episode. So please share the show with those you love, and even those you don't. In the meantime, do your best to apply what you hear on the show, so you can live what you listen, and we'll see you next time.
Sign up to receive email updates
Enter your name and email address below and I'll send you periodic updates about the podcast.