Chase Jarvis (@chasejarvis) is an award-winning artist, entrepreneur, and one of the most influential photographers of the past decade. He is also an author, and his latest book, Creative Calling: Establish a Daily Practice, Infuse Your World with Meaning, and Succeed in Work + Life, is out this week.
What We Discuss with Chase Jarvis:
Some of the most common barriers to creativity and our pursuit of creative outlets or careers and how to work past these barriers.
Why creativity is a habit, not a skill, and what we can do to cultivate this creativity with practice.
How even Chase has experienced creative slumps, and what he did to dig himself out of them.
The DEAR framework for being able to understand what works in any situation — by studying the masters who have come before you.
The importance of community for sustained success in any endeavor.
And much more…
Like this show? Please leave us a review here — even one sentence helps! Consider including your Twitter handle so we can thank you personally!
(Download Episode Here)
(Subscribe to the Podcast Here)
Worksheet for this Episode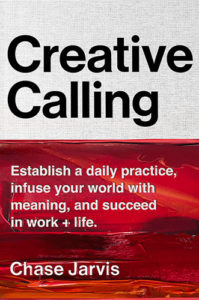 Life isn't about "finding" fulfillment and success — it's about creating it. The good news? Creativity isn't a skill — it's a habit, a mindset, and a practical lever that transforms our lives and delivers vitality to everything we do. Creativity has the power to change everything, and whether or not you think of yourself as a creative person, you do have that power. We all do.
On this episode we're joined by Chase Jarvis, author of Creative Calling: Establish a Daily Practice, Infuse Your World with Meaning, and Succeed in Work + Life. Chase is adamant that creativity is not only a must-have for those of us who want to stay sane and live out our potential, but also that creativity and creative pursuit are, at the end of the day, practical as hell. So whether you're trying to just complete a creative project or become a professional creator yourself, this episode will give you some tools to make it happen. Listen, learn, and enjoy!
Please Scroll down for Full Show Notes and Featured Resources!
Sign up for Six-Minute Networking — our free networking and relationship development mini course — at jordanharbinger.com/course!
Get two months of Skillshare — unlimited access to over 18,000 classes in design, business, technology, photography, entrepreneurship, film, writing, and more — for free at skillshare.com/harbinger!
KiwiCo delivers monthly STEAM (Science, Technology, Engineering, Art, Math) crates that inspire kids to see themselves as scientists, artists, creators, and makers. Get your first month free at kiwico.com/jordan!
Great protection. Fair prices. Easy to use. SimpliSafe is the right way to protect your home at half the size and double the range — go to SimpliSafe.com/jordan to learn more!
Borderlands 3 lets you shoot and loot your way through a mayhem-fueled adventure and gives you the chance to save the galaxy from a fanatical threat this September 13th! Pre-order now at Borderlands.com. (Rated M for Mature.)
Got cats? Breathe easy when maintaining the litter box with Arm & Hammer's Cloud Control dander shield technology. Plus get the confidence of guaranteed seven-day odor control. Find it in a store near you or learn more about it here!
Better Help offers affordable, online counseling at your convenience. If you're coping with depression, stress, anxiety, addiction, or any number of issues, you're not alone. Talk with a licensed professional therapist for 10 percent off your first month at betterhelp.com/jordan!
THANKS, CHASE JARVIS!
If you enjoyed this session with Chase Jarvis, let him know by clicking on the link below and sending him a quick shout out at Twitter:
Click here to thank Chase Jarvis at Twitter!
Click here to let Jordan know about your number one takeaway from this episode!
And if you want us to answer your questions on one of our upcoming weekly Feedback Friday episodes, drop us a line at friday@jordanharbinger.com.
Resources from This Episode: