Reading Time:
3
minutes
Chase Jarvis (@chasejarvis) is an award-winning artist, entrepreneur, and one of the most influential photographers of the past decade. He is also an author, and his latest book, Creative Calling: Establish a Daily Practice, Infuse Your World with Meaning, and Succeed in Work + Life, is out this week.
What We Discuss with Chase Jarvis:
Some of the most common barriers to creativity and our pursuit of creative outlets or careers and how to work past these barriers.
Why creativity is a habit, not a skill, and what we can do to cultivate this creativity with practice.
How even Chase has experienced creative slumps, and what he did to dig himself out of them.
The DEAR framework for being able to understand what works in any situation — by studying the masters who have come before you.
The importance of community for sustained success in any endeavor.
And much more…
Like this show? Please leave us a review here — even one sentence helps! Consider including your Twitter handle so we can thank you personally!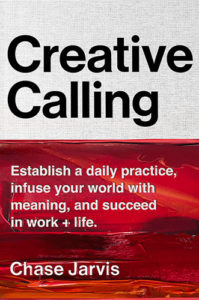 Life isn't about "finding" fulfillment and success — it's about creating it. The good news? Creativity isn't a skill — it's a habit, a mindset, and a practical lever that transforms our lives and delivers vitality to everything we do. Creativity has the power to change everything, and whether or not you think of yourself as a creative person, you do have that power. We all do.
On this episode we're joined by Chase Jarvis, author of Creative Calling: Establish a Daily Practice, Infuse Your World with Meaning, and Succeed in Work + Life. Chase is adamant that creativity is not only a must-have for those of us who want to stay sane and live out our potential, but also that creativity and creative pursuit are, at the end of the day, practical as hell. So whether you're trying to just complete a creative project or become a professional creator yourself, this episode will give you some tools to make it happen. Listen, learn, and enjoy!
Please Scroll Down for Featured Resources and Transcript!
Please note that some of the links on this page (books, movies, music, etc.) lead to affiliate programs for which The Jordan Harbinger Show receives compensation. It's just one of the ways we keep the lights on around here. Thank you for your support!
Sign up for Six-Minute Networking — our free networking and relationship development mini course — at jordanharbinger.com/course!
THANKS, CHASE JARVIS!
If you enjoyed this session with Chase Jarvis, let him know by clicking on the link below and sending him a quick shout out at Twitter:
Click here to thank Chase Jarvis at Twitter!
Click here to let Jordan know about your number one takeaway from this episode!
And if you want us to answer your questions on one of our upcoming weekly Feedback Friday episodes, drop us a line at friday@jordanharbinger.com.
Resources from This Episode:
Transcript for Chase Jarvis | Cultivating Your Creative Calling (Episode 252)
Jordan Harbinger: [00:00:03] Welcome to the show. I'm Jordan Harbinger. As always, I'm here with producer, Jason DeFillippo. On The Jordan Harbinger Show, we decode the stories, secrets, and skills of the world's most brilliant and interesting people and turn their wisdom into practical advice that you can use to impact your own life and those around you.
[00:00:20] Chase Jarvis, he's an award-winning artist, entrepreneur ,and one of the most influential photographers of the past decade and he's a friend of mine, which always works well here on the show. He's worked for huge brands like Apple and Red Bull. However, he's also been in some big slumps, lost his creativity, found it again, sacrificed it on the altar of Silicon Valley capitalism like many of us have, and then reclaimed it. Not a bad ride. Today, we'll discuss some of the most common barriers to creativity and our pursuit of a creative outlet or career, whether that's work or family obligations or just a lack of know-how. Of course, we'll also show you how to work past and or around it. And Chase is adamant that creativity is not only a must have for those of us who want to stay sane and live at our potential, and also that creativity and creative pursuit is at the end of the day practical as hell.
[00:01:12] So whether we're trying to just complete a creative project or become a professional creator ourselves this episode, we'll give you some tools to make it happen. I met Chase through my network and I'm teaching you how to create personal and professional networks, whether that's to increase your business or just to increase your quality of life. All of that is at Six-Minute Networking and you can find that all for free at jordanharbinger.com/course. All right, here's chase Jarvis.
[00:01:41] Well, all right, we can talk about your book. I'm looking at it right now. I got a nice headshot here with your hair on fleek in front of your steel wall, which I call the wooden wall, which got me in trouble before we started rolling. Don't want to downgrade your wall.
Chase Jarvis: [00:01:54] Don't even try and downgrade the wall.
Jordan Harbinger: [00:01:56] Before we get into the creativity stuff, you almost died in an avalanche. It has to do with the fact that you wrote this book somehow.
Chase Jarvis: [00:02:02] Yeah I did.
Jordan Harbinger: [00:02:02] Let's get into that.
Chase Jarvis: [00:02:05] All right.
Jordan Harbinger: [00:02:05] I'm almost out a few times. I have zero books.
Chase Jarvis: [00:02:07] What's the connection between avalanche and books?
Jordan Harbinger: [00:02:11] Yeah.
Chase Jarvis: [00:02:11] The story goes, and I guess it's not a story as if it's my real life, but I spent a long time as an action sports photographer. I left the plans that everybody else had for me. Disappointed a lot of people in my life. Cost me a lot of money, time and energy to pursue my creative calling, which was to become an action sports photographer. Got to travel all over the world, work for amazing brands. One time up in Alaska, shooting and ad for Nike. I was indeed caught in a helicopter skiing and stuff that doesn't really get skied very much or at all. And despite having all these years and years, decades of experience in the mountains and working with the world's top athletes, I was caught in an avalanche. It wasn't just like, oh nice, it was like I don't know what the math is but I know I shouldn't be here.
Jordan Harbinger: [00:02:54] Yeah. How do you know it's happening?
Chase Jarvis: [00:02:57] For me there was a huge whoomph which is basically that's the entire mountain settling because the snow has fallen, and most of all the best ski commercials and snowboard videos and ad campaigns that you see are photographed immediately after a storm and when the one day and then the weather comes out. So action sports photographers and pro-snowboarders and what not spend virtually 100 percent of the time and the 1 percent most dangerous time it is to be in the mountains.
Jordan Harbinger: [00:03:24] Because you don't want to go there when it's just snowed. Is that--
Chase Jarvis: [00:03:26] You do.
Jordan Harbinger: [00:03:27] You do if you--
Chase Jarvis: [00:03:27] In the snow, it's basically hard to get good pictures. So immediately, you know, it had been snowing. It's snowed for maybe three or four feet at this particular point in Alaska. And then it cleared up so then you can fly the helicopters, so then we get dropped off in this peak. You can read the detailed account in the book, but ultimately I was caught in an avalanche. The side of the mountain basically rips off and I somehow managed to escape. We're talking like snow, like dozens of football fields buried 50 feet deep kind of edge. Not just like, oh could you just ski out of it? No. This was like car-sized chunks of snow and rolling down the hill.
Jordan Harbinger: [00:04:01] Are they passing you? I mean where--
Chase Jarvis: [00:04:02] It's weird. You're just like a snowball amongst a million other snowballs. It's called the white room for avalanche survivors. Imagine if you're rolling down a hill, but it's anything but white. It's completely pitch black because you're under the snow.
Jordan Harbinger: [00:04:15] Buried under the snow?
Chase Jarvis: [00:04:17] What happens is it cracks open and so you actually sink and then you were tumbling down this 40-degree slope, accelerating. You start going very fast, 40-plus miles an hour, tumbling with these Volkswagen car-sized chunks of snow and a bazillion sort of baseballs and soccer balls, and BB-sized chunks of snow, raising at 40, 50 miles an hour.
Jordan Harbinger: [00:04:40] What do you do when that happens?
Chase Jarvis: [00:04:42] There's a bunch of different little protocols that one does when they're stuck in an avalanche if you have avalanche training, in which I had extensively, but you're pretty much at the mercy of it all at that point because again, you're accelerating rather quickly. I threw some very, very crazy human superhuman strength that happens when your body is capable of complete crazy things when you are literally facing death. So some of that happened to me and I got super lucky. So made it out alive. And one of the main points of the book, and I think the takeaway is that these huge moments in our life, right? You know this, you just had a child, right?
Jordan Harbinger: [00:05:20] Yeah, I did.
Chase Jarvis: [00:05:20] It's not always near death.
Jordan Harbinger: [00:05:22] No.
Chase Jarvis: [00:05:22] It can be something great.
Jordan Harbinger: [00:05:23] Near life.
Chase Jarvis: [00:05:23] They caused us to reflect on our lives and for whatever reason I wish it didn't have to be those things. I wish we could just reflect on our life walking down the street, but it causes us to have a massive amount of reflection in a very short amount of time because we're faced with our own mortality and a handful of other things. And in that moment, I realized that I wasn't doing what I was supposed to be doing. I wasn't living my --not just my creative calling-- my calling in life.
Jordan Harbinger: [00:05:46] But you are already creative if you're doing sports photography.
Chase Jarvis: [00:05:49] Sure, yeah. When I was, I was truly living what I thought my dream was, but there had been a little bit of a lie that I was telling myself because it was convenient and comfortable to just stay in the status quo, which is in telling that story and yet I was still looked to everyone else to be my peak best self. Take whatever imagination you have about one of the top commercial photographers in the world and then amplify that. It was that good or better. And yet I was still not satisfied on the inside. I was unhappy. I wasn't really doing the things that I was supposed to be doing. And that moment caused me a great moment of reflection, and put me on the course that I'm on now where I'm still doing all those things, but I started building tools and platforms for creators, things like Creative Live. I started doing iPhone apps that won to be the app of the year in 2009 on the Apple platform.
Jordan Harbinger: [00:06:39] Best Camera.
Chase Jarvis: [00:06:40] Best Camera.
Jordan Harbinger: [00:06:41] Good name. People are probably just searching like, what's the Best Camera?
Chase Jarvis: [00:06:44] I still got the URL. You need it?
Jordan Harbinger: [00:06:47] Really? A hundred thousand dollars.
Chase Jarvis: [00:06:47] Maybe more, maybe more.
Jordan Harbinger: [00:06:49] Yeah.
Chase Jarvis: [00:06:49] So ultimately I recognized that I needed to do something different and it was very powerful, put me on a new path. And the real point of that is that this happens to us all the time. We sometimes take the path that we're supposed to take and sometimes we continue to ignore it. And these wake up calls are just continued to happen and they're not always near death, but the reality is that we are programmed in our culture to ignore a lot of the things that we know inside to be true and because of external forces and we want to please our parents and our friends and our spouse in or whatever, it causes a lot of problems.
Jordan Harbinger: [00:07:24] I think that's definitely true, although there are people right now who are like, wait, let me get this straight. You're upset that you weren't being creative because you were only doing action sports photography with like Red Bull athletes in Alaska who are hell skiing.
Chase Jarvis: [00:07:35] Yes.
Jordan Harbinger: [00:07:35] Cry me a river, Chase.
Chase Jarvis: [00:07:37] Yeah, totally. But I think that's actually, it underscores my point, is that whatever it looks like on the outside, you can just continue to cruise along because it has enough validation. Sort of like being in a relationship where it's not horrible, it's just good enough. It's not about what I was doing, it was more about what my potential was and what I was really meant to be doing in the next chapter of my life. I was sort of denying myself that. And the same is true, like it's not about me skiing in Alaska with action sports athletes and helicopters. Like right now, whoever's listening, you might be at home in your underwear in Ohio saying like, you know what? I'm not actually falling for something that I know to be true in myself.
Jordan Harbinger: [00:08:13] I would imagine somebody sitting in their underwear in Ohio is probably saying that all the time. Eating Cheetos, watching ESPN2 or C-SPAN and being like, you know, this wasn't, this is not my calling.
Chase Jarvis: [00:08:23] I do like Cheetos.
Jordan Harbinger: [00:08:24] Yeah. The only part of this that is my calling are the Cheetos. The rest of it I never thought I would be happy. I get it though. For me, I have the same problem. I don't really know what my career goals are. I have an inkling that there's other stuff that needs to happen, but I used to be a lawyer that I knew for sure was not for me.
Chase Jarvis: [00:08:40] Can we deconstruct that for a second?
Jordan Harbinger: [00:08:42] Let's do it.
Chase Jarvis: [00:08:42] Okay. So what happened? What was your feeling? How did it feel?
Jordan Harbinger: [00:08:46] It's not that complicated because I knew before I went there--
Chase Jarvis: [00:08:48] Bingo!
Jordan Harbinger: [00:08:49] Right.
Chase Jarvis: [00:08:49] I did the same thing with medical school and the same thing with like five or 10 other things costs me a hundred grand in student loans alone. Cost me 10 years of my life. And why did you go lawyering when you knew...Before you started lawyering that you didn't want to be lawyering?
Jordan Harbinger: [00:09:03] You know what it was? I didn't know what else I could even do.
Chase Jarvis: [00:09:06] Bingo. Bingo. So that's one thing.
Jordan Harbinger: [00:09:09] So unemployable plus doctor, fireman...Like when you're in kindergarten, you want to be a doctor, a lawyer, a teacher, or whatever your mom and dad do, because you don't even know. And I realized that by the time I'd graduated from college, I'd expanded that like 10 other things, but not like a million other things.
Chase Jarvis: [00:09:25] Right. You know, this is a huge point of the book. Why aren't we asking ourselves that? It seems like this big crazy question and the reality is the answer is right there in the tray beneath the surface. We've just never been taught to think about it, to ask about it, to explore it in ourselves. What we do is we sit around and we wait for all those other inputs that say doctor, lawyer, fireman, astronaut, fire woman. Those are the things that are helping us decide and I think that's a pretty crappy matrix for a decision.
Jordan Harbinger: [00:09:53] It's horrible. I've talked about this other show before I literally went to law school because I was like, well not really having any jobs laying in my lap with this undergraduate degree. More education is definitely the answer. Oh, what subject? It doesn't matter. Oh, lawyers get hired a lot and they make money. I guess I'll go to law school. I mean that was the whole thought process. I thought more about what I would have for breakfast on a Sunday. When I met freaking stacks getting like pancakes or sausage. Hold on, I need a few more minutes. I didn't even throw that much energy into my law school.
Chase Jarvis: [00:10:24] I believe the same is true for 90 percent of the world and maybe more, and I believe there was a little bit of a cruder version than maybe 90 percent but for most of us, we just take what's spoon-fed to us. And to me that is tragic because that is how you spend a lot of your time with this to be crystal clear, one precious life. And what if we could uncork that? What if we found a way to look inside us? What if we actually rewrote the cultural narrative? Not just about creativity, you know, I do catch a lot of this in creativity rather than like finding a job, and I'll get to that in a little bit. But what if we actually had a cultural narrative that supported pursuing the things that you were supposed to be doing? Because it's literally just as easy as the one that's existing now, maybe actually easier. We just haven't taught it, programmed it. We've said things like, oh it would be naive to pursue things you love. It would be too playful, too whimsical, too risky. And I think it's the riskiest thing that you could do to play it safe doing someone else's life.
Jordan Harbinger: [00:11:21] I think that's true and I think a lot of people run to these weird stopping blocks where they do this extremist thing like, well I can't be creative. What am I going to do? Quit my job and go be a landscape painter in Venice. And it's like, whoa, that's like saying you can't play basketball with your kid on Sunday because you, what are you going to do to join the NBA?
Chase Jarvis: [00:11:36] Totally.
Jordan Harbinger: [00:11:36] It doesn't make any sense.
Chase Jarvis: [00:11:37] Yeah. That is a huge problem with creativity, which is one of the things I'm trying to do with the book as well as rewrite that narrative. And there's a lot of ambition in the book, but the moves are actually really simple. What you just described as the epitome or the vision that's so many people have of creativity in this book. I'm not asking you to move to Paris. No smoking e-cigarettes, no wearing a beret, no painting. None of that stuff. Take all of it and throw it away. It has everything to do with a mentality. It's a mindset and a small shift in the way that you look at the world and the way you move through it. Sure. If you want to be a painter, a designer, photographer, all those things, they will supercharge your creativity with a capital C. I think that's a really important thing to get on the table is that it's not just about art. Art is a little subset.
Jordan Harbinger: [00:12:23] Yeah. It's hard to, as somebody who doesn't consider themselves creative as I sit in a video studio doing my show that I created, I still don't even think of myself that way because I can't draw and I'm not kidding. I'm not even being facetious.
Chase Jarvis: [00:12:34] This is why I'm psyched because I knew that when I came on your show you would tell it like it is and what you're saying right now is replaying for so many people and I'm the guy to tell you that. Whoa, Whoa, Whoa. We're going to put a pin in that. Let's uncork some of this just for a second. It does not gonna take long. If we think about creativity as not art, sure, art is a subset of creativity, but creativity is when you're taking things that didn't previously exist and you're putting a couple things together to form something new and useful. You're creating, so you're doing your show, writing your show notes, creating dinner, a meal, building a family. All of these--
Jordan Harbinger: [00:13:08] This is just Facebook, but yeah.
Chase Jarvis: [00:13:11] All of these things are wildly creative and the principles of the book are really simple. There's three of them. One is that everyone is creative. No questions asked. It is part of our DNA. It's what separates us from all the other species on the planet, our ability to create. We make tools, we build our lives, we have autonomy and agency and all these things. So just follow me here for a second. Everyone's creative. Thing two, creativity is a muscle. The more you use it, the stronger it gets. Like anything. It's not a big stretch, right? It's not about a skill, it's about a habit. It's more about using it. So one, everyone's creative. Two, creativity is a muscle. Here's the kicker. The things we do in small daily ways, you creating the show, the meal you made for your family last night, the business that you're building. Fill in the blank. Whatever you're doing that is creative. It's those small daily creative acts that when you do more of them and you do them with intention and just a certain level of awareness. You don't have to move to Paris, start painting none of that. With everything you're doing right now that you've become more aware of your ability to create these things and then you realize something that's the mindblower is that you're using the same muscle to do all those things that you use to create your life.
[00:14:23] So there's this leap of like, wait a minute, you understand and start to develop this sense of agency that you don't have otherwise. So for the folks at home there, he's sitting on the couch eating Cheetos that we described earlier, I don't think they think they can create their life. I think they think their life is happening to them. And my explanation in the book, what I know to be true for myself and having deconstructed the lives of the most creative people on the planet. Neither did they at one point. And then they started doing what I'm describing here and it basically uncorked their life and showed them what was possible. They then had agency to pursue their dreams, career, hobby, just life in general. It's a really simple pattern. They recognize this and then it empowers them to take action and the cool thing, it's available to us right now.
Jordan Harbinger: [00:15:08] Reading the book made me look at the crazy looking artist people and be like, I get it now. Like the reason, they seem irresponsible sometimes or completely on a different planet is because all this other stuff inhibits their creativity, right? So all the stuff that we're used to that people complain about. Somebody listening right now, the guy in Ohio for example, he's going, I can't, I have work, I've got kids, I've got to worry about my career, I'm building a side hustle, I can't do this creative thing. And then you see this crazy artist person who can't pay their cell phone bills and you go, oh, that makes sense now because you paying your cell phone bill is like you're getting up in the morning early for a flight and then go into a meeting. It's like it's going to screw up your whole flow so you just don't do it.
Chase Jarvis: [00:15:48] True.
Jordan Harbinger: [00:15:48] That was a big aha for me because I went, oh, okay, these people aren't just like crazy dysfunctional or they are, but that's the reasonable they have all this open white space.
Chase Jarvis: [00:15:56] What if take that same version of yourself that you just described, you're creating your show and what if you recognize that person over there, that crazy artist that's spray painting the mural on the side of the building, whatever, that you see as much of that in you as you want, that you have the same level of creativity. It's maybe not a strong habit or maybe it's even stronger because the business that you're building and you're having impact in the world. This isn't about comparing. It's about seeing what we're truly capable and who we are as a creative species. That it's available to everyone. It requires that you acknowledge it. This is where like self-talk and mindset matters. I talk a lot about mindset in the book and it's because if you say the words, I'm not creative. It's not just a neutral. What you're essentially doing is denying arguably the single greatest power of the human species is the ability to create things. You can imagine if you're programming yourself to say, I'm not creative, that that not only does that have like a neutral effect, that it actually has a negative effect because we do need to express ourselves. That's part of why we have emotions. That's part of why we do build tools. Look around you, every single thing in this room, whatever you can see in your room right now or when you're running down the street and you can see a park bench or a light pole, it was all created. It was all designed with intention and even if it's a bad design, it was all designed and the same is true for you and your life, but we just haven't owned that yet. And I'm saying as soon as you start to own it, not in a move to Paris, start painting, and wear a beret kind of way, but just as owning this stuff that the world starts happening for you, not to you, and you have agency over your life in a way you never did.
Jordan Harbinger: [00:17:42] You didn't just randomly discover creativity though after ditching med school. I mean, I read that you literally broke into a dark room at college, crack the window so that you could get in, and then like from midnight to 4:00 a.m. You're developing--
Chase Jarvis: [00:17:55] Not even the college that I was attending.
Jordan Harbinger: [00:17:58] No someone else's college to be clear, not even your own college.
Chase Jarvis: [00:18:00] Yes. Do not turn me in. I will not name the college so that they cannot come after me. And this is part of the cultural narrative that I would love if you took anything away from this conversation. There's so many shoulds in life. You should do this, you should do that, should go to the school, get this job. Just think of the experience that we both had, we talked about already. And here's the hard part is that comes from people who you respect, who you love, you admire, who you're close to, your parents, your peers, your teachers, your student counselor, all these people who are giving you information. Then you're just fielding this. What we're really not taught is like, yeah, but what do we want? What is possible? Remember you thought you had 10 choices. So if we can flip the script and start opening this as choice that it really is, things are going to get better.
[00:18:48] And I'll give you my experience. So as a second grader, I went into second grade just having made my first film called Sons of Zorro.We washed cars to pay for the film. I can remember it like it was yesterday. We hired my friend's brother to film it. He had a Super 8 camera. We bought film, gave him the film. We sketched it out, basically wrote the screenplay, did our own costumes, shot it all in cameras. So there's no like post editing. You just like, okay, one sort of big scene and then had it developed, went and bought candy, screened the film, put flyers all over the neighborhood and made more money than we spent on the film.
Jordan Harbinger: [00:19:26] That's incredible.
Chase Jarvis: [00:19:27] Profitable first film as an eight year old.
Jordan Harbinger: [00:19:29] Yeah. Eat that James Cameron.
Chase Jarvis: [00:19:32] Right. So then I roll into second grade, feeling pretty good about myself. I've got a comic strip that I'm distributing weekly at school. I got a little stand-up comedy routine. I'm doing magic tricks. And then the parents...I can't actually say the joke that I used to tell because it's horrifying. It's so inappropriate.
Jordan Harbinger: [00:19:50] Does work in 2019.
Chase Jarvis: [00:19:50] Didn't work in 1980 because it was just wildly inappropriate.
Jordan Harbinger: [00:19:55] I want to hear that after the show.
Chase Jarvis: [00:19:58] The point is I was doing what I think is supernatural for a second grader, for just expressing ourselves in all these ways. Then the student-teacher conference happened, and I remember hearing my teacher, Ms. Kelly, tell my mom --I overheard it-- Chase is so much better at sports than he is at art. And here's an eight-year-old me, like you'd think an eight-year-old kid is crushed. Not at all. What did I do? I am a social creature. I'm a human. I want to fit in, I want to be a part of the tribe. I just go, okay cool. I don't do that anymore than I do this. And it just flipped a bit. Okay, new identity. This is who I am. And it worked and it was very successful for me. I went to college on a soccer scholarship. I was on the Olympic development soccer team. I had aspirations and a plan and then a clear path to play professionally. So in a way she was right, but just think of that single sentence that she said, how it shaped me. And you know, you can say like, oh, if you really wanted it, you would've stuck with it. Well your original question was how did you sort of come into your own creativity? And my point is that we all come into this world, wildly creative.
[00:21:03] Ask any first grade classroom who wants to come to the front of the room and draw me a picture, every hand goes out. And then we have a system of schooling and employment and job and culture that sort of trains it out of us as something that's not practical or irrational or whimsical or naive and you either figure out that that's BS. Or in my experience, another one of these traumatic moments happen where we reflect and this particular traumatic moment for me was a week before my college graduation. The phone was on the wall, ring ring on the college phone, picked it up, and my grandfather had dropped dead of a heart attack. Week before my college graduation and no saw this company, he wasn't thought to be unhealthy or anything, just boom dead gone. So obviously horrible and traumatic, but there was a silver lining.
[00:21:51] And the silver lining was that he was a avid hobbyist, amateur photographer. He and my dad, they spent a lot of time around cameras and taking pictures of me playing all these sports and skateboarding and all that stuff. And I was given his cameras and there would be some little montage right now if this was a movie. And it was like my whole sort of experience from Ms. Kelly's second-grade class to virtually denying my creativity. I mean remember I was pursuing medical school and a PhD in philosophy and all these things that everybody else wanted me to pursue. And then I realized that I'd been denying it. And so there's a little whisper inside me that said, you need to go like explore this, just do this. So I had always been interested in photography, hadn't really talked about it because I was on the other side of the camera. I was being photographed and I would talk to the media as my college soccer team was one of the top 10 in the country. So we were always on TV and I was the guy who would get interviewed.
[00:22:45] I was curious about photography. And I just started following that thread, so I had a plan to go to Europe with a little bit of money that I got from my grandfather's death. Took a 13-stop discount super ticket to get there and I just lived out of a bag with my then girlfriend, now wife Kate, and walked the earth and taught myself how to take pictures and it was like, aah. Now I think it's an important side point that it's not going to be that way for everybody.
Jordan Harbinger: [00:23:12] Didn't you have any sunk cost fallacy going out like, well, I'm already so invested in soccer and I'm already on my way to med school?
Chase Jarvis: [00:23:19] Totally. All those things are true and yet this is one of the things I love about our conversations so far is that you had that same vision for yourself in law school, like sunk cost fallacy. Like, well, I'm already most of the way there, I took the LSAT, I took the dah, all of these things. I had done all those things. Yes, there was a sunk cost fallacy, but mostly it was like, I'm going to disappoint if I'd changed directions now I'll disappoint people that love me, care for me. I've told everybody what I'm doing, I'd have to let them down and I'm really unsure. It doesn't feel safe because I've got all this programming the self-talk about how impractical this is. And remember we're using photography right now for me, but it's just an example.
Jordan Harbinger: [00:24:00] Let's say as a metaphor.
Chase Jarvis: [00:24:02] It's a metaphor for our real path. And here's the tragedy that happens all the time, 24 hours a day, seven days a week to 99 percent of the people in our culture. I'm just asking us to stop that behavior, pay attention to the things that are actually truly calling you. And in the case of my life, and I don't know how you would quantify yours, but again, hundreds of thousands of dollars, 10 years of my life. And honestly just everything will look good on paper, but there's just a lot of sort of disease which actually causes disease. Literally and I had a bunch of weird ailments and--
Jordan Harbinger: [00:24:37] Really like?
Chase Jarvis: [00:24:40] Yeah. Weird. I had an inner ear infection that was like, I had a 20-beer buzz for a year.
Jordan Harbinger: [00:24:44] Oof. I'm not good.
Chase Jarvis: [00:24:46] Not good. Yeah. I mean it sounds like whoa. Someone might say like, that sounds pretty cool. Not at all, no driving. Like I struggle to walk, couldn't exercise and it just came on overnight.
Jordan Harbinger: [00:24:56] So bizarre.
Chase Jarvis: [00:24:57] The macro here is that when we're doing things that are sort of even at a lightweight, antithetical towards what our true calling is, that there's a price we pay. We don't actually know that price. We didn't quantify it in dollars and years. When we look connected, I was looking backwards and I'm just making the point. Why would you figure that out? Why would you waste the time? And the answers are obvious because culture gives us all these shoulds. And I think what I've given you in the book as a framework for how to work your way out of it. And it's super practical because you don't want to disappoint your spouse. Your spouse is like, "Wait a minute, honey. We've got two kids, we've got a mortgage, we have all these things." I'm giving you a toolkit for managing your way out of that in toward the thing that's going to bring you a lot of joy.
Jason DeFillippo: [00:25:39] You're listening to The Jordan Harbinger Show with our guest, Chase Jarvis. We'll be right back.
Jordan Harbinger: [00:25:46] This episode is sponsored in part by Skillshare. Now, Skillshare is an online learning community with thousands of amazing classes covering dozens of creatives and business/entrepreneurial skills. Jen has been using this and I've been using this. Jason, you've been using this too. Have you not?
Jason DeFillippo: [00:26:03] I absolutely have. I'm learning Adobe Audition, which is not the funnest thing in the world to do, but they have great courses, so it makes it go faster, which is what I'm looking for.
Jordan Harbinger: [00:26:13] Yeah, so you're doing a work skill, which is always admirable, but I think a lot of people, they want to return to a longtime passion project. They want to challenge themselves, get out the comfort zone, or explore something new. Skillshare got classes for everybody. Bookshelf organizing to Adobe Audition to chess and photography. So if you're a lifelong learner and you probably are, if you like this show, then you'll like Skillshare. Jason.
Chase Jarvis: [00:26:35] Join the millions of students already learning on Skillshare today with a special offer just for our listeners. Get two months of Skillshare for free. That's Skillshare is offering The Jordan Harbinger Show listeners two months of unlimited access to thousands of classes for free. To sign up, go to skillshare.com/harbinger. Again go to skillshare.com/harbinger to start your two months now. That's skillshare.com/harbinger.
Jordan Harbinger: [00:26:59] This episode is also sponsored by KiwiCo. Everybody loves a good subscription box. There's food boxes, there's wellness boxes. These are all the rage right now, but subscription boxes for kids that are fun, educational, and actually help them develop creative confidence. Well, there's not really too many of those. There's one that I know of and it's the KiwiCo, so the kids...I've got one on my own now. These are our future, so people say. I want Jayden to be creative, confident, fearless in his endeavors. And KiwiCo makes these cool little subscription boxes where there's hands-on projects. Since Jayden is like seven weeks old, I've been giving them away to other people's kids who can grab things and keep their eyes open for more than five seconds at a time. But I've been giving these things away. My friends' kids love them. They're hands-on projects. You can learn science, technology, engineering, art, and math. And they're designed by experts, but they're tested by kids so you don't have to worry about gathering supplies and batteries and all that stuff. Zero to 16 years old and each month the kid in your life gets a new fun and engaging project with all the supplies. So you're not going to get something, open it up at seven and find out you've got to drive to the store and get something. You get everything detailed, easy to follow instructions, written for kids, in a little magazine and educational one that will help you learn more about that crate theme. And it's good for parents and kids to do together. Jason.
Jason DeFillippo: [00:28:19] KiwiCo is a convenient, affordable way to encourage your children to be anything they want to be. There's no commitment and you can cancel it anytime. Monthly options started in $19.95 a month including shipping. For our listeners, go to kiwico.com/jordan to get your first month free. Everyday counts when it comes to making a difference, so don't miss out on this amazing opportunity. Again, go to KiwiCo, that's K-I-W-I-C-O that's kiwico.com/jordan and get your first month free. That's kiwico.com/jordan.
[00:28:49] Thanks for listening and supporting the show. And to learn more and get links to all the great discounts you just heard from our amazing sponsors, visit jordanharbinger.com/deals. And don't forget we have a worksheet for today's episode so you can make sure you solidify your understanding of the key takeaways from Chase Jarvis. That link is in the show notes at jordanharbinger.com/podcast. If you'd like some tips on how to subscribe to the show, just go to jordanharbinger.com/subscribe. Subscribing to the show is absolutely free. It just means that you get all of the latest episodes downloaded automatically to your podcast player so you don't miss a single thing. And now back to our show with Chase Jarvis.
Jordan Harbinger: [00:29:26] I think a lot of people also hide the creative part of themselves because they want to be liked, they want to fit in. You kind of mentioned that before. Kids especially are like, oh I don't want to do...I don't know, this kind of art or there's kind of--
Chase Jarvis: [00:29:38] True that kid over there, they're their own person. They're dressing how they want to dress, and their hairs how they want to dress. And if you're not that comfortable in your own skin, you'll look at that as like, that's sort of threatening, so I would just, oh, I don't want to do that. I just want to like...The funny thing is, is that we look at other people in our culture and who we admire and respect and whether they're entrepreneurs or artists or just outstanding citizens and they stand out. But as a culture, we're really taught to fit in. And so there's this weird disconnect in a dissidence. And the way I think about it as you can't actually stand out and fit in at the same time.
Jordan Harbinger: [00:30:11] It's tough. I don't really know how that works.
Chase Jarvis: [00:30:13] Totally.
Jordan Harbinger: [00:30:14] Like there's a spectrum though, right? Like a lot of people go, oh man, it must be nice to carve your own path. Chase Jarvis, Jordan harbinger. You don't want to go like full Rodman, but I mean also worked for him until it didn't.
Chase Jarvis: [00:30:26] Right. The point is that maybe even Dennis had some ulterior motives and it seemed to work for him. But what if there was, you said there is a spectrum, but what if you were on that spectrum and you were driving? That's the thing that people don't realize is that A, you're on the spectrum; B, you're driving; and right now you're driving in a place where you don't actually need to drive to that place, that's not awesome. You can drive to the place that's awesome.
Jordan Harbinger: [00:30:47] Yeah, you can actually plan this out and I think that's one of the core messages of the book is that this is not only highly practical, but something that you can work towards sort of---
Chase Jarvis: [00:30:56] Yeah, not only is creativity not whimsical and playful and naive. It is literally the way I've written the book and the way I believe, the most practical thing you can do is to get good at it. Because if you can create something, you know, they call founders of companies founders. They did not find anything. They created it and you like, oh, find happiness and he's going to find it. It's going to be in a bucket on the street, in a coffee mug.
Jordan Harbinger: [00:31:20] Yeah. I traveled a lot looking for it and didn't really work.
Chase Jarvis: [00:31:23] Right, because you have to create it for yourself. And the same is true. You start to think of it, everything in the world is created, all your emotions, all your experiences, what you want in life, your attitude right now. You're in charge of all that stuff. So it's sort of like a combination of radical opportunity and radical ownership, combined with something that makes you feel good, more alive, more engaged. And I think especially in this day and age, more connected.
Jordan Harbinger: [00:31:47] So those benefits sound great, but what about people who go, look, it's selfish of me to be creative. I can't afford to look at all my responsibilities.
Chase Jarvis: [00:31:57] You're not a tough case. That is why everybody does what I would say to them. And I think first of all, it's natural. So I don't want to throw rocks. Remember my path? I'm sitting here talking about it. I want to make sure not to be, but I'm talking about it like it was really easy. It was a straight path for me. I knew it, figured it out, and here I am. I did just the opposite, had made all of the same mistakes. Whoever's listening right now, they're beating themselves up a little bit. Don't beat yourself up. The cool thing is you can start today and the way you start is by shifting your mindset and acknowledging some of these super fundamentals set things, like that truly doing something different for dinner tonight is step one. The next time you're going to take a picture of your kid to record their fourth birthday, like lean into that a little bit instead of one picture just to document it. Take three or four, try and take a good picture of your kid. Tony Robbins talks about no extra time, net time like, oh, we don't want to be efficient and effective and there's a million ways throughout your life right now that you're moving. This is not about dragging the paints out for four hours to do a thing and then your creative activity. Don't get me wrong. Those things are great and it'd be super supportive of that, but it's not required and it's not what I recommend, especially for someone who's trying to sort of wrap their brain around this for the first time, that hyper practical Prioritizers, what I call that person in the book. They're like, oh, I got other priorities.
[00:33:11] So again, the way you should look at this is A, there's a way to do it, super small, lightweight right now today. Taking pictures with meals in very, very, very simple ways. And overtime as you get more comfortable, you can expand this not required because you'll get full benefit starting on day one. You won't understand the benefits until you know you've moved through the paradigm a little bit. I'll just give you an example. My 65-year-old mom, also hyper practical and she had pride around that. She was the head of the household in a very, very young age in her world and the bills were paid, the dinner was on the table at the right time, and all these sorts of pressures that she'd put on herself. And because of that she owned it and as an extension of our culture, she therefore believed that she wasn't creative. Fast forward like 65 years into her life --we mentioned the iPhone app that I created in 2009 I gave her this iPhone app and an iPhone-- and she started taking pictures on her walk. This is a walk she takes every day on her lunch hour from one building to another building, started taking pictures and sharing them online with her friends. And she went in a matter of weeks, not months, not days, but weeks in her friends circle to like, "Oh my gosh, Joy. You are so wildly creative. These are amazing." And the cool thing is that I watched that transform what she made for dinner, how she dressed, where she traveled, the level of ambition of her trips. Instead of going to the safe old place, you'd always gone. She wanted to start traveling to China and Africa, and it basically opened her in a way that is available to us all and you can't actually see the benefits, but if you start doing it, you will.
Chase Jarvis: [00:34:54] And the part is you have to take my word for it. The evidence that I would offer outside of just my word is the lives of the people that you admire. Ask them how they got to where they are and no one's said, "God, I just woke up and I was here." No one says that. You know, I've had hundreds of people on my podcast. All the teachers at Creative Live, the millions of students that have gone through our programs, the ones that have actually grasped this, it was all intentional. It was all created.
Jordan Harbinger: [00:35:21] So these stifled creativity, the limiting beliefs and everything, this is reversible. And you've given some personas that inhibit creativity. One of them was the Prioritizer.
Chase Jarvis: [00:35:31] Yeah, that's what I'm just mentioning where everything else is more important than creativity. And again, if you think the way I'm talking about it, I'm trying to make it so that it can fit into your life really easy and you're like, wow, I mean, I just really take a few pictures every day. Seriously. I've tracked that behavior for the last seven years. I create something every day with intention. Even if it takes five seconds, even if it's 11:30 at night and I have not focused on that intentional creative act, I will do it because again, it's a habit and when you start thinking creatively, thinking of yourself as a creator and practicing this in a lightweight way. That's why I call it a daily practice, right? It literally rewires your brain. There's things called default neural networks where you go through the same habit, like how many people drove to work today. You didn't have to really think about it.
Jordan Harbinger: [00:36:16] Yes. The stuff where you come up into the shower and you're like, this is so good.
Chase Jarvis: [00:36:19] Yeah. If you imagine your default neural network is telling you to do the same thing every time, and what creativity does is he jumped out of that rut and you start to be able to go, wait a minute, I have a choice here. And that is a pattern that you want to support. You want to support different thinking, you want to support the muscle that is connecting things that used to not go together rather than the things that we always just follow. I'm saying you can actually make a habit of doing things differently and you're like, "I like my routine." I'm not suggesting you change your routine. I'm suggesting you add a layer to it. And part of your routine is getting yourself just slightly uncomfortable and creating something every day.
Jordan Harbinger: [00:37:02] Personality type number two, the defensive, the unreasonably defensive, non-creative. What about the starter or the Striver? These are good too. Because I want the audience to self-identify. I feel like there's people who are like, no, but I'm not one of these because I'm a...And then it's like, okay, you're a Striver, you're a Starter.
Chase Jarvis: [00:37:18] Sure. We don't have to go through all of them but Starter, for example, is someone who starts a lot of stuff like, oh cool, I love what Chase is saying right now. And you know, he said you don't have to go on and buy a bunch of paints. I want to though, because I was a painter in college and I really loved it. And so, and then I'll go do that and then tomorrow they'll go do something else and the next day and they won't actually ever created anything. They got the supplies or they started the business, but it's just a side business and they started telling themselves a different narrative. So they start a bunch of things and as soon as they bump up against any resistance, they stop.
[00:37:48] The Striver is it has to be perfect. It has to be, oh I'm never finished with this thing. I'm an advocate of volume over preciousness. Yeah.
Jordan Harbinger: [00:37:58] There's science behind that. Have you seen this with the pottery experiments?
Chase Jarvis: [00:38:02] There's debate as to whether that's an actual experience. So we'll call it the apocryphal pottery experiments. The myth goes like this teacher...And I really want to get to the bottom of this.
Jordan Harbinger: [00:38:14] I want it to be true and I think--
Chase Jarvis: [00:38:15] I think it is true, but I don't know who knows it. Yeah. But it's obviously it has been replicated in labs and experiments, but the original version of this--
Jordan Harbinger: [00:38:26] Oh, so the idea is sound.
Chase Jarvis: [00:38:27] Yes.
Jordan Harbinger: [00:38:27] Okay, well that's a relief.
Chase Jarvis: [00:38:29] Yeah, it's been replicated. But at the start of the lore, I just can't find the teacher who did this. So the story goes like this, that pottery teacher, first day of class. Class divided into groups. This group over here, your entire grade is on one piece, one pot. You all over here on this side, this half of the room, you are graded on volume. If you make one pot a day, great. One pot a week is less good, but still good. One pot a month less good, but still okay. Volume is your grade. So that'd be like an A, B, C or D whatever. And at the end of the semester, let's look at the work. So not only did the group, the volume side of the group make infinitely more work actually infinitely, but they made a lot, a lot more work. The work was way better. And if you think about it for a second, it's not surprising. Because what you're doing, you're practicing, you're iterating.
Jordan Harbinger: [00:39:21] It's hard to get worse at something over time or not improve at all if you're continually doing it.
Chase Jarvis: [00:39:27] Right. And you start to go places, you're like, well I made one yesterday, it looked like this. And so you end up falling into your own little bit of style based on repetition.
Jordan Harbinger: [00:39:37] Stakes are low too, right? Like you're going to make another pot tomorrow. So who cares if this one is like the upside down pot and it doesn't work?
Chase Jarvis: [00:39:43] Bingo. Yeah. So if you think of it in terms of like that's part of what made me realize and put very crisply in the book that creativity is a habit and the same thing is true with the pot in this experiment as with life, you started to experiment in lightweight ways. Remember to go back to principle three that I mentioned, it's in doing small creative acts and acknowledging them that you ultimately realized that you have agency over your life. Just creativity to different scale.
Jordan Harbinger: [00:40:11] You mentioned in the book, and I'm paraphrasing, I think, if you value money, comfort or convenience over creativity, you jeopardize all four. What's going on with that? That seems particularly insightful. Well, unless you don't remember writing it.
Chase Jarvis: [00:40:23] No, no. I remember writing those. I thought it was pretty good. I was proud of myself...a pat on my back. So there is something with creativity and go back to the neural network pathways we were just talking about and just explore comfort. It's uncomfortable to cook dinner in a different way. You've got the thing, you cook it all the time. You got the ingredients at your house and to change it, you have to get uncomfortable just for a second. Well, what if my partner doesn't like whatever. I'm going to put anchovies in the Caesar salad. What if they don't like that? And whenever the different thing is we have, there's a sort of a resistance to it. Steven Pressfield talks about this in The War of Art, this resistance. And I am saying that the best stuff in life is on the other side of comfort. If you're always seeking the comfortable, and I know I don't want to pretend that I don't see comfort. This is an active process.
Jordan Harbinger: [00:41:15] Those shoes look comfortable. Are those the shoes that I did...Have you seen the ads for those shoes? Are they called the Startup?
Chase Jarvis: [00:41:20] Yes they are.
Jordan Harbinger: [00:41:21] Yeah. Those are my shoes from K-Swiss. I am in the ads for these shoes.
Chase Jarvis: [00:41:24] I've seen them.
Jordan Harbinger: [00:41:26] That's funny.
Chase Jarvis: [00:41:28] What a minute. The ad is not a print ad. You're in a video.
Jordan Harbinger: [00:41:30] I'm in a video. And also on like Instagram ads. Nice shoes.
Chase Jarvis: [00:41:33] There you go.
Jordan Harbinger: [00:41:34] Yeah. Wow. Not even on purpose. Yeah. That's pretty cool. I should have worn mine.
Chase Jarvis: [00:41:38] I got some from the president of K-Swiss.
Jordan Harbinger: [00:41:40] Oh no big deal.
Chase Jarvis: [00:41:41] I haven't met the man. He wrote me this letter and I think he probably wrote that letter to a few other people. Just guessing.
Jordan Harbinger: [00:41:48] I had to be in pictures to get shoes. You just had to open your mail. So I'm a little jealous.
Chase Jarvis: [00:41:53] But just think about it, we naturally seek comfort and this is another thing I want to acknowledge that the things that I'm prescribing here, sometimes counter to our biology. Our biology is seeking safety and simplicity and getting uncomfortable is antithetical to that or it can be. And the same is true for our brain. I like to call it the brain rather than my brain because it's a multi-million-year-old organ and it is in your skull and it is designed to keep you alive, not happy.
Jordan Harbinger: [00:42:21] See, that's an important point that most people don't necessarily realize.
Chase Jarvis: [00:42:24] Which is why I'm a huge advocate of mindset deciding if you're going to over write this biology that used to be useful because its job was to keep you away from saber-toothed tigers. I'm here to tell you that not enough people liking your Instagram post is not actually a saber-toothed tiger. Your biology treats it the same way and your biology treats it the same way that why wouldn't want to create the meal that's slightly different than the one I normally have. I'm telling you, it's not a saber-toothed tiger, and not only will you not get eaten by the saber-toothed tiger, but your life will be enriched. Think of the times and you're like, oh, I really don't want to go to the out of my thing, and you go to the thing because you had to or whatever, and you're like, that was cool. I wonder if I break out of my comfort zone a little bit, what would happen. And this is a pattern that's true for so many of the top creators that we aspire to. I want you to have habits. I want you to have healthy habits that support the life you want. And one of those habits should be getting uncomfortable, whether that's Jia Jiang and his rejection therapy or Tim Ferriss getting uncomfortable, whether that's Brené Brown, getting uncomfortable through having hard conversations or the people that are the highest performers, they have a part of their routine, their life where they intentionally make themselves uncomfortable because it's on the other side of comfort that the best of it.
[00:43:41] I get an ice bath every morning in your house.
Jordan Harbinger: [00:43:45] in your house?
Chase Jarvis: [00:43:45] I have a cold plunge outside. I have a hot tub and a cold plunge at my house.
Jordan Harbinger: [00:43:47] How do you keep it...Is just like a refrigerated tub? It's a reverse Jacuzzi.
Chase Jarvis: [00:43:51] Yeah. Wow. It's super cold and it's right next to some water that's super hot. And well that may sound sort of trendy, sure, it's good for inflammation and good for...There's immune benefit--
Jordan Harbinger: [00:44:02] Sounds like something in a startup founder in Seattle would have--
Chase Jarvis: [00:44:05] Off the iceman is patented. This method of breathing and blah blah, all these things are true and what is also true is that is a way for me to get uncomfortable every day. There's not one part of me that goes like I can't wait to get in that cold water.
Jordan Harbinger: [00:44:19] Really. It seems like if after a while you'd be stoked about it.
Chase Jarvis: [00:44:22] I am kind of stoked about it because I liked the results. I don't have to love the process to get there and there are lots of mornings where I would have to break the ice into it and this morning I took a 6:00 a.m. Flight to get here. I was in that thing at 4:15 in the morning. There's no discussion about it in my head in the morning. I just get in it and it makes me comfortable with being uncomfortable. I don't think you have to do that to be clear, but what is a small lightweight, whether you can get uncomfortable, because it's breaking out of that habit.
Jordan Harbinger: [00:44:51] Yeah, like you could take a cold shower.
Chase Jarvis: [00:44:53] To me that's the best next best alternative. Take a normal shower, bathe, and then for the last minute, it's cold as you can stand there, right in the back of--
Jordan Harbinger: [00:45:00] Being a little bit uncomfortable...I mean, people always go, do you get nervous when you do your show in? The answer is not really, but I'm not nervous, but I'm like I'm always...There is some feeling of discomfort with everything and my brain tells me, oh, it's because you're a little bit later, you're worried about traffic or you're worried about the lighting, but it's not really one of those particular things. Like I'm sort of addicted to that feeling and as soon as I get really comfortable, like when I was doing audio only, I got really comfortable doing my show and it wasn't really fun anymore.
Chase Jarvis: [00:45:27] Right. Then you add some cameras, you're like--
Jordan Harbinger: [00:45:28] Oh, Oh god--
Chase Jarvis: [00:45:29] I better brush my teeth.
Jordan Harbinger: [00:45:30] Sit up straight and do my hair or something, and then it looks good and you kind of resent that, but then you go, okay, I'm stepping it up.
Chase Jarvis: [00:45:37] For sure and you're not alone. The same is true for everyone. This is called growth. This is called development. I'm couching it. Those are all terms that are thrown around pop culture. I'm actually couching all those terms in creativity because you're choosing those things. You're writing your own script when you are doing those things and you can either choose discomfort or you can choose comfort. And not everything is binary in life, but the point that you can architect your moment, your hour, your day--it's obvious that you can architect your life. I just want you to own it.
Jordan Harbinger: [00:46:14] You mentioned this in the book. You say things like follow your instinct, your gut. How do we know if we're following our intuition or our heart or whatever you want to put it, or if we're just responding to marketing and programming that we're getting through conscious or subconscious channels? How do we know if I'm using my gut or my creative instinct? Or I've been listening to too much--
Chase Jarvis: [00:46:31] Oh, I should be an entrepreneur because that's trendy right now.
Jordan Harbinger: [00:46:32] Right. It's trendy right now. Oh, and this is a fake thought leader, he wants me to join us $40,000 a year mastermind and he makes money selling masterminds based on...Wait a minute like if you think about it, you realize it's like a pyramid scheme or a circular logic. But how do we know if we're following our gut or if we're responding to programming that we don't even see anymore?
Chase Jarvis: [00:46:52] I believe that you know, most of the time, and I do believe, I acknowledged that there's a part of you that doesn't know, but let's talk about the first one first. So I think we know. If you look back in your life, when you knew something and you followed it, how did life feel? It felt good. That's a flow state. Life was agreeable. You were doing things you wanted to be doing with people you want to. It felt good. And then think about when you ignored your intuition and it went badly. How bad was it? It sucked. I knew I didn't need to date that person or that job was not healthy for me, or the boss was not, whatever. And so I think your intuition covers like 90-plus percent of the cases. And the irony is that so much like creativity, like in the book that we're taught to ignore that. But the reality is that if you juxtapose that to your rational mind, we talk about the mind being so smart and that's a huge feature for being human. Oh that totally, I get it all. But you know what's also true? The rational mind. Remember we go back to the part like this is not my brain, this is the brain and it's meant to keep you alive, not happy. So if you want to be alive but not happy, always do what your head says. If you want to be alive and happy, you can use the whole system. And that includes your gut, right? We have this feeling and that's why they call it a gut feeling.
[00:48:14] This is your biology talking to you and it's beyond just your rational brain. We know that the rational mind is actually slow. It's super fallible. It's full of biases. What we don't yet know, but we are starting to understand is that the gut that all the cells in your body have some sort of a memory. Because right now I can feel what it feels like the chair on the back of my legs. I'm not thinking about that when I'm talking to you until I shift because I couldn't. I'd be paralyzed if I was thinking of every place, my clothes touching my body and what's happening outside and this room and with the microphone, and we just focus because that helps us move through life. But what is believed is that just because you're not paying attention to it doesn't mean your body's not storing all that. And so think of traumatic moments or happy moments, your body's storing all this stuff, and I'm trying to advocate that you don't just listen to your head, but you listen to your heart and your gut. And with those tools, that's how we're supposed to think that we make the best decisions. It's an aggregate rather than just one of those parts. So we're taught to ignore that. I think we get it when we start to learn to listen. This is actually the calling part of the book. It's not like I'm called to be a painter. It's just like we all have some callings in us and it's a calling to do this over that, and we're taught to ignore it. If you can start to listen to that calling, I think you have a radical advantage.
[00:49:30] Now, let's talk about that 10 percent where everything feels right, but to the point that you asked, like, I'm just being swindled at that moment. Okay, step into that for a minute. Just assume you're going to go do the mastermind and when you're 10 minutes into this mastermind and you're going like, oh-oh--
Jordan Harbinger: [00:49:47] This better not be it.
Chase Jarvis: [00:49:49] And then I would advocate that you keep doing it until that feeling is like, oh phew, that was just to meet my fear. And now I start to see the benefit and it feels good. Or you tip into the other side of that equation, which is I just got hoodwinked out of 40 grand. And this dude is a fraud and this woman next to me, she must be a plant and you know, whatever the dynamic is. And go back to intuition through action, again the doing of the thing, you know, it like that. So I believe we do so much in our culture, sitting back and thinking. Go back to dude on the couch and the Cheetos, he's thinking about all the ways he's going to get creative, thinking about how he's going to change his life, thinking about what he wants to do. And in the book I talk a lot about action or intellect. It's oh really not sure, start doing something. Do you like it? No, this doesn't feel right. Do you like the other thing? It kind of feels good. Do more of that. That's the metaphor I use in the book, there is the path. The cool thing is that none of these are foreign. We all have this experience of listening to our gut, following it and working out, or following it and not working out. So let's go down the working out path and then we have this like, gosh, I've been doing this for a while and it feels good. That's called being on your path and what we want in our cultures, we want a map. We want to say, okay, if this is like the map that we were sold, like, okay, grow up, get good grades in school. Let's check by one in the map. Go to this college that's checkpoint two, have this career checkpoint three, work this many years checkpoint four, get the gold, watch checkpoint five, then retire happily checkpoint six. That's a map. You can see where you start. You see all the dots. Then you see the red X at the end. You're like, I want that safe, predictable, blah, blah, blah.
[00:51:28] The reality is what we need to be paying attention to as a compass, not a map. Now think about how they differ. A compass is an arrow. It says, go this way. You know like, I don't know that goes into the woods. I can't see very far. It goes up this hill, but you don't need to see the whole journey. In fact, that is one of these things you need to get comfortable with is not seeing the whole journey for two reasons. One, if you can see the whole journey, you know what? There's some pitfalls in there that you can't see. Culture tells you, you can see it all. I don't know. Anyone's life has been a straight line. I don't know a single person versus this compass analogy. The people who we admire the most and who are inspiring to me and who I respect and admire and for a myriad of reasons, they do get good at trusting their gut. They realize that they are in control. They may not even have mastered fear, but they've become comfortable enough. Just one click more action than fear. And that is the recipe, not just for success in our culture. Here's the true kicker. It's fulfillment and success without fulfillment is the worst thing possible. You're flying around in your private jet by yourself. The worst!
Jordan Harbinger: [00:52:44] I wouldn't know.
Chase Jarvis: [00:52:44] But fulfillment like again, I've mapped this stuff with my own experience where I've had successes and failures and the experiences that the people who are the top performers in so many disciplines and this is like almost verbatim the same experience for everybody is like felt scary, follow my compass, not my map and just started pulling on the things that were working and starting to walk away from the things that weren't. The same is true for people. If you're the average of the five people you spend the most time with, might as well choose wisely. We put ourselves around crappy situations, make ourselves feel bad. People who talk us down or get in our head, we need to change that. You are creating all of these opportunities and you are making all these decisions. You're the architect of your life own and wow, life gets really interesting. Really quickly.
Jason DeFillippo: [00:53:31] You're listening to The Jordan Harbinger Show with our guest, Chase Jarvis. We'll be right back after this.
Jordan Harbinger: [00:53:37] This episode is sponsored in part by SimpliSafe. Now studies show over 10 percent of break-ins are planned beforehand. The rest are spur of the moment, 90-percent-ish, 80-percent-ish. That's a crime of opportunity. Random. Most happened between 6:00 a.m. And 6:00 p.m. In the middle of the day because you're not home. And the average loss in a burglary is like two grand. Sometimes it's pretty hard to recover from and it certainly will pay for itself if you install a freaking security system. But when I looked for security systems, it was confusing. It was a price cartel. It was expensive. The gear was from the '90s. It looked like a cordless phone I would've gotten in high school. SimpliSafe is modern. It is the top choice. This is every door, every window, 24/7 professional monitoring, 15 bucks a month, no contracts, and it's all sort of paired together and wireless. You're not looking at some weird thing like, oh, you need a landline now. Like no, no, it has cellular technology in it. You don't have to worry about that and it avoids false alarms and police not giving a rat's ass because your house alarm goes off all the time. It uses video verification technology so they can visually confirm that there's a break in on your pad in your property, which will have the police get there 3.5 times faster than other home security companies. So if you don't want your stuff stolen or if you're hiding under the bed, calling your dad who's in the CIA and is Liam Neeson, and you're about to get kidnapped, don't you want the cops to get there faster? I do because my dad is not Liam Neeson. Jason.
Jason DeFillippo: [00:55:01] Visit SimpliSafe.com/jordan. You'll get free shipping and a 60-day risk-free trial. You've got nothing to lose go now and be sure to go to SimpliSafe.com/jordan so they know we sent you. That's SimpliSafe.com/jordan.
Jordan Harbinger: [00:55:17] This episode is also sponsored by Borderlands.
Jason DeFillippo: [00:55:20] Let's make some Mayhem. Shoot and loot your way through a mayhem-fueled adventure in Borderlands 3. Blasts through new worlds and enemies as one of four new playable vault hunters. Each with deep skill trees, abilities and customization. Play solo or with your friends to take on insane enemies. Score loads of loot and save the galaxy from a fanatical threat. Mayhem is coming September 13 on PC, Xbox One, and PS4. Pre-order now at borderlands.com. Rated M for mature.
Jordan Harbinger: [00:55:48] This episode is also sponsored in part by Cloud Control cat litter by Arm & Hammer. So I love my cat, Momo. He gets in all the cool photo shoots with the New York Times and he's running around all over the place and pretty much ignores me unless I'm trying to read something on my computer screen, in which case he is standing directly in front of me on my keyboard. But you know what I don't love is cleaning up Momo's litter box. It's disgusting and it has often lots of nasties in it. In fact, when Jen was pregnant, they were like, you're not allowed to scoop the litter because you can get this crazy bacteria that can basically kill your baby, which is terrifying. So I don't like cloud of grossness and Arm & Hammer created this new Cloud Control litter. There is no cloud of nasties when I scoop, I'm not worried about inhaling this stuff. It's 100 percent dust-free, free of heavy perfumes, which is another thing that always kind of bugs me about stuff like that. It also helps reduce airborne dander from scooping. So what happens in the litter box stays in the litter box. New Cloud Control cat litter by Arm & Hammer. More power to you. Thanks for sponsoring the show guys.
[00:56:49] You've got this setup. I don't know what else to call it DEAR. We're deconstructing and analyzing work or from people that you admire that maybe you want to emulate. Can we go through this? Because it seems highly practical.
Chase Jarvis: [00:57:01] Yeah, super practical, super actionable. And I'll tell it through a little story. So my experience developing my skills as a photographer, it was before digital and it was films and very slow, very--
Jordan Harbinger: [00:57:12] Yeah super slow. You don't even know what you got until week.
Chase Jarvis: [00:57:15] Or next month. And it was very expensive. And so you'd have to be judicious about teaching yourself those things and not dissimilar in the way today you have access to who are the gatekeepers and who aren't. And where do I get this information? I just type it into the search bar. And for me, I aspire to be, let's go back to it like early career for me, action sports photographer, I wanted to shoot, you know, skiing, snowboarding, skateboarding, surfing all over the world with my friends because that's what I did for the day to day and I was deeply embedded in that culture. And wouldn't that be amazing if I could make a living in a life doing that? And I didn't have any idea where to start. But on the photography side and on the, the action sports, how to get your stuff in that world. And I remember I was so poor that I couldn't actually even buy magazines to read them. So I would stand in Barnes & Noble for hours and take notes in the magazines when I saw pictures that I liked. Where were they? Who was in the photograph? What were they doing? And then I go to the front part of the magazine in the thing called the masthead, write down the name of the photo editor, the name of the magazine, the address, the phone number. And I started sort of like building a database of people and things that we're finding their way in the world and becoming successful in the world, both photographs and people. So in a super analog way, I started deconstructing the industry that I was really excited about. And by that I mean what are they doing? What does it look like? How are they doing it? What are the combinations, the elements that are combining to make a successful magazine or a successful photograph? And I learned that it was a handful of these elements. Then maybe I can replicate some of those elements and so I started basically emulating the photographs that I was seeing in a sense, copying or pretending. And then I would decide what was working for me and not. When I saved up all my money and went to Utah, skied for a couple of days, and didn't get the photographs. Why didn't it work? It turns out it really wasn't a very good skier athlete that I was paired up with or turns out the weather was crap or turns out blah, blah, blah. And I did that for years and I very quickly found success when I had locked into, started to be for me like a winning formula of understanding these things. And then fast forward 10 years later and like that's how all of the fastest learners in the world learn.
[00:59:34] Let's talk about our friend Tim Ferriss. He wrote the book on Learning How to Learn and the Four-Hour Chef. And he added a slightly different way of deconstructing, but it had to do with deconstructing. And for Tim, it was like looking at the 10 percent of the people who got the most extraordinary results. And then in that subset, look at the people who weren't supposed to be successful, look at the marathoner who wasn't built like a wiry stick and was like maybe 220 pounds and was running a 200-mile ultramarathon. It's like what does she or he do to find greatness? And so whether it's Tim's method or other like quick-learning methods or whatever. For me, I just applied this and now looking backwards, you never understand it when you're in it, but this is what I've been doing all along and it pairs really nicely with what I've been super successful. And when I haven't used this, I've sucked and I've failed. And again, the acronym is DEAR deconstruct, emulate, analyze, and repeat. And the repeat part is really important because if you just deconstruct, analyze, and emulate and analyze, then there's no repetition in there. You're just like, okay, I know the answer. But then you haven't actually done it yourself and you also then don't end up finding your own path because what you're looking for is it sort of the 80 percent of what's working with the universe and then 20 percent of your own zzjjhjz. And if you're not repeating, you don't know where your own zzjjhjz.
Jordan Harbinger: [01:01:01] How do you spell that?
Chase Jarvis: [01:01:02] That's a double Z-J-J-H-J-Z. Zay. I was 90 percent of the way there! So close.
Jordan Harbinger: [01:01:10] There's that zay in there. Gets you every time. This is what Avicii did though, right? I remember him talking about this somewhere where he heard tracks that he loved, stayed up all night making a copy of it using, like Fruity Loops 3 or whatever music software he had at the time. Go upstairs, take a nap on the roof. Apparently that was his thing. And then the sun would give him a tan, which now sounds horrible, but I guess when you're Scandinavian, you need one when you can get it. And then he would just sleep for the rest of the day, get up and do it again and again and again. And then he said something like, I ran out of songs to copy, and then he started making his own music and it's freaking legendary. Obama's name checked him, right? I mean crazy.
Chase Jarvis: [01:01:51] And this is exactly what I mean. I'm talking to you about it from my own experience because that's what I know. But having deconstructed the lives of the most wildly successful people in our culture, some are friends of mine, some are not. I just can't find an example when I'm really into the nitty gritty, Avicii is a great example of it not being like that. There might be the one off random success, but, and what I'm looking for is a repeatable system that anyone can pick up this book and start getting to work. And so there might be a different way. And I don't know about that, but I know from personal experience and from seeing this so prominently across the landscape that it works.
Jordan Harbinger: [01:02:31] How did we do the analysis in example? So let's say I want to add more personality to my show. So I'm listening to Howard Stern, the new stuff not the old stuff.
Chase Jarvis: [01:02:39] Well what does Howard do that works and what does Howard do that not works for you? And so it feels like oh man, I don't know his potty mouth bugs me or his when he screams or when he says this thing that turns me off. Okay, great, then--
Jordan Harbinger: [01:02:55] So do you write this down?
Chase Jarvis: [01:02:56] I do.
Jordan Harbinger: [01:02:57] And you keep it handy when you're doing your work?
Chase Jarvis: [01:02:59] Yeah, I think it's a little bit more ingrained in me now and I do it a little bit more naturally. But go back to me standing in front of the Barnes & Noble magazine rack, what worked, what didn't, and then I went out and I was like, wait a minute, so I thought that I needed to go to this great location in New Zealand where the backdrop looks like this and she would this snowboarder and then I'm going to get this result. It's like, okay, well I didn't get a good result, but what part of that that I fail at? Go back to the example that I gave earlier of going to Utah, didn't have a very good ski athlete. I thought she was awesome or I thought she was the world's best at whatever she was great at.
Jordan Harbinger: [01:03:32] Could it also be your fault? You know, like the weather or the athlete.
Chase Jarvis: [01:03:36] Totally.
Jordan Harbinger: [01:03:36] Come on Chase, take some responsibility.
Chase Jarvis: [01:03:38] Or my skills aren't there yet and that literally happened. I would then try and deconstruct it further like what skill is it? Is it my ability to pan? Is it my ability to understand the relationship between shutter speed, aperture and ISO? Is it like you start to understand that it's, oh, it's exposure, all these are underexposed. They're too dark. Okay, I need to go to--
Jordan Harbinger: [01:03:57] Are you asking other people for their help with this or are you able to--?
Chase Jarvis: [01:04:00] For sure. That is a huge part of the book also, which is all around the community. This is another area that I think that humans in general, certainly entrepreneurs and creators, people that identify as that and those that don't. I think you suffer from the same thing, but I think it's wildly misunderstood, the role of the community plays in success. And it sort of goes like this, mostly we're taught in our culture that the best work...I mean the cream rises to the top, right?
Jordan Harbinger: [01:04:29] Yeah.
Chase Jarvis: [01:04:31] Not true. Some of the most like talented people I knew never broke through. What I know about success and specifically success through the lens of community that no one has achieved sustained success without a community, even if it's a small community, it was the right community. It was a cross section of people that were connected around common themes and common goals and they had beliefs that they shared and they worked together in a collaboration, in supporting one another. And the cool thing is like these communities, whatever. Name some random community...what's the most random like people who paint portraits of dead presidents on Tuesday. I bet there's a million people who do that random. The point is that there are existing communities out there for whatever it is you're interested in or even curious. Curiosity is a good place to go if you're not sure where to start. When I talk about becoming a joiner, which to me is like joining something as like I get all kinds of anxiety like that to show up on time. Do I got it? Like what's the thing? But I encourage you to become a joiner even temporarily you start to participate. What I really mean is participate in these communities, you can participate digitally and physically, and I suggest you do both. The point is that when you're a part of a community, it accelerates your learning. I advocate for being the fan you wish you had. If you wish you had more likes on Instagram, maybe she'd like more posts. He wishes to have more comments and engagement. Go post some comments and engage. Be the fan that you wish you had for other people. That is also called showing up in your community. You can do it in your own unique way, but I just file it all under participating, physically and digitally. So that's one sort of a community where if you're curious about something, you want to get good at it or close to it. I don't know if you went podcasting.
Jordan Harbinger: [01:06:21] Podcast Movement.
Chase Jarvis: [01:06:22] Yeah. Podcast movement, which is a trade show.
Jordan Harbinger: [01:06:24] Yeah, I went.
Chase Jarvis: [01:06:25] So yours is in podcasting. That's a community. You showed up there, you paid a fee, you sat down and maybe you got paid and your people around. How does it feel? You're physically connected to them. You walked there. There's some digital connections. You're going to stay in touch. It just puts you closer to the thing that you love or want to know more about. That's awesome. Another part of community that's also misunderstood is that you actually have to start building a community around your work. You usually join a few communities, you'll learn a little bit and then you're like, okay, I can do this. And then at first the community is you and your mom, and then it's you and your friend. And now one is you and your friend that you met at the Podcast Movement thing and two other of her friends and you see this community starts to grow and is around you and your work. Oh, I love what you do. Oh cool, thanks. Here's my card. Let's stay in touch. Whatever I'm saying this business card, like it's 1987. I've had a business card.
Jordan Harbinger: [01:07:13] We still don't have that bump act working. Remember that thing. That was so exciting. You have five minutes and it still doesn't work.
Chase Jarvis: [01:07:19] The point is is there's a couple of different kinds of community and I go into depth in the book. Here's the thing, not only does cream not rise to the top, but the sustained success of every person you know, every person you admire, respect, appreciate, a gratitude for, you look up to is because of the community. And here's the other kicker is they put way more time and energy into the community than you think is possible. And they do that by participating and showing up. They do that by going to meet up, starting meetups, inviting people into their work, sharing their work. That's all sort of participating in the community because what you're doing, think about it, it's not crazy. We've all had this experience. You prepped for this big thing at work, you got this cool presentation, you get it all dialed, you're ready to rock the room. You go in there and you click through your slides and you do your thing and you look down and everyone's on their phone. Whatever it says. It's like crickets, like tumbleweeds. Whether you've launched a product or maybe your first episode of the podcast or whatever, we've all had this. And the reason because we didn't cultivate a community before we started putting stuff out there in the world. Now I advocate for these in tandem.
Jordan Harbinger: [01:08:25] Yeah. Because otherwise people are going to wait until they have a community to even open up the fricking paints.
Chase Jarvis: [01:08:30] For sure. And so I don't want to create a chicken-or-egg situation, but the reality is the success of everyone who has continued success as they've basically prepared their community to receive their work by doing work and engaging with that community.
Jordan Harbinger: [01:08:46] As we wrap here, you wrote the book that you needed to read. How poetic Chase, because you were in a creative slump before this thing came out. What's going on there? Because it was a--
Chase Jarvis: [01:08:56] I don't know where we're going to go here.
Jordan Harbinger: [01:08:59] Yeah, I know. Yeah, yeah, yeah. Sorry. Oh, I'm not sorry.
Chase Jarvis: [01:09:01] Sorry, not sorry.
Jordan Harbinger: [01:09:02] Sorry, not sorry. I won't throw anything in here that might get you in trouble, although I might not know what that is.
Chase Jarvis: [01:09:09] We had an email correspondence about this. Yeah. Yeah. I would say that I was in a little bit of a creative slump and those happen for all kinds of reasons. Life ebbs and flows. Everything is cyclical, seasonal or whatever. Not like fall, winter, summer, spring, but just the arc of life. It follows a path and I didn't actually realize it.
Jordan Harbinger: [01:09:31] Yeah, it's an exception.
Chase Jarvis: [01:09:32] It does. And I was in that area. Sometimes when you're like, I am in a slump, this is no gray area here. This sucks. I wasn't in that place. I was just in kind of relationship that we talked about. It's like not good enough to be joyful but not bad enough to leave. And again, as someone who has built platforms for creators used by tens of millions of people and iPhone apps. Been a creator, identified it, been a creator my whole life, spent my last 20 years all over the world talking about this stuff and being passionate about it. I didn't even recognize it myself and I knew that I had to get this book out. I knew because it started to eat me. I've been working on it in my head for 10 years and on scraps of paper for two years and my agent, and he was just like, yo, you know we talking about this thing, how are you feeling about it? And at some point I just had to get it out and it started to sort of eat me up. And so one weekend I sat down and I wrote what I call my eighth-grade book report. Normally, a book proposal is super meaty sample chapters, all this stuff. And I wrote, I poured my heart and soul, into eight pages over a weekend, and I sent it to him and he was like, whoa, we got something. And it had gotten so bad, my creative practice was so thin and flimsy that, normally I'm pretty comfortable because my launch calluses have calluses like uncomfortable putting work out there. So I was really uncomfortable with that. I'd finally figured out a way to get this eighth-grade book report out and then within five days, I had a book deal. Normally it doesn't go like that. So I think that tells me that the world is ripe for that and what I had to say was important that someone was like, I'm back in this guy, this is a good thing. And then what I do, I'm like, oh jeez, I don't know. I couldn't really get to work but I did and it started off with 5:00 a.m. Mornings. And it sort of was like, okay, come kind of behind schedule here, 5:00 a.m. Mornings and occasional weekend. I made a series of videos of this process and it was in the process and making videos about the process that I realized how blocked I was and that this muscle that I advocate for all over the world, that it had atrophied in me and just see if you're following me here, I'm writing a book about creativity and I'm blocked. It is the worst. So--
Jordan Harbinger: [01:11:54] And you can't really admit that to too many people.
Chase Jarvis: [01:11:57] Totally, I tried to work it into the book in a way and it felt a little bit awkward, but I probably wrote books a couple of hundred pages 300 pages long, and it's probably 75,000 words. I probably wrote 175,000 words for this book.
Jordan Harbinger: [01:12:09] And how many are in here?
Chase Jarvis: [01:12:10] Just maybe 75,000.
Jordan Harbinger: [01:12:11] So you cut most of it.
Chase Jarvis: [01:12:13] Yeah, a whole another book. It never made it in there. And I just kept writing horrible first drafts after horrible first drafts. But it was the process of sucking, giving myself permission to suck. And here's the craziest thing, I would get stuck. I would get stuck for days and I would not know what to do. And then I was like, wait a minute. I wrote about this like three months ago. I went on my morning writing things. I would literally go back, reference my own notes, take my own advice, apply it. And so I guess if you're looking for--
Jordan Harbinger: [01:12:44] What you're writing are things you've actually done that work? That's highly unusual.
Chase Jarvis: [01:12:48] It is highly unusual. I wouldn't recommend that. I mean I'd recommend knowing what you're talking about, but it was a very slow and painful process. But my point is this, is that as painful as that process was, the act of creating a process around my creativity is what saved me. And not only did it bring an awareness that I was actually in a tough place, but it gave me a road out of that tough place and in a very simple way. And so I took my own medicine and it's available to everyone. We're all going do it in our own way.
Jordan Harbinger: [01:13:23] At amazon.com and in the show notes.
Chase Jarvis: [01:13:23] Ba dum bum chesh. But it was also really humbling and really painful. That meta narrative that I couldn't actually get out of my head in following my own advice and finding a way to make it work. The world is always going to have a list of shits for us and we're always going to go a little bit off track. And if you know anything about meditation for example, the goal of meditation is in some higher state. It's very simple. It's like when the mind wanders, to be clear, that's the job of the mind is to be all over the place. Bring it back to the mantra, the breath, whether. We're just like bring it back. And the same is true with our life. We're going to get off of our path. Our calling is going to fade and it's going to get really far off in the distance and we're going to lose track of it every once in a while, but we always know it's there and just like the breath is always there, or just like your calling is always there. You can just bring it back to that thing. And to me like the world is imperfect and that someone who's advocating for this and I am the most guilty of being not often enough vulnerable, not often enough, creating a losing sight of my own stuff. It's cool. Don't worry about it. The answer is to just go back to basics. I've put the basics in the book. You will know what your basics are when you start to be able to look at yourself in this sort of framework. And you can either think of that as scary because even when you've mastered it, you haven't mastered it because you can still wobble. I think that's beautiful. You know we are in perfect and we can continue to bring ourselves back to who we are.
[01:15:00] It's also true that the more you do it, you better you get at it. And that's to me also reassuring that I can't actually violate my own intuition very well anymore because I've honed it so well. Something feels off about this and it could be something that's really good. Every once in a while I still do it and then I get smacked down. I'm like, oh, let's see all the intuition I need to continue to pay attention to it. So if I can do it, having had the really indirect possible path, all of the mistakes that I've made with death and tragedy, and money. And well, it's available to you too.
Jordan Harbinger: [01:15:34] Chase. Thank you very much.
Chase Jarvis: [01:15:36] Amazing. Thank you so much for having me on the show. You got to be here, watch the pop screen die. I'm a fan of what you do and keep doing. It's wildly creative and I want you to make sure to stop saying that you're not creative, you're phenomenally creative. And I think your story is super helpful because it matches the story of so many people out there. We took a path that everybody else wanted for us and only when you figured out and started listening to yourself did you find the thing that you were supposed to be doing and you're doing a damn good job of it. It's fun to be a part of it.
Jordan Harbinger: [01:16:09] I appreciate you saying that and I appreciate you coming all the way down here.
Chase Jarvis: [01:16:12] Happy to do it. It was my pleasure.
Jordan Harbinger: [01:16:16] Thanks to Chase for flying down to see us and do the show. The book is called Creative Calling and we'll link it in the show notes. There's a video of this interview on our YouTube channel at jordanharbinger.com/youtube and there are also worksheets for every single episode so you can review what you've learned from Chase Jarvis. Those were at jordanharbinger.com in the show notes. I'm teaching you how to network with great people, manage those relationships using systems and tiny habits. And that's in my Six-Minute Networking course, which is free over at jordanharbinger.com/course. And I know you think you're going to do it later, but you got to dig that well before you get thirsty. Procrastination leads to stagnation when it comes to your personal and business relationships, and the drills take a few minutes per day. I wish I knew this stuff 20 years ago. This is really crucial. You ignore it at your own peril. Again, jordanharbinger.com/course. Most of the guests here on the show, they subscribed to the course and the newsletter. So come join us and you'll be in smart company. Speaking of building relationships, you can always reach out and/or follow me on social. I'm Jordan Harbinger on both Twitter and Instagram.
[01:17:07] The show is created in association with PodcastOne and this episode was produced by Jen Harbinger, Jason DeFillippo, edited by Jase Sanderson, show notes and worksheets by Robert Fogarty, music by Evan Viola, and I'm your host, Jordan Harbinger. Our advice and opinions and those of our guests are their own. And yes, I'm a lawyer, but I'm not your lawyer. So do your own research before implementing anything you hear on the show. And remember we rise by lifting others. The fee for the show is that you share it with friends when you find something useful or interesting, which should be in every episode. So please share the show with those you love and even those you don't. In the meantime, do your best to apply what you hear on the show, so you can live what you listen, and we'll see you next time.
[01:18:02] This episode is also sponsored in part by Better Help. If there's something that's interfering with your happiness or preventing you from achieving your goals. Better Help online counseling is there for you. Now these are licensed professional counselors who specialize in issues like depression, stress, anxiety, relationships, sleeping --which I would love to do more of these days with the baby-- trauma, anger, family conflicts, grief, self-esteem. It's a long list, but as I've said before, as humans are complicated and you want to connect with a professional counselor to help get rid of some of these issues or mitigate them, but you can connect with that counselor in a safe and private online environment. So everything's confidential. Get help at your own time, your own pace, secure video or phone sessions, chat and texts with your therapist. You don't have to drive across town, find parking, get an appointment, wait because somebody's late. You can always switch counselors if you need to. This is like 21st century therapy and counseling, so I'm all behind this. A lot of you have had great experiences with this and with counseling in general, and this is a great way to dip your toes in the water. Jason.
Jason DeFillippo: [01:19:03] Better Help is a truly affordable option for our listeners. And now you can get 10 percent off your first month with discount code, Jordan. So why not get started today? Go to betterhelp.com/jordan. Simply fill out a questionnaire to help them assess your needs and get matched with a counselor you'll love. That's betterhelp.com/jordan.
Sign up to receive email updates
Enter your name and email address below and I'll send you periodic updates about the podcast.