Reading Time:
3
minutes
Joaquin "Jack" Garcia is the former undercover FBI agent who infiltrated the Gambino crime family of Cosa Nostra in New York for nearly three years, resulting in the arrest and conviction of 35 mobsters — as revealed in his book Making Jack Falcone: An Undercover FBI Agent Takes Down a Mafia Family. This is part two of a two-part episode; listen to part one here!
What We Discuss with Joaquin "Jack" Garcia:
How Jack got a mob boss to carry around a mobile phone that was bugged by the FBI.
What Jack did to avoid violating his FBI oath without arousing suspicion while undercover.
How much weight Jack gained during three years of hanging out with gangsters in the best Italian restaurants New York has to offer.
What Jack misses most about being in the mafia.
The biggest organized crime threats to the United States today.
And much more…
Like this show? Please leave us a review here — even one sentence helps! Consider including your Twitter handle so we can thank you personally!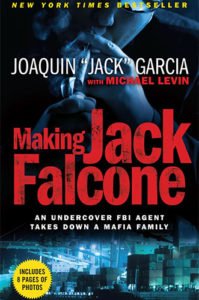 Sometimes it's fun to pretend you're someone you're not. Seinfeld's George Costanza loved to tell anyone who would listen that he was an architect (when he wasn't pretending to be a marine biologist), while Cosmo Kramer enjoyed passing himself off alternately as a wealthy industrialist or a "Juilliard-trained" dermatologist. But the consequences of their deception were low stakes when compared to what undercover FBI agent Joaquin "Jack" Garcia did to infiltrate the world of the Gambino crime family, eventually bringing dozens of its members to justice.
Among mobsters, "fake it 'til you make it" is generally a poor networking strategy, because you only have to slip up once to suddenly — like one Luca Brasi — find yourself sleeping with the fishes. But not only did Jack play the role of a trusted associate well enough for three years to survive, he camouflaged himself as Italian among Italians (he's actually Cuban) and got offered the chance to become a "made" man by the syndicate just before the trap was sprung and he could reveal who he was really working for. Find out what went down as Jack chronicles in his book Making Jack Falcone: An Undercover FBI Agent Takes Down a Mafia Family. This is part two of a two-part episode; listen to part one here! Listen, learn, and enjoy!
Please Scroll Down for Featured Resources and Transcript!
Please note that some of the links on this page (books, movies, music, etc.) lead to affiliate programs for which The Jordan Harbinger Show receives compensation. It's just one of the ways we keep the lights on around here. Thank you for your support!
Sign up for Six-Minute Networking — our free networking and relationship development mini course — at jordanharbinger.com/course!
Grammarly goes beyond spellchecking — it levels up your writing at work, school, and personal projects. Premium features include advanced suggestions on grammar, punctuation, sentence structure, and style, and it works in anything from Outlook to Gmail to Twitter, LinkedIn, Google Docs, WordPress — you name it. Get 20% off Grammarly Premium at Grammarly.com/jordan!
Albert conducts your financial life so you can make good money decisions with confidence. Install Albert today to find your happy balance and get a bonus of up to $40 when you start an annual subscription to Albert Genius!
HostGator has been around almost as long as the Internet. Does your business have an Internet presence? Save up to a whopping 62% on new webhosting packages with HostGator at hostgator.com/jordan!
Better Help offers affordable, online counseling at your convenience. If you're coping with depression, stress, anxiety, addiction, or any number of issues, you're not alone. Talk with a licensed professional therapist for 10 percent off your first month at betterhelp.com/jordan!
THANKS, JOAQUIN "JACK" GARCIA!
Click here to let Jordan know about your number one takeaway from this episode!
And if you want us to answer your questions on one of our upcoming weekly Feedback Friday episodes, drop us a line at friday@jordanharbinger.com.
Resources from This Episode:
Transcript for Joaquin "Jack" Garcia | Undercover in the Mafia Part Two (Episode 393)
Jordan Harbinger: [00:00:00] Coming up on The Jordan Harbinger Show. 
Joaquin "Jack" Garcia: [00:00:03] I understand why the mob is romanticized by Hollywood. I mean, if you look at all the criminal organizations, MS-13, the Crips, the Bloods, and all of that, the mafia is really the only group that's been able to infiltrate our society in places like labor unions, police departments, judges, all of those things. That's a tremendous power that they have.
Jordan Harbinger: [00:00:32] Welcome to the show. I'm Jordan Harbinger. On The Jordan Harbinger Show, we decode the stories, secrets, and skills of the world's most fascinating people. If you're new to the show, we have in-depth conversations with people at the top of their game, astronauts, entrepreneurs, spies, psychologists, even the occasional mafia.
[00:00:47] Each show turns our guests' wisdom into practical advice that you can use to build a deeper standing of how the world works and become a better critical thinker. Today, this is part two with Joaquin "Jack" Garcia. This guy, man, undercover in the mafia, got so deep in the organization, took down dozens of gangsters. If you haven't heard part one yet, go back and listen to that. That's the episode right before this. You're going to need that for context. I'm not going to belabor the point. This is a great episode. That's why we cut it into two parts.
[00:01:15] And if you're wondering how I managed to get all these folks like this on the show, it's all about that network. Those people skills, just like Jack Garcia used to take down the mob. I'm teaching you a little bit on how to do that for free over at jordanharbinger.com/course — less beating up gangsters and more sort of networking for personal and career but you get the idea. Most of the guests on the show subscribe to the course and the newsletter. Come check it out. It's jordanharbinger.com/course, and that's free. Now, let's go with part two from Jack Garcia.
[00:01:45] You mentioned kicking money up and also I know you gave your boss a cell phone that was bugged. You would think a mafia boss would not accept a cell phone from anybody ever, what the hell was that all about? How was it like, "Oh, thanks, this seems like legit"? You came from the off-price store?
Joaquin "Jack" Garcia: [00:02:01] Actually, they can't go in an off-price store. First of all, Greg DePalma was on parole. He got out of jail for the Scores. I don't know if you ever heard of the Scores Strip Club, very famous celebrity but — 
Jordan Harbinger: [00:02:12] Yes, I've heard of it. You know, only from the news. I'll never admit it.
Joaquin "Jack" Garcia: [00:02:15] Of course.
Jordan Harbinger: [00:02:16] Yeah.
Joaquín "Jack" García: [00:02:17] You read the articles too, right?
Jordan Harbinger: [00:02:20] I just read the articles.
Joaquín "Jack" García: [00:02:21] But anyway, he was on parole for that charge and sometimes they can't have these things. So I came along with the informant — "Hey, you know what? I'll get you a phone. Don't worry about it. It's clean. It's another person's name." Well, that was great. See Greg DePalma was such a great target for the FBI because he loved to talk and we love to listen. So it gave us that love and respect. And he was like an old school in a certain way. He was the kind of guy who really believed about what Cosa Nostra is all about but he had a big mouth. He really thought that he would be saved to talk and say, and do whatever you want it and the hell with the FBI. But that was his downfall, but it was good for us because of the fact that we got him. He took the phone, happy as he could be when it changed to a couple of times for him, and every time he picked it up, we were there.
Jordan Harbinger: [00:03:18] I found it interesting that since you guys can't settle mafia disputes in court — there are no written contracts — you have to do these sit-downs and adjudicate problems in between skippers or whatever. You think the mafia is like all this one unified front, but it turns out mafia guys are stealing from each other all the time. They're causing problems all the time. They get in fights all the time and they got to have these sit-downs and adjudicate everything all the time. Seems like never-ending drama. 
Joaquin "Jack" Garcia: [00:03:45] Yes. Totally, there is drama. I drove Greg DePalma. You don't know how many times we had sit-downs. I had to take them here. They have sit-downs because the bookmaker — there's an unwritten rule that there are so many fees that they can operate between the next bookmaking place and if you violate that a sit-down. You've got sit-downs where guys stole trucks or trailers — let's say fur coats or electronics, and then they come in, "Wait a minute. That's our truck, our guy. That was what we were going to steal." So then you have a sit-down where you say, "Okay, but you can't have the truck back because we sold it." So then, they say, "Well, how much did you sell it for?" Let's say, "We sold it for a hundred thousand." But in reality, it wasn't a hundred thousand they sold it for. They sold it for 150,000. So they're lying to each other. Then they'll say, "Okay, you sold it for 100,000, so I'll take 50, you take 50."
[00:04:42] So you see, there's always the side dealing with each other. They're always trying to make money. They do sometimes work together in different families, especially in the construction industry in New York where they have — let's say, for instance, you're on record as a construction company, then I may need some drywall guys. I may need some marble guys and you don't have them and you work it out somehow to do that, but it's one of those doggy dogs. They're always lying to one another. As you remember the beginning of the book, the beating in Bloomingdale's. He couldn't put his hand on the guy, but yet he hit him with a candlestick holder. That's a no-no in the mob. You can't put your hands on a made guy and he did. He cracked his head.
[00:05:29] And what did Greg DePalma say? He said, "Listen, you got to go on record with this. Robert, you need to talk to the boss why you did this, but don't worry about it." He said, "This guy files a complaint." He said, "He's got to go through me because I'm his captain. So I'll take care of that, but you still need to say that and I'll back you up in anything you say." So it's all the deceit and lies all the time. 
Jordan Harbinger: [00:05:56] So this guy got beat up at a Bloomingdale's — which was what? Too public or he was just a guy that shouldn't have been untouchable for violence because he was too high up. 
Joaquin "Jack" Garcia: [00:06:05] Well, no, the guy was a very successful loan shark and bookmaker, but what happened was he was assigned to the crew of Greg DePalma. He was the made guy but he was not reporting. So what does that mean when you're not reporting? You're not giving envelopes. In other words, you're making this money and you're putting the money in your pocket and that's not the way the mob works. You're supposed to give money to your captain. Your captain kicks a little to the administration and that's how it works because that's how you operate under this umbrella of the Gambino crime family. So he was fed up that this guy was dodging and he did a better investigation, better than the FBI because he had intelligence when this guy was going to show up at Bloomingdale's and that he would go to the cafeteria with his girlfriend while his girlfriend shopped. So sure enough on President's Day in Bloomingdale's at 6:30 in the afternoon, when that place is almost packed, sure enough, it's myself, Gambino captain Greg DePalma, and Gambino soldier Robert Vaccaro standing there and in comes Petey Vicini or Petey Chops. He comes through with gumara, with his girlfriend.
[00:07:23] Now, he sees us — I'm telling you, you should have seen him. He was like deer in the headlight. Greg says, "I want to talk to you." So he tells his girl to go shopping. He's sitting there. And next thing you know, he's telling him, "You're supposed to be reporting. Where have you been?" He says, "I can't report. I'm being watched." He goes, "You're being watched? What do you think we are? We're not being watched too. You're not different than us. That's the nature of the beast. We get watched. You're supposed to come in. Do you understand me? You are under my crew. I need you to come in. You better come in tomorrow." Words were exchanged. That soldier that I was with goes up, he goes, "Keep your mouth shut." He says, "You got a big mouth." He goes, "Yeah. Who are you? You step out of my way. Keep your mouth shut." The soldier grabs a Kosta Boda, candlestick that is. It feels like a dumbbell. Grabs it and hits him over the head. You'll hear like a melon pop. Blood is gushing all over. He drops down the wall, leaving a trail of blood, lands down. The guy's got little birds going around his head. And I go to him because he goes to hit him again.
[00:08:30] I grabbed it. I go, "Robert, what are you doing? Look at all these people here with the kids. Come on, we got to get out of here. We're on camera." So he throws the Kosta Boda down. We're walking over and Greg says — the guy starts to get up like fainting, he goes, "What did you do that for? Why did you hit him?" So he goes, "You know why?" And then the guy grabs, on the table setting, a knife as if he was going to stab him. I took that off him. And meanwhile, my coat — it was a leather coat — was soaked in blood. These guys stormed to us as we're going down the escalator. They're F this. I never knew the F word could be used in so different ways, you know, as this and what I'm going to do to you and your mother and everything else. We're going down. The security's rushing up. The old man says, "Hey, some guy just fell down the escalator. He's going to sue you, assholes."
[00:09:21] Meanwhile, I get in the car and we're driving back. Now, that's when Greg DePalma says to him, "You're not supposed to put your hands on him. You know that. You can't put your hand on a made guy." He called him a friend of ours. "You can't put your hand to a friend of ours. You know it. You got to go on record with this and I'll handle it." This guy told him to show up. The guy had not shown up for a year to two years. The next day, I'm with Greg DePalma and Robert, comes to the guy walking around, looking like Yankee Doodle Dandy with the little head thing on him and gives him an envelope. He gives Greg DePalma the envelope. And I said, "Hey Greg, what happened?" He goes, "Finally, the guy came up because I told him, he better show up every week." Never did he file a complaint with the boss, but he got hit really hard. And he's lucky that I was there because otherwise, Petey Chops will not be here today.
Jordan Harbinger: [00:10:21] Well, I mean, where is he now? He's in prison, right? I assume this guy.
Joaquin "Jack" Garcia: [00:10:24] No, Petey Chops — first of all, we never even knew who Petey Chops was. We identified all these guys that were all known to us. Petey Chops had like 15 bookmaking arrests, but we never had them in the chart of the FBI. Now, he's in the chart. You know, we got him on the chart, but what happened is we couldn't file a charge because he really was a victim of the assault. And he didn't want to press charges, right? So he's out there waiting to be collared another day.
Jordan Harbinger: [00:10:56] These guys are real pieces of work. You write about — there's a guy whose son, I guess he tried to kill himself in prison and he became comatose, never to come out of his coma. So he's in a nursing home. And this mafia boss, he's holding all his meetings in the room with the son's comatose body. Why do that? Why do that? That is so weird. 
Joaquin "Jack" Garcia: [00:11:18] Well, Jordan, that's the guy I was with that was Greg DePalma. Greg DePalma's son, his name was Craig with a C. He was also a made guy. He was made in John Gotti Jr.'s crew and he was proposed by John Gotti Sr. What happened is — do you remember the Score's case? It was a case in Atlanta, Georgia, where all the nix and professional athletes would go. I think it was called Solid Gold, another strip club. Well, anyway, Craig DePalma and them were lockup for this conspiracy of shaking down the clubs, extortion, and et cetera. Well, we find out — by we, I'm talking about the mob. They find out that Craig DePalma decided to cooperate and went before the grand jury. Greg DePalma while he's in jail along with Craig, his son, arranges it with the corrupt guards to meet at which time he shames them and tells them, "How dare you do this? You better not, you're not only embarrassing our family but the other family," which is the Gambino crime family. Well, the next day, they found the kid hanging. He was in a vegetative state. 
[00:12:38] So when I was out there with Greg, the kid was still in a prison hospital. Greg DePalma requested a compassionate release and his kid was released and put in a nursing home, which Greg told the nursing director that there will be no mob activity. Because Greg DePalma was a very recognized guy in the community because he used to own the Westchester Premier Theater, where Frank Sinatra played, Dean Mark, Elvis Presley, the who's who back in the 1970s. In fact, you probably remember the famous photograph of Dean Martin. His arm is around Greg DePalma and there's Carlo Gambino, Paul Castellano, all these mobsters, they were taken.
[00:13:27] So anyway, so what happened? He promises to this guy that there will be no mob activity. The next day, we had all of our meetings there. It was mob central, where all the mob guys would meet there. Greg would be with his son. I thought at first that'd be one of those fake, you know, phony, the guy is not really sick. Well, may God rest his soul. He was in a vegetative coma and Greg had him comfortable in a private room. His wife blamed him because he put him in the life and she felt that that's the reason for it. But Greg DePalma was there every day and I would go there to pick up Greg at the nursing home. So yes, you were in shock that that happened, but that's the mafia life. But Greg on the street did everything that he could to call that a lie. He said, "No, my son never cooperated." And people that were arrested knew that he cooperated because, in discovery, they got the information. So he says, "No, no. What happened is he was killed by those lousy marshals." That's the story he was putting out there, but in reality, his son did cooperate. His son is dead too. He's passed on as well as Greg has passed on.
Jordan Harbinger: [00:14:44] I know that this sounds super violent and there's all these fights and people getting hit, but it sounds like the Albanians did a lot of the killing and violence. Like they were kind of like the enforcement arm of this. It wasn't just the made guys or the associates doing this stuff.
Joaquin "Jack" Garcia: [00:14:57] Yeah. The Albanians were really bad guys. That's how this case began. What happened is there was a strip club in the Bronx. That at one time was owned the Gambino crime family. They went in there, shaking it down. They demanded protection money. They demanded all of this. Otherwise, things were going to happen. Well, one day just before I got in, they went in there and started not only making these demands. They started slapping people around, breaking bottles, punching everybody in the way. Next thing, you know, there's a fight, a gun goes off in the air, and people scattered. The cops come and now think about what that does for a business that walks on the grayline like a strip club. Strip clubs can't afford having the reputation that people are going there with the black American Express card to get some lap dance and the possibility could be that not only they're going to get beat up, that they may get killed. So it hurts their business horribly. And also they have a fear that if you operate in a place that the cops are constantly being called in, there's nuisance law that they could shut them down.
[00:16:05] So the next day, a Gambino soldier walks in the door, wearing his nice suit, manicured fingernails, the whole bit. And he says, "Hey, we heard you had a problem. We can make this problem go away, but you got to pay us 5,000 a week. You pay us that money. We'll make sure these Albanians are gone." That's when I came in. They brought me in and I paid the mob guy the five grand to keep the Albanians out and they never came back. Later on, we found out that this is your textbook extortion. You know you create a situation or a problem and you then offer a solution. So one hand is working with the other.
[00:16:53] The problem with the Albanians, they were just so ruthless that then they started believing and actually taking down and beating up clubs and taking over clubs because they saw the weakness in the mob. They saw the weakness that they had to be contacted. So what happened? There was a major, almost disaster that took place in the highway where the Albanians and the Gambino crime families got together. And one of the Albanians took a shotgun aimed at the gas tanks to blow it up. And the boss of the family said, "Listen, what you took is yours, but you're not taking no more. It's over. This is your little run. It's over. We'll just go." And thank God there was not a mob war so to speak between the Gambinos and the Albanians.
[00:17:48] Now, when the case was going on, the guys were being investigated by the Albanians and they wound up all getting jail time. A guy by the name of Alex Rudaj winds up getting arrested. And when they got arrested, made all the papers, the old man told me, he goes, "Jackie, you see these guys, these guys are in a better place being arrested." I go, "Well, what do you mean?" He goes, "Because they were marked for death. The Lucchese family was going to whack them. So they're lucky that they're in jail." That is what the Albanians are. So the Albanians were a very violent, very tough family group and guys who — you know, violence is what governs the mob. It's all about fear. That's all it comes down to. They have total disregard for these guys to go to jail. What are you going to give one of these guys five years? They'll laugh at you. Five years for them is working out, meeting other mobsters planning, all kinds of scams. So when they get out, they go out there and make money. They don't operate the same way you and I would like, for instance, if we do something wrong, there were consequences and you know, your whole life — they don't care. They're like, "Okay, you know, that's part of doing business. I got to do jail time and I got to do violence."
Jordan Harbinger: [00:19:10] You're listening to The Jordan Harbinger Show with our guest Joaquin "Jack" Garcia. We'll be right back.
[00:19:17] This episode is sponsored in part by Grammarly. All right. This is a tool that I thought was going to be kind of lame and I turned out to freaking love it. So Grammarly is a digital writing assistant that is used by like 20 million people. It works in Gmail, it works in Google Docs, it works in Slack. There's more to writing well than just catching mistakes. Grammarly helps you write confidently. It helps you pick words that sound a little bit most smarter. Then the words you might've picked. The premium level also helps you with goal setting. There's like a writing score, vocab suggestions, conciseness checks, tone. It will check if you plagiarize. I turned that off. Because, you know, I got to plagiarize most of my stuff. That's how I got through school. But I find myself relying on Grammarly much more than I thought I was going to do that. And I use it in every app. I never turn it off. I'm surprised by how useful this is. Jen, I know we've got a deal for Grammarly Premium. 
Jen Harbinger: [00:20:07] That's right. Get 20 percent off Grammarly Premium, when you sign up at grammarly.com/jordan. That's 20 percent off Grammarly Premium at grammarly.com/jordan, G-R-A-M-M-A-R-L-y.com/jordan.
Jordan Harbinger: [00:20:24] This episode is also sponsored by Albert. So this is a financial app. I'm not sure where the name comes from but don't worry. You'll remember. It's just Albert, like the name of Batman's assistant. Come on. If you're a splurger, you're a saver, it doesn't really matter. If you want to get a handle on your money but feel overwhelmed, just download Albert. It's a personal finance app that helps you find a happy balance and make the most of what you have. It's like having a financial advisor in the palm of your hand. Actually, there are real financial advisors on the other end of the Albert app. Albert users save an average of 400 bucks in six months and it saves people over $400 million and counting, which is kind of bananas. Also, if you get yourself in a pinch, they'll send you a cash advance of up to a hundred bucks. Straight to your bank account to tide you over. No credit check, zero interest, no late fees. That's a good little gimmick there. 
Jen Harbinger: [00:21:11] Install Albert from the App Store or Google Play today to find your happy balance and get a bonus of up to $40 when you start an annual subscription to Albert Genius. 
Jordan Harbinger: [00:21:21] And now back to Jack Garcia on The Jordan Harbinger Show.
[00:21:27] I know as an undercover, you can't assault or hurt anyone. So when you're at Bloomingdale's you can't go and give this guy a kick while he's down on the ground as well, just to sort of prove what's going on. I wonder, did they tell you? "Hey, you need to go down the street and take care of this bookie. He slapped him around a little bit." Like, are they telling you to do that stuff? And you're just like, "Ah, I can't. I got to take my mom to the beauty shop." Like, how are you getting around that?
Joaquin "Jack" Garcia: [00:21:52] Well, it's funny you said that because one of the things the old man said to me, Greg DePalma was like, "Hey, why don't you take a couple of licks at this guy?" And I said, "What would it take a lick at this guy? This guy is down, bleeding to the head." I said, "He's down. We got to get out of there." So yes, there were times even when he said, "Go over there and go talk to this guy." I went over there to talk to this guy and I'm driving, I'm going, "Oh, geez, what's going to happen now? I got to talk to this guy." Well, luckily the guy wasn't there, right? Because if I would have said, "No," the guy wasn't in there. But if he was there, I had it all planned that I was going to talk to him and say, "Listen, don't make me come back here. All right. We're going to do this and that." And hopefully, that would have worked, but the guy was not there. And then the old man said, "Don't worry about it. The guy called me up. He heard you there and everything is okay."
[00:22:39] Now, you're not supposed to, and you shouldn't I mean, let's come down to it. First of all, this is a case, I'm not going to compromise my own. I'm not going to become like them for the virtual of enhancing a case.
Jordan Harbinger: [00:22:55] Right.
Joaquín "Jack" García: [00:22:56] Because if I did that, then I should not be working undercover, put in an informant to do that if you want to — even the informant has to play by our rules. So you have to be very careful to do that and not compromise that. Don't put yourself in harm's way. I've dealt with major dopers. Not one of them said to me use coke, but when I was working the street-level stuff, they would say, "Hey, come on, do a hit." I would say, "What are you crazy? Look at my size. I do that my heart's going to blow up." Always have excuses. Never put yourself off guys you hear. They went to the basement. What are you doing in the basement? You should be outside. You should be in a public place. You don't want to go into the lion's den because things could happen. Things that could compromise your safety and things like the wind up killing you.
[00:23:53] My thing was, I avoided it. I saw lots of slapping, kicking, and all of that. There was violence all the time. Greg DePalma was always smacking some guy and all that, but hey, you know what, personally, I guess my size was imitating enough or fearful enough, but if I had to slap people around or some people even talk about slap somebody, shoot somebody, what are you crazy for a stupid case? I'm going to do that. What is that going to do for me? Just like when I was working dope, people would say, "Oh, you know, once you go over there, they got all the big mother load in there. You should have gone in there." And I said, yeah, I'm going to go to a place that I have no control of. No one around me. I may not come out alive. And then after I'm killed, the next day, the dope is still going to be sold in New York. I'm not going to stop the drug war. Neither am I going to stop the mobsters from doing it? So don't put yourselves as an undercover in harm's way because you know, then you're no different than them. 
Jordan Harbinger: [00:24:52] Yeah, that completely makes sense. I mean, you must have had some close calls. I know you had a heart monitor that almost gave you a heart attack. Do you want to tell us about that? 
Joaquin "Jack" Garcia: [00:25:01] That was a great story. What happened is being in the union we all got coverage. So the old man takes me and two other guys and he says, "Look, you've got to get physical." Of course, when they go to the doctor they go to mob doctors that they know, and these are the guys that you don't wait for. There's no such thing as a waiting room. You just walk right in. "Hey. Is he in?" And they walk in. So we go in and he says, "Hey," he tells the doctor, "Give him a checkup." So I'm doing the checkup and they find that I have atrial fibrillation. Now, the FBI never knew that. Or the FBI never had me figured that out. Well, most of it was that I was never really taking the physicals like I was supposed to, but anyway, now I'm going — 
Jordan Harbinger: [00:25:45] You got to get that mafia healthcare plan, not that shady FBI healthcare plans. 
Joaquin "Jack" Garcia: [00:25:50] Exactly. That Obamacare plan, you know? So anyway, what happened was I'm sitting there and I'm going, "Oh my God, atrial fibrillation. What does that mean?" He says, "Well, I'm going to send you for some tests." Now, I'm coming out of there. He goes, "Listen, I'm going to put a Holter monitor on you." A Holter monitor is those little sucks on things that you put on when you do an EKG.
Jordan Harbinger: [00:26:13] Yeah, electrodes.
Joaquín "Jack" García: [00:26:13] All over my body — electrodes.
Jordan Harbinger: [00:26:15] Yeah.
Joaquín "Jack" García: [00:26:15] Then he gives you like a little cassette player because this was an old school cassette player. He goes, "Now, listen, you write down on a piece of paper, every activity you do. If you go walking, you put walk. If you're laying down, if you're going to take a nap, if you're going to go to the bathroom, whatever, just write it down for 24 hours. I want you to be here tomorrow." So I said, "All right." So he plugged me in and I go, and Greg DePalma was there. In the meanwhile, Greg DePalma says, "I got to get back to the other place." So he leaves with the other guys to the diner where he wanted me to meet him. I'm worried. I'm saying to myself, "Atrial fib, my wife's going to go crazy. She's going to say end this case. I can't, I've gone too far." So I'm like a little, you know, out there. So I go to the diner to meet Gre while sitting around with typical eating, like we're going to the chair. You know, food all over the place. And Greg DePalma, all of a sudden hits the table and he says, "We got a problem." So everybody's going, "What do you mean?" He goes, "We've got a problem among us." He says, "We got information that somebody's wearing a wire and we got a rat among us." And everybody's going, "Rat? Well, who's the rat? We'll kill the guy. Who is this guy?" So he starts walking around and he's going, "yeah, we're going to get this son of a bitch." And he goes to my shirt and he rips it. And there are all these electrodes on me. So I'm doing my best, Jackie Gleason, "Hummina, hummina, hummina, hummina hummina." Like, "Are you kidding me?" So then he goes, "Yeah, you are the f*cking rat, right?" I go, "Greg, what are you talking about? I'm not a rat." So he goes, "Yeah." And then all of a sudden I see him smile and he goes, "I had you, Jackie boy." He goes, "I had you." Then he tells the story you know. Meanwhile, I'm putting this shirt back on.
[00:28:01] Next day, I go to the doctor. I got everything signed there. He plugged the Holter monitor in. He sees a spike that went right through the roof. That's when I was declared dead at that moment. and I'm telling you that was the wildest thing. Then of course, then I went for a physical exam. My thing was to the roof, but it put me in a hard place. I talked to the case agent. I said, "Listen, you can't tell these people that I got this issue at the Bureau. They pulled me on this. I'm getting medical care. I'm being worked up on a deal with this. If you go on record with this, we are doomed." They did what they had to do, but I had this medical care.
[00:28:42] In fact, I went through so many tests with that, that when I moved to Connecticut, I had to find a new cardiologist. So here I am with a stack of records like this from a heart treatment. And now I got to go under Jack Falcone. How am I going to go to a regular doctor and say, "Hey Doc, how are you doing? My name is Jack Garcia, but I go by Jack Falcone. Here's my previous record." So who'll have me do all those tests again? I didn't want to go through all those tests. So I had to have an agent come in, explain the situation, and the guy said, "All right, we'll look at Jack Falcone and you are one and the same." So I'm going to myself, "Oh God, can you imagine I had to go through." But that happened in real life, I was Jack Falcone all the time. I lived it. I had my own apartment. I was worried about the heart thing because you know, the fact that it could impact my health. I still worry about it.
Jordan Harbinger: [00:29:38] Sure.
Joaquín "Jack" García: [00:29:39] But I didn't want to say anything because I didn't want to give them an excuse to yank me. And here I am today, knock on wood. 
Jordan Harbinger: [00:29:47] Yeah. I mean, did you ever think like — were you gaining weight, eating at all those nice restaurants all the time? 
Joaquin "Jack" Garcia: [00:29:53] Absolutely. I ate so much. I'm telling you I had the greatest foods in the world. The greatest. I'm telling you. I had the best. What happened even, I'll tell you a funny story. When I was in trial, we would testify, right? Here comes Greg DePalma doing the old mafia bit in a wheelchair, unshaven, a little blankie. He's got the — not only the nose thing but the full face mask and he's got to attendants and he looked so feeble, which is called the mafia flu. All these old-timers, you see them on TV. It looks like they're all coming around in wheelchairs. Right?
Jordan Harbinger: [00:30:27] Yeah.
Joaquín "Jack" García: [00:30:28] So we're playing tape after tape, after tape, and every tape, we're eating, we're in a restaurant. He just stops them and he goes, "Agent Garcia, why is it every tape? First of all, you guys have no manners, no social grace. You guys are eating, talking with your mouth full. F this, F that, mother this, and C this." He goes, "I've never seen or ever heard that." He goes, "Oh, how much weight did you gain?" A big guy goes, "Oh, I've gained about 80 pounds, your honor." He goes, "80 pounds." He said, "Oh my God I could see why, man, every tape." So anyway, in the gallery, that was closed because I was working other undercover cases. So my testimony was being piped into another room where all the reporters were. So they're hearing this exchange. I go home for the day. I woke up in the morning, read the newspaper, front cover — Fat Fellas Eat Their Way to New York, Another headline, he was almost one of the wide guys. And then he says the once smelt agent gained over 80 pounds. I looked up and I said, what the heck does smelt mean? I had to look that up. I've never been called smelt in my life. So these guys thought that I was like a little guy and I blew up, but I was a big guy who blew up even more. So, yes, to answer your question, you ate the best food. It was delicious. I'm telling you that the meals were great. It's a beautiful culture. It's a beautiful menu that they have. Their food is great. I still eat Italian food. That's how much I love it. 
Jordan Harbinger: [00:32:06] But these guys, they put a hit on you. They put a 250K hit on you, which is — that's a decent amount of money for anybody I would think, especially somebody who's going to get a tax free.
Joaquin "Jack" Garcia: [00:32:17] Well, yes they did. But realistically, Jordan, let's look at it this way and I've always said that even with Joe Pistone. When you're in the mob thing that I learned the boss is the guy, whatever he says it is. If the boss said to me, "Whack Jack Garcia or Jack Falcone." There's no money involved. That's an order. You kill the guy. And if you're not, let's say in the family, but you killed me, who do you go to? You've got a mob arrest and say, "Hey guys, I just whacked Jack Falcone. Where's my $250,000?" First of all, they're going to whack you because they know the reign of terror is going to be unleashed on the mob and they don't want the disruption of their money-making scheme.
[00:33:05] So I think a lot of that in all the time you hear about, "Oh, there's a contract for this, a contract for that." I think the mob is smarter than that. They know the consequences. Yes, that there'll be a lone wolf, a cowboy who will go out there, and maybe whack me and think and say, "Hey, look, why whack the guy?" Then he's just going to get whacked. They don't want that heat. It's just too much heat. So that was out there. I was disappointed with the way it was handled because that was supposed to have been in prison. And the guys, he said he was going to execute the contract but the people and the Bureau chose not to work it right. They just chose to polygraph the guy.
[00:33:44] And what do you think the guy's going to say in a polygraph? "Yeah. I'm going to whack him." Of course, he's going to lie. So it showed that he lied. Now, what do you got? I wanted to have somebody going in there with a wire, get this guy to admit that there is a contract and who it is, and then charge him for doing that but they didn't do that. 
Jordan Harbinger: [00:34:06] You're not really worried about this anymore. You're not checking your rear-view mirror or anything like that these days. 
Joaquin "Jack" Garcia: [00:34:11] Yeah, I do, Jordan. I still do. Do you know what it is? I don't go poking the tiger in the eye. I don't go back to the horns. I don't go to those great restaurants that I used to love to go to. I don't do that because I don't want to do that. I don't want to. You know, hey, listen, we play a cat and mouse game. We get them. They avoid being gotten by us. That's just something that goes on. There's no need for me — and if I did do that, then that shows me there's something wrong in my mind because I have no business doing that.
[00:34:40] But I still look in the rear-view mirror. I'm still thinking that, hey, I could be driving down the road and somebody recognizes us. I remember early on somebody recognized me in the car and went back and fortunately, brought us back to an informant. The guys refused to believe that I was an agent and I was a drug dealer because I didn't look like an agent. And that was always the big thing for me because of my size and the way I carry myself. If I was ever in a situation where I was going to die, I can't say, "Hey, guys, listen, I'm a federal agent." You know, you're done if you do this and they may hesitate. But think about, who's going to believe I'm a federal agent. So what's going to happen. I'm going to get whacked. So my size worked for me, but it also worked against me. I'm very cautious because for a while, there you wonder. Yes, do I have guns? Of course, I have guns. Dogs, yes. All of those things, you protect yourself and all that, but I believe they respect the work that I did and they were worthwhile adversaries. That's the game we play.
Jordan Harbinger: [00:35:50] You're listening to The Jordan Harbinger Show with our guest Joaquin Jack Garcia. We'll be right back.
[00:35:56] This episode is sponsored in part by HostGator. There are countless reasons for having your own website. You could be a photographer who wants to showcase the vast collection of penguin prints you have for sales from your last trip to the South Pole. Or maybe you're a freelance writer seeking to display a portfolio of sample work for potential clients. You could even build one for your extended family to better stay in touch over the holidays until it's safe to travel again. And if you've been putting off your own website because you don't know where to start, HostGator can juice you right up. With every plan, unlimited email, unlimited bandwidth, unlimited disc space, free SSL certificates, advertising credit, WordPress blog tools. HostGator even guarantees 99 percent uptime, 24/7, 365 support, and a 45-day money-back guarantee if you're not a hundred percent happy. So go to hostgator.com/jordan to get up to 62 percent off. That's hostgator.com/jordan.
[00:36:46] This episode is also sponsored by Better Help online counseling. A lot of people are having a hard time right now. A lot of people are feeling cooped up. I'm raising my hand on that little bit of depression, grief, anxiety, relationship conflicts. I know what it's happening because it's in the Feedback Friday inbox more so probably than it's ever been. Get some help. I mean, there's no shame in this game, folks. Fill out a questionnaire with Better Help. Get matched with a counselor in under 48 hours. Everything's safe. Everything is private, everything is confidential. You can do video. You can do phone. You can text if that's something you want to do. If you're unhappy, get a new counselor. Sometimes you don't click. It happens. There's a million people doing this. You should be one of them. I believe in therapy. Better Help is a great way to do it without even getting in the car. Jen.
Jen Harbinger: [00:37:27] Better Help is an affordable option and our listeners get 10 percent off your first month with a discount code JORDAN. Get started today at betterhelp.com/jordan. That's better-H-E-L-P.com/jordan.
Jordan Harbinger: [00:37:41] And now back to Jack Garcia on The Jordan Harbinger Show.
[00:37:47] I was going to ask you what you're missing about the FBI, but I'm actually more curious about what you miss about being in the mafia, or at least pretending to be in the mafia. Like the treatment at restaurants, okay. You can't go back to those restaurants, which I'm sure, you know, is kind of a bummer. Anything else? 
Joaquin "Jack" Garcia: [00:38:02] Yeah. Well, you know, it's weird — I understand why the mob is romanticized by Hollywood. I mean, if you look at all the criminal organizations, MS-13, the Crips, the Bloods, and all of that, the mafia is really the only group that has been able to infiltrate our society in places like labor unions, police departments, judges, all of those things. That's a tremendous power that they have. But what I miss about it was the guys. I mean, you will go out there. There were a lot of crazy, wild, fun times they would have. We will go out to these restaurants, five or 10 guys with 10, 15 strippers. I mean, picture you with your family and you've got all these strippers with you and everybody's loud. They do the singing — what do you call? 
Jordan Harbinger: [00:38:53] Karaoke. 
Joaquin "Jack" Garcia: [00:38:54] Karaokes Frank Sinatra, Dean Martin, so there were a lot of laughs in there. I'm not going to lie about that and that's, I guess, what the sanity was for me, the fact that, that, and also just their rituals and it's kind of weird because it's like a bubble, a culture. I remember being at the strip club and they would these hanger-on guys who were like minions, who would say, "Hey, Jackie boy, you need me to wash your car? Let me go get some gas for your car. I'll clean it up for you if you want one. Do you need to drink?" There are guys in that culture who love more than anything to be around a connected guy. It's that power that they have, hoodlum complex. It's called where they being around these mobsters and criminals and outlaws gives them that respect that they saw and fear that they want to say and say, "Yeah, I know Jackie boy. He's my guy."
[00:39:46] I mean, even to this day, when I give these presentations out there I go, everybody comes up to the end and says, "Hey, I grew up in a town with this guy. Do you know Joey Potsandpans? Do you know Vinnie Bagadonuts?" You know they will ask me these questions. "Yeah. I grew up— " There is something very romanticized with them.
[00:40:06] So I miss the restaurants. I do. And also I've missed pedis and manis. You know now I can't go in as a pedi and mani. Are you kidding me?
Jordan Harbinger: [00:40:16] Why not? You can't get a mani-pedi?
Joaquín "Jack" García: [00:40:17] No, it's different with a mob guy. You went to a place that's connected, you sat, you smoked a cigar. Life was good. You had a couple of drinks. Yeah, now you go into place. "Look at this guy. Look at his big mama look. What is he doing here?" I mean, those are little things that they would do and, of course, cleaning the cars and being out on the town. They really enjoy that part and I think they enjoy it because they know their life is short.
Jordan Harbinger: [00:40:44] Yeah.
Joaquín "Jack" García: [00:40:45] They know that anytime they can go to jail and all that. And also, in fairness with the FBI, FBI has that camaraderie too. I mean, I'm still very close with a lot of agents. I maintain the friendship. I love being around them as well. There is a lot of fun too. I guess, with the mob, I'm spending the Bureau's money. With my guys, I'm spending my money. 
Jordan Harbinger: [00:41:07] Yeah. Yeah. That makes sense. Hey, look, if I ever come out by you, we'll go get a mani-pedi and we'll tell the Vietnamese ladies or whatever, to let us smoke cigars and have a couple drinks handy for us. I don't know. They probably let us do it. We'll just give him a big tip. That seems to work every time. I mean, you taught me that. 
Joaquin "Jack" Garcia: [00:41:22] Oh, yeah, tips always work. Let me tell you something. You got to tip. If you don't tip anybody, you don't know — what I'm telling you. I was the biggest tip of there was all the time. People will remember me. I used to go to places and just tip. And came back and I was treated like gold. That's what it was all about. 
Jordan Harbinger: [00:41:41] This is a strange one, but do you ever feel bad about throwing some of these guys in prison? I mean, you got like 32 gangsters from your operation. You spend a lot of time with these guys. You get a lot of meals, but they were also bad guys. Right?
Joaquin "Jack" Garcia: [00:41:53] You know what? Yes. You have to keep it in perspective that this is a job you're doing. You're an actor. You're going into this thing to be like them and act like them in a lot of ways, while at the same time gathering evidence. Now, some of these guys — I'll give you an example. The guy who had the guy over their head, now he's a ruthless killer, but I used to talk to him. He was a commerce guy. We talked about baseball, football, talked about life. He was a nice guy, but yet he could go to that dark side. They didn't have the switches that we have. So if I kept them in my side, he really was a likable guy. Now, I work with dirty cops. Those are the guys who really get to me because these are the same guys who took the oath, these Hollywood cops. I worked with the Hollywood cops in Florida. This guy thought he was a gangster. He wanted me to get him straightened out because I was playing the role of a mob captain and actually was going out at the same time I was working the mob case and everything that my mob guy was doing I was replicating it on him. So I became the Greg DePalma on the guy if that makes sense. 
Jordan Harbinger: [00:43:06] It does make sense. So straightened out means like he wanted you to help him join the mob. 
Joaquin "Jack" Garcia: [00:43:11] No. Straightened out what it is there are certain terms to get made. Straightened out means you got made. You became a button man. You became an amico nostro. You became a goodfella. In other words, you went through the ceremony. You've proven yourself. Now, you want to become straight — you want to be a wise guy, a made guy. That's what straightened out means. That's the actual ceremony to be straightened out, to be made.
[00:43:37] So this guy offered me a house that you have upstate New York if I ever wanted to use it for any clean client desk meetings with the bosses. And this guy was a cop, a 17-year veteran of the Hollywood Police Department and all he loved being around us. So those bothered me because these guys tarnish the badge that we so proudly wear and you would sit there sometimes — and the funniest guy, Jordan, he would have you in stitches, funniest guy, you ever want to meet, likable guy and he would sit there and go, "Why the hell are you doing it? Why use that little switch that makes you go into that dark light? Why is it there? What does he have? Why even Robert Vaccaro?" That's the personality I would love to study as, you know, talk to a psychologist about, you can have what appears to be a normal person, but then next thing you know, they take it to the next level, where we have restrained, we don't ever want to go there or ever even think about going there, but these guys just turn like this on you.
Jordan Harbinger: [00:44:49] Sociopath, man, damaged brains, bad childhood, and a damaged brain probably.
Joaquín "Jack" García: [00:44:54] Yeah.
Jordan Harbinger: [00:44:55] I did a show about sociopathy. If people are wondering, it's Dr. James Fallon. He's a brain scientist and he can show you in your brain if you have the potential to be a psychopath because it's a different type of brain. But if you have a good childhood, maybe you just go skydiving and you gamble a little bit and you forget to call your wife. But if you have a bad childhood, you burn animals in your backyard and kill people and hit them over the head with a candlestick at a crowded department store. It's a damaged brain that has a bad, abusive, and violent past or life. And it just, this switch is just — once you cross that line, I don't think you can easily undo that damage. 
Joaquin "Jack" Garcia: [00:45:34] Yeah. That is so true because I've also met the other guys that I hated from the beginning, who had no personality who would just intent on you could either hurt you or steal from you or work out something. So then, of course, getting back to when you started as an undercover, you start off and you work your way up. So if I go in there, nice and he's nice, everything is nice, but if he wants to kick it up, I'll pick it up with the guy. But I've met those too, like, "Hey, this guy, it needs to be collared right away." This guy, he's a loose cannon. So there are two kinds. The guys, I guess, are more dangerous. Or the guys that I got along with were the guys with that switch, like you just mentioned. Outside of that, they're normal guys, except when it comes to committing criminal acts. 
Jordan Harbinger: [00:46:19] So is the mob dead right now or is it still going and what's the biggest organized crime threat to the US right now? That's probably two very separate questions.
Joaquin "Jack" Garcia: [00:46:28] Yeah. Well, you know, I look at this, the FBI a while back ago changed their investigative priorities. When I was in the Bureau, organized crime and narcotics were up here. They were in the top. Now, they're not even in the top 10. Of course, it's gone into cyber. It's got into terrorism. It's got into corruption and all these other investigations. So it happens? In the FBI, in New York alone where they have the five families used to have six squads that were devoted to just work in organized crime. One squad worked at the Lucchese crime family, the other one did the Gambino, the other one did the Genovese, the other one did the Bonanno, and the other one did the Colombo. They work for that family.
[00:47:12] But now, what they've done for the last years is they consolidated five squads into two. Now what does that mean is in my opinion, is that these guys are crawling underneath the rocks and still are growing exponentially. And they're going to come back and bite us in the ass. And I'll tell you why, because as long as you have drugs, as long as you have bookmaking, as long as you have loansharking, as long as you have people who're buying stuff that falls off the back of the truck, you're going to have the mob. So the mob is out there and no one is following them. Yes, every once in a while you hear of an arrest, everyone, but these guys are big in numbers. They're out there working, morphed themselves into avoiding it. I don't think they're a problem now but are going to become a problem simply because we are dedicating our resources on other important issues but the response from the so-called Bureau and law enforcement is, "Hey, they're not as bad as they used to be. If there is an issue, we'll address it." But what does that mean? That, okay, so while before there is an issue, they are growing, they're recruiting in numbers, they're flying under the radar.
[00:48:33] So my answer to that is there's still out there. They're just being more cautious or maybe they're reverting to the principle of organized crime early on, which was a secret criminal society, but make no mistake about it, they're out there working. They still control the bookmaking, the loan sharking and the extortions and all of those other, you know, standards. So that is seven. And I'm sorry, what was the other question, Jordan? I forgot. 
Jordan Harbinger: [00:49:00] Yeah. The second part of that — I really should have asked it separately. So it's not your fault. My other question was, what do you think is the biggest organized crime threat in the US right now. You know, we hear about Chinese gangs, Russian gangs, or even non-ethnic gangs, drug cartels, I guess is probably the most obvious.
Joaquin "Jack" Garcia: [00:49:18] Yeah. Great question. I don't think there are any gangs. I don't think it's the Blood, Crips, and all of that. My personal opinion, what I think the problems that we're having, that would be the internal terrorist group, White Supremacist, Antifa, all of these, but worse than them I think our countries.
[00:49:37] Now, if you recall reading my book, I write about a chapter called Royal Charm. You have to deal with China. China has been robbing intellectual property for how many years. They're still doing it. They're a strong power. That's a nation that really has a lot of power. And because of that, I think we should be more worried about countries like Russia, countries like China. Those are the superpowers to come in. These other little groups, MS-13, even Antifa, you could squash them like a bug if you really want it to. But those other things, fester — I mean, when I was working the Royal Charm case, we used to bring tractor-trailers full of cigarettes, tractor-trailers full of counterfeit goods. They were even involved in medication that was kind of counterfeit. One quick instance that I wrote in my book was before we set up a wedding in order to bring all these guys from China to come in the main undercover agent and a female agent were going to get married and I was the best man. And on the way where there was supposedly before they got arrested, we told them they were going to a bachelor party. They were in the back popping Viagra pills. So I turned around and said, "What are you doing?" He goes, "I'm taking a pill, Viagra." I said, "Is that made here or is that one of yours?" He goes, "What are you crazy? I'm using the real thing." They don't even use their stuff. The guy used to smoke cigarettes. We used to buy containers full of cigarettes. These are 40-foot containers, loaded with counterfeit cigarettes that resembled American. They did not even smoke that. They smoke our cigarettes. So what does that tell you that we're ingesting and bringing in? So that to me is the power of the future, but that Royal Charm case was amazing. There were also involved in Supernotes, which are undetectable, fake $100 bills that we had to send to the lab in order to prove that they were fake. So you're dealing with some major criminal group that's operating in all of these countries that we should worry about.
Jordan Harbinger: [00:51:42] I know this is a heavy episode in some parts, so I want to end light, but what is the best Italian restaurant that's still around that you just dream about? You wish you could go back there. You know, what's the one where if I'm in New York, I know I'm under the radar. I can go and eat at a mafia restaurant. Where should I go and get the best food? 
Joaquin "Jack" Garcia: [00:51:59] Well, the great thing about New York has so many great Italians, but the best one is Il Mulino. People say Rao's. I'm not a fan of Rao's, but Il Mulino downtown is by far the best, but you can't go wrong with any restaurant in New York. Unfortunately, this pandemic is killing us. So all these great restaurants, we hope they come back because there's one thing about New York food, it's the best. Any cuisine you want, it's readily available, but Italian restaurant, you go to Little Italy, great places over there. There is a — oh my God. I can't even, I can't think of it, but there's a couple of restaurants there, which are unbelievable. 
Jordan Harbinger: [00:52:39] Every time. I go to Little Italy, I get caught in a tourist trap. One of those crappy ones where the calamari is frozen and the service is bad and everything and everything. I've yet to find the gym. So if you remember it, shoot me a message and I'll link it in the show notes because I think every time I've gone to Little Italy — and I lived in New York for five years, every time I go to Little Italy, I go, "Why does anyone eat here? The food is always terrible. I always go to the wrong place. 
Joaquin "Jack" Garcia: [00:53:00] Yeah, I think Angelo's is. But here's probably why? You got to go in there, like the gangster. Here's what you do. Slick your hair back, put on a nice suit. And when you walk in, Jordan, it goes, "Hey, how you doing?" Now, "how you doing," it's a greeting. It's not a question. Nobody gives a shit on how you doing. It's how you doing? So you walk in and it goes, "Hey, how you doing? How are you?" Just make you sound like you've been there, done that and got the t-shirt to prove it. You don't want to walk in there like a tourist. What are you walking in there with a camera?
Jordan Harbinger: [00:53:29] With my backpack on, yeah.
Joaquin "Jack" Garcia: [00:53:31] Your fanny pack. Of course, they're going to bring out the frozen stuff for this guy, this Americano over here. Go in there like you own the place.
Jordan Harbinger: [00:53:42] I've been doing it wrong the whole time. Jack, this has been a lot of fun, man, really.
Joaquín "Jack" García: [00:53:46] Likewise.
Jordan Harbinger: [00:53:47] I appreciate your time. And thank you so much. If you could think of any other great places we need to go eat at once everything opens up, let me know, but otherwise, I really appreciate this. This is a lot of fun. I'm going to let you know when this comes out and I'm sure we're going to get great feedback.
Joaquin "Jack" Garcia: [00:53:59] Great. Listen, a pleasure, and thank you so much. All the best to you. Stay safe, you and your family, and your staff. 
Jordan Harbinger: [00:54:05] Thank you.
[00:54:09] Of course, I've got a big close for this one, but before I get into that, here's what you should check out next on The Jordan Harbinger Show. We're creeping up on episode 400 here. I've been podcasting for something like 13 years. I keep thinking about which are my favorite episodes. Here's what you should check out next on The Jordan Harbinger Show. 
Molly Bloom: [00:54:25] I went to LA and needed to get the first job that I could and got hired by this guy who was a pretty demanding boss. I was his personal assistant. He said, "I need you to serve drinks at my poker game." So I'm like, "Okay, great." And I bring my playlist and my cheese plate and I'm thinking, you know, the players are going to be these overgrown frat boys. But then, Ben Affleck walks in the room and Leo DiCaprio and a politician that was very well-recognized, and heads of studios, heads of banks, and all of a sudden I had this light bulb moment that poker is my Trojan horse. I just need the control and have power over this game because it has this incredible hold over these people. Why do these guys with their access to anyone and anything come to this dingy basement to play this game?
Jordan Harbinger: [00:55:14] What is the most money you've seen someone lose in one night?
Molly Bloom: [00:55:17] A hundred million dollars.
Jordan Harbinger: [00:55:19] How did the mob get involved?
Molly Bloom: [00:55:21] Around Christmas, a door open and this guy that I'd never seen before, pushed his way in and stuck a gun in my mouth, then he'd beat the hell out of me. And he kind of gave me this speech about how, if I told anyone about this, or if I didn't comply, then they would take a trip to Colorado to see my family. Then the Feds got involved and the first thing they did was they took all my money. I moved back to LA. I'd gotten a pretty decent job. 10 days later, I get a call in the middle of the night, this is agent so-and-so from the FBI, you need to come out with your hands up. I walked into my hallway when my eyes adjusted to the high beam flashlights, I saw 17 FBI agents, semi-automatic weapons pointed at me.
Jordan Harbinger: [00:56:00] If you want to learn more about building rapport and generating the type of trust that Molly Bloom needed to run her multi-million dollar operation and hear about how it all came to an end check out episode 120 of The Jordan Harbinger Show.
[00:56:16] I wanted to wrap up the Jack Garcia episode. This guy, he was taking down — there's stuff that we didn't even make it into the show. He was taking down counterfeiters who were printing US currency and running guns in Thailand. And what he did — he alluded to this in the show — he set up a fake wedding to get all the bad guys in one place and arrest them. I mean, this is, this is like straight out of — I don't even know. It's like the Hangover plus some kind of undercover cop movie. I mean, the stories this guy has in the book are just bananas. Also, I wondered why mafiosos don't ever have facial hair. I've heard that from people that I know who were in the mafia and I thought, "Oh, it's just kind of a myth." No, it's no facial hair, nothing to hide facial hair, supposed to make you look tough, but mafia guys think, "Oh, we don't need that. It's just all in our image. It's all in our reputation."
[00:57:02] I've heard this from "Sammy the Bull" Gravano before. I was having dinner with him — I know I talk about that a lot because he's one of my favorite sort of funny name drops, if you will, because most people are name-dropping these wealthy, famous people and you know, I'm scraping, I got a mafia enforcer. We were at dinner. I saw this big guy with a big handlebar mustache and I said, "This guy looks like some kind of enforcer," and he goes, "No way, no self-respecting made man would ever have any facial hair at all. You've always got to be impeccably groomed, but you can be as fat as you want." He made sure that I knew that you can be as fat as you want. And Jack Garcia mentioned that as well. I thought that was kind of funny. It's like, just so you all know, you can be fat.
[00:57:38] This was one of those examples of a little thing becoming a big thing if it's done improperly. It's a giveaway. If you've got facial hair, it's like immediately, you're not one of us. You're not one of the guys. You're not a friend of ours. And you only get one take, Jack notes. He said, "This isn't the Sopranos. You only get one take. If you want a second take, you're probably going to get killed for it. Never use a wallet, having a wallet, or even a current driver's license that's not expired. That's a tell that you're not legit. You're not supposed to drive yourself. And if you do, you don't have a real license. You have an expired license. I don't totally get that, but hey, look, I don't make the rules.
[00:58:10] In the New York Metro area, if it goes up or it comes down in construction or demolition, a wise guy is getting paid, and "Sammy the Bull" talked about this. Jack talks about it in his book. That's one of the main ways that mafia makes money is taking union wages and sort of embezzling funds. That way mobsters would charge union rates for construction, but then just put non-union workers on the job and keep it the difference in funds. There's also bid-rigging. And there are benefits for working with the mob because you get more jobs from people who are afraid to give the business to somebody who has not connected to the mob. So basically being, not mafia connected in construction in New York, I don't even know if you can. I don't know if you can survive, your business can survive or if you yourself can survive. I don't know how that works. I learned about that at a dinner, and I've heard a lot of stories about that sort of thing. So that tends to check out with everybody that I've talked to.
[00:59:00] Also Jack calls a Cuba libre a mentira which means lie in Spanish because — and I asked him about this. He said, "Because as long as Castro is around, there's no such thing as a free Cuba." I see what you did there, Jack. Also, you asked about the drug thing when it comes to the mafia. Whenever I have mafia guys, they're always like, "Ask him about the drug thing," that they saw in Godfather. Mob guys are supposed to avoid dealing in drugs, but truth be told they really do not care. It's all, "Oh, we don't deal in drugs," but it's revision as history. These guys were always into dope smuggling. They don't care. It was about not polluting the city, not polluting the neighborhood. And it started off as, "Oh, let the African-American community do it and we don't care." And then it just became, "Screw it. It's too lucrative. Let's just not worry about it."
[00:59:40] Dope dealers and mobsters do have a key difference. Dope dealers, they crave anonymity. They don't want anybody to know who they are. And mobsters crave the limelight. They go to the same places. They dress loud. They have girlfriends. They're talking a lot with each other. They're always doing stuff they can be found easily even. And especially by surveillance, just find their friends, find the girls, find the restaurants they go to. Easy. So it kind of exists in this time capsule of difficult surveillance, not easy to find and track people. Now, I don't know how that type of organized crime survives. It must just be more corruption because you can't really hide this stuff.
[01:00:16] And the mob dodged a major bullet given how deep Jack was within the Gambino crime family. He goes into this in the book. He took down something like 32 gangsters, and he could have taken down the whole thing if they'd left them in, but they were worried about his safety. And now he's a family man, Jack used to schlep mobsters around, and now he drives his kid to and fro school. Still, though, he doesn't go to New York much he says. He wants to get into acting and he's got a lot of experience, I guess, you know, undercover in the mob where again, you only need one take. Sopranos had all the time they needed to get a scene right. You only get one take as an undercover and if you get it wrong, well, you know what happens.
[01:00:52] I hope you enjoyed this episode as much as I did. Big thank you to Jack Garcia. His book will be linked in the show notes. If you buy books for many of the guests, do use the links on the website. any country you're in, they should work. It helps support the show. Worksheets for this episode in the show notes, transcripts in the show notes. A video of this interview is on our YouTube channel at jordanharbinger.com/youtube. We also embed that in the show notes. I'm at @JordanHarbinger on both Twitter and Instagram or just hit me on LinkedIn.
[01:01:13] I'm teaching you how to connect with great people, manage relationships using systems and tiny habits. Dig that well before you get thirsty. And hey, if you want to go undercover, you're going to need these skills. Most of the guests on this show, they subscribed to the course and the newsletter or they've contributed to the course. So come join us, you'll be in smart company.
[01:01:35] The Jordan Harbinger Show is created in association with PodcastOne and my amazing team, that is Jen Harbinger, Jase Sanderson, Robert Fogarty, Ian Baird, Millie Ocampo, and Gabriel Mizrahi. Remember, we rise by lifting others. The fee for this show is that you share it with friends when you find something useful or interesting. Like the mafia, like some stories, like some social engineering, like some undercover stuff, go ahead and share this episode with them. Hopefully, you find something great in every episode. Please do share the show with those you care about. In the meantime, do your best to apply what you hear on the show, so you can live what you listen, and we'll see you next time.
Sign up to receive email updates
Enter your name and email address below and I'll send you periodic updates about the podcast.