Joe Navarro (@navarrotells) is a retired FBI agent, one of the world's leading experts on nonverbal communication, and author of Dangerous Personalities: An FBI Profiler Shows You How to Identify and Protect Yourself from Harmful People.
What We Discuss with Joe Navarro:
How coming to the United States from Cuba at an early age poised Joe Navarro to become one of the world's most respected experts in nonverbal communication.
How to spot the narcissists and predators in your midst before they spot you as a clueless opportunity.
What to do if you find you're already being wrapped up in the deceitful webs of these dangerous personalities and how to disentangle yourself from them.
Why you often let misguided social programming override your natural instincts to sniff out the bad behavior of people in your life and how to tune into those instincts again.
The best first step in arming yourself against the actions of predators and narcissists in your life — whether they're bully bosses or abusive spouses.
And much more…
Like this show? Please leave us a review here — even one sentence helps! Consider including your Twitter handle so we can thank you personally!
(Download Episode Here)
(Subscribe to the Podcast Here)
Worksheet for This Episode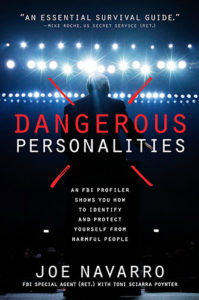 Crossing paths with dangerous personalities is just one of the frequent hazards of occupying planet Earth. It's not like these undesirable characters walk around with handy labels that warn us of their ill intentions — but what if there were a way to spot them as if they did?
In this episode, we talk to former FBI special agent Joe Navarro, one of the world's most recognized experts in nonverbal communication and author of Dangerous Personalities: An FBI Profiler Shows You How to Identify and Protect Yourself from Harmful People. Listen, learn, and enjoy!
Please Scroll down for Full Show Notes and Featured Resources!
Sport Clips is like no other place you've ever gotten your hair cut. There are TVs everywhere playing sports and guy-smart stylists who know how to give you the haircut you want in over 1,700 locations! Find out what you've been missing at SportClips.com/checkin!
Rocket Mortgage by Quicken Loans. Apply simply. Understand fully. Mortgage confidently. To get started, go to RocketMortgage.com/JORDAN!
Need custom graphics, logos, or Web design? Access a community of 600,000+ designers by registering at designcrowd.com/jordan and enjoy up to $100 off with The Jordan Harbinger Show bonus offer!
The folks at BiOptimizers understand why you're skeptical about probiotics as a way to increase your digestive and gut health. But without sharing TMI, we can confirm its patented P3-OM superstrain actually does what it's supposed to do! Curious? Go to p3om.com/jordan for 20 percent off your first order and a full money-back guarantee!
Sign up for Six-Minute Networking — our free networking and relationship development mini course — at jordanharbinger.com/course!
More About This Show
When you read Joe Navarro's Dangerous Personalities: An FBI Profiler Shows You How to Identify and Protect Yourself from Harmful People, it's easy to view everyone you know in a suspicious light. But it's important to remember that we all have our off days — and probably behave in ways that send up red flags to others that mark us as potentially dangerous personalities.
So how do you tell the difference between someone who deserves the scrutiny of suspicion and someone who's just experiencing a momentary lapse from their usually benevolent behavior?
Joe says: "There are a group of behaviors that, when we see over and over in one individual — not occasionally, but all the time — it makes us want to take a closer look and say, 'Okay, is this person healthy for me, or are they toxic?'"
Joe wrote Dangerous Personalities as a diagnostic tool that allows anyone to accurately analyze their own constellation of friends, colleagues, and family without having to navigate the inevitable red tape required to get relevant psychological or psychiatric advice covered by insurance these days.
Joe spent 25 years in the FBI honing his nonverbal communication skills and implementing protocols that are still in use there today, but he got his real start as a Cuban immigrant who, at age eight, found himself in the United States without the benefit of English.
"Actually, I was a refugee," says Joe. "I thought we were going to be here for a few months and then we would be able to go back. So I didn't speak English, but I found that the unspoken language — the body language — was fairly resilient. If you wanted to see if kids wanted to play with you, if you wanted to see if you were being accepted by others, or if the teachers were happy with you, it was really about the nonverbals. I think that carried through well into college."
Listen to this episode in its entirety to learn more about how close Joe came to crossing paths with serial killer Ted Bundy in the '70s and how this realization shaped his work in identifying dangerous personalities, red flags that help identify narcissists and predators, how documenting red-flag behavior when it happens may protect you months or years down the line, the one quick question you can ask yourself if you suspect you have a narcissist burrowing into your life, and much more.
THANKS, JOE NAVARRO!
If you enjoyed this session with Joe Navarro, let him know by clicking on the link below and sending him a quick shout out at Twitter:
Click here to thank Joe Navarro at Twitter!
Click here to let Jordan know about your number one takeaway from this episode!
And if you want us to answer your questions on one of our upcoming weekly Feedback Friday episodes, drop us a line at friday@jordanharbinger.com.
Resources from This Episode:
Download Worksheet for How to Identify and Protect Yourself from Harmful People

/wp-content/uploads/2018/12/Worksheet-for-Joe-Navarro-How-to-Identify-and-Protect-Yourself-from-Harmful-People-Episode-135.pdf