Reading Time:
4
minutes
Joe Navarro (@navarrotells) is a retired FBI agent, one of the world's leading experts on nonverbal communication, and author of Dangerous Personalities: An FBI Profiler Shows You How to Identify and Protect Yourself from Harmful People.
What We Discuss with Joe Navarro:
How coming to the United States from Cuba at an early age poised Joe Navarro to become one of the world's most respected experts in nonverbal communication.
How to spot the narcissists and predators in your midst before they spot you as a clueless opportunity.
What to do if you find you're already being wrapped up in the deceitful webs of these dangerous personalities and how to disentangle yourself from them.
Why you often let misguided social programming override your natural instincts to sniff out the bad behavior of people in your life and how to tune into those instincts again.
The best first step in arming yourself against the actions of predators and narcissists in your life — whether they're bully bosses or abusive spouses.
And much more…
Like this show? Please leave us a review here — even one sentence helps! Consider including your Twitter handle so we can thank you personally!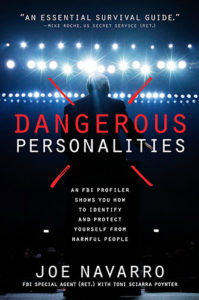 Crossing paths with dangerous personalities is just one of the frequent hazards of occupying planet Earth. It's not like these undesirable characters walk around with handy labels that warn us of their ill intentions — but what if there were a way to spot them as if they did?
In this episode, we talk to former FBI special agent Joe Navarro, one of the world's most recognized experts in nonverbal communication and author of Dangerous Personalities: An FBI Profiler Shows You How to Identify and Protect Yourself from Harmful People. Listen, learn, and enjoy!
Please Scroll Down for Featured Resources and Transcript!
Please note that some of the links on this page (books, movies, music, etc.) lead to affiliate programs for which The Jordan Harbinger Show receives compensation. It's just one of the ways we keep the lights on around here. Thank you for your support!
Sign up for Six-Minute Networking — our free networking and relationship development mini course — at jordanharbinger.com/course!
More About This Show
When you read Joe Navarro's Dangerous Personalities: An FBI Profiler Shows You How to Identify and Protect Yourself from Harmful People, it's easy to view everyone you know in a suspicious light. But it's important to remember that we all have our off days — and probably behave in ways that send up red flags to others that mark us as potentially dangerous personalities.
So how do you tell the difference between someone who deserves the scrutiny of suspicion and someone who's just experiencing a momentary lapse from their usually benevolent behavior?
Joe says: "There are a group of behaviors that, when we see over and over in one individual — not occasionally, but all the time — it makes us want to take a closer look and say, 'Okay, is this person healthy for me, or are they toxic?'"
Joe wrote Dangerous Personalities as a diagnostic tool that allows anyone to accurately analyze their own constellation of friends, colleagues, and family without having to navigate the inevitable red tape required to get relevant psychological or psychiatric advice covered by insurance these days.
Joe spent 25 years in the FBI honing his nonverbal communication skills and implementing protocols that are still in use there today, but he got his real start as a Cuban immigrant who, at age eight, found himself in the United States without the benefit of English.
"Actually, I was a refugee," says Joe. "I thought we were going to be here for a few months and then we would be able to go back. So I didn't speak English, but I found that the unspoken language — the body language — was fairly resilient. If you wanted to see if kids wanted to play with you, if you wanted to see if you were being accepted by others, or if the teachers were happy with you, it was really about the nonverbals. I think that carried through well into college."
Listen to this episode in its entirety to learn more about how close Joe came to crossing paths with serial killer Ted Bundy in the '70s and how this realization shaped his work in identifying dangerous personalities, red flags that help identify narcissists and predators, how documenting red-flag behavior when it happens may protect you months or years down the line, the one quick question you can ask yourself if you suspect you have a narcissist burrowing into your life, and much more.
THANKS, JOE NAVARRO!
If you enjoyed this session with Joe Navarro, let him know by clicking on the link below and sending him a quick shout out at Twitter:
Click here to thank Joe Navarro at Twitter!
Click here to let Jordan know about your number one takeaway from this episode!
And if you want us to answer your questions on one of our upcoming weekly Feedback Friday episodes, drop us a line at friday@jordanharbinger.com.
Resources from This Episode:
Transcript for Joe Navarro - How to Identify and Protect Yourself from Harmful People (Episode 135)
Jordan Harbinger: [00:00:00] Welcome to the show. I'm Jordan Harbinger. As always, I'm here with my producer, Jason DeFillippo. Now for years I've been obsessed with communication, and I started this obsession with the idea that body language and nonverbal communication could be read and interpreted and one of the pioneers of this specialty is retired FBI Agent Joe Navarro. Joe cofounded, the program the FBI still uses to this day to teach and interpret human behavior and the work is absolutely fascinating of course. Joe left Cuba when he was eight and came to the United States. He wasn't a native English speaker, so nonverbal cues like the ones we're going to talk about today and the ones he writes about became very important in helping him decipher what people were saying.
[00:00:43] Today, Joe and I discussed dangerous personalities, namely the narcissist and the predator. We're going to learn about the characteristics of each and how we can spot them. We'll also learn what to do when we realize we've come across one in our day to day life or perhaps we're even living with one of them. This is a great episode for the women and men in your life to stay safe and to create security for yourself as well. After this show, you'll find yourself evaluating everyone around you and possibly even yourself. And hey, if you want to know how I managed to book all these great people and manage my relationships well, I use systems and tiny habits. Check out our Six-Minute Networking Course, which is free over at jordanharbinger.com/course. All right, here's Joe Navarro.
[00:01:25] This book really had me not sleeping so easily. I was reading it on a plane and I thought, "Oh my gosh!" Some of these dangerous personalities, they're not -- it's not the kind of danger where you're like, "Oh yeah, this person, he's walking down the street and he's going to take my wallet." It's more dangerous and scarier because you start thinking about all these people in your life that you know that have these qualities and you go, "Oh my gosh! Is this person just hiding their crazy really, really well and I don't know about it." And I think that that's probably the case.
Joe Navarro: [00:01:59] Yeah, well, when you begin to analyze everybody around you, the constellation of friends you have and you wonder, "Okay, that one I had issues with and I saw these behaviors or that relationship didn't work out and I saw these things that they were doing and now it makes sense." And I think what it makes us realize is that there are a group of behaviors that when we see over and over in one individual not occasionally, but all the time it makes us want to take a closer look and say, "Okay, is this person healthy for me or are they toxic?" And that's the bottom line of the book.
Jordan Harbinger: [00:02:54] Yeah. I think the bottom line of the book is giving us a practical, I won't say rubric because it's not really a diagnostic tool, but it kind of helps -- it kind of helps clear the fog off the lens of is this person dangerous or we just not getting along? And I thought that was extremely useful.
Joe Navarro: [00:03:13] Well, and I appreciate that. From talking to victims, one of the things that I found out was how difficult it is to get good advice from professionals. A lot of them -- enough to warrant this statement. They said that they would call a psychologist or psychiatrist wanting to know about their life partner, this and that. And the first question they get is, what insurance do you have?
Jordan Harbinger: [00:03:41] Right.
Joe Navarro: [00:03:42] Okay. And I'm not taking anything away from the profession, but imagine if you're just calling to -- as one lady said, I needed to know if my husband was crazy or if this paranoia was transient or whatever. And the first question is, "Well, do you have insurance?" And it went downhill from there because basically they said, "Well, he would have to call us. He would have to reach out to us and so forth." So I wanted to write something from talking to the victims that have suffered from these individuals by looking at the behaviors they describe. And as you know, I noted in Dangerous Personalities that sometimes these victims weren't eloquent, they weren't using terms of art. They're not picking up a words from the diagnostic and statistical manual. They're being forthright with their observations, but they're so accurate, and that's what I wanted to, to convey in the book.
Jordan Harbinger: [00:04:54] In Dangerous Personalities, you talk about identifying narcissists, especially the most malignant types, emotionally unstable personalities, predators, and there are a couple more in there as well. But I really want to focus on narcissists and predators because one, well, I don't know if this is true, but it certainly seems like narcissism is more common than the rest. It could just be getting, it's 15 minutes of fame as a buzzword as well, so there's that. And then predators are just seemingly the most dangerous people around, so I definitely want to get into that as well. But I want to start from the beginning-ish because I know one of the reasons you learned nonverbal communication and body language and helped found the FBI's program.
Joe Navarro: [00:05:39] I was part of a six agents that were selected from a 12,000 to what was then a classified program called the Behavioral Analysis Program where we looked at the behavior of spies and terrorists and yeah, I was there at the founding.
Jordan Harbinger: [00:05:59] Okay. Do you know my friend, Robin Dreeke by any chance?
Joe Navarro: [00:06:02] I know your buddy a Robin Dreeke. Robin Dreeke, I think he was two or three generations after me, and then he went on to head the program and I have to say he did an astounding job, and as you know, he's a great author.
Jordan Harbinger: [00:06:20] Yeah, he's a great guy as well and super sharp, but it's, it's good to know that there are Patriots like him doing the whole counter spy thing here in the states. But all right, good. So we have a little baseline for that, and I think if people don't know who you are, what should be a surprise, they'll get a feeling for the fact that you were that deep in the game to sort of a pioneer when it came to applying this body language and nonverbal communication, in part because you had to learn it. You came over from Cuba when you were a kid and when you come over at age eight, you will learn English. But the first thing you learn is to figure out what the heck is going on without using English. I would imagine.
Joe Navarro: [00:06:56] Yeah, exactly. Like as with any immigrant, actually I was a refugee. I thought we were going to be here for a few months and then we would be able to go back. So I didn't speak English but I found the unspoken language, the body language was fairly resilient and if you wanted to see, if kids wanted to play with you, if you wanted to see if you were being accepted by others, if the teachers were happy with you, it was really about the nonverbals. And I think that carried through me a well into a college when I started actually getting into it by studying on my own really, because there weren't any courses at the time looking at anthropology, sociology, psychology, and so forth and saying, all these ologies are looking at the same thing, but from a different perspective. And certainly once I was in the FBI, you realize it's -- we're all in the people business and it's all about body language.
Jordan Harbinger: [00:08:07] Tell me why you ended up getting such a developing such a passion for dangerous personalities. I think it comes back to Sue Curtis. Tell us about that and how that affected you.
Joe Navarro: [00:08:20] Yeah, so Sue Curtis, even as you mentioned that name, I was at Brigham Young University. I was on the police force there. I had just graduated from the Utah Police Academy and it was one of these things where all of a sudden we get a phone call. I was the duty -- I was on duty that night and this young girl, I think she was 15. Sue Curtis was attending an event on campus. She wasn't a student, but she never made it back to her apartment on campus where they were having a summer event for young people. And it was very troubling for me. This is Provo, Utah, very low crime rate. Your chances of being victimized are very low. And as you know from the book, I went through everything in her apartment. I looked at her shoes to see if they were wet, to see if maybe she had come back, then gone out, and maybe gone out again. I looked at her toothbrush, was it still wet, was it dry? Did she meet somebody? I went through all her things and then those brief minutes, you get a sense that I'm getting to know this person, this human being, this child, somebody's child, and she doesn't turn up. She doesn't turn up the first day, the second day, the third day, and she vanishes.
[00:09:54] Now for a human being to vanish in this world, it does something to you when you're so close to it, and we investigated the heck out of that. I have to tell you, I lost a lot of sleep over that because obviously we're talking to the parents, we're talking to family and friends and there's nothing, we have no answers. How could this young woman vanish? And then years later here I am in the FBI and I get a phone call from the investigator from Salt Lake City who remembered me and was kind enough to track me down. And he said, Ted Bundy, the serial killer, he just gave up the name of Sue Curtis. This was the last victim he identified. And I just remember pulling over in my car and just crying and that was hard. That a serial killer was on campus the day I was on duty and took a life. And I think that stuck with me for a very, very, a long time, and I think it still does.
Jordan Harbinger: [00:11:12] What's really frightening about this is that most dangerous personalities never get caught, they never get punished. And that's violent criminals, the nonviolent of course are almost never punished or incarcerated because they just look like troublemakers or maybe petty criminals. But it sounds like what you are dealing with Sue Curtis is kind of a, I don't want to say guilt because that cheapens it, but I think you know what I mean, where you're just like, okay, this is putting a face and a lot of emotion behind making sure that this skill set is something that I can use and help other people use so that they don't lose their daughter to a complete psycho, to a predator like Ted Bundy.
Joe Navarro: [00:11:55] Exactly. I don't think I could have said it better. I think from that point forward subconsciously, and I remember once I was in the behavioral profiling unit that I started to see things from the perspective of the victim. What if that young lady had known that you can be in a safe place but that a dangerous personality can make that safe place unsafe? That what if somebody had told her that no matter what, you never get into a car, that even if they have a gun, you have a 75 to 80 percent chance of survival even if they shoot of escape and survival, but avoid getting into that vehicle. And when I retired from the FBI, I wanted -- this was in 2003, I wanted to share the things that I had learned from talking to victims and from doing a criminal analysis to share with the public. And unfortunately, I couldn't find a publisher that would do it at the time. Nobody knew who I was and so forth. And so I had to wait until I was able to publish it. And I think of all the books that I've published, I've now published 13 books. I think this is the one that's most important to me, and I think it's the one that gives a lot back to society because it does save lives. And I had the testimony of people who have contacted me where they have told me that this has saved them, and so for that I'm very grateful.
Jason DeFillippo: [00:13:52] You're listening to the Jordan Harbinger Show with our guests, Joe Navarro. We'll be right back.
Jordan Harbinger: [00:13:56] This episode is sponsored in part by Sport Clips. I was highly skeptical that I would get a decent haircut at a chain barbershop, and this is one of the best haircuts I ever got. What I really liked about Sport Clips was they save your haircut information in the computer so that you can go to any one of their over 1800 locations nationwide and they know what kind of haircut you want. I thought that was amazing. I don't understand how was there not some universal app where you show your barber, your haircut. Sport Clips, has that going on the internal and you can check in online and not weight. Sportclips.com/checkin. Sportclips.com/checkin.
Jason DeFillippo: [00:14:32] Support for the Jordan Harbinger Show comes from our friends at Rocket Mortgage by Quicken Loans, America's premier home purchase lender.
Jordan Harbinger: [00:14:38] Let's talk about buying a home. It can be one of the most important purchases you'll ever make, but today's fluctuating interest rates can leave you with unexpected higher payments which can turn a great experience into an anxiety inducing one, and that's for sure. I recently bought a house myself. That's why Quicken Loans created their exclusive power buying process, and here's how that works. They check your income and assets and credit to give you a verified approval. This gives you the strength of a cash buyer making your offer more attractive to sellers. And especially in today's market, you need that. Once you're verified, you qualify for it rate shield approval, and what that means is they'll lock in your interest rate for up to three months while you shop for your new home. And then once you found the one, if rates have gone up, your rate stays the same. But if rates have gone down, you get to keep the new lower rates, so that's kind of some insurance there on the interest rates. So either way you win, which is the kind of thinking you'd expect from America's largest mortgage lender.
Jason DeFillippo: [00:15:28] To get started, go to rocket mortgage.com/jordan. Rate shield approval only valid on certain 30 year purchase transactions. Additional conditions or exclusions may apply based on Quicken Loans data in comparison to public data records. Equal housing lender licensed in all 50 states, NMLSConsumerAccess.Org number 3030.
[00:15:45] Hey, don't forget we have a worksheet for today's episode so you can make sure you solidify your understanding of the key takeaways from Joe Navarro. That link is in the show notes at jordanharbinger.com/podcast. Thanks for listening and supporting the show. To learn more about our sponsors and get links to all the great discounts you just heard, visit jordanharbinger.com/deals. If you'd like some tips on how to subscribe to the show, just go to jordanharbinger.com/subscribe. Now back to our show with Joe Navarro.
Jordan Harbinger: [00:16:13] Well in Dangerous Personalities, you give examples like this sweet type is that sold plans to the Soviets for the war, just crazy. And I remember hearing from Robin Dreeke when Hanson was that FBI mole that was giving all those counterintelligence secrets to the Russians, he was just devastated because he knew him for years. I think they work together.
Joe Navarro: [00:16:34] Yeah. And I knew Bobby Hanson, and it's such a stab in the back, not just to us as agents personally, but to this great nation. But years ago when I was doing research, I heard from a female police officer who was in this toxic relationship where her spouse was -- we were talking earlier about narcissism, and he just over valued himself, was devaluing her. And here she is, she's a police officer, and yet this individual is just hammering or every day packing at her intellectually, psychologically, emotionally, and she was withering. And we were talking about how often does this kind of thing happen, and as I sat with her and went through the checklist and for the first time she began to realize, "My God, he's doing all these things and the validation that this is not normal, this is abnormal, that this is destructive, and she was able to then use something on paper that she could look at, go to family and friends and say, "I need help out of this relationship. I need everybody here to help me because I'm not strong enough and I may wear a gun, but she felt like she couldn't do it and eventually she was and she thanked me for that.
[00:18:15] And so it doesn't matter who you are, what situation you're in, sometimes we need validation. And that validation is invaluable, especially when you can sit there. As you know in the book I talk about the case with OJ Simpson and his wife Nicole, how many times she had gone to the police reported that she was being beaten up, abused, and so forth, and yet nobody would, would really listen. And what if she had a checklist that she could come in with all these things checked off, handed that to a law enforcement officer or a prosecutor and said, "You better do something because these are the things that are being done to me." And in fact, I know of a case where that's exactly what the woman did and she went to the local prosecutor with that. So I think sometimes we think -- well, there is institutions out there and we can just walk in and everybody will believe us. And oftentimes they don't believe us until we walk in there with some paper and we can say, "These are the behaviors that have been demonstrated.
Jordan Harbinger: [00:19:38] Right. So the practical takeaway to this is document everything because -- and I think you said this in Dangerous Personalities, the person with the best set of records of events wins. And of course, that's not always true, but things will -- the point is things will not get better. So if you get pushed, slapped, whatever, or just treated like crap, just start writing it down, date, time, what happened, and if you build up this record, then when you walk in, the prosecutor goes, "Oh, this is like a real thing that's happening. You're not just in a bad mood right now and decided to bring up some stuff that happened over 20 years, and there's two things."
Joe Navarro: [00:20:16] Exactly. Nine times out of 10 whoever keeps the best record is going to win. And I tell people, "Look, if you work for a manager that is abusive, that is predatory, that is toxic, that is harassing you, email yourself, because when you email yourself, there's a permanent record, whether it's on AOL or Roadrunner or whatever service you're using or Google that record doesn't disappear. Email yourself the behaviors that you're observing because in the end, six months down the line, you're going to look back and say, "Oh my God, I've forgotten half of the stuff this guy did to me." And you realize there's this host of things that were done that are just not permitted and that can go a long way to protect you and to validate that you're not crazy, that you're not making this up, that you're not being overly sensitive, that this is abusive.
Jordan Harbinger: [00:21:21] And I think that's important too when it comes to rationalizing behavior. Because if you can't remember everything in the moment and you're in kind of an okay mood, you might think of two or three things. But if one day you sit down to document it and you've got a scroll to page seven to add the latest entry in your Crap My Boss did to me Journal, you're going to start to think twice about it, and the other thing is, and I was thinking about this earlier, Joe, the person who is doing the harassing or the abuse, they're probably not keeping a journal like, "Hey, I punch Joe in the shoulder too hard and then smacked him on the butt twice again today. Ha it's so fun demeaning that guy." Like they're not doing that, and if you, as the victim aren't doing that, then you're kind of on equal footing. But if you're documenting everything, you can bet the person treating me like crap at work or at home is not keeping a journal of that or of anything. They're not doing this because they're the aggressor.
Joe Navarro: [00:22:15] Beautifully summarized. The aggressor doesn't keep track of what they do. They're so self centered and so egotistical that all they think about is what they're getting away with. And so when they corner you in the elevator and they're standing too close, or maybe they rub up against you or they pinch you or they send a little message or any kind of harassment and there's all kinds of out there, this becomes then an opportunity for you to create a ledger of these events. And remember with specificity the date and the time that it took place. Look at the hearings we recently had for Supreme Court nomination and where dates and times became an issue, but it's not just about dates and time. It is about -- I remember talking to a victim one day and she says, "My husband won't let me have a bank account." Now for many Americans, this would be "What? Are you kidding?" That kind of thing. But you'd be surprised where all of a sudden by whatever means this husband had imposed himself, she could not have her own a bank account, he's the one that got her the cell phone, so he had control over that. And then you begin to see all these behaviors that are controlling and not just controlling but suspicious. There's this unbelievable amount of suspicion for someone who is basically going from home to work to home with no spare time. The husband showing up to almost check on her to see who she's at work with, asking her for the phone to look.
[00:24:22] This is paranoid behavior. This is described in the book. And these individuals are very rigid, they're very moralistic, but they also make life difficult for their partner as well. Until we could check off on all the items, this woman was having difficulty understanding why she was miserable and she really didn't understand the totality of it and until we looked at it and then you realize, "Oh my partner is clinically paranoid and this individual is hyper suspicious and that's why I get interrogated when I get home. I don't just get asked questions."
Jordan Harbinger: [00:25:09] That's so interesting. And I think that type of personality, is it a characteristic or is it just a quirk? I don't know. I want to get into these because I think with narcissism especially it's helpful if we define characteristics. You've got a checklist that has, I don't know, 37 things on it. We don't have to go over that. But I would love to define the major characteristics like grandiosity, egocentrism, and things like that. Let's dive into that because I want to paint a picture of a narcissist so that some people right now listening to this go "Hold the phone. This is my brother-in-law or whatever, I want that wake up call to happen during the show if we can.
Joe Navarro: [00:25:45] Yeah. So the way I define it was by taking some information both from psychology and from the victim, the victims. And so the narcissist as the defined in Dangerous Personalities is an individual who overvalues himself or herself and devalues others. If you take nothing away from this, and there's 125 items on the big checklist, this is the most critical thing. This is the person that overvalues themselves but invariably devalues others, and so they see themselves as special, they see everybody else as not special, as subordinate. They see themselves as entitled, they may have a limited budget, but it's okay if he goes out and buys himself a new stereo or a new this or a new that, but heaven forbid anybody else in the family does that. He's the one that must be praised all the time, but he has no hesitation in using demeaning words to describe others. He's the one that must be at all times treated with respect while at the same time he treats others with disrespect. He's the one that must not be challenged ever in public, but he doesn't hesitate to challenge others. And what you have then is when these individuals are in relationships, there is no equality. You will always be the inferior, if you're married to a malignant narcissist. If you work for a malignant narcissist, my gosh, your work is never good enough, all praise must flow to this highly narcissistic individual, and anything that happens as things will happen, you will fail. We all fail at something, something may happen. They lash out. And here's another thing. The malignant narcissist lashes out with rage not just anger.
Jordan Harbinger: [00:28:14] What's the difference between rage and anger then?
Joe Navarro: [00:28:16] The rage is so deep and emotional and irrational. It is disproportionate to what happened. So the malignant narcissistic father, the son is out there running, doing sports, and he misses a goal. Everybody just kind of that's unfortunate. The rage comes out and the vitriol that you hear, I mean, I've seen this in ballparks. You see the narcissistic rage and you say, "Oh boy, that household must be hell because this is so out of proportion to what has just transpired." So this constellation of behaviors are part in parcel to the malignant narcissist. And then so what I did was I took from approximately 400 interviews, what I did is I distilled it in the language that the victims would use and so that you get a better perspective of the narcissistic individual. And you were asking me earlier before the show began and it was a great question is, why do we see it more now? While there's been longitudinal studies on narcissism from the '50s, and we certainly are more narcissistic now, but I think now it's easier to see these individuals because of the media and the social exposure that is now a viable.
Jordan Harbinger: [00:30:12] In Dangerous Personalities. You mentioned that the narcissist is kind of a half person. They're looking for someone to complete them, but nobody can of course fulfill them. So things go downhill because they almost resent, maybe not almost, maybe they resent the other person that they found for kind of not living up to their end of the bargain. Like the kid doesn't make the dad look good because he missed a goal in soccer, and so that's where the rage comes from. So it's not just like an anger management problem. The rage actually comes from the fact that other people are disappointing them because they expect kind of this crazy unrealistic result from their relationship.
Joe Navarro: [00:30:49] Yeah. They expect to be -- they see themselves as perfect and anything that takes away from them. So if they don't have the perfect wife or if the wife is having a bad day. I heard one lady telling me that her husband would yell at her because all of a sudden she had a pimple or a spot on her face the night they were going out, and how could she, why she wasn't on top of this? And I'm thinking, you just shake your head and you can't believe some of these things. So why would somebody be angry at their son because they missed the goal. Yeah, you're disappointed, but rage, this talks to a deeper problem, and this is the core problem of narcissism, especially malignant narcissism is that a person who has these characteristics is severely flawed of character.
[00:31:46] Now those aren't just words to dismiss. Someone that is severely flawed of character, suffers from such deficits that it not only affects them, it also affects the world around them. And as one of the things I said in Dangerous Personalities is, these individuals leave a debris field of human suffering behind them and they don't care. They don't care that they step on people, that they be little others, that they mistreat others. The only thing they care about is themselves. And I think it's important that especially young people recognize that there are people like this. According to the statistics, it's anywhere from one to two percent of the population, but it's seen in as in as many as six to 10 percent in some professions.
Jordan Harbinger: [00:32:43] Yeah. Like law and medicine and finance where I used to work. Finance at and law, I feel like there were a ton, and it wasn't even like they were bad people, they were just totally -- it was like something was -- there was a switch that was flipped that was just wrong. I remember meeting some of them and being like, "You're really cool but you're so inconsiderate, but you're not mean about it." That it's just like, "I know that it's just a matter of time before you explode because I didn't read your mind about something," and that's just how I felt about some of those folks, and I ended up avoiding him.
Joe Navarro: [00:33:13] Yeah, well you called it out right Jordan, because yeah, in medicine, the doctors call it the Jehovah Complex. The doctors who think because they can heal things, that they are above reproach. We see it in law, we see it in criminology, we see it in law enforcement, we see it in a lot of professions. And the key here is we don't look at the professions, we look at the behaviors, and when we see these behaviors, we have to take notice and say, "Boy, this is the kind of individual, not only that can hurt us as you said, you respect somebody you work with but you know that at some point they're going to make life miserable for you," and you don't want to work for someone that constantly devalues you. You work with someone like that, and maybe you at first, who you tolerate it because you're starting out. But boy, six months later, a year later, three years later. Now you're having to see a counselor. Now you're having to take antianxiety medicine. Now you're taking a psychotropic drugs to deal with depressions and SSRIs because they have thrown you out of whack.
[00:34:30] And let me tell you, it doesn't matter who you are. I remember working for someone like this and just the unsettling of effect they had every morning that you have to greet them and they don't know how to say good morning, hi, how are you, how's your family, it is just toxicity nonstop, but heaven forbid you complain because they must be overvalued. I have to say malignant narcissism, this overvaluation of self-underlies a lot of other pathologies. I think it underlies a lot of what we see with predators who overvalue themselves and can be value victims. I think if we see some of it with the emotionally unstable. So it's definitely the broadest spectrum we should look at for behaviors that affect us adversely.
Jason DeFillippo: [00:35:33] You're listening to the Jordan Harbinger Show with our guests, Joe Navarro. We'll be right after this.
Jordan Harbinger: [00:35:38] This episode is also sponsored by DesignCrowd. Crowdsourcing is how busy people get stuff done in the 21st century. And thanks to DesignCrowd, you can focus on running your business while you hand over the reigns for your company's logo, web design, t-shirt, business card, whatever, to a pool of over 650,000 professional designers. Wow! That's a ton from around the world and they outsource or crowdsource custom work based on your specifications. So you pick the design that you like best from a bevy of results. You go to designcrowd.com/jordan. You post a brief describing what you want from the art you need. You invite 650,000 designers from Sydney to San Francisco to respond and within a few hours you'd get your first designs, over the course of week 10 days, you can get hundreds. I think I got like 650 responses to my brief when I tried this out. You pick the design you like best and you approve payment to the designer, but if you don't like anything, DesignCrowd offers you a money back guarantee.
Jason DeFillippo: [00:36:30] Check out designcrowd.com/jordan. That's D-E-S-I-G-N-C-R-O-W-D.com/jordan for a special $100 VIP offer for our listeners or simply enter the discount code JORDAN, when posting a project on DesignCrowd.
Jordan Harbinger: [00:36:45] This episode is sponsored in part by BiOptimizers. So here's the shocking fact about probiotics. According to my friend Naveen Jain, who is the Founder of Viome and listener of the Jordan Harbinger Show, the at home test that measures gut bacteria count. Well, almost no probiotics show up in people's gut analysis, which means that 99 percent of probiotics out there don't actually colonize your gut as claimed. And so research says we need good bacteria in your gut to fight the bad guys. What's the solution? Well, there's a single strain, proteolytic probiotic called P3-OM. P3-OM uses a patented natural process to essentially upgrade this well-researched probiotic strain. And my friend who's created this, he's onto -- let's just say he's on top of the probiotic game.
[00:37:30] This result, this super strange, the Navy SEAL of probiotics kicks bad bacteria is but in your gut, and I don't know if you all are familiar with gut biome stuff, but this essentially is, this is worth a Google, if not an entire podcast here. This stuff changes the game for your health and energy levels. I don't mean that in a woo woo way. I mean the way that you actually feel, let's just say there's proof in it. I don't want to say pudding because it's too gross, Jason. There's proof in the evidence that when you take this, it works in your gut. I'm just going to leave it at that.
Jason DeFillippo: [00:38:02] Thank you, thank you very much.
Jordan Harbinger: [00:38:04] You're welcs, but to see it in action, oh my God, to see it in action. Nice CTA guys. To see that action, try it. Go to go to p3om.com/jordan. That's p3om as in Michael.com/jordan and watch it dissolve a piece of raw steak and a little video there, that's just what's going on in your gut. They've got a full year money back guarantee. Try it. Let me know what you think of it, but I don't need photos. How's that? P3om.com/jordan and enter coupon code JORDAN20 to get 20 percent off.
Jason DeFillippo: [00:38:37] Thanks for listening and supporting the show. Your support of our advertisers is what keeps us on the air and to learn more and get links to all the great discounts you just heard, is it jordanharbinger.com/deals, and don't forget the worksheets for today's episode. That link is in the show notes at jordanharbinger.com/podcast, and now for the conclusion of our interview with Joe Navarro.
Jordan Harbinger: [00:38:58] By the way, I have to say, I read Dangerous Personalities in short bursts. I usually binge read things or binge listen, but the stories are so vivid in the book. And of course these are all real examples of the damage these types of personalities can do to other people, even people that love them. So one, I had to listen burst, but two, I was definitely extra nice to my wife after I read it. I don't know, I feel like she's fine but you can never be too careful.
Joe Navarro: [00:39:23] Well listen, I had on Facebook, I had an individual said, "Hey, I've read the book, I read the section on malignant narcissist and I have to say I have many of these qualities or traits. And I said, you know what? It's very unusual for a narcissist to admit this. So, but let me say this, if you can see behaviors there that even to yourself are obnoxious what a great opportunity to take each one apart and say, "You know what? I'm going to work on these. I'm going to work on these individually to become a better person."
Jordan Harbinger: [00:40:05] Speaking of obnoxious, you mentioned that there's a spectrum of narcissism. So there's people who are just obnoxious, full of themselves, insecure, but then there's like the dangerous narcissist that will actually cause harm. Is there a way to tell these things apart or is it just luck of the draw? Like, "Hey, I ended up with one that didn't try to kill me." I mean, how do we separate these two buckets?
Joe Navarro: [00:40:30] Yeah, well, Jordan, that's a great question. I think it has to do with circumstances. We know that for instance, a lot of bullying takes place even in childhood, childhood bullying because of a narcissistic traits. But I think what differentiates the obnoxious from the person that can really hurt you is that totality of the behaviors. So one of the things that the hell the checklist helps with is that the more of these items when you go from one to 25, okay, you've got to pay attention to this person, but when you get up into the 80s, now we're talking about an individual who will harm you psychologically, who will harm you physically, who will harm you emotionally, even financially.
[00:41:31] One of the women I talked to, her husband made her put him on her credit cards, and then proceeded to run up the credit cards and all the behaviors were there. The narcissism, the forcing of her to be compliant and to not criticize and not to question. Can we always foretell what will happen? No, but what we can say is that there will be suffering, that there will be victimization. What we can't predict is how it will take place, but at least we can say, when we look at the aggregate, there's a high likelihood of victimization.
Jordan Harbinger: [00:42:21] I think one of the keys that's important to remember is at work or at home, things will not get better, document everything. And last but not least, if you don't care enough or you can't get yourself motivated to take care of it, say that it's in a family situation, one of his scariest things in the book was that narcissism can be contagious to children. Can you explain how this gets passed down?
Joe Navarro: [00:42:43] Yeah, it starts with-- we look to our parents for example, and whether we are looking at a biological level that we have these mirror neurons. And so we walk like our parents, we talk like our parents, well, we know that abusive parents, they turn out abusive children and these narcissistic traits where all of a sudden a father says, "Well, we don't want associate with those kinds of people because they're beneath us." Don't be surprised if that doesn't transfer over to the children. When I look at hatred and extremism, this stuff is being taught over well, hatred and extremism is a form of narcissism. Basically it's saying I am perfect and you are not, I am good and you are bad. That's just an intolerable. When we look at families that where everybody gets along and there's humility and love and kindness, boy that is so different than when we look at a family where you have a very narcissistic mother or father or combination and then the children begin to adopt those dismissive behaviors to those around them, and it's taught.
Jordan Harbinger: [00:44:12] That's a little bit scary because you kind of hope it's genetic. But then again, if it's also the father often or the mother then you've got that going too, but yeah, it's taught. And so we see some people come out with a narcissistic parent as narcissist and we see other people come out with different stuff like codependency, and that's whole, that's probably a whole different episode. But I thought that that was particularly frightening and necessary to share because I think a lot of people will stay in a relationship going, well, he's terrible, but we have kids and the kid looks up to him and blah, blah, blah. And it's like, "Do you want your kid to turn into them?" Because that's really the risk you're taking too.
Joe Navarro: [00:44:48] Yeah, no, that's a great point. I'll tell you one of the things that just throttled me is when you hear, and they go through the checklist and they have 25, 27, 28, 29 of these behaviors. And then they say, "Yeah, but I love him. I really love him, and how do I fix this?" And when you say there is no pill that cures malignant narcissism. There just isn't, you can't take a pill for it. Character flaws are fixed and rigid and they remain with us, and it would take heroic efforts on the part of the person to overcome these things because only they can fix themselves. And it's troubling to me that a person will, will say, "Well, I'll try and stick it out a little longer," and that's fine, but I have to be honest because I'm not a clinician. I can be honest with them and say, "Look, here's the long term effects." This is affecting you. You're already talking about stomach problems, about being on antidepressants. As you said, Jordan, it's not going to get better. The law of entropy is that unless you martial energy into something, everything falls apart, things will get worse, and unfortunately it usually does and the person that pays the price are those that are closest to the malignant narcissist.
Jordan Harbinger: [00:46:22] Well, on that cheery note, I would love to get into something even more depressing potentially, which is the predator. No, honestly, this is really important stuff. I'm sort of joking about it being a downer, but I think these are lifesaving skills and not just for narcissism and relationships, but this section on predators in Dangerous Personalities. It was something I wanted to make sure we get in on the show as well, because these are the con men that just seem to have no limits, that steel psychopaths or sociopaths the victim is just doesn't matter to these people. They will do just horrible things to people in their own family. And the problem is these people often go on reported. They're often very smart, so it's just a really dangerous combination.
Joe Navarro: [00:47:09] It is Jordan. And that's why I was asked, "Well, why did you call it the predators?" And I said, "Because society has such false notions as to what is a psychopath, what exactly does psychopathy mean?" And it wasn't -- even in psychology often talk about antisocial personality disorder rather psychopathy or we talk about sociopathy and so forth. And so I said, "Let's look at the trait," which the traits are that these are individuals who are for the most part, devoid of a social conscience or a personal conscience and take advantage of others. So let's not get hung up on the terms because with the checklists on the predators, what you're looking at as in is individuals who habitually take advantage of others, victimize others, have no respect for the law, and may or may not have any kind of conscience in whether they do or they don't. It doesn't matter, the fact that the matter is that they continue to do what they do.
[00:48:28.4] So it doesn't matter that they grew up in a poor neighborhood and they've learned these behaviors so there's socialized and it doesn't matter if they were born this way, because now we know that most psychopaths for early on, even as young as age five, we can see that there's under arousal of the prefrontal cortex because they're just not bothered by the things they do. But when you got a knife at your throat, who cares? Who cares what the cost is? What you have to know is that there are individuals who begin at an early age to manifest behaviors that are alerting. So they begin to steal, they begin to do harm to others. They get involved with theft and burglaries may be assault and so forth, and they continue this lifestyle. Those often we read about, but then there's the as you said, Jordan, the con, the people that call your grandmother up and talk her out of a life savings, and they do this 10, 12 times in a month and they don't feel bad about it. That's what I wrote primarily for, is to guard people against those that are social predators.
Jordan Harbinger: [00:49:54] So they may or may not know right from wrong, but they certainly don't care. And it seems like life's a game of kind of how much can I get away with? Can I do this and get away with it? Can I do this, enforce my will on others?
Joe Navarro: [00:50:07] Well, actually if I may, they know right from wrong because when they drive down the street, they stop at all the red lights, but they still burglarize your house. They still at a young age, steal the bicycle that just sitting there, and as they get older, they do other things. So they know right from wrong, it's the fact that they're not bothered by it. And that's the reality that we have to live with is knowing that anywhere from about 4 to 6 percent of the population will take advantage of others. These are the people that we see going back to prison, we talk about, well, there's recidivism in the United States at 76, 78 percent. Yeah, because they're predators, because every time that we let them out, they continue to do these terrible things for whatever the reason and they take advantage of others.
[00:51:10] And there's a lot of misbeliefs out there that we try to say, "Well, everybody is good." Well, the fact of the matter is that not everybody is good. I mean, even in the Bible, Jesus had to deal with the devil. What was the devil? Well, that's just another way of talking about the predators that are out there. In ancient times, this is what we gave credit to for the crimes that we saw. Well, the devil made him do it.
Jordan Harbinger: [00:51:47] Yeah. Case closed. It was saving, and you're welcome everybody.
Joe Navarro: [00:51:51] Yeah. I mean, how many times you hear of a preacher that has done terrible things and he says, "Well, I was tempted by the devil. No, not so fast. Look, we have to realize, and I think this is why a Dangerous Personality became such a hit with people going off to college, you're going to be confronted in life with many people, and for the most part, they're great. I'm a people person. So it's no doubt that you're going to be -- most of the people you're going to run into are just fantastic, but we need to pay attention to behaviors. This has nothing to do with religion. It has nothing to do with a color of the skin behaviors that say, "You know what? This individual is getting too personal. This individual is violating my space. This individual is trying to get things from me. This individual is doing things that put me at risk. This individually" -- and when we begin to accumulate these behaviors and we aggregate them and they go into that checklist, there's a 130 something items on the predator checklist and you say, "Wow! This person tops 50. This individual will put you at risk." They will victimize you.
[00:53:25] And I remember years later reading a about Ted Bundy and the places that he had worked and he didn't hurt anybody at work. No, but he hurt people elsewhere, and all it takes, and this is the lesson I learned from -- I choke up when I think about Sue Curtis is that it doesn't matter where you're at. There is no safe place. There is no safe church, because all it takes is one predator, one predator to undo all of that, and you can only assess for that through behavior.
Jordan Harbinger: [00:54:09] Now it seems like sometimes people, and I talked about this with Gavin de Becker and I think you and I even talked about on the phone before that we kind of -- we have a limbic response to a lot of these people, predators, and narcissists, but especially predators because we're evolved, we're evolved to sense that something is wrong. It's this nonverbal communication, it's this limbic brain response, and we often ignore this because of social programming which is a shame. And you hear examples of this all the time, like "Well, how did he manage to get her in the car?" Well, he asked her forcefully many times to get in the car and there were other people around, so she felt embarrassed, and it's like, "Oh my gosh!" That's how this woman got kidnapped because she didn't want strangers at the mall to think that she was fighting with somebody.
Joe Navarro: [00:54:54] Well, Jordan, you bring up one of the greats, somebody that had tremendous influence on me. Gavin de Becker, the gift of fear. He talks about the limbic system, this exquisitely elegant part of our brain that reacts to the world, that doesn't have to think about the world. It assesses the world constantly, and warns us not to run too fast, near the edge of a building, not to get into an elevator where you smell alcohol on the breath of too many people do, to not walk down this alleyway, and in the end, and I think this is why I finished the book. My concluding remarks was "We have no social obligation to be victimized ever." And I think that was also the message of Gavin de Becker that we need to listen to that inner voice. We need to listen to the subconscious part of our brain that is exquisitely analyzing the world and saying, "If these things are not right, then something is wrong."
[00:56:02] And I'll say something here. I've never said before. I remember years ago, this is back when I was a teenager and there was a coach that wanted to give some of us a ride home, and I ended up being the one left to be dropped off late. And there was something about the way that this man was talking to me, and he touched my knee a couple of times and I remember not telling anybody about this, nothing more happened, but I remember saying, "I will never get in the car with this individual again." And years later, I was talking to a buddy of mine that I grew up with and he said, "There was a rumor about this individual that he in fact had abused children." I think that we, we should pay attention to behaviors. Our limbic system will help us to assess for things that are not right. And we should listen and we should have no hesitation to say, "You know what? I'll take the next elevator or I want out of this car right now."
Jordan Harbinger: [00:57:17] Agree. Yeah, this is exactly the type of emotion that I ignored. When I got into a fake taxi. I started to rationalize everything that was happening. Why would I get kidnapped? That doesn't make sense. I've never been kidnapped before because your is just checking against previous experience and you're thinking, I've taken hundreds of taxis and I'd never been kidnapped. And it's like, "Well that's kind of irrelevant right now." This is the time that it seems like it's happening. And when I was a kid, I didn't realize what had happened at the time. But when I was a kid, this guy who was not from the neighborhood rolled up in a really grubby old junky car and I was playing with my friend in the driveway and he said, "Do you know where the such and such elementary school is?" And it was right near my house, but I just happened to go to the other school that was further away due to whatever's going on with school districts. And so I said, "Yeah, I know where it is." And he goes, "Great, can you show me?" And I was like, "No. I have to ask my mom." And he goes, "Just show me where it is." And I ran inside to ask my mom, I said, "There's a man outside, he wants to know where Schroeder School is." And she comes out and she's like, "What?" And then when we got back outside, "He was gone." And I was like, "Oh, okay, and I didn't realize it at the time," but years later I remember my mom talking about it and I'm like, "Yeah, you don't ask six year-olds for directions, you know what I mean?
Joe Navarro: [00:58:33] Yeah, exactly. And you want to help, as a six year old, as a 10 year old, as a 20 year old, you want to help, but you also have to listen to that inner voice and no doubt, you spared yourself a lot of suffering by not getting closer to, to that vehicle.
Jordan Harbinger: [00:58:58] You know what it was that, that really gave it away is I was of course I was a suspicious kid because I was literally in the driveway writing down the license plate numbers of every car that passed by just in case something happens, which is not a very efficient process by the way, especially when you're using crayons. But I said, "What's your name?" And he paused for a kind of a long time. And then he said, "Gus." And I thought, "I don't know anybody with that name." And that was a weird pause, and I remember it to this day because I remember if someone says, "What's your name?" That's a very basic kid question, and you say, "Jordan," and it's really quick, you don't have to think about it. And he was thinking about it and I thought, this is so weird that he -- I'm like, "He didn't remember his name." And then I was like, "That's so strange." And I just -- that was the limbic response. Even my six year old kid brain was like, "That's weird, and it doesn't make any sense."
Joe Navarro: [00:59:50] Yeah. And you were fortunate to listen to yourself. Look, all we have to do is open a newspaper or look online and we look at victims, victims that were assaulted by the clergy, victims that were assaulted by coaches, it just goes on and on and on and on. So I think number one is parents, we have a responsibility to educate children, not to scare them, but to say, "Look for behaviors that say something is wrong, and there is nothing wrong with avoiding people who demonstrate these behaviors which includes too much familiarity, violating space, controlling your space and time, touching you in places and so forth. These things we have a duty to our children, and once you're an adult, you have a duty to yourself and say, "Look, is it possible that someone is taking advantage of me?" Look at Bernard Madoff taking advantage of his friends and they would say things, "Well, could I see a copy of, of what's going on and so forth?" And it was all about the confidence scheme, being friendly, being this and that, and not paying attention to the reality that if this was legitimate, you would have paperwork and it would be traceable, and you would be able to get your phones out anytime. So I think we have to live in the reality and not close our eyes to what's out there.
Jordan Harbinger: [01:01:39] You mentioned in the book also that these behaviors, they're all on a spectrum and you give this cool radio volume analogy and this goes for narcissism and probably to an extent the predator, although predator seems to me a little binary, like get away immediately when you spot one of these, but can you give us this radio volume analogy? I just thought that was brilliant.
Joe Navarro: [01:02:00] Yeah. I wouldn't expect anything less from you, Jordan. That the spectrum on this, the spectrum analogy, the analogy of the radio is very applicable here because all of us have some traits. We occasionally will do something that meets the criteria. We may -- just yesterday, Halloween, somebody was driving at an incredible speed down a very narrow road. And there were children on there, and I lashed out, okay. There I said it, I lashed out. Well, that lashing out is one of the things that we see often with both the predator and the narcissist, that doesn't mean that I'm one or the other. And so we look at that tuning or the volume control and we say, "How many of these things are we seeing and how often?" And if we're seeing the volume increase over time, as we analyze each and every behavior, then we can say with certainty, you know what? it's like radar. We're painting the sky. We picked up a target, and now we're narrowing in on what it is with specificity based on the fact that the volume has increased, the return has increased as we look at the behaviors. And I would say this, even predators are on a continuum because they may have a period of time where they are just working on the victim or they are planting the seeds, where they are in the -- let's say the seduction phase. We see this with child predators who are grooming, or we see this with the predator that is may be a cult leader where the behaviors are not so noticeable where they're trying to isolate you, okay? Where they're trying to get you to think in a particular way where they're trying to get you to reject families or to agree to secrecy.
[01:04:35] So these things are not in and of themselves terrible, because when we're dating we're trying to spend more time with our date, so you could call that isolation. But this grooming and preparation that we see with the predators is in preparation for something that will be more toxic in the future, and so we have to look in the aggregate, we have to look at that volume and see if the volume increases over time. And so you go from, hey, like Jim Jones, as I point in the book where it starts out as well, we want to go somewhere where we can live as Christians to where he becomes this tyrant and is all domineering and is making people miserable, and that's how we have to look for is the behaviors.
Jordan Harbinger: [01:05:38] I love that you're teaching us to observe and not just look. In fact, I think in the book you even say, "Don't just look observe," and you teach us that we observe only what is in our own mind. Can you explain this? Because I think this speaks to awareness. We have to kind of be aware of what we're seeing before we can really see it. I think that is almost what this show, the book, and this episode of the show are about is we really do have to know what we're seeing because we have to know what we're looking for. How do we train that skill in ourselves?
Joe Navarro: [01:06:12] Yeah. Well, Jordan, you and I, when we look at somebody's smile, we just see a smile. My friend, who's also a dentist looks at teeth and says, "That guy's not flossing." Or "Oh, this guy's secretly smoking," or "He's got an overbite or whatever." We tend to sometimes only see what we have been taught to look for. So we're limited, sometimes when we go into certain professions we can see more things because the profession teaches as these things. As I said in the book, our parents teach us to look, is the car coming, when we crossed the street. But to observe as we grow older, we also note the speed, we also note what's the driver doing? Are they paying attention or are they looking at their smartphone? We're considering, is there other traffic? We see so many other things. And when it comes to dangerous personalities, we are sometimes blinded by the fact that to get information on dangerous personalities, you have to book, you have to read the DSM five, you have to read a book on Robert Hare without conscience, or you have to get in depth into these things to have a sense of these character flaws. Well, that sometimes takes a lot of effort and the average person is not exposed to that. And this is what I've tried to do with the book is to simplify it and say, "Once I teach you to look for these behaviors, you will never forget them." And if I can teach you to look at these behaviors, you will be more aware and you will be able to notice that.
Jordan Harbinger: [01:08:19] I think that this is a skill that we -- our lives really do kind of depend on this. And I think it makes sense to try to observe this. One of these sets of qualities that you mentioned in Dangerous Personalities is that these people tried to control space, distance and time. Can you explain what we're looking for? Because there's a group of people for sure listening to this that are in a relationship with somebody that is trying to control space, distance and time and maybe they're kind of in the boiling frog situation where things are happening, but they're happening slowly enough that they're rationalizing the normality of the situation. And so I want to highlight these because I think it's easier for men and women alike to notice something that we point out. It makes it harder for them to rationalize and stay in the boiling water.
Joe Navarro: [01:09:04] Yeah, great question. And when you look at something like Ted Bundy and you, you say, "Well, how was he able to, get so many victims?" He would often -- when we talk about he violates space and time and then the mind is he would drive by and use his vehicle literally to block the victim from continuing towards where she was originally heading. He would then get out of the vehicle and violate her space so that now she is limited into where she can escape. I have seen predators out on the street where they're waiting for the woman usually because it's easier for them to predate on them, to where they see the woman approaching her car. She's got a bag of groceries, so her hands are occupied, and now there's very little area for them to escape and they come in quickly behind them, and now they've dominated the space and they're dominating the body. There's nowhere for them to turn, and over and over, we see this. Even with cults, we know that they will dominate the space, they will dominate times, so that you cannot go anywhere, you cannot do anything, you must be occupied at all times and then they take over your mind. You must think like they do, you must respect at all times what they do, you must not be thinking of anything else but what they want you to think about, so they dominate you. I think once we realize that predators do try to dominate a space, body and mind and we break it down that way, then it's easier to see the behaviors that they will to control us, and that's what we must avoid.
Jordan Harbinger: [01:11:17] How can we -- let's wrap with some ways in which we can avoid or probably deal with this situation because look what if we're related to them. There are ex, we got kids together. We can't just be like, "I'm never going to see that person again." The law might say otherwise, right? That you have to deal with them at some level. And I know document in your behaviors, that's going to be probably the top take away, but also there's got to be some way to establish boundaries and then stick by them when the pressure is on. Do you have any advice around that?
Joe Navarro: [01:11:49] I do, and thank you for that. Number one is recognize that there are people that will take advantage of you. Number two, you have to know what behaviors to look for, and that's in essence why this guide was written. Number three, just because your family does not mean that you will not be victimized -- in the book I talk about the -- I believe at the time she was 71 and her son cleaned out her bank account, took all her money, and at the age of 71, she has to go back to work because her son took advantage of her. And this is an isolated, there's many cases like this, but there was a history of behaviors that culminated with this. And so the fourth thing is look at the behaviors. Don't turn away from them. Don't assume that toxic behaviors are normal. Don't assume that illegal behaviors are normal or antisocial behaviors aren't normal. Recognize them and then say to yourself, "What is the most important thing?" And that's number five, and that is don't be victimized. There is no social obligation to be victimized ever.
Jordan Harbinger: [01:13:15] Last but not least, Joe, what if we think, "Oh crap, I'm a narcissist." I've got all these things. I feel like maybe I'm being really self-centered. What should I do? Obviously, anybody having these thoughts is probably by definition kind of low on your narcissism spectrum because they have the self-awareness and care enough about other people's experience of them to even have that thought in the first place and entertain it, which is a good sign. But what do we do for thinking? I'm kind of a jerk and I've ruined a lot of my relationships, maybe I should do something about this because I do get those emails here and there.
Joe Navarro: [01:13:50] Yeah, and so do. I think first of all is a thank goodness that you're recognizing these things. Number two, get some help. Get some professional help because these are character flaws. And number three is don't beat yourself up, but actually decide to work on each one individually and say, "I don't like this about myself. I find myself demeaning others. I find myself disinterested in others." Well, these are things that you can change, all these behaviors you can change if you will but take the time to say, "You know what? I'm not going to do these things anymore." And I've seen some people come around, but it took great effort on their part and for all of us, there's nothing wrong with tweaking our own lives and tweaking our own behaviors so that we are better citizens.
Jordan Harbinger: [01:14:44] Joe, thank you so much. Is there anything that I haven't asked where you're like, "Wait, I've got to make sure they know about this."
Joe Navarro: [01:14:50] No, I think you've, you've covered it all. I think the most important thing and this is why I'm so appreciative of what you do, Jordan, is that knowledge is power. That knowledge can be lifesaving. That there are resources out there, that there are things that can be done. But it starts with knowledge, it starts with validation that what a person may be experiencing is not bogus, that it's their reality and that they can do something about it if they will confront it with a recognition of the facts.
Jordan Harbinger: [01:15:29] Joe, thank you so much for your time and for your expertise. And I'm looking forward to the next one already because I'll tell you, I read Dangerous Personalities. I cut out 60 percent of what I read, and that was what -- ended up remaining maybe 30, 40 percent was what ended up in this show. There's so much in there, just don't read it on your way to go to sleep because it'll be a rough night. It's a morning read.
Joe Navarro: [01:15:50] Exactly, exactly. And I thank you, Jordan, for everything that you do to educate all of us and for that I am most grateful and honored.
Jordan Harbinger: [01:16:04] All right, Jason, knew this was going to be a good show doing it. Even though I had a tooth filled today and my mouth has half numb. So if I'm talking funny, that's why, but totally worth it, right?
Jason DeFillippo: [01:16:15] You are so funny talking. It's crazy. No, you sounded great. This was a great episode. I love Joe. I've followed him for years and it was great to have him back with us again and he just dropped the knowledge this time and I cannot wait to get this book. I have not had a chance to read it yet, but it is like number one in my Audible cue right now.
Jordan Harbinger: [01:16:35] Yeah, you're going to dig this book, man. I'm telling you, don't read it that night trying to relax because you're just going to hear about all these predators that you're like," Oh my gosh, this is so terrifying." It's not scary, like you're scared of the basement scary. It's more like, "Oh gosh, these people are just walking around outside like nothing." And you're just interacting with them every day. So that's a little scary. The book is called Dangerous Personalities by Joe Navarro.
[01:17:01] And if you want to know how I managed to book all these great guests for the show and manage my relationships. Well, I use systems, I use tiny habits. It's just a minutes per day and I've created the course for you for free Six-Minute Networking. That's at jordanharbinger.com/course, jordanharbinger.com/course. And the problem with kicking the can down the road, right doing it later, is that we're not able to make up for lost time when it comes to relationships and networking. The number one mistake I see people make is postponing this and not digging the well before they get thirsty. Once you need these relationships, you're too late to make them. Again, these are just a few minutes per day. This is the stuff I wish I knew a decade ago. It's not fluff. It is crucial and you can find it all at jordanharbinger.com/course.
[01:17:44] And speaking of building relationships, tell me your number one takeaway here from Joe Navarro. I'm @jordanharbinger on both Twitter and Instagram. This show is produced in association with PodcastOne, and this episode was co-produced by Jason "Toddler Pooped" DeFillippo and Jen Harbinger. Show notes are by, I don't know if that's a great nickname for you.
Jason DeFillippo: [01:18:02] Thanks, buddy. I appreciate that one.
Jordan Harbinger: [01:18:04] You're welcome. Show notes are by Robert Fogarty. Shout out to Eric Ralph for the prep. Worksheets by Caleb Bacon, and I'm your host, Jordan Harbinger. The feed for the shows, you share it with friends when you find something useful, which should be in every episode. And I find this one, especially important. Moms, share this with your kids. Dads, do the same. Share the show with those you love. Even those you don't. Lots more in the pipeline. Very excited for some of what we got here coming to you. In the meantime, do your best to apply what you hear on the show so you can live what you listen, and we'll see you next time.
Sign up to receive email updates
Enter your name and email address below and I'll send you periodic updates about the podcast.