Jon Taffer (@jontaffer) is the host of acclaimed reality show Bar Rescue, host of the No Excuses podcast, and author of Don't Bullsh*t Yourself!: Crush the Excuses That Are Holding You Back.
What We Discuss with Jon Taffer:
The psychology behind Jon Taffer's "break them down to build them up" strategy.
Are you an overachiever — when it comes to rationalizing your excuses?
Why success in business always hinges on the human factor.
The benefits of hiring for personality over skill.
Why Jon ruthlessly critiques his own work and how this routine ego beating has been crucial to his success.
And much more…
Like this show? Please leave us a review here — even one sentence helps! Consider including your Twitter handle so we can thank you personally!
(Download Episode Here)
(Subscribe to the Podcast Here)
Worksheet for This Episode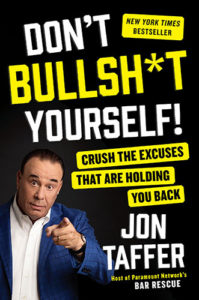 Jon Taffer is a hospitality industry guru, a fellow PodcastOne podcaster (No Excuses), and an author (Raise the Bar: An Action-Based Method for Maximum Customer Reactions and Don't Bullsh*t Yourself!: Crush the Excuses That Are Holding You Back). But he's probably best known as the tough-talking, no-nonsense host of Spike TV's number one reality show Bar Rescue.
While on the surface it may just look like Jon yells at people and then repaints their bar, there's something deeper going on. In many episodes of Bar Rescue, Jon works not just to change the business, but the people in the business — and that's why he's a great fit for this show. Listen, learn, and enjoy!
Please Scroll down for Full Show Notes and Featured Resources!
Get two months of Skillshare — unlimited access to over 18,000 classes in design, business, technology, photography, entrepreneurship, film, writing, and more — for free at skillshare.com/harbinger!
The folks at BiOptimizers understand why you're skeptical about probiotics as a way to increase your digestive and gut health. But without sharing TMI, we can confirm its patented P3-OM superstrain actually does what it's supposed to do! Curious? Go to p3om.com/jordan for 20 percent off your first order and a full money-back guarantee!
Sign up for Six-Minute Networking — our free networking and relationship development mini course — at jordanharbinger.com/course!
More About This Show
The premise of Spike TV's wildly popular reality show Bar Rescue is simple: hospitality expert Jon Taffer helps turn struggling bars profitable by investigating the root causes of their trouble — from health code violations to poor staffing to inadequate branding — and correcting course.
If you've ever caught an episode, chances are good you've seen Jon dishing out what might seem like more than some poor transgressor's fair share of punishment for whatever act of negligence they've committed. But as anyone who's ever been a boot camp drill sergeant will tell you, there's a reason for this method of interaction that surpasses mere cruelty.
"I have the kind of personality where I want to leave you in a better place," says Jon. "I don't want to leave you weakened. So if I knock you down, that's contrary to my personality; I almost have to build you back up again or I can't live with myself!
"Sometimes when I'm screaming or knocking you down, it's not about you at all. Because sometimes the owner in a Bar Rescue episode almost isn't worthy of the effort. I'm focused on their family…I'm thinking of [their] wife; I'm thinking of [their] kids; I'm thinking of the fact that there's a house that might be on the line — cars that might be on the line — so my inspiration is always to protect the good, not being motivated by the bad…when you're fighting for something rather than against something, you're far more effective."
When he was writing his latest book, Don't Bullsh*t Yourself!: Crush the Excuses That Are Holding You Back, Jon made this observation: "Did you ever notice that the guy with the biggest ego has the thinnest wallet?"
Like the boot camp drill sergeant, Jon understands that rapidly changing someone's mindset to make them capable of achieving more than they might realize is possible often requires catching this ego off guard — breaking them down to build them back up. Anyone with a delusional ego needs to confront their situation honestly if they want to truly be in control of it, and sometimes it takes an external push from someone like Jon for this confrontation to occur.
Listen to this episode in its entirety to learn more about why Jon's Bar Rescue success rate for saving troubled businesses is so high compared to similarly themed reality shows, how Jon has improved (and continues to improve) his own hosting and producing skills over the years, what Jon does to discover and hone effective techniques regardless of what looks good on camera, red flags Jon spots that warn him away from frequenting bad businesses, how Jon manages his time to keep every day productive and profitable, why Jon hires for personality over skill, how Jon identifies and addresses dysfunction, and much more.
THANKS, JON TAFFER!
If you enjoyed this session with Jon Taffer, let him know by clicking on the link below and sending him a quick shout out at Twitter:
Click here to thank Jon Taffer at Twitter!
Click here to let Jordan know about your number one takeaway from this episode!
And if you want us to answer your questions on one of our upcoming weekly Feedback Friday episodes, drop us a line at friday@jordanharbinger.com.
Resources from This Episode:
Download Worksheet for Raising Your Bar and Crushing All Excuses

/wp-content/uploads/2019/01/Worksheet-for-Jon-Taffer-Raising-Your-Bar-and-Crushing-All-Excuses-Episode-142.pdf