Jason Khalipa (@JasonKhalipa) is a CrossFit Games world champion, the founder of NCFIT, and author of As Many Reps As Possible.
What We Discuss with Jason Khalipa:
You don't have to start out with "The Right Stuff" to accomplish great things.
Is your confidence earned or perceived?
Are you surrounding yourself with the right connections to succeed?
Are you just talking about the things you want to do, or are you taking actionable steps to accomplish them?
Can you take a joke and use it to make your life better? Jason Khalipa has — and he can tell you how.
And much more…
Like this show? Please leave us a review here — even one sentence helps! Consider including your Twitter handle so we can thank you personally!
(Download Episode Here)
(Subscribe to the Podcast Here)
Worksheet for This Episode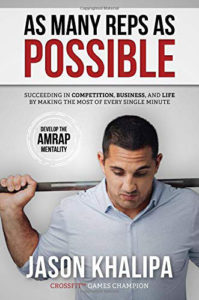 If you're a late bloomer, you may have looked with envy upon your more focused peers who got an earlier leg up on fulfilling their life's dreams. And if you've fallen into the trap of comparing your own accomplishments against theirs, you may think your relatively slow pace is some kind of uncorrectable character defect.
On this episode, we talk to NCFIT founder, CrossFit Games world champion, and As Many Reps As Possible author Jason Khalipa — one of the last people who might come to mind if you're trying to imagine what a late bloomer looks like. Nevertheless, Jason shows us what he did to turn from slacker to procrastination attacker. Listen, learn, and enjoy!
Please Scroll down for Full Show Notes and Featured Resources!
If you're only going to take one gluten and dairy-free, keto, paleo, and vegan-friendly supplement to boost energy, balance nutrition, and aid digestion, then Athletic Greens — with its 76 natural ingredients — is what we recommend. The Jordan Harbinger Show listeners get 23 travel packs (valued at $79) with their first purchase at athleticgreens.com/jordan!
Does your business have an Internet presence? Save up to a whopping 62% on new webhosting packages with HostGator at hostgator.com/jordan!
Sign up for Six-Minute Networking — our free networking and relationship development mini course — at jordanharbinger.com/course!
THANKS, JASON KHALIPA!
If you enjoyed this session with Jason Khalipa, let him know by clicking on the link below and sending him a quick shout out at Twitter:
Click here to thank Jason Khalipa at Twitter!
Click here to let Jordan know about your number one takeaway from this episode!
And if you want us to answer your questions on one of our upcoming weekly Feedback Friday episodes, drop us a line at friday@jordanharbinger.com.
Resources from This Episode:
Download Worksheet for Going from Zero to Hero in the New Year

/wp-content/uploads/2018/12/Worksheet-for-Jason-Khalipa-Going-from-Zero-to-Hero-in-the-New-Year-Episode-141.pdf