Leon Logothetis (@thekindnessguy) is a global adventurer, motivational speaker and philanthropist, host of Netflix's The Kindness Diaries, and author of Go Be Kind: 28 1/2 Adventures Guaranteed to Make You Happier.
What We Discuss with Leon Logothetis:
How Leon went from broker to broke world traveler, completely reliant on the kindness of strangers to survive.
Why people with the least to offer are often the most giving.
How Leon finds what he has in common with strangers to make meaningful human connections.
What Leon does to give back to those who help him in his travels.
How Leon has overcome otherwise show-stopping hitches by keeping calm and carrying on.
And much more…
Like this show? Please leave us a review here — even one sentence helps! Consider including your Twitter handle so we can thank you personally!
(Download Episode Here)
(Subscribe to the Podcast Here)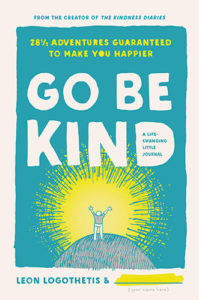 The Kindness Diaries host Leon Logothetis travels the world with no money, relying solely on the kindness of those he meets along the way. What this teaches us about the capacity for positive human connection in an age when people seem more divided than ever is nothing short of inspiring.
In this episode, we'll go behind the scenes to some of the fun, ridiculous, touching, and sometimes even dangerous situations Leon gets himself into, usually in the middle of nowhere and in a vehicle completely ill-suited to the journey. Listen, learn, and enjoy!
Please Scroll down for Full Show Notes and Featured Resources!
Sign up for Six-Minute Networking — our free networking and relationship development mini course — at jordanharbinger.com/course!
Need custom graphics, logos, or Web design? Access a community of 600,000+ designers by registering at designcrowd.com/jordan and enjoy up to $100 off with The Jordan Harbinger Show bonus offer!
Great protection. Fair prices. Easy to use. SimpliSafe is the right way to protect your home at half the size and double the range — go to SimpliSafe.com/jordan to learn more!
NetSuite by Oracle allows you to manage sales, finances, accounting, orders, and HR for your business instantly on the cloud from anywhere! Download your free guide — Seven Key Strategies to Grow Your Profits — at netsuite.com/jordan!
Eight Sleep is the first bed engineered with dynamic cooling and heating that keeps you at the perfect temperature all night long. Get $100 off your purchase when you go to EightSleep.com/jordan!
Have you ever thought about the fact that where you choose to live directly affects the "you" you become? Apartments.com has the most listings, which means you have the most apartments, townhomes, condos, and houses to choose from. Change your apartment, change the world at Apartments.com here!
Listen to Mind Pump Episode 987 to discover why the ketogenic diet might be making you fat. Find it here!
More About This Show
The premise for The Kindness Diaries on Netflix is pretty simple: Leon Logothetis travels around the world without money and relies on the kindness of strangers to survive.
"It's easy when you think of the idea to travel around the world," says Leon, "but when you're actually doing it, you realize that a) you have no money, b) you have nowhere to live, and c) unless you connect with another human being, you're finished!
"It is a bit of a challenge, but what I like to say is that sometimes you have to burn your ships — you have to leave yourself no option but to keep going forward. And the only way to go forward if you have no money and no place to stay is to rely on the kindness of strangers."
While working as a shipping broker in London, Leon watched The Motorcycle Diaries — a dramatization of Marxist revolutionary Che Guevara's trip across South America in his youth — and it changed his life.
"I was so depressed, and I would walk into work every day literally in a terrible state," says Leon. "And after watching this movie, I realized there was another way to live. I didn't have to sit behind this desk anymore. I could go out and connect with human beings. I could live an adventurous life. It kind of sparked something in me that was always there, but I'd kind of forgotten about. And once that movie was in my heart, there was no turning back."
Listen to this episode in its entirety to learn more about how being bullied as a child and experiencing isolation as a young adult led to Leon's capacity for empathy and kindness toward others, the logistics of making a television show that has to navigate countless unforeseen variables and find a way through the never-ending chaos, what Leon has learned over the course of his travels about the nature of kindness and the generosity of people who seem to have nothing, and much more.
If you're in the United States or Canada, send a direct message to Jordan on Instagram with a screenshot of your review of the show for a chance at a free copy of Go Be Kind: 28 1/2 Adventures Guaranteed to Make You Happier by Leon Logothetis!
THANKS, LEON LOGOTHETIS!
If you enjoyed this session with Leon Logothetis, let him know by clicking on the link below and sending him a quick shout out at Instagram:
Click here to thank Leon Logothetis at Instagram!
Click here to let Jordan know about your number one takeaway from this episode!
And if you want us to answer your questions on one of our upcoming weekly Feedback Friday episodes, drop us a line at friday@jordanharbinger.com.
Resources from This Episode: