Mimi Ikonn is a serial entrepreneur best known for Luxy Hair and Intelligent Change, a YouTube influencer with 2.8+ million subscribers, and the author of The Bingo Theory: A Revolutionary Guide to Love, Life, and Relationships.
What We Discuss with Mimi Ikonn:
How Mimi and her husband Alex keep themselves and their relationship real and grounded under the daily scrutiny of millions of people.
Why authentic audience engagement will always count more than any number of likes.
The process of building an online business brick by brick.
Why dramatically scaling up income often leads to depression.
Mimi's QVCA formula: Quality, Value, Consistency, and Authenticity.
And much more…
Like this show? Please leave us a review here — even one sentence helps! Consider including your Twitter handle so we can thank you personally!
(Download Episode Here)
(Subscribe to the Podcast Here)
Worksheet for This Episode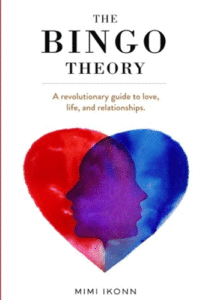 From the outside looking in, the life of an online influencer might seem pretty glamorous. Whether that influence is viewed through the window of Instagram, YouTube, or some other popular social media platform, can the FOMO-induced eye of the beholder be blamed if it sees this glamor as a heavily filtered lens into a manufactured reality devoid of substance? In many cases, perhaps not. But we'd argue that today's guest is a notable exception to this jaded perception.
In this episode we talk to Mimi Ikonn, a serial entrepreneur best known for Luxy Hair and Intelligent Change, a YouTube influencer with 2.8+ million subscribers, and the author of The Bingo Theory: A Revolutionary Guide to Love, Life, and Relationships. Here, she'll give us some insight into how she and Alex — her equally influential husband — keep things real in spite of the daily scrutiny of millions, why authentic audience engagement is crucial to the sustainability of any influencer, and the process of building an online business brick by brick instead of waiting for a lottery-like win. Listen, learn, and enjoy!
Please Scroll down for Full Show Notes and Featured Resources!
Sign up for Six-Minute Networking — our free networking and relationship development mini course — at jordanharbinger.com/course!
The folks at BiOptimizers understand why you're skeptical about probiotics as a way to increase your digestive and gut health. But without sharing TMI, we can confirm its patented P3-OM superstrain actually does what it's supposed to do! Curious? Go to p3om.com/jordan for 20 percent off your first order and a full money-back guarantee!
The National Highway Traffic Safety Administration (NHTSA) reminds us to wait at the railroad crossing if the signals are on — even if we can't see the train, it's probably closer than we think. STOP. Trains can't!
Hunt a Killer is a puzzle-style game that poses this tantalizing question: what if a serial killer delivered a package to your doorstep each month? Go to huntakiller.com/jordan for 20 percent off your first box and find out!
MedMen is proud to be leading the way as the cannabis industry transitions from its legacy era of homegrown enterprises to an institutional phase of professional standards and practices. Experience the new normal and find your closest store at MedMen.com!
One's a comedian, one's a radio/TV host. Together they bring you The SDR Show — a no-apologies, not politically correct, not for the faint of heart show that somehow blends the classic energy of a morning radio show into the new era of digital entertainment. Listen to The SDR Show here or where your ears enjoy podcasts most!
More About This Show
Some influencers get into the game of shares and likes for the attention it generates from outsiders who aspire to someday live the lavish — and often fabricated — lifestyles they promote. Many of these influencers stick around beyond the point of satisfaction because it becomes a job their newly upgraded lifestyle can't continue without. And then there are influencers like Mimi and her husband Alex who become influencers as a by-product of their business, inspiring others by the strength of their ability to connect on a human level rather than showing off the cool things they own.
As people who have experienced poverty themselves, it's not about feeding their own egos, but in showing others in dire circumstances today what's possible tomorrow.
"I would say there's definitely pressure," says Mimi. "But for me, the most important thing as a creator is to stay true to myself. I just check in with myself on the regular, especially when I catch myself thinking, 'Oh, if I just did this, I know it would get more likes or more views.' But because I do a lot of inner work — like I meditate, I journal…just really reflect on values…If I feel disappointed in myself or if I feel like like I could really cheat the system…I just say, 'What's the point?'"
It's been said by many that you should never meet your heroes, and an unpleasant encounter Mimi had with one of her favorite authors drove home why it can be dangerous. Even though this soured her enthusiasm for the author's work from then on, she's kept this experience in mind whenever she meets someone new in order to avoid disappointing people who look up to her.
"I didn't want to judge him just by that moment, but it lingers. I still remember how I was treated and it was very hostile, so I really always make sure that I do the eye contact and do my best in the moment — even if it's 10 seconds of my interaction with them — where I'm just sending the me that I know…I might be upset or sick in the moment, but I beam that light that they know and recognize and then I say, 'Sorry, I really have to go right now; I would love to stay and talk with you, but I really can't right now.' And they usually understand."
After reading Tim Ferriss' The 4-Hour Workweek, Mimi resolved to start a product-based business that could generate passive income rather than always being "on call" with a service-based business. The only thing she wasn't certain about was what that product should be. And then real life intervened to offer an obvious answer.
Mimi and Alex were about to be married, and she wanted "mermaid hair" for the occasion. One expensive mall kiosk purchase of hair extensions later, she was left with a handful of fake-looking rubbish she couldn't return. But since hair extensions were still an untapped industry in the US, this prompted Mimi and Alex to consider how they could improve upon the crappy mall kiosk experience and give people something they would actually be happy to pay for: and Luxy Hair was born. They made one million dollars in their first year of business.
THANKS, MIMI IKONN!
If you enjoyed this session with Mimi Ikonn, let her know by clicking on the link below and sending her a quick shout out at YouTube:
Click here to thank Mimi Ikonn at YouTube!
Click here to let Jordan know about your number one takeaway from this episode!
And if you want us to answer your questions on one of our upcoming weekly Feedback Friday episodes, drop us a line at friday@jordanharbinger.com.
Resources from This Episode:
Download Worksheet for What the Life of an Influencer Is Really Like

/wp-content/uploads/2019/05/Worksheet-for-Mimi-Ikonn-What-the-Life-of-an-Influencer-Is-Really-Like-Episode-193-v2.pdf