Reading Time:
3
minutes
Neil deGrasse Tyson (@neiltyson) is the Frederick P. Rose Director of the Hayden Planetarium, host of StarTalk Radio, and author. He is kind enough to rejoin us and discuss his latest book, Starry Messenger: Cosmic Perspectives on Civilization.
What We Discuss with Neil deGrasse Tyson:
The problems society faces when average citizens lose their ability to distinguish between facts and opinions — and how this can be remedied.
What some of our dearest opinions look like under the scrutiny of scientific literacy — and why we should feel relief at being proven categorically wrong about some of them.
As an educator, what Neil's first urge is when he hears people spreading patently false "information" that can be easily dispelled by basic scientific awareness. (Surprisingly enough, it's not to bop them on the head!)
What the history of mathematics might hint about the average human brain's tendency to avoid thinking statistically and probabilistically.
Things pondered: Are you a GMO? Eating how many pints of ice cream will kill you? For the benefit of all humanity, who would Neil send into space first? If technology common to us in the 2020s would be unrecognizable to someone from 1990, what will the world look like in 2050?
And much more…
Like this show? Please leave us a review here — even one sentence helps! Consider including your Twitter handle so we can thank you personally!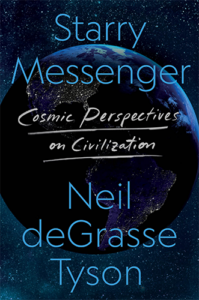 No small number of folks seem to be under the impression that Neil deGrasse Tyson is a curmudgeon who gleefully relishes the opportunity to shame people when they dispense erroneous "facts" that can be easily disproven by comprehension of basic scientific principles. Rather, he insists, his first instinct as an educator is to educate, not humiliate those of us who offer opinions and hearsay over authentic, verifiable knowledge. As human beings, this is a tendency that seems to permeate our DNA, but it doesn't mean we can't strive to do better. Neil's job is to remind us that learning to distinguish between facts and opinions gives humanity some amount of control over its future rather than being forced to rely solely on the meandering happenstance of evolution.
On this episode, Neil rejoins us to discuss these points and more as chronicled in his latest book, Starry Messenger: Cosmic Perspectives on Civilization. Here, we get into the relief we should feel when some of our most dearly held beliefs are scrutinized and dismantled by scientific literacy, what we can do as responsible citizens to increase our own scientific literacy and capacity for understanding the world around us as it is rather than as we might wish it to be, and how we can help others come to such an understanding as well. Listen, learn, and enjoy!
Please Scroll Down for Featured Resources and Transcript!
Please note that some of the links on this page (books, movies, music, etc.) lead to affiliate programs for which The Jordan Harbinger Show receives compensation. It's just one of the ways we keep the lights on around here. Thank you for your support!
Into the Impossible (with past guest Brian Keating) is a podcast about how we imagine, and how what we imagine shapes what we do. Subscribe to the Into the Impossible Podcast here, on Spotify, or wherever you prefer to catch your podcasts. Join Brian's mailing list here for your chance to win a real meteorite!
Miss any of the conversations we've had with famed science guy Bill Nye? Start catching up with episode 366: Bill Nye | Radical Curiosity Saves the World!
Thanks, Neil deGrasse Tyson!
If you enjoyed this session with Neil deGrasse Tyson, let him know by clicking on the link below and sending him a quick shout out at Twitter:
Click here to thank Neil deGrasse Tyson at Twitter!
Click here to let Jordan know about your number one takeaway from this episode!
And if you want us to answer your questions on one of our upcoming weekly Feedback Friday episodes, drop us a line at friday@jordanharbinger.com.
Resources from This Episode: