Reading Time:
3
minutes
Maria Konnikova (@mkonnikova) shows us how we can defend ourselves against would-be con artists and use the same principles for more benign purposes in her book The Confidence Game. [Note: This is a previously broadcast episode from the vault that we felt deserved a fresh pass through your earholes!]
What We Discuss with Maria Konnikova:
As it turns out, you can fool an honest man. But cynics — by their own overconfidence in being savvy and "scamproof" — are just as susceptible to deception.
Technology and the abundance of information most of us freely surrender to the Internet makes the con artist's job easier than ever before.
What type of person becomes a con artist?
How can we avoid getting scammed?
How belief works, why we over-believe in some things (even when we have no evidence for them), and how this plays into our susceptibility to deception.
And much more…
Like this show? Please leave us a review here — even one sentence helps! Consider including your Twitter handle so we can thank you personally!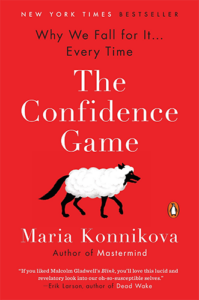 All of us are vulnerable to deception and persuasion — and if you haven't been conned already, chances are good you will be. But you don't have to accept this as an inevitability if you know how to spot a con in progress and understand the principles behind it.
On this episode, we talk to author Maria Konnikova about identifying the ways con artists exploit trust, how we can arm ourselves against their manipulation games, and reverse engineering their tactics to subtly persuade others when our aims are more legitimate than a con as laid out in her book The Confidence Game. Listen, learn, and enjoy! [Note: This is a previously broadcast episode from the vault that we felt deserved a fresh pass through your earholes!]
Please Scroll Down for Featured Resources and Transcript!
Please note that some of the links on this page (books, movies, music, etc.) lead to affiliate programs for which The Jordan Harbinger Show receives compensation. It's just one of the ways we keep the lights on around here. Thank you for your support!

Sign up for Six-Minute Networking — our free networking and relationship development mini course — at jordanharbinger.com/course!
This Episode Is Sponsored By:
Miss the two-parter we did with Instagram founder Kevin Systrom? Get caught up by starting at episode 335: Kevin Systrom | Life Lessons from an Instagram Founder Part One!
Thanks, Maria Konnikova!
If you enjoyed this session with Maria Konnikova, let her know by clicking on the link below and sending her a quick shout out at Twitter:
Click here to thank Maria Konnikova at Twitter!
Click here to let Jordan know about your number one takeaway from this episode!
And if you want us to answer your questions on one of our upcoming weekly Feedback Friday episodes, drop us a line at friday@jordanharbinger.com.
Resources from This Episode:
728: Maria Konnikova | The Confidence Game
[00:00:00] Jordan Harbinger: Coming up next on The Jordan Harbinger Show.
[00:00:03] Maria Konnikova: What you see is that for a lot of cons, the typical victim profile is actually incredibly sophisticated, incredibly savvy, not at all greedy. I think greed has very little to do with it and that old saying — you can't fool an honest man — totally, totally wrong.
[00:00:22] Jordan Harbinger: Welcome to the show. I'm Jordan Harbinger. On The Jordan Harbinger Show, we decode the stories, secrets, and skills of the world's most fascinating people. We have in-depth conversations with scientists and entrepreneurs, spies and psychologists, even the occasional Emmy-nominated comedian, national security advisor, music or tech mogul, or gold smuggler. And each episode turns our guest's wisdom into practical advice that you can use to build a deeper understanding of how the world works and become a better thinker.
[00:00:49] If you're new to this show, or you want to tell your friends about it, and I love it when you do that, our episode starter packs are a great place to begin. These are collections of our favorite episodes, organized by topics. That'll help new listeners get a taste of everything that we do here on this — topics like persuasion, influence, disinformation, cyber warfare, China, North Korea, crime and cults, and more. Just visit jordanharbinger.com/start or search for us in your Spotify app to get started.
[00:01:15] Today, one from the vault with my friend, Maria Konnikova. She always makes for an interesting episode and this scam and con psychology stuff just activates the kid in me in some way. We're talking about con games and influence. We'll explore our innate vulnerability to deception and persuasion and how all of us are actually vulnerable to deception and persuasion, whether we are aware of it, whether we agree with that or not. And hey, if you haven't been conned already, chances are pretty darn good. At some point, you will. We'll also dive into not only our own inability to spot deception, but how to avoid getting scammed, how systems of belief work, how the nature of trust actually functions inside our mind, and we'll even reverse engineer some cons strategies so that we can defend ourselves from scams and cons and be even more persuasive at home and at work.
[00:02:03] So enjoy this episode from the vault with Maria Konnikova.
[00:02:09] So, Maria, first of all, thanks for coming on the program. I really appreciate it. And I've read part of the new book, which is excellent. Tell us what you do in one sentence if you can.
[00:02:20] Maria Konnikova: I am a writer and I like to delve into people's minds and try to figure out what motivates us and what makes us do the things that we do and explain it in a way that's accessible to everyone.
[00:02:33] Jordan Harbinger: Great. And have you done that before?
[00:02:35] Maria Konnikova: I hope so.
[00:02:36] Jordan Harbinger: Yes.
[00:02:37] Maria Konnikova: That's—
[00:02:37] Jordan Harbinger: You have certainly tried. I think talking about your first book, which is Mastermind: How to Think Like Sherlock Holmes, which is actually — it sounds super fascinating. I haven't gotten to that yet, but it's definitely on the shortlist. It's a little scary because when you read it, you're thinking I'm not going to fall for this stupid crap. And meanwhile, that's the entire point is that we are actually all vulnerable to deception and persuasion.
[00:03:02] Maria Konnikova: That's absolutely right. And, you know, as I was researching the book, the deeper I got into it, the more disgusted with humanity I became I realized it just turned me into such a cynic. By the end, I just thought, "Oh, yep. People suck. Everyone's out to get you. I basically shouldn't believe or trust anyone because I am just going to be totally gullible." And after just talking to con artist after con artist and looking through the techniques of persuasion and why they're so effective, it just really made me realize that I am so vulnerable. We all are so vulnerable. That it's scary.
[00:03:41] Jordan Harbinger: It's a little bit borderline terrifying because if you haven't been conned already, chances are, you will be. In fact, a lot of the cons are so, so effective, even in the examples that you give in the book are so effective. There was one example where a guy got conned out of some sort of betting thing. And the con artists were walking down the street a few months later, or a few years later, and the guy ran up on them and they're thinking the jig is up. And he goes, "Hey, can I bet with you guys again and try that thing again?" And they're like, "Are you kidding me? We ripped you off. You want to do it again? Because you still don't even know." And these are educated people who are falling for this stuff. These are not low lives who will fall for anything. These are normal people, a lot of people that you can identify with when you read.
[00:04:21] Maria Konnikova: Absolutely. Well, I think that that's one of the common misperceptions is that the only people who fall for it are people who are either really stupid, really gullible, or really greedy, right? People who want a lot of money. And that's just absolutely not true. What you see is that for a lot of cons, the typical victim profile is actually incredibly sophisticated, incredibly savvy, not at all greedy. I think greed has very little to do with it. And that old saying — you can't fool an honest man — totally, totally wrong. Honest men are really easy to fool and you'd be surprised at how often you get cases, like the guy who wanted to bet again because people really don't understand a lot of times, that they're victims of a con because they believe it so much they want to keep believing.
[00:05:09] Jordan Harbinger: Why is it that honest men are easy to cheat? It seems like it would be the other way around because when you think about greedy people, it's like, "Oh, look, this prince in Nigeria mistakenly left me money," and a lot of common men use other people's greed as a rationale for their behavior. They go, "Look only greedy people fall for this. I'm only scamming greedy people." And I heard that actually from surprise, surprise this Nigerian guy at the airport. I said, "What do you think about all these scams?" And he goes, "You know what? Those people deserve." And I was like, "Oh my god, I did not expect that answer at all." And I'm not saying surprise, surprise, because Nigerian people are scammy. I just mean the ones you see in your email inbox are always like Nigerian prince this, bank of that. They're so commonly known as 419 scams. But I was shocked at the rationalization that was proffered for this. And I think a lot of con men truly believe that they're doing something that's fine because their victims are somehow deserving.
[00:06:00] Maria Konnikova: Yeah. And I think that that makes a lot of them able to live with themselves even though that's absolutely not true. So let me — since you're in Nigeria right now—
[00:06:09] Jordan Harbinger: Right.
[00:06:09] Maria Konnikova: —in terms of where your mind's at. Let me give you another example of a really common Nigerian scam and that's the sweetheart scam. So you get usually women, sometimes men on websites and they fall for some profile of some handsome man or woman, and they develop a really strong emotional rapport. And then the person starts asking for money. Before you know it they've lost their entire life savings. This happens over and over again.
[00:06:37] Greed is the last thing that's motivating them, even though oftentimes they'll give more and more money to this person. They have an emotional need. They have kind of an emotional vacuum that these often Nigerian con artists are totally exploiting. And it's really depressing if you think about it because these are people who just want, you know, they want love, they want affection. They want things that we all want and they end up broke and emotionally devastated.
[00:07:05] Jordan Harbinger: Right. And honest people are actually probably easier to cheat because of the phenomenon that we often believe other people think just like us.
[00:07:12] Maria Konnikova: Yes.
[00:07:13] Jordan Harbinger: And we do this as humans in general. That's why men think that women really base their value judgment based on looks because we do that. And that's one of the reasons why people are having miscommunication issues inside relationships. And it's also why you might think that if you're super honest, to the point of almost naivety, you don't even need to actually be naive. You would just think, "Well, geez, that's very unlikely."
[00:07:36] I remember a time — I was going to save this for later, but I've been scammed before as well. And I remember joking weeks and weeks later, "Wouldn't it be weird if this whole thing was just like a scam and like, we never got our stuff back because that company wasn't real," and we started laughing. And that was actually what happened, but it was something that never occurred to us at all.
[00:07:56] Maria Konnikova: Yeah.
[00:07:57] Jordan Harbinger: That it could be a scam, not once.
[00:07:59] Maria Konnikova: So what you're saying is absolutely true. And what you find is that people who are more trusting, they actually end up doing better in life. There's a lot of work that shows that trusting societies end up prospering. People who have higher levels of trust end up being smarter. They do better on a lot of tests of creativity, of intelligence. So this is a good thing most of the time. And what has happened is we have this small number of people who've basically co-evolved with the nice ones to take advantage of it. And because there aren't that many of them, we are usually okay. You know, usually, you'll get your stuff back. And so you don't really think twice about doing something like that.
[00:08:37] And then all of a sudden, you don't get back because who saw it coming? And then you have the other end of the spectrum where if you're very cynical, you are also a very, very easy mark. So you're at the other end. You're totally not trusting, but you think that you are so incredibly wise that you become completely overconfident and so you become a really easy target.
[00:09:01] Jordan Harbinger: Correct me if I'm wrong. But what it sounds like you're saying is we haven't evolved to be better at spotting cons because it's not an evolutionary advantage. It's actually more adaptive or positively adaptive to be more trusting.
[00:09:14] Maria Konnikova: That's absolutely right. So we don't spot deception very well because it's actually really beneficial not to spot it. And I can give you a silly example, but one that illustrates it quite nicely from everyday life. What if I told you, you came in, you're like, "Hey, Maria's so nice to see you." And I was like, "Oh Jordan, you know, it's really nice to see you. You look really tired. Did you have a rough night last night? Ooh, that shirt doesn't really look good on you." Or if I said, "Oh, you look wonderful," and you know that I'm lying. So those types of not really cons, but small lies are really useful for the ego if you can actually believe that you look good, because if I say you look really tired, or if I say, oh, you look great, but you don't actually believe me, then the end result is that you feel crappy about yourself. And that doesn't feel very good.
[00:10:04] Jordan Harbinger: Right. So we actually want to believe certain cons and certain lies.
[00:10:08] Maria Konnikova: Absolutely. Because cons think the reason they work so well is that they're all to our advantage. They all make us come off seeming better. So, you know, someone like Bernie Madoff, he would make you feel like you're a very savvy investor. He would make you feel smart. He would make you feel like you were part of a very exclusive club. Not like you were a greedy sucker who was just giving him money. He made you feel really good. And that's what all con artists, even if it has nothing to do with money, what they do is make you feel good about yourself.
[00:10:38] Jordan Harbinger: You know, this makes a lot of sense. And the over-vigilant individual, the fact that they fall for this makes even more sense. There's a show I'm sure you're familiar with called The Real Hustle. And one of the main con men who's actually a magician, I guess, on the show. He's the one teaching these scams. Every show, his tagline is, "If you're the type of person who thinks that you can't be conned, you're exactly the kind of person I want to meet."
[00:11:02] Maria Konnikova: Absolutely. You know, one of my favorite quotes, and this comes from what a con artist once told David Maurer, who wrote this amazing book about cons many, many years ago, called The Big Con and a con artist once told him, "A New Yorker is the best sucker that ever was born. He is made to order for anything. You can't knock him. He loves to be taken because he's wise." So New Yorkers are so sophisticated, they fancied themselves so ridiculously savvy that they're the best marks in the world because they say, "Oh, I'm a New Yorker. You know, no one can con me. I've been there, done that, seen that." And they're, you know, just pick one.
[00:11:43] Jordan Harbinger: You know, that's funny. So basically the more we fancy ourselves fraud-proof, the more likely we are to become a victim.
[00:11:50] Maria Konnikova: Absolutely. Because overconfidence blinds us. It makes us think that we are very good at spotting liars. How many people would tell you, honestly, that, "Hey, oh, you know, no, I don't really know when people are lying to me." We all want to think that we can trust our gut instinct. That we're really good judges of character. That we're really good at reading other people. No one wants to say, "No, I suck. I basically have no idea if someone's telling the truth or not," but we don't know. Most of the time we do suck.
[00:12:18] Jordan Harbinger: Fraud is way up because of the Internet. I mean, whereas before somebody would have to have the gall to knock on your door and make their presence known and talk to you in person and risk, getting caught, making it really hard to repeat this scam. Now, you can just email 25 bajillion people from some list that you bought online or stole and hope for a return on that.
[00:12:38] Frank Abagnale, you'd quoted him in your book, which is just brilliant. One of my first criticisms was look, all that stuff that Frank Abagnale did from Catch Me If You Can, you can't replicate that because of technology, he said, "Look, everything would be a thousand times easier now because of technology.
[00:12:54] Maria Konnikova: Absolutely. And that's something that's totally shocking to people. It was actually shocking to me because you'd think that there's so much fraud prevention software that we've gotten. So technologically sophisticated, that things like that can't happen. And yet you have these huge lapses.
[00:13:10] I mean, I don't know if you remember. Last year, there was a big scandal where it ended up that the company that does a lot of the security clearances for the government was faking the clearances.
[00:13:20] Jordan Harbinger: Oh my gosh.
[00:13:21] Maria Konnikova: It ended up that it was thousands and thousands of people that the government had thought had been thoroughly vetted that had had no real background checks whatsoever. And this just went completely under the radar because no one thinks it can ever happen. And we all give up so much information on things like Facebook and Twitter. I mean, people who check into places don't realize how easy it then becomes for con artists to either pretend that they know them or to steal their identity or to do so many different things that will totally mess with your mind because you're not just leaving breadcrumbs. You're just leaving a blazing trail saying, "Hey, here I am. This is what I'm doing. Please come and steal my personal information or please come and pretend that you're a friend who knows me. Oh, remember we met at that bar that night." And no one wants to say, "Oh no, I don't remember." And as soon as you have that one connection you're in and you've suddenly hacked an entire network. Imagine if that person works at a security company.
[00:14:24] Jordan Harbinger: Oh my goodness. It's terrifying to think that there's so many people who were probably, they applied and they probably went, "Oh my god, they didn't catch that thing that I did. That's awesome." And then they're just working in this job, right? I wonder how many people they have to rescreen and who's going to get fired because, "Oh, now that we actually did the clearance, you are a major threat and never should have been here in the first place.
[00:14:45] Maria Konnikova: Absolutely. And all it takes for a con to succeed is one point of vulnerability and with the Internet and with social networks, it makes it so easy to find that one point, whereas before you had to do a lot of legwork.
[00:14:59] Jordan Harbinger: Yeah. It's just gotten so much easier as Frank Abagnale said. And the idea that the victim is so common was scary to me until I read exactly what you had stated in your book, which is human nature essentially says this, "Look, the common cliche is if it sounds too good to be true, it probably is." But the exception to that rule is the rest of the sentence, which is, "Unless that good fortune is happening to me because I deserve good fortune." And that's exactly what con men are relying upon.
[00:15:28] Maria Konnikova: Absolutely. I mean, we all think that we're exceptional. You know, you are the protagonist of your life. I'm the protagonist of mine. We always think that we're the most important person in the room. You know, there's a lot of people worry about leaving parties without saying goodbye. They say, "Oh, am I being rude? You know, should I go and say goodbye to the host?" And at some point I realized, I said, "No, you're not being rude because nobody cares. You're the only one who realizes that you're leaving early." Unless you know, you're the bridesmaid and it's a wedding, but otherwise, no one else cares. You are always more important to yourself than you are to anyone else in a room. And that comes with kind of thinking that you really are exceptional in everything.
[00:16:10] One of my favorite studies that I learned about when I was researching this book was about drivers. And people interviewed drivers who had gotten into accidents while they were in the hospital and asked them to rate their driving. And almost all of them rated themselves as above average, even when they had caused the accident that had put them in the hospital. And that to me is just crazy.
[00:16:32] Jordan Harbinger: Oh my gosh. That's so insane. So basically that cognitive dissonance is so great that we can never really overcome it.
[00:16:39] Maria Konnikova: Absolutely. I mean, we really want to believe that we are good at basically everything that's good and that when it comes to bad things that we have less of it. So if I ask you, "Are you honest?" You'll be like, "Yes. Oh, I'm definitely more honest than average." If I say, "Are you greedy?" You'll say, "Oh no, no, no. I'm definitely much, much less greedy than average." And whenever you have evidence to the contrary. So if you just happen to get into a car accident, you just dismiss it. You say, "Oh, well, no, you know, the insurance might say it was my fault, but technically it was the other guy," or, "You know, it was a really dark at night. There was fog." You'll just have a million things that can dismiss your role and still keep that pristine image of yourself in your mind.
[00:17:26] Jordan Harbinger: Yeah. This is something that isn't unique to cons or traffic accidents. I would assume.
[00:17:31] Maria Konnikova: This is something that I think is pretty ubiquitous. I don't think it's unique to anything. I think almost every single human being experiences it. With one exception actually, the one exception is people who are clinically depressed.
[00:17:44] Jordan Harbinger: Really?
[00:17:45] Maria Konnikova: They end up being much more realistic about themselves and how they're doing, and that sucks. They're clinically depressed and they can't get out of their clinical depression. So it's actually, once again, we were talking about what's evolutionarily adaptive, it's kind of nice to see this rosy glow to think that you're better than average in everything. It's psychologically protective because if we actually saw where we ranked on all of these things, it would be pretty disturbing and it would lead to emotionally negative consequences.
[00:18:15] Jordan Harbinger: Geez. What does that say about humanity when the only people who have an accurate perception of themselves are depressed? And what does that mean that when you have an accurate perception of yourself, it immediately leads to unending completely long-term enduring sadness? That in itself is actually kind of depressing.
[00:18:32] Maria Konnikova: It certainly is. So Jordan, I just want to let you know that I'm an above average everything. So in case, you have any questions about my book, I'll just refer you to my brilliance.
[00:18:42] Jordan Harbinger: I can vouch for that.
[00:18:46] You're listening to The Jordan Harbinger Show with our guest Maria Konnikova. We'll be right back.
[00:18:51] This episode is sponsored in part by Innovation Refunds. If you own a business, this has been a bumpy ride from pandemic to inflation. I'm sure you could use a break. My friend owns this company. I think it's a genius. If your business has five or more employees and managed to survive COVID, you could be eligible to receive a payroll tax rebate of up to $26,000 per employee. It's not a loan, there's no payback. It is a refund of your taxes. This is your money that you can get back potentially. The challenge is getting your hands on it, of course. The government makes it nice and simple, always as government does to go ahead — no, of course not, the website is crazy. There's a lot of red tapes. How do you get your business this refund money? Go to getrefunds.com. The team of tax attorneys, they put together are highly trained in this little-known payroll tax refund program. They've already returned over a billion dollars to businesses, which is just mind-blowing so much money and it's your money already. They can help you do that same thing. They do all the work. There's no charge up front that is important. I think that is a huge, huge deal. They simply share a percentage of the cash that they get for you. Businesses of all types can qualify, including those who took PPP, nonprofits, including those that had an increase in sales.
[00:19:59] Jen Harbinger: To find out if your business qualifies, just go to getrefunds.com/jordan. Click on qualify me and answer a few questions. This payroll tax refund is only available for a limited amount of time. Don't miss out. Go to getrefunds.com/jordan. That's getrefunds.com/jordan.
[00:20:18] Jordan Harbinger: And get some of your own money back from Uncle Sam.
[00:20:20] This episode is also sponsored by IPVanish. Did you know that browsing online using incognito mode doesn't actually protect your privacy? That's right without added security, you might as well give away all your private data to hackers, advertisers, your ISP, and other prying eyes. That's why we all over here use IPVanish VPN to make it easy to stay truly private and secure on the Internet. IPVanish helps you safely browse the Internet by encrypting a hundred percent of your data. This means that your private details, passwords, communications, browsing history, and more all going to be completely shielded from falling into the wrong hands. Even your physical location will be hidden, which I kind of like. I like to mess around with that here and there. IPVanish makes you virtually invisible online use. IPVanish on unlimited devices without sacrificing on speed. So your computers, tablets, phones, even devices like your Fire Stick when you're streaming media. Whether I'm at home or in public, I don't go online without using IPVanish. And all you have to do is tap one button, you're instantly protected. You won't even know it's on.
[00:21:17] Jen Harbinger: IPVanish is offering an incredible 70 percent off their yearly plan for our listeners with a 30-day money-back guarantee. That's like getting nine months for free stop sharing with the world everything you stream, everything you search for, and everything you buy. Take your privacy back today with a brand rated 4.6 out of five on Trustpilot. So go to ipvanish.com/jordan and use promo code JORDAN and claim your 70 percent savings. That's I-P-V-A-N-I-S-H.com/jordan.
[00:21:46] Jordan Harbinger: A lot of you ask me how I've gotten so many opportunities, how I get so lucky all the time, and that's a fair question. Honestly, it has to do with my network. I am not schmoozy, not gross with it, but I do maintain relationships with lots of people over time. I take just a few minutes every day to do it. I'm teaching you the same skills that I use and showing you the software and the systems and everything that I use every single day over at jordanharbinger.com/course. The course is about improving your networking and connection skills, but also inspiring others to develop a personal and professional relationship with you. It'll make you a better networker, a better connector, and most importantly, it'll make you a better thinker. That's jordanharbinger.com/course. And by the way, many of the guests on the show subscribe and/or contribute to this course. Come join us, you'll be in smart company where you belong. Oh, and naturally this course is free.
[00:22:35] Now back to Maria Konnikova.
[00:22:39] What type of people become con men though, going back to the adaptive thing—
[00:22:43] Maria Konnikova: Mm-hmm.
[00:22:43] Jordan Harbinger: Look, if we're all sort of evolved to be trustworthy aside from con men, what happened to those people? What sort of bug did they end up with?
[00:22:51] Maria Konnikova: Yeah, it's a really interesting question. And the first thing I started investigating was, I think, something that a lot of people naturally think, which is, "Are all con men psychopaths?" And it ends up that a good number of them are. Psychopaths are a really interesting subset of the population because they've basically co-evolved to take advantage of the fact that everyone else isn't a psychopath. And so they're pretty constant in the small single-digit percentages of the population. Usually around one percent, although in some professions — like law, business, politics — they're really overrepresented. So you get into double digits pretty quickly. I won't speculate on what that means about humanity.
[00:23:32] Basically, as long as there are very few of them, they can take advantage and end up doing much better than everyone else. Because the idea is that if everyone lies, cheats, steals, does all these terrible things, society devolves. But if everyone follows the rules and you are the only person who does these things, then suddenly you're the king of the world because no one expects you to do it. So you actually end up getting away with it.
[00:24:00] And so what you find is that a number of psychopaths do end up becoming con artists. And the way that I try to think of it is kind of like a Venn diagram. So you have con artists in one circle and you have psychopaths in another, and then you have the intersection of the two. And in that intersection, you also find a few other personality traits which exist in circles of their own as well, which is Machiavellianism and narcissism. And those are the so-called dark triad of traits. And Machiavellianism is exactly what it sounds like. It comes from Machiavelli, someone who's really good at kind of persuading and bending people to his own will, Machiavelli's ideal prince. That's basically what a con artist is.
[00:24:43] Jordan Harbinger: Right, right. For those who are unfamiliar with Machiavelli, the takeaway is it's better to be feared than loved, right? Where you can have the love of your people, but it's actually better if they're terrified of you because they will do whatever you want.
[00:24:54] Maria Konnikova: Absolutely. And the other famous quote from that is, "That the ends justify the means." So as long as you get what you want, it really doesn't matter how you get there. And con artists tell themselves this all the time because that makes them able to go to sleep at night and to wake up in the morning, still thinking that they're pretty great human beings and that everyone, as you earlier said deserved it.
[00:25:17] And finally the narcissism that's also pretty self-explanatory. It means they have a grandiose sense of self that they really think that they deserve everything much more than anyone else. And I think it's at a much higher level that, "You are normal. Oh sure, I'm better than average. And I have good things coming to me," because they say, "No, no, no. I deserve to take advantage of other people because I deserve to have whatever I want." That can be money, but it doesn't need to be, it can also be prestige.
[00:25:47] So one of the con artists I follow in the book loved to steal credentials. He became a doctor, he became a surgeon. He became a president of a university, a professor, a Texas prison warden. He did all of these different things and he didn't really get money for any of them. But what he did get was prestige and power and control over people without having to earn it. He didn't even graduate high school. So I think all of them think that they're getting something that they absolutely deserve.
[00:26:16] Jordan Harbinger: If this is hardwired, the psychopathy deal, so do all people with that psychopath wiring become con men then, I mean, I would assume they can't be.
[00:26:25] Maria Konnikova: No, no, that's absolutely right. That's why it's kind of a Venn diagram with non-overlapping circles. So there's stuff outside the overlap. So there are psychopaths who don't become con artists.
[00:26:36] One of my favorite stories is about a neuroscientist who was studying Alzheimer's and was studying psychopathy on the side. And he suddenly found the brain of a psychopath because psychopaths have distinct brains. You can actually see what they look like, simply by looking at the brain structures. He saw the brain of a psychopath in his Alzheimer's study and he thought, "Huh? That's so strange. Someone must have mixed up the scans." And so he asked it to be de-anonymized to figure out who this person was so that he could set everything right. And it ended up that the scan was not mixed up. It was actually his own. He was using his brain and his family as controls for the Alzheimer's. So he was using them as healthy brains to compare with the Alzheimer's patients. And he found out that he was a psychopath and that he'd been a psychopath his whole life, but he became a famous neuroscientist.
[00:27:27] And so there's a saying among psychologists, whenever they're asked about nature versus nurture, which is that genes load the gun, but it's kind of nurture in society that pulls the trigger. So you can have a loaded gun, but it need not ever be pulled, that kind of depends on where life takes you.
[00:27:48] Jordan Harbinger: Okay. So what sort of factors influence the behavior? Obviously, childhood stuff. We've all seen Dexter where he is crying in the pool of blood, right?
[00:27:56] Maria Konnikova: Yeah, childhood stuff, early trauma, developmental stuff, actually. So it even starts before you're born. If your mother is stressed while you're in utero, especially during the first trimester that can lead you to go in a certain direction, if you have a traumatic event when you're growing up, if you end up in a place that's really emotionally unsupportive, even if you're a little bit older. So it always has to do with the kind of adverse life events that set you on the path towards being. For lack of a better term, I'll say a negative psychopath rather than a neutral or a positive psychopath, because all of the business people, all of the lawyers, all of the politicians who are psychopaths, but most of them aren't conning anyone and most of them are certainly not killing anyone, but you do have those people who life just dealt them a raw deal and they ended up going in a completely different, very criminal direction.
[00:28:55] Jordan Harbinger: Interesting. That is really cool. And obviously, I would even think things like corporate culture and certain types of corporate company culture in general or competitive environments could trigger these genes as well.
[00:29:06] Maria Konnikova: Oh, absolutely. And there are some people who would behave like totally normal human beings if they're in an environment that values honesty. But once you put them into a culture that doesn't actually have those values and that instead has kind of this competitive "do anything to get ahead," all of a sudden they start acting on these instincts and it becomes really, really difficult to stop. I hate making a slippery slope argument because it's often so wrong, but it ends up that with things like cons, it actually becomes much, much easier after you've done the first one to just keep on going and keep on making all of these moral compromises that you justify to yourself.
[00:29:49] Jordan Harbinger: Is this uniquely human? I mean, it seems like a really crummy thing that we own, but there were some interesting kind of examples in your book.
[00:29:59] Maria Konnikova: Yeah, it's pretty universal to the animal kingdom. There are snakes that can play dead, really play dead to get you to leave them alone. My favorite are ants who figured out how to play at queen bees and so they invade colonies and basically, the colonies think that they're queens. And so they feed them and they give them all of the resources, even when they're starving. These imposters end up getting preferential treatment, which is kind of crazy because they've just figured out a way to worm their way into a community by masquerading, by impostoring as someone else. You have cuckoo-finches who leave their eggs in other bird's nests, tons of eggs. So it becomes impossible to distinguish which eggs are actually theirs and which eggs are the birds. And so the mother ends up having to raise all this brood of parasites. It's really fascinating because you can look almost anywhere from insects to primates, obviously. And you see that we really have evolved to deceive.
[00:31:05] Jordan Harbinger: Yeah, no. Excellent. I think it's funny that even animals can be con artists.
[00:31:09] Maria Konnikova: Absolutely. Some of — I mean, do you have a pet? Do you have a dog or a cat?
[00:31:12] Jordan Harbinger: I have a cat. Yeah. He's extremely manipulative with my emotions.
[00:31:17] Maria Konnikova: So there you go. I mean, some of them, you know, there are all these arguments, does my animal feel emotion? Well, we don't know. We can't ask the animal, but they definitely know how to make you feel guilty. They definitely know how to manipulate you. Sometimes they're not being deceptive, but other times they just want you to give them something. So they'll look very, very sad because they want food. Is that a con? Well sort of, because they're not really sad. You're home, they're not hungry, everything's fine and dandy, but they want those extra resources. So I think a lot of us, especially pet owners see it every single day. Or if you have kids, I mean, babies become manipulative little con artists from a very young age, you know, smiling, cooling, knowing exactly how to get the attention.
[00:32:02] Jordan Harbinger: Everybody knows what a sad meow or a doggy dinner bowl eyes looks like. And I feel like animals have just split-tested enough reactions or enough actions and emotions and things they can showcase. And some of them they know, get food, so they just learn that. I don't think they're going, "If I act sad, I'll get food." They're going, "When I do this weird look, this human gives me food. It's amazing."
[00:32:25] Maria Konnikova: Absolutely. I think that's exactly right. I think that's exactly right. If you think about it, you don't really have to separate whether or not they really know what they're doing because they do know what they're doing at the end of the day is getting food. And that's what con artists do. They know their end goal. And some of them who are psychopaths, by the way, they don't experience emotion. They fake emotion. One of the things, one of the hallmarks of a psychopath is the inability to experience empathy and a lot of the emotions that we associate with being human, but they are really charming, really charismatic, really good at mimicking what they know they should be feeling. In a way, that's incredibly persuasive.
[00:33:07] Jordan Harbinger: That's probably a pretty handy skill for a con artist because, for me, I'm kind of a crummy liar, right? Because I feel guilt and all these different things in the moment. But for somebody who's a con artist, they can go, "Okay, let's look at tons of examples of somebody feeling this exact emotion or being really in need. And let me just mimic all of those things with no baggage."
[00:33:25] Maria Konnikova: And they always, always can justify what they're doing. I mean, I talked to a lot of con artists when I was researching this. Not one of them was repentant. Some of them were just downright gleeful. There was one that I spoke with Ken Perenyi, who was an art forger. He was so proud of himself. He just said, "Oh yeah, you know, they bought my paintings. It's totally their fault. They can't tell a real Butterworth from my Butterworth. I was on the cover of a Sotheby's catalog. You know, I'm the man. And you know what, if the FBI hadn't nabbed me, I would've kept right on going." So he doesn't care, I mean, not an ounce of remorse.
[00:34:05] Jordan Harbinger: Yeah. Like I said, it must be a pretty handy skill to have in the moment, especially, and we as humans that just in general, spotting lies is very hard. In fact, it's next to impossible even with the best training in the world. Even interrogators and people I know that are body language experts who literally write the books on this stuff like Joe Navarro. Even the science, polygraphs are inaccurate. They're very flawed. Most of us can read a little bit of body language and it becomes very dangerous because since we're not really that good at it, we get a little bit of knowledge like, "Oh, their arms were crossed and they look down, they're lying." So what we do is we fill in a ton of blanks with our own assumptions, but they're veiled, right? We don't think, "Oh, this person is cold," which is totally a valid reason for having your arms crossed. We don't think that we look at all of this other data that only maybe we have in our own head. And we're like, "This is what this person is feeling," and it's completely inaccurate and we also oversimplify where we shouldn't as well.
[00:35:03] Maria Konnikova: Absolutely. We are very, very strong folk mythologies about what a liar looks like. And they're remarkably universal because we want them to feel shame. We want them to feel all these things. So we think, you know, they'll avert their eyes. They'll be a little jittery. We have all of these ideas in our heads, and it's almost impossible, no matter what evidence you present to convince us that we're wrong, because we are really certain of what we know. It's fascinating because you see in study after study that people are no better at chance, basically in any situation at predicting whether or not someone is lying or not lying and at being able to read the cues of lying. And if you think about it, these are lab studies. And so these aren't expert liars, these are people who were told, "Okay, convince me that you didn't actually steal five dollars or whatever it is."
[00:36:00] Now, imagine if you're in the real world, and these are people who lie their whole lives, whose livelihood depends on it, who don't feel uncomfortable at all. They're not experiencing any cognitive dissonance. They're not experiencing any discomfort. This is what they do. And on some level, they believe that what they're doing is good. That's how they get through. We would fare so much worse in that situation than in any of these laboratory studies. And yet we all think that we're pretty good at spotting lies. It's scary.
[00:36:30] Jordan Harbinger: Yeah. That part becomes the problem. And I think that's a big takeaway for this episode, especially is you are a terrible spotter of lies. And that goes for you, whether you're a police interrogator, who's been doing this for 20 years or you're somebody who's reading a book on body language and trying to figure out if your significant other is cheating. You are a terrible spotter of lies and judge of body language in general.
[00:36:53] Maria Konnikova: Absolutely. And in some ways I would say, try to acknowledge that you don't know and that there are no signs because that way you're more likely to be skeptical because otherwise, you might become overconfident and think, "Oh, well, I've read this book. Now, I know how to spot lies." No, no, you don't.
[00:37:09] Jordan Harbinger: No, you don't, exactly. How can we avoid a little bit about getting scammed? Because it seems like we're totally screwed. We can't spot lies. They like trusting people. If we're over-vigilant, we get scammed. I mean, are we just totally out of luck here?
[00:37:23] Maria Konnikova: You know, I think that being able to identify some of these techniques goes a long way because once you kind of know that there are all of these scams out there, once you know kind of how they work, then at least the most obvious ones you're not going to fall for. So there's some evidence for instance, that if you talk to elderly people and you explain what some scams are like, like for instance, there's a grandparent scam where you're called and you say, "Oh my god, your grandson's in the hospital. He's in surgery. We need money." They're endless variations of this. And they're very flustered and they end up sending money and sometimes someone will even impersonate their grandson and will have all this personal information about them. There's some evidence that shows that if you tell them about this scam, then they become less likely to fall for it. Unfortunately, it doesn't really generalize. So we really have to go through every single type of scam, which isn't possible.
[00:38:19] And in that sense, I think what we can do is try to understand ourselves a little better, try to understand the things that we most want to be true. So, you know, I want to be incredibly healthy and I want to find food that's very good for me, for instance. So I should be very wary of people who try to sell me the miracle fruit or something that's really going to make my health improve because that's exactly what I want to hear. And whenever someone tells you exactly what you want to hear or exactly what you think you should be hearing your alarm bells should go off.
[00:38:56] Jordan Harbinger: We all over believe. And we also believe things we just have no evidence for.
[00:39:01] Maria Konnikova: Mm-hmm. I think that's part of what makes us human. I think we all have this very deep-rooted need to believe that the world makes sense. We're really uncomfortable with ambiguity. We want black-or-white answers. We do not like shades of gray. We really want to know that things happen for a reason that, you know, good things happen to good people, bad things happen to bad people. And if it doesn't look like that right now, then eventually everything will work out.
[00:39:27] And I think that this desire is one of the reasons why con artists, they have their work cut out for them. They can just pick and choose their victims because they're selling belief. They're selling hope. They're selling a version of the world that makes sense, the exact world that we want because the world as is, is messy. And a lot of things aren't explainable and a lot of things are ambiguous. So it's a world that we're not really comfortable with.
[00:39:55] Jordan Harbinger: This is The Jordan Harbinger Show with our guest Maria Konnikova. We'll be right back.
[00:40:00] This episode is sponsored in part by Better Help online therapy.
[00:40:03] Jen Harbinger: Whenever I was going through something, as we all do, I used to call my parents or my friends and complain to them, but it often didn't make me feel any better.
[00:40:12] Jordan Harbinger: Yeah. Complaining doesn't get you anywhere. Plus your friends don't want to keep hearing about your problems. Your parents often give advice you don't even want. So I'm glad you finally signed up for Better Help online therapy.
[00:40:21] Jen Harbinger: Yeah. I love that it's virtual. It's perfect for any busy person who has to balance life like work, school, kids, et cetera.
[00:40:29] Jordan Harbinger: Tell everyone how easy it was to sign up. This is a totally organic conversation, everyone, in case you're wondering.
[00:40:34] Jen Harbinger: Super simple. I answered a series of questions. I did it on the Better Help app. And at the end, I indicated my personal preference on what I wanted in my therapist. And not even kidding, within 15 minutes, I was paired with a therapist that I still work with every week to this day.
[00:40:48] Jordan Harbinger: And if you don't jive with your therapist, which at any time, it's also much more affordable than in-person therapy.
[00:40:53] Jen Harbinger: When you want to be a better problem solver therapy can get you there. Visit betterhelp.com/jordan today to get 10 percent off your first month. That's better-H-E-L-P.com/jordan.
[00:41:04] Jordan Harbinger: This episode is also sponsored by Progressive insurance. Let's face it. Sometimes multitasking can be overwhelming. Like when your favorite podcast is playing, the person next to you is talking, your car fan is blasting, all while you're trying to find the perfect parking spot. But then again, sometimes multitasking is easy, like quoting with Progressive insurance. They do the hard work of comparing rates. So you can find a great rate that works for you, even if it's not with them. Give their comparison tool a try, and you might just find getting the rate and coverage you deserve is easy. All you need to do is visit Progressive's website to get a quote with all the coverage you want, like comprehensive and collision coverage or personal injury protection. Then you'll see Progressive's direct rate and their tool will provide options from other companies all lined up and ready to compare. So it's simple to choose the rate and coverage you like. Press play on comparing auto rates, quote at progressive.com to join the over 27 million drivers who trust Progressive.
[00:41:54] Jen Harbinger: Progressive Casualty Insurance Company and affiliates. Comparison rates not available in all states or situations. Prices vary based on how you buy.
[00:42:01] Jordan Harbinger: This episode is also sponsored by GoodRx. Kids are back in school. So along with all the charm of this season, come seasonal colds, strep, little pink eye, maybe some flu sprinkled in there. I'm not even going to mention the C word. We're all sick of hearing that. Fortunately, GoodRx can help take one thing off your plate, worrying about the cost of your prescriptions. Did you know — and this comes as a surprise to many people, including myself — pharmacies charge different prices for the same prescriptions? So you could actually be outraged by the price at one pharmacy, walk across the freaking street to a different pharmacy, with a much lower price for the exact same drug. The reason why prices vary at different pharmacies are complicated, but finding the lowest price is not. Thanks to GoodRx, which is totally free to use. My father-in-law uses it. We get a lot of emails from you saying how much you've saved with GoodRx as well. We've even had a couple of pharmacists actually tear me a new one and I know y'all mean well because they just don't make as much money off of prescriptions using GoodRx.
[00:42:55] Jen Harbinger: For simple, smart savings on your prescriptions, check GoodRx. Go to goodrx.com/jordan. That's goodrx.com/jordan. In 2021, GoodRx users saved 81 percent on retail prescription prices.
[00:43:09] Jordan Harbinger: Thank you all so much for supporting the show. All of our advertisers, all of our sponsors, they're all on one page, very searchable, easy-to-find page. Jordanharbinger.com/deals is where you can find all of those codes, all of those URLs. You can also search for the sponsors using the search box right there on the website at jordanharbinger.com as well. Please consider supporting those who support this show.
[00:43:31] Now for the rest of my conversation with Maria Konnikova.
[00:43:36] Can you give us something that we can really sink our teeth into, for example, how do we know if we're the type who's going to get con? Is there a way we can sort of assess our victim profile?
[00:43:45] Maria Konnikova: Sure. There are certain profiles of different types of victims that fall for different types of cons. So one of the things we can do is to realize that everyone becomes vulnerable at moments of emotional instability or emotional loss. So it could be, you know, you could be going through a breakup or a divorce. It could be that you've lost a lot of money. It could be that you've lost your job. It could be that you have to suddenly move apartments. It could be that you've lost a pet. You know, it really could be anything, but suddenly you're just thrown off balance. It could even be something like you just got a really bad grade on a test and you're a college student.
[00:44:22] So that is what makes you a victim, not who you are, but the fact that at that moment in your life you're particularly vulnerable. And so that way we don't even have to identify con artists. We just have to basically up our defenses at moments when we're very vulnerable. And that sometimes means letting people that we trust, that we've known a long time kind of take care of us and help protect us.
[00:44:47] So I know some people who give someone else access to their email, for instance, at really crappy moments in time, because they realize that they might be apt to respond to something in a way that they don't want to. So someone was able to stop his father from falling victim to a scam because he ended up having access to his father's email.
[00:45:09] So things like that I think are really, really important to try to identify when we become a victim and to try to build defenses against those moments.
[00:45:20] Jordan Harbinger: Is there anything that will tell us whether or not we're more likely or less likely to become a victim of this and maybe help us strategize a little bit something very practical?
[00:45:28] Maria Konnikova: Absolutely. So there's this wonderful test that was developed called the self-reflection test. And what you have to do is draw the letter Q on your forehead and just do it kind of right now and see which way your cue is facing. Is it facing towards you as if you're looking at it, or is it facing towards the other person as if they were seeing?
[00:45:56] Did you draw your Q?
[00:45:58] Jordan Harbinger: I did. Mine was so that I was looking at it, not so other people were looking at it.
[00:46:03] Maria Konnikova: Okay. So what that means—
[00:46:05] Jordan Harbinger: Uh-oh.
[00:46:09] Maria Konnikova: No, no, it's—
[00:46:10] Jordan Harbinger: I already regret doing this. Go ahead.
[00:46:13] Maria Konnikova: So your tail is to the right, right?
[00:46:15] Jordan Harbinger: Yes.
[00:46:15] Maria Konnikova: So that means you're actually good because—
[00:46:19] Jordan Harbinger: Oh, thank God.
[00:46:20] Maria Konnikova: —if your tail is to the left, that means you're a high self-monitor. And so you're very concerned with appearances, with perception, and with how others see you. And so you're much more likely to manipulate reality to make a better impression. So you're more, more likely to fib just a little bit so that you come off looking better. And so that would mean that you're much more likely to be a con artist. And what you did was you actually did it the other way so that you look at it, which means that you're kind of actually more self-reflective, more introspective. You're more likely to kind of question things and to try to understand rather than make reality a little bit different so that you will ingratiate yourself. So you did well, you passed the tests.
[00:47:06] Jordan Harbinger: Thank God. Okay, excellent. What have you learned from studying con men that we can actually use to be persuasive? You know, because we're all good people naturally listening to this. I want some black hat stuff here, man. Like, look, why should it all be used against us? I want to be able to use it.
[00:47:21] Maria Konnikova: Yeah.
[00:47:21] Jordan Harbinger: Not to con people, but there's got to be some sort of white lining to the dark hat stuff, the black hat stuff you've been studying.
[00:47:28] Maria Konnikova: Yeah. There totally is. And I learned a number of persuasive tactics that I'm really excited to try out. So one of them is, imagine that you want someone to do you a favor. Don't ask them for that favor. Ask them for some other huge favor that they're probably going to say no to. So say you want someone to, I don't know, write you a recommendation letter. So first ask, "Hey, would you volunteer to spend a day with my students? Give up a day of your time to kind of teach them about writing?" And they'll probably say no, because that's pretty ridiculous, right?
[00:48:07] Jordan Harbinger: Right.
[00:48:07] Maria Konnikova: But then what happens is they're going to feel a little bit guilty because they've said no to you. And so a week later, two weeks later say, "Hey, by the way, would you mind writing me a recommendation?" Boom. They say yes. And that happens all the time. There are study after study that shows that someone who's refused a big favor is much more likely to say yes to another big favor, but that looks relatively smaller compared to the Whopper of a favor that you asked them before because people don't like feeling guilty. They like to feel like they're nice and generous people. Not like they're crappy people who refuse to do you a simple favor. That works incredibly well. So I would highly recommend doing that, the double email, rather than just one favor.
[00:48:54] Jordan Harbinger: How come you don't just do it right away? Like, "Hey Maria, can you come and teach all of our students about writing?" "No, that's too much work." "Hey, can you write me a letter of recommendation then?" Is it just too transparent if they're back to back?
[00:49:04] Maria Konnikova: Yeah. Yeah. It's too transparent. And the guilt doesn't have time to sink in.
[00:49:08] Jordan Harbinger: Aah.
[00:49:08] Maria Konnikova: You need to really let them feel guilty. You know, let them think about how bad they were, let them sleep on it. Let them reflect about what a terrible human being they are because they won't donate their time to the poor children who need to learn how to write. Just let them really stew in it.
[00:49:22] Jordan Harbinger: And actually, that seems like it would've totally worked on me several years ago because I always felt that, and it took me years to be able to say no and know that it was actually okay.
[00:49:33] Maria Konnikova: Yeah. Yeah.
[00:49:34] Jordan Harbinger: And it took literally thousands of people asking me for things for free, and now it happens so many times every day. "Hey, I'd love to be on your show. I just started this totally off-topic business that has nothing to do with your audience. And I'm trying to get PR for myself," and that kind of thing, that kind of pitch this, "Review my product. Can I have free advertise—?" Like all of that stuff, just, I mean, constantly bombarding you and it takes a while and it actually seems to be a finite resource. Like, I find that it's just wearing me down.
[00:50:04] Maria Konnikova: Yeah.
[00:50:04] Jordan Harbinger: It's tough.
[00:50:05] Maria Konnikova: Yeah.
[00:50:05] Jordan Harbinger: So if I say no enough times in a day, I might towards the end of the day, say, "Oh fine. Okay. I'll do this," and then instantly regret doing it and often have to cancel.
[00:50:14] Maria Konnikova: Yep. But you say yes because you feel bad.
[00:50:16] Jordan Harbinger: Yeah. I now route things, a lot of things through my assistant, because her job is to say no, and if she gets worn down, it's okay because then she can filter even things that are remotely reasonable through to me. So I use a lot less sort of finite willpower saying no. It's one of the reasons why busy people have assistance. Not just because they have a ton of work to do, but you need a gatekeeper otherwise you just end up over-committing.
[00:50:37] Maria Konnikova: Absolutely. And there are lots of little techniques like this. Another one is actually kind of the opposite where you ask someone for a really small and easy favor and they'll do it for you usually. And then you just keep asking them for favors, not very often, but often enough, and because they've already done a favor for you, they'll keep doing it to avoid cognitive dissonance because they'll think, "Oh, I'm a nice and generous person, and if I've already done a favor for this person, that means that this person is deserving of favors. And so I should keep doing them favors."
[00:51:09] Jordan Harbinger: Right.
[00:51:09] Maria Konnikova: So it's kind of the opposite technique, but it also works really well.
[00:51:12] Jordan Harbinger: Sure. Backwards rationalization, right?
[00:51:14] Maria Konnikova: Mm-hmm.
[00:51:15] Jordan Harbinger: "Well, if this person was so bad, why did I help them before? They must be a good person?"
[00:51:19] Maria Konnikova: Exactly.
[00:51:19] Jordan Harbinger: What can we do as well to avoid getting scammed? You mentioned something creative called limit setting. What is that?
[00:51:25] Maria Konnikova: So, one of the things that I learned, and I learned this actually from people who were professional cult infiltrators.
[00:51:32] Jordan Harbinger: Nice.
[00:51:32] Maria Konnikova: Because they went into cults to try to extract people who had fallen for the cult leaders. And in a way, cults are kind of the ultimate con because they really prey on your deepest beliefs. And what they told me, one of the things that you always have to do before you go in is to go through an exercise where you try to visualize everything that could possibly happen in the encounter that would make you go beyond what you're comfortable doing. And when you do that, you have to figure out concretely, "How exactly am I going to respond to that?" So that you know, in advance, how you're going to say no so that you don't go beyond your limits. Otherwise, you'll find yourself saying yes.
[00:52:16] So if we get out of the world of the cults, we can think about a gambling table. And if you are someone who wants to make sure that you don't have a problem gambling, you can say in advance, "I am only going to bring $10 and no credit cards, and I'm not going to do this. And if someone offers to stake me a chip, I'm going to say no because I can't pay it back," or whatever you want to say. "And if someone offers this, then I am going to do that." So you actually go through every single scenario, kind of crafting an if-then, if this happens, then I will do this. That will prevent you from going beyond your comfortable limit.
[00:52:57] And that's remarkably effective at making sure that in the heat of the moment, you don't make a decision that you'll end up regretting.
[00:53:03] Jordan Harbinger: Right. Because through going through that if-then not only do you have a plan, but more importantly, you've taken some of the emotional charge out of it.
[00:53:11] Maria Konnikova: Absolutely. Because everyone thinks, you know, this is a really big fallacy that we all make. We think that in the moment we'll still be able to make rational decision. That's not true. Our emotions really get in the way, and we also hate losing face. So a lot of times con artists work because they have you kind of up the ante because you don't want to look weak. You don't want to look silly. You've already committed, so you want to just keep going. And if you in advance know how to extricate yourself and you've played this through and you've actually gone through this conversation and you said, "Well, if he asks me to give him more money," or, "If he asks me to vouch for him at this club, then I'm going to tell him that, unfortunately, you know, today, I simply can't do this because I have this other commitment or because you know, I've already promised my money to this cause," or whatever it is, but you have a way that lets you save face and you don't have to think of it right then and there.
[00:54:04] Jordan Harbinger: So Maria, this is all amazing stuff. I could talk about this for a really long time. There's a lot of really interesting tidbits in the book too — the Marc Anthony gambit, the chameleon effect, all these different persuasion techniques. I'm a big fan of that. But I have to ask you before we wrap, have you ever been scammed?
[00:54:20] Maria Konnikova: Well, I'm going to answer very honestly. And that's to say I have no idea. As far as I know, I haven't. But I'm actually not confident at all of that answer because most scams go under the radar. So how do I know that when I gave, you know, two dollars to the girl who said that she needed a subway pass, I was actually giving her two dollars for a subway pass and not for something else? I'd like to believe that what she said was accurate and that she had lost her pass and just needed to get through the turnstile. I don't know. Maybe I was conned at that time. So moments like that, I really don't know. I'm assuming the answer is I probably have been. I'd like to think that I haven't. I'd like to think that everyone I encounter is just very, very nice.
[00:55:05] Jordan Harbinger: Maybe the case. Do you want to tell us about the time your date got scammed? That sounded pretty juicy.
[00:55:10] Maria Konnikova: So I was on a first date with a guy who I had only just met and we were walking through Washington Square in Manhattan. And this guy comes up to us and he just read the situation perfectly. You know, you can always tell when people are on first dates, the body language is so incredibly telling.
[00:55:30] And so this guy said, "Oh my god, you know, I'm really, really sorry. I'm from New Jersey. And I lost my wallet and I need to get home. You know, my family's waiting. I have children. I just need to get home for dinner. This is terrible. Could you spare $20 so that I could get a train ticket back to New Jersey?" And right away, I was like, "Don't give him money. He's scamming you." But the guy, my date was a gentleman. He gave him $20 and this man said, "Oh, thank you so much. You know, I'll pay you back. Let me give you my information." My date ever, the gentleman said, "No, no, don't worry about it. You know, just go home to your wife and kids."
[00:56:04] And obviously, he would've given him fake information and it was just a perfect reading of the fact that my date wouldn't want to look like a cheapskate and that he would want to appear like a generous, good person who will, of course, help this man get back home to his family. And actually, at the end of the date, I felt really bad. I thought that I was just this cynical human being and that maybe that guy really did need to get home to New Jersey.
[00:56:30] And so I lived a few blocks from Washington Square. I decided to do an experiment. So I went back to the park at about the same time, the next night. And I found the same man who was asking someone else to give him money for that ticket back to New Jersey. So I felt very justified in that moment.
[00:56:48] Jordan Harbinger: Yeah. And of course, he specifically targeted people on dates because he thought, "Look, these guys have a high success rate because they want to look generous and showcase all these kind qualities to this potential mate."
[00:56:59] Maria Konnikova: Oh, absolutely. I mean, half the success, if not more than half the success is in targeting the right person, the one who's going to be most receptive to what you want to say. And no one cares more about image than someone on a first date or on any date, really? I mean, you really want your best foot forward.
[00:57:16] Jordan Harbinger: Maria, is there anything else that I haven't asked you that you want to make sure you deliver?
[00:57:20] Maria Konnikova: Don't be cocky. Don't be overconfident. Don't think that you can escape this. Don't think that you're above it. Don't think that you're too smart because that's, what's going to get you conned.
[00:57:30] Jordan Harbinger: Thank you so much, Maria Konnikova.
[00:57:32] Maria Konnikova: Thank you so much, Jordan.
[00:57:36] Jordan Harbinger: If you're looking for another episode of The Jordan Harbinger Show to sink your teeth into, we've got a trailer of our interview with Kevin Systrom, founder of Instagram. Kevin talks about why starting a billion-dollar company is actually easier now than ever, how to pivot your business or your career and whether or not billionaires get FOMO.
[00:57:54] Kevin Systrom: I think I did it in a way that most people don't. I just wanted to work on my own. I wanted the chance to build something from scratch, quote-unquote, "my way."
[00:58:03] I didn't know it was going to be a startup. It was just me. I was futzing around with ideas. I just need space, a table, and my old laptop and a few ideas. It took more than a few to get to Instagram, but that was the way I did it back then.
[00:58:17] We think there's a reason why startups are started by like 20-year-olds. You can go hard to 4:00 a.m. every single day, or maybe even longer.
[00:58:25] Jordan Harbinger: Yeah.
[00:58:25] Kevin Systrom: You don't get sick. Like you don't really have kids. And that's part of the beautiful thing about entrepreneurship is that you can make a lot happen with a few people, highly leveraged. And you know, if you stay healthy, everything goes well.
[00:58:38] We talked a lot about having like one-tap magic. All Instagram was, was like that hour and a half in Photoshop in 0.5 seconds at the beginning, going down to what five milliseconds towards the end. Rarely does your plan A work out, so you have to be able to be quick to move to where the fire starts.
[00:58:57] Jordan Harbinger: Mm-hmm.
[00:58:58] Kevin Systrom: You can't wheel lightning is what I'm saying. YouTube was a dating site. It's crazy.
[00:59:03] Jordan Harbinger: That's wild to think about now.
[00:59:04] Kevin Systrom: But you can go back and you can actually see in the Wayback Machine, like what it looked like way back in the day. And it's striking actually.
[00:59:12] I hope in startups that someday there will be this moment where retro is cool again, where like people are like, we don't have an app, we're just on the web.
[00:59:20] Jordan Harbinger: For more from Kevin Systrom, including how to get honest feedback from others. And when you should and should not listen to it, check out episode 335 right here on The Jordan Harbinger Show.
[00:59:32] Super interesting episode as always, I probably could have gone two hours on that one. The stuff with Maria and con artists and scams, it's always so fascinating. I just love stuff like this. I've read lots of books about old con games and things of that nature because of the nature of confidence, the nature of trust, the nature of belief, and the way that people hack this. This is kind of the original social engineering, the original hacking. Before there were computers, there were con men. There are still con men. There always will be con men. So I love exploring these topics.
[01:00:00] Links to all things Maria Konnikova will be on our website in the show notes at jordanharbinger.com. All of our advertisers, deals, and discount codes are at jordanharbinger.com/deals. And I know I've said it, but I got to keep saying it. Please consider supporting those who support this show. Transcripts in the show notes, videos on YouTube. I'm at @JordanHarbinger on Twitter and Instagram or connect with me right there on LinkedIn.
[01:00:23] I'm also teaching you how to connect with amazing people and manage relationships using the same software, systems, and tiny habits that I use every single day. Digging that well before you get thirsty. That's our Six-Minute Networking course, and that course is free. It's at jordanharbinger.com/course. Many of the guests on the show subscribe and contribute to the course. And frankly, if it's good enough for them, it's good enough for you. Come on, come join us, you'll be in smart company where you belong.
[01:00:46] This show is created in association with PodcastOne. My team is Jen Harbinger, Jase Sanderson, Robert Fogarty, Millie Ocampo, Ian Baird, Josh Ballard, and Gabriel Mizrahi. Remember, we rise by lifting others. The fee for this show is you share it with friends when you find something useful or interesting. If you know somebody's into scams, con, psychology of the mind, human hacking, social engineering, definitely share this episode with them. The greatest compliment you can give us is to share the show with those you care about. In the meantime, do your best to apply what you hear on this show, so you can live what you listen, and we'll see you next time.
Sign up to receive email updates
Enter your name and email address below and I'll send you periodic updates about the podcast.