Reading Time:
3
minutes
Nita Farahany (@NitaFarahany) is a law professor at Duke University; a leading expert on the ethical, legal, and social implications of emerging technologies; and the author of The Battle for Your Brain: Defending the Right to Think Freely in the Age of Neurotechnology.
What We Discuss with Nita Farahany:
Consumer technology that can track, decode, and even manipulate what goes on in the brain is no longer just a plot device in some far-flung sci-fi novel — it's already beginning to come to market.
An ALS patient recently set a record for communicating through a brain implant at 62 words per minute (in comparison, ALS-afflicted physicist Stephen Hawking was only able to communicate at about 15 words per minute by the time of his death in 2018).
Though still in its infancy, consciously transmitted brain-to-brain communication has proven successful in the laboratory.
Functional magnetic resonance imaging (fMRI) scans can accurately sense political bias from subjects' unconscious thoughts.
Brain scans reveal that a significant percentage of coma patients who can't speak or move are aware of the world around them and can communicate through electroencephalogram (EEG) sensors.
And much more…
Like this show? Please leave us a review here — even one sentence helps! Consider including your Twitter handle so we can thank you personally!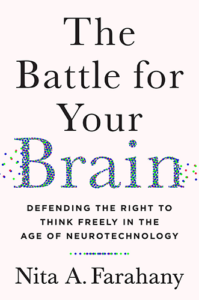 What are the ethical, legal, and social implications of new neurotechnologies and their impact on our ability to think and make decisions? This may seem like a question for distant generations yet unborn, but many of these technologies are already on their way to market or emerging from nascency sooner rather than later.
On this episode, Duke University law professor and The Battle for Your Brain: Defending the Right to Think Freely in the Age of Neurotechnology author Nita Farahany joins us to discuss how these technologies — such as brain-computer interfaces, brain scans, and neurostimulation — have the potential to improve our lives in many ways, but they also raise concerns about privacy, autonomy, and the potential for misuse. Listen, learn, and enjoy!
Please Scroll Down for Featured Resources and Transcript!
Please note that some links on this page (books, movies, music, etc.) lead to affiliate programs for which The Jordan Harbinger Show receives compensation. It's just one of the ways we keep the lights on around here. We appreciate your support!
Sign up for Six-Minute Networking — our free networking and relationship development mini course — at jordanharbinger.com/course!
This Episode Is Sponsored By:
Did you miss our conversation with Stanford neuroscientist David Eagleman about the conscious brain vs. the subconscious brain, exploring new senses, intellectual flexibility, technological brain augmentation, and the umwelt? Catch up with episode 655: David Eagleman | How Our Brains Construct Reality here!
Thanks, Nita Farahany!
If you enjoyed this session with Nita Farahany, let her know by clicking on the link below and sending her a quick shout out at Twitter:
Click here to thank Nita Farahany at Twitter!
Click here to let Jordan know about your number one takeaway from this episode!
And if you want us to answer your questions on one of our upcoming weekly Feedback Friday episodes, drop us a line at friday@jordanharbinger.com.
Resources from This Episode: