Reading Time:
4
minutes
Nury Turkel (@nuryturkel) is a human rights attorney for the US Commission on International Religious Freedom and the author of No Escape: The True Story of China's Genocide of the Uyghurs.
What We Discuss with Nury Turkel:
How the Chinese Communist Party is using artificial intelligence to arbitrarily round up Uyghurs for fabricated crimes — including 17,000 who were arrested within 10 days thanks to assistance from an algorithm.
Some of the 48 behaviors that will get Uyghurs flagged as dissidents in Xinjiang and sent to concentration camps for "re-education" are as mundane as growing a beard or adhering to a halal diet.
Why the CCP is trying so hard to wipe out an entire culture that has had its roots in the Xinjiang region since at least the third century AD.
Uyghur families attempting to start new lives in Egypt, Saudi Arabia, and other countries have been deported back to China to face punishment and possibly death.
How Uyghur slave labor is used to supply markets around the world — especially in the United States — and what we can do to avoid supporting companies that knowingly participate in this shameful, immoral arrangement.
And much more…
Like this show? Please leave us a review here — even one sentence helps! Consider including your Twitter handle so we can thank you personally!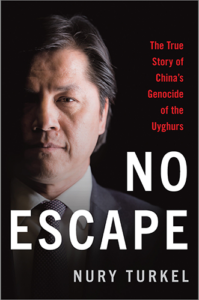 The Uyghurs are Turkic Muslims who have inhabited the Xinjiang area of present-day China since at least the third century AD. When the Chinese Communist Party transformed it into an autonomous region in 1955 and encouraged ethnic Chinese Han to settle here (where natural gas, coal, and other fossil resources account for more than 20 percent of China's energy reserves), it was only a matter of time before these two groups would clash — giving the government a convenient excuse to punish the entirety of the Uyghur population for the terrorist actions of a separatist extremist minority. And when a totalitarian regime wants complete control over such a valuable parcel of land, then colonization, slavery, and genocide against the "undesirable" Uyghurs are just chapters in an elaborate, tragic playbook we're seeing in action right now.
On this episode, we're joined by Xinjiang native Nury Turkel, a human rights attorney for the US Commission on International Religious Freedom and the author of No Escape: The True Story of China's Genocide of the Uyghurs. Here, we discuss how millions of Uyghurs are being systematically oppressed, kidnapped, enslaved, and "re-educated" in concentration camps by a malevolent government armed with the latest technology and a budget that helps them pay off unscrupulous western influencers to deny that any of it is happening. Listen and learn!
Please Scroll Down for Featured Resources and Transcript!
Please note that some of the links on this page (books, movies, music, etc.) lead to affiliate programs for which The Jordan Harbinger Show receives compensation. It's just one of the ways we keep the lights on around here. Thank you for your support!
Sign up for Six-Minute Networking — our free networking and relationship development mini course — at jordanharbinger.com/course!
This Episode Is Sponsored By:
The Daily Stoic Podcast with #1 New York Times bestselling author Ryan Holiday brings you short, stoic meditations and long-form interviews with a variety of guests who benefit from Stoicism. Listen here or wherever you find fine podcasts!
Miss our conversation with David Kilgour, author of Bloody Harvest: Organ Harvesting of Falun Gong Practitioners in China? Catch up with episode 497: David Kilgour | The Heartless Art of Forced Organ Harvesting here!
Thanks, Nury Turkel!
If you enjoyed this session with Nury Turkel, let him know by clicking on the link below and sending him a quick shout out at Twitter:
Click here to thank Nury Turkel at Twitter!
Click here to let Jordan know about your number one takeaway from this episode!
And if you want us to answer your questions on one of our upcoming weekly Feedback Friday episodes, drop us a line at friday@jordanharbinger.com.
Resources from This Episode:
730: Nury Turkel | A Witness to China's Uyghur Genocide
[00:00:00] Jordan Harbinger: Coming up next on The Jordan Harbinger Show
[00:00:03] Nury Turkel: Chinese have been very effective using the business community against our government to keep it quiet. At the same time, they made us, American consumers, addicted to cheap products. So as long as we continue to buy cheap products, imported from China at Target, Walmart, Costco, we're okay with it. So there's a societal problem, there's a political problem. That unethical business operations problem brought us this mess.
[00:00:30] Jordan Harbinger: Welcome to the show. I'm Jordan Harbinger. On The Jordan Harbinger Show, we decode the stories, secrets, and skills of the world's most fascinating people. We have in-depth conversations with scientists and entrepreneurs, spies and psychologists, even the occasional mafia enforcer, investigative journalist, drug trafficker, or extreme athlete. And each episode turns our guest's wisdom into practical advice that you can use to build a deeper understanding of how the world works and become a better thinker.
[00:01:00] If you're new to the show, or you want to tell your friends about the show — and I always appreciate it when you do that — I suggest our episodes starter packs as a place to begin. These are collections of our favorite episodes, organized by topics that help new listeners get a taste of everything we do here on the show — topics like persuasion and influence, technology and futurism, crime and cults, disinformation and cyber warfare, and more. Just visit jordanharbinger.com/start or search for us in your Spotify app to get started.
[00:01:28] Today, one of the more disturbing episodes of The Jordan Harbinger Show, and that is saying a lot. I mean, we have covered illegal organ trafficking, also, coincidentally, from China, if you recall. Today, we discussed the Uyghur genocide happening in Xinjiang, China. We'll hear from human rights attorney Nury Turkel who grew up in Xinjiang, whose family is still stuck in Xinjiang, unable to leave or even speak to him privately and freely on the phone or even online.
[00:01:55] This is the type of show where I'm going to lose a gazillion dollars in sponsorship money for the rest of my career. But honestly, the truth is more important than money. And this is quite a dark topic. Nury is an amazing guy who is very candid, very well spoken in this conversation. No surprise. He was one of Times' 100 Most Influential People in 2020.
[00:02:16] And beware, folks, this episode is not a light listen. This is heavy stuff. It can be pretty intense. It's not graphic, but again, just definitely not a feel-good episode. And I think you're going to enjoy it. You're going to get an inside look at something that we are going to be talking about for decades and decades to come.
[00:02:34] Now, here we go with Nury Turkel.
[00:02:40] Let's just start with the book, right? Because the book starts with a story about 17,000 people getting arrested within 10 days, which you know, first of all — wow. But then when you find out that an AI algorithm is what selected them for arrest, you just start to think about movies. Terminator and Minority Report and all these dystopian B movies that we would find on cable TV at two o'clock in the morning. And it's like, this is actually happening in China. Tell me what some of the reasons were for the AI picking people to get arrested, because I think this is even more disturbing, because it's not even like a real crime, right?
[00:03:18] Nury Turkel: So this is how it started Chinese government tested the surveillance techniques in inland Chinese cities under the guise of doing this social credit system, establishing social credit system and it worked to their benefit. It worked effectively. The Chinese citizens submitted a lot of personal information. The person who is in charge of this project, the acts of genocide correctly being labeled by the United States government, was a party secretary in Tibet. His name is Chen Quanguo. He was appointed by Xi Jinping in August 2016 to enforce Xi Jinping's genocidal policies against the Uyghur people.
[00:03:59] So when Chen was appointed from Tibet to Xinjiang, that's the official name that Uyghurs called East Turkestan. He brought in his command center established in an old government hotel. You can imagine just the movie scenes, multiple video cameras, and screens. He lived and worked from that command center. This is a communist party secretary. His job is not a technology chief or surveillance chief. So he put in place something called Integrated Joint Operations Platform, IJOP. In Chinese, it's called [Foreign Language], which Human Rights Watch reverse-engineered. So we knew about this platform and we do know that then and now that China is a new Saudi Arabia when it comes to personal data. At the same time, we did not know the intrusive and random nature of this technological tool.
[00:04:55] So in early 2017, they start using the data that IJOP collected to order the police to round up everyone who should be rounded up. This is the slogan. This is the decree order given by the same guy, Chen, who was sanctioned under the Global Magnitsky Act. Once that order was released in about June, July of 2017 in one county that I cited in the book, a police department were ordered to round up 20,000 people. But the police could not locate those 20,000 people because the algorithm, the personal data can be some time off because some people may have died. Some people may have moved out of that jurisdiction. Some people even may have taken up a foreign residency in another country. So the police was scratching their head, cussing at each other, and then the upper echelon said, "Now, go find them." And then they go back and squeeze another thousand people. So in that 10 days alone, 17,000 people's lives are shattered.
[00:05:57] This was actually part of the leaked document that ICIJ, International Consortium of Investigative Journalists released, with the help of Bethany Allen-Ebrahimian a couple of years ago.
[00:06:10] Jordan Harbinger: So they arrest 17,000 people, which just think about how many that is in over the course of not even a couple of weeks. And the AI algorithm had selected them for arrest. And some of the reasons were they had a beard, they had a copy of the Quran. Some of the stuff was mysterious. Nury, I didn't understand. "He was using the back door of their house too often." What does that mean? Is that literally what that means?
[00:06:33] Nury Turkel: April 2017, when Xi Jinping came to the United States to spend time with former President Donald Trump at Mar-A-Lago, the local government in Ürümqi was enacting something called de-extremification measure, which is probably just like, he sounds like a science fiction, dystopia.
[00:06:52] Jordan Harbinger: Yeah.
[00:06:52] Nury Turkel: Some of the most draconian tools that the Chinese government put in place to go after the Uyghur population. So the 48 behaviors as profiled in some of the publication is foreign policy essentially makes you a candidate for concentration camp. That includes growing beard, even if it's for style. In today's Chinese society, vast majority of the Orthodox Jews who live in Brooklyn could have ended up in a concentration camp because they grow a beard. Amish community would've ended up in a Chinese concentration camp. Maybe vast majority of the European soccer players who grow a beard might end up being in the same concentration camp. I'm being cynical, but that's as little as you have to display to be a candidate for the concentration camp.
[00:07:39] Objecting your children's marriage to non-Uyghur, non-Muslim individuals, interference in the children's marriage, love affair can be perceived as a side of extremism. Adhering to halal diet, like the Jewish people who are there to kosher diet, the Uyghurs follow halal diet preference, and abstention from cigarettes, sex, alcohol, and also ironically using too much electricity. That shows that you spent too much time surfing online, charging your phone too many times, and then leaving the back door instead of front door. It's creepy. If you leave the front door, they can surveil you. But if you leave the back door, they may not be able to keep track of your in-and-out activities from your own home, domicile. It's so draconian. And you mentioned the Minority Report, for the Chinese to detain individuals based on those 48 behaviors—
[00:08:37] Jordan Harbinger: Yeah.
[00:08:38] Nury Turkel: —it's essentially preemptive policing as they proudly declare. You don't have to actually commit any crime, but for the fact that the government believes or perceives that you may commit a crime or commit acts of violence in the future, then you should be sent to the concentration camp.
[00:08:55] Jordan Harbinger: So essentially AI tells police, which people are likely to commit a crime, except these are religious and cultural and almost like thought-crime type stuff, political crime. And then they get arrested and then put in a prison without a trial before they can actually commit the crime. So yeah, it really is Minority Report, but in real life, terrifyingly dystopian. And this all sounds awful, but we said 17,000 people, but now how many people are in these re-education camps approximately? I assume we don't have real concrete numbers, but I assume we have estimates somewhere.
[00:09:26] Nury Turkel: Before I get to that important question, I need to highlight something before the April 1, starting 2016, they rounded up Uyghur thought leaders or thought leaders, just remind me of that's something very important, the custodian of Uyghur cultural heritage, the authors, stage performers, athletes. Even in one instance, a guy who went to Spain to get training with Lionel Messi ended up being in a concentration camp because he had a travel history. So they attacked the social elites, the thought leaders, academics, religious leaders, business leaders, before starting this IJOP-supported rounding up.
[00:10:03] As for the numbers, the Pentagon official Randy Schriver who served in the Trump administration as assistant secretary of defense for Indo-Pacific affairs, told the public through media in his speech on the hill in summer 2019 that his agency believed that anywhere between two to three million Uyghurs been locked up in the concentration camp.
[00:10:26] And then based on Chinese government's white paper published two years ago, it specifically bragged — I wrote about this in my essay, published in foreign affairs last year. So essentially, it says from the time period of 2015 through 2019, 1.3 million Uyghurs annually being sent to re-education camps. So the re-education camp is a euphemistic term for the concentration camps. So if you add them up, you can come up with a staggering number. What we're talking about is about 12 million population, 11 to 12 million, based on the official statistics. The Uyghurs disagree with that. That's a separate matter for another conversation, but even if it's three million, that's four times the size of the population of our nation's capital, Washington, DC. Washington, DC has about 750,000 people.
[00:11:19] And then give you a perspective during the height of the Nazi Germany. The highest number of Jews being arrested at maximum is about 750,000. So the Chinese practice, as eloquently described by former secretary of state, Pompeo, is stain of the century. So the world has not seen anything like it since the Holocaust era.
[00:11:40] Jordan Harbinger: Look, when I read this, it was some of the most horrible stuff that I'd ever read. And we're going to get into some of this in a bit, and you're going to hear me repeat that statement a few times because it really is. It's really unconscionable and it's just, my imagination is blown out sideways and probably the worst way that has been done since learning about the Holocaust in high school.
[00:12:00] The Chinese Communist Party — and I'm always very careful to say the Chinese Communist Party instead of China, because there's plenty of people in China that don't know about this, don't have anything to do with this, can't do anything about this, and are just trying to live their normal lives. The biggest victims of the Chinese Communist Party have always been the Chinese people. It's the Uyghurs right now but during the cultural revolution of 15 to 80 million Chinese people died because of Mao's terrible horrible policies as well.
[00:12:26] So the real reason these people, these three million Uyghurs are in camps is because they have their own culture. They have their own language. That's just not okay in China. They want these people to assimilate to Han Chinese ways, right? It's the same thing with like the Buddhist monks in Tibet. It's very similar, right?
[00:12:41] Nury Turkel: Right. I've been doing public speaking and media engagement in the last five, six years intensely. Everywhere I go one of the common questions comes up is — why are they doing this? Do they really have legitimate security concern? Is this related to China's global ambition? Is this a pushback against United States or Western liberal democracies? Or is this about solidifying Xi Jinping's CCP's power? Is this about sending a message to others who might be dreaming about having a sovereign independent homeland?
[00:13:17] But one question has not been asked, under-discussed, is the racism aspect of this. When you listen to the Chinese leadership speeches, goes from Xi Jinping down to the provincial level or the enforcers who are implementing the policies, they have a common theme, which is transforming the Uyghurs into normal human being. So transformation is a term that Soviet regime used when they set up the Gulag. Transformation is the term that during the Nazi era, the Hitler's regime also used. So transformation is a code word for human reengineering. So they do say this quite comfortably.
[00:13:58] Former Chinese ambassador to Washington shows up on Fareed Zakaria GPS, told American people two things, one, "Get used to us. This is who we are. Don't dream of having a China that you want to have. You have to learn to deal with the China that you have now." And then two, "We are actually helping the Uyghurs to become a normal human being." So today in year 2022, Chinese Communist Party sets this standard, makes a definition, provides a definition as to who is a normal human being.
[00:14:28] And also, two more public statements that they often use, which goes along the lines of, "You cannot clear out the weeds one by one. You must spray chemical." Religious extremism is a thought virus. So religion to them is a thought virus. And this is the kind of rhetoric right before the pandemic that the Chinese leadership, Chinese propaganda project has been telling the world that the Uyghur have a thought virus, which is their ethnoreligious identity, their values, their way of life.
[00:14:58] The other piece is also important to be reminded. People often think, "Oh, this is internment camp. This is a re-education camp. Oh, our country is not immune from that kind of criticism. We have done it to the Native Americans," but this is different. So when you look at the narrative, the slogan justification, they said, "Teach like a school, manage like a prison, protect like a military." The facilities that they set up for those three million-plus people 800,000 to one million Uyghur children, taken into the state-run orphanages. I profiled in my book. I talked to their parents actually based in Turkey who recognize their children in TikTok video state-run propaganda video. And they're chanting pro-Xi Jinping slogan. In one instance, the little boy didn't want to show warmness to his father. So this is happening in multiple levels and also the homes of the Uyghur individuals where the Uyghur families, ladies being subject to sexual violence.
[00:15:57] Jordan Harbinger: Yeah. I've got a lot of notes on this. I mean, just to sort of clarify what people are hearing in case they're a little bit confused. Children are being taken away from Uyghur families and put in state-run orphanages even if the parents are around or if they've gone somewhere to flee the regime, or if they've been put in prison. And they're being taught to sing the praises of the communist party, recant their culture, recant their religion, speak a different language, Mandarin instead of Uyghur.
[00:16:23] You know, you mentioned the concentration camps and the eradication of, let's say, Native Americans in the United States, and you say this different. Well, okay. Even if it's not different, that was centuries ago or a century ago, depending on which metric, you know, you're going to want to use, you know, if we're talking about Japanese internment camps. This isn't history, people are saying, "We should do that again." This is stuff that we are shameful about, that we are discussing as a national tragedy that we are saying is horrific and should never be allowed to happen again.
[00:16:49] And then, we have Chinese officials going on TV and saying, "Get used to it. This is what we are doing. There's nothing you can do about it. It's our choice and our policy." This is happening right now and they are not ashamed of it. And that's the problem. It's not that there's some technical difference between what these are doing. That may well be the case, but it doesn't have to be that way. What we are allowed to be disgusted with our own behavior a hundred-plus years ago, and be even more disgusted with behavior that's happening right now on a massive scale.
[00:17:17] We can do that, right? We should do that. And I think that's where we get lost in the weeds. China would love — and I've seen this from Chinese Communist Party officials, they'll say something like, "Oh yeah, well, you had slaves." Yeah, we did. Nobody's proud of that. Not one person you can find right now is going to be proud of that. And when you talk about that with Chinese Communist Party officials, it's completely lost on them, but like, we are ashamed of that part of our history. And I love when they make that comparison because they will say, "Oh yeah, well, you had this." And we go, "Okay, so you're admitting that you are doing something equal to or greater than what the United States did when we enslaved African Americans." Okay. At least we're on the same page, but then they go on CNN and say, "Get used to it. There's nothing you can do about it." It makes me want to punch through my television when I see things like this.
[00:18:02] Nury Turkel: Absolutely. And some useful idiots in our country and Europe around the world is helping them to play this whataboutism crap. Excuse my language.
[00:18:10] Jordan Harbinger: No, of course. Your language? Come on. I'm going to say a lot worse on this episode. You just wait. Here's another question I have for you that I think is maybe a little bit unspoken, right? We talk about it's the religion, the culture, the language they're trying to eradicate. I think that that is, of course, the case. But it's probably not a coincidence, and let me know what you think here, that Xinjiang just happens to have a ton of natural resources. They have a ton of natural gas. I believe they have oil reserves under the ground that are untapped. It's one of the only areas where you can grow things like cotton in China. Is this a coincidence that's convenient for Chinese Communist Party or is this part of the rationale?
[00:18:49] Nury Turkel: The Uyghur people are blessed, both blessed and cursed at the same time. They're blessed because they have this precious land that they call Homeland in the heart of Central Asia. It has 600 miles international border all the way from Russia down to Tibet in the Southern part of it. And also it is a gateway to Euro-Asian market. It has been a trade route as part of the silk road. And also it has a vibrant art and literature throughout the history. You know, the Kashgar, my place of birth, used to be a center for learning for Turkic people, Muslim people. So that land is so precious and it makes one-sixth of the China proper. It's about four times the size of California, the size of Western Europe.
[00:19:33] So the size, the location, the history is so important to the Uyghur people. At the same time, because of the reasons that you mentioned, sitting on large oil, gas reserve, gold, cotton, agricultural products, and now the region has the largest windmill manufacturer, a plant.
[00:19:54] Jordan Harbinger: Like wind turbines for electricity generation.
[00:19:57] Nury Turkel: Yeah. And then, now we have the largest solar panel production base, the 83 global brands been implicated in the enslavement of the Uyghur people because of their Homeland happened to be so convenient for natural resources extrication, exploitation, transportation of the cheap Chinese goods to the Central Asian, Euro-Asian market. And also something that has been discussed a lot lately in the media that 80 percent of the Chinese-made cotton products are sourced in the Uyghur Homeland. More than 20 percent of the cotton products produced or sold around the world are sourced in Xinjiang. So that gives you a perspective.
[00:20:41] Today, people in Shanghai use natural gas from Xinjiang. And also people in inland Chinese cities and parts of the United States use agricultural products. Heinz ketchup, for example, uses Xinjiang tomato. Coca-Cola also used forced labor to make Coca-Cola. There's—
[00:21:01] Jordan Harbinger: Really?
[00:21:02] Nury Turkel: Yes, 83 brands, Nike, Coca-Cola Adidas, Puma — H&M try to do the right thing but they got punished. Intel and the battery, all the sneakers that we buy. That's why the United States government passed this legislation called Uyghur Forced Labor Prevention Act to address that issue. So the natural resources made the Uyghur Homeland even more important strategically to the Chinese. So the crude oil reserve is as much as that of Kuwait.
[00:21:33] Jordan Harbinger: Wow.
[00:21:33] Nury Turkel: When I use that comparison, people can appreciate. We try to save Kuwait from Saddam Hussein for energy reason for the most part. So the energy, natural resources, that goes from all the minerals, rare earth, agricultural products, and now the technological products and any equipment related to green technology. Elon Musk has a shop in Ürümqi, the dealership. So it is strategically, politically, economically significant area and used to be to the Chinese but to the world now.
[00:22:05] Jordan Harbinger: It is quite shameful that the United States is one of the biggest markets or even the biggest market for Uyghur slave labor-made goods, shoes, solar panels, cotton. I didn't know about the tomatoes in ketchup being a Xinjiang product. I mean, it's horrible. Look — ugh, it's just so disgusting, right? Slave labor is, of course, cheaper than paying workers
[00:22:27] Nury Turkel: Campbell soup too.
[00:22:28] Jordan Harbinger: Oh, for the tomato soup.
[00:22:29] Nury Turkel: Campbell soup too.
[00:22:30] Jordan Harbinger: Geez, man. Like, it's such a big problem. You can't really get around it. I mean, what are you going to do? Boycott ketchup. Even if you do that, there's still slaves making the solar panels that are on the roof of my house right now. I'm wearing a shirt that's synthetic. Great. Okay. Maybe so it wasn't made by slaves, but my underwear is made out of cotton. You know, it's like you can't help but support this, indirectly support this kind of thing. And of course, since slave labor is so inexpensive, it allows Chinese companies to undercut prices and then dump the products on the market and drive American solar panels, for example, out of business. It's not that the Chinese panels are made cheaper because of the materials. They're made cheaper because the people making them are enslaved in many cases, which is horrifying.
[00:23:10] I looked at the, at this, when I read your book, I was thinking, "How is it that supply chains are so opaque? Isn't there some investigation that a company like H&M or Nike or Campbell's is going to do where they send somebody and say, "Where do we grow the tomatoes? Then where do they go? Then, where do they go? Then, where do they go?" Well, apparently, the Chinese Communist Party will not allow auditing of supply chains unless you use their firms to audit the supply chain. And of course, you just have to take their freaking word for it that no slave labor is used and that they're not dumping chemicals or whatever in there. It's such a sort of complete information control.
[00:23:45] Have you heard about this? Somebody had bought a product. I can't remember what it was and a help note fell out of the product. It was a toy or a hair product. And somebody found a note written by someone that said, "Help. We're slaves. We're making these products. They've got us locked up." Have you heard about this?
[00:24:01] Nury Turkel: No, I missed that one. But there's something else that's also important — I'm sorry for keep mentioning by book, but I mention, I give my book a title, No Escape, for both personal and broader audience reason because I have not been free even though I am an American citizen, senior US government official, I don't feel that I'm free. I have not been able to escape this repression. And on the other hand, for the reasons that you eloquently describing, this is America's problem now.
[00:24:31] So American people can no longer say, "I have nothing to do with it." The guy who owns the San Francisco Warriors, Chamath said, "Who cares about the Uyghurs?" He can say that. That expresses the sentiment in Silicon Valley, but American people are better than that. They're not going to be able to say, "Oh, it's okay for me to wrap my baby around with the baby pajamas that I find from Costco, knowing that it was produced by a fellow human being." And the African American community cannot say, "Oh, yeah, we drop the cotton trade, but it's okay to use the wig made by Uyghur prisoner woman."
[00:25:08] You know, there is a story that you may have seen in the book. 13 tons of human hair was seized by the CBP that was allegedly or reportedly were made by Uyghur women, prisoners shaved hair. And they were targeting African American community. And if people in an environmental activist group say, "Oh, we need to conserve the planet." And guess what? The notion that you're putting up, I am with you, the earth is in peril so as the Uyghur. But if you say that, at the same time, you can also say no to the Chinese and the genocide. We can fight genocide and the eco side at the same time. You cannot just ignore the solar panels because it's cheap. And the Chinese make the solar panel using slave labor and dirty coal. And we cannot compete with assembly line uses dirty coal and slave labor. We don't do that. It's on us. We can no longer feel indifferent about this. This is not a typical humanized atrocity.
[00:26:05] Two years ago, in 2019, I believe 2019, 2020, CSIS published a report fact sheet on forced labor, the Center for Strategic International Studies here in Washington, DC. They have a human rights initiative. They have these two lines that really caught my attention. One, while the United States and our partners have been having this conversation about how to stop the modern-day slavery, the export volume to Italy doubled during the same period while the Congress is making lots of public statements and sanctions be announced. The United States remained to be the largest export destination for Xinjiang products. That gives you a sense what we are dealing with. That gives you a sense.
[00:26:50] How do we get there? In addition to what you pointed out, the auditing difficulty. Chinese have been very effective using the business community against our government to keep it quiet. At the same time, they made us, American consumers addicted to cheap products. So as long as you continue to buy cheap products, imported from China at Target, Walmart, Costco, we're okay with it. So there's a societal problem, there's a political problem. That unethical business operations problem brought us this mess.
[00:27:23] Jordan Harbinger: I want to go back for a second. You said 13 tons of hair were seized in a shipment from China and Customs and Border patrol has this — this is them who reported this. Whenever you're trying to find something that's illicit, getting one shipment is one shipment, you're probably talking about less than one percent of the shipments. You know, if you're looking for drugs or something like that, you're just not catching even remotely half of what's being imported.
[00:27:47] So for those of us that have not yet connected the dots here, we're talking about 13 tons of human hair. How many imprisoned women's heads, do you need to forcibly shave to get 13 tons of human hair? Well, we did the math. It's approximately 250,000 people. And we know this, we know how to do that math because of hair taken from Jews at Auschwitz, another concentration camps during World War II. And this, like you said, was geared to be sold towards African Americans who are, of course, shocked because of their own history and humiliation with slavery. So they're the primary consumers of black human hair products as you might expect. So, it's just very horrifying to think that somebody's in prison, they get their hair shaved off as part of their humiliation. And then it gets turned around and sold as a fashion product in the United States. And we are just buying it as fast as they will sell it.
[00:28:34] By the way, I looked up the help note thing that I just mentioned, it was in St. Petersburg in Russia, a pair of North Face shoes. Somebody brought them home and then inside, there was a note sewn that said, "Help. I am in jail in China. Please help. Uyghur." It was sewn into the shoe.
[00:28:51] Nury Turkel: Wow.
[00:28:51] Jordan Harbinger: So made by a slave in prison, wrote a note, sewed it right into the shoe, ended up in Russia.
[00:28:57] Nury Turkel: It's amazing. The reason that we don't have specific information as to who has been transferred into the forced labor camps is because of this height control. No access by journalists. You know, the most recent access by UN Human Rights Chief Michelle Bachelet who's happened to be Xi Jinping's close friend came back with a lot of complimentary words about Xi Jinping and this genocide. There's no word on this enslavement of the Uyghurs or slave labor that China managed to pollute global supply chain. And the global community, consumer community has continued to feed that genocide and enslavement of fellow human being.
[00:29:43] Jordan Harbinger: You're listening to The Jordan Harbinger Show with our guest Nury Turkel. We'll be right back.
[00:29:47] This episode is sponsored in part by Innovation Refunds. If you own a business, it's been a bumpy ride from pandemic to inflation. I'm sure you could use a break. My friend owns this company. I think it's a genius idea. So if your business has five or more employees and managed to survive COVID, you could be eligible to receive a payroll tax rebate of up to $26,000 per employee. It's not a loan, there's no payback. It is a refund of your taxes that you have already paid. This is your money that you can potentially get back. Sounds too good to be true, of course. So what is the catch? The challenge is simply getting your hands on it. The government never makes anything super nice, simple, straightforward. So how do you cut through the red tape? How do you get your business this refund money? Go to getrefunds.com/jordan, their team of tax attorneys they put together, they're trained in this little-known payroll tax refund program. They've already returned a billion dollars to businesses, which is mind-blowing. The government needs money to run, but does it need to be your money all the time that you're supposed to get back for keeping your employees around? They can help you too. They do all the work. There's no charge upfront. I think that's important. They simply share a percentage of the cash that they get for you. So if they don't get you anything, you're not paying them for anything. Businesses of all types can qualify, including those who took the PPP, nonprofits qualify, even those that had an increase in sales.
[00:31:04] Jen Harbinger: To find out if your business qualifies, just go to getrefunds.com/jordan. Click on Qualify Me and answer a few questions. This payroll tax refund is only available for a limited amount of time. Don't miss out. Go to getrefunds.com/jordan. That's getrefunds.com/jordan.
[00:31:22] Jordan Harbinger: This episode is also sponsored by Zelle. One of our favorite things to do with friends is play escape rooms. You probably heard me talk about this before. We've done over 200 of these. We are big old nerds when it comes to these. It's not a cheap hobby. It can really add up. Each game costs like 50 or 60 bucks a person sometimes. Jen is always planning and booking the rooms and our friends chip in for their share with Zelle. Makes it really easy and fast to get paid back. When anyone sends you money, or you need to get paid back, always ask for Zelle. With Zelle, the money goes straight into your bank account. It works even if the sender banks somewhere different than you in the United States. What's great is you don't have to download another app. It's probably already in your banking app, as it's in over 1600 different banking apps. Always double-check that the has your correct US mobile number or email address to the money goes to the right place, which is straight into your bank account. Look for Zelle in your banking app today.
[00:32:10] If you're wondering how I manage to book these folks for the show, I've got a great network and that's not a humble brag. I want to teach you how to do the same thing. It'll help your business. It'll help your personal life. And I, it doesn't have to be gross and schmoozy. The course I'm teaching you how to do this is free, jordanharbinger.com/course. The course is about improving your connection skills and of course, developing and maintaining relationships with lots of people in a non-smarmy way. That's all at jordanharbinger.com/course. And many of the guests on the show subscribe and contribute to the course. Come join us, you'll be in smart company where you belong.
[00:32:43] Now back to Nury Turkel.
[00:32:47] You mentioned that certain companies have tried to do the right thing, like H&M who was found to be using slave cotton essentially from Xinjiang. They decided to not go with Xinjiang cotton and then China essentially boycotted the boycotters. This puts the companies in a bind. Can you speak to that a little bit?
[00:33:03] Nury Turkel: So for years in the last 20, 30 years, we've been told that global businesses, global brands figured out how to do business in China. And guess what? That has not been the case. So they have been submitting to the Chinese request, whether it be sharing sensitive technology, business blueprint, business intelligence. In China, for the businesses to set up a corporate presence, you have to establish JV, joint venture. They have to comply.
[00:33:33] And the H&M case is something that is emblematic to the larger problem. And this explains why to this day, a single US or global business entity doing business in China, profiting from slave labor, even publicly acknowledged that there's a problem. US Congress organized a hearing right before the genocide Olympics in February, weeks before Putin's invasion of Ukraine, they representatives from Coca-Cola, Nike, Visa was testifying virtually, and Congressman McGovern from Massachusetts pressed them even to acknowledge there's human rights abuses against the Uyghurs, they won't do it. So that shows how much Chinese regime has been successful, putting the businesses using coersive of methods into their pocket.
[00:34:27] So today, the American businesses do the bidding for communist China. This may be news to your audience. When Congress was legislating the Uyghur Forced Labor Prevention Act, New York Times reported this, big global brands lobbied against Congress that they should not pass this bill because it will hurt their business interest. US Chamber of Commerce publicly posted message on their website calling Congress not to pass this bill. Last December, when Congress is about to put this on voting, even some of the administration officials, including John Kerry reported by Josh Rogin in Washington Post lobbied against this bill.
[00:35:08] What does it say about us as a society? Not only that we don't tell the communist China, not in my name, we're doing the bidding for them.
[00:35:16] Jordan Harbinger: Yeah. We're handing over our money because we won't want to pay what the goods actually cost. The goods are going to get more expensive but somebody else is paying with their life and with their freedom and nobody cares. It's just so sad. It's so disgusting.
[00:35:28] Nury Turkel: Absolutely. So this bill that I keep referring is going to address some of the lingering problems. It is arguably the most important legislation that Congress put in place since China joined the WTO. So this bill essentially presumptively everything comes from Xinjiang to the United States made by slave labor unless proven with evidence. So we shift the responsibility over the businesses. Because we did not create this problem, they did. Why do taxpayers have to burden the cost of the import-export control measures? This may be also news to your listeners.
[00:36:04] Before the current crisis surfaced, the CBP had about seven to eight inspectors who were charged to inspect forced labor-produced products. Now, their numbers doubled. This is precisely why they were only able to catch one shipment of human hair. So how many shipments did we miss? Where else it's going and how long has it been going is a question needs to be addressed.
[00:36:25] Jordan Harbinger: So if I'm a woman with black hair and I buy human hair products, there's a chance that I'm wearing someone else's hair on my head and that it was taken from them without their permission while they're languishing in a prison for no crime whatsoever in China.
[00:36:40] Nury Turkel: Dark hair, brown hair, or light brown hair. You know this is on CNN website. There's a future story on this. They're targeting this product to African Americans calling it black gold.
[00:36:51] Jordan Harbinger: Ah, it's so disturbing. I guarantee you I'm going to get emails from listeners. We have plenty of people of color that listen to the show, plenty of black women that listen to the show, they are going to be like, "Holy crap. I hope I don't have Xinjiang hair on my head.
[00:37:03] Nury Turkel: And also China managed to bring back cotton trade into the modern commerce.
[00:37:07] Jordan Harbinger: Yeah. I mean, that's just a whole irony right there. Is it not? People are probably wondering. How the hell this happened? Why don't people escape? Xinjiang is a police surveillance state right now. I'm wondering. Do you think it's worse than North Korea because of the technology element? Allowing a more invasive surveillance and control. I mean North Korea or World War II, they didn't have mobile phones. They didn't have facial recognition back then. In North Korea barely has electricity, even in the capital. So they don't really use a lot of facial recognition and kind of, you know, mobile phone control of the population. It seems like Xinjiang is even worse.
[00:37:41] Nury Turkel: So does Xinjiang and overall Chinese society today resembles combination of the United States and North Korea. It sounds strange, right?
[00:37:51] Jordan Harbinger: Mm-hmm.
[00:37:52] Nury Turkel: So China has adopted this capitalism, the ideology of its foes, the United States, Western liberal democracy, merely as a weapon to save itself from the Soviet failure. You know, they learned the lesson after the collapse of the Soviet Union, end of the cold war, and adopted this new system of governance, the new authoritarian dictatorship, which essentially created two types of society in one country.
[00:38:19] One, the people who have no voice like the ordinary people who has no access to Internet, no means to travel outside of the country to see what is it like in Europe, here in the United States, and those people who were so scared of being a subject to Orwellian nightmare. This is the type of people who essentially lives in the North Korean type of environment. On the other hand, the Chinese business elites, the guys who own ZT, Huawei, Hikvision, SenseTime, jet around the world. In some instance, as described in the book, Red Roulette, two airplanes, private airplanes for wine tasting in France, shopping in New York, shopping in LA, you know, gambling in Las Vegas. So those are the type of people who has means to access and also have educational background.
[00:39:11] In today's Chinese society, ironically, those are the people actually promoting anti-American hatred and also supporting Putin because their life is too good for them. They don't want interruption. Even the Ukraine crisis did not happen, they were happy with the status quo. At the same time, the other people could make a difference. Because of that materialistic satisfaction because of their ability to play or become a kind of a member of a global materialistic community, they don't want to tick off the Chinese regime Xi Jinping. So, essentially they live in a kind of weird odd version of the United States. And also, they also don't want to be in an Orwellian dungeon.
[00:39:53] So the Chinese created this, "As long as you make a living in accordance with what I told you, in accordance with my objective, my line of principles, then you're okay. As long as you stay—" Like Jack Ma, for example, he doesn't criticize the government anymore, the founder of Alibaba. So they created this North Korea and United States in one bucket type of society. This is why there's no dissent. There's no opposition. There's zero opposition to Xi Jinping's regime. Reportedly, he put away more than half a million senior Chinese Communist Party members who might be, not actually, but might be opposing Xi Jinping's leadership.
[00:40:36] Jordan Harbinger: Sure.
[00:40:36] Nury Turkel: So it's a strange society that they were able to build. The life that Hollywood portrays about Americans is a kind of life that those materialistic-minded individuals, people who have means and ways to do or buy that kind of luxury is so immersed and they don't want it to disturb that lifestyle.
[00:40:56] Jordan Harbinger: Yeah. We had Desmond Shum on the show, episode 684, where he talks about the life of the Chinese elite. Yeah, they'll fly on two separate jets one so they can go home because somebody has to go home earlier and they don't want to have to fly commercial. And the other people want to play cards on one plane. So they're flying to France for the weekend to have fun. And meanwhile, he talks about all the corruption involved. And we did another episode on the Chinese social credit score system that was episode 643. People who are interested in this can look at our China playlist on the Jordan Harbinger website. It really is just shocking, frankly, the scale of this.
[00:41:31] Back to the Uyghur genocide here. There's forced sterilization in the camps. We know this from people who have escaped. Countries like Egypt are deporting Uyghurs back to China who have escaped. You know, so much from Muslim solidarity, I mean, I guess Egypt, they also pen in the Palestinian. I love my Egyptian show fans but dang, that government is hardly standing up for its people or for its fellow Muslims, and not even a little bit.
[00:41:56] I'm wondering about your family back in Xinjiang. You have certainly friends and family that still live there, right?
[00:42:02] Nury Turkel: Jordan, I've been working in the human rights space for the past 20 years. I'm a trained lawyer. I'm the first Uyghur American who received law degree in the United States. I have a fulfilling career and now this government responsibility. I work in subject matter that I am so passionate about sort of my think tank work at Hudson Institute. I write, speak, I have access to platforms like yours. It's been fulfilling, gratifying experience because it's extremely important and empowering to speak on behalf of people you don't even know other than your biological cultural, linguistic connection. That is what I have been doing in the last 20 years and most recently in the last five, six years.
[00:42:49] But at the same time, it's been extremely costly work for me. My parents came to the United States in 2004 for my law school graduation in Washington. We spent five months together. They supported, provided all logistical support while I was studying for the bar. And then, that was it, and I haven't seen my mother. My mother gave birth to me in a Chinese re-education camp during the height of cultural revolution.
[00:43:14] Jordan Harbinger: Oh wow.
[00:43:14] Nury Turkel: I spent my first several month in this world with her in re-education camp in a Soviet-built giant building that I walked by and I had a conversation with mom many, many times. So that beautiful woman, that wonderful mother who brought me this world, haven't been able to meet her US-born grandchildren. Between me and my brothers, she has five grandchildren, American grandchildren, American family, sons, son-in-law, relatives. And the China is purposefully keeping her away from me. And I don't even know if, at all, I will see her again.
[00:43:52] To make the matters worse this past April, while I was in official trip to Uzbekistan, my father passed away. Tashkent to Ürümqi is like the same distance between Washington and New York. And yet, I could not be there to hold my mother, carry my dad's casket because last December, the communist China sanctioned me for the US government's decisions to address the Uyghur genocide that includes signing under this bill sanctioning for Chinese officials under the Global Magnitsky Act, sanction Magnitsky act, and also announcing diplomatic boycott. They retaliated against me. That's how small that they are. I get retaliated for defending human rights. We are sanctioning them for committing genocide. That's the fundamental difference.
[00:44:39] And then, this past May, a couple of months ago, I get sanctioned by Putin as well. Two of the world's most egregious abusers of human rights have been going after me. That creates a serious concern, that creates fear. And again, my book is called No Escape for the precise reason. People can just let the sink in to see how it feels if you cannot even go to the or attend your loved ones, in my case, your dad's funeral, while you have physical financial means to do so. And just imagine that your mom misses the birth of your child while having physical, mental, financial means to do so. It's been extremely difficult.
[00:45:23] When my son was about four years old at the beginning of the pandemic, he was standing behind me in my home office and looked at the picture of me and my parents and my credenza at my graduation, and he was asking me about my hat, the gown, and then, asked about who those people are standing next to me. And I told them, they're his grandparents and the follow-up questions, like when would he meet them? And I was in tears.
[00:45:50] Jordan Harbinger: Yeah. I'm losing my own composer here. It's so sad.
[00:45:53] Nury Turkel: And what do you tell a four-year-old kid who asked you, "When can I meet my grandparents?" I told this story to Secretary Blinken, he was so moved. So that's my life. But is it worth it? It's absolutely worth it. I have only one life to live. I am in a better place, as far as my mental health, my physical health. The other ways that I make my life fulfilled because I'm doing this in the face of all the threats, in the face of all the sacrifices that myself and my family have made.
[00:46:22] Jordan Harbinger: You were born in a re-education camp. Why was your mom in that camp? It was run by the Soviets at that time. Is that what you said?
[00:46:29] Nury Turkel: No, it was, you know, everyone — this was Mao's camp.
[00:46:32] Jordan Harbinger: Okay.
[00:46:33] Nury Turkel: During the cultural revolution, I was born in 1970.
[00:46:35] Jordan Harbinger: Yeah.
[00:46:36] Nury Turkel: My mother's main crime, quote-unquote, was "being my grandfather's daughter," who was Uyghur nationalist who had gatherings at his house. She was opening the door, closing door, greeting the guests coming in out of my maternal grandparents' house in the heart of Kashgar City. So she was 19 when they detained her, a newly wedded couple. My dad was in agricultural labor camp in area three hours away. And my mother was pregnant with me. This was early 1970. Several months later, she gave birth to me in a cast because she got physically injured and she was wearing a cast chest down.
[00:47:13] Jordan Harbinger: Oh my gosh.
[00:47:14] Nury Turkel: I'd been to delivery room twice when my kids were born with all the attention, five, six physicians, nurses standing by my wife. It was very impressive. My mom did not have any of it, on top of being in cast while she was delivering me.
[00:47:28] Jordan Harbinger: Your mom gave birth to you in a prison cell, in a re-education camp while wearing a cast and I assume probably had no real care in a place like that.
[00:47:38] Nury Turkel: Yeah. And then because of that, her sitting bone like hit her hips—
[00:47:43] Jordan Harbinger: Mm-hmm.
[00:47:43] Nury Turkel: —and her right ankle was severely damaged from that injury she sustained. So because of that, [chronic] back pain, [chronic] ankle pain, it's even difficult for her to walk around with me in San Francisco when we, she loved to watch the sunset on the Pacific coast. Every time she mentions her pain, it reminds us of that experience. She fell down because of the poor treatment and improper cast wrapping her around, and the pregnancy. So it had some long-lasting health effect on her.
[00:48:19] Jordan Harbinger: Growing up in Xinjiang, at some point you wanted to leave. Do you remember what made you want to leave Xinjiang?
[00:48:26] Nury Turkel: Two things, you know, the Uyghur people look up to the United States. I was one of those kids. I grew up in a university campus, even though there's no like a real free flow of information, but because of this highly intellectual environment that I grow up, we learned so much from the professors, including my own dad, the others like-minded people. When I was going to college, in addition to my longstanding interest and admiration in American and American life compelled me to go to the United States for two reasons. One, I saw and heard, witnessed the Central Asian Turkic republics that Uyghurs have ethnic, cultural, religious, geographical connection to becoming independent states overnight.
[00:49:15] Jordan Harbinger: Are you talking about Uzbekistan—?
[00:49:16] Nury Turkel: Kazakhstan—
[00:49:17] Jordan Harbinger: —Kazakhstan.
[00:49:17] Nury Turkel: Azerbaijan, you know, Turkmenistan, Kyrgyzstan, all of the -stans that have Turkic background. And it was very inspiring. And unlike, the Uyghurs, they haven't fought for political sovereignty. They essentially became good citizens of the Soviet Union. And then more and more I read in the Chinese newspaper, they have this paper called reference information. It's a state run but they have a large international section. So every day, I read and read and read, and I noticed the policy shift, they worrying about if that would be their fate. So that made me feel like, okay, the United States supported Soviet dissidence. United States supported Democrats from the Soviet enclaves. And maybe I have a future in the United States. I think that intuition was not bad or incorrect thinking then. And then the other thing, you know, more admiration to America also has something to do with this first Gulf War. The US expelling or pushing back against Saddam's invasion in Kuwait. So there are a lot of international global events. I think the end of cold war was the most compelling reason. And I said, okay, I need to go to the United States.
[00:50:34] So I study English in addition to my daily courses in the university. Russian is the first foreign language for us. So I took the test. I passed the exam and I get admitted to graduate program in the United States. So I came to the United States a year after I graduated from college.
[00:50:51] Jordan Harbinger: What were your first impressions of the United States and living in America? I assume there was some serious culture shock when you came from Xinjiang to the United States.
[00:51:01] Nury Turkel: One thing that was so impressive to me is individualism. You know, "This is my life. I believe in this, that." You know that does not exist. And also in a classroom, something very remarkable, the professors encouraging students to speak like a class participation. That does not exist. In China, it's all lecture. You just sit and listen, sit and listen. About a year or so later, I was in San Francisco to talk to consult with a lawyer who ended up representing me in my asylum application and also inspiring me to be a lawyer, set up a meeting with Congresswoman Nancy Pelosi's office in San Francisco. A guy who is still in a kind of a legal limbo has nothing to offer to a member of US Congress, opening its door to, not even an immigrant, a visitor in the United States on student visa was so profound. Like you can go to visit a member of Congress.
[00:51:57] Jordan Harbinger: Generally, no, but somehow you did, yeah. I don't think I could get in.
[00:52:01] Nury Turkel: So that experience, it was in San Francisco. And then, you know, this just took a full, interesting turn that I was picked by Nancy Pelosi to serve in the government in year 2020. Culturally, I was very impressed that, you know, there are a lot of space that you can have even in my rental place, even my landlord, and it doesn't exist. Everyone is so nosy. Everything has to be reported. There's no individual freedom, privacy. And also in some social issues, I end up seeing one of my professors in a gay bar.
[00:52:33] Jordan Harbinger: In San Francisco? Not a big surprise.
[00:52:36] Nury Turkel: So no, this was in Moscow, Idaho.
[00:52:38] Jordan Harbinger: Okay. That's a little bit less — yeah, okay, that certainly must have been surprising.
[00:52:43] Nury Turkel: So yeah, you know, I grew up in a very conservative, traditional city called Kashgar. And then from that to an American education system that you encourage to speak, challenge your professors, like unheard of, and also seeing your professor having a life outside of his lecturing coming back and teaching, it was another thing. And also the people's curiosity, like the students, the professors, willingness to learn, even though it's such a remote area, remote region. I even remember people even having a hard time to pronounce the word Uyghur. I know it's not an issue these days in the United States, but—
[00:53:23] Jordan Harbinger: Mm-hmm.
[00:53:23] Nury Turkel: —but they were so interested. So then, I had an amazing, a very positive impression of America in my early life. I think I was right.
[00:53:31] Jordan Harbinger: Yeah. So if you hadn't picked up and left to the United States, though, you would either be in a concentration camp right now or dead, most likely.
[00:53:40] Nury Turkel: Well, I would be a perfect candidate without a doubt.
[00:53:42] Jordan Harbinger: Yeah.
[00:53:42] Nury Turkel: Because back in 1980s, 1990s, where I was a member of that society, there's some room for free flow of information, conversation, especially during the Hu Yaobang leadership, right before the Tiananmen Square pro-democracy movement. Like there's some revival of Uyghur culture. I also wrote about in my book. I was able to go to places of worship following my father, you know, adhering to the Uyghur lifestyle, speaking the Uyghur language, playing Uyghur music. In some instance, I even managed to write a poem. It's normal life. I had a normal life.
[00:54:18] At the same time, as I grow up, as I become a college student and publicly debating, having conversation, I was unnoticed by the regime. Like in Beijing, I spent a lot of time with the Western American journalists and diplomats that could naturally put your notice by the minders. Even a foreign contact, even as innocuous as having a social contact, social relationship may get Chinese government's attention. So that could've been it. And also I have a long family history. You know that family history?
[00:54:52] Jordan Harbinger: Yeah.
[00:54:53] Nury Turkel: Political history, for example, never be erased. So I could easily, I mean, this is not difficult. First of all, my awakening early on my ability to speak my mind.
[00:55:04] Jordan Harbinger: Mm-hmm.
[00:55:04] Nury Turkel: I was not much different than compared to today. And also family history would've made me a perfect candidate for concentration camp.
[00:55:13] Jordan Harbinger: Are you afraid to call and talk to your parents? I know if my mom lived in the equivalent of modern-day Nazi-controlled area, I don't know if I would be like, "Hey, let me see what's going on." I mean, I would miss my mom, but I just wouldn't want to attract attention.
[00:55:26] Nury Turkel: I lost contact with my parents for about three years—
[00:55:29] Jordan Harbinger: Oh wow.
[00:55:30] Nury Turkel: —before May 2020. After Speaker Pelosi appointed me to serve at US Commission on International Religious Freedom, it's a voluntary government work, I called my mom knowing that the Chinese will listen. I told her the news because I don't want somebody else to come to tell the news. So since then, I've been able to communicate, but this is not the case for vast majority of our fellow Americans and citizens of Europe and others in the Uyghur diaspora, because again, go back to IJOP.
[00:56:01] In addition to IJOP, the Chinese have mobile data scan machines, cyber police, omnipresence everywhere. So if you have contact like your call history, text messages, voice messages with your foreign contact, specifically, if you have a WeChat on your phone, the government monitors your phone calls, your activities real time. There's nothing like WeChat in the world today. It's a combination of Amazon, eBay, PayPal, WhatsApp. It's a combination of many, many things. So each and every one of the phones, handheld devices in China, it's not a must but have this app. That itself let the government to monitor you. So, because of that, because of the random data scan on the streets compelled the Uyghurs to tell their family members around the world not to contact them.
[00:56:59] Jordan Harbinger: Oh wow.
[00:57:00] Nury Turkel: And my parents told me not to contact because if they find the traces — this is so dramatic during the period of 2017 and 2019. So a lot of people end up being in the camp because of the caches on their phone, phone call records, call histories. It is still the case with vast majority of the Uyghur diaspora. Thank God because of my US government official status — knock on the wood — I've been able to communicate. I was even able to see my father's face through a video call when he passed away on April 3rd.
[00:57:34] Jordan Harbinger: The amount of insane oppressive, 1984-style control and repression is really next level. I've just never heard anything like this in my life. You say they scan, they do a data scan, I assume what you mean is the police can just look at your phone at any time using some kind of machine. And they're going to look at all—
[00:57:50] Nury Turkel: Yeah.
[00:57:50] Jordan Harbinger: —your texts and calls, just walking around.
[00:57:51] Nury Turkel: Yeah, this is googleable information. If you just Google some search terms, you will actually pull up the Uyghur individuals, dreadfully handing their phone into a cyber police, letting them scan their phones. And also as I describe in the book because of these intrusive surveillance techniques that could result you into a concentration camp, some Uyghur tried to use the dumbphone, and then the authorities come, "What are you trying to hide from us?"
[00:58:18] Jordan Harbinger: Mm-hmm.
[00:58:18] Nury Turkel: So either way, it's a catch-22 situation for the individual. So they made a decision, "Okay, if I don't see my children in this world, if I don't talk to my children in this world—" the Uyghurs being deeply religious, they said, "Okay, we'll meet life after."
[00:58:32] Jordan Harbinger: So sad. Surely this didn't happen overnight. Can you tell me about how this transformation of Xinjiang happened? I mean, I assume you kind of saw, "Hey, this business closed, that sold religious books. Wow, that person just vanished." It couldn't have just happened overnight. Sure, the mass arrest, the 17,000 people in 10 days, that was a big jump, but I assume this started as a slow boil.
[00:58:54] Nury Turkel: So Jordan, this requires a little bit of a China politics discussion, if I may—
[00:58:59] Jordan Harbinger: Okay.
[00:58:59] Nury Turkel: I will give you a little bit of—
[00:59:01] Jordan Harbinger: Sure.
[00:59:01] Nury Turkel: —a background. This did not start overnight, and this was not something that a Chinese leader or leaders got up on the wrong side of the bed, decided to commit acts of genocide. This has been in the works for a long time. This goes back to 2009 when the Uyghur youth took to the street to protest in Uyghur capital Ürümqi resulting from this toy factory in Guangdong beating up the Uyghurs enslaved in the toy factory and killed and injured. So that was the beginning. That was the trigger.
[00:59:34] So essentially, the Chinese leadership says or told themselves or promised, "We can't tolerate this anymore. We used to allow the Uyghurs a life and manage them with carrot and stick. We allowed them to become wealthy, build businesses, travel outside the country. Can't do that anymore." So starting 2009, 2012 and 2013 was a kind of transition period. And also we cannot miss mentioning the supreme leader Xi Jinping came to power. He came to power in 2012.
[01:00:04] So in 2013, Xi Jinping published a speech. It's called that number nine document. That number nine document, essentially it promoted something called management of ideological battlefield. If you look at the Chinese wording, it's very powerful. Even when Xi Jinping is warning Biden about Speaker Pelosi trip to Taiwan, he used that very profound word that could interpret it in many ways. So Xi Jinping wants the management of the ideological battlefield. So with that, he came up with something essentially, you know, from all the way from Deng Xiaoping to Xi Jinping, "Hide your strengths and bide your time."
[01:00:45] So what the Xi Jinping regime did was, okay, these people will not going to be able to have the life of the Uyghurs or practice their religion. As long as they maintain this lifestyle, as long as they, they maintain these religious practices, it will be ideological threat to communist ideology, and it will be impossible to manage. And also, this is a sign of disloyalty. We don't allow Western religion, foreign religion, namely Christianity and Islam because it comes with a Western ideology and it's attracting, it's attracting to Chinese population, attracted to that Western influence.
[01:01:22] So what do we do, A, we need to do synthesization of religion, rewriting the textbook, Bible Koran, main target. This is why they're targeting the Catholics in China. Today, as we speak, they removed the cross from the church. They're also displaying Xi Jinping's pictures.
[01:01:40] Jordan Harbinger: Wow. So creepy.
[01:01:41] Nury Turkel: And then also forcing the Christian leaders, Muslim leaders to preach Xi Jinping and promote Xi Jinping ideology in the places of worship. It's sickening.
[01:01:53] Jordan Harbinger: Mm-hmm.
[01:01:53] Nury Turkel: Xi Jinping ideology is not a religion. And also finally, they see, Xi Jinping regime, CPCs, religion and ethnoreligious identity would play a source of future instability. What could be the reason for political upheaval? So in order to get rid of it, starting 2014, 15, Xi Jinping asked his policy advisors, I described this in the book, to come up with a plan. They come up with a plan called [Foreign Language], final solution to the Xinjiang problem.
[01:02:28] Jordan Harbinger: I mean, that sounds like as Nazi as it gets.
[01:02:31] Nury Turkel: Yeah, it does not say the Uyghur problem, but the Xinjiang problem.
[01:02:34] Jordan Harbinger: Mm-hmm.
[01:02:34] Nury Turkel: They're very skillful. You know, they're very careful with their language. And also they come up with a series of policy documents. And then in 2015 Xi Jinping thought, "Okay, this is a great idea. Who do I enforce this?" And pick the guy that I was mentioning earlier. This whole thing is a Xi Jinping's project, Xi Jinping's pet project. He wants to have a fully controlled Xinjiang region so that his Belt and Road Initiative, his global ambition, China dream would have no obstacle, but the pushback is this Xi Jinping already securitized this region.
[01:03:12] Former ambassador, deputy ambassador to UN Kelley Currie often says Xinjiang and Tibet are the two secure places, most safest places on the face of the earth because of the heavy police presence. The social crime is almost nonexistent, Jordan.
[01:03:26] Jordan Harbinger: Sure.
[01:03:27] Nury Turkel: Like what they're dealing with, the political crimes, quote-unquote, "political crimes." The social crime, like, you know, they used to have thieves, the murderer, the traffic accidents, the drug, they're all gone. He didn't have to commit a genocide, but this brutal regime chose this method, A, to make it legitimate, legitimize Xi Jinping's rule because domestic audience, the Chinese historically reward, strong leader, loathe weak leader. He wants to show that he's doing something to secure stability at any cost. And then two, he wants to show to the world that he cannot tolerate political dissent. And then three, he wants to have a safe pathway to Euro-Asia market and a global influence operations that is corrupt and corrosive as described by Australian policy expert, John Garnaut. So this is about China's future ambition.
[01:04:25] This is why I genuinely believe as I made the case in the book and as I've been saying in public, anyone treats the Uyghur genocide as another human rights catastrophe or crisis are mistaken. This is on us because China is doing this to achieve a broader political objective, realize China dream, you know, essentially wanted to take over. And there is a Chinese proverb called nǐsǐwǒhuó — you die, I live. So some of our politicians in Washington mistakenly put out this idea, coexistence. It does not exist. It's a zero-sum game for the Chinese. And they have tested that in Xinjiang, no one raised a finger except for the United States, for the most part, destroy Hong Kong democracy, it's gone and posing daily threat against Taiwan. We're still dancing, tiptoeing around, chanting slogans that we're not against Taiwan's independence. We don't do this, we don't do that. It sounds like surrender even before somebody's challenging you.
[01:05:24] Jordan Harbinger: This is The Jordan Harbinger Show with our guest Nury Turkel. We'll be right.
[01:05:29] This episode is sponsored in part by Grammarly. Time is money I've been using Grammarly to help me save some time. One of the most valuable applications that I use, frankly. I've, of course, been called the pejorative grammar Nazi. And I thought I was an expert at using the English language. So at first, I didn't think Grammarly would benefit me that much until I tried it and I got hooked. Grammarly is far more advanced than just a spell checker. It's like having someone over my shoulder gently reminding ways that I can make my writing more clear, more concise, more professional. Grammarly will suggest better synonyms to use. It tells me when things are hyphenated. I feel like I never know when something is hyphenated. And Grammarly's tone detector checks how your message comes across. It's easy to implement. It turns on and runs in the background of pretty much everything that I write, email programs, Google Docs, everything. If I had this in high school or college, this would've been an absolute game changer for me. Also, a listener wrote in and told me it's changed her life because they were diagnosed with dyslexia, struggled in school and in their professional career. And now, Grammarly checks everything they write, so they don't have to feel self-conscious about it. So get more time in your day and more confidence in your work with Grammarly. Go to grammarly.com/jordan to sign up for a free account. And when you're ready to upgrade to Grammarly Premium, get 20 percent off for being my listener. That's 20 percent off at G-R-A-M-M-A-R-L-Y.com/jordan.
[01:06:44] This episode is sponsored in part by The Daily Stoic Podcast. Did you know the philosophy of Stoicism has guided some of history's greatest men and women? The Daily Stoic Podcast is hosted by my friend, the bestselling author of dozens of books, Ryan Holiday. For centuries, generals and politicians, athletes and coaches, writers and leaders use stoicism in their actual lives. Each day on The Daily Stoic Podcast, Ryan Holiday brings you a lesson rooted in the timeless teachings of stoics like Marcus Aurelius and Seneca the Younger. And twice a week, Ryan interviews some of today's top performers about the habits and mindsets that help them do what they do. Hall of Famers like Chris Bosh, global pop stars like Camila Cabello, and award-winning actors like Matthew McConaughey, bestselling authors like Malcolm Gladwell, and Olympians like Gabby Reece. The guests are wide ranging. The conversations are thought provoking and you leave every episode with lessons and insights that you can apply in your everyday life. The Daily Stoic Podcast also features Q & A with listeners, popular audiobook excerpts, and full-length talks that Ryan gives to teams and organizations all over the world. Search for The Daily Stoic, wherever you listen to podcasts to learn about the philosophy that has guided some of history's greatest men and women. Listen to new episodes one week early on Amazon Music or early and ad-free by subscribing to Wondery Plus in Apple Podcasts or the Wondery app.
[01:07:54] Thank you so much for listening to and supporting the show. Your support of our advertisers is what keeps the lights on around here. All the discount codes, all of those URLs, they do get a little complicated sometimes. They're all in one page. jordanharbinger.com/deals is where you can find them. You can also search for any sponsor using the search box right there on the website as well. Please consider supporting those who support this show.
[01:08:18] Now back to Nury Turkel.
[01:08:21] It does not bode well. I mean, as we speak, Nancy Pelosi is pissing off all of the Chinese diplomatic core by landing in Taiwan, which is good. I don't think we should back down from bullies. I don't think backing down from bullies, especially authoritarian states like that has ever done anybody any good.
[01:08:38] I want to talk about the phone thing real quick because we didn't sort of finish that point there that the police are scanning your phones, but I've heard from people with connections on the ground in China, that you have to take your phone with you everywhere. And you mentioned dumbphones, iPhones are banned because the police install this app on your phone called — it's something like Internet Soldier.
[01:08:57] Nury Turkel: Yeah.
[01:08:57] Jordan Harbinger: Or something like this. And all of your location data, your communications are logged. AI searches through it. They look for religious words and phrases among other things. And you can't even say, "Salaam alaikum," which is an Islamic greeting—
[01:09:09] Nury Turkel: Right.
[01:09:09] Jordan Harbinger: —to your friend on the phone, because they will pick that up and say, "Aah, you're a potential extremist." I mean, that kind of infraction can land you in a concentration camp. Everything that we're talking about right now, by the way, is 10 times worse and more detailed in the book, right?
[01:09:23] The flag-raising ceremony, where you have to go, your attendance is monitored. They ban new items and behavior and books. They tell you what these are at this flag — it's like if you had to go to a pledge of allegiance ceremony, and then they said, "Okay, you can't speak Spanish anymore. You can't celebrate Christmas. You can't go to church. The Bible is forbidden. If you have one, you're going to go to prison." It's just the most dystopian stuff you've ever heard, you've ever read. It's like East German Stasi, but with more invasive technology.
[01:09:50] Nury Turkel: Exactly. As you pointed out in the book, I also interviewed the genocide survivors, female genocide survivors, the camp survivors. The common theme that I heard from them is during the interrogation, it is so unbearable. Mihrigul Tursun, the youngest of those camp survivors, even begged the guards to kill her because she could not tolerate that torture, psychological, physical, even seeing the others being tortured.
[01:10:18] And also on top of that, the psychological torture, condemning your own God, you know, just let this sink in. If you're just devout Jewish or Christian individual, and some government comes to make you condemn your God, that can break your mental health.
[01:10:35] Jordan Harbinger: Mm-hmm.
[01:10:35] Nury Turkel: That could break you. So in one of the interviewees that camp survivors told me that they have to chant slogans such as, "Who was your God?" "A new God, Xi Jinping."
[01:10:46] Jordan Harbinger: Ugh.
[01:10:46] Nury Turkel: And then they have to study the Xi Jinping thoughts as if that's a kind of a new religious textbook, day in, day out.
[01:10:53] Sometimes when you talk about these things, it sounds so unreal because it's hard to even fathom that this is even happening. And the disturbing aspect is that while this is all happening, we try to normalize this behavior either to look the other way, fading ignorance, or entrap in economic interest. So it begs the question, like what kind of future do we really want? When did we become this little that we just let the regime, the Chinese regime, communist party to do this against our values, against our will, against our historical promises? Never again. In 1945, American prosecutor, Robert Jackson said that the Nuremberg trials, never again. That never-again promise has been miserably failed.
[01:11:43] I just took part of a documentary. The name of the documentary is called Broken Promise. The broken promise is essentially on the idea about why we keep seeing the genocide. After the Holocaust, we promise never again. That promise, that valve, rings shallow hollow today because of tepid and meandering responses that we are seeing in response to the Chinese genocide. This genocide will not end within China because China has its cohorts, countries like Iran, Saudi Arabia, Pakistan, and some African countries, some Latin American countries. Human rights abuses are growing. So their model will be replicated in a political repression surveillance.
[01:12:29] So in the end, in some countries, even voting records will be surveilled, monitored, even some instances brought consequences to people who did not vote to a certain individual. 86 country already adopted Chinese surveillance techniques. So this thing is metastasizing.
[01:12:48] Jordan Harbinger: Yeah. They're exporting a lot of their surveillance, technology, and techniques to despotic regimes around the world. That's probably a whole nother show, but yeah, I mean, this is one of the reasons that the United States and other countries didn't want Huawei to run 5G globally.
[01:13:02] Nury Turkel: Right.
[01:13:02] Jordan Harbinger: Because they were going to be using that for surveillance and funneling the information back to China and into their AI machines. And I mean, it's just absolutely wild. The stories of the individual prisoners that you were able to find for this book, the women, having their babies taken from them and some of them dying and others in the camps and the rapes or the women in the deaths of the elderly and just the inhumane conditions in the prison. It really is some of the most horrible stuff that I've ever read in my life.
[01:13:25] I'm wondering though, you know, China says, "Hey, we don't want you to become religious extremists," but then when you get out of the camp, if you get out of the camp, you can't own a phone, you can't leave China, you can't travel, or you have to own a phone that tracks you around. You know, you can't call who you want. What are you supposed to do if you can't get a job, you can't travel around, you can't leave China? It seems like they're just creating the extremist problem that they are hoping to avoid in the first place.
[01:13:50] Nury Turkel: That's a great question. The Chinese officials, even to this day use a so-called fight against three forces as a justification. Three forces, it's essentially terrorism, extremism, and separatism. The lines are blurred between those three. So one can be a separatist, not necessarily a terrorist or extremist. One can be a terrorist but not necessarily a separatist. I think American people are well educated to know the difference.
[01:14:20] Jordan Harbinger: Sure.
[01:14:21] Nury Turkel: When it comes to extremism, that is also a deeply politically charged term. So any government, this is more common in the Islamic world, that any opposition leader, any opposition movement, anyone who has a political dissent, will possess political dissent, labeled as an extremist. This is more common in Central Asia, specifically during the Islam Karimov regime in Uzbekistan, any political like the secular political activist, opposition leaders, religious extremists. So the same concept promoted initially by Russia, promoted by China, became a textbook. What kind of a guiding principle in Shanghai corporation organization today? It is a regional organization, established under the initiation by Russia and China to minimize the outside forces coming together to wage war against the Chinese.
[01:15:17] That terrorism concept even is questionable. Some people in the west, in the media, in the government offices often cite what the Chinese said, "Oh, there was a knife attack in Kunming train station. There was a bombing in Tiananmen Square or Ürümqi railway station on the day that Xi Jinping was leaving. But to this day, Jordan, I would love to see evidence verified by independent journalists who were entity, credible entity. The fact that the Chinese authority say something three times, five times, 50 times does not make it true. Our country lost so many of our fellow citizens during the pandemic. Even to this day, the China does not allow investigation into the origin of COVID. That's the same government that is telling the world that the Uyghurs are terrorists. Are we out of our minds? It does not make any sense.
[01:16:09] And also you mentioned something very important as well. The Frontline produced a documentary. In that documentary, there was a quick exchange between the journalist, the reporter, and the Chinese official, former security official. The journalists ask him, "What do you think that you should do, should be done with the individuals who are detained in the camp?" And then this Chinese security official says, "We need to set up a mental hospital. We fool them under the notion that they will be re-educated. They're all gone mad. If you release them in a society, they become a criminal, the violent individuals. So we need mental hospital." They do even know they broke the Uyghur spirit. They also created this large group of people who are mentally ill. They're acknowledging it. Now, if you spend that kind of circumstance environment, days, day in, day out for such an extended period of time, you can be broken.
[01:17:10] I went to Guantanamo on my first trip and I took part in the conversation with the detainees and the one common complaint that they were telling us is that, "Well, if you wanted to come here, we have to be taken to a different facility. We spend night waiting for you for two hours of meeting. I just don't want it to go through this. I don't want to sit in this hot chat." And then one of them told me, "Maybe you shouldn't come." And then, I didn't quite understood. And then I went back home in my comfortable apartment in Georgetown, and I tried to sit down in my walking closet with no window, lights on. I couldn't bear it. And I moved to the living room, no TV, no phone, sit down there. You know, I'm not the type of person who can deal with the solidarity. So I tried, I didn't work in my comfortable air-conditioned house.
[01:18:00] So can you imagine people go through that in that filthy environment, the sexual violence, beating, killing, forcing you to condemn your own God, denounce your religious belief, disowning your family members? That could create huge mental health issues. You know, anything could happen maybe precisely because of that reason, Chinese are not releasing the Uyghurs rather they sending them to prison camps and also forced labor camps. They're not returned home.
[01:18:28] Jordan Harbinger: I know they're forcibly sterilizing people. There's forced birth control.
[01:18:32] Nury Turkel: Yeah.
[01:18:33] Jordan Harbinger: IUDs and things like that. I don't really understand the point of sterilizing an older woman who's not going to have kids, but of course, with the younger women, they're trying to limit the population of Uyghurs seemingly.
[01:18:43] Nury Turkel: In my book, I profiled a former camp teacher, Qelbinur Sidik who was over 50, she was forced to go through sterilization. The United States government rightfully called this out as a genocide. Under the 1948 Genocide Convention, the genocide occurs when a specific act is committed with intent to destroy in whole or in part a national ethical racial religious group.
[01:19:11] So here, when you look at it, the Chinese have been purposefully deliberately trying to destroy the Uyghur nation. If it's not in whole but in part through forced sterilization, forcible separation of Uyghur children, and also the destroying condition of life with calculated methods and strategies. That has been reported. And this has been verified through at least three leaked documents. There have been three documents, sensitive, top secret documents have been released starting with 2019 and then China Cable. And then they recently released Xinjiang police file, including over 2000 real human faces.
[01:19:55] So when the United States government looked at it in, especially in the previous government, there were a lot of conservative policymakers, senior leaders in the previous government, they looked at the evidence publicly available and available through open source. You know, Chinese were bragging about, you know, they were able to prevent population growth in two counties in three years, short period of time by 64 percent. In 2019, natural population growth with a decline of nearly 24 percent, just one county. So the United States government as a state party to the Genocide Convention under the Article I Obligation to call it out as a genocide and the next step is to stop it and then hold to those perpetuate of account.
[01:20:38] We just had to baby step number one. So I fully agreed and advocated for the United States government to call this a genocide. So far, nine governments in parliaments have called it genocide, starting with our government.
[01:20:50] Jordan Harbinger: Tell me about the "Becoming Family Program" because this is just a very good example of how invasive this stuff is. You think checking the phone was bad. This is even worse.
[01:21:00] Nury Turkel: The Uyghur genocide has been underway or taken or carried out in multiple fronts. Last year, a state department called Uyghur Homeland, an open-air prison. It's not a pleasant term, but as an accurate term, who wanted to be in an open-air prison, right? You don't have to be in confined boundaries to be a prisoner, but you are a prisoner in the society and your own home. American people, as free as we are, could appreciate if somebody shows up at your house when the male household leader is not present, uninvited, sleep and eat with you with your wife, with your children, while you were in the concentration camp, while you were in the prison, let's say. How offensive that can be?
[01:21:45] Jordan Harbinger: Just so people are clear, the CCP is putting minders in your house. Like if I go to prison, some dude comes over, staying in my house with my wife and kids to keep an eye on my family.
[01:21:56] Nury Turkel: And committing sexual violence.
[01:21:57] Jordan Harbinger: Sure. Maybe raping my wife, maybe abusing my kids sexually or physically. They have to speak Mandarin while they're around so that the minder can understand. They can't speak their own language because they need to be able to report on everything that we do. They're talking to my kids without my wife around so they can ask my kids what we are up to, what we think. I mean, it's just, I assume you've heard instances where people just murder these people invading their home. I would, I feel like if some child molester rapist spy was in my living room with my wife and my kid, he would slip and fall on a sledgehammer a couple of times and never be seen again. I'd sell the meat to his communist buddies.
[01:22:32] Nury Turkel: And you know, when you look at the social media, they also post quite proudly. Like the Uyghur woman forced to marry a Han Chinese individual. And also, the guys with the big bellies drinking beer, this poor lady is serving meal after meal. And these kids in dreadful face looking at those uncles and aunts, relatives because they monitor, it's not one visit. They come, set the stage, sleep, eat, intimidate, making kids to spy on the parents or mom, and then they leave and then come back. Separately, interview kids, like, "What did your mom said after we left? Does your mom pray? Does she have anything that she tells you that she's not telling when we're around?" You know, kids are honest, they're honest answers can land poor mom, poor dad into horror effect places.
[01:23:24] Darren Byler, American Scholar, wrote a long, future story in early 2019. That was the beginning of this reach into the conscience of American people. It's just, you know, we love our privacy. Yeah, you're right. And they do know that the Uyghur men are very protective of their life and children and taking them away and then doing this to their family, the woman who has no protection, and you cannot say no to them. It's part of the problem, part of the program, part of the punishment.
[01:23:55] Jordan Harbinger: How do people escape China when they're in this situation? It seems fairly hopeless. I mean, everything is surveilled and monitored. How do you get out of here? How do you escape?
[01:24:04] Nury Turkel: You know, under the known genocidal actions in the case of Yazidis, in the case of Rohingya Muslims, the genocidal regime usually expel you from your Homeland.
[01:24:15] Jordan Harbinger: Right.
[01:24:15] Nury Turkel: But in the Chinese genocide of the Uyghurs, they keep you there to suffocate you. So the individuals who manage to leave for the most part, the Kazakhs, who got help from the Kazakh government. In the early parts of the Kazakhstan independence, the former Kazakh president invited the Kazakh residents of East Turkestan, Xinjiang region to migrate to Kazakhstan. And they took up a Kazakh citizenship, and then they tried to take advantage of the business activities. They went back and forth, made money. They caught up in the camp system. There's this New York Times, New Yorker piece, long future story on this, one individual who spent time in the concentration camp.
[01:24:59] So those are the ones who got help. And then also the ones in the United States had foreign spouse. Their spouses used the embassy diplomatic presence in Beijing to get them out. In the case of Mihrigul, she's married Egyptian guy. In the case of Zumrat Dawut, her husband is Pakistani, and then, Tursunay Ziyawudun's case, her husband is a Kazakhstan citizen. So it's hard to find anyone without that kind of connection, family relationship managed to leave camp today.
[01:25:30] Jordan Harbinger: It's heartbreaking to hear the stories of how people who has escaped or part of the family escaped. They're sending photos of missing women and children and men to people who have escaped and saying, "Hey, did you see this person in the camp? Did you see them get killed even?" They just need closure so badly, they're reaching out to anyone and everyone just out of desperation. It's just, it's really some of the most shocking and horrible things that you can even hear about.
[01:25:55] Are you able to describe what you feel? Being safe here in the United States and knowing that your family and friends back home are in camps. Your friends are being tortured. Women you know are being raped, sterilized, and people executed without trial. I don't want to put to find a point on it. I'm not going to try to rub this in or anything, but how does this affect you and other Uyghurs all the way over here in the west, or at least outside of China?
[01:26:18] Nury Turkel: It is difficult. This is not something that you can fake even. You know, my life is not normal anymore. I love life. I had a meaningful life before 2017. I was able to travel with my bike with my wife to participate in bike race. And I used to read novels. You know, I used to read something not related to genocide, not only the intellectual curiosity. I also wanted to learn what happened to the others, specifically writing this book, I've been reading a lot to learn how the Jews survive this. After losing six million Jews, how did they become such a strong, powerful nation and powerful voice?
[01:27:03] Even today, we are getting a lot of help from the interface community, the Jewish community, the Catholic community, the Christian community. The Baptist convention was even independently recognized this as a genocide. So even my reading material, reading focus has changed. I traveled to a Mediterranean resort town holding 1936 Berlin Olympics and history of concentration camps. And I was told by my wife to remove the cover of the book. So that gives you an idea how much even my intellectual curiosity has changed. In addition to the, all the anxiety, the concerns that I live with, but most of the Uyghurs have not been able to hold it together because in my case, I've been dealing with this for almost two decades now. And also my family has been suffering much longer than the most people who recently caught up in this.
[01:27:59] And then what is making this matter worse is specifically European governments have not been really stepped up to the plate. There is a sizeable Western European Uyghur community. It's admirable, commendable that some parliaments lended their voices, but in a governmental level, not much has been. They look around and said, "Okay, I can't talk to my family members. They disappeared. Mom and dad disappeared. I can protest in front of the China's embassy. The local police can arrest me." This is very common in Turkey, in Netherlands, in Belgium. And then at the same time, "My government does not do anything. I'm a citizen of this country."
[01:28:41] And then this helplessness, this despair, and it kind of discussed in certain pockets of humanity has been extremely difficult. On top of all of this, the Uyghur community has been subject to transnational repression. The Chinese are here with us. The Chinese are there with the European Uyghur community. They're using coercive methods to silence those who have family members who disappeared in the camp. Those who did not listen end up being retaliated against on social media bullying, for example, in bare minimum. And also they try to recruit informants. They also try to recruit individuals to infiltrate in the Uyghur organizations to monitor, even take up a leadership role. The United States government has publicly condemned these behaviors, but there has not been cost to the Chinese.
[01:29:34] So combination of all of those have made it very difficult to the Uyghur diaspora. I can't say that they're a helpless situation, but they're in despair and also in a very disappointed mindset.
[01:29:46] Jordan Harbinger: What can people like us do? I mean, we're listening to this right now. This is really a heavy episode. You know, knowing what we know now, how can we help or at least be less complicit when it comes to what is clearly a Holocaust in the making right under our noses? You know, I really think this is an issue that our kids are going to ask about. You know, "Daddy, what did you do when you found out that this China was murdering Uyghurs." I better have a better answer than I did a freaking podcast about it, you know?
[01:30:13] Nury Turkel: Absolutely. Three things global citizens could do. Number one, use your power of consumer, consumer activism. Stop buying anything, specifically, you can start with the cotton products. If your undershirt says made in China or PRC. That is a new labeling that they're using because most people don't know what PRC means. It stands for People's Republic of China. It used to be made in China, just put it back. And let the corporate America hear from us. And let them deal with it because they're the one who created this mess. So that's the bare minimum.
[01:30:48] And also there's a proven case, how consumer activism can be powerful. In the case of genocide Olympics this past February, the viewership in Canadian CBC and American NBC dropped nearly half 50 percent because the Uyghur activists and the activists supporting the Hong Kong democracy and the Uyghur human rights movement have been calling to boycott the Olympics. People did not watch. These two networks suffer tremendously, so you can make a difference as a consumer.
[01:31:23] And then, the other thing that you could do is to call your representative in the US Congress and asked them, you know, "What is next in your plan? What are we doing about transnational repressions about our sovereignty? Are we really become that little country allowing communist China to intimidate, threaten our fellow citizens." Congress need to do something and just talk to you representative. Also ask, "What are you going to do with the tech firms that are enabling, facilitating the ongoing genocide?" And also ask the Congress, "What are you going to do with the businesses that are fueling the ongoing genocide?" So it sounds small, but Congress is very receptive to those concerns. There's a bipartisan consensus today in Congress.
[01:32:06] And also the same kind of phone call should be made to the White House, NSC, saying, "What is your plan? This genocide is in its sixth year." You say, "Democracy, human rights, the front and center of your foreign policy agenda, tell me, what are you going to do tomorrow? Don't tell me what you did yesterday. Tell me what are you going to do to stop this genocide." People should be calling Jake Sullivan. Ask him. He will not answer, but somebody will pass on the message.
[01:32:31] And then finally, those of you who have financial means support organizations like Uyghur Human Rights Project, uhrp.org. The amount of work required by this organization in particular is monumental, but they have very limited resources. So open up checkbook, sign up to their monthly pledge if you can. And finally, shamelessly, buy my book, donate to the libraries and local libraries. Give it to your friends as a present, holiday present, birthday presents. And take it to the university libraries and just give them five copies, 10 copies. It doesn't cost that much. What it will do is help raising awareness.
[01:33:13] Jordan Harbinger: Well, I will say it was really excellent book. I don't want to say I enjoyed it, but I enjoyed reading it and in learning about it, but it is not a light read for your beach vacation. I'll put it that way but it is very educational. So yes, while you shamelessly promote the book, I do think it is. I knew this was happening. I knew that it was bad. I do follow China. When I read the book, it just was like, it was just a whole nother set of layers to this horrific — it really is. It's a genocide in the Holocaust and it's happening right under our noses.
[01:33:46] And thank you so much for doing the show. I know we went a bit long, but I think, you know, conversations like this are absolutely worthwhile. So I appreciate your time and your expertise.
[01:33:55] Nury Turkel: Thank you so much, Jordan. I do also say that this is a great conversation, but I can't say enjoyed it in light of the grim and distressful nature of the topic. But thank you for the opportunity to share my story with your audience, with your listeners.
[01:34:10] Jordan Harbinger: Thank you.
[01:34:10] Stay tuned for the show close. I have a lot more on this subject and a lot of open loops to close. You're not going to want to miss that.
[01:34:19] You're about to hear a preview of The Jordan Harbinger Show with a human rights activist, revealing forced organ trafficking that's going on right now in China.
[01:34:27] David Kilgour: The government started the system, runs the system. It's simply hideous. Essentially taking the vital organs of heart, lung, liver, corneas, any important organ that we have from people without a trial. These people are never convicted of anything, they just are out working in these forced labor camps. They don't get paid. They live in a dormitory, some of them with 16 people. When their unlucky day arrives, somebody comes in, drags them out over to the operating table where they're killed in the process of removing their organs and selling these organs to wealthy Chinese citizens and to what we call organ tourists coming from places like America and Canada.
[01:35:03] If you arrive for a new liver, chances are you go to the number one people's hospital in Shanghai, the doctor comes up and sees you. He takes your blood type and so on. And then, he finds that somebody who's a matching organ for you in camp number 50. And that poor man is taken out of a dormitory and is taken in and his kidney, liver, and so on are taken out. He's, of course, killed in the process. They burn his body and they fly the organs to you in Shanghai. And you come home with a new kidney or liver. You're hoping that it didn't happen the way it did, but in fact, it did happen.
[01:35:35] I remember talking to one man from country in Asia who told me he had to go four times to get a kidney. That's four dead people, four people died, so he could get a kidney that appears to be now working. It's something that seems unimaginable to most of us in the 21st century that this is happening. This is beyond anything even the Nazis could have done.
[01:35:54] Jordan Harbinger: To hear how much a healthy kidney, heart, or lung goes for in this immoral market, check out episode 497 of The Jordan Harbinger Show.
[01:36:05] Whew. Well, like I said, kind of a heavy lift. How do we know this is all real? Well, in brief, there are these Xinjiang police files. There are multiple news sources about this. There are UN reports, one of which is just sort of recently released. They've been sitting on it for a few years because of the potential blowback that the person who did it is getting from China. You can search Uyghur genocide and pick the sources of your choosing. You can peruse the YouTube channels of credible folks like SerpentZA, ADVChina, Laowhy86, all show guests.
[01:36:36] The evidence is numerous. It's compelling. You can actually see concentration or re-education camps that were discovered in proven to exist by citizen journalists, using job ads for postings, for guards and other folks, Google Earth photos, which is pretty amazing citizen journalism. We can actually see them from satellite photos as well. You can also search for the China Cables, the plan for this whole genocide essentially was laid out. They knew what they were doing. It's very, very, very clear. They've destroyed approximately, and by they, I mean the Chinese Communist Party have destroyed approximately 15,000 mosques, 80 percent of the mosques in the area. They stripped them of domes. They destroyed them, they raised them, they turned them into other buildings, even car parks, department stores. You can see that in satellite images as well, those images are available.
[01:37:24] There's facial recognition put up in some of the remaining mosques so that attendees would be forced to go to those mosques and they can be targeted for persecution and surveillance. Some mosques were actually rebuilt with surveillance technology for tourists. It's like some sort of pseudo-religious dystopian theme park. This really is Mao's cultural revolution but on digital steroids located in Xinjiang for now.
[01:37:49] The cultural revolution, if you remember from high school history class, that was Mao Zedong's big idea in which 15 to 80 million Chinese people died because of starvation, prison, labor execution, a lot of pretty much anything that was traditional Chinese was destroyed, smashed. They just wanted to sort of restart. That was a big communist thing, starting things, starting from year zero, like they tried to do in Cambodia. China actually uses September 11th rhetoric to label Uyghurs as Muslim terrorists. And guess where they learned that one, folks?
[01:38:18] One thing that's interesting about this for me is we know from studying the psychology of torture and the psychology of repression, that trying to brainwash people or force them to recant beliefs, especially religious beliefs is it not only ineffective it, in fact, strengthens those beliefs. So it seems, and I think I mentioned this on the show as well, it seems like what the Chinese Communist Party is doing is actually creating the nationalist Muslim terrorist movement that they are pretending to be afraid of in the first place, especially if people then can't work, they can't raise a family. You're just begging these people to hate you forever for generations and do everything in their power to overthrow your oppressive regime and target your police and your government institutions.
[01:39:04] Remember though, folks, this isn't Chinese people doing this. This is the Chinese Communist Party doing this to its own citizens. The vast majority of Chinese people, one, have no idea this is happening because their media is entirely state controlled and two, they're surveilled. So thoroughly that even if they did know about it, they can't really go and tell their friends all about it.
[01:39:24] So as angry as you probably are after listening to this episode, just remember who the villain is in the story. And always, always remember, whenever I talk about China, that the biggest victims of the Chinese Communist Party are, always have been, and probably always will be the Chinese people themselves.
[01:39:42] I always feel like I need to say that because I feel, I don't want to be responsible for stoking any sort of like anti-Chinese rhetoric. It's hardly that. And the Chinese Communist Party loves to say that their critics are, quote-unquote, "racist." No, I married a Chinese person. I just freaking hate the communist party. I think there are cancer in the world.
[01:39:57] The Holocaust in World War II was denied at first. Information about it was rejected for years, even though credible accounts were smuggled out by prisoners routinely. The Ukrainian genocide, the Holodomor — I know I'm probably butchering that pronunciation — was also largely ignored. Even newspapers, like the New York Times were denying that it was happening and saying it was all a bunch of hype. It was a big scary story.
[01:40:20] To me, it sounds like the Uyghur genocide is undergoing the same cycle. Ignorance, denial, hopelessness, and finally, maybe in a few years, people will actually do something about this and hopefully, there are still Uyghur people and culture left to save at that point. I know Europe and the European Union has just passed some laws saying that they cannot sell or market products made with slave labor. Some of that has to do with chocolate from Africa. A lot of that has to do with cotton from Xinjiang. You probably remember reading about that in the news. A lot of these prisoners are forced to pick cotton, which is just very reminiscent of the United States' sorted history with slaves as well.
[01:40:59] The only thing missing from the Holocaust that happened during World War II, that's missing from this particular genocide are the medical experiments, and I'm afraid we are going to find out about those. Everything else seems about the same or even worse. Now that I think about it, we actually did cover organ trafficking separately that's episode 497. That wasn't necessarily Uyghurs. That was other prisoners in China, but sheesh, I mean, let's not split hairs.
[01:41:22] Speaking of medical experiments, China sent scientists to Yale laboratories here in the United States to work and now...they can tell if someone is Uyghur based on their DNA in a blood sample. I'm going to go ahead and assume Yale didn't know about their intentions when they allowed that scientist to work in that gene lab, how horrifying. Facial recognition, by the way, can tell if somebody is Uyghur much of the time. It also works with masks on. I mean, the surveillance state is real over there, folks. And due to the so-called birth control programs in Xinjiang, the birth rate for Uyghurs is now at a record low, forced abortions, forced intrauterine devices.
[01:42:01] And I know I mentioned this before, I know people are going to say it as well. What about slavery in the United States? What about colonial Britain? What about Spain? Great question. A fair set of questions. One, those wrongs were centuries ago. That's no excuse, right? And that said, what is happening in China is happening right now in 2022. Colonial powers like Britain, Spain, the United States, all have horrible crimes of past centuries come to light. Why? Because we are democratic countries with a free press and open media. We can whine about limited media and mainstream media, all we want. At the end of the day, we can talk about and say what we want. We can expose past crimes of the regime. Nothing is sacred. That is not the case in China.
[01:42:43] We know what we know from China because of leaks. And frankly, because of the fact that China needs the domestic population, especially of Uyghurs to know that they are being terrorized. Having people terrorized in secret it doesn't do the job of making sure that the entire population you're targeting is also terrorized. You don't want them to not find out it's quite the opposite. You want them to share it. You just don't want them to share it with the outside world. So they're trying for a very controlled information environment, but not a completely limited information environment.
[01:43:14] We've actually done a bunch of episodes on China. You can find a whole China playlist at jordanharbinger.com/start. We did an episode on the Chinese social credit score. That's episode 643. We interviewed a former Chinese oligarch who was in high levels of corrupt frankly business in the Chinese Communist Party. That was episode 684. We've covered many other China-related topics from money laundering to Oregon trafficking. Again, jordanharbinger.com/start is where you can find it.
[01:43:42] Big thank you once again to Nury Turkel. Links to all things will be in the show notes at jordanharbinger.com. Transcripts are in the show notes. Videos go up on YouTube, but more importantly, advertisers, deals, discount codes, the way that we support the show, all of those are listed at jordanharbinger.com/deals. I've said it once. I'll say it again, please consider supporting those who support this show and make it possible. I'm at @JordanHarbinger on Twitter and Instagram. You can also connect with me on LinkedIn.
[01:44:10] I'm teaching you how to connect with great people and manage relationships using systems, software, tiny habits. That's our Six-Minute Networking course. That course is free over at jordanharbinger.com/course. I'm teaching you how to dig the well before you get thirsty. And hey, many of the guests on the show, they subscribe to the course. Come join us, you'll be in smart company where you belong.
[01:44:30] This show is created in association with PodcastOne. My team is Jen Harbinger, Jase Sanderson, Robert Fogarty, Millie Ocampo, Ian Baird, Josh Ballard, and Gabriel Mizrahi. Remember, we rise by lifting others. The fee for this show is you share it with friends when you find something useful or interesting. If you know somebody who's interested in China, interested in human rights, clueless about either of those things, share this episode with them. The greatest compliment you can give us is to share the show with those you care about. In the meantime, do your best to apply what you hear on this show, so you can live what you listen, and we'll see you next time.
Sign up to receive email updates
Enter your name and email address below and I'll send you periodic updates about the podcast.