Reading Time:
3
minutes
Ray Dalio (@RayDalio) is the founder of Bridgewater Associates — the largest and best-performing hedge fund in the world — and author of New York Times bestseller Principles: Life and Work and the upcoming The Changing World Order: Why Nations Succeed and Fail. This is part two of a two-part episode; make sure to catch part one here!
What We Discuss with Ray Dalio:
Why your success has more to do with how you handle what you don't know than what you do know.
Good habits come from thinking in a principled way, but good thinking comes from exploring the reasoning behind principles.
How to review the principles by which you operate to ensure you're acting in accordance with your own goals and objectives — not someone else's.
What you can do to cultivate a culture of radical transparency in the workplace and at home to make sure progress is propelled by the best ideas in the room — not the biggest egos.
The importance of understanding that you can practically have anything you want, but you can't have everything you want.
And much more…
Like this show? Please leave us a review here — even one sentence helps! Consider including your Twitter handle so we can thank you personally!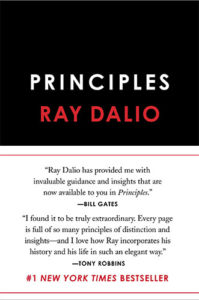 Considered by Time magazine to be one of the hundred most influential people in the world, Ray Dalio began investing at age 12 and now has over $160 billion under management at his company Bridgewater Associates — the largest and best-performing hedge fund in the world. It's no surprise that he's known as "the Steve Jobs of investing." He's also the author of New York Times bestseller Principles: Life and Work and the upcoming The Changing World Order: Why Nations Succeed and Fail.
On this two-part episode, we discuss investing in the macroeconomy, the current recession, the covert economy, radical transparency, decision-making mental models, and Chicken McNuggets — and that's just the tip of the iceberg. This is part two of a two-part episode; make sure to catch part one here! Listen, learn, and enjoy!
Please Scroll Down for Featured Resources and Transcript!
Please note that some of the links on this page (books, movies, music, etc.) lead to affiliate programs for which The Jordan Harbinger Show receives compensation. It's just one of the ways we keep the lights on around here. Thank you for your support!
Sign up for Six-Minute Networking — our free networking and relationship development mini course — at jordanharbinger.com/course!
The Unagi is an incredible stand-up electric scooter that's only 26 pounds, folds in one click, and goes 20 mph. Go to UnagiScooters.com and use promo code JORDAN at checkout for $150 off your own Unagi E500 while supplies last!
BiOptimizers Magnesium Breakthrough will help you beat stress, get fit, sleep better, and recover faster. Go to magbreakthrough.com/jordan and use code JORDAN10 to try it for 10% off the regular price — it comes with a 100% money back guarantee if you're not satisfied!
Better Help offers affordable, online counseling at your convenience. If you're coping with depression, stress, anxiety, addiction, or any number of issues, you're not alone. Talk with a licensed professional therapist for 10 percent off your first month at betterhelp.com/jordan!
HostGator has been around almost as long as the Internet. Does your business have an Internet presence? Save up to a whopping 62% on new webhosting packages with HostGator at hostgator.com/jordan!
Miss the show we did with Jonathan Haidt — the social psychologist who studies the American culture wars and is widely considered to be one of the world's leading experts on the psychology of morality? Catch up with episode 90: Jonathan Haidt | The Danger of Good Intentions and Safe Spaces!
THANKS, RAY DALIO!
If you enjoyed this session with Ray Dalio, let him know by clicking on the link below and sending him a quick shout out at Twitter:
Click here to thank Ray Dalio at Twitter!
Click here to let Jordan know about your number one takeaway from this episode!
And if you want us to answer your questions on one of our upcoming weekly Feedback Friday episodes, drop us a line at friday@jordanharbinger.com.
Resources from This Episode:
Transcript for Ray Dalio | Principles of an Investing Pioneer Part Two (Episode 390)
Jordan Harbinger: [00:00:00] Coming up on The Jordan Harbinger Show. 
Ray Dalio: [00:00:03] Yes and if you have curiosity and you have a healthy fear of being wrong, it will be instinctual. If that smart person has a different view than me, one of us is probably wrong. How do I know the wrong one isn't me? And so I can raise my probability of being right if I can hear their reasoning.
Jordan Harbinger: [00:00:30] Welcome to the show. I'm Jordan Harbinger. On The Jordan Harbinger Show, we decode the stories, secrets, and skills of the world's most fascinating people. If you're new to this show, we have in-depth conversations with people at the top of their game, astronauts, entrepreneurs, spies, psychologists, and even the occasional four-star general. Each show turns our guest's wisdom into practical advice you can use to build a deeper understanding of how the world works and become a better critical thinker.
[00:54:00] Today, part two with Ray Dalio, if you haven't heard part one, go back and check that out. It was just out a few days ago. You're going to want to get that as the foundation for this conversation.
[00:01:03] And if you're wondering how I managed to book all these great authors and thinkers, celebrities every single week, it's because of my network. I'm teaching you how to build your own network for free. No upsell baloney like that. Go to jordanharbinger.com/course for that. And by the way, most of the guests on the show, they subscribed to the course, they contributed to the course. Come join us, you'll be in smart company. Now, here's part two with Ray Dalio.
[00:01:31] You've said, "My success has more to do with how I handle what I don't know than what I do know." And that comes from the Principles. You see something and you say — like you said it's a species. All right, I've seen these elements of this problem or situation before therefore these principles apply. Therefore, we know more or less how to handle this, or at least we have a start. We're not just panicking and running around in circles, trying to figure out what's going on for the first half. 
Ray Dalio: [00:01:56] Well, I'd like to separate those two parts. The principles are again, learn from wherever you can the best ways to handle things. But the first point, which is whatever success I've had in life has had more to do with my knowing how to deal with what I don't know than anything I know is just a reality, which is what any person can know is only a small fraction of the best thinking, the best knowing that exists. And so being prepped in one's head and thinking that you necessarily have the right answer or the best answer for handling something is to almost intentionally be blind. And so when you deal with how do I get the best knowledge or even when you think what don't I know, and how do I deal with not knowing well. 
[00:02:50] For example, diversify, you can hold a portfolio and you can have an opinion about what thing is going to do well and what's going to do poorly and you can be wrong. So knowing that you can be wrong means how do I diversify well in a way where it doesn't lessen my returns but it lessens my risk. So thinking about what you don't know and how to deal with that well is incredibly effective in being able to be successful. 
Jordan Harbinger: [00:03:23] I think you touched on this earlier. Usually, we get our principles or often we get our principals elsewhere, maybe from our parents, other structures. But if we don't examine these principles and make them our own, we may act in ways that are not in alignment with our goals and objectives because we're taking our principles from other people with different goals and different objectives. So how do you go about making the principals your own? Or how do we know if a principal we have is even in alignment with our own goals? Obviously, we have to define our goals first.
Ray Dalio: [00:03:52] Reflecting. When you encounter something, think for yourself, reflect. I have an expression — pain plus reflection equals progress. I believe that you're in that situation when you have pain, something's wrong. It probably reflects how reality works or your reality. And if you can reflect in a quality way on how reality works and how you should interact with it most effectively, you will develop a principle, write it down for moving ahead. And so I think it's that reflecting process. You may choose not to do that. I mean, I think that's the best because it aligns you with your principles. People have those different preferences, but it's knowing how to reflect well — and I think, by the way, I should mention, that I think that meditation is a terrific thing that helps people calm themselves down and, you know, gain equanimity and helps them go more into a thoughtful, reflective mode and escape some of the emotional hijackings that they have.
Jordan Harbinger: [00:05:15] You'd also said that good habits come from thinking in a principled way, such as learning a language, but good thinking comes from exploring the reasoning behind principles. So good thinking, being different from good habits — comes from what? Examining these principles and then going, why is this, this way? Why do we do this? Or am I oversimplifying this?
Ray Dalio: [00:05:34] No, by and large, it's, as I say, reflecting in a quality way with — if it's important, the help of smart others to triangulate with. And so if you were thinking, how do I deal with that situation? You step back and you say, "What are my realities? How do they work?" And you triangulate with maybe others and you say, "Who are good reflectors?" Don't triangulate with anyone and then learn and whatever, and then go to principles and move forward. I think that's the basic process.
Jordan Harbinger: [00:06:12] I will recommend to people to go check this out especially regarding radical transparency. The idea that you can put your thoughts on the table, honestly have a thoughtful disagreement with people where you're willing to shift and have this idea meritocracy both at work. And I wonder, Ray, do you practice this with your family or is it more like, "Okay, there's emotions involved here that we can't separate because it's a family situation versus an investing situation," or do you have radical transparency even at home?
Ray Dalio: [00:06:39] I behave the same way in that I enter into — because I believe it's best — I reach an agreement with others of how we should behave with each other. In other words, the same issue of, would you like me to do that? Would you like me to talk? Do you talk? Can we exchange things? What is our way of operating going to be like? Because in personal lives, it's also can be very important, so there will be disagreements. What do you do with the disagreement? How do you approach a disagreement? How do you get past the disagreement? And so I think you need to have ground rules to not talk about things is to leave oneself in a state of confusion, an unresolved state.
[00:07:30] Now, I'm not saying everything is a hundred percent. I mean, let me understand. I'm not proactively going out there and telling my wife that her hair doesn't look good or something. I'm not, you know, I'm not — 
Jordan Harbinger: [00:07:45] Yeah.
Ray Dalio: [00:07:45] I mean, but if we're going to have conversations, we have to have clarity in terms of how we're going to be with each other within not a hundred percent, a hundred percent about everything, but by and large, and I find that much better. We understand each other and we can respect differences, including emotions. In other words, if somebody says, "That's too emotional now to have a conversation," or "I'm sorry, I'm not able to do that. It's not my nature. And I don't want to do that. I respect that and we find our own way of dealing with it."
Jordan Harbinger: [00:08:22] I think it's interesting and useful that you also practice this with your family and you set these ground rules. Well, I assume you set these ground rules beforehand. Like with your friends, do you just sort of feel out how much radical transparency they can take? Or do you say, "Hey, you know, do you want to talk about this or would you rather we just leave it alone?" Do you set the ground rules explicitly or is it more implicit? 
Ray Dalio: [00:08:43] Well, it's more like when it comes up. If I'm in a disagreement, I asked, "What are we supposed to do with this thing?" Or, "How should we react?" And of course, it depends on the nature of the relationships. There were times — and you must encounter this, everybody encounters this — that they're even important problems and mistakes that others have that you care about. Should you discuss them or should you not discuss them? Okay?
Jordan Harbinger: [00:09:12] Yeah.
Ray Dalio: [00:09:13] How should you be? So it's important to get clarity on that. You can keep them to yourselves or you can pass them along. Generally speaking, you know, it's better to be able to discuss things and work things through and realize that one has emotional hijackings. So when one realizes that and they say, "Oh, well, I'm experiencing one of those." And maybe this isn't the moment, or this is what's going on, the higher-level them can realize that the lower-level them is going through that experience. And that in and of itself is a power. So it doesn't have to be done at that moment and so on. And greater awareness of one's emotions and thoughtfulness about how to best approach them is a good thing. 
Jordan Harbinger: [00:10:10] You've said that people must value meritocracy over maintaining power or being right. And I'm paraphrasing here but otherwise, they will change the system to get what they want intentionally or unintentionally through their actions. When you have people in your organization or even just a, in a social situation or family, do you find yourself trying to decide which, or pick out which one of these types of people they are? Are these types of people, the ones that want to maintain power or be right and the ones that want to value meritocracy, or is this kind of a skill set that you build within a relationship?
Ray Dalio: [00:10:43] I think it's both and I'm very evidence-based. So what I mean is there's the good of the organization and every system has got to be fair and a decision-making system is fair if it's a meritocracy. So, if you can believe in your organization that the best people with the best ideas will win out and that you're working for a common purpose, which is the wellbeing of the organization that you will then share in and that truth about strengths and weaknesses matters. If you believe those things — and by the way, they're great things, not only to believe into but to make happen — if you can believe in those things and then you're going on and you're seeing, well, the individual is working for themselves or their own interests or they're attached to being right and believing that they're right without merit, then you believe that that's undermining the wellbeing of the community. I believe that. And then you talk about it and you say it and you call it out and you say, "Is that right? Is that happening?" You don't just hold it to yourself, but you say, "Well, you're faced with this situation. You've made that choice and those are your choices but let's be clear about what they are." And then people make the choices but you have to be straightforward.
[00:12:15] Like all relationships, there were ups and downs and how you approach them together is important. Any business has down periods and up periods. Just being clear, how are we good with each other through such things, and what are our choices? You know, let's say in a down period, something special happens when people are in it with you and they say, "I'm going to make it great. And I'm not going to jump ship and go to someplace that's more attractive." It would be like a spouse doing that or a pal doing that or something. But that doesn't mean you don't have the right to do that. I don't want to impose mine on yours. So you might say, "Hey, it's no longer good and I'm going to go." Those things and those ways of being are the things that make a culture. And you can talk about all those things and decide what's going to happen and who you'll be with 
Jordan Harbinger: [00:13:12] You're listening to The Jordan Harbinger Show with our guest Ray Dalio. We'll be right back.
[00:13:18] This episode is sponsored in part by Unagi. So these are scooters. These things are amazing. This is like a Tesla of electric scooters. It's a kick scooter looking thing, but it stand-up, electric light, powerful torque, fast. That thing accelerates like crazy. It weighs 26 pounds. It's got a one-click fold. It's got a 15-mile range, goes up to 20 miles per hour. That doesn't sound fast but let me tell you when you're standing on, what's basically a skateboard with a handle on it, that is freaking fast. I run errands on this thing. I'll go on calls and I'm just getting — it's hot AF outside right now. So I am getting the wind blowing through my hair, getting takeout food, going on a Target run. I thought this thing is so fun. It really is the future of commuting in the age of COVID. You can get yours today at unagiscooters.com. That's U-N-A-G-I-scooters.com. Use promo code JORDAN. You'll get 150 bucks off your own Unagi E500 while supplies last. Again, these things are the bomb. Try it out. Let me know what you think. Oh, and wear a helmet.
[00:14:21] This episode is also sponsored by BiOptimizers. Magnesium is the fourth most abundant mineral in the human body. And since it's responsible for 300 to 600 different biochemical reactions in the body including metabolism, when your levels are low, you struggle with sleep, energy, metabolism, pain, stress — a lot of things that you probably need to be going right in your body generally speaking. You can get magnesium from certain foods like black beans, nuts, avocados, spinach, and a lot more. But if you really want to make sure you get enough magnesium for what your body needs, use a supplement in addition to these foods. And now before you go googling magnesium supplements, most magnesium supplements fail to help you beat stress for two primary reasons. There's synthetic, unnatural, not recognized by the body and they're not full spectrum, meaning they don't have all seven forms of magnesium. Try Magnesium Breakthrough. This is from our homies over at BiOptimizers. It contains all seven forms of supplemental magnesium. No synthetic additives, preservatives, and all that. Try it for 30 days. These guys have great guarantees. If you think it's a bunch of bunk, you can go get your money back. Jen. 
Jen Harbinger: [00:15:23] Today, you can get 10 percent off with a special Jordan Harbinger coupon code when you visit magbreakthrough.com/jordan and enter promo code JORDAN10. That's M-A-G-breakthrough/jordan and use coupon code JORDAN10. Once again, that's magbreakthrough.com/jordan and use promo code JORDAN10. 
Jordan Harbinger: [00:15:43] And now back to Ray Dalio on The Jordan Harbinger Show.
[00:15:49] You do mention in the book, "The ego barrier that blocks us from learning, the blind spots that we need to identify within ourselves." And you have a lot of techniques to get down to brass tacks with your Bridgewater team as well. And you said that the antidote in many ways to those things is that radical open-mindedness, believing you may not have the best possible path. As you said, recognizing that decision-making is a two-step process. You've said most people decide too early when they're making a decision and then simply seek to reinforce their existing opinion. And I think that's really good awareness for a lot of folks because that's almost invisible. Right? We think, "I'm making a decision with my team here. And we're talking about it. And Ray disagrees with me and we're doing this transparency thing," but in the back of my mind, I could have this little pin in. "Okay, I'm going to let Ray be radically transparent with me, but I already know what's going. I already know what's right here. So I'm just going to sort of stick to that and keep bringing it forward over and over and over." We have to be really self-aware to stop doing that and make a better decision.
Ray Dalio: [00:16:51] Yeah. And it's not just within an organization or any organization. Psychologists have shown through tests — it's well known — that people have a lot of biases and they tend to form a conclusion about something. And then they filter the evidence to support that conclusion rather than the opposite, which is basically, let me take in the conflicting information and accumulate the information to make the best decision possible. So I'm just observing that those two things are true and that when people do it the first way, that's not in their best interest. To doing it the second way of trying to be open-minded and to take in various evidence, and then based on that with that open-mindedness, to then come to the best decision is obviously the logical best thing to do. And so to no one's human nature and to watch one do the opposite is something people should be aware of.
Jordan Harbinger: [00:18:03] I assume there's a lot of calling people out when that happens in a meeting or, or even in a discussion. You call that out in real-time I assume. 
Ray Dalio: [00:18:13] Yeah, but what happens is the modus operandi changes. So it takes all of this just a bit of getting used to, and once people get used to it, they just operate in that mode and they feel so much better operating that way. It's like a habit thing. It takes, about, let's say 18 months, like changing habits. We call the process, getting to the other side. You know, you first say, "Oh, intellectually, this sounds all great and so on," but you have to decide for yourself, how much do you want? I don't know. It would be like losing weight or getting fit or something. You have to find the habit developing process that gets your actions aligned with what you want. And that's a big thing in all aspects of life. Because the subliminal, emotional, and habit part of what we do really have a bigger influence on us on most people. Then they are calm, logical, what is the best choice-type path? 
Jordan Harbinger: [00:19:19] Yeah. We really have to suspend judgment, which is really tough, but allows new information in more effectively when we do it.
Ray Dalio: [00:19:28] Yes. And if you have curiosity and you have humility, which means a healthy fear of being wrong, it will be instinctual. "Okay, that's a different point of view. It's held by a smart person. Hmmm, why?" I'd be liked to hear their reasoning. And if that smart person has a different view than me, one of us is probably wrong. How do I know the wrong one isn't me? And so I can raise my probability of being right if I can hear their reasoning. 
Jordan Harbinger: [00:20:08] You've mentioned some tells for bad thinking for lack of a better term. You wrote in part, "Over time, you'll hear the same verbal cues indicating that somebody is thinking about something badly or failing to apply principles appropriately. For example, listen to the anonymous "we" as a cue that somebody is likely depersonalizing a mistake." Is it safe to say that you have the rule to personalize mistakes in service of being better able to address them?
Ray Dalio: [00:20:37] Yes. It's a rule that has exceptions but right, the depersonalizing mistakes stand in the way of learning, stands in the way of the person's development, stands in the way of making progress. If you can make people realize that mistakes and failures are just part of the learning process. That it's okay to make mistakes. In fact, while you don't want to go out intentionally make mistakes, if you're not making mistakes, you're probably not learning well or adequately. You know you put your hand on a hot stove. You fall while you're skiing. These are the ways that one learns. And so if you're depersonalizing it and you say, "We did something." You're denying that accountability. Like, imagine you had a football team and the guy didn't make the block correctly and so on. And we said, "We, the team, didn't do something right." I mean, you won't get at that guy watching the mistake he made and learning and moving beyond that and then dealing with that so that the team could do better.
Jordan Harbinger: [00:21:58] What do you think are some other tells for bad thinking that come up? The "we," the depersonalizing mistakes, that seems like a solid one. I'm wondering if you have other sorts of offhand when someone does this, typically it's bad thinking. 
Ray Dalio: [00:22:11] Well, something like they start with their conclusion and they say, "I think," and they leave it as a conclusion without dealing with the reasoning is something that piques my ear but also if they do, "I think I did a good job," or, "I think I" that perks my ears because like, nobody's objective about themselves.
Jordan Harbinger: [00:22:40] Yeah, it's true.
Ray Dalio: [00:22:41] You know, like, "I think I did a good job." Well, what does that matter? I mean like, "Okay. Who doesn't think they did a good job?" I mean, is that a compelling argument?
Jordan Harbinger: [00:22:52] No.
Ray Dalio: [00:55:52] "I think I did a good job." Can we open-blindingly look at, did you do a good job or not? So, "I think I" is, you know, one of the cues.
Jordan Harbinger: [00:23:05] I'm guilty of that, Ray. You have no idea. I think I, hopefully, all are, and it's not just me. I feel like I do that every day. 
Ray Dalio: [00:23:10] It's common, yeah. Like if you start to say, "I think I did a good job or something," it might trigger. I put in the pride of that ownership and doing it right is a very common mistake. So I created a terminology in which a person uses, "I'm a dumb shit." So that they can all be relieved of being, having to be right. Because there's so much judgment on, are you right or not? So I basically want to say, "Okay, look, let me establish the fact that I'm a dumb shit. I don't know anything about this. I'm ignorant. I'm just trying to learn. Now, can I ask my questions?" Rather than make it one of those confrontations. And if you see humility in various phrases, you can see it. You know that the person's more likely to be open-minded. Like, do you get questions or do you get assertions?
[00:24:11] I'm curious when I watch people. Are they giving questions? Oh, those are good questions, questions. Because learners will give you great questions. Smartest people will be people with great questions. And then you get these assertions. People who are incapable of asking good questions. They just make assertions, assertions, assertions. These are triggers that you can develop an ear for.
Jordan Harbinger: [00:24:37] I love that the concept or the idea — you said, "Seeing a problem and not solving it has the same effect as not identifying it in the first place." And that's kind of sobering and wakes you up because I think a lot of us have problems that we see that we ignore, that we sweep it under the rug. And you rightly say that almost every problem is a symptom of a larger problem and that going backwards to find the root of the problem is crucial. I'm wondering, how do you do that with your team? I mean, how do you take a problem, identify it, or something that's been identified and swept under the rug and then go directly to the root of that problem? 
Ray Dalio: [00:25:14] Well, any problem you go first to either the person or the system that might produce it, knowing that there's no such thing as perfection. So every system will produce some problems that might happen with a certain degree of frequency. Every great batter strikes out and so on. So the first thing you want to do is you want to be able to look at that and say, "Is it operating excellently? What is it standard?" You want to have an excellent standard, but if you see plank, clank, unacceptable problem, it is either produced by a person or the system or maybe them operating together. So you look at that pattern.
[00:26:11] You look at the pattern of the person and you look at the pattern of the system and you look at the cause-effect relationship that produced it. So you go into this diagnosis phase, like I said, in the book, there are five things that you need to do to be successful. If you do these five things, you will be successful and you don't have to do them alone. First, know what your goals are? What are you going after? So that you can prioritize and go after those things. Because you can't have everything. You can practically have anything you want, but you can't have everything you want. So you have to know what your goals are. On the way to your goals, you will encounter your problems and obstacles. I guarantee it. So step two is you need to identify and not tolerate the problems that are standing in the way of you getting to your goals. Step three is you have to diagnose them to get at the root cause of them, the specific thing.
[00:27:16] And that's what we're talking about. Is it the person? Is that their nature? They're just not good at it. Is it the circumstances? The design of the organization? What is it? Once you have the diagnosis, okay, that's the cause. That's why depersonalization is not good. You want to say, "Okay, well, I got it. You know, that lineman keeps failing to make the blocks. And so then we now have to deal with it, training or whatever." Then you have to go to then design something different, a change. You have to change things; otherwise, you won't make improvements. As Einstein said, "Insanity is doing the same things over and over again and expecting a different result." So you have to push through and change things. So that's the process. That's the five-step process. Nobody can do that alone. They're not all good at everything, but if you know where you're good and where you're weak and you work well with others who are strong, where you're weak, you can do that and that's the path to success. 
Jordan Harbinger: [00:28:20] By the way, for those listening, we will have that five-step process outlined in the worksheet for this episode, which will be linked in the show notes. So don't pull your car to the side of I-75 and furiously, write that down. We will do that work for you and you can get that at jordanharbinger.com.
[00:28:35] I was surprised to see that you said, well, first of all, humans still make the most important decisions, not computers. That much is clear but eventually, we will use computers to aid thinking as much as we use our brains right now. That is a very bold claim. Do you believe that? 
Ray Dalio: [00:28:52] Well, yeah. It's like we used our brains to remember things. That now I can go on Google and I can get the information. And it's almost silly to try to remember what happened in 1812, you know, those kinds of things. And if people put online cause-effect relationship situations, and so on, you will go online and you'll say, "I'm in this situation. What's the best way to handle it?" And you will pull up other people's principles. On that Principles in Action app, there's a device, which is our rudimentary version of that. It's called the coach. And you say, "I'm in this situation, what do you recommend?" And it will pull up principles and we're going to have it not only populated with my principles — you can put your principles on it and it'll have other people's principles. And you probably will ask advice for the situations that you're in that will help, and that will gain refinement and so on. So that there's this best collective intelligence that you'll be able to take in and consider.
Jordan Harbinger: [00:30:10] This is The Jordan Harbinger Show with our guest Ray Dalio. We'll be right back.
[00:30:16] This episode is sponsored in part by Better Help online counseling. If you're struggling with anxiety or depression or stress right now, you are not alone. I see this in the Feedback Friday inbox all the time. You all need some therapy. Look, I count myself in this. We all need a little bit of therapy. We all could use somebody to talk to. With Better Help, you fill out a questionnaire to help assess your specific needs. You get matched in a couple of days. Talk to your counselor in a safe and private online environment. So this isn't like you're not shooting emails with personal info and deep thoughts all over. Everything's confidential. If you don't like your counselor, which happens, you can request a new one at any time. No additional charge. Over a million people are taking charge of their mental health with the help of an experienced better health professional. So they're killing the game with talk therapy here. They're expanding. They're currently recruiting additional counselors in all 50 states. It's affordable. Our listeners get 10 percent off your first month with discount code JORDAN. So go to betterhelp.com/jordan. That's better-H-E-L-P.com/jordan.
[00:31:16] This episode is also sponsored by HostGator. Have you seen what they've been saying about you online? Yes or no, good or bad. There's no denying that you and everybody else should have control over that narrative, whether it's for your business, your personal brand, as the kids say these days. Building the website people see first when they search for you on the internet has never been easier, thanks to HostGator. And best of all, you don't have to know anything about coding, getting those little bugs out, messing around with stuff. HostGator's website builders, all drag and drop. You can choose from over a hundred mobile-friendly templates. So of course, it's going to work on the phone, the iPad, the desktop. WordPress, no problem. A little bit of SEO stuff, no problem. PayPal, so you can get the money, no problem. 99.9 percent uptime guaranteed, 24/7, 365 customer support. And Jen, we got a deal for them. Do we not? 
Jen Harbinger: [00:32:01] Yes, we do. HostGator is giving our wonderful listeners up to 62 percent off all packages for new users with a 45-day, complete money-back guarantee. Oh, and you can even get unlimited email addresses so that you can replace that Gmail address you've been using for ages. Go to hostgator.com/jordan right now to sign up. That's hostgator.com/jordan. 
Jordan Harbinger: [00:32:25] Go to hostgator.com/jordan right now to sign up. That's hostgator.com/jordan.
[00:32:31] After the show, we've got a preview trailer of our interview with Professor Jonathan Haidt, discussing the dangers of free speech limitations here in America, especially on college campuses. So stay tuned for that after the close of the show.
[00:32:43] Thanks for listening and supporting the show. Your support of our advertisers is what keeps us going. To learn more and get links to all the discounts you've just heard so you can check them out for yourself, visit jordanharbinger.com/deals. We've also got worksheets for these episodes and the links to those are in the show notes at jordanharbinger.com/podcast.
[00:33:02] And now for the conclusion of our two-part episode with Ray Dalio.
[00:33:08] Developing these habits, developing this introspection, creating the rule as you'd mentioned that no one has the right to hold a critical opinion without speaking up and that correctness should be based in the reasoning of the person arguing for something, not the authority of the person arguing for something — that, by the way, reminded me of my parents saying where I'd say, "Why?" And they'd say, "Because I said so," and no kid is ever satisfied with that. So like eight-year-olds know that there should be some meritocracy and then somewhere between eight and 38, it just evaporates. 
Ray Dalio: [00:33:39] Well, I think it's such a good example of the difference between the right to know and the right to decide. Like I have my six-year-old grandson. I believe he always has the right to know. So I appreciate the question, here's the answer, but don't confuse that with the right to decide. At a certain age, you'll do this and then you'll acquire the better you decide when with time, you'll have a right to decide. And I find that confusion happens a lot in a lot of people. 
Jordan Harbinger: [00:34:08] That's interesting. I hadn't thought about the difference there. The difference in those particular things. I think that that goes to show that — well, looking at the character of an organization, you've said, "When mistakes and weaknesses are hidden in an organization, poor character is developed," but you also have to on the other side of that, make sure that any mistakes, weaknesses, bad decisions, or the right to decide versus the right to know are clearly delineated. Otherwise, you just have a messy soup of this is what's happening and we're still not sure how we got to that particular outcome.
Ray Dalio: [00:34:44] Yes. But then you have to decide in what degree, and I've found that I could do it radically. In other words, what we did is we made everything — virtually everything, unless somebody says, "This is a personal matter and we really can't discuss it." Tape for everybody to listen to so that anybody could hear any discussions about almost anything if it's not proprietary and it's not of a certain personal nature that everybody can hear anything because you don't talk behind each other's backs and that you explain that kind of thing. Now, I know that that sounds way out there, but the point I'm trying to convey is by being so transparent, you raise a better way of being.
[00:35:28] Because bad things happen in the dark and understanding happens through transparency. And so when people do that well, in other words, if you can't have subversive people in your mix, people who want to hurt each other or something, but if you have that in a way where you can be radically truthful and then test that truthfulness by being transparent, that's an enormous power. Now, it's stretching you. So I'm not saying on day one go there but I'm just giving you the idea that that's important. And so you don't want to just go to the mess. So knowing the right to understand and the right to make sense of anything is not the same thing as the right to decide and to know that difference is important 
Jordan Harbinger: [00:36:21] To be clear for people that don't know about what you meant by everything's recorded. So at Bridgewater, you record all of your meetings so that anybody inside the organization can listen and you share the hardest thing. So this transparency keeps people from losing the trust of other people because they can hear everything that's going on even behind closed doors with certain exceptions. And I would imagine it's also harder to get away with doing bad things when you're radically transparent. This is good for the company in the long run. You've probably had very few legal issues because of this 
Ray Dalio: [00:36:52] That's right, exactly right. It's so funny because the lawyers when I started doing this said, "Are you crazy?"
Jordan Harbinger: [00:36:58] yeah.
Ray Dalio: [00:36:59] And I said, "Well, if we're doing something wrong, we should be able to examine it." The right people have to examine it. So it's easy. What we do is we just take the stuff, the tapes, and we show it to people. So they don't even have to argue about what was. You see it and then that's how judgments are made.
Jordan Harbinger: [00:37:18] It's probably wise of you to have yourselves examine this internally rather than waiting for a judge or even a judge and a jury or a grand jury to examine it for you at some point. 
Ray Dalio: [00:37:29] Yeah, we want to do everything internally. So we have the processes that are mutually agreed to if there are disagreements through arbitration and so on, but in any case, you know, you present it to the relevant judges and they can see it. That's good.
Jordan Harbinger: [00:37:45] I wonder, in closing here, do you know what FOMO is? Are you familiar with that term?
Ray Dalio: [00:37:50] No
Jordan Harbinger: [00:37:51] Fear of missing out. So you write about this, your friend, Bunker Hunt. He got super-rich from silver and there was a part of you that was like, "Oh man, silver, I got out too early." That's what FOMO is, right? Where you're just like, you're kind of crying yourself about missing an opportunity. And now we get it a lot with social media where you see your friend on vacation and you're working, you know, and you feel FOMO. I wonder if you still feel that way at all, either in life or in handling investments, you know, getting out too early or if you've somehow solved that problem for yourself.
Ray Dalio: [00:38:26] Well, there's the getting out too early was part of what you were saying, but I would take the broader answer to your question. Fear of missing out. And I want to distinguish it from envy as it sounded like when you defined it quite like envy, okay, they're on the beach or whatever. The way I look at it is I have an enormous appetite. I want to pack it and as much life into my life as I possibly can and there are so many good things. And that is just the reality. It's like being in a smorgasbord in which you can't taste everything and you really want to. But the way I view it is it's just the reality of life. And so, yeah, I do think, okay, what am I wishing? But at the same time, I have to balance that same thing with, I could miss out on savoring the simple things, the most beautiful things. You know, there can be too many choices. And over a period of time, I've learned to balance those things in the way that I do. I'll push this aside and then I will spend the afternoon with my grandson and we will do that or we'll enjoy what the beautiful day is knowing — because I intellectually know that there are too many choices to be able. So, of course, I'm going to miss out but that's the way life is, and I don't have anxiety over it. I just accept that. That's the way life is. 
Jordan Harbinger: [00:39:50] I think that's healthy. I wonder, have you always been that way or is that something that you've managed to shape up over time?
Ray Dalio: [00:39:57] I think, no, I've developed, of course. I've always had an appetite, a curiosity, a desire to experience a lot of things, do a lot of things, and that kind of thing. But the notion of dealing with it and so on as part of the process. And I really do think that what's helped me a lot, again, is meditation. I started meditating well over 50 years ago and what it helps me do — it's not just you relax yourself and you don't have stress. It gives me and others, it gives them calmness and equanimity to realize that life just is a bunch of choices and that's just the way life is. And how do you calmly approach those choices? So I think that had a big effect on my development and then just my experience and yet like I could wish I could do everything. I mean, it's just you can't. 
Jordan Harbinger: [00:40:55] In closing here, I saw your 60-minute piece or part of it. And you'd said, "Income inequality in the United States is a national emergency requiring reform." And you called for a reform of capitalism, described wealth inequality as a national emergency. I mean, that's scary. It's not something — it's also not something you usually hear from one of the world's wealthiest people. So why is this so urgent for you and for us? 
Ray Dalio: [00:41:19] Well, because the system is not fair. The absence of equal opportunity, comparable education, and so on means that a large percentage of the population that could be identified for their talent and could succeed, the great talents may never be identified. And so if you look at history, you find that when you have large wealth gaps that cause conflict and sub-optimal intellectual resource allocation. And then you have bad times — you have revolutions, you have conflicts. And it's apparent to me that that's the case now. When I was growing up, it wasn't like that. But anyway, what happens now is I wrote a piece Why and How Capitalism Needs to Be Reformed, and it has a lot of particulars to it. 
[00:42:24] For example, the person in the top 40 percent of the population — I broke the population to the top 20 percent, so quintiles, and I looked at the bottom 60 percent in relation to the top 40 percent because I want to look at the majority. And on average in the top 40 percent, particularly in the higher group, the amount spent for their children's education is five times that in the bottom 60 percent. And naturally, we want our kids to have good education, but the educational disparity is enormous, the resources and so on. And so on could go on and on about the fact that that doesn't work well, but you have to have product activity at the same time. You can't just have wealth re-distributions because whatever we collectively get to consume is whatever we collectively produce. So we have to make the system work so that the pie as a whole grows, productivity grows, and that it is well distributed. Otherwise, when you have a downturn, history has shown it's not sustainable, so it's an emergency. It's not fair. It's not productive, and it's one of our greatest threats. 
Jordan Harbinger: [00:43:46] Ray, this has been an amazing conversation. Thank you so much for taking the time. Thank you for your expertise. Thank you for the Chicken McNuggets. Thanks for everything. I appreciate it. 
Ray Dalio: [00:43:55] Well, really, you are a star. I mean, the questions, the curiosity, the thoughtfulness, and then the contributions that you are bringing to your listeners. It was really great because we have, you know, the common interest of trying to bring some of the best ideas to those people to share them. And so for me, it was terrific. Thank you.
Jordan Harbinger: [00:44:21] Well, there's actually a lot we talked about offline or that didn't make it into the show and I wanted to go over some of those concepts here just briefly. Ray believes the way we handled the 2008 financial crisis actually widened that wealth gap and led in part to the populism that we're seeing now. He wants to strengthen the capitalist system by investing in education. I agree with that wholeheartedly. You've heard me harp on education on other episodes of this show. Ray believes that wealth inequality is going to get worse and is a huge problem. Just as diseases affect people, regardless of nationality, there are economic diseases that happen in every country, regardless of where or who.
[00:44:58] Additionally, the future is not just another better version of the present. It's a much different reality. This tricks investors all the time. And being successful in the market is more difficult than getting a gold medal in the Olympics. But what's funny about this is no one thinks about trying their hand in the Olympics, but everyone thinks they can compete in the market and invest. In investing, you have to understand the historical context and get smart people around you, so you're not making big decisions on your own. And that's a big thing over at Bridgewater. When Ray is hiring for Bridgewater, he doesn't value experience as much as he values character, creativity, and common sense. The knowledge of how to figure things out is much more valuable than having specific knowledge of how to do some specific skill. Radical transparency is also a big theme in Ray's book Principles. It's important, not only to be radically transparent but also to open yourself up or ourselves up to criticism. If you don't do this, you won't learn.
[00:45:57] This is like when I've talked about making our mistakes out loud when learning a foreign language. You have to go backwards to find the root of the problem. This is crucial. So here's an example, you might say, "Oh, I'm a bit overweight. I got the quarantine 15, small problem." But it's a symptom of a larger problem, namely that I don't have systems in place to either lose excess weight or keep myself from gaining it in the first place. Why not? When I have systems for other things because of an even deeper problem. Namely that I sometimes avoid setting up systems to solve problems that make me face uncomfortable truths about myself or inconvenience socially, et cetera. It's all about digging through what you think the initial problem is and finding the real problem hiding behind it.
[00:46:39] I also thought it was great and very telling that Ray attributes his success to the knowledge of the brain — how we think, how we experienced bias, et cetera. He attributes at the same amount or more as he does to what he knows about investing in the market. He talks a lot about our amygdala getting hijacked by the lower self. Those of us that examine when we get hijacked, in other words, when we go on tilt — to quote Maria Konnikova from an earlier show — we're the ones that develop and improve. Maria Konnikova, by the way, poker gambling episode. Gamblers know what it means to go on tilt. It means to make bad decisions because of emotion.
[00:47:12] A lot of Ray's knowledge about the brain comes from self-study. His son, Paul who's bipolar went through the wringer and Ray learned a ton about psychology to work with his caregivers and help him. Many of you, by the way, told me to ask Ray, if he took Bill Gates pledge to donate the majority of his wealth, and he did take that pledge. He also donates to meditation research, ocean protection, and several other causes. There was a lot more in the book about decision making and critical thinking. Once again, big thank you to Ray Dalio, his book Principles and Principles of Success will be linked in the show notes. Please use our website links if you buy the books. It does help support the show. Worksheets for this episode in the show notes, transcripts in the show notes. There's a video of this interview on our YouTube channel at jordanharbinger.com/youtube. I'm at @JordanHarbinger on both Twitter and Instagram or just hit me on LinkedIn.
[00:48:00] I'm teaching you how to connect with great people and manage relationships, using systems and tiny habits over at our Six-Minute Networking course, which is free over at jordanharbinger.com/course. Dig the well before you get thirsty. Most of the guests on the show, they subscribed to the course and the newsletter. Come join us, you'll be in smart company.
[00:48:19] This show is created in association with PodcastOne and my amazing team, including Jen Harbinger, Jase Sanderson, Robert Fogarty, Ian Baird, Millie Ocampo, and Gabriel Mizrahi. Remember we rise by lifting others. The fee for this show is that you share it with friends when you find something useful or interesting. If you know somebody who's interested in finance, investing, or just loves a little bit of Ray Dalio, share this episode with them. I do hope you find something great in every episode. So please share the show with those you care about. In the meantime, do your best to apply what you hear on this show, so you can live what you listen, and we'll see you next time.
[00:48:56] As promised, here's a preview trailer of our interview with Jonathan Haidt.
Jonathan Haidt: [00:49:00] There is a new economy of prestige and in the new economy of prestige enabled by social media on college campuses, the more you call someone out for racism, sexism, homophobia, Islamophobia, transphobia, you get a point. Every time you do it, you get a point. So every time you accuse some — it doesn't matter if it's true, it doesn't matter if you destroy them. It doesn't matter. If you call someone out, you get a point. And so you have sub-communities in some universities that are playing this game with horrible, external results for everyone else. But if the leadership stands up against it, they will be accused of all kinds of bigotry and insensitivity, so they almost never do. In a victimhood culture, you get prestige either by being a victim — so you emphasize how much you've been victimized — or by standing up for victims and attacking their oppressors. So when you get those movements who are, especially if they're a lot of white people in those movements, they tend to be doing that vindictive protectiveness thing.
[00:49:57] You're on camera all the time and even if you're not literally on camera, the current generation because they were raised in an age of social media, they self-censor as though they were on camera. And so why do you see the speck in your neighbor's eye but you do not notice the log in your own? I mean, come on. You know the ancients and here's Buddhist saying the same thing. It's easy to see the faults of others but difficult to see one's own faults. And on campus, we're telling kids, forget thousands of years of wisdom, look at life through the lens of oppression and domination and violence. Everything is against you.
Jordan Harbinger: [00:50:29] Right. Do the opposite. But you can't teach that book, it might trigger someone.
Jonathan Haidt: [00:51:12] What kind of world would you rather live in? One in which everyone is polite because they're afraid of offending or one in which people will sometimes say things that they think are true, even if they're offensive.
Jordan Harbinger: [00:50:45] For more with Professor Haidt, including how the concepts of safe spaces and trigger warnings are making our society less safe and less prepared for the real world and what we should be doing instead to prepare ourselves and our kids for reality, check out episode 90 right here on The Jordan Harbinger Show.
Sign up to receive email updates
Enter your name and email address below and I'll send you periodic updates about the podcast.