Reading Time:
4
minutes
Roger Atwood (@rogeratwood) knows where priceless antiquities are buried, who is digging them up, and who is fencing and buying them, as described in his book Stealing History: Tomb Raiders, Smugglers, and the Looting of the Ancient World.
What We Discuss with Roger Atwood:
How abhorrent colonial looting practices of the past pale in comparison to the streamlined, market-driven illicit antiquities trading of today.
Contrary to popular depiction, illicit antiquities traders aren't marginalized hustlers scrambling to put food on the table, but savvy businesspeople following the demand that leads to a hefty payday.
How well-connected and wealthy collectors perpetuate this market by requesting and purchasing relics on demand in the same way most of us would order pizza.
Why this on-demand artifact mill irrevocably destroys more than it rescues from the unknown past and ruins sites beyond the context of legitimate archaeological salvageability.
On a positive note: what can be done to stem the tide for this wasteful demand so future generations might still enjoy what's yet to be discovered.
And much more…
Like this show? Please leave us a review here — even one sentence helps! Consider including your Twitter handle so we can thank you personally!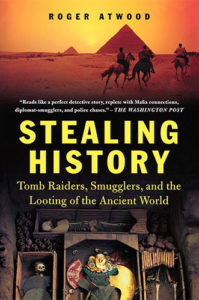 When scrappy archaeology professor Indiana Jones passionately proclaimed that a shiny artifact belonged in a museum and not in the hands of a greedy profiteer during the Last Crusade segment of his franchise, it wasn't entirely a Hollywood fabrication. Antiquities smuggling is a real crime that doesn't get much coverage, but it irrevocably plunders world heritage for comparably cheap rewards. Imagine melting King Tut's priceless gilded coffin down into enough coins for buying a romantic dinner for two at Applebee's and it gives you an idea of what's regularly lost at the expense of our collective history.
On this episode, we take stock of this tragedy with Roger Atwood, author of Stealing History: Tomb Raiders, Smugglers, and the Looting of the Ancient World. From Peru to the Persian Gulf, the ties we have to the past are constantly being severed beyond repair by the illicit antiquities trade. When we carelessly rip irreplaceable relics from the ground with concern only for their financial value to collectors rather than for the stories they tell, we destroy the evidence of how our forebears lived, worked, believed, battled, and grieved. But we'll also discuss what can be done to stem the tide for this wasteful demand so future generations might still benefit from what's yet to be discovered. Listen, learn, and enjoy!
Please Scroll Down for Featured Resources and Transcript!
Please note that some of the links on this page (books, movies, music, etc.) lead to affiliate programs for which The Jordan Harbinger Show receives compensation. It's just one of the ways we keep the lights on around here. Thank you for your support!

Sign up for Six-Minute Networking — our free networking and relationship development mini course — at jordanharbinger.com/course!
This Episode Is Sponsored By:
Microsoft Teams lets you bring everyone together in one space, collaborate, draw live, share, and build ideas with everyone on the same page and makes sure more of your team is seen and heard with up to 49 people on screen at once. Check out microsoft.com/teams for more info!
Miss our conversation with ethical hacker Harri Hursti? Catch up with episode 405: Harri Hursti | The Cyber War on America's Elections here!
THANKS, ROGER ATWOOD!
If you enjoyed this session with Roger Atwood, let him know by clicking on the link below and sending him a quick shout out at Twitter:
Click here to thank Roger Atwood at Twitter!
Click here to let Jordan know about your number one takeaway from this episode!
And if you want us to answer your questions on one of our upcoming weekly Feedback Friday episodes, drop us a line at friday@jordanharbinger.com.
Resources from This Episode:
Roger Atwood | Stealing History (Episode 480)
Jordan Harbinger: Coming up on The Jordan Harbinger Show. 
[00:00:02] Roger Atwood: There are whole societies that had just been blasted out of the ground by the looting industry, which has been fed by international collecting. It commodifies history. It turns heritage into this object to be consumed, to be displayed on the shelves for the people who are privileged enough to buy them. When museums come under pressure to return pieces, the damage that's caused by looting has already been done.
[00:00:33] Jordan Harbinger: Welcome to the show. I'm Jordan Harbinger. On The Jordan Harbinger Show, we decode the stories, secrets, and skills of the world's most brilliant people and turn their wisdom into practical advice that you can use to impact your own life and those around you. We want to help you see the Matrix when it comes to how these amazing people think and behave. We want you to become a better thinker. If you're new to the show, we've got episodes with spies and CEOs, athletes and authors, thinkers and performers, as well as toolboxes for skills like negotiation, body language, persuasion, and more. So if you're smart and you like to learn and improve, you'll be right at home here with us. 
[00:01:05] Today, an inside look at antiquities smuggling. This crime doesn't get much coverage, but this industry is responsible for huge amounts of destruction from Peru to the Persian Gulf. When we rip ancient artifacts out of the ground, we destroy most of the evidence of how these ancient civilizations lived and worked, believed, battled, and buried their dead. On this episode, we'll hear from Roger Atwood, an expert on the illicit antiquities trade, and learn how archeologists deduce information from burial sites, how Western nations, especially in Europe, are not only complicit in these crimes, but fuel the majority of the demand for these artifacts. And of course, we'll uncover how these items are smuggled and what can be done to stem the tide. So that we might be able to leave some of this treasured history intact for the next generation. 
[00:01:53] If you want to know how I managed to book all of these great people, it's always about the network. I'm teaching you how to create and manage a network of relationships for business or personal reasons using systems and tiny habits. You don't have to go schmooze. It's going to take you a few minutes a day, check out our Six-Minute Networking course, which is free over at jordanharbinger.com/course. And by the way, most of the guests on the show, they actually subscribed to the course and the newsletter. So come join us and you'll be in smart company where you belong. Now, here's Roger Atwood. 
[00:02:23] It's weird because you see countries like this and it sort of goes to what we were talking about with the looting of antiquities is they just don't care because they have higher, or I guess you'd say lower on Maslow's Hierarchy of Needs, lower level concerns, where they're just thinking like, "How do I make a life for myself. I've earned or conned my way into this high position in Panama. I'm not going to try to make this place a better place because nobody else is doing that. I'd be stupid to try and do that. It'd be banging my head against the wall. Probably I get fired. What I should do is make sure my kid gets an education and make sure he leaves the country or take them on vacation and make sure I have enough food for everything." I mean, they just don't. I would imagine running into antiquity smuggling, it's kind of like, "Oh yeah, we'll solve that. As soon as we figure out where our next meal is coming from." It's just not high on their list of priorities. 
[00:03:09] Roger Atwood: Yeah. I mean, I think some people see it that way, but this is what a lot of people thought about looting. You know, before I wrote this book, Stealing History, people talked about looters as if they were these people kind of living on these very marginal lives, that they were living in poverty, that they were looting tombs to survive. And that's not really what I found once I got into this. What I found was that they were incredibly connected to international antiquities markets. And they knew what the market wanted. And they were these kinds of small businessmen. They were these people who were cracking into tunes and digging up things to sell because they knew what the market wanted.
[00:03:46] So they weren't as marginalized as people thought they were, or as they had been depicted in movies and media accounts. They weren't necessarily as poor as you might think. I mean, they were in the whole chain of the antiquities trade. I think the poorest and the ones that we were assuming the most risk, they were physically digging up tombs. I mean, I was with these guys in rural Peru and they would go around digging up tombs and, you know, with complete impunity, but they weren't particularly poor, I would say. 
[00:04:14] I mean, I've lived Peru for a long time. I've been a correspondent for Reuters there for many years. Yeah, I've been a lot of the stories I did. I was there in the late '80s, early '90s during the Shining Path insurgency, which was this Maoist guerilla group that was blowing up power pylons, trying to overthrow the government. They had this very Maoist idea that they would circle the city and in circling the city of Lima involved getting control over these shanty towns. So I would go off into these shanty towns and interview these community leaders who were really under pressure or under threat from Shining Path. And yeah, there I saw really poor people. I mean, there's where people who were living in real complete destitution, but the looters that I saw a little later when I was doing this book, some years later after I was no longer living in Peru, but when I was doing the research for this book, they didn't strike me as the poorest I'd ever seen, certainly. I mean, they weren't middle class either, I would say. 
[00:05:07] Jordan Harbinger: So you lived to improve as a journalist during the time of — is it called Sendero Luminoso? Is that what that is? Is that that group or is that a different group? 
[00:05:13] Roger Atwood: Yeah, that's exactly right. Sendero Luminoso, that's it in Spanish. It's usually translated as Shining Path, but otherwise you can translate it. But yeah, I'd been a correspondent for Reuters first in Argentina. I'd come to Latin American journalism through backhanded kind of way. I'd finished at university in the state, the University of Massachusetts, went to Buenos Aires where I've been on a scholarship, and earlier while I was still an undergraduate. You know, my intention was to go into academia. That was my intended career path. But I started working in journalism in Argentina— 
[00:05:44] Jordan Harbinger: That's where the money is, right? 
[00:05:45] Roger Atwood: Yeah, exactly. Well, I think, you know, academia and journalism, I don't think you'd go into either of them for the money but—
[00:05:50] Jordan Harbinger: Right. 
[00:05:50] Roger Atwood: So I started to work at a radio station. I worked at a newspaper briefly, and then I got this job at this news agency, Reuters, which I loved and I was in Argentina. Then they moved me to Brazil. It was all interesting, fun, exciting. A lot of hard work, a lot of stories to bash out, but it wasn't until I got to Peru that I really got fascinated by the work and by covering Latin America and writing about it and really drilling down deep into what was going on in this society at the time.
[00:06:19] So in a way I was kind of living the academic life that I wanted but writing as much as an academic would when you're writing a dissertation or whatever, but writing actual stories about what was actually going on, which in this case, in the late '80s in Peru was complete crackup.
[00:06:36] Jordan Harbinger: Unbelievable. This whole topic to me was something that I felt — when I first started researching this I thought, "Oh, I got to find somebody that knows about antiquities smuggling, but there might not be anyone because they probably kind of stopped doing this," I don't know, "In the 1800s or the early 1900s, maybe any expert that was ever alive, whoever wrote a book about this, would be 150 years old right now." Then I found this Roger Atwood guy, right? And I thought, "Oh, I better check and make sure this guy is still around. When was this book published?" And I thought, "Oh, 2004." Is it 2004, 2006? 
[00:07:10] Roger Atwood: 2004, paperback was in '06, yeah. 
[00:07:12] Jordan Harbinger: Okay. So it's 2004 and I thought, "Wait a minute. All right, well, he's probably writing about things that happened a hundred years ago. We'll see." And then I read the book and I thought, "What the hell is going on? They're still doing this." Not only is it still happening, but it's actually happening even more than it was back then, which is shocking because you think like the British empire just kind of took everything out of Greece and chipped away at the Parthenon. And we're not doing that anymore. That's ridiculous. But here we are hundreds of years later doing it worse. 
[00:07:39] Roger Atwood: Yeah. I think, you know, one of the things that I was trying to do in this book, Stealing History, was to separate colonial looting from the looting that we have today. And that is attacking ancient sites and archeological sites to this day.
[00:07:53] The kind of looting that you mentioned, Lord Elgin, ripping the sculptural elements off the Parthenon and Athens, the kind of looting Napoleon did, that's the kind of people we're talking about, but it wasn't really — but the looting that we have today is really a function of this very streamlined, very market-driven export-driven industry, which is the illicit antiquities trade, which is going into these very distant corners of the world, very remote parts of the world, and using professional grave robbers, attacking archeological sites, and extracting the most valuable things from them and then bringing them to market. 
[00:08:28] When I started writing, Stealing History, I started writing about this subject for art news magazine and archeology magazine. This is what I'd heard, what was happening, but no one had really gone down to the ground level, literally the ground level of the market, to see how and where looters were actually working to get these things. And when I started doing Stealing History, this is what I found: so I was going around with these looting networks who were very connected with what the market wanted. So it was starting to operate like other kinds of export industries in Latin America but in this case, working on the margins of the law, outside the law, but there was so little enforcement, there was so little attention to it on the part of law enforcement that it was almost operating in the open. People, openly buying Peruvian collectors, foreign collectors. Foreign smugglers openly with impunity buying the products of loot and then selling them to other collectors and dealers. 
[00:09:20] Jordan Harbinger: It's shocking, because I think the last, anybody who's just watching mainstream news would have heard about this would be something like, "ISIS, looting Iraqi museums," or, "Syrian museums getting looted by terrorists or militias," and things like that during a war. We don't think about this happening right now in South America, by the people that live there, much of the time as a response to collectors requesting specific items to be looted or found and stolen, and then shipped over to them in the United States, Europe, or anywhere else in the world.
[00:09:53] That part was, I think for me, one of the most surprising, because you just think, why would anyone do that? Tell us why looting robs a country of its heritage, because I think people think, "Ah, who cares if it would have ended up in a museum anyway. What's the difference if it ends up in someone's house? We already have a burial dress from some ancient Peruvian King. You know, what's the big deal? But this really does damage our ability to even learn about these cultures.
[00:10:17] Roger Atwood: Yeah. I bet that's exactly right. I mean, what happens when looters loot in Latin America or in the Middle East or anywhere is that the sites get destroyed in the process of looting. So looters are digging into ancient sites, usually tombs, but they can be other kinds of remains to find a few very phenomenally valuable pieces. And in looking for those pieces and digging up those pieces, they ended up destroying everything else to such an extent that those sites really can't be excavated anymore by trained archeologists. They can't really be studied anymore because they'd been demolished in the worst cases by these looters. It really impedes our understanding of how the ancient world lived.
[00:11:00] And this is especially true in societies that were not literate. So ancient societies in Europe, some parts of the Middle East, China will have some written sources as well. We'll be able to tell their story. We'll tell a little bit about how they lived through written sources. But in societies that were not literate such as almost every society in Latin America, we don't even have that. So we are dependent really on the archeological record to try to understand how these societies lived. And that's really where archeology comes in because it excavates these sites. 
[00:11:33] Jordan Harbinger: So that's how ripping stuff out of the ground and throwing it in the back of a pickup truck gets rid of all this key context. Because for archeologists, we hear, "Oh, the digging out and excavating this site, this could take 30 years." And then you have a group of people trying to do it all in like five days before they get caught. They're not dusting off the pot with a little brush. 
[00:11:55] Roger Atwood: Yeah. Half an hour, they can do it. I mean, this is one thing that I was really amazed at when I was doing the research with this book was how quickly trained looters can kind of diagnose a site, tell what they're going to find. They have this incredible empirical knowledge of what ancient sites contain and they are able to analyze it on the fly and able to find what they think they can sell to dealers and collectors. They're very, very, well-trained, these looters. They know what they want, what the market wants. So, you know, you have whole areas of ancient societies, whole societies, civilizations that we know basically through looted material. And we don't know very much about them. We just have their objects. We just have the objects that have been looted, but that doesn't really tell us much about the societies that looted them. It doesn't tell that much of the societies that produce these objects. It doesn't tell us much about the societies that created them. All we have is these valuable, sometimes quite beautiful objects, but it doesn't really get us into what a society is all about. 
[00:12:58] So you really see this in Italy, for example, you know, Etruscans society. There has been some archeology, quite a lot of archeology, into Etruscans society, but at the same time, for a long time, all we really had was beautiful Etruscan vases and Etruscan objects. So it seemed people were referred to Etruscans as this very mysterious enigmatic society. And they were those things, but that was in part because so little archeology had been carried out on them. And so little archeology having carried out on them because all the sites had been looted. And you see this even more in Latin America, particularly on the coast of Peru, which is an area of great archeological promise now. There's a lot of excavation going on, but there are whole societies that have just been blasted out off the ground by the looting industry, which has been fed by international collecting. 
[00:13:44] Jordan Harbinger: So it turns history into sort of like cheap or, well, I guess, expensive decorations. 
[00:13:50] Roger Atwood: It commodifies history.
[00:13:51] Jordan Harbinger: It commodifies history, yeah. There we go. 
[00:13:53] Roger Atwood: Yeah. It turns heritage into this object to be consumed. It turns the past into an object to be consumed. And to be displayed on the shelves of the people who are privileged enough to buy them. 
[00:14:06] You asked before about the museums, a lot of the focus on the issue of looting has been focused on repatriation, which I think is kind of misplaced and I'll tell you why. I think when museums come under pressure to return pieces that have been looted — you know, the Metropolitan Museum of Art, the Boston Museum of Fine Arts, the Getty Museum in Los Angeles, they've all come under a lot of pressure and have returned quite a few objects. The damage that's caused by looting has already been done. The damage to our understanding of the past has already happened in the sense that when the piece is looted, when a particular archeological site, when an ancient site is destroyed to benefit the looting trade, then that knowledge is lost. And whether the pieces of the museum in New York or a museum in Rome doesn't really make that much difference anymore to our understanding of the past. The loss of information has already happened from the piece. So you've got like these archeological sites that have been really destroyed through the act of looting. And once the piece comes out of it, you can't really put that back. 
[00:15:04] Jordan Harbinger: Right. 
[00:15:05] Roger Atwood: You can't really regain that knowledge once it's lost.
[00:15:07] Jordan Harbinger: So just having it back, sitting in a museum in Lima versus a museum in Boston, it's kind of like, "All right, fine, great. It's in the home country," but it's not like, "Oh good. We're going to be able to discover so much more about this." It's already been ripped out on the ground. So everything that was valuable, most everything that was valuable from an educational or archeological standpoint that was gone the second it got shoved into a backpack. 
[00:15:29] Roger Atwood: Yeah, exactly. This is why you need to control the looting trade at the source, why more surveillance has to be conducted, and why you have to start combating the looting where the demand is too, which is this country, Europe, and usually on the collectors' end. The people who are buying the pieces that keep fueling this trade. That's where the solution to this is going to come is by using law, using policy, and using ethical codes such as they are amongst dealers and museums to try to stop the demand for these pieces.
[00:16:00] Yeah, there is a body of international law. There has been since about 1970, all in combating this trade. The United States has signed a lot of bilateral agreements — and I talk about this in Stealing History — has signed a lot of bilateral agreements with countries that have come under assault from the international antiquities trade to try to stop the trade in illicit antiquities with the aim of stopping looting. 
[00:16:19] Jordan Harbinger: How many antiquities — this is probably impossible to estimate, but how many historical objects get looted and sold on a yearly basis? Are we talking about hundreds of thousands, thousands, or is it just a few large items? Like what's the damage? 
[00:16:32] Roger Atwood: I don't know. I don't think I've ever seen an estimate of how many objects are circulating out there. People talk about the international illicit antiquities trade as second after drug trafficking, amongst in value, certain civilizations, certain kinds of objects come in and out of vogue. So it's a very mobile kind of trade. It's hard to track. It all operates in the shadows. It often operates in very remote corners of the world. So it's hard to say how many objects we're talking about. But the amount of things that are discovered, I mean, people you hear about customs inspections, turning up boxes of thousands of objects in Miami. You know, there are crates with many thousands of objects turning up. It's hard to count them, but the number of objects, the number of crates, the number of shipments that are being analyzed were told less than one or two percent of all of those that are going through. 
[00:17:26] So, you know, the volume of it seems to be quite staggering whenever we hear about customs seizures, the number of objects that seem to be gathered in these seizures is staggering. I mean, we're talking thousands and thousands of objects in quite routine inspections. I think what that speaks to in part is the volume of production in ancient societies. There was a volume of ceramic production of ancient objects in some societies, metals, textiles. That was really, really tremendous. And people were producing in huge amounts. So the amount that's actually getting through, the amount that's actually entering the international antiquities trade is still only a very small number of the objects that are being destroyed through the act of looting.
[00:18:16] Jordan Harbinger: And modern transport has kicked us up a lot. So it's not just some explorer coming back with a couple of sculptures to the British empire, but this is whole containers on container ships, full of goods, literally truckloads of antiques and antiquities and textiles and metal objects and pottery shards or whatever pots and things like that. And metal detectors are allowing for discovery, deeper digging. I've read in your book that more was looted from 1980 to 2000 than in the previous 400 years. So in the previous 20 years before you wrote the book, we looted more than the past four centuries from the Andes. Cambodia, I think you'd said more was looted in the past couple of decades than in the previous 800 years. That to me is crazy. And all of the statues are headless because heads are easy to just sort of, I don't know, saw off or knockoff, carry, and then sell. 
[00:19:07] Roger Atwood: Yeah. If you see the ruins of Angkor Wat in Cambodia, that's what you see. All the sculptures are headless. The standing sculptures have their heads knocked off because heads are easy to remove, easy to transport, and easy to sell. What I think you've seen is that the looting industry has benefited greatly from the streamlining of international trading routes through better air connections, through container shipping. It has really benefited from the globalization of the last 20, 30 years. So there are now, for example, just to give one example, direct flights from Hong Kong, which is the emporiums of things looted from China to New York, which he didn't have until very recently.
[00:19:48] So now there's a direct flight there, so they don't have to go through — the smugglers don't have the risk of having to reroute things through different stopovers. They can put them on flights, container shipping helps as well, roads and transport links reaching into very remote corners has really helped the looting industry to extend its reach into more and more remote areas. That's really what's happened. And this started in the late '80s, the '90s, the sort of the modern way of looting, I think. There had been some looting going on in the early '70s or some commercial looting, commercial grave robbing in Guatemala, Southern Mexico. That's where it first started getting attention.
[00:20:28] And then it really kind of came roaring back in the 1980s. And everywhere I've been since then, the eighties and the nineties, I was in West Africa in Nigeria, where there was a big demand for looted terracotta sculptures for a time of the Nok culture. Everywhere I've been I've seen that there was this great kind of boom in looting of ancient societies in the 1990s. And that had a tremendous effect on our understanding of the past and our ability to excavate, to learn more about ancient societies. And this is really what you could really see in the antiquity's markets in the 1990s. Galleries, auction houses, museums are really broadening their collections into areas of ancient civilizations that they hadn't had yet, or that hadn't been seen very much in these collections. And this is what was going on, in part because of the improvement in air link, sea links, transport links, generally around the world. We were able to see much more in the way of ancient objects coming to private and public museums and dealerships. 
[00:21:39] Jordan Harbinger: You're listening to The Jordan Harbinger Show with our guest Roger Atwood. We'll be right back. 
[00:21:44] Microsoft Teams is helping Priority Bicycles transform the way they work. After closing their New York City showroom, they started doing virtual visits on Teams. Now, people from all over the world can come into their showroom. Learn more at microsoft.com/teams. 
[00:21:59] And now back to Roger Atwood on The Jordan Harbinger Show. 
[00:22:05] It sounds like I know you wrote that stuff is getting sold, that is from cultures we haven't even explored yet. So we know nothing about this culture, but it's antiquities are on sale in Germany Switzerland, wherever, and it's almost like stealing the Royal family jewels and selling them in a market in Peru, and then just labeling them miscellaneous European gemstones, right? They're just ripped out of the culture. We will never find out what these things were because of that. And there's just no going back. And on top of that new sites is making buyers go crazy, which then of course, reinforces demand for looting and pillaging to get the supply up to meet the demand. So in a twisted way, interest in archeology both helps preserve the culture, but then also destroys the culture. So we're in a kind of a catch 22 situation, don't you think? 
[00:22:49] Roger Atwood: Yeah. I mean, I think there should be a way for people to see archeological objects, right? I mean, the way to see them is to view objects that have been excavated archeologically and this is very, very common. This is this idea that museums should be acquiring objects that have no known provenance. And when I talk about provenance, I'm talking about the history of the places of excavation and it's chain of ownership. Museums if they want to show ancient objects, they should really be showing objects that have been excavated archeological. And museums are starting to do this. The museums that had been buying looted objects in the past are really starting to change their practices a little bit.
[00:23:27] They come under a lot of pressure from the countries that have suffered looting. They've come under pressure from Italy, from Greece, from Peru, from Turkey to return objects from Egypt. Countries that were suffering a lot of assault on their ancient assets from their ancient sites. And that started pressuring museums to return these pieces. And slowly these museums, I started understanding that if they want to show ancient objects, they should be showing objects that have been excavated scientifically by trained archeologists at sites. They won't necessarily be able to own those objects. There are objects that are going to be on loan from the cultural institutions, museums, the governments in effect of those countries. Typically, those countries won't allow the legal export of those objects. So museums wouldn't necessarily be able to acquire those objects, but they show them to the public. They can bring them to the public. This is what the Metropolitan Museum of Art has been doing, the Boston Museum of Fine Arts. And I believe even the Getty has started showing objects that are being archeologically excavated by archeologists. And that belong to institutions in the particular country in which they've been excavated. That's I think the wave of the future. 
[00:24:35] Jordan Harbinger: Oh, interesting. Yeah. I know that some of these Peruvian burial dresses and things like that can fetch more cash on the black market than a Renoir or a Monet. How much are we talking about here? I don't know the pricing these days for a Renoir or Monet here. Like, what sort of money are we looking at here? 
[00:24:51] Roger Atwood: Well, I mean, you know, there are very valuable textiles, for example, from ancient Peru. The textiles from the coast of Peru, it seems incredible, but they will survive in the arid climate of the coast of Peru for 2000 years.
[00:25:04] Jordan Harbinger: Wow. 
[00:25:05] Roger Atwood: Some of them will sell for a quarter of a million dollars, up to a million dollars if they're really valuable. There's an area called Paracas, which is on the South Coast, they can go for, yes, many hundreds of thousands of dollars. You see auction catalogs on provenance, ancient objects.  Very fine ceramic seemed to be going for a hundred thousand, $200,000, $50,000. Stone objects for a little bit less. You know, I think like anything, it really is. It depends on the quality, on the rareness, on the condition of the object that you're talking about. The Euphronios Krater sold for — what was it? A little over a billion dollars, bought by the Metropolitan Museum of Art that was in 1971, I think those, so—
[00:25:53] Jordan Harbinger: What is that? I don't even know what that is. 
[00:25:55] Roger Atwood: Sure. No. Sorry. The Euphronios Krater was this really extraordinary, enormous sort of vase that was used to mix wine and water in ancient Greece. It was found in an Etruscan tomb in Italy about 1970 and was purchased by the Metropolitan Museum of Art in New York. I can't remember the price right now, but I think it was $1.1 billion. I better double check that for you. It was about a billion dollars. And it was Thomas Hoving, who was the director of the Met at that time recounts this all in his memoir about how we had this — he went into trance as soon as he saw it in the home of this dealer in Italy and was absolutely determined to get it for the museum. He brought it to the museum. It was this famous piece. It is an absolutely gorgeous piece. When it was excavated by looters in this tomb in Italy, it was in pieces. So it had to be reassembled. It was all kind of glued back together again. 
[00:26:50] And when the Met and other museums came under a lot of pressure from the government of Italy to make amends for their purchases over the years of all these looted goods, this was one of the pieces that'd be Italians demanded the restitution of. They demanded the Met to give it back to them. And the Met did give it back to them after a lot of pressure. And it's important to remember these things. It's important to see that a great museum, an encyclopedic museum like the Metropolitan Museum of Art to deaccession a piece like this and send it back, takes a very big change in its whole philosophy and its way of thinking. That they eventually ceded to the pressure from the Italian government to return this. And it is on display now in Rome. It's really extraordinary that that has happened. And it really does suggest a sort of a seed change in museums. I think they are coming under a lot of pressure now. 
[00:27:44] In the case of the Met and other museums, there was also the threat by the Italian authorities not to give them other kinds of objects, you know, all kinds of object paintings. They were under the threat, the museums were under threat of not getting any loans at any kinds from Italian state museums, which would've made it impossible then to do all kinds of exhibits. So yeah, they were under great pressure and under great threat to clean up their act and to stop buying the objects of pillage that they'd been accustomed to buying. The Boston Museum of Fine Arts too was also under a lot of pressure to return things. 
[00:28:18] Jordan Harbinger: How do the looters look for things? You wrote in the book that they have poles, and they sort of jammed them down into the soil and you described metal hitting bone and the sound that that makes and breaking into tombs and pots. I really cringed when I read or hear these descriptions. It's like I'm listening to somebody breaking into a house and trashing someone's family heirlooms and the search for like, you know, a $20 bill or some change. It was awful. 
[00:28:41] Roger Atwood: Yeah, it was awful. I think about those nights that I spent with those looters, watching them do what they do and feeling really — you know, I still feel nauseated by it. Let me tell you how I sort of met these people. These were looters, who I met through a friend of mine in Lima who was a collector and I would always got to rib him. And I would say, "You know you shouldn't be buying this stuff." I mean, he was living in Peru. He wasn't exporting things, but he was buying looted pots and things and looted pieces of metal work. And some of them were incredibly beautiful. And I always said to him, "You know, you really shouldn't be doing this." He offered to introduce me to some of his looters who were bringing him things, freshly dug up things, and I met them and I thought this would be a really good story.
[00:29:19] And I think this is what journalists do. I mean, you sort of find a good story and you want to kind of climb all over it. And I started getting to know these looters. As I say this in the book, I started buying pots from them as to win their confidence — those pots I then donated to one of the museums there, to an archeologist who runs a museum — to win their confidence. And then gradually they started taking me out to some of the sites that they had been looting over the years. They were these Inca or pre-Inca cemeteries on the coast of Peru. And there was this whole kind of network of looters who often lived in this village called Pampa Libre, which was North of Lima. And they would sort of range up and down the coast on buses with cell phones. There wasn't much Internet in those days. This is the early 200s. 
[00:30:04] They had this knowledge about what to find and where, and at that time there was a great demand for ancient textiles. So they would go to these burial mounds on the coast, South of Lima, where they knew there were lots of textiles and break into them and they would have these metal poles. That I think they're like rebars, they're the kind that you used in construction. And they would sink these poles into the ground. And when it made a particular kind of crunching noise, they would know that they had hit either a ceramic pot or human bones. And they be able to tell just from the sound it made what kind of tomb it was. And if it made sort of a certain other slightly muffled kind of sound that meant that they were hitting some textiles. And then they would pull out the bar and they would start digging.
[00:30:56] And it was phenomenal how quickly they would dig. I'd never seen anything like it. I mean, there'll be like three guys and they'll take their shovels and dig down like 10 feet in what seemed like 15 minutes. And then they would excavate the tomb and retrieve, and they'd be trashing everything that they found as they're digging down. They'd be finding ancient jars or cooking implements or kneading tools and things. Things that people in ancient societies had buried with the dead for them to take to the next life, all those things, which were all sorts of things that archeologists love. Tell you all about how an ancient society lived, how they worshiped, how they ate, how they raised their children, everything you know about an ancient society. Those are the things that you find in these sites, all that stuff would get trashed and all just get thrown away so that they could pull out just one or two very valuable objects. And in this case, they were looking for textiles. 
[00:31:52] So there was one particular night when I was with these looters in South of Lima. Yes, they did find a very valuable textile before my eyes. I've been looking for that textile, every constantly, ever since in auction catalogs, galleries, you know, keeping my eyes out for it. I haven't found it yet, but I'm sure it's in somebody's collection somewhere. It was a phenomenally beautiful textile. It does make me sick to think the damage and the loss of information that went in to get it. 
[00:32:23] Jordan Harbinger: You're saying that you walk in the jungle and you see these huge pits with bones and pottery shards discarded at the bottom. So are these just grave robbers? Like they dig a pit, they throw everything else out, smash the jars to see if there's anything. You describe looters tossing skulls out by the hair to get them out of the tomb so they can find necklaces or jewelry and things like that.
[00:32:44] Roger Atwood: It's really shocking. For journalists to witness this, I mean, I had to think very carefully about the ethics of this, my watching this. But I don't think I was encouraging this, I don't think, by my being there. These are people who are doing this every night. There were networks of people doing this. It seemed like hundreds of people doing it every night at different parts of Peru. I mean, the network that I was with these sorts of a variable group. There were about five or six guys. They were connected to other networks that I've never work and those networks to other networks. And then they had buyers buying the things that all these networks were producing. So this organization, they were doing this without very much, or didn't seem like any pressure from law enforcement, very little pressure from law enforcement. Things might've changed since then. But when I was doing this, they were operating with complete impunity. It was really shocking. And the objects that they were excavating, that they were looting were then being sold to dealers who would then smuggle them out. 
[00:33:41] Jordan Harbinger: I found it interesting that textiles were worth more than metal. That's surprising to me. You think a gold bracelet or something would be worth more than like a shroud, but not really.
[00:33:51] Roger Atwood: I mean, different kinds of objects come in and out of vogue, in the market. There was a time when very valuable ceramics were really making the market. Metal, at least from pre-Hispanic sites became very valuable in the 1980s. A lot of it had to do with a site called Sipan, which is on the North Coast of Peru, which was a very notorious case of looting. Sipan was one site of many sites associated with a civilization called the Moche, a really fabulously rich tomb. Discovered by looters in 1987, produced these astonishingly beautiful and valuable metal objects, gold and silver, which erupted onto the market in '87, '88. Went through London and then in Los Angeles really made a big splash, and then that really there's this great appetite for metal objects. 
[00:34:42] And looters went through sites all over the Northern coast of Peru looking for these objects. But then there was a lot of law enforcement, there was a very important legal case. A museum and several collectors got in trouble for having these pieces. A lot of them were seized. Some of them were returned, but they got to be a lot of legal attention and lawsuits by the government of Peru for the return of these pieces, and then a crackdown in US policy. There were restrictions on the import of these objects from this vast area of Peru by the US government in 1990, and then again in '94. So it became a little too hot to handle and this led to a kind of decline in the value of metal or an interest on the part of collectors in metal objects. So they turned to another area of collecting, which was textiles. They are easier to smuggle, textiles. They can't be detected so easily when people are getting them on planes.
[00:35:38] There was a very famous case in the mid-90s of a whole suitcase of ancient textiles discovered at Dulles Airport, outside of Washington, DC. These were textiles that had been looted from the South Coast of Peru, being imported by a dealer in New York. A very alert customs agent at Dulles Airport detected them from the smell because there's a very distinctive smell apparently to the textiles that come out of the ground quite recently and that were used to wrap human remains. 
[00:36:11] Jordan Harbinger: Wow. 
[00:36:12] Roger Atwood: And these textiles were seized and I think quite shockingly, most of them in the end were returned to the dealer. I interviewed him in the book. He found all these pieces out of here. He was importing all these pieces and he got most of them back. This was an example of how textiles had really become the market maker. 
[00:36:30] Jordan Harbinger: How are they getting this stuff out of the country? You know, we've mentioned that there's smuggled through Chile and Ecuador and Chinese antiquities smuggled through Hong Kong. Some still recently excavated that there's still dirt in the cracks, which is both amazing and also sad. It just means there's just such a quick route from digging it up in the middle of Shiyan or whatever, China, and then putting it right on a plane or a train, even airline employees smuggling things out. But if they're not smuggled out by a flight attendant, how are they getting out of the country, generally? There's a lot of clever things you wrote about in the book, fake clay bottoms and things like that. Can you speak to that a little bit? 
[00:37:06] Roger Atwood: Yeah. I mean, I think people who are buying these kinds of pieces, they want to know that they're authentic because fakes can get mixed in very easily with looted antiquities. Because when you have looted pieces, no one knows where they came from. Only the looter knows that, and he's not going to say where. So it's very easy for buyers to get duped into buying the fakes that get mixed in with looting trade. So one way that buyers think that they can be guaranteed to be getting authentic pieces is to have pieces that still seem to have dirt in them, or seem to have the remains or seems to have the traces of underground excavation. 
[00:37:45] In Italy, you saw looters taking photographs of pieces as they were coming out of the ground. Photographs to show to the potential buyers, so they could be sure that they were getting actual pieces. A lot of those photographs were then used as evidence in legal cases against them. So, you know, people, when they're looted, when they're buying these pieces, they want to know what they're getting is authentic. And there aren't that many ways to do that. So that's one way of going about this and it's actually to show how fresh they are. 
[00:38:15] Jordan Harbinger: But how are they getting them out of the country? I know that there's someone had made fake made-in Bolivia clay bottoms for these ancient pots. And they just kind of put this in Bolivia clay bottom with a stamp on it and then they smuggle it to Bolivia from Peru, then shipped to Canada, bring to the United States and then what they just wash the fake bottom off. I found that to be kind of innovative and fascinating. There must be a lot of ways people are doing things like this. 
[00:38:40] Roger Atwood: Yeah, there are. There are ways. People will take an authentic pot and then wrap it with some kind of clay to make it look like a cheap tourist tchotchke and do this hundreds of times, and then they'll export them. And then as you said, wash off the old exterior and then sell it as an authentic piece. So there was a very well-known case in Egypt of this. Somebody's exporting a head of a Pharaoh and then wrapping it in the kind of a silicone or something or some kind of synthetic material, and then painting it in these gaudy colors. So it looked like a really cheap and ghastly kind of tourist trinket, and then taking photographs of it. And then when it reached the dealer washing that off, of course, and then you've got a, you've got an authentic piece to sell.
[00:39:29] So they have different ways of doing this, different ways of kind of disguising pieces. There's constant innovation in this area. There are constant ways in which smugglers are finding ways to fool inspectors. Take pieces, wrap them in something in some kind of cheap clay, or mix them in with other kinds of things. Mix them in with things that are obviously modern objects and using all the kinds of tricks and trades that you'd expect to get these things to market. And I think part of this is also to fool police on the receiving end as well, inspectors, but also to stop inspections, to fool inspectors, where the pieces are being received. In the case of the United States, customs agents who are able to inspect these things, most of them do get through, but those that don't are subject to inspection and then they have all kinds of tools, all kinds of ways of kind of disguising things so that they can reach the market without being detected.
[00:40:36] Jordan Harbinger: This is The Jordan Harbinger Show with our guest Roger Atwood. We'll be right back. 
[00:40:41] Microsoft Teams is helping Priority Bicycles reinvent the way they work. When the pandemic hit the bike shop had to close their New York City showroom. They found a way to reopen by doing virtual visits on Teams. Now, the team can meet with two or three times the number of customers than they could before. And people from all over the world can visit their showroom. Learn more about their story and others at microsoft.com/teams. 
[00:41:06] Thanks so much for listening to and supporting the show. Your support of the advertisers, that's what keeps us going. For all these discount codes and all these advertisers, of course, they've all got different promo codes. All of those are in one place. We put them at jordanharbinger.com/deals. Please consider supporting those who support us. All those codes are in one place. You don't have to write anything down, just go to jordanharbinger.com/deals. Don't forget we also have worksheets for every episode of the show. The worksheets for today's episode, those are linked in the show notes with some of the drills and exercises talked about during each show all in one place, jordanharbinger.com/podcast is where you can find those. 
[00:41:43] And now for the conclusion of our episode with Roger Atwood. 
[00:41:49] I know you went undercover, so to speak posing as an antiquity's buyer. So what was that like? That must have been a little bit nerve wracking. I don't know if I have the stomach for that.
[00:41:58] Roger Atwood: I don't think I did that. That wasn't really like a sustained thing. I'm very nervous about misrepresentation to almost everybody. I called myself a journalist. I told them exactly what I was doing, that I was writing on the antiquities trade. I can think of one time when I was on Hollywood Road in Hong Kong, which is this emporium of looted antiquities from China in which a dealer was telling me how trucks would come over the border from China proper — Hong Kong at this time had pretty recently been returned to China. So I kind of let him think that I was potentially a buyer. And he was telling you how these pieces would come over in truckloads from China. Pieces that had been dug up from this lovely kind of place statuettes of women in these kinds of delicate kind of poses. 
[00:42:49] And some of them, he told me, had been looted by grave robbers. Others had been discovered in the course of construction, urban expansion, all the kinds of ways of heritage being destroyed that happen in rapidly expanding societies and places that are having a lot of urban sprawl. So I kind of let him think that I was a buyer and he sort of told me how this all works, but it did make me very nervous and it did make me wonder how long I'd be able to keep that up.
[00:43:19] Jordan Harbinger: Yeah. 
[00:43:19] Roger Atwood: So I didn't think it went very well. I don't think I went back to that. I'm trying to remember if I ever did that again. I don't think I did — oh, there was one time. You're right. Well, there's one time in Peru when I was going around a town called Cayalti, which is also famous for buying and selling looted antiquities. I sort of was asking around what kinds of antiquities to see what things were on the market. What kind of looted antiquities were being sold there? And yeah, I did discover that. 
[00:43:42] I was quite surprised to see that the looted authentic antiquities were cheaper than the fakes because the production of them was so great in antiquity. The production of ceramics was reached. The ancient Peru has reached this industrial scale. I mean, they were turning a thousand of it. They were using molds to make 2000 years ago. Whereas the fake pieces, you know, they took effort. They take skill, a person has to have an ability to make authentic looking antiquities to make fakes. So the real ones were cheaper than the fakes. 
[00:44:13] Jordan Harbinger: That's unbelievable.
[00:44:14] Roger Atwood: And this is what I discovered. Yeah. I guess you could say undercover agent in this village. 
[00:44:19] Jordan Harbinger: How do antiquities dealers justify looted items? It seems like people who treasure this stuff would care more about provenance, you know, where things came from. And I know that they argue collectors take better care of things, which is, I don't know, a specious argument at best. What are they saying? Where are they seeing these come from? Is it like, "Oh, a farmer was plowing his field and here it is. Look at this thing," that was for sure, 20 feet under the ground. 
[00:44:42] Roger Atwood: Yeah, if you talk to people who buy these things, collectors, dealers, they come up with all these very self-serving arguments to justify their purchase of looted antiquities. And some of them are like the ones you just mentioned, they'll say, "Oh, well, they just found these things, plowing their fields or digging up buildings and things." And maybe there are some cases of that. I think they're quite rare though. All the pieces, when you talk to looters, when you hear about legal cases, and cases that reach courts involved in looted antiquities, they always involve looters looking for pieces, deliberately looking, going into graveyards, going into ancient sites, sites under archeological excavation, looking for the kinds of pieces that collectors want. 
[00:45:27] They're not things that are just found by accident or found by chance. That almost never happens. Sometimes people will say, "Oh, well, people have been doing this kind of looting for hundreds of years and thousands of years." I guess there is some truth to that. Yes. There has been a lot of looting over hundreds of years and thousands of years. What's different now, of course, and what's been different for the last 20, 30, 40 years is that now you have looting as this kind of industry. As this export industry in which people are, collectors are fending through the whole line to the whole chain of this market, down to the looters. What kinds of objects they're looking for? And looters are getting this message and excavating pieces with a kind of efficiency and a kind of streamlined way of operating that they didn't have before. And they're able to get these things to market much more quickly than they ever were before, since the 1990s more objects from more places in the world, for more different kinds of ancient societies than you've ever had in history before.
[00:46:27] So this goes back to what we were talking about before, about the issue of colonial looting versus modern looting. Now, we have a body of international law against commercial looting. Everybody knows what the score is now. Museums know what this is all about. They know when these museums and private collectors are acquiring these things. They know that they are buying the products of pillage, buying objects, which came to the market through a very destructive process and a process that destroys our ability to know about the past. 
[00:46:59] Jordan Harbinger: I know that the United States was one of the only countries to sign a treaty on antiquities smuggling to protect artifacts and sites. And Europe actually balked on this, which to me was interesting because usually it's the United States. We're the ones that opt out of the climate agreement or something else, and everyone's like, "Ah, you've a bunch of jerks." You know, this is one of few areas where we got one over on Europe, maybe because they have such a tradition of antiquities collecting. I mean, what's the reason, what's the rationale there that we would actually be on the right side of this for once? 
[00:47:28] Roger Atwood: I think that is part of it. I think Europe had this tradition of collecting and a very, you know, I think you'd have to say kind of a colonial mindset of extracting the remains of ancient civilizations from around the world. I think that also at that time, when the United States signed the UNESCO treaty or initialed in 1970, then ratified it in 1983. The idea of a rules-based international system still had a lot more currency than it has now. So would this happen again now? I'm not sure, but the United States signed the UNESCO treaty under the Nixon administration, ratified under the Republican administration. But then the first really serious laws, the first serious import restrictions that really put teeth into the United States is accessioned to the UNESCO agreement happened in the '90, under the Clinton administration. 
[00:48:15] So, you know, for a time you had Republican and Democratic administrations alike working to do what the United States could do, what they could to cool the demand for looted antiquities in United States, from areas that were coming under a special assault by the antiquities trade and by looting. It is still going. There are still laws that are being renewed or import restrictions that are being renewed on antiquities from Italy, for example. That's been a particular area. That's really rankled the antiquities trade. The import restrictions on provenance antiquity from Italy, from China, from Turkey, from Peru. These things have come into effect and are getting renewed over the years. And it's been very, very helpful in cooling the appetite, cooling the market for these kinds of objects. 
[00:49:06] Would it be done again? I'm not sure. I'm not sure that does seem like a long time ago. Would the United States withdrawing from the Paris agreement from so many international laws, international agreements as part of an international system can really make a difference? And it did make a difference. And in certain areas, looting is still a huge problem, but it's certain areas that had come under a special attack, particular attack by the international antiquities trade. I'm talking about Southern Italy, for example, the coast of Peru, these areas of Cambodia, these areas that had come under tremendous assault by the international antiquities trade, the import restrictions carried out by the US government and then other governments in other buyer countries really made a difference. They did. I've seen it with my own eyes. I've seen it in Peru. 
[00:49:53] Since I wrote that book, more governments have come on board. Britain has finally signed and ratified the UNESCO agreement. I believe Germany has. I'm not sure about Switzerland. I'd have to check a lot of the European buyer companies that have finally come on board the UNESCO agreement and ratified it and put import restrictions in place.
[00:50:12] Jordan Harbinger: The biggest obstacle similar to climate change is that looting and destruction of these old sites is inevitable. So why bother trying? What do you think about that? 
[00:50:23] Roger Atwood: I don't think it is inevitable. I think it requires giving alternatives. It requires law enforcement. It requires doing what you can to stop pillage. It requires working on the demand end, which is amongst buyers and providing alternatives. And also at a very rural level, getting people in rural areas to understand that they can view ancient assets, archeological sites, ancient sites in their midst as a community resource. Peru has been working a lot in this area, Mali in West Africa was for a long time too. There's been talking, but the Italians, of course, I've worked a lot on this, but the idea of getting people who are even in very poor countries to see these ancient sites. As something like clean water or good roads or good farmland, preventing erosion on their farmland, seeing them as something that can really benefit the community rather than just this windfall to be exploited. And seeing them as something to take pride in something that they can take pride in as something that their ancestors left, rather than just something to be exploited commercially.
[00:51:34] And I think you see this in the American Southwest as well. I mean, you know, where people have tremendous pride. I've seen this in New Mexico and Arizona people have tremendous pride in the ancient sites that are in their midst. There's also good law enforcement. You know, the United States has the kinds of resources for law enforcement that places like Mali and Peru don't necessarily have, but the same kind of mentality, the same way of thinking about the past in our midst is really something that can be done anywhere, I think. Mexico has worked a lot with this too on the coast of Veracruz and other areas that was under tremendous assault from looting. 
[00:52:10] The idea is to look at these sites as something valuable, something that can bring tourism, something that can bring archeology, something that can help us understand how the societies lived. The societies that walked this earth before us lived. That's one of the things that I was getting out of this book was how villages can be trained to think that way, how can they be encouraged to think that way. I spent a lot of time in this village called Ucupe, where archeologists, working in tandem with police. They had created these things called la grupa, which were grupo de protección arqueológica. These archaeological protection groups, which were these patrols that would guard these ancient sites. And they were under constant attack or constant pressure, I should say, from looters connected with international smugglers. 
[00:52:58] So there is this village, you know, it's a pretty out of the way village. It's poor, but not absolutely destitute, but they've got these great burial mounds from the whole sweep of Peruvian pre-Hispanic history. And they have these patrols with people they're armed with walkie-talkies. I think they had a motorcycle. They weren't armed, but they were conducting constant surveillance on these sites and it became this kind of community activity in order to keep these sites and prevent looters from destroying them. And looters in this village were associated with squatters as well. So this village was also trying to prevent the squatting from people from occupying land that didn't belong to them, but it was also to keep the land, keep these are burial mounds, these ancient cemeteries free from looters so that they could be archeologically excavated. And some of them had been archeologically excavated.
[00:53:48] So it was a real struggle to do this, but it's an area of that cultural heritage preservation on the ground, like this is an area of great innovation and experimentation around the world. I think you see that everywhere now. So there is, you know, as I was saying before, one part of this is curbing the demand for looted antiquities, whether they're, you know, cuneiform tablets from looted sites in Iraq and Syria or ancient textiles and the coast of Peru. All kinds of things coming out, the market, keeping law enforcement with its antenna up to stop the importation of these things, but also working with people on the ground where these things are coming out of the ground to stop looting of these sites.
[00:54:30] You know, it's not really in a place that has thousands of ancient sites, hundreds of thousands of ancient sites like Southern Italy, like Peru, like Guatemala. It's not really going to be possible, particularly for countries like underdeveloped countries to keep an eye on all these sites to guard every one of these sites all the time when they're under constant pressure from looters.
[00:54:50] Jordan Harbinger: Yeah. 
[00:54:51] Roger Atwood: But you can start to combat the problem when you're actually working on the ground with the people who live in their midst. 
[00:54:58] Jordan Harbinger: Fascinating. There's so much here. It's just an amazing phenomenon. It's sad that it still exists, but it's almost like whaling, but somehow even worse. I don't know. Probably because it's more widespread and we can't ever get it back. Like this is just lost forever to time. I guess it really is like hunting a species extinct. 
[00:55:18] Roger Atwood: Yeah, that's exactly right. I keep talking about Peru because that was sort of — I should just say this. I talk a lot about Peru in this book because I didn't want to sort of go around the world and visit all these different countries that are sort of having the same problem and having kind of a travel log of looting. I really wanted to avoid that. I really wanted to go deep into one country that brought together a lot of the problems of looting and the history of looting, and also had some success in combating the problem of looting. And the country that seemed to bring that all together, best of all was Peru.
[00:55:48] So one of the ancient societies that I read about there, and that I talk about in my book was the Vicus society, which is up in the North of Peru, very near the border with Ecuador. And yeah, this is a society that we know about just looted objects and we don't really know much about them. It's very strange. I mean, you see these ceramics with these sort of bird forms and turtle forms and funny decorations. We don't know what they meant. I mean, this was a society that would have had its own its whole system of values, modes of construction, burial practices, a whole kind of cosmos that a society has modern society or an ancient society that we could start to discern through archeology, but we won't be able to, because all these sites, all these Vicus sites have just been blasted on the ground by looters, looters who were feeding the trade.
[00:56:46] I mean, this has happened for a long time at this particular society, Vicus in the '40s, the '50s, and 1960s. There's not very much left there now, but for many decades, this society's remains were being systematically dismantled by the looting trade. Those pieces are in museums around the world now. They're in private collections. And we'll never know about the society. We'll never know really what it was about, what they were doing, what they worshiped, because the ancient tombs that they left, the burial sites. Their structures were destroyed by looters. In that case, a lot of the sites were on these sugar plantations in the 20th century sugar plantations, and the owners of these sugar plantations encourage the looting of the sites in order to get more income. So a lot of that changed with the land reform improved in the 1970s, but it's a complex kind of story that has to do with rural inequality and impunity. It's a big story improved. 
[00:57:48] Jordan Harbinger: Roger, thank you so much. This whole world is sort of lurking in the shadows and isn't covered very often. I mean, we do hear about it with ISIS in Iraq and Afghanistan and things like that with antiquities, but I don't think most people realize how pervasive it really is and that it's still going on and it's even stronger trade than ever. So I appreciate you coming on the show and having this conversation today. 
[00:58:08] Roger Atwood: Jordan, thank you so much. It's really been a pleasure. 
[00:58:12] Jordan Harbinger: I've got some thoughts on this episode, but before I get into that, here's a preview with ethical hacker Harri Hursti about how vulnerable our election systems are to being hacked by enemies of the state and why we should all be concerned no matter what team we're rooting for. On this episode, Harri takes us through how secure or insecure our voting technology really is and explains how we found the vulnerability, what's been fixed so far and what hasn't, and what we as citizens can do about this to ensure the integrity of our elections and of our democracy. 
[00:58:42] Harri Hursti: It doesn't matter how much money you spent to have the best military if the war is fought in cyberspace and election hacking, because that's the way you can influence the government. And that's the way you can influence the minds of the people. 
[00:58:55] Jordan Harbinger: Somehow Al Gore had negative 16,000 votes in Florida. Only the totals for the presidential race were affected. So it wasn't just a machine failure.
[00:59:04] Harri Hursti: The thing about this explanation afterwards was the minus 16,000 was the malfunction of the memory card. Not possible. The memory card doesn't know how it can make negative numbers. At least the official explanation given at the time, not possible. Something else happened. I always say that when you are examining any kind of device, whether it's an ATM, whether it's a life support system or voting machines, you always find vulnerabilities. 
[00:59:30] Jordan Harbinger: This is not just to get a specific outcome in that election. It's to chip away at democracy itself. Correct? 
[00:59:37] Harri Hursti: I mean, they can be nation-state who wants to undermined democracy, but it can be a religious group. It can be all kinds of disruptors who just want to create chaos. 
[00:59:47] Jordan Harbinger: Is it always Russia? Or is that something that happens from other countries too? 
[00:59:52] Harri Hursti: There are certain big countries, Russia, China, Iran, which are the big three. And after that North Korea, USA underneath, but it's never only one country. Email, FTP with no security, these are the common methods to send the most mission-critical programming from the private company, which might be out of state to the local county who is putting them into the machines. And it is whoever controls that data, controls the election.
[01:00:23] Jordan Harbinger: For more, including why electronic voting machines are more vulnerable to fraudulent manipulation than mail-in ballots, check out episode 405 on The Jordan Harbinger Show with Harri Hursti.
[01:00:35] This episode is fascinating. There's so much in this book, of course. They talked about how they used to wrap pots and fake ceramic wraps and make them look like new pots. And then they get the pots and chip or peel those ceramic layers off later after they were smuggled overseas. So the smuggling techniques are really, really something else. Antiquities is like mining or oil drilling, except those are, of course, legal. It depends entirely on weak policing and corruption and poverty to thrive. You exploit the locals, you explore the government, you ruin everything. You don't just ruin the burial site. You ruin the whole country that these come out of because you have to create an infrastructure where everybody in law enforcement and shipping and airline, everything is essentially corrupted by this greed to have a stinky pot in your house or a burial dress. I mean, it's just insane to me. 
[01:01:25] In fact, the story on the ground is so twisted a lot of the locals that are so impoverished — thanks for their corrupt and useless government that they facilitate this looting because they see archeologists as the people that come take forever to dig anything up and then never pay for it. Whereas at least the looting can earn them a living at the base. In fact, an archeologist actually asked Roger to smuggle him out of a dig site in the trunk of his car, because he didn't think he could get out of a dig site safely. That's how hated they are in some of these areas. In some poor areas, looters are the heroes and archeologists are actually the villains. And now, of course, archeologists have to put up with collectors and looters because that's often how they get the pieces in the first place in order to study them. But, of course, the context is gone. The piece has been ripped out of the ground by some dude with a shovel in a matter of hours. So most of that information is gone forever. 
[01:02:15] The antiquities trade treats countries like they're still a colony. You're damaging national heritage. You're damaging the history. It damages your national self-respect. And these, again, these objects, these tunes can never, ever be fixed or reproduced. They are gone forever. And in the '80s and '90s, these decades we're as bad as the Spanish conquest of South America in terms of destroying ancient culture in Peru. I mean, think about it that. When the Spanish came, they invaded, they killed a ton of the leaders. They brought all this disease and antiquities looting has been as bad as that in terms of drawing ancient culture. That's a shocking indictment here. 
[01:02:54] Another element that didn't make it to the show that I thought was pretty fascinating was I asked Roger Atwood, how do archeologists deduce things using objects? What are you looking for? What are you looking at? And he gave the following example, he said, "It was somewhat like writing a history of the United States based solely on kitchen objects. What you would come up with would be a rough progression from ceramics to cast iron, to stainless steel, to Tupperware and beyond. And it's not as silly as it sounds with some good analysis and comparative evidence, you might detect broad social trends, the spread of mass production urbanization, the rise of consumer culture. But it would probably obscure as much as it would illuminate and you would miss a lot." And I thought that was pretty interesting. Imagine being an alien, you come in and you look at a kitchen and you have to deduce things about the culture that we live in. It would be next to impossible. 
[01:03:41] And of course, grave robbing is obviously hampering this process significantly. Imagine that they just dumped all the kitchen drawers out into the garage of the house. They threw the table in there. They threw parts of the stove in there and they jacked the rest of the metal objects. I mean, you would have a hard time figuring out what the hell was going on. 95% of the usefulness of an archeological artifact is lost when it is looted. And we heard stories about museum experts, sometimes moonlighting, restoring goods in countries like Peru for the smugglers to resell or export to Europe. So you find the people in the museums that are not actually working for the looters and the smugglers sometimes. And then of course, they'll relabel it East Greek art, instead of Turkish art or they label it something else entirely like tourist tchotchke, as he explained, and then they'll ship them via regular DHL and deliver it to your house. 
[01:04:29] It was also painful to hear that many museum pieces are also looted. And the only thing that you can really do is make items too famous to sell. If something is too famous, I thought this was an interesting irony. If an item is too famous too, well-known, you can't sell it because having it in your house would just be too risky and too dangerous. And of course, these wealthy collectors, they don't want to have, what's obviously stolen and undeniably stolen on display in their freaking foyer. I think our kids are going to ask why people in the 20th century and 21st century for that matter have allowed this to happen.
[01:05:02] It's going to be the same thing as explaining to our kids about the rainforest and the oceans and everything else we are running. We really don't know how much damage this is doing as a whole. It really is a shame upon our culture and our time that we're allowing this sort of thing to happen. But of course, add that to the pile of other things that we're ruining, right? I didn't mean to be a Debbie Downer. I do appreciate you listening. A great big, thank you, Roger. The book title is Stealing History and you can find links to that in the show notes on the website, jordanharbinger.com. Please use our website links if you buy books or anything else, it helps support the show.
[01:05:34] Also in the show notes, there are worksheets for each episode, so you can review what you've learned on the show. That'll be in the website. We've got transcripts for each episode, and those of course can be found in the show notes on the website as well. 
[01:05:46] I'm teaching how to connect with great people and manage relationships, using systems and tiny habits over our Six-Minute Networking course. That's free, of course, over at jordanharbinger.com/course. And don't do it later, do it now. Dig the well before you get thirsty, even if it means you feel like you're starting from scratch and it's kind of painful. Procrastination leads to stagnation and you know, it's true because it rhymes. These drills take a few minutes a day. Jordanharbinger.com/course. And by the way, most of the guests on the show, subscribe to the course and the newsletter. Come join us and you'll be in smart company. In fact, why not reach out to Roger Atwood? Tell him what you thought of the show. Show guests love hearing from you and you never know what might shake out of that. Speaking of building relationships, you can always reach out and follow me on social. I'm at @JordanHarbinger on Twitter and Instagram. 
[01:06:31] This show is created in association with PodcastOne. And my amazing team is Jen Harbinger, Jase Sanderson, Robert Fogarty, Millie Ocampo, Ian Baird, Josh Ballard, and Gabe Mizrahi. Our advice and opinions, and those of our guests are their own. And I'm a lawyer, but not your lawyer. So do your own research before implementing anything you hear on the show. Hopefully, you're not smuggling any antiquities. And remember, we rise by lifting others. The fee for the show is that you share it with friends when you find something useful or interesting. So if you know anybody interested in archeology, history, smuggling, any sort of collecting like that, share this with them. Hopefully, you find something great in every episode. So please do share the show with those you love. In the meantime, do your best to apply what you hear on the show, so you can live what you listen, and we'll see you next time.
Sign up to receive email updates
Enter your name and email address below and I'll send you periodic updates about the podcast.