Reading Time:
4
minutes
Shawn Achor (@shawnachor) is one of the world's leading experts on the connection between happiness and success, and is the author of Big Potential, The Happiness Advantage, and Before Happiness.
What We Discuss with Shawn Achor:
Positive Peer Pressure: having great people around you can help make you great (and is an even better predictor of success than qualities like grit and resilience).
Why you actually achieve and perform better when you help others operate at their best.
Powerful skills that allow you to make others better — and therefore raise your own potential.
How success in personal and professional life really isn't survival of the fittest — it's survival of the best fit.
Practical insight into how you can protect yourself against stress and negativity.
And much more…
Like this show? Please leave us a review here — even one sentence helps! Consider including your Twitter handle so we can thank you personally!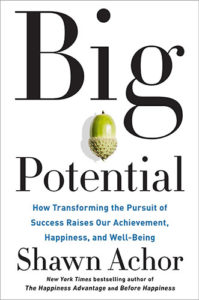 Entrepreneur Jim Rohn famously said that you're the average of the five people with whom you spend the most time, so it stands to reason that surrounding yourself with high quality people will result in your own elevation by osmosis — and this is a theme we frequently drive home here on the show.
But also consider this: according to Big Potential and The Happiness Advantage author Shawn Achor, you also achieve and perform better when you help others operate at their best. On this episode, Shawn shares insights that will allow you to reconcile your own happiness with success and build up others in the process. Listen, learn, and enjoy!
Please Scroll Down for Featured Resources and Transcript!
Please note that some of the links on this page (books, movies, music, etc.) lead to affiliate programs for which The Jordan Harbinger Show receives compensation. It's just one of the ways we keep the lights on around here. Thank you for your support!
Sign up for Six-Minute Networking — our free networking and relationship development mini course — at jordanharbinger.com/course!
More About This Show
It's long been said that it's lonely at the top. But ask an American immersed in corporate culture what success looks like, and chances are they'll point to whoever's occupying that lonesome pinnacle with a mix of envy and respect.
The mythology persists that, alone, this ruthless apex predator carved his or her chair at the head of the table from the bones of fallen, lesser foes. This is the ultimate achievement, existing to measure against itself — any resulting happiness merely a lapse in composure rather than a feeling to be pursued.
But Shawn Achor, bestselling author of Big Potential, The Happiness Advantage, and Before Happiness, would disagree.
"The more we started doing this research and the more I got exposed to companies and schools and then having kids, I realized the majority of our potential — not only for happiness, but everything — was actually interconnected with that entire ecosystem of potential around us: the people who are surrounding us," he says. "When I ignored that in the pursuit of happiness, I was missing out on not only the greatest fuel, but the meaning for why I was doing it in the first place."
In other words, we're more likely to excel and reach the heights of success by accepting the uplifting help of others and, in turn, reciprocating the assistance. It doesn't have to be lonely and miserable at the top — in fact, it's more likely to be a little crowded and celebratory, like a party attended by dozens of your closest friends.
Listen to this episode in its entirety to learn more about how Shawn went from depressed overachiever to jubilant happiness researcher, the changes possible despite what genes and environment are trying to tell you, what the humble lightning bug can teach us about the multiplying power of cooperation, why social cohesion of a team is more predictive of its success than the skills of its individuals, gaming collaboration to succeed in a society geared for competition, why you should always describe your work in a way that excites others and excites you, and much more.
THANKS, SHAWN ACHOR!
If you enjoyed this session with Shawn Achor, let him know by clicking on the link below and sending him a quick shout out at Twitter:
Click here to thank Shawn Achor at Twitter!
Click here to let Jordan know about your number one takeaway from this episode!
And if you want us to answer your questions on one of our upcoming weekly Feedback Friday episodes, drop us a line at friday@jordanharbinger.com.
Resources from This Episode:
Transcript for Shawn Achor - Why Success and Happiness Aren't Mutually Exclusive (Episode 144)
Jordan Harbinger: [00:00:00] Welcome to the show. I'm Jordan Harbinger. Of course, I'm here with my producer, Jason DeFillippo. And one of the running themes of my life and if this show is that surrounding yourself with high potential people dramatically increases your chances for high potential outcomes. In other words, having great people around you can help make you great, and this isn't metaphysics or self-help BS. This is the result of something called positive peer pressure, and it's just one of the topics we're discussing today on the show with Happiness Researcher Shawn Achor. Now this makes sense, right? Simply put, if your day can be ruined by someone with a bad attitude, then it can be made better by the opposite, but there's more to this principle as well. In today's show, Shawn shows us how we actually achieve and perform better when we help others operate at their best. And this is counter to the American and Western ideals of being a lone hero forging our path alone and creating these circumstances predictably is an art and a science and can truly be a force multiplier in your life. But success in our personal and professional lives really isn't survival of the fittest. It's survival of the best fit who we're surrounded by as an even better predictor of success than qualities like grit and resilience, and today, we'll learn some powerful skills that both allow us to make others better and therefore raise our own potential. We'll also gain some practical insight into how we can defend against stress and negativity. A strategy, I like to call it Protecting the Mind. Shawn is one of the world's foremost experts on happiness and satisfaction, and if Oprah likes him, he's pretty solid in my book.
[00:01:34] And by the way, if you want to know how I managed to book all these great people and manage my relationships using systems and tiny habits, check out our Six-Minute Networking Course, which is free over at jordanharbinger.com/course. It's a networking and relationship maintenance class. You're going to dig it. It's what I teach special forces and intelligence agencies and corporations and regular folks, probably much like yourself, so enjoy. jordanharbinger.com/course. All right, here's Shawn Achor.
[00:02:01] You just had a baby, right?
Shawn Achor: [00:02:03] I did. Yeah, earlier this year she was born two months early.
Jordan Harbinger: [00:02:07] Oh my God.
Shawn Achor: [00:02:09] Yeah. The same week as my book launch for Big Potential. So that was a surprise.
Jordan Harbinger: [00:02:15] I bet. Yeah, because I think we were scheduled to do this literally in January.
Shawn Achor: [00:02:19] That's right. And so we are 11 or so months after these -- a little bit late. That's fine. It doesn't matter. Just got to have a fun little bit there. So that must've been pretty incredible. I mean the amount of stress because you basically -- did you just take your book launch and go, "Okay, this is just taking a back seat right now and that's all there is to it." I mean you must've had to do something like that.
Shawn Achor: [00:02:43] It did. So our daughter was in NICU for 50 days. It's actually interesting because the book that came out was all about how happiness must be an interconnected pursuit. And I'd already committed to some of the talk. So I had 13 talks that were lined up that I had to do, and so while I was out, you know speaking about happiness. We had a whole team of critical care nurses caring for our daughter's happiness, while my son was with my wife at home. So it was an entire village trying to create happiness in the midst of it. But yeah, a lot of things got pushed to the side because of course it was the most important thing at the time.
Jordan Harbinger: [00:03:24] Yeah. I can imagine getting stuck with a book launch because that's how I would feel like, "Oh my God, I've got to do this." I would imagine the launch is less fun than researching and writing the book because this is the part where you have to sell it. And if you're a creative that's anything like me, you're kind of like, "Ah, I just want to make stuff. I don't even like the idea of selling stuff. And I know that that's limiting and I know that it's good for people, but I just want it to be out there and then not worry about it. And that's kind of not how book launches go, generally.
Shawn Achor: [00:03:50] Yeah, it is a lot of work. I always thought that once I finish a book, then I'm done. And I'm finding is once you finished the book, then the work begins. Because then you have the editing process and then you've got all the PR for it and then you've got to go on the road to sell it. I feel like that I'm not a very good salesperson in the sense that like -- one of the guys I work with who's like, "You forgot to mention your book again." And that's happened in the past, but I kind of felt like this book was a culmination of a lot of things I really cared about. It was the research that had been doing, but also it was a reconnection to some of the things that I cared about almost at a spiritual level, about how the pursuit of happiness has to be done with other people.
[00:04:34] And so when Zoey was born the same week as the book launch, I kind of felt like I had two babies being born at the same time. I didn't want to make money off of the book, not what books even really do. It was--
Jordan Harbinger: [00:04:45] Yeah, I've heard of that.
Shawn Achor: [00:04:47] Yes, it was more that, this was something, if there was one thing I wanted to say to world, it was this. Because I had actually experienced some depression in my own life. I had experienced some dark times and now I'm a happiness researcher. And in the process of doing both of those things more and more, I was starting to realize how important others were in this pursuit of something I thought was a self-help idea. I thought happiness was self-help. If you write about entrepreneurial success, that's about how you can succeed, and the more we started doing this research and the more I got exposed to companies in schools and then having kids, that'll change for me because I realized that the majority of our potential, not only for happiness, but everything was actually interconnected with that entire ecosystem of potential around us, the people that are surrounding us.
And when I ignored that in pursuit of happiness, I was missing out on not only the greatest fuel, but the meaning for why I was doing it in the first place.
Jordan Harbinger: [00:05:44] Well, I definitely want to get into some of that, especially the idea that we're better together, which is kind of the point of Big Potential. But it sounds like, did you become a happiness researcher in an attempt solve your own happiness problems?
Shawn Achor: [00:05:59] Yeah, I actually did. I was at Harvard at the time. I was at a fantastic school. I had applied there on a dare. I'd never expected to get to go there. So I felt so grateful to be there. I probably have genes that predispose me towards optimism so I was a pretty positive person. And then about four to five years after I had been at the school, I was there in the dorms living there. I was a researcher and teacher, but also I would live in the freshman dorms to counsel the students during the first year of being there. And while I was counseling them, I went through a little over two years of depression myself while I was at the Divinity School studying Christian and Buddhist ethics. So on the one side, I was already fascinated about what creates happiness and meaning in people's lives and in billions of people's lives with Christianity and Buddhism.
[00:06:47] But at the same time, I was struggling to find myself in a place where I thought, of course I would experience it. I was at Harvard, I was having some successes, and it wasn't equating with the levels of happiness that I wanted while I was experiencing this, a guy named Dr. Tal Ben-Shahar was a researcher and teacher at Harvard as well. And he introduced me to positive psychology, which was a whole new movement in psychology at the time that was focused on studying not just depression and disorder, but studying what causes people to feel more meaning. Can you quantify levels of happiness and joy in people's lives? And at first I was skeptical because I thought you can measure the hard things like depression but you can't measure something as mysterious as happiness. Once I realized that you could, I got hooked. But what hooked me on it was not just the research backing it was that it worked in my own life, helping pull me out of the depression, and so I've spent the rest of my life trying to show people how much change is actually possible despite your genes in your environment, but also that where you are is not the end of the story and that there is incredible things that could happen if we applied some of this research in our schools, in our companies.
Jordan Harbinger: [00:07:55] I love the way you begin the book with this lightening bugs story and analogy. Can you run us through this? I thought that was a great -- I thought it was a great beginning to a book about becoming better together and I've got some non-Pollyanna ideas because I think when people hear better together like "Whatever. Teamwork. Got it. Next episode." But the lightning bug, sort of a heartwarming analogy, but then it really does sort of lean into what the ideas in the book prove.
Shawn Achor: [00:08:22] It does. And I think it's actually a subversive in a really cool way. So it's a story about a biologist in 1935 who was going down to river and Southeast Indonesia and he supposed to make it back to his camp before darkness fell and he didn't make it back in time, which was a problem because he's floating down a river without any lights, afraid that a predator is going to jump out of the water at him. And while he's floating down the river, the biologists looked up at one of the mangrove trees and it got struck by lightning and then it got struck by lightning again. And then in this magical moment of nature, every single mangrove tree on one side of the river got by lightning for a hundred yards down. And when his faculties recovered, he realized that the lightning wasn't coming down, it was coming out and that incredibly, the trees recovered with millions of bioluminescent lightning bugs, which in and of itself would have been an incredible story. Like why were these trees just covered with millions of these lighting bugs? But what was amazing was that they were all lighting up and going dark at the exact same time.
[00:09:21] He went back to the United States, wrote up a scientific paper about the miracle in the mangroves, The case of the synchronous lightning bugs in Southeast Indonesia, and no one believed them and he lost his job because the whole point of being a lightning bug is to light up in the dark to increase your chances of sexual reproduction against your competition. So why in the world would you light up when the rest of your competition has led up at the same time? And mathematician said, "It's impossible for order to come out chaos, someone has to lead it. So who's the lightning bug leading it?" So it's mathematically, physically, biologically impossible, but eight decades later, two researchers MIT found that when lightning bugs light up individually, their success rate of reproduction is 3 percent per night, which was amazing. But when they light up as an interconnected community like they do in the Southeast Indonesia, and in a small portion of the smoky mountains in Tennessee, when they light up as an interconnected community, timing their pulses, the success rate goes from 3 percent to 82 percent per bug. It's not like one bug's doing really well with the system, like "Keep going guys, best night of my life."
Jordan Harbinger: [00:10:19] It's 81 percent higher than my chances.
Shawn Achor: [00:10:22] Exactly right. And yeah, what's amazing about this is that the entire system was doing orders of magnitude better than we thought was possible because we assumed the survival of the fittest system. You have to be the fastest, brightest, smartest light shining. You're constantly in competition, in isolation and alone in our pursuit of success within this world and it turns out what we're now seeing is exactly what we saw with those lightning bugs. Now that we have big data and we're setting these large companies, what we're finding is that the majority of your potential and success is predicted by how well you interact with the entire ecosystem of potential around you, your friends, your coworkers, the people that are around you. Google actually founded something called Project Aristotle. They found that if you know the individual attributes of the team, it's actually not predictive of the long rate successes at the team. What's predictive is the social cohesion on the team. So if you're looking at how the entire system works together, what we find is how you could actually achieve higher levels, not only success, but of happiness as well. So it started an entire field looking at what happens to your potential when we look at it in a large form instead of just at the individual form.
Jordan Harbinger: [00:11:29] Well, here's the problem that I see. We achieve a lot more with collaboration. Great. Cool. Well, lightening bugs do in any case, and your book proves that humans do. However, I grew up -- when I say grew up, I mean like my first career was Wall Street. This is not a place where they're like, "All right team, everyone just be great to each other and be a team." Definitely don't cut each other down and try to go for something on your own and even law school, at Michigan which wasn't as competitive as maybe some other schools. I mean it's certainly competitive but maybe not as cutthroat. You hear these stories and it even happened at Michigan where somebody would find the one book everybody needed for a take home exam and they would just hide it, and I remember emails going out like if we catch people hiding it, you'll be disciplined by the administration and other teachers saying you now officially have 12 more hours to complete this exam. I was just notified that for the last 10 to 12 hours, the such and such volume was missing mysteriously from the library. If I find out who did this, I'm going to fail you. Everybody else gets 12 hours your exams now not due until Saturday at 6 p.m. Just stuff like that would happen all the time, which doesn't really indicate that we intuitively feel this cooperative vibe a lot of the lightening bugs, Shawn, it seems like what we really do is, is if we felt that at all, we suppress it but I feel like people just don't know or feel this. And so is this inborn? Because if it is, we're ignoring it and if it's not, we're not learning it.
Shawn Achor: [00:12:59] I think we're ignoring it. I think that the systems are set up wrong. They're set up to get us to underperform. A lot of those Wall Street analysts burnout so quickly because they constantly feel like they're there in competition. The idea that you could drop the 10 percent continually at GE to be able to create the highest levels of success at the top meant that there was so much infighting that was occurring, that the top talent was leaving and going into other organizations. What we're finding is exactly the problem that you've identified. Harvard business school, they would break up into sections and they would have parties almost every week with their sections. At the law school, their sections would have two parties a year, and that's because they were so much feeling like they were in competition with one another, whereas in business school there felt like there was such more of a spirit of collaboration. And what we're finding is that when you have that sense of collaboration, you actually get much more higher levels of success out of yourself. We see it with athletes, for example, you could put an amazing athlete on a team who doesn't get along with this team that talks about how great he is and massively underperformed. So that's why Heisman trophy winners oftentimes don't do well once they get onto the NFL, because oftentimes while they were successful, they were successful because they had an incredible offensive line when they were back in college and they were able to connect with that. You lose some that connection, you lose some of your own talent and ability as well. So I think what I'm not saying is, I mean I'm not anti-competition at all.
[00:14:21] I think that this actually gives you a competitive advantage. I think that if you studied with a group of three or four people and really collaborated and worked together in the law school or business school environment. Your grades would improve over trying to do that individually and alone where you're feeling exhausted, isolated, where depression gets in the way of your work. I mean we see what the Harvard students, 80 percent of them go through depression sometime during their career, which during that depression their performance drops dramatically. So what we're looking at is looking at the entire ecosystem potential. It's not just the people you're competing with. It's not just saying, you know that if you're on an NFL team, you should be getting along with the other team as well and then they'd come many points you explore.
[00:15:00] What it's saying is that if you're going to be an incredible running back, you need to have a team who's working out with you on a daily basis. You need to have supporters at home, you need to have friends that you feel like you can connect with outside of football, so you have a diversity of meaning within your life. And because of that entire system, people perform so much better. It's the same mistake that the Wall Street analysts would make. Oftentimes they get very excited about how great that they were, but they're riding on the backs of support services that if they're being mean or negative to the people that are providing support to them, secretaries or back office or people doing the contracts for them. It turns out that they're underperforming, what they're capable of in the long run and the people that rise to the top or the ones who figure out how to truly connect to that ecosystem potential in the most ideal sense of situation.
Jason DeFillippo: [00:15:48] You're listening to the Jordan Harbinger Show with our guest, Shawn Achor. We'll be right back.
Jordan Harbinger: [00:15:52] This episode is sponsored in part by Athletic Greens. I've been taken Athletic Greens for quite a while now. I travel with it. It really helps me get some nutrients on the go, which I feel like I'm always on the go. And if I only end up with like frozen or gross airplane vegetables, I can kind of augment that. So I've really been into this for a while. It's kind of like as Tim Ferriss who told me about this originally calls it, it's like vegetable insurance or I think he calls it something like that. And it doesn't taste like freshly cut grass, which is kind of what you'd expect with something for something like this. And it's got the antioxidant equivalent of 12 servings of fruits and vegetables. It's got immune support, guy health, adaptogen, stress mood, all that healthy aging stuff. And essentially it's kind of like one and done. Scoop it up, don't worry about the rest of this stuff. Of course, you got to eat healthy, but this will supplement it. Especially if you find yourself eating beef jerky, two meals a day because you're traveling or filming or doing a bunch of stuff like that, and I know a lot of us are busy and so that's kind of what I'm relying on. Jason, you're into this stuff too, yeah?
Jason DeFillippo: [00:16:53] Oh, I love this stuff and by the way, I was the one that told you about it not Tim. So credit where credit is due.
Jordan Harbinger: [00:16:59] I knew that. I knew that.
Jason DeFillippo: [00:17:00] but hey, yeah, no. I've been taking this stuff for a couple of years and it really does make me feel good when I am just like, "Okay, all I've got is mac and cheese and I've got four hours to go edit. Let me slam an Athletic Greens and then I can eat my mac and cheese later and know that I will at least get some nutrition throughout the day so I don't wither up and die.
Jordan Harbinger: [00:17:18] Yes, clutch. Not that whole not withering up and dying thing is coming in handy. Where can they get it?
Jason DeFillippo: [00:17:23] Getting into a daily routine with Athletic Greens really will be the single best thing you can do for your health and success this year. We can't stress this enough. Jump over to athleticgreens.com/jordan and claim your special offer today. That's athleticgreens.com/jordan for 20 free travel packs with your first purchase, valued at $79 all for free just for you.
Jordan Harbinger: [00:17:44] This episode is also sponsored by stamps.com. Do you want a new year's resolution that you can actually keep? How about you stop going to the post office to send letters and packages when you don't actually have to. You can save time and money this year by using stamps.com instead. Stamps.com saves a ton of time because you can basically bring the post office right to your computer. It's faster, it's more convenient. You can print official US postage for any letter, any package, any class of mail, anywhere you want to send. It's not just domestic, and then the mail carrier just picks it up. You don't have to lug stuff to the post office. You don't have to waste stuff on some scale that you got to wait in line to use. You get discounted postage rates. You can't even get at the post office, so it's super convenient. Right now you too can enjoy stamps.com service with a special offer that includes a four week trial plus postage and a digital scale, so start the new year off right. Go to stamps.com. Click the microphone at the top of the homepage and type in JORDAN. That's stamps.com enter JORDAN.
Jason DeFillippo: [00:18:40] Don't forget, we have a worksheet for today's episode so you can make sure you solidify your understanding of the key takeaways from Shawn Achor. That link is in the show notes at jordanharbinger.com/podcast.
[00:18:50] Thanks for listening and supporting the show. To learn more about our sponsors and get links to all the great discounts you just heard, visit jordanharbinger.com/deals. If you'd like some tips on how to subscribe to the show, just go to jordanharbinger.com/subscribe. Now, back to our show with Shawn Achor.
Jordan Harbinger: [00:19:07] I've read some research on the importance of social connection in kids and young adults. They get better grades, they shine more after graduation. I'm not sure what I meant by that in my notes, but obviously that's sort of self-explanatory, that they just do better and lower stress and this is just from kids having healthy social circles. So it makes sense that that would be the same for adults, but the better grades thing could just be they're happier to be in school, so they're paying closer attention to, they're actually doing their homework. I'm not really sure. I was surprised to see that that translated over into the work environment as well.
Shawn Achor: [00:19:40] Yeah, it's fascinating. So you're talking about skeptics. It'd be like, "Hey, I just want to be competitive." Let's just take the broadest and the largest research that's come out of this. What we found is the greatest predictor of long term happiness is your social connection score. The breadth, depth of meaning in your social relationship. Google found that the greatest predictor of the success of a team was this social cohesion on the team, the social support there. Greatest predictor of entrepreneurial success is your social support score. Your longevity is equally as predicted by your social connection score as obesity, depression, and high blood pressure. So we're finding across the board the greatest predictor of the things we care about health, success, well-being. Those are predicted by how we interact with other people. Oftentimes, however we treat our happiness and success as if it's self-help.
[00:20:33] Big Potential actually ended up in the self-help section of Barnes and Noble. They didn't make it through page one because the whole point of it was that you can't treat it like a self-help idea. The turning point for me when I went through depression was I stopped happiness like an individual pursuit. Up to that point in my life, I was good at checking off individual metrics, like taking a test. So when I got depressed, I tried to do the same thing. I got to think my way out of this. I don't need anyone's help. I'll be there for other people, but I don't want to burden anyone. And I went deeper and deeper into depression. The turning point for me was when I had to turn to my eight closest friends and family and say for the past two years I've been depressed. I have no idea how to get out of this, but I really need your help.
[00:21:14] The groundswell of support was amazing. They were calling me, emailing me, meeting up with me, bringing me cupcakes. We haven't tested cupcakes but they work. But the real value was that if you -- as soon as I did this, the challenge in front of me morphed, it's not a challenge that I'm doing alone, I have somebody with me as well, which on that point I wanted to say one thing is my favorite experiment right now is -- the other one that starts to Big Potential as well, which is two researchers in Virginia found if I'm looking at a mountain I need to climb in front of me, my brain perceives a mountain. My brain actually shows me a picture of a mountain that's 10 to 20 percent steeper when I'm looking at it alone, as opposed to viewing that hill with someone who's going to climb it with me. That's stunning because our perception of the world shouldn't be changing based upon whether or not there's another brain around.
Jordan Harbinger: [00:22:00] Wait, wait, wait. So if I'm staring at a hill alone, it looks X meters high, and if I'm staring at it with a friend or a partner or whatever, it's less than that. I perceive it as less than this.
Shawn Achor: [00:22:14] That's exactly it. My father's a neuroscientist. He study perception his whole life. We didn't know this until three years ago, which is stunning. It's fundamental to perception. Your little -- your perception of the physical world changes based upon whether or not you believe you're alone overcoming a challenge or you're with somebody else. And that's a physical one, so we know hills do that. It's very easy for us to judge that. We're now starting to realize the emotional ones are an even larger one. So if I'm trying to overcome depression, if I'm trying to be successful on Wall Street, if I'm trying to do an entrepreneurial pursuit, if I perceive myself alone in that process as opposed to with other people, my brain actually shows me challenges. There are 10 to 20 percent steeper than they are when I'm doing it with somebody else. So when I went through depression and told people about it, suddenly that mountain became 10 to 20 percent less steep to me, it's actually probably more the emotional sphere. But also I created a reciprocal bond there, so I'm not just helping other people. They're actually helping me at the same time, but then they would tell me things that they were dealing with. So what got me out of bed in the morning wasn't am I depressed or not today? Can I work today? It was I've got to get out bed because I need to meet up with my friend because I know how lowly she is. Or I have to leave my room after five days even though I don't want to because I need to meet up with my friend to make sure he doesn't drink tonight. And instead of lighting up as an interconnected community in a hyper competitive environment like Harvard instead by trying to light up together, we were able to not only overcome that depression but my grades improved, I flourished. I wanted to keep going in my academic pursuits and that's how I got into this whole positive psychology pursuit in the first place.
Jordan Harbinger: [00:23:47] So it's a little bit different than just hang out with great people and you'll be great too. And I kind of want to pop that bubble and a little bit because it sounds like you're actually, well it's not that you're not hanging out with great people, but if you're saying I'm depressed and someone says, "Oh my gosh, me too. I'm so glad we can bond on this." You're not exactly surrounding yourself with people who are like inspired over achievers and this is kind of a trend that we see, not that people who have depression can't be achievers. What I'm saying is that there's this trend online especially or just in the self-help community in general where it's like everyone around you needs to be a hustler and everyone around you needs to be hashtag crushing it, you know, with their passive income or whatever. And so we don't necessarily need to hang around exclusively the type of person that we want to be. We actually can hang around and help other people by helping other people shine, it makes us better from the sound of it.
Shawn Achor: [00:24:40] Yeah. I think you're right. I think you do want some people that inspire you, that are around you, but that's not the only type of person you want. You want a diversity in that I described in the book, it's a star system around you. Stars alone, claps in upon themselves, but if you have a system, you have some balance that could occur there. So you're looking for people that do inspire you to grow, but you're also looking for people that will love you regardless. You're looking for extenders who make you do something that's outside your comfort zone. So you have moments of growth as well. So you're looking for all different types of people, but you're also looking for certain types of connection. You're looking for breadth, those weak ties that we know lead to greater levels of promotion rates and getting jobs.
[00:25:18] We want those strong ties that we have there, deep down that we have long term. We want to find meaning in those relationships. So you can surround yourself by the hustlers out there. But if you don't find meaning in your relationships, it feels vapid and empty. If you're surrounded by people who are struggling, but you feel like you've got somebody who's got your back, that you're growing from that person, that you can help them, suddenly we actually feel buoyed by that. And it's the greatest predictor, not only of our long term levels of happiness but our long term levels of success as well. One of my favorite stories from the book was where we try this out in the working environment where we, you know -- we go to all these places that ask the questions you're asking about, about is this Pollyannaish you know, one of the groups that I talked to were like, we're not like Zappos. We can't dress up like pirates and answer phone calls at a call center and talk about how grateful we are for the world. We do very serious work.
[00:26:13] So we went into a level one trauma hospital in Orlando, Orlando health system and we went to the staff meetings where they were doing literally life or death decision making, resource allocation about who lives and dies based upon the money that they had. And in those meetings, we'd have them start their meeting with one thing every person in the room was grateful for. So these are people that they're competing for, for promotions. These are people that they're doing work with on daily basis as literally life and death and stressful. And for a while they were like, "Why are we still doing this that happiness guy left?" and they kept doing it and it doing it and they did it for two years.
[00:26:45] Two years after we started this with them. The Pulse Nightclub Shooting occurred three blocks down from them, the second largest shooting in US history and all the victims went to this hospital, most traumatic event for their community, for this hospital, for the people that were working there, for the people that are living there. And then a few hours after the shooting occurred, they started their staff meetings with gratitudes again, committing to doing this for as long as they work there. Because what they realized was that for two years they weren't just trying to get better by doing resource allocation together. They weren't just working together. They were actually experiencing deeper levels of social connection with the people that are working with. They were hearing these points of social connection of things that other people are grateful for that made you feel connected to them, but also deepen your social knowledge, which on the positive psychology side that deepens your social connection, which is the greatest predictor of your resilience when you go through a traumatic event like that. The greatest predictor of success rate and the greatest predictor of happiness at work. So if we're doing very serious things, it actually behooves us to take a moment to deepen those relationships and not only talk about things we're grateful for with people, but surround ourselves with people that move us forward. And it's not just real people, that can also be the books we listen to, the podcasts we're listening to. Are these things fueling us or are they getting in the way of our long term levels of happiness and success?
Jordan Harbinger: [00:28:04] Ah, that's good to note because a lot of people do write in and say, "Hey, just so you know, I've had a rough year and I know you've had a rough year because we as a business had kind of a crazy unexpected restart in February. And I will say that it has been largely the fans of the show. Of course, my personal relationships, of course, other people that have helped me relaunch were the main driver, but it's the notes we get each day that say things like, "Hey, you helped me get through a hard time." We're kind of doing this together even though I've never met some of the fans of the show here that are writing in. And I think that's extremely powerful because when you are sitting in your room talking in your studio with your pajamas on, or you drive down to a studio somewhere and there's three other people in the room, it's hard to realize that that type of effect is both being given to the listener and of course happening to me virtually in real time as I produced the show. And I know that for Jason, Producer Jason, it's similar and the same. You mentioned earlier about creating a star system. Can you tell us what that is? That sounds like a very useful set of ideas.
Shawn Achor: [00:29:12] So there's been people in the past who said things like, "You are the average of the five people you spend the most time.
Jordan Harbinger: [00:29:17] Yes. Jim Rhon, and that's what I was talking about earlier when people are like, "Oh, you're not a superstar. I've got to cut you out of my life and never talk to you again.
Shawn Achor: [00:29:25] And I think that there's something to be said about wanting to surround yourself with positive people that inspire growth, but oftentimes the hustlers, oftentimes don't have time for other people. They don't have time for you. It's not a real relationship. I can follow some amazing hustlers on social. We don't care that I'm following them. So I'm getting no return on my investment in those moments. What we're looking for is, first of all, you identify the people that you are spending the most time with within your life, but then you look for who are the people that you know move you forward. I have a couple of friends that when I talked to them, we might talk once a year, but when I talk to them, I feel so rejuvenated about life. I feel like I can do anything. I feel inspired to do more yoga or meditation or like I want a ranch, so I can go out and be a nature of whatever it is they inspire me when I'm having these conversations with them.
[00:30:15] The question is why am I only talking to them once a year? When I'm talking to some people that I know every time I talk to them, it's exhausting. So it's simply just trying to increase the amount of exposure you have to those people so that you can actually benefit from some of those relationships and get that type of fuel. You can even start this externally. You know, one of the things we've been studying is we get people to just write it, we initially did this on Facebook. Write a two minute positive email, praising or thinking one person in your social support network for 21 days in a row.
[00:30:45] So simply a positive email. You write for two minutes a day to a different person each day and you can write to like seven or eight people and then you're like, "Wow, I can't think of anyone." And then suddenly you realize you have a lot of people like friends you haven't talked to from college, like buddies he used to play basketball with. I wrote to a high school English teacher one day that had an impact upon me. You start to realize you have a whole bunch of social support that your brain is often not perceiving and simply the act of writing to them and then activating that relationship, that two minute positive of exchange, we found it is one of the greatest predictors of raising your levels of social support. In fact, if you do it for 21 days, your social support scale prizes to the top 10 percent worldwide without even adding another friend to your life.
[00:31:26] So on the point that you're making just a minute ago, our assistant for five years, just left to start a nonprofit. So I'm reading all the emails that come into our website and responding to them right now. And I'm so grateful I am because I get people after talk say, "Oh I bet you hear this all the time, but you know this changed my life or that was really great today," actually need to hear that all the time because that's the fuel that helps keep me going, because I'd say, you know, despite doing this work that might certainly feel meaningful. I'd say one out of, you know, probably once every three days I questioned whether or not I'm doing making an impact upon people's lives or if it's working long term.
Jordan Harbinger: [00:32:06] Of course.
Shawn Achor: [00:32:07] Yeah.
Jordan Harbinger: [00:32:07] Yeah. This makes sense. This is funny because people go, I get the same thing. "Oh I know you hear this all the time, but," and what I'm always thinking or sometimes what I say is, yeah, but it doesn't get old.
Shawn Achor: [00:32:19] Right.
Jordan Harbinger: [00:32:20] Right. Like this is not hearing how amazing this thing is that you worked so hard on in your room alone often. It doesn't get old to have people say every single day, "Hey, this is great." I don't need 400,000 likes on a photo or I can't get out of bed. But I would share one nice email message in my inbox every day, sign me up.
Shawn Achor: [00:32:37] Right, and think that's it. And I think it's the small things that have the biggest impact upon us long term and it's the continual part. I mean, if you listen to what we're both saying, the fuel is other people for us. I had a guy -- one of my friends who writes books and he was like, "I just can't get my book written so I'm going to go and they rented a house for three months out in California. He wrote furiously for three days all by himself with no distractions around and they just crashed and burned, and now the worst writing block he's ever had. And actually had to leave the house because he realized he was no longer surrounded by any of the reasons why he was writing the book in the first place. It's the other people that give us the fuel about why we want to move forward and it's so important.
[00:33:15] So I got an incredible opportunity more than two years ago to work with the White House, with -- not with the president but with the executive side. And I was so excited to do this talk. I practice, I got into this meeting, start talking, and this woman raise your hand. She's like, "I hear all this talk about happiness and I think you're really entertaining, but this is useless for me. I can't use any of this at work." You're like, "I can't go around and smile with all my coworkers and buddy buddy with them and become friends. I work in the human atrocities commission. My job is to outline all the terrible things that are going on the world for women." And she kept talking and she said two of the people she worked with, had attempted suicide and that she can't keep good people on our team because they keep leaving to go do other things because they burn out so quickly. And when she goes to a swimming pool with her daughter at night, she feels guilty for spending time with her daughter, knowing so many and the women don't have that type of experience in the world.
[00:34:09] And what she's describing is that if we wait for all the problems to get solved in the world or if we just try to do our work as hard as we can, but don't make those positive connections, we lose the fuel for seeing our larger potential. We want people in the human atrocities commission doing that incredible work, but they need to feel that what they're doing has meaning. They see the joy in their work because they see growth occurring, that they can see the negative, but they're built up and have resilience based upon the people that are around them. And that's where we're trying to get people to do is stop trying to pursue your success alone and in isolation, try and pursue it with other people, and suddenly those mountains become 10 to 20 percent less steep.
Jordan Harbinger: [00:34:48] So we're tapping into the power of, I guess what you'd say is positive peer pressure. So upward peer pressure into being better or happier, but is this -- and I know the answer to this question here I think, but I would love to clarify this, is this just the same thing is being around people who are happy all the time or positive all the time?
Shawn Achor: [00:35:08] You can be around people that are positive, but that are not the don't care about you and you won't receive nearly as much benefit. It's about the depth and the relationship, how much you know about the other people, how much they care for you. So it's not just about surrounding yourself with positive people and successful people, it's about surrounding yourself with people that have a positive influence upon you but are there for you, that have deep, meaningful relationships with you, or those broad relationships, but you feel like that they're moving you forward. So I think that's what we're trying to get people to look for. Are these people all about themselves? If they are, you're not going to receive nearly as much of a benefit as someone who is actually in a real mutual relationship with you, not that one way street friend. But we're also looking for other characteristics. It's not just other people are successful and we hope that we can ride their coattails. The peer pressure research from the '80s that everyone got panicked about was that if you put your kids in the classroom with students that are disobedient, negative or lazy, your kids pick up on that pattern and they start to act that way as well within a six week period of time. But when they didn't -- no one ever talks about is the other side of the study. They found that if you put your kids in a classroom with kids that are compassionate, that follow rules unkind, your kids pick up on those patterns as well. So be looking for the qualities that actually lead to long term levels of success. It's not just individual success and people can feel great about themselves. You want to surround yourself with people who expand positive change and success out to other people.
[00:36:34] I mean we're talking about one of the first seeds of Big Potential, which is surround yourself with positive outliers and these positive people, but the rest of Big Potential is about how you expand power out to other people. You enhance them with the types of praise that you do. You defend the gains and the system against the negative. You're sustaining the gains has a collective group. Those are the things that create positive change, not just who's the most successful person I can be near.
Jordan Harbinger: [00:36:59] Gotcha. Okay. Because yeah, I can see a whole lot of, I'm around a lot of the social media and quote unquote influencer crowd, which by the way, great group to hang around. If you want to feel like you don't have anything going on, pretty much all the time. Here's me in a jet, here's me in a private jet. Oh, here's me with a famous person. Meanwhile, I'm in bed like I got one leg out of bed so far so I thought I was having a good day, but nope, I'm just a giant loser.
Shawn Achor: [00:37:23] Right.
Jason DeFillippo: [00:37:26] You're listening to the Jordan Harbinger Show with our guest, Shawn Achor. We'll be right back after this.
Jordan Harbinger: [00:37:31] You have to have your own home on the web. It's that simple. With the ever shifting landscape of social media, people need to be able to find you anytime, anywhere, and I know you think, "Oh, I have a LinkedIn profile. I got social media." Yeah, until something changes or your data gets jacked or they change the config and you hate it. That's why we recommend HostGator's Website Builder. You can easily create a professional looking and feature packed website and the best part there is no coding. Choose from over a hundred mobile friendly templates. Your site's going to look great on any device, smartphone, tablet, desktop. HostGator also gives you a ton of add-on, so you can do things like increase your search engine visibility without being an expert in SEO or integrate with PayPal and allow customers to buy directly from your website. You also get 99.9 percent guaranteed uptime. Their support team is there to help with any issues you experienced, 24/7, 365, and HostGator's giving you guys and gals up to 62 percent off all their packages for new users. So go to hostgator.com/jordan right now to sign up. That's hostgator.com/jordan.
Jason DeFillippo: [00:38:31] Thanks for listening and supporting the show. Your support of our advertisers is what us on the air. To learn more and get links to all the great discounts you just heard, visit jordanharbinger.com/deals, and don't forget the worksheet for today's episode. That link is in the show notes at jordanharbinger.com/podcast, and now for the conclusion of our interview with Shawn Achor.
Jordan Harbinger: [00:38:53] In practice. How does this work? I know you've got the idea of creating this Venn diagram of positive influencers. Can you take us through that? I love the exercises that people can put pen or pencil to paper.
Shawn Achor: [00:39:04] Yeah. So I would first write down the eight people you spend the most time with. Then I would actually go through and try and find people that help you grow, that are positive and that you feel like you have a meaningful relationship with, and if you have all three of those elements, that's the type of person you want to increase your exposure to. That exposure could be an email that you do once a week, it could do a phone call you do once a month. It could be a lunch you do with them that you just schedule in because you know that this is how you become more productive. Just like you scheduled time for the gym, you schedule time with your friend named Jim, who you always know has a positive impact upon you. I mean that's one way to start that process. But I think that the real value starts to become when you expand power out to them, for example. So that you what -- I had great friends around me. I was underutilizing them because I was pretending to be perfect myself. I didn't need anyone's help. I was successful. I was -- you know, I could put on a happy face, but I was depressed on the inside. So I wasn't perceiving any of the benefits they were willing to give me until I opened up and deputize them to be able to be part of my success as well, success at overcoming depression, but also when I read a book, if I was tempted not to do a book launch party because I was like, "Oh, I don't want to make it all about me." And that was making it all about me because I had friends who wanted to celebrate it with me. They're the reasons I wrote a book. They're the reasons I had the energy to do it. I took many of their ideas from conversations we had and put it in there. To not celebrate it with them would actually have been the selfish choice within that moment.
[00:40:36] So you're expanding power out to those people around you. You're enhancing them. I mean, one thing is, I think you've just described, one of the things I see continually in this research is the comparison is the thief of joy. So if I'm comparing myself to people that are on social media who get more likes than me, I mean when I was writing Big Potential, I honestly couldn't go into Barnes and Noble because I'd look around and be like, "Wow! Look at all these successful books." Why does another book need to be read? There's books about woodpeckers and South America, like does someone need to write a book about an interpretive connected pursuit of happiness, and I would leave almost depressed because I'm comparing myself to all these people instead of what was fueling me were talking to my friends and they were like, "Hey, this is a fantastic idea." Or getting those emails from people being like, "I've been depressed. This is what I did overcome it and then trying to figure out what was actually working there." So one of the things we do on the enhancing side of it, which is one of the other components of Big Potential, is that we change the way that we praised other people within our life, instead of praising them being like, "Wow! You're the best salesperson I've ever seen. You've got the best podcast. You're the best writer. You're the best speaker we've ever had." I'm lifting them up by immediately decreasing other -- diminishing other people. I'm causing competition to be inserted into the situation when it didn't have to be, where I could just say, "I love your podcast because every time I listened to it, I learned something new that I apply in my life." Or "Your speaking was great. I love that you apply so much science."
[00:42:02] You can lift people up, but without doing that type of comparison. And when you do that, you can actually get people to feel that they matter without the competition portion of it as well. I think that the rates -- I went out and spoke at the CDC, Center for Disease Control two years ago, and they said the whole time I've been doing all this happiness research, depression rates in the United States have doubled. Anxiety rates are the highest they've ever been in our schools and hospitalizations for suicide for every age group, including eight-year-olds has doubled. Something we're doing and the pursuit of happiness clearly isn't working and if there are skeptics of this type of approach, they have to look to see if the system we've got in place is working where for the first 22 years of our life we hyper compete and compare at an individual level, taking test alone one for the rest of their lives. The entirety of our success is interconnected with the people that we work with and the people that we live with.
Jordan Harbinger: [00:42:57] I find this to be something that I certainly see been done wrong. I certainly do it wrong. This comparison praise. It seems harmless, but it's, I guess it is a little insidious to say, Shawn your happiness book was great. I've read a lot of happiness books. You know by some of these other guys and they're just not as good. Why again, is that unhealthy to do that? Because I feel like that's the default mode of praise actually.
Shawn Achor: [00:43:22] Yeah, I thought it was praising too, because you're on positive psychologists. So I praise lots of people and I found myself including with my son defaulting to comparison breaks. You're the fastest kid on that team. You're the smartest kid I've ever met and like praising him, so he's equating being the smartest with how much I love him in that moment. The same thing with our friends, like you're the best speaker we've had today. I would occasionally get those comments at a conference and one time, I was standing next to a friend who was another speaker who spoke that day and they were like, "Shawn, you're the best speaker we've ever had an X number of years." And I realized that it unbalanced me immediately because first of all, it diminished the person who is a friend that I was standing next to, right?
Jordan Harbinger: [00:44:02] That is so awkward. So there was another speaker right next to you and someone came up and said --
Shawn Achor: [00:44:06] Right next to me. That person just didn't know, but the other side of it is it imbalanced me because I know I'm not always the best speaker. So now I'm wondering, am I the best speaker within this environment? Instead of thinking about how can I possibly impact somebody when I'm there? I feel the same thing online. I work a lot with schools now. We've been doing -- I'm working with all the schools in Flint, Michigan, we're working with the bottom 10 percent school an hour, and while we're working with the schools so much the anxiety is wrapped around the comparison they feel in social media, which made it hyper what they were experiencing just at school. And one of the strategies we're working on right now is that when people are going out to be on social media, when I would go out on social media, I would think forever about a post or a picture I want to put up and I wait to see how much people like me based upon it and shared it. And it always backfired because most of the time it didn't work out. And when it did work out, I could then compare it to a cat video that got 12 million views or somebody else's posts. There was a name that got 40 million retweets.
[00:45:08] And so what we have students do is instead of playing that game, going into social media to feel loved, they actually go out and do the opposite and it sounds cheesy, but the effect is incredible. Going and doing the reverse, going out and using that same 15 minutes on social media to love other people, simply liking their posts, commenting about how great their vacation was, congratulating them on the promotion or the job that they just got, or getting on that private jet, like providing that praise out. When they finish that 15 minutes, they actually feel rejuvenated. They feel more deeply socially connected. But the amazing thing is then they get more comments and likes on their post as well. So people start reciprocating and responding to that as well, so that instead of waiting to be loved, they were actually enhancing the people around them and as a result of that, they were benefiting from it as well.
Jordan Harbinger: [00:45:55] That's really funny. I think I see a lot of, I'm laughing at myself right now because I see so many people doing this. Myself included, of course, just going on social media. Oh, this is better than that, this has been that. And of course, I've seen so many funny comments in my inbox like, "Your show is so good. It's almost as good as," and then just some other guy's name. Okay, I'm just thinking like, "I know you met that as a compliment," but now all I'm thinking is I don't like this other person that I don't even know or whatever. And then I'm like, "You're an idiot if you don't like mine better than there's." This just like -- it had the reverse effect and I know that some of that's on me, but it is sort of inherent in our nature to compare anyway. We don't really need any help doing it.
Shawn Achor: [00:46:37] Right, exactly. And so you know, it's the same thing we see a companies. I go out and speak a lot of sales conferences and they'll bring up on stage their top 2 percent producers or salespeople. And I'm like, "These people are already getting paid more. They've already got the reward. What they should have done was actually get those people to say, "Who is one of the supporters who help them a ton to get them to that place." And those supporters are the ones who get invited to a conference or get to go on stage or get to receive a plaque because if you enhance those people who were holding up that person's success, you also extend that person's success while shining the light out more. It's what we call prison praise. Instead of having the light be absorbed by one person or just deflecting it, being like, "No, I'm not really that great a salesperson."
[00:47:20] You actually refract that light back onto the people that are around you. And as a result of that, they continually do those positive benefits that helps support you as you're doing your tasks as well. So a practical example, like if you're -- if your kid scores a goal in soccer, it's so easy to be like, "Yeah, you scored a goal and congratulate them and you should do that." But also at the same time be like, and it's amazing your brother was out here, cheering you on and your mom got us to come out here and when I didn't want to come out today at all in the middle of the rain to do this, and then you're celebrating what helped lead that person to score the goal in the first place. And I think if we did that more often, we'd actually not feel some of that anxiety and competition that gets in the way of our happiness steals our happiness. But also we've got more people supporting us as you're trying to be successful and we have that fuel we need to keep going.
Jordan Harbinger: [00:48:08] So being appraised prism, I like this idea. Tell me how this is different than let's say everyone gets a blue ribbon for participation.
Shawn Achor: [00:48:18] Yeah, okay, because the blue ribbons suggests that everyone got first place like not everyone scored that goal. Only one person scored that goal, so only one person should get praised for that, and when I want to support is that the people who lifted them up to that position and you'll see a lot of top athletes. So once you're continually successful, always do this, are actually trained to do this. Like if they're like tell us how you scored three touchdowns today, they're talking about how amazing their offensive line is. The more they talk about themselves, the less likely they're going to stay on top of those positions. So it's not everyone gets a reward at all. In fact, our brains are designed to look for that type of inauthenticity and we don't buy it at all. So it's not helping the system to give out trophies to everyone.
[00:49:00] What we want to do though is to expand, prays where it's valid and real, but we oftentimes ignore a lot of the things we could praise while only looking for the top. So yes I can evaluate just for sales outcome, which of course as a company we really value and need. That's why those people get paid more. But if you're not praising the people that are filling out the contracts or answering the phone calls or being kind to customer service on the backside of it, that person doesn't sell as much in the first place. So praising for the things that they were actually doing, you want to get the top sales word everyone, but you would say, "This person helped get me to the place I am and I want to lift them up in this moment." And when you do that, not only does it cause them to feel better, but they there also feel more tied to you as well.
Jordan Harbinger: [00:49:41] Can we do this if we work from home or if we work in an office? Can we do this, say using our phone? Is it the same if we do it online? Do we call people? Can we text people? Does that have a similar effect or is this like it has to be a big deal, a big to do?
Shawn Achor: [00:49:55] The less of a big deal it is, the more likely people will do it. And all of my research I've looked for the smallest possible impact we could have that has the biggest ramifications or return on the backside of it. The problem with that is that a lot of the things I then researched sounds so small, they don't think that they're going to work or they sound like you've heard them before like think of three things you're grateful for every day. One of the most powerful things you can do. It's one of the greatest predictors of entrepreneurial success. The greatest predictor of sales success is optimism, which the only thing we know that dramatically improves optimism is practicing these gratitude exercises, the only thing we've found that actually dramatically improves that. So all these big outcomes we want are actually based upon these very small things.
[00:50:35] And so what we're finding is the adoption rate is so much higher if we make it easier. So yes, if you go out to a friend for lunch or go out to dinner or travel with family for vacation, you're going to have some deep relationships. But in all my research, we got people to write a two minute positive email praising or thanking somebody in their life without using comparison praise. And we saw their social connection score rise to the top 10 percent levels of happiness rise dramatically in the midst of high levels of depression, anxiety rates drop, and every single business outcome improves. Think of three things you're grateful for around a dinner table with your family, we keep a gratitude jar in our house, where we put my son to sleep, I do gratitude with them about good things that happened during the day. But we also have this glass jar. And when good things happen, when we're around the dinner table or in the kitchen we'll write down something that he did or something that we're grateful for. We'll crumble it up on a piece of paper and put it in there, and then we'd go back and read it when the jar gets full or we're about to do it at the end of the year. When that happens, you get a triple benefit. You've got the initial positive thing that occurred. When you wrote down the gratitude as a family, a communal experience of that positive thing. So it went from one person to experiencing it to entire family, but then you were reminded about it and then got to share that again with your family, codified that within your brain. So these very simple activities we could do, you can put a gratitude jar on your desk.
[00:51:53] I work with critical care nurses in Boston after the Boston Bombing that occurred and they told me that they started keeping in a case of emergency folder after that day, where over the course of the year they would just slide in positive notes that they received like the ones that you get on your website or drawings that people made of them as a nurse or charts that improved when they thought somebody wouldn't get better and then when those terrible days happen at work that could limit their work, make them burn out, make them not want to do their work in the first place. When those negative traumatic days happen, they open up this in case of emergency folder and their brain has an entire storehouse of positive imagery that counterbalances the negative and helps us retain perspective, helping us to keep doing that positive job. So it's the small things like gratitude or a non-comparison praise or expanding power out to other people, letting them be part of your successes but also letting them in when you're struggling. Those are the things that actually cause the greatest level of success and happiness long term when we study it.
Jordan Harbinger: [00:52:54] What about people who think, I'll focus on this stuff after I've done a ton of work on myself. I get this a lot in my inbox or on social media. I'll tell people I've got this networking course, and that's sort of putting it lightly. It's about developing and creating relationships, keeping in touch with people. It goes along with what you're talking about, really just sharing like a real bond with people. and it's all this high leverage stuff I've learned from guests like you over a dozen years of doing the Jordan Harbinger Show and then people go, "Yeah, well I'm just really busy or I'm working on this project at work or you know, I just had this happen in my life." And thinking like it's frustrating because I see how beneficial this stuff is and yet everyone's focused on, "Well, once I get this promotion, I'll do it. Well, you know, I need to create my website first. Well, you know, right now I can't, dah, dah, dah." They want to be worthy of being around the quote unquote best people before they put any of this into action, or they want to get as close to superstardom as they can before they focus on other people. It sounds like what you're saying is this is a backwards line of thinking.
Shawn Achor: [00:53:53] It is. So when I first was working with the Harvard students, when we started doing all this research on happiness, I was so excited to share it with them and they're like, "I don't care about that right now. I want to get the best grades possible so I can get an investment banking job and make a ton of money." Then we'll start talking about happiness. So what we have to look at was we couldn't necessarily sell happiness to them directly. What we had to do or say, "You want better grades? Let me show you the research about how you get better grades. Turns out and sees gratitude exercises and social support and exercise, sleeping better." If these positive patterns in your life will get you the grades you want. You want to get an amazing job, turns out it's about social connection and emotional intelligence. Let me show you some very specific patterns about how to actually do that. So we had to flip it around for them. But the reason that was a problem is they were doing it the slow way. I had students come in freshmen who were like, "I am pre-med. I'm going to be so successful. My parents want me to be a doctor. I'm not going to go to any clubs or activity. I'm just going to do my work and get it done." Those are the people that always come to me at the middle of the semester and they'd be like, "I don't belong here. It was a mistake. I literally, I'm in the library 18 hours a day. I'm eating my meals there. I don't go to any clubs. I don't hang out with anyone and yet my grades are dropping. I feel sick and I want to leave."
[00:55:06] And when I tell them this, you just divorce yourself from the greatest predictor of your long term success while you're here. I say nicer than that. But what they did was by trying to focus so much on their success, they were eliminating the very fuel that causes their brain to achieve it as high as possible level. The students who get the most in alumni donations are the ones who have the deepest social connection when they were at Harvard and it saw that opportunity is a privilege. And that extends out into the workplace as well. What I would say is if somebody is like, "I want to be successful first. I'm going to nail these things," and then I'll start talking about interconnected success or about happiness. I would say "You can do that." That's the slow way, that's small potential. Big potentials, which you can only see when you connect in with the entire ecosystem of potential and there's an entire scientific literature like for two decades proving that person wrong because what we're finding is that success never leads to happiness. I had an opportunity to have an interview with Oprah and during it she said, "At the height of your career while making the most money," beloved didn't do as well as she wanted it to, and she shattered. She said she didn't want to go on living. So if success at Oprah's altitude doesn't work, it's not going to work for any of us trying to achieve anywhere close to that. And I told her I went through two years of depression while I was at Harvard teaching the students how not to become depressed. What we're finding is success doesn't lead to because every time your brain has a success, you're simply going to change the goalpost of what success looks like.
[00:56:29] You've got good grades now, now you just get into a better school. You get into a great school, now you need a job. You hit your targets, you raised your targets. You have one bestseller, you need three bestsellers. You have a $10 million now where you're surrounded by people who are making $100 million, whatever it is, the comparison point continually changes. But all of this research shows that while success doesn't lead to happiness, and to that person, I would say what we found, and there's research is if your success rates rise for the next five year period of time, your happiness levels flatline or drop, they don't move. But if you raise your levels of happiness by deepening your social relationships, if you deepen your gratitude, if you deepen your levels of optimism, if you practice those positive habits, every single business outcome and educational outcome, we know how to test for rises dramatically. Your sales rise by 37 percent, productivity by 31 percent, likely your promotion by 40 percent, same level of stress 23 percent drop in the negative effects of stress. You live longer, your symptoms are less accused every educational outcome improves. If we've got big challenges we need to deal with, we need to deal with it with a positive brain and with other people.
Jordan Harbinger: [00:57:33] It sounds like what we need to do, at a basic level, what we're doing is we're asking ourselves how we make others better and in parentheses therefore raise our own potential. I love the concept of being able to do that on a daily basis. People will look to you for that. You'll start to maybe even feel a sense of leadership around that and from what you were mentioning about the kids at Harvard that are socially isolated. I mean that's classic imposter syndrome and it sounds like one of the antidotes to imposter syndrome is to create more relationships and social connections so that we can see that if all of our other friends are just like us in a lot of ways, then it's harder for imposter syndrome to take root. If we look around and we go, well, everyone's having problems with this and everyone's similar and we're all friends and these people like me and we're connected, it's hard to think I'm the only loser in this college that's going to get kicked out and everyone's going to find out I'm a fraud. Those two belief systems don't really co-exist too well, I would imagine.
Shawn Achor: [00:58:26] I love that. And I think the other thing I'd add to that is that if you have friends who care about you, not just because of your successes, but they care about your, regardless of your successes, then that means that if you're in a weakened state right now, or if your book doesn't do as well as you want it to, or you have a life change, that person still has your back. So what we really fear and that imposter syndrome is that people won't like us and we'll be alone. And if you know people like you regardless of your successes, you're not in a fragile state anymore because you're not in this place of I have to continually be more successful to have people like me. I've experienced that myself over and over again. Keep thinking that people really like me if I had a book or the book did well or I got invited to the right things and that is a recipe for not only being miserable as a happiness researcher but for like stopping doing what I'm doing because I would burn out so quickly.
[00:59:16] I have friends around me that they like me regardless of what's going on. They don't even sometimes what is going on which is my fault, I should share a little bit more about that but I think that's what it is. I think you're right. It's the way you overcome imposter syndrome is by deepening relationships with people who care about you regardless of those successes.
Jordan Harbinger: [00:59:34] In Big Potential, you discuss unlocking the hidden 31 and this concept really resonated with me because often the loud negative people, they shape the narrative I should say, we shape the narrative. Where we're the ones who are complaining the most and where are the loudest ones and where are the voices that seem to be talking to most. We have to find that positive and engaged 31 percent, I don't know -- I am so surprised that there's a statistic for this. I'm not sure how you measured that, but it's very useful to know that two-thirds of people might not be the ones we want to be around, and it's easy to say this whole room is full of people like that when really it's three or four people that just happen to never shut the hell up about how awful everything is, right?
Shawn Achor: [01:00:12] Yeah. I've got a two stories about that. One quick one, I was working with a large animation studio and when they get behind on projects, they would put them into this room called the dungeon, which had no windows and they were like, get your work done because I can't believe would create any type of creativity at all. People hated it. And so one day, one of the creative people got a butcher paper and have their kids draw these -- basically they look like windows with crayons on this butcher paper and put it up around the room. And the people who seem to love it, but one guy hated it and complained to HR and HR leader of course dutifully took down the hated windows, and then until enough of them complained to another senior leader and they realize there's only one person that didn't like it and the rest of it loved it.
[01:00:57] And they almost let the social script be written by the one negative person that was holding everyone back, telling people about how much cynicism they should have within their work, how much joy they could experience when the majority of the people actually wanted happiness at work. They want a deeper social connection. So then only put the windows back up, but they actually change it out and allow the team, the very first act when they put them in the dungeon is to come up with what the window should look like and draw it together as a team to bond them together. So I think it's about not just listening to the one or two negative people that are the loudest, but also that study about the 31 percent is stunning for another reason. Because what we found was that if you ask people if they're optimistic, it's completely non-predictive question, but if you ask them, how expressive of your optimism, pessimism are you at work? It turns out 31 percent of people continued, we kept finding the same percentage cross industry. 31 percent of people at organizations claim to be optimistic, very optimistic but not expressive of it at work, which meant that a third of the people that were surrounding us that seemed really, really neutral were actually closet optimist. That if you can somehow expand power out to them or role model, that gratitude is okay or give them license to open up their voice about that. It turns out you've shifted the social influence dramatically in that group of people or on that team where now you have a third of the people who are supporting the positive changes you're trying to make instead of just having these walls. So these roadblocks against you. So it's about outlying and activating those 31 percent within your life.
Jordan Harbinger: [01:02:29] We should at some level though be able to defend against stress and negativity. And this is a concept actually that is near and dear to me. I call it protecting your mind and it's essentially what -- there's tons of opportunities, especially in places where I used to work, in other companies and things like that and you really had to have some safe guards around people emotionally vomiting in your inbox, your Slack, calling you on the phone and dumping something on you. And you know, this is the kind of place where you'd be headed to Australia and you're up at 6 a.m getting ready to go to the airport and someone calls and says, "Just so you know, we're probably going to get audited by the IRS, have a great vacation." And then hangs up it just to like destroy the vibe that you had before going on vacation.
[01:03:13] And so I've found that protecting your mind is as a skillset and I think it's one of the most useful skill sets. And I know that you mentioned in Big Potential a few ways to do this. Building a moat was the first one and that really resonated with me. Would you take us through this? Because I think if we leave everyone with a set of ways to protect your mind and defend against stress and negativity than at the very least people can utilize that to change the way that they live and who they allow into their garden of their thoughts.
Shawn Achor: [01:03:44] I love that. I like how you describe it to protecting the mind. I think that's exactly it, because I think this is probably the best critique against Big Potential is if you're going to be hyper connected to other people in this world, you just increase your exposure to the negative people. So if you're not defending yourself and protecting the mind as you're saying, then you're actually putting yourself in a more dangered state, being surrounded more by a larger ecosystem of potential. So there's a couple of things you can do to inoculate yourself against the negative. I think we've found to be really helpful. The mental moat is one that was most helpful for me. Simply what we got was we could protect your brain and protect your mindset, partly because we know that the weakest times of the day for you where you have the least amount of resources to overcome challenges and that's those challenges loom so much larger and can have a negative effect upon us, or the first 30 minutes of the day and the last 30 minutes of the day.
[01:04:36] Those are when our resources are either depleted or haven't recharged yet. But that's oftentimes when I pick up my phone and I would immediately see if anyone emailed me overnight or I'd get on the news to find out one negative thing it just popped up and my brain was in the weakest state to deal with that. So I'm not saying don't look at the negative in that world. I just built a mental mode around my day where for the first 30 minutes until I have coffee in the morning and I'm dressed or the last 30 minutes before I go to sleep, I just don't go on social media the news or check my inbox. That's it. I can watch something on Netflix or I can read a book, but I don't do those activities because I'm allowing my brain to be in a more defensive state in order to deal with those negative things later on during the day.
[01:05:16] So that's one way you can create a mental mode, but what you're trying to do is you're trying to cancel some of the noise within your life, when you're overloaded with information, even positive information like of your company or your business is doing really well. If your overload with information, your brain just assumes it's under threat so that it starts only processing the threats that are there. So it's quieting some the noise that's in your life. That could be anything from meditation exercises to just, you know, muting the commercials when you're watching a show to spending the first five minutes you're in a car ride, not listening to anything for the first five minutes and then turning on a positive podcast that you felt like move moves you forward.
[01:05:53] There's ways you can defend yourself. But when I think about this, doctors, doctors know a lot about disease and how sick the body can become and they don't learn that and they'd be like, these are all the people I need to avoid in my life. They learn that so that they then they wash their hands and then go in and meet with some of those sick people. It's not to avoid the negative and your life is to give you a defense of power so that you can have a positive effect upon them to not pick up on their sicknesses as well. That's why they wear masks and plans.
[01:06:21] The same thing could be true for us. If you don't want to pick up on stuff, the negativity other people are spewing, you cancel the noise, you create those mental modes, but also you inoculate yourself by thinking of three new things you're grateful for. So when that person dumps that negative thing on your plate that you've got three positive things in your life at an entire storehouse of positive imagery to counterbalance it, that if you have one negative person in your life, that's okay. You can vent with your positive friends over lunch to make you feel better about yourself. You've got an defense against that in that moment. So in the midst of such a hyper competitive world, finding a way of being able to defend yourself I think is crucial like you're saying,
Jordan Harbinger: [01:06:56] I think it's really what scared me about this was, "Hey, don't check social media in the morning or at night and don't check your email when you wake up." And I've heard that before for productivity, but I've never heard it for emotional health. So I was like, "I'm productive enough, I'm fine." I will tell you, I've realized recently that looking at my email in the morning is one of the most anxiety inducing things that I've been doing for months or years, and I thought it was because of things going on in the business, but I think it's just generally seeing a bunch of tasks and FOMO get dumped on me within seconds of waking up. It's probably just not a good way to be. It's a great way to base your brain and a heart and whatever in cortisol, but it's not a great way to think of why you're excited to attack the day.
Shawn Achor: [01:07:43] Can I tell you one on that? We found that three minutes that -- we did this study with actually Arianna Huffington. We found the three minutes of negative news in the morning that you consume in that first 30 minutes, three minutes of negative news there not only impacts your mood. Then if we test you eight hours later when you're finishing work or fixing the meal or leaving work or pick up your kids, it turns out you have a 27 percent higher likelihood of reporting having experienced a negative day, that you've processed the day differently based upon that three minutes versus if you had seen three minutes of neutral news in the morning. But amazingly, if you had that same piece of negative news you got after the 30 minutes and you appended a solution to it, like homelessness is on the rise, and here's how you could donate to a food bank.
[01:08:29] Even if you never donate to the food bank, allowing yourself to see a solution and having more brain resources. You don't have any of that fact eight hours later, seven or eight hours later. So I studied happiness, I think it's so helpful for our listeners when they see and they hear you, and then they see and hear me as a happiness researcher, both of us meet with all these authors and people -- almost every one of them are saying the exact same things that despite all of the strength we built up with some of the successes we're rocked by some of these emails that we get in the morning when we're seeing at the wrong time or rocked by a negative review or comparison. So if we could actually change some of that, we could experience greater levels of happiness with our life, and it's just a reminder of how important this actually is.
Jordan Harbinger: [01:09:13] All right, so build a moat. Easier said than done, but actually not that complex. We just have to exert a little bit of willpower and throw some systems into place like not having our phone next to our bed or having a sticky on the screen that says don't check your stinking email when you wake up or maybe your alarm when it rings instead of just saying alarm or wake up, it says, don't check your email. Something to get that habit or break that habit, I should say. So build a moat. All right, so what's next in protecting our mind and defending against stress and negativity?
Shawn Achor: [01:09:42] I think one of the other ones we talked about briefly is creating a mental stronghold. So those critical care nurses who we're working with in Boston, by collecting those positive images, those successes they had had over the course of the year, those positive moments when the negative happened, they had a stronghold to retreat back to. They had entire storehouse of positive imagery when they're being bombarded by the negative in their life. They also have the perspective of here are all the positive things are going on in my life and it's very difficult in that moment to start to assume that that one negative is the entirety of your reality, but without that stronghold, that's all you've got. You've got that one negative thing in your mind and you oftentimes lose connection to the meaning that we experienced within our lives. So that could be anything from doing a in case of emergency folder to having a gratitude jar. A lot of people, you know, people have like vision boards that they do.
[01:10:32] I think one of the things that's helpful is not just putting up and visualizing where you want to go, but if you want to look at where you're going, you should, the fuel was coming from the past. If you're going to make new year's resolutions, the first thing you should do is write down three things you were successful at the previous years. Your brain sees I have the ability or the resources or the discipline to be able to create things that I want before starting a new task. So what I would suggest is in a similar way as a mental stronghold could be putting up some of the successes or great emails you've received in a visual place right around your workspace or on your digital desktop. I have on my desk pictures of people that I've gotten to meet up with that were really meaningful experiences, or kind notes that people have that they're under this glass on my desk or that I keep on my desktop in a folder that I can go to very quickly if I need it. And in those moments, you're actually creating a strong stronghold that helps you when the negative occurs.
Jordan Harbinger: [01:11:28] This is great. So this is not just keeping away from things, it's almost like to use your previous idea, inoculating yourself against something. So yeah, you know what? I might've seen this, but look at all this evidence that I wrote when I was in a better mood maybe, about what I'm actually capable of. And this has been super helpful for me. Jason, I don't want to speak for you, Producer Jason, but this year has been an exercise in essentially having my friend's wife and myself remind me that, "Hey, look what you built before. It's possible. Look where you are now and look at all these different things," because it is really easy to focus on what you don't have. Especially if you find a setback. Like you said, your book doesn't do as well or something happens in your business or something happens in your life and you start going, "Uh-oh, this means something about me." Look at what this -- my book didn't do as well so it means I'm not going to be a successful author and in your case, you kind of have to write, "Well I didn't do a book, proper book launch, maybe because I had a child, which is much more important than the immediate first week success release of this particular book." But it's really easy to forget that and just go, "I must be a crap writer. Nobody cares about my ideas."
Shawn Achor: [01:12:37] And so you actually have to work at it. I mean I did go through those feelings like Big Potential. So my favorite book I've written so far, and it's not sold as well as I wanted it to because we never got to do the launch for it. This is the one, the first times I've gone to talk about it on a podcast, like if I judged myself on those sales numbers, what an impoverished way to view this work because I'm getting emails on a daily basis by people were saying that this is literally transforming their lives. And if I had known from the beginning writing it, that those five people would write me, it would've been worth writing it for those people's lives, given the change that some of those people are experiencing.
[01:13:19] So I think it's about really finding a way of defending yourself against some of those at that negative self-talk that we experienced. And that gets into some of the work that I was talking about and in Big Potential about mental [indiscernible][01:13:30] of being able to move energy from one place to another. So that keep based upon this research we were initially doing out of banks at UBS in the middle of the banking crisis and we want to see how people are dealing with stress when their world was collapsing around them, where they were having to restart. They weren't getting paid and we looked at their stress levels and what they were doing to deal with stress was actually causing them to become sicker. They were learning -- they would go to a stress management program and would start with did you know stresses related to the 10 leading causes of death and disease in the United States? Stress is catabolic, tears down every organ in the human body. It literally is related to 80 percent of doctor visits.
[01:14:09] So whatever you do at work, don't stress and here's how to fight it. But as soon as you hear that about how bad stress is for you and your life, you start to create a fight or flight response against your fight or flight response exacerbates it. The problem is there's great research proving that true. There's equally great research that for some people stress is the exact opposite. It releases growth hormones to rebuild yourselves faster than anything we can see. It improves your immune system to his highest possible level. Your immune system's designed to activate when it's stressed, it doesn't work as well when it's not in a stress situation. So if a lion's attacking a zebra, that's when you want your immune system working to stop the infection if you got scratched by a lion. These are the people who get sick, not when they are in the midst of all their work. They get sick when they get time off.
[01:14:53] I work with companies all the time. They're like, "We're under so much stress. We're going to lose great people." That I work with the military and they onboard you and not with a beach vacation. They onboard you with one of the most stressful situations possible with bootcamp because I know if you go through stress with people and with the right lens, things start to change. So we took that lens into the companies and we're talking about bankers here, but this could be entrepreneurs, it could be students in school. We got them -- half of the managers, we told them stress is bad for you, so here's how you fight or flee from it in your life so you can decrease that stress within your life.
[01:15:24] The other group we told him, stress is actually enhancing, embedded within every stresses meaning. If I tell you your inbox is overflowing with spam, you feel no stress. If you feel your inbox is overflowing with all these great opportunities you need to respond to or leads you care about or people you care about, you feel stress because you care about those relationships. Or a better example is if I tell you someone's failing English, you don't feel any stress. If I tell you your kid is failing English, you feel stress because there's meaning there. We simply got people to do is to acknowledge the stress and then rechannel the emotional response that they're feeling back towards the meaning. Simply reminding them that there is meaning involved in the stress and then connect that emotional response back to it. I thought we'd see a drop in levels of stress. We did it. I went in there with Peter Salovey, who's now the President of Yale and Alia Crum at Stanford, and we found that no impact upon stress levels, but with a group we told the stress was enhancing. They had a 23 percent drop in the negative effects of stress upon their bodies, headaches, backaches, fatigue, lower job effectiveness, burnout, dropped by 23 percent for the same level of stress. So what that means for all of the people that are listening, the stress is inevitable in your life. It's going to happen, especially it's going to happen if you're pursuing your potential, but its effects upon you are not inevitable. And it turns out the effect of stress is mediated not just by the amount of stress, but your mindset about it. And if you're looking for the meaning involved and the stress you're experiencing and rechannel your response, it turns out we have an incredible response back to that stress as well and we don't have the negative ones as well.
[01:16:55] So that's what we get people to do is simply when they're going through a negative stressful situation, reconnect to the meeting with why they care about -- why do you care about being a good author? Why do you care about having lots of listeners on your podcast? Why do you care about having friends around you? And when you reconnect to that, your brain channels the energy back into a positive direction.
Jordan Harbinger: [01:17:13] There's something else I want to throw in the worksheets as a bonus, which is always describing your work in a way that excites others and excites you. I'm going to outline that in the worksheet. So Caleb, when you're making that worksheet, hit me up. Shawn, this has been massively informative. I loved the book, Big Potential. Jason, Producer Jason now is super into it. At least you've got one more sale there and hopefully we'll move some more copies for you because you did miss your book launch because you had a daughter and I think that was probably worth it but there's a lot of important work in this. And I want to help -- I want to help you share it.
Shawn Achor: [01:17:45] Thank you so much. It's been incredible experience, not only researching this, but now seeing this workout, all those schools in Flint, Michigan, or out at these companies or working with vets who come back with PTSD and realizing that we're not alone in our pursuit of happiness, but that we really see our big potential when we're interconnected, helps us all to find a way of shining brighter together, and that's been really meaningful for me.
Jordan Harbinger: [01:18:08] Shawn, thanks for coming.
Shawn Achor: [01:18:10] Thank you so much for having me.
Jordan Harbinger: [01:18:13] So Jason, you know, it's funny, whenever I hear happiness expert and like I kind of do an eye roll, but Shawn is legit. He's a real scientist.
Jason DeFillippo: [01:18:21] No, I was face palming like right before we started this one. And then halfway through the show I'm like, "Oh my God, this is some amazing stuff." I'm taking notes. I'm going to go back and listen to this one again, even though I have to do that anyway for my job. I'm going to do it with pleasure this time.
Jordan Harbinger: [01:18:33] That's right. Yeah. He really does look into this and he's done real studies and that's what I think is important about his work because there are a billion books about happiness and some of them are fine. They're philosophy based or whatever, but a lot of it is self-help fluff and this book is not that, and that's what I really appreciated about it. I don't know, Jason, I've started this year especially, I've started to move away from a lot of the self-help stuff. Just realizing, "Hey look, you know there's so much fluff out there that it -- the whole genre is almost starting to lose my attention."
Jason DeFillippo: [01:19:05] Yeah, me too. Me too brother. I'm into self-improvement but I don't know about self-help because there's so many charlatans and snake oil salesmen out there and if you're not a scientist you really just can't be trusted.
Jordan Harbinger: [01:19:19] Yeah. I like the scientific information. There's a place for people who've done things though. Like the applied -- the application of this and a non-anecdotal way I think is important. And so in 2019, I think we're going to see a slight shift in the show, which is more towards some of the amazing stories and personalities that we've found. The people who've really accomplished great things and a lot less of the "You can do it. Here's how you get motivated in the morning type of stuff."
Jason DeFillippo: [01:19:45] Yeah, it's the, "Oh, this is how I took over the world kind of people."
Jordan Harbinger: [01:19:49] Yeah. That's what's getting me out of bed these days. I'll tell you what. Great big thank you to Shawn Achor. The book title is Big Potential, which is a great title by the way, and if you want to know how we managed to book all of these great guests and manage their relationships with everybody who's been on the show as well as literally thousands of other people. I do systemized this and I'm teaching it to you for free in my Six-Minute Networking Course. It's at jordanharbinger.com/course, and I know you're saying, "Oh, I'll do it. I've got to do it later." You cannot make up for lost time when it comes to relationships and networking. The number one mistake I see people make is postponing this type of activity, not spending a few minutes a day, not digging the well before they get thirsty. Once you need these relationships, you're too late. I wish I knew this stuff 15 years ago. It is crucial and you can find it at jordanharbinger.com/course.
[01:20:38] Speaking of relationships, tell me your number one takeaway here from Shawn Achor. I'm @JordanHarbinger on both Twitter and Instagram. This show is produced in association with PodcastOne, and this episode was co-produced by Jason "Think Positive" DeFillippo and Jen Harbinger. Show notes are by Robert Fogarty. Worksheets by Caleb Bacon, and I'm your host Jordan Harbinger. The fee for this show is that you share it with friends when you find something useful, which is hopefully in every single episode. So please, please share the show with those you love and even those you don't. We've got a lot more in the pipeline, so excited to bring you 2019 is just going to be bonkers. I'm already excited about it. In the meantime, do your best to apply what you hear on the show so you can live what you listen, and we'll see you next time.
Sign up to receive email updates
Enter your name and email address below and I'll send you periodic updates about the podcast.