Wendy Behary (@donsanddivas) has been training professionals and supervising psychotherapists for more than 20 years, and is the author of Disarming the Narcissist: Surviving and Thriving with the Self-Absorbed.
What We Discuss with Wendy Behary:
What's the difference between someone who comes off as somewhat self-absorbed and a full-blown, clinical narcissist?
Is clinical narcissism actually on the rise in the US? If so, what's causing it?
Does narcissism statistically affect men more than women, or is there just a difference in how they tend to express it?
When a little bit of narcissism can be a big advantage.
How to tell early on if you're dealing with a bona fide narcissist, what you can do to remain your best self in their presence, and how you might possibly help them become their better selves.
And much more…
Like this show? Please leave us a review here — even one sentence helps! Consider including your Twitter handle so we can thank you personally!
(Download Episode Here)
(Subscribe to the Podcast Here)
Worksheet for this Episode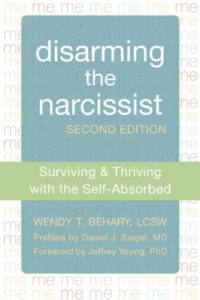 Narcissism is a word thrown around a lot these days — so much that it's almost lost all meaning. However, I think we've all known, dated, or possibly even married someone on this spectrum, and we've all felt the sting that results.
On this episode, Disarming the Narcissist: Surviving and Thriving with the Self-Absorbed author Wendy Behary delivers strategies and tools to identify when we're dealing with a narcissist versus just your run-of-the mill selfish a-hole, how we can spot their tactics (such as gaslighting) in real-time, and how we can defend ourselves against their machinations. And, in a surprising twist, we'll also learn that a little narcissism might even be good for us. Listen, learn, and enjoy!
Please Scroll down for Full Show Notes and Featured Resources!
Sign up for Six-Minute Networking — our free networking and relationship development mini course — at jordanharbinger.com/course!
Get two months of Skillshare — unlimited access to over 18,000 classes in design, business, technology, photography, entrepreneurship, film, writing, and more — for free at skillshare.com/harbinger!
Great protection. Fair prices. Easy to use. SimpliSafe is the right way to protect your home at half the size and double the range — go to SimpliSafe.com/jordan to learn more!
NetSuite by Oracle allows you to manage sales, finances, accounting, orders, and HR for your business instantly on the cloud from anywhere! Download your free guide — Seven Key Strategies to Grow Your Profits — at netsuite.com/jordan!
Don't let a botched below-the-belt trim snag your summer plans — Manscaped has precision tools for your family jewels! Go to Manscaped.com and get 20 percent off with free shipping by using code JORDAN at checkout!
Borderlands 3 lets you shoot and loot your way through a mayhem-fueled adventure and gives you the chance to save the galaxy from a fanatical threat this September 13th! Pre-order now at Borderlands.com. (Rated M for Mature.)
THANKS, WENDY BEHARY!
If you enjoyed this session with Wendy Behary, let her know by clicking on the link below and sending her a quick shout out at Twitter:
Click here to thank Wendy Behary at Twitter!
Click here to let Jordan know about your number one takeaway from this episode!
And if you want us to answer your questions on one of our upcoming weekly Feedback Friday episodes, drop us a line at friday@jordanharbinger.com.
Resources from This Episode: