Reading Time:
2
minutes
Andy Molinsky (@andymolinsky) is a professor of organizational behavior and psychology at Brandeis University's International Business School and author of Global Dexterity: How to Adapt Your Behavior Across Cultures without Losing Yourself in the Process.
What We Discuss with Andy Molinsky:
Common cross-cultural tripwires.
How to diagnose our cultural differences and assess situations in cultural context to build rapport.
Processes and practicals to avoid common miscommunications.
10 cultural codes around the world.
Tips for leading an international team over cross-cultural hurdles and working together to realize its potential.
And much more…
Like this show? Please leave us a review here — even one sentence helps! Consider including your Twitter handle so we can thank you personally!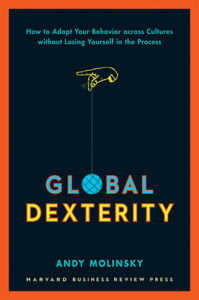 In the 21st century, many of us go beyond telecommuting to an office the next town over — we work with teams that span the globe and cross cultures in ways humans have never before experienced. This presents unique challenges for all parties involved as we work to meet goals together no matter how our motivations may differ.
In this episode we talk to Andy Molinsky, professor of organizational behavior and psychology at Brandeis University's International Business School and author of Global Dexterity: How to Adapt Your Behavior Across Cultures without Losing Yourself in the Process. He'll help us reach across cultures to build rapport, communicate effectively, and seamlessly work together. Listen, learn, and enjoy!
Please Scroll Down for Featured Resources and Transcript!
Please note that some of the links on this page (books, movies, music, etc.) lead to affiliate programs for which The Jordan Harbinger Show receives compensation. It's just one of the ways we keep the lights on around here. Thank you for your support!
Sign up for Six-Minute Networking — our free networking and relationship development mini course — at jordanharbinger.com/course!
THANKS, ANDY MOLINSKY!
If you enjoyed this session with Andy Molinsky, let him know by clicking on the link below and sending him a quick shout out at Twitter:
Click here to thank Andy Molinsky at Twitter!
Click here to let Jordan know about your number one takeaway from this episode!
And if you want us to answer your questions on one of our upcoming weekly Feedback Friday episodes, drop us a line at friday@jordanharbinger.com.
Resources from This Episode:
Transcript for Andy Molinsky - How to Extend the Reach of Rapport Across Cultures (Episode 132)
Jordan Harbinger: [00:00:00] Welcome to the show. I'm Jordan Harbinger. As always, I'm here with my producer, Jason DeFillippo. One set of lessons I feel I've learned in my life over and over again is how to reinvent myself in a new place. I've lived in a double digit number of countries and then in the United States, I've lived in Detroit, New York City, Los Angeles, San Francisco, and in each place there's a different set of values. There's a different type of person there and a different set of norms. In other words, there's a different culture, and I realized that many of us work on distributed teams. We manage and work with people from different countries or cultures, or perhaps we're an expat living in another culture ourselves, even if we're an expat from Detroit living in LA as opposed to an American living in China. Today, we're talking with my friend Andy Molinsky. He's a Professor of International Business and Organizational Behavior over at Brandeis Business School, and one of his many specialties is that he's a trainer for cross cultural adaptation.
[00:00:57] In this episode, we'll hear about common intercultural trip wires. We'll learn how to diagnose our cultural differences and assess situations and cultural context so that we know how to generate rapport with people from other places and from other cultures. We'll also uncover some processes and practicals to avoid common miscommunications or crossing the streams as it were when it comes to communication types. For example, do we tell someone directly what we're thinking or do we need to ease into things a little? There's a whole lot more in this episode, so if you're working internationally, you're working with people from another culture moving to another country or even another town. This episode is worth a listen. All right. Here's Andy Molinsky.
[00:01:37] Andy, you've been on the show before and you've got kind of an interesting background for what we're going to discuss today. I would love to know how you got into becoming so to speak, some kind of a cultural adaptation expert, because everybody works globally now. You can't -- it's hard to not work globally. I suppose if you're in on a retail sales floor that that might be one thing, but how did you become interested in this area so early on?
Andy Molinsky: [00:02:03] I was born and raised in Boston. I did not live a multicultural existence. I never went out of the country. When I was a kid, I didn't -- this is pre-Internet. I didn't see pictures of different countries. I couldn't Google Map another country. I lived a pretty fairly narrow American, you could say existence. When I went abroad for the very first time as a junior in college, my eyes widened. It was an incredible experience. I went to Spain. And that I caught the bug, I became really interested in foreign cultures. I then went back a couple of years later to live and work in France. That's where it really took off and I became just fascinated about not just cultural differences, but about the challenges of adapting and sort of adjusting your behavior across cultures. When I came back to the States, I started a PhD program in Organizational Behavior and Psychology at Harvard. I sort of brought this deeper, and while was doing the program, I was volunteering at a resettlement agency for immigrant professionals in Boston who are trying to adapt to the US -- really the US job search culture. These are folks who are pretty experienced in Russia and the former Soviet Union, but they were trying to get jobs in the US, and I just saw how much they struggle. They knew intellectually they could write out, they could tell you exactly what they needed to do, but it was really hard for them to put it into practice and so that really solidified my interest in the idea that it's not just about learning about cultural differences, which is important by the way, but it's also being able to take what you know and put it into practice, which sometimes is easier said than done.
Jordan Harbinger: [00:03:39] Yeah. I think that's of course true with pretty much everything, especially when it comes to dealing with people because we are so complex and multifaceted and emotional in a lot of ways. I want to dive into some of the multicultural management stuff. Not necessarily managing it from a business perspective exclusively, but looking at having conversations with people from other cultures, especially difficult conversations because of course this is something that most of us don't enjoy at all with our culture, without our culture, outside our culture, whatever. But we at least have some sort of common ground when we have these conversations with people inside our own culture. We can rely on basic shared assumptions about what the interaction should look like, but when we have a difficult conversation with someone outside from a different culture, our task is harder. It's exponentially harder, because we have this sort of Barbie thorny subject, but we also don't know exactly the context in which this person is going to perceive it and you've got a great list of cultural trip wires that I would love to have you present to us. They're present everywhere, whether we notice them or not, and I think they can often do a lot of insidious damage if we're unaware of what these are, especially at work or if we have our own business or managing a team or even if we just have friends from other cultures as well. So can we go over these trip wires and be aware of these and figure out what, how to avoid them?
Andy Molinsky: [00:05:07] Yeah, definitely. So the first one is kind of what you just said. It's sort of like the context and in certain cultures getting down to business cultures, whereas in other cultures or it's more about relationship building, just almost like the nature of a conversation or the entry to a conversation. So in the US oftentimes, and I'm going to paint with broad brush strokes here. I understand that there's a lot of variability in the US of course, and in other countries too, but we'll just sort of talk about some general themes. But in the US people often see conversations sort of as an opportunity to exchange information, getting down to business fairly quickly. There might be a brief exchange of small talk often is but you kind of get down to business. But in other cultures, maybe Latin American cultures, for example, conversations are really about sort of enhancing and deepening the relationship. And if you kind of are seen as kind of getting down to business and cutting to the chase too quickly, the other person could be confused about why you're doing this, why -- they might start to attribute your actions which for you might just be kind of being efficient, being appropriate. They might interpret it as that is not having interest in the conversation or not having interested in the relationship, and then they might be offended. They might then react and go into damage control or whatever it might be, and so that could start in kickstart a negative spiral. So I guess the first trip wire is getting down to business versus relationship building from a cultural perspective.
Jordan Harbinger: [00:06:31] And I think this is important because when I lived in Mexico, for example, meetings were somehow all day long and they involved like food and a lot of not talking about the business at hand at all. And this was a nonprofit, so maybe that was part of it. But I will tell you, I think we did in a week what most American companies probably did before lunch on any given weekday, maybe one in five days' worth of time was spent doing what we would consider work or getting down to brass tacks. But this -- I'm not saying this to judge the Mexican work culture actually, it worked really well for them because what this company did have was super high levels of trust. Everybody treated each other like family. People weren't worried as much about their job security, I guess. For better or for worse, that was the result of this type of culture. And I know that for me, when I was in there and I needed something, I would walk into someone's office and say, "Hey, do you have this?" And I remember them saying, "Hey, we feel like you don't really like us or you don't like working here." And I had problems with that for a while because I thought, "Why is everybody asking me why I don't like working here when I'm fine. I just want to get my stuff done so I don't have eight hours of work done over 40 hours of work time." And that didn't jive well with the office, it didn't work at all. In fact, I ended up having to leave because it just never clicked.
Andy Molinsky: [00:07:54] And it's interesting because what's unstated are sort of the cultural assumptions that are driving everything. But you're thinking, "Why don't they like me?" They're thinking, "Why doesn't he like us?"
Jordan Harbinger: [00:08:04] Right.
Andy Molinsky: [00:08:04] And it just stays at that level.
Jordan Harbinger: [00:08:06] Yeah, exactly, exactly. So I think this getting down to business versus relationship building trip wire is pretty common. I think that it would pay for us to know what we're getting into. Is there a way that we can spot this? Do we know, okay, if I go to a company and this is what people are like or if I go to a country and this is what people are like, I'm probably in a relationship building culture versus a get down to business culture.
Andy Molinsky: [00:08:31] You can come in with some guesses. Some hypothesis, some guesses like for instance, again if you're in Latin America, central America, I was thinking Brazil because I was speaking with some Brazilians the other day. That's the culture just like this where people at work are often sort of talking about their private lives with each other, the hallways, the mail room, during a long lunches, and so on and you can have a guess, whereas like in Germany for instance, a culture that really prioritizes efficiency and getting down to business, you're probably less likely to expect this. But you know other things matter too. That's why it should sort of be a hypothesis and you want to then confirm that hypothesis and see if it's really true. You want to maybe ask some questions and get to know what the culture is actually like. Maybe the people that you're interacting with aren't sort of consistent or characteristic with your general impression of the culture, maybe there's a company culture, maybe there's an industry culture. So culture's a pretty multilayered thing, but I think you can come in with some best guesses and then kind of take it from there.
Jordan Harbinger: [00:09:32] All right, well I like the idea of coming in and taking a guess and then trying to test the assumption. I think that's useful in every situation. And honestly, I think if you're working in an expat environment you can always ask somebody else. But if we find that we're maybe working in the United States and we just happened to be a group of seven people on a team and you might be the odd man or woman out culturally, then we can observe the culture and sort of play by those rules. I think over time we can learn to observe this. I just want to give people a heads up when they go into it in the first place because I think it's the first couple of weeks or months where these gears start to really grind and you find that there's sand in the machine. Does that make sense?
Andy Molinsky: [00:10:10] Yeah, I think that does make sense and to -- I think what's really key is when you start having that cultural frame is an idea of like, "Huh, this is why they're doing this. Maybe it's a cultural thing." As opposed to, and I think what people often go to immediately is, "Ah, they're these kinds of people are." "Gosh, I don't like that or they're inefficient or they're lazy or they're whatever it might be, when in fact it's really a cultural explanation as opposed to a personal explanation. So it's good I think -- it's good to have that frame in your mind as a possibility.
Jason DeFillippo: [00:10:39] You're listening to the Jordan Harbinger Show with our guests, Andy Molinsky. We'll be right back.
Jordan Harbinger: [00:10:44] This episode is sponsored in part by Sport Clips. I love this place. I thought this was going to be a sort of departure from my usual self-care regimen, but when Sport Clips wanted to sign on, I thought I'd give them a shot and I rolled in. What I love is you can check in online and then you don't have to wait at all for your haircut which is awesome or you have a really short wait, which I don't know why more barber shops don't do this and what I also love is they actually write down the type of haircut that you want so they'll put like zero fade on the side and whatever on the top, and then you go to another location because they have 1800 plus locations nationwide. They know what kind of haircut you want, which is just excellent. I love that. So check out Sport Clips. Of course, the reason they call it that as I got TVs everywhere, you can watch the game. If you're one of those guys who doesn't like to talk to the stylist, which I think is a lot of guys, go to sport clips.com/checkin. That's sportclips.com/checkin.
[00:11:36] This episode is sponsored in part by privacy.com. If you use a password manager and why don't you? Then you also need privacy.com. You don't use the same password everywhere, so why use the same credit card number everywhere online? Privacy is the first payments product that keeps your personal actually private while being even more convenient than using a regular credit card online. Privacy lets you generate a brand new visa card number for every purchase you make online with one click with either their browser extension or a mobile app and that keeps your credit card numbers safe and sound, and with all the crazy buying and crazy online hacks and everything, it would be nice to just make this time of year a little less stressful when it comes to your identity and your dollars. Privacy is virtual cards are locked to a merchant so you don't have to worry about changing your card everywhere if one gets hacked. You'll get a decline email or a push notification on your phone if a hacker tries to use that card somewhere else. So that's pretty cool. Never forget to cancel subscriptions or trials ever again. The number will just stop working when you tell it to and that alone is worth the price of admission and oh yeah, the price of admission is free. They actually make their money the same way as debit cards do with interchange fees paid by the merchant so you don't have to pay for this service. Signup takes less than two minutes and is completely free and as a special treat for our listeners, new customers, that's you, will get five bucks or a limited time to spend on anything that you want. That is free money. So go to privacy.com/jordan to sign up now. That's privacy.com/jordan. Go get some free money and peace of mind.
Jason DeFillippo: [00:13:03] Don't forget we have a worksheet for today's episode so you can make sure you solidify your understanding of all the key takeaways from our guest, Andy Molinsky. That link is in the show notes at jordanharbinger.com/podcast. Thanks for listening and supporting the show. To learn more about our sponsors and get links to all the great discounts you just heard, visit jordanharbinger.com/deals. If you'd like some tips on how to subscribe to the show just to go to jordanharbinger.com/subscribe, and now let's go get culturally relevant with Andy Molinsky.
Jordan Harbinger: [00:13:34] And that leads us nicely into the second trip wire, which is this direct versus indirect communication. I think this is something that shocked me a little bit when I moved to Germany in high school and everybody, everyone warned me. All Germans are really blunt. They're really -- they're really kind of, what do they call it, the coconut shell where they're hard on the outside but sweet on the inside and you kind of go, "Okay, fine, no problem." And then the first time you experienced this, you're just like, "Wow! Everyone hates me." Right?
Andy Molinsky: [00:13:59] Yeah, exactly. It's funny. Yeah, so I'm glad you mentioned Germany. That's a sort of prototypical example of a very sort of direct culture where it's sort of culturally valued to speak clearly, not to leave room for misinterpretation. Efficiency, again, as we talked about before, honesty and so on. You kind of say it like it is and I think the US is a little bit like this too. Maybe not as much as Germany. I think Israel by the way, is another country that would be like that. And then on the other side of the spectrum, you might get a country like Japan for instance, which is where people tend to communicate certainly from a Western standpoint indirectly. And there's a lot sort of between the lines and in reading the context or the emotions or the subtle signals. And if you don't have -- if you're not tuned to that frequency as an outsider, it can be very difficult to interpret the message.
Jordan Harbinger: [00:14:54] The danger here is that if you're from a direct culture and you're in an indirect culture, you are just throwing daggers around the office or in your email. And here's a funny example, it doesn't have to be a business, it can be dating. I remember this friend of mine from college, Juergen back from the University of Michigan. One of the reasons that I got started in interpersonal skills coaching and things like that back in the day, almost 20 years ago now. He and I were talking at the gym, and he was new, he didn't have any friends because he had just rolled in, in some grad programs. We've met at the gym and we started talking in German because I noticed he had some Germans notes with them. So we start talking, we start talking and then I'm lifting weights with them all the time because I'm one of his only friends and he goes, "Dating here is so hard." And I said, "Why?" And he said, "I just don't understand what's going on with the men and the women." I said, "Well story of everyone's life." No surprise there. And he tells me the story of him taking a woman out to dinner, and I don't remember whether it was, they went to the equivalent of like the Olive Garden. No big deal. You're in college, this is what happens. And since it wasn't a nice place, he didn't want to make it a formal-ish date. So what he did is he told her, and I'm paraphrasing here, but it basically is a quote, he said, "I don't want to pay for this because this isn't a very nice place." And that's what he told her on his date. And of course, so she's like, "Fine." So she pays for her share of the meal and then he's like, "Yeah, she's not answering my calls. She doesn't want to go out again." And I was like, "Wait a minute, you literally told her that?" And I said, "Explain this to me, because I lived in Germany at this point for a year before that," and "I don't get what -- what is wrong with you? What are you talking about?" And he said, "In Germany, if it's nice, you can pull sort of the chivalry card and pay for the meal," and then it's a really nice formal fancy date. But if it's not, then you wouldn't want to pay for the date because the woman would think that you're being chauvinistic and you're kind of a macho guy trying to pay for everything and lead everything all the time. Even in this informal situation. And I go, Juergen, "I guarantee you that's not what she was thinking when you said I don't want to pay for this, because it's not a nice place."
[00:17:09] And he's like, so I explain it to him and he goes, I mean it was just the face palm was so hard. I thought he was going to give himself a concussion. It was just like -- and he was like, "I've done this a few times with women here, and I've never had a second date." And I was like, "Yeah, you're not ugly man. That's not the problem. The problem is you're coming across like a complete weirdo." And it's this direct communication. Americans like to think we're direct, but we really aren't, especially when it comes to dating. And this kind of thing can really trip us up and you can live in the country for a while and still not get it.
Andy Molinsky: [00:17:41] That's really funny, another example as you were talking I was thinking is it's kind of like what you're talking about, but giving feedback. The Americans are used to the feedback sandwich, right?
Jordan Harbinger: [00:17:53] Right.
Andy Molinsky: [00:17:53] The feedback sandwich approach where we kind of soften it up. You've got the bread, the meat, and the breads. So the first part of the bread is sort of the softer sort of gentle or comment, "Jordan, you're doing a great job at work. I really appreciate everything you're doing." However, there's one thing I wouldn't have mentioned that's the meat, that's the critical piece. And then at the end you have bread again, it's maybe "But in general you're doing awesome." In Germany there's no bread, it's just the meat. It's just the negative message, and I find that a real challenge in the workplace where people on both sides actually for Germans to kind of add in that bread to be a little bit softer, a little bit more indirect, and they feel sort of evasive and dishonest and inefficient. Like why am I doing all this stuff? And then for Americans to go to Germany, I had a actually for my book, Global Dexterity, I interviewed an American who went to Germany and he became a manager there and he had to start adopting the German way and he felt awful doing it being like -- he felt so harsh. So that's an interesting one.
Jordan Harbinger: [00:18:53] Yeah, of course. Whenever we think of German feedback, we often think like, "Yes, shirt is so ugly," which isn't really how it goes, but it can feel that way. When you give a presentation you say, "What did you guys think?" And they went, "Yes, it was a little boring and probably you could have done better with the slides," and you're like, "Wow! That was right there in my face." Thought you were going to lead with something like, "Interesting, but," or well it was great aside from these two things, but in the end everyone liked it, they don't do the sandwich. They're like throw the bread away, meet only, and slap you across the face with it, or at least that's how it can come across to somebody in our culture. And the opposite can also be true. Like you mentioned, if you're in an indirect feedback country, like maybe Asia, Japan, you can really, really come across as -- even somebody from the United States can come across as really blunt, and we're getting feedback from someone in that area. And I've seen this happen with friends of mine that worked for say, Japanese or Chinese companies here in Silicon Valley. They'll have a meeting with their boss and we'll be having drinks after work or something like that or chatting about it. And they're like, "Yeah, I got -- my boss, he loves me, this is all great," and then they get fired like a month later, and the reason is we warned you multiple times about X, Y, and Z. And he's like, "You didn't tell me -- they didn't tell me anything about this." But the one time when somebody said some random comment to him or he was with his boss's boss and a couple of other people and they said something that seemed totally innocuous, that would have been if you were Japanese, a very clear and strong warning to knock it off. But for an American it was like, "Hey, next time try adding some color to your side," and you're like, "We'll do Bob." And then you leave and it's like you got fired for never adding color to the slides and you're going, "What? How did that happen?" They never really let it on, this was a big problem. And it's like -- it was to them was clear as day and you ignored it.
Andy Molinsky: [00:20:49] Yeah, that's exactly right. It reminds me of a story that I heard recently from a manager, American who went to Japan and he was new in Japan and he was listening in on a proposal. So another company came in to give them a proposal, and so the American had a Japanese boss and the boss was the one evaluating it and the boss gave feedback to this outside group giving the proposal and it was just like sort of like what you're talking about. But like, "Oh, this is very interesting. We're going to have to really think about this. I really appreciate your coming. I'm fascinated by what you're talking about." Something like that. And then the American said afterwards, after the people left, the American said to his new Japanese boss, "So did you really like this?" And the Japanese boss said, "No, it's terrible." You have to go tell them though, I can't. And the guy was shock, the people were shock for the same reason that they weren't -- again, it's like a frequency thing. They weren't sort of tuned to the right frequency. And so I think you can -- I mean in all domains, from dating to business, I think this is a big one.
Jordan Harbinger: [00:21:51] What about the third trip where this low versus high contacts? When I saw this, I'd never heard of this in my entire life and I thought this was really fascinating that there are these low context and high context cultures. Bring us through this.
Andy Molinsky: [00:22:03] It's similar actually -- it's very similar what we're talking about in terms of directness and indirectness. So it's the idea that in certain countries like Canada, the US, sort of the message, it's the literal words where the message is heard, similar to the directness that we talked about before, and those are called low context cultures. In other words, the context plays a low or small role in determining meaning, but in other countries like Japan, we've been talking about South Korea, that would be another example. It's high context where there's all these cues and so conversational, people in a conversation are going to scan the meaning and they're going to interpret the meaning and reinterpret the meaning based on all these cues in their sort of deep understanding of those cues to be able to interpret what's happening and going on. So it's like reading between the lines on steroids in a sense, and so those are high context cultures. So you can see what might happen from our previous discussion when someone from a low context cultures is delivering or having a difficult conversation or delivering bad news with someone in a high context culture, it can create a lot of room for misinterpretation.
Jordan Harbinger: [00:23:11] Yeah, I see that the danger is that someone from the United States, for example, we might call someone into our office or call someone on the phone or send an email and say, "Hey, by the way, Andy, when you're late all the time. It's kind of annoying for the whole group because we're standing out in the cold and I realized that things happened, but you're late all the time. It'd be great if you could plan ahead a little more," and somebody in the US who hears that from someone else in the US is like, "Yep, they're right. I'm late a lot. I didn't realize -- I thought I was getting away with it. All right, I'll leave earlier next time. I've got to set in earlier alarm." That's kind of the end of it. But somebody in this high context culture like you said, read between the lines on the steroids and it's like, "Oh, I'm failing as an employee of this company. My friends and colleagues don't respect me anymore. I'm known as a low performer. Generally I'm disliked among my." It just like all of these horrible things can come as a result of this because of the unspoken message, even if that wasn't intended or part of the message at all.
Andy Molinsky: [00:24:16] Yeah, you can either read too much or read not enough in a sense into the content.
Jordan Harbinger: [00:24:22] Right. So how do we calibrate that? What can we even look for? Of course, if we live in that culture for a while, we might get it, but how do we avoid the pitfalls of this? Because I think whether or not we work in another country or just with people from another country, we're going to run into this.
Andy Molinsky: [00:24:36] So I think as a newcomer it's very hard. I mean I think it just, as you said, I think it comes from practice. It comes from sort of knowing ahead of time that that might be the case to looking at different scenarios ahead of time, and sort of running them by a colleague who's got some experience in that culture and that could be either a colleague from that new culture who's just a friend or is willing to talk to you or it could be someone from your own culture who spent some time there. That's often really good because they have sort of the dual perspective. I also find that one of the most critical sort of antidotes to a lot of these trip wires and problems is to develop relationships with people in a new culture. Like to develop sort of a trusting, friendly, collaborative relationship with someone. And when you do that and when you misinterpret something in the context of a relationship, it's a lot easier, it's a much softer landing in a sense from sort of compared to doing that with people who you really don't know at all. So I can't say that there's any magic bullet, you can't snap your fingers, and all of a sudden have this perfect mastery of all the subtleties and a new culture. But I think there are things you can do to hedge your bets.
Jason DeFillippo: [00:25:43] You're listening to the Jordan Harbinger Show with our guest, Andy Molinsky. We'll be right back after this.
Jordan Harbinger: [00:25:48] This episode is also sponsored by Outerknown, finding great quality clothes that fit is not always easy and Outerknown clothes are for people and planets. They're are high quality, sustainable clothes, durable construction, and a great fit. This is Kelly Slater, the Surf Champion and they founded Outerknown with the belief that we have a responsibility to make clothing that respects the world around us, so no surprise. Pro surfer has environmentally friendly clothing line. But I'll tell you what, I got this blanket shirt. I've worn it, I've worn it so much in the last two weeks that I'll just be honest, it kind of smells right now. As I was telling Jen, I was telling Jen, I was like this thing needs to get washed. And she's like, "Yeah, you've worn that for like 12 days in a row." And it's a rugged, versatile, essential, obviously essential shirt. It's kind of is like a flannel, but it feels like a blanket. It's awesome. It's built for travel, really sturdy, and it's kind of a relaxed, it's like my comfy clothes. I love this thing. So go to outerknown.com today and enter my code JORDAN at checkout and you'll get 25 percent off your order. That's outerknown.com. O-U-T-E-R-K-N-O-W-N.com. And remember to use the code JORDAN at checkout for 25 percent off. Go get yourself a blanket shirt.
[00:27:01] This episode is sponsored in part by Hunt A Killer. This is such a fun game and if you love the thrill of escape rooms, obviously you know that's my jam. You looking for clues yourself and puzzles, you're under that true crime, and now you can bring the mystery home. And this game is called a Hunt a Killer. It's like you get obsessed with this. It doesn't take a ton of time, but you do get really into it. It's a monthly subscription where you become a detective immersed in this murder mystery. So each month you receive in this box, crime scene photos, evidence, motives, suspect information, and you'll need to use that to solve the crime. And it feels pretty real, it's interactive, it's really convincing. You can play it alone, you can play it date night style, you can play it with friends, and there's an online community of over 60,000 people and they have a thousand plus five star customer reviews. It's really, really a fun game. Jen and I were playing this and it can be kind of rewarding in the way that escape rooms are, but also take your time like you would with a puzzle and you can just sort of leave it out on your game table or you're in a basement or somewhere in your house and you can mess with it from time to time or come back and look at it and it makes it kind of a fun part of the family. And I think it's like you're being put into a show that you can touch and feel. It's not just like here's a board with some pieces. It's like, here's crime scene photos and all these letters. It's really, really unique. I don't think I've ever seen anything like that. Right now just for our listeners, you can go to huntakiller.com/jordan for 10 percent off your first box. They accept 200 members per day, so check it out. I highly recommend this game. It is really fun. Huntakiller.com/jordan for 10 percent off your first box and see if you have what it takes to get into the mind of a serial killer and solve the mystery.
Jason DeFillippo: [00:28:42] Thanks for listening and supporting the show. Your support of our advertisers is what keeps us on the air. To learn more and get links to all the great discounts you just heard, visit jordanharbinger.com/deals, and don't forget the worksheet for today's episode. That link is in the show notes at jordanharbinger.com/podcast, and now for the conclusion of our interview with Andy Molinsky.
Jordan Harbinger: [00:29:05] This sort of slides us into home with the fourth trip wire, which is this in formality versus formality. And I think that a lot of people, when I first read this, it was like, "Oh yeah, of course some people's people or formerly others don't," but you have a different take on it which I thought was kind of a unique spin and something I'd also never heard of. Can you tell us about this? Because I do think for myself, I'm quite informal and in business that has often bitten me in the butt because I realized that if I try to make, for example, an informal warning to somebody and they think, "Well, we were just doing that -- we just sort talked about it over a burger." They don't take it very seriously and that can lead to big problems.
Andy Molinsky: [00:29:48] Yeah. So if you're in a formal culture if someone acts and by the way, I'm also a pretty casual, if someone acts in a casual manner, the person from the formal culture might interpret it as sort of like not serious, maybe that you lack respect, that you have a know that you don't really care. You're reading all sorts of things into that level of in formality versus formality and when that might not be the case at all. I see this all the time. So I'm a professor and I see this all the time in terms of students coming to the United States, and a lot of our students are foreign born students from countries like India or China where the hierarchical relationship between a professor and a student is much stronger than in the United States where it's a little bit flatter. It can be a little bit more informal with professors, and I see them calling me sir, being super hyper polite, and I also see some of them trying to adapt and adjust and sometimes missing the mark. They might come into my office, open up a soda, put their legs up on the couch or something like that. It doesn't happen that often, but it definitely happens enough for me to notice where it's like, "Oh my gosh, you overshot there." But I think that in formality and formality is a big one. There are dangers on both sides, so the danger could be that someone from an informal culture could sort of unintentionally appear that they don't care or someone from a formal culture if they're too formal and uber formal, you might not -- you sort of someone from the more informal culture might just sort of feel that they're distant and cold and sort of unapproachable.
Jordan Harbinger: [00:31:24] Yeah. I think the idea that a country like Poland where people expect a certain degree of formality, being too casual shows a lack of respect of course, that sort of goes without saying. But if you're from an informal culture and you don't add almost like, I don't want to say fake formality, but an additional level of formality that you otherwise wouldn't think you would need somebody from that formal culture might be like "This isn't a big deal." Same with the direct and indirect communication that we just talked about where they might call the person into the office and say, "Your presentation didn't have enough slides," and you're like, "Oh, okay. That was a weird, overly serious formal place to have that conversation. I guess I'll add more slides next time," and then it just kind of doesn't work because the appropriate gravitas isn't there for the communication.
Andy Molinsky: [00:32:10] Yeah. And this is also what's interesting about this is also it's sort of embedded in situations. So the formal informal might be a little bit different if you're with colleagues than you are with a boss, like with the hierarchical level, and then it might be amped up if it's given the sort of assumed importance of the situation like some situations are more formal and so on. So it's not just like generic person one interacting with generic person two. It's also you need to be able to read the situation in terms of what levels of formality or sort of informality are required. So when I get a student from a culture that's used to very formal interactions and then they sort of like adjust inappropriately for interacting with me, what they're forgetting is that yes, in the United States, yeah, you interact a little bit less formally with a professor, but not to the extreme, not how you'd like or interact with a fellow student, I don't mind. I think it's kind of funny but I also want to be able to prepare them to be able to function in the real world. Yeah, this is a trip wire. There's no question about it.
Jordan Harbinger: [00:33:12] So how can we connect better across cultures? Of course, find out what you have in common was the bit of advice that we've sort of discussed pre-show, but that isn't really -- that's not exactly what we're looking for. We're not just like, "Oh, find out what you have in common. Thanks for coming on the show. I could have figured that out on my own." There are certain ways to do this that I think avoid running headfirst into some of these problems, and one is to examine emotional intelligence across cultures. Can we speak to that a little bit?
Andy Molinsky: [00:33:42] Yeah. A lot of people when you go to a new culture, you think you've got to learn the language but there's also an emotional language, and I think people often forget that in terms of norms and rules and expectations for especially emotions in terms of how you express emotions. And I think that's really key to understand and know about and do your homework on when interacting across cultures. So I often -- one that pops out for me a lot is the expression of enthusiasm. So you see this all the time in the United States. In addition to the in formality we're talking about before, it's very culturally acceptable and, and actually appropriate to show enthusiasm to get psyched about something, to really express yourself passionately to give a high five to whatever it might be, but in other cultures, you just don't do that. In Japan for instance, there's there really strict norms about when and where you're able to show that kind of emotion. In a lot of cultures like India, China, it's not sort of that spontaneous expressiveness of emotion that in a professional context that's important. It's really actually the control of emotion, the ability to sort of self-control, that's really key.
[00:34:56] So I think that's a big one. So having the emotional intelligence to know sort of what your own default in comfort zone is, in terms of expressing emotions, to understand what the zone of appropriateness would be in a new culture, and to do that you need to do a bit of homework and then to see if there's a gap. In other words, if you're like a super emotional type, outgoing type, super friendly type, that's awesome, but it might not fly as you expect it will in a country where it's really restraint and self-control that's culturally valued.
Jordan Harbinger: [00:35:27] Emotions do vary a ton across cultures. I mean you talked about this a little bit in some of the articles that I'd read pre-show as well, both in terms of expression and in terms of meaning, and can you give us an example of this? Because I think enthusiasm was something that came up quite a few times in the reading.
Andy Molinsky: [00:35:44] Yeah, and by the way you see this also not just -- we've been talking a little about a lot of sort of extreme examples like Asia and the United States or Asia and Canada. Those are often very extreme examples, but even like take an example of like US and UK, like the United Kingdom, you'd think that there's not a big difference there, but that's another example where we're there are strong differences in terms of like the expression of enthusiasm and in the outward expression of emotion. So you're not going to see, we talked about high fives before, you're not going to see as many high fives in the UK, in the office places you will in the US. They're much more -- people are much more under sort of understated and subdued. Like if something was really outstanding, you'll usually get a "Yeah, it's not bad. Not bad." In fact, I was just watching the -- I don't know if anyone watches the British baking show on PBS, but it's really funny because the judges on that show, when you look at that reality TV show with those judges and then a reality TV show in the United States, you'll see in the United States the reality hosts, you're like, "Awesome job. That's so good. I love that." In the UK it's like, "Well that's not bad."
Jordan Harbinger: [00:36:51] Like "Not bad old chap." It's like "The winner is not terrible. Thank you."
Andy Molinsky: [00:36:55] Exactly. But you can -- I mean it's funny, but then if you're in the situation you can kind of feel bad about yourself. I'm just not bad really?
Jordan Harbinger: [00:37:04] Yeah, yeah. It seems like something that could be -- that could weigh negatively, that's for sure. And also there's an incongruence here because it's not just "Oh, be more enthusiastic." Going back to the Mexico example, I remember they asked me to set up some sort of like event for the exchange students that were in Mexico or in the city, sorry, like a meetup. So basically I called some restaurant was like, "Hi, do you have 12 seats available and a private room that it's quiet enough where we can talk?" And they were like, "Sure, what time?" "Thursday 8 p.m." "No problem." And then I invited everyone and I confirmed with everyone and then we met up and we went to this restaurant and the next day the boss and the boss's boss were like "Spectacular." "This was unbelievable." "We never had anybody do any, you're so great." And it was a little incongruent because I thought they're just blowing sunshine up my wazoo because all I did was make a reservation at a restaurant and kind of coordinate attendance.
Andy Molinsky: [00:38:02] Right.
Jordan Harbinger: [00:38:02] And so I started to not trust things that they were telling me because I thought, well you get a pat on the back for showing up less than an hour late, so who cares? Anything you do here is kind of meaningless. They're going to love it anyway. And that actually damaged my work ethic at this nonprofit for sure, retrospect. In the moment, I didn't think, "Oh, I can just do nothing and get away with it." But retrospect, 2020 hindsight, that was not good to be managed like that at all. In Global Dexterity, you provide this six dimensional approach that helps people essentially diagnose cultural differences in challenging situations. And I would love to go over these six dimensions because they really do seem to represent key aspects of communication that are one, different across cultures and that a lot of psychology research has consistently shown to predict important personal and professional outcomes. I think these are quite important and it's great to have framework for this otherwise, otherwise the takeaway is, okay, so when people say stuff, maybe think it's part of their culture and then try not to get fired before you figure everything out, right?
Andy Molinsky: [00:39:10] Exactly.
Jordan Harbinger: [00:39:13] Okay, perfect.
Andy Molinsky: [00:39:13] Yeah. It's funny, this is the part of the book Global Dexterity that I get absolutely the most email about, the most comments about, and so yeah, I'd love to share with you. So the dimensions are directness, enthusiasm, formality, assertiveness, self-promotion, and personal expressiveness, and let me give you a sense of what those are. And the idea here is that is that these are the key areas that cultures and also specific situations and cultures can differ. So directness how straightforwardly are you expected to communicate in a particular situation in that culture, are you expected to say exactly what you want to say is we talked about before or you expected more to hint at something in a more indirect manner? So that's directness.
[00:40:01] Enthusiasm. Again, as we talked about previously, how much emotion and energy are you expected to show in communicating? Can you express how you feel or is it a more appropriate to hide your positive feelings? That would be enthusiasm. A formality, the amount of deference and respect you're expected to display with your communication style in general or in this situation. Are you expected to show a high level of respect when communicating with someone or can you be more informal? So those are the first three.
[00:40:34] A fourth one is assertiveness. How strongly are you expected or allowed to voice your opinion in advocate your point of view in a particular culture or in a particular situation? Should you be forthright in expressing yourself or should you work at hiding your point of view in a sense or minimizing it? A fifth is self-promotion, in this culture, in this situation, is it appropriate to speak positively about yourself and promote your positive qualifications? Or is it more culturally appropriate to be self-effacing, to minimize yourself, even maybe even poke fun at yourself? And then finally, personal disclosure. Can I, and am I expected to reveal personal information about myself to other people, details of my life and so on? Or is it more appropriate to hide these personal details? And I find that this six dimensions really captures the core differences between cultures like in a given situation, in a new culture, or actually I've created a tool to help people understand it at a very broad cultural level. So for instance, in China, how do these six dimensions, generally speaking how are they laid out, how is that different from Brazil, how is it different from the UK, and so on and so forth?
Jordan Harbinger: [00:41:59] Right. So directness, enthusiasm, formality, assertiveness, self-promotion and personal disclosure, and not just in a business context. It's funny that personal disclosure sort of triggered an example for me. When I was living in Germany and I'm from Michigan, I grew up in the suburbs, so when I would walk around the neighborhood and you see the neighbor outside raking leaves or mowing the lawn or whatever it is, you wave and you say, "Hi, how are you?" Or whatever. And I remember in Germany walking down my street where the family that I was living with had lived for their entire life like at that point, just decades. And there was a neighbor that clearly knew that there was an American living as an exchange student down the road, or I would think would know this. And I waved and I said, "Hi, how you doing?" And this person like ignored me.
[00:42:51] First of I was confused that I even said that. They were out in their lawn doing something or getting their mail. Ignored me, then looked away, and my friend who I was walking with, another German guy who also lived on the street, probably three houses away from that same person, maybe five houses away, said, "What are you doing? What are you doing?" And I said, "I'm waving to the neighbor." And they said, "You're too friendly, man. That is so strange. You probably scared her." And I thought "How weird?" Because how does she not know who you are? You grew up five houses away. She's known you since you were a baby, but she just completely ignored you, so odd.
Andy Molinsky: [00:43:24] It is odd. I see the -- or at least it's a difference. I was just in Chicago this summer for vacation, and whenever I'm on vacation in a city like that where there are a lot of tourists, I always find it really interesting to eavesdrop on tourist conversations and watch them. And you see like for instance the interactions in the United States between people who don't know each other, who might be on a, I don't know, like we took a boat tour of the architecture of Chicago and people in the US might see someone and start up a conversation, someone that they don't know at all, and very soon you could be into very personal details about your life or at a restaurant, the servers are like, "Hey, how are you? How are you guys doing?" That's sort of like, "Do you guys come -- are you from around here?" "Oh my God, that's so cool." Whatever it might be. That's kind of a combination of like enthusiasm in formality and personal expressiveness, and in some other cultures you just don't do that. It's just very, very odd. So you see this all the time.
Jordan Harbinger: [00:44:24] So directness has to do with how straight forward they were expected to communicate. Enthusiasm, how much emotion we put into it. Formality, the level of, I don't know, respect we show or the gravitas we put on these things. Assertiveness, the level or the extent to which we can speak our minds. Self-promotion, whether or not we can toot our own horn, and personal disclosure, we just talked about. How do we utilize these? How do we take these six dimensions and plug whatever we're looking at our situation into these six dimensions?
Jordan Harbinger: [00:44:55] Yeah. Again, it's trying to use this as your framework for understanding where the pain points are, where the tripwires are, and try to become a cultural detective so you can look around. So for directness, for instance, do people tend to be succinct in what they say and get right to the point often with as few words as possible or do they kind of tend to use broader and more general, maybe more ambiguous language, kind of hinting it with what they say? So like you can watch. Enthusiasm, you can sort of see to, when something positives happened to people tend to express their feelings openly with their facial expressions and body language and so on, or do they tend to hide and suppress it? You can kind of become a detective and start to diagnose and understand the culture that you're in and where the key differences are for you compared to your culture. And by the way, I should also mentioned that not everyone, of course, is necessarily characteristic of the national culture that they come from. You said you're from Michigan, from the suburbs, but what if you had a German parent and an American parent, or what if you had a Brazilian parent and a Korean parent? But you happen to live in Michigan, so you might have more of a cosmopolitan upbringing and maybe the other person you're interacting with isn't either characteristic of that culture.
[00:46:15] So I think the personal level matters too. But to answer your question more specifically, I think becoming a cultural detective, becoming really curious, using the resources that you have to try to understand those differences ahead of time as much as possible to come in with those hypotheses, to test them and to be willing to adjust. I think that that's where you want to be.
Jordan Harbinger: [00:46:35] I love the idea of being a cultural detective because we can ask questions, we can sort of question that particular situation. One thing that I find myself doing a lot when I go abroad and make friends, or especially when I was living abroad was, if I don't understand something or if I were aware of these six sort of dimensions, I think I would've been better off. But if I don't understand a situation or something seems vague or ambiguous, or I'm not getting the results I want, I might actually ask a very direct question of a friend of mine or even the person in the situation that I'm in. So for example, when I worked in Serbia, I remembered my boss was very direct and it started to kind of hurt my feelings a little bit after a while. I mean, it was a not a long while, was quite right away in fact.
And I started to say things like in to my boss and to as a teacher, so to her and other teachers, I would say things like, "Okay, so when you say something Americans are awful and America is an evil place and blah, blah, all these things, you're not talking about me, right?" And they started laughing and they're like, "Of course not, we love you. You're like our surrogate son. What are you talking about? I am so sorry that you thought that." And I'm thinking, "Well, you did just spend like 10 minutes telling me how horrible this was." And she's like, "We do that about our own country as well. It doesn't mean that I hate everyone here." And I just thought, "Okay, this is just kind of a cultural thing." People in Serbia, especially -- and Eastern block in general, I think they have a level of sort of frank, I don't want to say complaining because it's not just that, it's sort of a frank discourse about the state of affairs and a distrust of maybe government and authority and things like that. And so they talk about it very openly with people they trust.
[00:48:20] So rather than it being assigned that they don't like me and they're trying to scare me away by telling me how awful this cultural thing is, or the American president was at the time or whatever, it was actually more of a sign of trust that I was in this inner circle and they felt safe telling me these things because of course I would never misunderstand what they mean because we're such tight, close friends slash family, and I thought that was kind of funny that I've really interpreted the exact opposite. And I had to ask directly, what do you mean when you say things like this, because I'm starting to worry, and then they found it highly comical.
Andy Molinsky: [00:48:57] Did you have a good relationship with the people you asked?
Jordan Harbinger: [00:49:01] Yeah, they were -- it was my boss and a friend of hers who was another teacher.
Andy Molinsky: [00:49:05] Yes. That's key.
Jordan Harbinger: [00:49:07] You know, they were saying things like that around me and I just thought, "Oh, this is a problem." And then of course when they would give me feedback about work and whether they were sort of just hinting at something or where they were often very direct, I would say, "Okay, but you're not angry with me, right? You're just trying to make me better at this, or are you angry and I owe someone an apology?" And they would tell me like, "Oh no, we're not angry. This is just -- you need to do this differently next time." Or they would say, "Yeah, we're a little annoyed by this because she stood outside for a long time because you miscommunicated and it was cold. So you should call her and tell her that you're sorry." And I would go, "Okay, great." And I had to ask him a lot about these kinds of manual -- it was sort of a manual process for me.
Andy Molinsky: [00:49:50] Yeah, that makes sense. And it's also, I think probably in your questions too, is sort of the metamessage that, "Hey, I want to fit in. I want to do well here. I care about your culture. I respect your culture, but I'm kind of confused." That's the metamessage. And so I think that that's important to show that you're -- show that you're genuinely trying, that you're interested in so on and so forth. And I think people, when people pick that up, I think they're, they're more tolerant and mistakes and they're also more apt to sort of help you in your cultural detective work.
Jordan Harbinger: [00:50:23] Yeah. Good point. I never thought about that. But you're right. If you just go through and feel like, "Oh, I shouldn't say anything about not understanding." People don't necessarily know. They might even interpret that as you get it, but you're foreign and you're pushing your weight around or maybe you don't get it and you're kind of bumbling. But if you say, "All right, explain this to me, because like Juergen did." So when I take a girl out and it's not a nice place, I should still pay. Yes, especially if you made the invite or definitely at the very least don't say I'm not going to pay for this because this isn't a nice place. He just didn't know that. And I think if he had called her or at even in the moment said, "Hey, I don't really date a lot in America because I'm new here. This is probably one of the first times I've been out. What's the proper protocol here?" She might've been like, "Oh, this is a little awkward." But it would certainly have been less awkward than what he did, right?
Andy Molinsky: [00:51:14] Yeah. Because she would have sensed it mean who knows how it went down. But she would have sensed, "This guy's trying." She might've been more sympathetic than attracted to him but still, I probably would've been a better interaction.
Jordan Harbinger: [00:51:29] Yeah. I mean she could have said, "Well, it doesn't matter. We can just both pay our own way." And then she might've been a little disappointed at it, but she might not have just completely ghosted him, which is what happened, right?
Andy Molinsky: [00:51:39] Yeah.
Jordan Harbinger: [00:51:39] And I don't even know if she completely ghosted him. I think she actually wrote him something like, "You're super rude. I can't believe you did that. I never want to see you again." I think it was a pretty harsh ending to that particular date. I don't think it worked out very well. I mean it literally, that was like all the nails were in the coffin at the same time on that one.
Andy Molinsky: [00:51:55] Right. Probably not a love match for Juergen. But hopefully his confidence wasn't a damaged too much.
Jordan Harbinger: [00:52:04] Exactly. Well, I think that these are super useful and for those of you that want to go through the cheat sheet to 10 cultural codes around the world to deepen your understanding of this, we will link to a cheat sheet, in addition to the worksheets we usually have for this. In fact, we might even try to blend the two. We'll link to it in the show notes because we have a good little PDF here from Andy. There's so much more in the book, Global Dexterity: How to Adapt Your Behavior Across Cultures without Losing Yourself in the Process. Happy to scratch the surface with you here today, Andy, and I really appreciate you coming on the show.
Andy Molinsky: [00:52:36] Yeah, thanks for having me on again. I really enjoyed it.
Jordan Harbinger: [00:52:40] So I love this because a lot of what he was talking about here is maybe I sort of knew intuitively some of these things were happening when I lived abroad and maybe after a year or so, I figured out some of these other things, but it's great to see things codified. It's always so interesting when we see things like body language or personality archetypes codified because it makes it easier for us to spot next time and then have a framework to actually use it. So Andy has gotten some pretty brilliant work done here, and this stuff would have been so useful when I was younger.
Jason DeFillippo: [00:53:10] Oh, same here, man. I backpacked around Europe for like two and a half months when I was 20, 21, and had so many different countries. And if I would have just at least been cognizant of all of the different cultural norms instead of just being a dumb American walking around in a run and Stimpy shirt thinking that I was the bomb, it would've been a much better trip I think.
Jordan Harbinger: [00:53:28] Yeah, Ren and Stimpy though. I do -- I can dig that. But that whole go to McDonald's and as the center of your cultural education when you're in another country. I mean I played that game for a while, and look, when I say this stuff would have been useful of when I was younger. I don't mean that this stuff is only useful for young folks. I think this is useful primarily in business. I just think it took me way too long to learn it. Even though I lived abroad for so long. This isn't something that most of us will naturally sort of adopt or an internalize. You really do need to look at it through the sort of the framework that Andy taught us here today. It'LevelOne Course cut the learning curve down so quickly. So a great big thank you to Andy Molinsky. The book title is Global Dexterity: How to Adapt Your Behavior Across Cultures without Losing Yourself in the Process. Very useful stuff in there. Of course, there's a lot more than what we were able to discuss today.
[00:54:20] Speaking of building relationships, tell me your number one takeaway here from Andy Molinsky. I'm @jordanharbinger on both Twitter and Instagram. This show is produced in association with PodcastOne and this episode was co-produced by Jason "Don't Cross The Streams" DeFillippo and Jen Harbinger. Show notes are by Robert Fogarty. Worksheets by Caleb Bacon, and I'm your host, Jordan Harbinger. The fee for the show is that you share it with friends when you find something useful, which is hopefully in every single episode. So please share the show with those you love, and even those you don't. We've got a lot more in the pipeline. Very, very excited to bring it to you. In the meantime, do your best to apply what you hear on the show so you can live what you listen, and we'll see you next time.
Sign up to receive email updates
Enter your name and email address below and I'll send you periodic updates about the podcast.