Charlamagne Tha God (@cthagod) cohosts The Breakfast Club and The Brilliant Idiots, and is the author of Shook One: Anxiety Playing Tricks on Me.
What We Discuss with Charlamagne Tha God:
An inside look at someone in the public eye who has struggled with a lifetime of anxiety.
How concepts we took in stride even 10-20 years ago are shocking by today's standards.
Charlamagne's early memories of dealing with anxiety before he knew it had a name, and how it shaped his world view.
How is FEAR most commonly applied as an acronym for your life: Face Everything And Rise, or Fear Everything And Run?
The external pressures we all face and have in common — and what we can do to keep them in check.
And much more…
Like this show? Please leave us a review here — even one sentence helps! Consider including your Twitter handle so we can thank you personally!
(Download Episode Here)
(Subscribe to the Podcast Here)
Worksheet for This Episode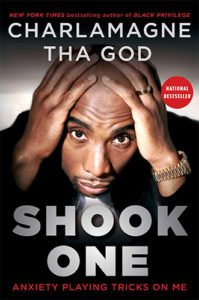 Anxiety is a scourge that many of us face, whether we're regular 9-5ers, parents, entrepreneurs, or celebrity talk show hosts. Charlamagne Tha God is our guest today, and he knows a few things about the subject — as addressed in his latest book, Shook One: Anxiety Playing Tricks on Me.
Charlamagne has been dealing with anxiety for his whole life — before he even knew it had a name — and he'll give us a rundown of how it's affected his worldview and even served him as a fuel to propel him toward an often controversial but always thought-provoking career as one of FM radio's most popular hosts. Listen, learn, and enjoy!
Please Scroll down for Full Show Notes and Featured Resources!
Sign up for Six-Minute Networking — our free networking and relationship development mini course — at jordanharbinger.com/course!
Looking to score last-minute hotel deals? HotelTonight has access to unsold inventory from the world's greatest accommodations at a fraction of regular rates. Hit hoteltonight.com and use code JORDANH at checkout for $25 off your first booking!
TurboTax, QuickBooks, and Mint are giant solutions that give you the power to prosper! Learn how to optimize your finances before tax time at intuit.com!
Does your business have an Internet presence? Save up to a whopping 62% on new webhosting packages with HostGator at hostgator.com/jordan!
Brother INKvestment Tank all-in-one inkjet printers keep your business running by delivering up to one year of printing without the need to replace ink cartridges! Find out more by visiting ChangeTheWayYouInk.com!
Do you want fancy designer jeans that look pretty at the club or good-looking but functional jeans that adventurers, go-getters, and rodeo riders have relied on for over 70 years? Try Wrangler — denim made for the modern world. Check 'em out here!
More About This Show
Anxiety is something Shook One: Anxiety Playing Tricks on Me author Charlamagne Tha God has always experienced on some level, though he's only begun in recent years to address and process it.
"I've always had the feeling," says Charlamagne. "I just never knew what it was…on my first day of first grade, I remember being at elementary school just crying my eyes out, not wanting to be left alone in that class and not knowing why. When I think back to that, I was having a panic attack."
Anxiety made itself known in other ways at this time — like when he'd be called upon to speak in front of the class or participate in the school play; an irrational fear was always present. But it wasn't until Hurricane Hugo hit the East Coast in 1989 that he had an inkling that this fear could be controlled.
"Hugo was different because that's when everybody around me was panicking as well. In first grade when you're crying in class, everybody's like, 'Oh, it's going to be okay! You're fine!' But Hugo, everybody's like, 'Oh, my God! We might not have a house in the morning!' The next day…there was damage everywhere and people did lose their houses, but we were alive. I think it did help me cope just a little bit, because I was like, 'If this is the worst it can get, we'll figure life out.'"
Being a public figure, Charlamagne concedes that regretful things he's done or said in the past will always come back to haunt him — often when life is otherwise going smoothly. Whether this is attributable to a higher power providing a means to work through these issues or just the cyclical nature of life's ups and downs, it just drives home the importance of being honest — especially for anyone in the public eye.
"It's up to all of us as individuals — we have to share our experiences, because they will help other people," he says. "If I've got to go through the shit because I shared too much, fine. I'm cool with that…in the same way I take the so-called backlash and the heat, I get the rewards, too. I've got to take the good with the bad."
Listen to this episode in its entirety to learn more about how FEAR can be an acronym for "Face Everything And Rise" or "Fear Everything And Run," why even doing the right thing for those around him still causes Charlamagne anxiety, why Charlamagne refuses to be outraged by what he sees on social media, what Charlamagne has come to realize about the anxiety generating power of social media and what he's done to reduce its influence in his life, the value of being of service to others no matter how much money you make, and much more.
THANKS, CHARLAMAGNE THA GOD!
If you enjoyed this session with Charlamagne Tha God, let him know by clicking on the link below and sending him a quick shout out at Twitter:
Click here to thank Charlamagne Tha God at Twitter!
Click here to let Jordan know about your number one takeaway from this episode!
And if you want us to answer your questions on one of our upcoming weekly Feedback Friday episodes, drop us a line at friday@jordanharbinger.com.
Resources from This Episode:
Download Worksheet for Turning the Tables on Fear and Anxiety

/wp-content/uploads/2019/03/Worksheet-for-Charlamagne-Tha-God-_-Turning-the-Tables-on-Fear-and-Anxiety-Episode-171.pdf