Reading Time:
4
minutes
Chris Fenton (@TheDragonFeeder) is an expert on China's influence over Hollywood and how the Chinese government pressures American movie studios into creating soft power propaganda. He is the author of Feeding the Dragon: Inside the Trillion-Dollar Dilemma Facing Hollywood, the NBA, and American Business.
What We Discuss with Chris Fenton:
How China exerts influence over the Hollywood movie industry.
The strategies that are used to make movies and commercials relevant to the Chinese public — and ensure they're pushing the Chinese government's political agenda.
How international film edits differ from Chinese film edits.
What the Chinese government does to punish Hollywood studios that won't play ball.
Why leverage doesn't have to be a one-way street, and how Hollywood can push back against Chinese politics.
And much more…
Like this show? Please leave us a review here — even one sentence helps! Consider including your Twitter handle so we can thank you personally!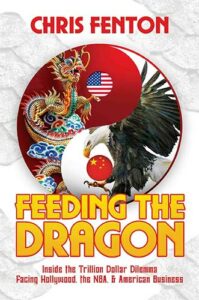 As we've explored on this show many times, the Chinese Communist Party that runs China has a very specific way of doing things, and when entering into any agreement with the CCP, it's important to understand that concessions will likely need to be made to align with its way of doing things. Cross these expectations and you can expect the retribution to be swift and everlasting, as today's guest, Chris Fenton, author of Feeding the Dragon: Inside the Trillion-Dollar Dilemma Facing Hollywood, the NBA, and American Business, has discovered.
On this episode, Chris joins us to discuss how Hollywood often kowtows to the will of the CCP in order to gain access to the box office receipts of 1.4 billion people (and his own regrettable role in greenlighting concessions as the former head of DMG Entertainment's motion picture group), the sorts of things that get red-flagged by the CCP's eagle-eyed censors, instances when careers and partnerships have been ruined for not complying with CCP demands, and how Hollywood can push back against the CCP's draconian political plays. Listen, learn, and enjoy!
Please Scroll Down for Featured Resources and Transcript!
Please note that some of the links on this page (books, movies, music, etc.) lead to affiliate programs for which The Jordan Harbinger Show receives compensation. It's just one of the ways we keep the lights on around here. Thank you for your support!
Sign up for Six-Minute Networking — our free networking and relationship development mini course — at jordanharbinger.com/course!
This Episode Is Sponsored By:
Did you hear our conversation with Desmond Shum, the former CCP insider and former husband of disappeared Chinese billionaire "Whitney" Duan Weihong? Catch up with episode 684: Desmond Shum | Wealth, Power, Corruption, and Vengeance in China here!
Thanks, Chris Fenton!
If you enjoyed this session with Chris Fenton, let him know by clicking on the link below and sending him a quick shout out at Twitter:
Click here to thank Chris Fenton at Twitter!
Click here to let Jordan know about your number one takeaway from this episode!
And if you want us to answer your questions on one of our upcoming weekly Feedback Friday episodes, drop us a line at friday@jordanharbinger.com.
Resources from This Episode: