Reading Time:
4
minutes
Peter Zeihan (@peterzeihan) is a geopolitical strategist, founder of the consulting firm Zeihan on Geopolitics, and author of The Absent Superpower, The Accidental Superpower, Disunited Nations, and The End of the World is Just the Beginning: Mapping the Collapse of Globalization.
What We Discuss with Peter Zeihan:
How advancements in technology and global trade have led to a world where virtually everything we could want or need is available on tap.
What the role of the United States has been in creating such a world, and why it seems to be rapidly losing interest in maintaining this role.
What would happen if this interconnected world were to suddenly become disconnected — and the nations of the world had to become self-sufficient and produce their own goods, food, and energy.
How only a small percentage of the world's countries could successfully adapt to such a disruption, and what this would mean for the majority of the global population.
What the aftermath of this social upheaval might look like, and how we can be best prepared to emerge from the chaos intact.
And much more…
Like this show? Please leave us a review here — even one sentence helps! Consider including your Twitter handle so we can thank you personally!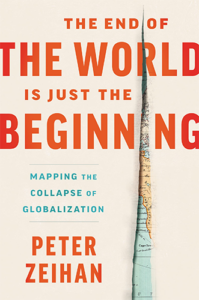 You don't have to buy a ticket to Disneyland to discover that it's a small world (after all). In the 21st century, you can go practically anywhere without giving up the comforts of home, and you can enjoy access to goods and services from around the globe without leaving the house. But what if this level of convenience that we take for granted were to suddenly disappear? What would the world look like if supply chains that sustain the way of life we've come to expect were severed, and we were all left to fend for ourselves?
On this episode, we're rejoined by Peter Zeihan, geopolitical strategist and author of The End of the World is Just the Beginning: Mapping the Collapse of Globalization, to discuss the repercussions of big changes to the status quo currently unfolding on the world stage. Here, we explore how this world came to be, the factors that contribute to its instability, and what chaos will ensue — more likely when rather than if — it all comes tumbling down. Listen, learn, and enjoy!
Please Scroll Down for Featured Resources and Transcript!
Please note that some of the links on this page (books, movies, music, etc.) lead to affiliate programs for which The Jordan Harbinger Show receives compensation. It's just one of the ways we keep the lights on around here. Thank you for your support!
Sign up for Six-Minute Networking — our free networking and relationship development mini course — at jordanharbinger.com/course!
This Episode Is Sponsored By:
If you want to hear the last time Peter Zeihan was on the show, be sure to check out episode 640: Peter Zeihan | Why the World Should Care About Ukraine!
Thanks, Peter Zeihan!
If you enjoyed this session with Peter Zeihan, let him know by clicking on the link below and sending him a quick shout out at Twitter:
Click here to thank Peter Zeihan at Twitter!
Click here to let Jordan know about your number one takeaway from this episode!
And if you want us to answer your questions on one of our upcoming weekly Feedback Friday episodes, drop us a line at friday@jordanharbinger.com.
Resources from This Episode: