Reading Time:
5
minutes
Peter Zeihan (@PeterZeihan) is a geopolitical strategist and author of The Absent Superpower, The Accidental Superpower, Disunited Nations, and the upcoming The End of the World is Just the Beginning: Mapping the Collapse of Globalization.
What We Discuss with Peter Zeihan:
How did the Russian invasion of Ukraine become a "now or never" scenario for Putin?
Even if Russia "wins" this conflict by sheer numbers, how difficult will it be to maintain control of Ukraine — and what can we expect Putin's next move to be?
What the US and its NATO allies are doing to keep the desperation of a nuclear confrontation at bay.
Why Peter believes Putin's ruthless pruning of threats to his personal power — leaving no competent next-generation successors — will ensure he's the last president of the Russian Federation as we know it.
Are China's designs on Taiwan likely to be deterred by the difficulty faced by Russia's forces in Ukraine?
And much more…
Like this show? Please leave us a review here — even one sentence helps! Consider including your Twitter handle so we can thank you personally!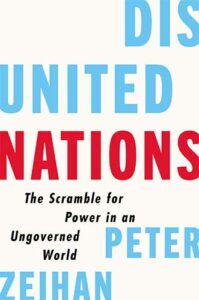 The Vladimir Putin-led invasion of Ukraine has been an ominous threat to the Western world for years. Now that it's fully under way and being met with stiffer Ukrainian resistance than the Russians were expecting, the reasons for Putin's continued aggression in the face of monumental losses, mounting sanctions from the rest of the world, and the unexpected solidarity of the West seem ill-advised. What does Putin see for the road ahead that we in the West do not?
On this episode, we discuss the developing situation with Peter Zeihan, a geopolitical strategist and author of The Absent Superpower, The Accidental Superpower, Disunited Nations, and the upcoming The End of the World is Just the Beginning: Mapping the Collapse of Globalization. Here, we examine how the current Russia-Ukraine conflict became a "now or never" option for Putin, the downsides for Russia if it "wins" and what we expect its next steps to be, what NATO is doing to avoid turning this into a nuclear-escalated World War III, why Putin's actions leading up to this point in time don't bode well for Russia in any scenario, and what a country like China with expansionist goals of its own might take away from Russia's hard-earned lessons. Listen, learn, and enjoy!
Please Scroll Down for Featured Resources and Transcript!
Please note that some of the links on this page (books, movies, music, etc.) lead to affiliate programs for which The Jordan Harbinger Show receives compensation. It's just one of the ways we keep the lights on around here. Thank you for your support!

Sign up for Six-Minute Networking — our free networking and relationship development mini course — at jordanharbinger.com/course!
This Episode Is Sponsored By:
Miss the show we did with award-winning cybersecurity journalist Nicole Perlroth? Catch up with episode 542: Nicole Perlroth | Who's Winning the Cyberweapons Arms Race? here!
Hosted by reporters Danny Gold and Sean Williams, Underworld is a podcast about heroes, villains, and the barely visible mafias that affect all our lives, whether we know it or not. Listen here or wherever you catch your favorite podcasts!
Thanks, Peter Zeihan!
If you enjoyed this session with Peter Zeihan, let him know by clicking on the link below and sending him a quick shout out at Twitter:
Click here to thank Peter Zeihan at Twitter!
Click here to let Jordan know about your number one takeaway from this episode!
And if you want us to answer your questions on one of our upcoming weekly Feedback Friday episodes, drop us a line at friday@jordanharbinger.com.
Resources from This Episode:
640: Peter Zeihan | Why the World Should Care About Ukraine
[00:00:00] Jordan Harbinger: Coming up next on The Jordan Harbinger Show. 
[00:00:03] Peter Zeihan: You can hand over the future of all of these peoples to us, and then we will be happy. We'll never ask for anything again. Belarus, Ukraine, Georgia, Azerbaijan, Armenia, Moldova, Romania, Bulgaria, Turkey, Czech Republic, Slovak Republic, Hungary, Poland, Estonia, Latvia, Lithuania, Sweden — and they don't get a say in this, de facto control over the lives and security policy of a total population that is double that of all of Russians combined. That's still utter unmitigated horsesh*t. We will never abide by that, neither would any of the countries in between.
[00:00:47] Jordan Harbinger: Welcome to the show. I'm Jordan Harbinger. On The Jordan Harbinger Show, we decode the stories, secrets, and skills of the world's most fascinating people. We have in-depth conversations with scientists and entrepreneurs, spies and psychologists, even the occasional Emmy-nominated comedian, former cult member, or drug trafficker. And each episode turns our guests' wisdom into practical advice that you can use to build a deeper understanding of how the world works and become a better thinker. 
[00:01:12] If you're new to the show, or you're looking for a way to tell your friends about it, we've got these episode starter packs that I'd recommend here. These are collections of our favorite episodes, organized by topic. That'll help new listeners get a taste of everything that we do here on the show — topics like persuasion and influence, disinformation and cyber warfare, China, North Korea, crime and cults, and more. Just visit jordanharbinger.com/start or take a look in your Spotify app to get started. 
[00:01:37] Today, Peter Zeihan, an author and forecaster of geopolitics. We'll discuss what the invasion of Ukraine will look like as the war progresses, how this will affect the global economy, the Russian economy, the Chinese economy, and regional economies around the world. Also, what will happen, not only to the oil supply that everyone is, of course, talking about, but also the global food supply and how this might lead to civil unrest or even conflict and regime change in the Middle East, Africa, and beyond. Also what China might do? Are they going to help Russia? And what those knock-on effects might be with respect to Russia, sanction and the greater war in Europe and beyond. Now, some of these theories may welcome to light. Others may be a swing and a miss. Wherever they land, this is a really interesting episode, especially given the timing, fascinating stuff today. I hope you dig it as much as I did. 
[00:02:25] Now, here's Peter Zeihan. 
[00:02:29] A lot of people want to know, and they're wondering why Putin is invading Ukraine. And there's a lot of, in my opinion, kind of bunk theories, like he's trying to rebuild the Soviet empire, or he's just a madman like Hitler and he wants to take over the world. What do you think about those theories? 
[00:02:44] Peter Zeihan: You need to look at the topographical map of the Russian space in Europe to get an idea of what he's after. So Russia's been invaded 50 odd times in its history, and all of the invasions have come through one of nine of what I call gateway territories that link the former Soviet space to the rest of the world. The Polish gap, the Bessarabian gap, those are two of the biggest ones and they are, unfortunately, for the Ukrainians on the far side of Ukraine from Russia. So Putin's end goal here is to plug all nine of these gaps. 
[00:03:12] Now, when the Soviet Union collapsed, the Russians went from controlling all nine to just one and bit by bit with the Kazakh conflict, the Kankarbagh, with the Georgia war, with the Crimean war, they've added bits and pieces back to plugging those gateways. And if they get Ukraine in its totality, they will have merely plugged another two. Now, that does mean that Ukraine is not the end of the story. It's just the middle of the story. There's another war after this one. 
[00:03:37] Jordan Harbinger: So he took over Crimea, that's — or annex, I should say, Crimea, that's Black Sea. We've got Odesa. It's next on his list here in Ukraine. I guess, Ukraine's access to the Black Sea, but also gives Russia sort of unfettered access to that as well. And you also mentioned the demography, a terminal demography of Russia. Can you explain what this means? Nobody's really talking about this. 
[00:03:58] Peter Zeihan: So the geography explains the why. The why now is demographics. The Russians — oh, I don't know if you've ever been to Russia. The climate is awful. 
[00:04:05] Jordan Harbinger: Mm-hmm. 
[00:04:06] Peter Zeihan: And it's very difficult in a modern society to function because you don't have rivers going the right directions. The winters are long and they're harsh. And so civilization and the way that we think of it is very expensive and they don't have any natural ways to generate capital on their own. So it's always been a very brute force approach and it took Stalin to industrialize what was then the Soviet Union, but that has a consequence. As you move people off of the farms and into cities, kids go from being free labor to just being mobile, loud, expensive pieces of furniture. And you have less of them because adults can do math.
[00:04:40] So Russia in two generations went from having seven children per family to now under two. And that was before the bottom fell out in the post-Soviet collapse. And they're now down to about 1.4. The generation that collapsed in the 1990s is now so small that when it's their turn to have kids, there's not a whole lot that can happen. So this is kind of the last year that the Russians have a large enough cadre of people in their 20s to have a draft-based military. You wait any longer than this and the Russians are going to have difficulties patrolling their own internal territories, much less fighting off any external aggressor. So while no one's expecting a war in the short term of somebody invading Russia, Russians know that if they don't do this now, that no matter what the power balances are in the future, they will always be on the losing side. 
[00:05:27] Jordan Harbinger: A lot of people might question whether or not that sort of thing matters in a world of missiles and airpower, you know, like who cares if you've got mountains on one side if you've got people flying ICBMs and bombers overhead. 
[00:05:39] Peter Zeihan: That is absolutely spoken as an American.
[00:05:41] Jordan Harbinger: Yeah. 
[00:05:41] Peter Zeihan: We basically have a hemisphere to ourselves. I mean, our best friends are the Canadians to the north. Our most integrated economy neighbor is Mexico, now, our largest trading partner, or second-largest demographic partner. Russia's never been like that. Russia borders a dozen different countries, all of which have taken a crack at Russia at some point in the past. And high hypersonics sound great until you realize it, unless you put a nuke on the end of that, all you've done is blown up a building and it's a very expensive way to blow up a building.
[00:06:08] So hypersonics really serve very little purpose in a conventional war. Jets do, and Russia's military perplexes that. When you've got a large chunk of territory and you expect to be the defender you have of bottomless supplies of cheap disposable jets. And to this point, there's no one on their borders who can match that. That the Germans are no slacks, the Swedes always punch above their weight. The Poles have a historical grudge to bear. The Iranians and the Turks have never been Russian friends. The Chinese had almost gotten a nuclear war with the Japanese in the past, and the Russians are still smarty over their war with Tokyo back in 1905.
[00:06:44] So from the Russian point of view, there is horizon that is safe and the hypersonics just aren't the weapon systems to balance that. The only reason that the Russians have done hypersonics is their logic is if it works, then we have the ability to strike the North American continent in a very short period of time. I would argue though that what we've seen in the Russian systems does not look all that promising. For no other reason that either the Trump or the Biden administration hasn't pushed for a new round of nuclear arms talks. Because as soon as they started working on hypersonics, we started working on hypersonics.
[00:07:16] And that was a program here that we shelved in the '70s. So it was very easy for us to get that back up and running again, whereas they were doing it from scratch. And if something is going to change the strategic balance that extremely and the Russians know they can't keep up in the financial fight, you know, they're going to be screaming for arms control because that's the only way they can achieve parody. 
[00:07:35] Jordan Harbinger: So hypersonics are — what? Missiles that travel faster than the speed of sound. Is that what we're talking about? 
[00:07:40] Peter Zeihan: As a rule, in most nomenclature, faster than Mach 5? So the idea is they have an Intercontinental launch and then they glide down and then they're following the curvature of the earth to the point that it's very difficult to track them. And so they make the entire trip to the United States in like 30 minutes or less. 
[00:07:56] Jordan Harbinger: Oh, okay. Because I was going to say, it sounds like pretty slow for a missile to go — what? The speed of sound is 700 miles an hour or something like that. I don't know. 
[00:08:03] Peter Zeihan: Loads faster than that. 
[00:08:04] Jordan Harbinger: Okay. That makes way more sense. Wow. 30 minutes from Russia to the US is, that sounds like something that's really hard to shoot out of the sky— 
[00:08:12] Peter Zeihan: Block. 
[00:08:13] Jordan Harbinger: Or block, yeah. 
[00:08:14] Peter Zeihan: Yeah. 
[00:08:14] Jordan Harbinger: Yikes. 
[00:08:15] Peter Zeihan: You're talking about needing to fire your interceptor before you see the missile. That's the whole idea of it. 
[00:08:19] Jordan Harbinger: Wow. Yeah. I don't know if this plays any role or how much you know about this, but a lot of alcoholism, a lot of substance abuse, like many countries have this, but in Russia, it's apparently even more intense, you know, by all accounts. And then, they didn't really invest in their education. You've spoken about this, right? The military and their general education sector sort of stopped in the years after I was born, and I'm 42. 
[00:08:42] Peter Zeihan: You didn't quite miss it. You're really close though. Let's start with health. The Russians, I don't want to say they're all alcoholics or anything like that.
[00:08:48] Jordan Harbinger: No. 
[00:08:48] Peter Zeihan: But you can buy shots of vodka in the subway to keep you warm on a winter morning. 
[00:08:52] Jordan Harbinger: Wow. 
[00:08:52] Peter Zeihan: From a little old lady, that's just right there at the door. 
[00:08:55] Jordan Harbinger: Okay. 
[00:08:55] Peter Zeihan: The idea that vodka solves all harms is definitely ingrained into the society in a long winter, low sun climate. Like Russia, there are not a huge amount of vegetables and fruits and their diet, a lot of saturated fats and a lot of heroin in per capita terms. Russia is probably the second most addicted country in the world. And because the bottom fell out of the healthcare system, post-Soviet, they also have the highest tuberculosis rates in the world, probably one in four Russians carry the TB bacteria. 
[00:09:23] Jordan Harbinger: Whoa. 
[00:09:23] Peter Zeihan: And Bacillus form. And it's not the TB that we know here in the United States. It is multi-drug resistance. So you're talking about needing two years of antibiotics at the cost of several thousand dollars a person to get off of it. And they just don't have the income for that. HIV, they used to be one of the most infected countries in the world, and then they stopped collecting data. So we haven't had a good update on that in 15 years, but at that time it looked like the people of reproductive age, upwards, a fifth of the population may have been exposed, but we really just don't know. 
[00:09:54] Education in the 1980s, especially after 1983, the Russians were facing a simultaneous strategic and financial crunch. And the only way they could make the strategic picture work was by having some sort of peace with the United States. They had outspent themselves for 30 years. And so they were flat broke. And because you don't just go from, "That is my ideological foe. That's the country that's been threatening me with nuclear weapons for 50 years," to, "Yeah, we can talk that." You don't do that in a year. It took two premieres of old age before they could finally make that offer. So in the meantime, they just tried to spend their way out of their strategic embargo and it didn't work. It bankrupted them, and so they had to figure out where to cut.
[00:10:33] Well, they couldn't cut the military because they weren't really ready to make peace. They couldn't cut the nuclear facilities because they weren't ready to make peace. They couldn't cut their oil and natural gas production because that was the only source of income. So they cut education. In Russia, the educational system is different from here. So here you go to high school, you go to college, maybe you go to grad school, you then go to the workforce. And you know, you're earning from day one, hopefully. 
[00:10:55] Jordan Harbinger: Yeah. You picked up a couple of hundred grand worth of debt along the way, but whatever— 
[00:10:58] Peter Zeihan: Fair enough.
[00:10:58] Jordan Harbinger: That's beyond, yeah. 
[00:10:59] Peter Zeihan: Fair enough. But in Russia, there was a technical training that was done in their high schools that is not done in the United States as a rule. And then you become an apprentice and you'll have an apprenticeship for four or five, six years before you go on and get your grown-up job of being an accountant or an engineer or whatever it happened to be. Well, the high school technical training collapsed around 1985. That's when all these cuts happened, just as Gorbachev was coming to power, which meant that there was no one that could be taken as an apprentice right out of high school. You would have to train them up, additionally. And so the labor force got very thin and the educational system was never repaired. In the post-Soviet collapse where pretty much, everything was canceled. 
[00:11:38] And you fast forward to now, and the youngest group of people who have had that technical training and had a good apprenticeship and actually had a real adult job, you know, they're in their late 50s. And it's far too late at this point to regenerate that. They've tried a couple of times with hiccups here and there. It's never really stuck because it was never for more than a small sub-sector, like software coding or a very specific group of people like friends of Putin's kids. 
[00:12:02] And as long as that's the situation, you know, you're not getting millions of new workers that are skilled that you need every single year. Two million workers also moved out in the aftermath of the Soviet collapse. They were all young and they were all skilled. And we've probably had about a quarter-million Russians flee so far during the Ukraine war, which again were young and skilled. 
[00:12:22] Jordan Harbinger: Wow. 
[00:12:22] Peter Zeihan: And they were absolutely irreplaceable. So you fast forward just a year three, and we're talking about the Russians having to make some very real choices about what to let drop. Oil, natural gas, food production, the military component, the strategic missile forces, they can't keep all of these things up and running. And I don't want to overanalyze this because we just don't have very good information or only three of the war. 
[00:12:46] Jordan Harbinger: Right. 
[00:12:47] Peter Zeihan: There's a case to be made that there are military commanders are something they decided to let drop. In which case, that was probably the wrong thing at this time, but we've seen a rocky level of military coordination and logistics in the war so far. It's abysmal, it's underperformed what every analyst I have spoken with has ever guessed the Russians were capable of. 
[00:13:08] Jordan Harbinger: Yeah, it doesn't look so good. And I'm kind of aware that watching Western news sources and even European, not just American news sources, there's probably a fair amount of bias towards, we want to cheer for the underdog and things like that. And we want it to look like Ukraine is doing well. 
[00:13:23] Peter Zeihan: Certainly. 
[00:13:24] Jordan Harbinger: But it's really hard to find something that is contra to that narrative. That's not straight off of RT or from like a Kremlin source directly. 
[00:13:32] Peter Zeihan: Trust your instincts on that. I have no doubt that there's some selective reporting conscious or unconscious going on. No argument on there, but the point is Kharkiv is still there. Mariupol is still there. They've been under shelling for 20 days. There's been a dozen assaults on Kyiv. All of them have been repulsed, but the one for me was that 40-mile long convoy. It stalled a day in because it ran out of gas. And then two days later, the Russian troops abandoned it and walked back to Belarus because they ran out of food. That should not happen to the tip of your spear. 
[00:14:02] Jordan Harbinger: Yeah, to me, it looks like, and this is wild speculation. How do you not know that you don't have enough gas or food? I mean, you have to know going into it or somebody, but maybe that person was the person that sold the gas and the food and went, let's just play this one by ear.
[00:14:16] Peter Zeihan: There's a large history of corruption throughout the Russian system, the military included, but we thought — and when I say we, I mean, everyone who's ever studied Russian in the last 30 years. We thought they learned all those lessons after the Second Chechen War. Because by the end of the Second Chechen War in 2001, they weren't doing this anymore, but here we are 20 years later and despite a couple of significant international deployments and all of a sudden we're back in 1993.
[00:14:40] Jordan Harbinger: Yeah, to me, it doesn't quite make sense. And there's a lot of different theories like, oh, well, they didn't really want to fight, so they're headed back. Or there's a lot of people that are ideologically opposed to this. So they're not going to fight or they're self-sabotaging. But if you've got a 40-mile convoy of vehicles, even if let's say a quarter of these people are self-sabotaging and don't want to fight, there's 75 percent of your forces is still left, which is our already much larger than anything Ukraine could muster. What happened to them? Where did they go? 
[00:15:05] Peter Zeihan: Well, if the number is 25 percent, that's more than enough because if you're all advancing down with single highway, three or four vehicles blocking the convoy, everybody just has to stop. The very approach to this is not a problem necessarily with logistics. It shows a level of incompetence on strategic thinking. You're talking a thousand plus vehicles in a single file line, 40 miles long. I'm sorry. That's idiotic. And here we are. So it's looking like a catastrophic failure to perform across the entire system. 
[00:15:34] Jordan Harbinger: I know that Russia has like a whole division of the army. That's essentially, I guess, a rail core. What'd you call it where they build tracks? And it's temporary, but they build them fast. The whole point is they want to be able to run trains in because that's what they've been doing for a hundred years is building trains. So they can run in huge amounts of tanks. They don't have to drive them on a highway and run out of gas. What happened to those? 
[00:15:55] Peter Zeihan: Right. But you have to secure the land first. 
[00:15:57] Jordan Harbinger: Right. 
[00:15:58] Peter Zeihan: Because if you get one stick of dynamite under one railroad tide and you set it off at the right moment, the trading pile up, that happens because of that is absolutely epic. So you only do that once you've actually pacified the countryside. And I would argue in the case of Ukraine, that's not going to happen. 
[00:16:15] Jordan Harbinger: Yeah, like ever. 
[00:16:16] Peter Zeihan: The Russians are going to still win despite all of this. They outnumber the Ukrainians. They've got better equipment, they've got shorter supply lines. They don't have to worry about controlling their borders in order to keep the resources coming. They can suck up a huge amount of casualties and Russian society will not rebel. Remember, it wasn't until you had almost a million dead in World War I, that we had any inkling of political problems back in Russia. We're nowhere close to that. And a lot of Russians agree with what Putin is doing either for nationalist regions or for strategic reasons.
[00:16:45] So these reports that we do see about people fleeing Russia, they are true. There are dissidents, they are not going to win so far. All of the protests combined, still talking less than one-10th of one percent of the population. That doesn't move the needle of a dictatorship. 
[00:16:59] Jordan Harbinger: Right. Yeah. That's a good point. 
[00:17:01] Peter Zeihan: And so Russia's going to win this. And then they're going to have to pacify the country. And the question is what level of internal violence and sabotage are they willing to tolerate in order to move on to the next stage of the war. And that's where things get interesting from the NATO point of view. 
[00:17:16] Jordan Harbinger: Yeah. 
[00:17:16] Peter Zeihan: Because if there's one thing that was coloring American decision making on all things, Russian it's that they were maybe not a pure force, but a near-pure force. And we would have to be very careful how we operate it. We would have to be at the top of our game if we weren't going to have horrendous casualties. All of a sudden that logic has gone out the window. And we now know that if American forces and Russian forces meet on the field of battle, the Russian forces will be obliterated.
[00:17:38] And if that happens, the only choice the Russians have is between a humiliating strategic withdrawal to do whatever the Americans say or up the ante with news. And so from the American, from the White House, from the DODs point of view, this has gotten a lot scarier than we ever thought it would be. Because all of a sudden, if we can't keep Russia locked down in Ukraine, if we can't believe them there until they die, if we can't make it out of their reach so that they can then go on and do the next series of targets, then there will be a direct American-Russian confrontation that we can't avoid because these are NATO allies. 
[00:18:16] So the NATO strategy, the White House strategy now is to ship every piece of military equipment that we can, that doesn't require a static physical resupply or launching point like a plane. So drones are good. Anti-tank missiles are good. Stingers are good. Anything like that's great, send it all. Because as long as Russia is bogged down on a blood bath in Ukraine, they can't go to the next step. And that's where the American troops are. We have to prevent that from happening. 
[00:18:41] Jordan Harbinger: Interesting. Yeah. I think you wrote something and I'll paraphrase here, so correct me if I mess it up. But perhaps the biggest change in recent years is this, "The United States now has an interest in a Russian assault because it would be Russia's last war." We talked about the demographics. "Demographics have told us for 30 years that the United States will not only outlive Russia but do so easily. The question has always been how to manage Russia's decline with an eye towards avoiding gross destruction. A Russian-Ukrainian war would keep the bulk of the Russian army bottled up in an occupation that would be cool, parts, desperate and narcissistic and protracted until such a time that Russia's terminal demography," the aging sort of population we talked about, "transforms that army into a powerless husk and all that would transpire on a patch of territory in which the United States has minimal strategic interests," Ukraine, essentially. And the reason is because we don't— I hate saying it like this, cuz it's so cold and callous, but here we are, we don't, quote-unquote, "need Ukraine," but we also are not tied to defending it. You know, it's not Poland, it's not Latvia, Lithuania or a NATO country where we have to honor article five. It's almost like if Russia puts itself through this meat grinder and we keep that meat grinder powered on for another five years or three, there's nothing left. There will be nothing left of Russia's armed forces.
[00:19:55] Peter Zeihan: That logic hasn't changed. The only thing that has changed is that because the Russians now appear so weak, the degree of desperation that might exist in their strategic thinking is something that we really hadn't taken into account earlier. 
[00:20:07] Jordan Harbinger: What about the leadership cadre of Russia? You mentioned something interesting, which is, I think the United States has countless, I will say, politicians or people that could go into politics. 
[00:20:16] Peter Zeihan: More than we need. 
[00:20:17] Jordan Harbinger: Yeah, certainly more than we need, certainly more than anybody ever asked for. But Russia has the opposite problem where you're counting three-digit number of people that could do this. Why? 
[00:20:29] Peter Zeihan: It's the same basic concept as what's going on with the military and the economy. The last group of people who have the full suite of training were trained in the mid-1980s. In the case of the leadership specifically, we're talking about all people from the KGBs. When Yuri Andropov took over in the early 1980s, it was bit of an internal coup. In that we had one faction that used to be part of the government, take over the government, because they thought that the previous two rulers, Khrushchev and Brezhnev had mismanaged the system so badly that they really needed adults in the room. People who had the full picture of everything that was going on and in a highly sensor totalitarian dictatorship, that meant the intelligent services. So the KGB generated Yuri Andropov, Chernenko, and ultimately Gorbachev, all from the KGB, to run the system. 
[00:21:13] Well, these people stayed in — I don't even call it the background, they weren't officially in charge, but they were always largely present in the 1990s. And when Yeltsin took ill, they're the ones who took over from Yeltsin. So we had a quick revolution, lasted a few years. Then Yeltsin got dropped because of health was atrocious. And the KGB successor, the FSB has been in charge of ever since now, Putin is obviously from that crowd, but so has everyone around him. Alexey Miller of Gazprom, probably the best example, but the chiefs of all of the major companies, they're called the silovarchs, the security oligarchs that have taken over chunks of the Russian economy in large bites ever since 1999. They are all personally beholden to Putin. They are all from that inner circle and they are all over 50. There is not a generation waiting in the wings that has been trained. Putin has been very effective at pruning any potential challengers to his rule. So he will be the last capable, competent president of the Russian Federation. He's already 70. 
[00:22:17] Jordan Harbinger: Yikes. There's like no succession plan, theoretically— 
[00:22:20] Peter Zeihan: None. 
[00:22:20] Jordan Harbinger: —that looks credible. 
[00:22:22] Peter Zeihan: Every once in a while we have a faction within that group that kind of rises to prominence because they want to succeed. And as soon as Putin thinks they might get closely to succeed him, he smashes them. And so right now, we haven't had anybody like that for a few years. 
[00:22:33] Jordan Harbinger: Yeah. They tie themselves to a chair and fallen a pool— 
[00:22:35] Peter Zeihan: Fallen to a pool. 
[00:22:36] Jordan Harbinger: Yeah, exactly. It's really interesting to see this. I mean, even North Korea has been like, "Hey, I should probably come up with something for when I croak," and here we are with Putin really — what's the plan? Really, he has to have some plan, right? Or not? 
[00:22:51] Peter Zeihan: I mean, if you look at the demographics, it is perfectly reasonable to assume that Putin was going to be the last leader of Russia anyway. So if you're just staying in powered to be the person who will turn the lights off, I've heard dumber things.
[00:23:04] Jordan Harbinger: I guess, here we are. So what happens to Russia after Putin? I mean, even if he's the most successful tyrant and ends up taking over all the countries he's aiming at, and we'll talk about that in a second, eventually time is going to catch up with the guy. So what happens to Russia after that, in fighting? 
[00:23:19] Peter Zeihan: The best-case scenario is we get something a little bit, like what happened after Mao left in China, like a gang of four from the different factions who rules as a committee and then one of the four of the other three, and then he's in charge. That's kind of the best-case scenario now. I think it'd be more likely that Putin has so removed every one of leadership talent, that they're probably going to have more of an organizational collapse. Igor Sechin of Rosneft, the state oil company, is probably the most capable who's left. But everyone else of the 150 KGB members that are left. So thoroughly hate him in all things that it's really doubtful, that he'd be able to rally anyone to his flag. So there really is no one. 
[00:24:02] Jordan Harbinger: He doesn't seem super adept at picking leadership, or maybe I'm looking at the wrong criteria. But when I look at dip sh*ts like Ramzan Kadyrov, who runs Chechnya, I'm just seeing the dumb guy at the gym who starts fights with everyone and has no career outside of lifting weights, running a supposedly separate country. And I'm just thinking, this is probably the last pick for a kickball guy, who's so insecure — it's like he's on Twitter, starting beef with Elon Musk. What the hell is going on? And you're picking this guy in a leadership role. 
[00:24:30] Peter Zeihan: That also sounds a lot like an American position. We look at leadership different than the Russians too. The strong man is who rules Russia. It always has been. The terrain does not lead to regional economics that are separate. So like, you know, here, Texas, New York, California, Florida, Minnesota, these are all discreet economic entities. And so we have a federal system where each of the states chooses their own leadership and then submits their leadership choices at a representative level to Washington that would never work in the Russian Federation. In the Federation, you've got Moscow, you've got St. Petersburg, and then you have all these secondary cities that are dependent upon some degree of link to one of those two. And all of them have been conquered by Russia. Over the course of their existence, every single one of them. Russia is not a Republic. It's certainly not a democracy. It's a multiethnic empire. And with that sort of political and economic footing, someone's in charge. And if someone's not in charge, no one's in charge. And the future of Russia, in my opinion, is probably going towards the latter. But for now, it means that you have a strong man in the center who appoint regional strongmen, like Kadyrov to look after things for him. This is not about growth, this is not jobs, this is not about popularity. This is about control.
[00:25:46] Jordan Harbinger: That makes a lot more sense. All my logic has turned on its head when I look at this guy, right? It just doesn't make any sense, but I guess if you've got somebody else credibly running the secret police and the secret service and monitoring this guy, and all he's supposed to do is smash dissidents with a hand fist, then I guess he's probably the right guy for the job, right?
[00:26:01] Peter Zeihan: Yeah. And from Putin's point of view, choosing Kadyrov's father, which obviously, he was originally appointed back into 2001 as a successor was smart because he turned one faction of the Chechens against the other Chechen factions. And together with the Russian military, they were able to break them all. And so that faction was rewarded with control over a personal fight, very medieval, very middle ages, very feudalistic, of course, as is, will always happen to fathers. They will pass on in time. Kadyrov Sr was assassinated. And so Kadyrov Jr, the current guy took over. And yes, this guy is dumb as a bag of snakes. There's no argument there, but he is proven relentlessly capable of keeping Chechnya in line. So Chechnya is no longer functionally part of the Russian Federation from an economic point of view, but the independence push was squelched and Kadyrov regularly participates with Moscow when it comes to security issues, specifically, Putin relies upon the Chechnya to assassinate people in Russian who he finds politically inconvenient. 
[00:27:01] Jordan Harbinger: You're listening to The Jordan Harbinger Show with our guest Peter Zeihan. We'll be right back. 
[00:27:06] This episode is sponsored in part by LMNT. I'm sure you know by now how important it is to drink plenty of water, but did you know that replenishing your electrolytes is just as important. Whether you're working out or simply going on a walk, sweat-inducing activities, not only make you lose water, but of course, electrolytes as well. And when it's too low, you get headaches, muscle cramps, fatigue, weakness. You've been there. LMNT helps keep me hydrated through my rigorous workouts, but it's also perfectly suited to folks following a keto, low-carb or paleo diet. And what I like best is it's got clean ingredients, not too salty, and it's not overpowered by sweetness. LMNT is so sure you'll love their product and come back for more. They are offering you a free LMNT sample pack. That's eight single-serving packets free. Just cover the cost of shipping five bucks for US customers. 
[00:27:46] Jen Harbinger: Get yours at DrinkLMNT.com/jordan. This deal isn't available on their regular website. You must go to D-R-I-N-K-L-M-N-T.com/jordan. LMNT offers no questions asked refunds. Try it, totally risk-free. If you don't like it, share it with a salty friend, and they'll give your money back. No questions asked, you have nothing to lose. 
[00:28:05] Jordan Harbinger: This episode is also sponsored by Cuts Clothing. Are you tired of deciding what to wear for the day? The fewer decisions you have to make every day on rudimentary tasks, like choosing your clothing, the more brainpower you have for more important decisions, like what episode of The Jordan Harbinger Show to listen to next. Cuts Clothing has perfected men's shirts, so you can throw one on look great without ever thinking twice about it. And not all shirts are created equal. Cuts shirts have a great fit. They feel really comfortable on the body. Cuts makes my favorite shirts and Henley's not only because it's insanely soft, but also because it's got that perfect thickness. I also love that Cuts Clothing all have a simple, modern design, great color options, and they don't have weird distracting logos all over them. And when I say it's insanely soft, I definitely mean that. It's made of superior fabric that is patented to not shrink, peel, or fade over time in the wash. Why isn't everything made out of that?
[00:28:49] Jen Harbinger: Join hundreds of thousands of guys who have made the simple decision to elevate their wardrobe with Cuts. Get 15 percent off your first order by going to cutsclothing.com/jordan. That's C-U-T-S-clothing.com/jordan for 15 percent off. The only shirt worth wearing. 
[00:29:05] Jordan Harbinger: If you're wondering how I manage to book all these great authors, thinkers, and creators every single week, it's because of my network. And I'm teaching you how to build your network for free over at jordanharbinger.com/course. This course is about improving your networking and connection skills and inspiring others to develop a personal and professional relationship with you. It'll make you a better networker, a better connector. And a better thinker. That's jordanharbinger.com/course. And most of the guests you hear on the show subscribe and contribute to this course. Come join us, you'll be in smart company where you belong. 
[00:29:35] Now, back to Peter Zeihan.
[00:29:38] I've read a bunch of books about Putin and whenever somebody gets stabbed within view of the Kremlin and all the cameras that are for security happened to be off, it just has Chechen marks all over it. Or what was the theater where a bunch of Chechens rolled in with explosives and— 
[00:29:51] Peter Zeihan: Well that was pre-Kadyrov. 
[00:29:53] Jordan Harbinger: Pre-Kadyrov, okay. 
[00:29:53] Peter Zeihan: Yeah. That was back in 2000. The conspiracy theory that if you're going to pay attention, when you should pay attention to, is that back in 1999, a couple of apartment blocks in Moscow were blown up. No one in Chechnya claimed credit for it. And the Chechena had kind of screened all of their bombings and successes from the rooftops for every other tech they'd ever done, but Putin blamed the Chechens for them and used that to whip the up Russian public opinion into a frenzy and launched the second Chechen war.
[00:30:20] So did Putin do it to its own people? Considering his ethical standards, I don't think it should be ruled out, but there's certainly no proof one way or the other. 
[00:30:28] Jordan Harbinger: Yeah, that was the one, I think, where the police had investigated this and they found that the explosives belonged to some training regimen of domestic security, and then they just immediately stopped investigating because it looked like they almost caught themselves.
[00:30:41] Peter Zeihan: It was wrapped up very quickly. 
[00:30:43] Jordan Harbinger: Yeah. 
[00:30:43] Peter Zeihan: Yeah. If you want to dig for something suspicious, I would recommend digging there. 
[00:30:46] Jordan Harbinger: Yeah. Yeah. That is, again, sort of conspiracy theory. I don't usually dabble in that stuff, but you know, it's hard not to when you're talking about Putin and Russia. It's really, yeah, because sometimes it's like, well, there really is a conspiracy look at that.
[00:30:57] So how screwed is Russia, even if they win in Ukraine, right? They got terminal demography, but how do they get out of this? Are they able to do that? 
[00:31:05] Peter Zeihan: Ukraine's again, just — this is the middle war. So, you know— 
[00:31:08] Jordan Harbinger: Yeah. 
[00:31:09] Peter Zeihan: —Georgia, Crimea, Kazakhstan. These are all in kind of in their back pocket now. Even control of all of you, Ukraine doesn't solve the problem on the Western front. They would an addition need Moldova, the Northeastern sliver of Romania. That's part of the best Arabian gap. That's how the Turks have often invaded. They would also need Eastern Poland right up into downtown Warsaw on the Vistula River. That's the Polish gap. That's where the Nazis like to invade it, and then they would need Estonia, Latvia, and Lithuania in totality, because that's how the Swedes have gotten it in past.
[00:31:39] So you're talking about six more countries, five, which are members of NATO, obviously that's where things get very dicey. I mean, they can probably capture Moldova in a long weekend. Although looking at the military effectiveness so far, maybe I should extend that up to a month. 
[00:31:51] Jordan Harbinger: Yeah. Spring break, at least.
[00:31:52] Peter Zeihan: Yeah. 
[00:31:52] Jordan Harbinger: Yeah. 
[00:31:53] Peter Zeihan: But for the other five, if Ukraine is able to keep the fire lit, then the Russians aren't going to have enough conventional forces to do this. And the only thing worse than having a Russia, that didn't try to do this and just kind of shrivels in time would be a Russia that leap forward, launched the war, paid all the prices for the war and still remains strategically unmoored.
[00:32:16] So there's a point we're going to get to in a few months, probably a later this year, certainly next year where the Russians will have digested Ukraine and Moldova to their satisfaction, their plan, and then they'll have that clash with NATO. And that's when the nukes become a very real question. 
[00:32:34] Jordan Harbinger: Right. Because Russia can expand or Russia can die — Catherine the Great quote where they have to control all these borders. But yeah, so what you're saying, essentially, once they get to those NATO borders, they still need to take those NATO countries in order to plug those gaps. And they're obviously not able to do that conventionally. So they have to resort to nuclear weapons. 
[00:32:54] Peter Zeihan: Right. Think about what the Russians did in Crimea. They started moving in troops. It was apparent that the populations were crucified enough that they were not going to resist. And when talk in the west started coming around about, you know, we're going to back dissident forces like say the Crimean Tatars who are basically Turkish, the Russians snared that will mean an end to all energy exports from Russia into Europe.
[00:33:14] And it was pointed by Angela Merkel in one of her more ignoble moments said, "Crimea is Russia's. We will have a level of sanctions that will not approach anything that causes economic pain to either side. And we are going to call it there." That is no longer an option. So strategic weapons are now on the table for that threat.
[00:33:32] Jordan Harbinger: Yeah, interesting. There's irony there with Germany, appeasing, somebody who is slightly reminiscent of somebody who also, well, Austrian technically, but who had a similar, but slightly more eastward plan. 
[00:33:45] Peter Zeihan: Well, German and Russian history is always about trying to find ways to work together so they don't fight and then not, not working, so then they fight.
[00:33:51] Jordan Harbinger: Right. 
[00:33:52] Peter Zeihan: But then that doesn't work< so they try to find ways to work together. So they don't fight. This is like the ninth cycle. 
[00:33:57] Jordan Harbinger: Yeah. 
[00:33:57] Peter Zeihan: This is the back and forth and back and forth and back and forth, and that's why the countries that are between the Russians and the Germans hate history so much.
[00:34:05] Jordan Harbinger: Yikes. Yeah. That's where my family's from. And they moved. I wonder. Why something, something Paul Grimm, something, something world war, then another one. And then they went, you know, screw place, basically. Actually, it was before the Second World War, but Paul Grimm will do that to you. So can Russia occupy Ukraine?
[00:34:21] Peter Zeihan: Sure. 
[00:34:21] Jordan Harbinger: Theoretically, they can, right? But they need like their entire armed forces to do that. Correct? 
[00:34:26] Peter Zeihan: Well, Ukraine at the start, it was a country of 45 million people. We're now down to 42.5 million people. It's the biggest movement of people ever recorded in human history. 
[00:34:36] Jordan Harbinger: Wow. 
[00:34:37] Peter Zeihan: Two and a half million people in under three weeks. That's just unprecedented and we are nowhere near done because right now the fighting is only happening on less than one-fifth of Ukrainian territory. 
[00:34:46] Jordan Harbinger: Wow. Yeah. Ukraine is huge. 
[00:34:48] Peter Zeihan: Yeah. We haven't even gotten to the part of Ukraine that before three weeks ago, we considered the pro-Western part. As a rule, it's not perfect, but the river, the river that cuts the country roughly in half the general understanding was if you're west of that, you're pro-Western and you consider yourself primarily Ukrainian. And if you're east of that, you're pro-Russian and you consider yourself at least a Russian speaker. What the Russians have done in the last eight years and having this low-intensity war in Ukraine and the Donbas has changed that. 
[00:35:14] And everyone in Ukraine is now broadly considering a Ukrainian at outside of Russian TV. There's no one in Ukraine that is not resisting in some way. I mean, this is just an epic turnaround from a national identity point of view. So Russia is going to not just have to level the entire place they're going to have to continually bomb and launch programs, the length of the entire country to retain control.
[00:35:36] That's going to generate at least another 10 million refugees. And that's going to require at least a couple million Russian soldiers to occupy the place. And that's the vast bulk of the Russian military that includes their draftees. So we're not just talking about the best Russian troops, completely being locked up. We're talking about nearly all Russian troops being locked up unless the Russians issue, a state of emergency and start drafting anyone under 50, which is probably where this is going to go. 
[00:36:03] Jordan Harbinger: Wow. 
[00:36:03] Peter Zeihan: The Russian economy's in free fall anyway. So why not? 
[00:36:08] Jordan Harbinger: To have people who are, let's say 50 years old having to actually do something that requires what might approach combat. Because again, they might just be standing in a town or in front of a school guarding things, but they're going to be a target. People are going to be going after them. They're going to have no training. They're probably going to have five bullets in their pocket. Some of which have gotten wet 7,000 times over the course of the last few decades that they've existed. Right? I mean, this just sounds like a giant mess waiting to happen. That's just going to add to a body count. 
[00:36:35] Peter Zeihan: Again, from the Russian point of view, this is about national survival. 
[00:36:39] Jordan Harbinger: Right. 
[00:36:39] Peter Zeihan: And can you imagine — I mean, there's no comparison in the American historical experience for something like this. When it comes to demographic collapse, this never happened to a major power before. So, you know, the statistician in me is looking on at this fascination. It's like, okay, well, it's the only country with the worst demography than Russia is China. What happens there in a few years? Because that's not that far off that's within a decade, but Russia is going to give us some interesting signposts that we can use to evaluate other countries that are in a similar demographic decline.
[00:37:11] Jordan Harbinger: Wow. Two million troops is bigger than Afghanistan and Iraq put together. Is that true? 
[00:37:15] Peter Zeihan: Oh, we never had more than 110,000 troops in Iraq and never more than 95,000 in Afghanistan. 
[00:37:21] Jordan Harbinger: So I'm off by a factor of 20, that's par for the course of this show. So how the hell did they get out of that? The stronger relationship with China that Russia's been asking for, is that going to be significant? Or do you think China's going to say, "You're on the losing side of this. I don't really want to rock the boat. Here's a token gesture of some gasoline or whatever?" 
[00:37:39] Peter Zeihan: Well, we've got a similar problem in China that we do to Russia and that the leader has isolated themselves to the degree that they're not getting good information anymore. And Xi has done that with a cult of personality in addition. So he'll give orders to different groups of bureaucrats, of things he's once done, they'll go out and do it. And if those orders down the line clash, no one reports back up, because nobody wants Xi to be looking at them. So when the power outage, for example, happened last May in China, at 1.1 3rd of the country was experiencing really black and brownouts. It looks like Xi didn't know until September. 
[00:38:11] Jordan Harbinger: Really? 
[00:38:12] Peter Zeihan: Yeah. And we didn't get our first policy to deal with it until February. 
[00:38:17] Jordan Harbinger: Yeah. A lot of my Chinese lessons were canceled because they would say, "We don't have power." I'd say, "What about your phone? We can just do it on your phone." And they're like, "No, you don't understand. There's no power anywhere." 
[00:38:25] Peter Zeihan: Anywhere. 
[00:38:25] Jordan Harbinger: "It's not just my apartment. There's not a breaker that I got to go flip. There's no power — I'm looking out the window. It's dark. There's nothing on." 
[00:38:31] Peter Zeihan: So in a system like that, the only leader that she had face-to-face contact with since January of 2000 was Putin at the Olympics. And then Putin apparently just lied to his face and no one in Xi's inner circle or within the intelligence apparatus within the foreign ministry wanted to tell Xi, "Oh yeah, they're moving troops to the border. Oh yeah, it looks like they're going to go." They just heard what the story was from Putin. That is what Xi has been presented with. So the degree of complete policy failure, we can expect out of China should be catastrophically entertaining. And I think we're seeing that now and think with the food system and the electricity system, we're probably going to see it with the port system here really soon. 
[00:39:08] Jordan Harbinger: Entertaining is not quite the word I was looking for though. They're real people at the end of this that don't want to live there or that don't need to be living under a Mao 2.0, but I understand on what you mean. 
[00:39:18] Peter Zeihan: Well, it's too late for that, but— 
[00:39:19] Jordan Harbinger: Yeah, it is too late for that. Half my family is Chinese-Taiwanese, it's really hard to, but it's really important to separate the Russian people who are living in a hellish crap hole environment right now because of their leadership and the Chinese who are doing the same. I mean, yes, people will say, "What about America, this—?" But at the same time, like probably nobody other than Ukraine is really wishing for a huge number of dead Russians. 
[00:39:43] Peter Zeihan: Well, I would argue whenever the term, "what about" is used that you're dealing with somebody who doesn't have a good understanding of where they're coming from? That's just my two cents. 
[00:39:51] Jordan Harbinger: For sure. Whataboutism, I agree, is garbage. I'm just trying to say this isn't about wishing for dead Russians that are starving Chinese. Like we've seen that movie and it's ugly at the end of the day. 
[00:40:00] Peter Zeihan: Yeah, no argument there. The thing was we don't know what he's going to do because he doesn't know what he's going to do because he's not getting good information. So people are saying that you know, Putin is talking to the voices in his head. There's some truth to that. But for the most part, there is a cadre. They are intelligent. It's just not a lot of people. With Xi, there's no one. So predicting what the Chinese are going to do is kind of an exercise in futility.
[00:40:22] Jordan Harbinger: I see. 
[00:40:22] Peter Zeihan: There's really nothing else that the Russians can give the Chinese. The Chinese have already reverse-engineered all their weapons. The pipelines to China are already running at full capacity. The rail system is already running at full capacity. The only other way to get it more stuff would be if you loaded at a Russian Western port, say Petersburg and overseas, which is their shallow ports, they're small boats.
[00:40:44] Then somewhere at sea, you transfer the cargo from a small vessel to a larger one, sail it around Africa because you can't use Suez all the way to China. So the cost of that, the logistics of that getting around insurance companies and shipping companies, they'd have to charter everything themselves, ensure everything themselves, and running roots that are four and five times as long as all their other supply routes are. So just the volume of stuff that you might be able to increase to Beijing is just minuscule. 
[00:41:14] So all that is left from the Chinese point of view is, you know, how long is Russia a useful distraction away from people ganging up on China? Because on day one of this war, the Chinese were really, really excited. It's like, oh my god, this is going to show just how weak the West is. This is going to show how Russia can take an entire country and walk away with everything that had before. And that is just so false now. And the Chinese know that if they try something on Taiwan, they are far more vulnerable to the sanction packages that the United States is now led than the Russians are.
[00:41:46] Because at the end of the day, the Chinese still imports roughly 80 percent of their energy and 80 percent of the inputs that allow them to feed their population. So, if you do something like we've done against Russia against China, not only does the Chinese system collapse in a matter of months, they've lost 500 million people from famine within a year. And they now know that.
[00:42:06] So the nationalist chest-beating that we've been seeing more and more and more has gotten very circumspect. And they're just focusing on amplifying the Russian propaganda on Chinese news stations because they really don't know what else to do, because they're seeing 50 years of strategic planning the Russians have torched in a month. And that's got to hurt. 
[00:42:28] Jordan Harbinger: Yeah. Good Lord. The idea that China might invade Taiwan, my family's been increasingly worried about this. I've been less worried about it because you'd have to be even more crazy than crazy looking than Putin to think now's a good time to do that. Especially given that Russia can withstand some sanctions for some time — China, the last thing they want to do is torpedo their own economy. And a lot of people say, "Well, the West can't afford to sanction them," but I'm not sure. What do you think about that? 
[00:42:54] Peter Zeihan: The biggest hit that we would feel from the American side of things would be in tech manufacturing because that's all been outsourced to East Asia, but very, very painfully little of the value-added is done in China. There's much more done in the rest of the Asian countries. So I'm not suggesting that we would walk away and not feel the difference. iPhone has, for example, completely doubled, tripled, and quadrupled down. Anytime, there's been a problem with China, they put in more money, stupid will cost them the company in the end, but it's really the only company that's gone that far. For everybody else, when you're talking about electronics which are telephones, yeah, it's going to hurt, but that's the only sector. And there's nothing about the technology that is required to do that, that we can't do in the Western hemisphere with the exception of low-end semiconductors. And I'm kind of counting on Vietnam to fill that gap because they're moving up the value-added scales so quickly, so much faster than the Chinese did.
[00:43:43] But aside from that, you know, food, no, energy, no, tech, no, finance — we'd probably actually get a huge surge just like we did after the Asian financial crisis. So in most sectors, there would be disruptions, but it would be even short-term gain for the American market, but in electronics and computing manufacturing, that is where we would feel it. That's unavoidable.
[00:44:03] Jordan Harbinger: Yeah. And that's a huge sector. I mean, tech companies have global markets. I don't know what percentage or share of US GDP it is, but it's probably not small. 
[00:44:11] Peter Zeihan: It's less than two. 
[00:44:12] Jordan Harbinger: Really? I'm surprised to hear that. 
[00:44:14] Peter Zeihan: All manufacturing as a component of trade is less than two percent of GDP. Remember only about 15 percent of US GDP total is involved in international trade. 
[00:44:22] Jordan Harbinger: I did not know that. Okay, well, wow. 
[00:44:24] Peter Zeihan: Single biggest sector of that 15 percent is energy. And not necessarily imports. It's like the United States, Canada, and Mexico import and export among them. That's counted in that number. And then the next biggest part will be manufacturing again in and out of Mexico and Canada. So if you remove the NAFTA economies and if you remove energy from the math, you're really talking less than five percent of GDP for everything else combined. 
[00:44:48] Jordan Harbinger: Why didn't we outsource things to Mexico, such as the iPhone manufacturing? Why did the tech go to China? There must be a compelling reason for this. 
[00:44:56] Peter Zeihan: Sure. There's a couple of reasons. Number one, you may remember back to the Mexican-American war. We took half their territory. That's still smart. 
[00:45:03] Jordan Harbinger: Okay. 
[00:45:03] Peter Zeihan: And so there's always been this strand in Mexican political thought, which is hard to deny the Americans can't necessarily be trusted and we've not always been the best of neighbors. In the ideology, as it evolved during the cold war. That meant when the United States created the globalized order and everyone joined it in order to get to economic goodies and security protection, Mexico didn't because they still didn't trust us. So it wasn't until the tequila crisis of 1995 and the negotiation of NAFTA accords, which thank God, Canada convinced us to bring the Mexicans into that. So 1995 is kinda the magic year when the Mexicans really took it seriously and started integration. And since then they've become our largest trading partner and I'd say are fast on their way to becoming our fastest friends. That's kind of the first big piece. 
[00:45:47] The second big piece is Mexico from a topographical point of view is not like the United States. So, you know, we'll have like a regional city, let me just pick one out of the air, Des Moines. And it's surrounded by a series of suburbs. And then beyond that small town, because you know, it rains in Iowa. And so you have farms and you have townhouses and small towns. It doesn't rain in Northern Mexico, it's a desert. And so you've got a series of isolated population communities and in a pre-integration NAFTA system that made education really difficult because I mean, you might have an island of educated people, but then nothing else for hundreds of miles. That makes it really hard to do value-added. 
[00:46:25] Jordan Harbinger: When you say value-added, can you tell us what that definition is?
[00:46:28] Peter Zeihan: Sure. Like taking some sort of raw material and turning into an intermediate product or taking that intermediate product and adding value to it and include it into a larger material. So steel into wire, spark plugs into a carburetor unit. 
[00:46:41] Jordan Harbinger: Okay. Got you. 
[00:46:42] Peter Zeihan: So 1995 is really when the Mexicans started on that path. And since they didn't have the tech or the capital, it was up to Americans to come into Mexico, set up factories and leap with local Mexican workers and big wigs and produce. Now, the Mexican since then have taken it and run with it. It's one of the best modernization stories we've got, but they still are limited by those pockets of population. 
[00:47:05] And so don't have any of them that are large enough with a big enough cadre of skilled labor to do something like high-end electronics. There just isn't a national or regional history of large-scale precision manufacturing. So the US does the high-end chips. Thailand and Malaysia do the mid-level chips and China does all the low-end, but no one in North America can take that from China because we don't have the labor structure for it. Ours is too well skilled and the Mexicans are skilled differently. So I really do look to countries like Vietnam to kind of plug the gap but you don't do that in a year. 
[00:47:39] Jordan Harbinger: When we're talking about low-end semiconductors, high end I assume is like an Intel chip that's inside or an Apple M1, low end is what? Is that what's in like a TV remote? There's a semiconductor or 10 in here. 
[00:47:51] Peter Zeihan: Probably. Anything, that's part of the Internet of things is probably from a Chinese factory or facility. 
[00:47:55] Jordan Harbinger: Got you. So I did read that the US threatened to shut down China with respect to semiconductors. And there was a lot of speculation that we couldn't do that. 
[00:48:04] Peter Zeihan: Depends on how you define semiconductor.
[00:48:06] Jordan Harbinger: Right. That's what it sounds like. 
[00:48:07] Peter Zeihan: In the United States, we only make 11 percent of the world's chips by number, but we make 60 percent by value. So, if it's going into your high-end phone if it is going into a laptop or a server that is definitely an American chip, or maybe from Taiwan, South Korea, or Japan. If it's going into your car or your plane, something where it doesn't have to be nearly as small, because you've got some room to work with, that's probably out of Thailand and Malaysia. And if it's your blender, when you've pureed to a certain level of consistency, that's definitely out of China. 
[00:48:38] Jordan Harbinger: Got you. Okay. Reddit to the rescue has explained that it's really hard actually to dump firmware from a properly protected semiconductor or a microprocessor. So you can't just like rip the thing open and attach wires to it and say, "Ah, that's how this thing works. Let's make these," you can't really do it. And the firmware is almost always heavily encrypted. Hackers might be able to grab it, but then they have to grab all the new designs, which would change every six months and are doubling in power.
[00:49:06] Peter Zeihan: Well, think of it this way, too. If you've got a high-end chip. Let's say you are in China and you've got a dozen people who can break it down, hack into it, figure out how it was put together, and come up with the plans to do it. Well, that's 12 dudes. You now have to educate 250 million dudes. There's a scale issue and China does not have an education system that generates people capable of creative thought in sufficient numbers to engage in a French-style, industrial espionage economy. The French can do it because they've been doing this for a very long time and it's a sticking point in relations with everyone. 
[00:49:42] But with the Chinese that came from a low base and their education system promotes obedience and memorization. And while there are roles for that in any economy, when that is your definition of your workforce, it's just really hard to move up the value-added scale. And even if tomorrow, the Chinese invaded Taiwan conquered it without destroying it and they just walk into TSMC, they couldn't operate those facilities. They'll just be paperweight. So this idea that China is this technological marvel, it's going to take us off all. It just ignores basic math, which I also find it amusing.
[00:50:18] Jordan Harbinger: This is The Jordan Harbinger Show with our guest Peter Zeihan. We'll be right back. 
[00:50:23] This episode is sponsored in part by Bombas. Bombas' mission is simple. Make the most comfortable clothes ever and match every item sold with an equal item donated. So when you buy Bombas, you're also giving to someone else in need. Bombas is an incredible company. Everything they make is super soft, seamless, no itchy tags, luxurious, cozy feel. Bombas underwear has a barely-there feel. And that's how I like my underwear, just barely hanging on. With second-skin support that might make you forget they're even there, but in a good way. Bombas socks come in tons of options, like comfy performance styles for every sport and activity that keeps you moving. And their t-shirts are made with thoughtful design features like invisible seams, soft fabrics, and the perfect weight. So they hang just right. And do you know that socks, underwear, and t-shirts are the three most requested clothing items at homeless shelters. That's why Bombas donates one for every item you buy and they've helped donate over 50 million items of essential clothing. 
[00:51:12] Jen Harbinger: Go to bombas.com/jordan to get 20 percent off any purchase. That's B-O-M-B-A-S.com/jordan for 20 percent off, bombas.com/jordan. 
[00:51:22] Jordan Harbinger: This episode is also sponsored by Better Help online therapy. Relationships take work. We'll go out of our way to treat other people well but how often do we even give ourselves the same treatment? I invest in myself. I've got a trainer a few days a week. Gabriel and I have voice coaching once a week to make Feedback Friday sound good. I keep up with regular checkups at the doctors, hell, I get my teeth clean three times a year. And I often remind you taking care of your mental health is just as important. You are your greatest asset. So invest the time and effort into yourself. And that includes your mental health. Better Help is online therapy that offers video phone, even live chat sessions with your therapist in the convenience of your own home or wherever. Rather than waiting weeks to get booked with a therapist to get matched with Better Help therapist in under 48 hours. And if you don't jive with your therapist, no problem, get matched with another one. No additional charge. Over two million people have used Better Help online therapy. So give it a shot. 
[00:52:14] Jen Harbinger: Our listeners get 10 percent off your first month at betterhelp.com/jordan. That's B-E-T-T-E-R-H-E-L-P.com/jordan. 
[00:52:23] Jordan Harbinger: Thank you so much for listening to and supporting the show. Your support of our advertisers is what keeps the lights on around here. To learn more and get links to all those discount codes and all those complicated, fancy URLs, they're all in one place. A place that now you can access on your phone. jordanharbinger.com/deals is where they're at. So please consider supporting those who support us. 
[00:52:42] Now for the rest of my conversation with Peter Zeihan.
[00:52:47] Going back to Russia and Ukraine. We see these deliberate acts like bombing a civilian hospital during a cease fire. What is the point of actions like this? What's the desired outcome or potential strategy? 
[00:52:58] Peter Zeihan: I think what's happening actually worse. We know the Russians are capable of using precision-guided ammunition. It's not their primary, but they have them. I have seen nothing in the war suggests that they're either using them or if they are using them, they know how to use them. I've seen very few precision strikes at all. I've seen satellite photos of airports, where there are 60 holes and only one of them is in the runway that just suggests that this is just part of a general civilian infrastructure destruction campaign, which is exactly what they did in Grozny, which is exactly what they did in Aleppo. And now they're doing in Kharkiv, Mariupol, and Mykolaiv and Kyiv. And the goal is to destroy civilian infrastructure, so utterly, so completely that the population starves. That they feel that they have to go and that anyone who stays to fight has nowhere to hide. That's how Russians have been doing war for 20 years now. So if they have precision capability, they're saving that for another day, because it's just not relevant to this conflict at this point.
[00:53:56] Jordan Harbinger: Pre-show I asked you if you knew who John Mearsheimer was. If people don't know, we'll link the video on the show notes, but this is a guy who's a professor, I think, University of Chicago and his sort of thesis, his 20-million view video on YouTube says, "Hey, this is all NATO's fault. This is the West's fault because Putin's been warning us about Ukraine for years and saying, 'Hey, I need this. It's a security buffer. Why do you keep poking me?' And then finally NATO went too far." And I'm wondering what you think about that because it does sound like, hey, maybe NATO did go too far. Maybe we should have just left Ukraine alone after all. Maybe we did cause this problem. You know, it sort of gets in your head and a lot of people agree with him.
[00:54:34] Peter Zeihan: All right. So from the Russian point of view, they cannot be secure unless they control all nine of those gaps that I discussed earlier. And when you look at what Russian threatened NATO with, just before he launched the war, he listed all the countries that he wanted to be able to write their security policies and make sure that no NATO forces were ever in them ever — Belarus, Ukraine, Georgia, Azerbaijan, Armenia, Moldova, Romania, Bulgaria, Turkey, Czech Republic, Slovak Republic, Hungary, Poland, Estonia, Latvia, Lithuania, Sweden. So you would have to give the Russians de facto control over the lives and security policy of a total population that is double that of all of Russians combined. So from a certain point of view, yeah, he's right, but that's still utter unmitigated horsesh*t. We will never abide by that, neither would any of the countries in between. 
[00:55:29] Jordan Harbinger: So essentially he'd have to swallow all of Eastern Europe in order to get his way. 
[00:55:33] Peter Zeihan: Yeah. I won't bother you if you give me everything I want and let me do whatever I want with these 300 million people.
[00:55:41] Jordan Harbinger: Ah, it's so many people, it's the size of the United States almost, right? I think. But are we 330? 
[00:55:45] Peter Zeihan: Yeah. We're just similar. 
[00:55:47] Jordan Harbinger: Yeah. So we'd have to give him control over this geo-population size of the United States. 
[00:55:52] Peter Zeihan: And they don't get a say in this. This is a deal between the United States and Russia. That's what he's saying. You can hand over the future of all of these people to us, and then we will be happy when we'll never ask for anything again. Yeah — no. 
[00:56:05] Jordan Harbinger: Right. That sounds like World War II, except that also didn't work. And we ended up with the cold war and the iron curtain where people were literally dying to get it over across those borders in those minefields, because of the drain. That's insane. 
[00:56:16] Looking though at Ukraine now, his army couldn't even handle that level of occupation and control, so what? He would need a secret service also like the cold war, where you just have repressive secret police in each of those countries. 
[00:56:26] Peter Zeihan: Putin has been playing a weekend fairly well for the last 25 years. He's made threats and been able to get people to give him security advantages on the cheap. He certainly did that with Georgia. It's like he invaded Georgia while Putin and George W. Bush were sharing a box at the Olympics. So his timing has been good. His approach has been good, and he's gotten a lot for very little, but he reached a point where it was no longer a low-cost expansion. And now he's discovering that it's a little bit more involved. I don't think it's going to stop him, but it does mean that that strategy needs a new evolution. 
[00:56:59] Jordan Harbinger: How long do we think this conflict goes? I know that's impossible to predict, but any guesses. 
[00:57:04] Peter Zeihan: If you had asked me five years ago, I've said he would've captured Kyiv in less than a month and the whole country in less than three. Now, I'm thinking that the whole country will certainly fall in less than six, but one of the characteristics of this civilian obliteration program that the Russians are launching is it's not quick. It'll take several weeks to reduce cities, the size of Kyiv and Kharkiv to rubble. That's a lot of ordinances. And the number of troops that he has in place in Ukraine is wildly insufficient to that task. So you should expect, in fact, I think we are seeing troop movements within Russia, proper moving many, many, many more forces to the border and will probably have a million Russian soldiers in Ukraine before the end of the year.
[00:57:45] Jordan Harbinger: Wow. God, that's so horrible. It's like watching Sarajevo kind of, but in slow motion and on a grander scale. 
[00:57:51] Peter Zeihan: Yeah, much grander scale. 
[00:57:52] Jordan Harbinger: Yeah. 
[00:57:53] Peter Zeihan: And Sarajevo, you know, Bosnia is mountainous. There are a lot of places for the rebels to hide. It's not a perfect comparison when you're talking about Ukraine. Ukraine's got the farm fields. And so as long as there's vegetation and as long as there are buildings, Ukrainians are going to be able to hide and snipe and participate in the world war, which is part of why the Russians are going to destroy everything. 
[00:58:13] Jordan Harbinger: Oh, man. Uh, it's just so awful. It's going to look like Eastern European Afghanistan 2.0. It's just, uh, this is going to be so brutal and horrible.
[00:58:21] Peter Zeihan: I mean, we haven't seen anything like this in the world since World War II. And even then the closest comparison would be when the Nazis were going through Ukraine. And there were Ukrainian nationalists who sided with the invaders because they had just been through several years of political repression, genocide and Stalin-caused famine. And from their point of view, anybody was better than Stalin. And then when the Russians came back, everything the Nazis had not destroyed the Russians then destroy. That's the level of what we're looking on here. We haven't seen this since 1944. 
[00:58:57] Jordan Harbinger: Oh man. Ugh, It's so depressing. And so horrific. What do you think of Russian nationalizing US and other foreign assets? It's a bad signal. 
[00:59:07] Peter Zeihan: I mean, it's not a great signal, sure, but there just aren't a lot. The Russian economy was so morbid that they kept most of their physical assets abroad because it was all about oil, natural gas sales, getting dollars and euros and then, you know, investing them however you can. When it comes to American assets in Russia, I mean, I've said this to investors for years and you should be prepared for your Russian investments to go to zero because that's where this is going to go. Because with every single Russian regime throughout recorded history, this one is no different. So when was it? February 22, when the war started, things got locked down really quick. The day that the Central Bank was sanctioned like that's it, everything goes to zero. Here we are. 
[00:59:41] Jordan Harbinger: Yeah. 
[00:59:41] Peter Zeihan: When you're talking American assets in Russia, you're talking like the embassy. 
[00:59:45] Jordan Harbinger: Some oil platforms, I guess, and stuff like that, probably. 
[00:59:48] Peter Zeihan: Oh, oh, I see what you're talking about. Oh, okay. I was thinking American government. I'm sorry. I'm making fun of the wrong thing. 
[00:59:53] Jordan Harbinger: Got it. Yeah. Yeah. Switch targets. 
[00:59:55] Peter Zeihan: Yeah. So Shell and Exxon and BP are the three biggest investors in Russia. Shell and Exxon run the Sakhalin projects out in the Russian far east. It's all offshore. It's all moving sea ice. The Russians are absolutely useless partners in there. So when shell and Exxon decided to back out, they're just shutting the projects down and that's it. By the way, a lot of that energy went to China. So China might actually end up getting less energy moving forward. 
[01:00:21] Jordan Harbinger: Oh wow. 
[01:00:22] Peter Zeihan: Rather than more. And then BP was the partner with a company called TNK back the 2000s, which eventually got bought up and gobbled into Rosneft. So they might now at least shareholder in Rosneft. So the assets that the three of them have, it's highly questionable, whether the Russians can operate any of them. Certainly not in the case of the Sakhalin projects. So we're actually going to see assuming nothing else goes wrong. I mean, no sanctions, assuming no boycotts, assuming insurance is unaffected, we're going to see an absolute reduction very rapidly in Russian output anyway. Because the Russians' new projects that they brought in on the last 20 years, they're not in Western Siberia, they're in Eastern Siberia. They're smaller, they're deeper, they're more remote. And Russians do not have the type of skill to do it. They've been relying on Western companies. 
[01:01:10] So will the Western companies who invested in this sector lose everything? Yeah, I'd argue they already have, but it's not like the Russians are getting much because they can't make any of work. We're going to see echoes of that through a lot of the Russian economy this year.
[01:01:24] Jordan Harbinger: I want to talk about poop, Peter, namely fertilizer. How bad is this going to affect the food supply? Because I know that Ukraine and Russia are producers. 
[01:01:34] Peter Zeihan: It's horrible, yeah. So we have phosphate shortages because the Chinese are terrified about food shortages. So they've blocked all exports. That's going to last for at least the rest of this year, probably all of next year as well. We have a nitrogen fertilizer shortage because nitrogen fertilizer is synthesized from natural gas. We were already looking at high natural gas prices, nearing record levels before the Russian invasion and Russia is also the world's largest exporter. 
[01:01:58] So a lot of fertilizer producers for nitrogen have already stopped operating in Europe because they can't afford the gas anymore. And then 40 percent of the world's potash comes from either Belarus or Russia. And that is now been stopped. 
[01:02:10] Jordan Harbinger: Right. 
[01:02:11] Peter Zeihan: So we're looking at a chronic shortage globally of all three. And we know that means that a lot of poorer farmers around the world are not going to use fertilizer or not going to use enough. And for everyone else, it's going to just be the single largest line item for them. So they're not going to be able to afford to do anything else. So we are looking at the beginning of a multiyear food shortage, multi-continental in scope with this, and of course, Ukraine is going from the world's fifth-largest exporter to a net importer. And it will not come back for at least a decade. 
[01:02:42] Jordan Harbinger: Wow. Wow. That's incredible, 10 years, but it totally makes sense. I mean, we'd have to start rebuilding tomorrow if we're going to get there, maybe even within that timeframe. The US and Canada, I assume will be fine because we produce a ton of our own/get a bunch from Canada. But I don't know, is that the whole amount?
[01:02:58] Peter Zeihan: Mostly, okay. You're right. Canada is where we get most of our potash. We produce most with the nitrogen ourselves and the phosphates that we don't source within North America, either come from Morocco or Israel, and those supplies are safe. But remember there is no tool to cut off American food exports. So food, at least for now is still in a semi-globalized environment. And in that environment, you're going to feel the pain, but it's not like we're going to be dealing with food or shortages here in the way that Sub-Saharan Africa or South Asia, maybe definitely the Middle East. 
[01:03:31] Jordan Harbinger: We have to rebuild that Black Sea port in Odesa, which I assume is going to be destroyed at some point. 
[01:03:36] Peter Zeihan: Yeah. As soon as Mykolaiv falls, and I don't know when that's going to happen. I think the Ukrainians have really been holding on a degree that I would've never guessed was possible, but Mykolaiv is kind of the last stop on the road to Odesa. Odesa is the world's largest wheat offloading facility. Watch the bridge there's one bridge to Mykolaiv and it's the only bridge between it and the sea. And then you have to go like another hundred miles north to get to the next one. If Ukrainians blow up that bridge, everything has a little bit more to it. 
[01:04:05] Jordan Harbinger: Mm-hmm. 
[01:04:06] Peter Zeihan: But that's about the only bit of good news if that's the right phrase. 
[01:04:09] Jordan Harbinger: Are we going to see Arab spring-like regime changes in countries that end up with this food insecurity? 
[01:04:15] Peter Zeihan: Oh no, no. It's not going to be nearly that positive. We're talking about food price increases that are significantly higher. We only had a tripling of food prices in the Middle East. The last time we had any sort of disruption, this is going to be at least twice as bad. 
[01:04:27] Jordan Harbinger: Really? Oh my gosh. 
[01:04:29] Peter Zeihan: Yeah. I mean, Russia's primary export market is the Middle East. Ukraine's secondary market is the Middle East. That's just not happening this year. And that's independent of the fertilizer program. 
[01:04:39] Jordan Harbinger: Oh my gosh. So that knock-on effect is probably a whole different podcast, but that sounds like this is really going to get really bad.
[01:04:46] Peter Zeihan: Yeah. That's a big part of my life right now is just figuring out how long it's going to take to get placement systems up online. And I'm not done, but spoiler alert, you're talking a minimum of five years. 
[01:04:55] Jordan Harbinger: Oh my god. Are we going to see starvation deaths or just massive civil unrest or both? 
[01:05:00] Peter Zeihan: You break down globalization, but this whole talk is just a very small part. You break that down and yeah, we've exceeded the pre-industrial carrying capacity of the planet. It's only with fertilizers that we're able to keep eight billion people alive. And so if you remove the industrial level inputs that allow that to happen, we will have famine. It will be worse in the Middle East, probably second-worst in China, because that system hasn't fully broken down yet. And then it's a toss-up for number three, between Sub-Saharan Africa and India and Pakistan. The only reason that India and Pakistan I think are going to come out of this okay is with the first stop out of the Persian Gulf, so oil, natural gas, they're okay-ish and they have on multiple occasions shown that if they just throw a bottomless supply of people at their agricultural sector, they can get sufficient production by substituting labor for fertilizer. Now, that has other economic problems, but it does mean that mass famine can be avoided to a degree. 
[01:05:58] Jordan Harbinger: Oh, this is going to get so bad. Oh my gosh. What advice would you then have for the regular citizen in the east and the regular citizen in the west to prepare for what's coming?
[01:06:08] Peter Zeihan: Well, India, some of the decisions that the Indians have made over the last 50 years that we look at is just economically silly. Like every time the farmers throw a fit, they back away from whatever the modernization program was. And that has always been dumb in a globalized world. In a non-globalized world, that's actually pretty smart. I like to say that India has looked more or less like it has today since the time of the fifth century and the Hindu kingdoms. And as small as the end of the world is going to change how India functions. This is just India. 
[01:06:35] In the west, what we think of as the geography of agriculture changing radically because they're shutting down nitrogen fertilizer fabrication in Europe because they can't the natural gas at a price point that makes sense. And then, of course, phosphate is from the east and potash is from the other side of a new iron curtain. So you're looking at the European continent and all of the former European colonies having to radically overall how they even decide agriculture functions and how energy functions. And we're only in the very, very beginning of that unwinding.
[01:07:08] Jordan Harbinger: Do you think the US will ban exports on US oil to stem the oil prices? 
[01:07:12] Peter Zeihan: Oh yeah. Yeah, no doubt. Biden is populous. Trump was a populist. Obama was a populist. You see a trend here. And so if you have an American president who thinks he can ban the export of crude oil in order to protect American consumers from high oil prices, they'll absolutely do it. So we can have a ceiling here of about 70 and a floor everywhere else is at least 150, probably closer to 200. 
[01:07:34] Jordan Harbinger: Wow. Wow. And that's in countries that are developing. So, of course, they can withstand that type of price shock much less than we can here. You know, we're knocking about going from people whining on their evening news, about how much it costs to fill up their SUV, to people who can't do anything.
[01:07:51] Peter Zeihan: And then we will find out just how engaged Americans want to be. Because if we can show to ourselves that we can drop oil prices at the price of everyone else or an insulated economy, we're the military position of last resort and first resort for most countries that puts the United States in a fundamentally different position than we were during the cold war, where we had to carry the burden order to fight the Soviets. If we decide to remain involved, knowing that there's a high economic cost and very low payout options, just doing it because it's the right thing. That's a different America and that is the America, to be perfectly blunt, we haven't seen for the last 15 years. I would love for that to happen. I do not have high hopes.
[01:08:31] Jordan Harbinger: Yeah. That's very interesting. I mean, can the EU take that mantle? I mean, Germany is increasing their spend. 
[01:08:37] Peter Zeihan: Well, everything is changing in Europe right now. 
[01:08:40] Jordan Harbinger: Yeah. 
[01:08:40] Peter Zeihan: And the Germans doubled the defense spending in three days after 25 years of whittling it down. So it's entirely possible that we could have this just complete change of attitude on Europe to all things, but it would take that. And we're going to have a situation in the not too distant future where the Russians are going to try to lever key NATO countries out of the coalition in order to prosecute the Ukraine war. We have to see what they do before anything else.
[01:09:05] Jordan Harbinger: They're going to try and — what? Letter key. 
[01:09:08] Peter Zeihan: Think of it as a crowbar. There's a couple of pipelines that go directly to Turkey and Germany that won't be interrupted by sanctions. It won't be interrupted by the war or sabotage, and the Germans will give the Turks the option of keeping the lights on in exchange for some security favors. 
[01:09:24] Jordan Harbinger: Wow. What an entirely massive, disgusting mess this is. 
[01:09:28] What about all these people talking about how the US dollar, you know, might not be the reserve currency anymore because China and Russia and maybe India are starting to consider settling oil in different currencies. They're going to build their own block. What do we think of this? 
[01:09:40] Peter Zeihan: So I never tr treated that with much sincerity and the Russians are asking the Indians to pay for the oil in Rubles and nobody wants Rubles. Not even the Chinese who technically have a currency swap agreement with Wan, Rubles. What you want for a global currency is a country that has a deep financial pool that doesn't care about the day-to-day motion of the currency and honestly, doesn't trade very then they'll have a vested interest.
[01:10:05] So any country that doesn't match those three is going to manipulate their currency to their own best interest when it comes to trade. So the idea that there's a power out there that is actively involved in the energy markets that can suddenly become this impartial arbitrator is silly, because there's nobody, the United States is kind of the perfect match because its energy needs are met within North America or within the United States proper for most things. So I really don't take it seriously at all. We talk about this every time that there's a turn of the page in history, but there's no reason to expect a change. 
[01:10:38] Jordan Harbinger: Perfect. Peter, there's so much more. We'll have to do another one with you. I'll pick up a couple of your books and read those and we'll have an even more wide-ranging discussion, but I really thank you for your time and expertise. This is fascinating. I really appreciate it. 
[01:10:48] Peter Zeihan: No problem. If you're looking for a little bit more, the new book does come out on June 14, the title is The End of the World is Just the Beginning. 
[01:10:56] Jordan Harbinger: Great. Yeah, let's do another one for that book. 
[01:10:58] Peter Zeihan: Sounds good. 
[01:10:59] Jordan Harbinger: All right. Thank you so much. 
[01:11:02] You're about to hear a preview of The Jordan Harbinger Show about how you can be affected by ransomware and cyber attacks on the rise now, all over the world. 
[01:11:09] Nicole Perlroth: We still don't know just how deep the Russians are into our government systems. So it's going to be at least a year or more before we can stand up and confidently say we've eradicated Russian hackers from nuclear labs, the Department of Homeland Security, the Treasury, the Justice Department. How do you trust that any of the software you're using is secure and not a Russian Trojan horse? We live in the glassies of glasshouses. That makes escalation, you know, that much more of a risk. We're getting close enough that I think we're going to see a cyber attack within the next four years even that causes substantial loss of life.
[01:11:53] Jordan Harbinger: For more with Nicole Perlroth on what the US should do to push back against cyber warfare, check out episode 542 on The Jordan Harbinger Show. 
[01:12:03] Super interesting episode, probably could have gone on for another hour and a half, two hours, but alas, we only had so much time. I highly recommend Peter's newsletter. We'll link to that in the show notes. I also recommend BBC's Ukrainecast if you're following Ukraine, which I think many of us are. It's a daily podcast with news wrap up and analyses from Ukraine and about Ukraine. It's really, really interesting. I'm hooked on that myself. I will also link to that in the show notes. 
[01:12:27] Predictions, unfortunately, I think we're going to see some siege warfare, such as we saw with Sarajevo or possibly even Grozny which is worse. Sarajevo, if you were around in the '90s, you probably know there was a lot of shooting into the cities, snipers, rocket attacks, things of that nature. And it was essentially a death trap for the inhabitants. Grozny was leveled by the Russians in Chechnya and then rebuilt. So neither outcome is going to be good. 
[01:12:55] And also a few of you might be wondering about this conspiracy theory that we mentioned regarding Vladimir Putin and the Chechen war. So many people, a lot of scholars think this, not just kooks, but like people who've written bios on Putin and books and research him a lot, think that Vladimir Putin actually blew up apartment blocks in Moscow in order to pin it on Chechen separatists and start the second Chechen war and in that war, they leveled Grozny in Chechnya. And so a lot of folks think that was a false flag operation designed to get people so angry that they supported another war in Chechnya. 
[01:13:29] And so that's kind of the same game plan that people think he's got for Ukraine, where he says, "Hey, they've got chemical weapons there," and then Russia may use chemical weapons and then blame Ukraine. It's the sort of disinformation playbook except wow, I mean, killing apartment blocks full of your own people to support a war. That's some real next-level dictator-ish right there. 
[01:13:50] If you're in Kyiv right now, if you're fighting in Kyiv, you know, it's going to be quite a slog and really ugly on a historical scale, unfortunately. I also think we may see the use of chemical weapons and massive civilian deaths. This doesn't take a lot of insight to see. This is the way it's going so far. Chemical weapons could be right around the corner, especially as Russia loses steam. They're going to have to resort to more blunt instruments that can hit a wider landscape or get people out of buildings and rubble that they get to, especially as they start running out of soldiers and infantry, that will actually fight.
[01:14:24] Although nothing has stopped Russia in the past from incurring extremely heavy losses on the human side, they just can withstand and tolerate extreme loss of life. We've seen that in every conflict they've ever been in. And of course, we're going to see this all streamed live, unlike any other conflict in history, because we're talking about a well-connected European society with developed infrastructure and a cosmopolitan and population, who's very savvy with technology. As you heard with Yuriy, their Internet over there, and cell phone networks are better and faster than what I have here in Silicon Valley. So we're going to see a lot of live videos coming out of there, podcasts, phone calls, TikToks, everything. 
[01:14:59] I also, unfortunately, of course, predict that Zelenskyy won't make it through this conflict. I think we're going to be putting roses near his statue in Kyiv in 20 years. And I'm not trying to be a downer in any way. I'm trying to be a naysayer. Of course, we're rooting for him, but it's just impossible that the Russians don't have it out for him. And eventually, they're going to destroy all of Ukraine looking for this guy and for the rest of the fighters. They're not going to rest until they find him unless he goes into exile and runs the war from another country, which so far hasn't been his style.
[01:15:29] A lot of people have asked me why a no-fly zone isn't that simple or easy. I see it's a trending Google search as well. A lot of crap information about this everywhere. The short answer is a no-fly zone to doesn't just mean we scramble some jets or the EU scramble some jets and then Russians can't fly or drop bombs. What it means is shooting down Russian planes. Not only that, of course, killing the pilots of those planes as well. It means destroying infrastructure that allows them to launch air attacks and sorties. So we would have to execute strikes on SAM sites of surface to air missile sites inside Russia proper all over Ukraine, destroying Russian personnel, killing Russian personnel inside and outside Russia. We're going to have to strike anti-aircraft batteries inside Ukraine and long-range missile systems elsewhere in Russian-held territory, including in Russia proper. So it's just not something you can do. It's essentially a declaration of war. 
[01:16:21] And Russia can't come close to competing with the United States when it comes to airpower when it comes to long-range weapons and sophisticated weaponry. They just have nothing on the United States. Hell, they barely have anything on Ukraine other than the ability to tolerate massive losses and launch more bombs because they've built up a military. I mean, so this type of thing would immediately escalate to tactical nuclear weapons and beyond because they have no hope they would get absolutely obliterated as Peter said. So the quickest way to escalate this thing into a global conflagration of nuclear proportion is to do something like enforced a no-fly zone. As much as it seems like the answer to this, it's really a terrible idea unless I'm missing something. 
[01:17:02] Also, I'm not sure how clear Peter was and a lot of people are going to be asking about this, but one of the reasons that we're going to see extremely high oil prices in sort of weird waves is we've lost all the Russian crude on the market, right? So we're seeing high gas prices here in the United States and Biden can play the card where he can stop all US exports. I think Peter mentioned this during the show. So what would then happen is US producers of oil, especially shale and things like that would flood the US market lowering oil prices. Yes, we'd have to rejigger some refineries. Yes, the company sort of be really pissed off about it, but it doesn't really matter. It's something that is written into the law. This isn't even a wild, crazy thing he would have to do. 
[01:17:40] That would lower US oil prices, but then you have no Russian crude oil and no US oil on the international market. So places that don't produce their own oil and rely on any Russian oil or any US oil or any other oil imports for that matter at all, are going to see 200-plus dollar barrels of oil because of supply and demand, purely supply and demand. Prices will go way up. So unless you're keeping your own oil in your own country, you are going to pay through the nose for oil. No idea when that'll happen, but essentially once Biden needs to lower gas prices, he can play this card. And I would be surprised if he does not play this card. Then again, this conflict has been full of surprises. 
[01:18:21] Olaf Scholz, Germany's chancellor, and Biden surprised Russia and everyone else for that matter. I don't think anybody, especially Vladimir Putin expected Germany to sanction them because of energy dependence. They've got that huge pipeline, Nord Stream one and two. They did not expect that to get canceled. Nobody expected Germany would re-arm for the first time, since World War II, two percent of the German budget, which is now their defense budget is an enormous amount of money. And they will end up with a major fighting force within a few years with the help of other Western countries, especially the United States with money and budgeting like that.
[01:18:54] So that's going to be great for full participation here in World War III. And it's just been an incredible in every way, unreal, surreal ride. I mean, Putin's actions have consolidated almost the entire Western world. We have Sweden and Finland discussing NATO membership. I never thought that would happen. We have Germany re-arming and NATO and the entire west sending arms to Ukraine. It's unbelievable. Putin has done what no Western leader has been able to do for decades and decades and decades, which is, unite the west. So congrats, Putin. You've made America and the rest of the west great again. Not quite what you had in mind, was it? 
[01:19:33] Big thank you to Peter Zeihan. All links to all things Peter will be in the show notes at jordanharbinger.com. Please use our website links if you buy books from any authors you hear on the show. That does help support this show. Transcripts in the show notes. Videos on YouTube. Advertisers' deals and discount codes, all at jordanharbinger.com/deals. Again, please consider supporting those who support this show. I'm at @JordanHarbinger on both Twitter and Instagram, or just hit me on LinkedIn. 
[01:19:59] I'm teaching you how to connect with great people using the same software, systems, and tiny habits that I use every single day. That's our Six-Minute Networking course, and the course is free. It's over at jordanharbinger.com/course. I'm teaching you how to dig the well before you get thirsty. And as I've said before, most of the guests on the show subscribe to the course. So come join us, you'll be in smart company where you belong. 
[01:20:20] This show is created in association with PodcastOne. My team is Jen Harbinger, Jase Sanderson, Robert Fogarty, Millie Ocampo, Ian Baird, Josh Ballard, and Gabriel Mizrahi. Remember, we rise by lifting others. The fee for this show is that you share it with friends when you find something useful or interesting. If you know somebody who's interested in the Ukraine conflict or global economics or food supply and things like that, please share this episode with them. The greatest compliment you can give us is to share the show with those you care about. In the meantime, do your best to apply what you hear on the show, so you can live what you listen, and we'll see you next time. 
[01:20:55] By the way, I'd like to take a second to recommend the Underworld podcast. Danny Gold was on this show. I mean, this guy, he's traveled all over the place, done some crazy stuff. If you want to know what it's like to hang out with MS-13 in El Salvador or how the Russian mafia came to Brooklyn in the '90s or white Swedish gang members love to throw grenades, the Underworld podcast is a show about organized crime all over the world from the first gang lord to the current kingpin. Hosts Danny Gold and Sean Williams are really interesting cats. They're investigative journalists who've worked all over the place, covering the most insane crime stories. From interviewing cult gangs in Nigeria to chasing meth barons through the Burmese jungle, there's a whole lot in here. Mixing and thorough research in some of the best gangster history and recent memory, they bring you a new episode every week. We're talking Taliban, Triads, warlords, drug lords, scammers from Brooklyn to Beijing and far beyond. So if you want to dive deep into the criminal underworld with two journalists who know what they're talking about, give it a listen. The Underworld podcast, listen and subscribe wherever you get your podcasts.
Sign up to receive email updates
Enter your name and email address below and I'll send you periodic updates about the podcast.