Reading Time:
4
minutes
David Buss (@profdavidbuss) is considered the world's leading scientific expert on the evolutionary psychology of human mating strategies. He is the author of several books on the subject, most recently When Men Behave Badly: The Hidden Roots of Sexual Deception, Harassment, and Assault.
What We Discuss with David Buss:
Why, from an evolutionary standpoint, the reproductive interests of males and females sometimes diverge.
Why metabolizing alcohol differently makes women more susceptible to an expectation of bonding (and how some men exploit this).
The Dark Triad traits that mark the men most likely to have short-term relationships and cheat.
How do women use active signaling to show they're more open to short-term relationships?
She's not playing hard to get. If she rejects you softly, it isn't an invitation to try harder — it's a survival tactic meant to avoid prompting a violent reaction.
And much more…
Like this show? Please leave us a review here — even one sentence helps! Consider including your Twitter handle so we can thank you personally!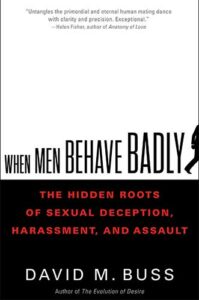 Dr. David Buss of the University of Texas at Austin is an expert on the evolutionary psychology of human mating strategies. Last time he was on the show (we recommend giving it a listen here), we discussed what women want, what men want, and why their desires radically differ as outlined in his book The Evolution of Desire: Strategies of Human Mating.
This time around, we dive deeper into the consequences of these differences in desire and try to unearth the roots of the dangerous dynamics that underpin men's predatory behavior — and explore what we can all do to address it as a society. Listen, learn, and enjoy!
Please Scroll Down for Featured Resources and Transcript!
Please note that some of the links on this page (books, movies, music, etc.) lead to affiliate programs for which The Jordan Harbinger Show receives compensation. It's just one of the ways we keep the lights on around here. Thank you for your support!
Miss our conversation with NPR's Guy Raz? Catch up with episode 404: Guy Raz | How I Built This here!
The Adam Carolla Show is the number one daily downloaded podcast in the World! Get it on as Adam shares his thoughts on current events, relationships, airport security, specialty pizzas, politics, and anything else he can complain about — five days a week on PodcastOne here!
Thanks, David Buss!
If you enjoyed this session with David Buss, let him know by clicking on the link below and sending him a quick shout out at Twitter:
Click here to thank David Buss at Twitter!
Click here to let Jordan know about your number one takeaway from this episode!
And if you want us to answer your questions on one of our upcoming weekly Feedback Friday episodes, drop us a line at friday@jordanharbinger.com.
Resources from This Episode: