Reading Time:
3
minutes
Tamer Elnoury is an Arabic-speaking Muslim American, a longtime elite counterterrorism undercover agent, and co-author of American Radical: Inside the World of an Undercover Muslim FBI Agent.
What We Discuss with Tamer Elnoury:
What unique psychological skills (and desire for thrills) drew Tamer to the exciting and dangerous life of undercover law enforcement work?
Why, when working undercover, you're only as good as your informant.
How an agent is trained to work undercover (and why the FBI undercover school only has a 50 percent graduation rate).
How an undercover agent blends in with criminals without breaking the laws they've been recruited to enforce.
What an undercover agent does to hook a mark into noticing and eventually confiding in them.
And much more…
Like this show? Please leave us a review here — even one sentence helps! Consider including your Twitter handle so we can thank you personally!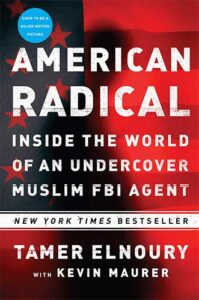 Law enforcement is a tough enough job as it is. But it takes a certain type of person to go into (and live to make it out of) undercover work. Compound the danger of fraternizing among the dregs of the criminal underworld with a dose of murderous jihadist fundamentalism, you'd almost have to be insane to take on such a task.
Enter the agent known to more than a few terrorists as Tamer Elnoury, co-author of the book American Radical: Inside the World of an Undercover Muslim FBI Agent. Here, we discuss the blend of skills and desire for thrills that allow him to excel in this field — at first investigating narcotics peddling, political corruption, gun trafficking, and child abuse before moving on to counterterrorism post-9/11. He also shares how someone is trained to work undercover (as well as why only 50 percent of those who try actually graduate to field work), what he does to pass as a criminal without breaking the laws he's been recruited to enforce, how he gains the trust of his targets, and much more. Listen, learn, and enjoy!
Please Scroll Down for Featured Resources and Transcript!
Please note that some of the links on this page (books, movies, music, etc.) lead to affiliate programs for which The Jordan Harbinger Show receives compensation. It's just one of the ways we keep the lights on around here. Thank you for your support!
Miss the conversation we had with famed science guy Bill Nye? Catch up with episode 366: Bill Nye | Radical Curiosity Saves the World!
Thanks, Tamer Elnoury!
Click here to let Jordan know about your number one takeaway from this episode!
And if you want us to answer your questions on one of our upcoming weekly Feedback Friday episodes, drop us a line at friday@jordanharbinger.com.
Resources from This Episode: