Eric Schmidt (@ericschmidt) is Technical Advisor and Board Member to Alphabet Inc., former Google CEO, and co-author of Trillion Dollar Coach: The Leadership Playbook of Silicon Valley's Bill Campbell.
What We Discuss with Eric Schmidt:
Privacy in the age of tech megacorporations and how much access the government should have to our data.
What the rise of China, the isolation of North Korea, and the western notion of privacy mean for a free and open Internet across cultures.
A realistic view of current day artificial intelligence and what we should expect from it in the future.
How idea generation is fostered inside a company like Google.
Why all top-performing executives in Silicon Valley have elite-level coaches, and why you should consider one as well.
And much more…
Like this show? Please leave us a review here — even one sentence helps! Consider including your Twitter handle so we can thank you personally!
(Download Episode Here)
(Subscribe to the Podcast Here)
Worksheet for this Episode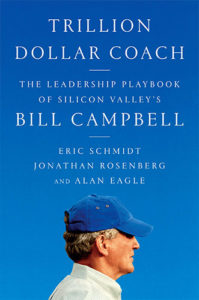 In various roles over the years — from CEO to executive chairman — Eric Schmidt worked directly with the founders of Google to turn the company into the powerhouse it is today, and in the process became one of the wealthiest and most powerful men in the world.
In this episode, we talk to Eric about the importance of coaching for high performers as outlined in his latest book (co-authored with Jonathan Rosenberg and Alan Eagle), Trillion Dollar Coach: The Leadership Playbook of Silicon Valley's Bill Campbell, the future of a free and open Internet, the realities of AI, the ongoing — and necessary — fight for privacy, and much more. Listen, learn, and enjoy!
Please Scroll down for Full Show Notes and Featured Resources!
Sign up for Six-Minute Networking — our free networking and relationship development mini course — at jordanharbinger.com/course!
Are you trying to hire the right person for your business, but the best candidates keep slipping away? Let ZipRecruiter — the fastest way to hire great people — help you screen only the best at ziprecruiter.com/jordan!
Take breakfast back with Just Crack An Egg breakfast bowls. Simpy crack a fresh egg over tasty ingredients for a hot, fluffy scrambled egg breakfast. Find out more here!
The Hartford Insurance Group knows there's nothing small in small business, and it's been protecting customers for over 200 years. Learn what it can do for you and your business at thehartford.com/smallbusiness!
MedMen is proud to be leading the way as the cannabis industry transitions from its legacy era of homegrown enterprises to an institutional phase of professional standards and practices. Experience the new normal and find your closest store at MedMen.com!
We all have a love affair with the silver screen. Listen in as Chuck Bryant talks with your favorite people about their favorite movies on the Movie Crush podcast here!
More About This Show
In Trillion Dollar Coach, the case is made that if you want an innovative company, your job is to manage the chaos, not tell people how to do their jobs. So how is chaos managed in a way that doesn't hamper innovation — especially in a company as large as Google?
"It starts with hiring," says Eric Schmidt. "Larry and Sergey had established a very tough regime on hiring. They hired super capable people and they always wanted people who did something interesting. So if you're a salesperson, it was really good if you were also an Olympian. And they argued that they didn't really understand sales, but they knew what it took to be an Olympian…and the second thing is building a culture which is bottoms up in its ideas and encouraging systematic innovation. You cannot plan innovation, but you can systematize it."
In companies large and small, it's possible for a team to focus so intently on solving a given problem that meaningful headway comes to a standstill. Team members with potentially good ideas may look to management for guidance that never comes, while management may be locked down by routines that only ensure continued stagnation. So what does Eric suggest for greasing the wheels of idea generation?
"I always tell executives: 'Why don't you have a meeting where you ask people to tell you something that you don't know? And if it's pretty good, be ruthless in evaluating it."
Bill Campbell, the subject of Trillion Dollar Coach, was originally a college football coach who brought his talents to Silicon Valley to fire up everyone from the top brass at Google to larger-than-life tech luminaries like Steve Jobs. But the real benefits of this coaching weren't immediately apparent to some — Eric included.
"When Bill Campbell showed up, we didn't really understand that his goal was to coach us as a team…I thought he was my executive coach…but when people would make a mistake, he would bring them back toward the goals of a team. That concept is a very powerful innovation out of Silicon Valley, and it's something every business could use…to keep everyone in alignment. This is what the board wants, this is what the CEO wants, this is what your employees want, and helps make it work."
Listen to this episode in its entirety if you want to learn more about what privacy will look like in the years to come as it's leveraged against those of us unable — or unwilling — to protect it, what the rise of China and increased efforts to open North Korea means to the future of a free and open Internet, the realistic expectations of artificial intelligence, why coaching has become a crucial ingredient for the success of high performers and what it can do for you, and much more.
THANKS, ERIC SCHMIDT!
If you enjoyed this session with Eric Schmidt, let him know by clicking on the link below and sending him a quick shout out at Twitter:
Click here to thank Eric Schmidt at Twitter!
Click here to let Jordan know about your number one takeaway from this episode!
And if you want us to answer your questions on one of our upcoming weekly Feedback Friday episodes, drop us a line at friday@jordanharbinger.com.
Resources from This Episode:
Download Worksheet for How a Coach Can Bring out the Best in You

/wp-content/uploads/2019/05/Worksheet-for-Eric-Schmidt-How-a-Coach-Can-Bring-out-the-Best-in-You-Episode-201.pdf