Hal Elrod (@HalElrod) has overcome two near-death experiences, is the bestselling author of The Miracle Morning, and his latest book, The Miracle Equation: The Two Decisions That Move Your Biggest Goals from Possible, to Probable, to Inevitable, is out now.
What We Discuss with Hal Elrod:
How the concepts of unwavering faith and extraordinary effort combine to form The Miracle Equation.
Why this equation is a quantifiable, non-woo way of achieving the incredible in spite of borrowing words like "miracle" and "faith."
How to move from the emotional pain of resistance to the emotional invincibility of acceptance.
Why pursuing one mission dauntlessly is worth more than setting a hundred fuzzy goals.
How you can turn off your stress response and what you can do to grow from fleeting happiness to lasting inner peace.
And much more…
Like this show? Please leave us a review here — even one sentence helps! Consider including your Twitter handle so we can thank you personally!
(Download Episode Here)
(Subscribe to the Podcast Here)
Worksheet for This Episode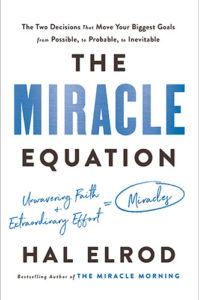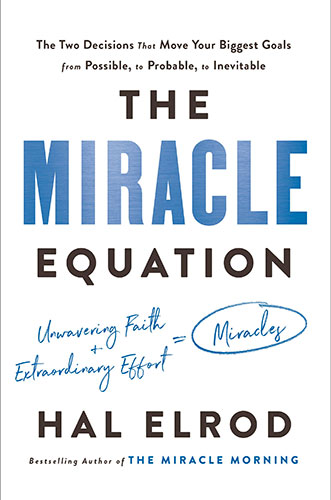 After overcoming multiple near-death experiences and having an impact on millions of lives, Hal Elrod is now on a mission to elevate the consciousness of humanity one person at a time. As the bestselling author of The Miracle Morning — which has been translated into 34 languages, sold over one million copies, and is practiced daily by over 500,000 people around the world — he is doing exactly that.
In this episode, Hal talks about the next step in his mission to elevate the consciousness of humanity — his newest book, The Miracle Equation: The Two Decisions That Move Your Biggest Goals from Possible, to Probable, to Inevitable. It may look like pseudo-spiritual woo on the surface, but trust us and stick around to find out how this equation can be used to quantify your efforts and achieve tangible results. Listen, learn, and enjoy!
Please Scroll down for Full Show Notes and Featured Resources!
Sign up for Six-Minute Networking — our free networking and relationship development mini course — at jordanharbinger.com/course!
Eight Sleep is the first bed engineered with dynamic cooling and heating that keeps you at the perfect temperature all night long. Get $150 off your purchase when you go to EightSleep.com/jordan!
Need custom graphics, logos, or Web design? Access a community of 600,000+ designers by registering at designcrowd.com/jordan and enjoy up to $100 off with The Jordan Harbinger Show bonus offer!
The folks at BiOptimizers understand why you're skeptical about probiotics as a way to increase your digestive and gut health. But without sharing TMI, we can confirm its patented P3-OM superstrain actually does what it's supposed to do! Curious? Go to p3om.com/jordan for 20 percent off your first order and a full money-back guarantee!
Does your business have an Internet presence? Save up to a whopping 62% on new webhosting packages with HostGator at hostgator.com/jordan!
Listen to Mind Pump Episode 980 to discover the five most important steps you should take to achieve your best body by summer. Find it here!
More About This Show
When the economy tanked in 2007, the last thing on Hal Elrod's mind was to release a bestselling book — and the transformational movement that followed and continues to this day — centered around the merits of getting up in the wee hours of the morning. Hal himself wasn't an early riser, but as he began studying — at the urging of Flourishing Leadership Institute's Jon Berghoff — what successful people had in common, it became clear to him that consistent early morning rituals were a big deal among the successful.
"It's arguably the single most important determining factor, or improvement that you can make," says Hal. "If you win the morning, you can win the day. Long story short, it changed my life really quickly."
Within two months of observing a consistent early morning ritual, Hal and his wife doubled their income and he was in training to run an ultramarathon.
Hal said to his wife: "My life has changed so fast — it feels like a miracle."
She said, "It's your miracle morning!"
Not long after, Hal published The Miracle Morning: The 6 Habits That Will Transform Your Life Before 8 A.M.. It became a bestseller and a worldwide phenomenon, with its tenets followed daily by half a million people.
He credits the real leverage of the book's success to a four-page chapter dedicated to helping others overcome the temptation of hitting the morning alarm's snooze button — a temptation he himself once struggled to resist.
In this chapter, he details these five steps for beating the snooze alarm:
Set intentions before bed. Rather than bumming yourself out by reminding yourself that you'll have to be up in six short hours, Hal says you should "consciously decide the next day's intentions every night to actively and mindfully create a positive expectation for the next morning."
Move your alarm clock across the room as far as possible. (Most cite this as the most important of the five steps.) If it's out of arm's reach, you'll have to physically get out of bed to turn it off, which is the biggest obstacle to hurdle. "This forces you to rise from bed and engage in movement," says Hal. "I find that movement can energize me."
Brush your teeth. "After turning off your alarm clock, go directly to the bathroom sink to brush your teeth and maybe splash some warm (or cold) water on your face," says Hal. "Simple activities like these can increase your wakeup motivation level from a one or a two to a three or four."
Drink a full glass of water. "After six or eight hours without water, you may be mildly dehydrated, which can cause fatigue," Hal says. "When you drink a glass of water and hydrate yourself, your wakeup motivation level goes from a three or a four to a five or six."
Get dressed in your workout clothes. "Some people prefer to start their day by jumping into the shower," says Hal, "But I believe people should earn a morning shower by first breaking a sweat. In my experience, morning exercise helps me maximize my potential by putting me in a peak mental, physical, and emotional state to win the day."
Of course, this is just the tip of the iceberg of what's covered in Hal's first book — which is worth picking up if the benefits of becoming a morning person are something you'd like to explore.
In his new book, The Miracle Equation: The Two Decisions That Move Your Biggest Goals from Possible, to Probable, to Inevitable, Hal focuses on an equation for fulfilling goals that even a failing math student should be able to remember:
Unwavering Faith + Extraordinary Effort = Miracles
The first two components are the decisions alluded to in the book's subtitle by which Hal says the world's top performers live.
Unwavering Faith: The self-assurance that you have the ability to meet and overcome the challenges you face. In the case of the world's best basketball players, Hal says they persevere when lesser players would give up because "they have unwavering faith that they can make every shot that they take." For himself when he was diagnosed with a rare form of cancer and given a 30 percent chance to live, Hal says, "I had unwavering faith that I was going to beat cancer. Even though there's never a guarantee. We're so centered around certainty and comfort that that's what keeps people stuck in the life that they're living.
"If you want to create the extraordinary life that you really want, you have to step out on the faith that you can do something that you've probably never done in your life."
Extraordinary Effort: You can't expect that success is just going to fall into your lap. Like the alarm clock you've set on the other side of the room to become a morning person, you've got to make a real effort to reach it.
"It might take you 10 years to get where you want to go," says Hal. "With Miracle Morning, I wasn't some overnight sensation. It took me years of hundreds of interviews and dozens of TV shows and dozens of speaking engagements before The Miracle Morning actually took off. I busted my ass and I wasn't getting paid. The book sales weren't happening, even though the effort was there. So the faith and the effort had to both be maintained over an extended period of time, which is what makes The Miracle Equation work."
The resulting Miracles aren't of the Biblical, supernaturally gifted variety, but have been redefined by Hal as tangible, measurable outcomes — "any outcome outside the realm of what you believe is probable for you," he says.
Listen to this episode in its entirety to learn more about Hal's two near-death experiences and how he recovered from them against all odds, the Jim Rohn quote that motivated Hal to aim higher for success, The Five-Minute Rule for coping with things beyond your control, the part The Miracle Equation has played in Hal's psychological as well as physiological struggles, how to move from the emotional pain of resistance to the emotional invincibility of acceptance, why pursuing one mission dauntlessly is worth more than setting a hundred fuzzy goals, how you can turn off your stress response and what you can do to grow from fleeting happiness to lasting inner peace, and much more.
THANKS, HAL ELROD!
If you enjoyed this session with Hal Elrod, let him know by clicking on the link below and sending him a quick shout out at Twitter:
Click here to thank Hal Elrod at Twitter!
Click here to let Jordan know about your number one takeaway from this episode!
And if you want us to answer your questions on one of our upcoming weekly Feedback Friday episodes, drop us a line at friday@jordanharbinger.com.
Resources from This Episode:
Download Worksheet for Fulfill Your Goals with The Miracle Equation
/wp-content/uploads/2019/04/Worksheet-for-Hal-Elrod-Fulfill-Your-Goals-with-The-Miracle-Equation-Episode-187.pdf