Reading Time:
4
minutes
John Brennan (@JohnBrennan) served as the Director of the CIA from 2013 to 2017, and is the author of Undaunted: My Fight Against America's Enemies, At Home and Abroad.
What We Discuss with John Brennan:
The mechanics of being in charge of America's spy agency and dealing with international crises on a daily basis.
How CIA officers are taught to question their assumptions and overcome confirmation biases to find facts in a field of deception.
Why John argued for diversity within the CIA — not to placate a liberal agenda, as his critics asserted, but to strengthen the agency's ability to operate effectively in a diverse world.
How John was able to get a job at the CIA in spite of past hashish use, lying to his mother about going to church, and voting for a communist.
The challenges of operating clandestinely in the digitally rich 21st century.
And much more…
Like this show? Please leave us a review here — even one sentence helps! Consider including your Twitter handle so we can thank you personally!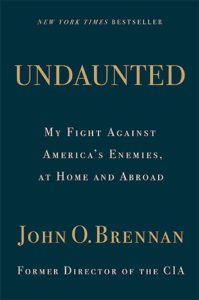 Espionage has always been a risky avocation, but what are the challenges of operating clandestinely in the 21st century that spies of yesteryear didn't have to deal with? To find out, we talked to John Brennan, former CIA director and author of Undaunted: My Fight Against America's Enemies, At Home and Abroad.
On this episode, we discuss how CIA agents are trained to question their assumptions, the case for diversity within the CIA, why the CIA still uses fax machines, the news sources John relies on to stay informed from all sides of the spectrum, how sharing of sensitive information works between government agencies, what happens to lunch thieves in the CIA break room, the disguise faux pas that clued John in that he might not be field operative material, what John sees for the future of Middle East and US relations, why some assassinations are seen as legitimate by the international community and others aren't, the state of domestic terrorism, why young people should consider taking part in some sector of public service, and much more. Listen, learn, and enjoy!
Please Scroll Down for Featured Resources and Transcript!
Please note that some of the links on this page (books, movies, music, etc.) lead to affiliate programs for which The Jordan Harbinger Show receives compensation. It's just one of the ways we keep the lights on around here. Thank you for your support!
Sign up for Six-Minute Networking — our free networking and relationship development mini course — at jordanharbinger.com/course!
TextExpander speeds you through repetitive outgoing communication and maximizes your productivity — in fact, it's helped Jordan save over 285 hours since 2016! Our listeners can save 20 percent off their first year by going here!
Get two months of Skillshare — unlimited access to over 18,000 classes in design, business, technology, photography, entrepreneurship, film, writing, and more — for free at skillshare.com/harbinger!
LifeLock gives you all-in-one protection for your identity, devices, and online privacy; there's a victim every three seconds, so don't become one of them. Save up to 25% off your first year of LifeLock at lifelock.com/jordan!
Better Help offers affordable, online counseling at your convenience. If you're coping with depression, stress, anxiety, addiction, or any number of issues, you're not alone. Talk with a licensed professional therapist for 10 percent off your first month at betterhelp.com/jordan!
If you missed our interview with Greylock's Reid Hoffman, don't panic! You can catch up by starting at episode 207: Reid Hoffman | Mastering Your Scale for the Unexpected Part One!
THANKS, JOHN BRENNAN!
If you enjoyed this session with John Brennan, let him know by clicking on the link below and sending him a quick shout out at Twitter:
Click here to thank John Brennan at Twitter!
Click here to let Jordan know about your number one takeaway from this episode!
And if you want us to answer your questions on one of our upcoming weekly Feedback Friday episodes, drop us a line at friday@jordanharbinger.com.
Resources from This Episode:
Transcript for John Brennan | An Undaunted Fight Against America's Enemies (Episode 458)
Jordan Harbinger: Coming up on The Jordan Harbinger Show.
[00:00:02] John Brennan: When strikes were taken against Al-Qaeda operatives or leaders who were planning to carry out these lethal attacks against innocent men, women, and children, the United States, and other countries also took action to prevent those activities from taking place. Was it cathartic for people to, you know, say, "Yeah, we kill the Iranians because they're bad"? I think we have to stop looking at these types of activities in very stark, black and white terms. If we do it or if Israel does it, it's okay. If China does it or Russia does it, it's not okay. Well, I'm sorry, that is just a very nativist and I think a very, in many aspects, foolish sort of approach. If you really want to have an international environment, that there is going to be respect for sovereign status and for international order,
[00:00:52] Jordan Harbinger: Welcome to the show. I'm Jordan Harbinger. On The Jordan Harbinger Show, we decode the stories, secrets, and skills of the world's most fascinating people. On this show, we had in-depth conversations with people at the top of their game, astronauts, entrepreneurs, spies, psychologists, even the occasional organized-crime figure, war correspondent, undercover Jihadi, former Jihadi. Each episode turns our guests' wisdom into practical advice that you can use to build a deeper understanding of how the world works and become a better critical thinker. 
[00:01:20] If you're new to the show or you're looking for a handy way to tell your friends about it, we now have episodes starter packs. These are collections of your favorite episodes, organized by popular topics. It will help new listeners get a taste of everything we do here on the show. Just go to jordanharbinger.com/start to get started, or if you want to help someone else get started, go ahead and do that. I always appreciate that, of course.
[00:01:41] Today, former CIA director, John Brennan, this is a fascinating look inside of one of the most — obviously the most top-secret jobs anywhere in the world. We'll explore his path to the top of it, of America's spy agency, as well as the unconventional career path he had prior to this. We'll also get into the mechanics of the job. What is it like dealing with the president and dealing with international crises on a daily basis? We get into some international affairs stuff and even a little bit in the weeds on the raid to capture/kill Osama bin Laden. It's a really interesting look at the current state of the world. And if you enjoyed our episodes with Aimen Dean and/or H.R. McMaster, you'll dig this one as well.
[00:02:18] If you're wondering how I book folks for the show, it's always about the network. I've got these great authors and thinkers and creators every week. I'm teaching you how to build your network for free over at jordanharbinger.com/course. I know you've heard me say this a thousand times if you've been listening to the show for a while. I know you're probably telling yourself you do it later. Just go ahead and do it. Come on. New Year's resolution or some gobbledygook, just go and do it. Jordanharbinger.com/course. You don't need a credit card. You don't need any of that. It's not going to take up a bunch of time. And by the way, most of the guests on the show, they do subscribe to the course and the newsletter. So come join us, you'll be in smart company. Now here's former CIA director, John Brennan.
[00:02:56] You narrated your own book? 
[00:02:57] John Brennan: I did. 
[00:02:58] Jordan Harbinger: I assume your time at the head of America's chief spy agency was a mere stop on the way to becoming a professional audiobook narrator. 
[00:03:04] John Brennan: Yeah. I'm hoping that that's going to be, or you know, maybe a professional podcast interviewee. 
[00:03:08] Jordan Harbinger: Yeah, that's right. "What am I going to write about? Oh, I have an idea." I read in the book that you — and we'll link to that in the show notes — that you were sworn in as CIA director on an actual draft copy of the Constitution with George Washington's notes on it. 
[00:03:21] John Brennan: His personal handwritten notes, absolutely, yes. 
[00:03:23] Jordan Harbinger: I assume you can't actually touch that, right? There's like glass over, protective cover over it or something like that. 
[00:03:29] John Brennan: Well, no, it wasn't in a glass case. It was carried over in a very secure box and folder or whatever, but they opened it up. And so it was in fact exposed to the elements, but —
[00:03:39] Jordan Harbinger: Oh, wow.
[00:03:40] John Brennan: — it is kept under lock and key and in airtight conditions, but they didn't bring over the glass case when they brought it to the White House. 
[00:03:46] Jordan Harbinger: Man, that's a lot of responsibility. I assume they make you wash your hands before you go ahead and do that. 
[00:03:51] John Brennan: Or wipe, maybe — 
[00:03:53] Jordan Harbinger: "Sir, is that Heinz 57 sauce on the constitution?" Yikes. Yeah. Yeah. That's a good call I think and nowadays more than ever. There's a lot of little details in the book that are really fun and interesting. There's one sort of throwaway right in the beginning where you take a secure conference call by going in the car. And I assume this is not just an armored vehicle, but there's something in the car because you have to be able to spy on a conversation that's taking place inside of a car. And everybody at the CIA would know that. There's got to be some protections inside the car so that people can just hear you.
[00:04:26] John Brennan: Well, you're right. There are secure communication systems inside the car, which means computers as well as voicemail. And can you in fact, see from inside there, but you do have arrangements so that the emanations are not going to be able to be picked up by foreign intelligence services that might be lurking in the same parking lot as you. 
[00:04:42] Jordan Harbinger: Yeah. I mean, they've got to know where you are, probably, almost at all times. I mean, there's got to be, right?
[00:04:47] John Brennan: Yeah. I don't know whether or not they're following me every time I went up to New Jersey, but they probably have ways to track. Our security folks are pretty good. Hopefully they picked up any type of sensor that might've been put onto the vehicle. 
[00:04:59] Jordan Harbinger: Yeah. And by the way, faxing, how often is the CIA faxing? That's a little scary. 
[00:05:06] John Brennan: It is. Yes, but it goes point to point. So many specs are better. 
[00:05:09] Jordan Harbinger: That's true. I suppose, yeah. I guess if you don't want to leave anything inside someone's email inbox.
[00:05:14] John Brennan: Yeah. You still do secure faxes because it does go point to point as opposed to over a network or a system, even as a top-secret classified network. 
[00:05:21] Jordan Harbinger: Okay. I didn't really even think about that. That's what you mean by point to point, not just to get from one place to another, but instead of — it doesn't go over 17 different email servers to get there. It just goes from you to the other person through an exchange. 
[00:05:33] John Brennan: Right. And just like, we've heard about the Russian hack of government systems just in the past few days. If you fax something, it is very more secure because it goes from one point to another point and doesn't go through servers. You don't have systems administrators and others who actually could access the attachment that you put on an email or something.
[00:05:55] Jordan Harbinger: Yeah. That's not something I ever thought about. When you think faxing, all you think is 1991, you don't really think like, "Oh, this is secure, more secure than an email. 
[00:06:03] John Brennan: It's much harder to intercept the fax because you actually have to get to the endpoints of fax machines themselves. But yeah, if it's more secure than doing it in an email attachment. 
[00:06:15] Jordan Harbinger: I heard your grandfather used to smuggle documents for the IRA. I guess he was a human fax machine back then. I didn't plan that joke. I promise. 
[00:06:23] John Brennan: Yeah, he was an Irish spy. 
[00:06:25] Jordan Harbinger: So espionage runs in the family. Did you grow up thinking about that or is that just kind of a coincidence?
[00:06:29] John Brennan: No, but my earliest recollection of any type of spying, espionage I was familiar with and pointed out in the book, that Nathan Hale was hanged by the British on September 22nd in 1776, so many, many years before I was born. But given that it was my birth date, I had a certain affinity with Nathan Hale.
[00:06:46] Jordan Harbinger: You grew up Catholic and you mentioned starting to question all of your dogma and assumptions and that serves you well in the intelligence agencies. How do you teach CIA personnel to question their assumptions? Like how can we teach ourselves to question our assumptions?  
[00:07:02] John Brennan:I think I certainly learned about it too when I was going to high school and college. I think the intellectual curiosity will make you — it should make you question things and not just accept it on faith. And unfortunately, a lot of religious doctrine has faith and there's no evidence to support that. But in the CIA, there's extensive training programs that you have, whether or not you're an operations officer or an analyst. And they try to teach you many of the things that you had taught in law school, which is to distinguish between facts and purported facts and inferences and judgments and assessments and hunches and hearsay and all of that, because you really have to desegregate or all of the information that comes to you and then try to evaluate it in totality. So there's a rigorous training process that CIA officers go through again, whether or not you're out collecting intelligence from foreign spies or whether or not you were sitting at Langley and doing the analytic work of pieces that go to the president. 
[00:07:54] Jordan Harbinger: It seems like a complicated process. It's almost like swimming upstream, right? Because your brain always wants to connect something that's not necessarily connected, to see a pattern where there isn't one making assumption to make your — the lifting a little bit lighter and you really have to constantly be working against that in order to get the most accurate picture of what's going on or to get the most unbiased information. 
[00:08:16] John Brennan: Confirmation bias, I think, is a very, very prevalent sort of feature of people's perspectives because you already have your inclination, your hunch, your views, and then you look for information that's going to reaffirm those hunches in your own mind. And so analysts and operations officers, intelligence officers across the board really have to be quite aware of those potentials for confirmation bias and understand what your views are as you go into an issue. That's why I have very little tolerance for ideologues. Ideologues, I think, by definition tend to have ideological blinders on. They try to fit everything into their ideological prism. I think being as open-minded as possible is something that intelligence officers certainly need in order to carry out their responsibilities. But there's techniques that we teach the CIA officers about how to pick up on your own confirmation biases, unconscious biases, and other types of warping of your prism as you look at reality.
[00:09:19] Jordan Harbinger: There's a comment in the book that you made about diversity inside the CIA — in fact, I'm going to find it in my notes here because this segues pretty well with that. You took actually quite a bit of flack for focusing on diversity inside the CIA and people thought you were focused on advancing this liberal agenda versus the mission of the CIA. But your counterargument was, hey, if any agency in government can make an argument for diversity, it's the CIA, right? We need people who think differently so that we don't all fall into our, "Hey, I grew up an Irish Catholic in the Northeast" set of confirmation or other bias, right?
[00:09:53] John Brennan: Yeah. I mean, the CIA is supposed to be this country's eyes and ears around the world, and this world, they have found out, is a very large and diverse one. And so we need to have as good an understanding as possible about all the different cultures and ethnicities and perspectives and histories if we're going to operate around the world and really gain insight into what's going on. I, at one point, was pretty good in Arabic, but no matter how good my Arabic was, as I went into the tribes of Saudi Arabia, I didn't look or sound or come across as a Saudi or as an Arab. I came across as an Arabic-speaking Westerner. And so being able to tap into this melting pot that we have in the United States, we are just so rich in this diversity. Why should we not take advantage of it? So aside from just it being the right thing to do, because that's what defines America, I believe, it also makes a great business case for the CIA, having the greatest diversity possible in order to achieve its mission around the world. 
[00:10:50] Jordan Harbinger: I know that you've learned Arabic in part in Cairo at the American University. I've been there actually. I didn't study there, but I've visited some friends there and I was at the time studying in Israel. And I know that you got into a little bit of the hashish and then you switched over to tobacco. And by the way, you know, one of those things is pretty bad for you. 
[00:11:08] John Brennan: Yes, I understand that. Firstly, I kept trying the thing that was really bad for you over the years. 
[00:11:13] Jordan Harbinger: Yeah. That'll happen. Yeah. I wonder why or not why, but I wonder if, did the hashish thing ever come back to kind of maybe bite you or be something you have to explain? Because I feel like you hear about that a lot. Law school friends of mine going, "Yeah. I want to get a job in the FBI, but I smoked one too many joints in undergrad," or something like that and that's got to be a little antiquated of that practice or that bias against marijuana, right? 
[00:11:38] John Brennan: Yeah. When I came back from Cairo and finished up school at Fordham and then went to University of Texas for graduate school. I wasn't in, by being as much in that culture as I had in Cairo. Maybe I had a few joints or something over the course of a year for years, but I knew I wanted to get into the government, whether it be the department of state, the CIA, or somewhere else. And I knew that there were some real stringent, you know, limitations as far as drug experiences. I really did cut back significantly. And before I took my polygraph at CIA, I hadn't taken any type of narcotic in the previous nine to 12 months. So I think when you go into CIA, they want to make sure that you're going to be as forthcoming as possible about what drugs you did and make sure that there's no recent experiences. And so I was able to pass that bar and once you're in CIA, I couldn't use any type of illicit narcotic. And so it's not a question of not wanting to do it, although I didn't. I wasn't allowed to do it so it took away my interest in doing it. 
[00:12:36] Jordan Harbinger: I can see that wearing off. If it's going to cost you your career, it's a pretty obvious choice for people who are not addicted.
[00:12:41] John Brennan: Unfortunately, drinking was something that people do a lot. And unfortunately, just like in a lot of businesses and companies, in CIA, there's a problem with alcoholism among people who really have to burn the candles at both ends and go on the cocktail party circuit whenever. So the CIA has really tried to address any alcohol problem that we detect in the workforce. 
[00:13:01] Jordan Harbinger: When you took your polygraph entrance exam for the CIA — there's a funny story in the book about them asking you if you lied to anyone recently. You want to tell us about this? 
[00:13:14] John Brennan: Yeah. The polygraph is a tool that we use to try to figure out whether or not people who deserve to be part of the CIA family and you want to know that you can trust them. So one of the questions that my polygrapher asked me was, "Had I lied to anybody recently?" That's something important. And so I thought for a minute, and just this past weekend, my mother was up in New Jersey and my mother was very religious at the time, still was religious throughout her life. And she asked me if I went to church that Sunday, because she wanted to make sure that her son's soul was going to make it to Heaven. And I knew that whenever I would say, "No, Mom, I didn't go to church." It would just crush her. So I said to her, "Yes, Mom, I did." And so when the polygrapher asked me if I had lied to anybody, I said, "Well, this past weekend. I told my mother because of her great religiosity that I went to church when I didn't." He looked at me in a very deadpan face and said, "You lied to your mother about going to church." And, you know, I was taken aback. I didn't think it was going to have that impact on him, but I said, "Yeah, kind of I did because I love my mother and I just didn't want to make her worry, particularly since she was praying that would get through this interview with this polygraph." But it didn't prevent me from —
[00:14:25] Jordan Harbinger: Yeah, obviously it didn't prevent you from anything, although you must've been thinking that the guy's going to stand up and go, "Well, thanks for coming in."
[00:14:32] John Brennan: It made me worry about the rest of the polygraph exam. 
[00:14:35] Jordan Harbinger: Like, "Hey, these are the easy ones, man, by the way." 
[00:14:38] John Brennan: That's right. I was failing the easy ones, the multiple-choice ones. 
[00:14:41] Jordan Harbinger: Yeah. All you had to do was say no, and we never would have known well then again, I guess you don't really know what they know. 
[00:14:47] John Brennan: Now, my Catholic guilt, I was certain that if I just shaded the truth at all, the machine was going to go haywire. So, I was told beforehand by a former colleague that just tell the truth, you know, let it spill out. And that's why I told them about the hashish. I told them about lying to my mom. I told him about voting communist. I told a lot of things that ultimately came back to haunt me. 
[00:15:06] Jordan Harbinger: Yeah. The voting for the communist — what was the voting for the communist thing? That definitely hit the news cycle quite a bit.
[00:15:11] John Brennan: Well, in the polygraph, they asked me if I had worked for any subversive organization or organization that was dedicated to the overthrow of the American government. And I was ready to respond right away, "No, of course not." But again, my Catholic guilt — I remembered that in 1976, the first opportunity I had to vote in a presidential election, I was already turned off by partisan politics. So I wasn't going to vote Democrat, Republican and so I went into the voting booth and looked down the list of candidates and came across Gus Hall, who was the perennial or quadrennial presidential candidate for the Communist Party of America. I flipped the lever. And so I, along with 57,000 or so other Americans that year, voted for the communist. 
[00:15:51] And so I looked at the polygrapher and well, I explained to him why I voted for the communist. And after his reaction to lying to my mother about going to church, I thought that I'd surely screwed myself here. Then he asked me, he goes, "Was there any other engagement or involvement you have with the communist party? I said, "No, it was just that one off. And he looked at my face and he must've seen that I was pale white and was shaking because I thought that I really just had screwed it all up. And he said, "Don't worry. It's your right as an American to vote for whomever you like in presidential election and it will have no effect whatsoever on your application." 
[00:16:28] And as they relate in the book, it really just gave me such a sense of this is the type of organization — despite the controversies associated with it, the fact that they respect an individual's right to vote for whomever they like including the communist party candidate made me say, "Yeah, I want to get through this application process. I want to be hired by CIA," thankfully, I was, 
[00:16:52] Jordan Harbinger: I can imagine him ending the interview with something that's like, "Well, you're a communist that lies to your mom about going to church; welcome to the Central Intelligence agency." 
[00:17:01] John Brennan: Join the club. 
[00:17:02] Jordan Harbinger: Yeah. When you join the Directorate of Operations, you go to the Farm, right? Which is like the training school for — 
[00:17:09] John Brennan: Yeah, right, down in the woodlands of Virginia. 
[00:17:12] Jordan Harbinger: Are there people we think of as spies, right? Case officers, this is like —
[00:17:15] John Brennan: Exactly.
[00:17:15] Jordan Harbinger: — the school for that. 
[00:17:16] John Brennan: Yeah. 
[00:17:16] Jordan Harbinger: How many of those people are there, or is that not public? 
[00:17:19] John Brennan: It's classified. 
[00:17:20] Jordan Harbinger: Okay. 
[00:17:20] John Brennan: There's not as many as I think there should be, or you would imagine there to be because it's a very elite group of folks. They go through very intensive training and it's the case officers, the operations officers who go out and recruit the foreign spies. These are foreign nationals who work against their countries. They basically commit treason by providing the CIA with very sensitive information, documents, or information that they hear or pick up because they believe that it's in the United States' interest to get that information.
[00:17:48] So, yeah, an extended period of time, they go out all over the world under different types of cover frequently. Their families don't even know that they work for CIA because you want to be able to operate as clandestinely as possible and not identify yourself as a CIA case officer looking for, you know, a spice to recruit.
[00:18:07] Jordan Harbinger: I assume the family just thinks, so he works for the state department or for some none — what's the usual spiel? 
[00:18:13] John Brennan: Well, there's two principal categories of cover. There's official cover, which is when you adopt the cover of another US government agency or department, foreign state, foreign offense, you name it and then there's non-official cover. Those officers are frequently referred to as NOCs, N-O-C, not official cover. They could be businessmen or bankers or academics or something. And they operate around the globe. The non-official cover officers do so at great risk because they don't have diplomatic immunity. They are not posted overseas as a US government official. And so if they are found or uncovered, they really risk being imprisoned. If you have diplomatic immunity, you're usually just tossed out of the country. But if you are, say, an American businessman, or if you're portraying yourself as a foreign businessman in a foreign country, you can be locked up and bad things can happen to you.
[00:19:05] Jordan Harbinger: Yikes. Yeah, you hear about that. And that's really sad and scary because that's kind of the nightmare scenario. I would imagine. That's the kind of thing that I assume kept you up at night as the director of the CIA.
[00:19:16] John Brennan: Well, there were a number of things that kept me up —
[00:19:18] Jordan Harbinger: Well, sure.
[00:19:20] John Brennan: No, but in terms of the difference that's of operational risks, when I knew that there was going to be a very sensitive operation going down somewhere around the globe, in a denied area and frequently it would take months if not longer to prepare for another operation and things just had to go according to plan, and so I would wait by the phone or keep looking at the clock and say, "Okay, you know, they have crossed that obstacle. They've gotten across that border. They've done that right now." But yeah, when people are operating overseas — and it's CIA officers who are operating as case offices overseas, but also it's those foreign nationals. You know, those citizens of Russia or China or Iran who are spying on behalf of the United States. And we really worried so much about their safety and security. 
[00:20:04] That's why any type of meeting overseas between a CIA case officer and their spire or their asset, it usually requires both the CIA officer and the foreign spy to spend about eight or 12 hours, just what they say, you know, going black, trying to ensure that an not being followed by the hostile intelligence or security service of the country where they're meeting. They want to make sure that nobody is on their tail. And that's the very quick meeting that they might have with a brush pass that they might have, which is as they're walking past each other in a train station or a park, and one person gives an envelope to the other and maybe they exchange envelopes or whatever. This has to be done very, very clandestinely and out of the eye of the intelligent services. 
[00:20:47] Jordan Harbinger: That seems like it would be easier now with digital technology, right? There are encrypted communications apps and things like that, but I guess you can't really pass everything digitally, but information, right? They no longer have — you don't have to drop a coded message into a tree trunk somewhere anymore. 
[00:21:02] John Brennan: Well, the tremendous technological advancements that have occurred over the last several decades really are a double-edged sword. As you point out, there are many things that we can take advantage of now in that digital environment so that we can communicate with individuals around the globe instantaneously, and we try to do it very, very securely. Now, there are limits to that, but there's also a need for there to be people on the ground, in different parts of the world. And a lot of the technological advances make it much more difficult now for CIA officers to operate clandestinely.
[00:21:34] So for example, years ago, you could have the CIA fabricate a passport as well as visas and get across borders and put on some type of disguise and adapt a different persona and operate clandestinely in those denied areas. Now, with all of the technology available at airports and border crossing points and machine-readable passports, and very difficult to fabricate those things. But also when you get into a country, that digital environment is so, so dense. How do you operate within that environment without the hostile or the local intelligence services being able to pick up your every move? And so even if we tell CIA officers, "You know, when you go out to the embassy, don't take your phone with you because it will be pinging right away. And you don't want to have the local services follow you in your every move." Well, if you're the only person in the embassy who's not taking their phone outside —
[00:22:28] Jordan Harbinger: Right.
[00:22:29] John Brennan: — the absence of that pinging is alerting in itself. So one of the challenges for CIA, as well as for other intelligence services, how do you operate clandestinely in this digitally rich environment where phones and credit cards and ATM machines and other types of things and with closed-circuit TVs that are all over the place, how do you find a way in those cracks within that digital environment to operate? And so there's tremendous innovation that needs to go on in order to defeat those digital tipping points. 
[00:23:02] Jordan Harbinger: Wow. So yeah, disguise is no longer glasses and a wig. It's like, you need a fake phone. That's pinging and then that makes it look like you're pinging somewhere else because you're actually over here because they might be looking for that signal. So you're disguised as almost like a technological disguise now instead of a physical —
[00:23:19] John Brennan: Well, it's a combination of things. I don't think you never throw away those physical disguises because if you have somebody on your tail and you want to get rid of them, if you want to go into a restaurant or a store or whatever else, and, you know, quick-change artists who can help to defeat some of the physical surveillance that might be on your tail. But a combination of things as you point out it's technological and it's physical. 
[00:23:41] Jordan Harbinger: You have a funny disguise story that's in the book as well. Tell me about escorting this middle Eastern military officer and his family. 
[00:23:49] John Brennan: Some people may find it funny, but I find it embarrassing. 
[00:23:52] Jordan Harbinger: Well, yeah.
[00:23:52] John Brennan: I decided to tell it in the book. When I was in my first year at CIA, when I was in operations and I was asked to be an escort/bodyguard for a visiting senior military officer from the Middle East who was here with his family and the individual was working with the CIA. And so my job was to be their chauffeur as well, and to drive them around. And so whenever I would meet with them though, I would have to go in disguise, which I had wig and glasses and I put mascara on my mustache and my eyebrows. And I also had a lift in my shoe so that if I were to operate in the Middle Eastern years, hence that I wouldn't have already been exposed to this individual. And it was going along well. And so whenever I would go out to pick them up, I put on the disguise and I got to be pretty proficient I thought — going into an empty parking lot and putting on the wig and glasses and other types of things.
[00:24:45] And so I dropped them off at a shopping mall and I told them I was going to come back and pick them up to bring them to the hotel. I went back to work for a couple hours and there was a traffic jam on the road going back to the shopping mall. And so I hardly pulled into an empty parking lot near the mall, put on my disguise and then got to the mall and got out of the car and met them at the designated point. But I noticed that I was walking through the mall, people were kind of staring at me. And then when I met the family, the kids were kind of looking at me funny too. We got in the car and I drove back to their hotel and then went back to another parking lot to take my disguise off before I went back into CIA headquarters.
[00:25:22] But before I did, I looked in the rear-view mirror. And to my shock and horror, I noticed that in my haste, I put the wig on, but then put the glasses under the style of my sideburns and my sideburns, which were sort of full ear length, where then pointing straight out, horizontal to the ground. And so as I was walking through the mall and with the family — as I said in the book, I sort of looked like The Flying Nun from a TV show in my youth. I think that was one of the reasons why I decided that operation was not really my bag. I need to get out of it. And so that was the last time I had to put on that type of disguise. I had some other opportunities in the future to do certain things, but I no longer wanted sideburns with styles in them.
[00:26:10] Jordan Harbinger: Did you ever run into that officer again ever in your career? 
[00:26:13] John Brennan: No, not that I know of, no. 
[00:26:15] Jordan Harbinger: Maybe he was wearing a wig and glasses and thinking, "All right. I'm going to beat him at his own game."
[00:26:19] John Brennan: Maybe he was.
[00:26:21] Jordan Harbinger: He must've at that point been thinking, "Okay. He's doing this on purpose, right? Like this is some sort of thing — like there's no way he accidentally put his glasses on under his sideburns. They're trying to see if we react. Don't say anything." 
[00:26:34] John Brennan: If he felt that way, he didn't say it in the car because I did have Arabic at that point. And they didn't know, I understood Arabic. So I was able to listen to the conversation a bit. He didn't reveal it to the kids in the car. You know, he just told them to be quiet on the way back to the hotel. Maybe he was afraid that they were going to say something.
[00:26:49] Jordan Harbinger: Yeah.
[00:26:49] John Brennan: But they were very, very nice and very polite and very appreciative of my work.
[00:26:54] Jordan Harbinger: Yeah. Plot twist, it was a whole ruse to make them think that the CIA didn't know what they were doing and then they could operate with less caution. Yeah. 
[00:27:02] John Brennan: Well, we didn't change his mind about working for us after that. 
[00:27:05] Jordan Harbinger: Yeah. Maybe, "You know, I'm going to go work for the Russians. Look, this is a great shopping experience, but I think we're probably safer in the hands of Moscow. 
[00:27:14] John Brennan: I was only 25 years old at the time. So I had a lot to learn. 
[00:27:17] Jordan Harbinger: Yeah. I mean, that seems like a mistake that kind of anyone could make, but it sounds really funny when you tell it as you do here. 
[00:27:23] John Brennan: Yeah, I have vivid memories of it, unfortunately. 
[00:27:25] Jordan Harbinger: Yeah. That'll happen. That'll happen. We all have those. It's just usually there — they don't involve national security, our most embarrassing moments. You talked about the president's daily briefing a little bit earlier. Is that as fascinating as it sounds? Because it sounds like you basically get all the most up-to-date most interesting, most classified news every single day. 
[00:27:45] John Brennan: Well, it has changed over the years when I was president Clinton's a daily intelligence briefer, and I would bring him the president's daily brief. At that time, it was a hard copy, paper document, about seven or eight pages. That had a number of articles about what may be happening around the world overnight, or some longer term issues in terms of more in-depth analysis. And I would bring it down to the president and it will be the first time he would see it. And so I'd sit with him and augment those different articles with additional tidbits. But since about 2011 or 12, that PDB is in a secure iPad that is securely transported to the white house early in the morning. 
[00:28:26] And President Obama, who was a voracious reader of intelligence would read it while he was either doing his morning exercise on the stationary bike or while he was eating his Cheerios or something. So by the time the intelligence briefer would come down to the Oval Office to augment the PDB. The president had already read it, but when I was president Clinton's briefer, again, it will be the first time he'll be reading things. And it was, I think, a more interactive session than now. There's some questions about, you know, how well-read the PDB is these days? I know Joe Biden was someone who read it very, very carefully every morning when he got it. But again, it is delivered now on an iPad that they can go through and read with their breakfast in the morning, 
[00:29:12] Jordan Harbinger: You're listening to The Jordan Harbinger Show with our guest John Brennan. We'll be right back.
[00:29:17] This episode is sponsored in part by TextExpander. And a lot of you have asked me how I am able to personally respond to hundreds slash — I don't know, thousands of emails, LinkedIn messages, Instagram, DMs, everything I optimize my time. And the key to that is the tools that I use. And for me, TextExpander has been a game changer. Our entire team uses TextExpander. We have used TextExpander for many years. I've been a customer since 2016. You can really upgrade your productivity with this. Say goodbye to repetitive text entries, spelling message errors, and trying to remember the right thing to say. I know what you're thinking, "Okay. It's copy and paste. I get it." TextExpander is much more powerful than that. You can customize your snippets. That's what they call their shortcuts to fill in someone's name. You can do drop-downs with different message options, depending on what message you want to send. It works for any platform. Yes, even on your phone. There are stats. It tracks stats. I've saved over 285 hours of pure typing since 2016, halfway through 2016. That is a lot of typing at 80 words per minute plus. So take your time back with the New Year. I highly recommend this tool. You will not regret it. Our listeners save 20 percent off the first year. Visit textexpander.com/podcast to learn more about TextExpander, TextExpander.com/podcast. 
[00:30:38] This episode is also sponsored by Skillshare. Since most of us are all locked up. It's a great time to learn some new skills. Make your Instagram, Etsy, or portfolio pop, and you can take a class on skill shares, DIY product photography. They've got pretty much every type of class in there. DIY product photography that should show you that they've got a lot of different niches. If you want to start a YouTube channel and you don't know where to start, learn how to develop, use, and share your creative ideas with others on Skillshare's creativity, unleashed course. So they've got pretty much everything you can think of. I always think it's fun to learn new stuff as you can tell by the show where I read books and talk to smart people all day. I've made this my career. Skillshare is incredibly affordable, especially when compared to pricey in-person classes and workshops and annual subscription is less than 10 bucks a month.
[00:31:24] Jen Harbinger: Explore your creativity at skillshare.com/harbinger and get a free trial of premium membership. That's skillshare.com/harbinger. 
[00:31:32] Jordan Harbinger: Now back to John Brennan on The Jordan Harbinger Show.
[00:31:37] Obama can eat anything he wants in the morning with the White House kitchen and he chooses Cheerios. Is that real? He's eating Cheerios in there?
[00:31:43] John Brennan: Well, he's probably not having Cheerios because he would be very, very careful about what he would eat. So it's probably grapefruit slices and maybe some yogurt and maybe some tea or whatever. Sometimes when I go down there and he'd ask me to have lunch with them, I'd be sitting, watching him have a soup and salad. And I'd be looking for my turkey club and fries.
[00:32:03] Jordan Harbinger: Yeah. Well, I mean, he can get whatever he wants, whenever he wants. You only have a few opportunities per month or whatever to eat. 
[00:32:10] John Brennan: Well, that's right away. 
[00:32:11] Jordan Harbinger: So yeah, take advantage of it.
[00:32:13] John Brennan: And there's quality food too down there. 
[00:32:14] Jordan Harbinger: Yeah, of course. You'd be a fool to be like, "Oh, I'll just have the Cheerios." It was like, "What are you thinking, man? We have everything here. Cheerios? You get that at home.
[00:32:21] John Brennan: I asked for bourbon and water a couple of times, but they never brought it to me for lunch.
[00:32:24] Jordan Harbinger: Yeah, Obama's like, "Just bring him the water." Now, what are your favorite news sources that aren't the ones we see every day here in the United States? Now that you went from presidential daily briefing news to like flipping on Al Jazeera and CNN, like, what are you leaning towards? 
[00:32:40] John Brennan: Well, I get The Economist, Financial Times, New York Times, Washington Post. Then I also get some news feeds from different people reading, looking at Al Jazeera. I spend my mornings just sort of, you know, flipping back and forth different news sources. If there are some issues and topics that generate my interest in, so I'll follow certain stories, whether it be dealing with a China issue or Russia or the Middle East. And so there are still some issues that I have had standing interest in since I spent over five years in Saudi Arabia. I tend to follow those issues still very closely, but I try to get as much as I can. I'll go back and forth with CNN, MSNBC, Fox News. I'd like to hear the different perspectives. There's the PBS NewsHour. Obviously, they're very good. I listen to NPR a lot on the radio. It's an eclectic mix of things.
[00:33:28] Jordan Harbinger: It looks like a balance between stuff that leans a little bit more to the left and to the right, and then some center, as opposed to like everything being in the same circle.
[00:33:39] John Brennan: Yeah. And I do try to read things on both sides of that spectrum. I'll read The National Review, which is to the right, or read even things like Judicial Watch and other things, because I find it fascinating to try to understand the argumentation, the rationale, and how things are twisted, or they are skewed because it really helps me understand why some people think the way they do, vote the way they do, protest the way they do. And I do think it's important to be able to have that perspective based out of the newsfeeds, the information feed, the propaganda feeds from all ends of the political spectrum.
[00:34:18] Jordan Harbinger: We hear about information sharing, being a challenge between FBI and CIA and probably other organizations as well. I assume you believe that information should be shared freely between organizations for maximum effect. And what is the argument people have for not sharing information between FBI and CIA? Because I think this often confuses civilians like me who think like, "Okay, if we have information, everyone should be able to get that information so that we are all safer." Is this just political credit here? 
[00:34:45] John Brennan: Well, I'm not an advocate of all information should be made available to everybody. I mean, look at what just happened as far as the breaches of some of the systems and networks by the Russians in the past week. And so I am a believer in making sure that information needs to be shared as widely as possible to those who need it for there — so we referred to it as role-based access. There's some very, very sensitive information that is acquired by the US government, whether it be information that if exposed could lead to the deaths of spies that we have overseas or the uncovering of very, very exquisite and very expensive technical collection systems that our nation rests upon. As well as US person information like the FBI collects a lot of information dealing with US persons that may be incidental to one of their investigations. And people throughout the government, even CIA has real limitations and restrictions on what type of information CIA officers can look at involving US persons.
[00:35:45] And so there needs to be — a rather, sort of complex framework that's based on one's responsibilities, one's level of security clearances, one's authorities, based on the organization that they belong to, one's job focused, the access that they have access to. There is just so much information available now. It's just it's mind boggling how much information is available, not just through those clandestinely acquired systems, but also just open-source information, but even in terms of open source information or information that for example, US commercial companies can have access to CIA officers can not access that information because it deals with proprietary information of US citizens. So again, it's the complex framework that it needs to be put in place. Now, sometimes they're just cultural obstacles to one organization sharing information with another organization. But I think at the heart of it is trying to protect the information from it being exposed in a manner that could, again, harm our national security interests or harm the privacy rights and civil liberties of individual persons.
[00:36:57] Jordan Harbinger: There's a story in the book about somebody getting caught stealing food from the CIA cafeteria. And it sounds funny, right? It sounds kind of silly, but you mentioned that this shows a lack of integrity and has no place in the agency and that totally makes sense. I wouldn't want somebody working for my company if they were going in the refrigerator and taking my lunch out and eating it and then lying about it, right? So what happens if you get caught doing something like that at CIA? Do you get fired or is it kind of like, "Hey man, stop eating other people's lunches"? What's going on there? 
[00:37:25] John Brennan: Well, yeah, I was the deputy executive director of CIA at the time. And my boss, Buzzy Krongard, was the executive director and we got regular briefings from our security staff about what was going on in the agency. And one week we got a briefing about this individual who was observed numerous times going down to the cafeteria and bypassing the cashier. I mean, it's sort of a trust system there. You get your food and then you line up with the cashier. Well, this person didn't do it. And so Buzzy who was a real stickler, rightly so for honesty and integrity in the agency decided that he wanted to be notified the next time that person was heading down to the cafeteria. And sure enough, he staked out his position at the cafeteria and watched him take a sandwich or salad or whatever, and bypass the line. And Buzzy collared him and security then spoke to him. 
[00:38:12] Things like that — let's say somebody was doing it because they were a single parent and they had no money. And that was the only way they get — you know, it's still wrong. It's still a violation of the trust that we put in employees, but it's something that we would then work with the employee to find out is there a way that they can get nourishment and not deprived children of food at the same time. This individual though, as I recall, was ultimately dismissed from the agency. It revealed other things as well. 
[00:38:44] Jordan Harbinger: Can you imagine getting fired for stealing sandwiches from the cafeteria? Like that's the dumbest way for your career to end that I can really think of off the top of my head here.
[00:38:53] Yeah. And although I like to think that the CIA really takes pains in terms of who they hire, it is a microcosm of US society, you know, people from all different walks of life and all different backgrounds, experiences as well as attitudes toward things like that. So honesty and integrity, if you don't have that in the intelligence business and profession, and if someone's willing to steal from the cafeteria, what else are they doing that does not in fact reflect the honesty and integrity that we expect of our employees. 
[00:39:22] Jordan Harbinger: You mention that you had an office near the Oval Office and you said — and I thought I misunderstood this, but I replayed it — you said, "I could hear rats nesting." Maybe I misunderstood. But are there rats inside the White House? By the way, insert Rudy Giuliani joke here. But like are there rats inside the White House? It's got to be one of the most secure sort of well-kept buildings in the entire world. And there's like, "Oh, those are the rats. They're upstairs." 
[00:39:52] John Brennan: Yeah. Well, it's a building that construction first started 200 years ago. And so, it is built on terra firma. And so there are walls in there. My office was in the West Wing. It was almost immediately below the Oval Office. And I would get in there early in the morning. It was very, very quiet. And I would hear the scampering in the wall or above in the ceiling, whatever. Sure enough, it was rats because one time, in fact, we had people come in and they took off part of the wall and found some remains, skeletal remains of some rats that were there. So they tried to take steps to get rid of the rats, but there are a lot of rats in Washington. Some of the walls of the White House and some are loitering in other parts of the Capital City. 
[00:40:39] They have delayed a basic remodeling refurbishment of the West Wing. It's been delayed numerous times. In fact, it was supposed to take place in the first year of the Obama Administration. And if they went ahead and did it, they were going to move the Oval Office basically to the building next door. And I think there was a lot of concern that — didn't want President Obama, the first black American to be president to be moved out of the Oval Office at that time. 
[00:41:08] Jordan Harbinger: "How did this happen?" "Well, what happened was we moved to next door and all the protections that we usually have in the Oval Office are gone because we really wanted some new carpeting and we wanted to make it a little bit wider."
[00:41:18] John Brennan: Yeah. It's a great building, but it does have, you know, some creaks in it and things that have to be addressed.
[00:41:23] Jordan Harbinger: Yeah.
[00:41:23] John Brennan: Rats being one of them. 
[00:41:24] Jordan Harbinger: Yeah, the rats, that I just couldn't believe — I mean, look, it's a really, really old town for sure, but you would think like the whole thing is encased in steel. How the hell did rats get in there? Did Nixon bring them in? 
[00:41:35] John Brennan: There are parts of Washington where the rats are pretty large. They would vibe with New York City rats for size and weight. 
[00:41:42] Jordan Harbinger: That would freak me out if I'm working at four o'clock in the morning, preparing some Saudi Arabia intelligence and I hear rats nesting and creeping around.
[00:41:49] John Brennan: I never came face to face with a rat, but they were directly on my head and I had a low ceiling. My office was a drop ceiling and I could hear them, see them scurrying. I never felt alone. 
[00:42:01] Jordan Harbinger: Yeah. Yeah. 
[00:42:02] John Brennan: For sure.
[00:42:02] Jordan Harbinger: Well, the secret service is there too, I hope, and then the rats. So it's always a party at the White House. 
[00:42:08] John Brennan: Yeah. 
[00:42:09] Jordan Harbinger: Do you regret not opposing the practice of things like torture more when you were at the CIA? I mean, it seems to me as a civilian, like, "Hey, this is the most effective tool we had at the time." So no judgment from me. I'd waterboard a nun, if I thought we'd saved thousands of innocent lives, right? The only torture I'm an expert in right now is torturing my audience with corny jokes on this podcast. And that hasn't yielded any useful intelligence that can keep the country safer as far as I know. But I wonder if at the time, what was sort of going through your mind? Were you thinking like, "Look, okay, we got to do what we got to do"? Or did this bother a lot of people from the jump? 
[00:42:46] John Brennan: Well, like many things in the intelligence, National Security world is a complicated issue, a couple of things. One is that when this program was enforced at the agency, I was the deputy executive director of the agency, which is sort of like the deputy COO. I didn't have any responsibility for operations or covert action or analysis. I was the person who tried to ensure that all the various missions of the agency had the resource, the personnel logistics support, and other types of things. So I wasn't in the chain of command, but I was aware of the program going on.
[00:43:14] Secondly, The CIA is not a rogue organization. Whenever it's carrying out a court action program, like the detention irrigation program and waterboarding, it requires authorization from the President of United States who has to issue a finding or an addendum to a finding, which is called a memorandum of notification that authorizes the CIA and provides the specifics in terms of what CIA is allowed to do. And that happened in this case, President George W. Bush authorized the CIA to carry out this program. And the program before it was implemented was reviewed by the highest legal advisory body in the executive branch, which is the Office of Legal Counsel and the Department of Justice, which determined that that program, including waterboarding was lawful and therefore was not torture.
[00:44:00] Now, people can argue with the Department of Justice memoranda that were written at the time that said it was lawful. I certainly do. I don't think that the memorandum would worth the paper that they were written on, but the CIA as institution of the US government has the responsibility that when the President of United States issues an order, that's duly authorized, that's determined to be lawful, and that was brief to the Congress to carry out those responsibilities. And also this was happening in the aftermath of 9/11 when we thought there was a real existential threat from Al-Qaeda and many expects there was. We knew that Al-Qaeda was looking to carry out a second and third wave of attacks. They were looking at biological, chemical, and even nuclear capabilities. They already had a second wave of plane attacks planned and ready to go that would have hit the West Coast of the United States. And in Washington, we had also anthrax attacks. We had the Washington sniper and so  there's a lot going on.
[00:44:55] And so the CIA carried out this program. And so when I was aware of some of the specifics of it, specifically waterboarding and I read a cable that provided graphic details of the waterboarding of an Al-Qaeda member called Abu Zubaydah. And when he was vomiting and other types of things, I just felt that that program was something that I didn't think the CIA should be carrying out. First of all, we had no experience in having a detention or interrogation program that should have been the military detain these people and then the FBI interrogating them. CIA though is frequently the 911 organization, you know, when all else fails at the CIA to do a covert action program.
[00:45:33] And so I expressed my concerns to some people, the agency, including my boss at the time, George Tenet. But again, people were viewing this as the only way we're going to stop an attack that could have killed many, many times, the 3,000 souls that were lost on 9/11. So I know in 20/20 hindsight, it's easy to look back and say, "My God, what would we do?" CIA has unfortunately been very tainted as a result of that program. And there were some CIA officers who said they did not want to participate in the program and they weren't forced to, but CIA really believed that it was an organization that really was going to help prevent what could be a catastrophic attack on the homeland by Al-Qaeda.
[00:46:15] You know, I questioned myself whether I should have spoken more out against the program, but it is what it is. And when I was director, I said that as long as I was director that program would never, ever be re-instituted because I just didn't think it was consistent with American values.
[00:46:32] Jordan Harbinger: It's got to be really tough to — I don't want to say wax philosophical, because that's not really what you're doing, but to say like, "Hey, this doesn't fit American values. And it's like, well, my value is not getting killed while I'm out eating brunch with my family. So I don't really care if we bend the rules a little bit." You know, there's a lot of people who say things like that and I might even be one of them. And look, I don't understand all the nuances of these types of programs. I remember studying in law school, which was 15 years ago. Now the torture memo we called it. And I remember thinking a lot of people are really upset about this, but they would be more upset if their family died in a skyscraper at work because we didn't do this, you know? I understand the tension here between those two things. 
[00:47:11] John Brennan: Yeah. And you know, it's easy for armchair generals to say what should or should not have happened, except when you have that responsibility and, you know, either you decide to do something or not, and it's going to have tremendous consequences. As you point out, values are not what's called black letter law. People have different views of values. It's very subjective perspective. The program certainly was lawful because it had all the right checks and balances in it. But was it moral? Was it ethical? Was it principled? Was it consistent with our values? You can ask a hundred people and you're probably going to come up with dozens of different perspectives and answers on that. 
[00:47:50] So I do think that when I was a CIA officer, I wanted to look at things from the standpoint of what I was being asked to do, whether it comported with my north star, my values, my morality. Unfortunately, I was never asked to do something personally or to authorize something that I felt was inconsistent, at least with my ethics and values and morality.
[00:48:12] Jordan Harbinger: There are numerous occasions in the book where you needed to see the president right away. And I assume that happened throughout your career, President Obama. What's that process like of just going in to see the president in an emergency? I assume you can't just stroll into the Oval Office or barge in. Are you nervous every time you have to do that?
[00:48:30] John Brennan: I certainly was nervous the first couple of dozen times when I was working at CIA and had to go down to the White House to see the President of the States. It's a big deal. You have to go through the different guard stations and wait outside. You're scheduled to go in and see them. And it's very limited as far as the amount of time is concerned. When I worked at the White House and I was President Obama's. Homeland Security and Counterterrorism advisor with my office right below his in the West Wing, there were numerous times when I had to see him quickly and it would take me about 15 seconds to get up the stairs to be outside the Oval Office. And either I would have my administrative assistant give a call up to the president's front desk, or I just gone up the stairs and say, "I need to see the president." And usually they knew that if John Brennan wants to see the president, it is something pretty significant and consequential. And they would let me know, "He's in a meeting right now. He'll be finished up in five minutes. Can it wait until then? Do you need to go in and talk to him now?" So based on my experience in the first term of the Obama White House administration, I could determine exactly what I needed to — how quickly I needed to see him. And I would either call upstairs, say, "I need to get on his calendar as soon as he has a free moment." Or, you know, it is, "I need to see them now," and they would be pretty accommodating to me. 
[00:49:52] Jordan Harbinger: He must not have been very happy to see you some of the time. I would imagine it's like, "Director Brennan is here." Must be one of the worst things that the president could hear on any given day. 
[00:50:02] John Brennan: Yes. He would see me in the door and frequently he would know that I was not bringing him terrific news. And because my portfolio included having to recommend to him, you know, whether or not we needed to take some type of strike against a tourist target. You know, these were weighty decisions and ones that, I think both of us would have preferred that we didn't have to make those decisions. He never avoided me. Sometimes I would call him in the middle of the night and have to wake him up, which was really not that pleasant either. 
[00:50:31] I remember one time as I didn't relate it in the book, but I was in Ireland in fact, on a trip and there was an underground earthquake in the Pacific. It's a tsunami watch that was put on Hawaii and it was going to potentially be rather catastrophic as far as, you know, I think it was the Island of Oahu. So it was the middle of the night in Washington time, and I got the call about the oceanographic community head was issuing a tsunami warming. And so I debated with myself whether I was going to wake up President Obama, but I decided to do it. So I called the White House switchboard and I said, "I need to speak with the president." And they said, "Well, he's sleeping right now." I said, "Yeah, I know, but I need to talk with them." So they rang his bedroom and Barack Obama answered the phone. And I explained to him because I knew he had a special place in his heart for Hawaii. And I just wanted to assure him that everything was being done in terms of preparations, because I knew that he usually would have awakened early and see the news first thing. And I wanted him not to be surprised by a tsunami hitting the shores of Hawaii. And thankfully, it wasn't as forecast in terms of the seriousness of it. 
[00:51:37] Jordan Harbinger: Well, for what it's worth, I was happy to see you this morning. I don't know. I'm happy you showed up.
[00:51:43] John Brennan: Thank you.
[00:51:43]Jordan Harbinger: Yeah, I don't envy that at all. I think that's got to be one of the trickiest things — because you have to decide and look the tsunami things probably a little bit more cut and dry, but there's got to be a few times where it's like, "Do I wake them up for this or can it wait, or do I bother him in the middle of a meeting with the chancellor of Germany, or is this something that I can sit on for a while?" And those must be tense minutes for you to sit there and kind of think like, "Okay, if this goes on much longer, I'm going to have to interrupt." 
[00:52:07] John Brennan: Fortunately, I had some good preparation at CIA because I was chief of staff to CIA director, George Tenet. And you have a similar type of situation because if something was happening around the world, frequently, the chief of staff will get the call from the operation center about something going on. And then I would have to make a decision about whether I would call George in the middle of the night to wake him up or whatever. So I had some experiences with that. So that when I became President Obama's advisors and I had, I think, a pretty good framework to decide when I should. There was never an occasion in the White House thinking back on it now, when I didn't notify the president and he said, "Oh, you should have told me about this in the middle of the night." So I think for the most part, I called it right. 
[00:52:50] Jordan Harbinger: For the bin Laden raid, that has to be one of the sort of highlights of your — I don't know if highlights are quite the right word, I guess highlight could be used in this way. The bin lawn raid has to be one of the career highlights in a way. So I was surprised to hear that during the raid of the soldiers on the ground, raiding the compound were to be discovered by Pakistani military. They were supposed to fight their way out and get out of the country. And that just brings up a lot of questions. Like, that's an alliance. I just don't totally understand, right? We give Pakistan a ton of money for aid, but then we have to do secret military raids inside their country. And we might have to kill a bunch of their soldiers and servicemen on the way out. What kind of ally is that? 
[00:53:27] John Brennan: Well, it's not that unusual that we have relationships with a number of countries around the world where we provide a lot of assistance and aid. But still, we have concerns about their ability to keep secrets or what they are doing behind our back. And we have had a number of issues with Pakistan over the years. And I've had the occasion to have some very animated conversations with my Pakistani counterparts over the years, including some young matches about what they were doing. And the bin Laden raid, as we were coming to terms with exactly how we were going to try to get bin Laden pretty early on, we dismissed the notion that we were going to bring the Pakistanis into the operation because we didn't know whether or not bin Laden was hiding out in Pakistan with the support and protection of the Pakistani government as a whole or some very influential Pakistani officials. So we knew we needed to keep it very, very closely held and we were going to carry out this operation unilaterally. And fortunately, we did and quite successfully.
[00:54:30] Jordan Harbinger: What about Syria? Do you wish the United States had gotten involved earlier in Syria? You think we could have removed Assad.
[00:54:37] John Brennan: When the Arab Spring erupted and including in Syria, there was a great uncertainty about how the whole Arab Spring would evolve. And unfortunately, I think there were too many people who thought that was you have to do is move out of these authoritarian leaders like Mubarak and Ben Ali and Tunisian, other places, and democracy is going to flourish. Well, no, the Middle East really doesn't have a history of political participation in democratic institutions. They just replaced frequently one authoritarian leader with another. And so there was significant pressure that was put on President Assad of Syria and a good portion of his army, in fact, had deserted and formed the Free Syrian Army. And at the time there was debate about whether or not there should be more US assistance provided to this Free Syrian Army as a way to overthrow Assad. But there was also uncertainty about what would happen with Damascus and Syria devolving to chaos. Will the Russians come in? Because Russia was the benefactor of Syria for decades. And I wouldn't think that Russia was just going to stand by idly and watch its principal client state in the Middle East just collapse. 
[00:55:44] But also at the time of the beginning of the Arab Spring, the Islamic State had not reared its ugly head. It had not erupted inside of Iraq and then moved  into Syria. And so over the course of those, you know, subsequent two, three, four years, the opposition to Assad took on an increasingly radicalized and extremist Islamist cast, which complicated the issue significantly. Because early on that Free Syrian Army was mostly secular, they didn't have a religious orientation, but then the opposition to Assad became very diverse. There was a lot of extremists in there. 
[00:56:22] So looking back on it now, maybe if there was a quick action in terms of trying to provide a massive infusion of arms and assistance to those rebels, Assad would have fallen, but it's unknowable what would have happened at the time and how the Russians would have reacted. Unfortunately, Syria is one of the tragedies, I think, of the past decade and that country, beautiful country that has been destroyed and so many people have died. It's a very unfortunate turn of events that Looking back on it now, the US invasion of Iraq I think was responsible for so many, very, very consequential and negative actions afterward that I think the Islamic States. Because it was able to take advantage of an Iraq that really had a security vacuum in it. As a result of the first, the US invasion of Iraq, and then pulling US forces out of it, it allowed the Islamic state to just grow exponentially very, very quickly. 
[00:57:20] Jordan Harbinger: This is The Jordan Harbinger Show with our guest John Brennan. We'll be right back. 
[00:57:25] This episode is sponsored in part by LifeLock. You know, I actually was using LifeLock before and I am now again, but I took a break cause I thought, "Oh, I can just freeze my credit. And that'll keep my personal information safe." Actually, that's a myth. Freezing your credit may prevent identity thieves from opening new credit cards and accounts in your name, but it can't protect you from other more common types of identity theft. So identity thieves, they can take your personal information, file a tax return in your name, get your refund, commit other types of fraud, social security employment fraud. Freezing your credit won't prevent thieves from accessing your current credit and bank accounts either, which is kind of terrifying. So you need someone watching your back. LifeLock is a leader in identity theft protection. Essentially, it's an insurance policy. They have professionals that will help you restore your credit. If you do get zinged by identity thieves. So it's really important to understand how cybercrime and identity theft can affect your lives. It's just not worth leaving it to chance. 
[00:58:18] Jen Harbinger: No one can prevent all identity theft or monitor all transactions at all businesses. LifeLock can see threats that you might miss on your own. Join now and save up to 25% off your first year at lifelock.com/jordan. That's lifelock.com/jordan for 25 percent off. 
[00:58:34] Jordan Harbinger: This episode is also sponsored by Better Help. The new year can be a good time for a mental health check in. It's important to remember that reaching out is not a sign of weakness, but a significant step toward the path of self care. And the sooner you seek help, the faster you can get back on track. Some critical signs, it's time to get professional help are: if let's say you no longer enjoy activities, you typically did. Your using substances or sex to cope. You've experienced some trauma. You want to improve yourself, but you don't know where to start. Therapy can even help you untangle and better understand sticky interpersonal situations in which you find yourself. A skilled therapist can help you understand your own part in a situation and what you can do differently to produce a better outcome. Moreover, she can also help you better understand other people's points of views so that you're more aware of your impact on others. There are a million reasons to try therapy. And I highly recommend Better Help.
[00:59:23] Jen Harbinger: Better Help is a convenient and affordable option. And our listeners get 10 percent off your first month with the discount code JORDAN. Get started today at betterhelp.com/jordan. There's no shame in asking for help.
[00:59:35] Jordan Harbinger: Thanks so much for listening to the show. It really does make me so happy that I can share this stuff with you. The reason I'm able to do all this is because you support our sponsors. So to learn more and get links to all the great discounts you hear on the show, you can check out all the amazing sponsors for yourself. They're all in one place. Go to jordanharbinger.com/deals. Please do consider supporting those who support us. I can't emphasize that enough. I try not to cram like products down your throat and stuff like that. I don't have a hundred dollars calendar. I'm not teaching you life coaching stuff to make ends meet over here. I just want you to support the sponsors. They're great and they help us do what we do. Also we've got worksheets for every episode. Today's episode is no exception. If you want to get the drills exercises, some of the major takeaways from each episode, they're all in one place as well. Those are in the worksheets at jordanharbinger.com/podcast. Now for the conclusion of our episode with John Brennan.
[01:00:29] What do you think will happen now? I mean, if we could get out the crystal ball here, it looks like Assad is going to remain in power and in control of this — almost totally destroyed country that has chemical weapons, biological weapons, I think, right? And that is strongly aligned with Russia and run by a psychopath from everything that I can see from that guy. 
[01:00:49] John Brennan: Yeah, it's hard to envision what's going to happen over the next decade in Syria. Bashar al-Assad is the son of Hafez al-Assad and the father and son have basically ruled Syria for the last 40 some odd years with a very iron fist. It's a very, very ethnically, religiously diverse country. And the current government, in the Assad government is a minority Shia sect, the Alawis. And there are Christians. There are Druze, there are Shia, there are Sunni in the country and the government in Damascus is not representative of the Syrian people. Bashar al-Assad will ultimately pass from the scene and the lateral improvement will ultimately pass from the scene of Moscow. 
[01:01:30] But I do think the Biden administration is going to take a rather cautious and practical approach to, not just Syria, but also to these other Middle East problems. Recognizing, although the United States still is tremendously powerful in terms of militarily, economically, politically, we really have limited ability to shape the course of political events in foreign countries. I think we've learned that lesson, unfortunately, tragically too many times. And so I think there will be an effort to try to limit bloodshed and because, you know, you have to stabilize a situation first before you can make any progress on the diplomatic and negotiating front. So I do think if we can bring some of these warring parties to halt their fighting. It provides maybe some opportunity for diplomacy and for foreign assistance to come in and try to repair the damage that has been done. 
[01:02:23] Jordan Harbinger: What do you think of the recent assassinations in Iran of people that were part of terrorist groups and/or people that were part of the Iranian military? I can't remember the general's name, but he was assassinated by a drone. You know who I'm talking about, right?  
[01:02:37] John Brennan: The first one was Qasem Soleimani —
[01:02:39] Jordan Harbinger: Yeah.
[01:02:39] John Brennan: — who was the head of the Quds Force, which is an element of the Iranian revolutionary guard. And the Quds Force has been involved in supporting terrorist organizations in the Middle East for many, many years. Qasem Soleimani was one of my principle nemeses when I was in the Obama Administration. And then there was the killing, assassination outside of Iran of the father of the Iranian nuclear program, Fakhrizadeh who was gunned down in his vehicle. I've come out publicly, strongly opposing both of those strikes and for reasons that some people, a lot of people fail to agree with.
[01:03:18] Both of those individuals were senior officials in sovereign country's government. We are not at war with Iran. Israel is not at war with Iran. And the fact that we can kill these foreign officials does not give us, I think the right, certainly not under international law. It is a violation of international law for the sovereign government of one country to kill a foreign senior official of another country. And so I don't for a minute, excuse anything that Qasem Soleimani has done. But I think if we basically approve of such strikes, does that mean that China can kill the head of the Taiwanese intelligence service, because he believes that he has been involved in doing things that undermine Chinese stability? Does it mean that Vladimir Putin can kill a Ukrainian nuclear scientist who the Russians believe is trying to explore the idea of a nuclear weapon? Does it allow this type of international wild, wild west to prevail and thrive? No. I think there is an international order that sovereign states should adhere to.
[01:04:28] So therefore the killing of both Qassem Soleimani and Fakhrizadeh I think flout that international law, the international order that I do believe sovereign states have to abide by. And as much  different than strikes against terrorist organizations, tourist organizations, like Al-Qaeda have no standing in international law. In fact, they are illegitimate combatants. And so therefore when strikes were taken against Al-Qaeda operatives or leaders who were planning to carry out these legal attacks against innocent men, women, and children, the United States and other countries also took action to prevent those activities from taking place.
[01:05:04] Was it cathartic for people to say, "Yeah, we, we kill the Iranians because they're bad"? I think we have to stop looking at these types of activities in very stark, black and white terms. If we do it or if Israel does it, it's okay. If China does it or Russia does it, it's not okay. Well, I'm sorry, that is just a very nativist and I think a very, in many aspects, foolish sort of approach. If you really want to have an international environment, that there is going to be respect for sovereign status and for international order. 
[01:05:36] Jordan Harbinger: Is there any part of you that's like, "Well, great. I was the director of the CIA. Now, that we're doing this, am I on the menu for someone else?" I mean, I would be worried about that. I know that's not probably your chief concern, but I'd be thinking like, "Oh great. Maybe I have to look over my shoulder now as a result of all this." 
[01:05:50] John Brennan: Well, I've had to look over my shoulder a number times over the years and I just believe strongly in, in speaking out when I see something that I believe is wrong, either from a legal standpoint or again, from a good government standpoint, I will speak out. And that's why I have offended people on the right and the left. And there are a lot of ardent defenders of Israel who are aghast that I would take issue with this. Well, I worked very closely with my Israeli counterparts in Mossad and Shin Bet over the years. And I did a lot to try to strengthen Israel security. I'm a firm believer in it, but I'm also a firm believer that we shouldn't stoop to the tactics of international criminals who engage in these types of attacks. 
[01:06:35] The United States also did outlaw assassinations by an executive order. That's been on the books for the last 40 years or so because of some things — done by the CIA that not only were controversial, but they were deemed to be un-American. And so I think we have to get back to what is the right thing to do as opposed to what is the politically expedient thing to do.
[01:06:55] Jordan Harbinger: I know you're also very opposed to using disinformation, even with our adversaries in the craft of espionage. A lot of people might not know what I mean here, but disinformation sort of — what would you say — is the quickest way to say this sort of fake stories that are planted?
[01:07:09] John Brennan: Propaganda.
[01:07:09] Jordan Harbinger: Propaganda, yeah. 
[01:07:10] John Brennan: False, yeah, it's disinformation. Misinformation is something that only puts out information that they don't know is incorrect or inaccurate, but it is this, disinformation is you know, it is a falsehood and you intentionally put it out because you're trying to mislead or to shape the views of people. And this is a tactic that intelligence services have used over the years, whether it be Russian propaganda, CIA was involved in it a number of times. But when I was in the Obama Administration, first at the White House, and then at CIA, I was adamantly opposed to the United States intentionally putting out false information for two principal reasons. One is I didn't think it was consistent with what the United States stands for, which is truth and honesty. Secondly, if it was exposed and in this digital world where there are just so many opportunities to expose these types of things, if it's understood that the United States is putting out false information, it just undermines completely our credibility in the eyes of the world.
[01:08:07] If we're trying to denigrate the Iranian regime or Vladimir Putin or things that the Chinese are doing in the digital environment, there's plenty of stuff that's true and accurate that we can put out there. We don't have to make up stuff. And so unfortunately, I think there were a lot of people at CIA that thought I was out of my mind if I was not going to authorize the release of false information. But again, I just didn't think it was the American thing to do. 
[01:08:35] Jordan Harbinger: And you think we can be effective without doing it, so why take the risk. 
[01:08:39] John Brennan: Absolutely. I mean, if we have real issues with the Iranians and the Russians and others, it's because there's real stuff that they're doing that needs to be exposed. And so sometimes it requires declassification of information. But again, making stuff up, I mean, then we're no better than our adversaries. We're no better than those that we denigrate ourselves. 
[01:09:00] Jordan Harbinger: What do you think was your greatest success as director of the CIA or actually in your entire career in the CIA?
[01:09:06] John Brennan: Not getting indicted.
[01:09:07] Jordan Harbinger: Not getting indicted, okay. The bar is low I see. 
[01:09:12] John Brennan: Greatest success — I'm asked that a lot and it's really hard to put my finger on it. I really feel as though over the course of 33-plus years in government, I had tremendous, tremendous opportunity and the honor of being a participant in so many important events over history, whether we're talking about UBL or other things. And I just felt really privileged to be part of the US government team and national security team that really would try to work together to protect our fellow citizens. So, you know, this success that I felt, I always felt that being part of the team was a real privilege, like, being part of a world championship football team or baseball team or something. That there are so many different parts and so many different players that the teamwork itself was something that you just felt really, really good about.
[01:10:01] Jordan Harbinger: You said UBL, is that an abbreviation for Osama bin Laden? What is that? 
[01:10:04] John Brennan: Osama bin Laden, yeah, because a lot of people spell Osama with an "O" but we usually do "U," Usama bin Laden, UBL 
[01:10:10] Jordan Harbinger: Yeah, I never heard that. I guess that makes sense. What do you think your greatest failure was then during your career in the CIA?
[01:10:17] John Brennan: Well, I have had some personal failures. And I talk about in the book that one of my responsibilities when I was at the White House was to make recommendations to President Obama about when we needed to use force, lethal force and carry out lethal strikes against terrorist targets as a way to prevent terrorist attacks from taking place. And most of those, the overwhelming majority of those strikes were done very effectively without any loss of civilian life. But there were a number that were done where individuals were killed, very tragically, and unfortunately. And including some US citizens, but whenever something like that would happen, I would go back and just try to review all of the intelligence that we had and the recommendations that came up and why we came out where we did as far as making a recommendation. 
[01:11:09] But for those civilians that were killed in any of those actions and by the end of the Obama Administration, we did a review of all the strikes that took place during his first seven years in office. The number of civilian deaths we put between 64 and 115, I think it was, it was probably closer to that higher number. There were very few Americans including that number, but there were some. But to me all life is sacred. And any of those unfortunate deaths or something that I think many of us in the administration, the US government has to live with. I am not somebody who thinks that lives of foreign nationals are any less valuable or important or need to be less protected than American lives. I think all those lives are very sacred. 
[01:11:58] Jordan Harbinger: How do you think we should approach the domestic terrorism threat moving forward? I've been hearing a lot about this in the news and we see these like crazy fringe extremists here in the United States, and it seems like that's growing and not really subsiding. And it seems like that might even be more of a threat than somebody crashing a plane into a skyscraper. 
[01:12:17] John Brennan: I think it is a very serious and worrisome development that unfortunately is being fueled by a lot of the demagoguery that we're hearing from the highest levels of political establishment. And it's not all that unusual. I think if you look back on American history and the history of other countries as well, there have always been nativist strains that have reacted very negatively to foreign influences as well as to what they feel is unfair intervention by the central government. And there are a number of militia groups in this country that have a very warped perspective of reality and are blaming the government, big government, deep state as they like to say, or foreign influences, whether it be immigrants or others. And unfortunately, their perspective has been shaped by a lot of this disinformation that is being put out there for political purposes and personal purposes. And there's also foreign intrigue, we put it that way, and exploitation of these groups because there are similarities between Neo-Nazi organizations in Germany and Europe and these white supremacist groups. 
[01:13:25] And now, unfortunately there are a lot of very legitimate issues and concerns that a lot of these individuals have in terms of people who live in rural areas that used to work at the factory that been closed down, that they and their parents and grandparents have worked in for decades and because of globalization and outsourcing of these jobs and their perspective is, "Oh my goodness , our  country is coming apart and we need to fight back against this." Well, Globalization certainly has had very positive impact on the human condition, but there are also uneven effects. As long as our politicians continue to, I think, use, again, demagoguery and to provide very simplistic and simple-minded solutions to very complex problems, you're going to get people that are gravitating toward the different ends of the political spectrum the far right, as well as the far left. And people in this country, given the wide availability of weapons, it's an unfortunate opportunity that many take advantage of that they are girding themselves for the ultimate battle that is going to take place.
[01:14:32] That's why I do believe that with the Biden Administration is going to be a renewed emphasis or at least a renewed attempt to try to repair some of the damage that has been done and to take the fuel out of a lot of this animus that, unfortunately, has grown in many parts of the country. 
[01:14:49] Jordan Harbinger: I certainly hope so. Yeah. I think that the division is visible for everybody. You'd have to be blind not to see it. And I think it's going to cause greater problems in the future. If we don't stem that a little bit.
[01:14:59] In closing here, you do have some other interesting stories from the book — and we'll link to the book in the show notes — but one of these stories involves you going to Moscow. And I wonder what kind of security precautions you have to take when you're in Moscow. Obviously, the ones that you can talk about. Most of them, you probably can't. But it sounded like there was one sort of countermeasure where it sounds like you erect almost like a tent in the hotel room, so you can look at documents and things like that. Did I read that correctly? 
[01:15:28] John Brennan: Yes. Well, whenever senior intelligence officers or senior diplomats travel overseas and they need to have access to information, they'll set up computer systems and there'll be papers and documents and the types of things that are classified. And you don't want to have the eyes of the local intelligence and security services looking down. And so frequently inside of hotels, you set up what basically is a portable tent, so that you put tables inside the tent and you set up the computer systems and then you have the files and the documents. And you prevent anybody from getting into that tent that doesn't have the need for the access because there are ways to embed in lights, and walls and ceilings, microscopic almost video cameras that can magnify documents and other types of things. So you'd try to take all the precautions necessary to prevent spying eyes and ears and technical equipment from gaining access to very, very sensitive intelligence. 
[01:16:27] Jordan Harbinger: Is Moscow one of those places where you just know, a hundred percent of the time, they're watching your every move?
[01:16:32] John Brennan: Yeah. Some people have taken showers with their clothes on because of the ubiquitousness or ubiquity of the surveillance thing on cameras and capabilities that exist. And so whether or not you are in local cars or you're in your hotel room, or you're in a restaurant, the Russians are very, very sophisticated actors and have some really explicit technical collection system.
[01:16:58] Jordan Harbinger: What's that feeling like? Just, I imagine when you're going to the bathroom, you're just like, "Okay, just don't think about it, John. Just don't think about it." 
[01:17:05] John Brennan: Yeah. I mean, it sort sounds strange, but you have a grudging respect for the other espionage services that are very good at their trade and what  you try to do is to make sure that you are on top of your profession as well, so that you don't give them the opportunities to come across  information that would be damaging to the United States. It is something that I think you're always aware of, as soon as you touch down in Moscow, that, you know — except for maybe thinking private thoughts and sometimes I wonder whether or not the Russians can access that. You're very careful about what you say and to what you do in all parts of that country 
[01:17:43] Jordan Harbinger: You do got to feel a little bit, sorry for the guy whose job it is to watch you take a shower with your clothes on and then write a report about it.
[01:17:50] John Brennan: Yes. I'm very sorry for them. 
[01:17:52] Jordan Harbinger: Yeah. 4:45 a.m., got up early, made coffee, watched Brennan shower with layers of clothing. I mean, I guess that's how you cut your teeth in any organization. Look, as you can see, I'm all out of the good questions. So that's probably a good place to leave it. I do wonder what that letter is over your right shoulder on the shelf. What is that?
[01:18:12] John Brennan: Letter? 
[01:18:13] Jordan Harbinger: It looks like a letter from here. It might not be. It's framed and it's facing us. It's above the Undaunted book. 
[01:18:20] John Brennan: Oh, there's a letter in a frame. Yes, that is from George W. Bush. When I spoke at an event after him, he had to take off and didn't have an opportunity to then talk to me after. I talked to him before, but he was very, very nice and, and wrote — pen me this letter. And although I had disagreements with George W. Bush, I found him to be a very, very serious-minded individual who took his responsibilities very seriously. And so I have a letter from George Bush there. I have a photo with President Clinton and then also a photo with President Obama. So my office, you know, reminds me of all those chapters in my life when I had the privilege to meet with American presidents and others and serve in national security, 
[01:19:06] Jordan Harbinger: John Brennan, thank you very much. We will link to the book Undaunted in the show notes as well. Is there anything I didn't ask you that you want to make sure you have a chance to deliver, or did we pretty much cover everything here?
[01:19:15] John Brennan: I think you'd covered it. One of the things in the book and that I point out is the reason for writing the book. I wanted to, I think, correct some misimpressions that people have about. It tells the profession as well as, you know what I did. But most importantly, I really want to try to encourage young Americans to give serious consideration to public service at some point in their lives. This is a great, wonderful country. And I think we all have a responsibility to try to give back to it. And I chose the intelligence, national security profession, but there's diplomacy. There's the military. There's all different types of work in the federal government, local state. And so the United States, I think, is an exceptional country, but we need to tap into the talent that exists in this great melting pot called America. And so I do hope that young Americans who read the book might be a bit fascinated and maybe a bit encouraged to pursue a life in public service at some point.
[01:20:07] Jordan Harbinger: What do you think of a mandatory year or two of civil service? Like a lot of countries have for people who graduated from high school, or I think it's high school — after high school or after college, you go in the army or something like that. It doesn't have to be the military but what would you think about a program nationwide that says, "Hey, look for two years, you've got to work," even if it's at a hospital or something that those lines.
[01:20:26] John Brennan: I very much liked the idea. No, I don't like the idea of it being conscripted in terms of mandatory, but maybe there can be some real, real positive incentives that would encourage folks to spend those two years, whether it be working in the inner city or helping some of our educational initiatives or serving overseas, like in the Peace Corps. These are the types of things that really, I think help people get a sense of what it means to be an American. As I said, in the book, my father is an immigrant, was an immigrant to this country and said that, "Americans who are citizens by birth too often take their citizenship for granted." And we never should. This is a very, very special country, but it's also ours to lose if we don't take care of it and nurture it. 
[01:21:10] Jordan Harbinger: Thank you very much. Fascinating interview, great stories. I read the book. I liked it. Like I said, I'll link it in the show notes for everyone to go ahead and purchase as well if they are interested in more stories of you wearing terrible disguises and listening to rat's nest in the White House among other things.
[01:21:24] John Brennan: We didn't talk about my earring and my motorcycle riding. We did talk about my hashish smoking though. 
[01:21:29] Jordan Harbinger: That's right. Yeah. I skipped a few. I left a few surprises in there for people. 
[01:21:32] John Brennan: Thank you, Jordan. Thank you so much. 
[01:21:33] Jordan Harbinger: Thank you very much. 
[01:21:36] We've got a trailer of our interview with Reid Hoffman, founder of LinkedIn, and an investor in one of Silicon Valley's top VC firms. He drops by the show to discuss how we can tell when we're informing our intuition with the best available data or if we're just procrastinating to avoid making important decisions. And why never give up is terrible advice and how to separate our winning instincts from our losing ideas. Check out episode 207 of The Jordan Harbinger Show. 
[01:22:03] Reid Hoffman: A piece of advice I most often give entrepreneurs is don't just work on the product, work on it, your go-to-market. It's a huge world. It's eight billion people. How do you stand out against eight billion people? Actually, in fact, that's kind of challenging. 
[01:22:15] Jordan Harbinger: Yeah, that's a good point. Are we at eight already? 
[01:22:17] Reid Hoffman: Yes. 
[01:22:17] Jordan Harbinger: Oh my gosh. 
[01:22:19] Reid Hoffman: Yeah. Oh, I build this thing in a corner. No one sees it. It may be the best thing ever, but no one sees it. So it's never used. That's the problem on the entrepreneurship side. So network, one key component. Another one is which is your Plan A, you have Plans B, which is how to think about like, "Well, if A is not working on maybe B will work or maybe B would be a different path or you're not coming." And then you have a Z Plan which has, it's not working out at all. What's my lifeboat plan? I'm going to row to a different set of Plan A and Plan B's. There's always luck. There's always timing. The game is not so much, "Can I be one of the heroes that's written and about in the next a hundred years?" But the game is, "Can I do something that, where I started from, I can make something interesting."
[01:23:01] You're playing your own game. Yes, your passion's important, but you should be paying attention to market realities. You should say, "Well, what are the opportunities look like? What does competition look like? What's the best match for me to what the opportunity landscape looks like?" You could always say one more data is useful. The test is what's the minimum set of data that you would actually in fact, make this decision. 
[01:23:23] Jordan Harbinger: We need to separate our winning intuition or instincts from our losing ideas.
[01:23:29] Reid Hoffman: More often than not greater than 50 percent of the time, you're going to have to give up on that idea. Everyone loves to tell these narratives of, "Well, one I was two, I knew what I was going to do when I was 40." 
[01:23:40] Jordan Harbinger: Yeah, it sounds good.
[01:23:41] Reid Hoffman: And it was a straight line. It was kind of smooth sailing. The wind was at our back. It was kind of unproblematic. It's always fiction.
[01:23:50] Jordan Harbinger:  For more with Reid Hoffman in a two-part mashup that includes cameos by the founder of Spotify, the CEO of Yahoo, and more check out episode 207 of The Jordan Harbinger Show.
[01:24:03] There's a lot of interesting stories in the book. For example, he talks about how smoothly the transition went between Bush and the Obama Administration almost seems like a version of America that maybe doesn't exist anymore, sadly, I don't know. He also went to Cuba and there's some discussion of communism. Honestly, I went to Cuba. Anyone who thinks communism is a great idea. That is a place that will disabuse you of that notion very quickly. It's one big tropical Alcatraz in many ways, beautiful place, a lot of the people just couldn't wait to get out of there. I really enjoyed this episode. I hope you did as well. 
[01:24:33] And links to everything, including the book will be linked up in the show notes. Please do use our links on the website if you buy the book, it helps support the show. Worksheets for this episode in the show notes. Transcripts are in the show notes. There's a video of this interview going up on the YouTube channel at jordanharbinger.com/youtube. I'm at @JordanHarbinger on both Twitter and Instagram or just hit me on LinkedIn. 
[01:24:55] I'm teaching you how to connect with great people, manage relationships. I got the same drills, software techniques, everything that I use every day in just a few minutes to maintain connections with hundreds of people. I did a course on that real quick, real easy, real free over at jordanharbinger.com/course. Dig the well before you get thirsty. Most of the guests on the show, they subscribed to the course. Obviously, there's something in there. I'd like to think so.
[01:25:18] This show is created in association with PodcastOne. My team is awesome and that is Jen Harbinger, Jase Sanderson, Robert Fogarty, Ian Baird, Millie Ocampo, Josh Ballard, and Gabriel Mizrahi. Remember, we rise by lifting others. The fee for the show is that you share it with friends when you find something useful or interesting. If you know anyone who wants to go into government or is in government, interested in the CIA or foreign relations, please do share this episode with them. I hope you find something great in every episode of this show. I work hard for that. We all do. Please do share the show with those you care about. In the meantime, do your best to apply what you hear on the show, so you can live what you listen, and we'll see you next time.
Sign up to receive email updates
Enter your name and email address below and I'll send you periodic updates about the podcast.