Reading Time:
3
minutes
John Perkins (@jperkinsauthor) is an economist who has advised the World Bank, United Nations, Fortune 500 corporations, and the US government. He is the author of The New Confessions of an Economic Hit Man.
What We Discuss with John Perkins:
How corporations and governments use economic hit men (like John in a previous life) to coerce developing countries to auction off their most valuable resources like rainforests, oil, and mines at bargain-basement prices.
Why these predatory capitalist policies are commonplace and above scrutiny — even though your tax dollars are massively subsidizing them.
The dire consequences that transpire when the leaders of these developing nations refuse to play ball.
How false economics, false promises, threats, bribes, extortion, debt, deception, coups, assassinations, and unbridled military power are used to dominate the developing world now more than ever before.
What John has learned from his time inside this corrupt system that we can use to transform what he calls a Death Economy into a Life Economy.
And much more…
Like this show? Please leave us a review here — even one sentence helps! Consider including your Twitter handle so we can thank you personally!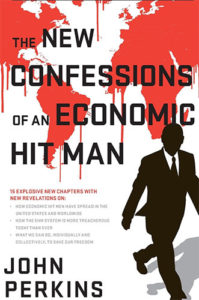 When it comes to ensuring the sustainability of resources we rely upon for survival, and keeping the world in good order to hand off to future generations, we humans can be a pretty short-sighted bunch. And it doesn't help that the richest corporations and governments use their power to plunder the developing world of its most valuable resources. On this episode, The New Confessions of an Economic Hit Man author John Perkins joins us to detail how he used to operate on behalf of the rich and powerful to coerce leaders of developing countries to accept massive loans as a ploy to bankrupt them into signing away their resource rights for pennies on the dollar — or else.
Now that he's changed his ways, John shares what he learned from his time inside this corrupt system so we can transform what he calls this Death Economy (exploiting resources that are declining at accelerating rates) into a Life Economy (cleaning up pollution, recycling, and investing in technologies that promote regenerative lifestyles and economies). Listen, learn, and enjoy!
Please Scroll Down for Featured Resources and Transcript!
Please note that some of the links on this page (books, movies, music, etc.) lead to affiliate programs for which The Jordan Harbinger Show receives compensation. It's just one of the ways we keep the lights on around here. Thank you for your support!
Sign up for Six-Minute Networking — our free networking and relationship development mini course — at jordanharbinger.com/course!
Better Help offers affordable, online counseling at your convenience. If you're coping with depression, stress, anxiety, addiction, or any number of issues, you're not alone. Talk with a licensed professional therapist for 10 percent off your first month at betterhelp.com/jordan!
HostGator has been around almost as long as the Internet. Does your business have an Internet presence? Save up to a whopping 62% on new webhosting packages with HostGator at hostgator.com/jordan!
Blue Moon Belgian White is refreshing for the palate of the sophisticated beer aficionado without succumbing to snobbery. Not sure if it's available in your area? get.bluemoonbeer.com allows you to find local stores that carry Blue Moon or have it delivered in under three hours!
Albert conducts your financial life so you can make good money decisions with confidence. Install Albert today to find your happy balance and get a bonus of up to $40 when you start an annual subscription to Albert Genius!
Miss our episode with comedian Lisa Lampanelli? Catch up with episode 183: Lisa Lampanelli | Changing Careers at the Top of Your Game here!
THANKS, JOHN PERKINS!
If you enjoyed this session with John Perkins, let him know by clicking on the link below and sending him a quick shout out at Twitter:
Click here to thank John Perkins at Twitter!
Click here to let Jordan know about your number one takeaway from this episode!
And if you want us to answer your questions on one of our upcoming weekly Feedback Friday episodes, drop us a line at friday@jordanharbinger.com.
Resources from This Episode:
Transcript of John Perkins | New Confessions of an Economic Hit Man (Episode 416)
Jordan Harbinger: [00:00:00] Coming up on The Jordan Harbinger Show. 
John Perkins: [00:00:02] They buy a very, very cheap debt on these countries. And then they go back to the countries and say, "Hey, you've got to pay us a lot of money and we'll litigate against it because we're holding this paper and we're going to go after you. And if you can't pay in cash, then pay in resources or pay in cheap labor markets or whatever." We weren't helping the poor get better lives. We're helping the rich get richer. We're helping the United States colonize a great deal of the world with US corporations primarily. And I got to say those techniques are not winning us trends around the world.
Jordan Harbinger: [00:00:40] Welcome to the show. I'm Jordan Harbinger. On The Jordan Harbinger Show, we decode the stories, secrets, and skills of the world's most fascinating people. If you're new to the show, we have in-depth conversations with people at the top of their game, astronauts, entrepreneurs, spies, and psychologists, even the occasional economic hitman. That's what we have today. And each episode turns our guests' wisdom into practical advice that you can use to build a deeper understanding of how the world works and become a better critical thinker.
[00:01:08] I said economic hitman and I wasn't lying. I'm really excited for this one. My friend, John Perkins, is a super interesting cat, used to be an economic hitman. His job was to travel to developing countries and get them to accept insanely huge loans in order to deliberately bankrupt the country and therefore be shackled to the United States or to the World Bank or whoever. So that those countries would then be forced to export natural resources to serve as the debt, or even give up territory for military bases and ports and things like that. I'll let him explain it. But essentially this is one of the more disturbing tales of coercion that I've heard when it comes to international relations and global trade. Today, we'll learn how corporations convince countries to operate off rainforest and oil and mines and national resources. How this is all shielded from scrutiny, even though they use taxpayer money for a lot of this, for most of it. And we'll see an even darker side of what goes down if the leaders of those nations refuse to play ball. Spoiler alert, they typically go down in flames.
[00:02:07] If you're wondering how I managed to find all these amazing guests, these thinkers, these authors, these wild stories, it's because of my network. I'm constantly working on that. I'm teaching you how to build your network for free even if you don't want crazy stories on a podcast, but you just want a promotion. Go check out Six-Minute Networking. It's free over at jordanharbinger.com/course. And by the way, many of the guests you hear on the show, they're in the course, they contribute to the course. Come join us, you'll be in smart company. Now, here's John Perkins.
[00:02:39] Instead of going down the road of depressing things, let's talk about how you used to go into countries and ruin their economy. All right, so I think what most people are going to want to know first is what is an economic hitman? Because so many people recommended this book to me that when I read it, I went, "This is probably crap and not true because I would've heard about it by now." Which is probably what everyone says to you, right? 
John Perkins: [00:03:04] Yeah. So I do hear — I used to hear. When a book first came out, like, "Can this possibly be true?" And then I also heard a lot of people saying, "Well, what's the story about an economic hit man?" I think I always kind of believe that, but I didn't want to believe it. And there were all these things to tell me that it wasn't true, but now I see that it is true. And so, you know, I think that story is a very powerful one because it is true. And what we did as an economic hitman — and again, first of all, my title was chief economist. I was very legitimate. I didn't go out as a spy or something. I went out as a representative of the World Bank or the Asian Development Bank or the US Agency for International Development or the State Department. But my job and that of my staff was to identify countries that had resources our corporations want like oil. And then we'd go into that country and arrange for a huge loan to that country from the World Bank or one of its sister organizations.
[00:03:57] But the money never actually went to the country. Instead, it went to our own corporations, the big engineering companies, the Bechtel's, the Halliburton's, the Brown & Root's, or the General Electric's that made the equipment to build huge infrastructure projects in those countries. Electric power systems, industrial parks, highways, ports, things that made huge profits for the companies that built them, obviously our companies, but also made money for the future to wealthy families in those countries. The people who own the industries who owned the banks, the shopping malls, but it left the rest of the country in dire debt. And so the majority of the people suffered because money was diverted from health, education, and other social services to pay the interest on the loans. And in the end, the country couldn't pay back the principal on the loan.
[00:04:49] So we, economic hitman, will go back in under the guise of the International Monetary Fund, the IMF. And we'd say, "Hey, we'll restructure that loan for you. But there's conditions that you've got to meet. Things like prioritizing your public sector, businesses, your utility companies, your schools, your prisons, and selling them to our investors that cut-rate prices. Or first of all, allow our companies to take your resource oil or whatever it is real cheap without any environmental or social regulations. And privatize and vote with us on the next United Nations vote. And let us build a military base on your soil." And so this was the game that we were playing and it was a game that at the beginning, I thought was doing a big service to these countries.
[00:05:33] Because in business school I learned and the statistics show that when you invest in these kinds of projects, billions of dollars, the economy grows. It does. But what I didn't really, until I'd been in this business for a long time, was that those statistics, GDP really are a reflection of how well the rich are doing. They don't reflect the general prosperity of the country.
[00:05:56] So if you take a country, like today, the United States where we have three individuals who have as much wealth as half the country, if those three individuals are doing well, they're making 10 percent a year on their investments, and half the country's doing poorly losing three percent a year, the overall growth and the economy will look very good and look like something like around five percent. And so these statistics are our lies, really. They're manipulated to benefit big corporations and the few rich people who basically own the big businesses, 
Jordan Harbinger: [00:06:28] Me and some friends — I was talking about this the other day because I studied economics in undergrad and eventually went to law school. But there's something called a K-shaped recovery, which I'm sure — are you familiar with that or has it been too long? 
John Perkins: [00:06:41] I'm sort of familiar with it, but probably be good to repeat it for the listeners. 
Jordan Harbinger: [00:06:45] Yeah, essentially what this is and I'll just simplify it in a couple of sentences here, but when the economy goes down and then bounces back up, that's a V-shaped recovery. You have a W-shaped recovery where it goes down and then up because of a stimulus down again because it's still down and then up again, naturally that's a W-shaped recovery. But a K-shaped recovery, the very, very short version is when the economy recovers, but like one segment of people — you know, that has millions of dollars in the stock market — they go up and they go, "This is great." That's kind of what we're probably in right now, although it's too early to tell and everyone else just continues to kind of go downward because they're like, "What are you talking about? I don't own 300 shares or 3000 shares of Tesla. I own whatever, tiny — 40 grand and an IRA somewhere that I think I have to invest in some mutual funds or something like that or nothing because I'm paycheck to paycheck. What are you talking about? The economy is good. I'm still at home looking for jobs online," but everybody who's in a good position, like one percent who's in a really good position is going, "The economy is so great right now. Look at this." So when we measure it, like you said, when we measure GDP, we go, "Hey, look, everyone's doing so well." And it's like, "Hey look, the top one percent, five percent, whatever it is, their stocks and equities and all those things are through the roof. But everybody else who has to go paycheck to paycheck." The guy who works at the drugstore down the street, he's more broke than he was before and he's about to lose his job. You know, that's what a K-shaped recovery can mean. 
John Perkins: [00:08:07] And yes, and really, almost all of our statistics are about K-shaped recoveries even if they don't look that way, even if they look like a V or a W. They're really about K because everything measures the wealthy, most of our metrics, GDP and so on and so forth and the stock market, all these things. The only real measure that doesn't do that are the ones around labor. If you can have a full employment economy, then you may be measuring V but that again is dependent upon what labor be paid. So it's easy to say, "Oh, well, very low unemployment or very high employment." But if that means that somebody has to work three jobs and never be home with their kids and all those jobs are unsatisfying and they're working at very minimum wages that they are living wage, then even that statistic becomes somewhat meaningless. So the fact of the matter is most of the statistics that we deal with today are very, very skewed in favor of the wealthy. And that's true throughout the world. 
Jordan Harbinger: [00:09:05] Of course. And it probably always has been, although I'm only 40. I'm either too old and I should know this, or I'm too young to know this. I don't know. But Econ was 20 years ago in any case. How do this loan and debt cycle work? Because look okay, we're making some wealthy families in. Let's say Ecuador, which we'll talk about in a minute. We're making them richer. Poor people in that nation are getting worse off because they're not actually getting any benefit from this, but it's worse. They are worse off for this because the money that was going into the country then becomes a loan or was always alone. But then as soon as that loan is defaulted on, which is not just happening all the time, but happens by design. Can you explain why this is by design and then what happens as a result?
John Perkins: [00:09:46] Well, it's by design because there's a long history here of what we could call colonialism. 
Jordan Harbinger: [00:09:51] Yeah. I think that's fair. 
John Perkins: [00:09:53] Typically, you know, throughout history, colonialism has involved economics and trade. The Chinese historically have been very good at using trade that way. And they're doing it again today. It's another story. But in more recent times, this goes back several hundred years, it's taken more of the form of violence or the threat of violence. And so how do you take over countries. You threatened to send your military and you threatened to overthrow presidents or assassinate them, which is something that we've done. You know, in the United States, has a history that we've admitted to.
[00:10:23] So these presidents of countries, when I would go in and say, "Hey, put your country deep into debt. With this loan from the World Bank, you and your people are going to make a lot of money out of it. But you know, the majority of the people aren't going to do so well — the leaders know this, but the other side of that formula is that these people know that if they don't take these billions of dollars I'm offering them, then the guys with the gun are going to walk in. I didn't carry a gun, but I knew that right behind me, we call jackals who are CIA operatives, normally assets, often not employees but contractors who either overthrow governments or assassinate the leaders. This isn't a conspiracy theory. It's a fact, you know.
[00:11:05] Henry Kissinger, the United States, we've admitted that we did this sort of thing with the Allende in Chile and Arbenz in Guatemala, Mossadegh in Iran, around and Lumumba in the Congo and Chi Minh in Vietnam and on and on and on. And so leaders of these countries who put into this very difficult position here. Put your country deep into debt and you and your family will get wealthy and be able to go to colleges in the United States and so on and so forth, or we'll take you out of the office and the next guy will buy into the deal. 
Jordan Harbinger: [00:11:32] Right. Like eventually, we'll kill enough people that somebody will have sense enough to listen. So it's like a mafia business model as opposed to a banking business model, which makes a lot of sense. And it is an unfortunate way to look at a country's foreign policy, but I don't see a ton of difference. You're making them an offer that they can't refuse. And they just don't get the horse head in their bed as a warning. 
John Perkins: [00:11:52] Well, the horse head is there.
Jordan Harbinger: [00:11:53] Yeah.
John Perkins: [00:11:53] It's a little more subtle. They know what happened to Allende in Chile. They know what happened to Mossadegh. They're all very, very aware of that. So that knowledge itself is the horse head. And if they're not getting it, we'll give them subtle reminders of what's happened to others.
Jordan Harbinger: [00:12:08] Yeah. That makes sense. I'm tempted to ask how that happens, but I assume it's simply a history lesson. Like, "That wasn't an accident and that wasn't an accident. How many more examples do you need before you find out that the best thing you can do is take a $10-million bribe and a full scholarship for your kid to Columbia University or whatever, and just be quiet and let it go? And look, your country is going to be more prosperous. This is a win-win situation." I assume that's how you sell these types of deals. 
John Perkins: [00:12:34] Exactly the models. We have the econometric models, the studies, we have shown that the country is going to prosper because again, it's measured in GDP and the president or ministers of state, or whoever can take these studies out to the people, take them into the press, the newspapers will brag about it and so on and so forth.
[00:12:49] And incidentally, you mentioned the bribe. We were very careful. My company was very careful not to break any of the US — very strict laws against bribery — but yes, offer scholarships to the children of the leaders of these countries and jobs when they graduate from schools in the United States. We will get you into these schools. My company was in Boston, a lot of good schools in Boston. We could get people into all of them and get them the scholarships. So we'd give them scholarships. And we'd brag about this. The Boston Globe would carry articles about how my company, Chas T. Main, had given out million dollars in scholarships to people from poor countries last year. And of course, the article never happened to mention that it was giving scholarships to the families that didn't need scholarships.
Jordan Harbinger: [00:13:32] Right, yeah. It's the kids of all the generals and the senators or whatever, and the president, the prime minister, it's not the person who comes from a village and learned how to — you know, who's making a hut out of fat and dirt. That guy didn't get a scholarship. It was somebody else who could have paid for it in cash out of their wallet.
John Perkins: [00:13:46] Sadly.
Jordan Harbinger: [00:13:48] The loan has another edge to it as well, which is as soon as you default on a loan as a nation, and this is where — correct me if I'm wrong — but as soon as you default, I demand a $300 million loan payment. And you say, "Well, that's the money I have earmarked for roads or for healthcare or for education in my country." And I say, "I don't give a crap. I'm the IMF or the World Bank or the United States or whatever. I'm the lender, you got to make this payment, or you're going to go into default and then see what happens to your international credit rating. We're going to take your oil and that's going to be the payment you're going to give us." And we'll get to it as well later on. But China's doing this now where they make a loan to let's say Sri Lanka and they say, "Look, we're just going to build a port. It's going to be great for you. Oh, you can't pay well, that's fine. We own the port now outright, and we're going to put a Naval base there too. And you're just not going to say anything because you owe us 400 million or four billion dollars or whatever the hell, you know, it costs to build a giant deep-water port in Sri Lanka." At rates that they chose. 
John Perkins: [00:14:44] Yes. And actually, you frame it in very nice terms. You say here's this economic study that proves the austerity, austerity. Austerity is the solution. And that appeals to people, you know, the American public buys into that. Oh, Greece, you know, they've been overspending, they're a spendthrift country. They've gotten into deep debt. They've got to go into austerity.
[00:15:06] And so it's framed in this business of, oh, tighten your belt. Be frugal, stop wasting money. In other words, tax the poor people.
Jordan Harbinger: [00:15:15] Yeah.
John Perkins: [00:15:17] In other words, increase your taxes, but don't do it on the rich because there's this thing called top-down economics and you'll get to keep the rich have to keep spending money so we can't tax them, but we can tax those poor people and the middle classes. And so it's framed in this very clever, perception game that's played in all of this is how we make some bad deals look good. 
Jordan Harbinger: [00:15:38] Whenever I hear tighten your belt, I think about one of the latest communiques from Kim Jong-un, where he says, look, we need these nuclear weapons because we're under threat from everybody. We're just going to have to tighten our belt." And having been to North Korea, I'm looking at people who can't afford belts that have a literal handmade rope, homemade rope around the pair of pants that they still own. That doesn't have seven holes in it. And they're malnourished, you know, a lot of the people there. They don't have enough food. Tighten your belt so you can buy nuclear weapons. I mean, it's just absolutely the most tone-deaf/I don't give a crap about my population thing that anybody could possibly say. 
John Perkins: [00:16:09] Yeah, but we're doing the same thing in a way. $54 out of every a hundred dollars, you or I, or any American citizen pays in taxes, 54 percent of it in the discretionary budget goes to the military. It's not going to our health care, which is a lousy system that we know. It's not going to education. It's not going to social services. 54 percent is going to the military-industrial complex. And a lot of it's being used to build obsolete weapons.
Jordan Harbinger: [00:16:37] Sure.
John Perkins: [00:16:38] Big aircraft carriers and missile systems that in this time of cybernetics and drones and so forth that don't really do a lot for us, but there's components of those systems that are built in every state in the United States. The Pentagon is very smart about that. And so every House of Representative, every Congressperson, every Senator wants to see that military budget increase because his or her state is going to get a little bit more money. 
Jordan Harbinger: [00:17:05] Right, right.
John Perkins: [00:17:06] Very, very clever. 
Jordan Harbinger: [00:17:07] That is clever. Right. So essentially they say, "Hey look. We need to build a bunch more missile interception systems." "Hey, don't those things like never work. And also they don't work with ICBM, which is the only thing anyone's going to use and they don't work on anti-carrier missiles." "Yeah. But you know, you never know when we're going to have some banana republic with three Scud missiles and we might need to sort of like shoot those things down. And so let's put those in every country in Europe." Okay, great. 6 billion or whatever, more dollars later, we're investing in that. But the missile computer systems built in California and the body's built in Missouri and the launchers are built in Florida and the explosive compounds are built in Texas. So everybody gets a little taste of that pork-barrel politics. Meanwhile, where we literally can't even give these things away because they don't do anything. They don't work well most of the time and they don't work against current weapons. Carriers, I don't know. I mean, that's a forest projection thing. When you say cybernetics, do you mean cyber warfare? Is that what you mean? 
John Perkins: [00:18:02] Well, however you want to describe it.
Jordan Harbinger: [00:18:03] Okay.
John Perkins: [00:18:04] Or interference in elections or, you know, control of certain podcasts and Facebook and so on and so forth. I mean, there's all — you know, the Russians have gotten extremely good at that. The Chinese are extremely good at — there's so many different forms that high technology can take today as a weapon, as a way of influencing elections, as a way of influencing public opinion, more than anything else.
[00:18:24] And so countries like Russia and China and Kazakhstan — I was just in Kazakhstan recently. And here's a country that's hardly been heard of, although it's the ninth-largest landmass in the world, and it's an extremely advanced country with much of its technology and the things it's doing with cybernetics. It's really part of this New Silk Road deal that China's putting together that stretches across the planet. And so these countries are doing a lot more than we are as a country. And so what our private industries are doing a lot, but that's being chaired with those countries too, to a large degree. It's a very complex issue. But you know, we are in an era where the old types of warfare have become irrelevant.
[00:19:03] We're a little bit reminded, Jordan, you know, during the French and Indian War, the guy became General President Washington, who was not a general. He was a major colonel and he saw that the British were vulnerable and nobody believed the British were vulnerable, but he saw during the French and Indian War that the French and their Indians could wipe out a huge British army like that of Braddock's in Pennsylvania, just by hiding behind trees. And so when the American Revolution came along, that's what he did. He created a new form of warfare. And the British yelled foul, "Oh no, you got to stand up and yell lines and facing each other and just shoot."
Jordan Harbinger: [00:19:39] Yeah.
John Perkins: [00:19:40] Washington says, "Oh no, no, we're going to hide behind trees and fences."
Jordan Harbinger: [00:19:44] Yeah.
John Perkins: [00:19:44] And so history is filled with that. The arrow became the horse, all these different — and right now the new technology of domination with warfare, whatever you want to call it, domination is high tech.
Jordan Harbinger: [00:19:56] Yeah.
John Perkins: [00:19:56] That's not where the United States is putting the majority of its defense spending. 
Jordan Harbinger: [00:20:00] Yeah, that's true. Although I will say that we are very good at cyber warfare, but we probably should be focusing much more on that so that we can — I think our offensive capabilities are pretty good. I think our defensive capabilities are pretty weak.
John Perkins: [00:20:12] Exactly.
Jordan Harbinger: [00:20:12] And if you don't believe me, just look at how Sony got hacked by North Korea, which should be absolutely unable to do any sort of damage whatsoever. I mean, it's a country that can't even feed its people. How were they able to do that? Granted Sony is a private company, probably had some low defenses because it's just movie stuff, but we know we get attacked by North Korea. We know we get attacked by China and Russia in the cyber domain all the time. It probably won't surprise anybody when there's a serious cyber-attack against our critical infrastructure. And we were unable to handle it. But at least we have an airport floating somewhere in the middle of the Pacific. Now, we may need those as well. I'm no expert on that, but I think you're absolutely right. Our defensive capability in cyber is pretty weak. I don't want to get too far off track. I think a lot of people want to know how you ended up with a gig being an economic hitman as it were, because — Well, one, I feel like I was a hop, skip, and a jump away from leaving law school and going in that direction because I had interviews with NSA, CIA and things like that at that time, and ended up joining big law because — well, because ironically/coincidentally/completely appropriately, I was in massive law school debt and the firms that paid the most were on Wall Street and it was not government work. However, it seems like. I probably could have a chosen quote-unquote, better and end up in probably the exact same position. Because it sounds like what you were doing was Wall Street, only you had more sunshine and you got outside more often.
John Perkins: [00:21:35] Yeah, well, I don't write about all the time, I spent in an office writing reports.
Jordan Harbinger: [00:21:40] Yeah, that makes sense. 
John Perkins: [00:21:40] That doesn't make for exciting reading. There was plenty of that, but there was also a lot of basically cloak and dagger work, although my work has mainly cloak, very little dagger. So how did I end up doing that? It was basically — to begin with. I wanted to avoid the Vietnam War. I did not want to go off. I liked what Muhammad Ali said. He said — I'm paraphrasing — "Those Viet Cong ain't never done nothing bad to me. Why should I go over and kill them or be killed by them?" That's kind of how I felt. So I ended up going into the Peace Corps. I got interviewed by the National Security Agency. They encouraged me to go to the Peace Corps, and then basically hired me when I came out, although they didn't hire me. Then they told me I would probably be hired by a private company. That's the way a lot of this is done.
[00:22:22] So I was hired by this private company, Chas T. Main and since it has been bought out, the name is no longer there, but we were very at the time. We're about 2000 highly trained consultants, specialists. And we were a very low profile company with a lot of power in many spheres. And when I went into this work because of my training, because of what I learned in business school, I thought I was doing the right thing. So at the beginning, I was promoting these loans for these countries and talking to presidents and people and getting them to do these things because I thought it was the right thing. But over time, I began to see the terrible bias written into it. And I think that the reason I saw that, whereas a lot of other people didn't was because I've been in the Peace Corps. I spent three years in Ecuador, in the Amazon, in the Andes working with very poor people who were on the other end of the deals. They were the bad end of the deals.
[00:23:11] And so I'd seen this, I spoke Spanish fluently. I was highly influenced by the head of state of Panama, Omar Torrijos who was very opposed to what the United States was doing and stood up against it. And he was one of my clients. I was sent down to bring him around and not only could I not bring him around it in a way he brought me around. He really helped me understand — he and a lot of other things that were going on and helped me understand that what we were doing was not at all what we were trying to convey that we were doing it. It wasn't the impression that we were sending out to the world. We weren't doing that. We weren't helping the poor get better lives. We're helping the rich get richer. We're helping the United States colonize a great deal of the world with US corporations primarily.
Jordan Harbinger: [00:23:54] You're listening to The Jordan Harbinger Show with our guest John Perkins. We'll be right back.
Jordan Harbinger: [00:25:15] This episode is also sponsored by Better Help online counseling. If you think you might be depressed or you're feeling overwhelmed or anxious, Better Help offers licensed online counselors who are trained to listen and help. If you need someone to spill your guts to, this is the place to go. You can talk with your counselor in a private online environment, all at your own convenience, anxiety, grief, depression, trauma, the laundry list of bounds. Better Help gives you access to help that might not be available in your area. Especially if you're in a small town, the only therapist is your kindergarten teacher or your uncle or something like that. You don't need to deal with that. Fill out a questionnaire. You get matched up in a couple of days. Video, phone, chat, text, if you want to lay low. Everything is confidential and you can request a new counselor at any time for no additional charge. This is a very popular service. Over a million people are using this and they're hiring in all 50 states. 
Jen Harbinger: [00:26:05] Better Help is an affordable option. And our listeners get 10 percent off the first month with the discount code JORDAN. Get started today at better-H-E-L-P.com/jordan. Talk to a therapist online and get help. 
Jordan Harbinger: [00:26:17] And now back to John Perkins on The Jordan Harbinger Show.
[00:26:22] You'd mentioned trying to avoid the draft. So what happened? Were you just interviewing with the CIA/NSA instead of — I don't really know how that works. So if you did an Intel, did you not have to go join the military? Is that kind of how that worked? 
John Perkins: [00:26:34] NSA and Peace Corps, both were draft deferrable that meant that they were not automatic. There were very few jobs at that time that were deferrable. They would be absolutely deferrable. To be a draft deferrable job meant that it was up to your draft board. And I came from a rural community in New Hampshire that was very conservative. You know, all the kids that I'd gone to school with all the guys, they wanted to go off and defend the American in Vietnam. They were just gung ho about this. So my draft board didn't need me. So I chose the Peace Corps which was in my view, I was doing something for America. I wasn't going to Canada. I wasn't going to prison. I was doing something that I believed in and I was learning from it. And my draft board could also justify it from that standpoint, that the Peace Corps was a government organization and it was there too.
[00:27:23] You know, I had to write these letters every year, back to my draft board, explaining that I was because of me — Che Guevara, who is done at the time, but his legacy and Castro, we're not going to get a foothold in Ecuador because of the work I was doing, which of course was nonsense, but it convinced them. And so they gave me a deferment, but every year I had to go back and sweat it out. And by the time I entered the ranks of economic hitman, I just turned 26. And so I was no longer draft fodder. 
Jordan Harbinger: [00:27:54] Ah, yeah, too old. It's funny. Now that I'm 40, I'm like 26 is too old. I'm really old now. Yeah. So I can imagine — I know that in the book, it's kind of funny. you say that the NSA found out that your weaknesses were sex, money, and power. I mean, does that surprise anyone? I'm surprised they needed to meet you or we'll give you any sort of test for that. You're 26 years old and they're like, "Oh, turns out the guy likes money and sex."
John Perkins: [00:28:20] Well, yeah, it's a little deeper than that.
Jordan Harbinger: [00:28:23] Okay.
John Perkins: [00:28:24] So I went through a whole series of interviews at the NSA and strapped into a lie detector, which was pretty scary. I had grown up in a boys prep school where my dad taught at boarding school. So I was surrounded by boys all my life. And I went to high school. I went to that school. There were no girls. I was very shy around women, but I was very fascinated. I had this desire but I was very, very shy and that was a big part of it.
[00:28:47] I had also grown up surrounded by very, very wealthy kids at this prep school and my dad, it was a teacher. He made almost no money. We had a house given to us. We had food. I went to the dining room with these boys from the time I was four years old. So we didn't want any of the essentials but we had no money. We didn't travel. I never left the State of New Hampshire — well, I went to Boston a couple of times. But other than that, I just never, never left until after college and I always wanted that.
[00:29:11] And so now suddenly I have this job where I'm traveling around the world, flying first class, staying in the best hotels, wining, and dining with presidents. It was extremely seductive and the NSA had seen that. They had seen that I wanted that. Then I was getting plenty of sex. And so the money, power, and sex thing, I was getting it and they had seen that and used it. And I talked in the book about once I got the job with Chas T. Main and I was trained by this woman named Claudine  Martin who used this knowledge, money, power, and sex to train me and basically seduce me into doing this job. That part of it was, she was showing me all the things I wanted, but also convincing me that I was about to go up in the world and do the right thing. I was going to help these countries by putting them deep into debt.
Jordan Harbinger: [00:29:59] Were you surprised at all that the NSA would want to hire somebody who was essentially trying to legally not be drafted? Or was it just — it seems surprising. 
John Perkins: [00:30:08] I was shocked as I'm having these interviews, when they asked me, you know, what do you feel about the Vietnam War? And I had to be true about it. I'm on a lie detector. And I was terrified too anyway, so I told them. And I thought, well, this is the end for me, but later I would learn — well, this is back in 1968 and they already knew that we were losing in Vietnam. They didn't care about that. They want to move forward with a new agenda, which is economic hitman management. They knew the military option wasn't working anymore at that point. And that they had to look at a new way of doing things. I didn't know that they knew that. So I thought it was dead meat.
[00:30:42]  Another question they asked me is, have you ever run afoul of the law? Have you ever been interrogated by police? It so happened I went to Middlebury College originally. And I was with a friend who was Iranian, who was a classmate of mine. And I got sucker-punched by this big farmer in a bar and my friend pulled out a knife and cut the guy in the face. It didn't do any serious damage but threw some blood. And he ended up eventually getting thrown out of Middlebury for that. I'd already quit Middlebury the day before we were celebrating. But the next morning, after this all happened, I get called into the police station and they grilled me and I lied. I say — 
Jordan Harbinger: [00:31:20] Sure.
John Perkins: [00:31:20] "No, I didn't see him do anything. I don't think he did it or anything. No." "Where did you guys go?" And I said, "Well, it looked like there was a fight breaking out and the sirens going off. So we just got the heck out of there. We didn't want to have anything to do with that," and I continued to lie. And so now I have to admit as I'm being interrogated by the National Security Agency. Yeah, I got dragged into a police station and I lied. And well, that's the end too.
Jordan Harbinger: [00:31:43] Yeah, of course.
John Perkins: [00:31:44] But they loved it. You know, later I found out that they love the fact that I had the guts to lie to the police and unbeknownst to me — you know, well, I knew that my friend, his name is Farhad. His father was a general in the Shah's army in Iran, and of course, he worked for the CIA. And so the guy who I'd like to protect was very well known to the NSA and the files. And eventually, he actually got me out of Iran a number of years later, just before the place exploded and the shah was overthrown when the mullahs took over. I was in Iran just as that was happening and he got me out. He'd become an asset. And so, you know, the fact that I — 
Jordan Harbinger: [00:32:22] Wow.
John Perkins: [00:32:22] — protected this guy and lied to the police, served my best interests. I had no idea that at the time. I thought I'm doomed, then I was shocked. When they offered me a job.
Jordan Harbinger: [00:32:31] How did he get you out of Iran? That sounds like there's a little story there. First of all, I got to say my biggest regret is not going in 2010 when I had the chance. I took a speaking gig over a trip to Iran and it was the worst decision I've made, probably. It would have been great to go. 
John Perkins: [00:32:45] Yeah. But you did go to North Korea, so that's good. 
Jordan Harbinger: [00:32:47] Yeah. Yeah. Four times before it got too sketchy. 
John Perkins: [00:32:50] I haven't done that. I'd love to go to North Korea. But anyway, I'm in Tehran. I'm at the Intercontinental Hotel one evening. I'm in the bar there. They have a very nice bar. I'm in the bar and I get this tap on my shoulder. I turned around and it's Farhad. And I haven't seen him in — I don't know, maybe 12 years. He changed quite a bit. He put on a lot of weight, but I recognized it. He started chatting to me a little bit and he said, "But let's get to the point here." He said, "I got a ticket for you. You and I are flying to Rome tomorrow morning on Air France. The first Air France flight out of here tomorrow morning. And I said, "No, no, no, no. I got these important meetings tomorrow." And he said, "John, you're going with me." And I said, "No, I can't." "John, you're going with me. Listen to me. You can't stay here anymore. You got to go." "Why are we going to Rome? I said. He said, "We're going to go and stay at my father's house." I said, "Wait a minute, your father is a general. He works with the shah. He's here." "No," he said, "My father no longer works for the shah. Things are changing very, very rapidly. My father will probably never come back to Iran. He's at his home in Rome. Fortunately, he has one there. You and I are going there." The next morning, I flew out on Air France with him and went to Rome and it was the next day Iran started to erupt.
Jordan Harbinger: [00:33:56] So the CIA probably had warning of that happening, which brings about the question — why didn't they evacuate the embassy that got taken over and those people held hostage for over a year if they knew it was coming and you got out in time, 
John Perkins: [00:34:08] it's a question I can't answer because I don't know the answer, but what I suspect and I've asked myself that question a lot is that they didn't think that they would go so far as to attack the US embassy or any embassy. I was somebody else. I was not connected with the embassy. I had no official job. I worked for a private consulting firm. So I was fodder, you know, but I think probably the government, the US government, the CIA believed that the embassies would be held as off-limits that they wouldn't be attacked. That's the only thing I can come up with. I don't know, otherwise. Because obviously somebody knew. It's possible to think that they didn't know because the American intelligence community had very much infiltrated many parts of that system, but it's always been interesting to me that we were not given a little bit more warning. I think there was another thought-side that maybe they felt that in the end, the shah would succeed that he would put down this rebellion, but it would be wise to get out of there in the meantime.
Jordan Harbinger: [00:35:01] Yeah. Also, I mean, if this is a revolution inside the country, which it was. The shah's SAVAK, secret service, secret police, the SAVAK, they would have had wind of this before it happened and said, "Look, we're probably not going to be able to hold these people, but we're going to keep it in the rural areas. Tehran is going to be fine, but we might be isolated inside Tehran," or something like that. They may have thought that. I mean, we've seen things like that in countries like Somalia too, right? Where the outside of — well now inside Mogadishu, but even in the beginning outside Mogadishu was lawless. And now the whole thing has gone to hell, but that's a different show. 
John Perkins: [00:35:33] Well, yeah, and SAVAK, of course, was a CIA affiliate.
Jordan Harbinger: [00:35:39] Right.
John Perkins: [00:35:38] You know, they're very good, close cooperation there. The CIA had trained the SAVAK people for the most part and so there was this close tie. So I suspect that they didn't really believe that the mullahs would have the kind of power that they ended up having. I think anybody understood the tremendous amount of undercurrent of resentment against the shah that was there. And people like me — you know, most of us didn't speak Farsi, the Iranian language. So we were totally dependent on interpreters and all those interpreters, basically, had been educated in England or the United States. And they were the shah's people. So all the information I was getting was filtered through people that had had an interest and only telling me things that they wanted me to hear. And they figured the shah was what I wanted to hear. So I think for most of us, we were very surprised by what happened. We were shocked. I got to believe that there were CIA agents in there who spoke Farsi who knew a lot more about what was going on but didn't probably believe that it could reach the magnitude that it reached.
Jordan Harbinger: [00:36:38] No, just the filter bubble. Right? I mean, there's a lot of people right now who go, "I can't believe that these people think that way. And these people think this way." And it's like, "Well, we read two different newspapers, man." It's worse now than it was then probably. But if you're working for the shah — I mean the famous example in history is let them eat cake, right? The people who have no bread, let them eat cake. So the SAVAK or the people that you were talking to who were wealthy and lived in Tehran were going, "Oh yeah, we have some crazy religious theocratic weirdos that are 300 miles away from the city, but we're not going to worry about them. Let them do whatever they want. We'll put them down and then a month later." 
John Perkins: [00:37:12] I'm writing a book now that's talking about China and what it's doing around the world and comparing it with what we're doing and so on. And one of the things that become very clear is that I think it's human nature. We want to focus on the bad things that our opponents do. So we focused on how bad — you know Chinese built a dam in Ecuador. That's got a huge crack in it. They build it on the fault line. That's what we want to talk about. We don't want to talk about what they've done that is helping to win the Ecuadorian people over to their side. And that's what we should be talking about.
[00:37:42] You know, we should be looking at what our opponents are doing right. That's winning people over and so that we can combat that. So rather than constantly saying, "Oh, well, they're no good. That they're just in this for the money. They're just in this for the resources. Yeah, that all may be true, but we got to ask ourselves, so what is the perception that creates in these countries? And I think that we could say the same about Iran. That we wanted to look at what the shah was doing that was good, that people liked and we didn't look at what he was doing that people hated and absolutely resented, which opened the door for these radical Muslims to come in. And they weren't — I'm not justifying them in any way, but I'm saying that the shark created a situation that made it relatively easy for people to come in and convince the general public that he ought to be overthrown.
Jordan Harbinger: [00:38:31] People who don't know what's going on here, essentially in the '70s and before that we had the shah who was essentially the king of Iran. This society was relatively liberal. I mean, you had women in Tehran walking around in miniskirts and stuff like that. It was relatively — would you say Westernized? And then now of course, when we think of Iran, we think of Supreme Leader Ayatollah. We think of backassward theocracy, that also has a lot of people that probably wear miniskirts in their own house, but can't go outside wearing that stuff and are very oppressive. And of course, there was a revolution in — was it 1980? And they took over the US embassy and held the people hostage for 444 days, very famously. So for people that are like, "What are you talking about?" That's what we're talking about. It happened a long time ago. I don't blame me if you don't know.
[00:39:14] I'm curious why you were able to write this story because it seems like if we're willing to kill the leader of Panama, the leader of Ecuador who doesn't want us to sort of take over their oil resources, that some guy writing a book out of Boston is probably a pretty good target if he's going to expose this whole system? 
John Perkins: [00:39:31] Well, when I started writing a book in the early '80s right after I quit being an economic hitman, I wanted to write an expose that included the stories of other people who had jobs like mine. So I started contacting other economic hitmen, jackals, by telephone, and very quickly, I get phone calls that have very threatening voices from jackals threatening my life and my daughter. She was an infant at the time — serious threats, I took them very, very seriously.
[00:39:59] And I also got offered a job with Stone & Webster, a big consulting firm, engineering firm that had been our rival at the firm I had just resigned from. I got taken out to dinner by the president of the company. And he said, "You know, we'd like to use your resume. You've got a great resume. You were a chief economist of one of our rivals. You got a lot of people working for it. You're doing great stuff. We'd like to use your resume in our proposals. You don't have to do any work for us. Just let us use your resume and I prepared to write you a check tomorrow morning for $500,000.
Jordan Harbinger: [00:40:28] Wow. 
John Perkins: [00:40:29] As a retainer, just don't write the book. 
Jordan Harbinger: [00:40:31] Sure. It sounds like a bribe to me. Yeah, exactly. 
John Perkins: [00:40:34] Totally bribe but again, completely legal. Consultant retainers were common practice at the time. Not that big usually. That was a big one.
Jordan Harbinger: [00:40:41] It's a good retainer. Yeah, solid.
John Perkins: [00:40:42] It's a good retainer. And this was in the '80s. A lot bigger than it is now.
Jordan Harbinger: [00:40:46] That's like a million-plus dollars in today's money. Just for those of you who don't have an inflation calculator in your head. Yeah.
 John Perkins: [00:40:53] So I'm being hit, you know, doing exactly what I'd done to the liaison of other countries here. Here's a handful of money or — 
Jordan Harbinger: [00:41:01] Right, you know what comes next. So how come — what did you cash the check? Is that what we're having this conversation? 
John Perkins: [00:41:05] I cashed the check.
Jordan Harbinger: [00:41:07] Oh you did.
John Perkins: [00:41:07] I cashed the check. I took the money. 
Jordan Harbinger: [00:41:08] Yeah, I don't blame you. 
John Perkins: [00:41:09] And in my own defense, I put it toward good things. I went back to Ecuador. I created a couple of nonprofits, Dream Change, The Pachamama Alliance. I wrote five books on indigenous people, which they were completely supportive of. And I created a new career for myself and helped these people, but I didn't write about economic hitman because I knew.
Jordan Harbinger: [00:41:27] Yeah.
John Perkins: [00:41:28] You know, there was no point. The book wouldn't be published anyway. But then 9/11 hit and I was in Ecuador in the Amazon at the time. When I came in, I flew to Ground Zero. And as I stood there, looking at that pit, I knew I had to write about this. I'm not making any direct connection. It's not that, but I knew this just strictly, I need to bring my story out. I need it to let the world know what we've done and why some people around the world resent us.
[00:41:54] And again, I'm not making any connection here between some conspiracy theories. I'm just saying I felt the need to write it. But that moment I decided. I wouldn't write an expose . I wouldn't contact anybody else. I'd write the book completely in secret. I would write it as a personal confession. No other story. It's just my story. And I wouldn't tell anybody I was writing the book, not even my wife and daughter. I write it in secret. And then once I got it into my agent's hand and it gets out to a whole lot of publishers, it's too late for them to do anything because at that point, what they don't want is for the book to get highly distributed, to be promoted.
[00:42:28] And if something strange happened to me or if the government came out and is strongly against the book or anything else, it would sell copies. And plus, you know, that kind of the book, most people in the government and business think very short term. They think for the next election, they think for the next quarterly report, et cetera. They are afraid of people like Martin Luther King Jr. who were out there really driving things. Writers, books, and so forth, they don't worry quite so much about it. So I wrote the book, it got in the hands of an agent. Eventually, it sold and did very well. And then I will say since the third or fourth month after the book was published, I was poisoned.
Jordan Harbinger: [00:43:06] Really?
John Perkins: [00:43:07] Yeah. I spent a couple of weeks in the New York City Hospital. I was on my way to do a United Nations speech — to give a speech to the United Nations on a Tuesday. On Monday, I flew up to New York. I had lunch with this kind of sketchy character that portrayed himself as a journalist.
Jordan Harbinger: [00:43:22] Like me.
John Perkins: [00:43:23] Yeah, yeah, exactly. Maybe it was you.
Jordan Harbinger: [00:43:25] Yeah. Yeah. I'm not really 40. I'm 65. This is a filter, a Zoom filter 
John Perkins: [00:43:31] That evening. I was rushed to Lenox Hill Hospital where they ended up taking out 70 percent of my colon.
Jordan Harbinger: [00:43:38] Wow.
John Perkins: [00:43:38] Yeah. And you know, afterwards, I had contacted a friend of mine who was a jackal. And my publicist who would set this whole thing up, the guy had disappeared. All she had was his email address and it was gone and nobody answered it. He was gone. Plus there was no proof because by the time we figured that maybe I have been poisoned — nobody thought of that. At first, it was an emergency
Jordan Harbinger: [00:43:58] Yeah, yeah.
John Perkins: [00:43:59] 70 percent my colon is taken out and then as I'm recovering in the hospital, we get all these emails and calls saying, "Don't you know you were poisoned?" And I talked to my gastroenterologist and he said, "Well, it's entirely possible, but we've incinerated the evidence. That's what we do here." And so, you know, there wasn't anything much I could do anyway. And I talked to this friend of mine who has a jackal, and he said, "I don't think he was from one of the alphabet agencies, CIA, NSA, FBI. If he'd been from them, you wouldn't be talking to me. Plus they don't want anything like that to happen to you because it just sells books. You become a martyr." He said, "I think it was a fanatic." He said, "Somebody who either hates what you did or hates the fact that you exposed what you did." There's a lot of people like that around. And I said, "Well, do you think it was striking again?" I was nervous. I'm in the hospital.
Jordan Harbinger: [00:44:44] Yeah.
John Perkins: [00:44:44] And he said, "No, I don't think so. Those guys are usually pretty cowardly. If he thinks you're on too, he's not going to — you know, you're going to recognize him at another time. Plus he probably figures that he's put a big scare into you and he's accomplished what he wanted to accomplish." And he said, "You know, they're kind of like suicidal people. They react quickly and if you can talk them out of there — if it doesn't work, they're not quite as likely to do it again. 
Jordan Harbinger: [00:45:10] This is The Jordan Harbinger Show with our guest John Perkins. We'll be right back.
[00:44:15] This episode is sponsored in part by HostGator. Believe me, I used to be one of those people who thought nobody looked at websites anyway more, and I assumed that everyone went straight to social media. Well, guess what? I was wrong. A recent study shows that 63 percent of consumers still use websites to find new businesses. And 30 percent of consumers won't even consider a business if they don't have a website. So what's stopping you from building yours. Too much work is too expensive. You don't know how to go about it. Don't worry about that. HostGator has plans that start at two dollars and 64 cents a month. And let's be honest, that is cheaper than some parking meters. HostGator is even giving our awesome listeners — that's you — up to 62 percent off all packages for new users with a 45-day complete money-back guarantee. With over a hundred mobile templates to choose from and 24/7 365 support, you're never going to be at a loss when it comes to the most important promotion tool your business needs. And if you're still worried, it's not going to be legit enough, HostGator gives you unlimited email addresses that mirror your website domain, so you can make the best possible impression. No more AOL domains and Gmail business addresses. So it's time to make it official. Go to hostgator.com/jordan right now to get started. That's hostgator.com/jordan.
[00:46:26] This episode is also sponsored by Blue Moon. Getting together with friends — well, we don't do that so much anymore here in California, but I would like to. And when I do think about getting together with friends or I'm getting together with them on Zoom, I like to crack open a Blue Moon. It's a Belgian witbier, which means it's not transparent. You don't see right through it. And the founder and brewmaster was inspired by these flavorful Belgian wits he enjoyed while studying brewing in Brussels. Sounds pretty privileged to me. But he's passing along that privilege to us. He's got some Valencia orange peel in there. You know, when you're at a bar but you want to look kind of fancy, that's when you rock that blue moon. Well-crafted beer with a twist of flavor. It got that hazy look for a clear night. 
Jen Harbinger: [00:47:02] The next time you're out with friends or just enjoying a night in reach for a Blue Moon. It's the beer you can enjoy every day. You can have Blue Moon delivered by going to get.bluemoonbeer.com and finding delivery options near you. Blue Moon, reach for the moon, celebrate responsibly. Blue Moon Brewing Company, Golden, Colorado Ale.
Jordan Harbinger: [00:47:21] This episode is also sponsored in part by Albert Genius. This is a money-saving and investing app. And I said, last time, oh, it's like Batman's assistant. And many of you told me that, that is Alfred. And I know I knew it at the time. And I still got it wrong. So anyway, I'm a saver when it comes to my finances. I like to automate everything that, you know, puts some money into the stock market and some into the IRA or whatever. Albert is like having a personal finance expert in the Palm of your hand, ready to simplify everything from budgeting, saving, and investing. Algorithms alerts, they feel a little robotic Albert combined real human guidance with tech. So you can stay in control of your finances, find a happy balance. With Albert Genius, you can actually chat with a team of real human beings that are looking out for you. You can sort of text these real financial advisors. You can message them anytime throughout the app. You can build credit. They'll tell you how to do that. If you want to ask if a fancy brunch is within your budget, they will tell you yes or no. Well, they probably tell you no, but you can do it anyway. And then they'll have to figure out a way around it. That's how that works. 
Jen Harbinger: [00:48:26] Install Albert from the App Store or Google Play today to find your happy balance and get a bonus of up to $40 when you start an annual subscription to Albert Genius. 
Jordan Harbinger: [00:48:35] Thanks for listening and supporting the show. Your support of the sponsors does keep us going. I know you might think they don't matter but this is what keeps the lights on around here. You can find all of our deals, all of our advertisers, all of our codes on one page over at jordanharbinger.com/deals. And don't forget, we've got worksheets for these episodes as well. A link to that is in the show notes at jordanharbinger.com/podcast.
[00:48:57] Now for the conclusion of our episode with John Perkins.
[00:49:00] That's kind of terrifying. Yeah. I mean, I guess now the last thing they're going to want to do — in a way the book is the best insurance policy ever, because if anything happens to you now, I mean, you could slip and fall on some ice — God forbid — you know, in the next year and people are going to go, "Somebody did this to him because of the book." I mean, you get food poisoning from Jack In The Box and people will assume that it's the jackals coming after you. You know what I mean? I think it's probably right there. By the way, the term economic hitman, I assume you don't call yourself — I mean, it's kind of like intelligence agents don't call themselves spies until they've had two or three beers. Right? It's kind of a term of art that you guys use only amongst yourselves. Like you said, your title was what chief economists. That sounds much more docile. 
John Perkins: [00:49:39] Yes, chief economist. Yeah, I don't think even after a couple of beers, a good spy is ever to call himself a spy or a spook, but they might do it with their buddies or something, I don't know.
Jordan Harbinger: [00:49:48] Yeah.
John Perkins: [00:49:48] But yeah. I mean, it is a term that we kind of use tongue in cheek, kind of laughing about it sometimes. But it certainly wasn't on our business cards.
Jordan Harbinger: [00:49:57] I happen to notice that a lot of the leaders you talk about who maybe resist this. So the Panama canal example, some of the leaders in Ecuador, they die in plane crashes. Is that kind of the de rigueur method of taking someone out? Because nobody really is going to look at a plane crash, which by the way, is just a bunch of parts on the ground that are on fire at some point or melted. No one's really going to say, "Oh, well he was murdered, and here's all this evidence," right? I mean, there's not much you can do. Small planes go down all the time. 
John Perkins: [00:50:23] Yeah, about the only two clients I had that did not buy into the deal where Jaime Roldos, the democratically elected president of Ecuador and Omar Torrijos of Panama. And because they didn't buy into the deal, they both died in plane crashes, their private planes, small planes, propeller-driven. They died within three months of each other. And there's no smoking gun when a plane crashes, the smoking gun goes up in flames. And so a small plane, if you can — it's fairly easy to bring down if you can have access to it. And it's an incredibly effective way of assassinating someone because there's no evidence left. 
Jordan Harbinger: [00:51:00] Your EHM career ended what? 40-some years ago now. How do we know this is still happening? And I'm not doubting it at all? I mean, I talk about Belt and Road from China all the time. 
John Perkins: [00:51:09] Yeah, which is what I'm running about today. I mean, that's a phenomenal topic of what's going on in the world. The way the Chinese are taking this whole process another step. Recently, I was speaking at a conference in St. Petersburg, Russia, and I became good friends with one of Putin's top economic advisors, Sergei Glazyev. Sergei is amazing — he is very, very liberally. He ran for president at one point in Russia. And he ran on a very, very liberal anti-corruption, helped the poor people policy. And you know, one of the things Sergei said to me was, "I think the Chinese have learned from the mistakes we Russians made and you Americans have made."  And he'd come up to me when we first met and said, "I read your book." And he said, "It's exactly right. And we had the same thing. It still goes on, this economic hitman policy. But the Chinese have learned it well, and they've learned from the mistakes that we Russians and Americans made." 
[00:52:02] To summarize very quickly, you know, one of the mistakes we both made that we were trying to use our approach to influence the politics of these countries. In the case of the Russians, to bring him into socialism. It was mainly the Soviet Union at the time to bring them into their way of thinking. We Americans, we're trying to bring them into our way of thinking, as opposed to the Russians. The Chinese today are going about it with just the idea of taking resources. It's a commercial thing, much more than it is political. They are not trying to put down the American way or the Russian way or anybody else's way. They're simply trying to bring in their way and dominate resources. And they're using this Belt and Road, New Silk Road idea is an incredibly potent tool for doing this. And it's an amazing thing they're doing. I'm not promoting it.
Jordan Harbinger: [00:52:49] Of course, yeah.
John Perkins: [00:52:50] But I am saying that it's incredibly powerful. They've come up with a tool which far surpasses any of the tools that we ever had. 
Jordan Harbinger: [00:52:56] I think the only point, and I guess I'm challenging you, but I'm sure this is in your book. And by the way, you have to come back when that book comes out. The Chinese are also implementing, just sort of piecemeal, their authoritarian government. They don't care if you're socialists, they don't care if you're capitalist, they just want to make sure that they can spy on you with their spyware and make sure that they can control the media and censor you. But you're right. They don't care if you follow Karl Marx or if you follow Bill Gates' method of capitalism. They don't give a crap. They just want you to buy from them, be forced to buy from them, and then not be able to talk about the truth of what's happening in your country in a way that negatively affects the Chinese Communist Party.
John Perkins: [00:53:32] Well, they also want you to be friends of theirs. So they're in like 53 of the 54 African countries. And as many of these countries that they're doing things that are actually losing money for them, unlike what we did. We want to, we want to make money. But they haven't and they've actually started this policy. Their president has stated this policy that they want to have a lot of countries in their camps. So when they do something in the United Nations that they want people to vote for, or one of the other international organizations, they've got all these people in their back pockets. And so that's the things that they're very, very good at doing right now.
[00:54:07] And again, they've made a lot of mistakes too, but they learn quickly from their mistakes and yes, they're very authoritarian. And of course, they come from a Confucian background which says you follow the leader, you listen to the father, you listen to Confucius. You listened to your leader. And you know, it's interesting to me how they're not a democracy. They are opposite, but when their leaders tell them to do something, they do it. We, in this democracy, elect our leaders. But once the leaders are elected, we don't necessarily listen to what the leader has to say and tell us to do. We constantly have this conflict, and this is the whole conflict between Republicans and Democrats constantly going on. And that's not a very efficient way of conducting business in some respects. In some respects, the Chinese way is more efficient.
[00:54:51] Obviously, I have much preferred the American way, and I want to see us dominate this. But we've got to understand in order to dominate, in order to come back, in order to do what I hope we will do, we need to understand what they're doing and not just be critical of it, but learn from the incredible successes that they're having and why are they having those successes and how are they having them?
[00:55:13] You know, if you're a business, you want to know what your competition is doing, right. You don't want to focus on what they're doing wrong. You may talk about that and your advertisements, but you really want to focus on what they're doing right, and how do you do it better than they are 
Jordan Harbinger: [00:55:28] In the book, you mentioned vulture funds, and this is kind of an interesting spin on things because of course, you know, we've already discussed and I'll do a wrap up at the end about how these loans that we give to countries or that companies give to countries, or like the United States gives the countries, World Bank, et cetera, is to increase GNP. The real aim is to bankrupt the nation. Later on, we get military favors or other favors like preferable trade. This is still going on, right? It's almost like modern slave trading. We find a local who might own a factory in let's say Vietnam. We pay them a pittance. We pay the workers even less. And we just hide behind the fact that they're a contractor. And we say we have limited visibility into our current tractors, but we're working hard to do more. Thanks for buying them our crap. Right? I mean, we see that all the time in corporate responsibility statements. What we don't see, I think, is countries have to compete with one another to get corporations, to build and do business there. So it's a race to the bottom with these labor laws, right? They lower their environmental regulations. They lower the taxes that these companies have to pay. You mentioned that they then rack up debt, offering perks to some of the upper-class folks or even the middle class, or that they don't complain too much that they're giving away their coastline and things like that. What are the vulture funds? Where did these come into play? It seems like they're what they're buying chunks of the defaulted debt from these countries. And then they litigate to collect it. How does that play into all of this? 
John Perkins: [00:56:47] Well, it's part of this modern economic hitman system. So 12 years after I wrote Confessions of an Economic Hitman or after it was published, I wrote The New Confessions of an Economic Hitman to update that and talk about how we've created a whole new category of an economic hitman. So every major corporation has its version of an economic hitman. In my day that wasn't the case. We were just kind of generic and we wanted to bring money back to US corporations. And we didn't really care whether Bechtel got the contract or Brown & Root, or Stone & Webster, as long as Chas T. Main, my company, got out of the deal. We still get those people around, but now every corporation. has its version of an economic hitman.
[00:57:57] As you've said, they'll go to Malaysia and they'll go to Indonesia and they'll say, "Hey, we're going to build a factory here and we'll build it in Malaysia or we'll build it in Indonesia. But whichever country gives us the biggest tax breaks or allows us to pay our workers the least amount of money. You'll get a factory there." And of course, they do it in the United States, too. We saw that with Amazon — having Virginia compete against New York, et cetera, et cetera, et cetera. And the vulture funds are just one other aspect of that whole process where these countries. Yeah, they buy a very, very cheap debt on these countries. And then they go back to the countries and say, "Hey, you've got to pay us a lot of money and we'll litigate against it because we're holding this paper and we're going to go after you. And if you can't pay in cash, then pay in resources or pay in cheap labor markets or whatever."
[00:58:12] So it's part of this whole new economic hitman scheme. And I got to say those techniques are not winning us trends around the world. In fact, they're putting us in a difficult position and they're putting American business overall in a difficult position. And I think we need to be aware of that 
Jordan Harbinger: [00:58:29] So how did the vulture funds get in the way. They destabilize the government because I guess if they're litigating this and they're saying, "We hold this paper," then if 19 out of the 20 debt holders are European nations, the United States, the World Bank, and the IMF, and they say, "Okay, fine. We're going to do this austerity solution. You're going to pay this low amount. You can have one." And I know this from just doing business, period. There can be one party in there that says, "Actually, we don't agree to that. We're going to stall out all the negotiations. We're going to stall out all the agreements because we need to get our piece of the pie. They're essentially holdouts and they say, "No, we want two-point higher interest rate," or, "No, we want to accelerate the payment process because they don't care about having good relations with Ecuador later. they're just a company that's based in Boston that wants a cut of the Ching. So they don't really give a crap. If their relations are going to be damaged. They don't have any skin in the game. They just want profits so they can hold up actual debt restructuring. They can hold up projects. They can hold up austerity measures. Correct?
John Perkins: [00:59:25] Totally correct. They are totally, they are — well, actually, they're, they're not predators. Vultures aren't predators. Vultures actually clean up messes. I think the name is a misnomer. They're predators, they're raptors. It's raptor funds.
Jordan Harbinger: [00:59:38] Yeah.
John Perkins: [00:59:58] And they don't care. They just want to make money. They want to buy the state for $500 million and get back $5 billion. That's what they're looking to do. Or probably buy it for a million and want to get back 500 million but whatever it is, they're going in there — totally greed. It's total absolute greed. It's what part of what we know is predatory capitalism. It's not that good form of capitalism that we've all liked to see, expand around the world more. This is another form of capitalism, which is so predatory, so destructive and has created what a lot of economists, including me refer to it as a death economy and economic system that in fact is destroying itself in many ways and consuming itself into extinction.
[01:00:20] And we need to turn that around and create a life economy that helps to make the planet a better place and helps to increase relationships between peoples and parties and cleans up pollution and regenerate the storage environments, and creates new technologies that really don't ravage the earth. So, that's the area that we need to move into and get rid of these predators 
Jordan Harbinger: [01:00:41] Are people right to be skeptical about this? I mean, I assume you have people that go, "Hey, look, this guy's just some communist hippie. Don't believe a word of what he says. He is just trying to sell a book. He needs to go give a TED Talk." You know, I assume you get that occasionally. 
John Perkins: [01:00:55] I haven't in a long time, Jordan.
Jordan Harbinger: [01:00:57] You're welcome then.
John Perkins: [01:00:57] I have to say. Yeah, I don't know. Maybe I do behind the scenes, but I don't hear it when I'm on programs like this. I did when the book first came out. There was a lot of skepticism, but I think, you know, times have proven that I'm right. And of course, my book and my stuff have been thoroughly vetted by many organizations, including the New York Times and many others. And then again, we've had Edward Snowden, we've had so many other revelations that have come out that are consistent with what I've been saying. So I haven't heard that kind of thing in a long time.
[01:01:28] So I'm optimistic. I'm very hopeful. I think we live in a blessed time where we're being really forced to look at ourselves and to look at what we've done to the climate and to look at what we're doing with other countries. And we're really being forced to look at what it means to be human on this tiny space station we inhabit, this planet Earth. And I think this is an important time for us from that respect. And I'm hopeful that this will drive us toward creating a life economy, toward creating a better system. 
[01:01:55] These days I really focus on that hopeful aspect of things and to be hopeful. And to want to move forward with a new strategy, you've got to look at the sides of your strategy that have failed. I've been a martial artist for most of my life. And one of the things you learn in martial arts is, you know, once you've got a technique down, well, you don't have to keep learning it. What you want to do is focus on your weak side. So if you're really good with your right hand and your right arm and your right leg, you want to really be making your left side a lot stronger. And you want to look at what your opponents have been doing to take advantage of the fact that your left side has been weaker. How are they taking advantage of that? And how do you turn that around? And I think that's a good analogy that we really need to look at the mistakes we've made as a country and as a society.
[01:02:44] And we're at this time in history where it's very, very important for Americans to understand that suddenly — in fact, after 9/11, We really turned our back on Asia. We focused on the Middle East. We focused on Afghanistan, Iraq and Syria, the Middle East, and Iran. And we forgot about China and that created a void. China walked into that void. And it's really important for us to recognize what's going on today in that context, and to take a good, hard, look at it and develop a strategy to deal with it. 
Jordan Harbinger: [01:03:19] John, thank you so much for coming on the show. I am definitely going to — you have to email me when your book comes out about China because I talk about China all the time on this show. It's a big personal interest of mine. Obviously, it's the number one most exciting thing happening in the world right now, for various reasons, whatever sort of spin you want to put on the word exciting. And so I think — yeah, we definitely have to have you come back for that. What's the ETA on that? I know you're still writing.
John Perkins: [01:03:43] Yeah, I think next summer.
Jordan Harbinger: [01:03:46] Okay.
John Perkins: [01:03:46] So get in touch with me again. I'm pretty sure it will be next summer.
Jordan Harbinger: [01:03:48] Great.
John Perkins: [01:03:49] And just to note, Jordan, I want to thank you for what you're doing. I think your program is marvelous and you're opening minds to what's going on in the world, and that's so very, very important. So I deeply appreciate what you do. Thank you very much for the great work you do in expanding people's way of thinking and looking at the world. 
Jordan Harbinger: [01:04:07] Well, thanks. I couldn't do it without amazing guests like yourself. So again, everybody, Confessions of an Economic Hitman, The New Confessions of an Economic Hitman, we'll link it in the show notes. We'll link to your other book, Touching the Jaguar, which is not about killing people in plane crashes if they don't go into debt. 
John Perkins: [01:04:22] it's about transforming, transformation. 
Jordan Harbinger: [01:04:25] Yeah. It's a completely different type of book. The writing is great. And also, I don't know if you want to advertise this type of thing, because you're probably not doing it right now, but you take groups of people to Central South America. I assume that's on pause right now, but we'll be back at some point.
John Perkins: [01:04:40] It's been on pause. I've got a trip plan to Central America to the Mayan people in January. I'm still hoping to do it but we'll make a decision in mid-October. People can go to my website, johnperkins.org and they'll be updated as to that and sign up for my newsletter, which updates people too and that little sign-up block on that website. 
Jordan Harbinger: [01:04:57] Of course, we'll link to all that in the show notes as we always do. John Perkins, thank you so much. 
John Perkins: [01:05:02] You're welcome and thank you, Jordan, for all you're doing. I just really appreciate it. My pleasure.
Jordan Harbinger: [01:05:08] I've got some thoughts on this episode, but before I get into that here's a quick preview of an episode. I did a while back with my friend, Lisa Lampanelli. She was one of the most visible people in comedy and suddenly quits and retires right at the top of the game, loses over a hundred pounds, and dramatically changes her entire life. We'll hear about why, including the ingredients of what can make us happy or miserable. Here's a quick sample.
Lisa Lampanelli: [01:05:32] I remember my first open mic. Like, dude, it just felt like I'm a comedian. I can call in sick to my day job. And that's why I'm like, okay, that's missing 30 years later. I got to get out before I hate it. Everybody forgets to get out before you hate it.
Jordan Harbinger: [01:05:47] That's interesting.
Lisa Lampanelli: [01:05:48] Well, I've gotten out of every job and career actually and marriage before I hated what I was doing. So that's why my stuff can be amicable leaving, not this angry craziness that most divorces are most life changes have. I don't go kicking and screaming. I go, "You know what? I got to take a hint and go." I don't think it's a wall because I don't think it's like an external wall. Like, it's not like, "Oh, tickets are falling off." And the press is mean to me or whatever. It's like what's inside me. It's that quiet. It's  that listening to what's in there. So gut is always good. It's the sh*t we pile on top of it to cover it up.
Jordan Harbinger: [01:06:27] Yeah.
Lisa Lampanelli: [01:06:28] It's basically dissolving limiting beliefs. I mean, basically if, at the end of the day, one person who comes to you can say, "I'm scared to move forward," and you figure out why. Because the two basic limiting beliefs we all know is worthiness. I'm not enough. And I'm going to die alone or I'm not loved. That's basically everything comes down. My friend Vicky, who loves you, calls it the six degrees of worthiness. Anyway, fear that comes up, comes down to one of those things. Happy, cozy, cute. That's how I want my life to be.
Jordan Harbinger: [01:06:59] For more with comedy superstar, Lisa Lampanelli and why she left when she got to the top of the game, check out episode 183 of The Jordan Harbinger Show.
[01:07:09] Big thank you to John Perkins. The book we discussed today was called The New Confessions of an Economic Hitman. We will link to that in the show notes, along with his other books. He's got plenty of stuff out there. I'm excited for the new one as well. If you do buy books, please do use the website links on jordanharbinger.com. It helps support the show. I know you think, "What the hell?" We'd be getting 25 cents for this? This stuff adds up, people. It literally keeps the lights on around here. Worksheets for this episode are in the show notes. Transcripts for this episode are in the show notes. There's a video of this interview on our YouTube channel going up at jordanharbinger.com/youtube. I'm at @JordanHarbinger on Twitter and Instagram or just hit me on LinkedIn.
[01:07:46] I'm teaching you how to connect with great people and manage relationships, using systems, using the tiny habits that I use to cultivate the network that I use to get the guests for this show. So, you know, it works. It's called Six-Minute Networking. Again, it is free. And it's at jordanharbinger.com/course. Dig that well before you get thirsty. Many of the guests on the show, they subscribe to the course. They help contribute to the course. Come join us, you'll be in smart company.
[01:08:12] This show is created in association with PodcastOne. My amazing team includes Jen Harbinger, Jase Sanderson, Robert Fogarty, Ian Baird, Millie Ocampo, Josh Ballard, and Gabe Mizrahi. Remember, we rise by lifting others. The fee for this show is that you share it with friends when you find something useful or interesting. If you know someone who likes these crazy global affairs or these international economics or just likes a wild tale, share this episode with them. I hope you find something great in every episode of this podcast. So please do share the show with those you care about. In the meantime, do your best to apply what you hear on the show, so you can live what you listen, and we'll see you next time.
Sign up to receive email updates
Enter your name and email address below and I'll send you periodic updates about the podcast.