Lisa Lampanelli (@LisaLampanelli) recently lost 100 pounds, retired from a Grammy-nominated career in comedy that spanned three decades, and is now a life coach who runs transformational food and body-image workshops and performs issue-oriented storytelling shows.
What We Discuss with Lisa Lampanelli:
How Lisa made her last career pivot — from rock journalist to comedian.
How Lisa engineered her image as comedy's "Loveable Queen of Mean."
The psychology of a celebrity roast and the toll it takes on some in the name of good fun.
How Lisa lost over 100 pounds and what she learned along the journey.
Why Lisa formally retired from comedy recently to focus on helping others.
And much more…
Like this show? Please leave us a review here — even one sentence helps! Consider including your Twitter handle so we can thank you personally!
(Download Episode Here)
(Subscribe to the Podcast Here)
Worksheet for This Episode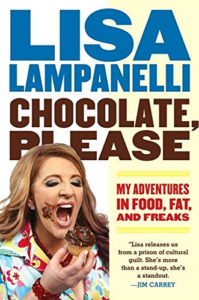 Many of us have quit something or retired from one career and started another. However, when it comes to comedy, few people have quit when they're at the top of the game. Today's guest, Lisa Lampanelli, recently did just that.
Lisa has built a reputation for herself in the comedy world by being pretty shocking and crushing it when it comes to roasts and insult comedy. She's had sold-out arena shows, best-selling books, and the right ingredients for a massive career in the space. So what caused her to jump out of that and into a brand new space that is, in a seeming 180, dedicated to the service of others? In this episode, we'll explore this shift, and how we might discover that it's time to make a shift of our own. Listen, learn, and enjoy!
Please Scroll down for Full Show Notes and Featured Resources!
Sign up for Six-Minute Networking — our free networking and relationship development mini course — at jordanharbinger.com/course!
Need custom graphics, logos, or Web design? Access a community of 600,000+ designers by registering at designcrowd.com/jordan and enjoy up to $100 off with The Jordan Harbinger Show bonus offer!
TurboTax, QuickBooks, and Mint are giant solutions that give you the power to prosper! Learn how to optimize your finances before tax time at intuit.com!
Hunt a Killer is a puzzle-style game that poses this tantalizing question: what if a serial killer delivered a package to your doorstep each month? Go to huntakiller.com/jordan for 20 percent off your first box and find out!
If you want to listen to a podcast that will help you avoid financial common pitfalls every entrepreneur faces, check out How To Always Profit First with Mike Michalowicz, Self-Made Man here!
More About This Show
In spite of being comedy's Lovable Queen of Mean, Lisa Lampanelli has never been the kind of person to storm angrily from a job she hates.
"Here's what I learned especially well," says Lisa. "Know when you're done. When I hit 30, I'd interviewed every band I ever cared about. I'd done enough copy editing and proofreading to kill myself. I'm great at that — even now I'm obsessed with not ever having a typo in anything."
She's always looking for what's next and fulfilling. After working for Rolling Stone and Spy magazines grew stale, she gave stand-up comedy a try.
"I remember my first open mic. It just felt like, 'I'm a comedian. I can call in sick to my day job.'"
Now, after 30 years of that, she's officially dropped her stand-up mic to do something else entirely.
"Everybody forgets to get out before [they] hate it. I've gotten out of every job, every career, and marriage before I hated what I was doing. I don't go kicking and screaming. I go, 'You know what? I'm going to take a hint and go.'"
Now she looks at her calendar and enjoys what she sees instead of wincing at every career-shackled obligation that doesn't, to borrow a phrase from Marie Kondo (domesticity's Lovable Queen of Clean?), "spark joy."
Lisa's father may have been the one to instill her with the mindset to aggressively pivot into something completely different if she ever found her trajectory less than satisfying. After working for Sikorsky aircraft for a good portion of his life, he seized the opportunity to retire at 60 — unheard of at the time — and take up painting.
From his example, Lisa doesn't let unfulfilling paths lead her far. So now that she's made a graceful exit from comedy on the top of her game, she's taking the life coach route to be of service to others — or, as her retirement announcement on CT Style was headlined, she's gone "from the Queen of Mean to the Queen of Meaning."
"I think it's really fun to shed that stuff," says Lisa. "I can get rid of a career I don't love; I can replace it with something I do. And I can save enough money so I don't have to worry about it. I can get service into my life — because service is just what was missing. That's really the big thing. I wasn't really doing anything for anyone else.
"All comics are like, 'But we're making people laugh!' Come on. There's a little more that we can do than that — at least me. I knew I could go, 'Oh, I have some insight and I can give workshops and I can coach. I just felt more like, 'My calling is to be more one on one and helpful.'"
Listen to this episode in its entirety to learn more about Lisa's usually gentle (but tough love when appropriate) approach to life coaching, what she's recently learned about expressing vulnerability and making deep connections, what losing 107 pounds — and keeping it off for the past seven years — taught Lisa about coming to terms with her own lifelong food and body-image issues (and inspired her to be of service to others on the same journey), and much more.
THANKS, LISA LAMPANELLI!
If you enjoyed this session with Lisa Lampanelli, let her know by clicking on the link below and sending her a quick shout out at Twitter:
Click here to thank Lisa Lampanelli at Twitter!
Click here to let Jordan know about your number one takeaway from this episode!
And if you want us to answer your questions on one of our upcoming weekly Feedback Friday episodes, drop us a line at friday@jordanharbinger.com.
Resources from This Episode:
Download Worksheet for Changing Careers at the Top of Your Game

/wp-content/uploads/2019/04/Worksheet-for-Lisa-Lampanelli-Changing-Careers-at-the-Top-of-Your-Game-Episode-183.pdf