Matt McCarthy (@drmattmccarthy) is an assistant professor of medicine at Weill Cornell, a staff physician at New York-Presbyterian Hospital, and the author of Superbugs: The Race to Stop an Epidemic.
What We Discuss with Matt McCarthy:
How antibiotics are abused on a large scale by industrial agriculture, prescription-happy doctors, and mysophobic hand washers.
Why antibiotic abuse is resulting in the fast-track evolution of once easily vanquished bacteria into superbugs from which we have no known protection.
How herd immunity works, and why you may be at risk for contracting a once-eradicated disease thanks to anti-vaccination propaganda.
Why the FDA approval process takes so long for new drugs to safely come to market, and how this hinders innovation in a profit-driven pharmaceutical market.
How genetic editing through new CRISPR technology may be our best hope for quickly reacting to rapidly adapting superbugs.
And much more…
Like this show? Please leave us a review here — even one sentence helps! Consider including your Twitter handle so we can thank you personally!
(Download Episode Here)
(Subscribe to the Podcast Here)
Worksheet for this Episode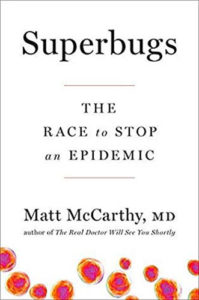 With anti-vaccination lunacy running rampant and major metropolitan areas experiencing an ever-increasing homeless problem that squeezes society's most destitute into close quarters, the climate is ripe for the return of diseases that were all but eradicated decades ago. But if measles, mumps, tuberculosis, scarlet fever, and bubonic plague on a comeback tour aren't enough to scare you, here's something else you can worry about instead: death from antibiotic-resistant strains of bacteria.
In this episode we speak with infectious disease specialist and Superbugs: The Race to Stop an Epidemic author Dr. Matt McCarthy about how superbugs adapt to the overuse of antibiotics, what makes this a recipe for disaster, and why we're seemingly just sitting here with our hands in our pockets waiting to be wiped out by a plague of our own creation. Listen, learn, and enjoy!
Please Scroll down for Full Show Notes and Featured Resources!
Sign up for Six-Minute Networking — our free networking and relationship development mini course — at jordanharbinger.com/course!
Get two months of Skillshare — unlimited access to over 18,000 classes in design, business, technology, photography, entrepreneurship, film, writing, and more — for free at skillshare.com/harbinger!
Need custom graphics, logos, or Web design? Access a community of 600,000+ designers by registering at designcrowd.com/jordan and enjoy up to $100 off with The Jordan Harbinger Show bonus offer!
Have you ever thought about the fact that where you choose to live directly affects the "you" you become? Apartments.com has the most listings, which means you have the most apartments, townhomes, condos, and houses to choose from. Change your apartment, change the world at Apartments.com here!
NetSuite by Oracle allows you to manage sales, finances, accounting, orders, and HR for your business instantly on the cloud from anywhere! Download your free guide — Seven Key Strategies to Grow Your Profits — at netsuite.com/jordan!
Express knows that if you live in your jeans, comfort and fit are important. Get $20 off any one pair of jeans using the code 9993 at checkout in stores or online at express.com!
Disgraceland is a true crime podcast about musicians getting away with murder. If you love true crime and you love music, get ready to love Disgraceland here!
THANKS, MATT MCCARTHY!
If you enjoyed this session with Matt McCarthy, let him know by clicking on the link below and sending him a quick shout out at Twitter:
Click here to thank Matt McCarthy at Twitter!
Click here to let Jordan know about your number one takeaway from this episode!
And if you want us to answer your questions on one of our upcoming weekly Feedback Friday episodes, drop us a line at friday@jordanharbinger.com.
Resources from This Episode: