Mike Abrashoff (@itsyourship) is a former Naval Commander, leadership and teamwork expert, and author of the New York Times bestseller It's Your Ship: Management Techniques from the Best Damn Ship in the Navy.
What We Discuss with Mike Abrashoff:
Why leadership style matters and organizational culture is everything.
How to know when it's appropriate to break the rules and favor innovation over tradition.
When to challenge your superiors, and how to do so without endangering your career.
How to earn the trust of your superiors so they come to rely on you and trust your judgment.
What it takes to foster learning and innovation among the ranks of people conditioned to just follow orders.
And much more…
Like this show? Please leave us a review here — even one sentence helps! Consider including your Twitter handle so we can thank you personally!
(Download Episode Here)
(Subscribe to the Podcast Here)
Worksheet for this Episode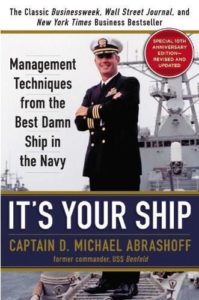 At age 36, Mike Abrashoff was the most junior commanding officer in the Pacific fleet when he was selected as Commander of USS Benfold. At the time, this was one of the worst-performing ships in the Navy. Morale was low, turnover was high, and the previous commanding officer was literally booed off the ship after leaving command. Just one year later, with the same crew under Mike's leadership, it was ranked number one in performance.
So how did Mike succeed where older, more experienced commanders had failed? That's what we'll examine in this episode as Mike lays out the foundations of his New York Times Best Seller, It's Your Ship: Management Techniques from the Best Damn Ship in the Navy. Listen, learn, and enjoy!
Please Scroll down for Full Show Notes and Featured Resources!
Sign up for Six-Minute Networking — our free networking and relationship development mini course — at jordanharbinger.com/course!
Better Help offers affordable, online counseling at your convenience. If you're coping with depression, stress, anxiety, addiction, or any number of issues, you're not alone. Talk with a licensed professional therapist for 10 percent off your first month at betterhelp.com/jordan!
Nobull makes training footwear, apparel and accessories for people who train hard every day and don't believe in excuses. Visit nobullproject.com/harbinger to get your simple, durable, and functional gear today!
Vincero Watches creates exceptionally crafted watches, and it does it without breaking the bank. Get 15 percent off your entire order with code JORDAN at vincerowatches.com!
Does your business have an Internet presence? Save up to a whopping 62% on new webhosting packages with HostGator at hostgator.com/jordan!
Saving money on your car insurance is easy with Progressive. It's an average savings of $699 a year for customers who switch and save! Get your quote online at Progressive.com and see how much you could be saving today!
Mind Pump is an online radio show/podcast dedicated to providing truthful fitness and health information. It is sometimes raw, sometimes shocking, and is always entertaining and helpful. Jack up your ears with some Mind Pump wisdom here!
More About This Show
It's Your Ship: Management Techniques from the Best Damn Ship in the Navy author Mike Abrashoff recalls the scene when he arrived to take command of the USS Benfold.
"When my predecessor left the ship for the final time — with his parents and his wife and his kids — as his departure was announced on the public address system, my new crew stood and jeered wildly as he was leaving. And I had never heard of or seen such a blatant sign of disrespect in my entire career. And I was terrified.
"And the first thought that went through my mind was: 'What do I have to do to keep that from happening to me two years from now when I leave the ship?'"
At the time Mike took command, the USS Benfold had a reputation as being one of the fleet's worst ships. But in just one year under Mike's leadership — and with the same crew that had jeered his predecessor's departure — it became the fleet's best. While Mike has only kind words to say about the ship's previous Commander, he can point to how their leadership strategies differed.
"He's a brilliant man," says Mike, "But he never left his comfort zone. He was an engineer his whole life, and so he focused on the engineering plant and tried to do everything himself. So his engineers folded their arms and said, 'Okay, you do it,' and they became the first new construction ship in the history of the Navy to flunk their first engineering certification. It's because, instead of becoming the Captain, he wanted to be the Super Chief Engineer."
It's the same story in the business world. The best salesperson in the company might be promoted to Head of Sales, but if their heart's in sales and they never make the transition to leadership, they're more likely to stand in the way of other salespeople's progress by doing all the work rather than teaching them how to succeed.
Or, for people who better relate to sports: LeBron James is one of basketball's finest athletes in a sport rife with examples of excellence. But would he make a great coach? Could he stand back and let others make the mistakes necessary to learn, grow, and excel, or would he call himself in to the game at every crucial moment to save the day at the expense of overall team progress? And what effect would the short-term wins of one person have on the long-term morale of his teammates as it becomes clear their own contributions are viewed as secondary to his?
Listen to this episode in its entirety to learn more about how Mike promoted trust and empowerment among the ranks for the good of the overall organization before his own path of promotion, when it's appropriate to break the rules, how Mike learned to think like his own boss when feedback was scarce, why "my way or the highway" is a failed leadership strategy, the real way to speak truth to power today if you want to make sure you still have a job tomorrow, how reducing low-value work makes way for high-value results, and much more.
THANKS, MIKE ABRASHOFF!
If you enjoyed this session with Mike Abrashoff, let him know by clicking on the link below and sending him a quick shout out at Twitter:
Click here to thank Mike Abrashoff at Twitter!
Click here to let Jordan know about your number one takeaway from this episode!
And if you want us to answer your questions on one of our upcoming weekly Feedback Friday episodes, drop us a line at friday@jordanharbinger.com.
Resources from This Episode: