Nathan Latka (@NathanLatka) is the principal of private equity firm Latka Capital; executive producer and host of The Top Entrepreneurs Podcast, and author of How to Be a Capitalist Without Any Capital: The Four Rules You Must Break To Get Rich.
What We Discuss with Nathan Latka:
How Nathan makes it worthwhile from an ROI standpoint for sponsors to fork over big bucks for advertising on his relatively niche podcast.
How to creatively negotiate from a standpoint that you can get people what they really need — even when they don't know what that need might be.
How to overcome whatever fears you may have for making the big asks during a negotiation.
How to get bankers, Airbnb hosts, and freelancers to give you terms you want.
How to land a meeting with anyone.
And much more…
Like this show? Please leave us a review here — even one sentence helps! Consider including your Twitter handle so we can thank you personally!
(Download Episode Here)
(Subscribe to the Podcast Here)
Worksheet for This Episode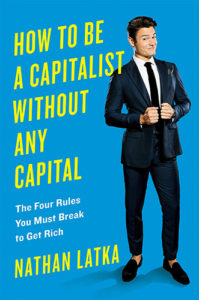 Over the course of his life, Nathan Latka has started and sold a number of businesses, he runs a VC firm, he hosts Latka's Money on Facebook Live — which just got a television deal — he also hosts The Top Entrepreneurs Podcast, and he's just written a book: How to Be a Capitalist Without Any Capital: The Four Rules You Must Break To Get Rich. Nathan is only 29 years old.
On this episode, Nathan shares many of the secrets to his uncanny powers of persuasion that go well beyond simple negotiation; you'll come away with actionable steps and a process to gain agreement and leverage your resources (and the resources of others) to make incredible things happen. He's not disclosing how he keeps the energy going to do all these things, but we'll just chalk it up to youthful enthusiasm. Kids these days, eh? Listen, learn, and enjoy!
Please Scroll down for Full Show Notes and Featured Resources!
Sign up for Six-Minute Networking — our free networking and relationship development mini course — at jordanharbinger.com/course!
Get two months of Skillshare — unlimited access to over 18,000 classes in design, business, technology, photography, entrepreneurship, film, writing, and more — for free at skillshare.com/harbinger!
Blinkist gives you access to 2,500+ bestselling nonfiction books, transformed into potent little packs you can listen to or read in just 15 minutes. Try Blinkist Premium free for seven days at blinkist.com/jordan!
Are you a freelancer or small business owner who needs simple and intuitive automation of tasks like invoicing, expense organization, and time tracking? Check out FreshBooks for 30 days free at freshbooks.com/jordan!
MedMen is proud to be leading the way as the cannabis industry transitions from its legacy era of homegrown enterprises to an institutional phase of professional standards and practices. Experience the new normal and check out Spike Jonze's short film at MedMen.com!
Brother INKvestment Tank all-in-one inkjet printers keep your business running by delivering up to one year of printing without the need to replace ink cartridges! Find out more by visiting ChangeTheWayYouInk.com!
More About This Show
"A lot of what I do ties in with a lot of what you're teaching your audience, which is: you've got to know how to talk to anybody and then figure out how to get information you want," says Nathan Latka, author of How to Be a Capitalist Without Any Capital: The Four Rules You Must Break To Get Rich.
Nathan is busier than most 29-year-olds, but one of the craziest things he does is release a 15-20 minute episode of The Top Entrepreneurs Podcast every day. What's even crazier? He records them in batches with his guests over Skype, so he'll do as many as 30 interviews in one day.
When it's time to negotiate sponsorships, Nathan takes a unique approach. Rather than charging CPM (cost per mille, or thousand) — which wouldn't make him much more than spare change every episode, he asks the sponsor what they would be willing to pay for a new customer.
"They'd say, 'Well, we're spending a grand on Google ads right now to get one new customer,'" says Nathan. "I then say, 'Great. I'll beat you. I'll bring you in customers at $500 a pop.'"
Nathan can practically guarantee this because he doesn't rely simply on the reach of the podcast to serve the sponsors. Since he's on the speaking circuit where the same sponsors are already be advertising, he can agree to appear at their demo booths after his speech for a Q&A, which attracts potential customers in a place where they can see up front what the sponsor can do for their needs.
But what if the sponsor in question doesn't happen to have a booth at an event? Nathan's got a contingency plan for this.
"When a conference asks me to come speak, they're obviously paying a fee to have me speak. I'll say something like, 'Guys, this fee's way lower than what I usually charge, so if I bring you three sponsors, I want you to give them a 50 percent discount on the platinum plan.'
"And the people I give those to are people who are already paying me to sponsor my podcast. So then they get the booth for a discount and I drive them traffic when I'm done with my keynote to their booth from stage!"
Listen to this episode in its entirety to learn more about how to creatively negotiate from a standpoint of getting people what they really need, how to ensure you have the confidence to make big asks before going into a negotiation, how Nathan's parents fostered his negotiation skills (including the time he negotiated their amicable divorce), how to get anyone to agree with you, and much more.
THANKS, NATHAN LATKA!
If you enjoyed this session with Nathan Latka, let him know by clicking on the link below and sending him a quick shout out at Twitter:
Click here to thank Nathan Latka at Twitter!
Click here to let Jordan know about your number one takeaway from this episode!
And if you want us to answer your questions on one of our upcoming weekly Feedback Friday episodes, drop us a line at friday@jordanharbinger.com.
Resources from This Episode:
Download Worksheet for How to Be a Capitalist Without Any Capital

/wp-content/uploads/2019/03/Worksheet-for-Nathan-Latka-How-to-Be-a-Capitalist-Without-Any-Capital-Episode-169.pdf