Reading Time:
3
minutes
Robert Greene (@RobertGreene) is the author of multiple New York Times bestsellers on power and strategy, including The 48 Laws of Power and The Art of Seduction. His latest book is The Daily Laws: 366 Meditations on Power, Seduction, Mastery, Strategy, and Human Nature. [Note: This is a previously broadcast episode from the vault that we felt deserved a fresh pass through your earholes!]
How to learn multiple languages and maintain their use throughout your life.
Why it's important to apprentice, and how you can find the right mentor to guide you.
How to find your life's task — even if you think you're too young, too old, or already established in your field.
Why social intelligence is crucial on the path to mastery.
How keen observation of others serves to sharpen our own skills.
And much more…
Like this show? Please leave us a review here — even one sentence helps! Consider including your Twitter handle so we can thank you personally!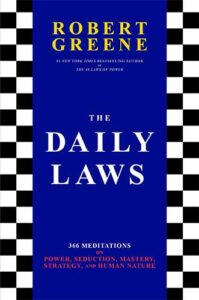 Robert Greene worked about 80 jobs before he became the New York Times bestselling author of books like The 48 Laws of Power and The Art of Seduction. And he never worked one for more than 11 months. The boredom and routine of seeing the same things, day after day, nudged him toward exploring why he wasn't content with his place in the cosmos. Why he felt adrift in the human maelstrom by which he was surrounded. It was time to examine the power structures that kept him in check and understand what it took to identify and break free from them. Here, we explore Robert's discoveries and learn how we can empower ourselves to overcome the obstacles that keep us down.
This episode was pulled from so far back in the vault that it predates Jordan and Jen Harbinger's courtship. Now they're married and have two kids. Life sneaks up on you, whether you're creating podcasts, categorizing butterflies in the wilds of New Guinea, or inventing sugar-free freeze-dried desserts for diabetic astronauts. Enjoy it while you can and understand your power in the meantime. Listen, learn, and enjoy!
Please Scroll Down for Featured Resources and Transcript!
Please note that some of the links on this page (books, movies, music, etc.) lead to affiliate programs for which The Jordan Harbinger Show receives compensation. It's just one of the ways we keep the lights on around here. Thank you for your support!
Miss one of our earlier shows with The 48 Laws of Power author Robert Greene? Catch up here with episode 117: What You Need to Know about the Laws of Human Nature!
Thanks, Robert Greene!
If you enjoyed this session with Robert Greene, let him know by clicking on the link below and sending him a quick shout out at Twitter:
Click here to thank Robert Greene at Twitter!
Click here to let Jordan know about your number one takeaway from this episode!
And if you want us to answer your questions on one of our upcoming weekly Feedback Friday episodes, drop us a line at friday@jordanharbinger.com.
Resources from This Episode: