Reading Time:
4
minutes
Benjamin Hardy (@BenjaminPHardy) is an organizational psychologist and author of books about willpower, self-limiting beliefs, teamwork, and the pursuit of happiness. He returns to the show to discuss his latest offering: Be Your Future Self Now: The Science of Intentional Transformation.
What We Discuss with Benjamin Hardy:
Prospection: rather than remaining tethered to a past over which we no longer have any control, we can visualize a number of possible futures and choose the course of action that guides us toward the one we find most desirable.
Most of us don't guide ourselves toward our most desirable future because we're too busy coping with the immediate concerns of daily life to clearly see the course that would take us there.
Are you committing yourself to avoidance-driven goals (like doomscrolling through the news) that serve to distract and knock you off course instead of approach-driven goals that nudge you toward your ideal future self (like learning more about your chosen career so you can do your best work and get promoted)?
Connecting with your long-term future self to make the decisions that speed you toward this person may require extra effort because humans are living longer than ever before and probably didn't evolve to think far beyond immediate survival.
Why it's important to envision your future self as an actual different person — with different thoughts and motivations — than you are today rather than just a later iteration of your current self.
And much more…
Like this show? Please leave us a review here — even one sentence helps! Consider including your Twitter handle so we can thank you personally!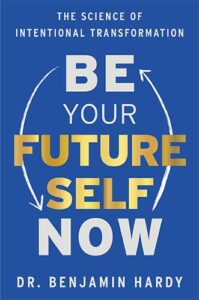 You're likely not the same person today that you were 10 years ago. Ideally, you won't be the same person you are today in 10 years. Shouldn't you have a say in who that person will be? And honestly, if you're aiming to be a better version of yourself, why wait 10 years?
On this episode, Dr. Benjamin Hardy revisits the show to discuss what you can do to become the person you aspire to be today without wasting time in some kind of self-imposed limbo as outlined in his latest book, Be Your Future Self Now: The Science of Intentional Transformation. Here, we'll discuss the challenges that may be keeping you disconnected from this future self, and what you can do to make decisions that guide you toward that person instead of away from them. Listen, learn, and enjoy!
Please Scroll Down for Featured Resources and Transcript!
Please note that some of the links on this page (books, movies, music, etc.) lead to affiliate programs for which The Jordan Harbinger Show receives compensation. It's just one of the ways we keep the lights on around here. Thank you for your support!
Thanks, Benjamin Hardy!
If you enjoyed this session with Benjamin Hardy, let him know by clicking on the link below and sending him a quick shout out at Twitter:
Click here to thank Benjamin Hardy at Twitter!
Click here to let Jordan know about your number one takeaway from this episode!
And if you want us to answer your questions on one of our upcoming weekly Feedback Friday episodes, drop us a line at friday@jordanharbinger.com.
Resources from This Episode: