Reading Time:
4
minutes
Benjamin Hardy (@BenjaminPHardy) is an organizational psychologist and author of Willpower Doesn't Work: Discover the Hidden Keys to Success and Personality Isn't Permanent: Break Free from Self-Limiting Beliefs and Rewrite Your Story.
What We Discuss with Benjamin Hardy:
Why treating the results of a "scientific" personality test like Myers & Briggs or Enneagram as gospel is akin to trusting horoscopes to safely guide your life decisions — inaccurate and potentially dangerous.
Hear the story about how Benjamin and his wife almost didn't get married because a personality test indicated they weren't an ideal match.
What looking back at the person you were 10 or 20 years ago should reveal about personality as an unfixed, malleable quality.
Why categorizing yourself or accepting labels leads to a tunnel vision of mindlessness that tends to accentuate the negative qualities you believe yourself to have.
You're always a work in progress — you're never "finished." The person you'll be in 10 years may well be as different as you are from the person you were 10 years ago. So who do you want the future you to be?
And much more…
Like this show? Please leave us a review here — even one sentence helps! Consider including your Twitter handle so we can thank you personally!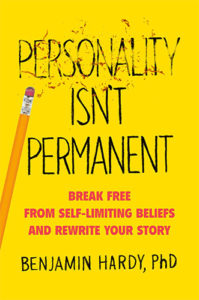 Who are you? If I ask you what your sign of the zodiac happens to be, do you disclose it with the expectation that I'll be able to decode the type of person you are based on what celestial bodies were in alignment when you were born? Or do you wave horoscopes away as superstitious nonsense, deferring instead to the more sophisticated and scientific parameters detailed by popular personality tests like Myers-Briggs and Enneagram? Which one of these will accurately give me the results I need to understand what kind of a person you are?
What if I told you none of 'em? Don't believe me? Then maybe you'll believe returning guest Benjamin Hardy and the work he's put into his new book, Personality Isn't Permanent: Break Free from Self-Limiting Beliefs and Rewrite Your Story. If you've been suckered into believing that we've all got innate and unchanging personalities and maybe you've lamented the cards you've been dealt, then lend your ear to this episode and breathe a sigh of relief that you don't have to be a prisoner to the way you've been if you'd rather be someone else. Listen, learn, and enjoy!
Please Scroll Down for Featured Resources and Transcript!
Please note that some of the links on this page (books, movies, music, etc.) lead to affiliate programs for which The Jordan Harbinger Show receives compensation. It's just one of the ways we keep the lights on around here. Thank you for your support!
Sign up for Six-Minute Networking — our free networking and relationship development mini course — at jordanharbinger.com/course!
Vuori is built to move and sweat and yet designed with a West Coast aesthetic that transitions effortlessly into everyday life. Go to vuoriclothing.com/jordan and use code JORDAN at checkout for 20% off your first purchase, free shipping on US orders over $75, and free returns!
Does your business have an Internet presence? Save up to a whopping 62% on new webhosting packages with HostGator at hostgator.com/jordan!
Grammarly goes beyond spellchecking — it levels up your writing at work, school, and personal projects. Premium features include advanced suggestions on grammar, punctuation, sentence structure, and style, and it works in anything from Outlook to Gmail to Twitter, LinkedIn, Google Docs, WordPress — you name it. Get 20% off Grammarly Premium at Grammarly.com/jordan!
Whether you're a lady or a gent, you don't need to know what MicroModal fabric is to enjoy the comfort of MeUndies; you just need to wear them — support this show (and yourself) with MeUndies at meundies.com/jordan for 15% off and free shipping!
Saving money on your car insurance is easy with Progressive. It's an average savings of $699 a year for customers who switch and save! Get your quote online at Progressive.com and see how much you could be saving today!
Miss the show we did with Bill Browder — one of Vladimir Putin's sworn enemies? Catch up here with episode 3: Bill Browder | Hunted by Putin!
THANKS, BENJAMIN HARDY!
If you enjoyed this session with Benjamin Hardy, let him know by clicking on the link below and sending him a quick shout out at Twitter:
Click here to thank Benjamin Hardy at Twitter!
Click here to let Jordan know about your number one takeaway from this episode!
And if you want us to answer your questions on one of our upcoming weekly Feedback Friday episodes, drop us a line at friday@jordanharbinger.com.
Resources from This Episode:
Transcript for Benjamin Hardy | How to Break Free from Self-Limiting Beliefs (Episode 365)
Benjamin Hardy: [00:00:00] Imagination and flexibility are required for learning. And so most people if they've adapted to a label, they almost lose interest in trying the other thing because of the fixed mindset.
Jordan Harbinger: [00:00:14] Welcome to the show. I'm Jordan Harbinger. On The Jordan Harbinger Show, we decode the stories, secrets, and skills of the world's most brilliant people and turn their wisdom into practical advice that you can use to impact your own life and those around you. We want to help you see the Matrix when it comes to how these amazing people think and behave. We want you to become a better thinker. If you're new to the show, we've got episodes with spies and CEOs, athletes, and authors, thinkers, and performers, as well as toolboxes for skills like negotiation, body language, persuasion, and more. So if you're smart and you like to learn and improve, you're going to be right at home here with us.
[00:00:49] Today, psychologist and friend of the show, Dr. Ben Hardy rejoins us here. In this episode, we're going to be taking down personality tests. We'll explain why these tests are not only inaccurate but can actually limit our potential and pigeonhole us into a category that isn't even backed by science. We'll also take a side road into exploring trauma and how certain events can actually dictate the way we think and how we act much later in life. As well as how we can maintain psychological flexibility as we get older and more experienced. Ben makes these seemingly heavy-duty topics really accessible, and I always have a good time chatting with him. So I know you'll enjoy this conversation as well. 
[00:01:25] If you want to know how I managed to get all these people in my network, it's about systems and tiny habits. I'm teaching you how to create a network for yourself, whether it's for business or personal reasons, or ideally both. In my course, Six-Minute Networking. It's totally free. It's over at jordanharbinger.com/course, and it's not enter-your-credit-card free. It's just free-free. By the way, most of the guests on the show actually subscribed to the course and the newsletter. So come join us and you'll be in smart company. Now, here's Dr. Benjamin Hardy.
[00:01:54] Ben, thanks for coming on the show. You almost didn't get married because of a personality test. Can you explain that to me? That seems like a really dumb reason not to end up with your wife.
Benjamin Hardy: [00:02:05] Well, it is true. So when I was in my undergrad, basically -- there are popular personality tests all over the world, but the one that was kind of exciting to my wife's family was called the Color Code. And they really took it seriously. So the color code breaks people up into four categories, basically, reds which are type A, essentially go, go, go, or just like, it's their way or the highway. You've got blues, which are like your heart-centered people. Whites which are passive, essentially dreamers, just like they're in their head. And then yellows, which are essentially extroverts.
[00:02:38] So according to the color code. Those are the only four types of people that exist. And basically, my wife and her whole family categorize themselves as reds. Just a very type A personality. That's how they define themselves. And my wife had been married before me. So she was in a heavily abusive marriage, abuse on all counts, sexual, physical abuse. And she was married to a guy who was a red. And so like when she got divorced, it took a couple of years to kind of self-transform. She traveled the world, did mission trips and stuff like that. And I was the very first person that she dated for serious. And they, of course, asked what's Ben's score on the personality tests, you know, the color code. And so I was categorized as a white on that test. They were very concerned about that fact because they saw Lauren as a red. And so what their thought was is if this guy is a white and he's this passive dude, then what this means is that Lauren doesn't want to be controlled in her marriage again, because, in the last marriage, she was so controlled, so dominated that it basically destroyed her. So they were coming up with all these theories that like, "Okay, she's with this white guy because she does not ever want to be controlled again. So she's going to control this guy." And they were heavily telling her that she shouldn't marry me because she's like, "You need to marry a real man. Like you need to marry a man. You can't just marry some white passive dude who you're just going to walk all over." I mean, that was kind of the situation. I thought it was hilarious because that's obviously not how I viewed myself. That was kind of the framing and she had to really think about it. They were very much like -- what I think is funny is, is that they thought that that's who I was always in all situations. They didn't view my past. They didn't know my future. They didn't know I was a straight-A student killing it in school and had come from a really traumatic background. I had done a lot in and was like pretty dang committed to big goals but none of that was a part of the equation. It was just like, this guy is a white and she had to convince them or to change their mind.
Jordan Harbinger: [00:04:35] So you're a white on this color scale, which like some life coach made up in his basement. 
Benjamin Hardy: [00:04:41] Exactly.
Jordan Harbinger: [00:04:41] Yeah. Okay. And I mean, look, I don't know that specific --
Benjamin Hardy: [00:04:43] And by the way, I wouldn't even scale as a white today if I took the test, who knows what I would scale, but like that was five, eight years ago, but that was what I was at the time.
Jordan Harbinger: [00:04:51] Well, you just cut me off mid-sentence. So that's a very red move if I understand these personalities. So you almost didn't end up with your wife because of this test. So yes, I see that you have a personal problem with personality tests. Is that fair to say? Because it almost dramatically affected your life in a very arbitrary and negative way.
Benjamin Hardy: [00:05:10] Yeah, it did. I mean, I wouldn't say I have like a --
Jordan Harbinger: [00:05:12] Vendetta? 
Benjamin Hardy: [00:05:14] I don't necessarily have a vendetta. No, but I do think it's very humorous. That is the situation. I mean, it really did almost happen. And if you think about it, like I would be probably married to someone else. I wouldn't have the five kids I have. I wouldn't be living in Florida because my wife is the one who wanted to live here. She was the one who wanted the three foster kids. And so it's like, I would be a totally different person if she chose not to marry me because of that test. I would still probably be a professional writer because that's who I plan to be at that time. But yeah, a lot of my life would be different and who knows where she would be. It's just kind of funny when you think about it. By the way, her parents would not consider me a white anymore, which is funny. 
Jordan Harbinger: [00:05:49] Yeah, yeah. Yeah. That makes sense. Well, look, though, you wouldn't have to live in Florida.
Benjamin Hardy: [00:05:54] There are some mixed bags.
Jordan Harbinger: [00:05:56] There are some pros. Yeah, exactly. You said now you wouldn't even rate as a white on that scale. So it sounds like what you're saying and you talk about this in the book, is that personality tests, you come up with an answer as to what your personality is kind of only in that moment. Because if you can change from one thing to another from white to blue or red or whatever the other colors are, just this particular test. And if I can go on Myers-Briggs from INTJ to ENTJ at a different point, taking the test, you know, a few years or several years later, then that means that these are temporary in nature. The results are temporary, which casts a little doubt. Like, look, my blood type doesn't change every 10 years. Right? I realized this isn't exactly the same thing but that also makes the results less useful in my opinion. What do you think?
Benjamin Hardy: [00:06:46] Yeah, I actually have never thought it was like a blood type. That's really good. There's actually a really tangible difference between blood type and personality. And it exactly explains what makes good science. So before I even go into that, I will ask you -- do you think that you are the exact same person you were 10 years ago?
Jordan Harbinger: [00:07:03] Of course not. No. No. I mean, I deliberately in the last 15-plus years went about personal growth, very deliberately, right? Like everything from learning languages and traveling to changing the way, I present socially, learning public speaking, learning how to read body language, and learning a sales skill set. I mean, there are probably more things that are different about my personality now, than there are carryovers that stayed the same or an equal number. I visited my college roommate a few years ago and he said, "You're like a totally different person now." That's what he said. He said, "You're like a totally different person right now." And that was a pretty cool compliment because it's not like I was exactly killing it in college. You know, I was just kind of an average. Joe. 
Benjamin Hardy: [00:07:53] Yeah. I mean, I'm the exact same way. My friends are shocked and stunned by who I am and the life I'm living. They're like, "I can't believe it."
Jordan Harbinger: [00:08:01] Yeah.
Benjamin Hardy: [00:08:02] There's a lot here. So basically this is research by Daniel Gilbert. He's at Harvard. He spent a lot of time studying personality change over time. He spent a lot of time asking people if they're the same people as they were 10 years ago. As an example, do you have the same preferences? Do you have the same hobbies, same interests? Do you have the same goals, the same priorities? Obviously, most people will say no. I mean, what the research shows is that the distance between when you take two tests -- like if you took a personality test five years ago and you took one today, you would actually get quite different scores.
[00:08:32] And so when I was in my PhD program, one of the things that I learned was a concept called psychometrics, which is basically test development and validation. In order for you to test something, you need to actually have a valid test. And so this is, I think the difference between blood tests versus personality tests is that the tests are good enough that you're -- well, the thing is, is your blood is just not going to change, your personality is. I guess that's the point as that in certain situations, you're going to get a different score.
[00:08:59] And so one example is that in one study, half the participants took the same personality test. They took it two times over like a week interval. A week later, they took it. There was the same test administrator. Basically, in those circumstances, people got pretty similar scores, not the exact same scores, but then the other group took the same personality test, same interval. The only difference was a different test administrator. And in those situations, totally non-correlated scores. Like literally just that one conditional situational change, their scores weren't even correlated. And so basically, in order for something to be good science, it has to be valid, meaning it's studying what it says it's studying and it has to be reliable, meaning you get the same results over and over and over again. And that's just a problem when it comes to personality.
Jordan Harbinger: [00:09:42] Sure.
Benjamin Hardy: [00:09:43] Yeah. So I would look up Adam Grant, by the way. Adam Grant has written a lot of funny and clever, but also ways of explaining Myers and Briggs and just the fundamental problems. Obviously, we can talk about that here as well, but --
Jordan Harbinger: [00:09:53] Yeah, that is interesting because that Myers-Briggs is so popular. So when you say the scores weren't even correlated, you mean, okay, so a group took the personality test and got X results, certain kinds of results. Then the same group took the test later. They had a different proctor or administrator and --
Benjamin Hardy: [00:10:09] Yup.
Jordan Harbinger: [00:10:10] The test results changed, but they didn't all change in some uniform way. According to the administrator, they were just randomly different.
Benjamin Hardy: [00:10:17] Each individual was different. But then grouped as a whole, it was non-correlated.
Jordan Harbinger: [00:10:23] Right, because, of course, what somebody might say is like, "Oh, well, of course, they changed. They all knew each other, so they presented more extroverted. They all changed in a certain direction." And you were saying -- I want to clarify this. It sounds like what you're saying is, "No, they just all kind of rolled the dice and got a different result." 
Benjamin Hardy: [00:10:39] It could have, honestly, been the group dynamics. It could have been a ton of other things. I mean, that's actually the point is that these types of tests, they ignore context. And so like if you get a score, you assume that that score is always true. But the point of the matter is, it is actually that in a different situation or under different circumstances, you are going to view yourself differently. You're going to feel different. You're going to answer the test differently. So the very nature of the fact that you're taking the test again with the same group of people, even though there's a different person, that might lead you to just answering it differently because you feel differently in the moment. And so like that's actually one of the reasons why these things should be taken a little less seriously because the score you get isn't always true. It's a snapshot of maybe how you were feeling in the moment, but if you're in a different situation, you would have probably scored it a little differently.
Jordan Harbinger: [00:11:20] That's important to know because I think a lot of people do feel like their personality is fixed. And it sounds like what you're saying is our personalities are not fixed, not just over long periods of time, but even in the short term.
Benjamin Hardy: [00:11:31] Yeah, definitely. I mean, context from a psychological perspective, context matters more than content. You know, I'll give a quick example. In a recent email I sent to my email list, I used the word viral. I was talking about an article, but I got several emails back with people telling me, "Please don't use that word right now, given just COVID-19." And I was like, okay, that's understandable. That's fine. You know, context shapes the meaning of content. That's true of yourself. It's true of a word. And so these tests, they give you a score and you assume it's always true. And so basically what the label does is it creates tunnel vision. So I don't know if you've studied Ellen Langer much.
Jordan Harbinger: [00:12:07] No, I haven't. Tell us about that.
Benjamin Hardy: [00:12:08] You would love her work. Ellen Langer, so she's basically what a lot of psychologists consider the queen of mindfulness. So she's been studying mindfulness for 40 years. She's got a book called Mindfulness and a book called Counterclockwise, both of which you would dig, just knowing you. But she spent a lot of time studying the things that lead to mindlessness. And mindlessness is essentially -- basically being unaware of changes or just variations in the environment and just in general. And one of the key things, obviously, that lead to mindlessness is categorizing yourself or having labels. So what she's found is that people who consider themselves depressed. Think that they're always depressed, even though there's several intervals of time in a given day when they're not, but they don't selectively attend to that. So the label creates a tunnel vision.
[00:12:52] It's very much like if you buy a car, you buy a car and you see the car everywhere. What you don't see though is the 500 cars that are there. Like you just don't attend to those. They're not important to you and so that's the same way with labels is, is that you attend to the things that fit the label, but there are 500 behaviors of yours that are not relevant to the label that you're just not paying attention to.
Jordan Harbinger: [00:13:13] Oh, I get it. Right. Right. Right. So certain things are turned up. It's like using an equalizer in music. You're like, "Oh, I want the bass a little higher." You can sort of tweak these things. You're saying personalities demonstrate different elements at different times and that's what's captured by the test or if at best that's what's captured by the test.
Benjamin Hardy: [00:13:30] Well, that's actually, what's captured by your perception, like, because you've assumed the label now. I'm saying, once you take the test or once you've given yourself a label –
Jordan Harbinger: [00:13:38] Oh, got it, got it, got it.
Benjamin Hardy: [00:13:38] If you're calling yourself depressed or if you're calling yourself an introvert, then you're seeing yourself through the lens of that. It's just like, when you buy a car, you see that car, but you don't see the other ones. So like, it leads you to being mindless of when the label isn't true.
Jordan Harbinger: [00:13:53] Okay. So we ended up with our little confirmation bias. So it'd be like if somebody told you you're psychic -- or what is that thing? There's a very popular -- hold on, let me remember this, there's a very popular kind of anecdote where people will notice that lights go out when they go under them. Have you heard about this? 
Benjamin Hardy: [00:14:08] No.
Jordan Harbinger: [00:14:09] This is so funny. This phenomenon is hilarious. So people I know were saying this. They were saying, "Hey, I've got some sort of like -- " I don't know what you'd call it. Psychic ability, not psychic, but telekinetic ability, whatever kind of ability. And I'd be like, "What is it?" And universally, I mean, I'm telling you, aside from people who are just like, "I'm actually psychic or whatever," like those people, they're pretty normal people that say, "No, you don't understand. I never tell anyone about this because it's very strange. But when I drive under certain lights in my neighborhood, they turn off and it happens all the time. And it's maybe I've got like a magnetic--" And these are people where you're like, "What are you talking about?" Like, you should know better than this.
[00:14:48] And here's the thing. I looked this up. I looked this up and I looked on Snopes and I did some research and I asked a bunch of folks about it. This is a very classic example of confirmation bias, where the reason you think that you turn off a light in your neighborhood is because streetlights and things like that, they often either overheat and turn off or they turn off for other reasons. And since you're driving, you're making that right turn from the main road, into your subdivision, you know, hundreds of times a month or a year. And so you start to go, "Oh, I see, wait a minute. I noticed that like going off all the time, that must be me doing it because when I drive under it, it goes off." You don't notice the other dozen times in a week or two, three dozen times in a week that it does nothing. You notice the times at night when you're coming home when occasionally it goes off. But you're not really keeping track. You're just sort of lightly keeping track in your brain. So you start to think I'm doing something with that light.
Benjamin Hardy: [00:15:45] Exactly.
Jordan Harbinger: [00:15:46] And you're not, you're just going under that light so much that when the solenoid or whatever overheats, and it turns off, those are the ones you notice because the light turns off. You wouldn't notice it being off when you showed up and you probably wouldn't notice it staying on when you drove by. But you notice when the status changes when it goes off.
Benjamin Hardy: [00:16:04] Yeah.
Jordan Harbinger: [00:16:05] So you notice that more and you think I'm doing this. So as this confirmation bias starts to ramp up, as you notice that happening more and more, you start to think that it's you. So there are people that will do that with everything in their life where they're not doing anything, they're just sensing a correlation and then their brain is magnifying that pattern because they're not really taking data. It's all just anecdotal. And so that confirmation bias is what tells you what data to note. And it's only when something happens. So it sounds like that's what you're saying with the personality as well. You're starting to say I'm an introvert. So you'll walk around thinking, "Well, would an introvert sign up for this presentation that I've got to give at work? No, I won't, but I'll be in the group with the other person and I'll let them give it and they'll take most of the credit, but they'll put my name on the last slide." So like you start to live into those things and then you start to reinforce that idea that you're an introvert because, "Well, I didn't give that work presentation it's because I'm an introvert." Failing to realize that you talked yourself out of it earlier because of some dumb test. Am I going off the reservation here?
Benjamin Hardy: [00:17:08] No, I think it's really good. It's very interesting. Like, so you're right, that when people have assumed a label -- and by the way, I think it's really interesting what all the research these days talks about. Obviously, you're not the same person you were before. Research on future self says you're not the same person you're going to be in the future. Your future self is going to be just as different actually, especially if you're someone intentionally. Your future self is going to be just as different comparatively to your current self as your current self is to your former self. And so people who recognize that and they don't overly own their current identity, recognizing it's going to change and they actually want it to, wouldn't actually overly categorize themselves. They wouldn't speak in such definitive terms, but --
Jordan Harbinger: [00:17:48] Well, that's interesting. That's interesting.
Benjamin Hardy: [00:17:50] Yeah. 
Jordan Harbinger: [00:17:51] Let me sort of highlight this because I think that's kind of exciting. Your future self, so my 10 years from now self -- I'll put an arbitrary measure of time on it because it's easier.
Benjamin Hardy: [00:17:59] Yeah, go ahead. 
Jordan Harbinger: [00:18:00] My 10-plus-years-from-now self will be as different from who I am right now as my 10-years-ago self is from who I am right now. So if I'm 40, my 30-year-old self is as different from me right now as my 50-year-old self will be from me right now. Is that what you're saying?
Benjamin Hardy: [00:18:16] Yeah. I mean, you obviously in the last 10 years have been very intentional about change. 
Jordan Harbinger: [00:18:20] Right.
Benjamin Hardy: [00:18:20] You could conceivably be slightly more similar. But if you're intentional about that change, you could be even more different.
Jordan Harbinger: [00:18:28] Right.
Benjamin Hardy: [00:18:29] So what Daniel Gilbert has found, and there's a really good TED Talk, but he's done so much research on this and Hal Hershfield who's at UCLA has also done a lot of research on this. So they study personality over time and people who have noticed a big change. You yourself, you mentioned that you're totally not the same person, but it was still even interesting to you to think that you might be just as different in the future. That's really a common response, even after people have noticed a dramatic change.
[00:18:54] What Gilbert says is that people are works in progress that mistakenly think they're finished. And by the way, his TED Talk is called The Psychology of Your Future Self. It's really good.
Jordan Harbinger: [00:19:02] We'll link to it in the show notes. 
Benjamin Hardy: [00:19:03] Yeah. But he also talks about how the reason people don't predict the future as well is not because they can't but because it's a lot easier to remember the past and to look at the past than to imagine the future. And so people haven't spent as much time actually scoping out their future self. And then what Hal Hershfield has found and he's at UCLA, he says that it's very difficult to make high-quality decisions here and now if you don't have a future self in mind. Think about this for a second, if you don't have a clear future self in mind of who you want to be, then how could you actually make a clear decision right now, as far as what you would do today. Like you really can't and obviously, you can get clear and clear on it. But if you don't know to some degree who you want to be in, where you want to go, then how could you actually determine what you would do today. You can't and so what Hershfield says is that you want to distinguish your future self as a different person. They're a different person than you are today. They've got different preferences, a different context, different views, different priorities. And so what would they want, what would they --? It allows you to then think differently about your current self. But also there's a lot of research about deliberate practice. Deliberate practice, kind of being the popularized 10,000-hour rule that you cannot engage in deliberate transformational practice without having a clear future self in mind.
[00:20:19] It's essentially like going to the gym every day without having a goal. Like you could do the same workout 500 times, but you might not actually get any stronger or fitter, but deliberate practice is like you have a specific goal. You have a specific vision in mind of who you're planning to be. So the goal has to shape the process and for it to be a high-quality process, high-quality training, development, mentoring, et cetera. You have to have a direction. It's deliberate for a reason.
[00:20:46] So it's just this idea that your current self should be held a little bit more loosely, not overly blown, but when people overly adapt to a label -- exactly what you said -- they set goals to confirm the label rather than setting goals to transform themselves. So their goals are the byproduct of their personality rather than their personality being shaped by the goals that they set.
Jordan Harbinger: [00:21:09] It's funny because it seems like this would work to your advantage as well, theoretically. Like what if I took some genetic tests? Okay. So this is kind of a real example. I don't necessarily believe in the genetic test as much either because we don't know what 90 percent of that stuff probably does. But I took some fitness DNA test a while ago because a buddy of mine was sort of running that. And he was like, "Wow, you have a really rare combination of genes that a lot of sprinters have like Olympic and champion sprinters. And all I did was think, "What a waste?" I'm like, I never will do that. I don't even like walking quickly. I walked slowly outside.
Benjamin Hardy: [00:21:45] Huge waste, man. You could have been an Olympian. 
Jordan Harbinger: [00:21:47] I could have been an Olympic sprinter. Yeah. It was kind of like, he goes, "Wow, that's really cool." And I was just thinking, "Why is that cool? I read. I'm in front of the computer." You know, all it says is your genetic potential is largely wasted in this specific area. So, but you could take a test that says, "Well, it looks like you're an extrovert." And you're thinking, "Oh, well, maybe I can utilize this skill. I thought I was shy. But you know, this test says that I'm born for leadership. Maybe I should go for that." Does it work in that direction or have you seen mostly that it tends to limit people, but not necessarily empower people?
Benjamin Hardy: [00:22:19] Well, it limits people because it creates a fixed mindset and a fixed mindset fundamentally leads to a loss of learning and flexibility, obviously a loss. So imagination and flexibility are required for learning. And so most people, if they've adapted to a label, they almost lose interest in trying the other thing, because of the fixed mindset. The thing about these is that people answered them themselves. So like with a genetic test, your mind isn't the one giving yourself the score.
Jordan Harbinger: [00:22:45] No, I go over with a doctor, not like just looking at the email.
Benjamin Hardy: [00:22:49] Yeah, yeah, so in this case, with a personality test, you're the one answering the test. And so usually you're going to just provide answers that support your current views. So it's a little different. Usually, personality tests are self-replied, so they're definitely variable to more problems than like a genetic test where there's like someone testing your blood or something like that. So, yeah, they're quite different, but I will say there is a benefit to these personality tests although I don't think it's very beneficial but I can see why people would -- there's a reason why people love them.
Jordan Harbinger: [00:23:18] Okay. And what is that reason?
Benjamin Hardy: [00:23:19] Well, the reason is, is because if you haven't really taken it -- so identity is shaped through story. It's shaped by how you define yourself and clarify yourself.
And if you haven't spent a lot of time thinking about who you want to be, if you haven't actually been intentional for very much of your life, or if you haven't taken the time to reframe former experiences and it takes intentionality and also emotional development to deal with former negative experiences and then to reframe them in a positive way. Your memory is very fluid. Like memory is a flexible concept. Every time you pull up a memory, you reconstruct it in the present.
[00:23:51] So actually from a memory perspective, your memory more reflects who you currently are than what actually occurred. But if you haven't spent the time to think about your identity, to clarify and clarify who you plan to be, and then to actually be that person kind of what you did over the last 15 years of purposefully, proactively like making decisions against who you formerly were to be, who you plan to be. If you haven't thought very much about your identity and yourself, then these tests are really fast-food way of getting an identity. They give you a way to explain yourself, which is really helpful psychologically. If you can explain yourself to others and you can define yourself and connect with other people based on your identity, then your world makes more sense. If you don't have a sense of identity, then there's ambiguity and confusion and you're under a little bit more stress, and so these tests, they can give you a sense of identity, a way to explain yourself. And that feels better than not having an identity. The problem is that it's a fast-food version that is not contextual and will be different in the future, was different in the past. And if you took the test under different conditions, you would have gotten a different score. 
Peter Oldring:  [00:24:59] You're listening to The Jordan Harbinger Show with our guest Benjamin Hardy. We'll be right back.
Jordan Harbinger: [00:25:05] This episode is sponsored in part by Vuori Clothing. Guys, I know I keep talking them up, but Vuori is one of my favorite new brands. We've partnered with this year. Peter, I got to get you some of this stuff.
Peter Oldring:  [00:25:15] Oh my gosh. I'd love to luxuriate in it.
Jordan Harbinger: [00:25:18] Jen's hooked on the women's joggers. Joggers, to me, doesn't sound like a word for pants, but I guess what else could it be?
Peter Oldring:  [00:25:24] A culotte. Is that something, or maybe that's French for underpants? 
Jordan Harbinger: [00:25:27] That sounds very French Canadian.
Peter Oldring:  [00:25:29] So it's not as something you wear or eat. I'm not sure.
Jordan Harbinger: [00:25:31] Father's Day is coming up next Sunday.
Peter Oldring:  [00:25:32] Yes.
Jordan Harbinger: [00:25:33] Vuori Clothing is the best gift that your dad didn't know that he wanted. So head on over to vuoriclothing.com/jordan. Check out their gift guide for dads that do it all. It's a good idea for companies like this to put out a gift guide.
Peter Oldring:  [00:25:46] Oh yeah.
Jordan Harbinger: [00:25:46] I think that's nice. I'm a crappy gift giver. 
Peter Oldring:  [00:25:49] Yeah, if something comes up, it's like, oh, I need some inspiration here. A gift guide, that's what we're looking for. Father's Day.
Jordan Harbinger: [00:25:55] It just so happens to have all of our products in it.
Peter Oldring:  [00:25:57] I love it.
Jordan Harbinger: [00:25:58] It's convenient. They've ponto pants, Sunday joggers, fitness-focused stuff. My personal favorite of the short-sleeve button-down shirts. I'm wearing one right now. It got a nice little, almost like a floral pattern.
Peter Oldring:  [00:26:10] Very, very nice. It evokes the tropics. 
Jordan Harbinger: [00:26:13] It does evoke the tropics.
Peter Oldring:  [00:26:16] Whatever you are into Vuori has you covered. Surprise your dad, father-in-law -- or what the heck? Treat yourself. And head on over to vuriclothing.com/jordan. That is V-U-O-R-I-clothing.com/jordan for 20 percent off your entire order. You can thank us later.
Jordan Harbinger: [00:26:36]  This episode is also sponsored by HostGator. Think you don't need a website for your business or your brand. Do you figure having a presence on Facebook, Instagram, and Twitter has you covered on it? I know I used to, but it's a wake-up call, a recent study by a global market research firm concluded that only 25 percent of people searching for you online are going to do that through social media. 52 percent are going to look through your website.
Peter Oldring:  [00:26:58] I got to pull the trigger on it.
Jordan Harbinger: [00:26:59] Yeah, do it.
Peter Oldring:  [00:26:59] I've got to do it. 
Jordan Harbinger: [00:27:01] Got to do it.
Peter Oldring:  [00:27:02] I mean, gee, it's time.
Jordan Harbinger: [00:27:03] Do you own your own domain for your name?
Peter Oldring:  [00:27:05] Yes, I do. I've been paying for it for years and not done anything with it.
Jordan Harbinger: [00:27:09] Geez, all right, so you don't have a website. Is it because you think websites cost too much, too much to create and maintain? HostGator has plans that begin at $2.64 per month. This is spare change. You can probably find it under your couch cushions. Covers heavy duty essentials like hosting, design, maintenance, support, tools to make the experience ridiculously easy. Even if you don't know your DNS from a doorknob. 
Peter Oldring:  [00:27:30] Well, that's me, but most importantly, building a website has never been as quick and as easy. And you, our dear listeners of The Jordan Harbinger Show, can save up to 62 percent off of their hosting plans for their first term, by going to hostgator.com/jordan. Why not take the first step towards the business of your dreams? Go to hostgator.com/jordan. Select a plan and start building your website right away.
[00:27:57] And now back to Benjamin Hardy on The Jordan Harbinger Show. 
Jordan Harbinger: [00:28:04] And your contention is that your past does not determine your future and that makes sense. I think that's an important key message for this particular episode of the show. Your own story is kind of the best evidence or some of the best evidence of this truth. Can you get into that a little? Are you comfortable with that? 
Benjamin Hardy: [00:28:19] Yeah, totally. Very comfortable. And I will say this, one of the reasons I wrote this book is because one of the core psychological principles, you could say like a psychological dogma is that the best way to predict a person's future behaviors by looking at the past. That's very much a core principle. And I think that if you're following the norm, which is to basically live subconsciously and to basically operate within your social environment without being intentional, that's probably going to be the case. You know, like you're probably going to look a little bit too similar to what you were doing yesterday, but if you begin living intentionally and like really begin thinking about who you want to be and kind of taking some big steps in that direction, then your future becomes more of a predictor of your current self than your past.
[00:29:01] But I'll definitely tell a little bit of my background. So basically, I think it really starts when I was like 11. Like my parents got divorced. I grew up in a quite religious family, honestly. And so the divorce was kind of a surprise for me and the divorce created a huge amount of depression for my father, leading him to becoming an extreme drug addict. And when I say extreme, I'm saying like there were drugs everywhere in my house. And like, I would be in one room with my friends playing World of Warcraft and like next door, there's like everything. I'm talking to everything all over the place, just everything. It was crazy just, and this was a huge shift. This was not who my father was up until age 11. He would take me to baseball games. He was like a lawyer, like a normal guy.
Jordan Harbinger: [00:29:42] Wow. 
Benjamin Hardy: [00:29:43] Yeah. Very normal guy. And he just went off the rails, basically all through my junior high and high school years. And so like from a trauma perspective, there are two ways of looking at trauma. One is like what they say capital T trauma, which is basically an event that shapes you like a negative event that shapes how you see yourself and how you live in the world. So it could be. You know, something terrible, like getting abused. It could be failing a math test and then developing a narrative that you can't do math. Like that's kind of a capital T trauma perspective. Lower T trauma is just constantly being in a chaotic environment where there's no stability and without stability, you can't even grip anything. And if you can't grip anything, then you can't make quality decisions. Like you can't take risks, you can't try things because you're in a survival state.
[00:30:27] And so that was kind of me for a really long time, basically all through junior high and high school. I ended up having to leave my father's house because it was just so toxic and he was just kind of going down his own crazy trail. My mom lived from apartment to apartment and she was trying to run a health club with her sister. And she's a great, great person. She comes from a family of, literally, like 13 kids. And she had tons of younger siblings that were like living with her, living in our apartment. So it would be in like a two-bedroom apartment with like 13 people. She was very much taking care of her siblings and actually her and my dad did that a lot, even before they got divorced. There were always three or four of her younger siblings, like living in our house. It was interesting. So anyways, that was kind of my junior high and high school. I kind of just coped with it. Skateboarded, snowboarded, played video games, very much suppressed everything happening to me. My younger brother, two years younger than me, it just blew him. Like just crushed him. He got way into drugs himself. He's still very much trying to figure all that out. 10, 15 years later. 
[00:31:29] Fast forward, I barely make it through high school and I'm living at my cousin's house, playing World of Warcraft all day. And this is me after high school. I tried community college, I tried to class and I had zero skill as far as learning. Like attempting a textbook just seemed like a mountainous task. I just couldn't even comprehend reading it because I don't even know how I passed school. But I was looking around -- this is when I started to just look around, I was almost 20 years old and I really started to think about this. I was just like, this is not life. This is not my life. This is crazy. And it kind of just dawned on me that looking at my situation, looking at my family, looking at my friends, looking at just everything around me, it was just really bleak. And I just felt like I kind of wanted an escape and my younger brother actually escaped as well to some degree, he ended up joining the military to kind of get a fresh start. I ended up doing a church mission. And I don't really think that it was all of the trauma of the past and there were other episodes, obviously. It was actually watching the extreme change that occurred so fast, that got me interested in psychology.
[00:32:32] Like when I did this mission, it was literally a light switch. And obviously, I wanted it. It was my independent choice to go do this thing, to go kind of try something new, to do community service of sorts, and to like do a different type of experience where I'm getting a fresh start in life. I changed so much. I started journaling and reading books. I had leaders that helped me. I became a totally different person and over a few years, I came back a ridiculously different person. That's really what I think got me interested in psychology.
Jordan Harbinger: [00:33:02] That makes sense. That mirrors the year of drastic change when I was an exchange student in former East Germany in the '90s. I came back and my parents were like, "You're four years older than you were when you left." 
Benjamin Hardy: [00:33:12] Yeah. 
Jordan Harbinger: [00:33:13] And I was there for 10 months also. I just want to -- I can't let it go because I may be retentive here, but you said it was literally a light switch and I know there are people listening that are like, "Oh, he's misusing the word literally. I'm not listening to this." 
Benjamin Hardy: [00:33:23] My bad, my bad.
Jordan Harbinger: [00:33:25] It's figuratively a light switch.
Benjamin Hardy: [00:33:27] Thank you for that.
Jordan Harbinger: [00:33:27] No, you're welcome. I know it's just a total a-hole move to do that, but somebody is itching besides me to fix that. I mean, you're Dr. Benjamin Hardy. So, you know, spoiler alert, your PhD is not in World of Warcraft, I assume.
Benjamin Hardy: [00:33:40] No, no, no, no.
Jordan Harbinger: [00:33:42] Okay. So good. I don't know how solid that profile is though.
Benjamin Hardy: [00:33:45] I definitely put enough time into World of Warcraft to have probably gotten a few PhDs.
Jordan Harbinger: [00:33:50] Yeah. Professor Emeritus of World of Warcraft. So you've done really amazing, the one year of change, the church mission obviously was part of that. But that kicked off a different you, that then went what full bore in the other direction.
Benjamin Hardy: [00:34:07] Yeah, I mean, at this point now it really taught me how to let things go, how to reframe things -- ultimately, how to think about my life differently. I mean, so when I came home, I then had perspective. I had confidence I could set goals. I had direction. I could handle hard things as well. So I mean, like studying for a test was nothing compared to what I had done on that experience. I then began to have a lot more confidence, which is required. And talk about flexibility, like I was doing so many hard and challenging and awkward and difficult things.
[00:34:38] You know, one of the things that are challenging for people is, is that they actually become less flexible over time. So like, as an example, my 15-month-old twin girls. We live in Florida. There are swimming pools everywhere. So like we're teaching our girls how to swim. For these 15-month-old girls who don't know how to talk, like they're getting dropped in a swimming pool essentially and they're being taught how to flip on their back and like train themselves. Obviously, it takes a lot of repetitions, but like it's literally throwing them in the water. And I was watching them and just thinking like how few things as we get older, do we put ourselves through this rigorous of learning?
[00:35:10] Like when we became foster parents of three kids, it felt the same way. You know like it was –
Jordan Harbinger: [00:35:17] I bet it did. 
Benjamin Hardy: [00:35:18] Yeah, it was very much like we don't know anything about parenting. I never read parenting books. It was very much like my wife wanted to do this. And all of a sudden we've got these three kids and I'm a first-year-PhD student and it's like, one of them is throwing chairs across the room. The other one is covering his head because he can't deal with anything. It was so shocking and you have to figure things out. And I'm not saying it needs to be that extreme, but like people stop putting themselves into such rigorous learning experiences over time. And so they become increasingly less flexible about dealing with things.
[00:35:47] And I think that the mission taught me to be flexible, which then taught me how to learn, which is, by the way, the opposite of not only a fixed mindset, but the opposite of what happens when it trauma is unresolved, you become very psychologically rigid in black and white and in your thinking. And you can't see things with nuance or different perspectives. And so I did keep learning. I did keep changing. And one other thing that's super important and interesting when it comes to recontextualizing things because context matters more than content when you've had negative or traumatic experiences in the past, it's easy to focus on the content of what occurred.
[00:36:18] So yeah, my dad was a drug addict. It's easier to miss the context and context is really what shapes memory and even shapes meaning and emotion. So part of reframing my past as part of moving forward dramatically in my future -- because your past is best used If it's information, not emotion. If it's information, you can use it. Like, "Wow. I learned a lot from what I went through," versus, "This thing is still the reason why I'm the person I am." If the past is information, it's very useful. If it's emotion, it means you haven't gone through enough exposure and reprocessing of it. Your personality is a coping mechanism to your trauma if you haven't resolved it.
Jordan Harbinger: [00:36:57] You get that through therapy, right? You can't just like decide to let go of the emotion from the past and only you --
Benjamin Hardy: [00:37:02] You just let it go. Therapy is one way and it's a process. Journaling is a big one. Therapy can be very helpful, even just having open conversations. I mean, I recently watched Mister Rogers like the movie with Tom Hanks.
Jordan Harbinger: [00:37:15] Yeah.
Benjamin Hardy: [00:37:16] It's actually like amazing some of the stuff he was teaching kids about. Just learning how to talk about their feelings. There's a quote from Peter Levine. He was a trauma expert. He wrote a book called Waking the Tiger: Healing Trauma. One of the core quotes in the book is that trauma isn't what happens to you. It's what you hold inside in the absence of an empathetic witness. So it's basically what you hold inside without letting other people know about it. But for myself, like in going through the PhD and going through adopting these kids -- by the way, my father was adopted. And by the way, with further context, he's actually no longer a drug addict. When I was on the mission trip, he kind of changed his life and he actually even spent some good time doing addiction recovery support for groups.
[00:37:56] But in better understanding my own past, I actually went and talked to my dad about this and just fully opened up. We've talked about it a lot now. And one of the reasons why things don't change fast enough is because people are afraid to have the conversation, even in their own head, afraid to think about it in their journal, and then to think about it from different perspectives. But I was asking my dad -- for the first time really ever, you know, I mean, we've resolved it. We've been workout partners. We were great and he's such a good friend, but I actually wanted to understand his perspective. And so I asked him all sorts of questions like, "Dad, will you tell me like everything about your view of what happened? What led you to going so deep into this stuff and what happened and what was your perspective when me and my brother, when we left you and we wouldn't talk to you for a few years?" He would come to my mother's apartment, knock on the door, and we would just stonewall him for years. He would come and like try to talk to us and we would just be like, "You're not my dad." And he would have to turn back around and go back to his house by himself. And I'm not justifying his behavior but what happened was in hearing what led him to his decisions, and in hearing kind of where he was at, I kind of understood a lot better. I couldn't have understood as an 11-year old kid. But I shouldn't see that experience as an 11-year-old kid anymore. I should see it as a 30-year-old adult who can think about things.
[00:39:06] And in getting more information, I could have a lot more empathy and a lot more understanding, and then I can choose how I think about it from a different perspective. And I think that that's a huge part of reframing the past. And then also recontextualizing it and restoring it because your narrative -- you know, there's a lot of research on identity and narrative. Your narrative really does shape how you view things and you get to choose how you frame, how you tell the story of your past, but also your future.
Jordan Harbinger: [00:39:29] I definitely want to go into a little bit more about reframing, but first, a little bit about trauma. Because I think people need to know that trauma doesn't have to be like clinical PTSD. It could just be something -- it doesn't have to be your parents were divorced and your dad got addicted to drugs. It could just be the time your art teacher says, "Well, your drawing sucks." And you're like, "Oh, I'm not good." Or math -- was it math trauma?
Benjamin Hardy: [00:39:51] Yeah. There was a real sector on math trauma. 
Jordan Harbinger: [00:39:54] Yeah. So I for sure have some of that, I was in an honors math class, but the teacher was really tough. And so now, if a check comes at a table, I'm like, "Who can do math?" And I'll hand it to somebody to do the math. Like I can't freaking add, subtract and multiply. I mean, give me a break. You know what I mean? It's ridiculous. But I have that, even though I was in honors calculus in high school, because of the way that that was handled. And I get it, look, it's not like I can't do the math. I just don't want to have, super-strong aversion, it's almost like not quite a phobia, but a light phobia towards Math for no reason really, well, for that reason. I just didn't realize this was common. 
Benjamin Hardy: [00:40:32] Oh, it's very common. I mean that the same phobia or avoidance is kind of similar to how an introvert would explain themselves towards extroversion. I mean, it's like they have some fear or phobia of it and they may not understand why, but they may assume from a fixed mindset perspective that they can't then learn how to do it. And so like, math trauma is really interesting and it really helps explain trauma in general. So trauma is really any experience that then forms a narrative into your mind and then shapes your view of the world and shapes the goals that you ultimately set.
[00:41:02] There are a few explanations. One is that all emotions occur in two forms, there's primary emotion, which is your initial reaction, and then there's secondary emotion, which is basically how you feel about what happened long term. So like in psychology, there's a concept called refractory period. A refractory period is the amount of time it takes to emotionally recover from an experience. So if someone cuts you off on the road, your initial reaction might be like upset, totally understandable. There's no judgment towards the initial reaction, but if you're still upset five hours later, then that means that like you haven't done anything with it. And so the secondary response is usually where you start to like -- and this is what they call in psychology, emotional regulation. But you think about like, all right, so this thing happened, I got cut off, usually with little stuff, it's not a big deal. You're just like, "Okay, I'm going to let this go. Not a big deal. Guy's a jerk or guy must be in a hurry." You start thinking about other things. You just let it go. You emotionally recover. It may take 20 seconds.
[00:41:55] Well, when you have any negative experience that you don't necessarily emotionally recover from, you don't then frame out "How should I feel about this?" Again, it goes back to that quote in many ways, trauma isn't what happens to you, it's what you hold inside in the absence of an empathetic witness. That's like you can get to the point where you're emotionally flexible enough, where you can kind of do a lot of that reframing on your own. You can journal or just think about it and just say like, "All right, this is kind of an illogical experience, or I understand why I'm upset." You can get to that point, but you still need to be able to talk to other people about it. So like when it comes to math -- and this could be with anything, it could be with reading, it could be with public speaking, it could be with skateboarding. The math one is important because I think it's something that is pervasive. You can look this up. For anyone who's listening, look up and read stuff on math trauma. It's really interesting. So most American high school or junior high kids end up experiencing this. It's very pervasive. 
[00:42:46] And basically what happens is something happens. Teacher tells you you're not good. You fail a test, something happens, and you experience a negative experience. And then you internalize it. You don't tell anyone about it, you suppress it. And then in a narrative form, they call it a cognitive commitment in psychology. The cognitive commitment is I can't do this, or I don't like this, or I must not be that great at this, or this is as good as I'm ever going to get. Like basically, you form a narrative, and then that narrative shapes your identity and you have no reframing of it. And you're defined by your emotional experience. So the reason you have an aversion to math to some degree is because whatever that aversion is, it's associated with the negative feeling you had at some time. There was a really negative experience you had and that's the memory that you connect or the feeling that you connect to math.
Jordan Harbinger: [00:43:30] So trauma stops us from being as psychologically flexible, which increases, I guess, black and white thinking. Right? Like I can't do math. Not like, oh, some math is hard, some math I don't like. It's just, hey, I can't, or don't want to do this. And I can see this being extrapolated by ourselves and causing us to fit ourselves into the shape of the pegs that we see ourselves as. So if I'm an introvert, if I'm not good at math, if I'm this way or that way, constantly reinforcing that the learning experience from that event can really pigeonhole and limit us entirely. 
Benjamin Hardy: [00:44:05] Hugely. So the book The Body Keeps the Score is the number one definitive book on trauma. So dense and insane, but he's done so many studies on people with like PTSD, but even just small forms of trauma. And what it does is -- yeah, the black and white thinking. So you're not mentally flexible, therefore you're not imaginative. And imagination is really key to learning. That kind of goes back to deliberate practice. But yeah, so trauma shatters imagination and flexibility, and those two things are essential to learning new things. And so, yeah, then you have a fixed mindset. You've developed a narrative that this isn't what you want to do. And then ultimately what happens is then you set different goals. 
[00:44:39] So there's a really good quote from Robert Brault. Robert Brault said, "We are kept from our goal not by obstacles, but by a clear path to a lesser goal." So we're not kept from our goals by obstacles, we're kept from our goals by a clear path to a lesser goal. And so what happens is you have some event. You know, let's just say you actually wanted to do math. Like going back to the identity you had before the trauma, like maybe this was something you could have had some interest in. Well, you have this experience, you hit this ceiling, you have this event. And then because of the narrative you've formed and because you didn't have anyone there to help you to reframe it -- and this is, I think, why coaching and mentoring and stuff like that could be really helpful. You hit some experience and your identity is shattered, and then you decide to pursue something else that you feel is maybe more intuitive or more innate versus going through the learning process of choosing to go through the learning process.
[00:45:27] I mean, I can speak to myself like writing books, as an example, may seem from an outsider's perspective, like something I can do pretty naturally. And it's absolutely not. It's actually one of the hardest things that I continuously put myself through. And so I don't consider it natural or easy, but I consider it something that I choose to put myself through. And it's actually pretty tough, but yes, that's kind of how trauma works. You have an experience, you have an initial reaction, you don't reframe the reaction, and so your identity is based on the cognitive commitment or the fixed mindset, that's the byproducts. And so therefore you have this aspect of yourself that needs to be reframed in order for you to let that go.
[00:46:05] Like, can I tell the story in the book of, I have a distant relative of mine who always wanted to write books? I mean, write children's books, little children's books. And she was told by a teacher -- she was kind of harshly corrected in a little private class. And in her head, she formed the idea, "I can't do this. I must not be good at this." And so she still believes to this day that she can't do it. And that's black and white thinking.
Peter Oldring:  [00:46:30] This is The Jordan Harbinger Show with our guest Benjamin Hardy. We'll be right back.
Jordan Harbinger: [00:46:37] This episode is sponsored in part by Grammarly. This is awesome -- spellcheck doesn't do it justice. It's a typo or grammar mistake, checking, plugin for lack of a better word. So whether you're writing professional reports, personal emails, it can be hard to get the word right. You might have a tone thing. You might have a grammar thing. You might have a spelling thing in your writing software. And it gives you a few suggestions, but it doesn't go that far. There's more to writing than catching mistakes.
Peter Oldring:  [00:47:01] Hearing this makes me feel as a grown man. I should stop using my mother to proofread everything that I write.
Jordan Harbinger: [00:47:08] Yeah.
Peter Oldring:  [00:47:08] It makes me feel like I could use Grammarly instead.
Jordan Harbinger: [00:47:10] You could.
Peter Oldring:  [00:47:11] Instead of, technically, Grandma.
Jordan Harbinger: [00:47:13] Grammarly is a different sponsor.
Peter Oldring:  [00:47:14] Yeah, I'm using Grandma Lee, my mom, to spell check and to check my grammar. What I really need to be using is Grammarly.
Jordan Harbinger: [00:47:21] Yes. Grammarly signing up is free. Gives you real-time spelling and grammar checks as you write. And it works where you work. So it works on LinkedIn. It works in Outlook, Gmail, Twitter. It catches a lot. I thought I was really good at writing, you know. This thing catches a ton of mistakes. And it's a little embarrassing, but it's embarrassing in a good way because it tells you -- send you these email reports and it's like, you stop making this common mistake and you kind of pat yourself on the back a little bit. 
Peter Oldring:  [00:47:48] Listen, it's better to be embarrassed solo than having a hundred thousand people say, "Hey doorknob, it's not how you use a colon."
Jordan Harbinger: [00:47:54] That's right. Yeah. Nobody knows how to use a semicolon though, except for Grammarly. And they have a pro account as well that has all kinds of other features. Peter, tell them where they can check it out.
Peter Oldring:  [00:48:02] Absolutely get 20 percent off your Grammarly Premium when you sign up at grammarly.com/jordan. That is 20 percent of Grammarly Premium at grammarly.com/jordan, G-R-A-M-M-A-R-L-Y.com/jordan.
Jordan Harbinger: [00:48:19] This episode is also sponsored by MeUndies. I love this underwear brand. Do you ever try these out, Peter?
Peter Oldring:  [00:48:26] Yours?
Jordan Harbinger: [00:48:27] No, just MeUndies in general.
Peter Oldring:  [00:48:28] You know that I've never gone through your drawers if that's what you're getting at.
Jordan Harbinger: [00:48:31] Yeah, I was more wondering if you checked out some of their prints, unicorn prints, cuddly kitten prints, artistic stuff, solid black, whatever. I get new underwear. Every month you can build a pack, you can match your undies with the other half, so you can choose a self-sustainable pair of underwear. Underwear delivered straight to your door that matches either your wife, your significant other whatever. In my case, my wife. You can match your pets, which is a thing. Some people --
Peter Oldring:  [00:48:56] You want to wear yours -- it's a wearable pad. It's a great way to keep your pet close to you at night.
Jordan Harbinger: [00:49:01] That's true. That's true.
Peter Oldring:  [00:49:02] Cuddle, cuddle with a pet long since passed.
Jordan Harbinger: [00:49:06] Oh, God. Got dark, got dark. Soft, sustainable fabric available in sizes, extra small to 4XL. You can self-express through your underwear. If you're like me, just nobody ever sees, but maybe you're luckier.
Peter Oldring:  [00:49:16] Hmm, you've got to be careful when you self-express through your underwear. It just got different meaning and context, that's all I'm talking about, but yes. Okay.
Jordan Harbinger: [00:49:24] Peter, tell them where they can check out MeUndies.
Peter Oldring:  [00:49:26] Yes, MeUndies has a great offer for our listeners. For any first-time purchases, you get 15 percent off and free shipping. This is a no-brainer especially because they have a 100 percent satisfaction guarantee. To get your 15 percent off your first order, free shipping, a hundred percent satisfaction guarantee, go to meundies.com/jordan. That is meundies.com/jordan.
Jordan Harbinger: [00:49:52] This episode is also sponsored in part by Progressive Insurance. 
Peter Oldring:  [00:49:54] Fun fact, Progressive customers qualify for an average of six discounts when they sign up for Progressive Auto Insurance. Discounts for things like enrolling in automatic payments, ensuring more than one car, going paperless, and of course, being a safe driver. Plus customers who bundle their auto with home or add renter's insurance save an average of 12 percent on their auto. There are so many ways to save when you switch. And once you are a customer with Progressive, you get unmatched claim service with 24/7 support online or by phone. It is no wonder why more than 20 million drivers trust Progressive, and why they've recently climbed to the third-largest auto insurer in the country. Get a quote online at progressive.com in as little as five minutes and see how much you could be saving. Auto insurance from Progressive Casualty Insurance Company and affiliates, home and renter's insurance not available in all states, provided and serviced by affiliated and third-party insurers. Discounts vary and are not available in all states and situations.
Jordan Harbinger: [00:50:50] Stay tuned after the show, we've got a trailer for our interview with Bill Browder. He was one of the first investors in Russia after the fall of the iron curtain and became a thorn in the side of Vladimir Putin, who to this day, has him looking over his shoulder after he uncovered a massive fraud inside the Russian Government. This is one of our most popular episodes. So if you haven't heard that yet, you'll want to check that out. That's at the end of the show coming right up.
Peter Oldring:  [0051:12] Thank you for listening and supporting this show. Your support of our advertisers is what keeps us going to learn more and to get links to all the great discounts you just heard so that you can check out those amazing sponsors for yourself, visit jordanharbinger.com/deals. And don't forget the worksheet for today's episode. The link is in the show notes at jordanharbinger.com/podcast. And now for the conclusion of our episode with Benjamin Hardy.
Jordan Harbinger: [00:51:40] In the book, you have this interesting thorn analogy with trauma where -- let me see if I get this right -- somebody gets a thorn stuck in their side, and instead of taking out the thorn and dealing with it, they don't get near people because if they touch the thorn, it hurts. And then they can't sleep well at night, so they construct this hammock that they can lay in that doesn't mess with the thorn. And pretty soon their entire life is built around this thorn that stuck in their side. And the thorn being the trauma, this is to illustrate that we go through our whole life kind of working to accommodate this instead of dealing with the problem itself. That our whole lives can be built around these types of events or this type of trauma, whether it's severe or not. 
Benjamin Hardy: [00:52:20] Actually that analogy actually comes from the Michael Singer book The Untethered Soul. That's kind of where I heard that story. Very interesting and that's a really good reflection. What's really interesting if you think about it, is that that's how most people view personality, even though they don't associate it with trauma. But obviously, trauma is what creates the frozen personality, where you stop developing, and then you build your life to basically keep the trauma unpained rather than just going through the process of going through it, you know, which would be part of that reframing process. But the general views of personality -- and by the way, all of these views have been debunked by science since the '70s. So back in the '50s and '50s, and by the way, within that context and culture, and it's a lot of it has to do with -- if you think about baby boomers, as an example, baby boomers are more likely to view people in a trait format. They would do people with fixed traits because that's kind of how people were viewed back then. I mean, even the theories on leadership. Back then '50s and before, I mean, back in the '20s and '30s, the theories on leadership were it was very trait-based. They actually call it the Great Man Theory of Leadership, where obviously, you had to be a man, you had to be tall over six feet tall. And so the theories of leadership. It's funny though, if you look at the evolution of the theories of leadership, you can see how these have impacted generational views of people, but baby boomers in general, they're more likely to view people black and white, because they were taught to kind of view the world and form of traits, not context.
[00:53:43] But the science developed beyond that, and in the '70s, there was so much research showing that personality was very contextual and situationally based. Those situations and roles really predict your personality, but the people haven't caught on to that in pop culture. In pop culture, the views continuously be that personality is innate. It's basically not going to change. And that therefore you have to discover your true self. I mean, it's so interesting. If you watch movies, the themes continue that you've got to find yourself, you've got to discover this inner soul or whatever. And then once you do, which whether it be through a personality test or just do have an experience of some sort, you can then build your life around your personality. You can build your life around to avoid your weaknesses and to just maximize whoever you truly are. And so, you'll only get into relationships that feel good. You only do things that are exactly the right fit. And so when you understand trauma, especially like the unresolved aspect, it starts to kind of give a different perspective of this to wow, like people are really building their lives around their trauma.
Jordan Harbinger: [00:54:45] So finding your true personality, if it doesn't necessarily exist, it can be kind of a witch hunt that can distract from your development. Because if you're trying to search for this thing, that's not there, you're on a wild goose chase.
Benjamin Hardy: [00:54:59] I mean, yeah. I mean, it is there, you're finding one perspective, whether that be a personality test perspective, whether that be a mentor, whatever you're finding, you're getting an explanation based on who you currently are, or at least how you're currently feeling. And then you're overly owning that single snapshot.
Jordan Harbinger: [00:55:14] Ah, okay.
Benjamin Hardy: [00:55:15] And so obviously we do have a personality, but that personality isn't fixed. And so I have a personality now; I had a personality when I was 10. Those two things are not correlated. And so people are looking for something, but what they're thinking, they're finding is the true, authentic self. That's the core of them that is unchangeable and they're calling it personality. Once you can find this thing, then you can be who you really are and that really stops you from making decisions, building confidence, being flexible, living intentionally. I mean, it's a very limiting way of living.
Jordan Harbinger: [00:55:47] So the idea that personality is something fixed and able to, you can peg it. That seems to dovetail with the new obsession, with like finding your passion. The one thing I was born to do. Can we talk about that a little bit? 
Benjamin Hardy: [00:56:00] Yeah. 
Jordan Harbinger: [00:56:01] Where do you stand on that?
Benjamin Hardy: [00:56:02] I'm with you, it sounds like. I'm with Cal Newport, at least, that passion is the byproduct of work. Yeah, there's some things that you may be more inherently or there's some things that you may be more quickly interested in, but if you invest yourself in just about anything, you can start to develop a passion around it. And so a lot of it's more about what you put your soul into. I think Newport said it's less important what you do, and it's more important how you do it. And so that's how I view it. I mean, my kids are an example, three kids. I did not naturally want to be their dad, you know? And that's just blunt. Like the first year, I did not want to be with him. Like, I didn't love him. I wasn't interested. There was a side of me that was not stoked on that. I kind of felt guilty, like not wanting to go home. The house is a wreck. I was focused on what I was missing and also it's easy to get in tunnel vision mode where you're just seeing over and over the only things that are negative because they're like they're taking away. I had to learn how to love these kids and I had good reasons to do so. I wanted to. I wanted to be someone who was more empathetic. I want it to match who I wanted to be. It did not match who I was. It matched who I wanted to be and what I aspire toward and what I valued, but not what I preferred in the moment.
[00:57:21] And that's what Adam Grant said. Adam Grant gave us a great, like commencement speech at Utah state and he talks about the problem with authenticity. The problem with how we define authenticity is that you have some authentic self that you need to be true to. And he talked about how, when he was in graduate school, he hated public speaking. He was horrible at it. And if he was true to his authentic self, he would have never learned how to do it, but he went against how he authentically was in the moment, what do you prefer in the moment, which would have been to avoid it, to become who he planned to be. He talks about how the idea of authenticity leads you to stunting your growth.
[00:57:54] And so I think that thinking you have some authentic passion, rather than realizing that you can invest yourself into things and become really stoked -- they can become something really important to you.
Jordan Harbinger: [00:58:03] So there's a false belief that everyone is unique, or we should only do things that come naturally because if they come naturally, then it's part of like who we authentically are, but that's not true. You're saying no, you just build skills and things that you want to do and learn and be.
Benjamin Hardy: [00:58:16] Yeah. I mean, that's what you've described as the exact definition. Carol Dweck gave of the fixed mindset.
Jordan Harbinger: [00:58:21] Interestingly.
Benjamin Hardy: [00:58:22] Re-read Mindset and you'll see that if you believe that there are things that you are purely natural, that you should only do. Like that is the example of a fixed mindset. People with a fixed mindset think that people who are good at something were born that way and they're special and they're unique and we can't be like them. But with what people with a growth mindset says, "No, I'm actually not unique. I'm very normal. I'm just investing myself in this thing." The idea that there are only a few things you can be really great at and that you should just find those things and that other people are great at other things and that they were born for that. That is the essence of a fixed mindset.
Jordan Harbinger: [00:58:57] So we shouldn't make decisions based on our current identity. We want to make decisions based on what our future self would like. You've said that in a few different ways. How do we do this? How do I know what future Jordan is going to like? Do I want to pay my mortgage? Yeah, future Jordan will appreciate that. But beyond that, what kind of decision making am I going to be doing here? What would you recommend? Because, of course, I don't really know what my future self would like by any sort of fact, because I'm not that person yet. So in a way, I'm guessing what somebody else wants. How? 
Benjamin Hardy: [00:59:26] To some degree. So what they say, the number one death bed regret. And I think we've already mentioned this. This is that you didn't have the courage to be who you truly wanted to be but instead, you lived up to the expectations of those around you, or you lived up to the expectations of the persona you've already built. So you Jordan Harbinger is a personality of sorts. That people listen to your shows. And so it can be very easy then to get pigeonholed by your current persona, your current status. And status actually is one of the things that stops people from growth who have already developed a good past. You've got the last 10 or 15 years that you can look on and be pretty proud of.
[01:00:01] I mean, so I think that the first place to start and no personality test could give you this is you've got to do some deep work as far as like -- if you were very honest with yourself, at least right now -- and again your answer may change in the future -- but at least right now, what would you absolutely be doing? Obviously, if you'd say, "Well, I'm already doing it." That's great. Is there anything else that you would like to be different or anything? But what absolutely -- who would you like to be? What would you like to be doing if you absolutely could? And if you weren't worried about your own faulty beliefs or what other people expected of you, but if you were just like, "This is absolutely what I would love to be doing right now," that is your future self. It's the most honest thing that you genuinely want. And the thing that you genuinely would love to be doing and maybe even believe you would you like to be doing, but maybe threw that away. That is your future self. The problem with that single snapshot is, is that you then haven't taken the time to frame it out.
[01:00:53] And I think that as you become more flexible, as you become more confident, you become a lot more capable of making decisions and then being willing to deal with those decisions. Confidence is the belief that you can either learn things or do things. And so you can throw yourself in semi-complex situations because you know you're going to be able to get out of it. Without confidence in a lot of ways -- confidence actually becomes the basis of imagination for seeing things. But it's also kind of the springboard for courage. Courage and confidence kind of fuel each other. But if you're not very confident in yourself, you're probably not going to act courageously. You're not going to stick yourself in a situation that you don't know if you can get out of. And so in thinking about who do you truly want to be? It would probably -- well, so going back to imagination, taking some time to frame it out and start to make some decisions and be okay, pivoting if you're wrong. But like, this is where the imagination comes in and where Gilbert's research and other people's research about imagination in the future self is really key is that if you don't take the time to really spec this out and it's okay if you change it and adjust it, but the more you can conceptualize the circumstances and even the characteristics of your future self, the more that you can then create a process to deliberately practice or become that person. The more you can be intentional rather than live on autopilot and basically be reactive to your current, either persona or your current environment.
[01:02:09] And so take some time to think about it. What would you like your circumstances to be? What would you like to be different? Even in the various roles, you're in. Because role predicts personality as well, and you're in roles that then lead you to basically being subconscious. So like your role with your wife, maybe your role with your kids, your role even on this show. You have roles that then all have personas and you could be intentional about those roles and about how you would change or adjust those roles and how you show up and then if you want it to. And so it's just thinking about who you want to be in the various circumstances and situations of your life, and then ultimately shaping a future narrative where you begin telling people that this is who you're striving to be. And there's a reason why this is super important. If you begin telling people who you want to be and who you're striving to be and it's a lot more honest, first off the future self really clarifies your current identity because it's like, "Yeah, this is who I really want to be." And that allows you to then think about what you do here and now you can then make decisions here and now that are intentional versus just, "Well, what should I do today?" But also then when you begin framing the story that, "This is what I'm going for," and you become a lot more honest with those around you, that, "I'm not this person yet. I'm not quite there yet." Like if you're starting to write, for example, the former version of Ben Hardy wanting to be a professional writer. "Look, guys, like I want to be a professional writer. I want to do this for a living. I'm not that person, obviously, yet. I'm going to start blogging and eventually I'm going to get there." What you end up doing is then you create a better feedback loop in your environment where people can actually watch you in real time becoming who you said you were going to be, because they're hearing you say it. And obviously, you'll be able to cut the fat away from the people who are not going to encourage your goals. But also if you don't tell people where you're going, they won't see any change in you. For the most part, they'll assume you're the same guy you were. So it becomes very important to begin telling people your new narrative, because then ultimately you start to become consistent with the future version of you versus being consistent with the former version of you.
Jordan Harbinger: [01:04:02] Benjamin, this is fascinating. I know that there are the reframing exercises and we never closed the loop on that, but I know they're kind of complex. There's a lot going on there. So why don't we put those in the worksheets for the episode? As always, the worksheets are linked in the episode, they're free for everyone and there'll be there forever. So if you want the reframing exercises, Ben is going to send those, we'll put them in the worksheet and you can -- well, your publisher's probably not going to be thrilled, but look, it's going to help people get interested. It's going to help people get interested in the book. Benjamin, thank you so much. I really appreciate this. This is a crazy time and I'm glad you did the show and I'm glad we got a chance to do this episode because there's so much here. We didn't even get through half of my book notes. It's a good read. 
Benjamin Hardy: [01:04:44] Thank you, man. Yeah, I love talking to you, man. I know your background in psychology and it's just fun to talk to you and thank you, man. I really had fun. 
Jordan Harbinger: [01:04:52] Yeah, I appreciate it.
[01:04:55] Chatting with Ben is always really interesting. In fact, there were some things we talked about post-show that didn't even make it in and I wanted to make sure I got these to you. So one of the points was that most people are not at all strategic about their narrative identity. So what that means is that we are conscious of the meaning-making process that we instinctively go through in our day to day lives. So as a result, we often shape limiting stories based on emotions that we experience. So if we think, "Oh, I can't do this," or "I'm not the type of person that does this." We don't consciously think about this and then avoid it. It happens very subconsciously. We think we're the type of person that can do this. I'm athletic. I'm not athletic. I'm good at math. I'm not good at math. I'm charismatic and outgoing and people like me or the opposite. Our brains are doing this all the time without our permission and without our awareness. And sometimes the stories, the narrative that this creates is actually bad for us. It's very limiting.
[01:05:49] Another idea was that our bodies get addicted to chemicals like dopamine. Duh, no surprise there. Right? That's what addiction is about. We see this all the time. Social media is a common culprit here. We all know this, but we can also get addicted to stress, the hormone cortisol, which is known as the stress hormone. We can get addicted to that too and our bodies seek a natural state to which we have become habituated. So we can be addicted to stress or to feeling stress or to feeling anxiety. And I feel like I had that at some point in my life for sure. If we don't have input making us stressed and we're in that state where we're addicted to stress, we will actually create the stress. In other words, sometimes people that cause drama in their lives, well, maybe that's what they grew up with. Maybe they're creating work issues or issues in their business. And they're lighting fires that they then have to extinguish. Not because they're just a giant mess that they have to scrub everything in their own life. It's that, that is where they are comfortable. 
[01:06:46] Now I wish I'd known that before going into my last business. I worked with some people who just couldn't stop sabotaging our business because they required conflict and chaos to feel comfort and familiarity. Now, I think we all know people like this. Hopefully, you've avoided them and hopefully, you're not in a relationship with them or running a business with them or anything like that. People like that will drive away all the talent in the business or just drive away good staff, drive away good vendors, drive away friends, drive away healthy people in your life if they're in your family. They'll keep you from growing. And eventually, that will lead to a meltdown or you'll just be the victim of this for a long, long time. So if you know someone who's addicted to stress in your life, I strongly recommend you reevaluate your relationship with those people that can do serious damage to you. Take it from me. I've been there, done that it is not healthy and it can really weigh you down. 
[01:07:36] Again, great big thank you to Dr. Benjamin Hardy. The book is called Personality Isn't Permanent. We'll link to it in the show notes, as we always do. Please use our website links if you do buy books because well, it helps support the show. Look, it's not a gold mine, but I'll tell you a little bit adds up, so please do it. And it also helps us track whether or not you're paying any attention over here. Also in the show notes, there are worksheets for each episode, so you can review what you've learned here today from dr. Benjamin Hardy. We also now have transcripts for each episode, and those can be found in the show notes as well.
[01:08:08] I'm teaching you how to connect with great people and manage relationships, using systems and tiny habits over in our Six-Minute Networking course. That course is free. That's over at jordanharbinger.com/course. Dig the well before you're thirsty. Build your network before you need it. Yes, even if it means starting from what you think is scratch. The drills are fast. You can do them real quick every day. I wish I knew this stuff 20 years ago. It's all free and free-free. Like I mentioned, no credit cards or sly BS. It's at jordanharbinger.com/course. And by the way, most of the guests on the show, they do subscribe to the course and the newsletter. So come join us, you'll be in smart company. That's where you belong. In fact, why not reach out to Dr. Benjamin Hardy, tell him you enjoyed this episode of the show. He would love to hear that from you and you never know what might shake out of that. Speaking of building relationships, you can always reach out and follow me on social. I'm at @JordanHarbinger on both Twitter and Instagram and I love hearing from you.
[01:09:00] This show is created in association with PodcastOne. This episode produced by Jen harbinger and Jason DeFillippo, engineered by Jase Sanderson, show notes and worksheets by Robert Fogarty, music by Evan Viola. I'm your host Jordan Harbinger. Our advice and opinions and those of our guests are their own. And yeah, I'm a lawyer, but I'm not your lawyer and I'm sure as heck, not a psychologist. So do your own research before implementing anything you hear on the show. And remember, we rise by lifting others. The fee for this show is that you share it with friends when you find something useful or interesting. If he knows somebody who thinks that personality tests are the be-all, end-all or that they can or can't do something because they took some dumb test in high school, share this with them. Hopefully, you find something great in every episode though. So please do share the show with those you love. In the meantime, do your best to apply what you hear on the show, so you can live what you listen, and we'll see you next time.
Bill Browder: [01:09:51] Making 10 times your money is the financial equivalent of smoking crack cocaine. And once you do it, once you just want to repeat it over and over and over and over again. It was completely, absolutely Wild West chaos, gold rush type of situation. The companies were run by these oligarchs and these oligarchs said, "Well, we might as well just cheat everybody on everything." And so while I was sitting there down 90 percent, they were going to steal my last 10 cents on the dollar. I took a decision, which nobody had ever taken before, which was to take on one of the oligarchs. I did. I fought back big time. I ended up with 15 bodyguards. There was a lead car lag car, a sidecar, three armed guys in my car. When we got close to the home, they would go and scout the rooftops for snipers. They'd look for bombs underneath the cars and secure the stairwells, and then escort me into the apartment. And then I had two guys with automatic weapons sitting in my living room. It was very, very intense. Very scary.
[01:10:50] And after that, I hired a young lawyer named Sergei Magnitsky to help me investigate it. Sergei and I exposed the crime with the same people who Sergei testified against, arrested him, and then tortured him to try to get him to withdraw his testimony. And they thought, you know, here's a guy, he buys his Starbucks in the morning. He wears a blue suit and a white shirt and a red tie. And he works in the tax practice of an American law firm. He'll buckle in a week. And it turns out that they got him wrong completely. He's the most principled guy in the world. He was really a man of steel.
[01:11:22] On the morning of November 17th at 7:45 a.m. I got the call from Sergei's lawyer, and it was the most horrifying life-changing, soul-destroying news that I could have ever gotten.
Jordan Harbinger: [01:11:35] And if you want to hear more about how Bill Browder took on one of the most powerful men in the world, Vladimir Putin, and continues to fight for change, check out episode 3 of The Jordan Harbinger Show.
Sign up to receive email updates
Enter your name and email address below and I'll send you periodic updates about the podcast.