Reading Time:
4
minutes
Sam Cooper (@scoopercooper) is a national investigative journalist for Global News and co-author of Wilful Blindness, How a Network of Narcos, Tycoons, and CCP Agents Infiltrated the West.
What We Discuss with Sam Cooper:
How — and why — is the Chinese Communist Party (CCP) directly responsible for waging a reverse Opium War from China against the West?
How does the CCP operate in tandem with criminal organizations to further its interests in the West?
What does the CCP do to entice and recruit Westerners to become mouthpieces of government propaganda?
How the CCP uses gangsters, gambling, drugs, and real estate to launder massive amounts of money in the West while simultaneously undermining the democratic societies in which they operate.
What is the Five Eyes alliance, how is interference by the CCP jeopardizing its stability, and why is this something the West needs to worry about sooner rather than later?
And much more…
Like this show? Please leave us a review here — even one sentence helps! Consider including your Twitter handle so we can thank you personally!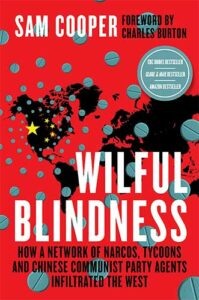 Almost 200 years ago, Westerners used illicit drug smugglers and open warfare to force the Chinese government at the time to engage in trade practices that heavily favored the West. Now, the Chinese Communist Party is returning the favor by collaborating with criminal organizations to push drugs (such as fentanyl) and launder money in the West while undermining the democratic societies in which they operate.
On this episode, we're joined by Sam Cooper, a national investigative journalist for Global News and co-author of Wilful Blindness, How a Network of Narcos, Tycoons, and CCP Agents Infiltrated the West. Here, we discuss how the enemies of the Western world turn a profit at our expense and why it's seemingly allowed to continue without consequence for its perpetrators. Listen, learn, and enjoy!
Please Scroll Down for Featured Resources and Transcript!
Please note that some of the links on this page (books, movies, music, etc.) lead to affiliate programs for which The Jordan Harbinger Show receives compensation. It's just one of the ways we keep the lights on around here. Thank you for your support!

Sign up for Six-Minute Networking — our free networking and relationship development mini course — at jordanharbinger.com/course!
This Episode Is Sponsored By:
Miss our conversation with David Kilgour, author of Bloody Harvest: Organ Harvesting of Falun Gong Practitioners in China? Catch up with episode 497: David Kilgour | The Heartless Art of Forced Organ Harvesting here!
On the Edge is a podcast that brings you along when award-winning BBC journalist Andrew Gold interviews celebrities and quirky outsiders — from a Mormon psychopath to a man who once had to eat his friends. Oh, and Jordan! Listen here or wherever you enjoy your podcasts!
Thanks, Sam Cooper!
If you enjoyed this session with Sam Cooper, let him know by clicking on the link below and sending him a quick shout out at Twitter:
Click here to thank Sam Cooper at Twitter!
Click here to let Jordan know about your number one takeaway from this episode!
And if you want us to answer your questions on one of our upcoming weekly Feedback Friday episodes, drop us a line at friday@jordanharbinger.com.
Resources from This Episode:
677: Sam Cooper | How the West Was Infiltrated by Its Enemies
[00:00:00] Jordan Harbinger: This episode of The Jordan Harbinger Show is brought to you by Nissan. Why wait for tomorrow? Today is made for thrill.
[00:00:05] Coming up next on The Jordan Harbinger Show.
[00:00:08] Sam Cooper: The Five Eyes are, you know, literally what is standing between the Chinese Communist Party, capturing various governments around the world. If the Five Eyes is weakened, the Party's power is so powerful that if the Five Eyes is weakened, the United States will be on its back foot.
[00:00:29] Jordan Harbinger: Welcome to the show. I'm Jordan Harbinger. On The Jordan Harbinger Show, we decode the stories, secrets, and skills of the world's most fascinating people. We've got in-depth conversations with scientists and entrepreneurs, spies and psychologists, even the occasional Russian spy, mafia enforcer, music mogul, or extreme athlete. And each episode turns our guests' wisdom into practical advice that you can use to build a deeper understanding of how the world works and become a better thinker.
[00:00:53] If you're new to the show, or you're looking for a handy way to tell your friends about it, I suggest our episode starter packs. These are collections of our favorite episodes, organized by topic. They'll help new listeners get a taste of everything that we do here on the show — topics like persuasion and influence, disinformation and cyber warfare, China and North Korea, scams and conspiracy debunks, investing in financial crimes, and more. Just visit jordanharbinger.com/start or search for us in your Spotify app to get started.
[00:01:20] Today, investigative reporter for the Vancouver Sun, Sam Cooper, this guy — man, he really stepped in it with this investigation, political corruption, real estate money laundering. Look, I realize you're not in Vancouver, probably listening to this right now. You might not be in Canada. You might not even be in North America. It doesn't matter. You're still going to be interested in what he has to say because this style of money laundering that he's uncovered is a new global model now. It's called the Vancouver model— very, very flattering.
[00:01:48] For decades, there have been Chinese Communist Party officials, drug cartels, money launderers, intelligence officers, and business tycoons all tied up nice and neat together, working together, moving and laundering capital from China to Canada. They use a network of casinos and underground banks. Drug and human trafficking both play a part. We're going to uncover a bunch of this today and discuss how this all works. The Chinese Communist Party is working hand in hand with drug cartels and organized crime to make this happen with the ultimate goal — and this is not like wild speculation. Sam can back all of this stuff up — to use Canada's economy to influence Canadian policy towards Chinese state interests. In other words, leverage Canada against the United States and the rest of the West.
[00:02:29] Now, I know this sounds complex and maybe even a little bit kooky. Sam does a great job of breaking all of this down. And his book is loaded with sources. I mean there's documents and interrogations and papers from court. I mean, it's just — if only 20 percent of this is true. And to be honest, it sure seems like a hundred percent of it is true, then this story is absolutely bananas. So if you like international intrigue, financial crimes, the narco stuff we've had here on the show, you're going to dig this episode.
[00:02:55] Now, here we go with Sam Cooper.
[00:03:01] I've heard you say that the CCPs or the Chinese Communist Party is executing a reverse Opium War from China against the West. Now it sounds a little hyperbolic, but tell me briefly what this is and what you mean by that.
[00:03:15] Sam Cooper: Yeah, well, I mean, actually that would be what my sources, who would be in sort of high-level federal policing agencies relevant to the United States. We're talking to DEA people in Canada with the Security Intelligence Service, so the equivalent of CIA. These are big people that know drug routes. They know the people involved in China. They know the people involved in the Golden Triangle and these are people that read up on their history. So they know that, of course, you know, China had a scourge of the opium, which was being traded by traders very connected to the British government in a way. We all know the history of colonialism. So these people that I'm talking to would say, it's like the Opium Wars in reverse.
[00:03:56] China is not stopping the shipping of precursors for fentanyl and methamphetamine, which are just coming into Vancouver as a global hub for the drug trafficking trade. And that's why people that know say, if China wanted to see the manufacturer of fentanyl precursors, it's a police state. They own these factories in many cases. They can shut it down. They don't because they're profiting at a large scale. Do we have the documents that say a certain Chinese police official wants a load of fentanyl to go into Vancouver and then go down to LA? We don't have that, but we have the evidence that police officials are directing these high-level transnational gangs.
[00:04:39] We have the evidence that China, as a mercantilist state, enjoys the proceeds of fentanyl being shipped worldwide in its precursor form. And beyond that, we have people saying that, look, if we're talking about Iran, Hezbollah, Russia, we know that they have state-sponsored crime networks that love to use money laundering strategically to attack the West. Iran, Hezbollah uses drug networks as the DEA argues to weaken the West. They want to see high health costs. They want to see people dying, unfortunately. And so my sources would say, China's no different. The only difference is China's orders of magnitude are more powerful and sophisticated.
[00:05:20] Jordan Harbinger: Yeah. And of course, I got to do this every time we talk about anything CCP related, because they love to be like, "White supremacists, Jordan Harbinger," who happens to be married to a Chinese woman and has Chinese kids, "is talking about how it's Chinese people causing all the problems." And it's not Chinese people. They are the biggest victims of the Chinese Communist Party in fact and have suffered to the tune of tens of millions murdered by that same government starting with Mao, or maybe going before Mao. Why start there? So I just want to clarify that before I get emails from angry Asian people who think I might be talking about them and I understand that. There's a lot of anti-Asian hate, this is not that, right?
[00:05:54] Sam Cooper: We're talking about the Chinese Communist Party, which has schemes, which has surveillance networks around the world to — as you said to victimize Chinese ethnicity people who wanted to go enjoy democracy and enjoy lives in America and Canada. But now a huge problem that my book gets into is that again, intelligence, thugs, gangs are being used by the Chinese Communist Party to attack Chinese ethnicity, people around the world. So you're right. It's about the CCP. It's not about China.
[00:06:27] Jordan Harbinger: Yeah. I'll touch on that a little bit later in the show as well because that's been a big concern for me. Just to go back a step — the Opium War, what is that from a historical perspective? Because a lot of people are saying, "Oh my gosh, this fentanyl issue, I didn't know, that was tied to the CCP." Many people don't remember what the Opium War is or they've heard of it. Like for me, I heard of it in high school. I think I probably studied it in high school. And all I remember is something with a British ship burning and then they've brought opium in and essentially got the population addicted to it. I don't know, 100 or 200 years ago something, something Hong Kong that's about where my understanding begins and ends of the Opium War.
[00:07:02] Sam Cooper: Yeah. So, the Chinese Communist Party talks about the hundred years of humiliation. And that goes back to the opium trading wars, which did run through Hong Kong where you had these British traders who set up while Britain had colonial control of Hong Kong. And they were trading tea on the surface, but really they were trading back and forth opium and they corrupted officials in Southern China in the Guangdong province.
[00:07:30] And so there was really a dark Alliance between these British traders who very, you know, in some ways supported by the British empire. And they were just making huge sums of money running opium into China, getting populations addicted, seeing — you know, of course, China in that long-gone age was experiencing the huge harms to their society from drug addiction. And then, it resulted in the locals saying, "Enough is enough," throwing what they called the black dirt, boarding ships, throwing opium into the sea. And so the British traders didn't like this eventually Britain, of course, at an imperialism level, wanted to keep the trade going. It looks like lobbying was done.
[00:08:14] And so a full war results and British forces ransack the Chinese ruling class and the imperial city. That was essentially the winning of the Opium War. And as the CCP will say, the nation felt like it was subsumed or put under the thumb of the British for a hundred years. And it's not coincidental that they use that in propaganda now. At a deep level, the CCP wants anyone in China to believe, even if it's not stated openly that it's a war against the West. And so that all can be traced back to some really, I guess some very greedy traders that emerged from the British empire.
[00:08:53] Jordan Harbinger: Yeah. It's hard to — that's really a disgusting behavior by British traders and the British government for that matter. But also, it's a hundred years ago. Is anybody really sticking up for drug dealers from a century ago? Like nobody's going out, that's fine, right? We're going, "That's a disgusting behavior." And the CCP is going, "You know, that was really bad. It ruined our country. Let's do the same thing in 2022 and it's totally fine." And it's not an exaggeration to say that that's a propaganda. There are plenty of videos online, just right now — one that comes to mind with the Shanghai lockdown because of Coronavirus, where there's a guy in a white suit, removing people from their apartments. And she's like, "I'm not going to go to your quarantine center. This is my apartment." And he says, "We're in a war against the West. They're trying to humiliate China. You have to cooperate. Don't you understand? We have to be united against the West. This is a war." And it's like, "Well, where did that guy hear that?" He's a police officer. Of course, that's, who's doing this or military national guard type person. Where did he hear that? He didn't make that up, right? And if you ask people in the United States, if we're at war against China, you're not going to hear very many people say, "Absolutely." They might say something like, "Well, economically we're competing." Nobody thinks we're in a war with China. I shouldn't say nobody, almost nobody thinks we're in a war with China, other than some conspiracy folks who have their own ideas. And also maybe like intelligence agents who realized that stuff like what you and I are talking about is actually happening at scale.
[00:10:15] Sam Cooper: Yeah, no, I mean, it's a very pertinent example. The Coronavirus pandemic did become an information war. And there's still a lot to learn about the origins of the virus and the response, but you're exactly right. Everything is at a propaganda level within China, and it's very comparable to when people around the world watch what's happening. The tragedy in Ukraine right now in Chinese and Russian information networks, this is the fault of the United States. The United States is that dark hand behind Russia's invasion. So there's really a total disconnect between what we see as rationality in the West and really in authoritarian states, just what people like you and I probably see just as incredibly twisted logic, but if you're brought up in it and you're not a strong-minded person, I believe it could be pretty easy to fall into that logic.
[00:11:05] Jordan Harbinger: Yeah, it is, you know, there's a lot more — this is totally a tangent, but there's a lot more people in trying to think outside the box. And I think we realize, you know, there's a lot of people that I know, that I've talked to for a year. I take Chinese lessons in the morning, a lot of the time. And a lot of my teachers will say, "I don't know anything about that," or, "I don't really talk about politics." And then sometimes I'll get them after they've had a meal or a couple of glasses of wine and they will go on a tear and I'm like, "You should probably lower your—" I'll turn my headphones up.
[00:11:33] Sam Cooper: Yeah. Are there any tape recorders around?
[00:11:35] Jordan Harbinger: Yeah. I mean, like, "You got to be careful. You know, your neighbors are here," or there'll be like, "I'm on a trip right now for a month in Germany." And then they will tell me what they really think because their Internet traffic is not being freaking recorded or monitored. And I'm like, "I had no idea you had a political opinion because every time I bring it up during the lesson you shift over to growing plants on your balcony or something that can't be misconstrued." And they're like, "Well, yeah, we're not really supposed to talk about this. And there's people online and clubhouse and reporting our usernames and stuff like that." And I'm like, "They are really aware of their police state a lot of the time."
[00:12:06] Sam Cooper: It's incredible. They have to, on social media, literally speak in code. That's why you have people sharing like the sun from Les Miserables. There's a hidden meaning behind that. So they're not going to get zapped by the Ministry of Public Security coming over. It's just every conversation when you come from that culture, even if you don't want to be political, the very first thought is, "Okay, is my barrier on and off? Can I trust this person?"
[00:12:30] Jordan Harbinger: Yeah. Yeah. It's really, really wild to see it. And I just can't imagine living that way. It just becomes more and more like North Korea every single year.
[00:12:38] Now, okay, back to the reverse Opium War here in the fentanyl trade. Is this something we know is sanctioned? Or is this more like, "Hey, criminals are doing it and the CCP is just looking the other way because there's money involved"? Is this just what happens when a society has thorough corruption at all levels? Or is this actual low-level conflict and warfare conducted by the CCP against the West?
[00:13:02] Sam Cooper: So again, this is information where I have people that will talk about — you know, these are people with access to documents, access to networks. So we don't have the document saying, "The Ministry of Public Security is saying we're going to let this fentanyl precursor factory ship into Vancouver port. It's going to go to this super lab. And then it's going to go to Toronto, Seattle and Los Angeles." What we do have, or what I have the evidence in my book is we have believed police officials negotiate and mediate gang conflicts between the highest-level triad bosses.
[00:13:40] One of my favorite parts is the book is a cop in Vancouver who has a wire or a tape on a gang conflict in Vancouver. A triad boss has run away from Macau in Hong Kong, has set up in Vancouver. There's a war going on. The direction, the shots are being called in Hong Kong and Macau and the Vancouver police tapped in. One day, a police official, Mr. Kwok — we don't know his first name — somewhere deep inside China gets on. He tells the gang boss essentially, "Okay, you're going to talk to this new guy who's in charge of the gang. You're done. Okay. The war is over. You need to get together."
[00:14:17] So what does that tell us? It tells us that the Ministry of Public Security has control of the highest level triads. There's all kinds of documentation. It's very deep. It's not open source, but at a certain level of reporting, there's another fellow in Australia. That's really getting good info named Nick McKenzie. We know intelligence handlers, police, state officials give directions and are part of the highest level of state-sponsored organized crime. They are able to call the shots with triads. What does that mean? That means that they cannot — again, we don't have the paper saying, "Send this load of precursors in that will make two billion fentanyl pills."
[00:14:58] We know they're in control of the factories. We know that if they want the gangster, not to do that, that gangster is going to be dead. We know that the gangster making those profits is sending a lot back to Mainland China. And we know that for him to be in business, he's also doing political activity for the Chinese Communist Party, such as sending his thugs out to break up democracy rallies in cities like Hong Kong, New York, deep inside Taiwan, Toronto, Vancouver.
[00:15:25] Jordan Harbinger: I saw that the triads — by the way, triads for people who don't know, this is like La Cosa Nostra or a mafia crime family, but Chinese version. I don't know why they call it triad. I guess I'll have to Google that. Do you happen to know why they call it that?
[00:15:38] Sam Cooper: I think it was a British academic or intelligence analyst that the numbers of threes are very — it's a very sort of deep mythological secret society type stuff. And so three came up a lot, some Caucasian kind of imposed, I believe the concept triad on. So then that tells you right there that it's sort of an intelligence analyst type thing.
[00:15:58] Jordan Harbinger: Right. Okay. That makes sense. So these gangs are affiliated with the government and intertwined. And we saw it in the Hong Kong protest, there were all of these sort of like, I don't know if they were tattooed thugs, but certainly thugs that were not police. And some of them were wearing kind of crappy discount police uniforms that people have said, these guys are not cops. They don't have badges. Or they have like generic sort of plasticky badges. And they're just going around, beating people with nightsticks. And then they saw them talking to the real police or Hong Kong police and the police are like, "Yeah, yeah, go that way. And block that road and beat up these guys." And it was like, "Oh, the gangsters in Hong Kong are actually on the side of the CCP going against the democratic process and causing all kinds of ruckus." And it would be insane to me. It's like imagine if organized crime in the United States started working with Nazi Germany in World War II or something like that. And it's just absolutely insane to see something like that.
[00:16:53] Sam Cooper: It is. A good comparison would, let's say, we have some students, you know, in Berkeley or something, and the government sends in some bikers, or let's send the New York mafia across California and just start hitting them with sticks. And again, in Hong Kong, there's great open-source intelligence reporting that ties that directly to Chinese Communist Party gangsters set up in the Fujian province who are literally on these sort of what's called United Front Work Department groups that are set up in Hong Kong by the party. They're allowed to do their criminal activity, again, as long as they're part of this sort of espionage network.
[00:17:32] And that's another topic that I get into a lot in the book and why I got into it is because I saw it with my own eyes and my own digging into documents in Vancouver. And I said, there's got to be something going on here. And indeed, yeah, we could see it in Hong Kong. We can see the same people shipping oil to North Korea. It's state-sponsored crime at a high level.
[00:17:51] Jordan Harbinger: Yeah, we actually — a lot of people don't really understand that these gangsters will get in trouble in China. The CCP will say, "You have two choices. You can go to prison here and you know what prisons like, except you're going to stay there for a long time and maybe something bad will happen to you there. Or you go to the United States and you sit in San Francisco or wherever, and you run your drug business or your gambling business or both. And you kick it up a couple of thousand dollars or whatever per day of transactions to the relevant folks and just make it someone else's problem and make it profitable for us. Or just stop doing it here, because you're never going to be seen again. We're going to throw you in a hole."
[00:18:28] And my university, the University of Michigan actually got rid of or did not renew the agreement with something called the Confucius Institute, which originally was just like, "Let's teach Chinese dancing and culture and language to people in other countries," and then had started to become, "Hey, Chinese student at a democracy rally. I'm going to take your photograph. And then I'm going to email it to you and say, 'Here's you at a democracy rally. Don't your parents still live in a suburb of Shanghai? You should probably be careful about the kind of clubs you go to,'" because the way this happened was pure mafia. This is firsthand, or I should say secondhand, but I heard it from the person that happened to, they would say, "I went to a rally. That was a talk. It was like, I way, way, or some artists, you know, Chinese dissident giving a talk. And they'd say, "My grandmother and my father called me and said, 'Stop going to political events in the United States and focus on school.'" And it's like, "How did they know I was there?" Well, somebody from the Confucius Institute or pretending to be from there, went there, took the names and photos of every student that was there. Kicked that to the police in China who called the family to the police station and said, "Warn your kid at the University of Michigan," or Stanford, or wherever the example happens to be. "And tell them to stop being political. And if they're going to be political, be pro-China." That stuff was happening is happening in the United States.
[00:19:47] And it's just, it's a huge concern of mine. One, I'm anti-CCP in the first place, right? Communist party, because of things like this, but I'm very pro-Chinese in human rights because my wife's family is from Taiwan. This whole thing is crazy to me, monitoring political speech in the United States and using your family against in the Homeland against you is just so mafia. I don't even know what would be more gangster in a bad way than that.
[00:20:10] Sam Cooper: It is mafia. We can't say any better than that. There's some amazing cases coming out from the FBI. The Department of Justice put out some indictments recently where we have private eyes. These are guys that used to work for the cops in Boston or New York. In some cases, we had a cop. He was a New York cop, again, used by the Chinese consulate to spy on diaspora community there. We're talking about networks here. So you're right. The Confucius Institute, people taking names, people taking photos, that information being shared. So again, you're right. They call family back home. They'll bring the family into the police station in China and get a video call going with that person, whether they're in Australia, the United States. What I really want to stress is mafia. Yes. In the latest DOJ cases, we see that we've got a guy from the Ministry of Public Security or the MSS state security. They're both foreign intelligence agencies.
[00:21:03] Jordan Harbinger: Is that like a Chinese FBI? Like what is that equivalent?
[00:21:06] Sam Cooper: So the MSS would be like the CIA, the Ministry of Public Security would be the FBI. They're basically in charge of all national security and police matters, serious crime in China, but they also have a counter-espionage and a foreign espionage function. So we're finding that they'll send these officials over. They'll put them in a liaison, you know, whether it's in Houston, New York, Toronto, Vancouver, and they go out in the committee. And they'll make relationships with people at what they call compatriot society or United Front dinners, where all the community will meet politicians of all stripes and colors, but what's going on while they're all having a bun toss and, you know, having some wine, they're recruiting.
[00:21:46] So you'll get this police agent from China. He's going to recruit the gangster who is there, who might not look like a gangster. He may look like a tycoon or real estate developer. He may like to go to the casinos in Boston or Vancouver, but this is all sort of police intelligence activity. They will recruit Western private eyes to be involved in their schemes of going after, whether it's, you know, young people at university who want to speak out against the harms in Xinjiang. Or they'll be going against the economic, the wealthy people that may have fled China, rightly or wrongly with a lot of money stolen, maybe some legitimate money, but they're a target of the CCP. This police agent will use anyone at his disposal, whether they're a Western citizen or a diaspora community member who's in the gangs.
[00:22:37] Jordan Harbinger: You're listening to The Jordan Harbinger Show with our guest Sam Cooper. We'll be right back.
[00:22:41] This episode is sponsored in part by House of Macadamia. Macadamia, the king of all nuts. It's the most premium nut in the world. And for good reason, it takes five to 10 years from planting to harvesting. And the demand is skyrocketing. It's got more healthy fats than olive oil and avocado, low allergy rates, and requires less water to produce than other nuts. House of Macadamia comes from a family history in agriculture with the founder's grandfather being a macadamia farmer. They worked directly with the best farms in South Africa to get unmatched quality and pricing. Plus, I like this business. It's run by a brother-and-sister team. They're good people and they want to welcome/wake up the world to the benefits of macadamia nuts, healthy fats and omegas. In addition, the company has a passion for innovation, creating macadamia snacks that have never been seen before, like their 45 percent vegan keto and paleo macadamia bar, which Jayden inhaled, or their bestseller healthy vegan, keto, chocolate-dipped macadamia nuts, which Jayden also inhaled. All with natural ingredients.
[00:23:34] Jen Harbinger: House of Macadamia ships their products worldwide. They have an awesome deal for you guys. $20 off your first order at houseofmacadamia.com and use code Jordan20 for $20 off your first order.
[00:23:47] Jordan Harbinger: This episode is also sponsored by Grammarly. Grammarly is a tool I use every single day in all of my written communication. It is way more powerful than a spelling and grammar checker. Grammarly is like having a professional editor, giving you suggestions and corrections as you write and if you — I mean, I need that. I don't know about you. Grammarly helps by proposing rewrites that are more concise and clear, identifying weak adjectives and providing better alternatives, avoiding embarrassing typos and errors that I might've overlooked. I think we've all sent an email with one or two of those. Grammarly even has features to help with the tone of a message. So like you don't want to come across as more friendly, more confident, more analytical. How do you want your writing to be received? Grammarly also works seamlessly in the background across multiple platforms and devices. So you can use it in your email and your web browser, or pretty much anywhere on your whole system. And it can step you up at work, school, or wherever else you need your communication to sound as polished as possible.
[00:24:36] Jen Harbinger: Get to the point faster and accomplish more with Grammarly. Go to grammarly.com/jordan to sign up for a free account. And when you're ready to upgrade to Grammarly premium, get 20 percent off for being our listener. That's 20 percent off at G-R-A-M-M-A-R-L-Y.com/jordan.
[00:24:53] Jordan Harbinger: A lot of you've been asking how I managed to book folks for the show. It is all about my network. And look, I built my business from my network as well, not just for booking guests on the show. I'm teaching you how to build your network for free using the same software systems tools that I use. That's a course called Six-Minute Networking — five-minute networking was taken again. That's free over at jordanharbinger.com/course. It's about improving your networking and connection skills, yeah, but also inspiring others to develop a personal and professional relationship with you. It will make you a better networker and a better connector, but also a better thinker. That's jordanharbinger.com/course, and most of the guests you hear on the show, subscribe and contribute to this course. So come join us, you'll be in smart company where you belong.
[00:25:34] Now, back to Sam Cooper.
[00:25:38] I did a little bit with Laowhy86 of YouTube. We talked a little bit about how there's YouTubers being recruited for this. So we call them like white monkey jobs, but there's guys from the UK, United States, Canada, whatever — maybe they live in China, maybe they live here and they'll accept a few hundred bucks and they'll do these videos. That's like, "Oh, all this stuff you heard about China is false. Here's the real deal." And it's like CCP talking points that they got and Laowhy has documents that's like copied from Chinese state media emailed to them and then, in ad agencies. Like, "We'll give you 600 bucks to do a video about this."
[00:26:10] Sam Cooper: Just do it in a nice British accent, at least.
[00:26:13] Jordan Harbinger: Exactly. They're pretending like they dug up these details from their investigative reporting and really it's like the freaking same call sheet and all the videos from all — we call them the shills. They're all the same. The talking points at the same, the visuals are the same. And it's like, "This isn't even your work, dude. You're reposting something from CGTN or like Chinese state-run media. Just get out, GTFO."
[00:26:31] Let's talk about money laundering. Tell me how a package of fentanyl precursor chemicals manufactured in China becomes high-end real estate in Vancouver, or low-end real estate in Vancouver, but let's be honest, any real estate in Vancouver is millions of dollars. So it doesn't matter what the actual property looks like, right?
[00:26:50] Sam Cooper: Yeah. You know, so it's a hugely complex system, but it can be broken down in simple trades sometimes. So the thing we start with, what my research found is, of course, we know that China, the authoritarian state has a strict capital export limit on each citizen. You can't take out more than $50,000 US per year unless you get incredibly bureaucratic approvals, but we're talking — that's a pretty strict limit. So we have a person with a lot of money. They want to go abroad and gamble, buy a home. Those are two good goals. So they'll travel to Vancouver, but how do they get their money out?
[00:27:26] They make a deal with a gangster who has met them in a Macau casino, much closer to home. That's the closest place where Chinese citizens can gamble legally. And the system is the same in Macau. I traveled to the Macau casino, you the gangster, give me either chips or a loan of cash. And I buy my chips. I haven't left China with my money. I've just taken out a loan and I can gamble and then pay back the loan in China, where I have my bank account and the gangster has the bank account.
[00:27:55] So it's the same thing in Vancouver. We've got an official. He wants to get two million into Vancouver. He makes a deal with this gangster that he met in Macau, who says, "Come to Vancouver. We have just as many amenities in Vancouver, underground casinos, prostitution, massage parlors, government casinos, where they do not stop us. You meet me in a parking lot, outside this government casino in the suburbs of Vancouver. I'm going to give you $500,000 in, let's say, a Gucci tote, maybe a hockey bag if it's a little bit more money. You can walk in, they won't stop you. This is $20 bills." Really, it's drug cash.
[00:28:33] Here's the important part. The gangsters in Vancouver have warehouses of cash from fentanyl proceeds. They can't do anything with it. It's a danger to them. How do they get rid of it? They invite those people from Mainland China to come over. They give them that cash. These VIP's, as they call them, whale gamblers can gamble it easily. Win or lose, that's a $500,000 loan. It's drug cash, but you took out the loan, you got to pay back the loan in China, where your bank account is — straight to the gangster's bank account, right? So you see how the gangster has laundered his warehouse drug cash in Vancouver. This is money from ultimately deriving from fentanyl precursors in China. It's been sold warehouse in Vancouver, loaned it to the gambler who comes from China. He does his gambling. If he wins that night, he's got a nice casino check. He's happy. He can get a downpayment on a Vancouver condo. But the most important trade is he's got to pay that money back in China. Once he pays it back from his Mainland China bank account to the gangsters Mainland China account, you can visualize that those proceeds are now going straight over to fund more precursors in the fentanyl factory, which, of course, is going to — now, we've got the loop completed. That product, those precursors are being shipped over to a Vancouver port, repeat the cycle — so you've got the gangster, the cash from his proceeds, and the Chinese national.
[00:30:00] And this is not — I'd like to stress right here. When I put this all together for my book, I'm going on very credible, deep sources that couldn't be named. I'm going on a document here and there. I'm connecting the dots. But after I wrote the book and you know, while I was writing the book, we had this money laundering inquiry in BC where actual documents come out, spelling this out to a T. Furthermore, I learned, these casinos government casinos in British Columbia were purposely built for this trade. I'm not exaggerating.
[00:30:30] Jordan Harbinger: What?
[00:30:31] Sam Cooper: They were purpose-built with these secluded Macau-style VIP rooms that were specifically built for these high-end whale gamblers that were already coming over and saying, "This is a little bit too difficult. Can you build a bigger sort of casino room for me where we won't be bothered at all?
[00:30:47] Jordan Harbinger: Yeah. With a private cash cage, so I can walk in with a freaking hockey bag and people—
[00:30:51] Sam Cooper: Exactly.
[00:30:52] Jordan Harbinger: —staring at me, yeah.
[00:30:53] Sam Cooper: No exaggeration, no hyperbole. I have the documents that say these VIP rooms were built for these specific high-end gamblers. And it was known, it was known that these are drug trafficking suspects. So it's corrupt from start to finish.
[00:31:08] Jordan Harbinger: That is freaking crazy because — look, I'm from Michigan. I know what a hockey bag looks like. This is the most enormous duffle bag you can basically imagine. Like you could fit a person in there, not a big person, but you can fit a person in a full-sized hockey duffel bag if they were flexible. I should say a teen, small teenager, maybe, or a flexible person.
[00:31:29] Sam Cooper: They measured it. The regulator measured it. A million dollars in cash, Canadian cash in 20s is about 120. So that's a sort of a smallish female in a hockey bag. Literally, they would see people dragging, stumbling up the stairs, stumbling, dragging a bag into the elevator with that much weight.
[00:31:48] Jordan Harbinger: That's 120 kilos? Is that what you meant?
[00:31:50] Sam Cooper: No. Pounds, we're talking pounds.
[00:31:51] Jordan Harbinger: Okay. Okay. Because I was like, that's a really big person, yeah. No, that makes more sense — pounds. Thank you for turning that into the United States.
[00:31:59] Sam Cooper: Not a linebacker, just the smallish female.
[00:32:01] Jordan Harbinger: Anybody who has put a smallish female in a hockey duffel bag— I hope you're listening to this from prison—
[00:32:06] Sam Cooper: That's a bad metaphor.
[00:32:09] Jordan Harbinger: Yeah. It's not a super useful analogy, but it's still pretty humorous. Yeah, so this is wild because the casinos in Canada are owned by the government. You know, if you told me, "Hey look, casinos are laundering money." I'd be like news flash. There's no show here. Casinos are — I mean, we're talking Bugsy Siegel in Las Vegas. No kidding. They're laundering money, right? These are owned by the government. You might as well be telling me the post office is laundering drug cash for transnational crime organizations. That's what we're talking about here.
[00:32:36] Sam Cooper: That's what we're talking about, 100 percent. You know, on the surface they built these casinos and, of course, you know, this is about the average punter having fun, but they very quickly realized the major, major gamblers coming in each night, these people that were traveling from Mainland China or Hong Kong, and whether it was that no one was asking the question, you know, how do they ever have access to so much cash? I don't know, but indeed what happened was they built, they literally industrialized this. It started as small casinos and they basically built big box store casinos.
[00:33:12] And I want to jump in and say again, getting back to your point, people will say, "You know, why are you focusing on Chinese nationality people when you talk about this money laundering?" Like. No, the BC government identified the biggest source of wealth coming out of Macau and China, and they built the business around it. They purpose-built these casinos with high-end gamblers in mind. And again, I want to stress, as I reported in my book, the people, you know, the police often the people that kind of become casino investigators come from high-level policing backgrounds, these people knew that the biggest gamblers in the casinos were known drug trafficking targets and British Columbia government knew that as well.
[00:33:52] Jordan Harbinger: Yeah. BC government British Columbia, the province where Vancouver is located in Canada. Most of the audience is not in Canada. There's a lot of Canadians listening to this show, but this is an international show. So I always tried to find things like that.
[00:34:04] Now, going back to how you said this works, it could be a little confusing when people try and visualize the money trail. To clarify the money itself, the cash itself never moves across the border. This is as simple as if I use JPMorgan Chase, which is a big bank in the United States. I deposit something in New York City in a few hours later, the funds are available in LA where I happen to be on my vacation, right? So if I'm in Beijing, China, I have millions of dollars because I'm doing whatever business over there. I go to my local triad gangster underground bank, and I say, "Hey man, I've got all this cash. I'm going to Vancouver next week. Here is the cash. Tell your homeboy over in Vancouver that I just gave you a million dollars. I'm going to use it to buy a house." He says, "No problem." He sends a text message or whatever on WeChat. I don't know how they communicate. And then when I show up, I go to my hotel and I go to the parking lot of the casino and a different guy is there with different cash. That happens to be from the proceeds of drug sales in Canada, in the United States, fentanyl specifically. And that's the money that I use to go to the casino. When I come out, I've got a casino check or chips that I've used to turn into, quote-unquote, "legitimate funds."
[00:35:11] And I go straight to my real estate agent and I buy an overpriced condo because I don't want my money in China because Xi Jinping gets a cold and everybody around him gets sick and suddenly I have no money and I'm in prison. Or I want to send my kids to school in the United States or the West somewhere in Canada. And I need to get money over here. And if there's capital controls in China that say, you can only move 50 grand out of the country per year, that's not going to cut it if I'm sending my kid to an expensive private school and I've got to buy him a Rolls-Royce to keep up with his friends and I've got a house and feed him. You know, he's costing me hundreds of thousands of dollars and I can't get him the money. So I literally have no choice. Even if I am not a criminal in China, I have no choice, but to use these underground criminal banks because of those Chinese capital controls, right?
[00:35:57] Sam Cooper: That's right. There are legitimate people. And I talked to them from my book. Legitimate family, people that wanted a good education in Vancouver or Boston, whatever, what have you. They have to go to the underground bankers. So when you go to JPMorgan or Citibank and do it legitimately, maybe, you pay two percent for an international wire transfer done the right way. To your underground banker, you could be paying from five percent to 20 percent and more.
[00:36:24] Jordan Harbinger: Oh my god.
[00:36:24] Sam Cooper: You know, the way I understand it, if you're a legitimate person who isn't backed up by guns, you're going to be paying a higher fee. And sometimes you'll lose your money in trade. There's one person in my book, I followed his case. He'd lost a lot of money before he got money across. But if you are a gang boss and you want to get across a million, or if you are a Ministry of Public Security police agent who deals with gangsters, who actually is the boss of gangsters, you're going to be paying nothing to two percent to do that underground banking transfer.
[00:36:58] Once the money is over there, I want to come back to the point that, yeah, this is a straight drug money laundering, but there's also that kind of what I call strategic corruption element, where you do have gangsters dealing with intelligence handlers, and you've got these transfers going across. You know, let's say, what if China, the CCP wants to fund a cell in Vancouver or New York City that they use to spy on dissidents or to spy on wealthy people that are running away from the Chinese police. They can get money across, through these underground methods. They can pay gangsters in these casino transactions. So it can get pretty complex. And again, that state level is there where there's three levels, 3D chess going on in some of these trades.
[00:37:45] Jordan Harbinger: You know what this reminds me of. I'm sure you've heard of hawala. I think that's what it's called, right?
[00:37:49] Sam Cooper: Yeah.
[00:37:49] Jordan Harbinger: Where it's like an Islamic money transfer — where like, if I'm Somalian and I want to send money to my family in Somalia, I can't go to Bank of America and wire it over very easily. I have to go somewhere and pay one guy here and he sends, I don't know, a text message that ends up on a spreadsheet somewhere in Somalia and then a moneylender over there just goes to, I don't know, my mother-in-law and gives her the cash. And it's all informal. The records really, maybe don't exist after the transaction is done. And I heard a lot of people — of course, people use this for legitimate reasons and they have for years and years, decades, but also ISIS will use this or Al-Shabab or other terror organizations because it's the easiest way to move money around.
[00:38:29] Sam Cooper: It's the exact same as hawala. In some ways, the Middle Eastern and the Chinese cultures have mastered that underground system. And indeed, often it sparks up when you have a lack of trust with your authoritarian government—
[00:38:41] Jordan Harbinger: Yeah.
[00:38:42] Sam Cooper: You know, you can be a good person and you need to protect yourself in some ways. So you're right. A lot of legitimate people do use these underground transfers, but I'm finding, you know, almost all the time, it's a criminal bank that's involved. If we're using the hawala example, you've got a criminal baker in Tehran and you've got his relative or his criminal brother set up in Los Angeles or North Vancouver. And you're right. The money never crosses those banking borders. It's just an adjustment of credits and debts between the criminal bankers. They may keep a pencil ledger, or if they're smart enough, they keep those figures in their head and there's so much trust involved. That's what the police sources stressed. These networks, you would sooner go and rip off Uncle Sam, then you would rip off some of these underground bankers because it would be about as safe as ripping off Vladimir Putin. You're going to end up dead if you cross that system.
[00:39:35] Jordan Harbinger: Yeah. That makes sense. You're going to pay 20 percent because you don't want your entire family to get beat up or worse.
[00:39:40] How much money are we talking about per year? It's got to be hard to estimate, but what do you think the amount of money laundering is in Vancouver from this particular method? By the way, they call it the Vancouver method, right? or model, so this is something that is — this is well-established at this point when it's named after the city.
[00:39:57] Sam Cooper: Yeah, 100 percent. So a big focus of the book was looking into this case involving a triad transnational crime bank called Silver International. This was a totally illegal currency trading business. It's illegal, it's not registered, but it's operating in an office tower in this Vancouver suburb as if it's legitimate. This is where video cameras showed — you know, once police got the tapes, they showed gangsters lugging in suitcases, hockey bags. They showed the bankers inside stacking cash on the floor. We're talking like Mexico City cartel level—
[00:40:31] Jordan Harbinger: I saw the video—
[00:40:32] Sam Cooper: Right.
[00:40:33] Jordan Harbinger: —where it's like an old lady stacking up, huge thing of cash on the floor, out of like a crappy carpet floor.
[00:40:38] Sam Cooper: Crappy carpet, warehousing cash. There was bulletproof glass, tech currency trading shop. I found it in the court records but jumped to the point, police international money laundering authorities and regulators calculated that this one little currency shop is responsible for over one billion in drug money laundering annually. That's in one year.
[00:41:00] Jordan Harbinger: Wow.
[00:41:01] Sam Cooper: And where's it going? Mostly, bank accounts in China, but down to Peru, down to Mexico, Colombia, Panama. This was the highest level network of international drug money laundering running out of Vancouver. So that's one billion, one currency exchange. There are hundreds of currency exchanges in Vancouver doing the same thing. Granted, they're not all — this is probably the shark, the biggest one of all, but that's one.
[00:41:27] Jordan Harbinger: Yeah.
[00:41:27] Sam Cooper: Also, it has its, what I call, its mirror in Hong Kong related the same triad, same triad networks, all kinds of currency exchanges as in Hong Kong, sending money into Canadian bank accounts. So it's not just drug cash. It's a whole interrelated system. So how do we get to the quantum? I mean, I estimated based on piecing together documents that I have that BC government casinos have laundered in the order of at least two billion. That's again two billion going back to the early 2000s up to 2018. So that's by looking at suspicious transaction reports, police investigations, the kind of metric I just gave you about Silver International, but I believe that there was another study, an official study that estimated something like five to seven billion dollars per year in British Columbia money laundering.
[00:42:17] Jordan Harbinger: Wow.
[00:42:18] Sam Cooper: Now, we have another Canadian criminal intelligence estimate of about — for the nation, we're talking about 130 billion. So now we're getting into some big numbers, but in Vancouver, I believe you're talking about tens of billions at least have been laundered into real estate. And why did I say that? My big data point or my big — it's a combination of factors, but we have triad bosses who were running Macau casinos and are very directly connected to the Chinese Communist Party. They were developing land in Vancouver. We won't just run out and name them all in this podcast, but I dropped some names in the book. So again, we're talking about people that have banking relationships, people that run banks in Hong Kong. They, according to my Canadian police documents, are the highest level triad suspects, building, buildings in Vancouver. So that's money laundering that it looks clean when it comes over to the west coast of Canada, but it's been cleaned in Hong Kong and Macau. It's dirty money.
[00:43:19] Jordan Harbinger: Wow. I'm in shock here because think about this — listening right now, if you live in Vancouver, real estate prices are going up in Vancouver in large part because it is a narco hub. Like I think of that as a ski destination, where I've got a bunch of friends living. It literally sounds insane. The words coming out of my mouth sound ridiculous. That Vancouver is a narco hub for transnational crime and money laundering. I feel like — what? I might be taking crazy pills right now. This is unbelievable.
[00:43:50] Sam Cooper: Canadians don't want to see it that way, but it's as much as Miami Vice we're talking Crockett and Tubbs in the '80s and more.
[00:43:56] Jordan Harbinger: Yeah.
[00:43:57] Sam Cooper: What Miami was to Latin American cartels, Vancouver is to global crime. Most especially as I'm pointing to the highest level of Chinese trials, seven or eight Mexican cartels are bigger in Vancouver than they are in American cities because they're not afraid of Canadian law enforcement. We've got again, Hezbollah, Middle Eastern crime. Of course, there's some Russian mafia and some Italian organized crime. They're all in little old Vancouver, you know, it's not a Dudley Do-Right's Canada anymore.
[00:44:26] Jordan Harbinger: Yeah.
[00:44:26] Sam Cooper: This is a transnational crime hub, Vancouver, BC.
[00:44:29] Jordan Harbinger: That makes sense. Whenever you have unregulated finance, underground banking, unchecked and unmonitored cash transactions, et cetera, it really is seldom limited to one type of organized crime. So of course, yeah, the CCP is doing it with the triads, but it doesn't seem surprising at all that we have Russian organized crime, terror finance like Hezbollah, which is a terror group out of Iran/Lebanon and other areas, I suppose, as well. Whenever we have a poorest system like that, of course, we're going to see drug cartels and other organizations take advantage of a money-laundering opportunity, a golden money laundering opportunity, right? It's almost unlimited if it's going unchecked and you can do billions of dollars. This is not like coupon scams run out of Michigan and things like that. You hear about in the United States where it's like, "We estimate they've done up to $10 million in money laundering through this." It's like, no, no, no, that's a day. That's a day or two in casinos.
[00:45:23] Sam Cooper: That's right. And the point here is that whether we're talking about the more traditional, you know, Calabrian mafia, Sicilian mafia, we traditionally associate, of course, in New York, Now it's known, there are people that believe the Calabrian mafia has set up in Toronto, Ontario, basically world headquarters. Again, because Canadian law enforcement is pretty soft. We don't have a RICO or anti-racketeering laws, which were very effective in tackling the New York City mafia families. We don't have that in Canada. So transnational crime is the most powerful crime, very often connected either to the highest level of corruption in countries that are authoritarian or as I'm arguing, literally directed by bosses, government bosses in China and Russia. We have them wanting to set up in cities like Vancouver and Toronto because they can do what they want to do. They're going to go where the business, not only the business opportunities, but the corruption opportunities for their state sponsors are. And so, you know, of course, the United States, all of these state-sponsored networks, their top tier enemy is United States. The United States, it's a rich target, but it's a powerful target. The FBI is not joking around.
[00:46:33] Jordan Harbinger: No.
[00:46:33] Sam Cooper: You know, you have real laws in the United States when the government wants to crack down on something like the example of the New York City mafia I gave, if they dig in, they can do it.
[00:46:42] Jordan Harbinger: Yeah. RICO, which is essentially an anti-mafia law, it opened up prosecution. I'm going to just — 10,000-foot overview, It opened up prosecution for, let's say that I run a currency exchange and I'm stacking cash on the floor prior to something like RICO, I can say, "I'm just running a legitimate business. I don't have the right to ask where this money came from. There's nothing that's forcing me to report it. Yeah. I've got duffle bags full of cash. Is that weird? I don't know. All my customers do that or a lot of them do that. Who am I to say? It's weird." When you have RICO, it's like, so you're dealing with this guy, who's all over TV, and you know that he's affiliated with this guy, who's all over TV. And this guy's wanted and they're coming in with cash and this cash has this in it and they're stacking it on the floor, you have a duty now. And so when we prosecute them, we're just going to go ahead and look at some of your records. Oh, you're also dealing with all these other folks. You should have known that, "Hey, look, we might not have enough evidence to convict you on anything serious, but why don't you just cooperate with us? And it'll all go away."
[00:47:36] Sam Cooper: Yep.
[00:47:36] Jordan Harbinger: And now you've got witnesses that say, "This guy comes in every day on Tuesday with $10 million in cash and it's all in $20 bills. That's weird," right? And that starts to add up fast.
[00:47:47] Sam Cooper: The RICO law gives you the power to flip people, as you're indicating. It gives you the power to see the patterns. Is that currency trader really not aware? Or, you know, if we dig a bit, does his daughter own a home for a such-and-such casino loan shark? And we start to draw those connections and we say, "You are part of an organized crime racket. You're the same. You're not, you're not a legitimate business person." Maybe they flipped. Maybe they want to fight it. You know, maybe they get in trouble with that loan shark, but the government has the hammer there.
[00:48:15] Jordan Harbinger: Yeah. The government has the hammer and I can't believe you don't have anything like that in Canada. But now that I think about it, why would you? Your mafia problem is not from 1960 to 1970. Like it wasn't the United States in the '80s. Your mafia problem is right now. You're waiting for a politician with [coonass], or the equivalent thereof, to go ahead — and I don't know how you say that in French, but you need somebody to go, "Hey, we've got a problem here. Why don't we make a hammer with which to smash these organizations?" The problem is if you've got a lot of corruption, there's a lot of people going, "We don't need to do that. We're going to catch all these innocent people in that net. Do we really want to inconvenience Canadian citizens like that? And then they turn around and they take their fat check or their casino chip stack or their duffel bag full of $20 dirty bills that they're throwing it in the basement. Another thing is, and tell me what you think here, Canada — this is stereotype, y'all are known for a little bit more private than the United States, right? Is that one of the reasons that people aren't just screaming this from the rooftops?
[00:49:09] Sam Cooper: Yeah. There's two things going on.
[00:49:11] I mean, I think politeness is a good quality. Canadians are known as maybe a kinder, gentler society, but the bad side of that is that exactly these privacy laws where you can have people saying, "You know, we don't want to give the government too much power. We have a charter of rights." It makes it very difficult to get a wiretap on what is so clearly a fentanyl trafficker, right? We have just — my police sources have documents that I cite in the book, very high level, credible people say, we don't have real organized crime laws, and we have too much privacy in Canada in a bad way. So, you know, polite, good, privacy for criminals is bad.
[00:49:55] Jordan Harbinger: This is The Jordan Harbinger Show with our guest Sam Cooper. We'll be right back.
[00:49:59] This episode is sponsored in part by Interactive Brokers. It may be overwhelming to think you have the power to change the world. Even small changes though, can have a meaningful and lasting impact. If you're not sure where to start, spend your money with purpose by investing in companies that are making a positive change for the planet. Impact is an app by Interactive Brokers, which by the way, was rated number one online broker of 2021. The impact app is the first trading app that allows you to find and invest in companies making a positive change for the planet. Once you sign up, you just choose which values are important to you. For me, it's things like clean air, ocean life, fair labor, for example, and then flag business practices you'd like to avoid like hazardous waste and tobacco. Your portfolio will show an Impact score and with a few easy taps, you can optimize it to match what matters most to you. The user interface is really easy to use, and you can visually and easily identify socially responsible investments.
[00:50:49] Jen Harbinger: Trade your way to the world you want with Impact by Interactive Brokers. Download the app today and use code JORDAN to get $30 of stock credit when you invest a thousand dollars. That's $30 of stock credit when you invest in a thousand dollars with code JORDAN. For more information about the Impact app and its features along with where and how to download, please visit the show notes. Interactive Brokers member SIPC.
[00:51:10] Jordan Harbinger: This episode is also sponsored by Nissan. The future will be great, but today is just as incredible. Meet Nissan's most advanced lineup. If you can't get enough adrenaline, there's the all-new 400 HP Nissan Z, or for your off-road adventures, check out the all-terrain Nissan Frontier. If you're more of a spontaneous road trip type of person hop in the Nissan Pathfinder. So let's enjoy the ride.
[00:51:29] Jen Harbinger: 2023 Ariya and Z, not yet available for purchase. Expected availability this spring for our 2023 Z and this fall for 2023 Ariya.
[00:51:38] Jordan Harbinger: Thank you so much for listening to the show and for supporting the show. I love the fact that you enjoy these conversations. All the discount codes, all the URLs — that can get a little sticky and complicated, we put them all on a brand new mobile responsive page, jordanharbinger.com/deals. The page is searchable. We've got a little search widget in there that hopefully works for everyone. And you can search for the sponsors using the search box on the website at jordanharbinger.com as well. So please do consider supporting those who support us.
[00:52:04] Now for the rest of my conversation with Sam Cooper.
[00:52:08] And we talked about this sort of pre-show. Canada doesn't want to look or sound racist by saying, "There's undo Chinese Communist Party influence in organized crime," because one of the first things that the Chinese Communist Party does is say, "This is racism." When it's like, well, no, the part of this that we are upset about is not the fact that we have Asian people going to school in Vancouver. You're trying to throw us off. That's a red herring, or that's almost like a false, this is just a redirection or misdirection. The problem that we have is that you're dealing fentanyl. I don't care what color you are. The problem is you're selling freaking drugs that kill people and using the money to do all kinds of other illegal things. We don't really give a crap about what nationality you are. You just happened to be Chinese because you're affiliated with the Chinese Communist Party. We want to throw the white people dealing with this crap in prison too. You're not alone here, right?
[00:52:55] Sam Cooper: Yeah, no, it's called elite capture. So there are a lot of people, you know, you just talked about people saying, "Oh, we don't want to do that because you're going to capture a lot of people if we have a RICO law."
[00:53:06] Jordan Harbinger: Right.
[00:53:06] Sam Cooper: It really starts to scrutinize all these transactions. It's invasive, but no, these are — who's saying it? These are real estate developers. These are politicians funded by real estate developers. These are lawyers getting fat-rich off this Vancouver model. And in the exact same way, you absolutely have people that are doing CCP talking to points. A good example, we had the Canadian parliamentarians wanting to vote to sanction the genocide in Xinjiang. And then we had some very powerful senators standing up and saying, "No, that would inflame racism," which is just the worst kind of coverup argument you can make. When we're talking about genocide of disadvantaged people on a huge level, and then you're going to pick up the CCP talking points to give them cover and say that this is going to inflame racism if we call it a genocide.
[00:53:55] Jordan Harbinger: Yeah. You know, what else? Inflames racism by having one specific ethnic group run organized crime in a particular country for decades at a time totally unchecked. That also harms innocent people like — look, again, my extended family here from my wife, they're Asian. They're Taiwanese and Chinese. So when there are problems with China, it inflames the racism and it ends up in the media. However, if we don't do anything about these problems, people are going to become very frustrated and then it's going to be 10 times worse and it's going to last a lot longer, right? It's like we have to kind of rip off the Band-Aid here and do something about this so that it stops being something that makes the news cycle all the time and seems like a consistent problem because that's what really inflames racial tension in any given area.
[00:54:40] All right. So the loansharking and the money laundering is facilitating the drug business, but it's also pushing up the real estate prices in Vancouver, wherever there's this much money people become corruptible. Tell me about — is his name Ortis? He's like an RCMP, a Royal Canadian Mounted Police. So sort of Canadian FBI.
[00:54:56] Sam Cooper: Yeah.
[00:54:56] Jordan Harbinger: So tell me about this guy, because this guy did real damage to Canadian intelligence to a lot of intelligence.
[00:55:02] Sam Cooper: Incredible case ongoing. It's been two years now. Cameron Ortis hasn't faced trial. So, in a nutshell, a brilliant guy and analyst. He went to, again, the University of British Columbia. He spoke Mandarin. He did his thesis on, you know, it was called compromised nodes, basically how state-sponsored crime and cybercriminals are getting together in East Asia and Hong Kong. So that's quite interesting. And he vaulted into the Canadian national police force, the RCMP rocketed up the ranks to where he soon becomes the top intelligence analyst and finally becomes the absolute top official in Canadian intelligence.
[00:55:43] So he has the power to direct, you know, the most sensitive files. He has the visibility, as they say on, you know, Five Eyes probes, that's the CIA, FBI, Australian Canadian federal police going after the highest level targets. So that would be, you know, Hezbollah corruption cases involving spies, incredible stuff. So to jump to the chase — or this is in this powerful position, and then suddenly things start to go, you know, a little eerie, a little off in somebody's high-level Five Eyes investigations. Targets are getting away. Cases are falling apart. Eventually, it comes out. He faces a number of charges that he has been selling the RCMP and Five Eyes' operational plans to some of the highest levels of money laundering targets in the world.
[00:56:29] So we're talking about in Toronto, some currency traders affiliated with Hezbollah and state-sponsored crime, allegedly. Some of them are now indicted by the FBI for cases in California. We have allegations that artist was sharing information that was targeting encryption software tycoons in British Columbia. So these are the guys that — you've heard about this. They can sell these stripped-down smartphones that allow drug traffickers to feel that they're talking secretly to command gang hits or move drug loads around the world. So again, we have artists allegedly wanting to sell this, targeting or operational information to some of these high-level targets in British Columbia.
[00:57:09] So what's he doing really? He's offering protection to the highest level of organized crime money laundering could be espionage targets in the world and seeking the gang for himself. You cannot imagine a worst corruption case, and it definitely has hurt Canada's reputation. You will notice that Canada isn't being included in the highest level sort of military intelligence alliances. Now, my sources would say that this is partly due to people like Ortis. It's partly due to Canada's weak laws, culture of letting transnational crime and espionage set up shop. But, Ortis is a great example of what has harmed Canada's reputation with our allies in Washington, in Canberra.
[00:57:53] Let's finish up by saying, again, I don't know that Mr. Ortis has denied the allegations. He's been indicted, but as they say, he's innocent until proven guilty. He hasn't been tried yet.
[00:58:03] Jordan Harbinger: Do we know how much money this alleged son of a b*tch took for selling out his entire country slash the free world? Better been a lot.
[00:58:13] Sam Cooper: I don't know. You know, that's funny you say that I'm told that corruption in Canada can be — people can be bought pretty cheap. So I don't know.
[00:58:20] Jordan Harbinger: Yeah.
[00:58:20] Sam Cooper: I don't know.
[00:58:21] Jordan Harbinger: What a freaking—?
[00:58:22] Sam Cooper: You know, I don't know, but I've seen indications where one of these encryption guys, he might've offered something like, you know, 20,000 to get the ball rolling, but I don't know the quantum.
[00:58:32] Jordan Harbinger: What?
[00:58:32] Sam Cooper: It doesn't seem like too much, right?
[00:58:34] Jordan Harbinger: That's an order of magnitude lower than I thought. Like I'm like, okay, well, how much money—? I don't think I would do it for any amount of money because I couldn't sleep at night and I would feel unsafe, but also you're not even going to get my attention for under enough money to literally move to the other side of the world and live like a king for the rest of my life and never worried about it. Like you would start at 20 million. 20,000? Get out of here. Don't even wake me up for that crap.
[00:58:55] Sam Cooper: You would think a thumb drive with 20 million in Bitcoin exchange in Panama. But no, I don't know.
[00:59:02] Jordan Harbinger: Geez.
[00:59:02] Sam Cooper: There's no indication said with that much, but the one thing I'll add is that you know, there are some people — we don't know yet because the case hasn't gone to trial and I'm sure the Canadian authorities will want to bury a lot of these secrets. But there are people that believe that he wasn't just involved in selling out. He could have been involved in intentionally sabotaging Canada's intelligence capacities. Who would benefit? Well, who knows? Countries like Russia, Iran, China. The people that I'm talking to, those are the biggest fears that he could have been helping Canada, the United States' worst enemies.
[00:59:35] Jordan Harbinger: Yeah, of course. Look money laundering for the triads is bad, but what's really bad is facilitating terror, biological weapons, nuclear proliferation. I mean, if he's going to do this for this crappy little amount of money, what would he do for real money if he's got access to this? And you mentioned the Five Eyes. We're talking about the US, Canada, Australia, New Zealand, and the UK have an intelligence-sharing agreement for lack of a better word, where the top agencies say they work together. They don't spy on each other, supposedly. They're sharing the most sensitive information. And then you got this in there for 20 grand or whatever crappy little Toyota. For Toyota Corolla money, this guy's selling out those agencies and potentially making Canada a weak link — not even potentially, actually making Canada a weak link. And so now the Five Eyes has to say, "Well, we're four and a half eyes right now, because we're not sure if we tell Canada if they're going to screw this up for us," because this Ortis guy. That's bad for Canada and it's bad for the entire free world, the entire free world.
[01:00:35] Sam Cooper: The Five Eyes are literally what is standing between the Chinese Communist Party, capturing various governments around the world. If the Five Eyes is weakened, the Party's power, its espionage networks, its way to capture leads by Wall Street brokers, is so powerful. That if the Five Eyes is weakened, the United States will be on its back foot and make no mistake — people call it a government to government competition, you know, some people say hybrid war, but people deep inside intelligence agencies would tell you at some level, the United States is at, you could call it a cold war or a hybrid war with countries like Russia and China. And that is why an Ortis matters so much.
[01:01:18] Jordan Harbinger: Yeah, absolutely. So Canada, congratulations now sends fentanyl around the world. Precursor chemicals coming from China, not fentanyl itself, as far as I know, but the fentanyl we're seeing in the streets of the United States, it seems like a lot of that's going to come from Canada, correct?
[01:01:34] Sam Cooper: 100 percent Vancouver and Mexico, the Pacific coast are very big shipping points for that, the precursors coming out of Southern China or Wuhan. And so what are the indications that Vancouver is moving fentanyl around the world? We have, you know, again, jaw-dropping super labs as they call them, discovered in suburbs of Vancouver where the police would break into a lab. And the numbers that come to my mind, I'm thinking of a community called Port Coquitlam. They found a lab that would produce in the order of millions of fentanyl pills per week.
[01:02:09] Jordan Harbinger: Oh my god.
[01:02:10] Sam Cooper: These are labs that if distributed in the worst way, we're talking toxic levels of fentanyl that could kill a nation. There was another bus in the past year where I believe it was, I saw a figure, something like two billion fentanyl bills could have been produced just off the precursors that they got in the Vancouver port. So these labs are they're sprinkled all across the Vancouver area. As I've said, the pills are then transshipped back to Australia, Japan, down the coast to Seattle and Los Angeles. So there's no question at all. The ports of British Columbia are a major global node for fentanyl production and shipment.
[01:02:48] Jordan Harbinger: Where ever there's drug trafficking, there's often other types of trafficking, right? Weapons, human trafficking. Are we seeing this increase in Canada as well?
[01:02:56] Sam Cooper: Yeah, it's hard to put a quantum on exactly how much would be connected to the Chinese triad networks. But your first point is absolutely the trafficking in those illicit goods. And you don't want to put humans in a good category, but that's what the gangsters see them. That's how it goes. We're talking about — there was a report recently by one of the think tanks that showed that the Mexican cartels are trading illicit animal poaching, carcasses of Jaguar, things of that nature for fentanyl precursors. And that's exactly what we see in British Columbia. We see the crime networks involved in illegal poking junkets. We see the same criminals facilitating prostitution, human trafficking, drug trafficking, weapons trafficking, they all traveled together. So whether on a constant basis, we're seeing more weapons in the streets of Toronto and Vancouver, now I'm not exactly sure, but I can tell you the same exact criminal networks are involved in all those trades.
[01:03:54] Jordan Harbinger: Do we have any evidence that the Vancouver model of money laundering/trafficking is being exported to other places? You know, usually when I think of elite capture governments that are unable to do anything against transnational organized crime, especially CCP organized crime, I'm thinking of New Zealand and then, of course, a little bit of Australia. Australia is doing a better job now these days but New Zealand, not so much. I have some sources that talk about this often in New Zealand, especially, it seems like — I thought home prices in California were bad, but they can't hold a candle to Melbourne or Auckland where a shed that would have had hay in it a hundred years ago and now has a rusty old car that hasn't been driven in 30 years, goes for three million dollars.
[01:04:34] Sam Cooper: You could call it the Melbourne model or the New Zealand model. You can even call it a little bit, the Las Vegas model because we have seen these very same networks involved in Las Vegas, involved in Los Angeles Television City. I'm aware because I know I have names. I have faces. I have figures of people involved in that Vancouver model trade. We're talking about people connected to Chinese police, Chinese military. And I have the facts that show they're active in Las Vegas, Los Angeles, and throughout the United States. But to the United States' credit, the first Vancouver model prosecution I'm aware of happened in Las Vegas. Again, this same, very same trade where a gambler from China shows up, gets cash in a parking lot, goes to the casino, the police in a Nevada prosecuted a case there.
[01:05:21] And so a Melbourne, we're talking about the company. This is the cartel of triads with connections to a Chinese police, what I'm calling, and, you know, I have an update chapter and explain more about those Chinese state linkages. This high-powered collection of cartel triad bosses is the number one, very same network involved in Australia. And of course, they're dealing drugs in New Zealand and they're active in the United States, but they've got United States law enforcement to deal with. So I think they're a little bit afraid to go down there right now because my book has given them some heat and light. We'll see what comes out of that.
[01:05:58] Jordan Harbinger: Good. We'll see what happens. Has anyone threatened you with respect to investigating this stuff? A lot of investigative reporters and law enforcement officials tend to strike nerves when they delve too deep into this sort of thing.
[01:06:08] Sam Cooper: Yeah, no, that's a good question. I've never gotten a direct threat. I've certainly gotten a lot of hate mail. I've gotten strange anonymous messages where I categorize it more like people that might be a casino lawyer, or a casino, sort of a higher-level administrator, maybe a former police officer involved at casinos where they're sending you messages about, "We're going to try to criminally prosecute you because you got documents illegally leaked to you." Just ridiculous stuff but yeah, I've gotten—
[01:06:40] Jordan Harbinger: How dare you uncover evidence of my crimes through devious means.
[01:06:43] Sam Cooper: Exactly. So no, I've gotten, I think, strange messages from people that I don't think are necessarily straight-up thugs, but are part of their rackets.
[01:06:52] Jordan Harbinger: Well, you may get some thugs as a result of it. Look. I get that stuff. You know, I get the old like, "Hi, Jordan. I'd like to interview you. Will you come to my hotel?" And I'm like, "No fake Chinese woman who is sending me a DM on Instagram. I will not go to your hotel room for an interview. I do not want to come to a dinner party at your house."
[01:07:09] Sam Cooper: Let me put it this way. In my update chapter for Willful Blindness, I detailed how I received a warning or an information alert from Canadian intelligence. They detailed I was now the subject of Chinese intelligence information, gathering activities in Canada. They wanted to know who my sources were. They wanted to know how well my book was doing. They wanted to know if I was being sponsored by any of the so-called Five Poisons. So these would be the five groups that the Chinese Communist Party sees as the greatest threat to the CCPs existence. So democracy activists in China, Uyghurs fighting for their rights and freedoms, people that want to see an autonomous Tibet, people that want to see an autonomous Taiwan, and last but not least, in the CCP's eyes, the Falun Gong.
[01:07:56] So these are all groups that China's political party bosses fear because all of these groups could challenge their authority. So in a nutshell, I was told that the CCP is trying to find out if I'm getting sponsored by any of those people. Well, I can answer the question if they're listening in by any chance to this podcast. No, not at all. I'm a free independent journalist and author. But it was disconcerting to know that when you poke at the dragon, of course, you're going to get attention. Where does the rubber hit the road? I was warned specifically, don't travel to China. Don't travel to Hong Kong. Don't travel to any country in East Asia, Southeast Asia, where China's intelligence services have free play.
[01:08:38] Jordan Harbinger: Wow.
[01:08:38] Sam Cooper: So there is a consequence. I love China. I would have loved to travel there specifically Hong Kong. I can't anymore, but I guess you could say that's the most overt threat—
[01:08:48] Jordan Harbinger: Yeah.
[01:08:48] Sam Cooper: —that's come across to me.
[01:08:49] Jordan Harbinger: China's awesome. I'm sad that I can't go back there either. And Hong Kong, I barely spent enough time there. I had plans to go back and check it out. My parents wanted to go and I'm like, "I got bad news. I definitely cannot even do an airport transfer in Hong Kong. It's going to be bad news."
[01:09:03] By the way, for those wondering about the Five Poisons. We did one about Falun Gong. Not that I'm a supporter of Falun Gong, but we did an episode about organ trafficking, where the CCP was taking these Falun Gong because they're very healthy. They don't drink, they don't smoke, they eat vegan or something like that diet. The CCP will imprison these people and then sell their organs to people that come to China for organ transplants. It's episode 497 of this show. We will link to it in the show notes. And in fact, we can put a trailer in this episode for people that want to check out a preview.
[01:09:32] And again, remember everything we're talking about today, it has nothing to do with the Chinese people. This is not your Chinese neighbor who owns a restaurant or is teaching pottery classes at the YMCA. This is the Chinese Communist Party and their influence is toxic and it's getting worse and we have plenty of proof to prove that out. And Sam it's all in your book. I really appreciate you taking the time today — and I mean, frankly, putting yourself, not just on this show, but you just jumped into the line of fire against a very powerful enemy to make your country better. And that's admirable.
[01:10:02] Sam Cooper: Well, it's been an awesome conversation and the way you put it, not only am I fascinated and compelled by these stories, but at the deepest level, it's in the public interest. This is information that will help the United States, help Canada, help the free world — not to use a cliche, but it's so true.
[01:10:18] Jordan Harbinger: That's okay. I use that cliche all the time because it is true, indeed. Thank you very much.
[01:10:22] Sam Cooper: Thank you.
[01:10:24] Jordan Harbinger: You're about to hear a preview of The Jordan Harbinger Show with a human rights activist, revealing forced organ trafficking that's going on right now in China.
[01:10:33] David Kilgour: The government started the system, runs the system, it's simply hideous, essentially taking the vital organs of heart, lung, liver, corneas, any important organ that we have from people without a trial, these people never convicted of anything. They just are out working in these forced labor camps. They don't get paid. They live in a dormitory. Some of them with 16 people when their unlucky day arrived, somebody comes in, drags them out over to the operating table where they're killed in the process for moving their organs and selling these organs to wealthy Chinese citizens and to what we call organ tourists coming from places like America and Canada.
[01:11:09] If you arrive for a new liver, chances are you go to the number one people's hospital in Shanghai. Doctor comes up and sees you, takes your blood type, and so on. And then he finds this somebody who's a matching organ for you and camp number 50. And that poor man is taken out of a dormitory and is taken in and his kidney and liver and so on are taken out. He's of course killed in the process. They burn his body and they fly the organs to you in Shanghai and you come home with a new kidney or liver. You're hoping that it didn't happen the way it did, but in fact, it did happen.
[01:11:41] I remember talking to one man from a country in Asia who told me he had to go four times to get a kidney. That's four dead people. Four people died, so he could get a kidney that appears to be now working. It's something that seems unimaginable to most of us in the 21st century that this is happening. This is beyond anything even the Nazis could have done.
[01:12:00] Jordan Harbinger: To hear how much a healthy kidney, heart, or lung goes forward in this immoral market, check out episode 497 of The Jordan Harbinger Show. It's crazy to me that Chinese-based transnational crime has a massive foothold, and in fact, a headquarters in freaking Vancouver — seems like too chill of a spot to have that. But Canadians, you can't complain anymore now that the show is too US-focused. Okay, this one is for you. United States actually shut down the Chinese consulate in Houston in part because they felt it was a center for criminal activity. This is happening more and more as — and I hate using phrases like this, but as countries wake up to what the CCP is doing.
[01:12:39] And again, whenever I do episodes like this, I always want to separate the Chinese people from the Chinese Communist Party. Remember, the biggest victims of the CCP are Chinese people living in China. Always remember that. Never forget that when we talk about these sorts of topics. Also on that same note, you know, the Chinese diaspora who have nothing to do with organized crime — you know, I often get emails from Chinese listeners thanking me for exposing this kind of stuff. But some are also a little upset that it's them who deal with the fallout. Triads, gangs, CCP officials, they don't care if the host country thinks they're scum, but certainly look, the engineering students, the business owners, the startup founders, they do care how they're looked upon in society. And again, also remember many Chinese people came to the West because the CCP, the Chinese Communist Party was making their lives miserable, stealing from them, oppressing them when they lived in China or Hong Kong or Taiwan, or now in fact in your own neighborhood because a lot of Chinese are now dealing with CCP pressure in their own communities. So don't add to that by blaming this kind of stuff on the guy who lives down the road, okay. This is important to remember who the real villains are here.
[01:13:46] Links to all things Sam Cooper will be in the show notes at jordanharbinger.com. Please use our website links if you do buy books from any guests on the show that always help support us. Transcripts in the show notes, videos on YouTube. Advertisers, deals, and discount codes, all in one place, jordanharbinger.com/deals. Again, please consider supporting those who support us. I'm at @JordanHarbinger on Twitter and Instagram. You can also add me on LinkedIn and chat with me there.
[01:14:09] And speaking of connecting, I'm teaching you how to connect with great people and manage relationships using software, systems, tiny habits. That's our Six-Minute Networking course. That course is free, jordanharbinger.com/course. Dig the well before you get thirsty folks. Make those relationships before you need them. Most of the guests you hear on the show subscribe, or at least contribute to the course. So come join us, you'll be in smart company where you belong.
[01:14:33] This show is created in association with PodcastOne. My team is Jen Harbinger, Jase Sanderson, Robert Fogarty, Millie Ocampo, Ian Baird, Josh Ballard, and Gabriel Mizrahi. Remember, we rise by lifting others. The fee for the show is that you share it with friends when you find something useful or interesting. Share it with your Vancouver-based friends, they might actually be quite surprised. Share it with people who enjoy a good money laundering tale. And let's be honest who doesn't, right? The greatest compliment you can give us is to share the show with those you care about. In the meantime, do your best to apply what you hear on the show — maybe not the money laundering part, but you know what I mean — so that you can live what you listen and we'll see you next time.
[01:15:08] This episode is sponsored in part by On the Edge podcast. I interviewed the host of this a while ago. His name is Andrew Gold, really interesting guy. I think he's an up-and-coming interviewer. I think you will enjoy the subjects that he tackles if you like this show. I was also a guest on his show. If that's not enough of a reason to go check it out, I don't know what it is. Each episode is a conversation with some of the world's most interesting and often controversial people. And when I say there's something for every crime fanatic here, I definitely mean that. In one episode, Andrew talks to a female Mormon psychopath, never thought I would see those three words together. Another episode tells the story of a man who was in a plane crash and had to eat his friends to survive. I also recommend checking out Andrew Gold's conversation with me — no bias here, of course — about when I was almost kidnapped twice and true crime psychiatrist. Dr. Sohom Das about the Swedish twin sisters who murdered a man in England, both fascinating episodes. If you'd love to be a fly on the wall inside some of the darkest minds around — well, and me — Andrew Gold has you covered. I really enjoyed the show. I think you will, as well. Check out On the Edge with Andrew Gold on Apple Podcasts, Spotify, or wherever you listen to podcasts.
Sign up to receive email updates
Enter your name and email address below and I'll send you periodic updates about the podcast.