Reading Time:
4
minutes
Alastair Smith is the Bernhardt Denmark Chair of International Relations at New York University, professor of political science in the Wilf Family Department of Politics, and co-author (with Bruce Bueno de Mesquita) of The Dictator's Handbook: Why Bad Behavior is Almost Always Good Politics. [This is part one of a two-part episode. Find part two here!]
What We Discuss with Alastair Smith:
How do dictators come to power and remain in power even when their policies serve only themselves and not the people under their "leadership?"
Why do the majority of people living under dictatorships suffer in impoverished squalor, and how does foreign aid empower these dictators rather than help the general populace?
Why do dictators consistently hate freedom, the media, and seemingly their own citizens?
Why does bad behavior so often make for good politics — even in the most progressive nations?
Are our own governments beyond saving, or can we use lessons learned here to make them work for us?
And much more…
Like this show? Please leave us a review here — even one sentence helps! Consider including your Twitter handle so we can thank you personally!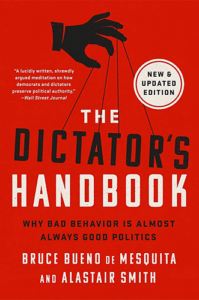 What makes dictators tick? How do they think? Why are they able to stay in power — sometimes for generations — when they serve their own needs above those of the people they purport to represent?
On this two-part episode, we're joined by Alastair Smith, the Bernhardt Denmark Chair of International Relations at New York University, professor of political science in the Wilf Family Department of Politics, and co-author (with Bruce Bueno de Mesquita) of The Dictator's Handbook: Why Bad Behavior is Almost Always Good Politics. Here, we discuss corruption, power games, how dictators come to power and remain in power at all costs, and delve into why dictators hate freedom, media, the press, and seemingly their own citizens. We'll also explore why foreign aid is a trap that empowers dictators, and why these types of regimes tend to do very poorly economically and in the aftermath of natural disasters. Listen, learn, and enjoy! [This is part one of a two-part episode. Find part two here!]
Please Scroll Down for Featured Resources and Transcript!
Please note that some of the links on this page (books, movies, music, etc.) lead to affiliate programs for which The Jordan Harbinger Show receives compensation. It's just one of the ways we keep the lights on around here. Thank you for your support!
Sign up for Six-Minute Networking — our free networking and relationship development mini course — at jordanharbinger.com/course!
This Episode Is Sponsored By:
At a time when the United States seems to be increasingly disunited by political polarization and calls for violence, is it reasonable to wonder if we're on the cusp of a civil war? Listen to episode 718: Barbara F. Walter | How Civil Wars Start (And How to Stop Them) to find out!
Thanks, Alastair Smith!
Click here to let Jordan know about your number one takeaway from this episode!
And if you want us to answer your questions on one of our upcoming weekly Feedback Friday episodes, drop us a line at friday@jordanharbinger.com.
Resources from This Episode:
794: Alastair Smith | The Dictator's Handbook Part One
[00:00:00] Jordan Harbinger: Special thanks to Peloton and Nissan for sponsoring this episode of The Jordan Harbinger Show.
[00:00:05] Coming up next on The Jordan Harbinger Show.
[00:00:07] Alastair Smith: The policies in a dictatorship are designed to enrich the leader and their small bunch of cronies at the top of the system. You know, if you are going to say taxing, but effectively capturing the resources of society and funneling them towards your cronies, you are not providing incentives for people to work hard. Because if you work hard, you're not a political insider, some politicians are just going to decide you have something nice they want, and they'll come take it. You know, they'll lock you up for some crime or maybe they'll take it. So they're very unproductive societies in the whole.
[00:00:44] Jordan Harbinger: Welcome to the show. I'm Jordan Harbinger. On The Jordan Harbinger Show, we decode the stories, secrets, and skills of the world's most fascinating people. We have in-depth conversations with scientists, entrepreneurs, spies, psychologists, even the occasional former cult member, Russian spy, extreme athlete, or music mogul. And each episode turns our guest's wisdom into practical advice that you can use to build a deeper understanding of how the world works and become a better thinker.
[00:01:09] If you're new to the show or you want to tell your friends about the show, I suggest our episode starter packs. These are collections of our favorite episodes organized by topic. That'll help new listeners get a taste of everything we do here on the show — topics like persuasion and influence, disinformation, cyber warfare, China, North Korea, crime and cults, and more. Just visit jordanharbinger.com/start to get started, or go ahead and search for us in your Spotify app.
[00:01:31] Now, a quick reminder, our AI search bot has been super helpful for many of you. It can find any question we've answered on Feedback Friday, any guest, any information from any show that we have recorded, any promo code from any sort of episode, any sponsor. Go ahead and check it out. jordanharbinger.com/ai is where it's at. Let me know if you can break it. A few of you have found some weird bugs that we've been fixing here and there. That's been a huge help.
[00:01:54] Now, today on the show, what makes dictators tick? How do they think? How do they stay in power? Why do we tolerate them at all? Why do we tolerate this raspy voice I've got going on? All these questions and more will be answered with my guest, Alastair Smith, co-author of The Dictator's Handbook. I've had this book on my list for literally like five to 10 years. Finally, got around to it. Man, was I late to the parties? Such a great book. We'll discuss corruption, power games, how dictators come to and stay in power, as well as why dictators seem to hate freedom, the media press, and seemingly even their own citizens. We'll also explore why foreign aid is a trap that empowers dictators and authoritarian regimes, and why these types of regimes tend to do very poorly economically almost by design. And even worse in the aftermath of natural disasters, something that's unfortunately very relevant with the earthquake that we've recently seen — well, any natural disaster in any authoritarian regime, essentially. Really fascinating episode if you're a big old nerd like me who's interested in corrupt psychos like Putin, Assad, Kim Jong-un, and the list goes on.
[00:02:56] Now, here we go with Alastair Smith.
[00:03:03] Obviously, I want to talk about dictators. I think a lot of us are fascinated by these guys. I think they're pretty much always guys, so I don't feel the need to, there's no gender equality here. I think it's like 99 percent of dictators, or a hundred percent of dictators are guys, at least right now. Actually, is that true before I throw that down?
[00:03:20] Alastair Smith: Well, really depends upon how you want to define a dictator. How accountable are you? So dictators are clearly on the spectrum of not being accountable to too many people. I'm struggling to think of female dictators at the moment.
[00:03:33] Jordan Harbinger: Yeah.
[00:03:33] Alastair Smith: Let's go with they're mainly men.
[00:03:35] Jordan Harbinger: So it's almost always guys. Okay, fine. But also, it's a bit confusing for a lot of us about why people put up with them. I mean, their bad behavior goes unchecked for so long. Why is bad behavior so often good politics?
[00:03:49] Alastair Smith: The key to the way we think about politics is to think about how many people do you need to keep happy in order to stay in power. And the reality is most dictators rely on relatively few people, and they're obviously nested, obviously generally in hierarchies and often in dictatorial systems. Let's think of North Korea as the archetypal system.
[00:04:11] Jordan Harbinger: Yeah.
[00:04:11] Alastair Smith: You rely on handfuls of people at the top, maybe a hundred people at the top. Those people have supporters immediately below them, but the numbers are very, very small. And the people of North Korea are miserable but as a practical matter, it's virtually impossible for them to rise up and bring the leader down. So they're miserably unhappy, but there's almost nothing they can do. We go to the other extreme, democracies, people are pretty happy and they don't really want to rebel because we get healthcare, we get public education, law and order. It's the middle between those extremes that we actually find people rising up.
[00:04:47] Jordan Harbinger: I've been to North Korea and they can't talk about things they can't drive. You can't just hop in the car that you don't have, that you can't buy and go to another town. You need permits to visit relatives. You need permission to literally do pretty much anything. Restaurants are completely empty most of the time. Occasionally, you'll see one or two people in there, an official smoking with another official. You don't see families with kids eating at the pizza place, the one pizza place in Pyongyang. You just don't. And we can get into some of that in a bit, just because you're right. North Korea just seems to be, that's like dictator gold Medal Olympics where everything is has failed and everything is under strict control.
[00:05:27] People who hear I went to North Korea, they'll eventually ask me something like, "Why don't they just kill the Kim Jong-un? He's just one guy." Or Saudi Arabia, "Why don't they just get rid of Mohammed bin Salman MBS? Why don't they just get rid of him?" And I think it's hard for a lot of us to understand that it's not just one guy governing alone who sleeps with a gun under his pillow. There are coalitions around these people. They pick the king that they can control. It's not that he's the toughest guy, right? Kim Jong-un, hardly a specimen of masculinity that has the army wrapped around his finger. It's more like the other way around, probably.
[00:06:00] Alastair Smith: You're talking about who picks who. There's a really interesting symbiosis that develops as leaders come to power. So think about Kim when he came to power. To get to succeed from his father, he needed the support of a lot of the key insiders that were there. Particularly, I'm thinking of Uncle Thaek, he's probably the guy you've heard of.
[00:06:17] Jordan Harbinger: Yeah.
[00:06:17] Alastair Smith: He ends up killing about three or four years later with anti-aircraft gun in a particularly horrific way.
[00:06:22] Jordan Harbinger: Right.
[00:06:23] Alastair Smith: But this is actually the reason why people don't want to get rid of established dictators. You've survived long enough that the dictator is going to keep you in power. And if you're in North Korea, the elites actually in material terms have a fairly high standard of living.
[00:06:40] Jordan Harbinger: Mm-hmm.
[00:06:40] Alastair Smith: They get access to imported goods and everything. The real problem goes if you get rid of that leader and you bring somebody in, but without completely reforming the system. And it's unlikely you can go from that kind of limited autocracy all the way to democracy in one step. You've got to think about what's your chances of surviving to be one of the privileged ones under the new regime.
[00:07:02] So you might hate Kim, but Kim's keeping you fat and happy. And the average person in North Korea is poor, miserable, isolated. Ignorant, just because that's the way the government keeps people under control. And so you've got this lottery, it's like the guy here is keeping me happy. The next guy might, I might be killed. There's a good chance I won't be in this position. I'll be in a gulag or just some rural village. And so it's this lottery, this risk of being replaced under the new leadership that this is this churn of who are the elites when a new dictator comes in that keeps people loyal.
[00:07:41] Jordan Harbinger: When I lived in Serbia, former Yugoslavia, this is like 20 years ago, I remember asking my boss what was the deal with Slobodan Milošević and she said, "Oh, he was a bastard, but it's better the devil you know?" And I said, "What do you mean by that?" And my boss is kind of a Serbian nationalist, so she was more on the right-wing spectrum of like get rid of anybody who's not Serbian in my country, that kind of thing, which is funny because she hired me and I'm an American and I never heard the end of that. That's a whole weird story. But the idea that this bastard that she kind of thought was a piece of crap, at least in her mind, she's like, "At least, we don't have Muslims invading us. And Albanians are being kept at bay and the Bosnians aren't trying to take over our territory and we're using our military to push these people out and get rid of our domestic enemies." She wasn't like, he's the greatest thing ever. She was just like, "Yeah, he's a piece of crap, but he's our piece of crap kind of thing."
[00:08:35] Alastair Smith: That's exactly the lottery. You might not like the guy, you might not do good things. You might go hungry. Sometimes the water doesn't run, the electric goes out all the time. But it's better than having the same sh*tty policies where someone of a different group that where nothing is going to flow to you. And so you get stuck with the sh*tty policies and none of, none of the goods that are rewarding you, which sounds for your boss, you know, sort of immigration policies that she cared about.
[00:09:05] Jordan Harbinger: Yeah, she cared about it. It was even more than that because it was, if you live not in Belgrade and you live on a border with Croatia or Bosnia, if we don't have this guy defending us, right? Milošević and North Korea has the same sort of narrative where, but for Kim Jong-un and the Kim dynasty, the US and their cronies in South Korea are going to rush in there and slaughter everyone just like they did in the Korean War or whatever. And that's what people are afraid of. And little do they know that mostly we would just come in there with bags full of money and infrastructure and expertise and rebuild the place at our own expense. That's not the narrative they're saying. And with Serbia back then, as far as the nationalists, you know, the right wingers, they were saying, "Hey, if you live on the border or you got family or friends on the border of Bosnia, if we don't have this guy, then they're going to run in there, slaughter everybody in that village, take the house or burn it down and it's going to be a genocide." And they're not totally wrong. I mean, that's what happened during that civil war. The stakes are really high. Even if for a place like North Korea, the stakes are mostly just imaginary because of propaganda.
[00:10:10] Alastair Smith: I think you don't even really need to have that story that you know that the US and South Korea will rush in. I suspect that the elites realize that that might, for the average person in the country be quite a good thing. It's the chance that trying to get rid of the leader, you might not succeed and you're definitely going to suffer. And you won't be a material elite if South Korea took over. It's an interesting question to think about the elites in South Korea and the elites in North Korea.
[00:10:41] So let's say there's a hundred elites in North Korea who, let's say have an income of quarter of a million equivalent, right? Which is a pretty, pretty wealthy system. Or you could be person who the government favors in South Korea and you live on let's say 80,000 a year. But you can also say whatever you like, travel wherever you want, whenever you want, without getting any kind of permit or anything.
[00:11:04] But you got to think what happens when there's leader change in North Korea versus what happens leader change in South Korea. So the recent election, we move from sort of the right and we had Moon on the left and now we're back towards the right. But for the average South Korean citizen, life has not changed very much. Because nearly everything in that system is devoted to protecting the people from weather, having law and order protecting them from the North Koreans, healthcare, infrastructure. And so all of those things change very little.
[00:11:35] You know, in the United States in the last decade, we've seen what most Americans will perceive as radical changes from sort of Obama to—
[00:11:44] Jordan Harbinger: Mm-hmm.
[00:11:45] Alastair Smith: —Trump or back to Obama. There are many things we could argue on either side about which was better or whatever, but on a material basis, it's had almost no effect on our lives.
[00:11:54] Jordan Harbinger: Right.
[00:11:54] Alastair Smith: Almost no effect on the regulation we have.
[00:11:57] Jordan Harbinger: That makes sense. You're still an attorney at whatever law firm you're at, whether it's Obama or Trump. And you can still go on your vacation. You don't lose your home. Your city doesn't burn down or get shelled by a rebel militia depending on who gets elected.
[00:12:12] Alastair Smith: You made sort of important distinction here. So in the US, we earn money and it's our money. We put in a bank and it's going to be safe for us to use there. If you were to live in North Korea or you know, in under the Soviet Union or any mat or any dictatorial system really, the thing is it's not that you have stuff. It's just that you are given access to stuff and that access can be taken away, and that's why people stay loyal because this access is a symbiotic relationship. The leader gives it to you and you support the leader. You can't do without each other. As you said earlier, the leader can't even, the most dictatorial person cannot rule by themselves, they have to have supporters, and these supporters have to be rewarded. But it's the key that the rewards get taken away. So you get given a dacha on a beautiful black sea resort, let's say, under the Soviet system, but that gets taken away if the leader doesn't want you there anymore or if you show any disloyalty. And that's the difference. You and I have 401 (k). You don't have those in dictatorial systems.
[00:13:12] Jordan Harbinger: So supporters are loyal, but probably only loyal until it's more lucrative/stable or beneficial to be loyal to somebody else. Or it's dangerous to be loyal to you because you're dying and we'll talk about that in a bit, right? So the backs that need to scratch, they might change, but that's maybe about it.
[00:13:31] Alastair Smith: Yeah, that's right. I think in small coalition systems, I think where leaders of beholden to relatively small numbers of supporters stay in power, the sort of ideological differences we talk about in a democracy. Are you a left-winger, a rightwinger, personal freedoms, blah? It's sort of left, right, it's all a shell. It's just basically the leader transfers wealth and resources to their supporters or allows them to steal it for themselves through corruption—
[00:13:58] Jordan Harbinger: Mm-hmm.
[00:13:59] Alastair Smith: —and graft but they permit them to do this and in exchange they keep the leader there. It's that symbiotic relationship that keeps everybody happy. Well, it keeps only the elites happy. The people are miserable.
[00:14:11] Jordan Harbinger: I was going to say everybody, everybody in the group of 500 who's not, right, the generals and the tycoons.
[00:14:17] Alastair Smith: But what I'm going to say is everybody that matters but for the vast—
[00:14:19] Jordan Harbinger: Everybody that matters, yeah.
[00:14:20] Alastair Smith: —majority of cases, it's not about what the people. It's true. It's what the people want in places like the United States. We can be politically very disloyal. You could vote Republican one time, Democrat the other, whoever wins, whoever you supported. It's not going to affect your welfare. We don't in the United States or other Western Europe, or we don't go after people as a basis of that they voted differently or they advocated for the losing candidate.
[00:14:47] Jordan Harbinger: Yeah, you wouldn't want to be somebody who vote if they even do this in Cuba, you wouldn't want to be the person who says, "You know what? I'm sick of these Castro guys, really busting my balls. I'm sick of them." You definitely wouldn't want to say that publicly, I would imagine. And in places like Russia, you see what happens to dissidents, as long as they have any sort of public. A helpful concept though from the book is the nominal versus the real electorate. So who really chooses who gets power? We kind of touched on this. I'd love to talk about the United States versus North Korean versions of this because it is kind of confusing because there's arguments — hey, in the United States, we have elites too, and they're the ones who are really in charge. And some of that's true, but some of it's a conspiracy theory. When you look at North Korea, it's not a theory, right? It's not a conspiracy theory. It really is a small group of people who are in charge and everybody knows that.
[00:15:41] Alastair Smith: Right. So we should just do, we could do the maths real quickly for the US so you know, what are we? 350 million people in the United States, something in that ballpark. There's 250 million voters. But how many of them really matter? All you got to do is win half the seats in half the districts. This is sort of the classic parliamentary two-party system. In districts that you won, you don't care about having any more than one vote more than the opposition. So you know, you see only need a quarter of the votes. The best case scenario, you need a quarter of the votes that are cast because you just split it up. The US is even worse because the seats are handed out by state.
[00:16:21] Jordan Harbinger: Mm-hmm.
[00:16:21] Alastair Smith: And so the number of votes you need in Wyoming to win a seat is really tiny. It is much tinier than the same number of votes you need to win a seat in California and New York and you know, the states contribute to the electoral college. So, you know, if you do the maths, you can get down to comfortably winning the presidency in the house with something like 22, 23 million votes, which is we're talking 10 percent of the number of voters that there are.
[00:16:46] Jordan Harbinger: Not even.
[00:16:46] Alastair Smith: Yeah, exactly.
[00:16:46] Jordan Harbinger: Yeah.
[00:16:47] Alastair Smith: But that is an enormous number when you compare that to, let's say, a hundred or a thousand people in Korea or any other dictatorial system that you want. The policies that keep millions of people happy are very different from the policies that keep a hundred people happy. And that's the quintessential difference. Yes, the US is in many ways corrupt, and there's gerrymandering and there's the electoral college and these make the coalition smaller than you would expect. You know, you'd expect a democracy-directed election for the president, half the votes, but it's much smaller than that. But it's still enormous.
[00:17:26] That doesn't mean we can't improve it. You know, getting rid of the electoral college would really help, but we got to think it's almost impossible to get rid of it. It's a difficult problem because the states that really matter, the presidents write policies to win votes in let's say Pennsylvania and Wisconsin.
[00:17:44] Jordan Harbinger: Mm-hmm.
[00:17:44] Alastair Smith: Because he doesn't care. The people running for president, they don't really care about New York or California or Wyoming because we sort of know where those votes are going to go. So all we do is the president is directing policy to enhance the welfare of people that support him in Pennsylvania. Or I just take an example—
[00:18:04] Jordan Harbinger: Swing states, right?
[00:18:05] Alastair Smith: Yeah. And it's not just so much as if we change the electoral rule, we've got a different outcome. It's if you change the elector rule, the policy incentives of leaders disappear. I know people go, it's sort of unfair that a few states get to pick, end up picking the president. But the reality is that affects policy for all of us because the policies are targeted to making those states better off. So we saw all the sort of protection under what we saw under Trump. Most of the benefits of those trade restrictions went to benefit. In fact, in some sense, private goods, private rewards that disproportionately benefited people in key electoral states.
[00:18:44] Jordan Harbinger: And that's something that's been going on for a long time. I just want to be clear, so people aren't like, "He doesn't like Trump." It's like this has been the beginning of time in America we've had this problem. It's pork barrel politics.
[00:18:55] Alastair Smith: Sorry, I was just thinking of trade, which is why—
[00:18:57] Jordan Harbinger: Yeah.
[00:18:58] Alastair Smith: —I was just thinking of a recent—
[00:18:59] Jordan Harbinger: I got you.
[00:18:59] Alastair Smith: —targeted poll.
[00:19:00] Jordan Harbinger: Yeah.
[00:19:01] Alastair Smith: Trump is no different from anybody else. Barack Obama had his supporters that kept him in power and he made them happy. And Joe Biden is doing things to help left-leaning voters—
[00:19:13] Jordan Harbinger: Mm-hmm.
[00:19:13] Alastair Smith: —in the area. I mean we think about Democrats and Republicans and that sort of, this ideologically left and ideologically right. I don't find those distinctions especially useful. The Republicans take money from Democrats by reducing welfare and services and give them to their supporters in the form of tax cuts. And when the Democrats come in, they want to tax more highly so they can take it from the rich who don't vote for them disproportionately and give it to poor people on the margin who are going to vote for them. Groups of voters, like the homeless for example, people do relatively little for them because they're not important in terms of the electoral base.
[00:19:52] Jordan Harbinger: Yeah. That's sort of the sad truth of any system, or at least any system that's not direct democracy without gerrymandering in absolute sort of population level. I mean, even then it's really hard to get people who are at the bottom of the societal hierarchy to have enough power to do anything. Would you agree with that?
[00:20:13] Alastair Smith: Yeah. I mean, if you think about why the leaders do anything to deal with homelessness, it's disproportionately done because people experience the follow on impacts of having homeless people living on the streets and—
[00:20:27] Jordan Harbinger: Yeah.
[00:20:27] Alastair Smith: —you know, occupying public parks. And that's much more the reason that politicians will do something about the homeless situation and disproportionately they like to move it to another city, right?
[00:20:38] Jordan Harbinger: Yeah.
[00:20:39] Alastair Smith: Nobody wants to offer great homeless services because you know, it's expensive and then more homeless people will be there and so that's not the response. It's just how do I insulate my political supporters from being poorly impacted by the social problem.
[00:20:53] Jordan Harbinger: That's the sad part of this is, of course, now that means we literally treat these people like garbage. "Hey, get these people off my street. I want my kids to play here." There's people there, there's needles there, or whatever. In San Francisco, there's human waste there, whatever it is. And it's not, "Man, we really need to help these people." I mean, some people, some of us think that way. What the politicians and voters are normally thinking is, "Can't we put these people on a bus and ship them to—?" And then just fill in the blank out another state. And we do this all the time, and I'm not talking about recent political stunts with migrants or anything. I'm talking about literally taking homeless folks that maybe get arrested, putting them on a bus and saying, "Don't get off until you're in California or Florida or some other place that's not whatever state they happen to be in at the time."
[00:21:38] Alastair Smith: Bus ticket is a really cheap way of fixing a problem as opposed to fixing the underlying problem. But politicians want to look good to their voters. Politicians aren't rewarded for fixing social problems. They're rewarded by staying in office, which means keeping the people they care about happy. Doing the right thing is not always helpful.
[00:21:57] Jordan Harbinger: No, I don't think anybody's under the illusion that politicians are sort of hell bent on doing the right thing most of the time. And that's the sad joke about the political system, especially in the United States, is that it's not actually about representing their constituents in many cases. And I'm not talking about every politician, especially the local folks, they're super interested in helping people in their corner of the city or whatever on city council. But once you get to the national level, you have to really convince me that somebody who's a national-level politician, gives a crap about people in every part of the country equally. It doesn't make any sense. It's unlikely. It seems impossible, and it's frankly not what we see from their actions.
[00:22:33] Alastair Smith: Let's be generous.
[00:22:34] Jordan Harbinger: Sure.
[00:22:34] Alastair Smith: Let's suppose you are really a publicly spirited person.
[00:22:38] Jordan Harbinger: Uh-huh.
[00:22:39] Alastair Smith: And you do care about the welfare of everyone. If you try and make everybody happy and the other guy is trying to make a quarter of the people happy, he can make that quarter happier than you can make everybody. If you really cared deeply about having policy solutions that helped everybody, you enact them, you won't be in power. And that's the sad reality is. I suspect many politicians go into being political leaders with this motivation that they want to be helpful, but they realize that to continue their career, they have to pick who they're going to reward and who they're not.
[00:23:13] Jordan Harbinger: I'd love to know why there are so many people living in poverty in dictatorships. I know we just sort of railed on democracy there and that's an appropriate tangent. And by the way, I'm by no means am I saying that democracies don't have poor people. We just kind of covered that. But dictatorships, they almost seem to just specialize in manufacturing a huge amount of poor people.
[00:23:34] Alastair Smith: That's precisely right. The policies in a dictatorship are designed to enrich the leader and their small bunch of cronies at the top of the system. You know, if you are, I'm going to say taxing, but effectively capturing the resources of society and funneling them towards your cronies, you are not providing incentives for people to work hard. Because if you work hard, you're not in political insider, some politicians are just going to decide you have something nice they want and they'll come take it. You know, they'll lock you up for some crime or maybe they'll take it. So they're very unproductive societies in the whole.
[00:24:08] You don't want to let people talk to each other. You don't want let people gather because people might get together and talk about what a terrible leader you are. So you want to keep people isolated. You want to keep them educated just enough to carry out the minimal standards that you need for perhaps agriculture or low grade manufacturing. You don't want 'em to give them free speech. You want to give them basic healthcare because healthy workers can work and the sickly can't. So basic low grade education, basic healthcare, things that dictators aren't opposed to because it keeps a workforce there. Societies are very unproductive. People can't talk to each other. What they make gets taken away. That's why they stay poor. The situation becomes even worse when the leader doesn't even really need the people to work to generate revenue.
[00:25:02] Jordan Harbinger: Oh yeah.
[00:25:03] Alastair Smith: We think of the United States, we think about we work, the government take a share of it, and then they can use that to provide policies that enrich their supporters. Oil-rich states, they don't have to do any of that. They can completely cut the average person who lives in that country out because they don't even rely on that person's productive labor to generate revenues.
[00:25:26] Jordan Harbinger: You're listening to The Jordan Harbinger Show with our guest Alastair Smith. We'll be right back.
[00:25:30] A lot of people ask me how I'm able to stick to my fitness routine, especially since I have such a bananas schedule. For me, it's really creating a routine that is sustainable and can be duplicated on an ongoing basis. Consistency is the key, right? And Peloton helps me have a sustainable fitness routine because there are thousands of classes to choose from. It's also 24/7. I've always got time for it. I might only have 15 minutes in between calls, but I can still fit in a Peloton class. Peloton is really famous for their bikes, but they also make a top-notch rowing machine that stores upright, which you think no big deal. But when you try to have a rower on the floor, you'll be so glad this thing goes upright. If you're a newbie to rowing, the Peloton Row has sensors that can track your movements, that shows you how your form is doing, and it warns you if you're doing something wrong that could injure you or whatever. And right now is the perfect time to get rowing. With Peloton Row, we can promise you've never rowed like this before. Peloton Row offers a variety of classes for all levels and game-changing features that help you get rowing or advance what you can already do. Explore Peloton Row and financing options at onepeloton.com/row.
[00:26:32] This episode is also sponsored by Better Help. If you're going through a tough time, you're not alone. I've been there. We've all been there. Some of us worse than others. If you're feeling depressed, getting out of the house to see a therapist can feel downright impossible. You just feel heavy. I get it. Can't get out of bed. Therapy is actually one of the best things you can do for yourself, in my opinion, and Better Help is a great option. You can do chat, phone, video sessions. For me, I just have an easier time opening up when I'm in the comfort of my own home. I'm taking a walk. I don't want to be in front of some stranger in their environment. I don't need to get comfortable there. I'm already trying to get comfortable, spilling my guts out. Better Help understands why you're not going to mesh with everyone as well. You can switch therapists whenever you want. Just let support know. You don't even have to notify the therapist if you don't feel comfortable. So that's great for you, conflict-avoiding people. You might want to talk about that with your therapist. The. Better Help even has group therapy sessions, so you're among other people experiencing similar issues. Check out their 94,000 reviews on the iPhone app if you're skeptical and if you're on the fence, hey, take this as a sign to go and try it out.
[00:27:28] Jen Harbinger: If you want to live a more empowered life, therapy can get you there. Visit betterhelp.com/jordan to get 10 percent off your first month. That's better-H-E-L-P.com/jordan.
[00:27:39] Jordan Harbinger: If you're wondering how I managed to book all these amazing folks for the show, it is because of my network. And I know some of you think this promo is corny, so I'm going to try and un-corni-fy it. We've made a free networking course. It's not a lame-o-free networking course that upsells you to some other BS. It's just a set of skills that I've taught to the military government, a lot of students. It's very helpful. There's no obligation. I don't want your credit card. jordanharbinger.com/course is where you can find it. This is all about improving relationship-building skills. It's going to make you a better peer, it's going to make you a better friend, a better colleague. If you're a student, it's going to help you find a job. If you're in a job you don't like, it's going to help you find a new one. If you're in a job you do like, it's going to help you network it work in a way that is non-cringe, very easy. Takes a few minutes a day. That's the whole point. And many of the guests on the show subscribe and contribute to the course. So, hey, come join us, you'll be in smart company. You can find the course. Again, it's free. There's no upsells, none of that crap, jordanharbinger.com/course.
[00:28:32] Now back to Alastair Smith.
[00:28:35] It's a really interesting point that people in auto autocracies or dictatorships, we're going to, I'm just going to use those terms interchangeably here. There's no point in working hard. And that's probably one of the main reasons why we see things like brain drain from a place like Russia, or to a certain extent, China and other places. Because you know, and I've heard this about Russia so many times, if you and I are living in Russia and we start a business and the business is successful, somebody finds out about that and they're well connected, you and I end up in jail for corruption. Or let's say, I'm better connected than you. You start a business with me and you need my connections. And one day, I go, "You know, I'm just going to take this." I go to my crony friend and I say, "You know, Alastair is really, he wants half my money. And you should investigate him for jaywalking something, something." And you end up in prison for 20 years for whatever reason. And I just take the business. And so eventually when everybody finds out about this, I say, "I would like to start a business with you. Let's go to Canada and do it where I don't have to worry about the rule of law being up to the whims of your uncle who works for the Communist Party or works for Putin's friend. And we can actually start a real business over there." And you might opt out of that, but I'm gone. I'm out of here. I don't want to do business than there.
[00:29:47] Alastair Smith: Couldn't agree more perfect example. And you know, when we see people in such places as China and Russia who have the option of getting money overseas, you know, we see these real estate bubbles in London and Vancouver and places like this, and they're basically funneled that. If you could get 50 cents on the dollar out of the country where it's yours and it's safe. And it's hard for the government to claw it back then, that's the reality. You want to move your wealth off offshore and be productive elsewhere.
[00:30:15] Jordan Harbinger: I did a show about money laundering from China to Canada and real estate. That was episode 677 and essentially what this guy had uncovered, he's a journalist. What he had uncovered is people will take money and put it in a Chinese bank and then essentially gangster mafia type organized crime will then take money in Canada and give it to that person, but they take a massive commission. It's probably like 20 percent, but you don't care because you don't want your two million in Beijing anymore. You already have $10 million in currency there, and it could go away at any time. What you want are four homes in Vancouver. You get those even though you pay a massive commission, but at least then you're not going to be poor and possibly in prison if something changes.
[00:30:57] Alastair Smith: Oh, we could point to a bunch of oligarchs who were massively rich in Russia and same in China, and I'm blanking on the name completely. You know, they just had a slight running with the government.
[00:31:08] Jordan Harbinger: You thinking of Jack Ma?
[00:31:09] Alastair Smith: Yeah. And I'm completely blanking on the Russian guy who ran the oil company.
[00:31:14] Jordan Harbinger: Oh, Khodorkovsky.
[00:31:15] Alastair Smith: Yeah, exactly. Got slightly annoyed the government, you know, suddenly he goes to jail forever. You know, of course, you can find some corruption on somebody. It's a corrupt system, so businesses corrupt. They've raised any issues, they went to jail. It's not surprising people are, they don't want to raise their head above the parapet in terms of accumulating lots of wealth without connections or just saying anything at the top.
[00:31:39] Jordan Harbinger: Yeah.
[00:31:39] Alastair Smith: So it's hard to coordinate against a political leader when you can't help political rallies.
[00:31:45] Jordan Harbinger: To your point, Jack Ma, who founded Alibaba in China, he said, I can't even remember exactly what it was, but it was something like, "Yeah, we need to reform and we need more free market something, something among other things. And then, he just vanished for a few months and then, I believe they broke up a couple of his businesses and to put them under control of other, you know, something, something antitrust, basically. And now he's very quiet, very, very quiet. And he doesn't have that social media celebrity. I mean, he was kind of almost like an Elon Musk figure in China and that just went away overnight. And like I said, he would vanished for a few months. People thought maybe he was in prison and he came back and he's like, "Nope, I was just on vacation, by the way. I'm not using any social media going on television anymore. Bye." That was that.
[00:32:30] Alastair Smith: I suspect he didn't have much of a suntan when he came back from his vacation.
[00:32:34] Jordan Harbinger: That's true. No. In the book, you're very clear about these five basic rules for political survival. One, keep your winning or insider coalition as small as possible. Two, keep your nominal selectorate, so like, the interchangeables, the disposables may be as large as possible. Three, control the flow of revenue. So control who eats. Four, pay your key supporters just enough to keep them loyal but not more because you know you need that money for other things and also why make somebody more wealthy than somebody else that's going to cause you a problem. And five, don't take money out of your supporters' pockets to help the poor or other pesky, needy groups. You know, pay those generals and those police colonel and those other politicians and tycoons as much money as possible. Hungry people don't have the energy to overthrow you but an underpaid crony often will. So that's a kind of a decent review of some of the stuff we've touched on so far and I think it's fascinating and depressing, but that's why dictatorships are so damn fascinating, right? So damn interesting.
[00:33:29] Alastair Smith: We could pretend that the problem is moral failings of political leaders and I just don't believe that that's the case. I think that given the circumstances people are doing what's the best they can. And as you just pointed out, even if you want to do the right thing, you want to improve the average welfare of the citizens, if you do so at the expense of your cronies, you're going to end up dead.
[00:33:54] Jordan Harbinger: Mm-hmm.
[00:33:54] Alastair Smith: I mean, I think the classic example of that is Julius Caesar, the guy is brilliant genius of his time. He does all kinds of important reforms, fixes the calendar, gets trade up and running. He's stabilized the empire, but you know, what does he do? He's worried that a lot of Romans basically sold themselves into slavery because they couldn't pay debts that were incurred while they were off fighting the wars. And he thinks this is terrible, that ordinary people who did the right thing are now being turned into slaves. What he failed to account for was the people who owned the debt that turned out to be the senators, and when he started taking their wealth away, they figured it would be better to put a knife in him than it would be to allow the policy change that was taken. Literally, taking, you know, people were coming into slavery to settle debts. It's a great example. And they portray him as being this guy who's sought to be king. You know, the guy is clearly already a dictator and king and emperor, and anything else you want to say? His mistake was he wanted to do the right thing.
[00:34:56] Jordan Harbinger: That's an interesting point though, as well, because a dictator will often keep something like a terminal illness, a secret. Now, getting stabbed by your brother is probably not a terminal illness in your definition here, but dead leaders can't provide benefits to cronies. And so we see leaders like, I think, it was the shah of Iran, and also there's probably a bunch of—
[00:35:16] Alastair Smith: Yes, 79.
[00:35:17] Jordan Harbinger: Yeah.
[00:35:17] Alastair Smith: He was very sick. So there'd been other times where people had gone onto the street to protest the shah and the military show up and shoot them.
[00:35:25] Jordan Harbinger: Mm-hmm.
[00:35:25] Alastair Smith: Or a few of them, and the rest of them scatter. So the difference in 79 was, think of it from the military's perspective. People are protesting on the street. You know this guy who's selected to make you fabulously wealthy, very corrupt regime. I mean, it was pro-western. So, you know, we tend to have a better feeling towards that because we tend to think of democracy and good governance as people that we like, as opposed to objective standards of what the institutions are.
[00:35:52] Jordan Harbinger: Right.
[00:35:52] Alastair Smith: That's another conversation. But yeah, the shah is sick, the military are like, "You want me to go shoot those people who could be my boss tomorrow?"
[00:36:00] Jordan Harbinger: Right.
[00:36:01] Alastair Smith: They realize that the gravy train is over with the shah because he's going to be dead. There's nothing he can do. And the next guy, it's very difficult to promise the continued flow of goodies. And so people dessert. Things collapsed very quickly. In Zaire, when Mobutu Sese Seko had the same problem. He was known to have, I think it was testicular cancer or prostate cancer, one of those. And he came off the playing doddery and just basically his armed forces allow rebels to march a thousand miles across the country depo. And nobody stood up to him. And actually, it's slightly different example, but a simple way to explain what happened to the fall of the Afghan government to the Taliban as the US are leaving is exactly the same. None of those units fought to keep the Taliban at bay because they realize without the US backing the Taliban are going to be the bosses next. There's no way this government's going to hold up. Why do I want to be the one who gets killed? Try to shoot the person who's going to almost certainly be my boss tomorrow.
[00:37:04] Jordan Harbinger: Mm-hmm.
[00:37:05] Alastair Smith: Much better to be complicit with them coming to power and hope that you'll get a good position in the new government rather than stand up for a regime that's clearly dead. And we saw how quickly that unraveled. The synergy between I am getting corrupt payments from the leadership and I have this enhanced lifestyle, and the moment you see the end of that, all the loyalty goes. We often see precipitous collapses come about. The shah went down quickly. The same argument could be very much true for Marcos in the Philippines. We see these things happen and that's why the biggest state secret is how sick somebody is. You see lots of speculation about Putin for precisely the reason. A quicker way to undermine Putin is to know his term or at least his elites believe him to be terminally ill would be a much quicker way than having the people rise up.
[00:37:55] Jordan Harbinger: It makes me wonder, and this is, I probably just read too much crap on the internet and listen to too many damn podcasts, but it makes me wonder if, okay, so is Putin sick or is the United States and Western Allies saying, "You know, if we just talk about how we think maybe he's sick enough, then enough elites will go, 'God, everybody thinks he's sick. Maybe he's sick,' and then maybe he falls out of a window while tied to a chair."
[00:38:17] Alastair Smith: Yeah, exactly. If his supporters believe that he's on the way out, they'll be more than happy to push in order to enhance their own status. But we have to think that they're fairly circumspect about the evidence that comes out from the United States media about whether he's sick.
[00:38:33] Jordan Harbinger: Sure.
[00:38:33] Alastair Smith: So, you know, if I'm saying something that's advantageous to me, you should never really believe that. If I tell you something that's harms my welfare and interests, then that's something believable from a politician. But they, of course, don't say those things very often.
[00:38:47] Jordan Harbinger: I suppose that's true. If we put it into the New York Times, it's not really something that the everyday Russian is going to go, "You know, maybe we should probably believe this," because they've been reading enough articles that are kind of contrary to their own interests that maybe there's not a lot of credibility there.
[00:38:59] But it does sort of make sense that this is why the North Korea's secession process is always so sudden and secret. I mean, I remember when Kim Jong-il died. It was like Kim Jong-un, the current leader, he had come out of nowhere just a few months prior to that. I mean, Kim Jong-il must have been, they must have just said, "You are going to die and it could happen kind of any minute now. You got to find a successor." And he shifted things around. This kid who was, I think he was 27 at the time, suddenly becomes the top general in the military overnight. Nobody even knew he existed, including a lot of top people in North Korea. Then, he's the leader suddenly. And it really seems sudden, you know, if you are paying attention to US politics, you see that somebody who's a senator becomes generally, I mean, current politicians may be an exception here, reality star or whatever, but you see somebody who's a senator and has been a senator for a really, really long time, they run for president and they win. It's not some random guy that you've never seen in your life, it doesn't have a Facebook profile, right, who runs for president and suddenly wins. So the succession process is secret, probably because they don't want people to know that the leader is sick because it could face a challenge. You kind of just want to find out he's dead. Oh, but this other guy is already very firmly entrenched with the interest and he's going to continue to keep the elites in power. So nobody worry. And certainly, nobody run around looking for who's in charge, because it's going to be this guy.
[00:40:25] Alastair Smith: Yeah. I think you made an important point there about dynastic succession. which is very common, not just in places like North Korea, but just think of how many times the presidents had the same surname. Right? We've got two Adamses, two Bushes. We nearly had two Clintons. We see dynastic succession. And the logic for it, and the reason why the senators are sort of name-brand people is potential supporters realize what interests they have.
[00:40:57] And in the dynastic setting, think of the "apple doesn't fall far from the tree" type logic. It's the father is dying while the son has grown up around the palace. We know him since a child. There's a better chance that he's going to keep us around than if we went out into the population in general and pick somebody else which is why the supporters actually sort of will support this dynastic transition because it enhances the chance that they're going to be remain in this inner, inner circle. It's good from the leader's perspective because the coalition become more reassured and less likely to move against the leader as they become sick. But it sort of does have the obvious problem that crown prince sometimes pushes the king off the throne before they're ready. It's really interesting when you start counting up dynastic succession.
[00:41:44] One of my colleagues, [Pablo Kuroz], he spends all his time looking at proper nouns in the Philippines because we see just dynastic trends in which villages support which people, and it's sort of the idea that, you know what you're getting.
[00:42:01] Jordan Harbinger: So back to the money issue because a lot of this really comes down to money, who's getting paid, who's eating right in favors.
[00:42:06] Alastair Smith: Mm-hmm.
[00:42:06] Jordan Harbinger: If it's all about keeping your cronies paid, then it's seems like you better never run out of cash. And you mentioned in the book the fall of the czar of Russia something with the vodka tax. I thought this was fascinating because this was one of those, like how did you mess this up kind of moments.
[00:42:22] Alastair Smith: Mm-hmm.
[00:42:22] Jordan Harbinger: And also taking away Russian vodka seems like a really bad idea.
[00:42:26] Alastair Smith: Yeah. Well, it turns out a major revenue source in under czar Russia was tax on vodka because it's a product that's easy to tax because the distillery, you go there, you get the money as the vodka leaves, it's also a stable revenue source. Again, the czar made a key mistake to people guarding him at the Winter Palace. He told them, you guys are going to go to the front and fight Germans next week. He's taking away the privileged position that these people had hanging around the Winter Palace. And what do they do? They're like, "Well, we're not going to protect you from the Mensheviks and the Bolsheviks. You're not doing anything for us anymore." He took away rewards. I think it's as simple as that. If you don't pay the right people, they won't protect you anymore. That's how I think of the Russia case. We could think of it as big social movements and the proletariat uprising up. No. I just think of it as there were a lot of unhappy people and you are paying the people to keep you safe from the soldiers, and then all of a sudden you're telling them that their lives are about to get a lot worse. They're like, "I'm not doing this job anymore."
[00:43:30] Jordan Harbinger: It seems very simple and it seems like he should have known that, but maybe, I don't know. Maybe somebody grew up in that position, was not thinking a lot about politics when was just thinking about own interest. It depends on how many generation, I guess it depends on how well educated the czar was at that point.
[00:43:45] Alastair Smith: Yeah, I don't think you have to have good policy ideas in a small coalition system where you're not beholden to many people. He was beholden to aristocrats in the Russian system and to a certain extent, elite generals and cabinet members. You don't have to have good policy ideas. You can stay in power with terrible ideas. If you are a US president and you have terrible ideas, you get deposed. You have to produce good policy that delivers for the American people, same across Western Europe. So it's a battle for good ideas. So I don't think it selects for being intelligent and having good sense of public policy. People do make mistakes, but you don't select on good ideas.
[00:44:23] I sort of want to bring this up because it's sort of a little pet peeve of mine at the moment. Everyone talks about how great China is doing relative to the United States. You know, it's growing and it can put in infrastructure and roads and build COVID hospitals overnight practically as if it's so great. I think the more important lesson to think here is go back to 1900. China and the US had about the same per capita GDP. You know, the US dwarfs China on a per capita GDP. It's certainly growing fast now. It also contracted massively under the same structure of political control that we have now. Now had just awful ideas, just terrible public policy, collectivization, you know, in his little book with ideas that were just terrible policies. Deng came in and did a good job. But I don't want to live in a country where I have to rely on the fact that I get lucky that I get a relatively publicly spirited person who has good policy ideas as opposed to someone who desperately works as hard as they can to do the best public policy they can because they're not going to keep their job at the next election if they don't.
[00:45:31] That's my pet peeve at the moment because everyone—
[00:45:33] Jordan Harbinger: Oh yeah.
[00:45:33] Alastair Smith: —keeps telling me China is so great. I'm like, I want to see what's going to happen. When it comes down to Xi has to decide, "Do I keep the economy expanding and risk losing political power, or do I clamp down the economy and shut things down?" And I think to a large extent, he's going to choose option B.
[00:45:54] Jordan Harbinger: This is The Jordan Harbinger Show with our guest Alastair Smith. We'll be right back.
[00:45:58] This episode is sponsored in part by NetSuite. If your business earns millions or tens of millions in revenue, stop what you're doing and take a listen because NetSuite by Oracle has just rolled out one of the best offers they've ever given. NetSuite gives you the visibility and control you need to make your business decisions faster. And for the first time in NetSuite's 22 years as the number one cloud financial system, you can defer payments of a full NetSuite implementation for six months, which means no payment and no interest for six months. So go ahead and take advantage of this special financing offer today. NetSuite is number one because they give your business everything you need in real time, all in one place to reduce manual processes, boost efficiency, build forecast, and increase productivity across every department. Think of it as kind of a cool automation system for every eliminator business. 33,000 companies have already upgraded to NetSuite, gaining visibility and control over financials, inventory, HR, e-commerce, and more.
[00:46:48] Jen Harbinger: If you've been sizing NetSuite up to make the switch, then you know this deal is unprecedented, no interest, no payments. Take advantage of this special financing offer at netsuite.com/jordan, netsuite.com/jordan to get the visibility and control you need to weather any storm, netsuite.com/jordan.
[00:47:08] Jordan Harbinger: This episode of The Jordan Harbinger Show is brought to you by Nissan. As a pioneer in the electric vehicle space, Nissan is always looking for ways to deliver new, meaningful technology to EV owners. After all, Nissan has been making EVs since 1947 and their EVs have now traveled eight billion miles by Nissan LEAF owners since 2010, eight billion miles. That's the equivalent of driving to Pluto and back. I guess, I don't know, it doesn't matter if it's a planet, maybe when we're doing this. Think that's electrifying? One of their EVs tracked all the way to the North Pole, and Nissan even tests their EV technology on the Formula E racetrack. But Nissan knows you can't get an EV just for the E. You get a Nissan EV because it makes you feel electric because it sparks your imagination. It ignites something within you. It pins you to your seat, takes your breath away. At least that's what Nissan thinks about when they're designing their EVs, like the Nissan ARIYA and the Nissan LEAF. It's about creating a thrilling design that electrifies its customers. I like Nissan's focus on creating a thrilling drive and electrifying life. In today's world, it's so important to look around you, pay attention, look for all the tiny ways that life can electrify you. For me, that's reading an audiobook outside and preparing for this show. Nissan EVs that electrify.
[00:48:12] Hey, if you like this episode of the show, please do what other smart and considerate listeners do, which is take a moment and support one of our amazing sponsors, or more than one, all of our deals, all of our discount codes, all those fancy URLs that nobody ever remembers, jordanharbinger.com/deals. They're all in one very searchable place. You can also use the AI chatbot on the website to search for any promo code in any episode over at jordanharbinger.com/ai. Thank you so much for supporting those who support the show. It keeps us going, keeps the lights on around here, and lets us make these episodes week after week.
[00:48:42] All right. Now for the rest of part one with Alastair Smith.
[00:48:47] I do tons of shows about China. I'm sure you've seen some in the feed and a lot of people who listen to the show are going to look through my feed and go, "Wow, there's a lot on China," and how it clamps down and how it's really easy to look like you're doing a whole lot if you don't have any accountability and you control the media and you don't have to give any thought to human rights and things like that. It's really easy to zoom in on one little thing and go, look how fast they built that COVID hospital, and then ignore all of the other things that are going on that allow somebody to do something like that.
[00:49:16] Now, can we learn how to build quickly and do things better here in the United States or in the West? Of course, we can, but I wouldn't trade what we have here for the idea that you could get arbitrarily tapped on your phone as an unhealthy person and then quarantined in a leaky roof hospital that was built in three days for three months. Can't go to work, can't see your family, might die in there, might get COVID in there if you don't already have it. I mean, don't even get me started.
[00:49:42] Back to the money idea. Running out of money, as you mentioned, it's not a problem when you got a bunch of oil. You got a bunch of diamonds, gold, whatever, other cobalt, natural resources. So it makes sense that dictators and autocrats and monarchs, they just last a lot longer in the Middle East or places where there's other resources, Africa versus elsewhere where, yeah, they might run out of money for another reason like plundering and mismanaging their economy.
[00:50:05] Alastair Smith: Yep. I think you're precisely right. I'm opposed to foreign aid very much because I think that it enables leaders to prop up their regimes for a longer time because they're less beholden to the people because they don't have to generate revenue. My kids just tell me I'm a grumpy old man, which is probably also true.
[00:50:24] Jordan Harbinger: That could also be true. Yeah.
[00:50:26] Alastair Smith: But yeah, you run out of money. What I find fascinating is debt. I mean, we just allow countries to become indebted. Basically, being in debt, as you just made the point, I don't think of it as a financial problem. I think it's a political problem. A leader that has to start taxing and taxing their own supporters or giving their supporters less so that they can make debt repayment. That's a political problem. They have to make reform. The standard sort of idealized way this happens is the leader says, "Yeah, we'll make all these reforms, but we are really desperate for money. So can you write off our debt and then we can fix all these problems." And of course, the moment the leader's not under this pressure of not having money to pay supporters, they just go, "Well, we can't really do that now," and it all gets forgotten.
[00:51:13] I've always thought it much better. It's like if you actually change institutions, you set up a competitive electoral system, then I'd feel much more willing to actually give you the money ex-post, my sort of pipe dream is we have sort of an escrow account, right? It's like you fix this, whether it's an infrastructure problem or an institutional reform problem. If you fix this, then the money's sitting in the bank. As soon as we'll send in someone to check the workmanship and if it's done, we'll release the money. At the moment, we give people money or debt relief on the promise that they'll do good things with it. But of course, you know, we give people money to fix problems. Why would they actually want to fix the problem? Because next time round, if the problem's fixed, we're not going to give 'em any more money.
[00:51:57] Jordan Harbinger: Right.
[00:51:57] Alastair Smith: I mean, there's a particular problem with natural disasters, right? You're going to build a dyke. We gave you the money for the dike. You didn't build the dike, the place flooded. We gave you money for relief and more money to build the dike that you're, again, not going to build.
[00:52:08] Jordan Harbinger: I see these, some of these countries that constantly have floods or constantly have crazy earthquakes and disasters, and it's like, how does this keep happening? Well, because they don't care if a bunch of poor people die because they don't have any power. The winning coalition knows that there's a big storm coming. So they take their plane, they fly to Miami, and they stay there for a month and their other house. And they don't go back until things are kind of rebuilt or they stay or they never go back. What do they care? They're the people who are in power. They have all the money. It doesn't matter if a hundred thousand people die in a bigger earthquake or a flood or a pandemic, it just doesn't matter. Those people are largely irrelevant. In fact, maybe more dead people who are disaffected is even better because now they can't fight. They're trying to survive by eating birds and stuff that they find in the woods. It's depressing, right? It's just sort of less people to be upset with your government at that point.
[00:52:57] Alastair Smith: Right. I mean, we use technology to eliminate famine for thousands of years. You know, the pharaohs were doing it. Technology is not hard, right? You store some food and then you take it to the areas that are affected by a drought, and yet we still see droughts. We still see famines occurring because governments allow them to happen and it's advantageous for them to happen. It always depresses me when I always show my students bits of like the Live Aid concert and the sort of underlying reason why this was done and you just see that the government actually basically engineered that famine. It was convenient because there were rebels in the area and so we're just going to suck them dry and let them die. And then people in the West are seeing this terrible suffering, send money, which the government used to buy trucks to forcibly relocate people, which was one of the big causes of the famine in the first place. And the share that the rebels get, they use for buying weapons. It's sort of a terrible thing that we desperately want to fix a problem that's outside of our ability to fix.
[00:54:00] Jordan Harbinger: It is quite depressing that the incentives are completely reversed. Natural disaster preparation rescue that all suffers greatly in autocracy because, well, first of all, you have to spend money to build quality buildings and have them inspected and build like the dike that you mentioned. And yeah, the non-essentials, non-cronies, they're the ones who benefit. So you would never do that because it doesn't make sense the, even if you wanted to do that, you'd be ousted. So those people are going to get overlooked. And so emergency planning is not only non-existent or ineffective, it's actually contrary to the interests of the leader and the government to have it in the first place. It's really kind of gross. And democracies have an incentive to plan better. They have to have rescue measures in place because if we don't do this well, the leaders take a lot of sh*t for it now.
[00:54:47] But here's the problem that just nagging at me, I'm thinking about Hurricane Katrina and how much of a just absolute cluster that was. And our democracy certainly was not prepared for that at all, just at all. And FEMA, that whole thing seemed to be just kind of smoke and mirrors at that point. So I'm going to ask an uncomfortable question and ask you what happened there. I mean, do you think it was because the area was full of poor people? I mean, what other factors might be involved here?
[00:55:10] Alastair Smith: I'd actually sort of prefer to put that in perspective. So around 2000 people died and a significant portion of those were very elderly people who had underlying health conditions. So it didn't take, unfortunately, too much to push them over the edge, but that's 2000 in a country of 350 million some people. So it's a very small fraction of the population that died. We think FEMA did a terrible job and I think. that was very badly managed, in part because they didn't really want to send relief aid to people who weren't going to vote for the, you know, downtown New Orleans is not a big Republican stronghold.
[00:55:48] Jordan Harbinger: Mm-hmm.
[00:55:49] Alastair Smith: So they don't want to send a lot of aid. And so it was not badly managed but in comparison to the scale of disasters in other countries. So, the comparable storm that I like to think of is Cyclone Nargis that hit Irrawaddy delta in Myanmar or Burma. That probably killed, well, the official figures like 138,000, I think, but a lot of people estimate was over 300,000. And the government didn't even post any. They withheld weather forecasts. The people tried to leave their flooded villages and the soldiers drove them back into the villages to drown and die of starvation. In comparison, it's so well done. It's interesting you bring up the FEMA case. So there's some great studies that are looking at level of FEMA aid county by county, by hurricane. So you can measure the wind strength in each of the counties and you would—
[00:56:37] Jordan Harbinger: Mm-hmm.
[00:56:38] Alastair Smith: You and I would naively think that the places with the highest wind speeds would've had the most damage and on a per capita basis they would get the most money. And that's partly true, but it also depended nearly as much as on the Republican vote share in that county as it did upon, these were hurricanes back under the first Bush administration, I think. And so even in democracies we redistribute, but it's very bad form to let lots of people die. I mean, it's also hard because it's such a large group, your supporters are mingled with opposition people too. So it's hard to isolate people you can let suffer from a storm and people you're going to help, but to the extent you can that it still happens in democracy. It just doesn't happen as much.
[00:57:20] Jordan Harbinger: That makes sense. And I do hear also from China, you see a lot of flooding in China. I asked my friends who are couple of China experts, I said, why do we see some massive response in some places in China? And some places it just seems like they don't care. And they said, well, that's because that's exactly the case. If you get flooding in coastal Shanghai, they're going to fix that. They're going to repair everything. They're going to build an underwater whatever thing to move the water around. I mean, that is a big deal because you've got a lot of political power concentrated there. Or it doesn't even have to be a big city. It could just be some areas that are more important politically to the leaders of the Chinese Communist Party. Other villages, the whole thing washes away, or they have to build a dam that's going to flood the whole thing and we're not coming to rescue you, you know, figure it out. I don't know, leave or something. And you see the houses are washing away and those people have no power. So they don't care. They just don't care. And what they do instead is they say, "You're not allowed to share a video of this natural disaster from this area because you're spreading rumors," even though it's a video of somebody getting washed away in a flood. They just decide that you can't talk about it, not that they're going to do anything about it.
[00:58:29] Alastair Smith: Yep. That seems the sad truth. I think you pretty much summed it up nicely. Earthquakes in western provinces of China have terrible responses and disasters near Beijing and the coastal place where the elites and the wealth is concentrated, they get fixed with some rapidity.
[00:58:49] Jordan Harbinger: I want to go back to borrowing. You mentioned that the smaller coalitions have a greater incentive to borrow money. This was something I'd never heard before, I thought was so insightful. So instead of waiting, borrowing now means any challenger in the future, they just have less credit with which to borrow. So if I'm a dictator and I'm responsible and I say, "I don't want to incur debt, I don't want to borrow money, we might need that later." Somebody next to me or underneath me could say, I'm going to kill Jordan, and then I'm going to borrow a crap load of money and I'm going to dole it out to you, you, you, you, you, and you and all your organizations. And those people are going to go, "You're going to borrow 10 billion and give us each. I didn't like Jordan that much anyways." So I am now incentivized to borrow as much money as possible. And one, I'm sort of preempting any challenger who would try and screw me over and somebody would come after me, but I also have a bunch of extra money, right? So it looks like from the outside that these autocratic developing world leaders, they just don't understand basic economics. That's what it looks like, but really it's that they're incentivized to borrow to the hill and not give a crap about ever paying it back or ever having credit with which to borrow more. It's like screwing up the economy of my country and sacrificing the economic future of the nation. It's a feature, not a bug.
[01:00:06] Alastair Smith: I think you have it precisely right. The description I think I find most apt is you take a credit card, you go to the nightclub and throw a party, and only if you're really, really lucky are you going to be the leader still in power long enough to pay back, you have to settle the bill. It's like a bill. I wrote up the check, somebody else pays it, the next guy pays it. That's a problem for all political systems.
[01:00:28] Jordan Harbinger: I was going to say, it sounds like America.
[01:00:30] Alastair Smith: Yeah, I mean we see, you know, it's a classic thing that public sector workers have great pension benefits. It's because they're going to be paid by somebody else. They pay them crap today with the expectation they get a big pension, but I'm not paying the pension so I don't have to, it doesn't have to come out of the pockets of my supporters today. But, you know, just to put it in perspective, if you think about how you are willing to magnify debt, If you and I borrow, we think, you know, I borrow the hundred dollars today is having the a hundred dollars to pay back $200 tomorrow, having to payback twice as much tomorrow. Is it worthwhile? And sometimes we think we borrow and sometimes we think it's not. You know I'm given a hundred percent interest because it makes the numbers simple.
[01:01:11] But now let's suppose you're going to do the same borrowing but you just have to reward one percent of the population as opposed to everybody. It's on a per capita basis. You could be borrowing on projects that are 100th of the value that they would be if you thought it did it on a sort of national incentive basis. because the money's concentrated in the hands of your supporters. But everybody's going to pay it back and they're going to pay it back in the future when you are unlikely, unless you're super lucky to be paying. It's actually staggering to me that countries don't even borrow even more for democracies and everybody, it's staggering to me. And yet we have set up the system of letting people off the hook by debt relief.
[01:01:52] Jordan Harbinger: Mm-hmm.
[01:01:53] Alastair Smith: In a few cases, it helps the economy, but the vast majority of the time people just start running up the debt again.
[01:02:01] Jordan Harbinger: You're about to hear a preview of The Jordan Harbinger Show, about the warning signs for Civil War.
[01:02:06] Barbara F. Walter: There were times when I was writing that I myself started to get terrified. Is this right? Am I getting this right? Because what I'm saying is going to hit people hard? There have been hundreds of studies of civil wars. The group that tends to start these wars are the ones dominant groups that are in decline. The group that has been politically, socially, economically dominant since the very beginning of this country.
[01:02:33] White Christian males for the most part. America's going through this radical demographic transition from a white majority country to a white minority country. White working class men have declined on most social and economic measures. That hasn't happened with any other demographic group. And there's a subset of this population that's deeply resentful of that, that's deeply threatened by that, and truly, truly believe that it's their patriotic duty to do something about this.
[01:03:06] January 6th was so public, it was so obvious. This is part of a far-right white supremacist, non-federal government movement here in the United States. We know that some of the far-right militias, the Oath Keepers, the Proud Boys and the Three Percenters actively encouraged members to join the military to join law enforcement. If you continuously portray this as these are just crazy individuals, then you remain blind to what's actually the cancer that's growing slowly from within.
[01:03:43] Jordan Harbinger: To hear whether we are on the cusp of a civil war here in the United States, check out episode 718 of The Jordan Harbinger Show.
[01:03:51] That's the end of part one, part two coming out in just a few days or already out, depending on when you're listening to this. Links to all things Alastair Smith and Dictator's Handbook will be on the website at jordanharbinger.com. Remember to check out our ChatGPT AI, whatever you want to call it, bot, jordanharbinger.com/ai. You can find any promo code, any question we've answered on Feedback Friday, any guest, all that info should be nicely crunched in there. Transcripts on the show notes, videos on YouTube. Advertisers, deals, and discount codes, ways to support the show, all at jordanharbinger.com/deals. Once again, please consider supporting those who support this show. I'm at @JordanHarbinger on both Twitter and Instagram. You can also connect with me on LinkedIn and I'm teaching you how to connect with great people and manage relationships using the same software, systems, and tiny habits that I use every single day. That's our Six-Minute Networking course. The course is free. It is not corny nonsense, I promise you that. jordanharbinger.com/course. I want you to dig the well before you get thirsty and build relationships before you need them. And if it's any sort of boon to the credibility of the show here, many of the guests on the show actually subscribe to the course. Come join us, you'll be in Smart Company.
[01:04:57] This show is created in association with PodcastOne. My team is Jen Harbinger, Jase Sanderson, Robert Fogarty, MIllie Ocampo, Ian Baird, Josh Ballard, and Gabriel Mizrahi. Remember, we rise by lifting others. The fee for this show is you share it with friends when you find something useful or interesting. If you know somebody who's a big old dictator nerd, if you can call it that like myself, share this episode with them. Somebody who's interested in current events, news, politics, they might dig this. The greatest compliment you can give us is to share the show with those you care about. In the meantime, do your best to apply what you hear on the show, especially if you're a dictator, I guess, so you can live what you listen, and we'll see you next time.
[01:05:33] Special thanks to Peloton for sponsoring this episode of The Jordan Harbinger Show.
[01:05:38] This episode is sponsored in part by Strictly Stalking podcast. Hey, listeners, I know there's no shortage of true crime content out there, but I have to tell you about this new podcast to binge on. It's called Strictly Stalking, which is a clever title, I admit. Every Tuesday hosts Jaimie and Jake cover unique stalking case by interviewing stalking survivors, advocates, and experts. Each episode is jaw-dropping and really opens your eyes to seeing that stalkers aren't just jealous exes. They can be neighbors, family members class, even complete strangers. Just imagine being stalked by somebody you met on a dating app that's episode 153, or by the worship leader from your church, episode 137. I mean, that's surprising, but shouldn't be, right? Because those people often seek positions of power and they're creepy. It's just terrifying to know that these downright, yeah, creepy experiences are real. They're super common. There's not much our justice system can even do to help the victims until it reaches just out-of-control levels of violence and threats. Jaimie and Jake are more than just the voices on the podcast. They're actually trying to make a positive change for survivors of stalking, and they're taking us along for the ride. Glad they're helping bring awareness to the reality of stalking and, hopefully, help others who are in these types of crazy situations. We've heard those situations on Feedback Friday. They're absolutely real and absolutely terrifying. Check out Strictly Stalking on Apple, Spotify, or wherever you get your podcasts.
Sign up to receive email updates
Enter your name and email address below and I'll send you periodic updates about the podcast.