Reading Time:
6
minutes
Oliver Bullough (@OliverBullough) is a journalist, a regular contributor to The Guardian, and author of Moneyland: Why Thieves and Crooks Now Rule the World and How to Take It Back.
What We Discuss with Oliver Bullough:
How corrupt leaders pilfer everything from wildlife reserves, banks, and even national healthcare systems.
How this type of graft corrupts society and leads to other crime and unrest — such as terrorism and flawed elections.
How corruption filters down the economic food chain, harming children and those who can't defend themselves.
How dark money can be used for a host of unsavory purposes, and why it's nearly impossible to uncover it because of shell corporations, passports for sale, and the fact that dark money knows no borders.
What we might do to begin reeling in this lopsided power structure from its offshore roots in a way that benefits the fair-playing majority.
And much more…
Like this show? Please leave us a review here — even one sentence helps! Consider including your Twitter handle so we can thank you personally!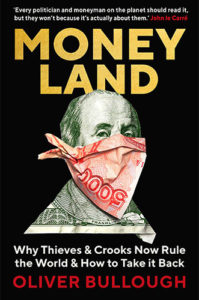 What would you do if you had more money than you could spend in multiple lifetimes? Donate some of it to charity? Use it to seed innovations and solve the world's biggest problems? Or hide most of it offshore like a miserly dragon guarding a hoard of stolen treasure from the grubby, greedy masses and take steps to ensure your incoming supply is never-ending — no matter who gets hurt in the process?
In this episode we talk to journalist Oliver Bullough about his latest book, Moneyland: Why Thieves and Crooks Now Rule the World and How to Take It Back. He'll explain why most of the people with this unique problem choose to hide their money, how they use their power to keep it out of reach, what enabled this power structure to emerge in the first place, and what we can do to level the playing field for those of us who do play fair. Listen, learn, and enjoy!
Please Scroll Down for Featured Resources and Transcript!
Please note that some of the links on this page (books, movies, music, etc.) lead to affiliate programs for which The Jordan Harbinger Show receives compensation. It's just one of the ways we keep the lights on around here. Thank you for your support!
Sign up for Six-Minute Networking — our free networking and relationship development mini course — at jordanharbinger.com/course!
SquadCast is remote interview recording software used by professional podcasters that overcomes the quality restrictions of its competitors. Start your free trial by going to SquadCast.com and hear the difference today!
More About This Show
A young journalist just out of university, Oliver Bullough moved to Russia in 1999 as the Soviet Union was being dismantled with optimism that he would be on the front lines of a society making the transition from authoritarianism to democracy. Instead, he wound up writing about war, terrorism, human rights abuses, and dictatorship — the unintended consequences of a collapsing power structure and the vacuum left behind.
"When I started thinking about what was behind all those bad things…essentially, it's corruption," says Oliver, author of Moneyland: Why Thieves and Crooks Now Rule the World and How to Take It Back. "It's kleptocracy. It's the abuse of power by the powerful in order to steal everything that's not nailed down, and to launder that money in various tax havens and then to buy luxury goods with it.
"That realization came to me in Ukraine in 2014 when they just had a revolution which was, to a large extent, caused by anger about corruption and the fact that the country's government and president were stealing everything they could and I realized — this wasn't a secret. People already knew these things, but it was a secret to me. I realized that the reason they were able to steal so much stuff is because they were hiding all of their assets behind British companies. Being British, this struck me as extraordinary. It never occured to me this was happening.
"So I went back to Britain and looked into it…and it turned out this wasn't just something Ukrainians were doing; people from all over the world were using British companies, British banks, British lawyers and accountants to essentially launder their stolen money in order to keep it and that this is a major cause of misery around the world. And that was the starting point for this particular journey."
Listen to this episode in its entirety to learn more about why Russia and some former Soviet republics gave way to rampant corruption when the Iron Curtain came down while others didn't, how "good" guys in established Western democracies have been complicit in this corruption all along, how simple corruption evolves into advanced kleptocracies that benefit only a small percentage of the population while exploiting the rest, why Oliver calls the kleptocracy-supporting structures of offshore banking "Moneyland" and how it operates as a very real place — albeit invisible to 99 percent of us, how citizenship to Moneyland grants the rich and powerful immunity from the laws that govern and control the rest of us, what we might do to begin reeling in this lopsided power structure from its offshore roots in a way that benefits the fair-playing majority, and much more.
THANKS, OLIVER BULLOUGH!
If you enjoyed this session with Oliver Bullough, let him know by clicking on the link below and sending him a quick shout out at Twitter:
Click here to thank Oliver Bullough at Twitter!
Click here to let Jordan know about your number one takeaway from this episode!
And if you want us to answer your questions on one of our upcoming weekly Feedback Friday episodes, drop us a line at friday@jordanharbinger.com.
Resources from This Episode:
Transcript for Oliver Bullough | Why Thieves and Crooks Rule the World (Episode 228)
Jordan Harbinger: [00:00:03] Welcome to the show. I'm Jordan Harbinger. As always, I'm here with producer Jason DeFillippo. On The Jordan Harbinger Show, we decode the stories, secrets, and skills of the world's most brilliant and interesting people, and turn their wisdom into practical advice that we can use to impact our own lives and those around us.
[00:00:20] Today's episode is about money laundering and corruption, but not just any type of corruption. We're talking large scale kleptocracy. World leaders and businessmen stashing away billions of dollars in laundering them through western countries like the UK and the United States. The kind of money involved is absolutely staggering from a numbers perspective. Today, we'll learn how corrupt leaders pill for everything from national healthcare systems, banks, and even wildlife reserves. We'll also discuss how corruption filters down the economic food chain harming children and those who can't defend themselves. We'll touch on how this type of graft corrupts society and leads to other crime and unrest such as terrorism and flawed elections. Dark money can be used for a lot of unsavory purposes and it's nearly impossible to uncover it because of shell corporations, passports for sale, and the fact that dark money knows no borders. If you liked our earlier episode on money laundering with Joshua Fruth, you'll like this one as well. This is a really shocking indictment of our banking system, tax structures, and law enforcement. This is one of those conversations where at the end I had some creepy Illuminati, X-Files music playing in my head, and I think you'll know what I mean. Once you give this a listen.
[00:01:34] And by the way, I find great people like this to interview for this show because of my network. If you want to know how to create your own network, use systems, use tiny habits. I've got a free course for you called Six-Minute Networking and that's over at jordanharbinger.com/course. By the way, most of the guests on the show actually subscribed to the course and the newsletter. So, come join us and you'll be in great company. All right, here's Oliver Bullough.
[00:02:00] I want to hear about how this all started because it seems very interesting, but it also seems like something you stumbled into.
Oliver Bullough: [00:02:08] Yes. I'm a Russianist, an expert in the former Soviet Union. I spend a lot of time there, writing about the many problems that Russia and the other countries have. I moved there after university, essentially hoping I'd be writing about the transition to democracy and freedom and all these wonderful things that were going to happen. But instead, I ended up writing about a war on terrorism and abuse of human rights and dictatorship and all the bad things that happen. I supposed the moment my eyes open for this book, Moneyland—The way it happened was when I started thinking about what was behind all those bad things, instead of just writing about the bad things, writing about what was the cause of all the bad things and essentially, it's corruption, it's a kleptocracy. It's the abuse of power by the powerful in order to steal everything that's not nailed down and to launder that money in various tax havens, and then to buy luxury goods with it.
[00:03:18] That realization came to me in Ukraine in 2014 when they just had a revolution, which was to a large extent, caused by anger about corruption and the fact that the country's government and president were stealing everything they could. And I mean this wasn't a secret to people who knew these things, but it was a secret to me. I realized that the reason they were able to steal so much stuff was because they were hiding all of their assets behind British companies. Being British, this struck me as extraordinary. I'd never occurred to me this was happening. I went back to Britain and looked into it in Britain and it turned out this wasn't just something that Ukrainians were doing. That people from all over the world were using British companies, British banks, British lawyers and accountants to essentially launder their stolen money in order to keep it, and that this is a major cause of the misery around the world. And that was the starting point for this particular journey.
Jordan Harbinger: [00:04:17] You just started off like me, I was an exchange student in 1998 in former East Germany. I remember being initially very disappointed that I got placed in this former communist country and I was super upset. Then when I got there I was like, "Wait a minute, this is so much more interesting than being in at the time West Germany, which was kind of like it's a nice European country that's a lot like the United States in a lot of ways." And I was at first really jealous of all the kids that got placed there because they were having more fun initially. Then towards the end, I realized what a unique and amazing experience I had living with a family that had a teenager that grew up in the beginning, in a communist country, and then was not right. It was just this really fascinating experience. It sounds like you were similar, you started off essentially as a cheerleader for the Eastern Bloc going all right. Now you're going to join the rest of the world. This is going to be great. I'm going to be in the front line of you guys enjoying all these political and economic and social freedoms. This is going to be amazing. I'm going to watch this country. It's like watching a child that, that has all the potential in the world but had crappy parents or something like that and is now free in the world. Then suddenly you go, "Why did you just join a street gang? What are you doing? Like why are, why are you doing this to yourself?" And I find this fascinating and you must've been disappointed at some level.
Oliver Bullough: [00:05:40] Yeah, I was. Of course, at first, I was very naïve. I didn't really give it any thought and I just thought it's going to be amazing. They've overthrown communism. Remember that was Francis Fukuyama writing The End of History. Liberal democracy was to conquer the world. The Western system was the only system and all that. And I mean, I was just naive and kind of ignorance. I went out and I moved to St. Petersburg in Russia and I lived in Central Asia, and then I lived in Moscow. I suppose I just assumed everything would become Europe could expand as it were. In the same way, that if you went to Prague, it felt like increasingly being in Austria or you went to Slovenia, it felt like being in Austria. I suppose I imagined that Russia would just go the same way and Russia would become a European country but that didn't happen. Russia, it stayed very Russian and in fact became increasingly authoritarian again. Initially, I was disappointed. I was critical I suppose of what was happening. I wrote a lot about what was happening in Chechnya and what was happening with human rights abuses and all that. The moment of realization to me –the moment that these scales fell off my eyes as it were— was when I realized that all these problems that were happening were not really something that the Russian government was doing to its people unassisted. That it was very much assisted by Western professionals, by London bankers, by American lawyers, by Swiss bankers, by all of these people who supposedly represented the good guys, supposedly represented the liberal democratic countries.
[00:07:18] And actually they had gone over there and were spreading these kinds of toxic financial products and spreading the sort of financial secrecy and allowing people to hide the money that they had stolen, hide it offshore, and then spend it on luxury yachts from the Netherlands or luxury property in London or New York or all these. That was the moment of realization that gave birth to this book that in a way it wasn't the Russians' fault. They had been this unholy alliance between their rulers and our bankers, our financial professionals, and together the dictatorial elite, the autocratic elite of the former Soviet Union had gone together with the capitalist elite and created this unholy union that had been created this new form of autocracy, that kleptocracy they'd call it which was immiserating a large parts of the world. That was what I decided that I needed to write about to expose this system, the system that I called Moneyland.
Jordan Harbinger: [00:08:20] It's the worst of both worlds. To clarify for people who aren't familiar with the term kleptocracy, kleptomania is when you steal a lot. So, kleptocracy is essentially a system whereby those who steal—I mean, can you define this? It's like a system whereby those who steal and pilfer are the norm or at the top.
Oliver Bullough: [00:08:38] Yeah. I mean, it's an old word, but the guy who sort of gave it its new meaning, which was in the 1960s, he called it government of thieves, by thieves, for thieves. It's when the entire state apparatus is transformed into a system of effect. It no longer serves the people that set up to serve it. It no longer essentially works on behalf of citizens. It works in order to extract money from the economy for the benefit of the people at the top of the state. It's like corruption, but much more so it's when corruption we think of as maybe there's the old official who's crooked, but most people are straight. Kleptocracy is when everything is corrupt, that there's no longer a kind of clean bit of the government to compare the corrupt bit too. That's what kleptocracy is. It's what you have in Russia, what you have in Nigeria, Malaysia, Venezuela. It's where everything has gone bad and when everything has gone bad, it reaches a new level, and it is very difficult for us to understand in a way. It's very difficult to get your head around because it works in such a totally different way to the way we expect governments to work.
Jordan Harbinger: [00:09:46] Corruption would be, you've got a bicycle in your garage and the chain wheel has a bunch of rust on it. It's a little bit harder to pedal and the kleptocracy would be the entire bike is actually made entirely out of rust itself.
Oliver Bullough: [00:09:59] Yeah. But, that suggests that the bicycle doesn't work anymore. The bicycle still works. It just does something different. It no longer works in a way to transport you where you want to go instead it transports you to where someone else wants you to go, so they can steal all your stuff. It no longer functions in the way it's supposed to function. It just operates in a totally different way. It superficially resembles a bicycle, but it operates in something completely different. And this is why I came up with this term Moneyland because it's actually very difficult to describe the system with the words that we have because it's so alien to our experience. So, essentially the way it is that if you are rich and unscrupulous, if you are the kind of person who's prepared to steal as much as you want and you want to keep it, then if you retain the services of, of skilled lawyers and accountants and professionals and they can structure your wealth in such a way that it isn't in any country, it exists in the cloud. It exists in this place that we call offshore. And I invented a country to put that money and I invented Moneyland because it has the attributes of a country. It has its own legal system that has its own very well protected enforcement agencies, which are these lawyers who work on behalf of the world's kleptocrats. Moneyland is a very well-resourced and very well-protected place and it's a place that if you're not wealthy, you have no access to, you can't possibly access it. It's like a new kind of country that exists for the kind of nomadic elite, the kleptocratic elite of the world, whether that's a Malaysian prime minister or the president of Venezuela or a regional governor in Nigeria or a global tax evader in London. Whoever it is, if they want it, they have access to this system. This kind of cloud-based system for money called Moneyland, which protects their money and prevents anyone else from being able to not just access it, but even to see where it is or what it's doing.
Jordan Harbinger: [00:12:00] Yeah. It's interesting. It's like an invisible island. You can only see it if you have a billion dollars, right?
Oliver Bullough: [00:12:08] Yeah, exactly. I really struggled with where to put it. Is it above us or is it below us? Because it's not here, but so where is it? I decided to use the kind of Alice in Wonderland parallel. She goes down a rabbit hole. She falls down and then she sees there's a sort of magic door that she can't get through if she doesn't have the key. But she can see through the keyhole and she can see that as this magic garden that she doesn't have access to. That's what I imagined Moneyland is like. You fall down a rabbit hole and you can see through the keyhole. You can see there's something wonderful but because you're not a billionaire, you can't open the door, so you can't have access to it yourself. But if you can't open the door, if you are a billionaire, then it's amazing. It's a world where the normal rules don't apply. It's a world where you can essentially do whatever you like. You can get away with tax evasion, you can get away with theft. You can get away with murder if you really want to. It's a magical, wonderful world that underlays our entire world of nation-states and totally ignores them. It happens in parallel to the main system that the rest of obey. We have borders. The superrich don't instead, they have Moneyland.
Jordan Harbinger: [00:13:19] I think this starts to become a little bit abstract. I want to bring it back to a real-life example, which is this guy Yanukovych. Tell us about Yanukovych. Because this was like in the beginning of the book, I'm reading it and I go, "Oh, please don't just be a book about economics." And then you start talking about Yanukovych. And I go, okay, this is where the rubber meets the road for somebody listening to this in their car or at work or at the gym. And they go, "Wait a minute, this guy did what with how much money?"
Oliver Bullough: [00:13:46] Yanukovych was the president of Ukraine. Yanukovych had been a politician for a long time. He'd been trying to become president. He had previously been frustrated. He then became president in 2010 and he really made up for the lost time. He threw himself at stealing with a kind of rapacity and an appetite that no one had had before. He lasted in the post for just over three years when he was overthrown in a revolution and he fled to go to Russia and he couldn't take all of his stuff with him because he had accumulated an enormous amount of wealth. And he had these palaces on the edge of the capital at the edge of Kiev, which he left behind and which were there, and they were kind of guarded by policemen. But the policeman didn't really know who's in charge anymore. And so, there was this wonderful few weeks when if you wanted to, and I did because I'm this kind of person, you could just turn up and demand entry and they'd let you in. If you sound plausible, if you sound like you know what you're talking about, then who's to say that you aren't someone who knows what they're talking about? Right. There's been a revolution. No one really knows who's in charge. I'd explore these places and poke around. It was amazing because he had accumulated the most incredible amounts of stuff. His palace, the one narrows the Kiev was the biggest log cabin in the world. It's a six-story high log cabin and it's just full of gold leaf and massive chandeliers and insane amounts of furniture. Down by the river, this is on the banks of the river, there's a kind of galleon and a sort of pirate ship where he used to hang out with his friends. There's a golf course, there's a gym. In the garages, there's a collection of luxury cars and just pile of boxes. The revolutionaries unpack all these boxes and in the boxes, there are just treasures. There's a Picasso ceramic, there's a paperweight that used to belong to Stalin, and there's a copy of the oldest book ever printed in Ukrainian or kind of Ukrainian equivalent to the Gutenberg Bible. Amazing amounts of stuff that he'd had nowhere to put. Priceless objects that he'd just kind of accumulated in this kleptocratic frenzy without having anywhere to put them.
[00:15:51] I think when you've got to the point that you are accumulating objects worth millions of dollars, and you don't even have anywhere to put them, you've reached a kind of level of incredible greed and rapacity that there's almost impossible to understand. The thing is this guy Yanukovych, he was a real nasty piece of work. He had shot protestors, his police force had shot protestors. Snipers had shot down into the crowds that killed almost a hundred people. He'd been a really nasty, unpleasant president. He'd put his political rivals in jail, had hid expropriated businesses. It was funny being able to explore his palace and see his vulgarity. It was seeing someone with their trousers down. It was funny. It was kind of cathartic and nice. I was enjoying it. I was laughing about it. I was writing silly articles about it. But then I suppose the moment of clarity came to me and the moment of truth came to me, when my friend Anton, who was a revolutionary, who I was looking around with when he told me, he said, "Listen, essentially, you shouldn't be laughing." He said, "Because we didn't know what was happening because all of this theft, all of this greed in this kleptocracy was hidden behind British shell companies." The way he said it was, this palace isn't even in Ukraine. It's in England. And that was the moment that I started to realize that this wasn't funny. The downfall of this guy and him leaving this stuff behind it wasn't just an amusing anecdote I could put it in an article. This was something I needed to investigate. In a way, what was extraordinary was the location of the shell company that he used to hold all of this grotesque wealth was on Harley Street. Harley street, if you've ever been to London, is one of the most famous addresses in the capital. It doesn't just mean it isn't just the name of a street, rather in the way that Wall Street means finance in the US. Harley Street is the place where all the best doctors in Britain have their offices.
Jordan Harbinger: [00:17:51] Right. I knew I'd heard of that for some reason.
Oliver Bullough: [00:17:53] It means, top-end plastic surgeons. It means the best in private healthcare. That's what Harley Street means.
Jordan Harbinger: [00:18:00] Savile Row is like suits and Harley Street is like the doctor version of that.
Oliver Bullough: [00:18:05] Exactly. The top end of the top end, and the fact that he had put his shell companies, all his palaces on Harley Street, it was like a really sick joke. He used the prestige of the street at this prestige which was built up by doctors over generations, had used it as a cheap front in order to hide the fact that he was a grotesque thief. That was the starting point for this investigation that became this book. What's interesting is that having laid out this pattern that what he did, this one man had stolen all this money and he had it hidden it via Harley Street and had spent it on trash, on these trashy gold chandeliers and all this stuff. The log cabin and the golf course and all that—As soon as I found one person is doing it, I looked and everyone was doing it too. If you look at what Paul Manafort did. Paul Manafort, he took all this money out of you Ukraine, and he spent it on a house in the Hamptons and a brownstone in Brooklyn and on ostrich-skin jackets and top-end unfathomably expensive rugs. He had a shell company in London too. It wasn't on Harley Street, but it wasn't that far away. He did exactly the same thing. If you look at the daughter of the president of Angola, just the same thing. If you look at this guy, the Malaysian kleptocrats, who stole all this money and funded the Wolf of Wall Street with it, the Hollywood film,
Jordan Harbinger: [00:19:34] This episode is sponsored in part by ZipRecruiter. It's really hard to hire people. You know, it's funny, I've hired a lot of people in my day and it was not a pain in the ass. It just always, always, always resulted in 7,000 resumes. In fact, back in the day, we used to run these little tests and we'd give people the simplest instructions and it'd be like go to this website and copy the third word in each paragraph. Like 80 percent of people wouldn't respond to that. And then the other 20 percent of people that did it, half of them would do it wrong. I just thought we're screwed. I saw a country, that's going to hell in a handbasket, but ZipRecruiter is aiming to solve this problem. They send your job to over a hundred of the world's leading job boards. But, of course, that would just yield you a lot of crust usually. But they've got powerful matching technologies. They'll scan thousands of resumes. They will scan it, not you looking through it, not you hiring someone to look at the people you're hiring. They'll scan the resumes, they'll invite the right people to apply to your job. And then as those applications come in, ZipRecruiter will analyze those and spotlight the top candidates. So, you're not going to miss a great match because you're trying to figure out why the other 80 percent of people didn't even respond. Four out of five employers who post on ZipRecruiter get a quality candidate through the site within the first day. Jason.
Jason DeFillippo: [00:20:50] Right now our listeners can try ZipRecruiter for free at this exclusive web address, ziprecruiter.com/jordan. That's ziprecruiter.com/jordan, J-O-R-D-A-N, ziprecruiter.com/jordan. ZipRecruiter, the smartest way to hire
Jordan Harbinger: [00:21:05] This episode is also sponsored by Skillshare. This is a website and learning app that has just gone and done invaded my brain. They're an online learning community with thousands of amazing classes. They've got everything, creative, entrepreneurial business stuff. You can take classes in photography, creative writing, design productivity, bookshelf organizing. Jen hates when I mentioned that example because she took that just as a teaser and she ended up redoing all of our bookshelves and she's like, "People just think I sit around and organize bookshelves all day." So then, she took Adobe audition and all these complicated software and stuff to kind of makeup for it. Kind of like taking Spanish and then switch into Chinese. You know, just to show that you can do it. So, whether you're looking to return to a longtime passion project or a hobby, you want to challenge yourself. Get outside your comfort zone. You want to learn some new software. Skillshare has awesome classes for you, and this lifelong learning thing is a part of everyone who listens to this show. I would imagine you're listening to this because you like learning, so Skillshare is a good fit for that. Jason.
Jason DeFillippo: [00:22:04] Join the millions of students already learning on Skillshare today with a special offer just for our listeners. Get two months of Skillshare for free. That's right. Skillshare is offering The Jordan Harbinger Show listeners two months of unlimited access to thousands of classes for free. To sign up, go to skillshare.com/harbinger. Again, go to skillshare.com/harbinger to start your two months now. That's skillshare.com/harbinger.
Jordan Harbinger: [00:22:29] Wait, wait, wait. Hang on. So, corrupt officials in Malaysia stole money, hid it, and then used it to make The Wolf of Wall Street, which is a film about somebody ripping people off with penny stocks.
Oliver Bullough: [00:22:39] Yeah. It's too good, isn't it? I mean, this is—
Jordan Harbinger: [00:22:41] That's insane. I can't believe it.
Oliver Bullough: [00:22:43] I mean, what's kind of entertaining about that example is that there is actually a good movie. I mean, nobody gives people loads of these guys kind of pretend to be pop stars. They spend their money on pretending to be pop stars because they want the glamour, they want something of that. And normally what they produce is just rubbish. They can't sing. It's an unusual case that the Malaysian kleptocracy scandal and that they actually made a good film because often they make films, but the films are rubbish. But that's actually quite a good example of something for a good film, but essentially, they're stealing a load of money. They're slashing it on bling and they're laundering their money via London, via New York, via LA via Miami. The system that I stumbled upon just in this palace in Kiev with all this sort of trash lying around that it was my gateway. It was where it, what gave me the key to open the door into Moneyland and to discover this system and what's happening. That's what I then spent the next four or five years investigating.
Jordan Harbinger: [00:23:45] I can see why it would initially be funny because you're imagining some policeman whose job, who's 25 or 29 whose job it is to stand outside this palace and the sun and the cold and the rain all day. And now he has a Maserati in a garage at a dacha somewhere and in the trunk, his Stalin's paperweight right after this thing. But then you look at each of these cars and this art that's sitting there in the 13th bathroom in the basement or something and you go, "You know, this painting or this original whatever, or this custom wooden desk represents 3000 children who didn't get a polio vaccine in Ukraine because this a-hole took the money."
Oliver Bullough: [00:24:26] That's exactly it. At the same time, I was working on other investigations about where the money had come from, particularly healthcare corruption. It is particularly disturbing and sick because you've got people deliberately inflating the price of medicine. You've got people demanding bribes before they will start a course of treatment. I spent time with mothers who had brought their children to Kiev and to try to get the treatment for cancer. These are children with cancer. Some of the most vulnerable people in the world and the most heartrending stories. They had these stories about paying bribes just to get their child seen by a specialist, not to start the course of treatment, but just to get through the door. They were quite slow to tell me these stories and it took me a little bit of coaxing to get the stories out, but it turned out that they weren't ashamed to tell me the stories or in a way scared to tell me the stories. The reason that they were kind of slow to tell me the stories is because they thought the stories were so normal that I couldn't possibly be interested. It didn't occur to them that this would be unusual to me, that they would be places in the world where doctors didn't behave this way. That was what was so extraordinary. They were talking about you'd have to pay these people with nothing. Ukraine is a poor country. People in Ukraine don't live very well, but doctors who demand $100 before they even see a child to check whether the reason the child was sickening is because they had cancer and that's just, to begin with. Then you have to bring the child to Kiev. You have to see another specialist. You have to get the medicines, you have to pay extra to get the medicines. You have to get the operation, you have to be extra for the operation. Then you need the course of treatment after the operation. Every single stage of this process, which should be a care and treatment process that was seen as a profit center for the doctors involved and for the medical administrators involved, and that was the money. All that money which had been extracted from these desperate people, the most desperate parents in the world. People would do anything to try and keep their child alive if their child has got cancer.
Oliver Bullough: [00:26:31] These cynical, corrupt doctors and medical professionals had seen this as an opportunity to extract money. That money was essentially what was a small of the money that was being then spent on Maseratis and spent on Picasso ceramics, spent on stuff that, that wasn't even being put on display but was just sitting in a garage somewhere. That was what was so despicable about it because it was the fact that the theft had lost all. There were no limits to it. They were just stealing because they could and spending because they could. It's just gluttony. I became incredibly angry obviously because I knew these people. These were friends of mine who were really struggling to make ends meet, and having their lives capsized by these ailments and by cancer, by all this, and then we're desperately trying to get treatment. Meanwhile, the people who would at the top of the tree, the people who were taking all these kickbacks and earning all this money, they weren't even spending the money on anything fun. They weren't making The Wolf of Wall Street then. Nothing good, nothing good came with this. They were just spending it on trash. Yeah, I became very angry. I supposed that anger is what motivated me to go out and try to expose what they were up to and expose the people who were helping them.
Jordan Harbinger: [00:27:51] Ukraine had lost somewhere in the neighborhood of 50 billion just in healthcare system corruption. I just wanted to give an illustration of scale so people don't think, "Oh yeah, there's a hospital in Kiev of where the doctors take bribes." This was a massive, massive problem. They had a massive HIV epidemic. There was watered down polio vaccine that resulted in children getting polio and in exchange Yanukovych or whoever got a new car that he drove never or once home from the dealership and some doctors got paid and patted their salaries, which had probably also been pilfered by hospital officials. It's trickled down corruption in away. It's easy to blame the doctors and I'm theirs. They're definitely at fault. I would assume you argue the same thing. However, if their choice is not get paid and not feed their family or see the people who are able to slip them the equivalent of US a hundred first to see their patient, it's a little more understandable, not excusable by any stretch, but, but I get where their head's at because if they're not able to make ends meet, it's like, well, who do you decide who to see, all of the things being equal.
Oliver Bullough: [00:29:01] I mean that that's what's so clever about the people who create these kleptocratic systems is because if you are a policeman or a doctor or any state official or anyone in a position of state employment of power, you might go into the job with the best of intentions. You might go into the job because you want to fight crime or you want to help cure diseases, but you literally cannot survive on the salary you are being paid. No one can survive, no one can raise a family on $40, $50 a month. It's just not possible. You have to take a bribe. You absolutely have to. Every single state employee is taking bribes just in order to survive. And then all of that money that should be being paid to them as salaries, the reason why their salary is so low, that money is all extracted at the top in one big lump sum by the minister and the deputy minister and the president, so that's where the money goes. It's stolen at the top and it's filled up at the bottom. But then if you think about the consequences—I mean, obviously the consequences of a child getting polio or cancer going untreated, this status is serious and consequential enough. But then beyond that, and that's what's alarming.
[00:30:17] You mentioned HIV. HIV is an eminently treatable condition. If you have the right drugs, it's fine. It's something you live with. You die with, you don't die off anymore. But if you don't have the drugs, it's contagious. It spreads and it's life-threatening. You've got people who have a virus that is eminently treatable, that something that is now a problem but not a killer anymore, but in Ukraine, it is because the money's being stolen. In a way, even more serious than that. If you look at the diseases that we thought we thought of in the west for long as being cured and solved like tuberculosis. We have drugs to treat tuberculosis, but those drugs only work if you give them in the right quantities. Doctors corrupt, doctors were watering down the amount of tuberculosis medicine that was being given. Not only did those drugs not work anymore, but tuberculosis learns how to resist them and became drug resistance. So you now have super strains of tuberculosis, which can't be treated anymore. This corruption not only prevented people from being cured but allowed the disease to learn how to resist the drugs. Now there are strains of tuberculosis had been incubated, which we can't treat anymore. And that's a direct result of corruption. Tuberculosis, it won't stay in Ukraine or in Russia or in the countries where it's where it has risen, it will spread across borders. As a result of this greed in these countries, we will all eventually pay the price of that when tuberculosis returns and becomes the killer that it used to be before the invention of the anti-TB drugs. This is the problem with this corruption. It's not just making people's lives miserable in one particular place. It has consequences that spread around the world.
[00:32:07] Looking at it in a broader sense, if you go somewhere like Afghanistan, the generals who commanded the international forces in Afghanistan when they talk about the biggest threat that they faced in fighting the Taliban, they said that the biggest threat was not the Taliban necessarily. It wasn't the drug traffickers. The biggest problem was corruption. Because corruption undermined absolutely everything they were trying to do. It undermined aid efforts, it undermined attempts to build roads, it undermined attempts to engage the hearts and minds of the local community. Everyone was angered by corruption, and that spreads terrorism. That terrorism is causing problems all around that region and all around the world. Corruption is about much, much more than just people paying bribes. It's a whole system that is undermining liberal democracy and undermining the values that we claim to hold dear. What's particularly depressing and upsetting and hypocritical about this is that this corruption is being enabled and being spread around the world by westerners. The Western bankers, the Western accountants, the Western lawyers who were creating the shell companies opening their bank accounts, accepting this money into our economies. They are essentially providing a reason why corruption happens. Because if you can't keep something, then you don't steal it in the first place.
[00:33:22] The only reason that someone like Yanukovych stole as much as he still was because he could be confident that he could keep most of it. And the reason he could be confident he could keep most of it was because he had excellent bankers in Switzerland. He had excellent lawyers in London. He had lawyers in the Caribbean. People who could structure his assets in such a way that no one would ever find them. So yes, some of them got, got found in the garage in Kiev, but that was just a fraction of his overall wealth. Most of his wealth was financial is out there in the financial system somewhere. And we have absolutely no way of finding it. The system that's undermining everything that we nominally in the West hold dear is actually being created and fed by us in the West. That's why it's so alarming and what I wanted to expose in Moneyland.
Jordan Harbinger: [00:34:05] it's an interesting point you make about corruption in Afghanistan. We did an episode earlier in the show a year or so ago on money laundering and we got an email shortly after that from somebody who was working in Afghanistan who was a military officer. He said that the corruption was so bad that all the fuel that was going to help the rebels was getting stolen and then sold and that money was getting funneled back to, in part the rebels, but also in part to the Taliban and then shipments were getting—So it was just a whole thing. He even suspected that his own base commander potentially had been somehow involved in this. And he eventually thought, "Screw it. This might end up getting me killed or discharged, but I'm going to say something." So, he went to his higher-ups and he said, "Where the hell is our fuel going?" And they said, "Okay, so since you're in charge of the fuel we got to sit you down and sort of bring you into this." And he originally thought his commanding officers were corrupt. Then as it was explained to him, they basically said, "Look, we can't bribe people. We can't play the corruption game because of regulations and the appearance of things." But they said, "If we want, let's say whatever rebel group to play, well with us, we literally have to let them steal stuff from us because that's kind of the table stakes." So, corruption is like an infection. It will literally get into everything that it touches because you can't have—It's like Legos. The Legos only fit together if everybody's got the same shape bricks. You can't have a corrupt system really adjacent to a non-corrupt system without corrupting that system in order to just function together. You can't really say, "Well, hey look, we don't do the corruption thing, but you do whatever you need to." It just doesn't work
Oliver Bullough: [00:35:50] That's right. I used to have friends in Russia, who used to—They say it sort of as a joke, they'd say, "Oh, it's so annoying when I go to the UK or I go to the US. If I get pulled over for speeding by a traffic cop, I can't just bribe them and leave. Whereas here in Russia, it's so great if I get pulled over, I just pass over $10 and that's it. Problem solved." They're just joking really. It's not something they particularly meant because a system where you can bribe a traffic cop with $10 in order to let you off is the same system where you could bribe a judge to allow you to steal it someone else's company. Or the same system where you have to pay a bribe to get your tax rebate or whatever. Corruption doesn't just stop it in one small place. It isn't just in a situation that benefits you personally when you're in a tricky situation. It corrupts everything. It ruins everything and it undermines the whole point and the legitimacy of a government. Genuinely astonishing consequences in terms of how demoralized people become and how destitute people become. You cannot build an economy or political system without trust. Trust is the absolute, the fundamental building block of capitalism and of democracy and corruption undermines trust. That's what it does. It's what it's for. Essentially, it undermines everything that makes us societies what they are, which is why it's so important that we fight against it.
Jordan Harbinger: [00:37:25] I was just talking about this yesterday. It is interesting how corruption erodes trust and you can't build a functional economy without trust because you have to be able to say—In the United States, if I start a new company, I know that if I take 50 grand and I walk into a bank, then I put that 50 grand in there and then I want to wire some of it to another party. I can prove that they got it. The bank will keep my money for me. These are just basic things that we would never think about. And when I lived in Ukraine a long, long time ago, a very long time ago, I think it was a 2003 or 2002, I stayed there for several months. I remember this other guy who had been there for a while. He was a missionary or something and he told me he had 20 or 30 grand in a coffee can, or several coffee cans at home because his church had previously tried wiring money to a Ukrainian bank, which is the only or Russian bank in Ukraine and it never made it. The US bank said, "No, here's the delivery confirmation." And then he'd walk into the bank and the manager would go, "Yeah, we don't have any record of that wire at all." And of course what happened is somebody went, "Oh, wow, a bank wire for 30 grand. I'm just going to take this and then pretend we never got it," and that's it. That's what happened and that was the end of it.
Oliver Bullough: [00:38:41] I mean I had similar experiences in hospitals. Doctors who are friends of mine, doctors who I'm pretty sure we were good people, but they needed money to repair their machines to service their machines and so on. And they would open their cupboards and show me these piles of banknotes, foot-high piles of banknotes that accumulated because that's what they needed to buy the medical equipment they needed. They couldn't do anything electronically. And you can't run a modern economy that way. This is absolutely crazy. I mean, leaving aside the fact that it's very vulnerable cause then we could just break in and steal it. Fundamentally, this lack of trust is corrosive of the way any economy functions. But what's ironic about this and kind of extraordinary is that the people at the top of these systems, the people like Vladimir Putin, but then all the other leaders of smaller versions of him, the people who rule in Venezuela or in Nigeria or Malaysia or Azerbaijan or whatever, they know as well as anyone else does, that their system is crooked, that they can't trust anyone. So they export their money and they stick it in the West, in the US or the UK, in France or Switzerland or wherever. And they spend all their time--if you listen to Putin, he spends all his time sort of railing against the West about how we're corrupt and how we are the source of weakness in the decline of civilization and all this. But that's what he says politically.
[00:40:09] But if you follow the money, you'll see he doesn't think that at all. He thinks the West is just great because we're his bankers where the people who keep his money safe for him because he knows he can trust his bankers in Switzerland or in London because he wouldn't be able to trust bankers in Moscow in the same way. This sort of where the two systems are interlocked that you end up with these really curious side effects, where, where a corrupt system locks onto a non-corrupt system. You end up with this very weird consequences with the fact that money can be stolen from a crooked country and then kept safe in a clean country. And that mismatch can be leveraged by people in power for all sorts of perverse consequences, and yeah, that's what the book is about.
Jordan Harbinger: [00:40:50] This episode is sponsored in part by KiwiCo who doesn't love a good subscription box. There's food boxes, there's wellness boxes. These things are all the rage now. But what I like about KiwiCo is it's a subscription box for your kids. That is fun and educational. They develop creative confidence. They can change the world. I gave a KiwiCo box to my friend's kids. They have these different levels of course for tiny, all the way up to 16. It's cool you build stuff, you've got little science projects in there. It teaches them mechanical stuff. It teaches them how to do all kinds of little, I say technical, but you know what I mean. It's technical for kids. Remember those cool sort of RadioShack kits you got, Jason when we were little like build a radio, that kind of thing.
Jason DeFillippo: [00:41:32] Oh, I love those and yeah, those are fantastic.
Jordan Harbinger: [00:41:34] They were cool, but they had like three kits. Kind of like a new one every month. So, you're not building a dang radio every quarter. Okay, I get it. That how you'd build a radio and they're modernized. That thing was cardboard and springs literally and a couple of resistors and a transistor. The KiwiCo has got a little, it's a lot more imagination involved and it's really cool. The kids love it and you can build it as a parent with the kids or you can let them go and do the hands-on stuff on their own. So, it's KiwiCo K-I-W-I-C-O just like the fruit. So, they've got STEAM--science, technology, engineering, art, and math. It's designed by experts and tested by kids. So, you don't have a Tom Hanks moment where nobody gets why this is fun. They've got these kits from zero to 16 years old, so you don't have to worry about something being too hard or too easy. You get a new one each month. Jason.
Jason DeFillippo: [00:42:23] KiwiCo is a convenient, affordable way to encourage your children to be anything they want to be. For our listeners, go to kiwico.com/jordan to get your first month free. Every day counts when it comes to making a difference, so don't miss out on this amazing opportunity. Again, go to kiwico.com/jordan and get your first month free. That's K-I-W-I-C-O.com/jordan.
Jordan Harbinger: [00:42:44] This episode is also sponsored by Express. I used to shop at Express constantly back in my working days. Now, I don't need pants so I've only got a couple of pairs of Express jeans, but everybody wears jeans even guys like me who half the time aren't wearing pants at home. No two people wear them exactly the same way. Everybody's got a favorite fit. Everybody's got a pair with a story. Everybody's got something that they want to wear on Fridays when they're biking to work and they want to go out afterwards and Express has these new hyper-stretched jeans which for a lot of us, we need that stretch especially on Friday or especially as we gain a little bit of that sympathy weight because our wife is pregnant, you know, hypothetically. They've got a lot of styles. They've got a lot of sizes, so check out Express jeans. This one's cool cause you can actually use this code in-store and online. Jason.
Jason DeFillippo: [00:43:29] Find what fits you. Right now Express is offering our listeners an exclusive limited offer in stores or online. Get $20 off any one pair of Express jeans using the code 9993 at checkout in-stores or online. Go to express.com and use promo code 9993 at checkout. That's express.com and use promo code 9993 at checkout to receive $20 off any one pair of jeans in-store or online. Exclusions apply.
Jordan Harbinger: [00:43:55] This episode is also sponsored in part by SquadCast. We love SquadCast. Full disclosure, I am an advisor to this company, but this is remote interview recording software and teleconference software used by professional podcasters like me. As a podcast or an interviewer, one of the most important aspects of a high-quality show, you've got to have high-quality audio, especially when you're recording remote interviews with guests. A lot of people are using the same old tools like Skype and whatever Zoom. They're dependent on the quality of the Internet signal, which results most of the time and over-compression, poor audio quality, clunky. SquadCast solves this problem. It's a browser-based tool. It means that you don't have to download any additional software and neither does your guest. They don't have to install anything. You don't have to worry about losing your recording. So it allows you to record studio-quality remote interviews that sound like you're in the same room. And the way that works is SquadCast automatically uploads your audio and their audio from a local source to the cloud, so you're not getting their compressed audio. It's the local side of their audio if that makes sense. I've been working with them for a bit now. Jason, I know you're helping test a bunch of stuff too. You're a beta-tester in the new deal that they've got there,
Jason DeFillippo: [00:45:09] I'm checking out the new version two tomorrow morning actually.
Jordan Harbinger: [00:45:11] That's what I heard and I know it's going to be awesome because I've been using it and the quality is unmatched. It really sounds like you're in the same room with them. It's a local audio source. You just can't beat that. So to start a free trial, go to squadcast.fm. That's squadcast.fm and we'll link to that in the show notes, of course as well.
[00:45:32]Yeah, it stifles commerce because of course if I can't take my money to the bank, then I don't want to start a legal business because there's no point. I don't have any legal protection anyway. I don't have any banking protection, so I just keep things in cash. I don't pay taxes on that because why would I do that it's already in cash. I'm already taking the risk of keeping it under my bed so there's no point in reporting it because there's just going to get stolen. It just becomes this massive inefficiency and the market becomes capitalists no matter what. If you've got this hospital that supposedly has socialists healthcare but is highly corrupt, then the doctors decided to take bribes. It becomes a capitalist-ish system. It's just massively, massively inefficient because everything is obscured by design.
Oliver Bullough: [00:46:16] Yeah, it's insanely inefficient. Because essentially you socialize all the costs. The cost of maintaining the hospital. The people earning the profits, they're doctors, they're not going to pay to maintain the hospital. It's a state hospital. The state can pay to maintain that. The traffic policemen who are taking the bribes on the roads, they're not going to pay to maintain the roads. They just going to keep the money. All of the profits are just kept by the people who are taking them. And then all the costs are dumped on the state, but the state doesn't have any money anymore because all the taxes have been stolen, so all the infrastructure falls apart. You end up with all the roads falling apart and the bridges and the railway lines and, and the wages are low and everything. Yeah, it's the absolute worst of both worlds. You end up with the worst form of state-run institutions combined with the worst form of rapacious capitalism. It's just nothing to say for it. It's everything about it is bad.
Jordan Harbinger: [00:47:08] So normally, even in communities that are, let's say, being extorted by the Mafia. They're better off in a way because the Mafia doesn't want crime. They want things safe, they want things productive so they can essentially maybe extort more and more money and they live there. So, they don't want it to turn into a crazy implosion. But in today's world, the borderless rich that we're talking about, who are moving their money to London, New York, et cetera. They're not living or working in their homelands, they're stealing from their people and they're far away. So, they don't care what happens back in Nigeria. They don't care what happens back in Siberia or some cities in Russia or Eastern Europe or Ukraine. They're living in Manhattan, they're living in London. They don't care at all about the community that they're destroying. In that way, it's not a tale as old as time with the extortion in the organized crime, this is a different animal.
Oliver Bullough: [00:48:00] In any closed system, the difference between a Mafia and a government is pretty academic. You're extorting taxes in one way or another and the taxes are spent on services of some kind on protection. You know, the Mafia does all the sort of helping children and graduating all that. Essentially, the Mafia and the governments are just different stages of the same thing. In a closed system, they both work in a relatively efficient way. The problem happens when the system isn't closed anymore. When it becomes possible to essentially rule over a patch of territory without having to keep your money in that patch of territory, that means that your assets --the assets of the powerful-- don't have to obey the same rules as the assets of the week. You can just extort as much as you like for weak people and send that money somewhere else. And this is what the globalized financial system has done that money is essentially international. It's borderless. It can go anywhere. You can send your money from California to London to Hong Kong and back to California again in the space of 10 minutes. That's all very straight forward, but if you're a policeman in California and you're trying to follow the process of that money, you have to get assistance from a policeman in London that will take you, I don't know, a week, a month, whatever. And then you have to get assistance from policemen, Hong Kong, that'll take you another month or whatever. And only then, you discovered that the money's just come all the way back home again.
[00:49:24] So the money has gone all the way around the world in 10 minutes. But the legal requests that follow it will take a couple of months. That essentially means that the bad guys who are looking to move their money and to stay one step ahead of the law, they always got an advantage. They're always going to be ahead of us because it's so much easier and quicker to act illegally than it is to act legally. And it makes it incredibly difficult for law enforcement professionals. Law enforcement professionals anywhere have the same problems. I've spoken to people at the FBI, people at other major US investigative agencies, the most powerful and investigative agencies in the world, and the rest of the world look on what the FBI can do with the kind of degree of awe because it's so powerful. But even the FBI is incapable of acting against this stuff.
[00:50:18] There's an amazing case. That's quite close to where you are there. There was a Ukrainian politician who bought himself a mansion in Marin County, just north of San Francisco in the late 1990s because he'd stolen a lot of money in Ukraine and he wanted a nice place to live, a nice place to retire to. He got arrested when he turned up in the states, he was prosecuted for corruption. He was jailed. He was arrested almost exactly 20 years ago and prosecuted for corruption and jailed and he is now out of jail. And yet 20 years on, even the US Department of Justice has not been able to confiscate his assets because he managed to hide his assets so well offshore. You hid them in Antigua, you hid them in the, in the Channel Islands between England and France. That is the power of Moneyland that he was able to, yes, he himself got caught and he himself got jailed, but even the Department of Justice was not able to get the assets of a guy that they had managed to jail. It just shows that once you've put your assets in Moneyland, once you've hidden them behind all these shell companies and offshore bank accounts and so on, those assets are almost impossible to recover even for the Department of Justice.
Jordan Harbinger: [00:51:23] Yeah, I can see why because, of course, he's in jail and his lawyer comes to visit him once a month or whatever or he just makes a phone call and says, "Wire $10 million to whatever that law firm." What was it? Fonseca or whatever, that law firm, that had all dark money. "And create another shell company because I heard that there's a legal request pending in Nevis about my shell company that is three levels upholding this house. So, just make another layer and then transfer the deed to that one and then do it again in three months." So every time the legal paperwork gets processed, three, six months later, he's already put in that additional layer or two between himself, the crime and that particular asset. If you have enough money and that money's growing at six to 10 percent a year, you can literally do this forever.
Oliver Bullough: [00:52:14] Yeah, you can. But what's alarming about this is, this isn't just law firms like Mossack Fonseca in Panama or law firms in the Caribbean. There's was an investigation by the Global Witness, which is an anticorruption NGO and they went with a secret camera to 10 different lawyers in New York City, really distinguished lawyers in New York City, and presented that they kind of came to be acting on behalf of an African politician. It's stolen a load of money and wanted to hide it and spend it on US real estate. And only one of these lawyers declined to help them. All the others said, "Yeah, this is how you do it. You need a shell company, shell company A and shell company B, which owns shell company C and D," and they were all very straightforward and very clear about it. The game is rigged. The point is that if you are very rich, the laws just don't apply to you. And that's the reason why so much gets stolen. Global Financial Integrity, which is a think tank based in Washington, DC. They estimate that the amount that's stolen every year from the world's poorest countries –and stashed in the world's richest countries— is one trillion US dollars every year. A trillion's one of these crazy numbers; It's very difficult to know how big that is. But if you settled down to count a pile of trillion-dollar bills and you settled down to count them and you didn't stop until you finish, you didn't stop to go to sleep or to eat or anything, it would take you more than 30,000 years. That is how much a trillion-dollar is. And that's how much it's being stolen every year from the world's poorest countries. And so much of that money ends up being spent on real estate in Malibu or in Vancouver or in New York, or in Miami or in London or in the south of France. You wonder why it's so hard to afford property in New York, in Manhattan or in LA, in the nice bits of LA or whatever, the reason is that there's so much money that's inflating the prices because all this stolen money is looking for somewhere to go.
Jordan Harbinger: [00:54:12] Yeah, two to five cents per dollar earned worldwide is illegal. So that's a huge amount. In your book, you wrote that over a billion pounds a month, enter just the United Kingdom illegally. So, 12 billion pounds a year entering just the UK. I mean it's the US is, of course, in there as well and all Germany and France and all these other places. It's just absolutely staggering. And we're talking about rich people. How rich is rich? Is this like the 0.0001 percent or something, right? This isn't just like people who earn five million dollars a year. We're talking about staggeringly rich.
Oliver Bullough: [00:54:53] I mean all of these structures and tools which they use to hide their money. I mean, you could do it. I could do, we could all do it if we wanted to, but we couldn't afford to. The point is that it's only worth using these tricks and employing these lawyers if you're rich. So yeah, we're talking a hundred million dollars of outputs. That's when it starts really making sense.
Jordan Harbinger: [00:55:16] Right. And it only makes sense to do that if you earn it illegally. If you sell your company for eight hundred million, that's on the books somewhere, the sale is. But only if you obtained the money illicitly does it make sense to then hide it?
Oliver Bullough: [00:55:29] Yeah, illicitly there are many different kinds of this. If you're engaged in industrial-scale tax evasion, you're dodging taxes illegally, it's worth engaging in this if you're doing that as well. Essentially when you're trying to hide your money from the government, for whatever reason, but you might've dodged taxes on it or you might've stolen it or whatever, in that case, yeah, it's worth you. It's worth you doing this. And because it means that you can disguise the origins of the money. And once you've disguised the origins of the money, you can pretend it isn't yours anymore. That means that you can spend it and you can spend it on all sorts of wonderful stuff. You can spend it on superyachts, you can spend it on a real estate, you can spend it on fine art, you can spend it on ostrich-skin jackets or Hi-Fi equipment, whatever. It's amazing the world is your oyster.
Jordan Harbinger: [00:56:16] The rich are essentially borderless. They move their money around. The rest of us, of course, have borders. The money moves freely, the rest of us have to stay put. And I know you tell us about these tours that you give in London. This is what really got me interested in the book because I went, wait a minute, that's a thing. I just was in London. I'm so sad that I didn't get to go on one of these.
Oliver Bullough: [00:56:34] Yeah. To be fair, we haven't done one for a little while just because I'm the kind of engine of the tourists that the guy who was actually organized enough to book the buses. My friend Roman and he's currently living in elsewhere in Europe. So, we haven't had one for a little while. But basically the idea of a kleptocracy tours as they're modeled on them, I'm sure you get them, you get them everywhere. Like you have these tours in Hollywood's, you go on a bus. It's actually in someone who points out, where, I don't know, Buster Keaton used to have his shoeshine or where Scarlett Johansson goes and has her latte, all that stuff. It's the same principle. It's just that we don't show you where stars go or whatever. We show you where crooks live. It's a very target-rich environment. We often change it, we mix it up in terms of who you get to see. We do want to make people stay in the bus for too long, so we tend to keep to a pretty tight area. But yeah, we've got the Russian deputy prime minister. That's a favorite. There's a Ukrainian oligarch, Dmitry Firtash. He's currently sought by the FBI. There's Egyptian son of the former Egyptian president, the son of the former dictator of Libya, Nigerian regional governors, the daughter of the president of Angola, Russian oligarchs all sorts, the Malaysian--the guy who made the Wolf of Wall Street. He's that too. We've got it all going on. The idea is essentially to try and alert London as to what's happening all around them, to what's happening in plain sight. It's so obvious and it's so grotesque that it's happening and it's terrible that people aren't aware of it. The idea of the kleptocracy tour is to try and stand there with a megaphone and just say, look at what's happening. This is crazy. We think we're a lower biding center of democracy. But look what's actually happening here and what's actually happening here is some of the world's worst people are investing this insane amount of money on these incredible blingy objects.
[00:58:36] There was a woman from Azerbaijan who has been arrested recently.
Jordan Harbinger: [00:58:39] I heard about this. She went to Harrods and she had spent so much money that people went, "What the hell is happening?"
Oliver Bullough: [00:58:45] She spent tens of thousands of dollars in the Disney Princess Boutique inherits alone. Leaving aside all the handbags and the bling and the jewelry. I mean, she'd spent millions of dollars just in Harrods. She was in fact so egregious in what she was doing that even the UK authorities noticed, and you've already got to be pretty crass because you can get away with most things in this city.
Jordan Harbinger: [00:59:09] If someone goes to Barneys in Manhattan and spends a million dollars, the salespeople have a field day and maybe they text each other, but it doesn't make the national or international news. In London has Saudi princes in and dropping millions, especially at stores like Harrods, which is this massive famous department store. So, if you go in there and you live in London and you've spent 30 million or whatever dollars at Harrods and you're attracting international coverage, you are really just buying up the whole place.
Oliver Bullough: [00:59:39] You're a serious high roller. Britain is an Island. We have a massive coastline. We have an awful lot of fishing boats. Harrods, one shop has a turnover every year, significantly higher than the entire British fishing fleet. This is a crazy, crazy, wealthy shop for crazy, crazy, wealthy people. But it should be said this isn't just a UK story. I had a, a great chapter in the book about if some this reality TV show Say Yes to the Dress, which you may or you may have watched—
Jordan Harbinger: [01:00:08] I've heard that.
Oliver Bullough: [01:00:10] You should watch it. It's fun. It's basically about a boutique in Manhattan where they sell wedding dresses to people of all sorts who go in and have arguments and all that. You know like people do when they're buying wedding dresses and it makes a great TV. There was an episode when they featured the daughter of an Angolan cabinet minister who went in and spent more than $200,000 on wedding dresses and no one in the show thought to ask where her money came from. No one in the show thought, hang on a second. Angola has got an 80 percent child poverty rate. Surely the daughter of a cabinet minister maybe shouldn't be spending this kind of stuff on some, frankly, really ugly wedding dresses. But no, they just took the money yet and in the fact they were very happy about it. They were like, "No one has ever spent this much money before. This is brilliant." That's become so normal for these people to spend that kind of money. This was exposed not by some kind of hidden camera journalistic sting. This is exposed in a reality television show. That's crazy. It's the kind of story I would love to get by such fusion by working contacts and stuff. They just gave it away in reality TV. That's how normalized it's become for these very, very, very wealthy and unscrupulous people to spend crazy amounts of money.
Jordan Harbinger: [01:01:31] Right. And they just thought like, "We don't have to hide this." Nobody can do anything because what are they going to do? Say you stole this money from Angola. "Oh, well, what are you going to do about it?" Is essentially what they're saying.
Oliver Bullough: [01:01:42] Yeah, and it didn't hurt the guy's career. The father of the lady who did this on television because the next year he became vice president, so there you go. He was promoted. It's a pretty depressing state of affairs really that all this money, which is being extracted should we say from some of the world's most vulnerable people is  being spent on wedding dresses and jewelry and the Disney Princess Boutique and all ugly, vulgar things and not on healthcare and roads and police services and honest judiciary and so on and all the stuff that people really need.
Jordan Harbinger: [01:02:18] I was London recently I mentioned, and I was hanging out with my friend who, who is a, they're a Russian couple and they live in a really nice, really nice place. They're Canadian now. They live in a really nice place and they've run a hair extension business. They do really well. And I said, "Hey, this is a pretty affluent area. You ever run into anybody well known around here because this is South Kensington, it's very, very posh." And he said, "Yeah, but not really who you would think." And he said, "My neighbor is a billionaire." And I said, "Oh, that's interesting. Did you ever run into him?" And he's like, "Not really, but we did run into, it was like his son-in-law at a taco place." And I said, "Oh, that's interesting. Who is it?" And he goes, "Oh, you probably have seen him on the news." And it was this guy Van Der Zwaan who probably you've heard of. He had just gotten out of prison and he wanted some tacos and he went downstairs and he ran into my friend. He said, "Oh yeah, we should get together or something." And they were like, "Yeah, sure," you know fellow Russians. And I guess they Googled him because they were like something just not adding up. And they were like, "Oh, got it. Crazy elicit funds." This guy's really touching it. He was involved enough to actually go to prison. So, I think they opted out of hanging out next weekend.
Oliver Bullough: [01:03:31] You have to really screw up if you're wealthy and get sent to prison. If you're that rich, you can buy a sufficient degree of protection that you're always going to get away with it. You can buy visas, you can buy passports, you can buy diplomatic immunity.
Jordan Harbinger: [01:03:44] Yeah. Let's talk about that a little bit. My friend Neil Strauss wrote this book called Emergency and one of the things in this book was he invested in an apartment in St. Kitts and Nevis or something like that. It was overpriced. He can't sell it. He told me it was one of the worst investments. He doesn't even want to think about it. But essentially in exchange for this really overpriced condo, he got a passport from that place. That will be great when the zombie apocalypse hits or something and he needs to move to an island and not have his visa expire and get deported. But this is becoming more and more popular. Apparently, if you're wealthy enough, you can actually get a passport that has diplomatic immunity. That's kind of where the whole getting away with murder thing starts to be a very tangible thing because a passport with diplomatic immunity, you can do a lot of things. And if the host country gets sick of you, they literally have to send you home. They can't even in prison you at that point.
Oliver Bullough: [01:04:39] There's quite a lot of countries now sell passports. The trade was begun by St. Kitts. There are a few America US citizens who buy them, particularly US citizens who don't want to have to fill in tax returns. You just renounce your US citizenship and you don't have to do it anymore, but mostly the main clientele is Chinese people, Russians, people from the Middle East too who just want a better passport. This kind of passport is quite a good one. It lets you travel quite widely. It's kind of a super visa. You're buying yourself a super visa. You don't even have to go to St. Kitts. You can just buy yourself a passport and then you can travel widely and you don't have to worry about getting a visa anymore. And this, now it's kind of spreading around the world as a concept. You can now European countries like Malta and Cypress. Moldova sells passports, lots of places in the Caribbean. It's becoming increasingly mainstream. Then a lot of countries will sell visas. The US has a very popular program called the EB5 visa program, which has mainly catered to Chinese people who buy and sell 10,000 visas a year. Canada's program was so popular, they had to close it. They could not deal with the volume. The UK has programming and so on. They'd been going on for a while and these are very useful and kind of mainstream ways now for wealthy people from wherever to access the rest of the world in a way that their fellow citizens can't.
[01:06:03] The next level is a diplomatic community. Now you can buy a diplomatic passport and it means if you have a diplomatic post if you're in a credit diplomat. In the book, I talk about a Saudi billionaire called Walid al-Juffali who did this in order to try to avoid paying your divorce settlement to his wife in London. You buy an ambassadorship or diplomatic post and then you are immune. You can get away with anything because a diplomat can't be prosecuted. They can just be expelled and that is a scary prospect. There are lots of countries in the world that, that are happy to take money from pretty much anywhere. In this case, he was the St. Lucia's ambassador to the International Maritime Organization, but you could be anything. The ambassador is just about anywhere and that would give you the diplomatic immunity. And that means, yeah, you can get away with murder, get away with anything. And that's when Moneyland starts getting very, very alarming. You start getting a whole class of people who could theoretically just be immune to any kind of recompense for anything they do.
Jordan Harbinger: [01:07:03] And of course countries can revoke that, but it's a process that takes quite some doing. And at that point, you have moved your assets and you're gone. I would imagine with this divorce settlement heats. By the time the two-year or more court case goes through in his diplomatic immunity is revoked, he's sold his property, he's moved his money out of UK banks and now his ex-wife has to collect her divorce settlement from the Saudi treasury, which isn't going to happen. And a bunch of other shell companies, which they can't find.
Oliver Bullough: [01:07:34] Yeah, exactly. Good luck with that. Or he'll come to some kind of arrangement with I don't know Russia or with China or whatever. There are enough people out there who are for sale for this to happen. Essentially, Moneyland is a system that allows any kind of bad actor to stay ahead of the game. They can always stay ahead of the competition because the law enforcement authorities, they have to jump through all these hoops to get anything done, but the wealthy and the unscrupulous, they don't have to, they can just go ahead and, and, and just move their assets, move themselves, move their children, move them anywhere they like. It's a very alarming system and I don't think it's adequately understood yet. I think if we understood it would, we'd actually start doing something about it. It's a matter of some urgency.
Jordan Harbinger: [01:08:18] When I used to work on Wall Street, I remembered I was doing some private equity stuff. That's where I learned of the existence of—I was in New York. So, of course, when I saw Jersey, I remember asking my officemate, "Does this mean New Jersey?" And he's like, "No, Jersey is an island off the coast of the UK," and this is a British guy. So I said, "Oh that explains the whole New Jersey thing. And he's like, "Yeah dude, you didn't know about this. Guernsey and Jersey, and then Nevis. And I thought, "Oh okay." Because all of these huge $12-billion, $6-billion funds, whatever, they were all entities in Jersey and Guernsey and Nevis. And it's funny because I won a cruise and I stopped at St. Kitts and Nevis and I walked around expecting this metropolis of banking and everything. It's like a one-story, two-story building, and there are these mailbox companies that are whole buildings and it's just mailboxes. And I go, "Oh, I get it. There are two people working here that work three hours a day and their job is to open up envelopes and then leave them here for somebody to come later. Or they re-mail it or they scan it and put it online. I mean, there's just no actual commerce really going on in these places. Maybe Guernsey and Jersey are different, but Nevis certainly was not this, I expected a little Manhattan, a little Wall Street, and I was sorely disappointed.
Oliver Bullough: [01:09:38] No, I mean, it's kind of lovely in its own way. And interestingly, it's where Alexander Hamilton was born in probably. I agree that a lot of these places, whether it's the British Virgin island or St. Kitts and Nevis. There's just nothing there. They act as a kind of checkpoint to prevent the good guys from being able to catch the bad guys. If you're the bad guy, you go straight through. If you're the good guy, you've got to go through a whole legal proceedings in order to try and figure out where the bad guys have gone. That's what they're for. They're making money out of facilitating bad behavior. The problem is that there are so many of these jurisdictions that if you shut down one, it doesn't really make much difference. In fact, it just makes it more profitable for all the other ones because they get all the business that's gone elsewhere. It's a real problem because essentially the world has to act together to do something about this. But if one jurisdiction doesn't act, then it gets all the business. So it doesn't want to, it's a real prisoner's dilemma situation. So, places like Nevis, they don't have many options for making a living. So for them, facilitating kleptocracy is just a money earner for them. They do quite well out of it. Yeah, it's a real problem. And how do you put pressure on them to do something about it? The world has not yet figured out a way.
Jordan Harbinger: [01:11:06] Yeah, of course. So if they change the, if we forced the sea change like we did in Switzerland. Tell us a little bit about this. What's the one originally started off being kind of a Mecca for this, because rich people from France and Italy could drive there in an afternoon and park their money and not pay taxes. And I know that during the Obama administration, we kind of cracked that antiquated nut and said, "Look, you, you can't do business in the United States if you're going to obscure your client information from US government, from the IRS. And that took Switzerland, which is a developed and probably less corrupt organization that has a lot of international roots and businesses. And it made it impossible for them to be as profitable. So, they had to change but St. Kitts, Nevis, Guernsey, Jersey, they're not really as worried about this because their primary slash only industry is this
Oliver Bullough: [01:11:58] I mean, the interesting thing about Switzerland. Switzerland was kind of a Motherload of that's where the money went. It was the best place to be secretive. After the financial crisis, thanks to a guy called Bradley Birkenfeld, an American banker, who blew the whistle. He exposed what UBS, the big Swiss bank was up to. The Obama Administration got very serious about Switzerland and they essentially cracked open Switzerland and Switzerland is still a big financial center, but it's not what it was. It's that it's lost a lot of this kind of the dirty dark money. It has vanished. And it's happened to scurry around the world looking for somewhere to go. I mean, a lot of it has gone to Singapore. A lot of it's gone to Dubai, a lot of it's gone out to Hong Kong. But what's particularly interesting in the way that the Obama Administration did this is. The way they prevented Switzerland from acting the way it had or in fact preventing anywhere from doing what it did is that if you are a bank and you have an account for an American citizen, you have to tell the US Treasury. Otherwise, you face serious consequences, but there are no requirements for American Financial Institutions to tell other countries about this information. If you are now a Chinese kleptocrat or a Russian kleptocrat, kind of the safest place to put your money now is not Switzerland. It's in the US, so the US is a sort of strange, perverse consequence of this attack on Switzerland who has become the new Switzerland. Just last month, I was in Sioux Falls, South Dakota.
Oliver Bullough: [01:13:38] South Dakota financial services industries is quite big. The amount of money in trust in South Dakota has gone up since 2009 when Switzerland was destroyed, from 40 billion US dollars to almost 300 billion, just in 10 years. That's an increase of what, more than 400 percent. The same, you can see the same in Nevada and Wyoming and Alaska in the big trust jurisdictions in the US, there's all this money that's coming in from overseas is now going into trust in these US States because that's where it's now safest. And that's the thing about Moneyland. This is endlessly mutable. If you make it no longer comfortable for money to be in Switzerland, that money will find somewhere else where it's comfortable, whether that's South Dakota, whether that's the Caribbean, whether that's Singapore. It will find somewhere else to go. There's always somewhere where it's going to be treated well. And that's why it's so hard to be do something about this because unless you can somehow persuade all countries to raise their standards simultaneously, then that money is always going to find a loophole to hide in.
Jordan Harbinger: [01:14:39] Does this affect drug money in Florida or is it just about oligarchs parking their money in London and New York, South Dakota, Nevada,
Oliver Bullough: [01:14:47] Yeah, of course. Drug money in Florida too. I mean, essentially all money whether which want to hide is able to go in the same loopholes. It doesn't really matter where it comes from the money's perspective. It doesn't matter if it was, they're all dollars or euros or pounds. So yeah, the drug money in Florida is pouring into South Florida. But what's interesting is also kleptocratic cash is going into Florida. If you look at the biggest source of foreign investments into South Florida real estate over pretty much the entire last decade, every year it's been Venezuela. And yet because of the financial crisis in Venezuela, you can't take dollars out of Venezuela because it's illegal. Somehow, someone is taking dollars out of Venezuela and spending it on real estate, spending them on real estate in Miami, Miami Dade. Who is that going to be one? Obviously, that's going to be the government, the only people who can give themselves permission to take out dollars. They're going to be the Venezuelan, his own government. So sort of kleptocrats put their money into Florida. The drug smugglers put their money in Florida. They've Chinese billionaires putting their money in South Dakota. Obviously, other states, Delaware is a perennial favorite. New York real estate, real estate in Virginia. It's everywhere. It's really all over. The US is very, very big right now for kleptocrats. This is kind of the place to be.
Jordan Harbinger: [01:16:10] The oligarchs' story in your book is really, really vague and I assume you wrote that deliberately vague because you're worried about the fact that these people can pretty much get you anywhere. Is that the case?
Oliver Bullough: [01:16:22] Yeah, the UK has very strict laws against defamation. It's kind of the opposite of what you have. In the US, you have the right to free speech. In the UK, essentially if someone sues a journalist, there's more of a presumption of guilt than a presumption of innocence. It's very difficult to write about anyone if there hasn't been a kind of court proceedings against them or something really dramatic and obvious like that. So, yeah, I spent a long time investigating and oligarch and I really wish I could tell you the story because it's a super fun story. I mean, for reasons that would be particularly interesting to you actually but I can't because when I tried to publish the story, I was told by the lawyers very, very strongly that I couldn't write it. If I did, I would leave myself very vulnerable to prosecution. It actually happened to me twice. I made a documentary about a Ukrainian oligarch as well, that I couldn't show. I can't show that documentary because of the legal risk as well. It's very frustrating. So yeah, I mean it, and that's what was so annoying about the oligarch story. The one I couldn't even mention at all is because it was kind of the perfect Moneyland story. Someone who's stolen a lot of money and that's stolen. It's in kind of an amusing, quite colorful way if you can do that. And then that hidden the money that loans it, the money offshore via quite a lot of the same usual places. And then their children were spending the money in an incredibly high profile and obvious ways in places that would be familiar to everyone. So, it was very frustrating not to be able to tell the story because I really felt it would have got a lot of attraction and made a big difference. The reach of oligarchs and such as the might of London's libel lawyers that I wasn't able to tell it. Yeah, maybe one day, but it's pretty frustrating.
Jordan Harbinger: [01:18:14] What were some of the ways in which these people hypothetically might have been spending this money? I'm curious. Is it just like a teenager that bought a brand new boat or, my dad got me a plane for my 17th birthday? I mean, what are we talking about here?
Oliver Bullough: [01:18:29] Yeah, there's a bit of that, but it was a lot more imaginative than that. I'm not going to go into what it was because it becomes easy to figure out what I'm talking about, but it was a lot more imaginative than that and it was a lot more kind of in plain sight. Because the thing is, if you, you kind of hide the ownership in other man or in some tax haven and you can't figure it out, I mean, this stuff very happy. It was very egregious. It was very obvious. And that's what was so frustrating about it was because the kids were just enjoying the money and splashing it around like it was going out of fashion. That connection with the dad has not been, it had not been established by anyone. And had that connection been established, it would've been a pretty, pretty big scandal.
Jordan Harbinger: [01:19:17] Yeah, I can. I can imagine. So you essentially looked up these oligarchs' kids on Instagram and went, "Oh yeah, that checks out."
Oliver Bullough: [01:19:25] Yeah, yeah, I found them. Initially, I found them on Facebook and then from there that led me to Instagram. And then, there's stuff people give away on Instagram. It's kind of crazy. can, you can find where people are, you can see what they're doing, you can see who they're hanging out with, you can see what they own. You can see the businesses they invest in. It's kind of like extraordinary what people give away in terms of information. It's still there. I mean, occasionally I still, look up these people and have a look and they still haven't hidden any of it away. It's still all that you can see it all. Occasionally, people suggest why don't you incorporate yourself, offshore somewhere in like the Caribbean and then you could write the story and um, and, and they wouldn't be able to see you. They wouldn't be able to get past the shell companies and say, well, sadly, these guys would just come and kill me instead.
Jordan Harbinger: [01:20:12] Right. Yeah, they don't, they would not worry about the legal ramifications of just running you over with an SUV instead.
Oliver Bullough: [01:20:19] Yeah, exactly. I think, I mean, they did, one of them did the to get in touch actually and invited me to go to a meeting with him in Milan. I was like, "No, I'm not going to Italy. Sorry. Not going to happen. Thanks. Thanks. Thanks but no thanks." I'll tell you what, you come to London and I meet you here, but now I'm not going to Italy I think that that's not going to happen.
Jordan Harbinger: [01:20:39] No, my friends from the sanitation company want to just talk to you about, about some import-export business. No, thanks.
Oliver Bullough: [01:20:47] Yeah. Totally straight-up guys. Could you meet them in the dark somewhere next to a handy box of cement? Yeah, I mean it's, it's all,
Jordan Harbinger: [01:20:53] Do you think he was even serious or was that just a veiled threat like, "Hey, I'll fly you up to Milan because I can get you anywhere in the world and I have friends that will kill you? Or do you think he actually wanted to meet.
Oliver Bullough: [01:21:05] I don't know genuinely. I mean, it's possible that he was a genuine and kind of a nice guy and just thought they'd been a misunderstanding, but I think it's more likely he wanted to kill me.
Jordan Harbinger: [01:21:14] Yeah, that's probably wise. Wow, that's scary. If you can't even write about this because you'll get murdered/sued, if you're lucky, you'll get sued. how does that bode for solving this problem? I mean, unfortunately, the people who have been able to solve widespread corruption in countries in the past tend to be extremely authoritarian leaders. You look at guys like Duterte, and they're like, "Oh, we have a drug problem. Let's just murder all the drug dealers and then I'll control the drug flow or whatever."
Oliver Bullough: [01:21:43] They're not really solving corruption either. They're just bringing it in house. I mean, it's the same with Putin. Putin drove out a few oligarchs, but only so we could expropriate their assets and keep them for himself. It needs to be solved incrementally, a bit at a time. What we need most of all is transparency. We need to know who owns what, and once we can shine light on what's happening, it will be much harder for these people to hide what they've stolen. That's what we need to do. We need to put more money into enforcement. We need to get better at enforcement. But the number one thing to do, first of all, is to know who owns what. Once we have that, then that it will be harder to hide what you've stolen. People will still steal. People would always steal, but they won't necessarily be able to keep it anymore, and that's key. That's what we've really needed to do.
Jordan Harbinger: [01:22:34] Thank you so much. This is really interesting. The book was fascinating. There's a lot of examples of corruption and how it works and how money laundering works and we've done shows on money laundering, which I thought were really interesting and there's just a ton of anecdotes in this book that I thought was—and maybe it's just me kind of having been in Wall Street and understanding a little bit, enjoying some of the financial stories here, but it's not a technical book, so I do recommend it for people who are interested in corruption and things like that. Although I could be somewhat unique in my fascination with corruption and Eastern European oligarchs. I think a lot of people are going, what the hell was that? Get back to the other topics on the show, but I appreciate this a lot. It's very unique and thank you for your time.
Oliver Bullough: [01:23:17] Thank you. Thank you for having me here.
Jordan Harbinger: [01:23:20] Such an interesting show, Jason. We almost went long as we always do, but man, it's a little, it's not a little, it's really gross because once you get a certain amount of money, the diminishing returns. I mean who cares? Who needs a $200,000 wedding dress and then how do you sleep at night knowing that there are kids with cancer that can't get drugs because you literally stole from them or your dad did. I mean you just have to be a sociopath, your whole family.
Jason DeFillippo: [01:23:47] There's no other explanation for it. It's infuriating. I mean, I'm just thinking of these poor kids --no education, no immunizations, no nothing-- because these idiots decided to just take everything. And the fact that you can't find it, the people who actually help them facilitate this theft on such a grand scale need to be taken out back and shot behind the woodshed along with the people that perpetuate it.
Jordan Harbinger: [01:24:12] Exactly. It just doesn't even make any sense to me. I've never been in his position, obviously, but I would like to think that if I'm the leader of a country, what I enrich myself, of course, I would want to be successful, but wouldn't you want everyone--I don't know maybe this is a healthy or unhealthy narcissism. I would want everybody to go, wow, look at all the changes he made to the country. Let's build a statue of this guy. Not like, "Wow, he had a lot of cars."
Jason DeFillippo: [01:24:38] Yeah, exactly. I don't want to come out of it with a big bank account. I want to come out of it with a legacy where my people loved me, where I did great things for the country that I could be proud of. Not just this gaudy Instagram photo of all my cars.
Jordan Harbinger: [01:24:52] Yeah. Nobody gets immortalized because they built a big house. Yeah. Nobody gets immortalized because they had their own yacht with a helipad on it. I mean, nobody—
Jason DeFillippo: [01:25:03] Well, Imelda Marcos got immortalized because of all our shoes. I guess.
Jordan Harbinger: [01:25:06] Right. That's true. That's true. You got me on that one. I wouldn't say it's the good kind of legacy I think. But at the same time, you see these guys doing this and getting away with it and you go, "Well, of course, the incentive to do this is through the roof." And it is, it is cultural. It has to do with the fact that there's a scarcity mindset around communism and things like that. But of course, we can't just label it as a communist phenomenon. If you've looked at those Panama papers, there are plenty of people from all walks of life in every country in the world that have been stashing away money. And I don't know I think at some point it just becomes an addiction. And I don't think that justifies it at all. I mean this guy and Ukraine who we started off within the conversation. He had people, he had students murdered by snipers because he wanted to stay in power. It's just ludicrous to me. I mean, take your two billion or 10 billion balls and go home.
Jason DeFillippo: [01:25:58] Yes seriously.
Jordan Harbinger: [01:26:58] Yes seriously. Buy an Island and F'd off. You know, like screw off man. You're rich already screwed everyone over go home. I don't know. I found it disgusting and I love that Oliver's doing this kind of work. It's scary to me that somebody has so much power that even Vice who doesn't care about anybody and will literally like shit talk Kim Jong-un didn't release the documentary because they're worried about the fallout from this. I mean, if you can scare away a major media company and Vice would love a good fight. And still, they wouldn't pick one with this oligarch because they don't want to get murdered.
Jason DeFillippo: [01:26:40] Yeah. There's a big difference between fighting in the court and fighting in the street at 3:00 a.m. when you come home from the pub and getting shot in front of your kids. So honestly, I think they made the right decision because as we mentioned sociopaths and they have a lot of money and they have a lot of muscle. I would err on the side of caution for my people if I was that media company. And I think they did the right thing there. It sucks for us, so we don't, because we don't get to see it, but I think that they really did the right thing by holding it back.
Jordan Harbinger: [01:27:07] I know, I know. It seems like the kind of thing that should get leaked. Where's WikiLeaks when there's something like this? "Oh wait, it's anti-Russian, so never mind."
Jason DeFillippo: [01:27:16] Yeah, yeah, yeah. Let's not go down that road.
Jordan Harbinger: [01:27:19] Yeah. Yeah, of course. And it's not even anti-Russia. It's anti-Russian oligarchs. It's easy to forget. It's the people in these countries that suffered the most. Whereas some guy bought an expensive house down the street. It's the kids in Ukraine, the kids in Russia that are suffering the most at the hands of these guys. So, when I say anti-Russia, it's not really that, it's, it's anti oligarchy, which is a completely different thing in every way. We should feel bad for the people that live in these countries and suffer at the hands of these demagogues and dictators.
[01:27:47] A great big thank you to Oliver Bullough. That book title is Moneyland. Links to that will be in the show notes. We're teaching them how to connect with great people, manage relationships, using systems, tiny habits over at our core Six-Minute Networking, which is free. That's at jordanharbinger.com/course. I know you want to do it, but you'll do it later, right? You cannot kick the can down the road on this. You can't make up for lost time when it comes to relationships when it comes to networking, I know you might think you don't need it. You think you're already good at it, I'm sure. Well, the people that can benefit the most from this are the people that are already good at this and need the systems, so I love the excuses I get, "Oh, I don't really need this. I'm a teacher." "Cool. Let me know when you get fired. Oh wait, you're totally SOL." When that happens, I see the dumbest excuses for not digging the well, and then I get an email three months later, so "You're right and now I need a job. Any ideas?" "Yeah, start now." The best time to plant a tree was 20 years ago, and the second-best time is right now. The drills take a few minutes per day. It's crucial. Ignore it at your own peril. jordanharbinger.com/course. By the way, most of the guests on the show, they subscribe to the course. They've done it, they do the newsletter, so come join us, you'll be in good company. And speaking of building relationships, tell me your number one takeaway here from Oliver Bullough. I'm at @JordanHarbinger, both Twitter and Instagram. I read everything, especially the reviews of the show. So please review us on Apple Podcasts so other people can find the show. If you need instructions, jordanharbinger.com/subscribe.
[01:29:13] This show is produced in association with PodcastOne. This episode was co-produced by Jason DeFillippo and Jen Harbinger, show notes and worksheets are by Robert Fogarty, music by Evan Viola, and I'm your host Jordan Harbinger. Our advice and opinions and those of our guests are their own. Do your own research before implementing anything you hear on the show. Remember, we rise by lifting others. The fee for this show is that you share it with friends when you find something useful, which should be in every episode. So, please share the show with those you love, and even those who don't. In the meantime, do your best to apply what you hear on the show, so you can live what you listen, and we'll see you next time.
Sign up to receive email updates
Enter your name and email address below and I'll send you periodic updates about the podcast.