Cameron Herold (@cameronherold) is the mastermind behind hundreds of companies' exponential growth, former COO of 1-800-GOT-JUNK, founder of the COO Alliance, and author of five books, including Double Double: How to Double Your Revenue and Profit in 3 Years or Less.
What We Discuss with Cameron Herold:
Understanding the personal and professional ups and downs of the entrepreneurial roller coaster.
Why having bipolar disorder and/or ADHD might actually be advantageous for someone who runs a business.
11 questions you can ask to discover more about your entrepreneurial proclivities.
Navigating the five stages of the entrepreneur's transition curve.
What an entrepreneur's friends, family, and colleagues should know about his or her unique superpowers and quirks.
And much more…
Like this show? Please leave us a review here — even one sentence helps! Consider including your Twitter handle so we can thank you personally!
(Download Episode Here)
(Subscribe to the Podcast Here)
Worksheet for this Episode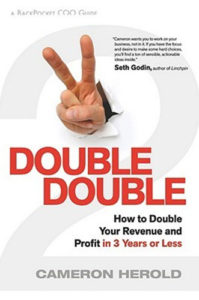 Imagine how Superman's story would have played out had his abilities been diagnosed as disorders and suppressed by a regular dosage of medicinal kryptonite on doctor's orders. Then who would stop Lex Luthor from running the world? The freakin' Wonder Twins? Not bloody likely. Lois Lane would marry someone whose ambitions more closely matched her own, Clark Kent would live a deeply unsatisfying life of wasted potential behind his desk at The Daily Planet, and the world would be worse for it.
"CEO whisperer" and Double Double: How to Double Your Revenue and Profit in 3 Years or Less author Cameron Herold joins us for this episode to discuss why ADHD and bipolar disorder can actually be ambition-fueling superpowers that should be channeled — especially by the entrepreneurial-minded who tend to carry these traits — rather than medicated into oblivion. We'll get into how these traits can be identified and utilized, what those close to us should know if we exhibit these traits, the five stages of the entrepreneur's transition curve, and much more. Listen, learn, and enjoy!
Please Scroll down for Full Show Notes and Featured Resources!
Sign up for Six-Minute Networking — our free networking and relationship development mini course — at jordanharbinger.com/course!
Does your business have an Internet presence? Save up to a whopping 62% on new webhosting packages with HostGator at hostgator.com/jordan!
The folks at BiOptimizers understand why you're skeptical about probiotics as a way to increase your digestive and gut health. But without sharing TMI, we can confirm its patented P3-OM superstrain actually does what it's supposed to do! Curious? Go to p3om.com/jordanfree for a unique coupon code to claim your free bottle! Limit one per household.
Solgar has been making vitamin supplements since 1947 in small batches to help ensure consistency in every product for the fitness-minded. Go to luckyvitamin.com/solgar right now and get $5.00 off your order of $25 or more through July 31st with code JORDAN!
SquadCast is remote interview recording software used by professional podcasters that overcomes the quality restrictions of its competitors. Start your free trial by going to SquadCast.com and hear the difference today!
Häagen-Dazs invites you to treat yourself to any one of the nine flavors of its Trio Crispy Layers collection. With 15 layers of decadence, you can indulge like never before. Head to haagendazs.com to learn more!
Mind Pump is an online radio show/podcast dedicated to providing truthful fitness and health information. It is sometimes raw, sometimes shocking, and is always entertaining and helpful. Jack up your ears with some Mind Pump wisdom here!
More About This Show
The Entrepreneur's Transition Curve
The entrepreneurial journey is a roller coaster of ups and downs that can be broken down into five stages (one an optional failure), as this graph illustrates.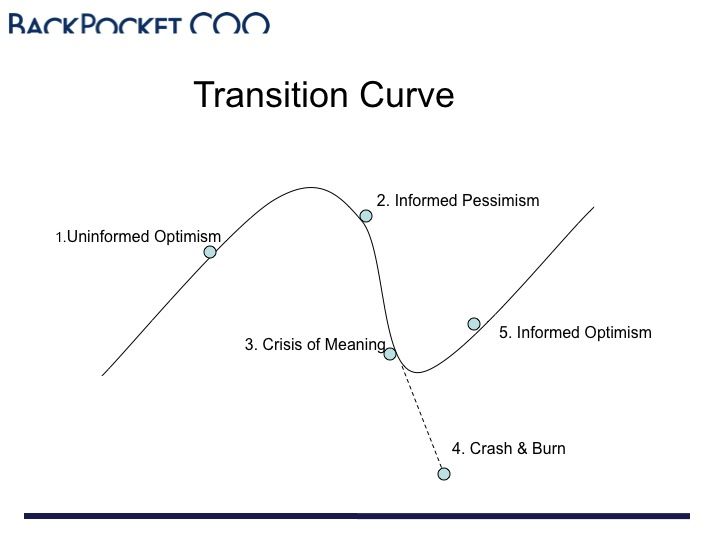 "The model definitely applies to entrepreneurs, because we're all nuts and most of us are bipolar," says Cameron. "Other people ride the roller coaster, but not necessarily as high and low as most entrepreneurs do."
Stage 1: Uninformed Optimism
Just as you're about to crest a roller coaster's highest point, you feel excitement. You don't see what's on the other side, but you anticipate the thrill of the drop ahead. In the same way, an entrepreneur with a great idea is emotionally enthusiastic about possibilities and logically ignorant of consequences. It's a great time to hype the idea to potential investors and partners, but a lousy time to make big decisions.
"This could be the long-term of a year, or it could be just in the course of a week," says Cameron. "It's the irrational exuberance. It's the pure optimism. It's the excitement and the passion."
Stage 2: Informed Pessimism
At the top, you survey the path ahead and everything surrounding it. Twists and turns not apparent when you were waiting in line for this crazy ride are now plain as day, and you're instinctively checking to make sure your seatbelt is secure. This is when you're going to be more realistic about the budget constraints of your project and the next steps of strategy, but you probably want to avoid hiring decisions or speaking to media at this stage.
"You go, 'Whoa, this is harder than I thought,'" says Cameron. "You start seeing the stuff that's going to go wrong, or be a little bit harder, a little more difficult, a little more challenging. You start noticing stuff you hadn't really thought through that clearly before."
Stage 3: Crisis of Meaning
You're hurtling down the drop; this is the turning point when you could overcome adversity and succeed wildly, or panic into a downward spiral of failure. It's easy to sink into depression at this stage because it seems like everything that can go wrong will, and you may be overwhelmed with anxious thoughts that won't let you get a good night's sleep.
This is when you can get a lot of mileage out of accomplishing something small — like cleaning your filing cabinet drawers. Reach out to your support group. Go for walks and get away from your usual environment. Ensure you're making progress on your most important work without burning out by setting your top five daily tasks and whittling them down. Don't try to bite off more than you can chew when you've already got a full plate.
Stage 4: Crash & Burn (Optional)
You don't really want to end up here, but this represents the end of the line for the current project — in a business context, it's a dissolved company and bankruptcy, but could also extend to a failed marriage, addiction, depression, and stress-related health issues. You don't have to wallow in this stage forever, but it may take some extraordinary effort to pull yourself out of it.
"I did everything to course correct," says Cameron. "I started doing work with a shaman…I did 52 sessions with a therapist — I'd never done any counseling or therapy…I went to six group sessions. I started doing yoga four days a week. I started meditation. I started smudging myself in the morning…and it all started to help."
Stage 5: Hopeful Realization/Informed Optimism
After the terrifying drop of the last few stages and, we hope, avoidance of stage four, this is when you'll start to notice your hard work paying off and the momentum pushing you confidently forward. This is when you want to hire, plan strategy, reorganize your team, cut the wrong people, and get everything together so you can grow and circle the curve again.
"This is the little engine that could — 'I think I can, I think I can, I think I can,'" says Cameron. "The danger part is that if you get too optimistic too quickly without fixing the problem that got you to that stressful place before…sooner or later one of those crashes can be detrimental."
THANKS, CAMERON HEROLD!
If you enjoyed this session with Cameron Herold, let him know by clicking on the link below and sending him a quick shout out at Twitter:
Click here to thank Cameron Herold at Twitter!
Click here to let Jordan know about your number one takeaway from this episode!
And if you want us to answer your questions on one of our upcoming weekly Feedback Friday episodes, drop us a line at friday@jordanharbinger.com.
Resources from This Episode: