Reading Time:
4
minutes
Alastair Smith is the Bernhardt Denmark Chair of International Relations at New York University, professor of political science in the Wilf Family Department of Politics, and co-author (with Bruce Bueno de Mesquita) of The Dictator's Handbook: Why Bad Behavior is Almost Always Good Politics. [This is part two of a two-part episode. Find part one here!]
What We Discuss with Alastair Smith:
How do dictators come to power and remain in power even when their policies serve only themselves and not the people under their "leadership?"
Why do the majority of people living under dictatorships suffer in impoverished squalor, and how does foreign aid empower these dictators rather than help the general populace?
Why do dictators consistently hate freedom, the media, and seemingly their own citizens?
Why does bad behavior so often make for good politics — even in the most progressive nations?
Are our own governments beyond saving, or can we use lessons learned here to make them work for us?
And much more…
Like this show? Please leave us a review here — even one sentence helps! Consider including your Twitter handle so we can thank you personally!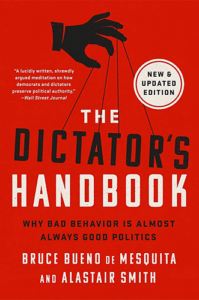 What makes dictators tick? How do they think? Why are they able to stay in power — sometimes for generations — when they serve their own needs above those of the people they purport to represent?
On this two-part episode, we're joined by Alastair Smith, the Bernhardt Denmark Chair of International Relations at New York University, professor of political science in the Wilf Family Department of Politics, and co-author (with Bruce Bueno de Mesquita) of The Dictator's Handbook: Why Bad Behavior is Almost Always Good Politics. Here, we discuss corruption, power games, how dictators come to power and remain in power at all costs, and delve into why dictators hate freedom, media, the press, and seemingly their own citizens. We'll also explore why foreign aid is a trap that empowers dictators, and why these types of regimes tend to do very poorly economically and in the aftermath of natural disasters. Listen, learn, and enjoy! [This is part two of a two-part episode. Find part one here!]
Please Scroll Down for Featured Resources and Transcript!
Please note that some of the links on this page (books, movies, music, etc.) lead to affiliate programs for which The Jordan Harbinger Show receives compensation. It's just one of the ways we keep the lights on around here. Thank you for your support!
Sign up for Six-Minute Networking — our free networking and relationship development mini course — at jordanharbinger.com/course!
This Episode Is Sponsored By:
Can healthcare in the US ever be overhauled to benefit people over profits? Have a listen to episode 709: John Abramson | How Big Pharma Broke American Health Care to find out!
Thanks, Alastair Smith!
Click here to let Jordan know about your number one takeaway from this episode!
And if you want us to answer your questions on one of our upcoming weekly Feedback Friday episodes, drop us a line at friday@jordanharbinger.com.
Resources from This Episode:
795: Alastair Smith | The Dictator's Handbook Part Two
[00:00:00] Jordan Harbinger: Special thanks to Peloton and US Bank for sponsoring this episode of The Jordan Harbinger Show.
[00:00:05] Coming up next on The Jordan Harbinger Show.
[00:00:07] Alastair Smith: Nearly all leaders are brought down through the rules of the system or they're brought down by the elites. The times when the revolutionaries win are very, are very small. Very few examples of leaders being deposed by the masses, and it's because the elites allow it to happen.
[00:00:29] Jordan Harbinger: Welcome to the show. I'm Jordan Harbinger. On The Jordan Harbinger Show, we decode the stories, secrets, and skills of the world's most fascinating people. We have in-depth conversations with scientists, entrepreneurs, spies, psychologists, even the occasional investigative journalist, drug trafficker, economic hitman, or cold case homicide investigator. Not everybody is super dangerous, but many are. Each episode turns our guest's wisdom into practical advice that you can use to build a deeper understanding of how the world works and become a better thinker.
[00:00:58] If you're new to the show, you probably aren't because this is part two of a two-part episode. But hey, if you want to share it with your friends, our episode starter packs our great place to begin, jordanharbinger.com/start. You can look for them on Spotify playlists that include topics such as persuasion and influence negotiation, communication, China, North Korea, scams, crime, conspiracy, cults, and more. Again, jordanharbinger.com/start or search in Spotify. Reminder to use the AI chatbot tool to find any promo code or any question we've answered, any guest on the show, jordanharbinger.com/ai. You've heard this a bunch already. My voice is giving out. If you haven't heard part one already, go back and listen to it but here's part two with Alastair Smith.
[00:01:40] Why is it that autocratic countries, they always have water you can't drink or no water, and the electrical grid goes out, there's a blackout, there's a brownout, their roads are not paved? What's going on here? What is this public goods problem that seems to be so prevalent?
[00:01:55] Alastair Smith: If you're a dictator, you want to provide public goods to the extent that it makes the workers productive enough. But, you know, putting in water systems is very expensive. So proper sewage, proper water distribution is expensive, particularly the sort of sewage that's particularly that because you have the gravity feeds and everything. So these are expensive things to do. And if the people that benefit from this aren't supporting you and are opposed to you, then you're just wasting your money. You could have kept that money and given it to your cronies. So often these projects aren't done. And often the typical way, you know, some countries, I'm thinking mainly Middle East or oil-rich countries, they just have huge amounts of sovereign wealth, which they can actually just reallocate to supporters. But the more general way that you reward people in a small, corrupt system is you just allow your cronies are the ones you license to actually go around and extract bribes. You make money through corruption and what better way to make money than through public works projects.
[00:02:59] Jordan Harbinger: I see.
[00:03:00] Alastair Smith: Built to low standards. Your friends get the bids, we take them away in sort of places that are corrupt.
[00:03:05] Jordan Harbinger: Right. Okay, so this makes sense, right? We want roads and we want telephone and we want a little bit of maybe water here and there, but also I'm giving it to my cronies so that guy's skimming off the top. So it's built poorly and it's not really complete to begin with. And I would imagine the same infrastructure that's good for the economy, roads, telephones, Internet, they all increase productivity. I mean we hear about like Twitter being a thing in Iran for the protests. We don't want them to be able to communicate too well or drive to the capital in their cars when they're unhappy, right? So we kind of want like just enough that there's a benefit from it. But not enough where they can talk to each other and complain about the fact that everything sucks, everything else sucks.
[00:03:49] Alastair Smith: We sort of see more provision of public goods than we might expect just under the political incentives because they also improve productivity. They sort of see the public goods that people will provide. Most even corrupt autocracies are willing to provide vaccinations and basic healthcare because those things that keep people productive but doesn't help them organize. But having people, freedom of assembly, in fact, it's actually sort of bizarre, right? It's expensive to not provide freedom of assembly. They pay money to stop people talking to each other.
[00:04:23] Jordan Harbinger: Right. Yeah. The great firewall of China and the Internet policing and the fact that you have so many security officers just in case somebody does gather somewhere, you've got to disperse that all the time.
[00:04:34] Alastair Smith: Yeah. It's actually sort of funny actually on that we found out from the books published in Chinese, The Dictator's Handbook is published in Chinese and it was only when some scholar wrote to us and said, "Did you know your book's been—? Neither Bruce nor I speak a word in Chinese. So it had to be someone who read both the English version and the Chinese version and then realized, and it was very clumsily edited apparently. It was just like anytime we mentioned anything in China, it was all just struck out. That paragraph disappeared. It doesn't really flow, but it's much better just to arbitrarily take it all out than risk. Even if we were saying something nice about somebody, you know, they just took everything, everything that mentioned China disappeared out of the Chinese edition.
[00:05:14] Jordan Harbinger: It's like they did "control + F" on the manuscript, search for China, and then just deleted the sentence.
[00:05:20] Alastair Smith: Well, we didn't realize for years.
[00:05:22] Jordan Harbinger: Yeah. Why would you?
[00:05:23] Alastair Smith: Right, because I don't speak Chinese.
[00:05:26] Jordan Harbinger: We'd have to do a paragraph-by-paragraph comparison with somebody who speaks well, almost natively in both languages. I mean, that would be—
[00:05:32] Alastair Smith: Yeah, someone did. So I say some scholar had done this when he realized that there was stuff missing that he'd read in the English copy. Anyway, I thought it was again, clumsy but effective, right?
[00:05:41] Jordan Harbinger: There's probably a lot of people whose job it is to take every book that's going to be published in mainland China and do that exact same thing and they maybe they've got a high workload and that's why it was so clumsy.
[00:05:51] Alastair Smith: Yeah.
[00:05:52] Jordan Harbinger: Who knows?
[00:05:52] Alastair Smith: It's just easier to take everything out rather than risk letting something through the censors that the censor says, you should have taken this out. And you are sitting there thinking, but there are great things about China.
[00:06:02] Jordan Harbinger: Yeah.
[00:06:02] Alastair Smith: But you left it in and somebody else — anyway, play on the safe side.
[00:06:06] Jordan Harbinger: These little details are always so interesting. Speaking of which, you have this factoid in the book, and I'm not even sure I understood it. Is it autocratic countries, in general, have more twisty roads? Or is it the opposite than democracies?
[00:06:18] Alastair Smith: Twisty roads. So if you can just decide you want a road from your capital to the airport, which is a great thing to have, because then when things go south, you can get in your armored car, drive to your helicopter, and take the nation's wealth with you. You can just build it. You don't have to care about anybody's obligations. If you want to build a network from New York City to bring people into Manhattan, which, oh God, they do need so badly, it's so much harder to do that. So very simply, just for a funny thing, we just sort of took, what's the crow flies distance between the center or the capital and the airport and how long do you have to drive? And it turns out dictatorships, they have shorter roads to the airport from the center of the city.
[00:07:03] Jordan Harbinger: Huh.
[00:07:03] Alastair Smith: They're just straight up much more direct. We try and illustrate the arguments in as many contexts as we can. And that was just somewhere we were sitting there complaining about the airport and, oh, it's so much easier when you're in X, Y, and Z. And then we're like, "Ooh, maybe that's general. It's not hard to just look up capitals and you measure some distances on Google Earth and then put the directions in on Google and find out how long it's going to take you to do the journey.
[00:07:28] Jordan Harbinger: There's this concept in the book that it's better to have incompetent, loyal supporters than it is to have educated, competent people near you who might challenge your power. And I thought this was a really insightful and interesting, but also, so obviously destructive, right? Saddam Hussein, for example, purged all the educated, accomplished people that he can find basically, and then promotes this guy, Chemical Ali, who I think was like a motorcycle courier. And that guy, I mean, he wasn't exactly the sharpest guy. We saw him on TV a lot. You just don't want trusted advisors that could reach the top spot. You want trusted advisors that could never reach the top spot, and sometimes that means that they are dullards and/or misfits in some other way. That seems like a really dangerous group of people to have around you when you're trying to run a whole country.
[00:08:14] Alastair Smith: Yeah. But again, you are making this fallacy that we probably make in the West all the time, that you're trying to do the right thing. You're trying to promote the welfare of the people.
[00:08:25] Jordan Harbinger: Mm-hmm.
[00:08:26] Alastair Smith: Saddam Hussein was trying to promote the welfare of Saddam Hussein, staying in power, stealing money, building luxury palaces for himself. He was not focused on fixing problems for the poor people. And this is a big problem and this is a problem a lot of people face in small coalition systems, is you don't want to let people around. You have too much power. And you know, we've seen some really elaborate systems. In fact, it was funny you were saying earlier that you were working in Serbia and you know, one reason you might not have been a threat to your boss is you would be very hard to gain any position of power because you're an outsider.
[00:09:04] Well, we see this like Saddam Hussein's number two was — I'm blanking on the guy's name. He was a Christian so he would've unlikely to have been able to take over. We see even more interesting examples, like eunuchs are the perfect, the perfect example of people who couldn't possibly be emperor or king or whatever the role is because you know, they're in some sense spoiled and they can't have a dynastic succession. So they're the perfect people to give important positions of power because they're very much beholden to you. And so we see quite a few innovative ways of allowing some modicum of competence set against this problem that you point out is that it's better to have loyal people than it is to have competent people.
[00:09:47] Jordan Harbinger: To clarify, Saddam's right-hand man was a Christian and he couldn't ever challenge him because Iraq was Islamic essentially. Is that why?
[00:09:54] Alastair Smith: Yeah. I think it would be much harder for him to build a coalition to be a successful transition.
[00:10:00] Jordan Harbinger: Yeah, that makes sense. Why do dictators go through the whole rigamarole of having rigged elections where they end up with 99.7 percent of the vote? Why bother with that? I mean, even North Korea has it and it's just like, what is the freaking point?
[00:10:13] Alastair Smith: So earlier, you read out our sort of five basic rules, and I'm forgetting which one, I think it must be number two, the pool of people from which you can pick political supporters, make it as large as possible. What better than letting everyone potentially vote? But it really matters who you get to count the votes, not actually how the people voted. So you have corrupt electoral rules. There's no qualification to be a member of the political elite. You don't have to be from a religious order. Hunters actually have quite short leader survival because the replacement pool of senior militaries is very small. And so people don't have to be as loyal because the next guy's got a good chance they're going to need your support too because there's not a lot of replacements. But in China you can basically, there's a very, very small chance of you anybody rising to being a political elite. So there's lots of competition for the job. So people are very loyal. That's the sort of genius I think of Stalin, uh, no Stalin, Lenin just putting the system in place where you increase the replacement pool and that makes it more risky to be disloyal. And that's the logic I think about doing this. I mean, people keep telling me it's about legitimacy and stuff. I don't find those arguments. I just think it's the institutional structure.
[00:11:40] Jordan Harbinger: I would love to talk a little bit about what you think is going on with Russia and Ukraine. I know this is a dramatic departure from dictatorships, but also not because only a dictator would really get — well, I shouldn't say that. We've been in our own messes. Usually, dictators get themselves into this kind of crap, and this really does seem like Putin stepped in it and it was just so avoidable.
[00:12:00] Alastair Smith: One of the advantages of being a dictator is you couldn't make a lot of policy decisions that are based very much on discretion, something that you want to do. You have slack in the system and so you can invite. I think the more interesting revealing part of the, that conflict is how poorly the Russian military has done. I had just assumed it was 10 times larger than the Ukrainian military and so would walk over. But we've just seen very much how dictators fight wars in the general problem is they're much more interested in private goods, corruption for their cronies. And military spending is it's a way of enriching supporters.
[00:12:41] Think of how you're going to spend the money you've given to the military. You could spend it on fine wines and filet mignons in the offices club, or you could spend it on training and good equipment for the soldiers. Now, if you want to win a war, option B is very good, but if you want to buy political support, which is number one, then giving them money, letting officers, senior offices, senior people in the military-industrial complex, steal the funds and produce shoddy materials is a very successful way to do it.
[00:13:11] And so we often see lots of times where large coalition systems democracies, and I'm not really going to claim Ukraine's the greatest democracy—
[00:13:21] Jordan Harbinger: Mm-hmm.
[00:13:22] Alastair Smith: —on that regard, but more so than. , how they've often outfought much bigger enemies. I mean, the case we can look at is Israel always seems to have pulled it out against massive odds against the Arab states that have invaded or sometimes they preempted. I'm not going to get into the political distinction.
[00:13:39] Jordan Harbinger: Yeah.
[00:13:39] Alastair Smith: But they fought very well for relatively small resources. And the real problem goes is we've seen this in Russia. Putin has prepared to throw raw recruits into the battlefront with poor equipment and no, no effective secret communications.
[00:13:57] Jordan Harbinger: Because those people are not really stakeholders like we talked about earlier in the show. Now, it's all clicking, right? Those people don't matter. They live in Novosibirsk in Siberia or whatever, and they're, yeah, nothing. They're not the winning coalition.
[00:14:10] Alastair Smith: Yeah. If you want to build effective military resources, it costs real money. It's sort of a capital investment. Where's that capital going to come from? That's money that's going to come out of your cronies' pockets. And so better to fight the war or fight the war poorly and let it drag on than it is to remove the money from your supporters to improve the war.
[00:14:31] Democrats, if you lose a war, you've delivered a very bad policy outcome for the massive of people, because that affects everybody in the country. And so you don't have enough money to compensate everyone for losing a war. So you take all the resources you have and you pump them into fighting the war in a really effective way. And so we see the US military is incredibly well trained, incredibly well provisioned. And you know, when the US needs to, they keep doubling their efforts.
[00:14:58] You know, every time we're not succeeding, we think about more resources. We saw this in Iraq. Bush upped the anti and really reinvested in giving the military the resources to make headway in Iraq during the occupation. It's good public policy to win a war. So spend your money on that. It's a very bad idea to take money out of your supporter's pockets. So Russia is not throwing good materials and support at the Ukraine, because it's not good politics to do so.
[00:15:27] Jordan Harbinger: What this sounds like is the incentives are throw human bodies at this problem, but not the resources for those bodies to actually succeed in Ukraine. Because you can't take money out of your cronies' pockets if you're Putin, but you also can't lose a war. So what you do is you just get as many people thrown into that meat grinder as possible, and hopefully, he dies before he has to pay the bill for this war.
[00:15:50] Alastair Smith: Yeah. I think, you're missing it. You don't have to win the war if you're an autocrat. You can afford to lose war. In fact, the statistics, one of the reasons we got originally started this project was thinking about what's the consequences of winning and losing conflicts. So Democrats even if they win wars, if they have a lot of casualties, it's really bad. You think about the policies of LBJ in Vietnam. Let's keep trying harder, keep trying harder. We're going to keep putting more in to win this. Until eventually, the decision was it's not worth the sacrifice for this policy that we care about. The domino idea that all of Southeast Asia was falling, but LBJ thought about this. He had big meetings, it was well resourced how he was going to spend money, and he was completely out of power. He realized he had no effective way of running in '68. And so he basically said, "I can't run for my nomination." And the Democrats were beaten by Nixon, but autocrats can survive losing water.
[00:16:47] So think about Saddam Hussein. He lost the first Gulf War. He was sort of humiliated. But the key thing was the elite units, the Republican Guard who kept him safe at home, living the life of luxury while it was raw recruits out in the desert, getting killed. You can afford to lose so long as you don't blow the resources and make your coalition worse off. It was eventually the US that took him out, not the Iraqi people. He was not deposed internally. He was deposed externally. And so it's much easier to lose a war if you're a small coalition dictator provided that you keep the resources.
[00:17:24] You know, there was a horrific war between Iran and Iraq where tons of people got killed. Saddam Hussein and ayatollahs, they all kept their jobs. It's not winning or losing. That's really important. It's about not squandering resources. For a Democrat, you got to win, which is really interesting idea. Democrats don't fight each other very often because it's really hard for both sides to have confidence that they're going to win because you know both sides are going to try hard. If they happen, and they're between like comparable size countries, they're probably going to be bloody horribly costly financially and in terms of human life affairs, which of course, why we don't fight those war in the first.
[00:18:05] Jordan Harbinger: You are listening to the Jordan Harbinger Show with our guest Alastair Smith. We'll be right back.
[00:18:10] A lot of people ask me how I'm able to stick to my fitness routine, especially since I have such a bananas schedule. For me, it's really creating a routine that is sustainable and can be duplicated on an ongoing basis. Consistency is the key, right? And Peloton helps me have a sustainable fitness routine because there are thousands of classes to choose from. It's also 24/7. I've always got time for it. I might only have 15 minutes in between calls, but I can still fit in a Peloton class. Peloton is really famous for their bikes, but they also make a top-notch rowing machine that stores upright, which you think no big deal, but when you try to have a rower on the floor, you'll be so glad this thing goes upright. If you're a newbie to rowing, the Peloton Row has sensors that can track your movements, that shows you how your form is doing, and it warns you if you're doing something wrong that could injure you or whatever. And right now is the perfect time to get rowing. With Peloton Row, we can promise you've never rowed like this before. Peloton Row offers a variety of classes for all levels and game-changing features that help you get rowing or advance what you can already do. Explore Peloton Row and financing options at onepeloton.com/row.
[00:19:11] This episode is also sponsored by Better Help. Hey, if you're going through a tough time, just know that you're not alone. I've been there. I think a lot of us have been there. Therapy is one of the best things you can do for yourself. If you listen to Feedback Friday, I'm not going to beat that point home too much. Better Help is a great way to dip your toes in the water of therapy. I'm not a fan of sitting on someone else's couch. I don't know. I'm not comfortable. I'm already having a hard time. I got to spill my guts and talk to somebody about problems I don't want to be in their house too. I don't know, it's just a little weird for. Chat sessions, phone sessions, video sessions are also options with Better Help. I just have an easier time opening up when I'm comfortable or I'm outside. I feel a little bit more in control and a little bit more confident doing that. Therapy is vulnerable, work. Better Help just doesn't feel intimidating at all. I think that's really important. They will match you to a therapist that's tailored to your needs. And you could switch therapists anytime you want if you don't click. Check out their 94,000 reviews in the iPhone app if you're still skeptical. Go ahead and take this as assigned to go and try therapy if you haven't yet.
[00:20:06] Jen Harbinger: If you want to live a more empowered life, therapy can get you there. Visit betterhelp.com/jordan to get 10 percent off your first month. That's better-H-E-L-P.com/jordan.
[00:20:17] Jordan Harbinger: If you're wondering how I managed to book all these amazing folks for the show, it is because of my network. And I know some of you think this promo is corny, so I'm going to try and un-corni-fy it. We've made a free networking course. It's not a lamo free networking course that upsells you to some other BS. It's just a set of skills that I've taught to the military government. A lot of students. It's very helpful. It, there's no obligation. I don't want your credit card. jordanharbinger.com/course is where you can find it. This is all about improving relationship-building skills. It's going to make you a better peer, it's going to make you a better friend, a better colleague. If you're a student, it's going to help you find a job. If you're in a job you don't like, it's going to help you find a new one. If you're in a job you do like, it's going to help you network at work in a way that is non-cringe, very easy. Takes a few minutes a day. That's the whole point. And many of the guests on the show subscribe and contribute to the course. So, hey, come join us, you'll be in smart company. You can find the course. Again, it's free. There's no upsells, none of that crap. jordanharbinger.com/course.
[00:21:11] Now back to Alastair Smith.
[00:21:14] So if Putin can afford to lose a war, as long as he doesn't lose the resources, why is he not just pulling out of Ukraine, this is obviously not going well for him, and he can stay in power if he just bounces and reframes this as some sort of, "Hey, at least we got our solidified creme in the Donbas and denazified them. We're good here. We win. Bye." Why didn't he do that? Why is this not happening?
[00:21:37] Alastair Smith: It may well happen, but as we're sort of discussing, the resources he's plowing in there are not really calming at the expense of his political cronies. So the oligarchs that back him are still kept in a fairly high standard. He's actually flushed with cash, right? One of the consequences is, you know, the West has made all these great claims about sanctions and financial assets and stealing yachts, but the thing they haven't done is stopped buying, you know, the Europeans have not stopped buying Russian gas.
[00:22:05] Jordan Harbinger: Sure, they can't.
[00:22:06] Alastair Smith: They're desperate to get it at hugely inflated prices. So Putin is actually doing quite well financially. The war in some sense is increasing his revenues, so we tend to think about it. It's going badly on the battlefield, but it's bringing in some resources. He's slowly captured some territory he didn't have before. So things are not as bad as perhaps we think from his perspective. He's not going to up the ante and take money out of supporters' pockets, but he's letting the war drag on, keep the gas price high, keep the oil price high. That might not be such a bad thing for him. I don't certainly don't see ending decisively anytime.
[00:22:44] Jordan Harbinger: That makes sense, right? because he's not accountable to the guys that are getting shot because they have cardboard armor or no armor, or no bullets. They can't do anything. But the people that own and run all the oil companies and all these other things, they're fine. And that's all that matters in his regime.
[00:23:00] Alastair Smith: Yeah. And the US response has been to arm Ukraine and they've been very successful at that. And the Ukrainians have been, I'm going to say sort of trying hard, they're dedicating the whole country to the war effort and Russia, we see that it's basically people from remote areas being thrown into a fight that the country is not mobilized for as a whole. This is really interesting lesson in how people fight very differently. The US we give to soldiers the best equipment, the best armored vehicles. Autocrats, they just throw the troops in with bad weapons.
[00:23:33] You know, when we were invading Afghanistan, we needed help from the Northern Alliance. The soldiers didn't have shoes. The US provided shoes and boots and the air cover for the invasion to take place. And then, you know, the US is saying, "Why won't you march?" And it turns out well the leaders of the Northern Alliance are taken the shoes and sold them on the market to get cash. We tend to think because we were fortunate to grow up in democracies that militaries are about providing national defense. But they're not only that, they're are a means of providing internal defense for rioters and stuff, but they're not a very tough military opponent and they're a way of distributing resources to those people you need to keep happy. Again, another sad perspective on the world, but—
[00:24:16] Jordan Harbinger: Yeah.
[00:24:16] Alastair Smith: —I don't think it's unreal or inaccurate.
[00:24:19] Jordan Harbinger: So your prediction is the war won't end anytime soon, certainly, not in any decisive way because the incentives just are not there.
[00:24:26] Alastair Smith: Right. Ukraine can't afford to lose. You know, Zelenskyy wants to win the war because he's politically dead if he's defeated and Russia can readily take lots of the southern Black Sea areas and at the moment the increased price of oil and gas has sort of helping Putin and it's not costing him or his supporters directly.
[00:24:47] Jordan Harbinger: Oh, man, such an unfortunate reality for everyone.
[00:24:51] Alastair Smith: But it's better that we recognize that this is the state of affairs than just sort of say Putin should withdraw because it's killing lots of people. Because that's not in his incentives. It may be the morally correct thing to do and good for the Russia and the world as a whole, but it may not be good for him. And so we should only think about trying to implement policies that are going to be compatible with leaders' incentives because otherwise, they're not going to go along with these things.
[00:25:16] Jordan Harbinger: Are there policies that you see that would be compatible with Putin's incentives that would get him out of Ukraine?
[00:25:21] Alastair Smith: That's sort of hard, right?
[00:25:23] Jordan Harbinger: Right.
[00:25:23] Alastair Smith: Portraying him as a war criminal certainly doesn't help, I don't think, because it means if things are going south in the Kremlin, he's going to stay and fight it out. And prolong the war rather than think of backing down. If he could take huge amounts of wealth and go live in luxury and free from protection everywhere, that might be an option that he might find realistic and his supporters might anticipate he might do that and that'll be disloyal. Branding him a war criminal early in the process means it only provides an incentive for him to fight to the very end. He's already committed the crime. Why would you want to stand and be judged? So he's certainly not going to, in some sense, turn himself into Western authorities or back down and leave himself vulnerable.
[00:26:08] Jordan Harbinger: It's disgusting to think about, but the best thing we can do, it sounds like one of the best things we could do is let him take a couple of billion of his dollars, build him a nice set of villas in Switzerland where he can live out the rest of his life in luxury and say, "Hey man, you get out of jail free card, but you got to get your people out of Ukraine." And that's a nice option for him. Now, he has no reason to trust that we would abide by that, unfortunately.
[00:26:30] Alastair Smith: I mean, I have very mixed feelings about things like the international criminal courts, because coming to power is often a bloody business if you're an autocratic leader. So you're often guilty of a crime already. The moment you're guilty, all we do is make the landing hard. The leader just stays and fights it out till the very bitter end. You'd like to see some justice for victims, but at the same time, do we need another, you know, 50,000 people to get massacred or the military to kill more people and oppress more people just so we can have the satisfaction of maybe locking somebody up for the crimes that they've done?
[00:27:04] Jordan Harbinger: Right. We're dragging the conflict on for five or 10 years because he knows he's going to spend the rest of his life in the Hague.
[00:27:10] Alastair Smith: He certainly is not going to hand himself over or step down in any way where the next leader might well just hand him over because that would curry favor with the West. So I have very mixed feelings about these international criminal courts. It's too quick to say this person's bad. I mean, I have severe reservations about whether prosecuting Donald Trump would be a good idea. I mean, it would seem to be a significant amount of evidence against him, but it seems like a terrible precedence to set to go after locking up political leaders.
[00:27:41] Jordan Harbinger: Yeah, this is a very pragmatic approach and it's a lot of people are going to be like, "Are you insane? We have to lock these people up," whether it's Trump or Putin or whoever you want, but it's like from a very practical perspective. Do we want to save the maximum amount of lives? Do we want to set the right precedent for later on in our political system or the political system of an autocratic regime, whatever it is. And we just have to sort of balance that because while we might sort of golf clap when Slobodan Milošević goes to trial in the Hague, did we prolong everything for the next guy who says, "Well, I'm not going to go through that. I'm just going to kill 10,000 people. And maybe that'll end these protests that are happening. Nope, that didn't work. All right. Kill 50,000 people. And maybe that'll do the trick," because the other option is get hung, like Saddam Hussein or whatever.
[00:28:28] Alastair Smith: Yeah. Fixing world problems, so long as we're going to recognize sovereignty of other states is extremely hard. Engineering things from pleading to the good character and doing the right thing of a leader when those actions we're asking them to do is against their political survival just seems crazy. It just seems they're doomed to failure.
[00:28:47] Jordan Harbinger: I would love to talk about the foreign aid. You hinted at it earlier in the show and I don't even necessarily know where to begin. First of all, like most people, I don't really understand foreign aid and I know a lot of people don't because I see comments online like, "Why are we giving the Taliban $40 million to do gender studies in Afghanistan when we don't have a secure border?" And it's like, well, wait a minute. Something is going on with the aid because countries are, and again, correct me if I'm wrong, we're not that altruistic. Like maybe we want to promote democracy because it helps people, but also because there's something in it for us. There has to be because it's billions of dollars. It's not charity, right?
[00:29:23] Alastair Smith: Think of your political leaders. They should be doing what keeps them in power—
[00:29:27] Jordan Harbinger: Mm-hmm.
[00:29:28] Alastair Smith: —in their country. So US presidents and Congress should be doing things that benefit their constituents, the people who keep them in power in the United States. So any deal that we see, any aid agreement that's being passed from the US to a foreign nation is going to be domestically beneficial. It would be nice to have this altruistic view that Presidents, Congress care about people in Ethiopia at some normative level, but making people overseas better off doesn't get them elected. Making people who keep them in power makes them better off.
[00:30:01] We should instantly stop thinking of it as charity and start thinking of it as what is the exchange that we get. The obvious example for the United States is throughout the Cold War, the US propped up tons of authoritarian regimes because they adopted anti-communist policies. And when the Cold War was over, for a lot of aid disappeared to these countries. And similarly for the Russians, when the Cold War was over, they no longer had this interest in pursuing the Cold War and so funds stopped flowing. So we want to think about why would the US have an interest and why would the country go along. And the simple truth is that we get policy concessions on the cheap. What welfare can the leader give to her coalition relative to what they can get by buying policy overseas?
[00:30:47] Jordan Harbinger: It seems like a lot of this foreign aid then would get, if we're talking about authoritarians and the stuff we said previous in the show, why would those authoritarians, let's say in a country that has a famine, why would they go and give that money to the people that need it and not just steal it? And the answer is they do steal it, right? They do. They steal a lot of it and they distribute it to the people that, to them, matter, like oligarchs and cronies, correct?
[00:31:11] Alastair Smith: Yeah. That's pretty much what I suspect happens a lot. It's always horrifying to think about the group big Live Aid event for famine in Ethiopia, which is an example I often like to talk to my students about. We see these hideous circumstances and we're all like, we just get you in the heart. And so what do we do? We hand over huge outs of money. Some of the money goes to the Ethiopian government who predominantly used it for forcible relocation, which is part of the reason the famine started. And the other stuff that gets captured by sort of the rebel groups that are fighting the government, instead of buying food, they end up buying weapons. So in some sense, we perpetuate, we enable the crisis to continue. And the horrible truth is hundreds of thousands of people died of famine that was avoidable, but it was only avoidable if the government in Ethiopia cared more about feeding the people than suppressing rebel groups. And unfortunately, that wasn't the case.
[00:32:08] Jordan Harbinger: Right. So the famine was kind of engineered or allowed to happen because it was happening to people who had militias that were maybe fighting the central government. So it wasn't just like, "Hey, there's no food here," because the government doesn't necessarily want to allow or correct for the problem that caused the famine, or maybe they caused the famine in the first place. And so giving aid to the people that really need it is counterproductive for that leader to do that because the point is that area is unstable and gives an excuse for them to invade without resistance. Am I kind of accurate here?
[00:32:37] Alastair Smith: I think you sort of hit some major points there. Very much in Ethiopia, the famine weakened the rebels. So it was in the government's incentives to allow the famine to continue. Haile Selassie, he just sort of, "Why would I spend my money saving people? People have always died of famine. It's the way of the world." Other places where it's extremely, you know, as Zimbabwe after sort of end of white rule, there were sort of two key power groups and the prime minister went on to be president. The other group that were threatening him, he just basically engineered a famine explicitly just the people will eventually stop supporting the rebels when they're so starving. And you know, thousands of people died of starvation. That's one of the sad things. Famines, they're very avoidable. The pharaohs in Egypt knew how to do this, thousands of years, thousands of years ago. The technology is not hard. We store some food and then you really distributed it at hard times. And now, you can buy food aid and redistribute it. The technology existed, but yet famines persist. So the question is, somebody allowed them to happen, and that's typically the government.
[00:33:43] Jordan Harbinger: So it sounds like the sort of key message here is that aid is for the country that provides it. So the Cold War Aid kept nations away from the Soviets or with the Soviets, depending on who is giving the aid. And then we ditch those people when that ended a lot of them anyway. And also explains why we get in bed with bastards who embezzled tons of aid. And even though we know about it, because it's like, "Well, yes, that guy's stealing the money. Yes, that guy's killing tons of his people, but at least, he's not aligned with the Soviet Union. So we're going to look the other way," which is awful. And it begs the question, does aid do more harm than good?
[00:34:15] Alastair Smith: I'm very much of the opinion aid is not necessarily a good thing. In fact, I generally think it's a bad thing. That said, I understand why we see pictures of starving children and we can't help but want to solve this problem, but it wasn't the problem that we really had. If we were going to respect sovereignty of other nations, it's very hard to tell the other guy to do something that's not in their interest, just because it would be better for the people because the leader isn't doing what's better for the people. They're doing what's best for them. That's how you come to power, particularly when you're beholden to a relatively small group.
[00:34:51] There's a real simple logic to the why the US predominantly gives money to sort of poor dictatorial states. You can buy policy very cheap. So I always like to do a very simple back-of-the-envelope calculation. Suppose the policy that we ask of another nation, the people in that nation, they hate it. And I'm just going to keep numbers simple. So they would take a dollar to be bought off for adopting this policy. And let's suppose, each person in the US values the policy change for a dollar. Be country communists, the US like that, the people in the country might not like that.
[00:35:26] So just think of the dollar exchange. Let's suppose the leader in a foreign country has to keep 10 people happy. So how much do you have to give that leader to make their supporters whole? Well, you have to give them, you know, each of them has to be paid a dollar. That's $10. The US, the coalition is millions of people in size, tens of millions of people in size. So think of the value of money. We spend 10, but everybody in the country gets something equivalent to $1, but tens of millions of people are getting this benefit, and so—
[00:35:56] Jordan Harbinger: Uh-huh.
[00:35:56] Alastair Smith: —we want to transfer money to poor because the money goes further, Autocratic countries, because you don't have to buy off many people, the average person in the recipient countries worse off. They now have a policy they don't like, but none of the rewards that could be bought with the aid money actually go to them.
[00:36:16] Jordan Harbinger: Right.
[00:36:17] Alastair Smith: We see evidence that countries that get really high levels of US aid dislike the United States. Yet, at the same time, if you look at the other survey data, you ask them, which country would you like to move to? They want to move to the United States. It's simple when you think of the incentives. The US provides tons of public goods and services and protection, and law and order, clean water, all the things that we take for granted. That's not provided for them in their country, but they're getting policies they really hate because the US are paying for it. So they hate the US. Love to move there. And to me, it's sort of a damning indictment that the more aid you get, the less you like the United States.
[00:36:59] Jordan Harbinger: This is the Jordan Harbinger show with our guest Alastair Smith. We'll be right back.
[00:37:03] This episode is sponsored in part by HVMN. You've probably heard about ketones supplements, probably on this show because I keep cramming these down your throat. But the truth is, I do use HVMN's Keto IQ supplement before my morning workout. When I don't, I feel hungry and tired by the end. Like not just hungry, I feel like uncomfortable, hungry and sure I've killed that feeling with coffee before. But then, you get the jitters and the anxiety if you're anything like me. So I like the focused energy of ketones, drinkable ketones. Ketone-IQ comes in portable, convenient shots. So if you're on-the-go doing a cycling thing, you're traveling, you run from meeting to meeting, you're doing a run, a lot of fancy health influencers are really into this stuff. I ask my elite athlete friends about this stuff and frankly every supplement before I start shilling it because I don't want to shill something that shouldn't be shilled. But one fair warning that the taste is gross. It tastes like it works, I suppose. Again, I think better endurance, less appetite. None of the hunger, none of that crash. So if you're working hard or you're training for something, definitely give Ketone-IQ a try.
[00:37:59] Jen Harbinger: For 20 percent off your order of Ketone-IQ, go to hvmn.com, promo code JORDAN. Again, that's HVMN.com promo code JORDAN for 20 percent off Ketone-IQ.
[00:38:11] Jordan Harbinger: This episode is also sponsored by TurboTax. Go to TurboTax and don't do your taxes. Meet with an expert who will do them for you. TurboTax experts can relieve you from the stress of taxes and file for you so you can do not taxes. Show your eyes things that are not taxes. Unpack a moving box of not taxes. Taste not taxes. Sing not taxes of lullaby. Hope not taxes sleeps through the night. Grab a saddle and ride not taxes into the sunset. With TurboTax, an expert will do your taxes from start to finish. Ensuring your taxes are done right, guaranteed so you can relax. Feels good to be done with your taxes, doesn't it? Come to TurboTax and don't do your taxes. Visit turbotax.com to learn more. Intuit TurboTax, full service products only. Video meeting while expert does your taxes required. See guaranteed details at turbotax.com/guarantees.
[00:38:57] This episode is also sponsored in part by US Bank. If you like eating out and saving money, then you're going to love what I have to say. Well, food lovers meet the US Bank Altitude Go Visa Signature Card. With this credit card, you'll get four times the points on restaurant deliveries, takeout orders, dine-in, brunches, lunches, or dinners. Plus Altitude Go gets you two times points on groceries. Yes, even delivery, streaming services and gas, or EV charging station pit stops. Visit usbank.com/altitudego to apply and learn how you can earn 20,000 bonus points. You deserve a credit card that gives you more and more and more. You deserve Altitude Go. NerdWallet's 2022 Best-Of awards winner for best credit card for dining benefits. Apply to become an Altitude Go cardholder at usbank.com/altitudego. The creditor and issuer of this card is US Bank National Association pursuant to a license from Visa USA Inc. Some restrictions may. Whew.
[00:39:43] Hey, if you like this episode of the show, please do what other smart and considerate listeners do, which is take a moment and support one of our amazing sponsors, or more than one, all of our deals, all of our discount codes, all those fancy URLs that nobody ever remembers, jordanharbinger.com/deals. They're all in one very searchable place. You can also use the AI chatbot on the website to search for any promo code in any episode over at jordanharbinger.com/ai. Thank you so much for supporting those who support the show. It keeps us going, keeps the lights on around here, and lets us make these episodes week after week.
[00:40:13] All right, now for the rest of my conversation with Alastair Smith.
[00:40:18] It's interesting because there's a meme that goes around in some of these like anti-communist, Chinese Communist Party forums where you see these guys, we call them tankies that are just like, "Yeah, you know, America sucks and China's great. It's the greatest thing." And then, on another post that they made three days earlier, it's like, "How do I get my parents into the United States? I've been here as a student for 10 years, I want to move my parents here eventually. What do I need to start doing now?" And it's like, didn't you just post about how you love China and it's great and you hate America, but you live here and you want to move your parents here because they're retired now. And it's like they will have a meltdown with when you call this out because the uncomfortable truth is they're full of sh*t , right? But also we're pissing them off with other things. That has nothing to do with aid, but it's kind of the same hypocrisy. It leads to my question why we give so much aid to Pakistan. I think a lot of people go, "Wait a minute, this is the country where they're protesting and burning American flags and we gave them how much money." And then, we find out that they're fighting against us in Afghanistan.
[00:41:16] Alastair Smith: Yeah, this is the real problem. So following the US, Beijing, Afghanistan 20-plus years ago now, the US needed the Pakistan government to hold down the Taliban activities in the sort of wild borderlands between two countries. And Pakistan wouldn't do that because it was the right thing to do. They did it because they were given a lot of money.
[00:41:38] Jordan Harbinger: Mm-hmm.
[00:41:38] Alastair Smith: And so you just see this tension of to and froing. So the US start ratcheting back the amount of money and the Pakistan government allow the Taliban more freedoms and say the USA demanded they do more in the Pakistan, put their hand out for more.
[00:41:52] Jordan Harbinger: Mm-hmm.
[00:41:53] Alastair Smith: But they do just enough that it's worthwhile for the US because the US does not want American servicemen being killed in Afghanistan because the Taliban had free range in Pakistan. So the US are getting something valuable and the Pakistanis are just on that sweet spot of, they'll do just enough to keep the aid flow, but they'll never take care of the problem. The extreme example I think of this was I think we paid around eight billion dollars to Pakistan to hunt down Osama bin Laden.
[00:42:21] Jordan Harbinger: Mm-hmm.
[00:42:22] Alastair Smith: And where's he found? He's found living in a complex about a kilometer from the Military Defense Training School, And we have to believe that the government had absolutely no idea he was there. But if they found him, why would the US have any incentive to continue to pay them? You know, we pay them and they pretend to look and the really sad thing is this incentive is we're going to pay you to fix a problem that if you actually fixed, we wouldn't pay you anymore.
[00:42:51] Jordan Harbinger: Right.
[00:42:51] Alastair Smith: We need an international escrow bank where we could say, you know, there's $12 billion. In fact, we don't even have to say we're going to give it to the Pakistan government. Why go through that? We'll just give it to the president as soon as Osama bin Laden is handed over. And that would just be much more efficient because Osama gets handed over and the Pakistani leader gets the money he wants and in some sense, the US would've paid the same, but they would've actually got what they wanted done.
[00:43:20] So I think we should stop thinking about paying people to fix problems and pay them when the job is completed. We don't just pay our contractor to build us a house and then, you know, when they didn't build it, we just give them some more money. We put the money aside and we'll pay you when the job is done. So, that's much more, I think a practical way. I mean, there are limitations because we have to have credible commitment that the US would pay after the job was done. But that structures the incentives at least to get things done. The US want the job done, so they got to pay, but pay when it's done rather than just pay in the expectation that it will get done.
[00:43:54] Jordan Harbinger: Yeah. I remember when we went in with the special forces to kill bin Laden and they were like our sovereignty, and I was thinking, no, no, no, your gravy train got cut off. That's what you're really upset about. I mean, I'm sure it's a little embarrassing that we flew in there under your nose and got this done. But what really sucks is now all these cronies who are getting a billion dollars or whatever it is per year, we don't have any reason to give you that anymore. We got what we wanted because we went in and finally took it.
[00:44:18] The escrow thing, I like the idea, but how does the target nation get the money to do the thing that they need the aid to do if it only comes after they achieve the goal? Like I get it as a reward for Osama bin Laden, but what if they need to build schools in every part of the rural area in the country and they need a thousand of them? How do they get the money to do that if they don't have any money?
[00:44:39] Alastair Smith: Well, one of the simple answers would be, spend less of the money on corruption and more of the money on generating public policy.
[00:44:46] Jordan Harbinger: Don't be ridiculous, Alastair. Spend less money on corruption? Come on.
[00:44:50] Alastair Smith: Maybe you want to do these things in small parcels as opposed to ask people to do billions and billions of dollars of investment.
[00:44:58] Jordan Harbinger: That's true.
[00:44:58] Alastair Smith: But we'll do it on a smaller scale. I just think we should at least start by fixing the political incentives and then worry about the technical details of how to get this done. But it's an easy response as well. They can't afford to do it. Well, they can afford to allow corrupt officials to build policies and mansions and estates and whatever else. Why is it okay for us to give money that is going to end up subsidizing the building of cronies' estates as opposed to pay them at the end? And if they're not willing to cut down on the corruption, why will we give them money? We should just walk away. because they're not going to actually follow through. And if they're not going to do it in order to get the money, they're certainly not going to do it after we've already given them the money.
[00:45:43] Jordan Harbinger: Yeah, yeah.
[00:45:44] Alastair Smith: So in some sense, it's a way of finding out who's serious about trying to improve the country. And if they're not willing, then the best thing you can do is probably walk away.
[00:45:53] Jordan Harbinger: Yeah. It's kind of like when a business treats you really poorly while you're trying to get something from them and you think, "Man, if this is your customer service before you have my money, imagine what the customer service is like after you have my money." I'm always thinking about that.
[00:46:06] Alastair Smith: Yeah. I mean, we want to find out who's serious about making the world better for people and who isn't. And if they're not serious, then the really sad thing is there's not much we can do unless we're willing to go in and use military force, which I think, in general, we're reluctant to do except in extreme cases.
[00:46:22] Jordan Harbinger: What about the aid we're giving to Ukraine? That's something that as a lot of people are complaining about right now. But when I look at discussions online, it's the sort of real politic is we're having Russia, which is right now, unfortunately, the truth is their geopolitical enemy because of Putin, we're having them sort of skewer themselves slash commit demographic suicide at a rapid rate for a song. NATO boots are not on the ground, and if the conspiracy theorists want to say that they are fine, but it's maybe a few hundred people in Ukraine training people. We don't have thousands of guys dying. We don't have our navy deployed over there. We're really just giving them enough rope to hang themselves. And even though it sounds like a lot of money, because it is objectively, it's a lot cheaper than going to war with Russia. How close am I?
[00:47:06] Alastair Smith: I think you nailed it. We get to basically stick it to Russia and we get to do it for pennies on the dollar. I'm assuming there's tons of NATO and US military advisors over their training people to use the weapons systems because they're pretty high tech and the Ukrainian army is a lot of recent volunteers so they don't have the training to use it. So there are people doing that, but there's not tons of Americans being killed and it's weakening Russia militarily. Of course, the US might not have wanted the war in the first place, but the alternative is to desert the Ukraine and allow the Russians to take over the Black Sea coastal areas and perhaps the whole of the Ukraine. And you know, given the alternatives we can prop up the Ukraine for tens of billions of dollars. It seems a pretty cheap price to pay.
[00:47:55] Jordan Harbinger: Right. Because pushing the Russians out is probably impossible, but two, it would be way more costly in blood and treasure if we decided to do it than to just let the Ukrainians defend themselves for X billion dollars.
[00:48:06] Alastair Smith: Yeah, I mean it's very much how the whole of the Cold War was fought. We call it the Cold War because there were no large-scale conflicts between the major powers, but it would be naive to think that there was no conflict. Everybody fought proxies, you know?
[00:48:21] Jordan Harbinger: Mm-hmm.
[00:48:22] Alastair Smith: The US sponsored right-wing rebels against communist governments and they backed right-wing governments against communist rebels each time trying to weaken the other side. And it turned out like, I think Reagan was not totally wrong when he just basically, "We can bankrupt them because we just had much more money than them."
[00:48:38] Jordan Harbinger: Yeah.
[00:48:39] Alastair Smith: Their economy was in a mess, years of demand economy, sort of centralized demand economy. And they were just a weak economy and he just broke them into bankruptcy. You can't continue to spend at the rate we can spend. We were talking earlier about how democracies don't like people to die. They much sooner capitalize their army. Whereas autocracies are much more likely to use labor but not to capitalize because capitalizing the military means taking money out of cronies' pockets. The per capita cost of funding the Ukraine is, you know, maybe a couple of hundred dollars per taxpayer in the United States, which to many would be much better than having people in their neighborhood and towns being killed in the war.
[00:49:25] Jordan Harbinger: Right.
[00:49:26] Alastair Smith: That's why Vietnam was very unpopular.
[00:49:28] Jordan Harbinger: Mm-hmm.
[00:49:28] Alastair Smith: Much better, and in most cases, the US took the policy of paying somebody else to be the boots on the ground and they provide the capital and intelligence and equipment. You sort of saw what happened when you start ramping up the labor costs for fighting the Vietnam War, for example.
[00:49:44] Jordan Harbinger: That's what this seems like to me. It seems like Russia is Vietnam, I know that was their Afghanistan, but maybe the US and Russia are both really slow in learning these lessons because Russia is spending blood and lives right now. They have a lot of money because they have these natural resources. Europe is still buying oil from them, whatever. But we don't have to spend our lives, we just have to spend our cash. So we put in a hundred dollars and they lose a soldier. We can do that probably longer than they can. And that's the bet that everybody's making right now, right? That they're going to run out of guys that they can throw into the meat grinder before we run out of cash from the alliance that's funding these weapon systems going to Ukraine.
[00:50:20] Alastair Smith: I mean, the really sad thing is you can go pretty deep into the population we think of Vietnam and the terrible casualty figures that the United States, but let's think of it from the North Vietnamese perspective. The casualty figures, I don't know the exact kill ratios, but you've got to think at least 10 to one for every American that was killed. Many, many North Vietnamese were killed and yet they could continue to do that. I guess, there is at some limit where there are no more people you can draft, but we are nowhere near that barrier. It's usually a political willingness to throw people into battle. There's a lot of people in Russia.
[00:50:58] Jordan Harbinger: That's true. They're having a demographic crisis. But that's a topic for a different show, I think you are short on time, but I want to end with this because I think a lot of people are wondering why don't people revolt more in autocratic societies. Yes, the consequences of doing so anywhere are pretty harsh, prison or death. If you try to overthrow the US government, well, I guess we're seeing a little bit of that, but if we really saw an armed insurrection, you're looking at serious prison, you're looking at getting killed in the process or killed afterwards, right? Is that the only reason though? I just can't believe it's the only reason. Because a lot of these people are living pretty crappy lives like North Koreans. I mean they really are.
[00:51:35] Alastair Smith: You know if you want to think about what the government does for you, so in a democratic society, most of us, we go on the streets and protests because we don't like policy but very few of us want to overturn the American system of government. We don't want to get rid of elections and we like the system that we have. We just don't like the policies but we can protest freely. We have no desire to overturn it because there's lots of public goods. There's safety, clean water, roads, communications. We can all gripe about it, but it's a hell of a lot better than in many other parts of the world.
[00:52:07] Take the other extreme that you just mentioned, North Korea, where leaders are beholden to tens or thousands of people, but very small numbers. Those systems are really hard to overcome because they tend to be hierarchically structured. If you don't enforce discipline on the group of people you are responsible for. Your superiors are going to have incentives to enforce discipline on you. In North Korea, it's almost impossible to know what's going on in the next village. The chances of you getting sufficiently large numbers of people to all spontaneously arrive at the same place to challenge the government, which has modern military weapons. It's extremely hard to overthrow North Korea.
[00:52:49] The interesting place is, so we got two extremes. Democracy, nobody really wants to overthrow the institutions. The most autocratic systems, nobody really can overthrow that. They don't have the capacity to get together and organize it. So it's in the middle ground that we find, you know, the places like Tunisia and Egypt where we saw that some elements of democracy, people can talk a bit, and again, it tends to be when the government's particularly weak. Maybe the leader is very old. Maybe the leader is having a financial problem, so they're having trouble paying people. They're going to come to the streets when the elites are not going to put them down. I mean, it's really hard to think of revolutions that have succeeded when the elites decided that they weren't going to succeed.
[00:53:31] You know, maybe the American Revolution, you know, the French Revolution. Why? Because the military allowed the, the people to rise up. They stopped shooting them. The same in the Philippines, the same in Iran against shah. In nearly all cases, it's because the military chose to allow, the elites allow the people to rise up. So, you know, people don't want to go on the streets to get shot. There are a few extremists who believe it's always right. And unfortunately, those people suffer terribly. But it's really hard to get enough momentum to get enough people over on the streets that it's going to win.
[00:54:07] So this is why things tend to fall apart quite quickly. Like the end of the Soviet Eastern Bloc. All happened very quickly because you need this sort of radical change in beliefs that a regime is you could possibly win. And then everybody's sitting there thinking, "Ah, I'd love some change." And you suddenly see this sort of dominoes. One goes, the next goes, and we see all these countries falling because you suddenly realize, "Well, maybe the army won't shoot at us if we go out on the street."
[00:54:33] Jordan Harbinger: Mm-hmm.
[00:54:34] Alastair Smith: It's just very hard to get everyone, when they're allowed to talk to each other and coordinate. It's sad, but nearly all leaders are brought down through the rules of the system or they're brought down by the elites. The times when the revolutionaries win a very small, very few examples of leaders being deposed by the masses and it's because the elites allow it to happen.
[00:54:56] Jordan Harbinger: Interesting. So we basically have to wait for the ruling coalition to step back and allow that sort of thing to happen. Otherwise, it just doesn't. And that explains the stability of some regimes over others.
[00:55:07] Alastair Smith: Yeah. And it's all the actions in the middle. It's rare that the lawless winning coalition systems to play the North Koreas of the world have it.
[00:55:15] Jordan Harbinger: Mm-hmm.
[00:55:16] Alastair Smith: Democracies, we have a lot of protests and often violent demonstrations, but nobody really wants to overturn the system completely. And so, it's in the middle where you want to change the system and you have enough freedoms that you can get away from doing it. So that's sort of the message, I guess, is we're going to see the successful revolutions in the middle between those two extremes. It's this combination of ability and want, you know, then, they run in opposite directions.
[00:55:45] Jordan Harbinger: Alastair, thank you so much. This is really, really interesting and hopefully, we're going to see, well, one, I understand foreign aid and the sort of the power system of autocratic regimes and democracies a lot better. But hopefully, we're going to see some of this play out in the next decade for sure, certainly with the West and Russia and Ukraine. I mean, it's really kind of a little bit of a glimpse into the Matrix of why these regimes last as long as they do and how they gain stability. So I really appreciate your expertise here. Thanks for coming on the show.
[00:56:14] Alastair Smith: Yeah. I sort of wish I was wrong.
[00:56:16] Jordan Harbinger: Yeah.
[00:56:16] Alastair Smith: Because my sort of view is very pessimistic. If you want to fix a problem, it's better to understand the workings of the system that you're trying to fix as opposed to just the rose-tinted glasses is not going to solve any problems. And just thinking that people want to do the right thing is not going to be helpful. So, yep, pessimistic, but I, unfortunately, think accurate.
[00:56:37] Jordan Harbinger: Yeah, but practical, right? I mean, that's the thing that struck me about the aid conversation is, okay, we just have to admit that this is not to help people who are starving. It's to get rid of this thing that's happening, or, yes, it is to help people that are starving, but in order to do that, we just got to bribe this son of a bitch and be okay with it. And not pretend like, "We're not doing that, or that we shouldn't be doing that. That's how it works over there. Just suck it up and do it." And unfortunately, that seems like the truth. And there's some stuff I'm going to say in the show close about oil companies working in these countries where they're not allowed to bribe people or engage in corruption. And it's like, well, fine, we'll leave. And then, some French companies going to go in there and say, "We don't have laws against that." I mean maybe they do, but another country's company will go in there and say, "We don't have laws against this," and they're just going to take the business. This is how it is.
[00:57:23] Alastair Smith: Well, the oil companies are great because you are a dictator. You have a foreign oil company come in, they just pump them up, the oil out the ground.
[00:57:30] Jordan Harbinger: Mm-hmm.
[00:57:31] Alastair Smith: Give you a share of it. You don't have to have engagement from very few, very little of your population is involved. This is perfect collusion. If the people had to work, then you'd have to let them talk, but since you know the oil company is giving you the money, you don't have to let the people talk. So it's good for you. There's a really interesting debate here. I actually think that sort of US oil companies are actually a little more pro-reform than we might. I've just naively expected because they don't want to be burdened by regulations. But it's much harder for US companies to bribe foreign governments than it is for, I don't want to name names, but you know, an American oil company is going to have to have some serious accounting and so it's very difficult for them to actually bribe. So they're actually comparatively disadvantaged in the corrupt system because they can't pay the bribes. They can probably more efficiently pump the oil, but it's harder for them to pay the bribes because they're going to be monitored from the US side. And so reforming the system to make it, make the system more democratic, more accountable. They don't like the rules under which they have to operate, but at least it levels the playing field relative to the other companies that find it more easier put bribes in people's pockets.
[00:58:46] Jordan Harbinger: Perfect. Thank you so much.
[00:58:49] You're about to hear a preview of The Jordan Harbinger Show on how big pharma broke American healthcare and what we can do to repair it.
[00:58:56] John Abramson: Prior to the pandemic starting, Americans lived 3.3 years less than the citizens of 19 other wealthy countries, and in those two years of the pandemic, that 3.3 years less grew to 5.3 years less. I think it's a very powerful testimony of the fact that our healthcare system is not as well oriented towards producing health as the healthcare systems of the other wealthy countries.
[00:59:26] Here's the problem, Jordan, that drug companies have paid for the research. The drug companies have analyzed the research. The drug companies have written up most of the research. These written-up manuscripts that are brief summaries of the whole study are then submitted to journals for publication. When they're submitted to journals and the peer reviewers, and the medical journal editors look at these manuscripts, they don't get to see the underlying data. The drug companies have one primary mission. We've got to remember this. It's not to make us healthier. It's not to improve the quality of our lives. It's to maximize the financial returns to their investors and they do it very well. That's their job. That's what they do. They do it. They are world class, and they fight tooth and nail against it. And as you were saying, the wealthier, they. The more money they have to fight anything that's going to threaten their profits. But even when they blow it completely with a disaster like Vioxx that killed 40,000 to 60,000 Americans, even then—
[01:00:30] Jordan Harbinger: Wow.
[01:00:30] John Abramson: —they break even. Nobody went to jail about that. And that is the introduction of the conversation about why is this happening. How could this possibly be happening?
[01:00:40] Jordan Harbinger: To hear John Abramson's take on how our healthcare system can be overhauled to benefit people over profits, check out episode 709 of The Jordan Harbinger Show.
[01:00:50] I told you this was fascinating. I freaking love this stuff. In his book, he also discusses the role of taxes in democracies versus taxes in autocracies, and I know that sounds boring as all hell because of taxes. Who loves them? Russia, China, India, United States, but the thing is, in autocracies, it's actually quite unwise to be rich unless it is the government that has made you rich and you stay in their favor. Usually, rich people who are rich under one government when an autocrat comes into power, they don't necessarily stay that way unless they have a crapload of power and a crapload of money. Oligarchs in Russia these days, I mean those guys, wow, they fall out of a lot of windows while tied to chairs or end up in swimming pools. Rich people in China disappear. Look at Jack Ma. I think we mentioned him on the show. Where did that guy go? He was so outspoken, not so much anymore. That'd be like if Elon Musk got shut down by Arab dictator. It's just amazing. Really, really amazing show of power here. We actually talked quite a bit about this. Desmond Shum was the guest. That's episode 684 if you're interested in the whole China thing, and rich people and oligarchs in China. This is sort of a former Chinese oligarch coming out and exposing a lot of this stuff. Again, episode 6 84. Corruption, which is one of the main topics I love to research and that kind of got me into this book.
[01:02:02] Corruption also plays a very important role in autocracies because you can authorize your supporters to engage in it, such as allowing for smuggling or other organized crime. You can also allow bribery instead of taxation or other forms of compensation. Saddam Hussein's sons, if you remember those two charmers, they were smuggling when Iraq — I wrote snuggling. That's cute, but it really, oh, now I got auto-corrected to snuggled. I meant to say smuggled. They were smuggling. And when Iraq was under sanctions, and of course, this was all authorized and probably aided by the government, they made a ton of money because of the sanctions. It was probably partly their job to smuggle things in and out of Iraq. And of course, that just emboldened and empowered those at the top of hierarchy, which is not exactly the idea behind sanctions.
[01:02:47] The book also outlined something called the resource curse. Basically, if you can extract money from the ground in the form of oil or other natural resources like minerals, et cetera, even water might be a thing in some places, that is just about as good as it gets for the dictator and about as bad as it gets for the people that live there. And we often fault Western oil companies for their role in this, and rightly so in many ways. Come on. However, a company that acted more responsibly would simply have less money to give to the government in the regime, which means they would get replaced by another company who's willing to play by the local rules, even if those rules are grossly unfair and corrupt. And I think, frankly, I think we're going to see a lot more of this with Chinese companies and other companies that are not under the threat of domestic law. Right now, it's technically illegal for a US company, and I'm sure many other Western companies have this, to bribe and engage in corruption overseas. And not that they don't do it, but it's it's against law. I don't see many other countries, China, Russia, they are not bound by those rules. And we're going to see a changing of the guard in a way. Well, we already are seeing a changing of the guard not in our favor.
[01:03:52] So the West is also not blameless. I don't mean to say that the United States. You know, we say or the regimes, our government says we want to implement democracy overseas. That's a great sort of noble thought, but usually, it's actually better for us to install an autocrat who just does whatever the hell we want versus implementing the will of the people, so to speak, which, hey, the will of the people that might not be in line with what the United States really wants for itself. And that's a problem. And also the will of the people. Moods can shift. Dictators and authoritarians, they tend to stay in power for decades at a time, and their mood doesn't change as long as we're shoveling money and whatever else in their direction. So, eh, we're hardly blameless in this situation. And it's not just the US, it's the entire west. This is how the game is played.
[01:04:33] Back to corruption a little bit. Police corruption in Russia and elsewhere. I meant to ask more about this. We ran out of time. Police and autocracies are just so much more corrupt than in almost any democracy. I'm generalizing, obviously, but man, just from my own experience, getting robbed by the cops, getting robbed by the customs agents in Ukraine, being told to never get in the cop cars, having friends of mine get in cop cars and have to bribe the police to get out of the car even though they didn't do anything. The reason is partly because of the same level of corruption that we see with the oligarchs. It's easier than paying the police to just allow them to extort the population. And of course, if your state is a bully that is only interested or mostly only interested in power than when you have authorities like police in those states, the wrong kind of person has attracted that job for one thing.
[01:05:18] But in addition to that, the way that those guys get paid is by extorting people. And that goes unchecked and it becomes a whole thing. And that's why you end up with rampant and sort of really disgusting corruption and violence from the police. They end up being just like an organized crime gang. In fact, in many countries organized, especially when I was living in Ukraine 20-plus years ago, organized crime protected many businesses from the police because the police were unpredictable and they were disorganized, and they would screw up your stuff. If you were connected to organized crime, you didn't have to worry about that. So the incentives are completely perverted in these kinds of regimes.
[01:05:53] Olympic committee corruption and graft, vote buying is covered in the book, copyright abuse. The whole Olympic thing is really a big mess. We did a skeptical Sunday on the Olympics and why they're a total cluster. That was episode 676 if you're interested in more about the Olympics and why those are a corrupt mess. Qatar for the World Cup, FIFA, we're doing a whole Skeptical Sunday on that as well, so keep an ear out for that. That's another corrupt authoritarian regime of its own, so to speak.
[01:06:18] But why? Why? Why do auto autocracies and autocratic leaders seem to hate freedom? Well, when people have freedom of assembly and freedom of the press, they can commiserate. They can share difficulties, they can press for policy change. If enough people protest, leaders actually have to do what those people want more or less, or at least they have to consider. Most leaders don't want to do that, so it's better to clamp down on freedom before anything gets out of hand, and this is what you're seeing in Iran where they're shooting maybe even hundreds or thousands of protestors. We saw it during the Arab Spring. You can kill thousands of people, but sometimes that makes it worse, and sometimes it actually works.
[01:06:53] Look at Syria, it erupted into Civil War. Assad is killing countless of his own people, forcing millions to leave and flee the country. He doesn't care. It's better for him to keep power and get rid of those people and clamp down hard than it is to consider changing the regime. It's really, really incredible. That is why freedom is such a very, very important public good. Of course, it's a prerequisite for any democracy. But rather than choose economic prosperity, autocratic leaders simply choose to not provide these freedoms and not provide these public goods. This is one major reason why autocratic regimes are less prosperous, even if they have tremendous natural resource wealth, such as oil or gas. And also one of the reasons they do so crappy in disasters is we talked about during the show.
[01:07:36] Another note on how dictators fall protests are actually sparked by shocks of some kind. So a natural disaster, an economic disaster, anything that shows that their leader or regime might not be bulletproof. Like a revolution in another similar country, for example, the Arab Spring, or a war that you start that you think is going to last three days and turns out to last over a year and results in hundreds of thousands of dead Russians, for example. Putin is running head into this. He is going to potentially bring about his own, almost certainly bring about his own downfall by throwing all these people into the meat grinder in Ukraine. It's really just Russia slowly committing suicide. You're going to eventually, I would imagine, eventually see protests caused by the shocks that they are going to face. It's hard to predict, but that seems to be the direction we're heading. Time will tell.
[01:08:22] Revolution also can happen when the government runs out of money to pay for security, pay for the army, pay for the cronies. So you need a source of income, ideally natural resources and not the productivity of the people. Natural resources you could sort of predict if they're going to run out, when they're going to run out, probably not in your lifetime. Productivity of the people, more mercurial, depends on markets, really commodities like oil. Sure the market goes up and down, but unless it's really extreme, you got a reliable source of income for the foreseeable future and that stability is what these regimes really need to stay in power.
[01:08:52] As to the aid conversation that we tacked down to the end here, he did make a pretty compelling argument for aid being a net negative. There's also something called tide aid. We didn't really get into this, but this is aid that has sort of a bunch of asterisks next to it, right? It's tied to something else. So Bangladesh got foreign aid from Denmark. This is just an example. They had to use the Danish aid money to repair these ferry boats. Now, they had to take the boats from Bangladesh to Denmark to repair them, even though they were very capable of repairing them in Bangladesh. And it cost 400 percent more to take the ferries to Denmark to be repaired than it would've cost to simply give them money to Bangladesh to have the ferries repaired over there. So they canceled the scheme.
[01:09:37] Now, this seems ludicrous, right? Just give the money, give them the ferries. Done and done. No, what these are, this is often done because it's illegal to subsidize an industry in these nations. So it's actually easier to say, "Hey, we're going to give a hundred million in aid to Bangladesh, and everyone goes, "Yay, we're so great." But then if you force them to buy, let's say, tractors from your country, well, you just gave your own country's tractor industry a hundred million in aid. You didn't really, I mean, he gave the goods away, but you bought them from your own country. So it's almost like a stimulus thing.
[01:10:07] This is the argument that many people are making about Ukrainian aid, that it's just going to the American military and arms manufacturers, the military-industrial complex. Those people aren't necessarily wrong. Of course, it's not the whole reason we're supplying that, but you can't really let the idea go that arms manufacturers are going to make a ton of money. We're getting a chance to rotate out old weapons, give them away, get them used against an enemy of the United States slash the free world, and then make new stuff. I mean, you really kind of can't get a better deal than that if you're the United States right now in the West.
[01:10:38] As far as how aid can destroy local markets, let's say you give a bunch of shoes or wheat or some other subsidies or aid to a nation, the local producers of that goodwill all go out of business because you're giving their product away for free. So if you give a bunch of wheat to a country in Africa, now the country has no wheat production domestically. They are reliant on your aid. Now, you've deprived an entire industry full of people of their livelihood. The country has to get the wheat from you probably has to get it for free because they can't afford it, because they don't produce it themselves. Now, they are under your thumb. So aid really is, it can be a little bit crappy and Alastair's argument is that it's worse than it is good.
[01:11:16] The uncomfortable truth is most of us here in the West, we prefer cheap oil. We prefer cheap goods. We prefer our resources and our supply chain and our supplies and our cheap iPhones and whatever else it is to piece end development in the Middle East, Asia, or anywhere else, and them's just the facts, unfortunately. And we know this because actions speak louder than words.
[01:11:38] Big thank you to Alastair Smith. All things Alastair and Dictator's Handbook will be in the show notes at jordanharbinger.com. Check out our ChatGPT AI bot if you want to search for any promo code, any question from Feedback Friday, anything a guest has ever said, jordanharbinger.com/ai. Transcripts are in the show notes, but why use those, you can use the AI chatbot to surface anything from there. Videos on YouTube. Advertisers, deals, and discount codes, always to support the show are all going to be at jordanharbinger.com/deals. Please consider supporting those who support this show. I'm at @JordanHarbinger on Twitter and Instagram. You can also hit me on LinkedIn.
[01:12:12] And I'm teaching you how to connect with great people and manage relationships using systems, software, tiny habits, the same stuff I use every single day, jordanharbinger.com/course. Dig that well before you get thirsty. Many of the guests on the show, they subscribe, they contribute to the course. Come join us, you'll be in smart company where you belong.
[01:12:29] This show is created in association with PodcastOne. My team is Jen Harbinger, Jase Sanderson, Robert Fogarty, Millie Ocampo, Ian Baird, Josh Ballard, and Gabriel Mizrahi. Special thanks to my voice for holding out for this. I can't believe I'm still able to talk. Remember, we rise by lifting others. The fee for this show is you share it with friends when you find something useful or interesting. If you know any dictator nerds, Poli Sci people, foreign aid, interested folks, anybody who might dig this episode, definitely go ahead and share this with them. The greatest compliment you can give us is to share the show with those you care about. In the meantime, do your best to apply what you hear on the show, especially if you're a dictator, I guess. I don't know. That seems a little bit odd to say. Either way, go out there live what you listen, and we'll see you next time.
[01:13:10] Special thanks to Peloton for sponsoring this episode of The Jordan Harbinger Show.
[01:13:14] This episode is sponsored in part by The Hustle Daily show. The Hustle Daily has more than two million young professionals subscribe to its daily email for its great unbiased daily business and tech news. I've been a subscriber for years now, probably like five, six years. I remember when it was really small. My friend Sam founded it, just really crushed it with this. Well, they now have a new daily podcast called The Hustle Daily show, where their team of writers break down the biggest business headlines in 10 minutes or less and explain why you should care about them. Get your daily dose of valuable knowledge delivered as funny, but true insights. It'll start your day with a smile and keep you on board with what's happening around you. They got some snark going on in the newsletter, and I assume in the podcast as well. The best part is they break down stories that are actually relevant, like why eggs have gotten so dang expensive at the supermarket, but they also touch on topics you didn't know you would care about at all. Like the strange history of how Ouija Boards came about. Whether you want to stay informed on all things business and tech, or just have an interesting story to share at the dinner table, make sure to check out The Hustle Daily show. It's offbeat, informative, and best of all, it's daily. If you want to give it a listen, you can search for The Hustle Daily show in your podcast app like the one you're using right now.
Sign up to receive email updates
Enter your name and email address below and I'll send you periodic updates about the podcast.