Reading Time:
4
minutes
Bradley Hope (@bradleyhope) is the co-founder of journalism studio Project Brazen and the New York Times bestselling coauthor of Billion Dollar Whale and Blood and Oil. His latest book is The Rebel and the Kingdom: The True Story of the Secret Mission to Overthrow the North Korean Regime.
What We Discuss with Bradley Hope:
Was a 2019 incident at the North Korean Embassy in Madrid an intelligence-gathering raid by political dissidents, or a secret defection operation gone wrong?
Why the largest resistance groups committed to helping people defect from North Korea are in the United States.
How North Korea got away with the assassination of Kim Jong-un's half-brother Kim Jong-nam without facing any real consequences on the international stage, and what this not-so-subtle message conveys to anyone thinking of acting against the regime — from anywhere in the world.
Will there ever come a day when China ceases tolerating North Korea's theatrics?
The illicit means by which Kim Jong-un's regime richly bankrolls itself in a starving, bankrupt country.
And much more…
Like this show? Please leave us a review here — even one sentence helps! Consider including your Twitter handle so we can thank you personally!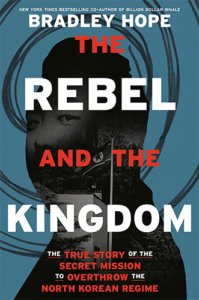 How did soft-spoken Yale undergraduate Adrian Hong come to organize resistance to Kim Jong-un's regime, help defectors escape from North Korea, lead a failed defection operation in Madrid's North Korean Embassy, and find himself on the run as an international fugitive?
On this episode, we're joined by Bradley Hope, the author of The Rebel and the Kingdom: The True Story of the Secret Mission to Overthrow the North Korean Regime. Here, we discuss the conflicting stories of what went down at the Madrid Embassy, the consequences Adrian Hong and his co-conspirators face for embarrassing North Korea and causing an international incident, why the largest resistance groups committed to helping people defect from North Korea are in the United States, how Kim Jong-un's regime brings in the big bucks when the country is starving, how China and North Korea's relationship may be changing, and much more. Listen, learn, and enjoy!
Please Scroll Down for Featured Resources and Transcript!
Please note that some of the links on this page (books, movies, music, etc.) lead to affiliate programs for which The Jordan Harbinger Show receives compensation. It's just one of the ways we keep the lights on around here. Thank you for your support!
Sign up for Six-Minute Networking — our free networking and relationship development mini course — at jordanharbinger.com/course!
This Episode Is Sponsored By:
Miss the show we did with Frank Abagnale — the former con artist who was played by Leonardo DiCaprio in the movie Catch Me If You Can? Catch up here with episode 1: Frank Abagnale | Scam Me If You Can!
Thanks, Bradley Hope!
If you enjoyed this session with Bradley Hope, let him know by clicking on the link below and sending him a quick shout out at Twitter:
Click here to thank Bradley Hope at Twitter!
Click here to let Jordan know about your number one takeaway from this episode!
And if you want us to answer your questions on one of our upcoming weekly Feedback Friday episodes, drop us a line at friday@jordanharbinger.com.
Resources from This Episode:
820: Bradley Hope | The Secret Mission to Overthrow North Korea
[00:00:00] Jordan Harbinger: Special thanks to Hyundai for sponsoring this episode of The Jordan Harbinger Show.
[00:00:04] Coming up next on The Jordan Harbinger Show.
[00:00:07] Bradley Hope: North Korea is really good at perception. They look ridiculous sometimes, but there's a purpose to this. You know, they want to scare people to never talk about North Korea again. They could have done something else. They could have done something quiet. They could have assassinated Kim Jong-nam to make it look like a crime, but they didn't. They wanted it to be public to scare people.
[00:00:30] Jordan Harbinger: Welcome to the show. I'm Jordan Harbinger. On The Jordan Harbinger Show, we decode the stories, secrets, and skills of the world's most fascinating people. We have in-depth conversations with scientists, entrepreneurs, spies, and psychologists, even the occasional mafia enforcer, former cult member, rocket scientist, or hostage negotiator. And each episode turns our guest's wisdom into practical advice that you can use to build a deeper understanding of how the world works and become a better thinker.
[00:00:56] If you're new to the show or you want to tell your friends about the show, check out the starter packs. Got a bunch of those in Spotify, right there on the website, anywhere you get your podcasts. Topics like persuasion and influence, disinformation and cyber warfare, China, North Korea, crime, cults, and more. Just go to jordanharbinger.com/start. Or search for us in your Spotify app to get started. Those are really going to be the easiest way to get people jumping right into the show on a specific set of topics. You can also use the AI chatbot to get people interested. You can search for something that you know they'd be interested in right there at jordanharbinger.com/ai, and you'll get basically a custom playlist of episodes on that topic. You can also ask it questions and it will hopefully answer them.
[00:01:38] All right. Now, today on the show, kind of a kooky different format here. We're talking about North Korea, Gabriel Mizrahi of Feedback Friday infamy hosts this one with me. We're talking with my friend Bradley Hope. He studies North Korea. I've been to North Korea a bunch of times. I wouldn't say I studied academically, but I certainly follow the events there, so does Gabriel. We've both been to North Korea quite a few times each and a couple of times together. So a free-ranging conversation today about why this regime still exists in the first place. The insane embassy break-in where a rogue group of human rights activists, if you want to call them that, broke into the North Korean Embassy in Spain and other wild, weird North Korea-related stuff. If you liked our other episodes on North Korea, or you just want a little bit of a ride, this is going to be a good one for you, despite being a different format than usual.
[00:02:27] All right, here's Gabriel Mizrahi and I with Bradley Hope.
[00:02:34] Let's talk about some of the crazy stuff that goes down in North Korea, shall we? It's such a fun topic and I'm glad to have Gabriel Mizrahi here with me because Gabe and I have been to North Korea a bunch of times and we did a bunch of episodes on North Korea. One is 435, one is 439. And I think, Gabe, we tend to sprinkle some of our NoKo tales into our Feedback Friday as well.
[00:02:53] Gabriel Mizrahi: We do sometimes, yeah. But I'm excited to talk about this because the last couple of years in North Korea have been wild.
[00:02:59] Jordan Harbinger: Even by North Korea standards, the last few years regarding North Korea have been pretty wild.
[00:03:03] So Bradley, thanks for joining us. I love your work, as cliche as it sounds.
[00:03:08] Bradley Hope: Thank you. It's a pleasure.
[00:03:09] Jordan Harbinger: For those who don't know, you're with Project Brazen, which tells stories like Jho Low, which was this huge financial, scam doesn't quite do it justice. I mean, he stole billions of dollars from the Malaysian sovereign wealth fund, for lack of a better description, and spent it on partying with Leonardo DiCaprio. We did an episode about that with Tom Wright also over at Project Brazen, and it just a lot of really interesting journalism about the dark side and the North Korea stuff falls into the dark side.
[00:03:38] Bradley Hope: Yeah, that's right. We're always looking for insights into the hidden worlds of money and power. Basically, the idea is there's this other world out there where things are happening that affect all of us. And so we're always looking into the dark corners of the world.
[00:03:53] Jordan Harbinger: Yeah. I read the book your more recent book about Adrian Hong, and this is this really amazing/mysterious guy who I'd love to have on the show at some point. Dude is a legend and very brave with his antics in rescuing North Korean refugees.
[00:04:06] But Gabe, should we start there? Should we start with this kooky embassy break-in? What do you think?
[00:04:11] Gabriel Mizrahi: I think we have to, let's talk about it. So tell us about this break-in, the Madrid operation. What was it? What was at stake? What was this team trying to do?
[00:04:20] Bradley Hope: Well, you know, for the whole world, nobody knew who was behind this, right? It was the most mysterious, crazy thing. There was this, these reports coming out of Spain that a group of Asian-American men had broken into the North Korean embassy in Spain. And according to the Spanish press, they had assaulted the embassy staff and they had tried to kidnap the commercial attaché. And that was kind of what the whole world knew for a long time as the story. And interestingly enough, I knew Adrian Hong myself since 2011. We can get into that, but I actually asked him, you know, "Hey, this is crazy. You must know about this." And it turned out he was behind it. And essentially this group, which are now known as Free Joseon, they are a group of kind of idealistic, mostly Korean Americans, although there's also Koreans, there's other kinds of people of Korean descent and people not of Korean descent, who started off as kind of idealistic, people who wanted to make a difference with what they felt was one of the biggest human rights catastrophes of all time. And they started off as kind of, you know, university campus activists. And in the case of Adrian, over time he kind of radicalized, in a sense, and he became deadset on actually making a difference about North Korea.
[00:05:36] And so he took steps along the way. He started rescuing, just helping escapees who were in these kind of hideouts near the border with North Korea and China, get them to the US Embassy to seek asylum in America and other methods of getting them out. But over time, he became more and more ambitious in this idea that he could actually take on the regime and they created this sort of underground railroad for high-value diplomats and other North Koreans who wanted to get out and who wanted to potentially be part of a kind of shadow government that was going to contest who should become the future leaders of North Korea.
[00:06:13] And so this particular mission, what made it so confusing is they were trying to avoid the retaliation on the families back home in North Korea of these people who were defecting. So they entered this embassy almost like, it's like a Cohen Brothers film. They came with fake guns. They were pellet guns, like plastic pellets, and they actually bought them from a movie prop store. And it was all kind of a show and a performance for the cameras because they didn't know who's got what cameras were. And they wanted to at least have some kind of confusion about what happened with this defection that they were been planning, and that it actually had been initiated by the attaché himself but the mission went completely wrong.
[00:06:53] Jordan Harbinger: Let me pause you for a second. So basically, the attaché at the embassy was like, "I got to defect, but I can't just leave because they'll murder my family back home in North Korea," which is the policy. So he gets in touch with this Free Josean, Adrian Hong, and says, "If you fake kidnap me with fake guns, then they can't get mad because it'll look like I was abducted by terrorists and my family will be safe and I'll just vanish."
[00:07:17] Bradley Hope: I think actually it was a little bit different than that. It was more he reached out and said he wanted to defect.
[00:07:22] Jordan Harbinger: Okay.
[00:07:23] Bradley Hope: It was their idea how to solve this problem. They had done other things before that. One of the members of the group told me that they had actually faked the death of a diplomat in another country in Europe. So they had been trying to find the right kind of solution to this and they were trying to change it up as well because if they kept doing the same thing over and over again, it would look suspicious. So I think in a way that's kind of why this whole thing probably didn't go so well. I don't think he fully knew the plan, the attaché. He just knew he was defecting. He didn't know what it was going to look like or how it was all going to go down. And I think there's a lot of shock and surprise and kind of being overwhelmed all across the board on this.
[00:08:00] Jordan Harbinger: Okay. Interesting. Yeah. So continue, because this just gets so much worse.
[00:08:05] Bradley Hope: Yeah. So they show up at the embassy. It's a bunch of Korean-American guys and Koreans standing outside the door of the North Korean embassy in Madrid on this quite, very quiet street. I actually went and pressed the buzzer myself when I was researching the book. And people are actually looking at them like, "What the hell is going on?" Like, it was suspicious looking.
[00:08:23] Jordan Harbinger: Mm-hmm.
[00:08:24] Bradley Hope: So Adrian showed up, he was wearing a suit and he had a gift bag and he had been to the embassy a few weeks earlier. And so he knocked on the door and one of the staff came to the door and he said, "I have a gift for Mr. So, the attaché." And he said, "Can you go and get him? I want to hand this to him." So the person let him sit on a bench right inside the door. They closed the door, and then the North Korean staffer went to find Mr. So, and while he went off, Adrian opened the door. These guys pulled balaclavas on their head, pulled out their fake guns, and ran in almost like a spec ops mission.
[00:08:57] Jordan Harbinger: Mm-hmm.
[00:08:57] Bradley Hope: Although the funny thing is they're not really trained, you know?
[00:09:00] Jordan Harbinger: Right.
[00:09:00] Bradley Hope: So they're kind of running in, they're doing their best. They round everyone up and it's like a highly kinetic thing. It looks like a kidnapping. They're going door to door. They're getting everybody into a central room. And they took Mr. So, the attaché, down to the basement to kind of plan out what's going to happen next. The whole thing was meant to take maybe an hour tops, but what happened was they actually missed one woman. She was the wife of one of the diplomats, and she completely panicked. She thought that everyone was going to be killed. And because there's this kind of brainwashing of North Koreans that if they hear a South Korean accent, if they hear Americans, whatever they might hear inside their embassy, they think that some really bad stuff's going to happen. So she jumped off of a balcony. She injured herself, she's got blood pouring off her head and she injured her hip. She crawled out this kind of secret door that nobody knew about from the Free Joseon team into the street. And then a guy pulled over, he took her to the clinic.
[00:09:57] Meanwhile, over in the embassy, these guys are trying to like, you know, wrap things up. They grab all the intelligence material they can, they go and get all the USB sticks and everything. They put it all in a bag. They're kind of getting ready to go. Meanwhile, this woman has escaped and they have no idea. So the police come and eventually the police figure out that she's North Korean. At first, they think she's Chinese. She won't even tell them anything. And they call the Chinese embassy and they try to get the Chinese embassy talk to her. And it was clear she doesn't speak Chinese.
[00:10:22] Jordan Harbinger: Oh God. That's sort of cringe, right? Like there's an Asian woman, she must be Chinese, talk to her. Um, this isn't Chinese. Oh—
[00:10:30] Bradley Hope: Yeah.
[00:10:30] Jordan Harbinger: Awkward step back out the door. We're out of options. Well, what type of Asian?
[00:10:35] Bradley Hope: And also she wasn't being very forthcoming either because she was like—
[00:10:38] Jordan Harbinger: Sure
[00:10:38] Bradley Hope: —inherently suspicious. Eventually, they get Google Translate or something to work, and she's saying the most craziest things. So she's saying, "I'm from the embassy and there's people that invaded and they're going to eat the children."
[00:10:50] Jordan Harbinger: Mm-hmm.
[00:10:50] Bradley Hope: That's what she said to these police officers. And they're like—
[00:10:53] Jordan Harbinger: Right.
[00:10:53] Bradley Hope: Okay, this woman's having like a breakdown or something, you know?
[00:10:55] Jordan Harbinger: Right. Mentally ill. Yeah.
[00:10:56] Bradley Hope: Yeah. So this is interesting. Again, it's the propaganda. It's like that store of information that's been inculcated into North Koreans is suddenly accessed where they're actually, there's like a whole mythology around Americans and the West and South Korea being cannibals. So she's actually like, she's like, all these thoughts are coursing through her head. The police go over to the embassy, they buzz the door, and of course, in the embassy, the Free Joseon guys are like, "What the hell? They're looking at the camera. There's like a bunch of police at the front door."
[00:11:25] Jordan Harbinger: Spanish police. Yeah. Oops.
[00:11:27] Bradley Hope: Spanish police. Yeah. This is not the plan, right? So Adrian is like, he's actually a very like cool under pressure kind of guy. He dusts off his suit. He puts on a little "Dear Leader" pin. And he goes down to the door and he opens it and he says, "Yeah, what's the problem here?" you know, speaking in Spanish.
[00:11:43] Gabriel Mizrahi: That is a bold move.
[00:11:44] Jordan Harbinger: Seriously.
[00:11:44] Gabriel Mizrahi: Smart one.
[00:11:45] Jordan Harbinger: Yeah. Like rolls in, like there's nothing wrong here. It's like straight out of Die Hard.
[00:11:49] Gabriel Mizrahi: That's incredible.
[00:11:50] Bradley Hope: Yeah. So, he put on the full, like "I'm a North Korean official kind of act" and he told them, "Look, if you have any problems, you need to go through the appropriate channels." And he really made it complicated and difficult for them, but the effect was that it sent a chill through this whole operation, right? They're like, "This is not going to plan. You know, we are supposed to be in and out of here. Now, there's a woman that's missing." And soon after they realize, "Oh my God, a woman is missing from this embassy."
[00:12:13] Jordan Harbinger: Also, aren't the cops just like, "Hey, maybe we should hang out outside." They're probably not like, "Oh, let's go eat some donuts and get some coffee. There's nothing here." I assume somebody stuck around to be like, "Let's just see who pops out the front door in the next five hours."
[00:12:26] Bradley Hope: Yeah, exactly. They did stay, they did stay. They kind of parked across the street, but the attaché figures out that this woman has escaped. The police have arrived and he completely panics, and he's like, "Look, I don't think this is going to work." And they're trying to persuade him like, "Look, it's going to be fine. We just need to go through with this. Actually, it's more dangerous for you to stay here. We need to leave." So then, what happens is essentially they can't persuade him and he's just like, "You guys have to get out and good luck to you. Feel free to take the cars, the embassy cars. Here's the keys."
[00:12:55] Jordan Harbinger: Wow.
[00:12:55] Bradley Hope: Oh, one thing I forgot to mention. The other thing that really turned the mood was the phones started ringing nonstop in the embassy and the whole embassy is very empty because it's not obviously a wealthy country. So they don't really have any possessions very, very few furniture. So the phone's ringing and it's like marble floor is just echoing and nobody wants to answer the phone because it couldn't be a good thing. And so they just let it ring and ring and ring. And so everybody's just really feeling panicked.
[00:13:19] Jordan Harbinger: It's like psychological torture. The phones are ringing and ringing. And who was calling? Was it North Korea calling to check on them? Was it the Spanish police calling to check on them? Do we know?
[00:13:29] Bradley Hope: It seems likely that it was a group. There's a group of North Koreans who were students, so-called students in Madrid who actually turned up a bit later. And it seems like somebody had not answered the phone at a time when they had been expecting to answer the phone. So they kind of were panicking.
[00:13:45] Jordan Harbinger: Hmm.
[00:13:45] Bradley Hope: And they were calling over and over again being like, "Why are we not getting through to the embassy? Like this place is full of people."
[00:13:50] Jordan Harbinger: This sounds like a spy operation where somebody's undercover as a student and is making contact with their handler. Or am I overthinking this? Because that's weird.
[00:14:00] Bradley Hope: No, I think it's possible. I think it's totally possible. I mean, I don't think most people aren't what they say they are when they're North Korean, North Koreans abroad, to be honest.
[00:14:08] Jordan Harbinger: Yeah.
[00:14:08] Bradley Hope: So now the group's trying to figure out, okay, look, this is an aborted mission. We need to get the hell out of here and get the hell out of Spain. So the first, they call all these Ubers to the front of the building just to like I guess, kind of cause havoc or confusion with the police and anybody else who might be watching. And then, eventually most of the group pile into the embassy cars and they zoom out and different directions basically. And then, Adrian and another person jump over the back wall, kind of go through this weird field and they have called an Uber over there and they got the Uber. Interestingly, on the Uber he called it under the name Oswaldo Trump, which was later on a funny detail in the whole thing.
[00:14:47] Jordan Harbinger: That's great too because you know he created that Uber account in advance, right?
[00:14:50] Bradley Hope: Right.
[00:14:50] Gabriel Mizrahi: You're not signing up for Uber with Oswaldo Trump like right in the moment.
[00:14:53] Bradley Hope: Yeah, exactly.
[00:14:54] Gabriel Mizrahi: That took some forethought.
[00:14:55] Bradley Hope: They go to different directions. They manage to reconnect with the group that were not in the embassy. There was other members outside. They get their passports. They basically all take taxis into Portugal and they escape and the police get in there. Eventually, those students that I mentioned before, they show up, they jump over the fence, they go inside and like untie, somebody's got their hands tied up and stuff. And the police are like, "Okay, what the hell just happened?" You know, they go in there and take pictures. There's like guns on the ground and stuff. Obviously, they're not real guns, but it looks like a crime scene, you know? Then, it gets a little bit complicated.
[00:15:26] So they go back to the States and the first thing Adrian does is like, think, okay, he sends a note to the Spanish government anonymously being like, "Hey, this thing that just happened, it looked like a kidnapping, but trust me, it's not what it seems," and trying to give some kind of comfort behind the scenes. And then, the first thing he does is call up the FBI. He knows the FBI because he's always traveling to weird places. And, you know, one day after he was spending a lot of time in Libya, he got a call from the FBI agents and he kind of built this relationship with him. And he is like, "Guys, I'm going to tell you a crazy story. And I also have a bag full of North Korean intelligence basically." And he tells them what happened.
[00:16:01] Jordan Harbinger: Mm-hmm.
[00:16:01] Bradley Hope: And he's thinking that he's protecting himself because he's telling these guys, "Here's what's happening. You know me, I'm like a lifelong human rights campaigner. I'm not an assassin."
[00:16:10] Jordan Harbinger: Terrorist.
[00:16:10] Bradley Hope: Kidnapper or terrorist. And they're actually super friendly and like, "Hey, yeah, we'll take that bag. We'll take that hard drive and take a look at it." But it turned out to be a kind of a critical error because Spain, I don't know if you remember that after 9/11 European countries were getting like super upset with America because all these CIA guys used to go in there and just like pick up people off the street in a van.
[00:16:33] Jordan Harbinger: Right. Extraordinary rendition where they would go pick somebody up, take them, fly him to, I don't know, rural Morocco or whatever, and torture them, waterboard them and say like, "Hey, this didn't happen in America. It's legit. Didn't happen in Spain. It's legit." It's like, "No, you picked the guy up off of the _____. Get out of here."
[00:16:50] Bradley Hope: Yeah, exactly. These are like citizens. Even though they were involved in terrorist activity, there was no due process or legal process. So of course, all of Europe, you know, the intelligence services are kind of traumatized by that experience. They basically think this is a rogue CIA operation. They think it's like a real thing. In part almost to kind of call America's bluff. They bring criminal charges against these men, right? And they're able to figure out who they are because Adrian admitted what he just did to the FBI and under the treaty between these two countries, they have to kind of share information about a possible crime in Spain. So Adrian ends up kind of almost putting himself in much worse shape by going to the FBI in that way.
[00:17:31] Jordan Harbinger: True.
[00:17:31] Bradley Hope: And the FBI spent time with him and told them, "Hey, we have credible information that you guys are now targets for assassination of North Korea." And then a couple of months later, the US Marshals showed up at Adrian's house and one of the members of the group actually turns up there to meet Adrian and he gets arrested. Adrian disappears. And he has never been seen again since then. And that was in 2019. So he's been on the run for a long time now.
[00:17:55] Jordan Harbinger: Man, why did the guy change his mind? Just he thought these guys are a bunch of knuckleheads. Look how they bundled this operation. I don't trust him. I'm not defecting.
[00:18:02] Bradley Hope: I'm a little bit sympathetic in a way because I don't really know what it's like to be a North Korean official.
[00:18:07] Jordan Harbinger: True.
[00:18:07] Bradley Hope: That fear that you've been raised with from childhood. I think that he was already feeling pretty nervous about the whole thing, and then all this sh*t starts happening. There's people showing up at the door, police, there's a woman missing, she's injured. I think he really panicked and just thought, this isn't safe. And you know, he was there with his wife and his son. His wife and son were upstairs and they were all going to go together. So I think he also had that weighing on him too is, "You know, what's going to happen to my family if this goes wrong? It's not just me."
[00:18:35] Jordan Harbinger: Man, it really sucks that he's sort of between this rock and a hard place because the FBI has to cooperate but he cooperated with them. And if they don't give him up, it seems like the United States is sanctioning this embassy break-in. And if they do give him up, he potentially gets extradited to probably not North Korea, but it certainly, he goes to Spain and faces violent crime, you know, attempted kidnapping with a deadly weapon or whatever, even though they were fake weapons, charges and ends up in prison for 20 years or 10 years, which is also terrible.
[00:19:08] Bradley Hope: Exactly. And there's another member of the group called Christopher Ahn, and it's even especially tragic because he didn't really know what the plan was. You know, this was a very compartmentalized group. And so he knew, "Oh, there's something going on in Spain. I've been involved in these other things." And Christopher was the one that rescued Kim Jong-nam's family after he was assassinated.
[00:19:27] Jordan Harbinger: Kim Jong-nam is the older brother of Kim Jong-un who was assassinated in the airport in Malaysia, which is another story that maybe we can talk about because that's freaking insane as well if you're familiar with the details, Bradley?
[00:19:38] Bradley Hope: Yeah. So yeah, obviously this guy is kind of a joker, Kim Jong-nam. Like, he's not like a serious contender for the throne, but because—
[00:19:45] Jordan Harbinger: Right.
[00:19:45] Bradley Hope: —of the way North Korea works, he's like in the bloodline. So he could contest this kind of dynasty, the dynastic succession. So he was living kind of in exile and so all the intelligence agencies of the world, like the Chinese and the US were keeping him tight close by even giving him money because he was a possible card to have in a succession battle or whatever it might be. And then, obviously, he was assassinated in the most horrific and kind of creative way possible.
[00:20:13] Jordan Harbinger: We'll talk about that in a second. I don't want to jump around too much because it's going to get confusing, especially for people who aren't—
[00:20:17] Bradley Hope: Sure, sure, sure.
[00:20:18] Jordan Harbinger: —who aren't familiar with all the sort of chess pieces.
[00:20:20] Gabriel Mizrahi: So you believe that the people involved in this mission/plot should not be extradited to Spain, right?
[00:20:27] Bradley Hope: Yeah. I mean, I spend a lot of time trying to understand the whole history of Adrian and this group. And to me, it's the biggest kind of tragedy and injustice that they're kind of on the run. This guy Christopher Ahn, who's really one of the sweetest, nicest people I've ever met. His life was completely upended about this. His life has been changed forever. He actually was in a super hardcore Los Angeles jail for a long time, a couple of months living among hardened criminals. So it's a complete injustice, but it's also kind of such a thorny problem to solve. The easiest thing would be Spain drops the charges. If they drop the charges, then there's not really a case anymore, and everything kind of lifts. The second thing that could happen is the US government could say, "Look, we don't believe these guys committed a crime. We know these guys. We're not going to extradite them," which is the second best thing. Or they could actually win their legal cases in some way or another. But that's kind of not the best option because it's very time-consuming. You'd have to keep winning. You have to win in the US, win in Spain. It's a travesty, you know?
[00:21:28] Jordan Harbinger: The judge made a kind of unusual preliminary ruling. Did she not?
[00:21:32] Bradley Hope: Yeah. So this guy Christopher Ahn, he was the only one arrested, and he's fighting this extradition in court. He has an amazing pro bono team that are fighting this, and they're willing to go all the way to the Supreme Court. It's a very emotional case, you know, uh, for him and for his family. And basically, this judge really dragged out the whole process. And it was clear when you listened to her speak that she deeply sympathized with him, and she believed that he was not a criminal in any way. So she gave him very relaxed bail eventually, that you wouldn't usually give to somebody who's accused of crimes like this, assault and attempted kidnapping. And eventually, she issued a ruling where she said, "Unfortunately, the law is so clear I have to uphold this extradition, but I hope that somebody else overrules me from a higher court." It's actually rarer to find a judge basically pleading to the Appellate Court, "Look, find a way to not do this. It's wrong to actually do it." And so now, he's fighting that next level, and it could go on for years and years and years.
[00:22:33] Jordan Harbinger: You are listening to The Jordan Harbinger Show with our guest Bradley Hope. We'll be right back.
[00:22:38] This episode is sponsored in part by Athletic Greens. Jen and I take AG1s by Athletic Greens every single morning. And if you couldn't tell, it's morning right now. We add a scoop of AG1 to a bottle of water and just shake it up. We started taking AG1, well, once we had kids, we started eating way less healthy. You think you make healthy food for your kids. You're eating healthier, actually. You're just eating kid leftovers half the time. Sometimes I eat like a meat stick for lunch because it's all I have time for AKA beef jerky. So I'm taking my AG1 as a quick and easy way to make sure I'm getting a lot of the nutrients that I normally would just skip because of, you know, disorganization factor over here. AG1 is an all-in-one nutritional insurance. Each scoop has 75 vitamins, minerals, whole-food source, superfoods, probiotics, and adaptogens. 75 different things, you couldn't source that all on your own. It'd be kind of weird. You'd have a handful of pills every day, plus no GMOs, no nasty chemicals, no artificial anything. My friend started this company. He's a real stickler for ingredients that are not straight-up toxic stuff that you would get at a gas station anyway. It tastes pretty good for green juice. A little bit suspicious at first, but it does have that slight green flavor. It's not filled with sweeteners. Once scoop with water, it's decent enough by itself. To make it easy for you to give it a shot, Athletic Greens is going to give you a free one-year supply of immune-supporting vitamin D, which most of us are deficient in and five free travel packs with your first purchase. All you have to do is visit athleticgreens.com/jordan. Again, that is athleticgreens.com/jordan to take ownership over your health and pick up the ultimate daily nutritional insurance.
[00:24:08] This episode is sponsored in part by Hyundai. The Hyundai Tucson comes with America's best warranty, good for 10 years or a hundred thousand miles. It's like a mental vacation from worry that no other brand offers whether that's up in the mountains to hit the slopes on a ski trip, cruising down the coast to the beach, or hitting the trail way out in wherever you go to get away from it all. Add in three years of Hyundai complimentary maintenance and five years of roadside assistance, the Tucson makes that mental vacation even more worry-free. Just don't forget your sunscreen and maybe a little bit of bug spray and some snacks. And don't forget, well, it's your trip. So take a mental vacation, or better yet, a vacation, vacation in the Hyundai Tucson. And leave those worries behind. The Hyundai Tucson with America's best warranty. It's your journey. Test drive the Tucson at your nearest Hyundai dealer, or learn more at hyundaiusa.com. Call 562-314-4603 for complete detail.
[00:24:57] If you're wondering how I book the guests for the show, or how I end up with all these opportunities that I talk about here on the show, it's always about knowing the right people. I know the people say that they put a little bit stank on it. Oh, it's all about who you know. That should be your unfair advantage, and I want to teach you how to build that advantage in our course, Six-Minute Networking. It's a free course. I'm not trying to get your credit card info. I'm not going to spam you with crap. The course is available at jordanharbinger.com/course. I want you to build your relationship-building skills. I want you to become a better connector, a better colleague, a better friend, a better peer. I don't want it to be awkward and cringey and gross. So that's what this course is. Well, not cringey and gross. That's the idea, right? And it only takes a few minutes a day. You don't have to go to cocktail parties with people that you hate at the YMCA or the Learning Annex, and many of the guests on the show, they subscribe and contribute to the course. So come join us, you'll be in smart company where you belong. The course is free. It's at jordanharbinger.com/course.
[00:25:51] All right, back to the show.
[00:25:54] Judges typically don't want to be overruled. It makes them look bad. But in this case, she says, "You have to overrule me because I only made the decision according to the law, and in this case, the outcome is completely unfair. And so somebody needs to do something about this because I can't."
[00:26:08] Bradley Hope: Yeah, exactly.
[00:26:09] Jordan Harbinger: Really interesting. By the way, thanks for including my name in the book. That was cool of you. I feel like a lot of authors use stuff from this show in their books and we either end up in the index or we don't even make it in the index and it's cool, you threw it right in the chapter, which I appreciate. Because you actually had another show guest who was taking part in this embassy operation, which is really surprising because Charles Ryu, who is episode 84, in episode 88, he doesn't come across as a spec ops break into an embassy and kidnap someone kind of kid.
[00:26:38] Bradley Hope: Yeah. Well, what's interesting about him is this mission in Spain had multiple dimensions, right? On one level, the simplest version was to rescue the attaché and his family, but they had bigger ambitions. You know, at a minimum would be intelligence gathering, so grabbing all the USB sticks and there's a foil-lined room inside North Korean embassy, the cipher room. Getting that material is very valuable for any foreign government and probably there's probably almost no foreign government's ever been inside of a North Korean embassy. You know, so where what these guys did was go well and beyond what anybody else would even consider doing.
[00:27:13] Jordan Harbinger: I'm going to go out on a limb and say that many foreign governments have been inside a North Korean embassy and we just don't know about it because they sound like really low-tech dumps. If the students can just hop the fence and walk in and there's a door buzzer where they let people in the lobby, it doesn't seem like they have the hidden fifth floor with the CIA vault door behind it.
[00:27:31] Bradley Hope: I think you're right. But imagine sending in an operative into an embassy with people inside.
[00:27:36] Jordan Harbinger: Yeah. I just mean it sounds like the kind of place you can go at night and no one's there.
[00:27:40] Bradley Hope: Yeah, perhaps. I mean, for sure they were technically surveilled all over the place.
[00:27:44] Jordan Harbinger: Yeah.
[00:27:44] Bradley Hope: And probably completely deciphered. It's not like they're going to be using the best quality stuff.
[00:27:50] Jordan Harbinger: No, it's 1965 tech in there for sure.
[00:27:52] Bradley Hope: But beyond those things, they also had a propaganda element, which I'll get to in a second, but, and then they also had an ambition that possibly the entire embassy could agree to defect.
[00:28:05] Jordan Harbinger: Ah.
[00:28:05] Bradley Hope: And they could actually turn the embassy itself into the home of this new government in exile. That was kind of like another level ambition. It wasn't guaranteed, but it was possible, you know?
[00:28:16] Gabriel Mizrahi: How realistic is that?
[00:28:17] Bradley Hope: I think looking back now, it doesn't seem so realistic, but Adrian is kind of like a Silicon Valley entrepreneur who's put all of his effort into the human rights issue of North Korea so that he's kind of has that point of view that nothing is too big. Like, we could do this. It's possible. The propaganda element was so they brought along Charles, who's a remarkable young man.
[00:28:41] Jordan Harbinger: Yeah. He escaped North Korea twice. He once from jumping off of a train while being chased. I mean, it's the casino out of a movie. He got caught once, got sent to a labor camp, worked in the labor camp, escaped the labor camp. Just an incredible, incredible story. Again, episode 84 and 88 of this show.
[00:28:57] Bradley Hope: And he was living in California and got to know Adrian and other members of the group because Adrian's so involved in the North Korean community, especially abroad, because he brought so many people over himself. And if you read some of those books, you look at the acknowledgements, they say, "Thank you so much, Adrian. You changed my life." He was really important to a lot of these people. And so he got to know this guy Charles, and Charles came on the mission. He was not part of the kinetic part of the operation. He didn't enter the embassy with the fake guns and stuff. He stayed in a car nearby when everything was secure. He came in and they filmed him, which you can find on the YouTube channel of Free Joseon online. They filmed him entering the embassy, his face kind of pixelated, and sort of having this emotional reaction to be on North Korean soil for the first time since he had left. And then they also filmed him breaking some pictures of Kim Jong-un—
[00:29:50] Jordan Harbinger: Wow.
[00:29:50] Bradley Hope: —and Kim Jong-il off the wall. Like it, it was kind of a propaganda element. Interesting though that he kind of got mixed up in it. And to be honest, he's not extraditable because he is a North Korean asylum winner.
[00:30:04] Jordan Harbinger: Mm-hmm.
[00:30:05] Bradley Hope: And so the US doesn't extradite people in this kind of circumstance. So in a way, he kind of hasn't had to go through all this experience as the other members have had to.
[00:30:13] Gabriel Mizrahi: Wow. So he dodged that bullet. Yeah.
[00:30:16] Jordan Harbinger: Yeah. I didn't realize you couldn't extradite somebody to a third country like to Spain to do that. But it also sort of makes sense because then you might have countries like China, North Korea, or the United States say, "Oh, you can't extradite him here. Well, we're just going to send him to another country that's an ally of ours and he can get tortured and thrown in prison over there instead. What we're saying is, we will not deport you for any reason. You're safe here." That's the whole point of asylum. That totally makes sense.
[00:30:39] Gabriel Mizrahi: All these guys are so fascinating. At the end of the book, you say that for all your research into Adrian Hong, "The edges of his character still do not feel fully defined." And I think one of your researchers saw something else in him. She said something like, "He had a shady sense of citizenship. And that working on this cause gave him the power to affect change in not just one but three countries." And in the book you come to the conclusion that this mission did give his life meaning and purpose, but it also might have become a substitute for what you call his fragmented identity. Do you think that many activists who resort to extreme measures like this are kind of impossible to nail down culturally and maybe even personality-wise? Do they often have these mixed intentions and qualities? Are they always kind of mysteries even to themselves?
[00:31:27] Bradley Hope: Yeah, I think so. I would almost take his personality and apply it beyond human rights. Like I could see him in another life being the CEO of a startup or anything that requires you to have kind of like unbelievable faith in yourself and your own abilities. And probably many people who got to know Adrian at one point or another thought he was arrogant, you know? But in reality he had a very singular purpose in mind and he'd never really veered from it. And what's amazing is he was actually extremely smart. He went to Yale. He was actually pretty good at making money. He put every dollar he earned back into this. You know, he didn't really save. I knew him myself over the years and he looked like a well-to-do kind of person. But I later learned that he was burning through credit card debt to keep this operation running because he doesn't have funding. Nobody's really crazy enough to fund a group like this.
[00:32:19] Jordan Harbinger: Mm-hmm.
[00:32:20] Bradley Hope: This just too risky, you know, like the US governor or something. This isn't like a separatist group on the border or something. This is like in America, it's kind of like an underground railroad operated by Americans for the most part in America.
[00:32:35] Jordan Harbinger: There are organizations like LiNK, Liberty in North Korea, but I think the criticism there is they do a lot of talking about refugees and the situation, and they do get some people, a lot of North Korea, quite a few actually, through a real underground railroad. But I think he's like, no, we can't get 24 million people out one person at a time every other month that's going to take a thousand years. We need to have the regime fall, which is, it's just a bigger goal than what a lot of other organizations have.
[00:33:04] Bradley Hope: Yeah. And you know, actually, Adrian was the founder of LiNK when he was at Yale.
[00:33:09] Jordan Harbinger: I didn't know that.
[00:33:09] Bradley Hope: Yeah. He joined together with students at other campuses. They created LiNK. That was his whole life for a while, but he quit suddenly and everyone was shocked, like, "Adrian, you created LiNK. Why are you quitting?" Because he instantly felt this isn't enough. This is going to be good. It should exist, but it's not enough for what I have for my vision for North Korea. And so it's quite a fascinating journey. He went on to kind of, he kept ratcheting up the risk and doing crazier and crazier things.
[00:33:36] Jordan Harbinger: Very interesting.
[00:33:37] Bradley Hope: What I find fascinating is if you think about something like North Korea, it's like almost so easy to ignore. You know, people in South Korea, you hear it all the time. They don't want to talk about North Korea. It's just like this annoying thing that's over the border. It's scary, but they don't want to talk about it. It's embarrassing. It's not a topic of discussion, you know?
[00:33:55] Jordan Harbinger: Mm-hmm.
[00:33:55] Bradley Hope: And if it's not a topic of discussion there, it's definitely not a topic of discussion anywhere else. It's not like a weekly discussion for anyone about the human rights cost in North Korea. At one point I spoke to a really amazing NGO in Germany, and the guy told me that the way he stays motivated is he calculates all the time the death toll of the North Korean regime. And he had a very simple way of calculating that, which is if you go to a North Korean prison camp, your life expectancy is reduced by X amount. And he's been doing it for this many years. So he had calculated that hundreds of thousands of people have died because of this regime, and that's what keeps him motivated. You know, this isn't like a kind of a subtle thing. It's scary in the numbers of the misery of people, you know? So I can understand. I think Adrian actually is kind of annoying for people in the North Korean community, North Korean like watchers and scholars, because he's basically saying to them, "Guys, this isn't an academic discussion. This is the biggest human rights crisis of our time. And you're just like sitting around thinking, well, how can we make this gradually change? Or, you know, what diplomatic techniques can we use with Kim Jong-un?"
[00:35:02] Jordan Harbinger: It's kind of like if the Holocaust that happened during World War II were going on and people are going, "What can we do? Let's have a symposium on how we can engage with Hitler to get him to stop murdering millions of Jews and gypsies and gay people." And it's like, "Yeah. Oh, oh, you know what? Actually, November's not good for me. Let's push it to Feb. And it's like people are getting murdered every day. What are you guys doing?" And Adrian's thinking this sense of urgency here. You mentioned in the final chapter of the book, there's a connection to the Ukraine conflict. People are getting involved in the defense of Ukraine because they have a deep feeling of wanting to do something. And some people are flying, some people are talking, some people are raising money, they're selling trinkets, whatever. Other people are flying to Kyiv, picking up a rifle and saying, "Hey, I was a sniper in the Marine Corps and I'm here to shoot some invaders." That's what a lot of activists feel about North Korea, I think.
[00:35:49] Bradley Hope: I think the painful truth is you have something like North Korea, you have Afghanistan, you have Ukraine, and there's a dramatically different response to each of them, right? Because ultimately people in America, they just connect a little easier with the image of a Ukrainian, a Christian Ukrainian family that's facing this experience. Meanwhile, Afghans, we basically promised them that we would help them out and look after them and protect them, and then we just ran away. And in North Korea, it's just, it's almost too alien. Almost like a fiction that exists. You know, in the eyes of the average American doesn't think of North Korea as something like the Ukrainian issue. They don't see it like that. It's different. It's hard to make these international crises personal for people, you know? That's why those books are so good. People like Charles telling their story, people sit back and say, "I can't even believe I'm hearing this. Like this actually happens on earth, you know?"
[00:36:44] Jordan Harbinger: It is shocking. In the book, you also mentioned that many activists, they want to take down the North Korean regime, but then they experience burnout from lack of progress, which makes sense. I mean, we're focused on these nukes, we're really not doing anything on a daily basis. There's almost no sense of urgency. It's kind of like, all right, well we can maintain the status quo until something changes in China and they won't supply them anymore. And then, the whole thing falls, but then we're going to have a refugee crisis. Uh, you know, it's kind of like, ah, let's just sweep this under the rug. Because it's not like they have Internet and they're saying, "Look at what's happening here. Here's a video." We just never hear about it by design.
[00:37:18] Bradley Hope: Yeah. I guess it's also possible to sympathize with the other side too, because from the perspective of like a lifelong diplomat, North Korea, it also poses a mortal threat to all of its neighbors and also people far away with its nuclear weapons. It's its willingness to engage in criminal behavior and activity, you know, all that kind of stuff.
[00:37:37] Jordan Harbinger: Speaking of China, let's talk about that for a moment. Because the relationship between China and North Korea, it's very complex. It goes back a long, long way. Basically, China has protected the DPRK aka North Korea in various ways since its foundation, along with the Soviet Union. And let me know if you think I'm wrong here. Without that protection and support, it just wouldn't have survived. I mean, this would be something that disintegrated probably in the '80s or the '90s.
[00:38:01] Bradley Hope: Yeah, I mean, North Korea is so clever about making itself sort of impossible to deal with. For China, they don't want the possibility for a second that this country, this little country, right on its border could turn its nuclear weapons facing China. I mean, it's like right next door, obviously. And on the other hand, China also kind of likes having a little buffer between South Korea, which is full of American soldiers and China and so it's interesting problem. I mean, China doesn't really look at it as a human rights thing. And for example, if you escape North Korea into China, you are never possibly an asylum seeker. You're only an economic migrant who illegally entered the country and you're always sent back. There's no second possibility for you. They really have had a kind of ultra-pragmatic/cynical point of view for North Korea, and they seem kind of willing to let it continue the way it is.
[00:38:54] Jordan Harbinger: Do you think they're more afraid of North Korean's nukes, or are they more afraid of a refugee crisis on the border if things collapse? I think everybody knows that if they tried to attack China, the whole country would end up glass in the next few hours. I think they're more worried that 24 million North Koreans are going to wander into China looking for work.
[00:39:14] Bradley Hope: Yeah, that's definitely, it must be a huge part of it as well. But again, it's just kind of goes back to the point of North Korea is impossible to deal with, so you might as well just kind of keep kicking the can down the road.
[00:39:24] Gabriel Mizrahi: But that relationship does seem to be changing a little bit, even if it's subtle and even if it's very slow. My sense is that China seems more impatient with the DPRK these days than it has in the past. I'm sure behind the scenes, they're basically telling North Korean leadership, "Hey, you know, this is what you can get away with. This is what you definitely can get away with. Here's what we'll put up with as an ally," even if it's not, you know, in so many words, I think they're saying that. So do you have a sense of what the limit of China's support for the DPRK actually is? Like what's the red line, so to speak, for China when it comes to North Korea?
[00:39:56] Bradley Hope: I think if North Korea were to attack another country, I think it would be a kind of an unbearable risk to have North Korea continued that way. But in general, I don't think that North Korea actually takes a lot of orders from China. I mean, I know they, they're trying to balance things, but North Korea's pretty good at handling superpowers. They can do things that nobody else would do. That's what gives them the special ability to persist is having these tools that nobody else would ever do and part of that is looking crazy all the time. You know this idea that North Korea's leaders are crazy and they're ready to like press the button at any time. It's actually probably largely a kind of purposeful display that they want people to think that because it increases their ability in all these negotiations.
[00:40:41] Jordan Harbinger: Let's talk before I forget about the assassination of Kim Jong-nam. Remember again, he was the older brother of Kim Jong-un and was assassinated in this really dramatic fashion that was quite creative. If you can say that about the assassination of someone. I'd love to get the details on this. I've watched many documentaries about it and things like that, but I've never had a discussion about it on the show.
[00:41:00] Bradley Hope: People always underestimate North Korea. They think, oh, they don't have any good technology. They don't have a lot of funds. But whenever people underestimate them, they always seem to find a way to completely shock people. For example, how is it possible that North Korea has some of the most effective hackers in the world, yet they're not growing up with like iPads and stuff over there? You know, they're working with basic material. And yet for somehow they're able to kind of train people to be these digital assassins. They create some of the best forged currency in the world. How is it possible that North Korea is so good at this stuff? And it turns out that also applies with things like assassinations and sort of these dark operations.
[00:41:38] Jordan Harbinger: So basically, what they did is North Korea had historically pretty free access to Malaysia. Malaysia had a no-visa policy with North Korea for a long time. And there's a lot of trade in business between Malaysia and North Korea.
[00:41:53] Bradley Hope: So, visa-free travel you mean.
[00:41:55] Jordan Harbinger: Yeah.
[00:41:55] Bradley Hope: Yeah. Yeah. There's a lot of business connections. There was a lot of trade going on via Malaysia, so it was possible for North Koreans to go there and kind of operate a little bit more. And so I guess this was clearly a long set plan to take out. Kim Jong-nam waiting for the opportunity, and they must have had some intelligence that he was traveling to Malaysia on a somewhat regular basis. And what they did is they essentially tricked two different women who didn't know each other. They kind of seduced them that, "Look, you're going to be part of this game show," where it's almost the equivalent of like putting a pie in someone's face randomly. And so they trained them and they did practice runs and things like that. Nothing bad happened. It was all kind of silly. And then, on the day of the assassination, they were told, "Look, come to the airport. This is the big finale. We got cameras rolling all over the place." And essentially, each woman was given a different chemical, which when combined created like one of the most dangerous chemical weapons on earth, but by themselves were not lethal.
[00:42:52] Jordan Harbinger: Yeah. It was VX, which is a nerve agent, just highly lethal chemical weapon. They'll put it in aerosol and things like that. So these two chemicals, one on one hand, one on the other hand from a different grill, not necessarily inert on their own, but more or less harmless. And then, they mix together on this guy's face and it turns into VX and yeah, I mean he starts having seizures in the airport and croaks because he can't breathe.
[00:43:16] Bradley Hope: Yeah, exactly. And the girls are trained to quickly wash their hands so they didn't become victims. They really had no idea what they were getting involved in. And in a way it's just like such a scary assassination because of the time and effort that went into it. Like they could have just had somebody shoot the guy. They had to do with a chemical weapon just to show any North Korean on earth. "Look, we can get anywhere and we can kill you in the most horrific way," essentially the message.
[00:43:44] This is The Jordan Harbinger Show with our guest Bradley Hope. We'll be right back.
[00:43:49] This episode is sponsored in part by ZipRecruiter. As a business owner, one of the biggest challenges I have is hiring, at least in the past. Did you know it can now take up to 11 weeks on average to hire for an open position? Ain't nobody got time for that. Well, if you're listening today, I've got some advice for you. Stop waiting. Start using ZipRecruiter. It's way easier than you might think. ZipRecruiter can help you find qualified candidates for all your roles, really fast. And right now, you can try it for free at ziprecruiter.com/jordan. ZipRecruiter uses powerful matching technology to quickly find and send you the most qualified people for your roles. You're not laboriously sifting through candidates, faxed in resumes, which is what we did that one time, and I can't even tell you. Personally, invite your favorite candidates to apply with one click that might make them apply even sooner, which I mean, in my opinion, has worked for us in the past. Four out of five employers who post on ZipRecruiter get a quality candidate within the first day, which is a lot faster than back in those old days where you would ask for resumes to be submitted even via email or one of those fancy websites. So speed up your hiring process with ZipRecruiter. 3.3 million businesses have come to ZipRecruiter for their hiring needs. Just go to this exclusive web address and try ZipRecruiter for free, ziprecruiter.com/jordan. Again, ziprecruiter.com/jordan. Oh, and you support the show when you do it. ZipRecruiter, the smartest way to hire.
[00:45:12] This episode is also sponsored by Better Help. If you're going through a tough time, you are not alone. I've been there. We've all been there. My voice is there right now. Therapy is one of the best things you can do for yourself, and Better Help is a great way to dip your toes into the waters of therapy. I am not a fan of driving across town, parking, laying on a couch. I know that there's something to be said for in-person therapy, I'm sure of that, but frankly, I'm more comfortable when I'm in my own home or walking around in my own neighborhood. I just feel like I can talk better on the phone than I can in front of a stranger. Therapy is vulnerable work. Better Help doesn't feel intimidating at all. They match you with a therapist tailored to your needs, but if you don't mesh with them, you can switch therapists whenever you want. And I love that because I don't know. Some people you just, eh, it's not into them. You don't click. It's a thing. Just let Better Help support know. You don't have to even notify the therapist if you don't feel comfortable, which is great for you, avoidant types, you can just sort of break up with them without a word. Maybe that's something you need to talk to your next therapist about. Check out Better Help's over 94,000 reviews on the iPhone app if you're still skeptical. And if you're on the fence, take this as a sign to try it out.
[00:46:16] Jen Harbinger: If you want to live a more empowered life, therapy can get you there. Visit betterhelp.com/jordan to get 10 percent off your first month. That's better-H-E-L-P.com/jordan.
[00:46:27] Jordan Harbinger: Hey, if you like this episode of the show, please share it with other people and what the, hey, support one of our amazing sponsors. That's what smart and considerate listeners do. All of the discount codes, all the deals, all the ways to support the show are at jordanharbinger.com/deals. You can also search for any sponsor using the AI chatbot on the website as well. jordanharbinger.com is where you find it. Thank you so much for supporting those who support the show.
[00:46:50] All right, now for the rest of our conversation with Bradley Hope.
[00:46:55] This is like what Putin does when he kills somebody with Polonium 212, which is this sort of really rare isotope that you can only get from, I think, like enriching nuclear fuel. So the idea is it's horrible, it's slow, it's brutal, and it could only be a nation-state power that does it. You're not going to have anybody be like, "Oh, it was random. Oh, it was this. Oh, it was—" No, it was definitely the FSB who did it. It was definitely North Korea. Like, this is your brother doing this because only your brother, Kim Jong-un would create a nerve agent on your face with this complex plan. Anybody else might just bash you over the head and rob you or kill you with a gun. This is worse.
[00:47:35] Bradley Hope: Exactly. So this is where Free Joseon come in. Kim Jong-nam has a family living in Macau. He has a wife, he has a son and a daughter. Kim Han-sol had met Adrian at one point and they had gotten to know each other and they had shared numbers.
[00:47:49] Jordan Harbinger: Kim Han-sol is his son, Kim Jong-nam's son.
[00:47:51] Bradley Hope: Yeah, that's right.
[00:47:52] Jordan Harbinger: Okay.
[00:47:53] Bradley Hope: So as soon as Kim Jong-nam is assassinated, Kim Han-sol is calling Adrian. He doesn't have a big network of people to call, like his dad is the one that had the connection with the CIA and the Chinese intelligence, not the kid. So he's calling Adrian like, "I'm not sure what to do. And I'm thinking about we'll stay here in Macau." And then Adrian said, "Look, I think you should get out of there. It's not safe. You know where you are isn't safe." And he said, "I think we can get you asylum in the Netherlands," because he had a good connection with the Dutch government about previous North Korean escapees, getting them to settle there and that sort of thing. A couple of hours later, Kim Han-sol called back, said, "Yeah, let's do this. Like I want to get out of."
[00:48:29] So, this other guy that I talked about earlier, Christopher Ahn, was actually on a holiday in the Philippines, and Adrian called him and said, "Hey, where are you?" And he's like, "Oh, I'm in Manila. I'm like on a rooftop bar." He said, "Oh, that's perfect. I need you to go to Taiwan and like rescue this family." So Christopher Ahn bought tickets for this family with his own credit card to fly into Taiwan. He met them there and he stayed with them in the airport as they kind of negotiated this exit to the Netherlands. And they even filmed a little film where Kim Han-sol said, thank you to Adrian, you know, but it was kind of an insurance policy. They didn't air that part until later on. And then, they tried to leave to go to the Netherlands and the airport wouldn't let them leave. They had been made aware of who these people were.
[00:49:15] So while they were waiting in the airport, two guys came in and they said, "We're from the CIA." They're like, "Do you have any idea what you guys are doing? We're the actual people who do this. Like, you're just like this volunteer group." But Kim Han-sol wanted to stay with Christopher. So the CIA said, "Okay, fine, we'll escort you to the Netherlands ourselves. So Free Joseon had a team ready, you know, a lawyer, everything. And when the gate opened on the other side, they had disappeared.
[00:49:40] Jordan Harbinger: Who disappeared? The CIA agents and the people they were escorting just vanished?
[00:49:43] Bradley Hope: Yeah, they vanished. And so clearly what happened was at the disembarkation part, once they got to the Netherlands, they exited another way. And essentially, Kim Han-sol and his family are now believed to be living under witness protection in America. And actually, a South Korean newspaper saw Kim Han-sol at a Starbucks in Washington DC.
[00:50:03] Jordan Harbinger: Stop. No way. Wow. Just probably ended up going to a jet at the same airport when they landed in the Netherlands and they're like, "We're not actually staying here because these knuckleheads who you think are saving you, you can't hide in this tiny little country where a bunch of people know that you're here. You have to come to America and be over the protection of the CIA." Okay, sounds good. You know, private jet flight to the states and ends up at a Starbucks, which is a little, probably not a great idea, but at the same time, what are you going to do? Never have coffee again.
[00:50:33] Bradley Hope: Yeah.
[00:50:33] Jordan Harbinger: Got to get those frappuccinos.
[00:50:34] Bradley Hope: This guy Kim Han-sol, actually now is playing the role of Kim Jong-nam. He is, theoretically part of the divine bloodline of North Korea. So the US government has a reason to have him around because you know, who knows what's going to happen in the future, and suddenly this guy walks up and says, "Actually, I'm the rightful heir to North Korea and I'm going to liberalize the country and stuff." He's sitting in the background. He could play that role theoretically.
[00:51:00] Jordan Harbinger: That is wild.
[00:51:01] Bradley Hope: He's kind of a prince. He's a prince.
[00:51:02] Jordan Harbinger: Yeah, he's an exiled prince. This is crazy. So, which means Kim Jong-un wants to kill him even more than he probably wanted to kill his older brother at this point, or as much as.
[00:51:10] Bradley Hope: Yeah.
[00:51:11] Jordan Harbinger: Oh man. Kim Jong-nam himself was such a strange guy. I mean, he was supposed to be the leader of North Korea. Kim Jong-il wanted him to be the leader. Then, he ends up getting caught going to, what? Tokyo Disney, like some kind of goofball. And that's so embarrassing that they just basically boots him from the bloodline.
[00:51:29] Bradley Hope: Yeah, pretty much. Yeah. I mean, to be honest, all these guys are super quirky, right? Because—
[00:51:33] Jordan Harbinger: Yeah.
[00:51:34] Bradley Hope: —they grew up in this weird world where everything is possible and you know, everyone bows down to them. They all have weird things. You know, Kim Jong-il and his obsession with movies and Hennessy and like all kinds of weird stuff, you know?
[00:51:47] Jordan Harbinger: I remember reading that he drank or ordered $800,000 a year in Hennessy, which is completely ridiculous. Imagine being that large of a customer. Now granted they're probably serving it at parties, but it's not like, oh, this goes to every bar in North Korea. North Korea doesn't have that kind of economy. It's being drunk by the inner circle exclusively, and they're still drinking almost a million dollars and definitely over that adjusted for inflation from the '90s of Hennessy every year, which is just stupid. And he would shift from one actress to another woman and then that woman's kid would be the lead — I mean, it just shows you how unstable, bloodline, and one-man rule really is. You've got all these assassinations and different groups vying for power, but it's all inefficient. And if somebody bites the bullet or gets killed at an airport, everything shifts over another way. It's absolutely crazy.
[00:52:41] Bradley Hope: Yeah. To have a dynasty is a very hard job. And we see that in the Middle East right now, right? The third-generation stuff gets messy because there's so many of them. They all think that they should be the guy in charge so they're willing to fight each other and the most unexpected guy wins like MBS in Saudi Arabia.
[00:52:58] Jordan Harbinger: The Sony hack is something people have heard of. Can you tell this story in brief because I think people maybe don't fully understand that? You've mentioned the hackers before and how talented they are. This speaks to that.
[00:53:08] Bradley Hope: Yeah. I mean, essentially Sony was the distributor of this show, this film, The Interview, that was considered like, you know, completely outrageous and insulting to North Korea. And actually, Adrian wrote an article criticizing that film saying, "This is not a joke. North Korea isn't a joke. It's not like something you make a joke about." And I think he even referenced, you know, there's a famous Charlie Chaplin movie, the Great Dictator, where he made fun of a character that was like Hitler. Later on, he said, if I could go back in time, I would've not made that film because of everything we learned about the horrors of World War II, we didn't know about concentration camps when I made that. And so Adrian kind of evoked that.
[00:53:48] Anyways, Sony then got attacked with a very sophisticated operation, which essentially they downloaded the entire email history of Sony and they started to distribute it, making it available online. And it was a devastating hack because even to this day, entire books were written about Sony based on that hack, because it was so revealing about how Hollywood works, the terrible things people say behind the scenes and stuff. It's actually so traumatizing that hack that most film and TV companies will stay the hell away from a North Korea project. Obviously, the film and TV world are not known for their stiff spines anyway, but they certainly don't want to invite any kind of a cyber attack on themselves.
[00:54:30] And so the other one that's really amazing though is the way the North Koreans hacked the Bangladesh Central Bank. They basically managed to transfer all this money out of the Bangladesh Central Bank through this kind of also quite sophisticated hack. They have these kind of grand hacks like that, and they also have the everyday mundane hacking too. Ransomware, cryptocurrency, money laundering, they're good at all that stuff.
[00:54:53] Jordan Harbinger: Yeah. There was a kid, a couple of kids from, I want to say the UK, who went there to talk about cryptocurrency, and they made the mistake of saying, "And this is a way you could get around sanctions." And I think once that got out it was like, "Oh, you're helping a literal enemy of the free world evade sanctions." And now, he in prison that kid that dumbass? I feel bad saying that, but what a dumbass.
[00:55:16] Bradley Hope: Yeah, I believe he did go to prison but there was like some kind of a plea deal I think.
[00:55:21] Jordan Harbinger: Yeah, knucklehead. I was going to ask why national security organizations, like the North Korean version of the CIA would give a crap about a movie that nobody in North Korea's ever going to see. But the truth is propaganda is strong and that movie embarrassed North Korea and now nobody will ever do that again. Because Sony lost what I assume are hundreds of millions of dollars in revenue because their systems were down for weeks. My friend's girlfriend worked there at the time, all she could do for literally weeks was shop online and chat with colleagues basically. And this wasn't even the main Sony. I mean, it was just everybody I knew at Sony was like just on Amazon reading for weeks.
[00:55:55] Bradley Hope: Yeah, exactly. And again, this is just another example of how North Korea is really good at perception. They look ridiculous sometimes, but there's a purpose to this. They want to scare people to never talk about North Korea again. They could have done something else. They could have done something quiet. They could have assassinated Kim Jong-nam to make it look like a crime but they didn't. They wanted it to be public to scare people.
[00:56:18] Jordan Harbinger: The perception is really, they're really obsessed with this. Every tour you go on there is guided. They only show you certain things. They want to really sort of curate your experience. And even on the DMZ, there's that fake Potemkin village. That is well painted and has lights and flags and they'll occasionally put something new there, but literally, endangered species live there because it's untouched by humans aside from the occasional landmine explosion or a fire.
[00:56:45] And one of the times when I was there, there was an actual fire in the DMZ is some brush fire and you could see mines blowing up because they were on fire. There was a fire in the area. It was just really kind of surreal and incredible because you can't go out there and put a fire out that's for damn sure. There's land mines everywhere and any side that goes over there is going to get shot at by the other side. So they just let it burn and you know, explode and whatever. I don't know if they replaced the mines or what. At this point I'd be surprised if they even knew where everything was over there.
[00:57:14] Bradley Hope: I think the border is, has gone through a lot of de-mining.
[00:57:18] Jordan Harbinger: Mmm.
[00:57:18] Bradley Hope: But it's still kind of amazing that there's nobody from North Korea escapes into South Korea. It's impossible. You know, it's so fortified. There's so many North Korean and South Korean army. It's just impossible escape route. There's barbed wire, there's still mines, but you know, North Korea is so concerned about image. Even all the diplomats, people who visit, like your guys when you went over, you're not allowed to wander around North Korea, right? You're in the best places. They have the show and the rest of it's all kind of kept out of sight. There's these kind of hidden camera footage every now and then that comes. The rareness of that imagery is almost like when people find these tribes in the Amazon jungle or something. Like that's how rare the footage is of what everyday life is like in North Korea.
[00:58:03] Jordan Harbinger: Exactly, yeah. It's absolutely impossible to find, generally. There's one guy who did a YouTube channel for a while, I want to say he was a Malaysian diplomat or something, and he would walk around the streets and just sort of film with a GoPro, but even he's only walking around the streets, he's not going into someone's house. That would just not happen. He's filming people selling food or trinkets on the side of the road and just walking around town in places where tourists can't go but that's just sort of marginally better than what we were able to see I would imagine.
[00:58:30] I spoke to a German woman who went to North Korea and one of the things that shocked her the most was seeing there was suddenly this edict that came down that there's not enough grass in Pyongyang, like, you know, typical grass, and so all these citizens were down in every little patch of soil planting it and trimming it with scissor. So they were like trimming the grass with scissors bit by bit. And she was just like, "I can't believe this huge exertion of human labor over something so silly." There's so many great details like that about North Korea that really are kind of mind boggling, you know?
[00:59:06] That's peak deified authoritarian, right? Because Turkmenistan, which has a similar regime. I think the late leader, Türkmenbaşy who renamed the calendar dates and every the years and all that stuff for his mom and himself, he went to a university and he said something like, "Gold teeth don't look great on women. It's more of a man thing." And so every woman had the gold teeth in their face removed with surgery. I mean, it was like they just took them out because he said, "Oh, I don't really like the way that looks." And then, that became essentially an unwritten law that you have to take your gold teeth out if you're female. I mean, it's just absolutely ridiculous. It's like peak dictator. You really can't get any more ridiculous than this.
[00:59:50] Room 39 is fascinating to me. This is essentiallyc — well, why don't you tell us. It's a sort of an office that generates revenue for the regime, but it's so weird.
[00:59:59] Bradley Hope: Yeah. I mean there's so many of these kind of secret offices, whether or not they're like they're kind of intelligence side or the secret revenue generators. Did you watch that documentary called The Mole?
[01:00:09] Jordan Harbinger: I did and I had Ulrich on the show as well and fascinating story. Really popular episode. We'll link to that in the show notes.
[01:00:17] Bradley Hope: Yeah, I mean, to me that was like one of the greatest documentaries I've ever seen in my life, you know?
[01:00:21] Jordan Harbinger: I agree.
[01:00:21] Bradley Hope: And it just goes to the heart of, there's a lot of huge amounts of effort to get foreign currency for North Korea, not just for some official purposes, but because people like Kim Jong-un and his father and people before that, they wanted things from the rest of the world and they needed foreign currency to buy it. So basically, this goes to the role of the embassies. All around the world, there's North Korean embassies. Not that many compared to other countries, but most of those embassies has its official role, which is, to be honest, there's not a lot of diplomacy going on—
[01:00:52] Jordan Harbinger: Right.
[01:00:52] Bradley Hope: —with North Korea. But the majority of the work going on there is things like cigarettes smuggling or counterfeit cigarettes, counterfeit money, any kind of little crime at all that could be benefited from having this enviable space, which is essentially an embassy. No police are going to go inside. They use that to basically make money and no amount of money is too small. Thousands of dollars is totally legitimate. There's been some great seizures over the years of computers of people associated with Room 39 and other aspects, and it's actually kind of remarkable how boring it is. They're just trying to earn a few thousand dollars and send it up the line. That's their job, and it all kind of accrues. And then, you see that Kim Jong-un, there's like the seaside resort, where he is, got a big, you know, all the stuff that you would have if you were like a rich 14-year-old. Got the boat and the kind of thing that you jump on that makes you fly in the air and stuff like that.
[01:01:46] Jordan Harbinger: Like a water bouncy house, trampoline type thing.
[01:01:48] Bradley Hope: Yeah. That kind of thing. Yeah, exactly.
[01:01:50] Jordan Harbinger: Can you imagine Kim Jong-un on a trampoline?
[01:01:52] Bradley Hope: Yeah.
[01:01:52] Jordan Harbinger: Or any bouncy house.
[01:01:53] Bradley Hope: Exactly.
[01:01:53] Jordan Harbinger: Like what is that thing rated? You got to get some titanium springs for that sucker.
[01:01:57] Bradley Hope: Yeah. And you know there's that guy, the sushi chef. Of course, this stuff isn't cheap.
[01:02:01] Jordan Harbinger: Yeah. Room 39 is interesting. I think they named it after the number of the office in the foreign ministry. It's this Room 39. And they, like you said, no crime is too small. I mean, I think they busted a North Korean vessel with heroin on it, bound for Australia. And you're thinking, "Oh my God, a cargo vessel with heroin." It was probably just a couple of kilos of heroin that they were going to distribute. I think the street value was like 30 grand or something. It was not a big deal. The diplomats need the money to survive because the embassies aren't funded. That's how much of a sort of sh*thole country we're dealing with here. The diplomats have to sell drugs in order to eat and pay for their daily expenses.
[01:02:38] Another thing that they do is there's these, have you ever seen these restaurants that are in China, Malaysia, that are staffed with North Koreans, Bradley? Have you ever checked one of these out?
[01:02:49] Bradley Hope: Yeah, there, I'd never been to one, but there was one in Dubai when I used to live there that was popular.
[01:02:53] Jordan Harbinger: I went a couple of times with a friend of mine, Sailor Joe, and we went in, it was in Dandong, which is right on the border, and it's staffed by North Koreans, mostly women. And you'd walk in there and there'd be a couple of North Koreans eating and they'd have their pins on, and you're thinking, "Whoa, who are these guys?" You know, these are businessmen or diplomats or something like that. And the women, they sing and do their little dancing stuff, and you order a North Korean cuisine, which is a million times better than it is inside North Korea because they actually have the available ingredients in China. You know, you eat, you check out a show, there's a lot of Chinese tourists there. It's just this kind of weird local place that's sort of touristy, but not very popular.
[01:03:30] And we were quite popular in this place because the women were like, "What are you doing here?" "Oh yeah, you know, we came back two or three times," and they're like, "What are you doing? Why do you keep coming back? You like North Korean food, you like North Korean music?" And we're like, "Oh, we've been to North Korea," and they were blown away. That we had actually been there. They just could not believe it. And it was really interesting because they were kind of flirty and my friend was like, "Hey, why don't we pick you up and we can go look at some other parts of Dandong and get coffee or whatever." And they were like looking around and they were like, "When?" And I thought, "Oh my God, are we going to end up going around with a bunch of North Korean women?" And then another one came up and said something in Korean and they were like, "No, the boss lives upstairs." And I said, "Oh, do you live here?" And they were like, "Yes, we live here." And I thought, oh, there's no way they can get out because their manager, who's probably an intelligence agent or room 39 staffer lives upstairs with all of them and I would imagine keeps pretty tight tabs on these women whose families are still living back in North Korea. And these restaurant chains are sort of well known by intelligence agencies that their whole point of them is to generate foreign currency and ship it back to North Korea and that these women probably are not paid to be there. It's just kind of a service position from the regime.
[01:04:46] Bradley Hope: Yeah, I think that makes total sense. Again, it's kind of like anybody who knows the restaurant business knows this is not a highly profitable business. Right? So they're sending across hundreds of thousands of dollars across all the restaurants. It's not like a multi-million-dollar business, you know?
[01:05:00] Jordan Harbinger: Yeah.
[01:05:01] Bradley Hope: They also do things like sell weapons, weapon technology. Obviously, the Syrian nuclear program was thought to have been partially built in with designs and technology from North Korea and all kinds of crimes in those businesses.
[01:05:16] Jordan Harbinger: A lot of them are not glamorous. Yeah, fake companies selling beef, bootleg liquor, smuggling cigarettes, real or otherwise, in diplomatic pouches and then reselling them. I mean, you're talking about like just kind of pitiful crap, like low-level non-sense. There's some wildlife trafficking because again, if you're a diplomat, you have diplomatic pouches. They're not subject to customs inspection, regulations, et cetera, because they use diplomatic pouches. Cryptocurrency hacking thefts, which are very lucrative that you mentioned. They're also one of the most sophisticated producers of US Supernotes, so the fake hundred dollars bills. Supernotes that mimic most or many security features and a lot of slave labor abroad, which we didn't really talk about, shipyards, logging in Russia, Poland, manual labor in places like Libya. I think they even got caught in Poland. Somebody went and investigated a lot of these welders who were working in kind of really unsafe conditions. Turned out to be North Koreans that just lived in one apartment block and did a bunch of manual labor at shipyards and we're just kinda like, "Yeah, I work here." And they really didn't even seem to know where they were or anything.
[01:06:20] Bradley Hope: Yeah. That's true. I remember even when I lived in the uae, there was a construction company that was all North Korean labor, and like you said before, it's very unlikely there was an actual wage paid to these people. It's actually slave labor. They live in a camp. They work all the time. Then they go back to North Korea. They're not getting a savings, you know, from that.
[01:06:40] Jordan Harbinger: Yeah. I think the agreement, and I vaguely remember reading about this, this might have been a vice piece. The agreement is their family gets a little bit more than they would working at home, and I think they're fed and housed when they're in the country, but it's not like they're handed a check and they could do whatever they want with it. Their family gets the benefit of not starving to death in North Korea. Maybe getting a television or something as a bonus, and this person can live in another country. And also maybe not starved a debt, but it's not like, "Oh, great, I got this Kush posting abroad." I mean, I think relatively speaking it is, but the person had followed them, the journalist had followed them to where they live. They don't leave the apartments. They live in these blocks. The whole block has rented out. It's only North Koreans in the block. I mean, it's very, very, very odd. They don't just run around town shopping. It's not like that.
[01:07:27] Bradley, thank you so much. You all, if you dig this episode, definitely check out the other two episodes about Gabriel and my trips to North Korea and definitely check out The Mole episode that was super popular when it came out. Charles Ryu episodes are 84 and 88. Our North Korea story of Gabriel and Mine 435 and 439, and The Mole is 527 and 528. Bradley, thank you so much, man. Really interesting stuff.
[01:07:50] Bradley Hope: Thank you very much. Pleasure.
[01:07:53] Jordan Harbinger: Here's a trailer for another episode of The Jordan Harbinger Show that you might enjoy.
[01:07:57] Frank Abagnale: When I put that pilot's uniform on, no one questioned that I looked too young to be a pilot. I did walk up to a TWA counter. I was in a uniform. I was getting ready to purchase a ticket and she said to me, "Are you buying or riding?" I said, "I beg your pardon." "You want to be in the jumpseat?" I said, "The jumpseat?" "Yeah, I gave you a pass. Just go on the jumpseat." Well, I learned everything as I went. I had no idea you could do this. So then I started riding around on planes in a jumpseat.
[01:08:28] I walked in a bank in Chicago, so I went in the bank and I opened the account and I handed the girl a hundred dollars and she said, "Well, here's some temporary checks. We'll be mailing you your printed checks." Now, because I was young and inquisitive, I just happened to say to her, "I noticed that I don't have any deposit slips." "Oh, no. If you need to make a deposit in the meantime, just go over there to that table in the lobby and help yourself to a blank deposit slip. Then, write your account number in and then use these until you get your printed ones." Well, I wonder what would happen if I encoded my account number on the bottom of all these blanks and then I went back to the bank, put them on the shelf. So that's exactly what I did, and everybody who came in put their money in my account.
[01:09:07] Jordan Harbinger: Oh, wow. Frank Abagnale could write a check on a piece of toilet paper drawn on the Confederate State's treasury. Sign it, you are hooked, and cash it at any bank in town using a Hong Kong driver's license for identification.
[01:09:22] Frank Abagnale: I could, and I believed I could, and I probably would. They only saw that uniform it. They paid no attention to the check.
[01:09:30] Jordan Harbinger: If you want to hear more from the mind of one of the most successful imposters the world has ever known, check out episode one of The Jordan Harbinger Show.
[01:09:38] That was a fun one. I enjoy doing these free-range ones. I love talking about stuff that I rarely get to ever talk about with people who know what they're talking about, like North Korea certainly. Links to all things Bradley Hope will be in the show notes at jordanharbinger.com. Our ChatGPT bot, if you want to filter something out of any episode we've ever done is over at jordanharbinger.com/ai. It also works on promo codes and ways to support the show, just saying. Advertisers, deals, discount codes are also all on one page at jordanharbinger.com/deals. Transcripts in the show notes videos on YouTube. I'm at Jordan Harbinger on Twitter and Instagram, or you're welcome to connect with me on LinkedIn. I like talking with you wherever I can.
[01:10:18] I'm teaching you how to connect with great people and manage relationships using the same software systems and tiny habits that I use. It's our Six-Minute Networking course. The course is free. It's also not gross, not cringey, and not awkward. It's at jordanharbinger.com/course. All I want you to do is dig the well before you get thirsty, build relationships before you need them, and many of the guests on the show subscribe and contribute to the course. So come on and join us, you'll be in smart company.
[01:10:44] This show is created in association with PodcastOne. My team is Jen Harbinger, Jase Sanderson, Robert Fogarty, Millie Ocampo, Ian Baird, and Gabriel Mizrahi. Remember, we rise by lifting others. The fee for this show is you share it with friends when you find something useful or interesting. If you know somebody who's into North Korea or could potentially be into these wild tales, definitely share this episode with them. The greatest compliment you can give us is to share the show with those you care about, and in the meantime, do your best to apply what you hear on the show so you can live what you listen, and we'll see you next time.
[01:11:17] Oh, by the way, my friend, Dr. Jolene Brighten who's been on the show before episode 259, by the way, she's got a new book out called Is This Normal? It's the newest book from her. She's a naturopathic endocrinologist. Really, really sharp, fun gal. I've been friends with her for a while. A comprehensive and candid guide to women's health, Is This normal? Tells you everything your sex ed teacher should have said but didn't. And I've read a bunch of it and even though I don't have a women's body as far as I know, and I thought it was really interesting. TMI is not really a term in her world. She answers a lot of questions about the menstrual cycle, postpartum health, libido, acne, vaginal discharges. I know I probably should have warned you I was going to say that. I might not have needed to lean into that quite so much. She also discusses how sex hormones can affect cognitive function and behavior sharing some pretty fascinating facts about how progesterone is neuroprotective and may even buffer the extent of injury following head trauma, depending on when it happens in the menstrual cycle. Who knew getting a head injury? The severity depends on where you are in your menstrual cycle. Who the heck knew? Lot of charts, checklist, diagrams. So if you have a woman's body or you're just interested in women's bodies, I'm going to leave that one right there. This is a great book. Is this normal? on sale, April 4th from Dr. Jolene Brighten. That's all I got to say about that.
[01:12:32] This episode is sponsored in part by Something You Should Know podcast. Finding a great new podcast can be an exercise in frustration. So let me save you a bunch of time and tell you about a podcast I've mentioned before called Something You Should Know with my friend Mike Carruthers. Every episode of Something You Should Know delivers fascinating information that you can use in your life and help you understand your world better. Like what the voice inside your head is really saying? The real reason wars exist. Wow, that's a deep cut. Crypto blockchains and NFTs made simple. Why humor is a secret weapon? The universe's biggest questions answered. Science myths a lot of people still believe. How you perceive the world isn't quite right and why you are so not the person you used to be? Wow their headline game is on point. Mike asks the kind of questions you'd want to ask. I've heard that about this show. Just saying. It's fun and entertaining. Maybe you'll learn something new and useful. Search for Something You Should Know where you get your podcasts. And when you see the bright yellow light bulb, that's Something You Should Know.
Sign up to receive email updates
Enter your name and email address below and I'll send you periodic updates about the podcast.