Reading Time:
4
minutes
Lt. John Nores is a retired 28-year special operations game warden, co-host of the Warden's Watch podcast, and author of Hidden War: How Special Operations Game Wardens are Reclaiming America's Wildlands from the Drug Cartels.
What We Discuss with Lt. John Nores:
Even though cannabis is now legal in California, drug cartels operate massive, illegal trespass grow operations on public land across the state.
Trespass grow operations cause long-lasting environmental damage, generate pollution, and steal water and other resources from the communities where they're raised.
6,000-10,000 people are employed by the cartels to establish and maintain these sites.
Nearby residents who happen to cross paths with these criminals — even on their own property — are in danger of being assaulted or killed with little to no legal repercussions.
DEA and game wardens who monitor this activity have the highest risk of death in the line of duty among law enforcement.
And much more…
Like this show? Please leave us a review here — even one sentence helps! Consider including your Twitter handle so we can thank you personally!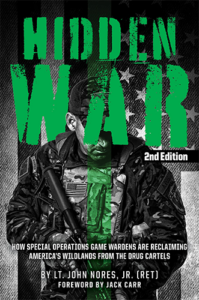 Hiding in the most remote regions of California's wilderness is an untold number of "trespass grows" — cannabis farms illegally established on public land by a spectrum of ne'er do wells ranging from individual users to organized drug cartels. And even though cannabis is legal in California, loopholes in current laws ensure there's still a thriving black market undercutting the fledgling, state-sanctioned industry.
On this episode, we're joined by Lt. John Nores, a retired special operations game warden who spent the better part of 30 years rooting out these trespass grows as chronicled in his books War in the Woods: Combating the Marijuana Cartels on America's Public Lands and Hidden War: How Special Operations Game Wardens are Reclaiming America's Wildlands from the Drug Cartels. Here, we discuss how these trespass grows devastate ecosystems, divert resources, generate toxic pollution, import criminals, and endanger locals for the sake of the almighty dollar — and what's being done to stop them. Listen, learn, and enjoy!
Please Scroll Down for Featured Resources and Transcript!
Please note that some of the links on this page (books, movies, music, etc.) lead to affiliate programs for which The Jordan Harbinger Show receives compensation. It's just one of the ways we keep the lights on around here. Thank you for your support!
Sign up for Six-Minute Networking — our free networking and relationship development mini course — at jordanharbinger.com/course!
This Episode Is Sponsored By:
Miss our conversation with the former DEA agents who ended the reign of Colombian drug kingpin Pablo Escobar in the '90s? Catch up with episode 453: Javier Peña and Steve Murphy | Taking Down Pablo Escobar here!
Thanks, Lt. John Nores!
Click here to let Jordan know about your number one takeaway from this episode!
And if you want us to answer your questions on one of our upcoming weekly Feedback Friday episodes, drop us a line at friday@jordanharbinger.com.
Resources from This Episode:
821: John Nores | Reclaiming America's Wildlands from the Drug Cartels
[00:00:00] Jordan Harbinger: /Special thanks to Starbucks for sponsoring this episode of The Jordan Harbinger Show.
[00:00:04] Coming up next on The Jordan Harbinger Show.
[00:00:07] Lt. John Nores: In 2015, we found our first punji pit. Anybody that has relatives that fought in Vietnam know that the punji pit was basically a Viet Cong guerilla warfare tactic. Our adversaries would dig a hole, usually square, rectangular. It would probably be two to three feet deep, and they'd take sharpened bamboo sticks like razor-sharp, stuffed into the ground with the sharp ends straight up, and then they'd put like bamboo thatch over the top and dirt. So you're just walking on a trail, but when you get to a certain part in the trail, you fall into that trap.
[00:00:41] Jordan Harbinger: Welcome to the show. I'm Jordan Harbinger. On The Jordan Harbinger Show, we decode the stories, secrets, and skills of the world's most fascinating people. We have in-depth conversations with scientists, entrepreneurs, spies, and psychologists, even the occasional Emmy-nominated comedian, legendary Hollywood director, money laundering expert, drug trafficker, or astronaut. And each episode turns our guest's wisdom into practical advice that you can use to build a deeper understanding of how the world works and become a better thinker.
[00:01:07] If you're new to the show or you want to tell your friends about the show, I suggest our episode starter packs. These are collections of our favorite episodes organized by topic. That'll help new listeners get a taste of everything that we do here on the show because there's like 800. It's a little bit of a tough nut to crack when you try to figure out where to jump in. These playlists include topics like persuasion and influence, disinformation and cyber warfare, China, North Korea, abnormal psychology, crime and cults, and more. Just visit jordanharbinger.com/start. You can also search for these in your Spotify app to get started. Or use our AI chatbot at jordanharbinger.com/ai. Ask it what you want to hear or tell it what you want to hear and it will tell you what we got. And it searches for anything we've ever done here on the show. Pretty incredible.
[00:01:51] All right. Today, we're talking about trespass marijuana grow. I'd never even heard of this, but basically, drug cartels send people north into California. They steal land, they steal water. They use crazy poisons that are super lethal. They kill all the wildlife in the area. They're poaching, they're killing endangered species. They're dumping stuff into the water. And they do this to grow marijuana at virtually no cost, and then sell it on the black market. But I thought marijuana was legal. Yeah, but you know what's cheap? Illegally grown marijuana that you don't have to pay for the water. You don't have to pay for the land. It's really, really something. This is apparently happening all around me in my county where I live. And I don't live in a rural area, there's wild areas around me, but holy crap, this is happening like in my backyard. Today, we're going to explore this issue, discover who is behind it and the damage it does to our protected areas and even private property. Really an interesting conversation. Again, I had no idea that this was even going on. All right, here we go with Lieutenant John Nores.
[00:02:56] Somebody suggested this and I was like, "A game warden?" I mean, so what if people take too many fish? I know it's an environmental issue, but like it can't be that compelling. And then—
[00:03:04] Lt. John Nores: Yeah.
[00:03:04] Jordan Harbinger: —you know, I'm thinking that's some guy that has a cool job, but it's like, "Okay, so you don't have a fishing license. Here's a ticket."
[00:03:10] Lt. John Nores: Right.
[00:03:10] Jordan Harbinger: Not quite. Not quite what you do now.
[00:03:13] Lt. John Nores: Yeah, it's an evolving discipline being a game warden and not something I anticipated and I got to give a shout-out to one of our mutual followers that kind of connected us. You know, he had heard me on other podcasts and the outreach I'm doing all over the country on the cartel threats and how game wardens are getting involved in that. And I appreciate you taking the interest, man, and helping shed a little light on our nation's hidden war and being part of our Thin Green Line of conservation and public safety. And that's really what this boils down to. I mean, when you think of a game warden, you think of exactly what you just said, Jordan.
[00:03:42] Jordan Harbinger: Mm-hmm.
[00:03:42] Lt. John Nores: Checking for fishing licenses, you know, too many fish, over limits of fish, that type of thing. Somebody poaching deer, not tagging their animal. You don't think a game warden's dressed up as special operators.
[00:03:54] Jordan Harbinger: Right.
[00:03:54] Lt. John Nores: Hoisting out Black Hawk helicopters and going after embedded cartel members that are armed with AK-47s in our forest, literally, as close as the Silicon Valley foothills where I'm two or three air miles right now as I record this from the Silicon Valley with you, you just don't think of game wardens doing that.
[00:04:09] Jordan Harbinger: No.
[00:04:09] Lt. John Nores: But that is one of the many challenges we have to do now.
[00:04:12] Jordan Harbinger: The one thing that surprised me about this, aside from basically spec ops game wardens, was that you guys are attacked with weapons much more than other officers which, you know, if you think about it, makes perfect sense because you're dealing with hunters who are obviously armed and then you throw into it. Now, you're dealing with cartels, which are obviously armed, and I didn't know that game wardens and DEA were kind of at the top of the line of duty in terms of danger, because you're always dealing with people who are shooting and are criminals, I guess, whereas a regular cop has a dangerous job. But I'm thinking much of the time you're dealing with people who are like, "Okay, fine, I shoplifted from this store." They're not trying to murder other people or—
[00:04:55] Lt. John Nores: Right.
[00:04:55] Jordan Harbinger: —facing decades in prison, you're more likely to be assaulted than any other type of officer, which is a little surprising, I suppose.
[00:05:02] Lt. John Nores: Yeah, it is kind of mind blowing, but it comes down to the fact that game wardens work in central remote areas, right? We're in the backcountry or behind lock gates. We're deep into the parks, so some of your more aggravated criminals that are hiding from the law. They've got arrest warrants, they're on parole, whatever the case may be, I mean, they want to be off the beaten path. They do not want to be in the limelight. They don't want to be in the cities necessarily where they're going to get seen by law enforcement in plain view. So we run across some very bad people that are hiding out there on their way in the backcountry. Now we're way in the backcountry and we don't have backup. We don't have a lot of other people around us. Sometimes we're alone. We don't often have a partner because game wardens are so spread out and we got to cover so much territory. So other than me and my patrol dog, and if I have aK9 assigned to me and one of those operations, you're kind of a lone gun out there.
[00:05:50] So you don't have to be careful. We do run across some crazy stuff. You have to be able to talk yourself out of situations. I mean, I don't know better diplomats than game wardens in general because the ultimate tool is your mind in your mouth, right? And all those, the pistol and the assault rifle and the shotgun and the pepper spray and the taser and all those kind of things, you really don't want to have to use, because when you get to that point, you know you don't have too many more options. But that's what makes the game warden job so cool. And then to your point on, you contact so many people with guns more so than any other officer typically, that is true. But to the benefit of us, 95-plus percent of everyone that's got a firearm that we contact are great Americans. They're great patriots, they're great community members. They're hunting, they're fishing, they're sports shooting. They're very safe with their firearms. And they like us. They love seeing a game warden because they're like, "Hey man, you're our kind of guy, or you're our kind of girl, you know?
[00:06:39] Jordan Harbinger: Mm-hmm.
[00:06:40] Lt. John Nores: That's the best part of the job. And I think that's one of the reasons why my 30-year career went by so fast and it felt like 10 years because a majority of the time I was dealing with such cool, like-minded people that really kept the job fresh. Made me see the light versus the dark, you know? And people doing things out in the woods and in the cities. Certainly, when we got into the cartel fight. That's where we kind of went from the light. Like my first book War in the Woods goes into how we found that first grow in '04, the shootout in '05 in the Silicon Valley foothills right here. You're very familiar with Los Gatos. We both are being from this area and working in this area.
[00:07:14] Jordan Harbinger: Mm-hmm.
[00:07:15] Lt. John Nores: And that kind of changed my perception of the threats game wardens can face when we had a foreign invader basically creating toxically tainted cannabis for the black market. And because there's so many millions of dollars in that profit margin for that crime, now they're going to defend this thing with AK-47s with booby traps, with punji pits. And man, that was crazy.
[00:07:34] Jordan Harbinger: Yeah.
[00:07:34] Lt. John Nores: You just don't see that in our woods, right? So there's a wide gamut to how this story plays out and how the challenges have got more dangerous for not only us, but all law enforcement dealing with these cartels nationwide.
[00:07:45] Jordan Harbinger: How many miles is a game warden responsible for are square miles out there? Because it seems like you're alone but you're not even close to anybody. Like you said, you have no backup a lot of the time. You're in the middle of nowhere. That's kind of the point, right?
[00:07:59] Lt. John Nores: Yeah, it is. And it varies. I'm going to take, you know, my old home state of California as an example, and I was basically the South Santa Clara County game warden to start. And you know, I'm close to the Silicon Valley, so I'm going to have a smaller territory than like our mountain, our Eastern Sierra, Northern California game wardens. But I had easily a hundred square miles, I'm going to say, give or take. And then, when I became the lieutenant to supervise Santa Clara, San Bonito, and part of Santa Cruz County, now we have hundreds of square miles for five game wardens and a lieutenant. You get into Northern California, bud, or you go over to the Eastern Sierras and you got guys covering 300 square miles and very remote wilderness areas, high elevation, glacier Sierra Nevada mountains, things like that. And yeah, if it wasn't for other sheriffs we work with and a lot of informants, a lot of public members that are kind of our eyes and ears out there being super sluice. Good ethical legal hunters and anglers and people out there recreating, camping, shooting, mountain biking, whatever. If it wasn't for those folks, we'd be nowhere near as effective as we are, because we need that force multiplier. And you've seen this in the books, and you hear this term a lot, and I can't say this term enough, but game wardens are basically on the forefront of the thin green line.
[00:09:10] Jordan Harbinger: Mm-hmm.
[00:09:10] Lt. John Nores: And the thin green line is kind of defined as, you know, the limited number of people out there trying to hold back environmental destruction nationwide. Game wardens are on it from the law enforcement side. You're on it now. You're part of our Thin Green Line because you're helping spread the message of the things going on out there to gain awareness.
[00:09:28] Jordan Harbinger: Yeah.
[00:09:29] Lt. John Nores: You know, that's the thing we need more of.
[00:09:31] Jordan Harbinger: I had no idea about most of this and, and I want to, I go a little bit slow because it is, we have plenty of time. So I'll get to all these things that surprised me. But I do remember my uncle and my dad calling a game warden once because some guys were shooting animals from a moving vehicle, which at the time, it didn't make sense why that was illegal. But now it's just such an unfair advantage that it's not supporting at all. And also it seems really dangerous to be sitting in the back of a pickup truck—
[00:09:54] Lt. John Nores: There you go.
[00:09:55] Jordan Harbinger: —drinking and shooting at things that you think maybe are animals and maybe you're not totally sure are animals.
[00:10:00] Lt. John Nores: Yeah. That's the deal. The loaded gun in a vehicle problem is where everybody has those accidental discharges and somebody loses a leg or worse, you have a hundred casualty and somebody dies because a gun went off in a vehicle, hit somebody in a vehicle, it got bumped, you know, whatever. And so, in the traditional days before I was doing the cartel fight, primarily, I can't tell you how many of those citations I wrote for a loaded gun in a vehicle or shooting from a moving vehicle, mostly under the safety problem. And it is a completely unfair advantage to be rolling down the road at night and blasting stuff out of the window. You know, there's a certain hunter ethic thing that just is pretty sick about that whole thing, especially the guy spotlighting like animals at night. That was kind of the big game warden crime that I learned about in the academy and growing up as an ethical legal hunter under generations of hunters in my family, my dad, my granddad, my uncles, I couldn't fathom that somebody would go out with a spotlight sneaking around and go find these animals at night when they're basically frozen and captive, and shoot them in the middle of the night and throw them in the truck and take them, or not take them or waste them. One of the most heinous, disgusting wildlife crimes I could even imagine, you know, and that spotlighting crime is huge in every state in the union, and a lot of people do it. And that's not only incredibly unsportsmanlike and disgusting, it's very dangerous because now you're at night, you know, sometimes there's drugs and alcohol involved and you got a lot of loaded guns and you're shooting over cabs. You can't see what's behind that target because it's dark. So who knows where that bullet's going, if it's going through that animal or not hitting that animal in a miss. Just the type of crime we needed to stop. And I did a lot of that in the first part of my career. And those were cases that mattered.
[00:11:39] Jordan Harbinger: Tell me about these trespass grow operations. That's sort of the crux of this. How did you even find out that this was happening? What are these by the way? Let's start there.
[00:11:48] Lt. John Nores: Yeah, we'll go back to the early '90s and essentially what was happening that I didn't realize when I started my career and I was from the San Jose Bay area, went through the Fish and Game Academy at Napa Valley College in 1992. And once I got that, I knew I was going to be thrown anywhere in the state where they needed people. I didn't get to pick, "Hey, I want to be back home in Morgan Hill, California," right?
[00:12:11] Jordan Harbinger: Mm-hmm.
[00:12:11] Lt. John Nores: So I ended up getting sent down after I went through the field training officer program, which is three months, one month with a hero trainer. That's an awesome game warden that's going to mentor you, make sure you're doing it right, evaluate you every day. I did three of those throughout different parts of the state and then ended up in Riverside County. So the Inland Empire just over the hill from Orange County. But I had the Cleveland National Forest between me and Orange County and Riverside, and I was getting close with forest service rangers, sheriff's deputies. And a forest service ranger, a really good friend of mine that was my partner because we on the federal level there was spread out as we are. We would work those spotlighting cases in our international forest by my house that I just told you about. And he said, "Hey, man, we're doing like this cartel grow in the national forest." I said, "Cartel, bro. What's that?"
[00:12:55] Jordan Harbinger: Mm-hmm.
[00:12:56] Lt. John Nores: He goes, "Yeah, we have Mexican nationals coming up. They're cartel based, we know, and they're growing illegal cannabis, and they're doing it nomadically and they're stealing water and they're kind of hiding in camouflage in their stuff. And this sounded like a movie. It didn't even sound like it could be possible.
[00:13:09] Jordan Harbinger: Yeah.
[00:13:10] Lt. John Nores: And I went on my first grow rate actually in, I think it was '93, and just accompanied the forest rangers and sheriff's deputies. We didn't catch anybody, but I saw my first cartel grow, and it blew my mind. There were like bunk beds, you know, carved into the hillsides with camouflage tarps that were all spray painted with leaves and branches on them. And until you got right on top of thousands and thousands of illegal marijuana plants and saw these encampments, you'd never see it. You could literally walk 20 feet from it on the trail before you stumble into this thing. And it was very remote. It was like seven or eight miles into the backcountry. And all it reminded me of was stories from my dad and my uncles that were servicemen. Several of them were in Vietnam. You know, I think of my granddad in World War II and especially Vietnam, like jungle warfare, guerilla warfare, small hidden units hiding in plain sight, doing damage. That's what it looked like, except it was in our borders and it was on cannabis production.
[00:14:04] So that was the one only grow I saw down there. And then two years later, I transferred up to the Bay Area where I'm from and based my career at the Silicon Valley and didn't see another cartel grow until 2004. And that's an interesting story, and that's actually the first chapter of my first book, War in the Woods that was published 12 years ago because that was the eye-opener that, hey, this is in our backyard. And keep in mind that I grew up in South Silicon Valley, at Henry Coe State Park, which is right in our eastern foothills, Mount Hamilton. Harvested my first deer behind Mount Hamilton. That's a stone's throw from where you and I are having this conversation right now. And I get a call from a biologist buddy of mine that I've known since like fifth grade. He's doing his master's thesis on steelhead trout fisheries, endangered species in San Jose State, and he's watching a creek down on the edge of Coe Park out of the city of Gilroy that feeds out to the ocean, a very pristine waterway called Coyote Creek. That to this day, is one of the last migrating steelhead trout fisheries left on the West Coast.
[00:15:03] And for listeners and viewers to understand what a steelhead trout is, they're basically an ocean-run trout that live in the ocean, but they migrate upstream into freshwater creeks to lay their eggs and spawn, and then they migrate back to the ocean. They are so endangered and threatened now, and in such low numbers, they're worth about $30,000 to $40,000 of fish for a penalty—
[00:15:23] Jordan Harbinger: Wow.
[00:15:24] Lt. John Nores: —from the federal level, from US Fish and Wildlife Service, right? That's how limited Jordan these fish are. Well, the creek that my buddy's studying that has a ton of migrating fish in it, this is like April, so all those fresh steelhead fry, the babies, they're all hatching in the creek. All these frogs, aquatics, animals are drinking from this water, and all of a sudden, one creek is totally dry and everything's dead. And we're right in the winter runoff where the creek should not be dry. Calls me up, says, "John, this is crazy, man. Somebody's got to be plugging up the water up the canyon. I've never seen this before. This part of the creek is dead." So I said, "Yeah, that's a problem."
[00:15:59] So I threw him in the truck. We go up the top of the mountain, I grab my pack, my gear, my AR-15. He's an unarmed civilian, but very savvy in the woods, fortunately. And we dive into the canyon to go try to track down where this water's going. And it was a super pristine canyon. There's some pictures in the first book of this area, and we go down into this beautiful, pristine, like box canyon, like something you'd see in a Grand Canyon, little tributary creek. And then we find the water source where it's diverted and you've got Visqueen line plastic. All the water is captured where the creek can't flow below it. There's a water line at the bottom and a garden hose just starts going down this dry creek out of view.
[00:16:38] Jordan Harbinger: Wow.
[00:16:39] Lt. John Nores: So of course, we got to check it out, right? But it's kind of creepy, you know, something wasn't right. I'd never seen that.
[00:16:44] Jordan Harbinger: Yeah. What are you thinking at this point? You're not thinking this is a cartel marijuana grow. You're probably just—
[00:16:49] Lt. John Nores: Not at all, man.
[00:16:49] Jordan Harbinger: No. You're thinking that someone's gardening back here. I don't even know. What's your first hunch about what's going on?
[00:16:54] Lt. John Nores: My thought was the first thing I thought before we even went up there, given the circumstances, I thought it was maybe an illegal cattleman or somebody diverting it for agriculture on their adjoining property.
[00:17:05] Jordan Harbinger: Okay.
[00:17:06] Lt. John Nores: Because I would see some of that. I would see, you know, water illegally diverted for development or because they got to build something and they can't have the creek running because they need it dry, so they illegally divert it around it. That's what I thought it was, because that's all I had ever seen. And then I see a little garden hose in a little tiny creek. I'm like, okay, we're going to find like squatters down below. This is getting really strange and—
[00:17:27] Jordan Harbinger: Mm-hmm.
[00:17:27] Lt. John Nores: I had been in a lot of close calls up to that point. Hadn't been in any gun fights yet, fortunately, but I had been in a lot of situations where people were pulling dangerous weapons. I had my weapon out, I'm in cover. I'm hoping not to have to pull the trigger to defend myself or somebody else. And I hadn't had that happen yet. But at the same time, you just develop a sixth sense of something's not right. The spider's senses start to tangle.
[00:17:49] Jordan Harbinger: Mm-hmm.
[00:17:50] Lt. John Nores: You know, Jordan, that's where I was. I was like, okay, we're going to find something really weird that I've never seen before. I don't know if it's going to be super dangerous, but this is not a good position to be in because I have an unarmed civilian with me. He's my reporting party and expert in the area. And the other thing about being in this canyon, man, is I don't have any cell coverage in this canyon. I don't have any radio service to hit my police radio and hit the truck up at the top of the mountain. So whatever happens down there, we need to handle, you know?
[00:18:15] Jordan Harbinger: Oh, man.
[00:18:16] Lt. John Nores: So we start going down the creek very carefully. My partner is very tactically savvy. He grew up doing the outdoor stuff, which was great. And then we start to see, you know, 24-inch cannabis plants on both sides of the creek. And they're pretty fresh. They're not near harvest, you can tell they've been in the ground for a while, but they have a long way to go. And then we start seeing like little camouflage-covered kitchen area hiding on the side of the creek. And then, I see movement and here come two growers. And they're in the olive drab green battle dress uniform ala military style. They've got the AKs. One guy has got a machete and he's kind of digging around some plants. The other guy has his gun out. He's kind of scanning, looking around and looking behind him, not knowing anybody's down in this remote canyon.
[00:19:01] Jordan Harbinger: Oh man.
[00:19:02] Lt. John Nores: And they're dead silent. They're whispering or they're not talking at all. They're just kind of looking at each other and nodding their heads. And so what I'm seeing is I'm seeing guys that don't belong there. I'm seeing guys with tactical proficiency. And at this point with my law enforcement training and the tactical work I had done, I'm like, that's how we work on a SWAT team. That's how we move through the woods when we're tracking a fugitive or we're tracking like a mountain lion that's done damage or public safety. I said, these guys are not your typical poacher. And now, we're hiding because the last thing I want to do is get into a gunfight with one of these guys, or both of them with an unarmed civilian biologist with me and no way to communicate to anybody. And we watched him for probably 10, 15 minutes and they were tactically, their situational awareness was up. And they checked their plants, they turned around, they went back up the canyon out of view, and that was it. As soon as they got out of view and we could safely go straight up that mountain and get out, we left the area.
[00:19:53] Jordan Harbinger: Wow.
[00:19:54] Lt. John Nores: And then I processed what we were looking at, yeah.
[00:19:56] Jordan Harbinger: That's pretty scary. I didn't realize you didn't even have any way to contact anyone. You're just out there. I mean, if they had seen you before you saw them, that we might not be having this conversation.
[00:20:06] Lt. John Nores: Possibly we might not be having this conversation. That's not an exaggerated statement. And I can also say that that was historical because that's the base of Henry Coe Park where I learned to backpack. I learned to really love wildlife and where I was actually, I was an engineering major at San Jose State my first year in college looking at the ROTC program for special forces and doing a military GI Bill thing. And now, I am in co park on a winter break in college, my first year of engineering school and I meet a game warden for the first time and it changed my world. I'm like, I'm doing the wrong job, man. And so point of my story is, the damage was right on the edge of that park where I grew up. So this was personal.
[00:20:45] Jordan Harbinger: Mm-hmm.
[00:20:45] Lt. John Nores: It's like, who are these guys? They don't look like they're citizens and no dig on anything. Immigration, we're not having any negativity on that conversation. But these guys look like foreign invaders. They look like more of a militia, more of a Sandinista. Something was going on a military-type force small. And I later learned that those were basically a cartel cell from Mexico that had been in the area for now decades throughout all of California and the West Coast, and starting to branch out east to other states for the black market cannabis trade. And they were doing it on public lands. And I happened to run across one for the first time on that day in 2004.
[00:21:22] Jordan Harbinger: So they're stealing the water. How much water are we talking about? Because aren't cannabis plants pretty thirsty? I mean, I don't really know actually, now that I think about it.
[00:21:30] Lt. John Nores: What we've got scientifically from biologists that study this stuff, legal growers that use water and conserve water and use as little as possible for legitimate cannabis. Because there is a faction of very environmentally conscious cannabis farmers out there. They're actually allied with our cannabis enforcement program through the Department of Fish and Wildlife, my alma mater where I retired from. And the general rule of thumb is on an average about five gallons of water per day per plant for an outdoor cannabis plant.
[00:21:56] Jordan Harbinger: Oh wow.
[00:21:57] Lt. John Nores: And Jordan, when we get into the math on that, this grow that we found in 2004 that we got out of safely and later rated with a bunch of agencies because we found it. So we brought everybody in that was 7,000 plants. And those plants were a strain that take about 250 days to get to harvest time. And if you look at 7,000 plants for 250 days at five gallons of per plant per day, and start multiplying it and add up all those zeros that grow is responsible for probably five or more million gallons of water stolen for one grow site.
[00:22:29] Jordan Harbinger: Wow.
[00:22:30] Lt. John Nores: And it's not only about the water loss, I mean, because obviously you and I are both here in California, we know how the drought has stricken this state over the last 10 years, especially now. We're on water rations right now throughout the state of California and other states. Even in my new home state of Montana, we're experiencing drought levels like never before as well. The whole West and Southwest is dealing with this. So water is becoming liquid gold, man. It's becoming a rare, precious commodity across the globe, and illegal cannabis is one of the biggest water stealers going on anywhere in America, and especially in the Golden State, because what these cartels are doing.
[00:23:02] So I didn't know any of this then. I mean, I was thinking, hey man, they're diverting water. They're poisoning it. My fish are dying. That's a bad problem. It never crossed my mind of what is this impacting for water levels in general, for underground water, for wells, for farmers, for ranchers, for drinking water for cities. I had no idea. You know, we had never experienced water loss like this. And now that was just one of what would later lead to thousands of grows that we would work until I retired, all stealing millions of gallons of water, unless we stopped them and basically stopped the stealing, but we would still have a loss up to the point that we finished the grow off.
[00:23:37] Jordan Harbinger: How do you find them? Just walking around out there, there's such a huge amount of land. That's why we didn't know they were there before. So do you just wait for hunters to stumble across them and call you or what?
[00:23:48] Lt. John Nores: That's a good way we find them because people that go in the outdoors and go off the beaten path, get off the public paved trails and go deep into water sources to hunt, to fish—
[00:23:57] Jordan Harbinger: Yeah.
[00:23:58] Lt. John Nores: —just to get real serene and have some solitude, those are the folks that find them. And our turn in a poacher hotline when I retired was over 70 percent of illegal grows being found by these outdoor enthusiasts, right? And then it gets to the point of what type of safety training? What do you tell people? Like what do you do if you run into a grow site? And I teach that all over the country now, and we do it at the agency level as well. You know, you may run across these in any state that has a decent climate in summertime months, that could be a cartel grow, you know? And you just want to be really careful when you see it. Document it, take a photograph, get a geotag. Creep out of there carefully. Don't go any further down that trail and report it immediately when you get out there. And now, this Hidden War, as we're calling it, the title of the new book is aptly named a Hidden War because so many people don't realize this is going on, even though we've been talking about this for 15 years on documentaries, investigative news pieces, high reach podcasts like yours and Joe Rogan, who's part of the Hidden War fight now, and the Thin Green Line and—
[00:24:59] Jordan Harbinger: Mm-hmm.
[00:24:59] Lt. John Nores: —MeatEater, all of that. And I still am going across the country, people like "Lieutenant, I had no idea this was going on in our country. I hear about the human trafficking, I hear about fentanyl, but poison cannabis and animals and game wardens. What's going on with that?"
[00:25:13] Jordan Harbinger: Yeah.
[00:25:13] Lt. John Nores: So there's a lot of water being stolen and it's not only on public land now, man. We got to look at the private land issue. And this may jump ahead a little bit in the conversation, but it'll all make sense.
[00:25:25] Jordan Harbinger: Sure.
[00:25:25] Lt. John Nores: You know, one thing that you learn about in, and I really go into this and Hidden War edition one. And then I update with the latest one that just dropped edition two that you've got a copy of. How bad has cannabis production, how bad have the cartels increased the problem since we regulated under Prop 64 as an example in California? And it's gotten worse. Regulating cannabis didn't help stop the black market. It actually incentivized it. And so now we have the public land threats of these cartels going out that we've been fighting for almost 20 years now. But we've also got private land tracks and outdoor rural communities with these big hoop houses full of illegal cannabis that are in plain view. You don't have to go sneak around to find them because illegal cannabis under Prop 64, they watered it down to a misdemeanor.
[00:26:14] Jordan Harbinger: I see.
[00:26:14] Lt. John Nores: And if you're a juvenile cartel grower, it's an infraction. So if you have seven illegal plants in your backyard as a mom-and-pop operation, or you have 7,000 in a hoop house with EPA-banned carbofuran sprayed all over them to keep everything off it. But now you have a neurotoxin on the plants that are going out to the consumer on illegal water stealing, illegal wells, all kinds of other crimes, it's a misdemeanor. So these guys are doing it in plain sight knowing that less than 10 percent of their product statewide is ever going to get interdicted and taken. And they're probably not going to see jail time or not lose their property because unless there's aggravated things we can charge felonies on, they're going to face a misdemeanor and they're just overwhelming law enforcement. So we've kind of green lit the cartels to do more damage than they were back in the days when it was just that outdoor backcountry in the in the woods public land grow problem, unfortunately.
[00:27:06] Jordan Harbinger: Yeah, it sounds like a huge mess. So how do you take them down? I mean, once you find one or somebody reports on one, I assume you raid it, but how do you plan something like that?
[00:27:15] Lt. John Nores: Uh, very carefully.
[00:27:16] Jordan Harbinger: Yeah.
[00:27:16] Lt. John Nores: Because we've been in, it was six gunfights I had been involved in with my team members, give or take, that we had either experienced together as a unit or individual officers have been involved in gunfights with cartel gunmen by the time I retired in 2018, and I can't tell you how many close call gun fights we had that, fortunately, we didn't have to press the trigger because we had really advanced goodK9s that were able to get a bite apprehension on a cartel gunman that was pulling a gun, but got control of him before anybody had to fire a shot. So everybody went home.
[00:27:46] We go to massive lengths of officer safety. You got to remember that when this started, like when I found that grow in 2004, we brought in a task force of state cops and park rangers and sheriffs that did this type of work. And we had never done it as game wardens. We hadn't rated a cannabis grow site. There was no reason to, you know, nobody knew that there was an environmental crime related to it that game wardens should be involved in, but it was in our area. It was in our backcountry forest. So after that started working with the Santa Clara County Sheriff's, marijuana eradication team very closely. We formed a great relationship and then we got in the first near fatal, where we actually had one of my partner officers shot by an AK-47 round and almost didn't survive that ordeal.
[00:28:27] Jordan Harbinger: Wow.
[00:28:27] Lt. John Nores: On Sierra Azul in August 5th, 2005, which is just above the city of Los Gatos that you were very familiar with, we both are. And I remember that day when we were ambushed, raiding that grow site, three game wardens and three sheriff's deputies in an unarmed ranger from mid-peninsula open space was there with us and seeing the tactical proficiency, they exercised how they had their grow sites set up, how they had covered, how they had tactical advantage with a little bit of uphill advantages as we went in. And the sheriffs I was working with, you know, were snipers. They were on their SWAT team. I was also outside of fish and game circles, a sniper now, and doing sniper class instruction and doing all the SWAT stuff and getting all those skill sets, knowing that we were going to need them someday as game wardens. And now I could not have envisioned it, it would've been for a cartel-targeted fight, but that's what it turned into. And that day when we were ambushed and my partner was shot through both legs and bleeding, out of four holes in both eyes.
[00:29:22] Jordan Harbinger: Wow.
[00:29:22] Lt. John Nores: And waiting three agonizing hours for an air rescue before he gets airlifted out of there. Literally, within a couple of minutes of dying of blood loss in shock. Tough officer, I mean, he absolutely fought through it every minute, kind of helpless, waiting that long for him to get off the mountain. But he did make a full recovery and he's had an exemplary career. Great, great young man. And we were very lucky that he survived that ordeal, number one. Or I'm sure we may not have stayed involved in that type of work as game wardens and you and I might not be having this conversation first. But secondly, we would not have been able to expose the environmental component of how dangerous these guys are to our wildlife waterway and wildland resources and make it a priority for us and actually form up our own team, which Hidden War goes into in-depth in 2013 when we form that team. Now, the planning was going to be very, very structured. It wasn't going to be ad hoc of just jumping together with other agencies and not having the right equipment, not having compatible radios, not having an air rescue plan and some redundancy in case, you know, you got to get somebody off that hill quickly.
[00:30:28] Jordan Harbinger: Mm-hmm.
[00:30:28] Lt. John Nores: We basically change the game. Where we will find these grows a lot ourselves, Jordan. We'll find them by just going out and scouting the right hillside that faces to the sun, to the south and where waterways are. And 50 percent of the time when I'd go on a scout with my sheriff's buddies or with my game warden partners, we would one out of two times find a grow site in the Silicon Valley foothills. Hands down. Aerial surveillance will find them from the air if you know what to look for. You know, when those plants are, have an ident green to them, even through brush and all the manzanita and oak scrubland we have in all foothills around the Silicon Valley you can see it that way. And satellite imagery has gotten amazing. You know, we didn't have that in the days when that gunfight happened, and now we can literally scroll through, you know, sensitive satellite military-level images and go, "Wow, man, look at the terrace in there. That wasn't there, you know, two weeks ago." So they're a lot easier to find now. And it's really alarming out of how many you actually find when you just look at a Google image or have that person, that hiker, that hunter, that horseback rider, he or she, and they stumble on something and go, "Hey man, I heard about this, or I saw a presentation, I saw this on National Geographic, one of your shows or whatever. This looks like a grow. What do I do?"
[00:31:37] Jordan Harbinger: Mm-hmm.
[00:31:38] Lt. John Nores: And that's exactly what it is. They found it, they got out of there, they stayed safe, they reported it right away. And then nine times out of 10, they're a hundred percent accurate. It is an active grow site. If it is on private land, but it's a trespasser on private ranch or it's public land on our national parks, public parks, city parks, whatever, nine times out of 10, it's going to be a cartel grow. And now we're going to plan it carefully to have everything we need the day we raid it —K9s, trauma medic on staff, additional backup teams. We formed up a very proficient sniper team, the Delta team for the marijuana enforcement team when we formed that unit up. And the reason we had a sniper unit more than anything else, was to provide overwatch and cover for our people going in and out of grow sites in areas where the terrain allowed that. Because what a sniper can see ahead of time can save so much violence later rather than us stumbling into somebody. And now, we're seven yards from each other in dense brush and the trails meet and now it's a mano a mano gunfight that you can't avoid.
[00:32:37] Jordan Harbinger: Wow.
[00:32:37] Lt. John Nores: Because he's already got the gun out. So, All those things really changed the game, and I can proudly say the guys that continued the team behind me made even more improvements, stepped up their equipment, their tactics continued to evolve to get better. And that team with my old agency haven't, knock on wood, had an officer involved shooting where any of them were hurt or any of our K9s were hurt, fortunately, since, well after I retired, and we certainly hope that trend stays.
[00:33:07] Jordan Harbinger: You're listening to The Jordan Harbinger Show with our guest, Lieutenant John Nores. We'll be right back.
[00:33:12] This episode is sponsored in part by Starbucks. Life moves fast. Starbucks ready-to-drink coffee delivers an uplifting boost that helps you tune in the moments that matter wherever you are. It's Starbucks coffee, conveniently packaged for life on the go. As a dad of two, my hands are full. I'm usually full of diapers. I'm always on the go. Ain't nobody got time to whip up a fancy coffee beverage to kickstart the day. Most of the time I got butts to wipe. I got little teeth to brush. I got all kinds of stuff that you don't need to hear the detail about right now. Anyone with kids knows how chaotic mornings are. That's why I love that. I can grab a bottled frappuccino chilled coffee drink and have my favorite Starbucks coffee ready-to-go. Lubricate these sweet, sweet, vocal chords right before my podcast interview like the one you're listening to right now. We love the range of Starbucks ready-to-drink coffee. There's a plethora of options. Myriad, if you will, depending on what mood I'm in. My go-to is the classic chilled cafe latte, but if I'm feeling a sweet tooth, I'll reach for the frappuccino chilled coffee drink. If I need an extra boost to conquer the day I go for the nitro cold brew, which, you know, you got to be careful with that stuff because it's delicious. We stock our drink fridge with Starbucks ready-to-drink coffee so that it's within arm's reach. Also a perfect treat whenever we have guests over. Starbucks coffee ready for right now. Shop the full lineup online or in-store wherever you buy groceries.
[00:34:28] This episode is also sponsored by European Wax Center. Don't wait for spring break to get away. Book your smooth escape with the wax experts at European Wax Center this spring. And I know you guys love when I do these wax ads. I hear it all the time on social media. This spring, when you're going far away or you're sticking closer to home, the relaxed, confident feeling you're dreaming of is closer than you think. Just visit your local European Wax Center. It's better being smooth, not prickly like a porcupine. Am I, right? European Wax Center are the experts in waxing for everyone. It's where I go to get waxed. I don't know why they insist on me telling you that. Every time I visited European Wax Center, I'm in good hands literally. They're certified wax specialists are expertly trained. The experience is surprisingly not painful like you'd expect. I mean, you would expect it to be excruciating, but their secret sauce is their signature comfort wax. It's a proprietary blend of beeswax sourced from Europe and other skin-soothing ingredients, that I guess we don't have bees here anymore, that allows them to remove hair easily. The wax only sticks to the hair and not to your skin. And you know, I got the spider legs coming in my nose and nose trimmer can't get there. Can't compete with the wax. So that's the service I often go for. But the wax experts at European Wax Center, pick a poison. They can help you with your brows, your shoulders, your legs, your back. Anywhere you just can't reach, don't want to reach. They offer personalized consultations. You can find the wax that works for you. Book your smooth escape with the experts at European Wax Center. Make a reservation today. Your first wax is free. But you know, tip your waxer. Those people are dealing with. You know what they're dealing with. It's your deal.
[00:35:54] If you're wondering how I manage to book all these amazing folks for the show, well, you introduce them to me or somebody else introduces them to me. In other words, it's all about my network. I want to teach you how to build your own network, whether it's for personal reasons, job, career stuff. Jordanharbinger.com/course is where you can find that it's a free course. I don't want your credit card information. I'm not trying to do anything with that. This is all the stuff that I teach to military, universities, corporate. It's about improving your relationship-building skills, but doing it in a non-cringey, down-to-earth way. I don't want you to be embarrassed. I don't want you to think this is creepy or goofy or gross. It's about becoming a better connector, a better colleague, a better friend, a better peer, a better entrepreneur if that's what you are. It takes a few minutes a day. You don't have to drive across town in glad hand with people you hate, and many of the guests on the show subscribe and contribute to the course. So come on and join, you'll be in smart company where you belong, and you can find this course at jordanharbinger.com/course.
[00:36:50] All right, now back to Lieutenant John Nores.
[00:36:54] So how many guys work on these sites? You mentioned two in the one that you found. Are there huge ones with like dozens of guys or are they usually pretty small because they have to maintain a low profile?
[00:37:05] Lt. John Nores: The trend has kind of changed. In the outdoor grow sites, the trespass ones are deep in the woods, and those have lessened significantly. You don't see a lot of those anymore because under Prop 64 now, they don't have to hide deep in the woods. They can just go on a private land track that a rural dirt road will run up to. And the problem though is private land in plain site super hoop houses, you have far more armed growers, far more potentially dangerous growers that are cartel based than we did in the outdoors. On an outdoor grill, you typically have two growers that are very skilled at diverting water. At growing really good marijuana at keeping insects and people and everything off their plants. Largely about bringing in these EPA-banned toxics insecticides for genocides called carbofuran.
[00:37:48] That EPA actually banned from using them for agriculture in America over 20 years ago because they're so toxic even when they're diluted. It's a felony to possess these poisons and these insecticide chemicals. But the cartels will bring them from across the border in Tijuana because they know when they get this stuff on the bud that people are smoking, making concentrated cannabis out of, or the leaf or the waterway under, you know, basically the water and the soil all around those plants. Nothing's going to get to the plants. Everything's going to die within minutes, if not seconds. Whether they're rabbits, they're fox, they're mountain lions, they're black bears. Or if we stumble into one and we don't have our protective equipment on and ingest this or inhale some of this odor, we too could be severely incapacitated if not killed.
[00:38:32] We're talking about neurotoxins, anticoagulants, really, really potent stuff. And that's what these guys are doing. And now, so the two growers will set that up. And if the grow is typically over 5,000 plants come harvest time. And on August 5th, 2005, one of the main reasons we encountered heavily armed gunmen that were ready to go early in the morning is because they were in the middle of harvest time. So that's when they have the most people in these grow sites. That's when they're the most dangerous. That's when they bring in the sicario-type gunmen to defend the crop from law enforcement, from the public, from other rival gangs, from taking their crop during harvest. And you could have 10 guys in a grow site.
[00:39:10] Jordan Harbinger: Wow.
[00:39:11] Lt. John Nores: We know that morning, Jordan, on all of Sierra Azul Mountain, that was one of like five grow sites where our gunfight happened. We locked that hillside down for the weekend and we were all taken off the hill because we had my partner shot near fatally. I had been in a gunfight. I had returned fire on his gunman, another gunman that had a sought-off shotgun trained on me and one other game warden. And it's seven yards through the brush that we never saw was seconds from taking me out and my partner out. But a sheriff's deputy Craig Diver, callsign snake on the sheriff's department, a great sniper, he saw that guy and was able to engage and neutralize that guy before he could shoot us.
[00:39:50] Jordan Harbinger: Wow.
[00:39:50] Lt. John Nores: And I mean, I was seconds from taking a face full of buckshot and I have pictures of that weapon that I show him, presentations to go, "Guys, this is how crazy this gets." And thank heaven for my partners that day that were tactically ready and all of us kind of fell into suit to doing the right thing. And we didn't have more than one officer hurt, but we didn't ever want that to happen again. So our administration took it very seriously, gave us the tools, gave us the support. It would take another decade-plus before we'd have our own specialized team of game wardens just doing that, that I was very blessed to co-found and then lead. But man, we sure do a lot better job having a dedicated force to it and a lot more resources to do it now because this is a domestic eco-terrorist threat. And these cartels are not messing around on any level, as you know.
[00:40:33] Jordan Harbinger: Yeah. So they're spraying these banned poisons everywhere. I assume that also gets in the water that they're stealing.
[00:40:39] Lt. John Nores: Yes.
[00:40:39] Jordan Harbinger: Right? Because they're doing it near these creeks. They probably just dump it all over the place.
[00:40:42] Lt. John Nores: Absolutely.
[00:40:43] Jordan Harbinger: And it kills everything that it touches. I mean, that's awful. It's wild. I mean, there's so many of these sites out there. It seems terrifying. You mentioned earlier these Vietnam-style booby traps.
[00:40:54] Lt. John Nores: Yeah.
[00:40:54] Jordan Harbinger: So they're setting this up, what, around there so that if you happen to stumble upon it, you can just die falling into a pit or something like that.
[00:41:02] Lt. John Nores: Exactly. And I think the most shocking thing is when in 2015 we found our first punji pit. And I have pictures of it in both books actually. And what's interesting about that is anybody that has relatives that fought in Vietnam know that the punji pit was basically a Viet Cong guerilla warfare tactic where our adversaries would dig a hole, usually square, rectangular. It would probably be two to three feet deep, and they'd take sharpened bamboo sticks, like razor-sharp stuffed into the ground with the sharp ends straight up, and then they'd put like bamboo thatch over the top and dirt. So you're just walking on a trail. But when you get to a certain part in the trail, you fall into that trap, that rectangular bottomless door, and you fall right into those punji pits. And all those spiked-up sharpened bamboo sticks, what do they do? They shear your ankle. They take out a soldier's foot, inner thigh. And what the Viet Cong would do is they would dip human excrement at the tips of those sticks.
[00:41:58] Jordan Harbinger: Mm-hmm.
[00:41:59] Lt. John Nores: Knowing that the bacteria infection potential from, just aside from, in addition to a sharpened bamboo stick, if it's not going to kill that soldier right away, he's going to have a blood infection.
[00:42:08] Jordan Harbinger: Mm-hmm.
[00:42:08] Lt. John Nores: That guy's taken out, you know, two or three other guys are taken out to get him to help. Well, what we started to see was like Whiskeytown National Park up in Shasta County, Brian Boyd, great operator. You read about them in the books.K9 Phebe, who had a 13-year legendary career and saved my life and the life of my partner way too many times to count. Amazing dog. She detected a punji pit on a trail right before our lead officer from the sheriff's department stepped into it. And this was several hundred yards from the grow site on a public national park trail that everybody was hiking on, not even close to the grow site. And it was set there to keep anybody from going any further. So they would never discover the grow site. But in it were the sharpened sticks, except the EPA-banned carbofuran was smeared all over the tips of them. Because these cartels know how dangerous those toxics are. And the only reason it was detected is our dogs are in those grow sites so much and trained to detect weird smells. And these toxics have a very unique smell. And Phebe detected that and alerted before our point man walked right into that trail.
[00:43:15] Jordan Harbinger: Phebe's your dog?
[00:43:16] Lt. John Nores: Phebe was one of our team dogs. It's pretty, pretty miraculous. But in all of her years of work and she had 116 cartel apprehension bites and 800 to 900 more apprehensions where she didn't have to bite where people just gave up. You know, when you look at the numbers, that's about a thousand bad guys that are in this country illegally with criminal felony histories doing a ton of damage to not only our wildlife and our public safety in our woods. We got to remember these cartels that we're apprehending in grow sites are the same ones that are making dirty fentanyl pills in labs, right?
[00:43:49] Jordan Harbinger: Mm-hmm.
[00:43:49] Lt. John Nores: And you and I both know right now the fentanyl crisis and I think we're approaching 200,000 nationwide deaths since fentanyl kind of dropped these dirty lab cartel lookalike fentanyl pills dropped on America about five years ago. It's blowing mines and it's horrible. The human trafficking cells, the sex trafficking cells, the gun running cells, they're all the same cartels. It's just a different part of the organization doing a different type of crimes. You know, we've apprehended some of these cartel growers that in the winter when they're not growing weed in the woods, they're cooking 22 pounds of methamphetamine.
[00:44:21] Jordan Harbinger: Wow.
[00:44:21] Lt. John Nores: Or they're trafficking dirty pills from dirty labs in Mexico for fentanyl now. And they're all doing human trafficking for big money because it's a big money maker for the cartels, as we know in all 50 states. And we know now with the border policy changing and becoming little, if any border policy for, to put it mildly, the cartels have carte blanche to bring contraband people, whatever they're going to do across our southern and now our northern borders incentivizing more of these crimes. So anytime in the woods, we would go do a cartel weed case, let's say, and Phebe made a great apprehension. She took a guy out that was doing a lot of other very bad things outside of the weed trade, or was working for somebody that was diversifying and doing those activities as well. So, man, I can't talk enough about dogs and everybody loves a good dog story.
[00:45:09] Jordan Harbinger: Yeah.
[00:45:09] Lt. John Nores: We all have dogs or cats or whatever and pets. But man, they're lifesavers and they're invaluable members of our team and we have a lot of great dogs working on the team that I can't name obviously, because they're operational for security reasons.
[00:45:21] Jordan Harbinger: Sure. How do you clean it up? You're going in there and then you get these guys, hopefully, they're there and you can arrest them. But if they're there for months, there's got to be literal human excrement everywhere. Trash everywhere because they got to eat stuff and throw stuff away. They're stealing water, they got pipes or whatever in there, and chemicals, weapons. I've got two little kids here, we throw away a ton of garbage. Maybe they're not—
[00:45:44] Lt. John Nores: Right.
[00:45:44] Jordan Harbinger: —doing as much damage with Amazon Prime as we do, but otherwise they're still leaving a lot of crap. That's a lot of crap all over the place.
[00:45:51] Lt. John Nores: Yeah, I mean it's a literal sh*t show of trash out there. No exaggeration. There's a couple of colored pictures in the new edition of Hidden War that you've got that go into just one of these grow sites. And I have a couple of snaps of just, we're not even going to get into the deadly poisons and the big water diversions and all the nastiness in the creeks, just the trash.
[00:46:09] Jordan Harbinger: Mm-hmm.
[00:46:10] Lt. John Nores: And especially a grow site that's been out there more than a year, because these guys start as early as March, April, getting their plants in the ground and they might go all the way until September, October if they're not interdicted by a team like ours. And you're right, it's two guys and in harvest time, it's up to 10 maybe more guys. And you just get the human excrement, you get the cooking oils, you get the propane bottles, you get the food wrappers, and you just get that stuff stacking up and they just stuff it in the ground. They might dig a little pit and just like a mini landfill going on in these grow sites.
[00:46:40] Jordan Harbinger: Mm-hmm.
[00:46:41] Lt. John Nores: But it's all the fertilizer bags, it's all the roundup and then it's all the carbofuran and the little deadly pink bottles that we definitely have pictures of in the publication so people can know what this stuff looks like. And don't go anywhere near it, right? Don't touch it, don't breathe it. Make sure the wind is not coming at you.
[00:46:56] Jordan Harbinger: Geez.
[00:46:56] Lt. John Nores: Make sure the wind's going at your back toward it. You don't even want to get a whiff of this stuff. It's so deadly. The hardest part about the job. And when we formed the marijuana enforcement team, and we really needed other agencies to help us with this. And by 2013 when we started that team, everybody was kind of on board that you can't just go in and try to apprehend these guys and you can't go in and just try to destroy these poison plants and remove them from the market and from consumption for poison, all that. You got to do something with the trash and you definitely got to restore the waterway. And it's called reclamation, or what we call environmental restoration.
[00:47:28] Jordan Harbinger: Mm-hmm.
[00:47:28] Lt. John Nores: And it's by far the hardest, most arduous, most time-consuming and most resource-eating as far as blade time for helicopters and money to clean these sites up. Because if you have a banned poison container in there, That's a hazardous material now, right?
[00:47:43] Jordan Harbinger: Yeah.
[00:47:43] Lt. John Nores: So you got to handle it with a hazmat team. We might not even be able to touch it with nitro gloves, with our N95 masks, with our long sleeve uniforms that we can do decon on. I mean, there's heavy, heavy Cal and Federal OSHA protocol now on how we handle this stuff in grow sites. But I can tell you right now, when I retired, we were able to reclamate the day of our missions, about 44 percent of all the grows we would raid that day. And that doesn't sound like a big number, but when we were coming from less than five percent nationally, especially statewide in California, because other agencies were like, "Hey man, I'm not collecting trash and cleaning up. We don't have that bandwidth."
[00:48:18] Jordan Harbinger: Mm-hmm.
[00:48:19] Lt. John Nores: "We're going to go arrest, we're going to eradicate and we're going to helicopter out, or we're going to hike out. We're out of there. We have too much other things to do. It's too costly. We can't tie up our SWAT units that long." But that's all changed and it's changed for the good that everybody's on board. That water is so precious, it's the major, major Achilles heel of what we're losing. And then poison water is even worse. So we're reclamation and they're reclamating a lot more now since I retired. We're bringing civilian teams in that can learn to safely deal with these poisons. They can get trained in it. We're getting NGO, 501(c) funds developed for groups to go in and reclamation sites. And even if there's not another grow site in public land for the next 10 years in California, hypothetically, which will never happen, but if that were to happen hypothetically, we would keep these reclamation crews on historical grow sites that haven't been cleaned up going back 20 years, probably for a decade conservative estimate. I mean, that's how much stuff is still out there. And not only in California, brother, but in other states that have growing climates. Not as good as California, but they can still do it either indoors or outdoors.
[00:49:21] Jordan Harbinger: If you leave all the stuff there, it's just going to pollute for years and year. I mean, I guess the water's going to get diverted, the chemicals are going to leak out and everything, and just seems like such a huge mess. Can you even get trucks back there? I mean, what do you do? Just take up—
[00:49:35] Lt. John Nores: Yeah.
[00:49:35] Jordan Harbinger: —hundreds of pounds of garbage and you got to lift it out with a helicopter and plastic pipes.
[00:49:40] Lt. John Nores: Yeah, no, you're, you're hitting on the head, bud. What you got to do is we get, as far as we can on trucks, we have a landing zone with big dump trucks and trailers.
[00:49:48] Jordan Harbinger: Mm-hmm.
[00:49:48] Lt. John Nores: We have to have an airship. We'll usually hike in, we'll bag all the trash in really, really heavy Caltran contractor bags. We'll tie them up, we'll collect all the water pipe, we'll take out all the poisons. If there's any diversions or things in the creek, immediately, we'll rebuild a creek. I can't tell you how many little mini dams we have taken apart, slowly taken out the rock and the concrete. They bring in, the dirt and the adobe, just to open up that waterway so it'll flow again. And then make sure the water-diverting pipe is taken out. And that black poly pipe that you see the pictures of in all the books, if you leave that stuff out there, they're just going to come back and use it again.
[00:50:23] Jordan Harbinger: Yeah, that makes sense.
[00:50:25] Lt. John Nores: Your question is like, well, what happens if you don't clean it up? Two things and you hit it on the head, one, the environmental damage is going to continue. But what we got to realize is if we don't take that infrastructure out, that cartel cell is going to wait a year at the most and go, "You know what? I know how tight up law enforcement are right now, and I know that right now in California, under Prop 64, everything I'm doing is a misdemeanor and they're going to get less than 10 percent. It probably are gross statewide. So I'm just going to go use all that infrastructure that's going to cost me nothing. I'm going to get that water diversion going again because all the water pipes there, I just got to start the flow again. I'm going to set up a camp. I might move a quarter mile downstream where I'm not exactly where my last camp was. And you know what? 70, 80 percent chance I'm going to get away with it."
[00:51:06] Jordan Harbinger: Geez.
[00:51:06] Lt. John Nores: "And if I do lose that grow, you know, that's my satellite grow to tie up law enforcement resources, say in Los Gatos because I got 20 other grows I'm responsible for as a plaza boss," which is what they call these guys that are overseeing a particular sector of the state within a particular cell or a particular type of cartel. And now they're like, "Hey, it's totally worth it. But I go into this in chapter four, the new book, I got to sit through a debrief of a plaza boss that our white dope team in Santa Clara County Sheriff's office interdicted on a 22-pound methamphetamine cook in the winter. And this guy was facing a lot of time.
[00:51:41] Jordan Harbinger: Yeah, sure. 20 pounds.
[00:51:42] Lt. John Nores: Yeah, that's big, man.
[00:51:43] Jordan Harbinger: Yeah.
[00:51:43] Lt. John Nores: That's a big quantity for a better part of probably the West Coast. But obviously, he wanted to be cooperative and you know, had to be protected and all that, but wanted to speak freely and you know, maybe affect what it was going to happen to him as far as his sentence and things like that. But it was the first time what we all thought we knew in the green dope side of the illegal cannabis trade from the cartels. I got to ask a lot of questions directly in that interview, along with DEA and officials and interpreters. And we knew that this reclamation wasn't just about environmental restoration. We all wanted to convince other agencies that, hey, it's not just about, you know, smokey the bear, cleaning up the woods, restoring waterways, protecting what they've destroyed. Think about if we take all that out and we've already raided it, maybe we've caught a few guys. What are the odds of guys going back there from that organization to affect that particular sense of waterway?
[00:52:33] Jordan Harbinger: Mm-hmm.
[00:52:34] Lt. John Nores: And I said it's slim to nil because we were seeing a site we'd reclamation and we'd watch it year after year after year. And very rarely, if ever, would a cartel come back and use that site. But if we didn't reclamate it, like in the example we just discussed, about 50 percent chance by the next year a cartel group was going to use it because they knew it had water, they could set it up very easily, they didn't have to go find a new creek. And I asked him that and you know, it's interesting, he said, "I had not seen our grow sites that you guys had raided up until a couple of years ago actually cleaned up." And we're like, "What's going on?" And I knew that our agency Department of Fish and Wildlife Forest Service and very like-minded sheriff's departments like Santa Clara, that were very environmentally conscious and were putting their resources as a sheriff's department, not a conservation agency by define. And they were doing cleanup. And the cartels are starting to notice like, "Why are they cleaning grows up, man? That's weird. We've never seen this in 20 years. These things never get cleaned up." But he validated what we're talking about. He said, "No, I'm not going to go back in there. It's cost me $30,000, $40,000 of our organization's money to set up the waterline and get all the camping equipment and get these guys equipped and across the border if they're not already embedded and bring the poisons up from Mexico."
[00:53:43] Jordan Harbinger: Mm-hmm.
[00:53:44] Lt. John Nores: "I'm not going to risk that. Why would I go back into an area that you guys have cleaned up, spend the money again, and it's already on your radar." So that was like a yahoo victory moment where we could tell other agencies, "Hey guys, help us reclamate. Even if it's in the off-season, we'll bag it. We'll bring in a helicopter in the middle of winter. We'll hoist it all out. We'll do the heavy lifting, whatever." And that's made in dent, but it's also helped deter the cartels from doing what they're doing in the woods. And it's going well. And we still do that every year, constantly. You know, I'm not going to say it's the most important job because obviously, if you got an armed cartel gunman that's doing a whole lot of other human public safety crimes, you want to get him out of circulation, for sure.
[00:54:21] Jordan Harbinger: Yeah.
[00:54:22] Lt. John Nores: But it's that lasting effect on the environmental side, you know, it's public safety first and it's the Triple W's, wildlife, waterway, wild lands that we're all about on the Thin Green Line. And when we can do both, that feels really good.
[00:54:33] Jordan Harbinger: So maybe I'm naive here. Obviously, I know nothing about catching criminals, but would it not be worth luring these guys to come back to the same site and just check those sites and then rest the guys? Because you have essentially a honey pot to where these guys, you know, they're coming back. So just watch it with a drone and then it's like, yep, these idiots are back, and then you go raid them or whatever. What am I missing? Why do you want them to go to a new site? That's what I don't understand.
[00:54:57] Lt. John Nores: Yeah, yeah. You're making good sense and you're actually, without going into intel and how we do business—
[00:55:02] Jordan Harbinger: Yeah.
[00:55:03] Lt. John Nores: —let's just say what you just said makes a lot of sense. And it's been done and it's worked.
[00:55:06] Jordan Harbinger: Okay.
[00:55:07] Lt. John Nores: We've had different cat-and-mouse games of doing things. The only thing is if you're going to try that tactic, you kind of got to look at, okay, if I'm going to do that, I'm not going to do it on a sensitive waterway that has like migrating species—
[00:55:17] Jordan Harbinger: Yeah, of course.
[00:55:18] Lt. John Nores: Trout in it.
[00:55:18] Jordan Harbinger: Sure.
[00:55:19] Lt. John Nores: I'm going to do it where the water diversion is kind of contained, maybe they're not taking too much water from a creek, or they're doing it with what they call check dams and it's a series of dams that they fill up in the heavy winter floods. Then they don't pull from the creek anymore. We've seen that and you know, ones that are accessible, you know, that you can go in and actually have a honey pot and catch some people. And it is, it's a cat and mouse game. It's an evolving science. The ultimate goal of what we're trying to do is put enough pressure on them knowing that there's skilled teams that are not going to just chase you around or fly the helicopter over so you can get scared away. You hide in your little hole for a while. We leave after we cut all your plants and clean up the grow site and you just go, "Okay, well, I'm not going to work this grow site, but my boss on my burner cell phone that I'm going to call tonight, he's going to have another grow that he's going to have me in in a day."
[00:56:04] Jordan Harbinger: Mm-hmm.
[00:56:04] Lt. John Nores: And it might be 200 miles in Northern California. These guys, think of it like a contractor crew of skilled builders, right? You're finishing one house and the drywall guys are coming in and you've framed it, but you're a framer and now all of a sudden your framing's done for any reason. Maybe because the house burned down or the guys moved onto another stage, you're just going to be moved to another complex to go frame another house. That's how these guys work. They're very skilled, man. And let's just say they're a very formal enemy, given how proficient they are and how skilled they are at camouflage and hiding in plain sight. As you and I start to talk of the story, you're seeing the different layers of what means they're going to go to to make the money they can make, and it's a lot of money.
[00:56:44] Jordan Harbinger: How long are these grow sites in use? Are they around for months or do they just use the same places for years on end until they get raided or discovered or they fall apart for some reason?
[00:56:53] Lt. John Nores: Yeah, that's a great question. And I'm going to take the Sierra Azul 2005 shootout site, August 5th, we went into what we knew was one site that was being used again, that had been used at least two or three seasons before. What our intel and our pre-scouts with the sheriffs and what the sheriffs had done ahead of us even being involved dictated. But that weekend when we locked that mountain down and there were guys camped out with NVGs and all of our officers from multiple agencies because we knew there were a lot of bad guys in the area and we wanted to catch people that might have gotten away. And when our helicopter teams and our other officers started to hike that mountain, they found like five other grow sites on an entire hillside that spanned over a mile, actually a couple of miles. And when we started to look at the leaf litter, the cuts in the trees, the amount of trash that grow site had been in play for at least five years before it was detected. And so these growers, man, they are going to use that same site as long as they don't get caught. So if we never interdict it, and it's in Sierra Azul, it's in Los Gatos, it's over in Santa Cruz County on that side of the mid pin, if it's in Henry Coe State Park, they're just going to keep stealing water, adding to the trash pile, killing a lot of stuff downstream until they finally get caught. And some of these don't get caught. A lot of times we've had situations where the grow site will have been used for two, three, four, five, 10 years.
[00:58:15] Jordan Harbinger: Wow.
[00:58:15] Lt. John Nores: And then the water table just changed or you know, went into a drought and they didn't have water anymore, so they just left. They never got caught. They did a ton of damage in a decade. And then bighorn sheep biologist, say in the Eastern Sierras, it works for our agency as a biologist, finds this thing on a survey and goes, "Oh my God, man, I can't believe what I walked into. I mean, it looked like an after-grow site." Like as if you took that snapshot in time, right? Like a crazy movie.
[00:58:38] Jordan Harbinger: Mm-hmm.
[00:58:38] Lt. John Nores: And you walk into it and it's like everything's frozen and the camp is there, dead plants are there, water diversions are there, all the supplies, old food is still there. There might be guns, there might be camos, there might be tents, bunks, whatever. But they never got caught. They just left because they ran out of water. And now that's been there for all those many more years that a biologist had to find. And we're going to go reclamate that even though we never rated it. So long-windedly, it could be two months because we catch it early and we burn it to the ground and capture them. And that's ideal. I always like when we would find these grow sites really early in the late winter, like about now, like right now we're talking March-ish, right? Beginning to march. This is when everything kind of gets started, whether it's a wet year or a dry year. And when we can start finding these grow sites when they're in the ground by April and May and the plants are like two inches tall and you have 10,000 plants that are two inches tall and you fill a Safeway plastic shopping bag and your eradication is done, they haven't stolen that much water. That's the ideal scenario. It's when it gets late in the summer and the plants are 11 feet tall. They've stolen millions, if not upon millions of gallons of water and tons of dead wildlife. They're very comfortable in their environment. They know every sound. They know every trail. They're armed, they have escape routes. Now, it becomes far more dangerous for us, and it's already had a massive environmental impact, and 11-foot plants aren't fun to destroy, no matter how you do it, you know?
[00:59:58] Jordan Harbinger: Damn. Yeah.
[00:59:58] Lt. John Nores: We like the little babies, so—
[01:00:00] Jordan Harbinger: What do you do with the marijuana after you seize it? I assume you can't sell it even though it's legal in California because of Prop 64. I mean, that might sound like a dumb question to some people, but I know if you seize a house or a car or belonging to a drug dealer, you auction it off. But I guess if you seize cocaine from a drug dealer, you don't sell it. This is somewhere in between, but the whole super toxic, poisonous pesticide all over, it might preclude that.
[01:00:21] Lt. John Nores: Yeah. You know, and I don't get that question very often, so it's a great question. You're right, it's an illegal cannabis product, so it can never be in the legal market. And under the legal market, under Prop 64, you basically have to trace seed to sale. You have certain protocols and permits you need. You have to be able to document where the plant was grown, where it was processed, ultimately what dispensary or what consumer outlet it went to. And usually that's through a distributor, right? Everything is documented. There's a lot of money, there's a lot of overhead, there's a lot of red tape. Just like a normal American business where you pay taxes and you have, you know, health and human safety protocols. All this stuff is strictly black market. It would never be legal even if it was organically pure product grown in the outdoors or even in an indoor operation because it came from an illegal source. So we have to destroy it very carefully. Sometimes if it's not butted, we can cut it, we can destroy it in place where it's just, it's not going to be a poison or pollutant out there. It's just going to be a dried-up plant out of the way where it's going to not get into water. We will hoist out a lot of it in helicopter nets. We've had to carry that stuff out, wrapped up in tarps on our backs. We even had and hit more, we talk about K9 Phebe, armed gunman, and a pack mule named Stanley, where we had Stanley one pack mule. And I knew the pack mule handler very close to where I grew up in Morgan Hill. And we didn't have any helicopter that day and he had one pack mule out of 20, because 19 of his other pack mules were already up in the Yosemite base to run pack trips. And I said, "John, can we use pack mule? Anything, man, we cannot lug this out ourselves."
[01:01:47] Jordan Harbinger: Yeah, it seems like a good idea to use a mule.
[01:01:49] Lt. John Nores: It's a great idea. Whatever you can use. Helicopters are great, but ultimately you can't just dump that stuff in the dump. This stuff goes to landfills that are specially selected. You know, a specific hole is dug. It's mulched up carefully, it's witnessed, it's videotaped, it's buried, it's destroyed. So it can never be used, never be dug up when it comes to the banned poisons. If some of that stuff has banned toxics on it, we have to dispose of it very carefully, whether it's an unpenetrable liner in a landfill so it can't seep into a water. All kinds of stuff. Like thinking about a waste product from another hazardous material. How do you deal with that stuff? You know, you can't just put it in the ground because you're going to have residual into the water table, into the soil and carbofuran is that bad—
[01:02:31] Jordan Harbinger: Geez.
[01:02:32] Lt. John Nores: —all of these things. So it's pretty involved and one of the challenges when we started the team was making those accounts with certain landfills around the state of California that were on board that, "Hey, you know, anytime but we can't tell you when we're going to raid, but have your landfill ready because we might be bringing you a whole lot of weed that's got to get destroyed and buried." And these organizations have been really good. They get it. And the other thing is, like I said, we're allied with legitimate cannabis and legitimate cannabis, the guys and gals that are trying to do it right, that are being pushed out of business by these cartels because the black market is undermining them and they're all going under.
[01:03:07] Jordan Harbinger: Right. If you don't pay for your water and you don't pay for your land, you can undercut on price probably pretty easily from the guy who has to pay for certifications in that.
[01:03:15] Lt. John Nores: It's huge. Right. And imagine how saturated the black market for cannabis is in California right now.
[01:03:20] Jordan Harbinger: Geez.
[01:03:21] Lt. John Nores: Driving the legal market price down, saturating the market, and just incentivizing more interstate transport to other states where it's illegal, which now becomes a smuggling trafficking operation for illegal weed. So there's a lot of messy problems with regulation in general. And something I always talk about when I speak to this, and I'm glad we brought it up randomly right now, is, like I said, in Hidden War, if you're going to regulate cannabis, it doesn't matter where you sit on legal cannabis, illegal, just regulate it right. Regulate it in such a way that people doing it by the numbers are making sure they get an organic, pure product to legal consumers that are now legally allowed to use cannabis. And we're at what, 45-plus million Americans or regular repeat cannabis users, you know, deal with that. Make sure that cannabis is quality, man. Make sure it's coming from a good source. Make sure it's coming from a legitimate market. Don't mix in this toxically, tainted, very potent, very accessible cartel weed that's all over the country into that equation. And that's when I talk about, when I start to get a little bit political on policy, that's where things like Prop 64, the structure needs to change if we're looking at national legalization beause this question comes up all the time. You got to make sure you go after illegal cannabis with felony statutes because you're always going to have water loss, you're always going to have environmental destruction. You get a lot of violence, a lot of human trafficking, a lot of banned poisons.
[01:04:45] Jordan Harbinger: Mm-hmm.
[01:04:45] Lt. John Nores: We saw that on all the private land grows up in Siskiyou County when filming the Narcofornia documentary up in Siskiyou County just last summer. And Jordan, I was blown away. And that's kind of what got you. And I connected was one of our listeners and followers going, dude, you got to talk about this. I think Jordan would love this story.
[01:05:02] Jordan Harbinger: Mm-hmm. Yeah.
[01:05:03] Lt. John Nores: And it's what it kind of evolved into. Now, you got the Asian cartels coming from back east, the Mongs and the Chinese and the Mexican cartels all over NorCal and literally coming into counties where they are so remote, they have so little law enforcement presence. But the sad part about that situation of these remote counties is they have the best water resources left—
[01:05:24] Jordan Harbinger: Sure.
[01:05:24] Lt. John Nores: Like Mount Shasta, right? 13-plus thousand feet, Seventh Natural Mountain. Wonder of the World, Mount Shasta, with all that glacier white water we see every year, not as pristine as it gets for Siskiyou County, and all of that water is being stolen. Illegal wells, water trucks stealing city water in the middle of the night. Ranchers, farmers being threatened at gunpoint to say, "Hey, your water table is going to drop. You may run out of water. Don't make a problem and you'll survive."
[01:05:50] Jordan Harbinger: Wow.
[01:05:50] Lt. John Nores: I mean, literally having cartels taking over Siskiyou County, trying to actually manipulate politics in a way, and people that have been there for a hundred years, ranchers, farmers, true Americans, you know, families said, "I'm out. I'm moving to Washington. I'm going to Alaska, man, I'm surrounded by cartel growers. I hear gunfire at night. I got dogs fighting. I got dogs that are all cut up." And animal abuse by the neighbor's dog that's supposed to be a guard dog for this cartel grow house. And all of these grows, bud. They're not deep in the forest. They're in a very remote area you can get to on a road. But they're next to a house and they're a big hoop house with big plastic line tops, you know, white. And what we noticed, which I wasn't even privy to, I'd been at operations for about three and a half years at that point. And now, I'm going back in with Siskiyou County Sheriffs I worked with previously and watching what they're up against as we're doing that documentary and blown away that all those same toxic poisons I'm talking about, that the Mexican cartel use in the outdoor deep woods are on a majority of these plants, adhesive spray glue, other pesticides and tactics, carbofuran, just a lot of junk.
[01:06:56] Jordan Harbinger: Mm-hmm.
[01:06:56] Lt. John Nores: And it's sprayed all over these plants to go to the ultimate consumer on the black market, but it's not in the open air where it's still so deadly. It's in a tarped-in-like hoop house. And until we could ventilate that and open it up, you can't even go in that thing, man, without being completely asphyxiated on the poison.
[01:07:12] Jordan Harbinger: Crazy.
[01:07:13] Lt. John Nores: It was even more concentrated, more of a problem. But that just comes down to taking what we've learned, and applying it to sensible regulations and trying to keep political gain and financial gain out of it. Because I've always said, when politics are about personal gain or they're about some sort of revenue generation, public safety and wildlife resources are going to suffer.
[01:07:36] Jordan Harbinger: Sure.
[01:07:37] Lt. John Nores: And Prop 64 epitomizes that problem, and that is the big debate in our state of California that you and I spend a lot of time in.
[01:07:47] Jordan Harbinger: This is The Jordan Harbinger Show with our guest, Lieutenant John Nores. We'll be right back.
[01:07:52] This episode is sponsored in part by Hyundai. Welcome to the Hyundai Essential Skills Series.
[01:07:56] Now, for many of us, our friends, brutally honest opinions are a source of great anxiety. We often feel threatened by them, injured by them, betrayed by them, and knowing how difficult it is to be on the receiving end of difficult feedback, we often withhold it from our friends in return. We justify this as an act of kindness when in reality we're contributing to a dynamic that is despite our best intentions, inauthentic and deceitful. Over the years, with the help of the incredible guests that I've interviewed on this show, I've come to understand just how powerful radical honesty is in friendships, in families, at work, and in our inner lives. I've also come to appreciate the limits to that philosophy, which is something radical candor evangelists don't usually talk about very often. Most importantly, I've learned how leading with honesty can genuinely transform our lives if we balance it with the right intentions, ideas, and self-awareness. For many of us, being brutally honest with our friends, it seems like the opposite of kindness. Sometimes it can feel aggressive or even downright cruel, and that's because from the time we're young, we're generally taught to censor our opinions to protect other people's feelings. That agreement usually starts with our parents, which creates a template we take with us into adulthood. And to be fair, there are some good reasons for that. We have to get along in society. We don't want to alienate our friends and our family. We obviously shouldn't be monsters, but the cost of that self-censorship is depriving the people we care about most of meaningful criticism. And in doing so, we elevate their short-term feelings above their long-term success. We assume a weaker version of them, a version that can't handle a challenging conversation. And by withholding, we confirm and sometimes even bring about that very weakness. Our worst assumptions about our friends then become a self-fulfilling prophecy. By holding back the truth, we also put our own need for comfort above our friends' need for guidance. We prioritize our desire to avoid conflict over their desire for growth. We sense our difficult messages to make things easier, but in the process, we almost always make things harder instead. Sam Harris, the renowned philosopher, author and podcaster and guest of this show, frequent guest of this show, in fact, he touched on the idea in the interview that I did with him a few years ago. When we talked about the value of giving real feedback, he questioned the validity of the whole, "making it easier for the person" idea because sure, it's often making it easier in the sense that you're telling them what they want to hear or telling them something more pleasant than in fact what is actually true. But you might also be causing them to waste a tremendous amount of time, or encouraging them to waste a tremendous amount of time where you could be helping them get their life on track in a way that other people around them simply aren't. In other words, when we talk about protecting our friends' feelings, we tend to think very narrowly about what protection really means. Is it our job to protect our friends' feelings in the short term or to protect their chances of success long term? And if we spare them some difficult feedback now, are we really protecting their feelings or just coddling their vulnerabilities and indulging their mistakes? And which feelings are we setting them up to have down the road if they never get the feedback they deserve? True kindness is candor. When we're honest with our friends, we're implicitly saying, "I value you. I trust that you're able to hear the truth." That is a powerful message to send, and if you've ever been on the receiving end of it, you know how loving that can be. I've done a whole episode on this with Sam Harris. That's episode 698. There's also a long-form article that we wrote on the subject of honesty and whether we owe it to our friends, family, loved ones. We'll link to that in the show notes as well.
[01:11:31] The Hyundai Essential Skills Series is brought to you by Hyundai. For more information, go to www.hyundai.com. Hyundai, it's your journey.
[01:11:39] If you like this episode of the show, I would love it if you would do what other smart and considerate listeners do, which is take a moment and support one of our sponsors. That's what keeps the lights on around here. All of the deals and discount codes and ways to support the show are all in one place. jordanharbinger.com/deals. You can also search for any sponsor using the AI chatbot on the website as well, jordanharbinger.com/ai. You can ask it about any promo code and it should spit it right out. Let's see what happens. Thank you so much for supporting those who support us.
[01:12:07] Now for the rest of my conversation with Lieutenant John Nores.
[01:12:12] I would've thought that legalizing marijuana would change the equation here for the better, but it seems like then you just have lighter penalties and you also have the fact that you can always undercut legitimate operations by doing something illegally, except the market is bigger and you can hide your stuff. So that definitely makes sense that that's a problem.
[01:12:33] Actually, a long time ago or a year or two ago, we had somebody write into Feedback Friday, which is our advice segment on the show, and they said they rented a house that was sort of remote. It was a farmhouse. They rented it to somebody and that person illegally subleted that house to these growers. I can't remember why the landlord or the rent actually showed up. And these guys were like, "Get out of here." And he's like, "This is my place." There were locks that were changed. He just saw that there was a marijuana grow and he called the guy he rented to, and the guy was like, "I don't know, I just subleted it to these guys on the Internet illegally."
[01:13:06] Lt. John Nores: What happened? Yeah.
[01:13:06] Jordan Harbinger: And what happened? Which now I think that guy was probably just a cutout for the cartel renting for them on their behalf.
[01:13:12] Lt. John Nores: Yeah.
[01:13:13] Jordan Harbinger: But he was like, "What do I do?" And we're like, "Don't go back there," you know?
[01:13:16] Lt. John Nores: Right.
[01:13:16] Jordan Harbinger: Because he's like, "I'm going to go back there and tell these guys to get out." And I'm like, "You don't know who you're dealing with, man. These guys, if they have a million dollars worth of weed or whatever, how much are these grows worth, actually? I don't even know. What are 7,000 marijuana plants valued at?
[01:13:30] Lt. John Nores: Wow, man, right now in the legal market, the price per pound, I think is like $300. It's ridiculously—
[01:13:38] Jordan Harbinger: Okay.
[01:13:38] Lt. John Nores: —low for tier-one cannabis, right? Which I'm going to get into why that's so bad for the legit cannabis industry and some examples, working with some very legal, very conservation, water conservation-oriented growers that we just interviewed for our next film project. But basically, I know that the Asian cartel sales have such a distribution route and they keep a high-profit margin going because most of their stuff is going to the Midwest and the eastern seaboard from Siskiyou County. And we were watching that plain clothes of the U-Haul trucks leaving and heading east like every hour. A U-Haul truck was without having any pressure put on it, just taking this stuff back used to be sold. And they're still getting over a thousand dollars a pound, probably more actually for high THC content.
[01:14:21] But again, not dispensary weed, not organic, probably has a bunch of this crap on it. But because the black market's thriving so much at 1000 or 1200, maybe $2,000 a pound for the black market weed on a good day. What are our legal growers doing at the dispensary level? They're having to get so low on their price that they're able to sell this stuff, and then they look at their overhead and on the oversight and on the taxation and inspections and permits needed that so many good growers are leaving the industry. They're just going away. And we interviewed two growers back in the days way before Prop 64. They were organically pure. They weren't poisoning anybody, but they were black market farmers. They just ran the black market. That's how they made their living. You know, they did it illegally, but they weren't hurting anybody directly from that. They weren't violent, they weren't staining a bunch of water. They weren't using poisons, and they definitely weren't cartel.
[01:15:17] Now they go to get regulated like, "Okay, I'm going to give this Prop 64 chance," and we filmed and interviewed up in Lake County, a multi-million-dollar cannabis farm that looked like the best citrus farm I'd ever seen, or the best Christmas tree farm. It was fenced. It had the California Department of Fish and Wildlife Inspection, you know, posters on it. The water from their own wells was being uber-conserved. I mean, it was just the conservation on it, Jordan, was crazy. I was listening to these growers talk to me about the five gallon per plant per day figure that I put out there, and they're both telling me, the gallons are going, oh no, that's totally accurate. That's an average. If you got an illegal group that doesn't care about water conservation on a hot day in Mendo County or in Lake County, they can burn 12 gallons per plant per day—
[01:16:05] Jordan Harbinger: Wow.
[01:16:05] Lt. John Nores: —to get to harvest. They said, "We're getting it down to like two gallons or less a day." And I said, "How's that even possible?" And they were actually taking tree branches and other substrate and burying it under the ground of their farm that would hold the water like a sponge. So they would water very limited through the drought situation and get still very good dispensary-level cannabis. I mean, award-winning cannabis like the Emerald Cup actually where these farms are producing and they were using a fraction of the water, and they're authorized to use as much water as they need within what their wells can do. But even being conscious of just not wanting to take too much water, they were going to the next level where we highlight that and we're going to talk about that. You're going to see those interviews in the call sign trailblazer documentary, it's in post-production right now. But that was encouraging to see people like that completely put off by these cartel groups, disgusted by it. Not just talk on the talk, but walking the walk. And the sad part is because these people haven't been paid by their distributors for like two or three years. And one gal is owed like $600,000 of—
[01:17:09] Jordan Harbinger: Geez.
[01:17:09] Lt. John Nores: —basically revenue that she hasn't been paid for. There's no enforcement right now or enough with Department of Cannabis Control in California to recover that money. She and her husband are leaving the business this year.
[01:17:21] Jordan Harbinger: Mm-hmm.
[01:17:22] Lt. John Nores: And if you're going to regulate cannabis and you're going to do it right, those are the people you want to do it and they're getting run out.
[01:17:28] Jordan Harbinger: Sure.
[01:17:28] Lt. John Nores: So cartels are sitting back going, "Hey man, this is great. Hey, don't change that law. We like that misdemeanor and we like a kind of a chaotic situation on how these good growers are going to get paid." So when you muddle deeper into the politics and the policy, and really the abuse is within a system that's still kind of new. We've only been at it like five and a half years in California. I mean, and we're the weed state of the country, brother. We're—
[01:17:50] Jordan Harbinger: For sure.
[01:17:50] Lt. John Nores: —six Mediterranean climates. We're known for wine vineyards, the Napa Valley wine. Well, we're the same way with cannabis, man. We're the cannabis state of the world. Haven't done so much work in that area environmentally, man. I'd like to see us be exemplary in the world and not be the poor example that we are. And I hope we're just learning nationally from these mistakes.
[01:18:08] Jordan Harbinger: I want to go back to some of the tactical stuff that you mentioned in the book. You mentioned doing a longer hike to get to a grow area rather than going in from a shorter distance. Why do you do that? I mean, I know it's a good workout, but what else? Why start from further away when you're going to raid a grow site?
[01:18:24] Lt. John Nores: Yeah. A lot of it comes into stalking and stealth tactics to be effective at catching people.
[01:18:29] Jordan Harbinger: Mm-hmm.
[01:18:29] Lt. John Nores: A lot of these grow sites are set up in such a way that if you come in really close, you're going to make a lot of noise no matter what you do. And some of these grows might be way into a national forest way into a wilderness area, and we've had those where we've hiked like eight miles one day and then set up on a ridge not too far from the grow site so we can move again, you know? In a timeframe. I won't say exactly how, but we're going to basically be where we need to be silently, that when these guys are moving around, we can apprehend them as safely as possible, where we're not going to make a bunch of noise and go through one of their trip wires, one of their punji pits. Or what they do is they cut down a bunch of Manzanita branches and put fishing line out with empty cans, with rocks in them. And now that blocks their trail and they have hidden little trails that they got to move all these little noise makers. And we run into that and we've got a certain number of operators and a dog or several dogs. And now, we got to move through that and stop the team.
[01:19:28] And you know what? Being a still target is a very scary proposition. We kind of have a saying on the team, stillness is death. You want to be really hidden or you want to be on the move when you need to be on the move. So sometimes we'll come in from a very far distance so we can get set up appropriately. And then deal with those little traps I talked about at a good, convenient time. So when it comes to raid moment, nothing's holding us up because if we get hung up on a trail and that guy's got a gun, or there's a punji pit there and our dog can't get to where our dog needs to get to, or I can't cover with a rifle, or my guys can't, or whatever the case may be, that could be a really bad day for all of us. And we've had too much gunplay to even take the chance. And one thing that was cool about when the marijuana enforcement team was green lit, the whole hidden war period is that that's all we had to do. So it wasn't like we had to go do fishing patrol. I didn't have to teach a hunter education class that night. I didn't have to go to a water district meeting. I'm strictly operating on this unit statewide, no boundaries. And you know, we'd be on the road sometimes six, seven days a week and work through weekends if we were on a particular operation that demanded that level of attention. And we'll take the time we need to do it safely, and that's the only way you can do it safely is not rushing things and having to drop when you need to.
[01:20:38] Jordan Harbinger: Yeah, I remember you said you take boats or even kayaks in because those are quiet and you're listening and looking around. I mean, it really does sound like jungle warfare. You're just in there for, like you said, several days. And I would imagine if these guys are there for months, they're attuned to all the animals and the wildlife and if it's too quiet or whatever. So you kind of have to get that same advantage and you can't get that in an afternoon.
[01:21:01] Lt. John Nores: That is spot on, man. California is so diverse in terrain. And we have seen grow sites literally in eyesight of the water's crashing on the Pacific Ocean, on the Big Sur coastline.
[01:21:11] Jordan Harbinger: Wow.
[01:21:11] Lt. John Nores: And then we've seen grow sites at 11,000, 12,000 feet, just below Mount Whitney, where glacier water is being diverted by black poly pipe. And we're hiking with the endangered, threatened bighorn sheep as we're going into a grow site. I mean, just some of the most beautiful country you'd see, not just in California, brother, but like all over the nation, the world.
[01:21:31] Jordan Harbinger: Mm-hmm.
[01:21:31] Lt. John Nores: Redwoods up north, the Redwood forest, the dry hot deserts down in Southern California, riverside, where I'm from, San Bernardino, North LA County, all of those areas have plenty of cartel cannabis going on, either in hoop houses or in the outdoors. And yeah, we've had to do everything. We've had to come in on helicopters, a lot on foot. You know, we use ATVs where we need to, we've had to go in on horseback before. One of the coolest trainings I think I ever got to coordinate and be part of with the unit before I retired was wilderness horse patrol. Some of us have grown up on horses like myself and some even better riders that were on the team. And some of our guys and gals are like, oh man, I think I rode one a pumpkin patch once for five bucks, you know?
[01:22:13] Jordan Harbinger: Exactly, yeah.
[01:22:14] Lt. John Nores: When I was a kid, right? And now here we are going through a whole day or two on saddles and tack and how to prep this horse and then taking them into wilderness areas in steep terrain, switchbacks, cliff country with kit gear on, with overnight gear to actually go get close enough and execute a raid on a horse because you can't have a motorized vehicle in wilderness area. So we can't take a helicopter, we can't take an ATV or a motorcycle. The electric machines, like the bikes and stuff just don't quite have what we need them to do. So we've done it all. And I got to say that was one of the, I think, most rewarding parts about the job. Because I come from The Silicon Valley originally, but I grew up around still the iconic cattle ranchers, true cowboy families that are here in the Silicon Valley foothills today. And people think of the Silicon Valley where you and I are at and they're like, "What? There's cattle ranches and brandings?" You don't have Yellowstone, the show happening in Silicon Valley. And you know what we do? I was on a cattle branding yesterday, right before the rain hit with rancher friends of mine helping out that have had grows on their property before. They've had hunter trespass, they've had all kinds of poaching animals, mountain lions depredating their livestock. I mean, that's the type of stuff we get to do that makes that community connection so cool.
[01:23:27] And being a lover of all things outdoors, I'm just glad that the contradiction of the tech capital of the world and some of the finest cattle families in the tech capital foothills coexisting and still keeping that trend going, man, it's just magical. And those are the folks that see us on horses and go, "Okay, you guys just aren't on the steel horses coming out of the big helicopters. You can actually ride a horse. I'll give you some respect for that" and we can go in a little quieter. So yeah, we've pretty much done it all. You know, California's a great state, man. I think I'm preaching to the choir here. I definitely have a concern with the politics and the safety issues going on and things I don't think are being done right, but the people and the diversity and the wildlife resources and what we have coast to coast, border to border is unmatched by any other state. This is a beautiful fricking state and I still love being here and representing for our people. And I hope some days somehow it just gets better and we get to turn things.
[01:24:19] Jordan Harbinger: How many people are involved in these grows? Do you have an estimation of how many people are coming up from the cartels to run these trespass grows, and are they all illegal or are there people from all over doing this?
[01:24:30] Lt. John Nores: Generally speaking, they're illegal. Generally speaking, good percentage of them are what are called deportable felons. They basically qualify because of criminal activity that they've either been involved in, maybe not convicted or accused of. You don't know whether it's narcotics, trafficking, gun running, sexual assault, aggravated assault, whatever. Most of the cartel gunmen we run into, actually all of them, of the ones we have run into, and a majority of the growers have that criminal background, and they're not citizens of the US. They're basically here illegally and certainly before the very lax opening of the borders, if you will, the end of Title 42 that just recently happened. When we did have some semblance of proactive border protection policy and trying to solidify a solid, sensible immigration policy, it was hard then to keep these guys out of the country. I mean, when we debrief that meth cooker, I talked about that also oversaw 50 grows, we talked about that issue. I said, you know, we have actually caught a grower that was a gunman, pulled a gun, maybe got bit by one of our dogs.
[01:25:30] Jordan Harbinger: Mm-hmm.
[01:25:30] Lt. John Nores: Had tons of aggregated felonies, ICE and CBP handled that. He was a deportable felon. He got deported. And a week later, another one of our teams found this guy in a grow again, and I'm not kidding you, we had the same repeat offender that had murder raps, highly violent, I can't even remember how many times, but it was over double digits.
[01:25:50] Jordan Harbinger: Wow.
[01:25:50] Lt. John Nores: This guy was back in California in a year's time, and different dogs from different teams. And now we're all comparing notes like, and this guy laughed during the interview and he goes, "Look, man, that thing you call the border between Southern California, San Diego County, we call that a road bump."
[01:26:05] Jordan Harbinger: Mm-hmm.
[01:26:05] Lt. John Nores: "You know, we consider California, Mexico North. We never lost it." So I'm going to make multiple hundreds of millions of dollars on like 50 cannabis markets I'm doing this year as an example. I'm going to make so many hundreds of millions of dollars on that, that the four to $7,000, it's going to cost me to have one of my cartel guys on the border get this guy back across right after he's deported. It's a drop in the bucket. It's a time inconvenience. We've seen him back within 48 hours, 72 hours. Just crazy, man.
[01:26:34] Jordan Harbinger: That is crazy.
[01:26:35] Lt. John Nores: Just crazy.
[01:26:35] Jordan Harbinger: That's terrible.
[01:26:36] Lt. John Nores: It is horrible. And the sad part about it is, being a California native most of my life, you know, it's sometimes ignorance is bliss, right?
[01:26:44] Jordan Harbinger: Mm-hmm.
[01:26:44] Lt. John Nores: And when I started to realize how many cartel guys are embedded in California doing all of these crimes, not just the cannabis, you know, I think on a rough conservative estimate, if you look at two growers per grow cartel-related, and you look at 4,000 or 5,000 grow sites back around the time when we add that many grow sites, say in Cali, just for illegal weed cannabis, you're looking at at least 10,000 cartel members.
[01:27:08] Jordan Harbinger: Geez.
[01:27:08] Lt. John Nores: Just for a very conservative estimate of outdoor growers. But now, Jordan, with it not being the outdoor trespass grows so much. But now the indoor grows that are incentivized inside these hoop houses, and when you add the Asian contingent now of cartel members, the Mexican cartel members, you add in the ones that aren't growing weed, that are doing fentanyl production, distribution, meth, human trafficking, I mean, we're not in the 10,000 number range. We're in the hundred thousand member range.
[01:27:37] Jordan Harbinger: Geez.
[01:27:37] Lt. John Nores: Realistically, if you just do basic math and the idea of thinking that they're just coming across, doing their businesses, going back is a misnomer.
[01:27:44] Jordan Harbinger: Mm-hmm.
[01:27:45] Lt. John Nores: They are embedded, they are comfortable and under the current administration operating with impunity and getting very bold, especially on our Southwest border as we just saw what last week, you know, the four folks that went down south to do that medical procedure got abducted, two were killed. That's a hot-button item.
[01:28:03] Jordan Harbinger: Mm-hmm.
[01:28:03] Lt. John Nores: You know, some of the Instagram reels going around was Sicario gunman in an Escalade and a BMG Barrett .50 caliber heavy gun and an AK going right down through Phoenix, Arizona, and there's a police department substation to the right and they're just laughing as their music continues to play and putting that anonymously on Instagram and saying, "We're here. No one's stopping us."
[01:28:26] Jordan Harbinger: That's crazy.
[01:28:27] Lt. John Nores: It is crazy. And you know, I think one of the coolest things about going to talk about it with you is, one, your listeners will know and viewers will know a little bit more about what's really going on, and that even though they may not be affected by it, there's no way this isn't affecting us as a country, as a community when you look at fentanyl, you look at human trafficking with the children and everything else. And the fact that we have to have some situational awareness even in the affluent Silicon Valley because I know what's lurking here and I know what's lurking in rural Montana where I'm a full-time resident of now, especially with the meth, fentanyl, and the trafficking. And we just have to be aware of it and enough people need to say, we've had enough and make it a national priority to slow it down, if not stop it. And it's just not right now. And the cartels are showing us that it's not.
[01:29:13] Jordan Harbinger: What percentage of these guys are we catching you think?
[01:29:15] Lt. John Nores: Oh God, it would be a hard guess, bud, but I would say optimistically 10 percent.
[01:29:23] Jordan Harbinger: Oh man.
[01:29:24] Lt. John Nores: I think that's me being in a good mood today, man, because it's Friday when we're having a great conversation together. It's a lot less than that. I just look at the number of arrests you see and the number of people we actually take down. But you look at just the sheer statistics of the number of people that have to be here to do in the operation. And that are very good at it and just don't get caught unless they sometimes do something really dumb. It's not many. It's a very, very small percentage, I'd say under 10 percent.
[01:29:47] Jordan Harbinger: Geez, that's really, really crappy. That sucks. And it seems hopeless because even when you catch them, they turn around and come back three days later.
[01:29:54] Lt. John Nores: Yeah. You know, I always have a little bit of hope and a little bit of optimism when I talk to them. My old teammates from MET and what they're doing, and they're doing a really important job because when they hit an illegal grow site, they're basically impacting those other cartel crimes we talked about indirectly with public safety being at the top of the priority list and with the laws kind of against our mission—
[01:30:14] Jordan Harbinger: Yeah.
[01:30:14] Lt. John Nores: —with the incentivizing we talked about Prop 64 and all those things, I just kind of tell them, and I tell other agencies that I talk to or other people I train, I go, "Look at this as a marathon, not a sprint. Look at it as a long-term war that is really a hidden war."
[01:30:29] Jordan Harbinger: Mm-hmm.
[01:30:29] Lt. John Nores: We didn't name the book that for no reason. I mean, it really is a truly hidden war. We wouldn't have this magnitude of problem if it was a little more overt and of a national priority, but the thing I tell the guys is, "Hey man, if you get one illegal hoop house taken out and that product never makes it to the market to poison some high schooler that's trying cannabis for the first time that has a big football scholarship, or she's a valedictorian or something, right? And you stop that water from being stolen and you saved, I don't know, four million gallons of underground water in California's worst drought, even if you make no arrests and you know they're going to go do it 50 other places, you still made a little bit of a dent on that one site." So it's like an NFL chunk play, man. You're not going to get the vertical 70-yard freaking wide receiver into the end zone, but you're going to get a ground-and-pound, three-yard victory every time you take one of those raids out and you keep a dent.
[01:31:19] And I got to tell you, as stacked as the politics are against my teammates and my old agency doing the job they're doing, man, I just, I admire and respect and those are my heroes because it's gotten a lot worse since I left agency, you know, pushing three, four or five years now, and they just stay in the fight, you know? And what's really going to help is awareness of people saying, "Hey, it's not just game wardens, not just DA or sheriffs, it's all of our first law enforcement officers, our first responders that are dealing with this cartel threat on some level. They may not be in the woods doing the game warden, sheriff thing, but they're surely going to experience a fentanyl interdiction, or a crisis or know somebody that died in the family.
[01:31:57] And I now have friends and family members of friends right here in the Silicon Valley that have taken a dirty pill from a fentanyl bottle that looked like an oxycodone. And she was slated, she had a great scholarship, valedictorian doing a bunch of sports star volleyball player, lot of inner knee soreness and took a pill from a friend for pain relief, not even to like get high at a party.
[01:32:17] Jordan Harbinger: Mm-hmm.
[01:32:17] Lt. John Nores: And didn't wake up to go to school the next day.
[01:32:19] Jordan Harbinger: Oh my god, that's awful.
[01:32:20] Lt. John Nores: Right here in the Los Altos area of Silicon Valley. And a friend told me that story just a couple of months ago and she was related to that young lady. And man, if that doesn't make it any more personal, I don't know what is. And that's why every little bit our guys are doing out there and every little bit the public that are watching this podcast, are watching any of these documentaries just go, "Okay, this is bullsh*t. I got to learn more about it. And next time policy comes up like a Prop 64, I need to read the fine print."
[01:32:46] Because, Jordan, ironically, one of my jobs as a lieutenant team leader of MET was 30 percent of that was outreach and education. So the PowerPoint roadshow, speaking at conferences, but talking to lobbyists, legislature groups under the previous governor before we regulate it especially, and telling them the story and showing them the graphic pictures that said, look, we know regulation is coming. We know it can be done right. Just if you regulate, please keep the bite against the cartels or trespass growers or illegal growers. Keep a deterrence factor in there. Keep the felony, keep aggravated charges and penalties for water stealing. And it was, "Yeah, yeah, yeah, yeah. We got to do that, man. Thanks for all you're doing. Yeah, that's horrible. We have that happening in this state." And then when it passed and I saw the language, I just, I can't tell you how shell-shocked I was, man. I was like, what just happened? So we watered it down to a misdemeanor and an infraction for juveniles to get it to pass. Was this just something someone needed for the revenue or the taxation? They thought—
[01:33:49] Jordan Harbinger: Crazy.
[01:33:49] Lt. John Nores: Because there wasn't any logical reason to do it unless it was financially based and it was vote based just to get cannabis passed and it can be done so well. And there are some underground movements. There have been some bills recently proposed that will, I don't think we'll see the light of day currently in California, but basically to repeal and amend Prop 60.
[01:34:09] Jordan Harbinger: Sure. I mean, look, pain pills are legal, but I can't produce them at home and then not get in trouble for it. So what the hell? I mean, this should be regulated like the drug that it is and look, I'm sympathetic, if somebody is like, look, I grow my own weed. I got five plants in the backyard.
[01:34:23] Lt. John Nores: Yeah.
[01:34:23] Jordan Harbinger: 10 or 20, whatever it is, it's on my property, fine, whatever. But what do you have 7,000, it's kind of hard to argue like, "Hey man, it's just a hobby. Look, I broke into this guy's land and I set up a giant farm illegally in the middle of a nationally protected forest. But it's just, it's kind of a little side hustle that I got going." Come on.
[01:34:40] Lt. John Nores: Yeah.
[01:34:40] Jordan Harbinger: Makes no sense.
[01:34:42] Lt. John Nores: I think you hit it on the head. This isn't just the Cheech and Chong days—
[01:34:45] Jordan Harbinger: No.
[01:34:45] Lt. John Nores: —of a couple of hippies in Humboldt County, you know, that are growing for a little personal consumption. Maybe they're going to trade it, make a couple of bucks at the farmer's market. We're way past that, you know?
[01:34:55] Jordan Harbinger: Yeah.
[01:34:55] Lt. John Nores: We are way past that. And it's not going to fix overnight, but you can kind of armed people doing what I used to do and the women and the men that are the real heroes of the day under very tough laws right now, continuing to do it, give them a better tool belt with a better law to enforce and see legitimate cannabis thrive. And actually have these cannabis farmers, like the two gals I just mentioned, that we're going to feature, have them celebrated for doing it by the numbers and taking the good steps to come out of the dark when they could have made a bunch of money on the black market that was completely cashed, that was never going to be taxed. They were never going to need to spend $80,000 on 10 different permits from agencies to have a legal growing farm. But they elected to do that just to try to do it right. And you know what? You look at that and you ask them, "Wow, how's that going?"
[01:35:41] Jordan Harbinger: Mm-hmm.
[01:35:41] Lt. John Nores: And I'm like, "Can I honestly say that I recommend you go legal as a law enforcement officer that enforced marijuana for the latter half of my career?" I can't ethically tell them that's a good idea because it's not. And they're finding that out on their own. And that's why things like laws have to change so we can get more legitimate cannabis working in California as it needs to. And be a better example because other states are regulating. My new home state of Montana's got some recreational legislation coming and going. They're dabbling and doing and they've just made some changes. A lot of states are doing it, but not everybody's doing it well. We got to look big picture.
[01:36:13] Jordan Harbinger: Yeah.
[01:36:13] Lt. John Nores: There's too many lives at risk. And you said it, the 7,000 plants or these manufacturing, these dirty pills come, come on, this is home-based stuff.
[01:36:22] Jordan Harbinger: Thanks for coming on the show, man. I guarantee you most people have never heard of this and I'm glad we're able to bring awareness to the issue. It's creepy that there's drug cartel operations in the scale of environmental damage, just kind of literally right in our backyard.
[01:36:33] Lt. John Nores: Yeah, man. It's great to finally connect with you. I've been following your stuff, man. Keep it up. Thanks a bunch, and thanks for helping, promoting just kind of what we're doing. I do want to let people know that if people want more information on this, they want any speaking done on it, I speak all over the country to this. I educate. Just go to johnnores.com. It's J-O-H-N-N-O-R-E-S. You can get to my email for any questions related to this subject, or even people wanting to go into conservation law enforcement via a game warden. And I can't tell you how many hundreds, if not thousands of young folks and older folks that are coming over to this profession and wanting to do it. And I know you've got a copy, but if I could just throw it out there.
[01:37:10] Jordan Harbinger: Mm-hmm.
[01:37:10] Lt. John Nores: The second printing, second edition of Hidden War just dropped. You got one of the first copies.
[01:37:14] Jordan Harbinger: I did. Yeah.
[01:37:15] Lt. John Nores: And it's got updated information in it to take us into some of what we discussed. It's on Amazon in print copy, Kindle, Audible. And if you want a personalized copy, hit me up through my email and I do a lot of those orders and everyone that's getting into the book and getting into the story are helping become part of that Thing Green Line. And that's what we're going to need. And I can't thank you enough, man.
[01:37:35] Jordan Harbinger: Thank you very much.
[01:37:37] You are about to hear a preview of The Jordan Harbinger Show with former DEA agents that brought down Colombian drug kingpin, Pablo Escobar. If you've watched the TV show, Narcos, these are the real-life Steve Murphy and Javier Peña.
[01:37:50] Javier Peña: The whole war of Pablo Escobar is based on the extradition. Colombia wanted to extradite him and that's when he started the war. Colombia backed down on the extradition. So for me, personally, I always thought Pablo would never be taken a life.
[01:38:07] Steve Murphy: Here's a guy that's responsible for, we estimate 10,000, 15,000 maybe 20,000 murders.
[01:38:12] Javier Peña: Bombing of a commercial airline, killing of a presidential candidate, the putting a bomb at the newspaper editor because they wrote a bad story on him.
[01:38:23] Steve Murphy: It's outrageous.
[01:38:25] Javier Peña: Innocent people getting killed every day. You know, car bombs 10 to 15 on a daily basis. Yeah, that was his war on Colombia, and it was just all innocent people being at the wrong place at the wrong time.
[01:38:38] Steve Murphy: They made it clear to us, this is all about killing Pablo Escobar.
[01:38:42] Javier Peña: And the real heroes and the search of Pablo Escobar were the Colombian national police. They're the ones who took down Escobar.
[01:38:49] Steve Murphy: Absolutely. People are still out there that think Pablo Escobar is some kind of hero, but they have no idea what they're talking about when they're talking about, you know, he's a hero. Oh, he did this for his community. He didn't do anything. He killed people. What he was, in reality, was a manipulator. He was a master manipulator.
[01:39:07] Javier Peña: Yep.
[01:39:07] Steve Murphy: We understand that we as a world cannot arrest our way out of the drug problem. You know, we cannot put enough people in jail to stop it because there's so many evil people out there waiting to take advantage of you and us. They'll do anything to make money and take advantage of others.
[01:39:22] Jordan Harbinger: To hear what it was like to chase the slippery drug kingpin responsible for thousands of deaths, check out episode 453 of The Jordan Harbinger Show.
[01:39:31] Ugh. A little bit depressing, a little bit scary. He's arrested over a thousand people all from grow ops. I'm sure that number is, that's just him, not the whole unit. And the unit's been going for a while since he's been retired. When they find these areas, not only are they full of garbage poisons, plastic trash, human excrement, they find shrines and Santa Muerte icons. And if you haven't been watching Narcos or Dexter or whatever, those are very common among narco-traffickers. Basically, patron saints of death, and they require kind of gross diabolical stuff to stay in their good graces. It's this weird mixture of Catholicism and paganism and witchcraft and all this kooky stuff. It's really interesting. We talked about it a little bit with Ed Calderone on episode 500. And John told me that he could actually tell which cartel is doing the grow by the candles and the icons that they're using. So these saints, the so-called saints of death, they require torture. They require killing. They require other brutal acts as tributes. So if you're wondering one of the reasons why there's so many really disgusting cartel murders, this is one reason cartels do so much horrific stuff. The other stuff is, of course, do scare their rivals and it works.
[01:40:41] The average financial value of one grow, I looked this up, it's approximately 16 million. Now, this is an average, so it varies wildly. 16 million bucks, that's a pretty good haul if you've got a big old grow in some rancher's backyard, and you don't have to pay for any sort of inputs, water, land. Unfortunately, a lot of our sanctuary laws here in California prevent his unit working with ICE and immigration. So a lot of these guys, they turn right around and come straight back, which is not the way these laws, I assume were intended to be. Growers will often do really clever stuff to hide their tracks going into the woods. John told me they find these boots that have felt on the bottom or stilts that look like cow hooves, so they will walk into the site on what looks like cow hooves. So if people are tracking them, they're like, "Oh, well that's not a person, it's a cow." And they'll just let the trail go. It's pretty damn creative. I have to hand it to them. I assume they found out about that because they found cow hooves stilts when they did a raid. I really don't know. I would imagine those were an interesting souvenir.
[01:41:40] Now what you're thinking is, "Oh my gosh, if I live in California, I got to wear Kevlar and go horseback riding or pick berries because I'm going to get shot by growers." Don't be afraid to go hiking. These grows now they don't have to be too deep in the woods. So it's decreased 90 percent. The growers have actually become more brazen, fortunately, or unfortunately. So the likelihood of you running into that danger out in the middle of nowhere is actually quite minimal. But here's the number to call, if you do need to report something, whether it's poaching, a marijuana grow, anything like that, call 888-334-2258. That's 888-334-2258 or text tip-411. That's tip-411 and you can report poachers, growers. Don't do it right standing. But if you find a grow and you can take pictures or drop a pin, get the GPS, whatever it is, fine. But do not engage the growers, obviously and get the hell out of there. Stay safe and hopefully, Lieutenant John Nores' unit will come and get these guys out of there, or at least clean up the grow site.
[01:42:36] Big thank you to Lieutenant John Nores. All things John Nores will be in the show notes at jordanharbinger.com. Our ChatGPT bot, if you want to go give that a shot, grab anything from any show we've ever done is over at jordanharbinger.com/ai. Transcripts are in the show notes. Videos up on YouTube. Advertisers, deals, discount codes, ways to support this show, all at jordanharbinger.com/deals. Please consider supporting those who support the show. I'm at @Jordan Harbinger on Twitter and Instagram.
[01:43:03] And I'm teaching you how to connect with great people and manage relationships using the same system, software, tiny habits that I use every single day in very non-cringey ways I'd like to think. It's a free course, jordanharbinger.com/course. I want you to dig the well before you get thirsty, build relationships before you need them, and realize that hey, many of the guests on the show subscribe and contribute to this course. So come join us, you'll be in smart company.
[01:43:27] This show is created in association with PodcastOne. My team is Jen Harbinger, Jase Sanderson, Robert Fogarty, Millie Ocampo, Ian Baird, and Gabriel Mizrahi. Remember, we rise by lifting others. The fee for this show is you share it with friends when you find something useful or interesting. If you know somebody who'd be into this episode, loves the outdoors, interested in this kind of thing, share this episode with them. The greatest compliment you can give us is to share the show with those you care about. And in the meantime, do your best to apply what you hear on the show, so you can live what you listen, and we'll see you next time.
Sign up to receive email updates
Enter your name and email address below and I'll send you periodic updates about the podcast.