Reading Time:
4
minutes
Ioan Grillo (@ioangrillo) is a contributing writer at The New York Times specializing in crime and drugs. He is the author of El Narco: Inside Mexico's Criminal Insurgency; Gangster Warlords: Drug Dollars, Killing Fields, and the New Politics of Latin America; and Blood Gun Money: How America Arms Gangs and Cartels. [This is part one of a two-part episode. Part two can be found here!]
What We Discuss with Ioan Grillo:
How did Ioan Grillo — a journalist from the UK — find himself covering the illicit guns and drugs trade from behind the scenes in cartel-controlled Mexico and other pockets of Latin America?
The opulent cemetery where narcos are buried in multi-leveled, air-conditioned mausoleums that would make the ancient pharaohs blush.
The most devastating examples of human catastrophe Ioan has witnessed while reporting narcos-related crimes over the past two decades.
How much danger is a journalist like Ioan really in while reporting from the thick of such unfettered violence?
How thousands of children are recruited or forced into doing the cartels' most bloody work.
And much more…
Like this show? Please leave us a review here — even one sentence helps! Consider including your Twitter handle so we can thank you personally!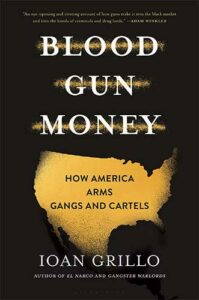 Mexican cartels are infamous for their ruthlessness in carving out whatever piece of the $300 billion annual illicit drug trade they can. This means waging war against one another, as well as terrorizing the populace unlucky enough to call a contested town home. The police can't be trusted to serve and protect them because, if they're not on the take from the cartels, they're certainly outgunned by them. Thousands of innocent people disappear every year as pawns in whatever games the cartels decide to play — children often recruited to carry out the bloodiest, most gruesome work while their parents and relatives wind up in mass graves.
For 20 years, journalist Ioan Grillo has been immersed in this world of nonstop cruelty and chaos, resulting in two books: El Narco: Inside Mexico's Criminal Insurgency and Gangster Warlords: Drug Dollars, Killing Fields, and the New Politics of Latin America (we'll get more into his third and most recent, Blood Gun Money: How America Arms Gangs and Cartels, in the second part of this two-part episode later this week). Here, Ioan shares the horrors he's witnessed over the past two decades and tries to make sense of it all while retaining his own humanity. [This is part one of a two-part episode. Part two can be found here!]
Please Scroll Down for Featured Resources and transcripts!
Please note that some of the links on this page (books, movies, music, etc.) lead to affiliate programs for which The Jordan Harbinger Show receives compensation. It's just one of the ways we keep the lights on around here. Thank you for your support!

Sign up for Six-Minute Networking — our free networking and relationship development mini course — at jordanharbinger.com/course!
This Episode Is Sponsored By:
Miss our interview with Freeway Rick Ross, the crack empire kingpin gone good? Catch up with episode 121: Freeway Rick Ross | Life in the Crack Lane here!
Thanks, Ioan Grillo!
If you enjoyed this session with Ioan Grillo, let him know by clicking on the link below and sending him a quick shout out at Twitter:
Click here to thank Ioan Grillo at Twitter!
Click here to let Jordan know about your number one takeaway from this episode!
And if you want us to answer your questions on one of our upcoming weekly Feedback Friday episodes, drop us a line at friday@jordanharbinger.com.
Resources from This Episode:
700: Ioan Grillo | How America Arms Gangs and Cartels Part One
[00:00:00] Jordan Harbinger: Coming up next on The Jordan Harbinger Show.
[00:00:03] Ioan Grillo: So it was 2012 and I was here in Mexico City and I got a phone call from the editor saying, "We've got news of a big bunch of bodies have been found up near Monterrey. Can you get up there and cover it?" So I said, "Sure." I ran to the airport. I got on the first plane and it was 49 bodies, which were all dumped on a road in a town called Cadereyta. Now, all 49 bodies were all decapitated, all had their hands cut off, and their feet cut off.
[00:00:35] Jordan Harbinger: Welcome to the show. I'm Jordan Harbinger. On The Jordan Harbinger Show, we decode the stories, secrets, and skills of the world's most fascinating people. We have in-depth conversations with scientists, entrepreneurs, spies, and psychologists, even the occasional organized crime figure, investigative journalist, former Jihadi, or hostage negotiator. And each episode turns our guests' wisdom into practical advice that you can use to build a deeper understanding of how the world works and become a better thinker.
[00:01:03] If you're new to the show, or you're looking for a way to tell your friends about it, I suggest our episode starter pack is a place to begin. These are collections of our favorite episodes, organized by topic. That'll help new listeners get a taste of everything that we do here on the show — topics like persuasion, influence, disinformation and cyber warfare, China and North Korea, scams and conspiracy debunks, crime and cults, and more. Just visit jordanharbinger.com/start or search for us in your Spotify app to get started.
[00:01:30] Today, journalist and author Ioan Grillo, now this episode is heavy duty. If you've got kids in the car now is a great time to go to another episode of The Jordan Harbinger Show. The drug trade is worth approximately 300 billion dollars annually. This is why the most violent rise to the top. Everyone wants a piece and they'll do just about anything to get it. The murder level in Mexico is just horrific. Over 5,000 bodies have been dug up in over 3000 mass graves in Mexico. One mass grave near a middle-class neighborhood that had something like 250 skulls in it. I mean, just think about that only the skulls. What does that mean? 33,000 murdered last I checked, and these are statistics that are rising by the dozens every single day. Just an unbelievable amount of sadness and horrific, horrific violence in Mexico.
[00:02:18] We're going to talk a lot about that today, as Ioan has been embedded in these cartels. He has worked a lot in the scene, writing about drug dealers and cartels, really from child sicarios all the way to drug traffickers that make it across the US border, human traffickers, gun traffickers. We really do cover a lot in this episode. Some of it quite interesting, but all of it quite grim. There was a lot, we did two parts of this one. So here we go with part one with Ioan Grillo.
[00:02:47] What brings a guy from the UK, the civilized UK to the west, the new country? I mean, I'm not even saying Mexico is uncivilized. I mean, you could have come to America and I'd ask you the same question. Like what brings you to the danger zone?
[00:03:00] Ioan Grillo: Yeah. So for a while, I was interested in doing foreign journalism, international journalism. I kind of had this dream for a long time, partly from watching movies, like the movies Salvador by Oliver Stone, which I remember liking that a lot, seeing that when I grew up and liking the idea of this kind of crazy character, who's the kind of crazy drunken journalist in this war in El Salvador played by James Woods. And it took me a while. I kind of messed around with different things in the UK including pirate radio.
[00:03:31] Jordan Harbinger: Oh yeah. That's so funny. I messed with pirate radio and that's one of the reasons I do podcasting now. I was like, it's illegal. It's impossible to do. It's expensive. And then podcasting came around and I was kind of like, this is the Internet version of pirate radio, except I'm not going to go to prison, maybe.
[00:03:45] Ioan Grillo: Yeah. Yeah. So I was a bit involved in the pirate radio scene in London, in the 1990s. It was kind of fun things, a lot of pirate radios happening. But anyway, I got to university a bit later in life and then, you know, had this dream of being a journalist. So I found out at that time, and this was going back to the year 2000. I found out that one way to begin in journalism then was to go to a different country and start in an English-language newspaper. And so somebody said, "You know, Mexico City is a good place to do that." I'd already lived in Spain for a year and spoke some Spanish. So I got a one-way ticket from London to Mexico City and I got my backpack and flew over to Mexico City. And then it took me a few months to get a job, to land a job at the newspaper called The News. And I started writing there and then that was 20 years ago and it kind of moves us in.
[00:04:35] Jordan Harbinger: So you've been in Mexico for 20 years?
[00:04:37] Ioan Grillo: Yeah. Yeah.
[00:04:38] Jordan Harbinger: Wow.
[00:04:38] Ioan Grillo: 20 years.
[00:04:38] Jordan Harbinger: Okay.
[00:04:39] Ioan Grillo: Exactly. Yeah.
[00:04:39] Jordan Harbinger: Living in Mexico and covering the Narco trade is no joke as you are well aware. I mean, surely you are in the thick of it when it comes to corruption, hearing about executions and murders, literally every day, I assume, or at least all the time. Does that not give you pause in terms of covering these people? Because it's a far cry from pirate radio to like decapitated bodies in the street.
[00:04:59] Ioan Grillo: Yeah, indeed. So it was something that happened gradually in terms of getting into this. When I arrived in Mexico, the drug war wasn't as bad as it is now and it escalated while I was there. Before it was a bit like inside the paper issue and then it became a front-page issue in Mexico in a big international story. And I was covering this as it escalated. One of the things I was doing, I got a job working for the Houston Chronicle. Funny enough at a Houston, Texas, reporting from Mexico. And I started covering this increase in violence on the Texas-Mexico border in the city of Nuevo Laredo. And that was when we started seeing things get more crazy. And back then, the newspaper was more relaxed.
[00:05:38] Jordan Harbinger: You say back then, what year are we talking about?
[00:05:40] Ioan Grillo: Yeah, 2004, 2005.
[00:05:42] Jordan Harbinger: Okay. Because I lived in Guadalajara, well, I spent some summers in Guadalajara, 2000, 2001, 2002. And it was like, you didn't even hear about this stuff at all.
[00:05:52] Ioan Grillo: Yeah.
[00:05:53] Jordan Harbinger: You had to look for Narcos. You had to look for drugs. They weren't all over.
[00:05:56] Ioan Grillo: Yeah.
[00:05:56] Jordan Harbinger: And you found them because your friend at a club knew a guy who hung out of the club who had some drugs or whatever. I mean, you know, a friend of mine told me that. And like you would party and you'd feel safe. And like there weren't dangerous people running around that you could see. And now, I've got show fans now in Guadalajara, guys that are like 30 and they're like, "Yeah. From when I was 12, riding my bike around everywhere to now, it's just a totally different place.
[00:06:20] Ioan Grillo: Yeah. Yeah, it's been very tragic. So, back then, the newspaper would say, "Get up to Nuevo Laredo and cover this violence." And I would just go by myself, grab a plane to Monterrey, rent a car, drive up there, run around, trying to do this. And now newspapers, TV companies, they got way more like protocols, way more security conscious. And I saw this violence escalating, and you saw this change. One of the big changes happened right there in Nuevo Laredo and this big change was, if you look to some of the cartel hitmen, going back to the '90s, let's say in Tijuana, these were guys who were like gang members. They're even gang members imported from the US.
[00:07:00] So these were like Mexican-American gangsters who were bought into Mexico and the wholes a whole bunch of them from San Diego, from a neighborhood called the Logan Heights who went down and they were committing these killings for the cartel. They were considered as tough and ruthless at that time. And there'd be like, guys with shaved heads, tattoos, you know, pistols going in there. They tried to assassinate a journalist in Tijuana, Jesús Blancornelas. And one of the factors it went wrong was they shot him four times. The next bullet from the pistol ricocheted and shot the assassin in the eye.
[00:07:32] Jordan Harbinger: Whoa. He must have got a rep from that one.
[00:07:34] Ioan Grillo: Yeah. So the journalists survived those bullets, but it shows the fact he survived, the fact, you know, these were not as heavy. When I started covering this in Nuevo Laredo, it started being very different. Suddenly, I was covering these scenes, like five corpses on a floor with a note by them. Then these were gang members and they had a note saying, "Send more pendejos like these ones, or send more like idiots like these ones so we can kill them." And this was no longer regular gang members. These were former military guys in the Mexican military and they were no longer fighting with pistols. They were fighting with AK-47s, AR-15s, metal helmets, bulletproof jackets, radios, military-style stuff. And so you saw this escalation in the violence.
[00:08:13] I mean, this happened then. And then I found myself, so I kind of got into this. I got in 2008 when things started really escalating in a very, very big way. So we suddenly saw the cartel-related murders. The body counts we believe were related to the cartels fighting each other, or the military killing people, allegedly working with the cartels. It went up from like 1000, 2000 a year to like 7,000 a year to like 15,000 in a year. And then kind of stuck up there, that is high levels, 20,000 a year. And it's been up there and it's very, very high level since.
[00:08:46] Jordan Harbinger: 20,000 in a year? You mean like cartel-related murders?
[00:08:49] Ioan Grillo: Yeah.
[00:08:49] Jordan Harbinger: God, that number is staggering.
[00:08:52] Ioan Grillo: Yeah. And when I was, you know, writing my first book and suddenly, it was like, wow, we've got 30,000, 40,000 bodies from this conflict, this cartel conflict. And now, we're talking about maybe 200,000 over this time.
[00:09:05] Jordan Harbinger: Wow.
[00:09:05] Ioan Grillo: Related to the fight between these different criminal organizations and the security forces, the military, the Marines, the federal police fighting them as well. And they're leaving a lot of borders as well. So you had this gradual escalation. And when I got to 2008, when I was seeing this really escalate and there was one moment then when I was in Sinaloa and I arrived at this small village where there'd been two massacres and I saw a bunch of people leaving the village in a trail of pickup trucks, like refugees. Literally leaving like, "Oh, pack up, let's go, let's get out of here."
[00:09:38] And I saw this kind of vision of these people like doing that and was like, "Wow, this is going to destabilize the country. This is something so big. This is not a crime story anymore. This is an international story." And that was when I thought I can't do this anymore just in these news reports and newspaper stories. I got to write a book about this. I proposed my first book El Narco about trying to make a bigger sense of this whole story. And since then, it's been crazy. It continues to be crazy. I continue to work covering this, but sometimes I've tried to step away from it. Tried to think I'm going to do other stuff now. I'm not going to cover Narco stuff anymore. I'm going to find different stories. I'm going to different countries. And it's quite hard to step away from it. I keep getting new jobs. I just do a new TV series related to this. And it's hard when you start to establish your reputation for covering a particular topic like this. People keep coming to you.
[00:10:27] Jordan Harbinger: Is it Scarface that says, "Every time I try and get out, they suck me right back in"? Is that the quote? Is that from Scarface?
[00:10:33] Ioan Grillo: Godfather III, I believe.
[00:10:34] Jordan Harbinger: Godfather III, right, yeah. I always confuse these movies.
[00:10:37] Ioan Grillo: Yeah.
[00:10:38] Jordan Harbinger: So that's your story as well.
[00:10:39] Ioan Grillo: Yeah, yeah, yeah, I guess so, yeah. It's hard to try to get out, but yeah, I still cover it. It's still crazy. You know, it's still as crazy as ever. In some ways, some parts of it are more crazy or it's just like a level of madness. And at some point, this thing has to stop. This thing has to calm down, but it's going to be a few years before that happens.
[00:10:58] Jordan Harbinger: Okay, so man, where do I even begin? Paint us a picture of some of the things that you've seen down there. You've done a good job of this so far, but there's got to be a few things that have stuck with you over the years. Because some of the things in the book, I read Blood Gun Money and I enjoyed it. It's an audiobook, right? So, you just pause and you just sit down wherever you are and you just kind of like take a couple of deep breaths because what you're hearing is so graphic and horrible that as a parent, you're almost sad that your kids are living in the same world as this kind of evil. I know that sounds dramatic, but it's so bad. It's so bad.
[00:11:33] Ioan Grillo: Yeah. Yeah, absolutely. Let me think of a couple of these things, a few moments of what I've seen. So one, that's not so bad — first of all, more than a couple that are really bad.
[00:11:43] Jordan Harbinger: Sure.
[00:11:43] Ioan Grillo: So one is this kind of the music scene, which somehow I've been working on more recently. So I just come back and I was filming in a graveyard in the middle of the countryside. It's countryside and it very much becomes, I guess, bandit country. On one trip there where we were stuck in the mud and then a van came behind us or an SUV came behind us and they were all guys with camo, AK-47s. And then they're the guys running this area. And then I realized, I said, "Oh, sorry, we're in your way." And then they tried to get past us. They got stuck as well. And then I started laughing, "So sorry about this, you know?" And they said, "Oh, you know, don't worry." And they got on the radio and called a pickup truck to tow us out of the mud.
[00:12:27] Jordan Harbinger: Huh.
[00:12:27] Ioan Grillo: And they were like young guys. And the funny thing is on the ground, they could suddenly be kind of friendly. And when we were filming there, we were filming this thing in this graveyard, it was the anniversary of the death of this one particular singer who was there. They were playing the songs of this singer. The local boss of this area came and he said, "Oh yeah, you're fine here. You're fine here. Just don't worry about it." And there is kind of people with guns around. A lot of people taking lines of cocaine, a lot of cheap, cheap cocaine you get in these places, taking cocaine off, you know, off the off grabbing keys and buying these different types of cocaine sold locally and getting drunk. And this music about this culture, about these cartels and the drug bosses, the top-level guys will commission their songs by these musicians to sing about their exploits. So one of the singers we interviewed was part of this. He said to me, "Oh yeah, El Mencho," who's one of his very, very famous, wanted cartel bosses.
[00:13:23] Jordan Harbinger: He's like El Chapo's—
[00:13:24] Ioan Grillo: I mean, yeah, he's up there on that same level with El Chapo, El Mencho and El Mayo, these very, very big top-level bosses.
[00:13:31] Jordan Harbinger: Oh, El Mayo. That was the guy I was thinking of, yeah.
[00:13:33] Ioan Grillo: And, El Mecho contacted this singer through an envoy and said to him, "How much do you charge to write a song about me?" It's kind of a hard thing. Because you get contacted, you can't really say no.
[00:13:43] Jordan Harbinger: Right.
[00:13:43] Ioan Grillo: But you know, it doesn't necessarily want it, but he said, "Okay, I'll get $40,000 to write a song about you." Then El Mencho got back to him and said, "I'll take two of those."
[00:13:51] Jordan Harbinger: Oh yeah.
[00:13:52] Ioan Grillo: "One for me. And one for one of my top gunmen." And he wrote the song, played me the song. He'd done it, it wasn't out on social media and stuff. A lot of these songs, you see songs about big, big traffickers and you can see them on YouTube about big names with millions and millions of views. But this was just out there. So that's one thing about the Narco culture.
[00:14:13] Jordan Harbinger: It's like branding. It's almost like how McDonald's gets Justin Timberlake to do the "ta-da-da-da-dah." They're like, "No, no. I want like a cool gangster rap with mariachi music behind it—"
[00:14:23] Ioan Grillo: Yeah.
[00:14:23] Jordan Harbinger: "—talking about how I killed all these rivals." It's a commissioned piece of art.
[00:14:28] Ioan Grillo: Yeah.
[00:14:28] Jordan Harbinger: That's so bizarre.
[00:14:29] Ioan Grillo: So more of that gangster culture in this city of Culiacán in Sinaloa, there's a graveyard called the Gardens of Humaya which is a graveyard that many Narcos have their graves there and the girlfriends and wives of Narcos. And I've been going there since 2008, gone there for, I guess, 13 years, 14 years. It's been growing in size and growing in size. The Narcos have these big, like mausoleums. Some of them have three levels and air conditioning, these kinds of crazy things. I went there more recently, just in the last month, and now it's more controlled. They don't people taking photographs or videos of it anymore. I used to just go in there, take photographs, videos, and be fine about it. Now, it's more controlled about this. They got it shielded off and they got people saying, "No, you can't film here."
[00:15:17] The ostentatious nature, it's a very interesting sign there. And this idea almost like a celebration of death in a way, but that they kind of made it, these people made it. So the idea of that people in this culture, they made it by getting a song about them. They made it by getting a massive, massive grave. They kind of made it in life. And it's this kind of part of the culture there.
[00:15:38] Jordan Harbinger: Maybe some people don't know that Sinaloa is to Narcos like Sicily is to the Mafia. Is that accurate?
[00:15:44] Ioan Grillo: That's right. I'll say that like, so Sinaloa was the place that the opium trade began going back to the early 20th century. Now, the interesting stories about that, which is actually Chinese immigrants to Mexico who began this. They grew in and sold it to Chinese immigrants in the United States.
[00:16:01] Jordan Harbinger: Really?
[00:16:02] Ioan Grillo: Yeah, Mexican Chinese, sending it to American Chinese was one of the beginnings of this cross-border drug trade. You know, one of the first cases on file is 1916. A group of Chinese Mexicans, were bribing a Mexican governor, even back then, driving around then in these big flash cars at the time. One called a Saxon Six if I remember, was some car at the time. That kind of ostentatious side of the Sinaloa culture. It is a very mad place, but it's a place with a lot of high energy, a place with a lot of these, you know, like the cultures so deep and this has just become very, very normal in these areas. And the Narco culture is very much, you know, that's the way people are. There's this word they use, they're called valentes, which could be literally translated as being like brave ones.
[00:16:47] Jordan Harbinger: Mm-hmm.
[00:16:47] Ioan Grillo: And I heard valente is used a lot about Narcos, but I think it means something a bit deeper than that. Valente is the kind of idea they have of a strong man, who's got no fear and stands up to defend his family, stands up to defend his honor. It might be standing up against the government, if it intervenes with him, or the Americans or whatever. And that idea of valente is kind of filled by Narcos. A lot of them, they can consider themselves by valentes, so that kind of fits and it's so ingrained in the culture there. It's so mixed in there.
[00:17:22] Jordan Harbinger: You're listening to The Jordan Harbinger Show with our guest Ioan Grillo. We'll be right back.
[00:17:27] This episode is sponsored in part by Better Help online therapy. Jen, I know you just signed up for Better Help. Why don't you tell us how that experience went?
[00:17:34] Jen Harbinger: So I'm going through some personal issues as a mom and talking with Jordan or my friends haven't really been helping.
[00:17:40] Jordan Harbinger: What do you mean it's not been helping?
[00:17:42] Jen Harbinger: So I downloaded the Better Help app, which has thousands of amazing five-star reviews. You should definitely check it out. It walks you through all these questions to help you match with a therapist. Like, are you religious? What expectations do you have of a therapist? Do you want them to help set goals, challenge your beliefs, explore your past, or just listen? And at the end, I put down that I prefer a therapist who has at least two kids so that they can relate to what I'm going through. I wasn't sure if they would even take that into account, but they actually literally matched me with a therapist within like 15 minutes. And she personally messaged me and she said she smiled when she saw my preference. And I booked a phone appointment within the next day. I was able to do a phone session because I prefer no video, but I could also text her at any time. I also love the journal feature. So you can add notes for your therapist to check out. She was amazing. I felt so much better having expressed myself and she also gave me a different perspective on my situation. That was really, really helpful. So I highly recommend Better Help. It was super smooth and really helpful for me.
[00:18:44] Jordan Harbinger: Our listeners get 10 percent off their first month at betterhelp.com/jordan. That's better-H-E-L-P.com/jordan. Thanks, Jen.
[00:18:52] This episode is sponsored in part by European Wax Center. You don't need a summer getaway to transport yourself. Book a smooth escape with the wax experts at European Wax Center. A fresh wax transports you to a smooth state of mind where you feel effortlessly confident. If you're headed somewhere fun and you want to look and feel good on your trip, make your way to your local European Wax Center beforehand. Their wax passes are a great deal. Jen always gets those, probably a little TMI there, but whatever. If you're new to waxing, rest assured they offer personalized consultations, so you can find the wax that works for you. And they have strict hygiene standards. So you will literally be in the best sanitized and glove-covered hands European Wax Center certified wax specialists are expertly trained in prepping, protecting, and pampering your skin, whether it be your back shoulders, legs, nose, or brows, or all the above, no judgment. The secret is their signature comfort wax. It's a proprietary blend of bees wax source from Europe and other skin soothing ingredients that allows them to remove hair easily for a virtually pain-free experience.
[00:19:43] Jen Harbinger: Book your smooth escape with the experts at European Wax Center. Make a reservation today, your first wax is free.
[00:19:49] Jordan Harbinger: If you're wondering how I managed to book all these amazing folks from the show, these authors, thinkers, and creators every single week, it's because of my network. And I'm teaching you how to build your network for free over at jordanharbinger.com/course. This course is about improving your networking and connection skills naturally and inspiring others to develop a personal and professional relationship with you. It'll make you a better networker, a better connector, and most importantly, a better thinker. That's all at jordanharbinger.com/course. And by the way, most of the guests on the show, they subscribe and contribute to that same course. Come join us, you'll be in smart company where you belong.
[00:20:23] Now back to Ioan Grillo.
[00:20:27] So is there a Chinatown area or like a Chinese area still at Sinaloa which was like descendants of—
[00:20:32] Ioan Grillo: Interestingly what happened was there was a wave of anti-Chinese racism in Mexico, in the 1920s and 1930s, which also some of the revolutionary generals encouraged and used. They used a lot of very extreme anti-Chinese violence, including the fact, that Pancho Villa was involved in a very big massacre of Chinese community in Mexico. And they were like loading these Chinese immigrants onto trains and taking them out and then taking over their businesses, a little amount of good businesses. So they took over their businesses, but also they took over the drug business.
[00:21:09] Jordan Harbinger: Geez.
[00:21:09] Ioan Grillo: So the Chinese community was kind of decimated.
[00:21:11] Jordan Harbinger: Yeah.
[00:21:12] Ioan Grillo: Now, there is a big Chinese community still in Mexicali, I think it's the biggest Chinese community in Mexico. Very good Chinese food there in Mexicali. And there's an interesting area there. There's an underground area in fact in Mexicali where some of the Chinese community at one point were living underground and built this whole—
[00:21:30] Jordan Harbinger: Literally underground.
[00:21:31] Ioan Grillo: Yeah, literally underground area, they built. And it's just very, very hot there as well. So it's kind of cooler underground.
[00:21:36] Jordan Harbinger: Wow.
[00:21:37] Ioan Grillo: So for that image of something which you see and is quite attractive, this very flamboyant Narco culture, but then I'll flip it and talk about something which is very, very bad side.
[00:21:47] Jordan Harbinger: Yeah.
[00:21:47] Ioan Grillo: So one of the worst days I saw in this, so it was just 2012 and I was here in Mexico City and I got a phone call from editor saying, "We got news of a big bunch of bodies have been found up near Monterrey. Can you get up there and cover it." So I said, "Sure." I ran to the airport, got in the first plane. And it was 49 bodies, which were all dumped on a road in a town called Cadereyta, just outside of Monterrey. Now, all 49 bodies were all decapitated, all had their hands cut off and their feet cut off.
[00:22:21] Jordan Harbinger: Why?
[00:22:21] Ioan Grillo: The idea of decapitation, you know, gets into a big thing of spreading terror, a terror tactic. The idea of confronting an enemy and trying to control a territory, so you do this by striking terror into them. The same way they've done since you go back to the Romans and the Romans are trying to conquer. You know, they kill rebels and hang up every mile. They've got another one hanging from a crucifix. You strike terror and do this is anti-insurgency tactics. The way you see this is trying to fight the insurgency in Guatemala. You see people will cut their heads off people in front of villages.
[00:22:52] So part of that is you've got like an army trying to control territory and they used terror to try and control it. Now, you initially had these like five decapitated heads and then it would go up, you know, you had like two and then five and then 12 and then 18. And then 49 was like, the escalation was the biggest number. After that, it kind of got like doing other stuff. It kind of hit a peak thing. So I've been covering this for years, these decapitated heads and arrived at scenes with decapitated heads, but this was 49. The thing about this is you dump 49 bodies. They got no faces. They got no fingerprints.
[00:23:23] Jordan Harbinger: Oh, I get it. Okay. I was wondering what the point was.
[00:23:26] Ioan Grillo: Very hard to identify them. So we go to this place and they brought them into the morgue in Monterrey. Now, I go into the morgue and there's this distinct of rotting flesh. It's a very distinct smell. And unfortunately, some of these scenes, or particularly arriving, sometimes when you find these graves, you start to learn and have this smell of like rotten human flesh and, uh, you know, horrific sight.
[00:23:48] And I went outside of the morgue and there was a woman outside and there was a bunch of people outside and they were like people trying to find their family members had gone missing. So, you know, I was interviewing them and I talked to this woman. I said, "What's your story?" "I'm trying to find my son." And she was a school teacher. I said, "Well, what happened to your son?" "So we were sitting at a home here in Monterrey—" It was about a year before this. They were sitting in their house. She was sitting there with two of her sons. One was 18. He was a philosophy student. One was 15 in high school, sitting there with two sons watching TV, you know, on an evening, suddenly the door is broken open. And about 15 guys storming into the house, and these guys were wearing bulletproof jackets, AK-47s, helmets, some of them in ski masks storming. And when you have these murder squads fighting around, they can just like, they're fighting different forces. They can just like ravage the local populations, just look for money, look for easy pickings.
[00:24:45] So they storm in the house start grabbing stuff and they get the family on the floor and they're about to go and they turn around and they say to the mama, "Which of the kids is the eldest?" And she's like too stunned to answer. "What are you saying? Which of these kids is the eldest? Why are you asking this question? she's like. And the eldest son doesn't want the youngest son taken so he says, "Yeah, I'm the oldest."
[00:25:06] Jordan Harbinger: Oh, man.
[00:25:07] Ioan Grillo: So the guys take him. "You come with us. Take him." Obviously, she's completely distraught, no sign. The next day she gets a phone call. "Okay, you deliver a bunch of money. We'll give your son back." You know, after that moment, she calls relatives, gets the money together, goes and drops it off at a certain place. Calls a number, no answer.
[00:25:24] Jordan Harbinger: Ah.
[00:25:24] Ioan Grillo: And a year later, she's arriving at the scene. Anytime, she's seen on the news, 49 bodies discovered, like, "Is my son among them?"
[00:25:31] Jordan Harbinger: Right.
[00:25:31] Ioan Grillo: Was he forcibly recruited? Because this happens sometimes. The people are grabbed and kidnapped and then they forcibly put these people, you know, into like themselves, give a gun and carrying out violence or doing different mission for them. Now, you know, what are you getting when you hear 200,000 doesn't mean much that number in a way of emotionally. But when you think of that story, the pain on that woman's face, and she was describing her life and her life was just destroyed. She couldn't work. She could go to being a teacher. She was just like, "I can't live anymore." And the worst thing about that forced disappearance, which is, basically, you've taken somebody, you've forcibly disappeared that person. It's just there's no closure. There's no knowing. Now, sometimes there's been cases of people, mostly women who have been really pushing for this, mostly the mothers and there's two cases I know where they pushed and pushed and searched, and finally identified the bodies of their children.
[00:26:23] Jordan Harbinger: Ugh.
[00:26:23] Ioan Grillo: One of them in Veracruz in a mass grave, which also went to this mass grave of about 297, remains 297 people in a mass grave.
[00:26:32] Jordan Harbinger: Wow.
[00:26:33] Ioan Grillo: Which was on the back of a housing area. Again, this stuff, seeing this is kind of crazy. It was in a cows field on the back of a housing area and the housing area was like kid's bikes and basketball hoops and this kind of ideal of building of a middle-class home, this kind of dream and down the back of that was this mass grave. Now, when they were uncovering the bodies, and in fact that was undiscovered because these mothers have been pushing to find where their lost children were, and then somebody gave them a map which showed this place.
[00:27:04] Jordan Harbinger: Sure. I mean, you can't bury 300 people without digging a huge assh*le next to a housing development. So people knew that that was there and they just didn't do anything.
[00:27:14] Ioan Grillo: It happened gradually. They were called dumping grounds. So the people would see like vehicles sometimes with police.
[00:27:20] Jordan Harbinger: Uh-huh.
[00:27:20] Ioan Grillo: And this is a horrific idea of police corruption or police when the police are completely involved in this thing. You know, they're part of the mob.
[00:27:26] Jordan Harbinger: Right.
[00:27:26] Ioan Grillo: And it's not just police turning up blind eyes, often police being active members to these organizations, but then when they were uncovering these pits and that same stink I've described that distinct smell of human flesh was reeking into this housing area. And they made a formal complaint saying, "We're complaining about this because we're trying to live here and we've got this smell coming in." And those kinds of details, I guess, are some of the staff, which sticks with me of seeing what this conflict has been, how it really hurt regular people. So that glamorous side on one that I can get it and I can enjoy Narcos and I can see that glamorous side, but it's that human catastrophe.
[00:28:07] And this is true. At one time, somebody was pitching a film idea on my first book. And he was saying it's kind of Scarface versus meets The Killing Fields. And it's kind of true in some ways, kind of Scarface and Killing Fields, it's kind of a true description of this.
[00:28:22] Jordan Harbinger: Have you been to the killing fields.
[00:28:23] Ioan Grillo: In Cambodia? I haven't, no.
[00:28:24] Jordan Harbinger: I can't compare it because I haven't seen a mass grave in Mexico, but back when I went, you could walk around and they told me, "Oh, don't go today because it's raining." And I was like, "Well, it's going to rain tomorrow." And they're like, "Oh, just don't go at all. It's awful." So I was like, "Well, I'm just going to go." And it stopped raining and I thought, great. It stopped raining, not a big deal. You know, I'll bring an umbrella. Well, it had been raining for a couple of days, just drizzle. And when I got there, they were like, "Oh, be careful. It's really muddy. You can slip and fall." And I wouldn't go back all the way around because there's still these sort of low pit areas. And, you know, it's slippery back there. And you know, I was young. I was like, "I don't care. I'm going to go back there." So I walked all the way around and they have these giants, I guess they're like wats. They're like these buildings, these sort of temples. And they're filled to the brim with skulls. There's thousands of skulls in there.
[00:29:12] I have to Google this, but I guess maybe they found the bodies in the pits and then they put them to rest in the skulls after the fact. And that those were not there when they were the killing fields, but there's these pits. And I was walking and I saw like bits of fabrics sticking out of the ground. And I bent down to look at it and I realized, this is someone's clothing. They're still there. I'm walking on top of where this person is buried and this is like a shirt or something that's sticking out of the ground all these years later. And as I sort of wrap my mind around that, I see this sort of U shape in the mud and I look closer at the U shape, because why would there be a U or like a little horseshoe, like a tiny horseshoe? And I realized it was someone's lower jaw with teeth still in it poking out of the wet ground. It's not like a museum. Really, they have a little bit of that in the front, but it's just still, almost like there's still people's body parts poking out of the ground. It's horrible.
[00:30:04] Ioan Grillo: I guess what are the differences between, I mean, these are episodes of mass violence, but the level obviously is a lot higher in Cambodia and the killing fields. So I think that was something like a third of the population were killed in the Cambodian genocide. You know, we're talking about millions of people. And Mexico has been about 200,000 plus murdered in the last 15, 16 years because of this particular conflict. Other people have been murdered for other reasons in the country at the same time, obviously. And a lot of those, I mean, the buried bodies or some of them or a smaller percentage, there's more people just killed on the streets. There's a lot of shootouts, a lot of execution-style hits. It's still a low intensity if you call it a conflict. And I do think it is kind of a form of armed conflict or some form of organized mass violence. It's still low intensity compared to something like Ukraine.
[00:30:51] A lot of the time, these assassins, picking people off. So, you know, I've gone around covering the violence, you know, arriving at crime scenes where I've been used to be with scanners, used to be driving around with the scanners, basically, the police radio. Nowadays, there's almost a lot time contact with police or you know, Twitter groups and that kind of thing sometimes giving you inform. But I'm like driving around to these crime scenes, driving around and these fresh bodies is often — the execution-style hit, they call it. [Emboscada] they call it Spanish, they ambush, just like that. There's a lot of deaths in that way.
[00:31:23] Jordan Harbinger: You hear about officials getting shot literally hours after giving a speech about corruption, for example. You're covering this, you're writing about it. Are you not worried about them coming after you at all?
[00:31:32] Ioan Grillo: I mean, anybody covering this has, obviously, fear, and anybody who has been doing this, when you're around a lot of violence, around lot of violent people. Like, what if I upset them? So there's obviously a fear in anybody covering this. Now in Mexico, there's been more than 150. Now, it's more than 160 journalists who have been murder in the time that I've been here. The vast majority have been people who are born and bred here from Mexico. Now, that's not to say I'm in some way, immune to this, but often it is people who are from these small towns or these cities where the cartel is strongest, where the violence is happening, and people who live in these areas. So even being, living in Mexico City gives a certain level of protection.
[00:32:16] You know, Mexico is a big country and has many different situations. Mexico City is very different than it is when you're in Culiacán, Sinaloa when you're in Veracruz when you're in Reynosa, Tamaulipas. When you're in those areas and when I'm in those areas, it's often very scary. That you can encounter these cartel figures and you know what it's like, they're right there. And then, you know, for people who live there, they're right there. You can go to the cinema, you go to the supermarket, these guys are there. You see these same guys. They know where you live. You're very, very close to them. Anything you do, they could kill you very easily.
[00:32:45] When you go there for reporting and come back to Mexico City that provides a certain distance there. At the same time, I don't feel at all immune. There's certainly been various incidents that have happened over the years. There's been some scary moments. There's been some threats that I've received, but also I work with two journalists specifically who have been murdered. One in the state of Michoacán who disappeared. And one in Culiacán, Sinaloa, who was a friend, Javier Valdez, a very prolific journalist. He wrote eight books. He was a great columnist for his local newspaper, a very generous guy.
[00:33:22] The first time I met him was in 2008 when I was up in Sinaloa and I got his number from a friend and I called him up and found him. He said, "Oh yeah, come meet me in this cantina." And I walked to the cantina and he was sitting there at a table by himself with a glass and a bottle of whiskey — we got hammered, you know, really, really funny stories, a very charismatic, generous guy. And then he was murdered in 2017, just outside of his office. He was shot 12 times. And so I've seen a lot of this death around and known or interviewed or had interactions with probably more than 20 people who have been killed—
[00:34:01] Jordan Harbinger: Ugh.
[00:34:01] Ioan Grillo: You know, for different things and continues to be the case.
[00:34:03] Jordan Harbinger: A friend of mine runs, I know it's an Instagram account. There's probably also like a blog. She runs a blog called, I think it's DEMOLER is the name. I'm probably butchering the pronunciation, but she's a fan of the show. She's a journalist down in Mexico. She posts everything anonymously because her beat is Narco trafficking and she just knows they would come after her in a heartbeat. You probably know her, but you probably know her real name or you know who she is because I don't know how many journalists there are that are probably keeping a high, have a high profile like she does, but are also trying to post anonymously to stay safe.
[00:34:36] Ioan Grillo: I'll look it up. I'm probably missing the pronunciation, but yeah, I mean, there's been various anonymous things as well. And some of the people who are living in these areas have, you know, there's been certain blogs that have been done to people. Some of the local newspapers saying normally with the newspaper thereafter the various attacks, saying, "We're not going to cover crime anymore. We're not going to cover it."
[00:34:57] Jordan Harbinger: Yeah.
[00:34:58] Ioan Grillo: "We can cover the social events. We can cover what the mayor's doing about building a new school. We can't cover crime." So you had this filling in the gap, these like anonymous writers, like the ones you're saying, who were like giving information. Now, there's also been murders of some of the alleged anonymous writers. Now, are they the real ones or not? You know, did they really find out from somebody or from some technology or find out who it was and murder them or did they murder somebody else and claim it was them and you had the fear anyway?
[00:35:26] Jordan Harbinger: Sure.
[00:35:27] Ioan Grillo: But even people then were scared about writing anonymously and what could happen.
[00:35:30] Jordan Harbinger: Tell me about some of these Sicario kids you meet down in South America because it's so sad, they're damaged in their full of hate and also they're extremely dangerous.
[00:35:40] Ioan Grillo: Yeah. So I spent a lot of time over the last 20 years interviewing killers, as well as interviewing traffickers and some of the high-level bosses. You find different types of people, but I definitely see different personality types around some of the different functions. So when we talk about the Sicarios, the hit men, the murderers, the muscle, and you see people who have nerves and not anybody at that moment can pull out a gun and shoot somebody and do it again, again, again. Not many can do that, certain people can.
[00:36:11] Now, also, it's often people who are prepared to do that who have hate inside them, who have had a bad childhood, a bad experience. And afterwards they feel well, going to kill people and don't care. So, you know, I have one interview with another kind of head of Sicarios in a group with Barrio Azteca, which is a cross-border group based in Texas and Ciudad Juárez, Mexico particularly. And he was describing how they recruit these young Sicarios and they deliberately look for kids, who's among these kids, people who are, we can tell they've got the hate. They're angry, they're barbaric. You know, we don't want somebody who's got a nice home life stuff. We want somebody who's been damaged, a profile who go through in blood, gun, money.
[00:36:54] There was one particular down in Honduras, south of Mexico. There was a guy, whose nickname was Fresa, meaning strawberry. I was doing some other work and I met him and he was kind of helping take care of a journalist down there. He was an old friend of his from school and he was kind of hanging around with him, armed because some other guys were after his journalist. And then I went back and I sort looked for Sicarios. And this guy mentioned, "Oh, you talked to Fresa." I actually already gone out here. I've gone out drinking at a club with him. And he was a good company. And I knew he was kind of involved in stuff. I didn't know how deep. I said, "Oh, I didn't know he was like this." He said, "No, no, he's kind of got up bit in the ranks there. You should interview him."
[00:37:31] So we went and sat down for an interview with him. He actually survived a shooting as well. He had a bunch of big bullet holes in his belly. He described how when he was a kid he'd been abandoned by his parents. So his mom and dad basically left him with nothing on the street. And he said he just had this hate about why they left him. "Why do my parents leave me? Why did they do that? Why do I suffer? Why do other people not suffer?" He said that this drove him a lot. Now, sometimes I interview people and I think this guy's a psychopath. You know, this guy just doesn't care.
[00:38:03] Jordan Harbinger: Yeah.
[00:38:04] Ioan Grillo: But this guy Fresa, he was not like that. He was someone, I think, who did care, but he had like very, very troubled time. He was on the street and he was surviving and they had another kid when he was 13, I believe 13 years old, around that age, another kid said, "I know we can get some money. There's a house with some money there. Let's go and rob it." So a bunch of these kids went and robbed this house, went to rob this house. And actually, there was a family there. It was a kind of adopted family and they butchered the family, the parents and the kids. And the reason actually was the kid himself who used to live in this house and had been abused there and wanted revenge on the whole lot.
[00:38:41] And he described when they butchered this family, and he was like, "I was like gulping." I could feel him the way he was describing this. And even the way they were doing this, they were kids, but they were like isolating them one by one and killing them, saying like, you know, you hold them and taking them out one by one and killing them now. Obviously, you know, how do you come back from that? And then he was recruited.
[00:39:00] Jordan Harbinger: Yeah.
[00:39:00] Ioan Grillo: And then he carried out a professional hit. He went on a bus, shot somebody. The blood kind of got over him and it's nothing. That's the first case when he could get too close. And then he became a pretty hard and professional hitman and killed a bunch of people, killed a lot of people. And he described also where he got contracts to decapitate people. He was asked before about decapitation.
[00:39:20] Jordan Harbinger: So they specifically request that because it's like, you know, an extra insult to the injury.
[00:39:25] Ioan Grillo: Yeah. And they wanted it on video so that they wanted to see if you've carried this out.
[00:39:29] Jordan Harbinger: Wow.
[00:39:29] Ioan Grillo: And often it was, you know, treachery, that kind of thing. Someone was just so fury, "That guy betrayed me. I'm going to get him back." And he described the moment where they cut their head off, these victims, where you'd have victims who were there and how they would kind of be reacting when you kind of got the machete out. And then when they cut their head off and the body would still be kind of be nerves and still be kind of moving.
[00:39:53] Now, it was one of the most brutal interviews I've ever done, and it was more painful because I had spent time with him and he wasn't that evil guy you could imagine in all sense. And he had his own children and he was like, "I want to try and give them a life I didn't have." And he was kind of living in a middle-class house relatively in Honduras. And then we got to about a year after that I got a phone call from Honduras. They killed Fresa. They shot him dead. He was killed, kind of lived by the gun, die by the gun. But one of the interesting things I asked him, "What are your religious beliefs?" And he said like, "I've kind of been to church. I've been to different churches, but I don't know if there's any redemption for the things I've done." And he kind of felt that himself as well.
[00:40:38] Within this violence and this cycle of violence, you do see this kind of both victims and victimizers, this kind of endless roles there. You know, how do you break out of this cycle? And it's not excusing the horrific thing some of these people do, and some of them, you know, these people need to be in prison or need to be taken out of circulation.
[00:40:54] Jordan Harbinger: Yeah.
[00:40:55] Ioan Grillo: They should not be on the streets, but you know, you have to break out and try and stop the next generation. Because as we speak, I mean there's — and I said this, it's sad to say. I remember talking about these, having these conversations 10 years ago, you know, like now we're in what? 2022, like going back, my first book came out 2011, having these conversations then, say in 10 years time, will it be any better? It's not. The kids when I first was covering in 2004, you know, they were like babies then, and now they're full-grown killers. So how do you try and break the cycle and work with the new generation coming through?
[00:41:30] Jordan Harbinger: This is The Jordan Harbinger Show with our guest Ioan Grillo. We'll be right back.
[00:41:34] This episode is sponsored in part by IPVanish. You know how I had my browser history from my wife? Well, she knows how to get to the browser history. So incognito mode doesn't do anything for me. If you think you're protected from hackers and prying eyes and significant others, think again. If you want to stay truly private and secure on the Internet, you really need to get a VPN. IPVanish is a VPN service that helps you safely browse the Internet by encrypting a hundred percent of your data. So any private details, passwords, communications, shady-ish you'd be doing online will be completely shielded from falling into the wrong hands. IPVanish makes you virtually invisible online, and it's simple to use. I need the real-life version of IPVanish for when you're looking for me to change a poopy diaper.
[00:42:13] Jen Harbinger: LOL.
[00:42:14] Jordan Harbinger: Yeah. At coffee shops, airports, even at home, I always use IPVanish, just tap a button and you're instantly protected. You won't even know it's on.
[00:42:21] Jen Harbinger: Stop sharing with the world everything you stream, everything you search for, and everything you buy. Take your privacy back today with a brand rated 4.6 out of five on Trustpilot. Get 70 percent off their yearly plan, which is basically nine months free 30-day money-back guarantee. So go to ipvanish.com/jordan and use promo code JORDAN and claim your 70 percent savings. That's I-P-V-A-N-I-S-H.com/jordan.
[00:42:47] Jordan Harbinger: I need poopy vanish. That's what I need.
[00:42:49] This episode is sponsored in part by apartments.com. A lot of us are doing that thing now, we've all been in our places a lot recently. So we're doing that thing where you look around, you imagine what you really want your home to be, like having a balcony, to have your own outdoor space, maybe an extra closet, or you might want room for an actual home office. The cool thing is that there's a thing for that, apartments.com. They've already helped millions of renters find their perfect place to live with powerful search tools and 3D virtual tours to narrow down exactly what you want. apartments.com is just the thing to get you into the space you keep imagining. Visit apartments.com the place to find a place.
[00:43:23] Thank you so much for listening to and supporting the show. It's your support of the sponsors of the show that helps keep the wheels turning in here. All those links and discount codes that are all in one place, a very searchable place, jordanharbinger.com/deals. That has all of the discounts. There's a search function there now. It works on your phone. You can also search for the sponsors using the search box on the homepage of the website as well. So please consider supporting those who support this show.
[00:43:47] Now for the rest of part one with Ioan Grillo.
[00:43:52] It's scary to think we live in a world with this sort of unchecked evil and these kids, they're not making tons of money to kill people. Life is really cheap, right? I mean, it's not high ticket item.
[00:44:02] Ioan Grillo: Yeah. I mean it varies and you have this — I mean, it used to be higher to kill people and then you still get some professional killers who command decent amounts of money, but they still tend to live, you know what, I've seen some of these killers, they go through becoming killers and then they actually become the top guys in the organization. They're around power. They get closer to power. They start investing in drug deals. They start becoming more heads of the organization. Now, they run the organizations very violently because they've come through as being hitmen. So their first recourse is murder. But other times you see some of these hit men who kind of attain like a middle-class lifestyle, but they're from these very poor neighborhoods. And sometimes, you see people who are carrying out murders for $50.
[00:44:44] Jordan Harbinger: I mean, at that price, literally, no one is safe. You're only kept safe by the idea that most people don't have the guts if you can even call it that to have their ex-girlfriend murdered for some reason, or their former business partner shot, because they're still pissed off about something from five years ago. You know what I mean? Like 50 bucks, you know, it's no longer the cost. And I think, what? 90 percent of murders go unsolved in Mexico. So it's not even fear of getting caught. It's just, "Can I sleep at night if I do this?" Or maybe I don't know any hitman and I don't run in those circles. Like, that's the only thing, keeping this from being the way that everybody settles everything, seemingly.
[00:45:23] Ioan Grillo: Yeah. Yeah. I mean, you wanted to get to any sort of any natural limits. The organized crime fighter does spill down to regular things of society. So there's like one guy I interviewed who was selling guns. He was a former military guy who started selling guns when he was in the military. He was actually selling the guns the military would seize.
[00:45:40] Jordan Harbinger: Oh wow.
[00:45:41] Ioan Grillo: So the military would seize a big stash of guns and they'd be like a deal like, "Okay, you sell these off in the streets." And then, it ended in a big network. The military was a good place to have a big network because you sit in a barracks and you've got like one guy from Guerrero, one guy from Veracruz, one guy from Chiapas, like, who wants to take guns back to their own places. Then he left the military. He was still selling guns at a trickle, but he was also carrying out some hits, but it comes and starts to be like, what you say, like not just organized crime hits, but like regular vengeance for jealousy or that kind of thing.
[00:46:12] And I look at organized crime as having two main areas. One of the areas of organized crime is providing services that the legal market won't provide. So it can be drugs. It can be prostitution, it can be gambling in different places. Another side of organized crime is getting money, kidnapping, extortion, armed robbery, just taking money. For a society, I think providing services is less damaging. It's when you get very, very heavy extortion and kidnapping that it starts to really have a downward spiral. The drug market is a bit of a two-edged sword because it provides money, but it also brings in violence and corruption.
[00:46:53] When you talk about professional killers for hire, it's weird because it's taking but it's also providing a service. Now, when you have a dysfunctional justice system like in Mexico, and that's another thing that organized crime steps into and part of understanding how these cartels have got so big and how the death count is so bad is to understand this is not only about drugs. These are some quite fundamental issues about society, about what these cartels have got into. But another example of that is you had these — remember in Michoacán, state of Michoacán, very, very big organized crime there. And the mafia, the cartel there would also provide a debt-collecting service. If somebody owes you money, they'll collect the debt and they'll take a third for themselves. Okay, if this guy owes you $10,000, we'll get it for you and we'll take 3,300. Now in a country where you've got a dysfunctional justice system, it's very hard to get it back to the courts, that's quite an attractive prospect. So you get this kind of weird thing of these cartels filling certain functions that the state is failing to do.
[00:47:56] Jordan Harbinger: I've heard that the problem with taking out some of these drug kingpins, so the bosses, is that when their lieutenants take over, they fight over the territory and they fight over the business and that increases violence. Because a lot of the guys that are fighting over territory, if they're not the boss, boss, right? They're not as well connected. They're not as well respected. Maybe they're not as smart or educated or well versed in the business, so like you said before, maybe they don't know how to solve problems or run the business effectively. And it creates conflict, which then increases violence.
[00:48:24] And we had an episode about kidnap insurance, episode 651 with Anja Shortland. And she explained that in criminal enterprises, like let's say Somali hijack, kidnapped boats for ransom, that kind of thing, you actually want some level of stability. You want big gangs. You want consistent people in charge. You want them handling things because they self-regulate in a way they're more stable. So they set up and enforce rules so that things don't get out of control. Kind of like, for people who watch Narcos, you sort of are living it, but for people who watch Narcos, it's like no fighting between Plaza Tijuana and Plaza Juárez because you're just wasting resources and money, like focus on the business. Whereas if that central control doesn't exist, that central power doesn't exist, those guys are like, "Well, I want to take over your plaza and you want to take over our," so they've spent all this time killing each other. And the kidnapping analogy is, look, they kidnap somebody, but maybe they don't torture the hostage because then the military gets called and everyone ends up dead instead of getting paid.
[00:49:20] But when newbies or idiots are getting into the game, they do stupid crap. And to cement their power and their reputation, it's bad for business. And obviously, it's bad for anybody around the business. And in Mexico's case, correct me if I'm wrong, but it's better to be around a bunch of Narcos moving cocaine than around a bunch of Narcos shooting at each other with truck mounted .50 caliber machine guns in the middle of downtown Juárez or wherever.
[00:49:42] Ioan Grillo: Yeah. So that thing about the structure of organized crime, you've got very sh*tty options here in terms of what the government, what the society can do about this. You're very right. Sometimes when you have a powerful stable organization, the murder count will go down. One example of this is São Paulo in Brazil. They've got a very powerful mafia there called the PCC, the First Command of the Capital, and they reduce the murder rate very deliberately. They say like, "You can't murder unless we give you permission to murder. Otherwise, we're going to punish you." And the murder rate goes down, but you've got an extremely powerful, organized crime force, which if they don't get what they want, and this happened, they suddenly rose up and blocked the entire city and started burning down banks and buses and making hell for the government. So you've got a very, very powerful mafia in control.
[00:50:30] So similar to that, I would say in Culiacán, Sinaloa right now. In this capital city of Culiacán, you've got a very powerful mafia there and the sons of El Chapo, the Chapitos. They've got a very powerful grip on that city. They also fronted the government in 2019, when one of them was arrested. The government had backed off and released them. They had 700 to 800 gunmen on the street. They got incredibly powerful, control of that city. But the murder rate in Culiacán has gone down compared to some of the years in the past when there was more fighting.
[00:51:00] On the flip side, you have situations where you have states where you've broken down, you know, you've gone after the boss and then you end up with the fragment of the fragment of the fragment. So one of the very powerful leaders in Mexico, Arturo Beltrán Leyva, he was killed in Cuernavaca in 2009. He had a big empire, which spread through Morelos to Guerrero, a lot of states in Southern Mexico. Arturo was taken down. They started breaking off. You got the fragments, the fragments. So suddenly you got these people, these little groups that control small areas of the countryside, controlled heroin there. And they're really, really violent. And they're very young, crazy people. There's one of them called El _____ one guy in his 20s with hundreds of teenagers with AK-47s. They held down, they had a bunch of journalists and took all their stuff. Another group that was called the Guerreros Unidos was the ones involved in likely in the kidnapping and disappearance of 43 student teachers.
[00:51:57] Jordan Harbinger: Why student teachers? I heard about that and I'm like, they're just teachers. Why do that?
[00:52:03] Ioan Grillo: It's a crazy case, a very, very sad case. And there's a lot of very heated case in Mexico. My own analysis of that, going deeply into that, trying to understand it and I could be wrong, but I looked quite hard at what we do know and talked to a lot of survivors and tried to make sense of this was that it was an escalating situation that happened. And really, it comes down to this issue of you had this kind of Narco state where you had local authorities, totally mixed up with the cartel and the police and the cartel intertwined, the mayor and all of them. And there was an escalating situation that ended up with both the mayor being angry and the mayor's wife being angry about a bunch of out-of-town student teachers causing trouble when she was giving a speech in the town, combined with a bunch of these kids taking a bus, and they were using these buses to transport heroin, and then the confrontation kind of escalated. And these, this kind of escalated in some ways themselves, assassins themselves started firing at the kids. So suddenly other people around town going to the shooting happening. So it's kind of escalating themselves, the attackers. And then suddenly, these orders, coming and these kinds of command instructions saying, just take them and then, you know, ending up with this extermination.
[00:53:18] Jordan Harbinger: It's just so horrible. Just killing 42 students, 42, right? Student teachers.
[00:53:23] Ioan Grillo: 43, yeah.
[00:53:24] Jordan Harbinger: It's just like for no, I mean, these are not violent people. They're not mixed up in the cartel. It's just really, they're just—
[00:53:29] Ioan Grillo: Yeah.
[00:53:29] Jordan Harbinger: They're just trying to be teachers, un-freaking-believable,
[00:53:32] Ioan Grillo: I guess when you create these killing machines and where that happened, I mean, there'd been a series of — you know, we look at these mass graves. One of the bit first big mass graves was in a mine in Taxco where loads of bodies dumped in this silver mine. And when you start creating these killing machines and so you have this escalation of the cartels, the state, or elements of the state being taken over by these cartels. So they're running and working with elements of police forces and governments, and then they're fighting to control territory. And then, it becomes like, you know, we've got to exterminate anybody working with other cartels. They get used to like massacring 50 people here, a hundred people there, laying mass graves. So it becomes routine for them. And then suddenly, you've got a bunch of student teachers running into this and they can take them as well.
[00:54:17] Jordan Harbinger: I know that policemen get murdered in Mexico all the time. And which is, I guess it makes sense, especially if they're mixed up with the cartels. A lot of that just seems like some are mixed in with cartels and are part of a rival gang. And also if you're well armed, you could probably just take on the police if they try and stop you from doing anything. But it was something along — I think you wrote this first three months of 2019, 1 policeman murdered per day in Mexico, which is 15, 16 times higher than the United States average.
[00:54:45] Ioan Grillo: Yeah, a lot of the time the cops can be bad cops who are being murdered.
[00:54:49] Jordan Harbinger: Mm-hmm.
[00:54:49] Ioan Grillo: So they're working with one particular cartel, the other cartel takes them out. Or they can be working with a cartel, they can take some money from a cartel, and then they don't deliver. So the cartel was like, "All right, you didn't deliver. I paid you that money and then how come my safe house got busted? That's your fault. I'm going to take you out now." Or it can be because you've got a good cop or a cop is not mixed up and they're in the way. And they're like, "We're going to take you out. We're going to put pressure." Also, you see some of the cartels having a logic and there's an academic called Ben Lessing who created a term for this called violent lobbying.
[00:55:22] He divided these attacks on two categories. He said violent corruption, which is what we are describing, violent lobbying, where you have a cartel who wants to pressure the government. So the government say trying to have a big offensive in a certain area and it's taking out its safe houses, taking out its drugs, taking out its people. So they say, "Okay, we're going to start killing police officers or killing civilians until you back off. So we're going to use violence,' and unfortunately, it works. You know, you see this working all time in Mexico and other countries in Brazil using violence against a government that's violent but weak in some ways. Now, I guess the Mexican government or state operated is kind of violent, corrupt, but also quote weak in some aspects as well.
[00:56:04] Jordan Harbinger: The level of violence there is it comparable to medieval Europe? I mean, it just seems like people are just killing each other on impulse almost. It's like, I expect people to settle things with a dual, like a gun dual outside of a bar. I mean, I know that's not everybody, but it just seems like the wild west but worse somehow.
[00:56:25] Ioan Grillo: Yeah. So comparable to medieval Europe, if you look at medieval Europe and say medieval England, you had about 20 murders for hundred thousand. Now in all of Mexico right now, you've got higher than that. You've got about 25, but in certain areas, you've got many times higher than that. Certain states you've got over a hundred.
[00:56:44] Jordan Harbinger: Wow.
[00:56:45] Ioan Grillo: So like five times higher than medieval Europe now, whereas in medieval Europe, if you look at the murder weapons there, you had like daggers and swords and stuff, the big majority of Mexico are gunshots. But like I would say, what's really drives the higher murder rates is not the killing on impulse, it's more like the big machines of murder. It's more big reasons. I think maybe if there wasn't like the organized crime, just people like suddenly get pissed off with somebody and then resort to violence and kill somebody, that wouldn't be as high as it is in parts of Mexico right now.
[00:57:19] In some cases, you have two cartels clashing to control the territory. So you've got all of the resources in that territory, which is not only drugs, but drugs are still a lot of money in drugs. So you've got like taking drugs to Americans, heroin, fentanyl, crystal meth, cocaine, and even marijuana. Still, no elements of marijuana, huge amounts of money there. Selling the drugs locally in that area, a bunch of money there, but it also can be stealing oil from the government pipelines, shakedowns of businesses. It can be mining, basically shaking down gold mines, copper mining, prostitution, human smuggling. If you're controlling a territory, that's on the border with the United States. Then these days people are paying up to $10,000 to these human smugglers to go to the United States. And the human smugglers either are working directly for the cartel or just paying off some money for the cartel. So the cartel is owning a piece of that.
[00:58:17] Sometimes you have two big organizations clashing to fight for territory, and that's something when you get these really, really big body counts or another reason to get really big body counts when you have one organization, there's a big civil war in that organization. They know where they live. Like suddenly, they're in one place. "We know where you live. Who you with? Are you with that guy or that guy?" And so as often, these are the reasons why you get these really high body counts. If you look at the worst murder rates in Mexico right now, states of Zacatecas, you look at the city of Tijuana where these rival organizations fighting for control of these states.
[00:58:52] Jordan Harbinger: If you're looking for another episode of The Jordan Harbinger Show to sink your teeth into here's a trailer for another episode that I think you might enjoy.
[00:59:02] Tell me about the neighborhood where you grew up.
[00:59:03] Freeway Rick Ross: South Central, Los Angeles.
[00:59:05] Jordan Harbinger: Yeah.
[00:59:05] Freeway Rick Ross: Well, most people played a game, Grand Theft Auto—
[00:59:08] Jordan Harbinger: Yes.
[00:59:09] Freeway Rick Ross: So I'm sitting on the porch and I don't know what I'm going to do and my partner calls me and he is like, "Man, I got the new thing." And it was cocaine. Cocaine was really, really expensive then.
[00:59:18] Jordan Harbinger: Yeah.
[00:59:19] Freeway Rick Ross: You know, a gram of cocaine back then was like $375.
[00:59:22] Jordan Harbinger: Wow. So it was dozens of times more expensive back then than it is now.
[00:59:26] Freeway Rick Ross: Like 300 times.
[00:59:28] Jordan Harbinger: Wow. And it's also the most expensive thing that you can fit in your hand that costs that much money, probably, maybe a watch.
[00:59:33] Freeway Rick Ross: Yeah, absolutely. At that time, they say cocaine was more expensive than gold.
[00:59:37] Jordan Harbinger: How much money are we talking about here?
[00:59:39] Freeway Rick Ross: I probably was making about 55,000 off of a kilo.
[00:59:43] Jordan Harbinger: I think you made up around a billion dollars in the '80s in LA. That's what I heard in the documentary.
[00:59:48] Freeway Rick Ross: For two years, I probably made like 600 million dollars, not profit for me, but money that went through my hands. Before I started making a million every day, I was making 500 every day, before making 500, we made 400. Before making four, we made two. Before making two, we made a hundred.
[01:00:04] Jordan Harbinger: So you scaled up to a million dollars a day.
[01:00:06] Freeway Rick Ross: Yeah. Yeah. I had days that I went through three million dollars in one day.
[01:00:10] Jordan Harbinger: How are you even counting that much money?
[01:00:12] Freeway Rick Ross: Oh, you have money counters.
[01:00:14] Jordan Harbinger: Yeah.
[01:00:14] Freeway Rick Ross: And you have a team of girls. They sit there and they count money all day. You know, you have a house and this house would have like a slot in the door and people would just come in and drop duffle bags through the door. So I wanted to know what was the difference between real business and the cocaine business.
[01:00:31] Jordan Harbinger: And what did you find?
[01:00:32] Freeway Rick Ross: There's none.
[01:00:34] Jordan Harbinger: For more of Freeway Rick's story as one of the biggest drug dealers of all time, including his ties to the CIA, check out episode 121 of The Jordan Harbinger Show.
[01:00:45] That's it for part one, stay tuned for part two, mostly on gun trafficking as well. Our conversation will continue right here in a few days. Links to all things Ioan will be in the website in the show notes at jordanharbinger.com. Books are always at jordanharbinger.com/books. Please use our website links if you buy the books from guests. It does help support the show. Transcripts are in the show notes. Videos are up on YouTube. Advertisers, deals, and discount codes are all at jordanharbinger.com/deals. Please consider supporting those who support this show. I'm at @JordanHarbinger on Twitter and Instagram. You can also connect with me on LinkedIn.
[01:01:20] Our free course using software, systems, and tiny habits to network and create connections is our Six-Minute Networking course. It's free. It's over at jordanharbinger.com/course. I'm teaching you how to dig the well before you get thirsty. And most of the guests on the show, they subscribe to the course. They contribute to the course. Come join us, you'll be in smart company where you belong.
[01:01:39] This show is created in association with PodcastOne. My team is Jen Harbinger, Jase Sanderson, Robert Fogarty, Millie Ocampo, Ian Baird, Josh Ballard, and Gabriel Mizrahi. Remember, we rise by lifting others. The fee for this show is that you share it with friends when you find something useful or interesting. If you know somebody's into Mexico, drug cartels, gun trafficking, human trafficking, please share this episode with — and hopefully, they're not criminals. You know, they're interested in the practice thereof in general — share this episode with them. The greatest compliment you can give us is to share the show with those you care about. In the meantime, do your best to apply what you hear on the show, so you can live what you listen, and we'll see you next time.
Sign up to receive email updates
Enter your name and email address below and I'll send you periodic updates about the podcast.