Todd Herman (@todd_herman) is an entrepreneur, coach, mentor, and author of The Alter Ego Effect: The Power of Secret Identities to Transform Your Life.
What We Discuss with Todd Herman:
How you can harness the power of your own secret identity — and why you would ever want to.
What it takes to adopt seemingly out-of-character characteristics and dominate your personal and professional life.
Why taking on an alter ego isn't a "fake it 'til you make it" scheme, but channeling little-used facets of yourself you may not even realize exist.
The hidden enemy forces that oppose your attempts at accomplishment and how to resist their subtle and not-so-subtle influences.
How to honestly understand and come to terms with what truly motivates you — and deal with what keeps you from following these motivations.
And much more…
Like this show? Please leave us a review here — even one sentence helps! Consider including your Twitter handle so we can thank you personally!
(Download Episode Here)
(Subscribe to the Podcast Here)
Worksheet for This Episode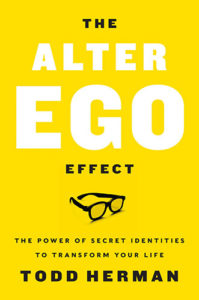 To us mere mortals, world-class athletes and other high performers sometimes seem like superheroes. They exhibit skills, focus, and drive beyond what most of us can even fathom, yet surprisingly come across as everyday people when encountered in "real" life. The most aggressive NFL player is a nurturing dad and friendly neighbor. The ear-biting, skull-cracking cage-fighter is a goofy video game nut. How — and why — do they transform from one identity to another, and is there a lesson to be learned here that we can harness for ourselves?
In this episode we talk to Todd Herman, coach to many of these high-performing athletes and author of The Alter Ego Effect: The Power of Secret Identities to Transform Your Life. He'll explain the power of these secret identities, what we can do to break type and — like working out muscles we hardly ever use — channel out-of-character facets of ourselves we may never have realized existed. Listen, learn, and enjoy!
Please Scroll down for Full Show Notes and Featured Resources!
Sign up for Six-Minute Networking — our free networking and relationship development mini course — at jordanharbinger.com/course!
TurboTax, QuickBooks, and Mint are giant solutions that give you the power to prosper! Learn how to optimize your finances before tax time at intuit.com!
UNTUCKit makes casual shirts that are designed to be worn comfortably on the outside of your waistband without looking sloppy. Go to untuckit.com or visit one of the 50 stores across the US and Canada and use promo code JORDAN at checkout for 20 percent off your first purchase!
Shopping for life insurance is confusing and it takes forever — so Policygenius made it simple. It's never been easier to buy, and rates are at a twenty year low, so stop putting it off and see what policygenius.com can do for you today!
Brother INKvestment Tank all-in-one inkjet printers keep your business running by delivering up to one year of printing without the need to replace ink cartridges! Find out more by visiting ChangeTheWayYouInk.com!
More About This Show
"Fake it 'til you make it" is a mantra many have adopted in an effort to step over the comfort zone border and make changes to their lives — even when every fiber of their being rallies against this effort. It's admirable at its core because it means these people are willing to chase achievements beyond whatever fears have been holding them back, but it also rings with an air of inauthenticity.
So how does Todd Herman, author of The Alter Ego Effect: The Power of Secret Identities to Transform Your Life explain the difference between this suspect platitude and the idea that we should learn to channel our alter ego as a way to expand our boundaries?
"'Fake it 'til you make it' is a terrible message; that's why there's so much resistance against it — no one wants to fake it," says Todd. "The definition of being inauthentic is trying to deceive or trick people. An alter ego has nothing to do with that. An alter ego comes from Cicero, who coined it in 44 BC. In its root form, it means 'the other eye' or 'trusted friend.'
"And that's a really useful idea for people to keep in mind. Because when you think of how many people operate in their own heads, it's sometimes a merry-go-round effect of constant self-bullying, telling yourself you can't do it, what an idiot you are, judging yourself, 'Why didn't I think of that?' All that kind of stuff.
"An alter ego steps in in those areas where you're really trying to perform and bring your best self out there and acts as that trusted friend. So all of a sudden, in your own head, it's really healthy to understand that there's this duality that we all exist inside of.
"There's up, down; there's inside, out; hot, cold; same thing in our head. There's that Carl Jung shadow — if there's a shadow, there has to be a light. So the alter ego we bring in and we use as a mechanism for our creative imagination as a force to push that shadow self — what I call the enemy in my book — to the sidelines and allow that more heroic self to get out there."
Listen to this episode in its entirety to learn more about your greatest superpower and how to leverage it with your alter ego; why you're too nuanced as a human being for the phrase "just be yourself" to mean anything; why your alter ego isn't a false construct, but an amplification of your own existing (perhaps dormant) assets; the difference between being childish and being childlike (and why you may not have tapped into your alter ego since some adult told you years ago that it was time to "grow up"); and much more.
THANKS, TODD HERMAN!
If you enjoyed this session with Todd Herman, let him know by clicking on the link below and sending him a quick shout out at Twitter:
Click here to thank Todd Herman at Twitter!
Click here to let Jordan know about your number one takeaway from this episode!
And if you want us to answer your questions on one of our upcoming weekly Feedback Friday episodes, drop us a line at friday@jordanharbinger.com.
Resources from This Episode:
Download Worksheet for The Life-Transforming Power of Performing

/wp-content/uploads/2019/02/Worksheet-for-Todd-Herman-The-Life-Transforming-Power-of-Performing-Episode-163-v2.pdf